Southern California, Utah & Nevada Coaster Trip – Part 7: The Coasters of Las Vegas & Primm
Las Vegas Mini Gran Prix


On Monday August 8 we headed back to Las Vegas for the last leg of our trip. We arrived at Las Vegas Mini Grand Prix in Las Vegas, NV around 12:30.  Operating since 1993, this Family Entertainment Center has a kiddie coaster.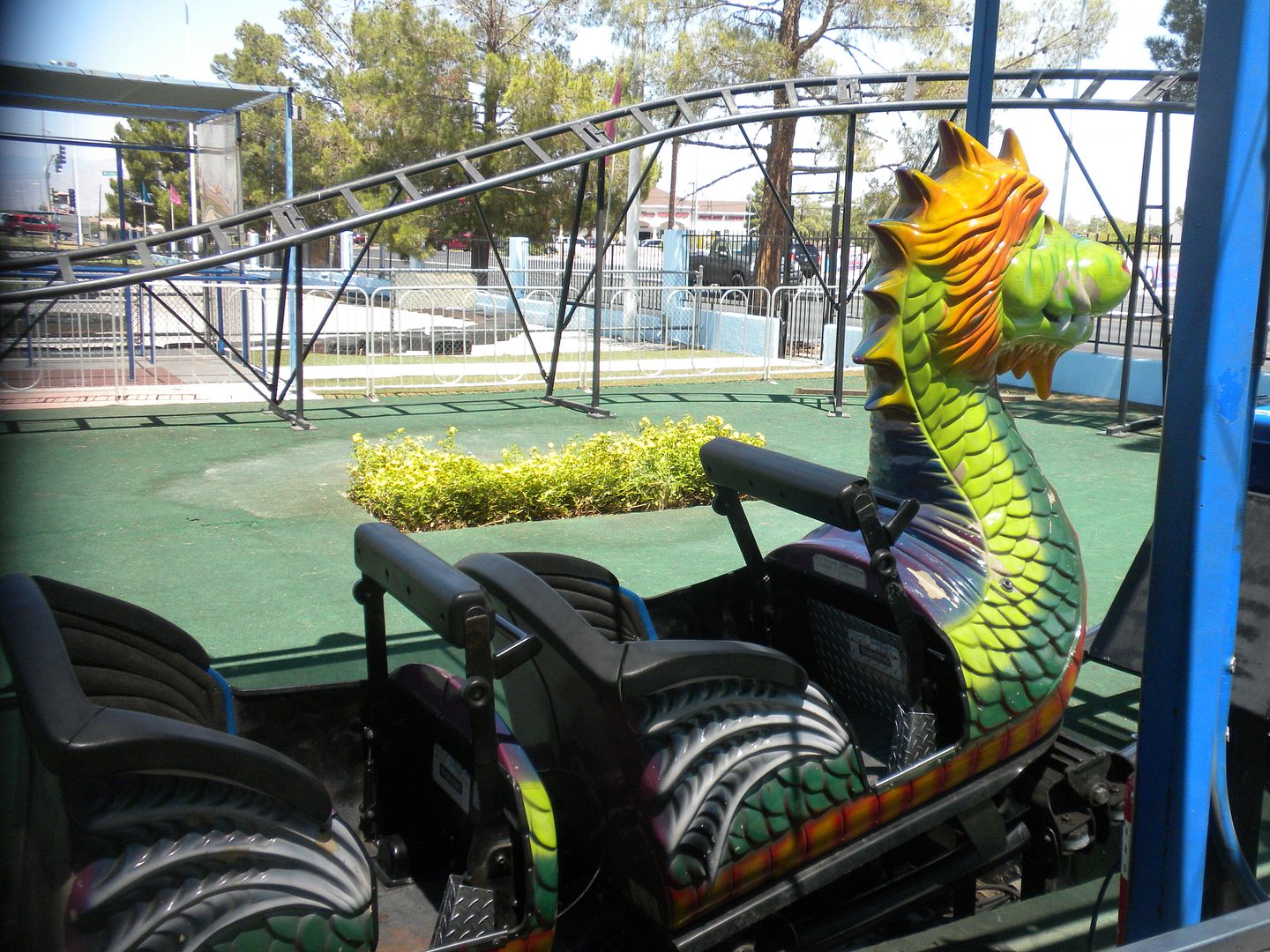 Dragon Coaster: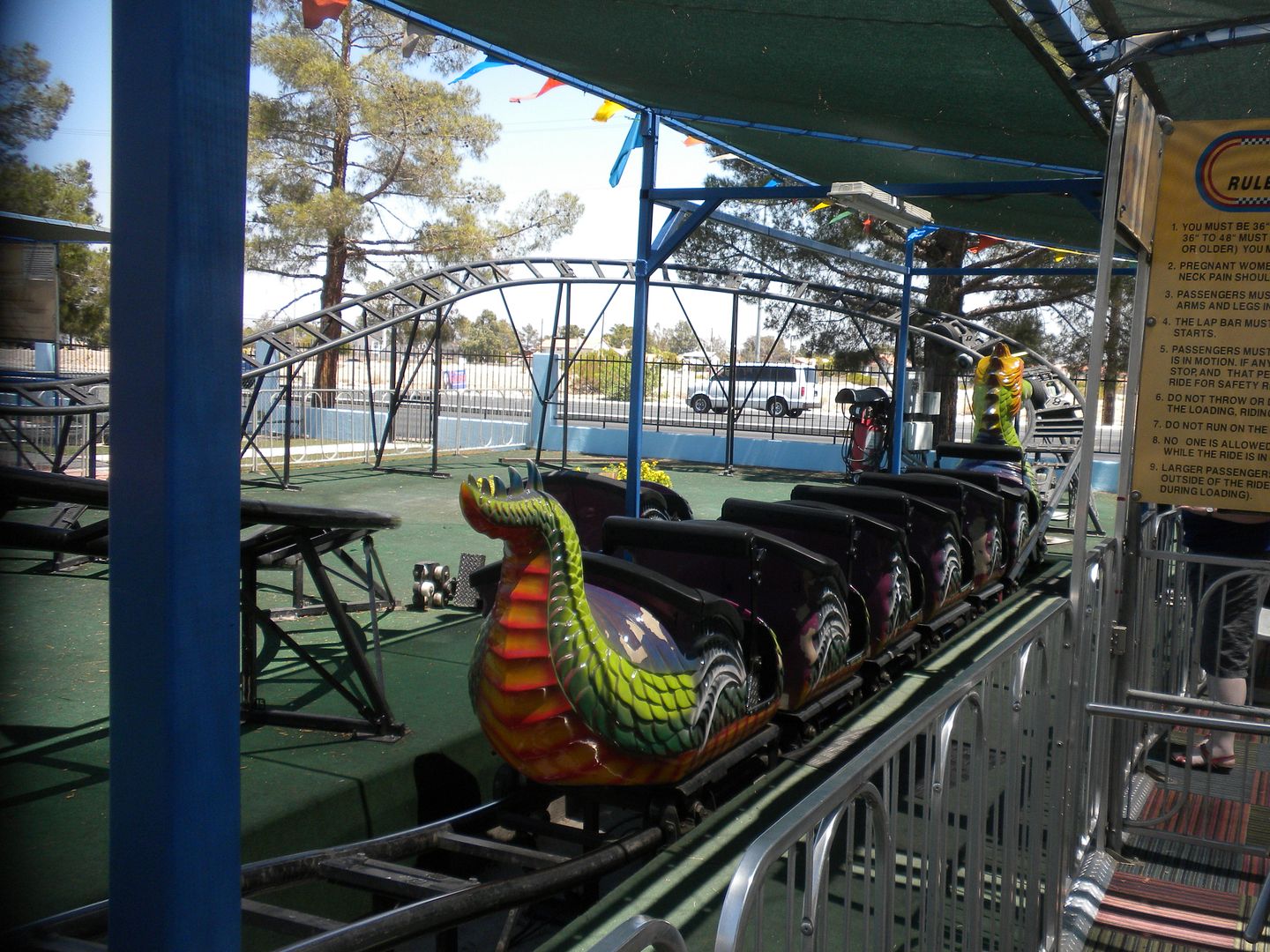 (Wisdom Rides, Kiddie, 2000)


This gave the expected ride – 1 ride.
They also have Dive Bomber Airplanes; Tornado Twister; Super Fun Slide; Go Karts; Sprint Kart Speedway; Adult Gran Prix; and Kiddie Karts. We stopped at a Habit Burger for lunch, which was good and my first time to eat at one.
Buffalo Bill's Resort & Casino


Our next stop was about 45 minutes away, Buffalo Bill's Resort & Casino in Primm, NV.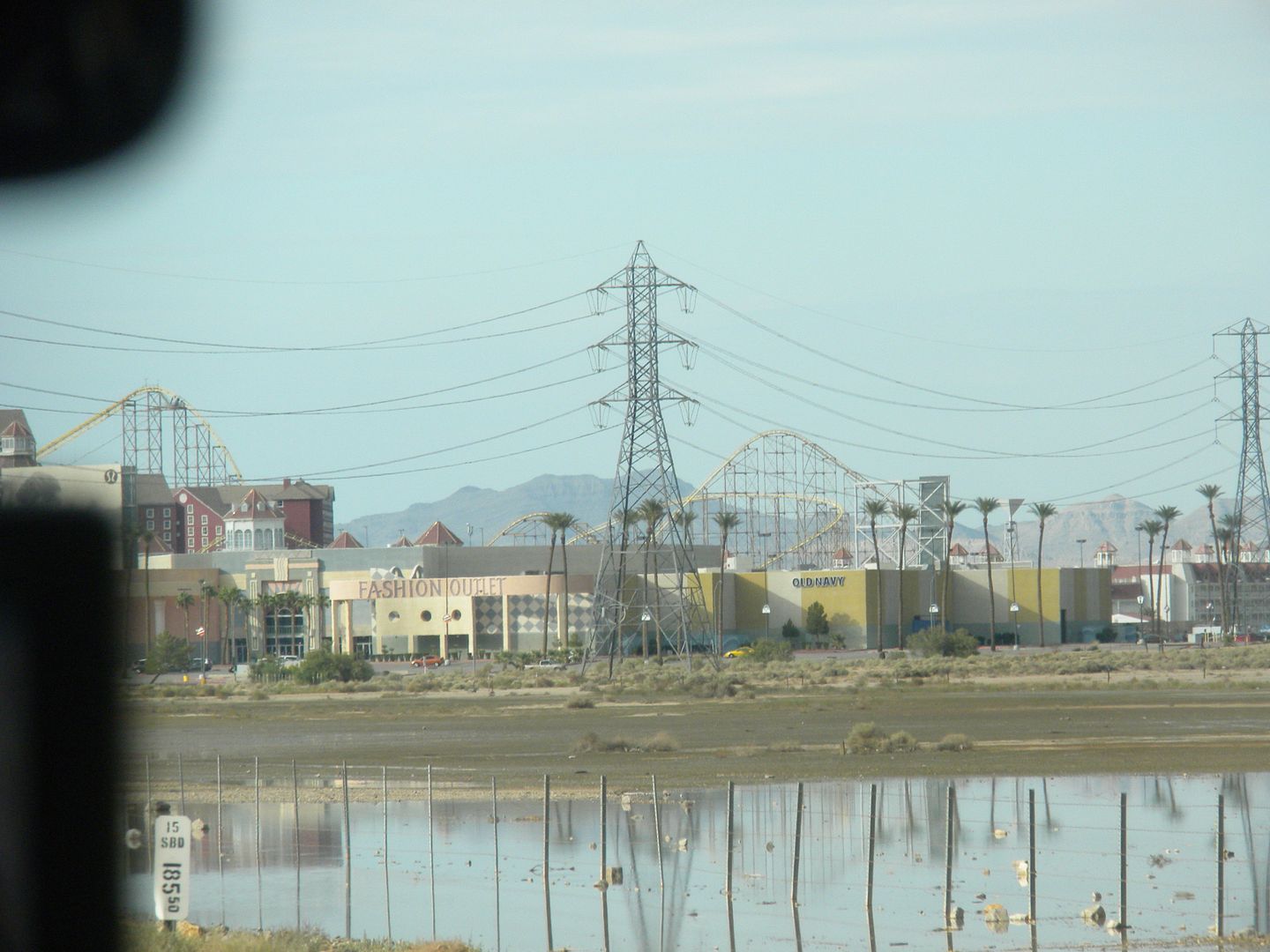 Operating since 1994, this western themed casino has a few rides.


We arrived around 3:00.

The Desperado: (Arrow Dynamics, Hyper Coaster, 1994)


The first thing that strikes you about this coaster is the contrast of the air conditioning in the casino station compared to the relentless dry heat as you climb the lift hill. 


While it has a good layout, the track seems to have more bad transitions than other Arrow hypers I have ridden.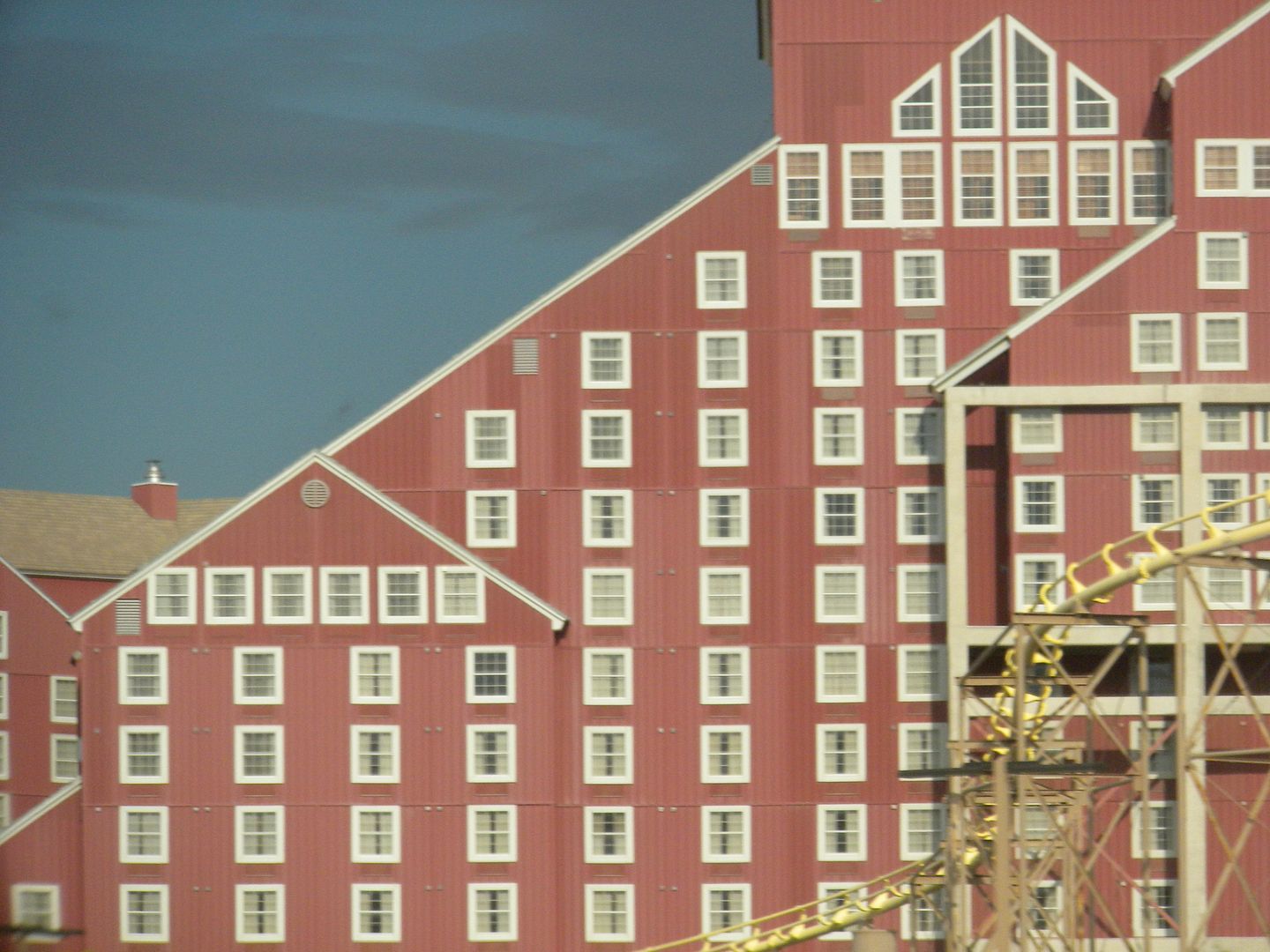 This would not be so much of a problem were it not for the hard contoured seats that I was constantly slamming into.  The remedy for this is to hold yourself up some. 


The speed of the ride is great and it is interesting as it weaves its way around the outside of the casino.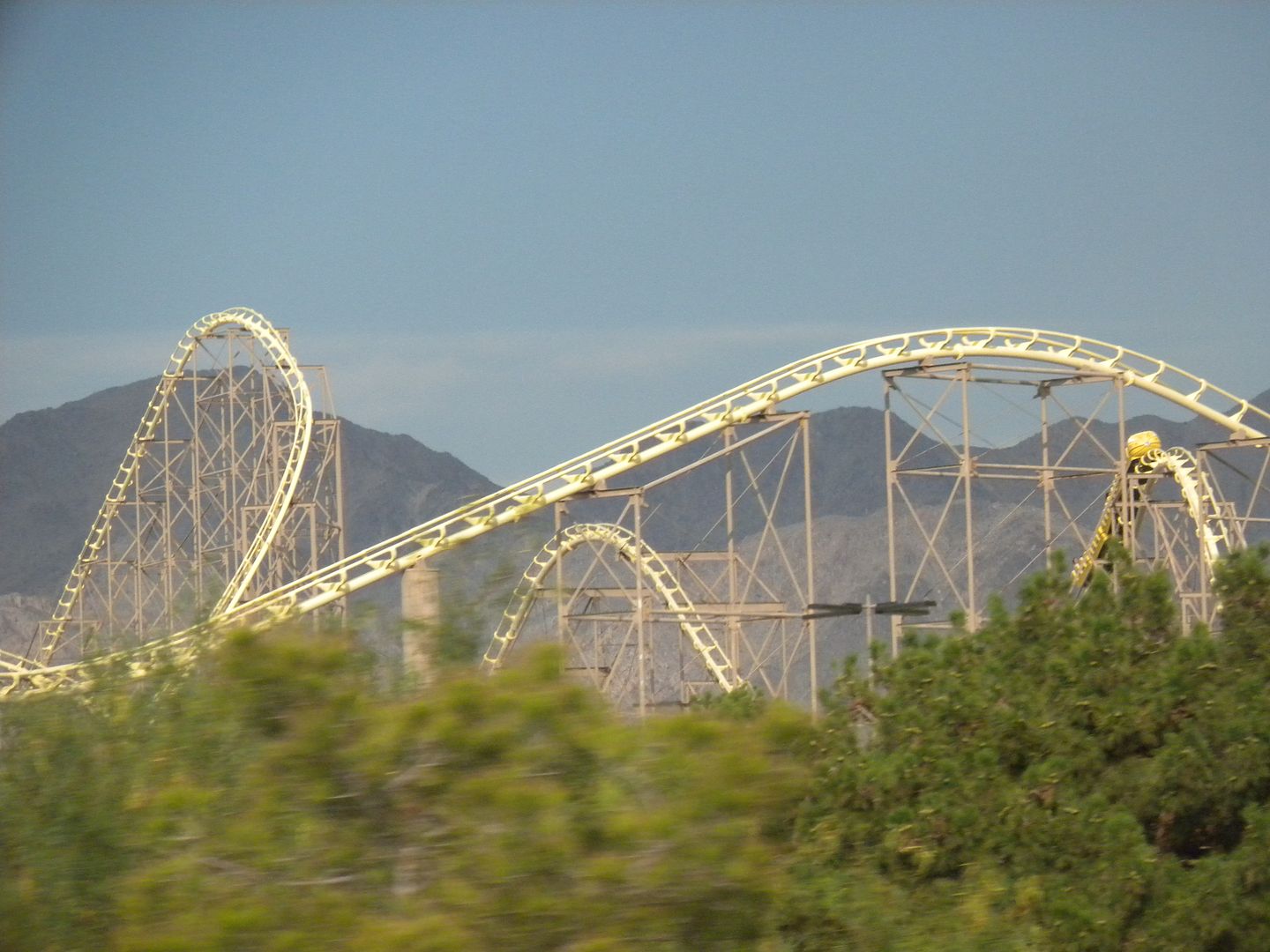 If the seats had some cushioning, it could be a quite enjoyable ride – 2 rides.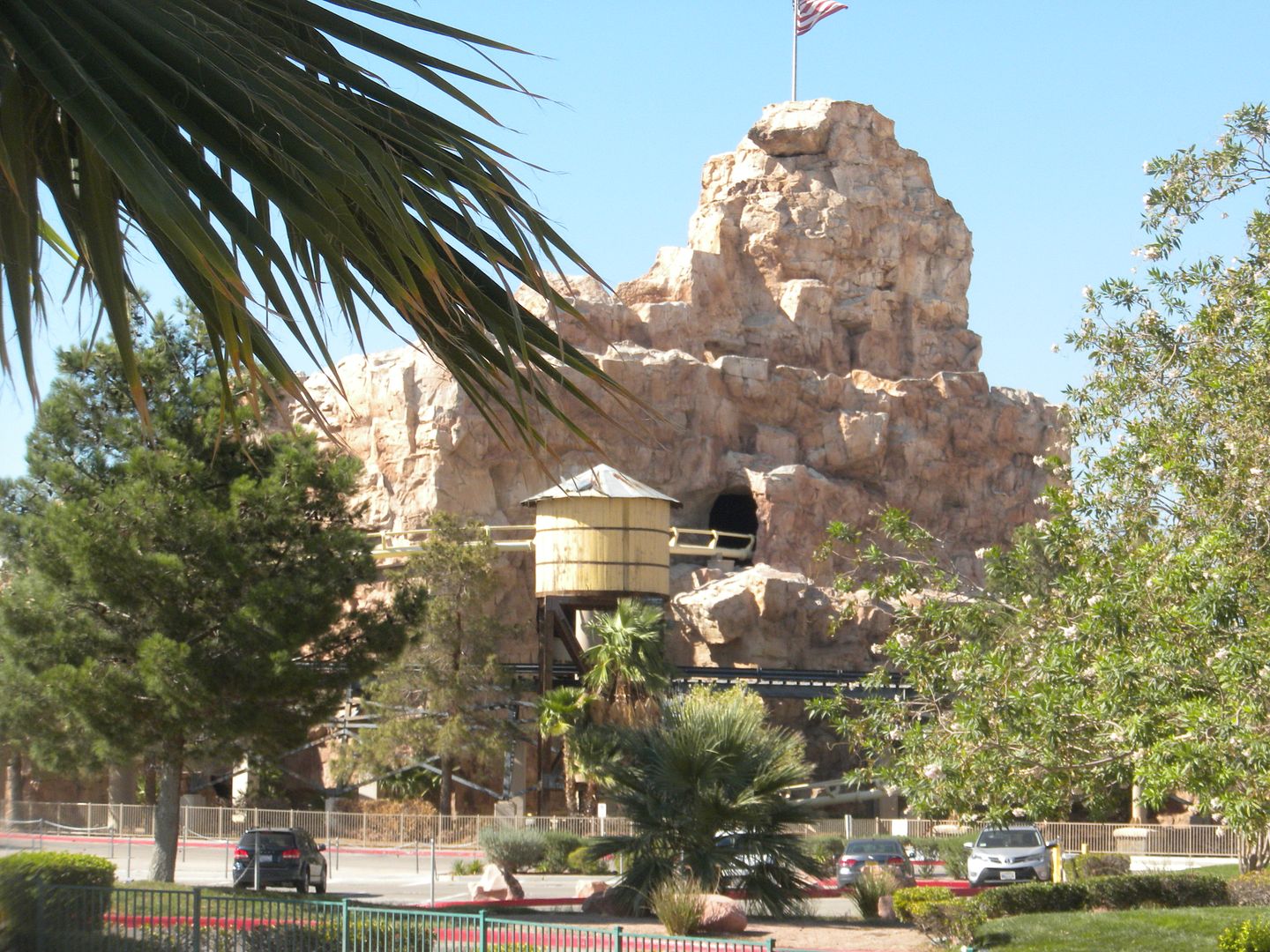 Adventure Canyon Log Flume: This flume has a nice course both inside and outside and includes a dark ride portion. 


At one time it also had targets to shoot, but this has been disabled with the remnants of targets remaining in an unsightly fashion.  Still, it has a good drop and is fun – 1 ride.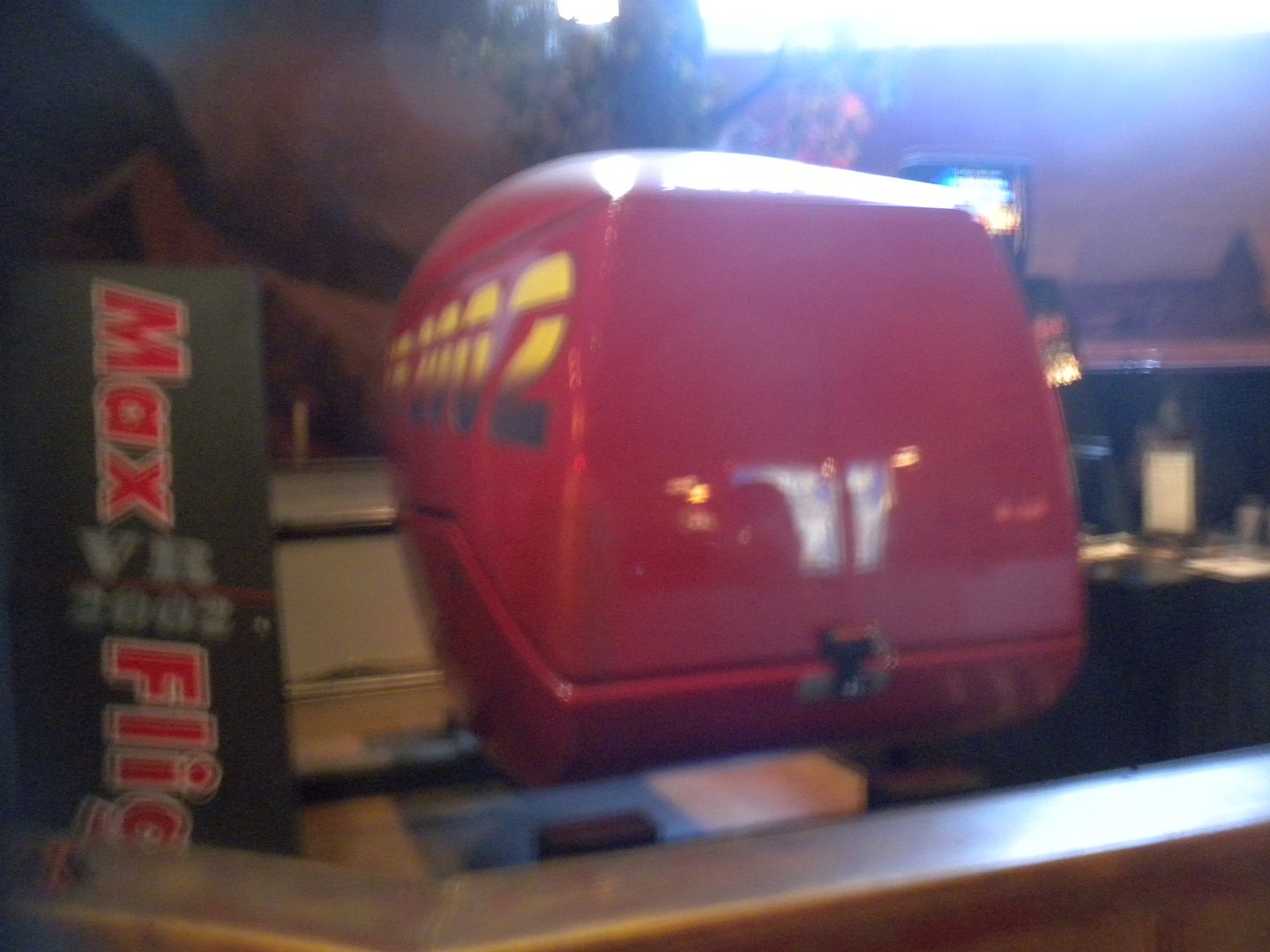 MaxFlight Cyber Coaster: This simulator takes you on a virtual coaster ride, flipping you upside down a number of times.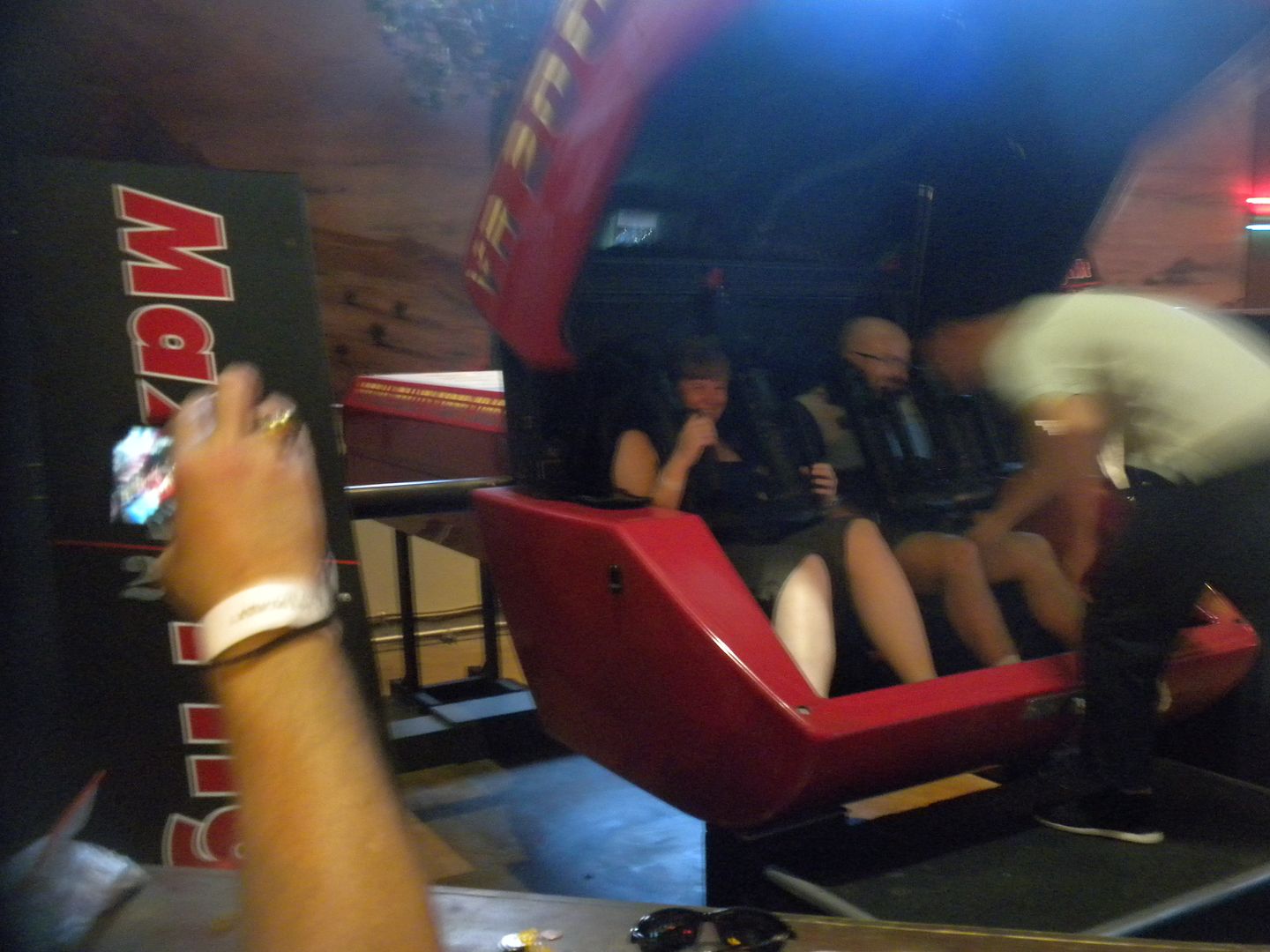 I enjoyed it although some in our group did not – 1 ride.
They also have one kiddie ride, Frog Hopper.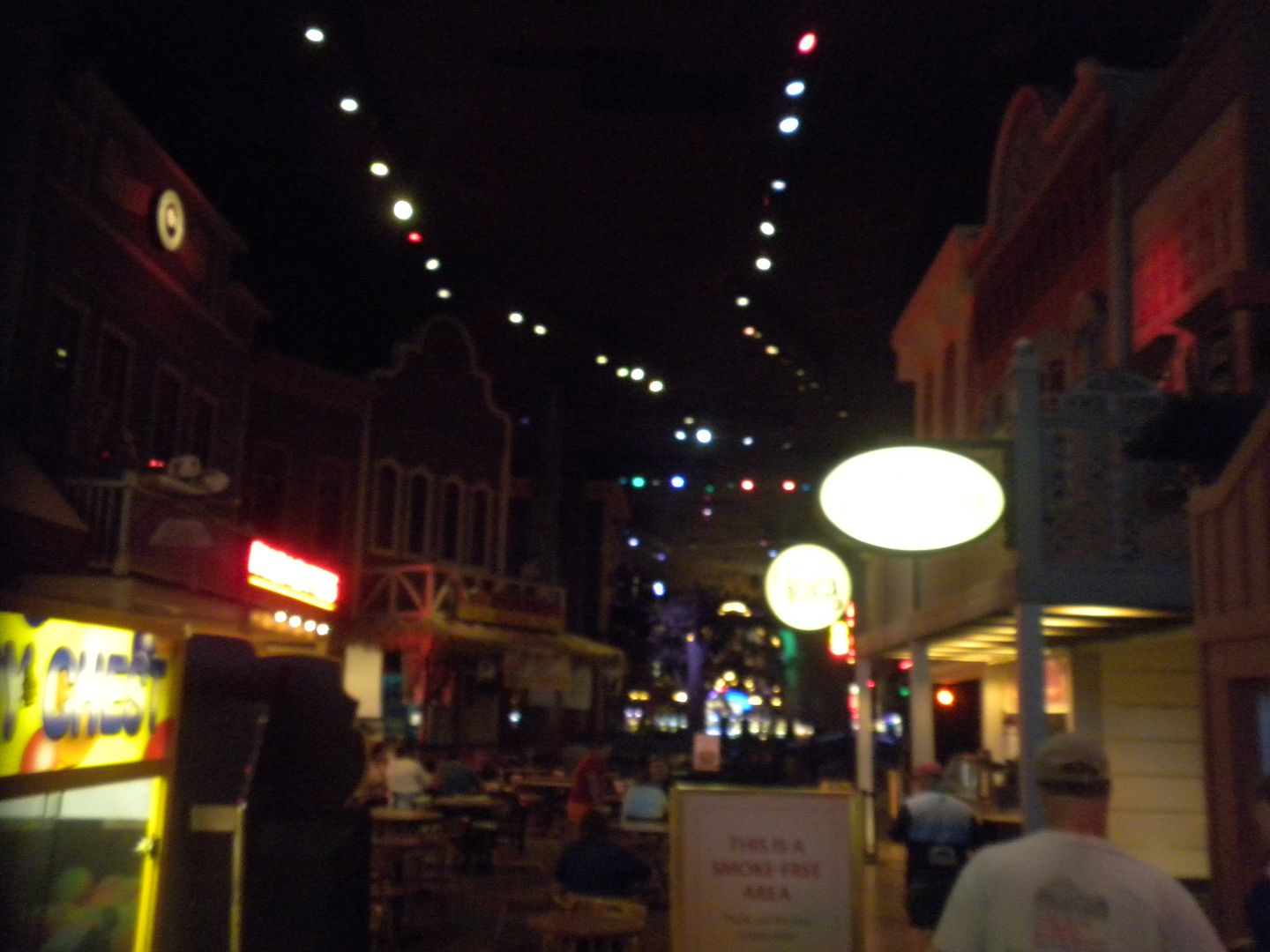 You can see the remains of several other rides including an elevated western themed railroad track, a monorail and a drop tower. It is unfortunate that these attractions have closed, but based on the lack of crowds at the casino this day, I should just be happy the coaster and log flume still operate.  Getting to this hyper coaster and riding the log flume have been on my list to visit since not being able to visit on my first visit to Las Vegas, so I am glad to get to these rides.  We left about 4:00 for the return drive to Las Vegas.

New York, New York Hotel & Casino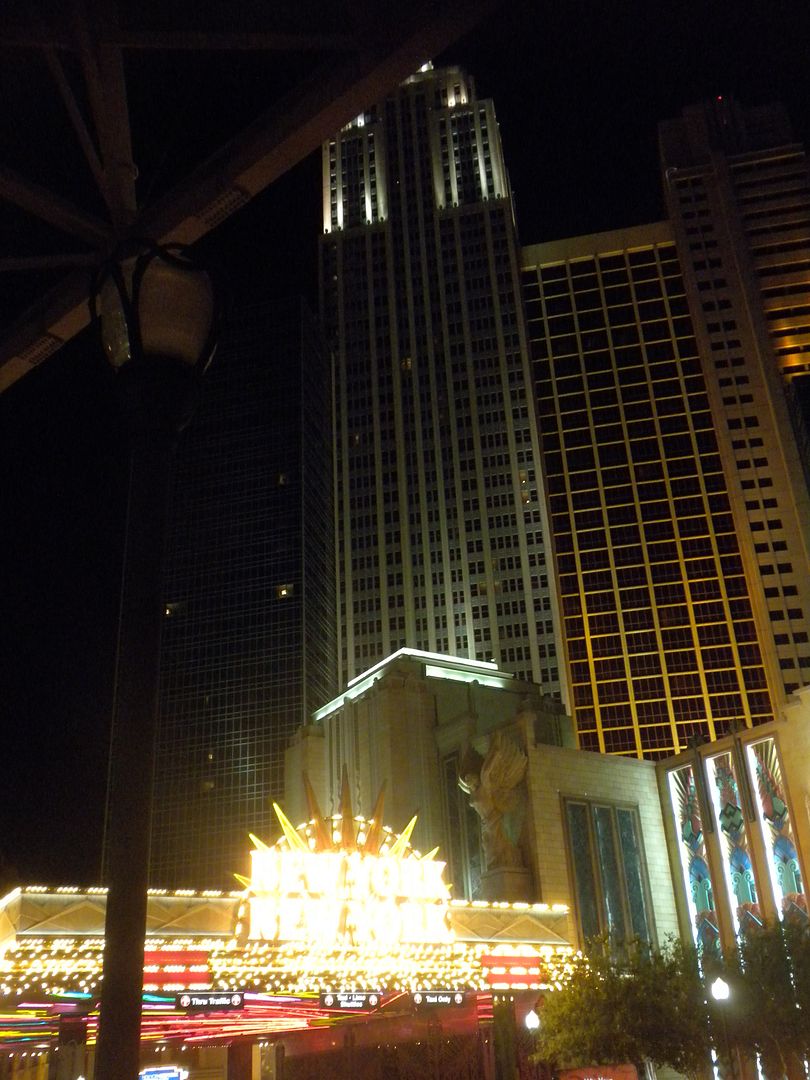 We arrived back in Las Vegas around 5:00 and checked into our hotel, New York, New York Hotel & Casino.  I had visited this in 2007 for the coaster but had not stayed here.  I love the theming of the hotel with all the iconic New York City references. 


We had a great view of the coaster from our rooms. 


Operating since 1997, this casino followed the trend of including a roller coaster in its offerings.  After checking in, we went down to ride the coaster.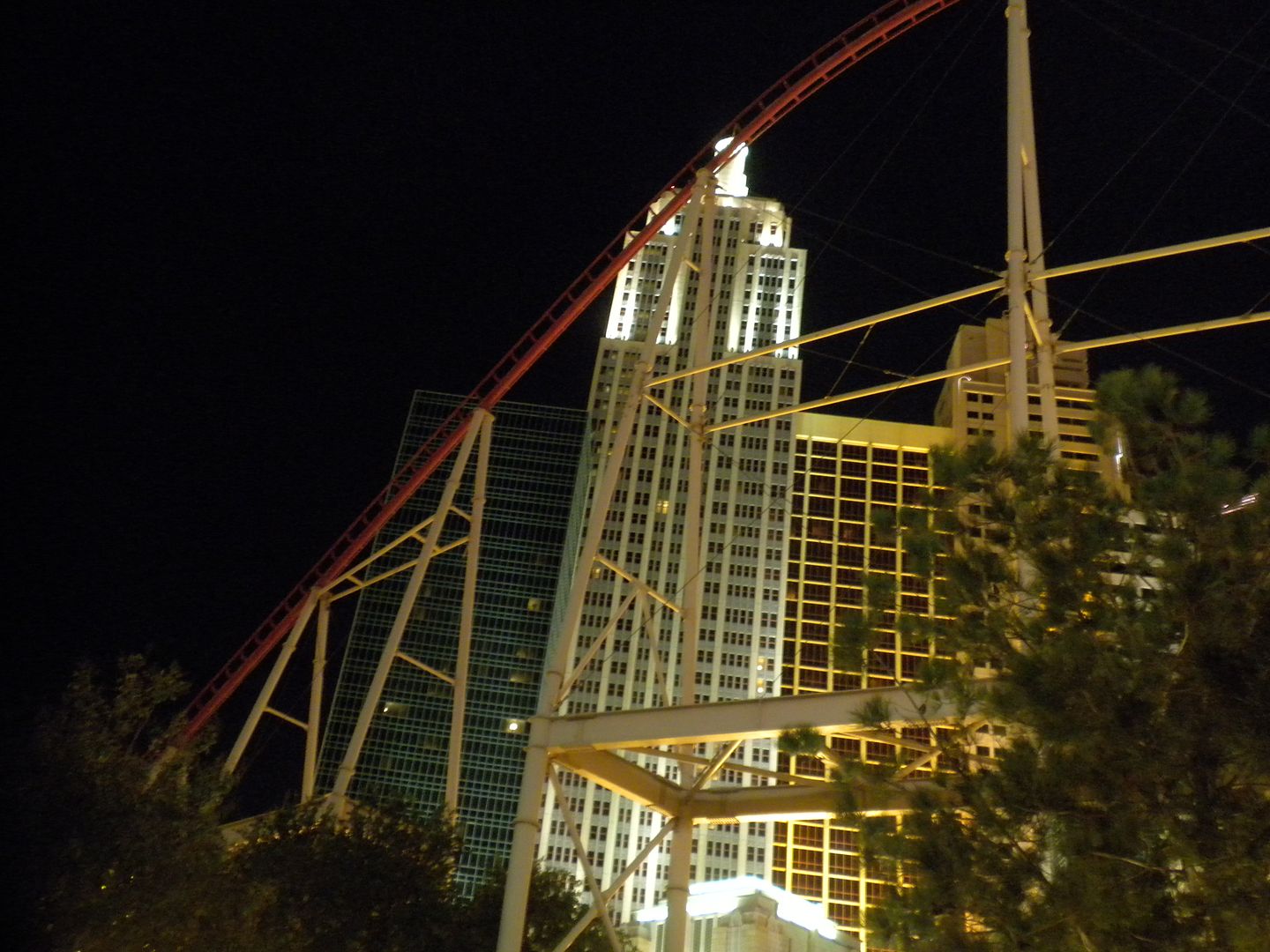 Big Apple Coaster: (Togo, Looper, 1997)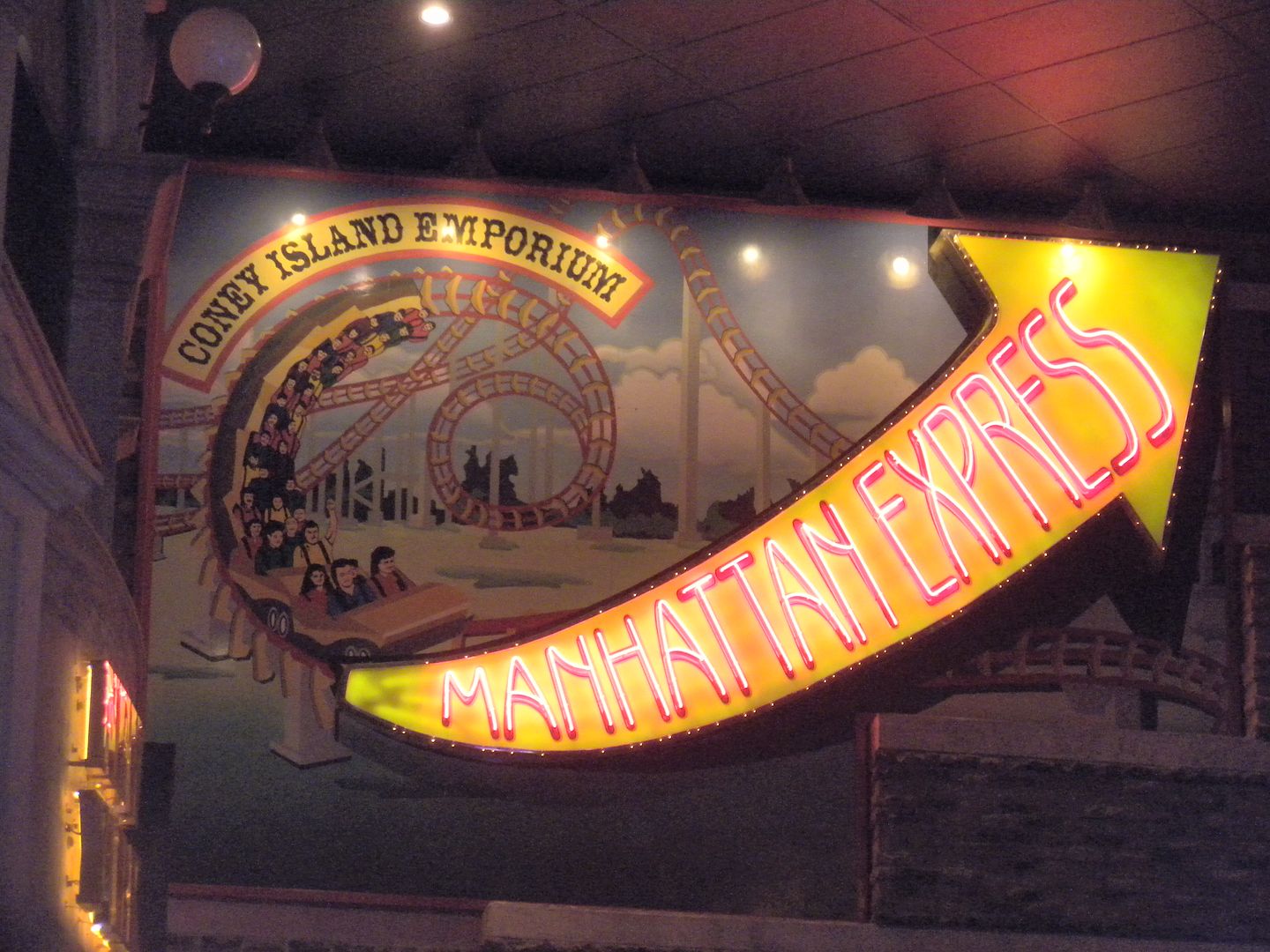 Previously known as Manhattan Express (1997 to 2006) and Roller Coaster (2007 to ?), this coaster with an identity crisis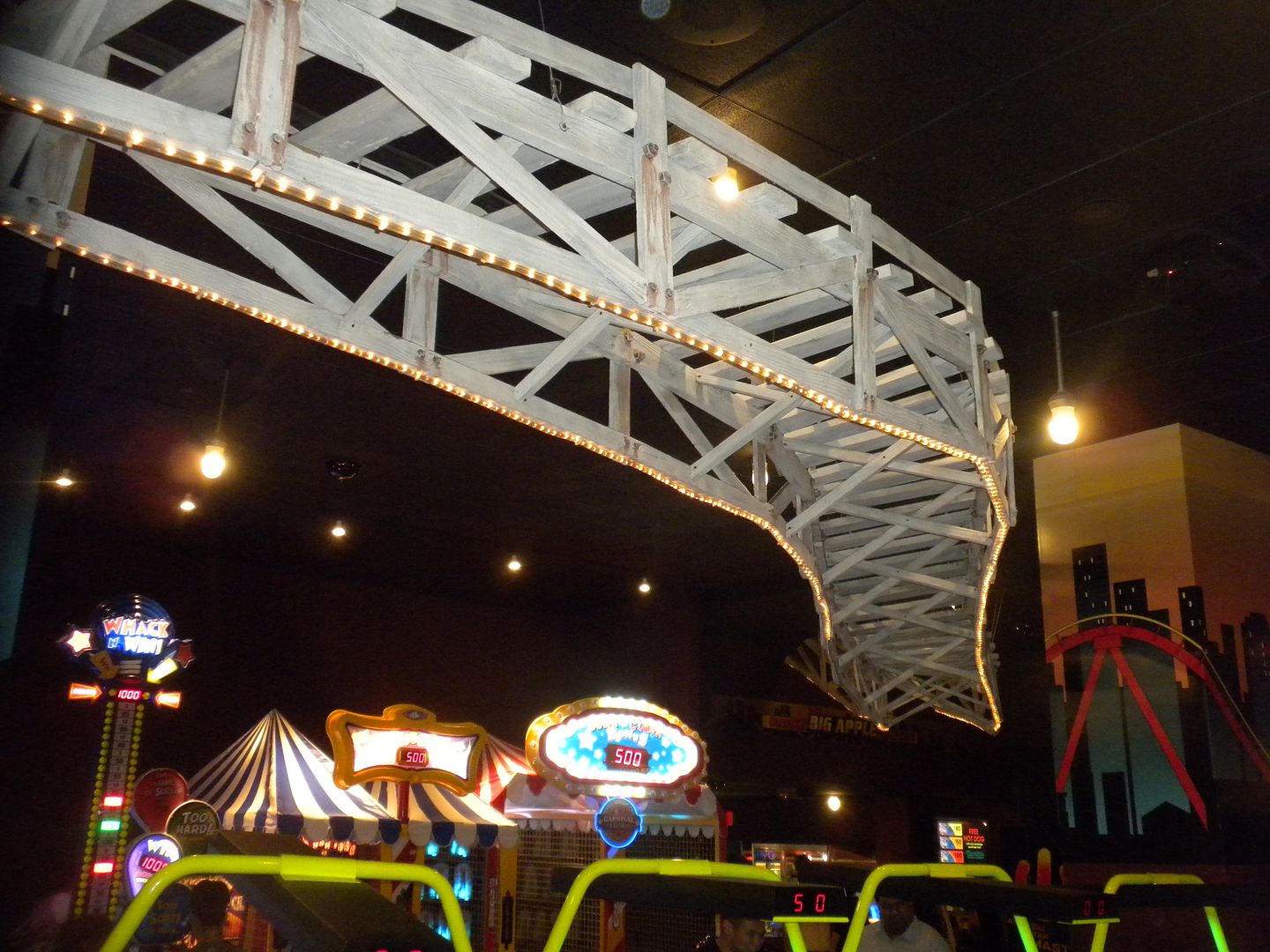 is one of the most derided coasters out there. 


Yet, my reaction when I rode it 9 years ago was that it was not nearly as back as I had heard.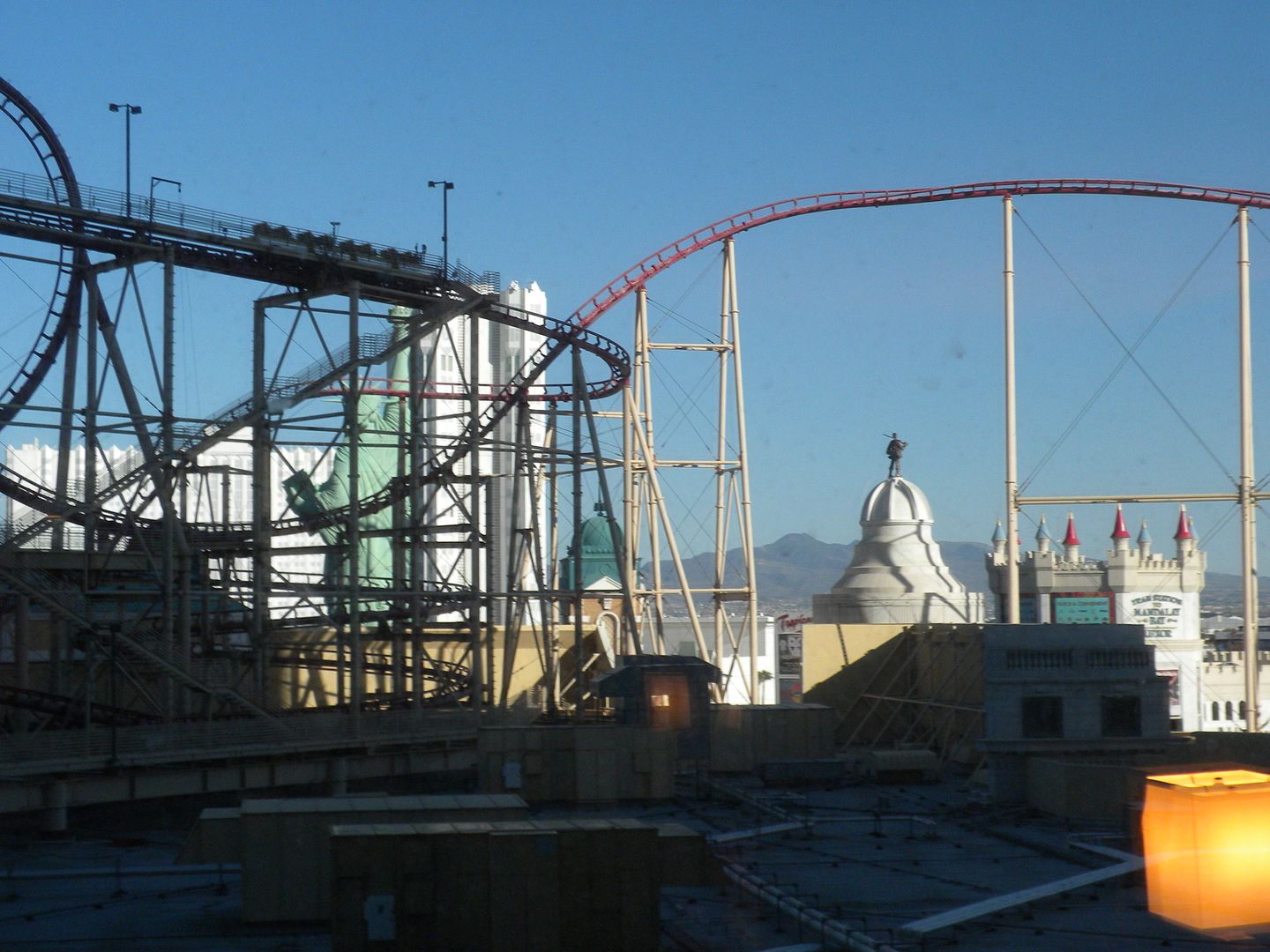 In fact, while it is not a great coaster, I rather enjoyed it.  I was wondering what my reaction now would be.  It was much the same as I enjoyed the layout and while the OTSRs are uncomfortable, if you hold your head against the side of the restraint there is no headbanging.  I got another ride at night.  The rest of my group absolutely hated it – 2 rides.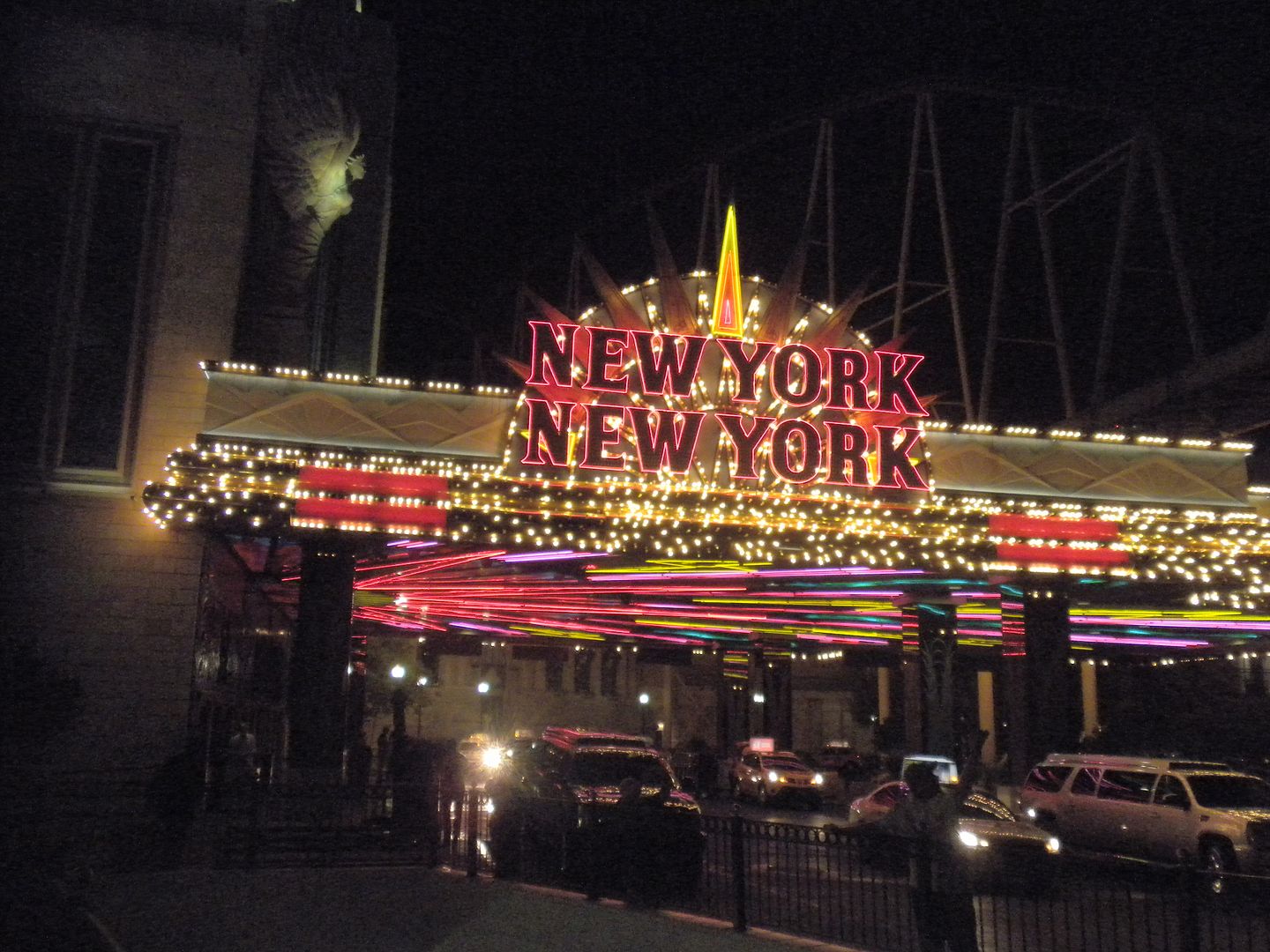 They have no other rides.
Adventuredome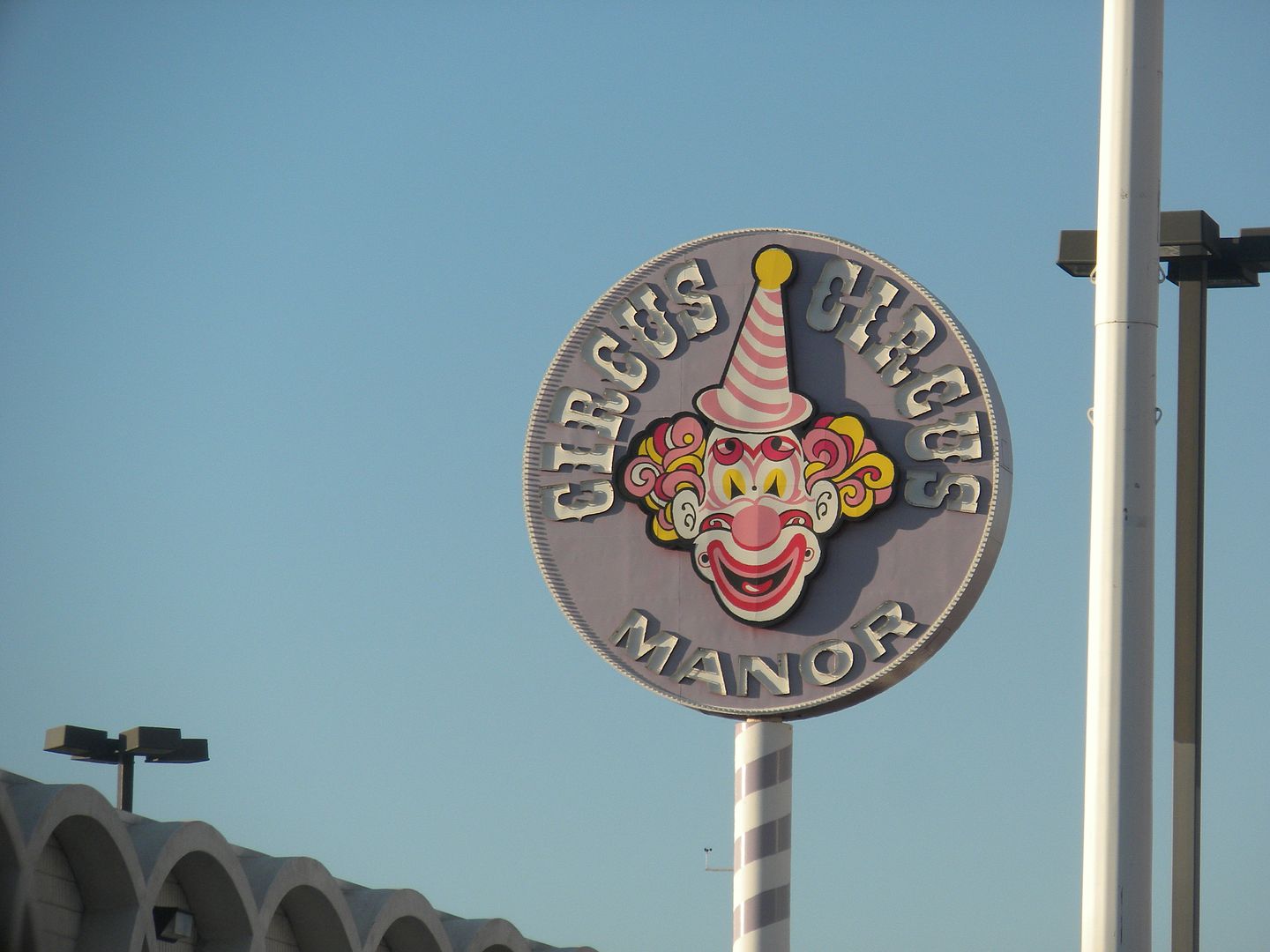 Our last attraction to visit is the only actual amusement park in Las Vegas – Adventuredome. 


Operating since 1993, this fully enclosed amusement park attached to Circus Circus Hotel and Casino is a great idea in this desert climate.  It is so hot outside an outdoor amusement park would be poorly attended. While its ride selection is limited, it does have 3 coasters and a number of other rides.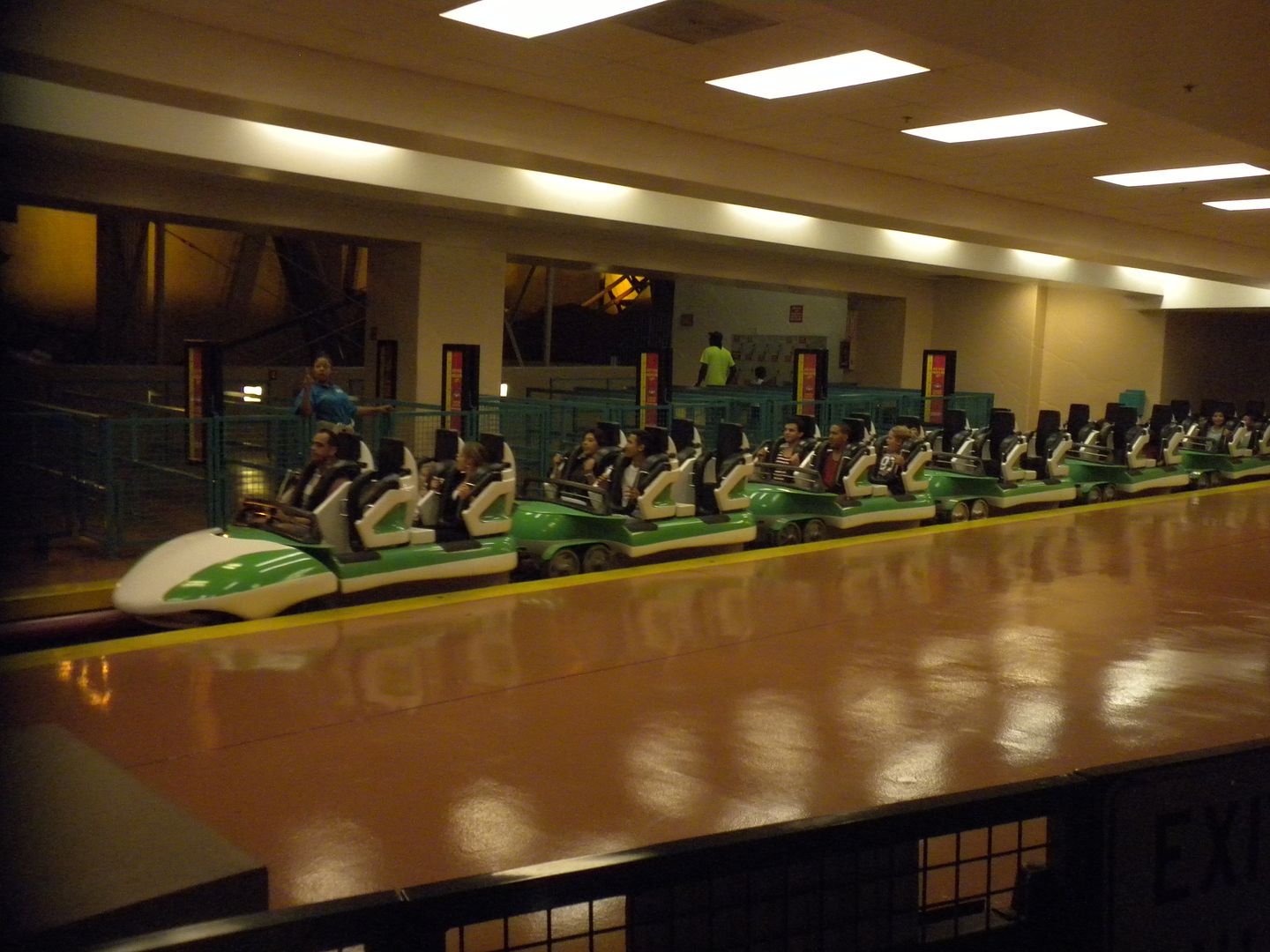 Canyon Blaster: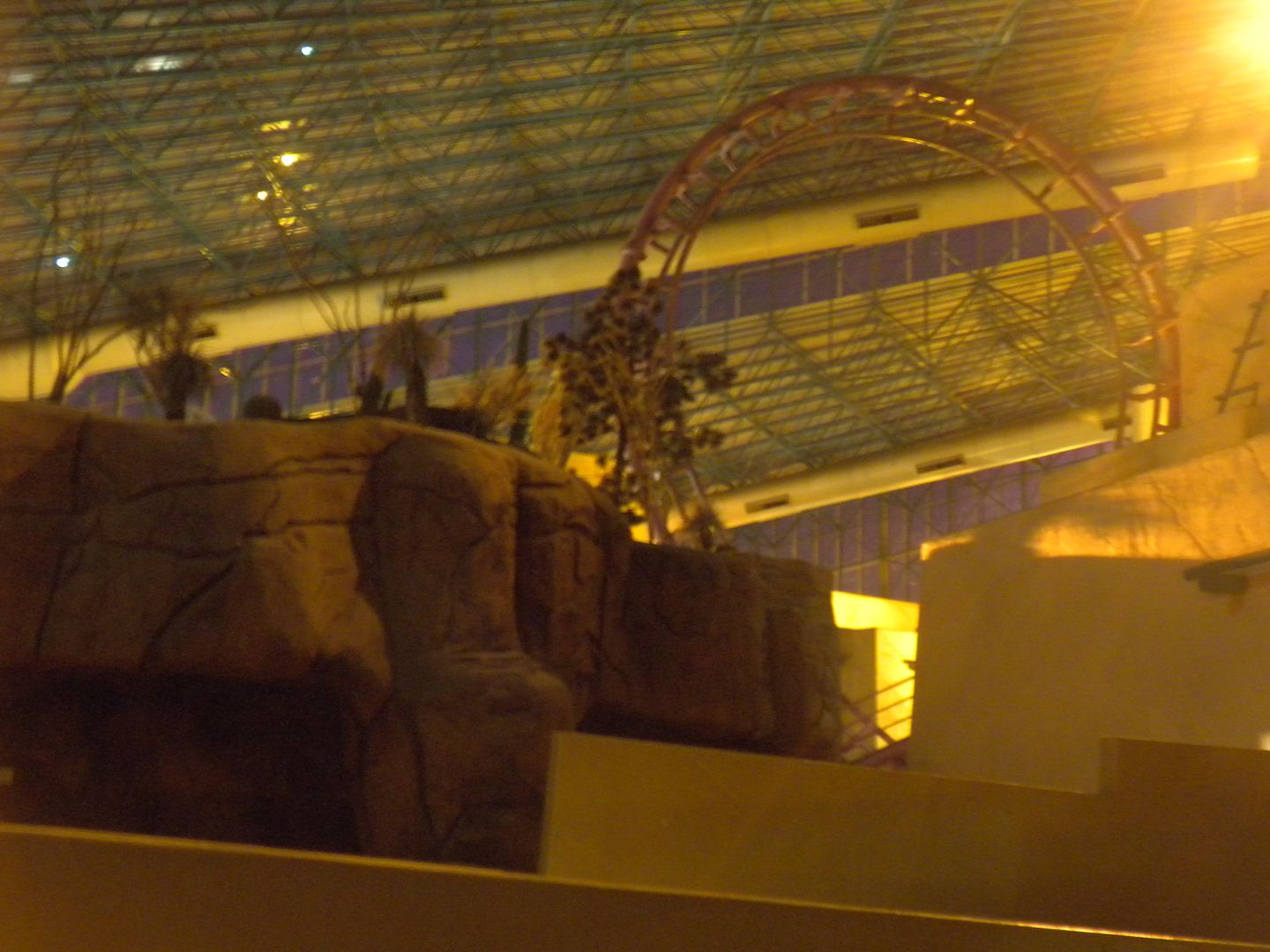 (Arrow Dynamics, Looper, 1993)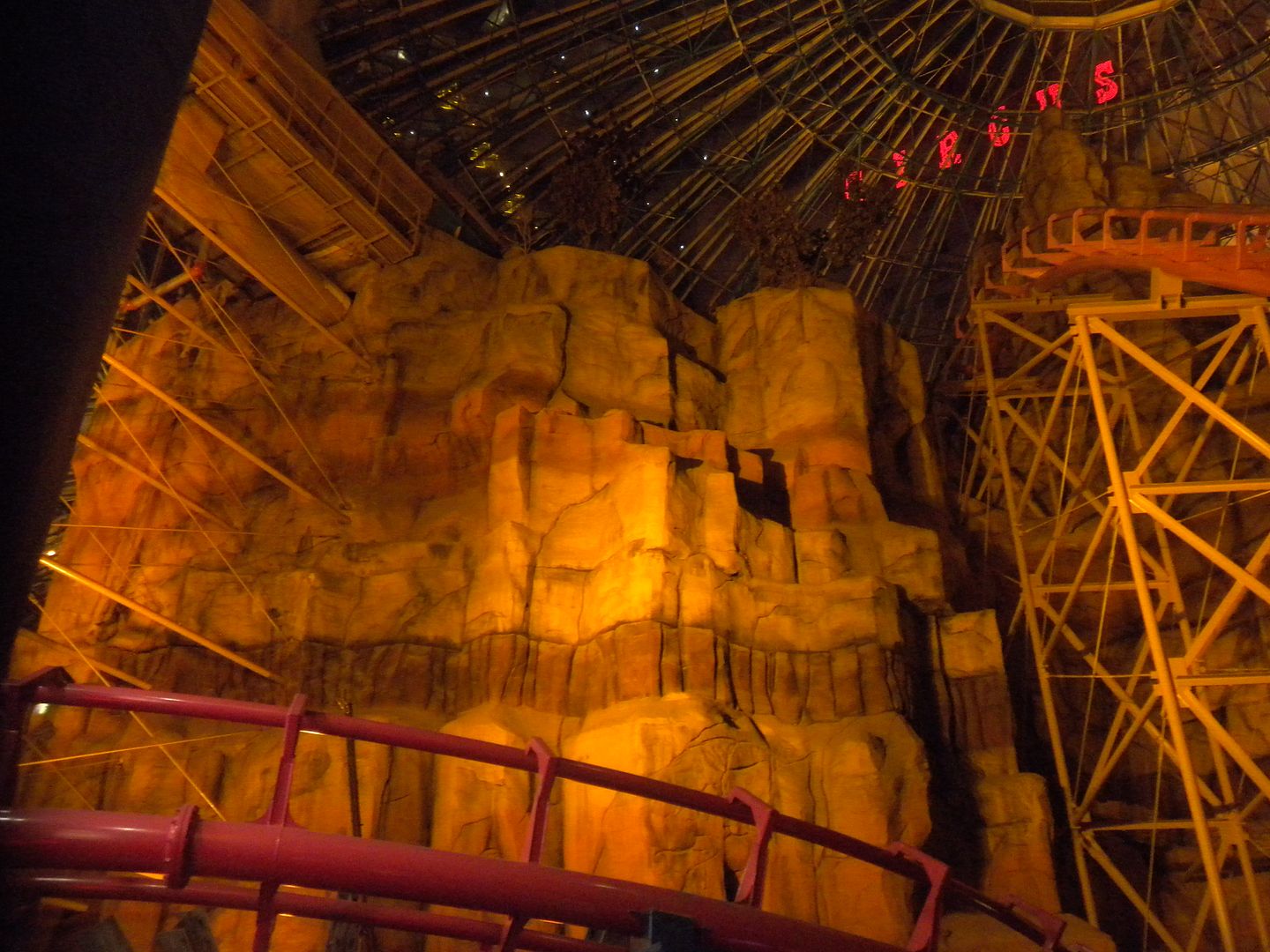 This is a really good Arrow looper with only one really rough transition. 


It has a nice layout,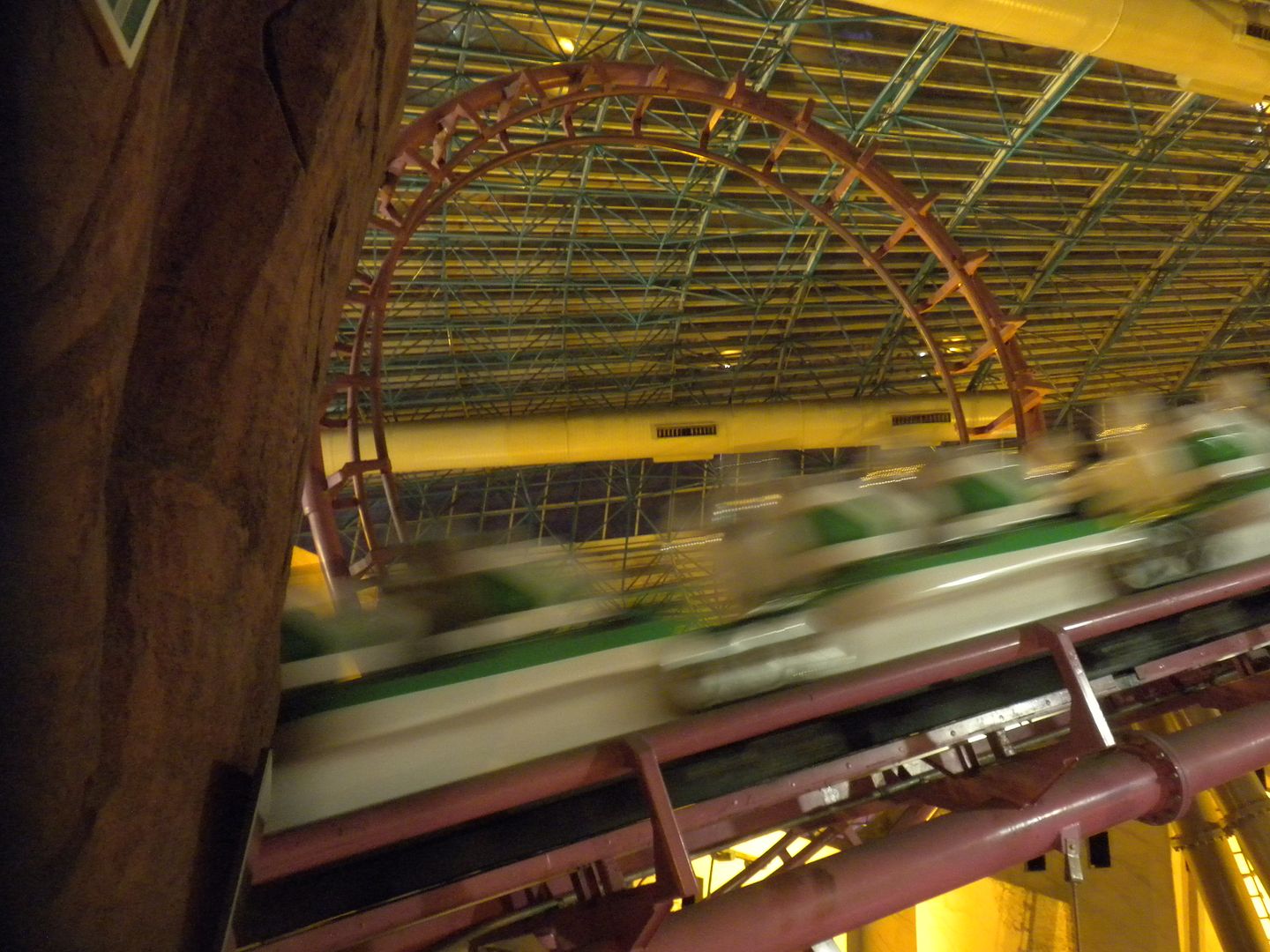 much like Carolina Cyclone at Carowinds. 


It is a really good ride – 3 rides.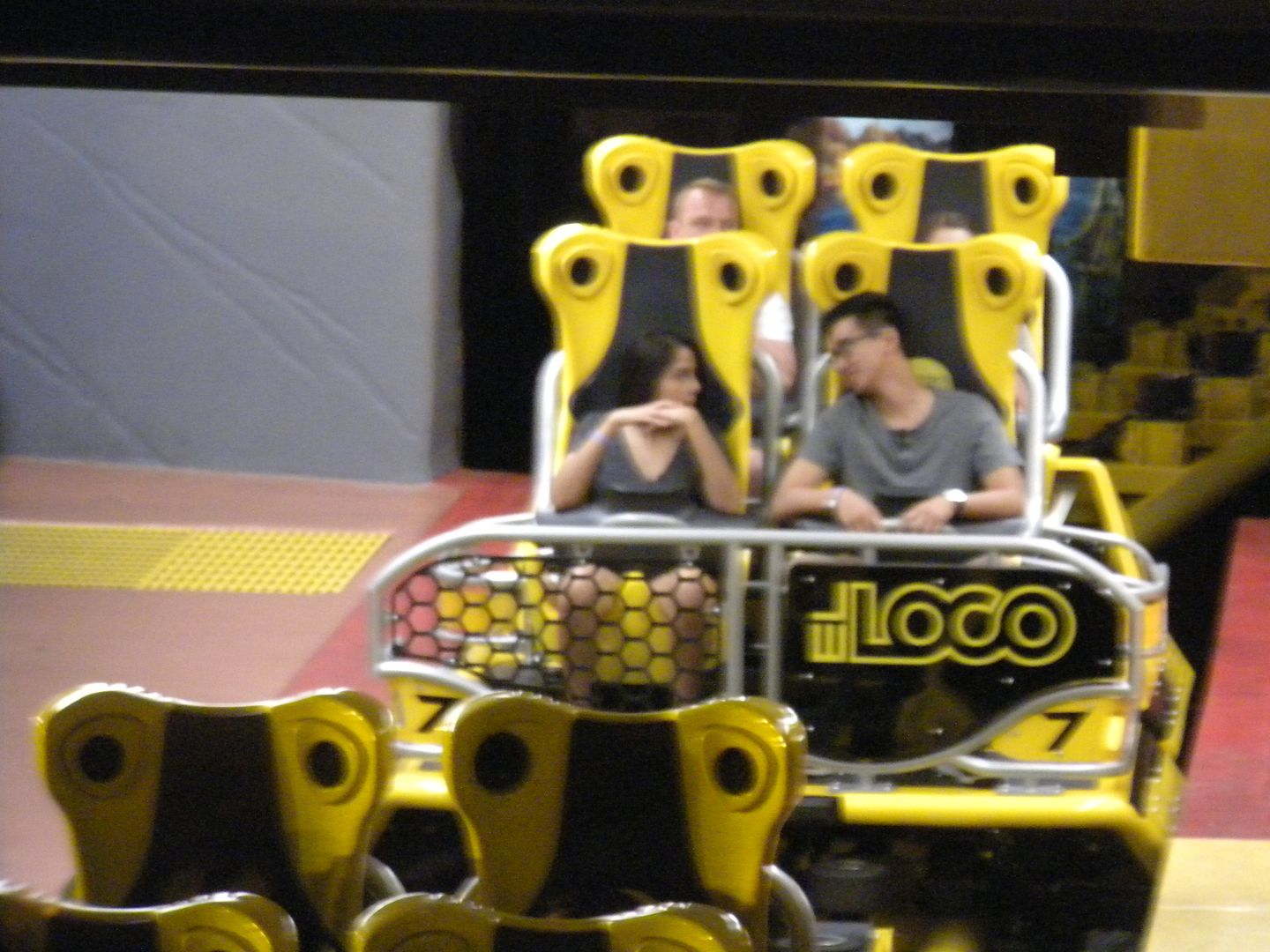 El Loco: (S&S Worldwide, El Loco Looper, 2014) This is a fun compact ride that has a lot going on even to the very end.  This is a custom design to fit in the available space – 2 rides.


Adults are not allowed to ride Miner Mike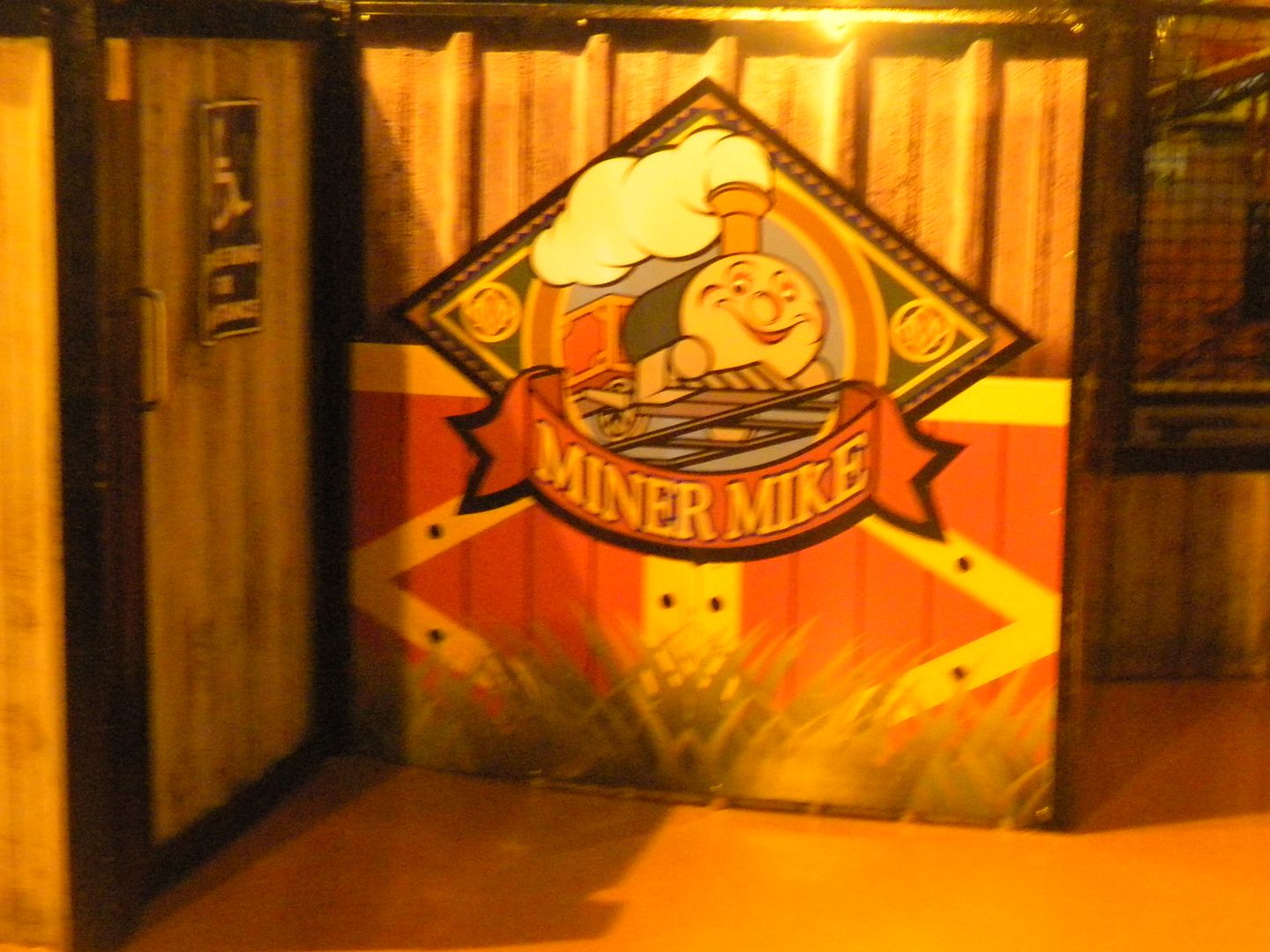 (Wisdom Rides, Miner Mike Gravity Kiddie, 1994).
FX Theatre: SpongeBob SquarePants 4-D:  The Great Jelly Rescue:  This was good – 1 show.
FX Theatre: Featuring Dora & Diego 4-D Adventure:  This was good – 1 show.
We did not do Extreme Ride Theatre; Sling Shot, a launch/drop tower;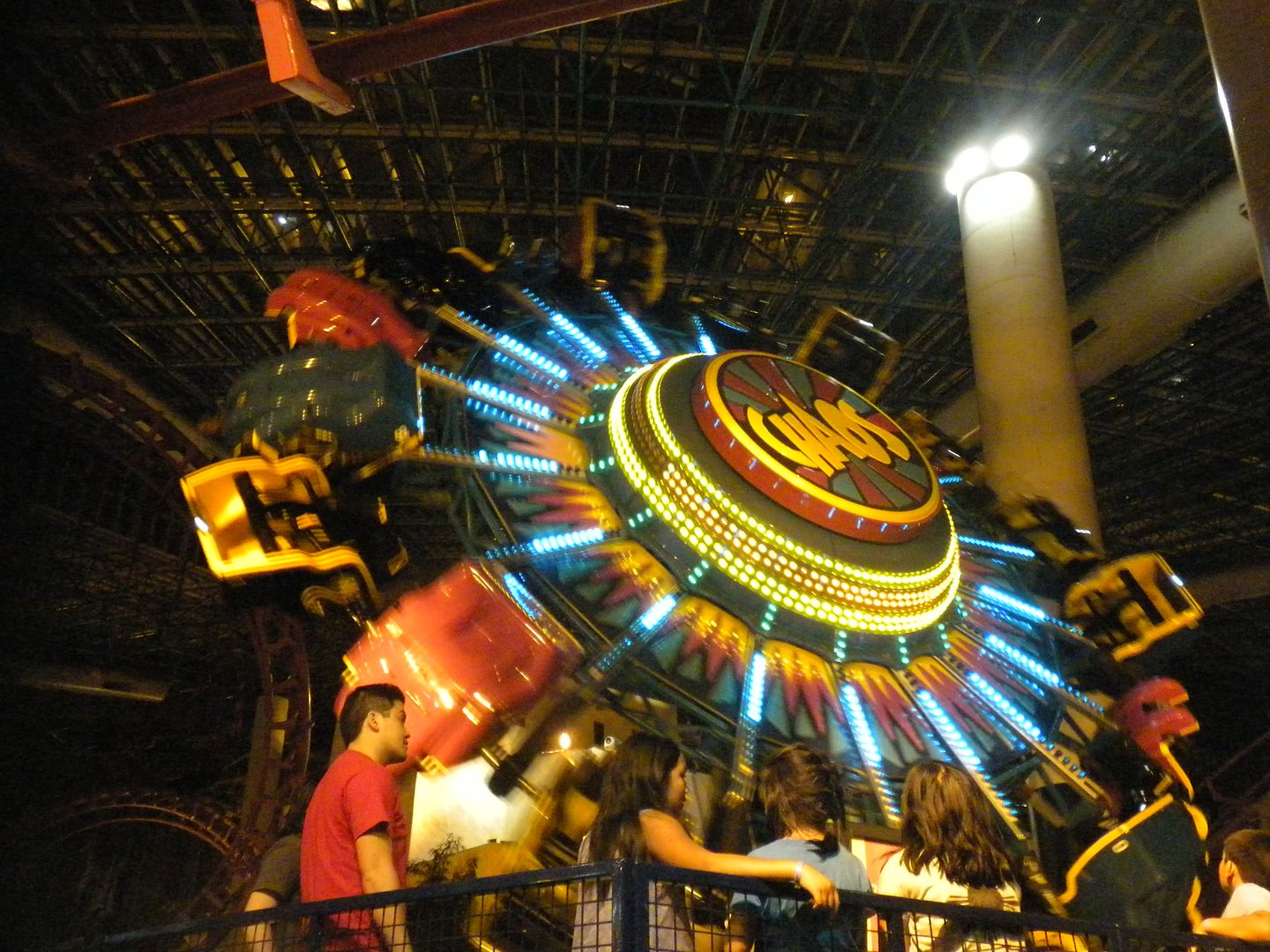 Chaos, perhaps the last one operating in the U.S.; Inverter; Lazer Blast; Canyon Cars, bumper cars; and Sand Pirates, a swinging ship.  In addition to the coaster, they have 6 children's rides.
While not a large park, it is a nice way to spend a few hours.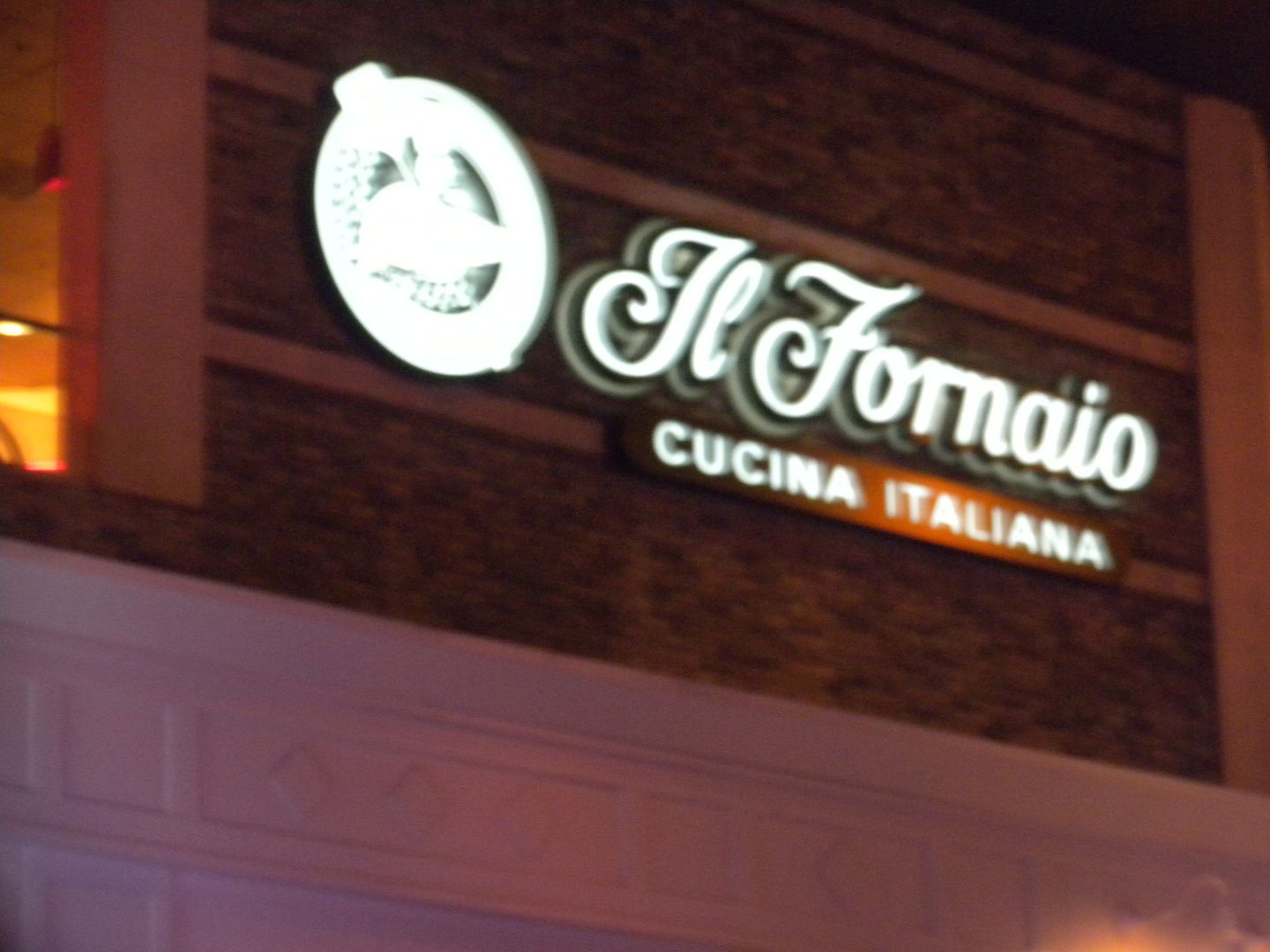 Around 9:00 we headed back to New York New York for a delicious dinner at Il Fornaio Italian Restaurant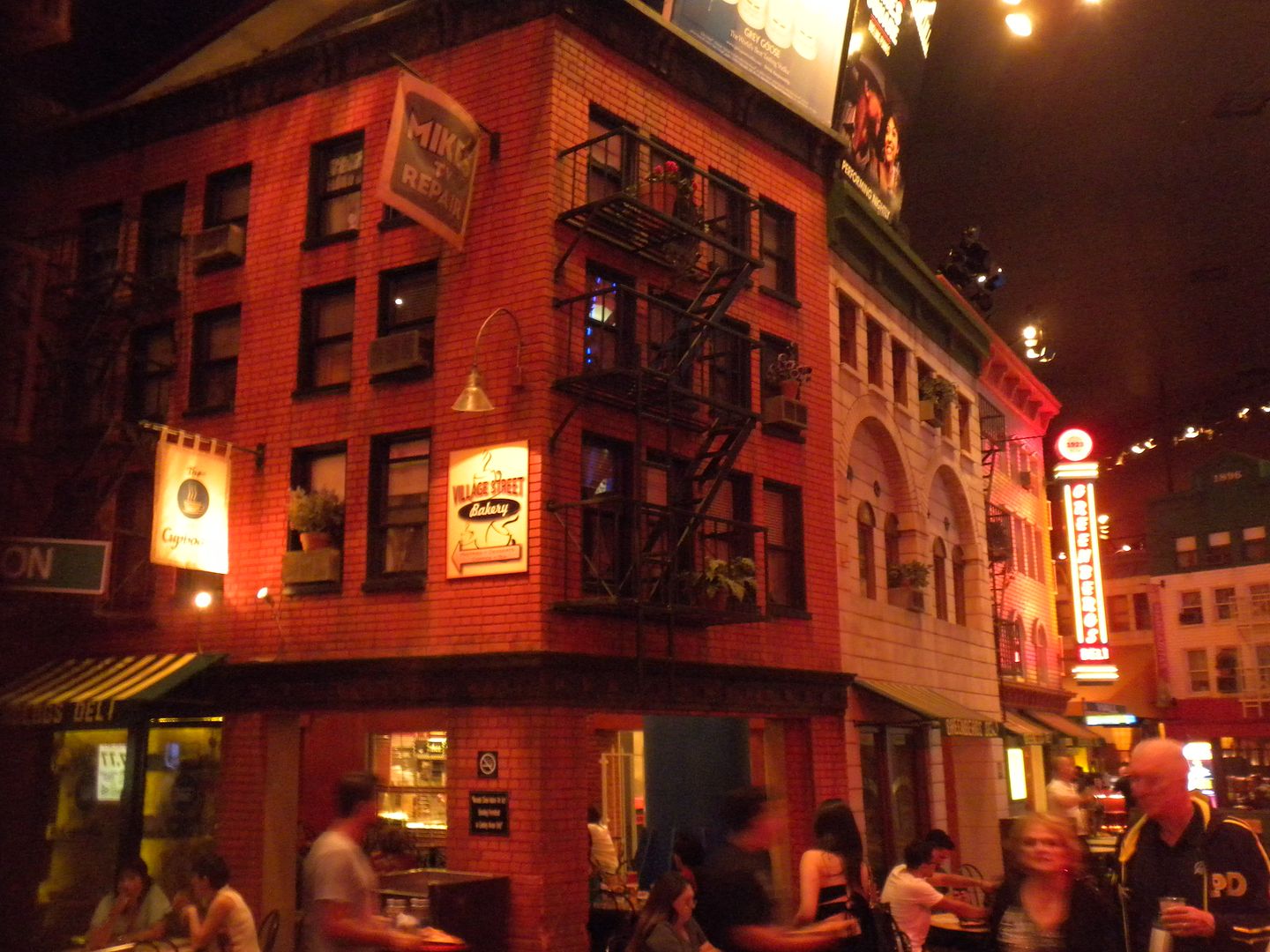 and a final ride on the coaster.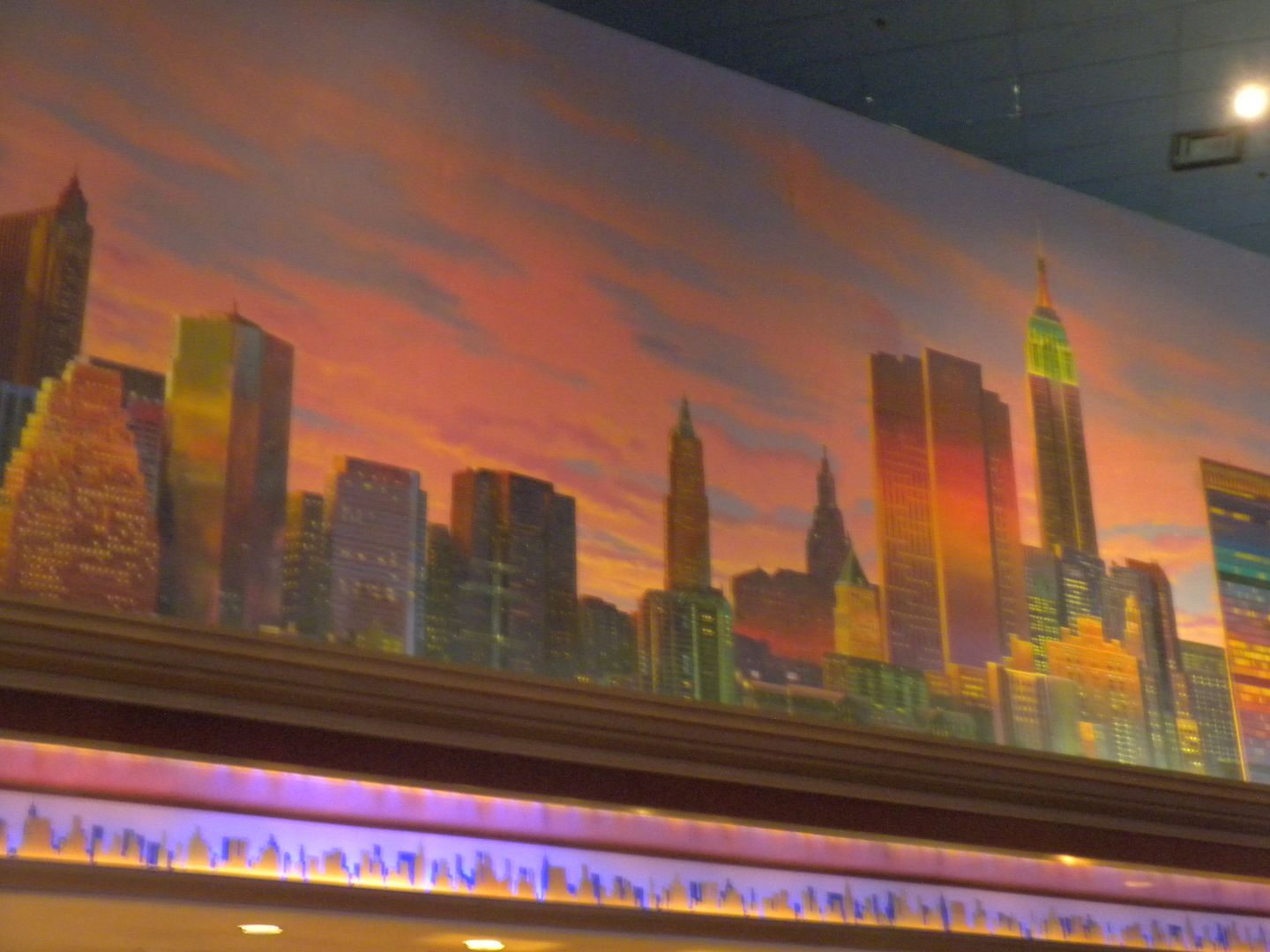 We walked around in the casino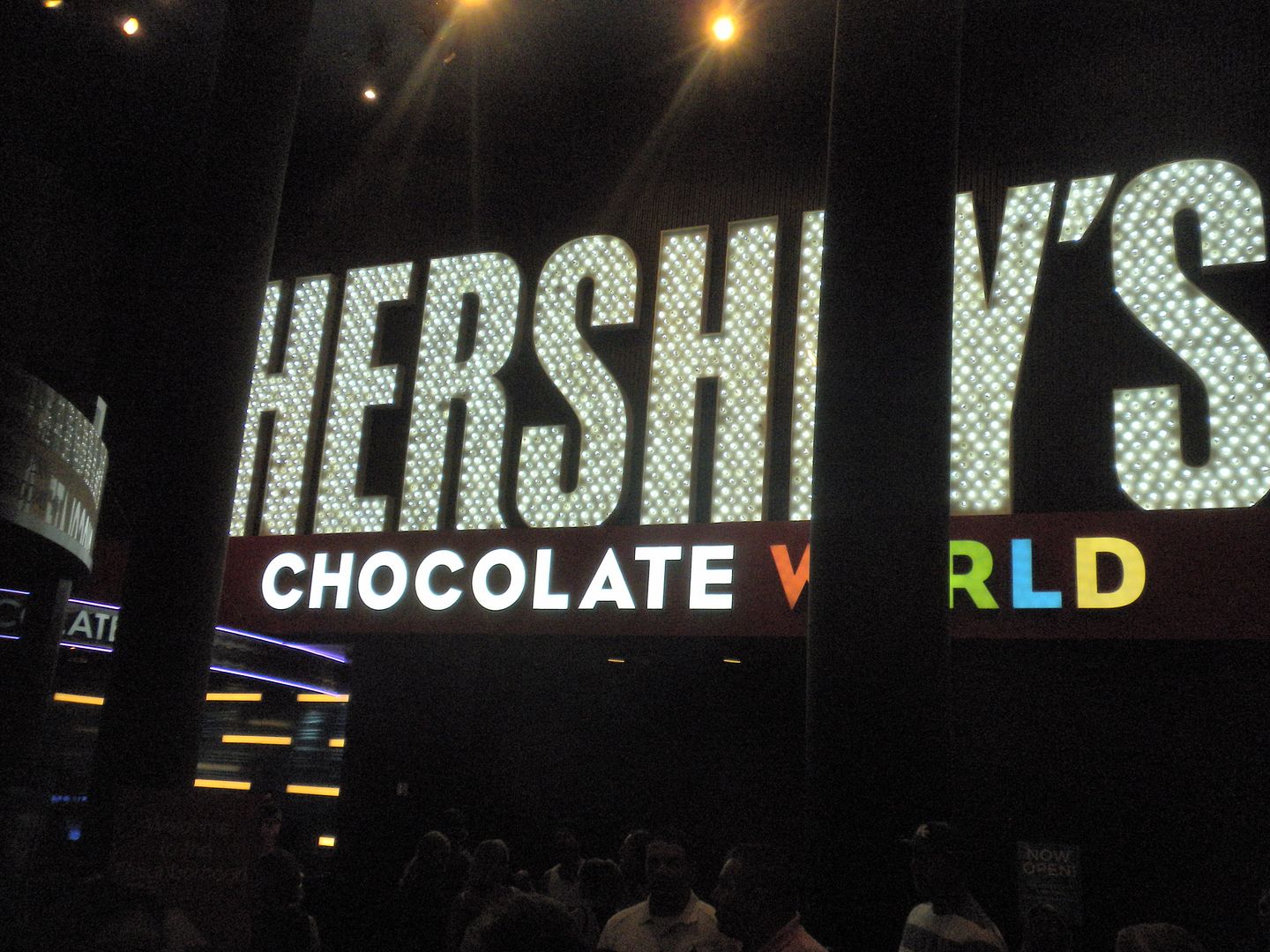 for a while


before getting to bed


ahead of our flights home the next day.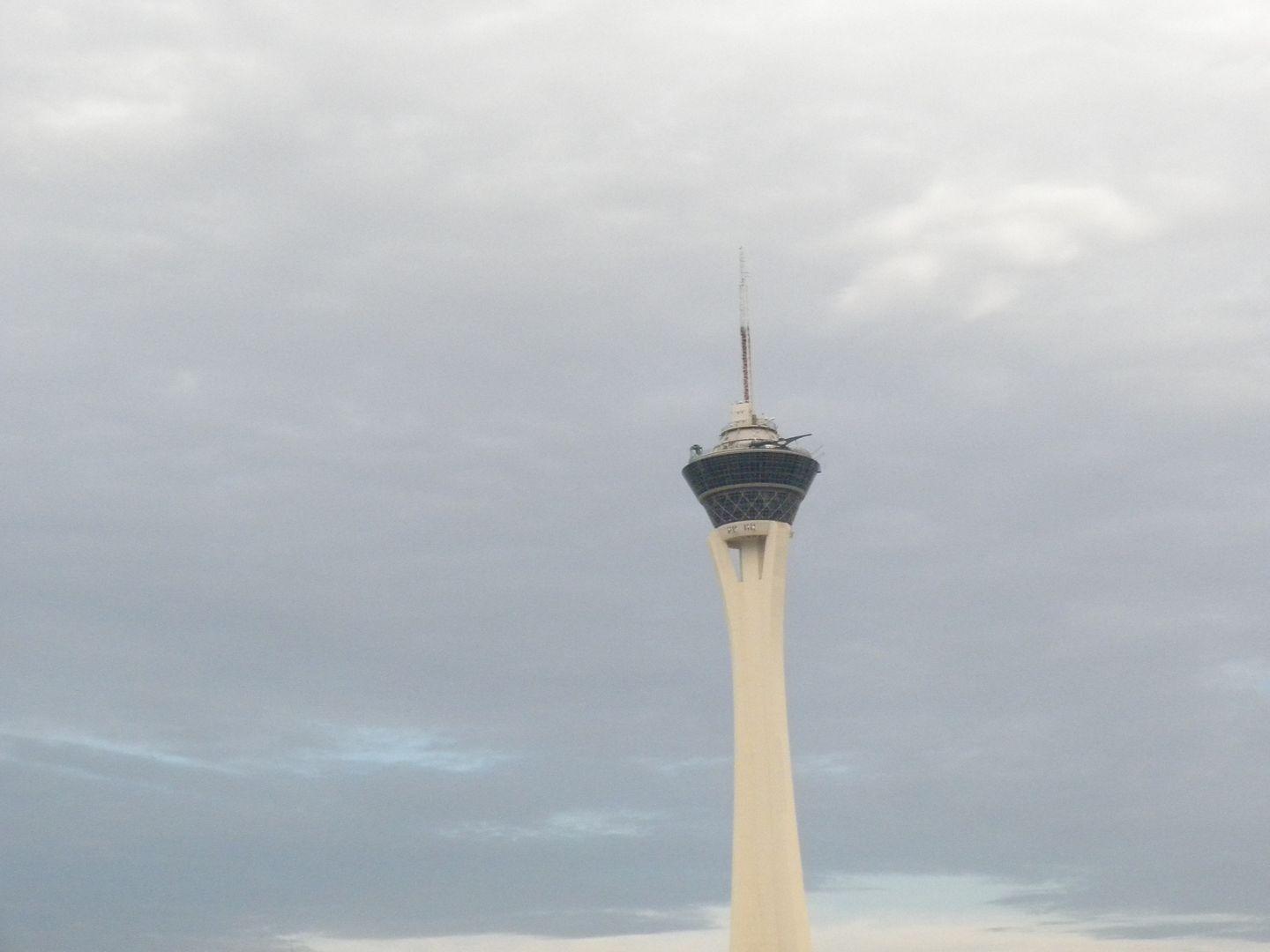 As Vanessa and I had both been to the Stratosphere previously, we decided to suggest Richard and David visit that on their pretrip.  They rode Big Shot, a drop tower on top of the tallest building west of the Mississippi, which is quite thrilling.  Other rides include Insanity the Ride, a giant mechanical arm; X-Scream, a catapult; Observation Deck; and SkyJump. In spite of the fact that everyone asks me if I have ridden it and thinks it is still there, High Roller (S&MC, Family, 1996-2005) was removed prior to my previous visit.
On Tuesday, Richard and I endured the problems from Delta's huge computer crash the previous day. In addition to non-working kiosks and an hour plus line for an agent, we had a 2 hour 10 minute delay.  That only caused a slight delay for me, it caused Richard to miss his connection and not get home until Wednesday morning.  David did not  fly Delta, but had a 3 plus hour delay, but he did make it home late Tuesday. Vanessa had no problems, but had flight issues at the beginning of the trip.  Anyway, it had been a fun trip and now it was time to get back to work.
Thanks for reading!