Southern California, Utah & Nevada Coaster Trip – Part 4: Knott's Berry Farm & Adventure City
Knott's Berry Farm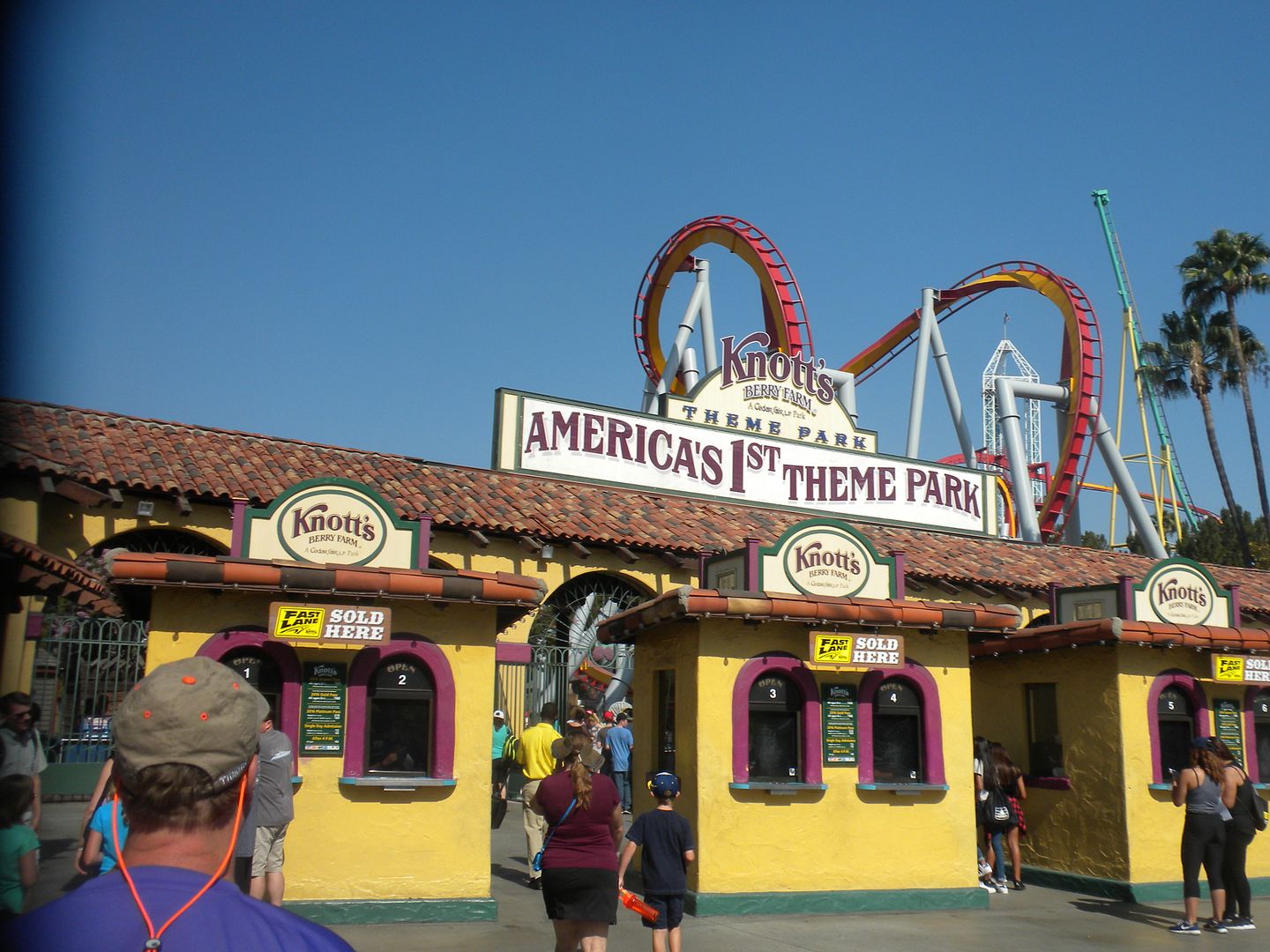 On Tuesday, August 2 we headed to the next park on our trip, Knott's Berry Farm in Buena Park, CA.  Operating since 1940, this was a berry farm long before that.  In addition to growing berries, the Knotts opened a restaurant to serve fried chicken to visitors, and it soon became so popular that guests were waiting a long time for a table.  To help guests from getting bored during their wait,


Walter Knott built a Ghost Town attraction adjacent to the restaurant,


bringing in actual buildings and creating a true town.


Eventually adding rides, his attraction soon grew into an amusement park.  While the berry farm is now lost in the annals of time, the Ghost Town park and the Fried Chicken restaurant remain, as do the many ways to serve boysenberry, the berry Walter Knott cultivated by crossing the raspberry, blackberry, dewberry and loganberry.  On my two previous visits to this park, I had not been able to stay a full day and unfortunately that would be the case this time as well as we would have to take some time out for a quick trip to nearby Adventure City.  I will review this park by its highly themed sections.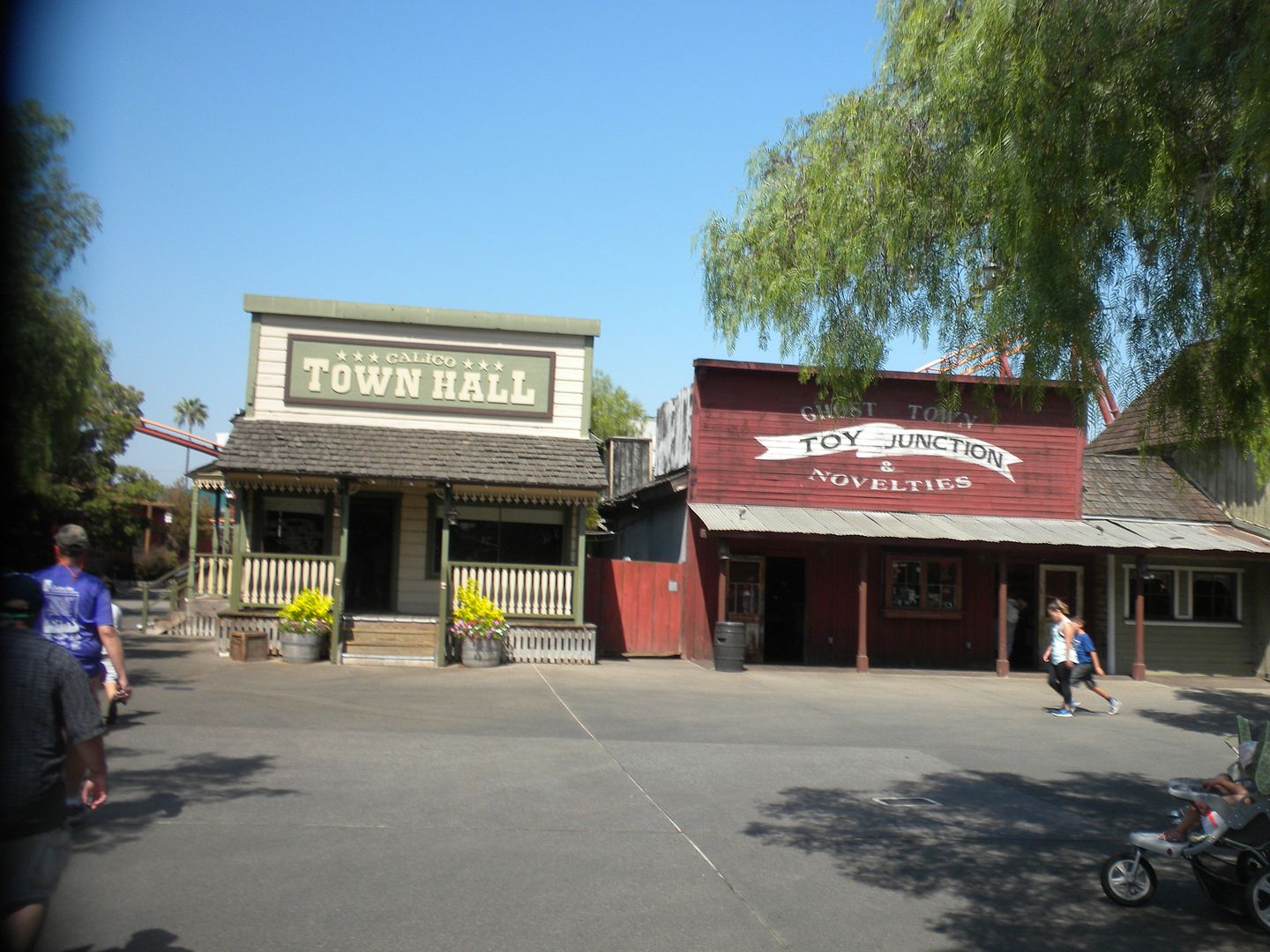 Ghost Town


Having just undergone a major renovation,


I was looking forward to spending some time exploring the buildings of this original section of the park,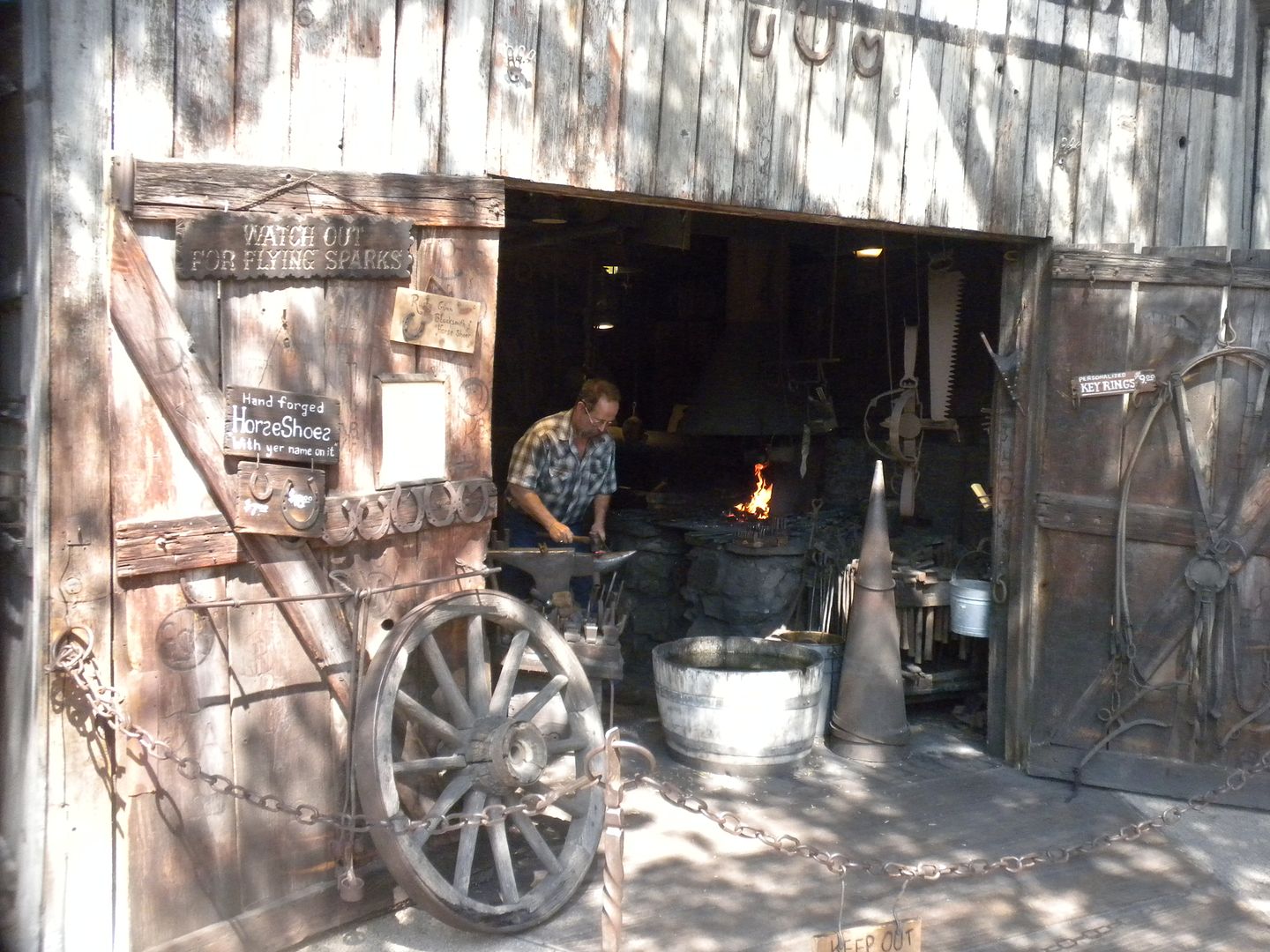 but time did not permit.


This is one of the best themed sections of any park,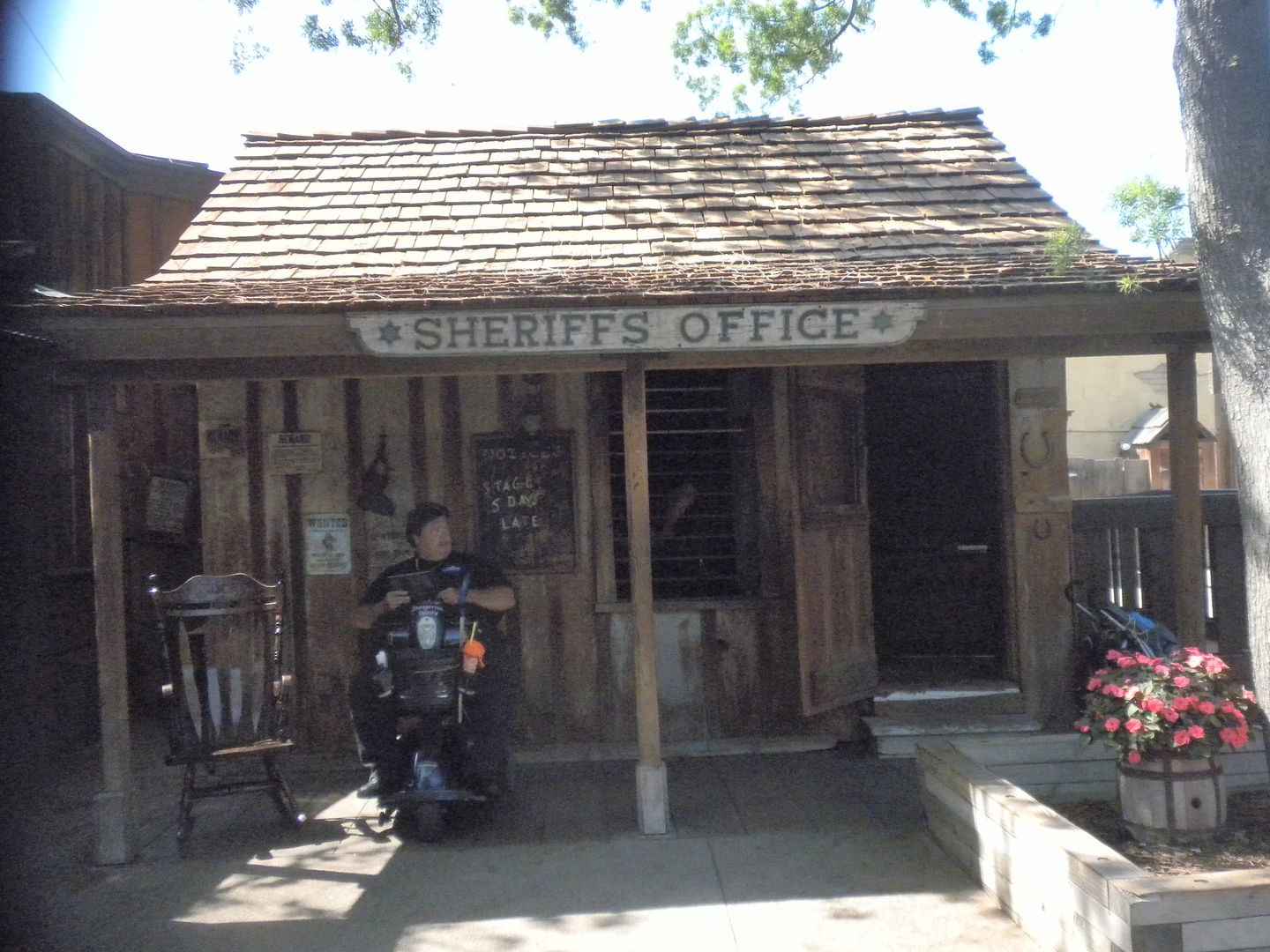 especially when you consider that most of these buildings were moved in from other locations.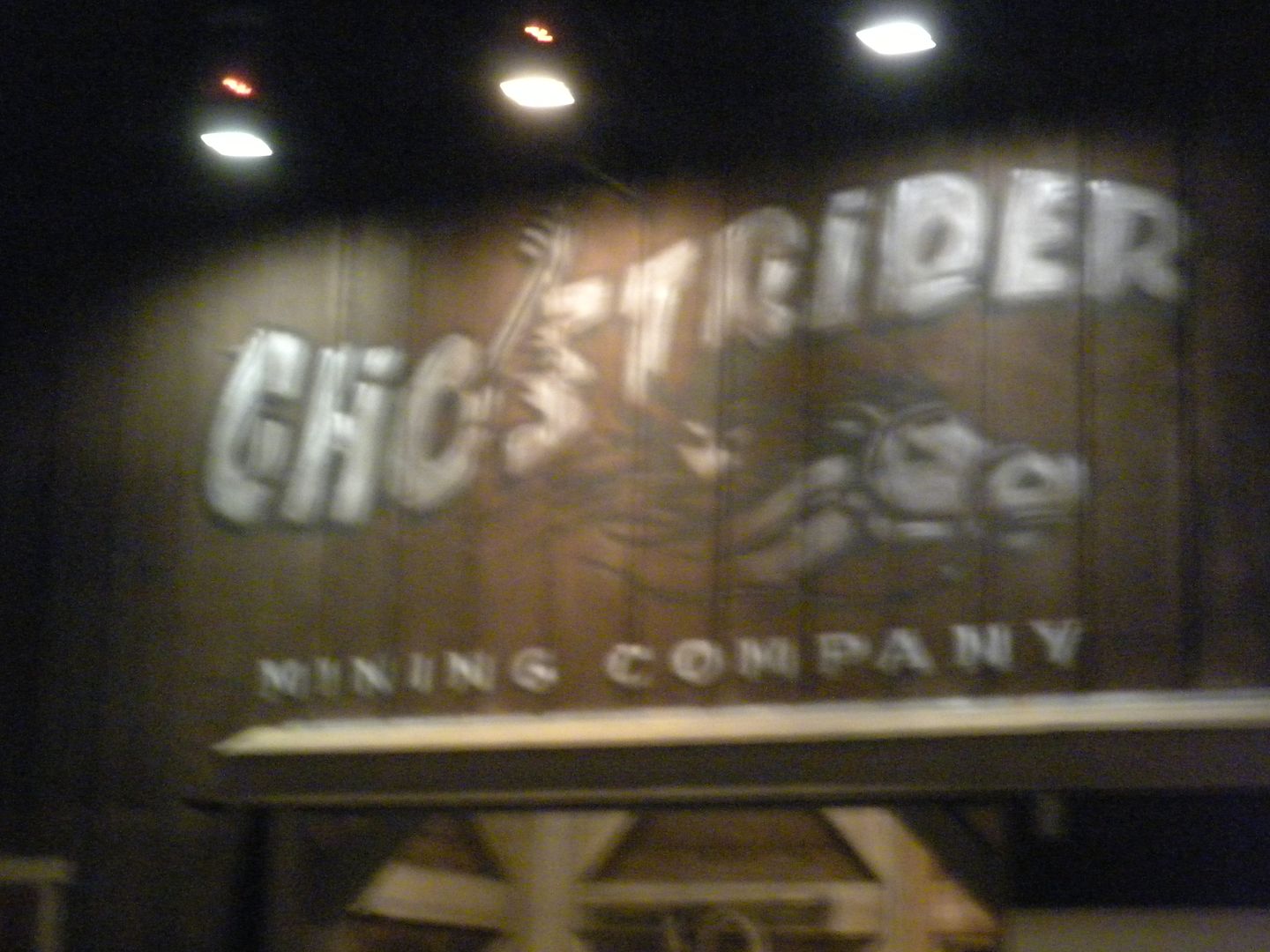 GhostRider: (CCI, Wood, 1998) Having just undergone a complete renovation with all new track and trains, I was looking forward to this coaster.


While it was highly acclaimed when it first opened, it was somewhat rough when I last rode it in 2010.  I was quite impressed with the ride as it is very smooth and gives a good ride that I could easily re-ride again and again. Some in our group were not as impressed by it, preferring the original version.  I applaud Cedar Fair for spending the amount of money they invested to make this ride smooth again rather than turning it into a steel coaster.


I had hoped to get more rides in, but it was quite crowded this day – 2 rides.
Silver Bullet (B&M, Inverted, 2004)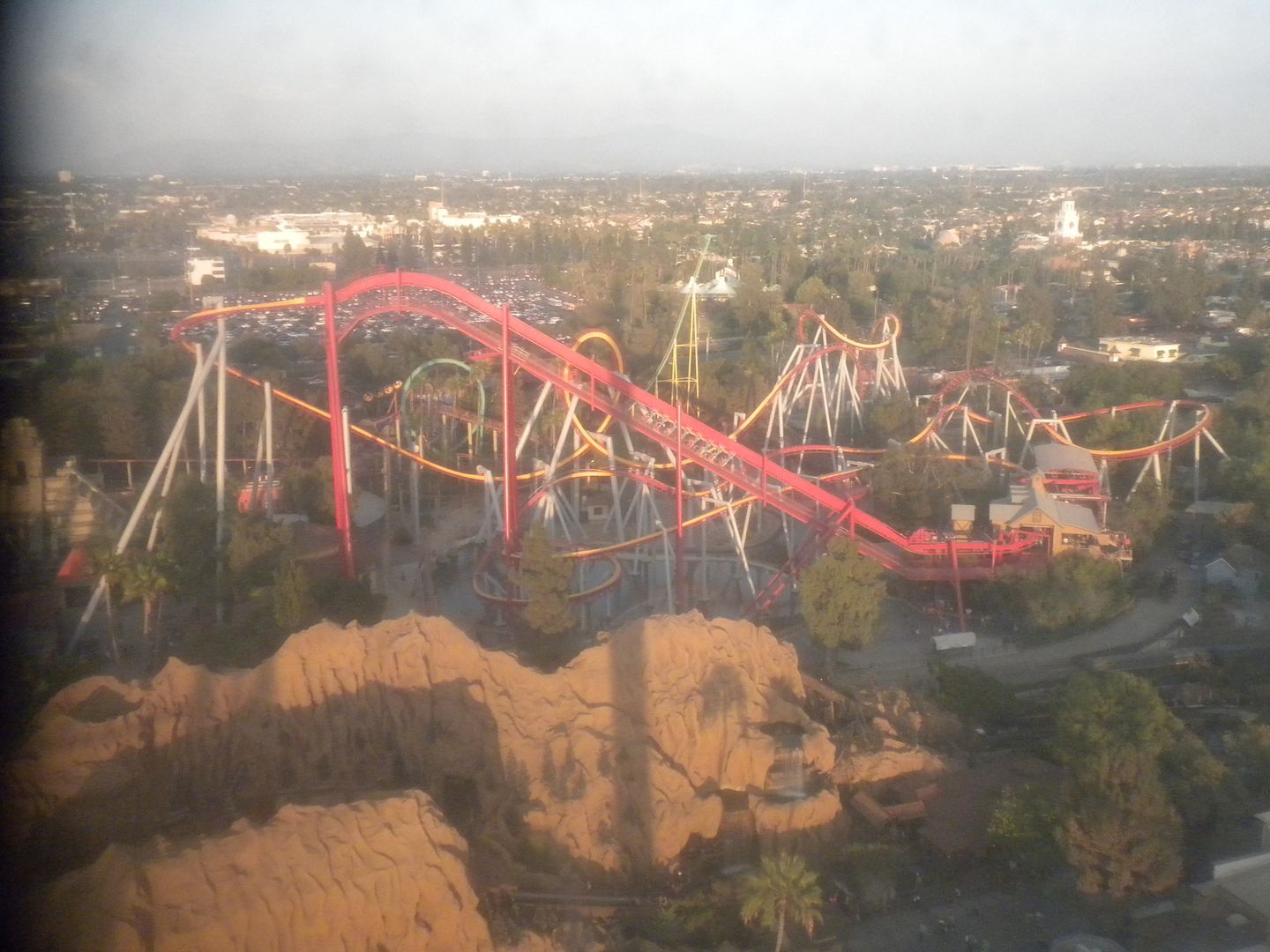 Also fitting in with the Ghost Town theming,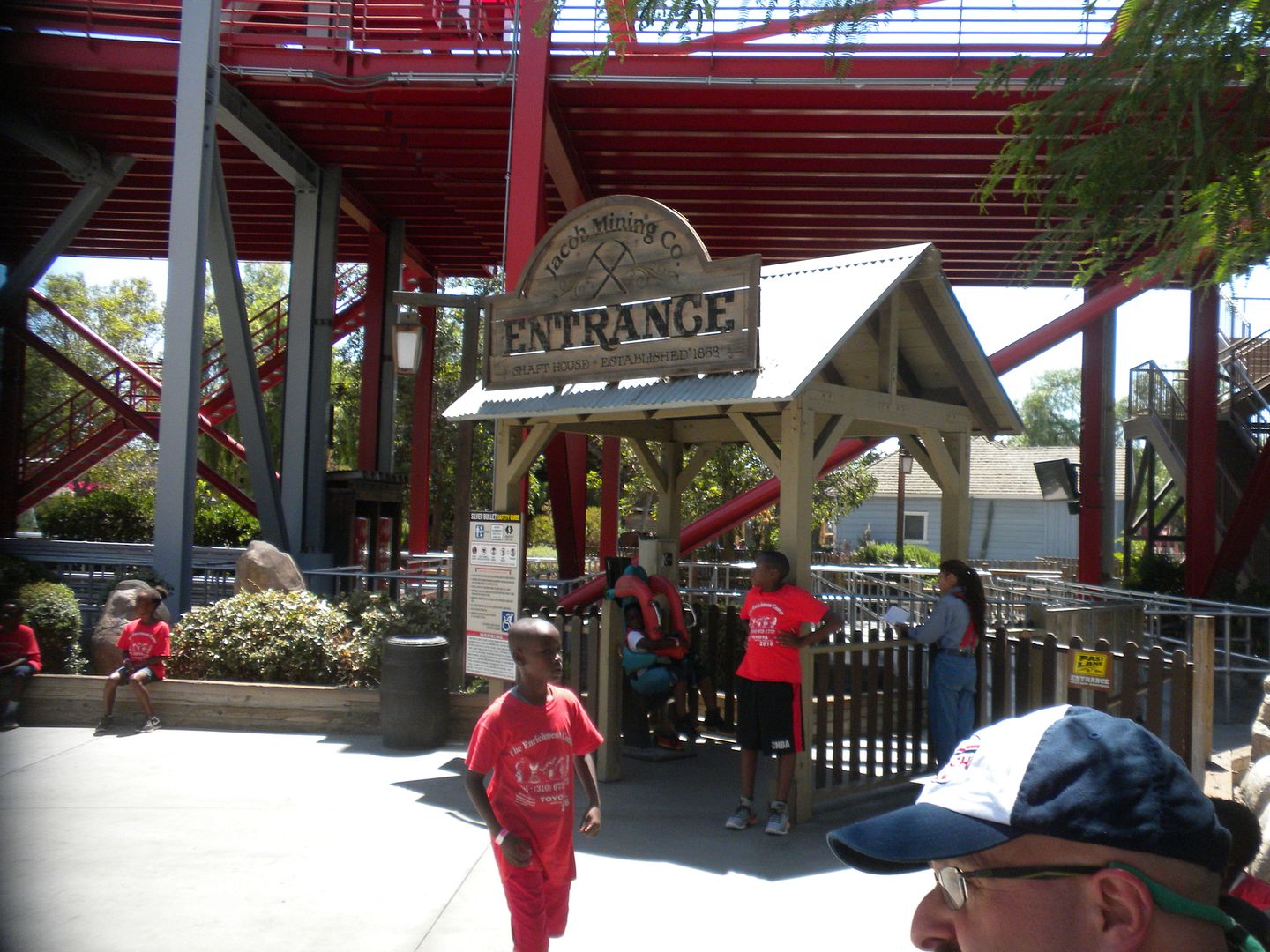 this coaster is very good and I would have liked to have gotten an additional ride – 1 ride.
Pony Express: (Zamperla, Launched Motocoaster, 2008) I like the theming of this launched coaster, although it is a bit short, but still fun – 1 ride.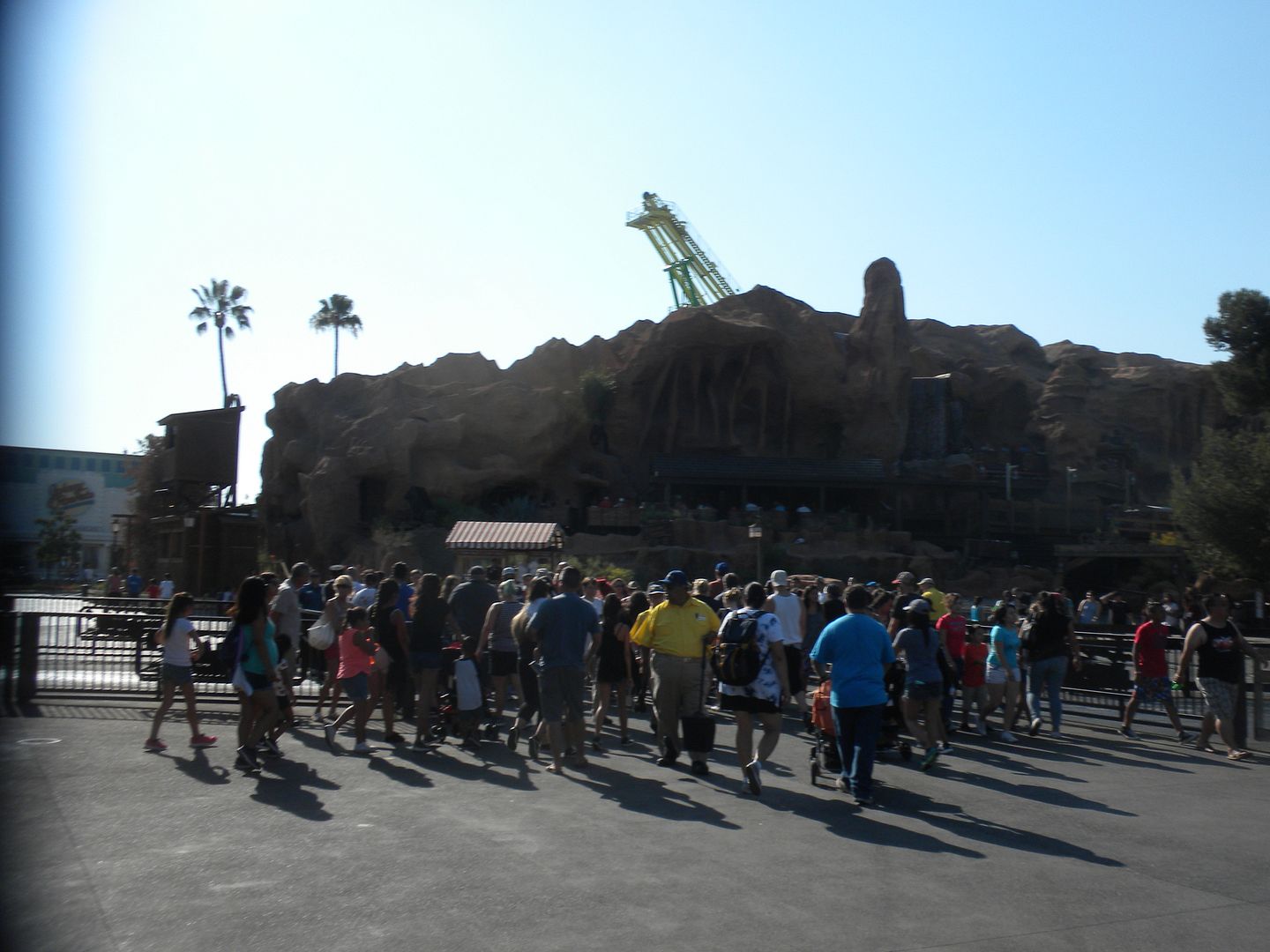 Calico Mine Ride:  This is a fun darkride aboard a mine train through various scenes in a gold mine.  Although not as elaborate as Disney, the scenes are well done and make for a very good ride – 1 ride.


Timber Mountain Log Ride: In addition to being a good log ride, it also has a lot of dark ride scenes.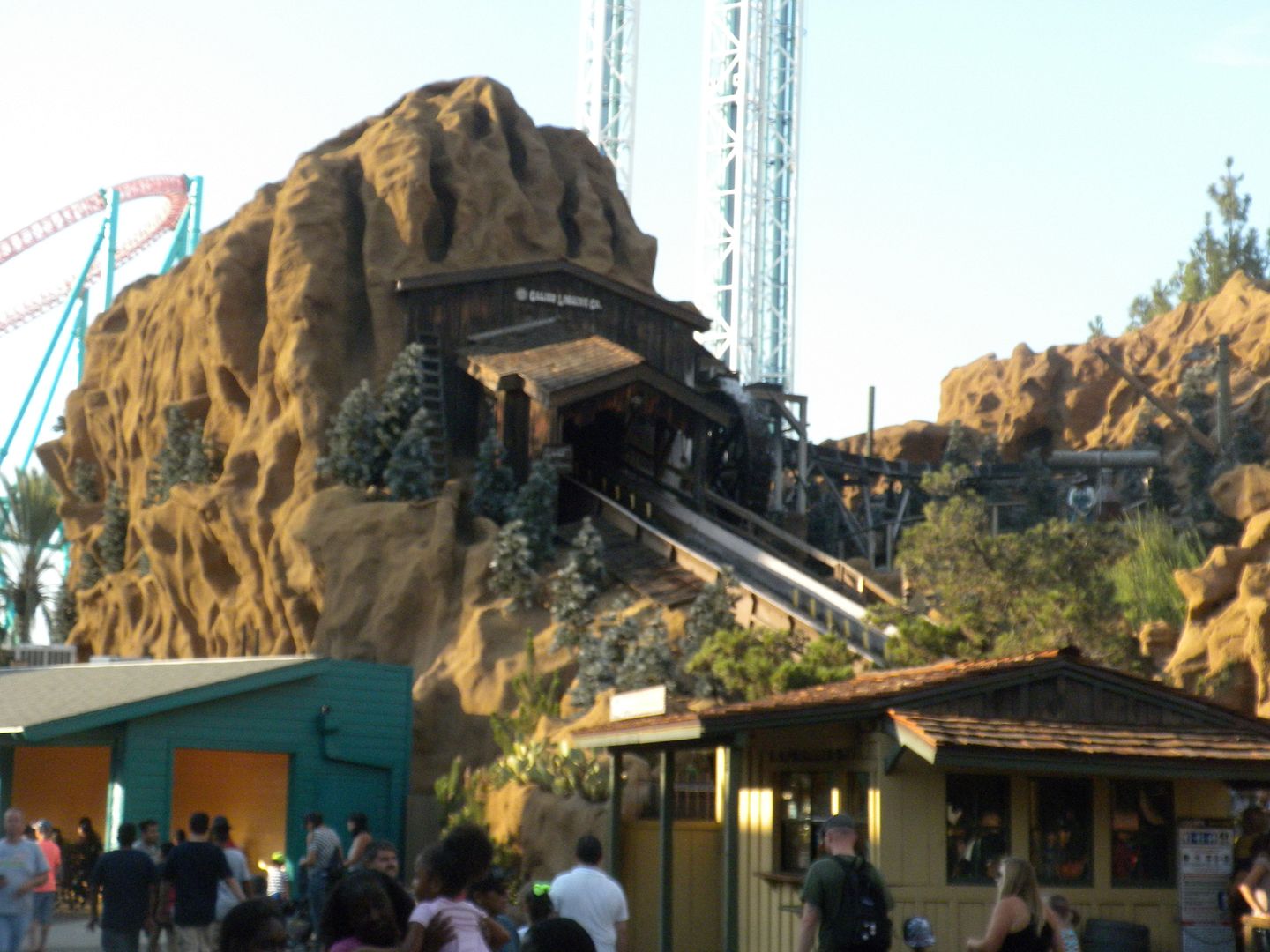 This is one of the best log rides I have ridden – 1 ride.


Ghost Town Calico Railroad:  Walter Knott bought and installed this narrow gauge steam train at his park many years ago.  This was a real operating train and the cars are not typical theme park open air cars, but the passenger and cargo cars that operated on the railroad.  It is a fun ride and gave a great overview of the park.  It is a round trip with only 1 station.  They even had a bandit walk through the cars to hold them up – 1 ride.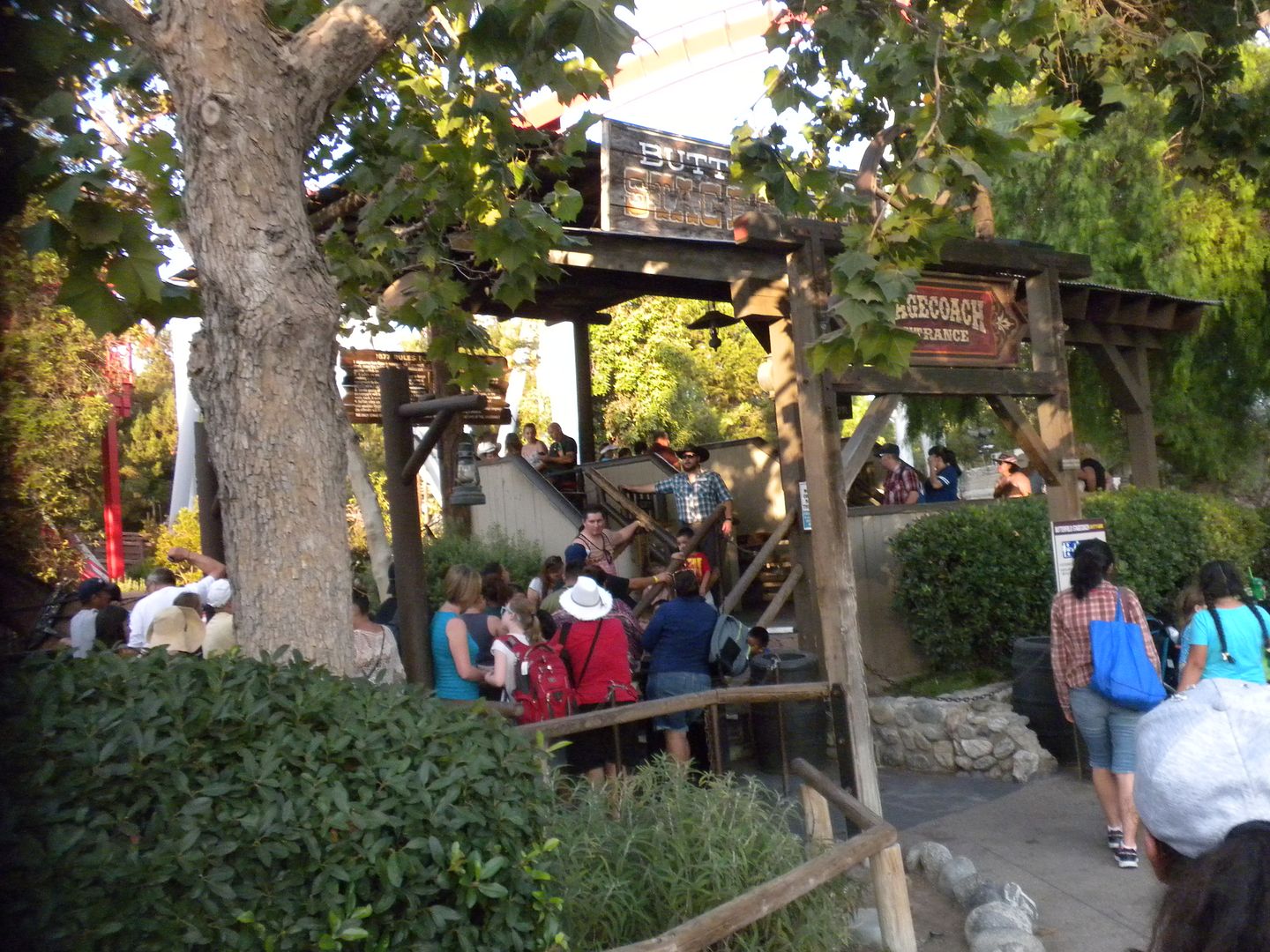 A priority of my visit was a ride on the Butterfield Stagecoach Ride, but we missed it by just minutes.  We should have ridden this before the train.  This is a real horse drawn stagecoach that makes its way around a closed track and is the only regularly operating stagecoach at a theme park.  At one time both DL and SFOT had stagecoach rides, but they have long since succumbed to more modern rides.  It is good to see KBF has retained theirs.


We did not ride Bigfoot Rapids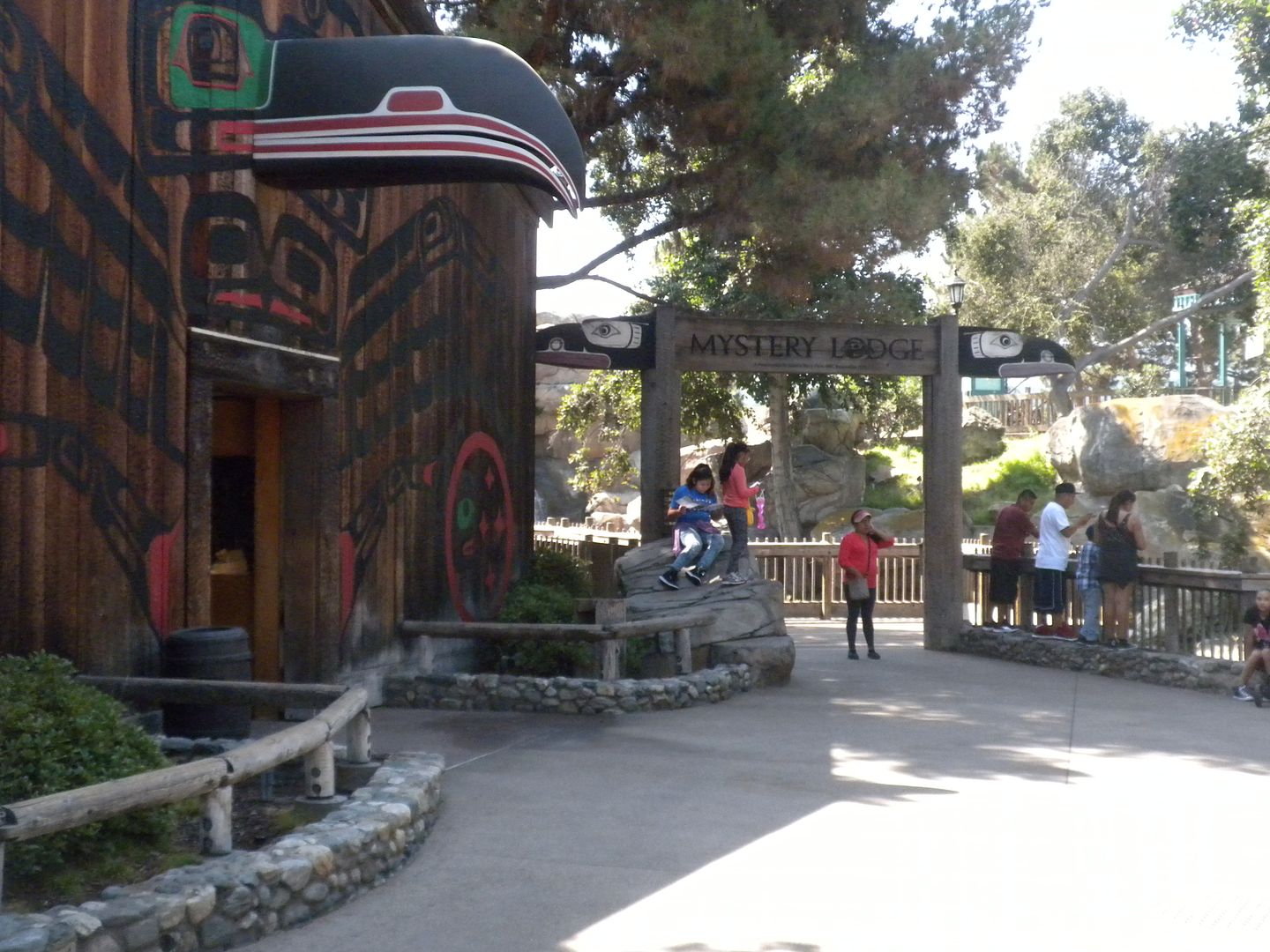 or see any of the shows which include Mystery Lodge Theater, a Native American show; Calico Saloon – Can-Can Show; Bird Cage Theater – Krazy Kirk and the Hillbillies; Wilderness Hall – The Marshal Purdy Show;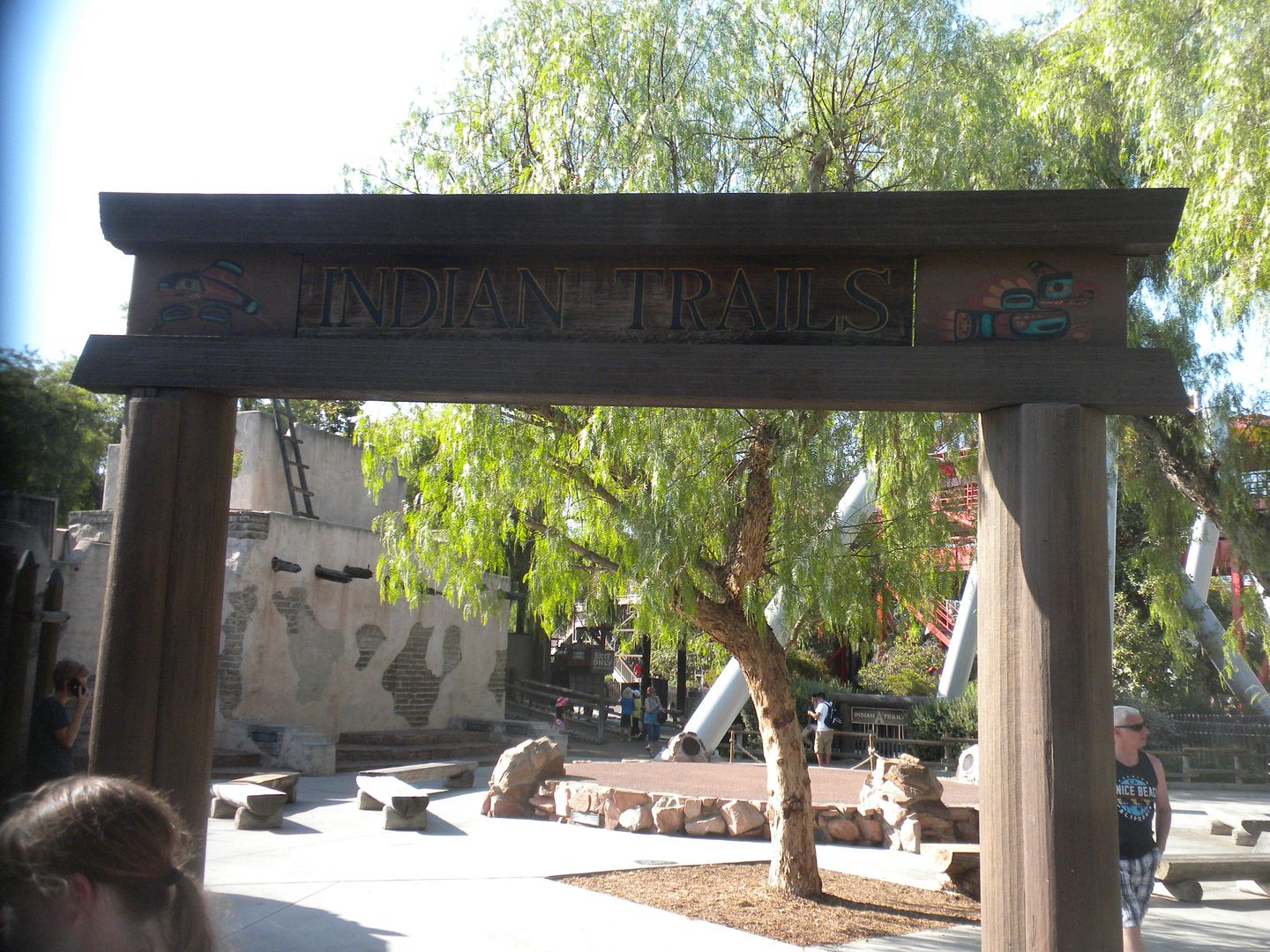 or Indian Trails Stage – Native American Dancer.
Fiesta Village
Themed to a Mexican village, this area does a good job of theming rides and buildings.
Montezuma's Revenge:  (Schwarzkopf, Shuttle Loop – flywheel launch, 1978) The only Schwarzkopf Shuttle Loop still in its original location, this gives a great ride.  How I miss SFOG's Viper! – 2 rides.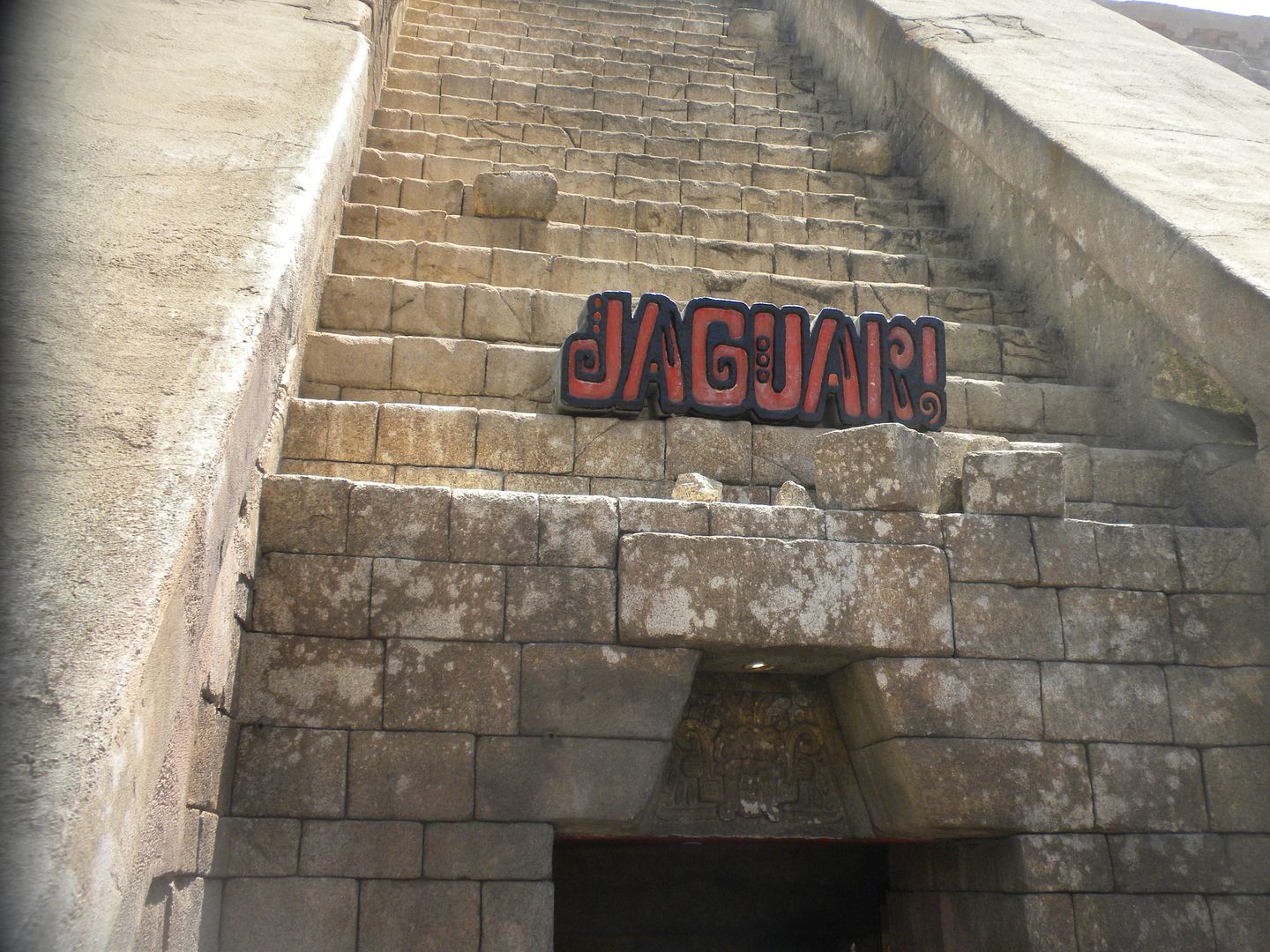 Jaguar!: (Zierer, Tivoli Custom Coaster, 1995)


This is a really fun ride


with great theming and is surprisingly long for a smaller coaster – 2 rides.


Merry-Go-Round: (Dentzel; Classic Wood Carousel – 3 Row Park Menagerie:  18 Jumping Horses, 10 Standing Horses, 24 Menagerie Animals (1 Lion, 1 Deer, 3 Zebras, 1 Giraffe, 1 Camel, 1 Goat, 2 Bears, 2 Cats, 4 Ostriches, 4 Rabbits, 2 Pigs, 2 Roosters), 2 chariots, Band Organ: Wurl 157; c.1902) Two level platform. Of original 48 animals, 6 have been replaced by fiberglass replicas.  History: HersheyPark, Hershey, PA, 1902 to 1936; Brady Park, Canton, OH, 1936 to 1955; Knott's Berry Farm, Buena Park, CA, 1955 to present.  This gives a good ride – 1 ride.
Hat Dance: This teacups type ride is fun and we got great spinning– 1 ride.
Waveswinger: This Wave Swinger is fun – 1 ride.
We did not ride La Revolucion, a swinging pendulum; or Dragon Swing, a swinging ship.


Boardwalk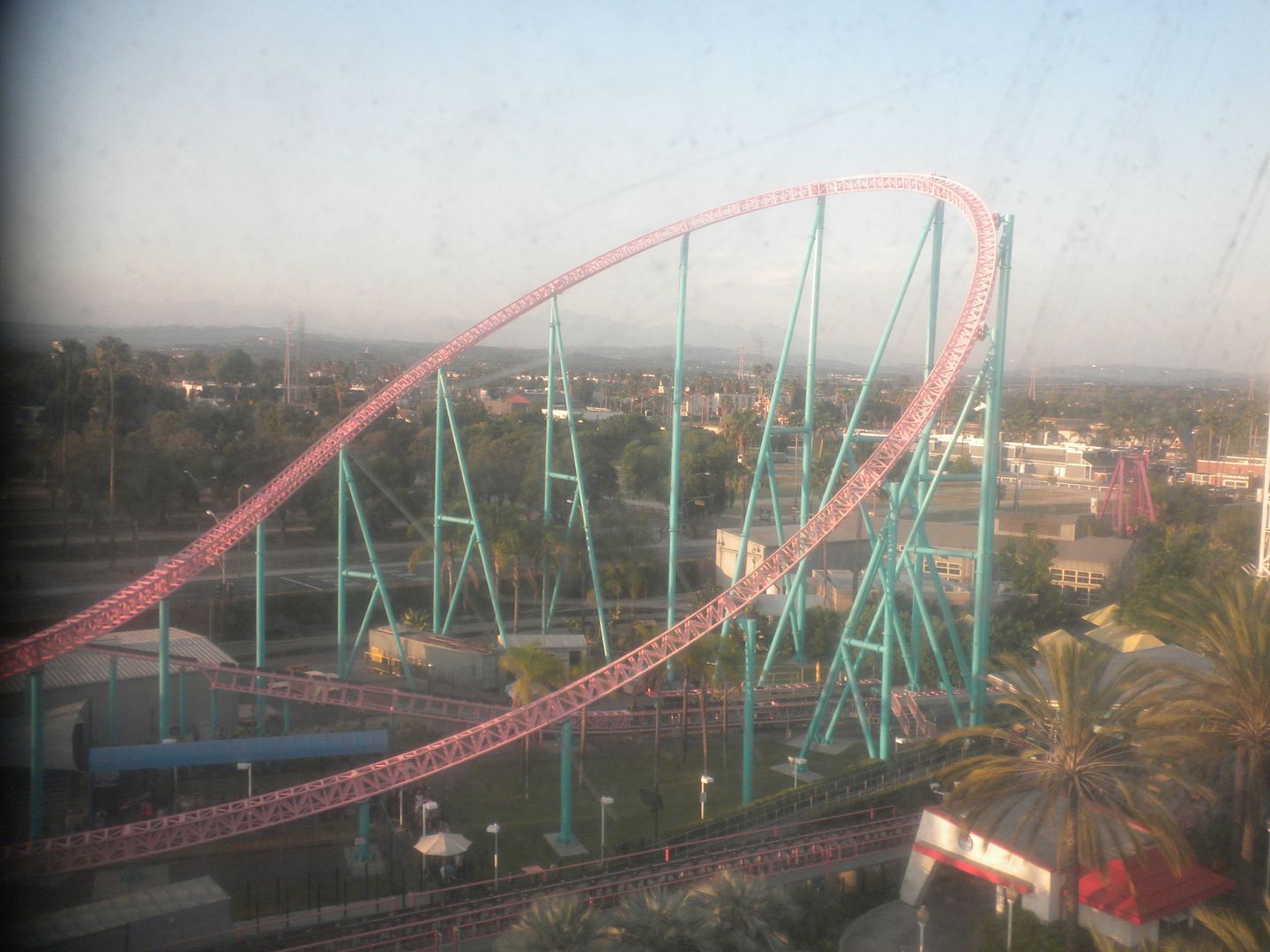 Xcelerator:  (Intamin AG, Accelerator Coaster, 2002)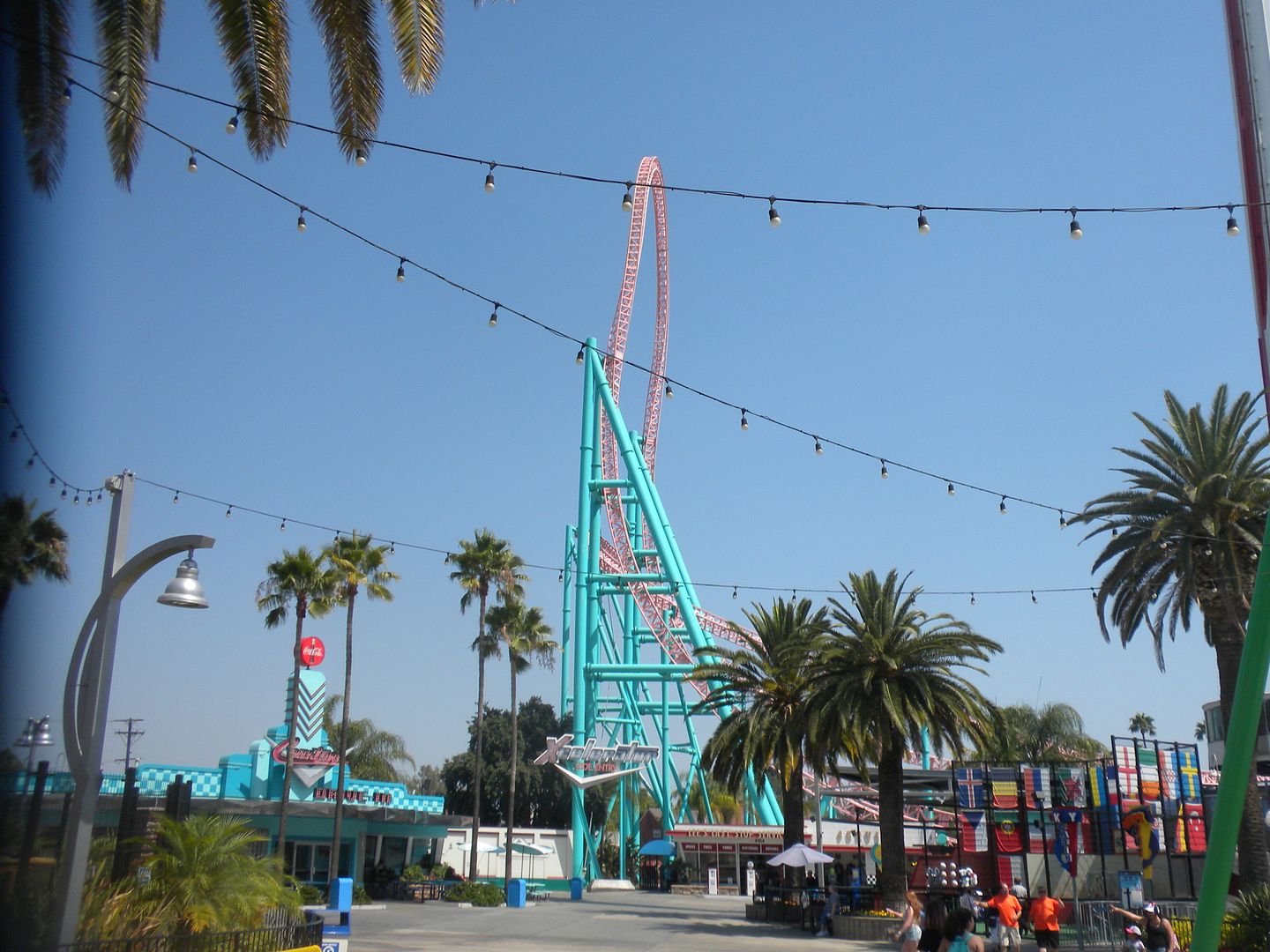 Nicely themed to a race track, this is a fun launched rocket coaster and I would have liked another ride – 1 ride.


Boomerang: (Vekoma, Boomerang, 1990)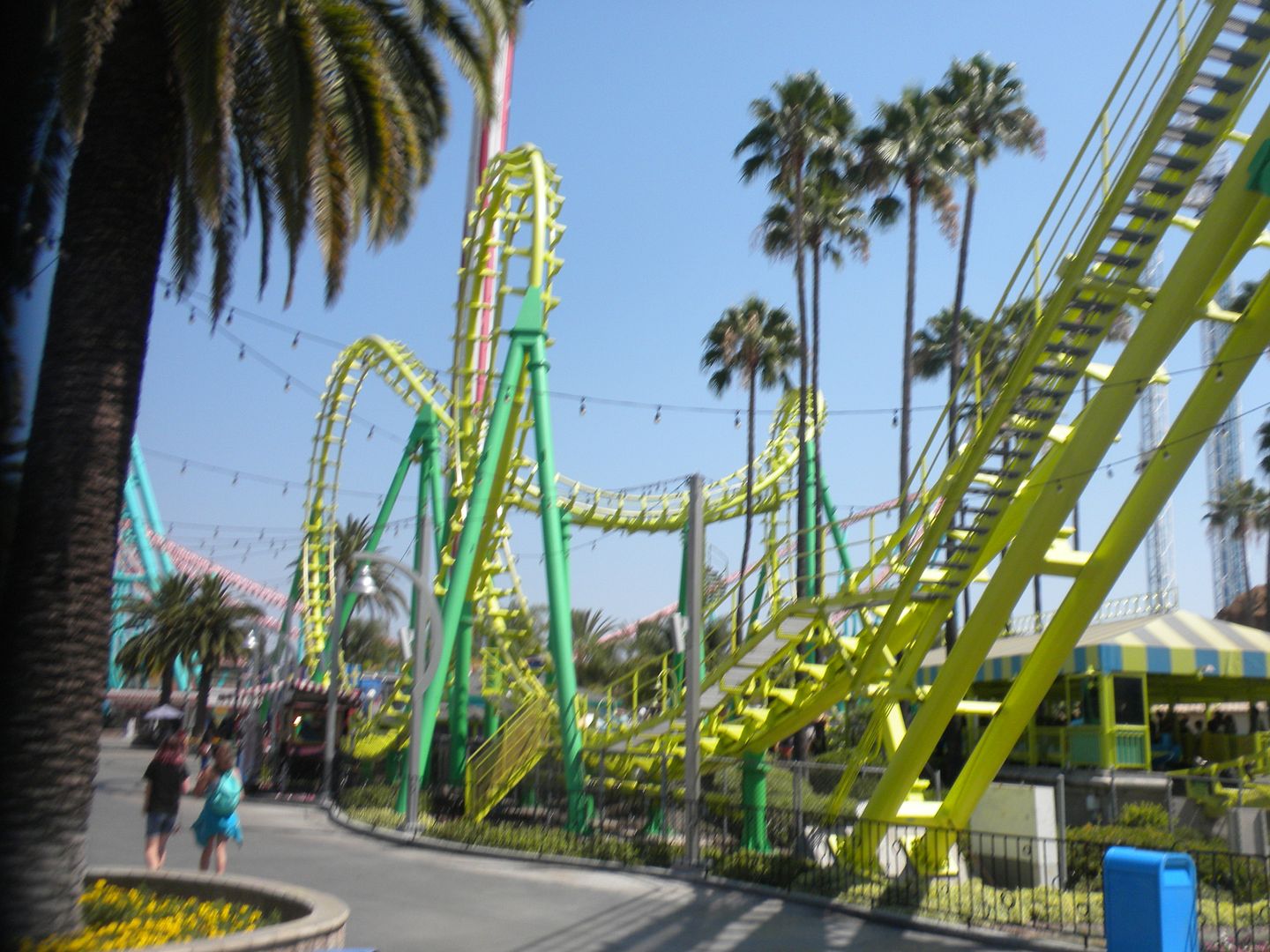 Like most I have ridden; at least we didn't wait a long time – 1 ride.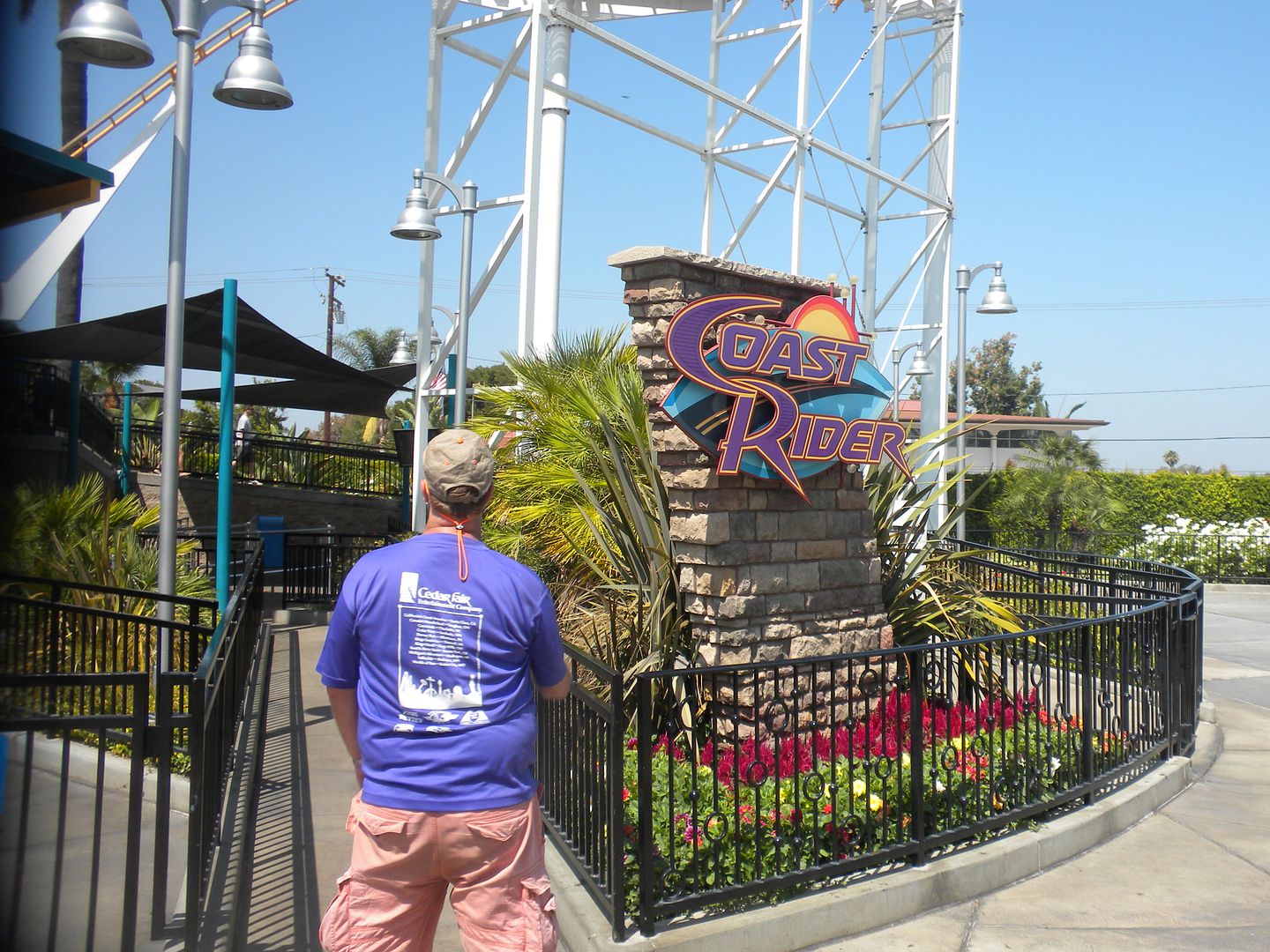 Coast Rider: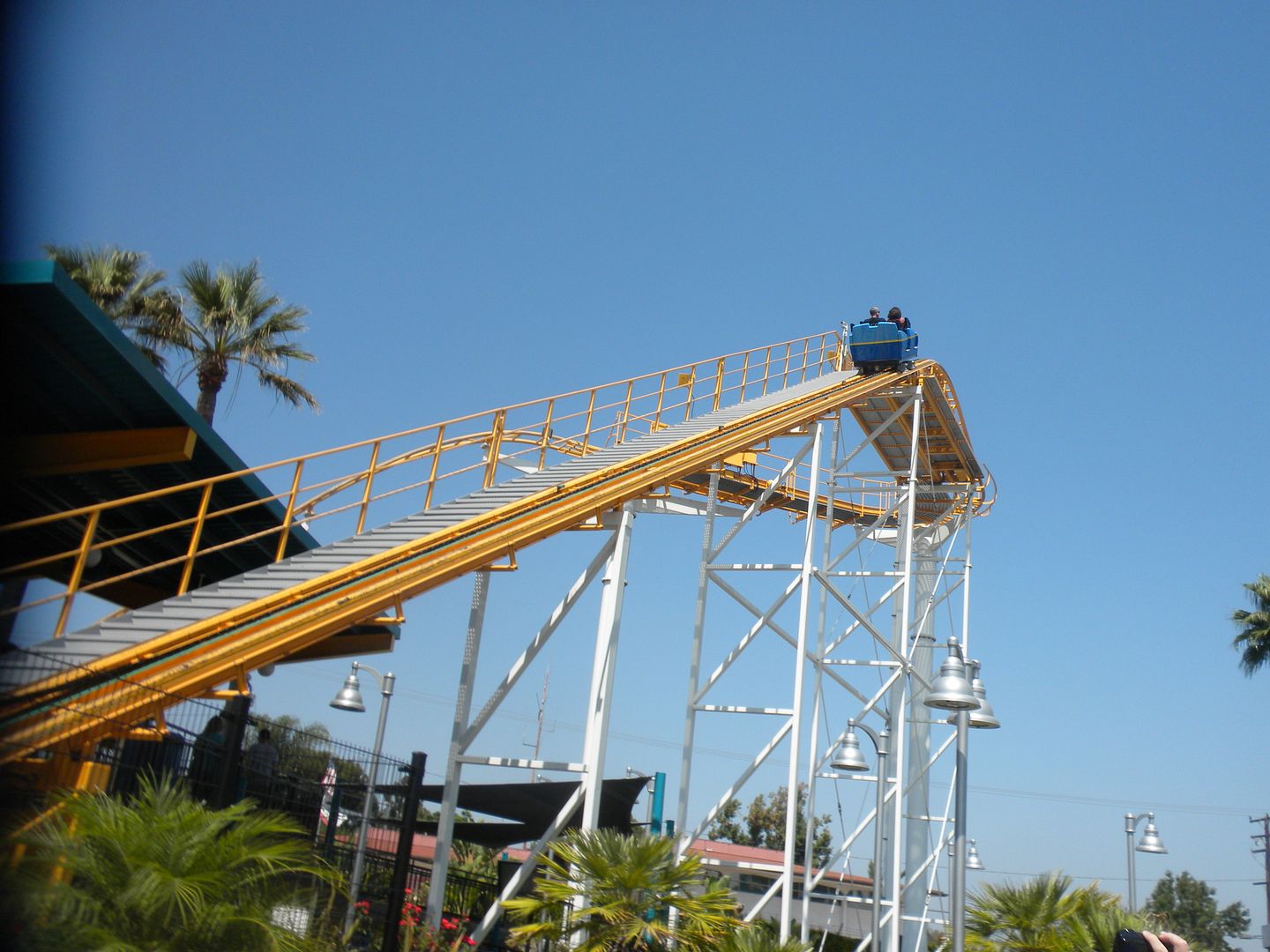 (Mack, Wild Mouse, 2013)


This was a new credit for me as it replaced the temperamental Perilous Plunge shoot-the-chutes ride that I rode on my first visit – 1 ride.


Voyage to the Iron Reef: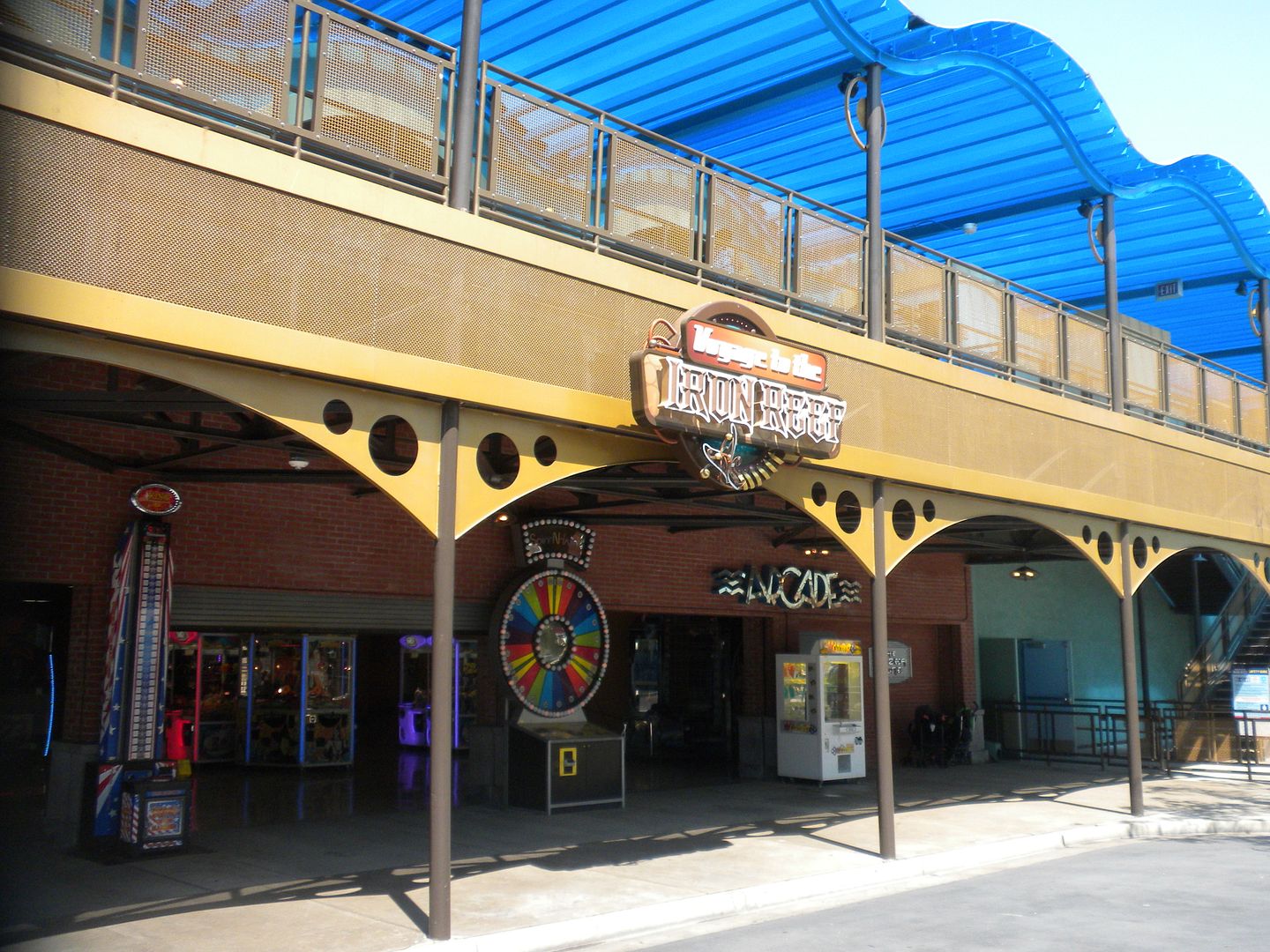 This 4-D interactive darkride is very good and the theme fits in greatly with the Boardwalk section.  More of these should be installed at Cedar Fair parks – 1 ride.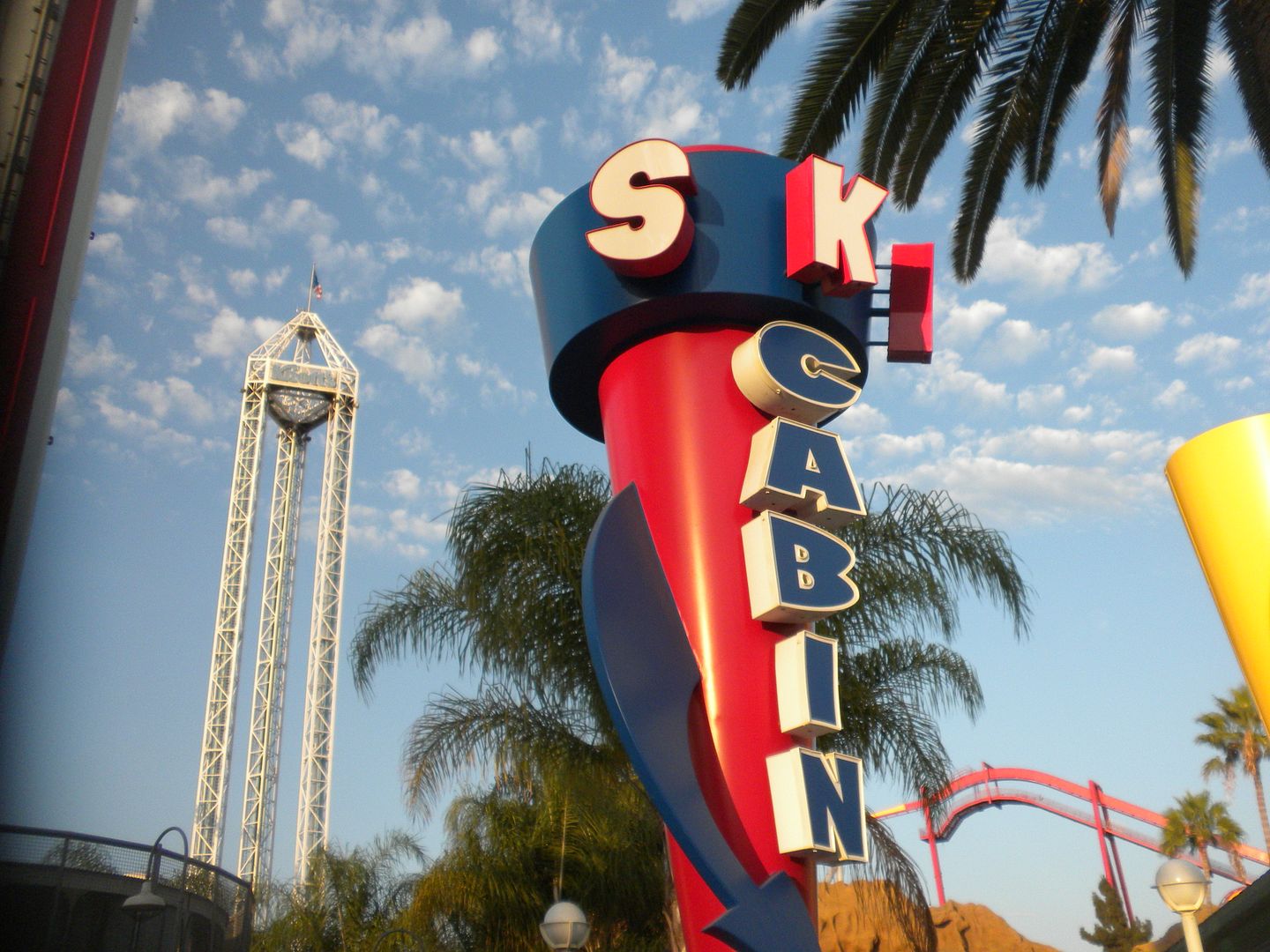 Sky Cabin: At 180 feet this observation ride gives a panoramic view of Orange County and surrounding areas.  Of note they used to have a parachute ride attached to this tower and you can still see the remnants of it – 1 ride.


We did not ride Supreme Scream, a drop tower; Wipeout; Pacific Scrambler; Surfside Gilders, flyers; or Wheeler Dealer Bumper Cars.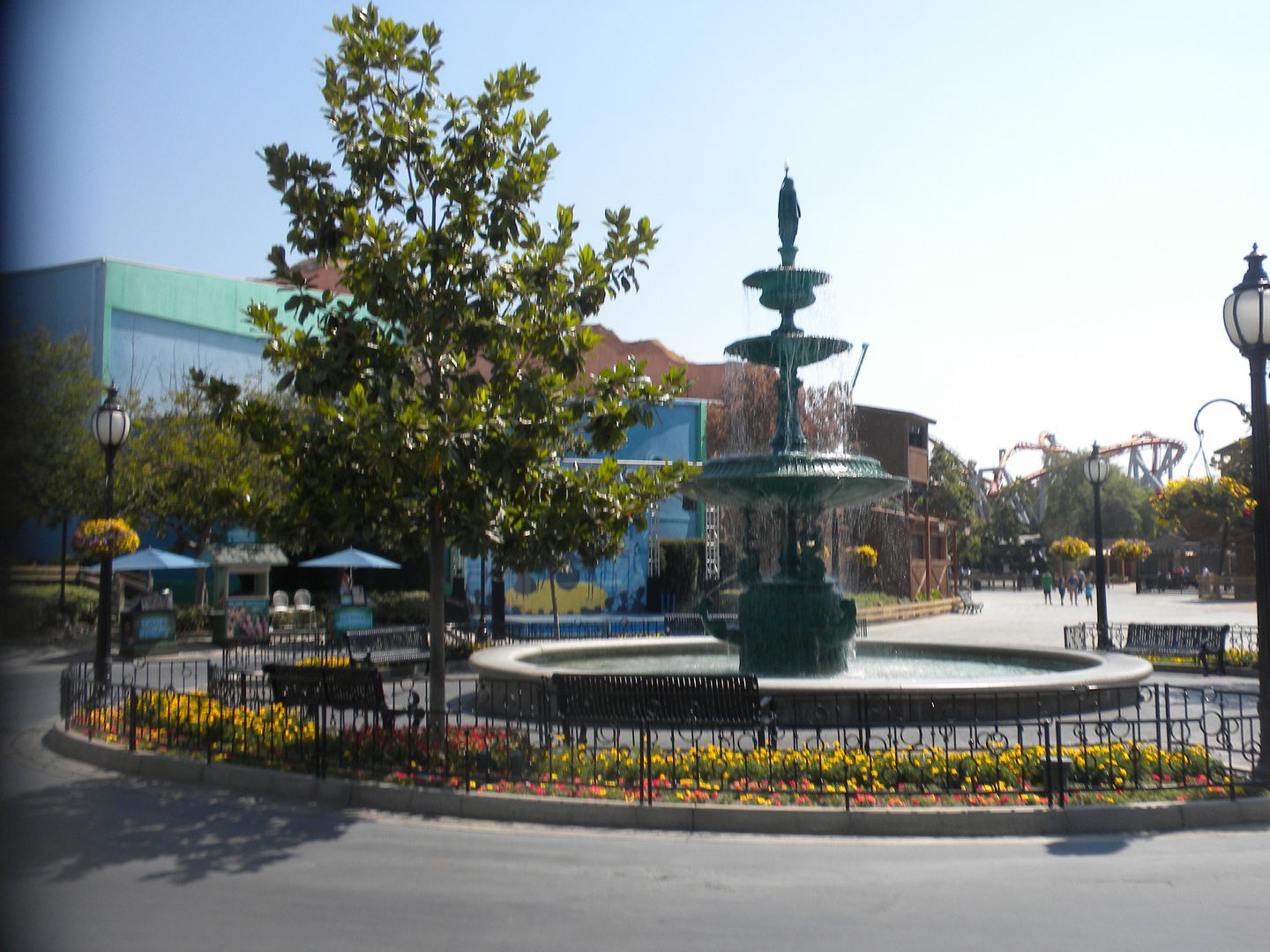 Of note, the Riptide Top Spin has been removed.
Camp Snoopy


Sierra Sidewinder: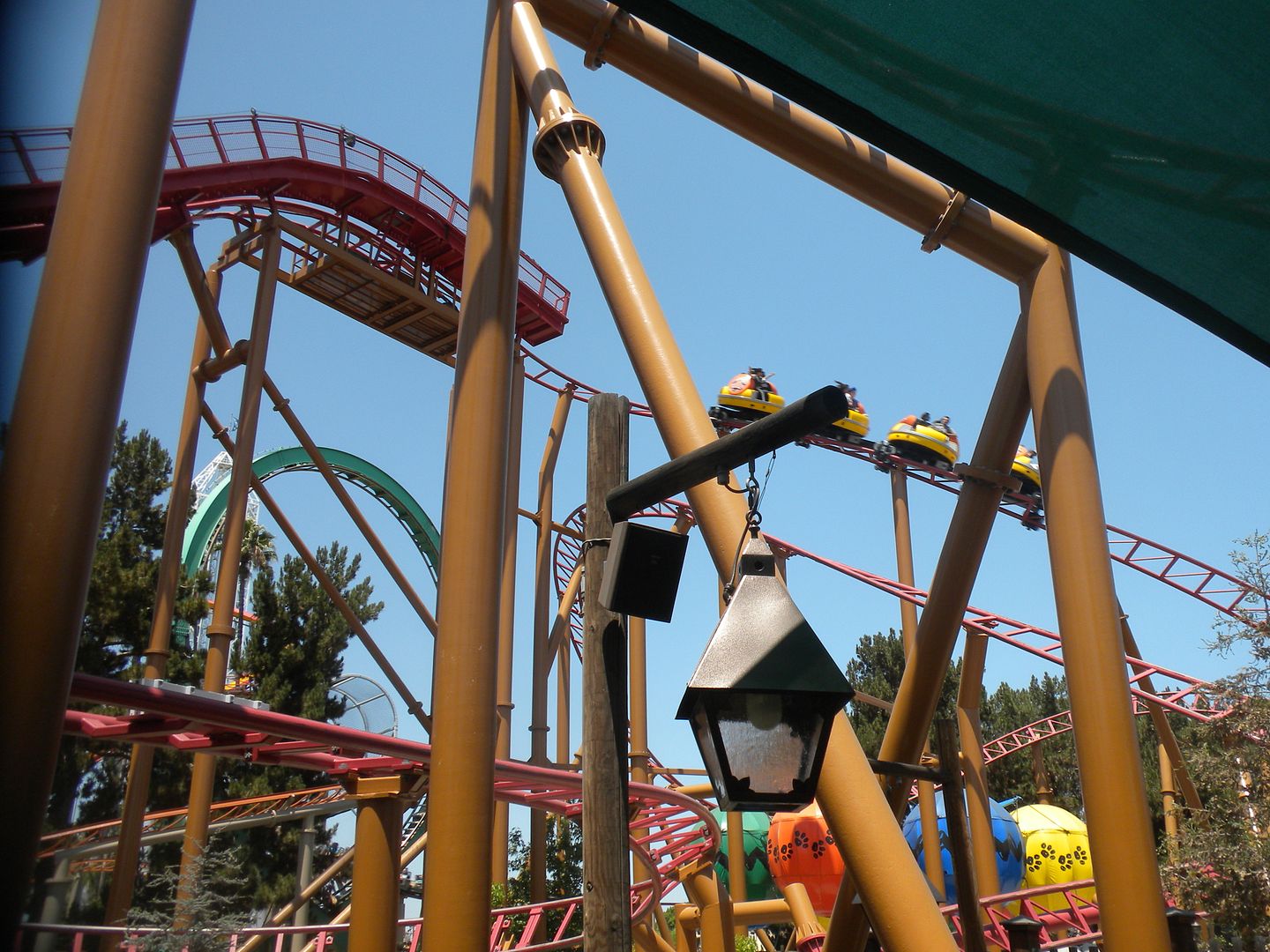 (Mack, Spinning Coaster, 2007)


This spinning coaster is fun – 1 ride.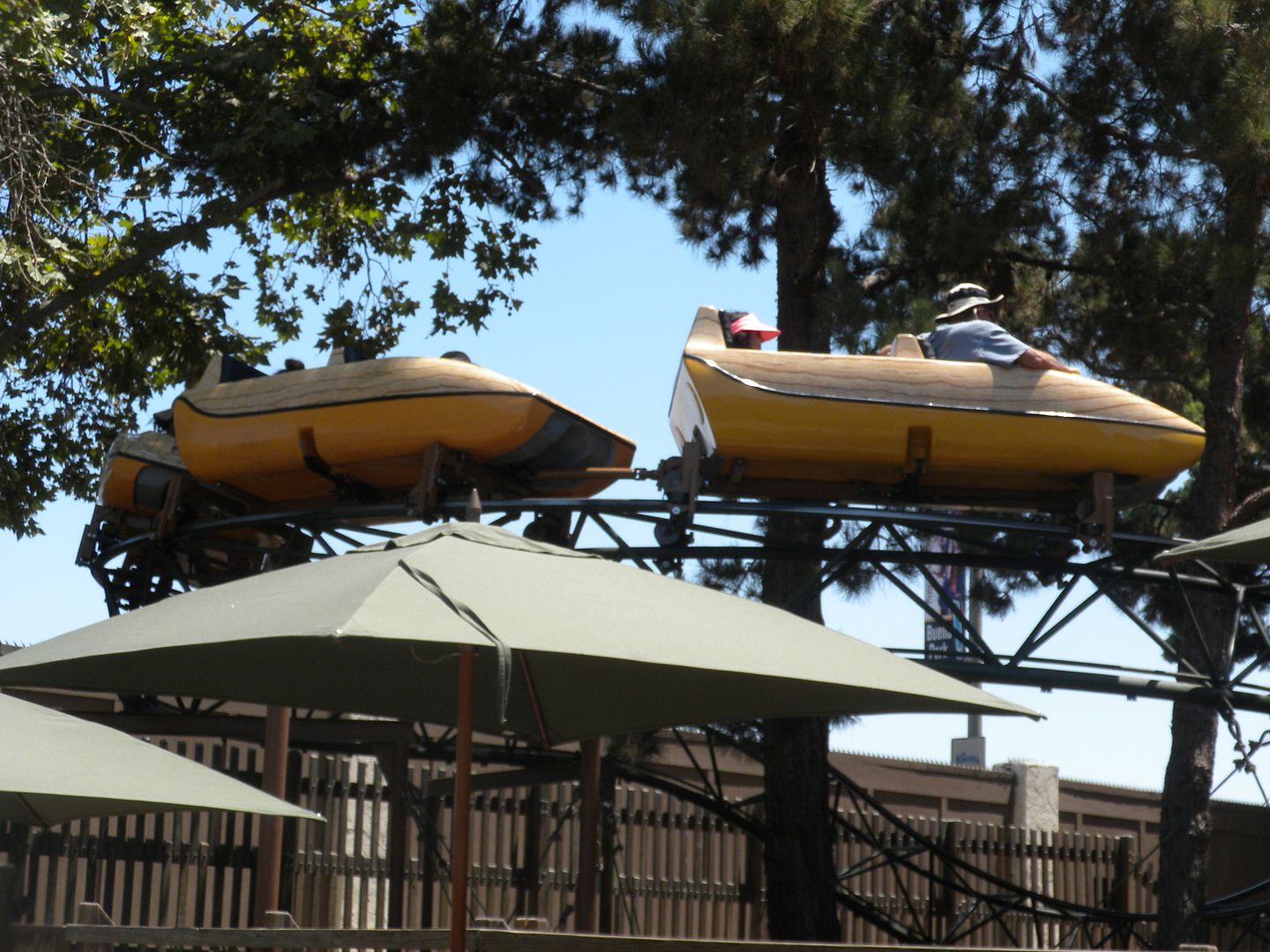 David and Vanessa were able to ride Timberline Twister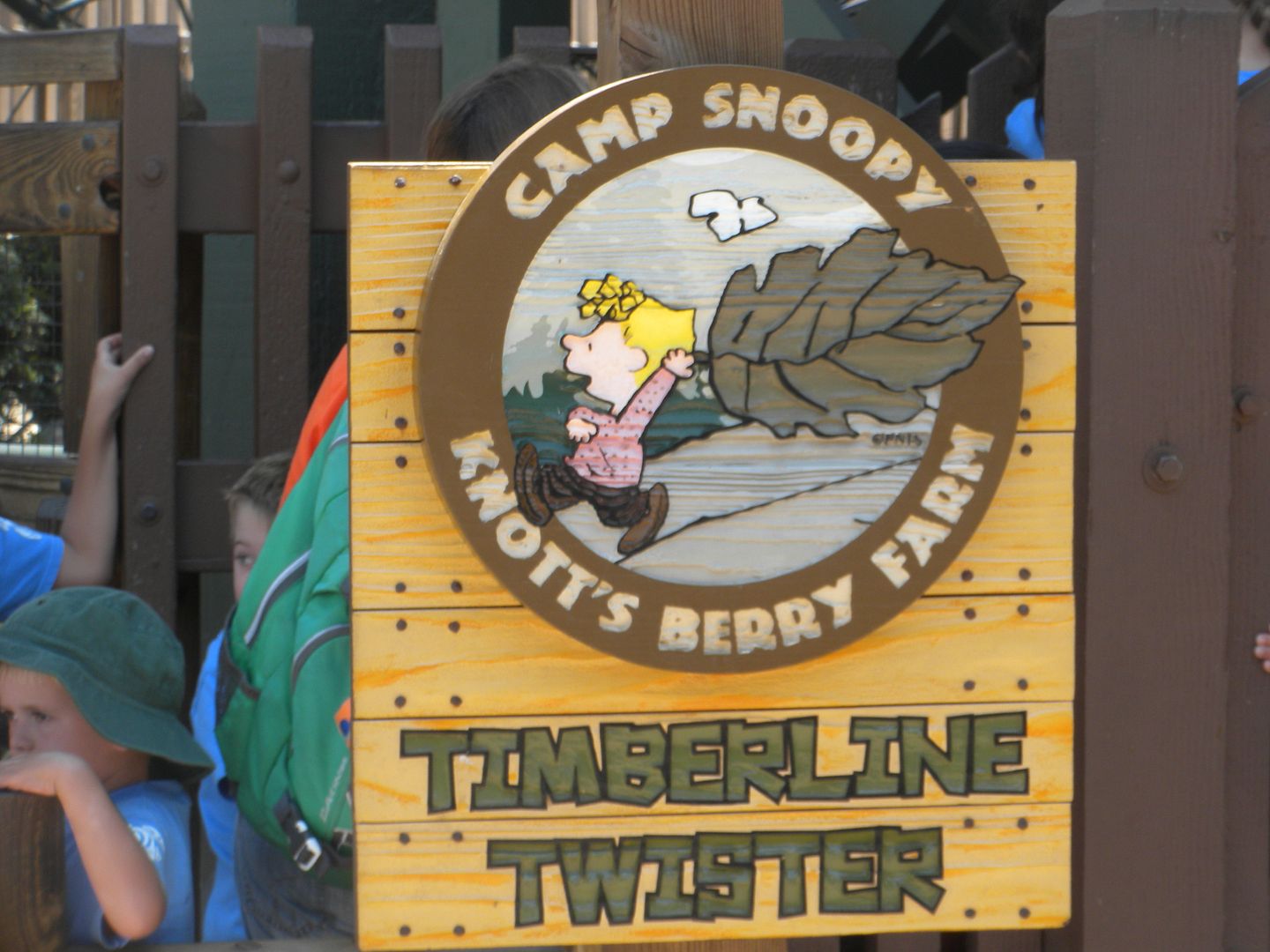 (Bradley and Kaye, Kiddie, 1983), which has a 69 inch height limit, but Richard and I missed it by 3 inches.  We did not ride High Sierra Ferris Wheel; or Grand Sierra Railroad, a miniature replica of a steam locomotive.  They have 10 children's rides and a Peanuts show at Camp Snoopy Theatre.
We had a delicious lunch at Mrs. Knott's Chicken Dinner Restaurant. To me a trip to Knott's Berry Farm is not complete without a meal here as there would be no park were it not for this restaurant.  While some of our group might have preferred a healthier choice, I love fried chicken, having grown up on it in the South.  The chicken was delicious, but what I most enjoyed was all the boysenberry items from boysenberry jam on fresh, hot rolls, to boysenberry salad dressing, to boysenberry punch, to boysenberry pie with vanilla ice cream, it was a berry lover's dream, and I do like berries.  After our delicious meal we took an hour and a half break at Adventure City as described below.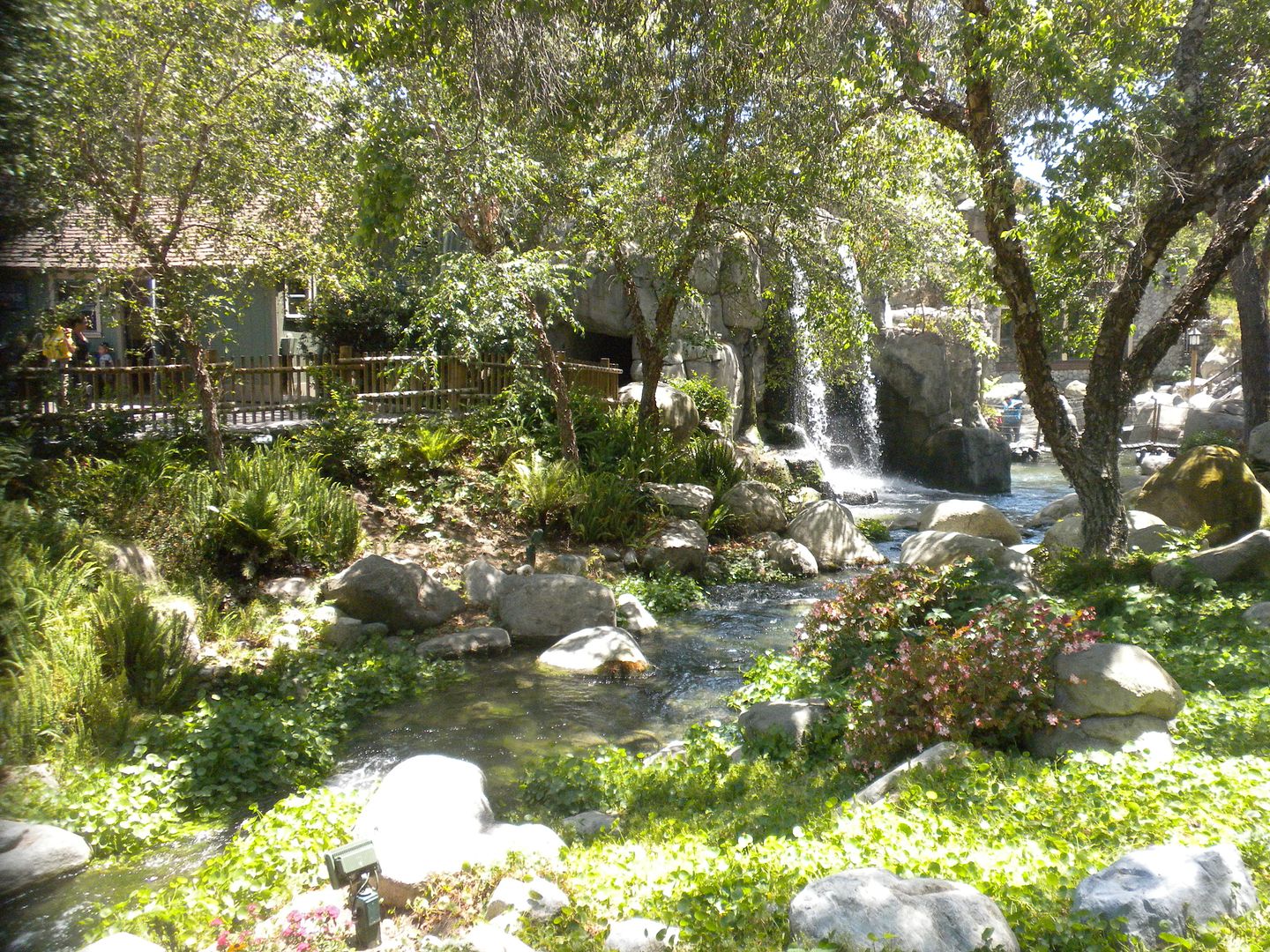 Having ridden all the coasters before lunch, we continued with the other rides we wanted to get to.


We did different things for dinner – I had some good tacos from Pancho's Tacos in Fiesta Village.  It was getting fairly late before we got to coaster rerides, so we didn't get in as many as I had hoped.  When we made it to the Ghostrider line with just under an hour left until close, we soon saw from its length that we would only get one reride.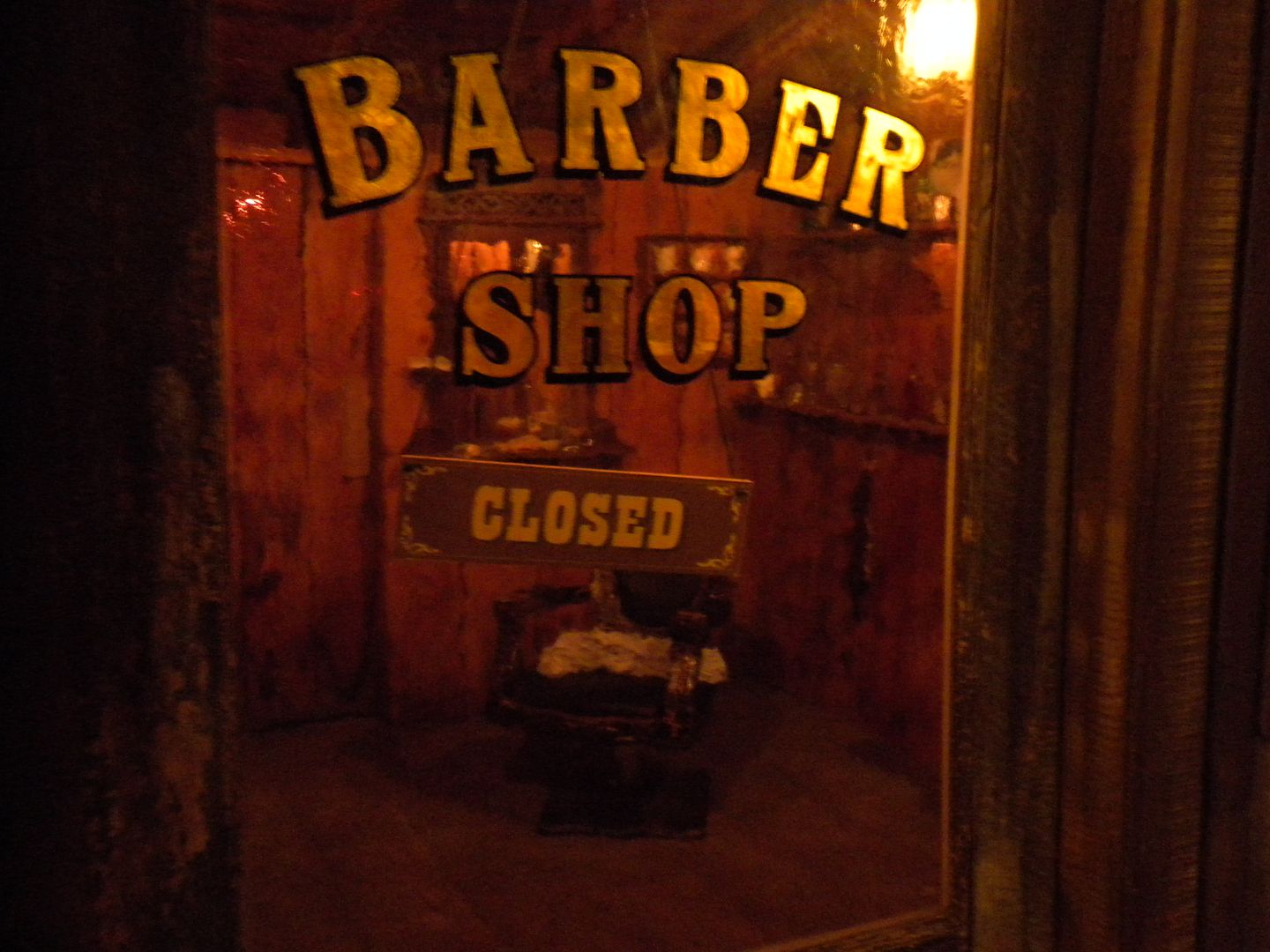 As we left the park I was able to get a few more pictures


of the buildings around Ghost Town.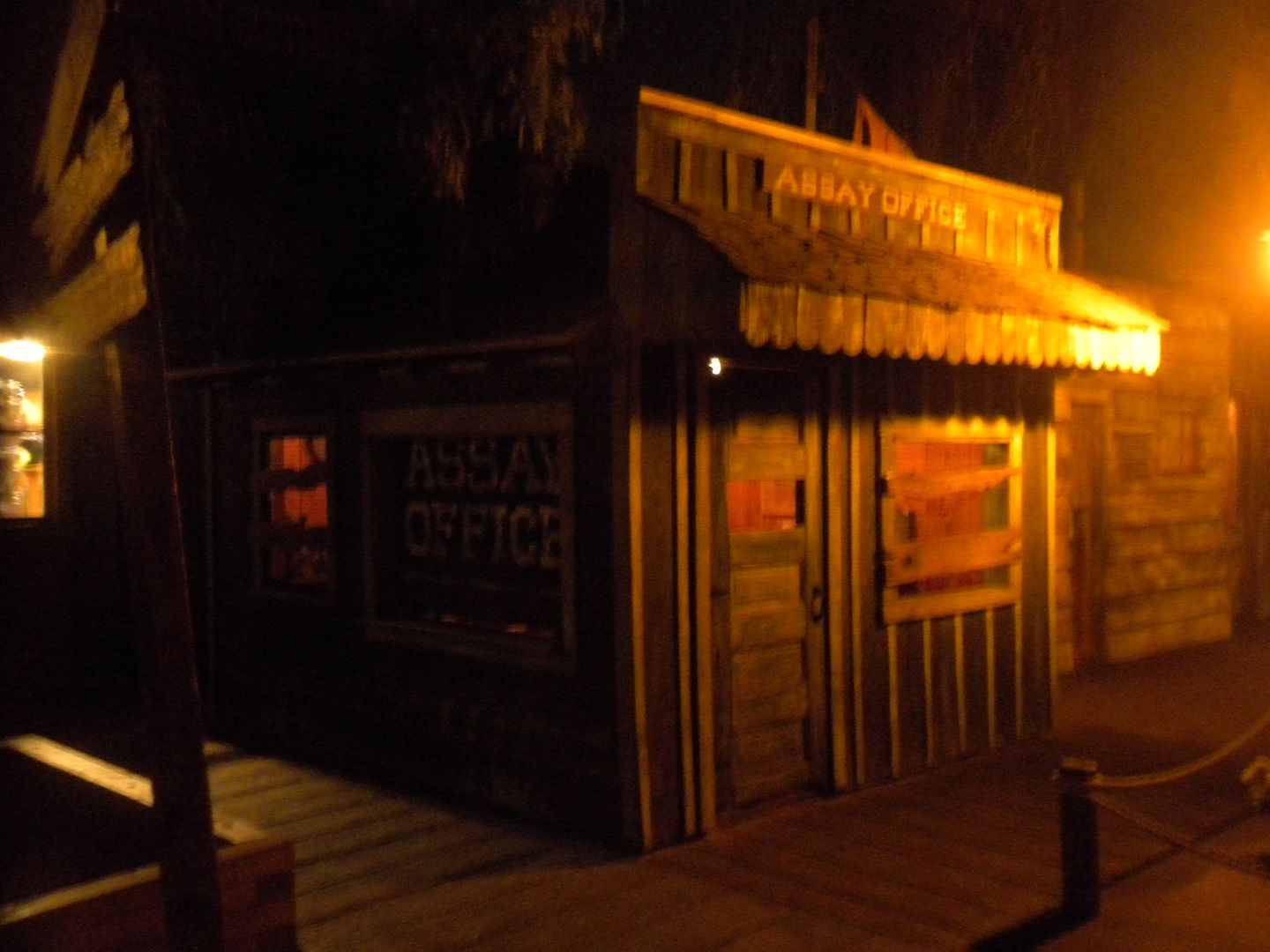 Overall we had a good day and I enjoyed my visit, but I still did not have the amount of time in this park that I would like to ride everything, reride some things and explore Ghost Town. I will have to ensure that my next visit includes at least a full day if not two.
Adventure City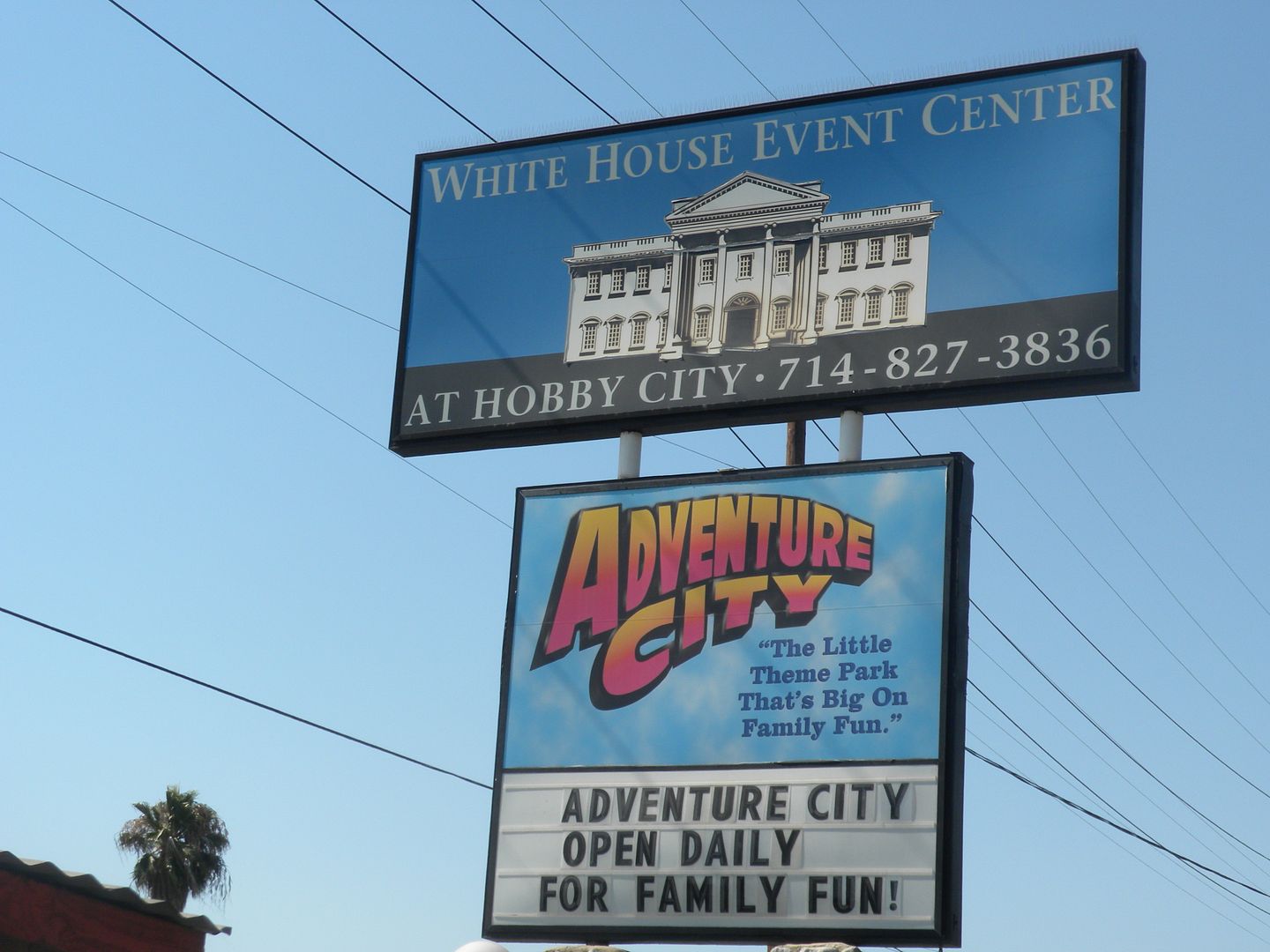 As noted above we took about an hour and a half out of our time at Knott's to visit nearby Adventure City in Anaheim, CA.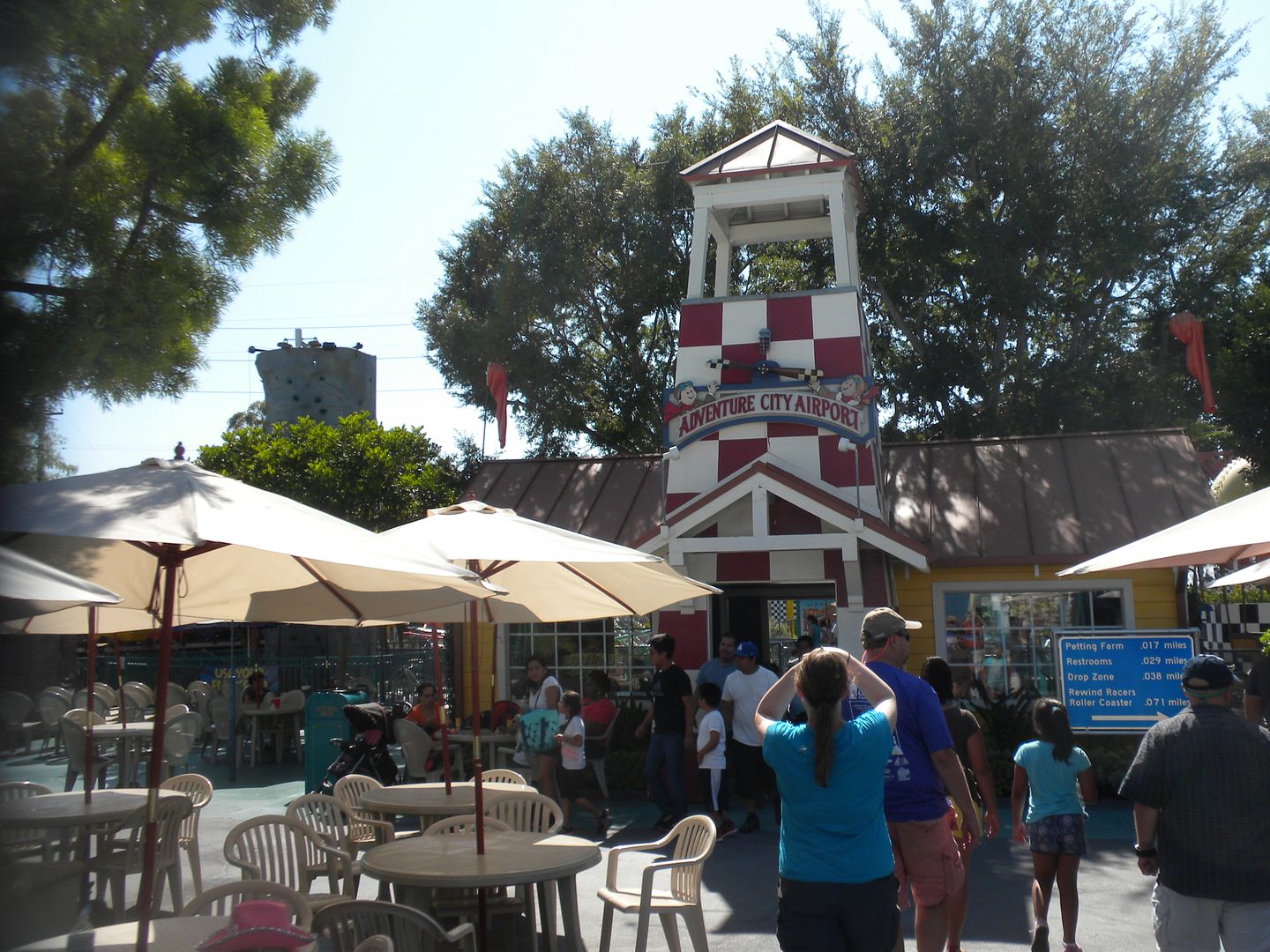 Operating since 1994, this is a hobby store with an attached kiddie amusement park.  I visited once before in 2006, but they have replaced the excellent Tree Top Racer (Carl Miler, Wild Mouse, 1999-2012, but much older as it was owned by a traveling carnival) with a new coaster.  Most rides are for kids, but the park has a really nice atmosphere and they are very friendly to ACE, having given a nice discount on both of my visits.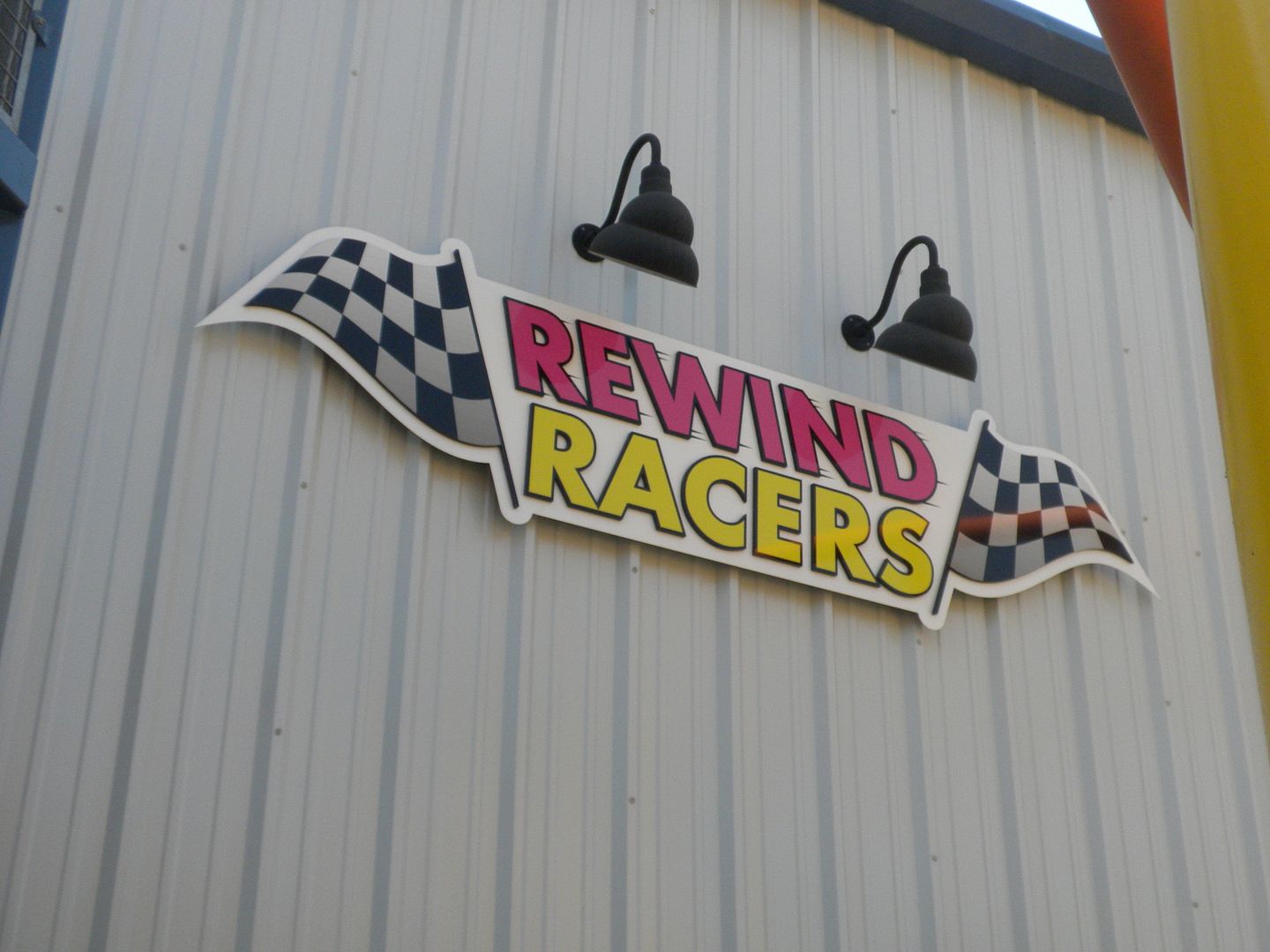 Rewind Racers: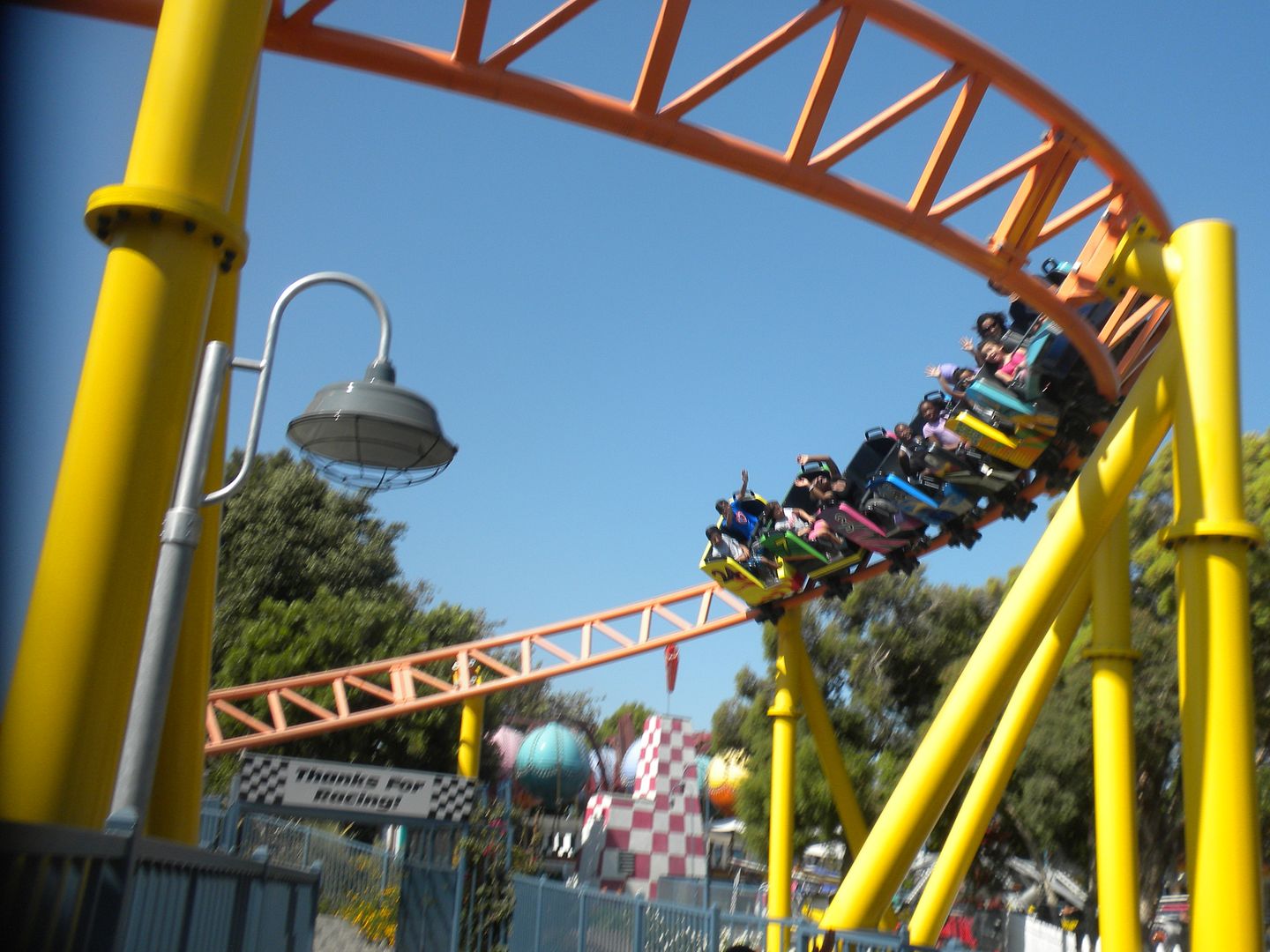 (Gerstlauer, Family Shuttle, 2015)


This is a fun family shuttle coaster,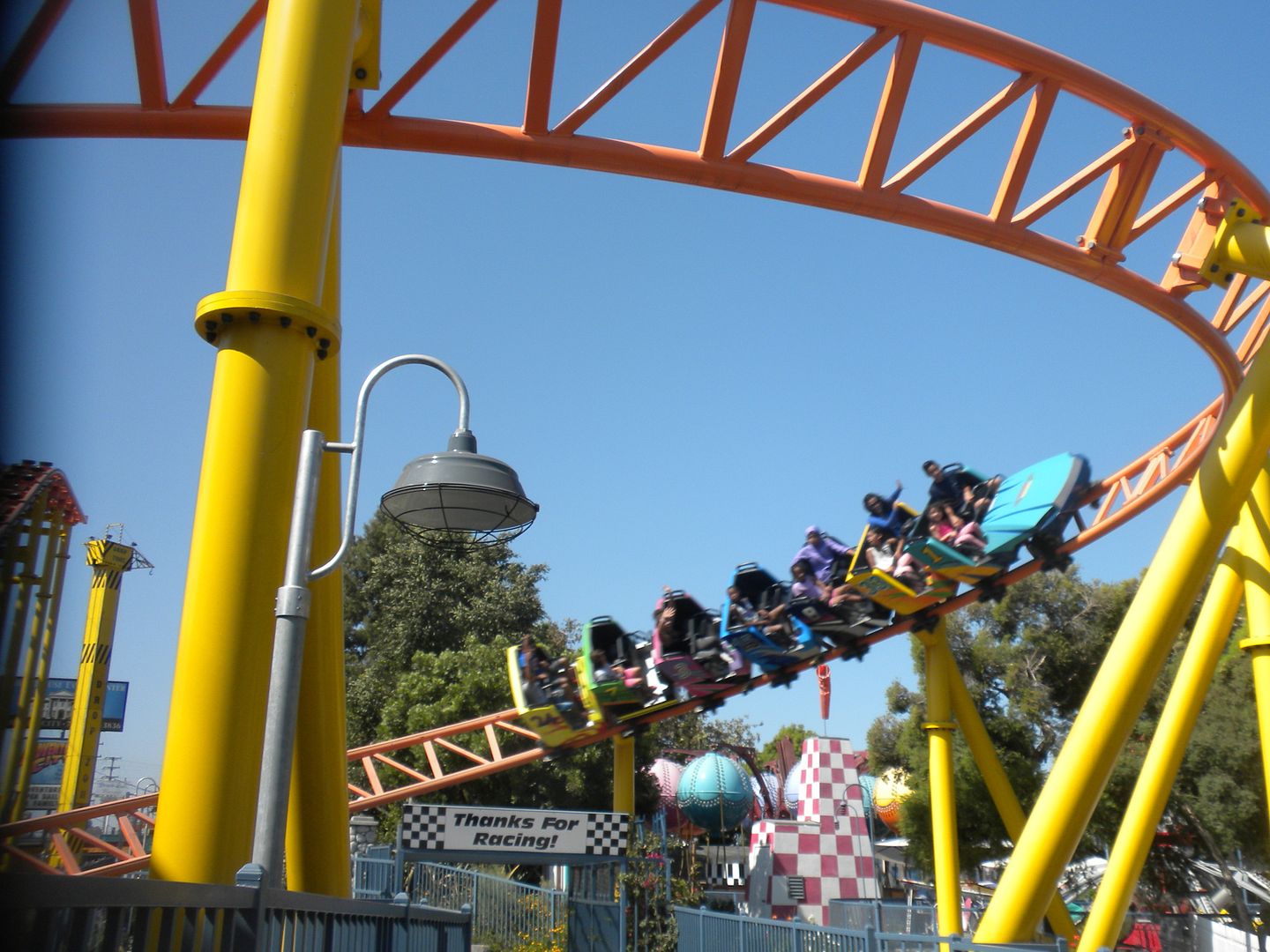 made to fit this relatively small location.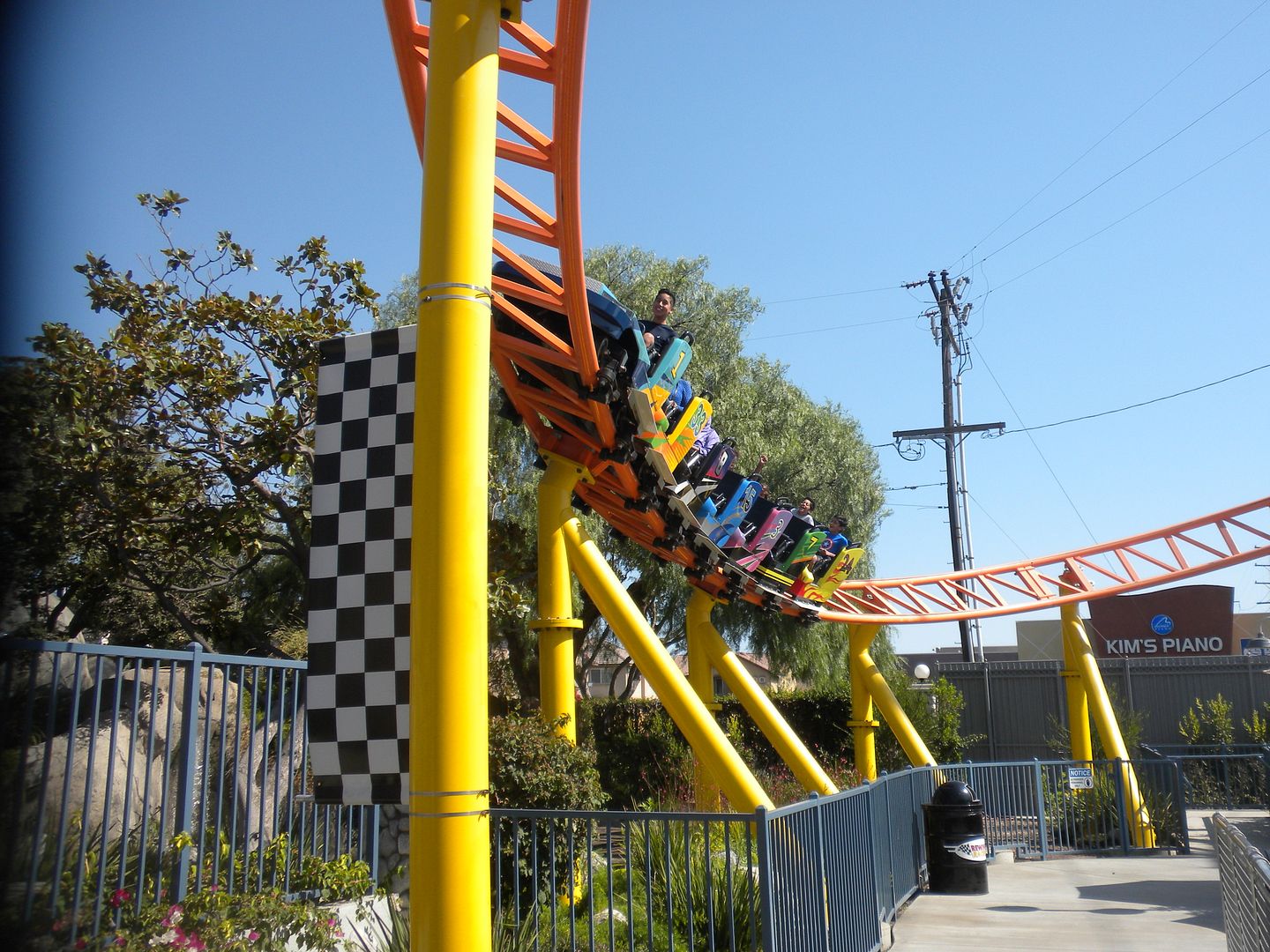 It was very popular with park guests as it is the biggest and most intense ride in the park – 1 ride.


Freeway Coaster:


(Miler, Kiddie, 1994)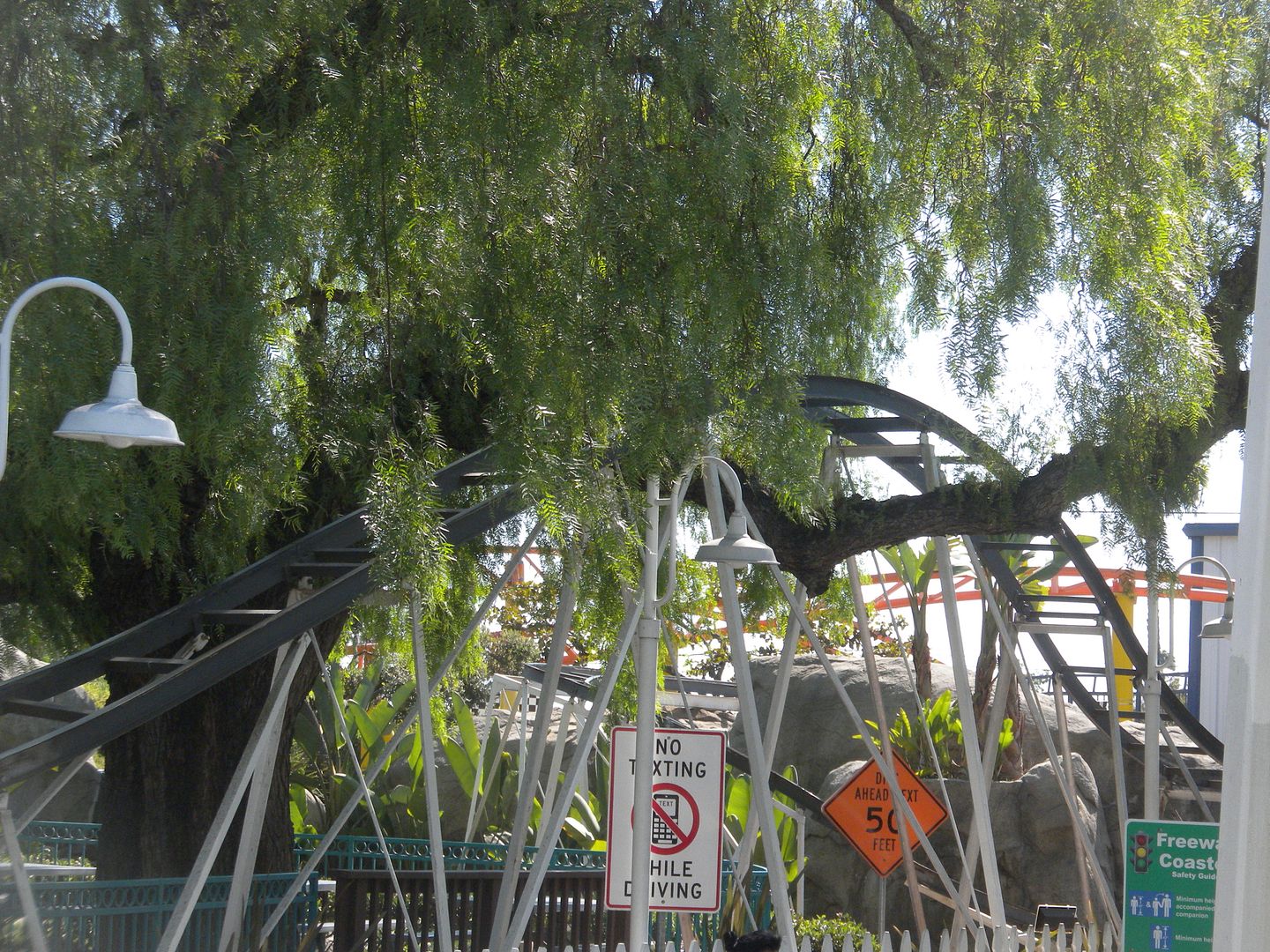 One of the neat things about this little coaster is that it actually goes over a tree limb at one point, a very unique feature.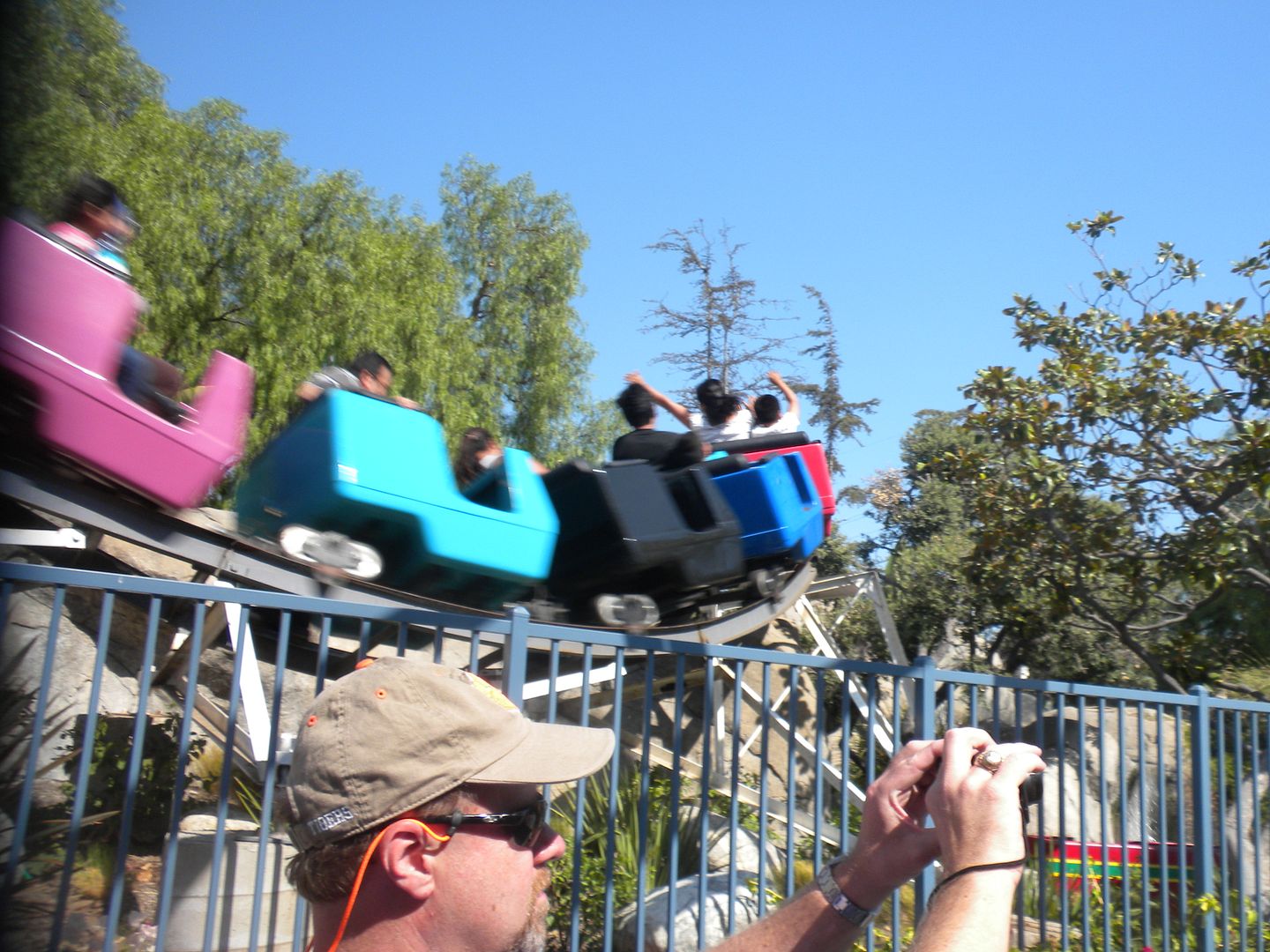 It gave a good ride – 1 ride.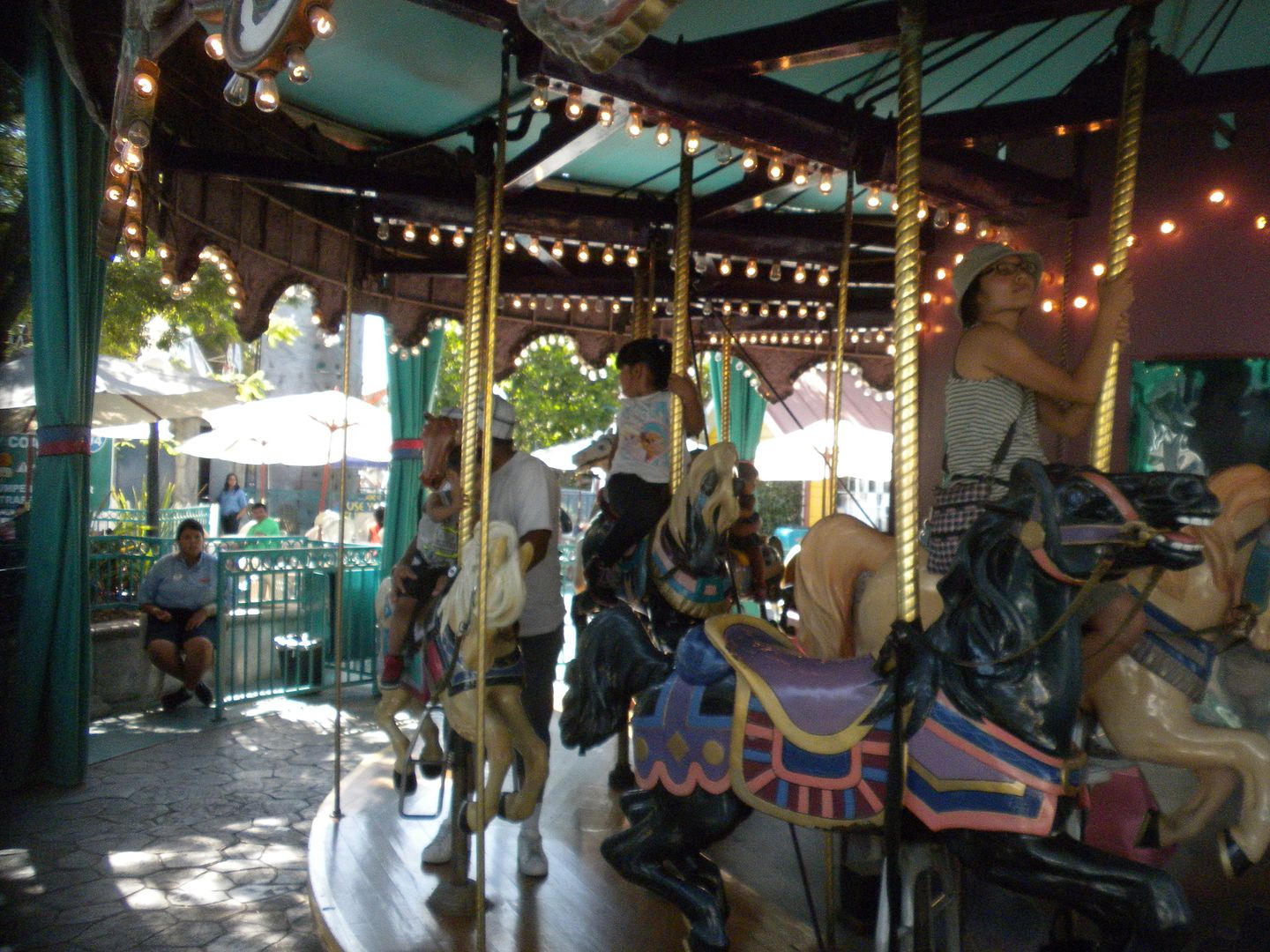 Carousel:  Richard had told us about a ride he had seen on his previous visit called the "Giggle Wheel", which was notable because of our friend Tina Quinn who has the nickname "Giggles".  He wasn't sure what ride it was or even what park it was at, but he found it and of course, we all had to ride.  It is a 1946 20-horse carousel, a children's model, but adults can ride and we enjoyed it.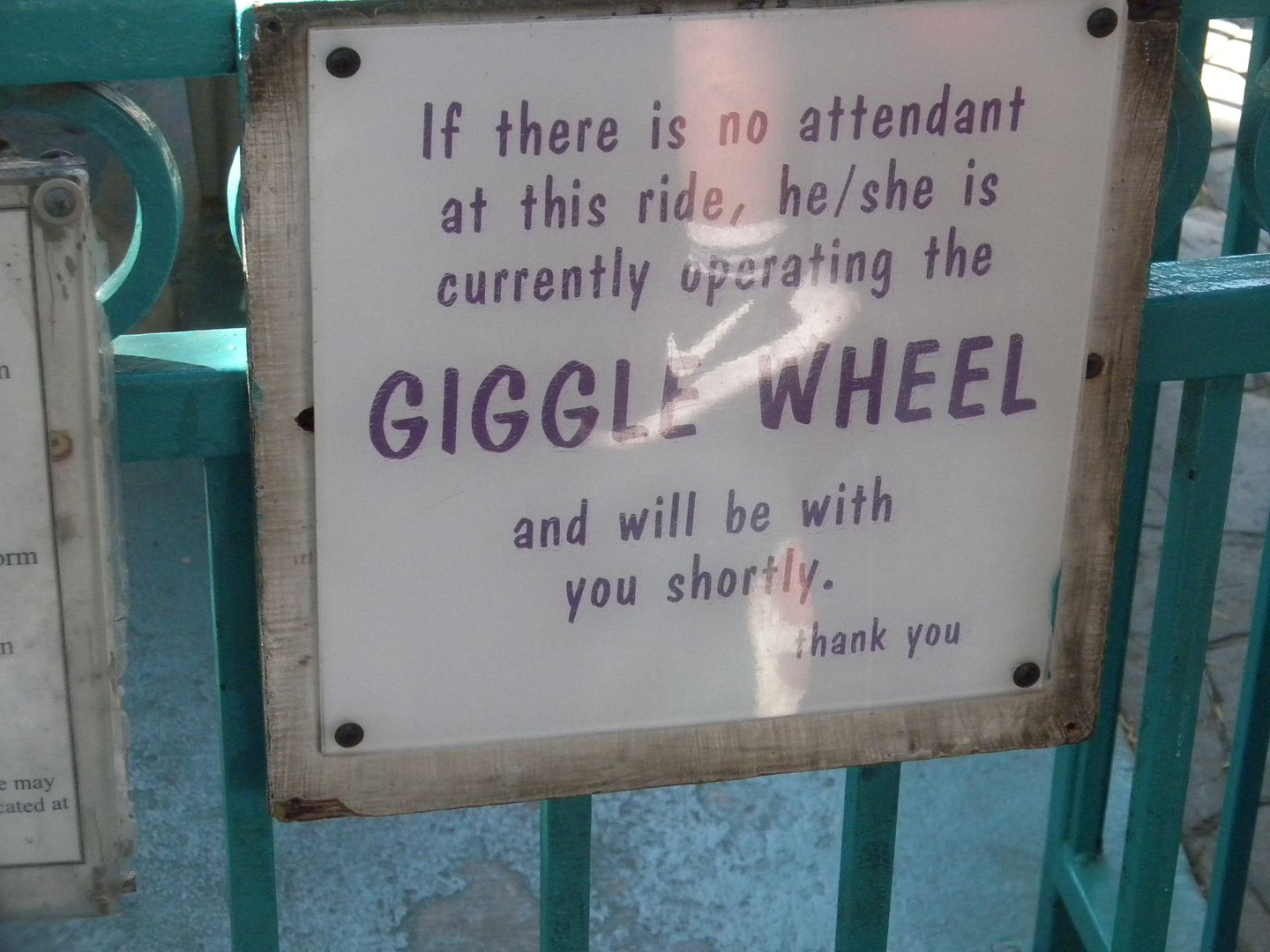 However on reviewing this sign on the gate, perhaps the Giggle Wheel is actually a nearby children's ride – 1 ride.


Adventure City Express Train:


Built in 1938, this operated at Hobby City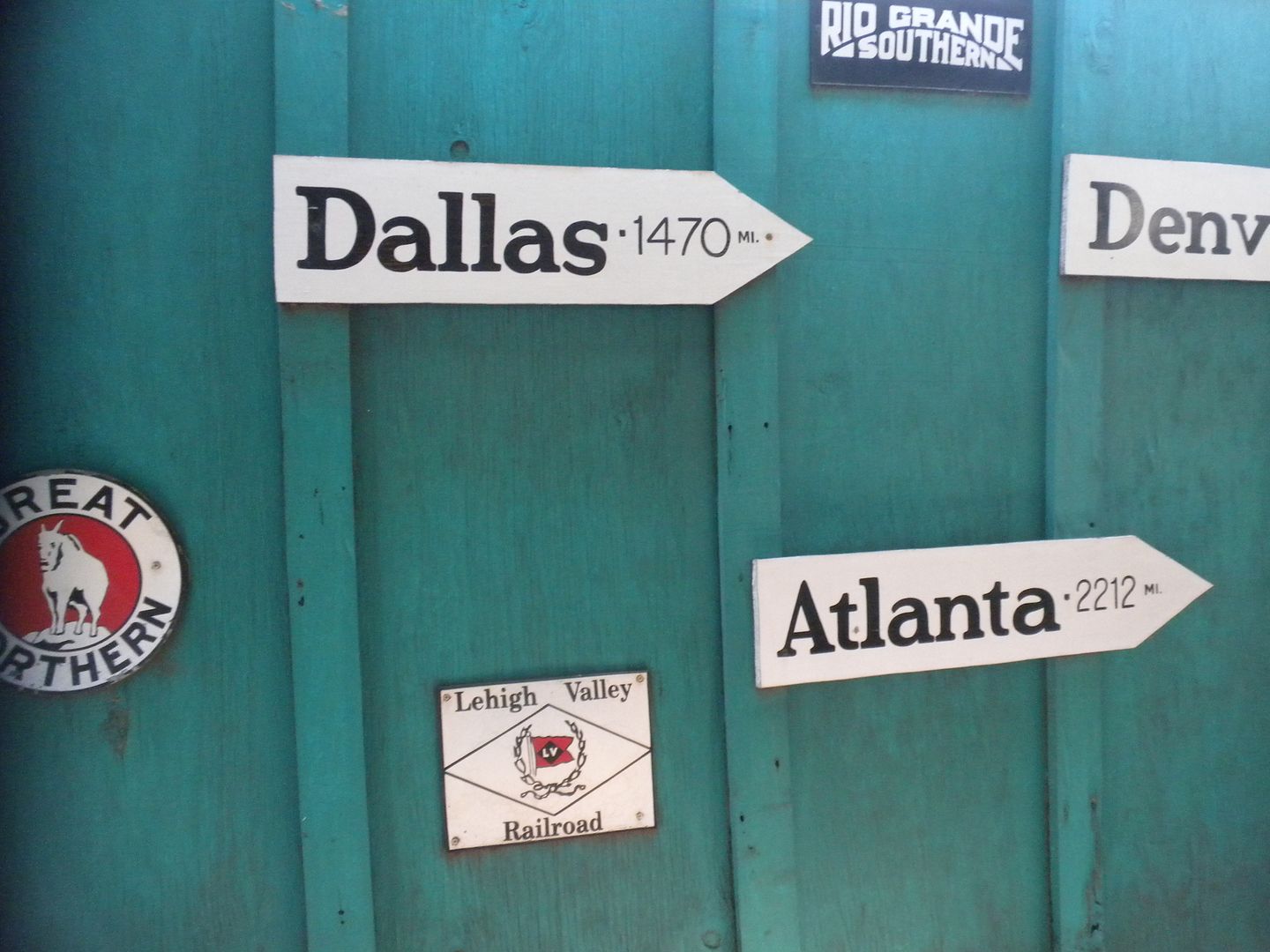 for about 25 years before the park was built.


Now with a longer circuit in encircles the entire park – 1 ride.


The park also has 6 children's rides, a Petting Farm, Rock Climbing, Children's Theater, and Thomas the Tank Engine.


On my previous visit to the park, I especially included it because it had been announced the park would soon close. The children who inherited the hobby store and park had apparently decided to close it.  But fortunately, they changed their minds and decided to keep both open, having invested more into it with the addition of the new coaster last year.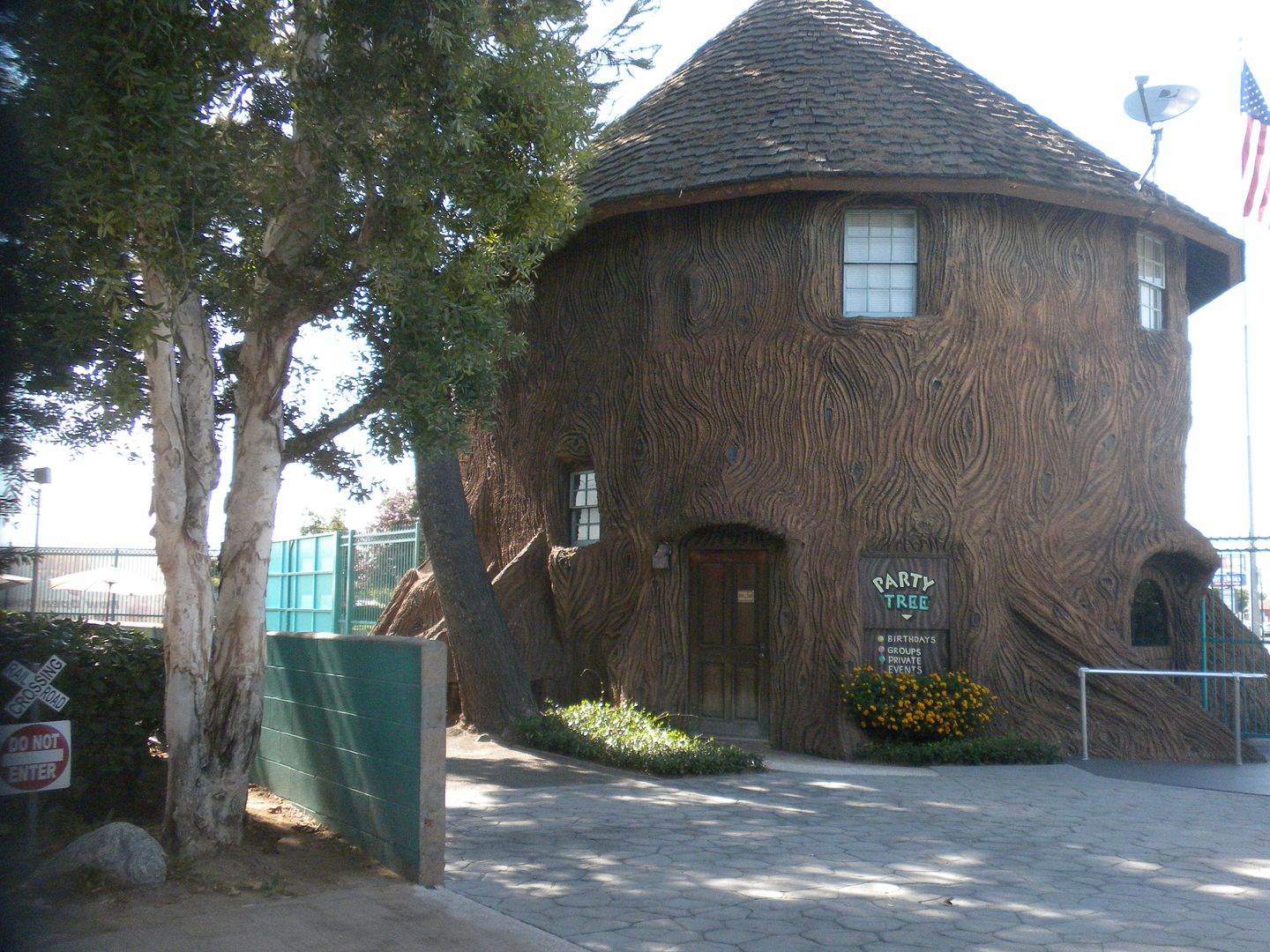 It is good to see a place like this continue to operate and thrive,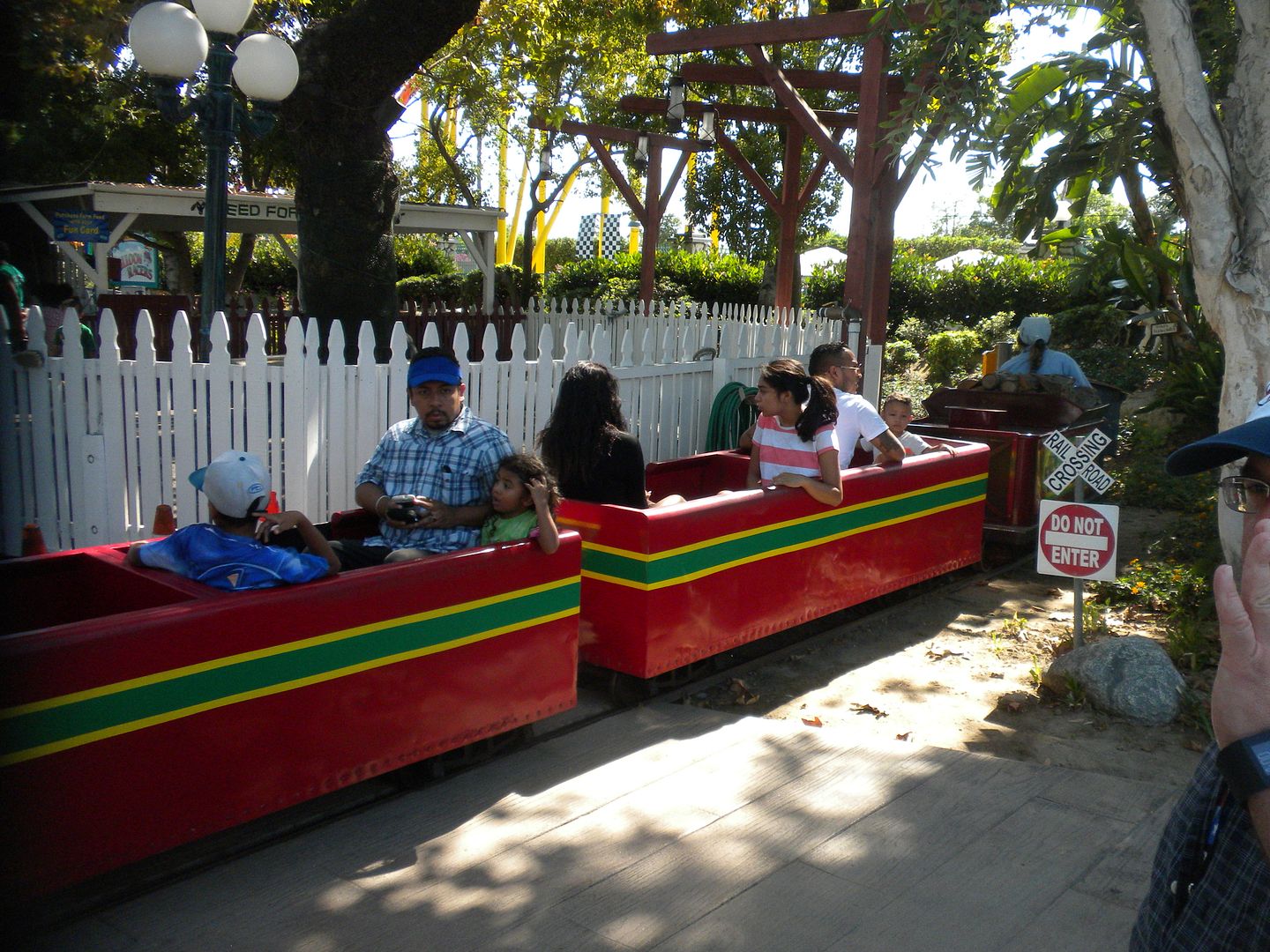 and honestly, the kids I saw here looked they were having more fun than kids at many of the other parks we visited.


I got to check out Hobby City before we left and while they have a great selection of cars, they did not carry trains, which I would have enjoyed seeing.  We returned to Knott's for the rest of the afternoon and evening, then made the drive to Valencia, CA to our hotel before our next park visit, Six Flags Magic Mountain.
Up Next: Six Flags Magic Mountain