On Friday, August 29 we returned to the U.S.
Evergreen State Fair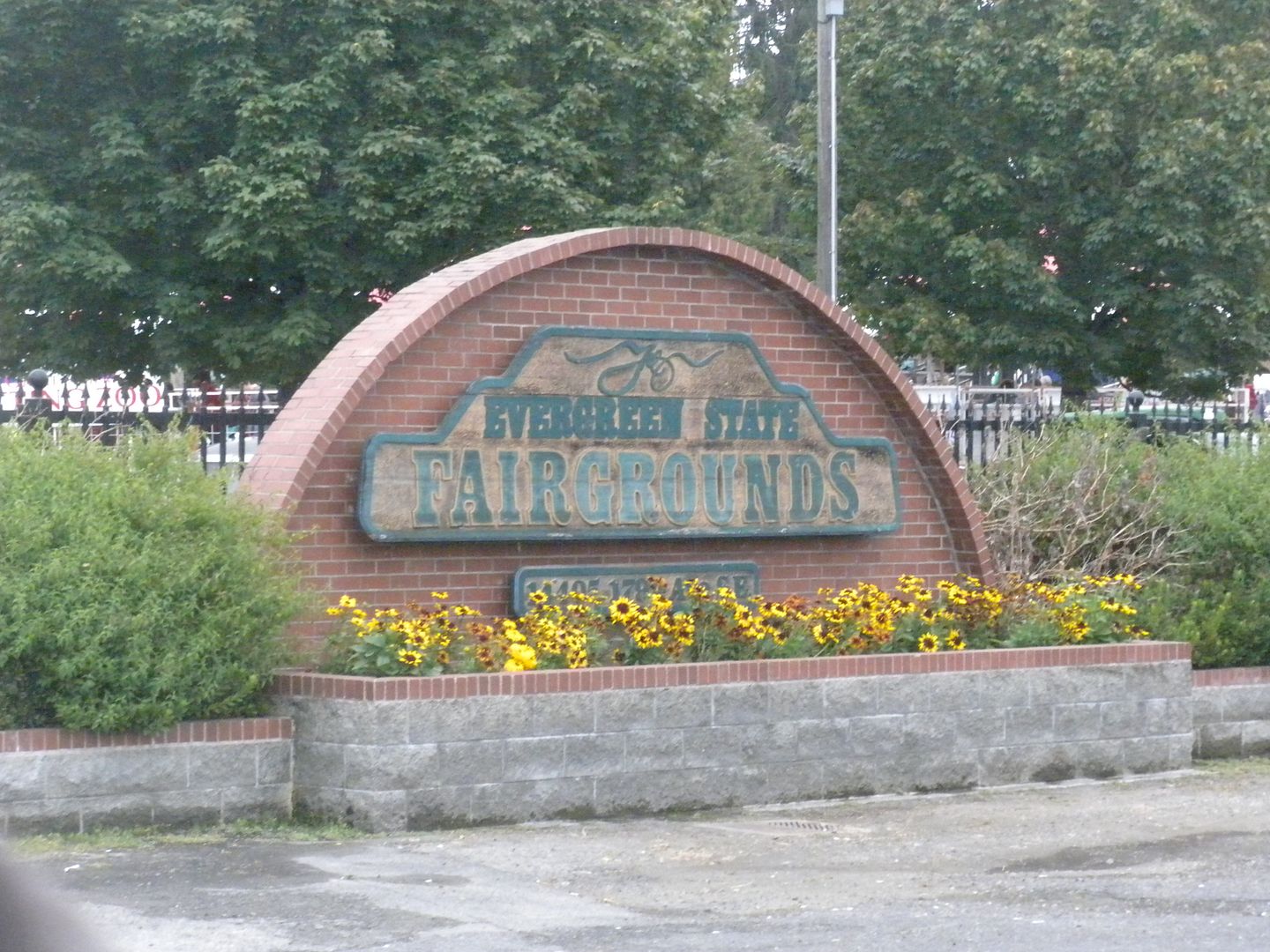 We planned to go to two parks, but on our way we passed by Evergreen State Fair in Monroe, WA, and we saw a coaster. We stopped, of course, and found they had 3 coasters.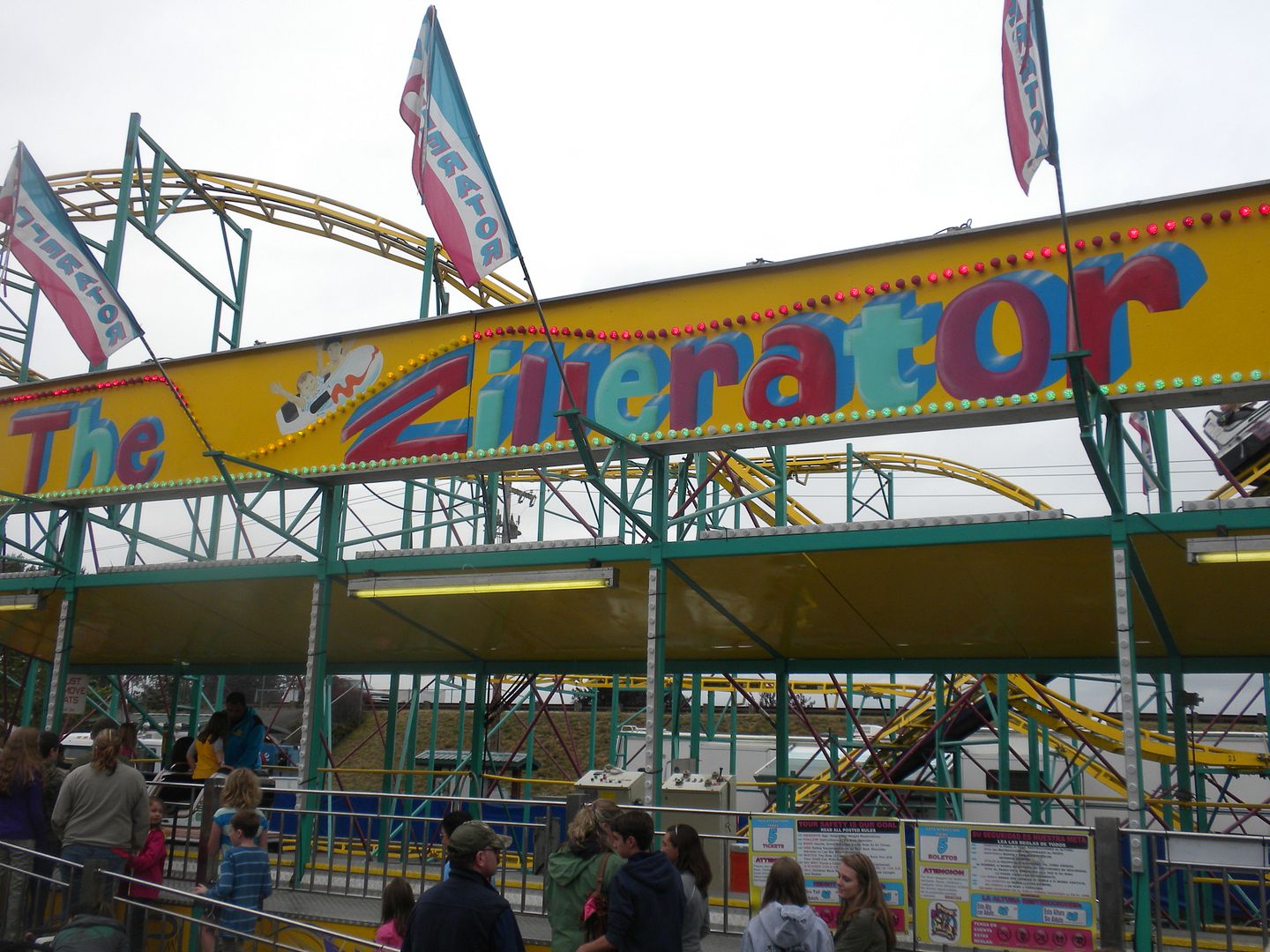 Zillerator: (DPV/KMG, Galaxi, 1994 or 1996) Previously located at Playland at the PNE where it operated as Zillerator,


it now travels with Butler Ammusements.


This is a fun coaster. It become Richard's 850th coaster – 2 rides.


Wacky Worm: (Unknown, Wacky Worm,2002 or unknown)


This gave a good ride – 1 ride.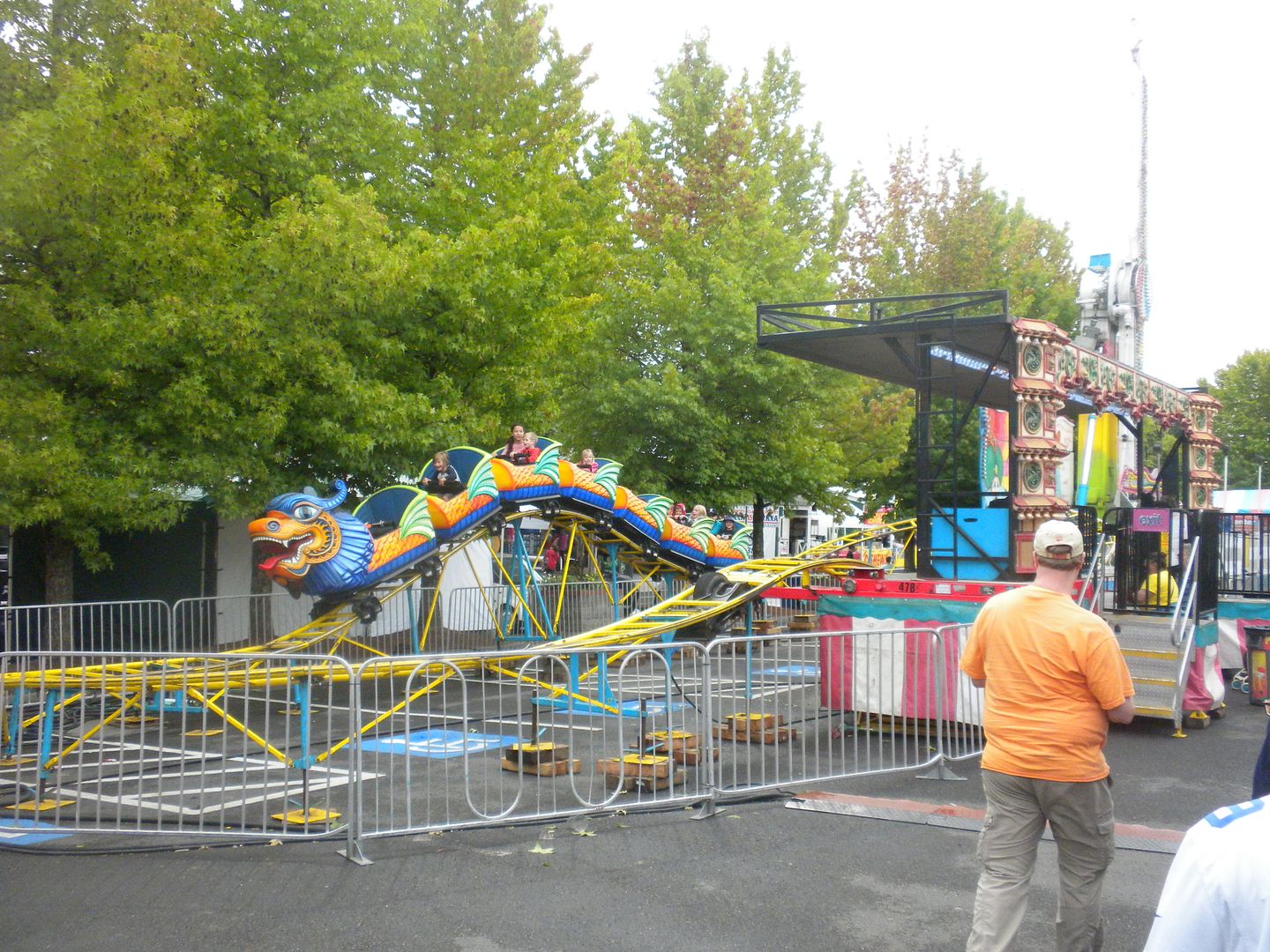 Orient Express: (Unknown, Kiddie, Unknown)


They gave a lot of cycles one this – 1 ride.
We looked around the fair and they had the usual assortment of flats with a few other rides as well.


This was an unexpected 3 credits that we would not have seen had our route not gone right by it.
Remlinger Farms


Our next stop was at a small kiddie park, Remlinger Farms in Carnation, WA. In addition to a nice sized store and restaurant, they operate a kiddie park with a few rides adults can ride.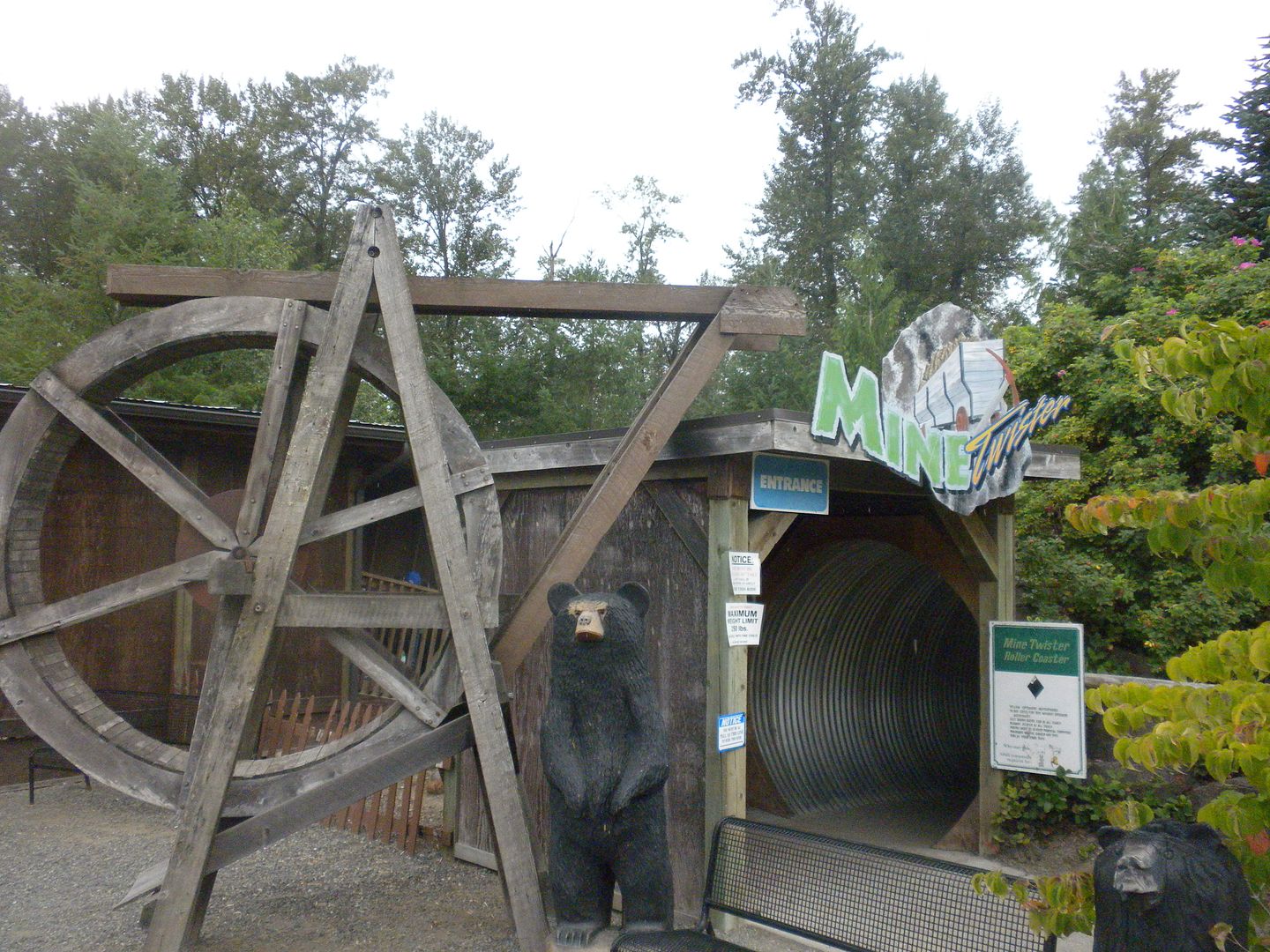 Mine-Twister Roller Coaster: (E&F Miler, Family, 1997/2007/2012)


Relocated from Jeepers in Roseville, MI where it operated as Python Pit from 1997 to 2006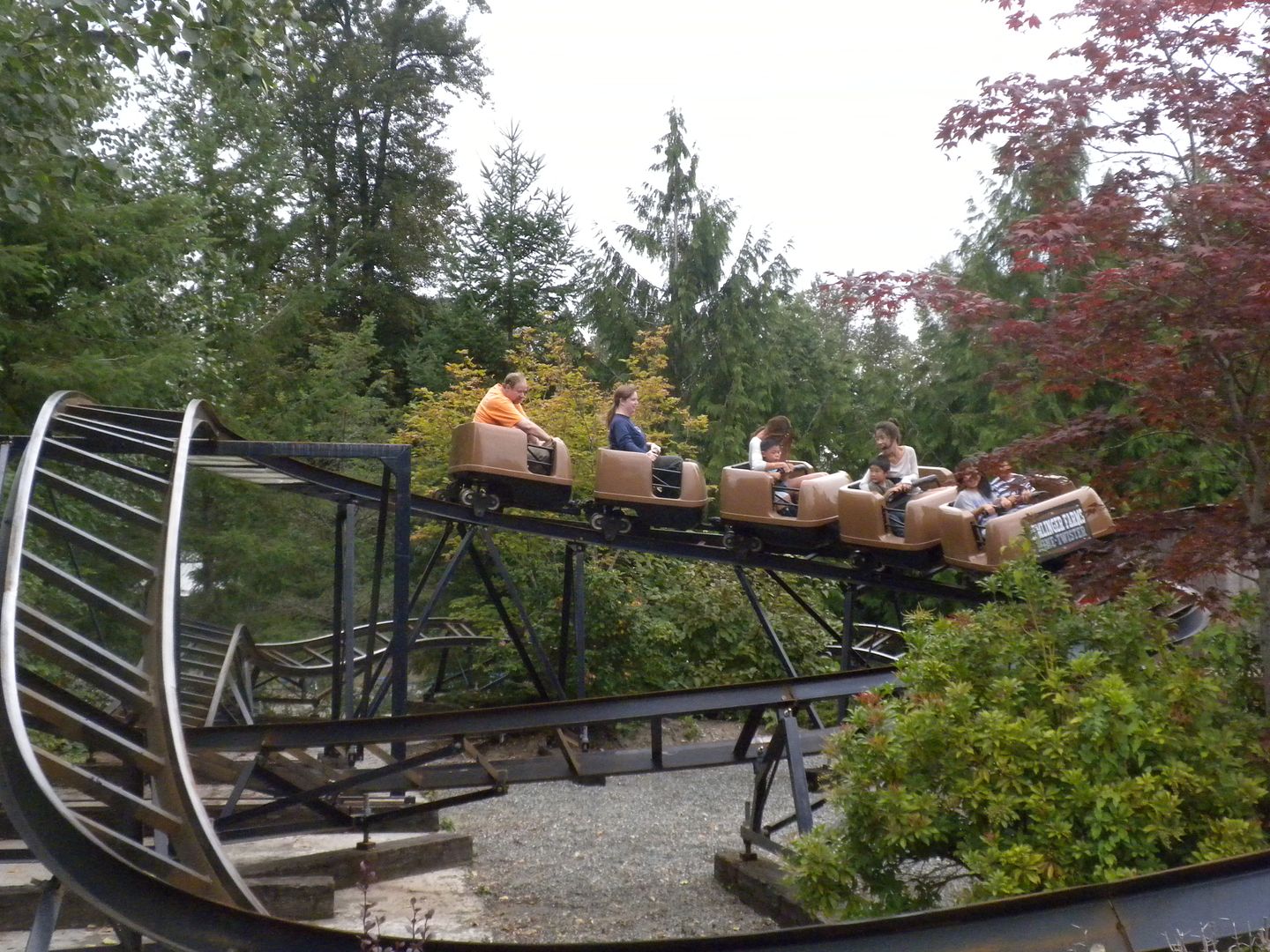 and from Jeepers in Clinton Township, MI where it operated as Python Pit from 2007 to 2012, this standard model gave a good ride – 1 ride.


Antique Car Ride & Country Driving Adventure: These miniature Ford Model T cars (circa 1900) were created for the 1962 Seattle World's Fair. They have a nicely landscaped course – 1 ride..
Our earlier stop prevented us from having time for the other ride we wanted to do, Tolt River Railroad Steam Train Ride, which travels along the Tolt River. Other rides include Flying Pumpkin Ride; Barrel Ride; Dixie Whirly Bird; and Hay Maze & Hay Jump.
Kiddie rides include: Pedal Cars; Farm Pony Trail Ride, Swing Carousel (Ewert Kiddie; Classic Metal Kiddie Carousel: 1 row, 10 Jumping Horses; 1956), Canoe River and Kid's Ferris Wheel.
Other Attractions incude 4-H Animal Barnyard and Climbing Wall. Shows include Farm Theater with Eric Ode and Farm Theater with Cyndi Soup.

We had a good lunch here. I was very impressed with this little park and would welcome a return visit to ride the train.
Wild Waves Theme Park


Our second park on Friday was much larger, Wild Waves Theme Park in Federal Way, WA. Previously known as Enchanted Village from 1977 to 1983 and Wild Waves and Enchanted Village from 1984 to 2006,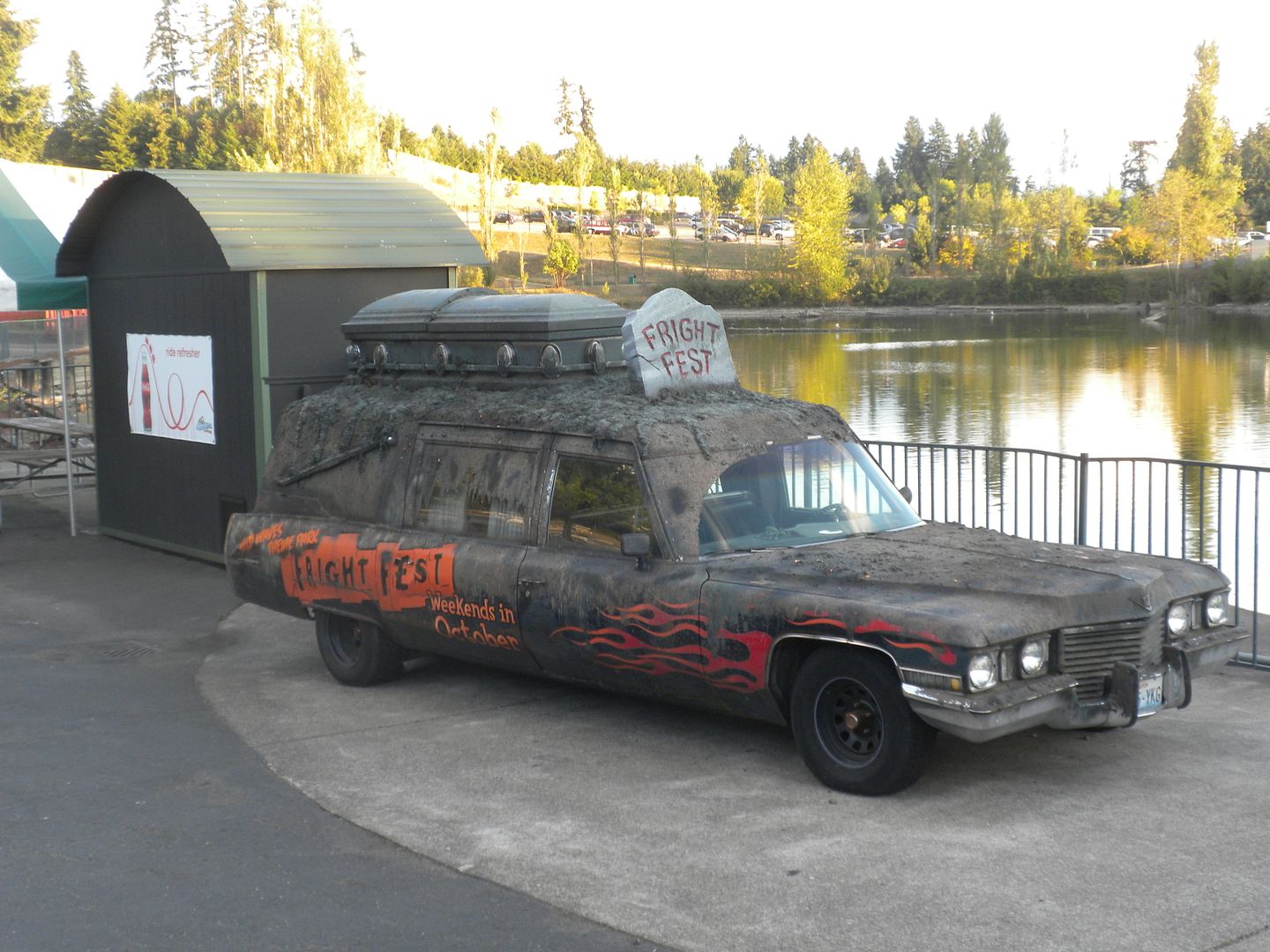 this park was once owned by Six Flags. We arrived at the park around 3:30 and met up with ACE Northwest Regional Rep Lisa Zigweid. Although the park is not highly themed, I will review it by its themed sections.
Celebration Square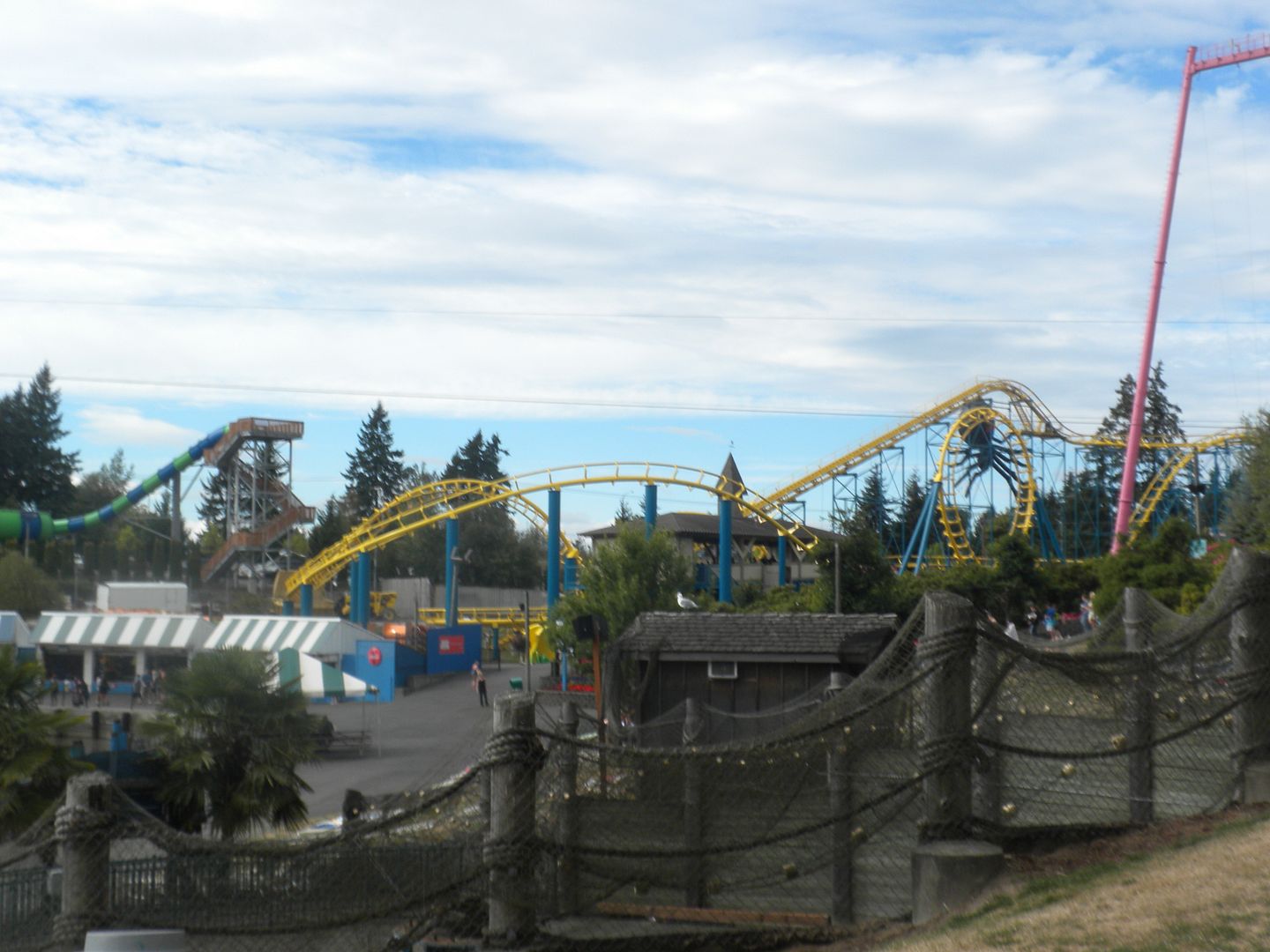 This is the center of the park.


The Wild Thing: (Arrow, Loop & Corkscrew, 1984/1997)


Relocated from Rocky Point Park in Warwick, RI where it operated as Loop Corkscrew from 1984 to 1995,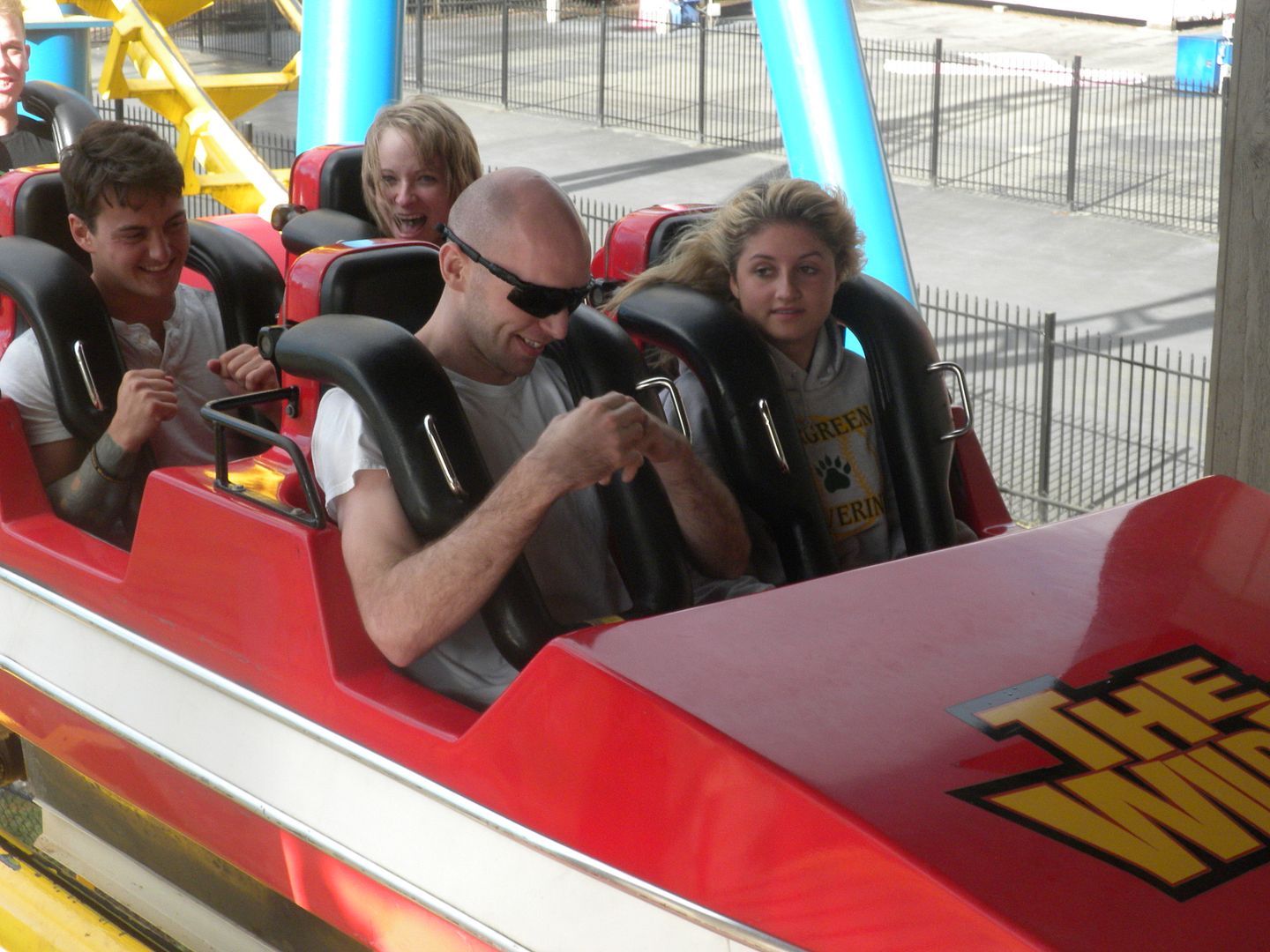 they give double rides on this.


While some of the transitions between elements were rough, it was not too bad – 2 rides (1 double ride).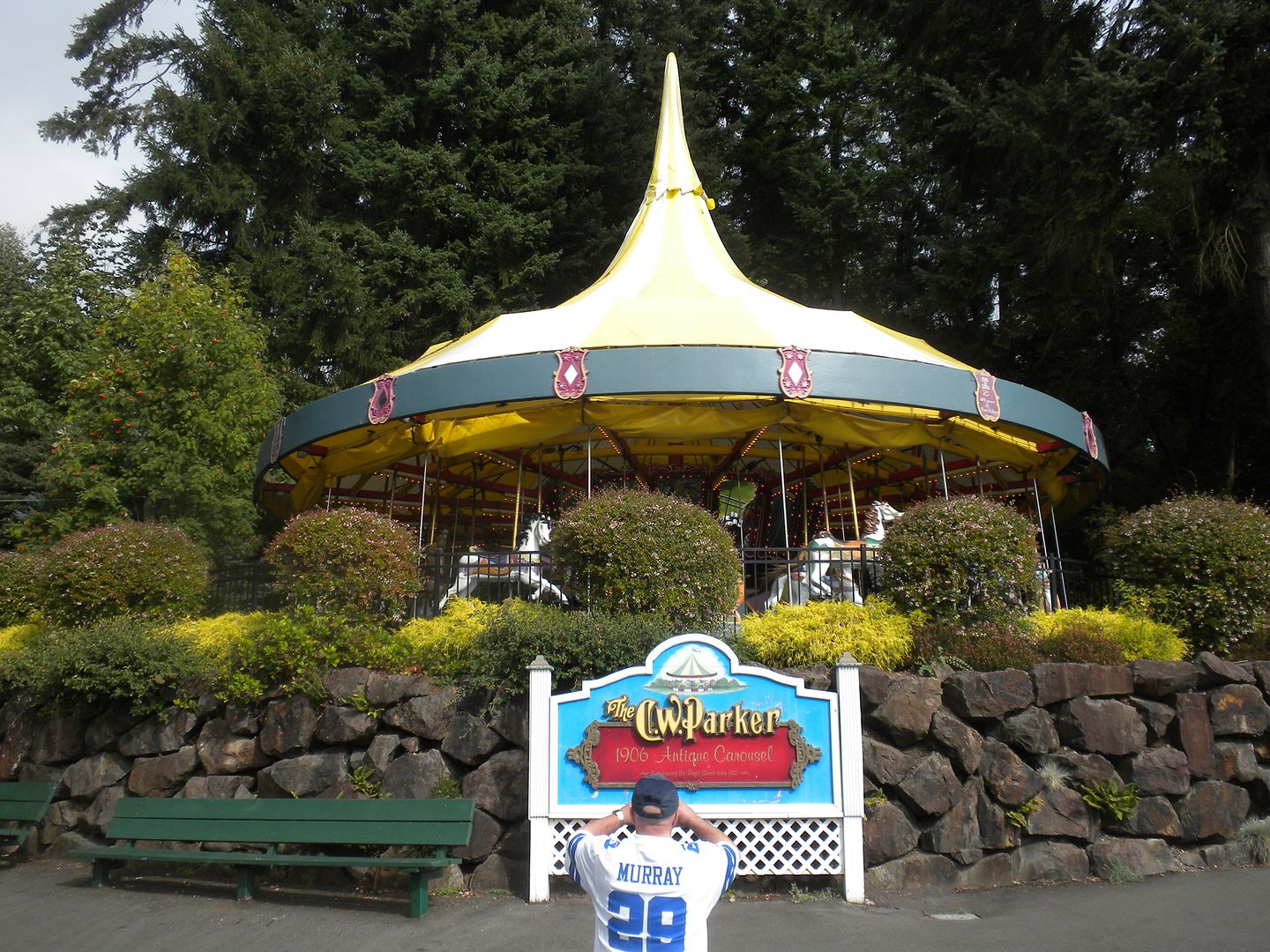 Antique Carousel: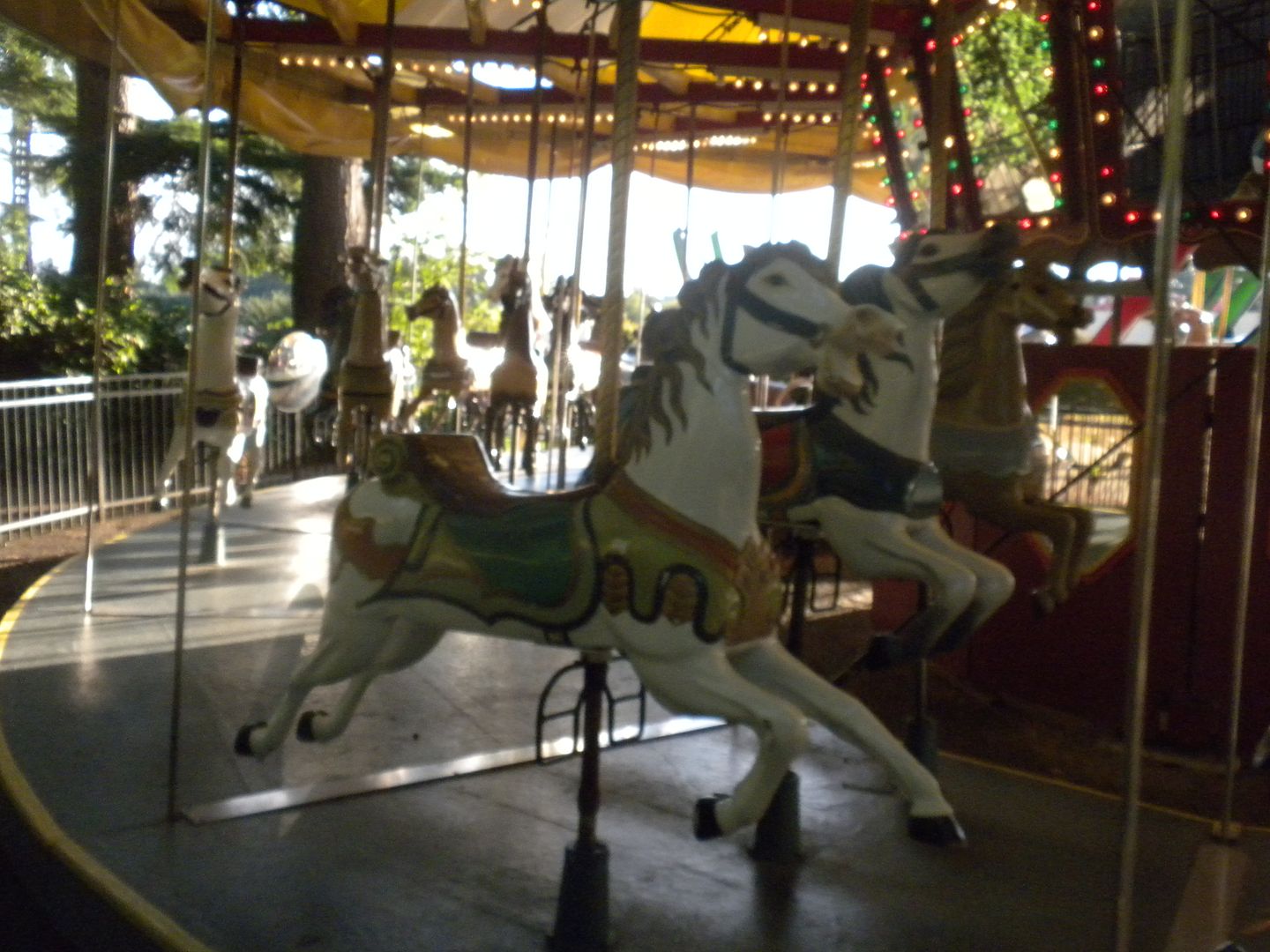 (Parker; Classic Wood Carousel: 3 Rows, 36 Jumping Horses, 2 Chariots; 1906)


Of note on this carousel are the sweet-faced early Parker horses with their exaggerated eyelashes. This carousel has operated in Washington throughout its life, first at Redondo Beach, then at Woodland Park in Seattle, then at Point Defiance Park in Tacoma before arriving at Enchanted Village in 1980. It gave a good ride and the horses are in good condition – 1 ride.
Disk'O Flashback: This gave a good ride – 1 ride.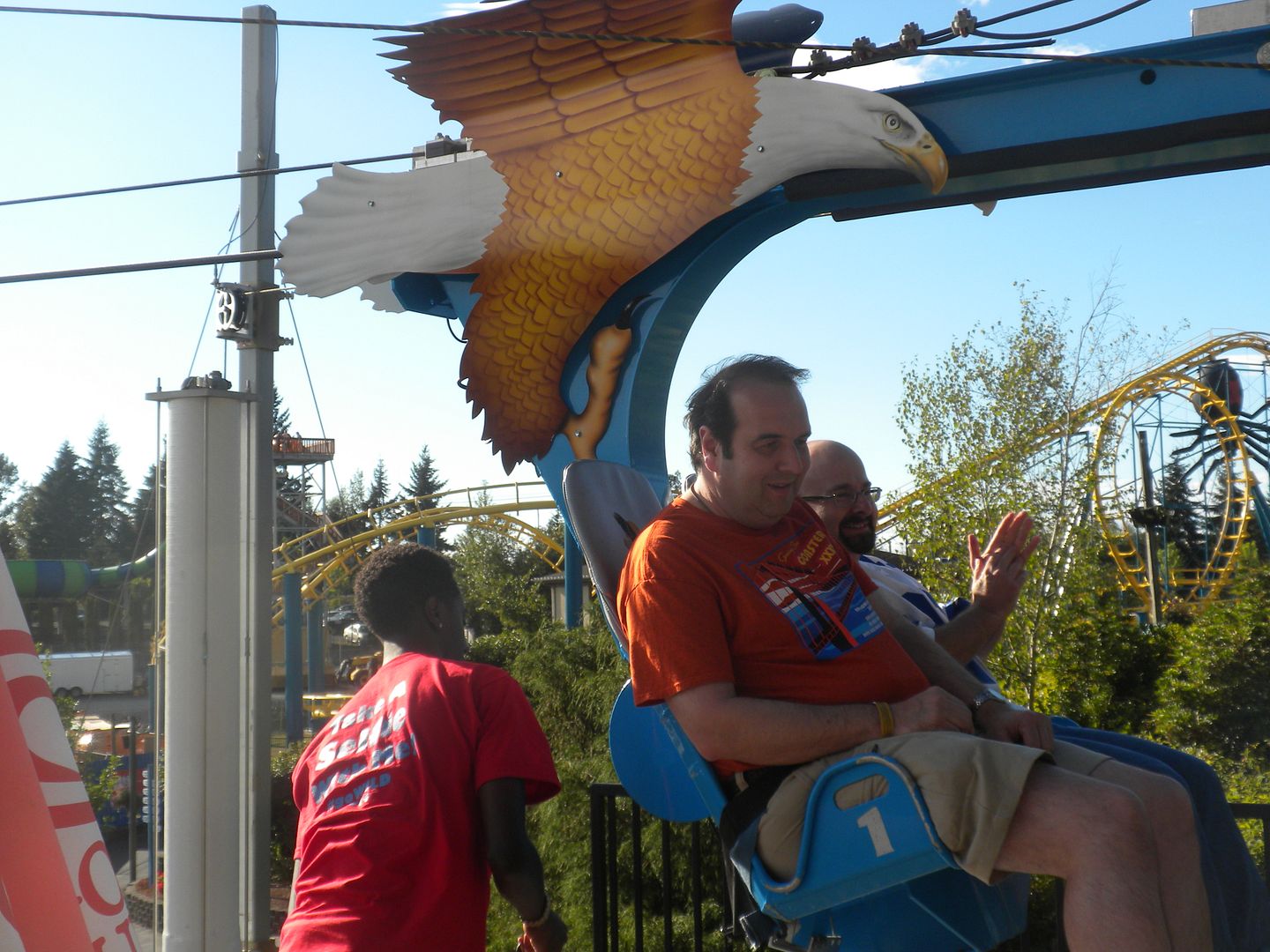 Soaring Eagle Zip Line: For a small charge, I rode this seated zipline over the lake and the water park, which was fun – 1 ride.
I did not ride Hang Glider, a Kite Flyer; or Ring of Fire.
The upcharge I-5 Dive Skycoaster is also located in this section. There is a show in this section – Extreme Raptors Bird Show.
Kiddie Land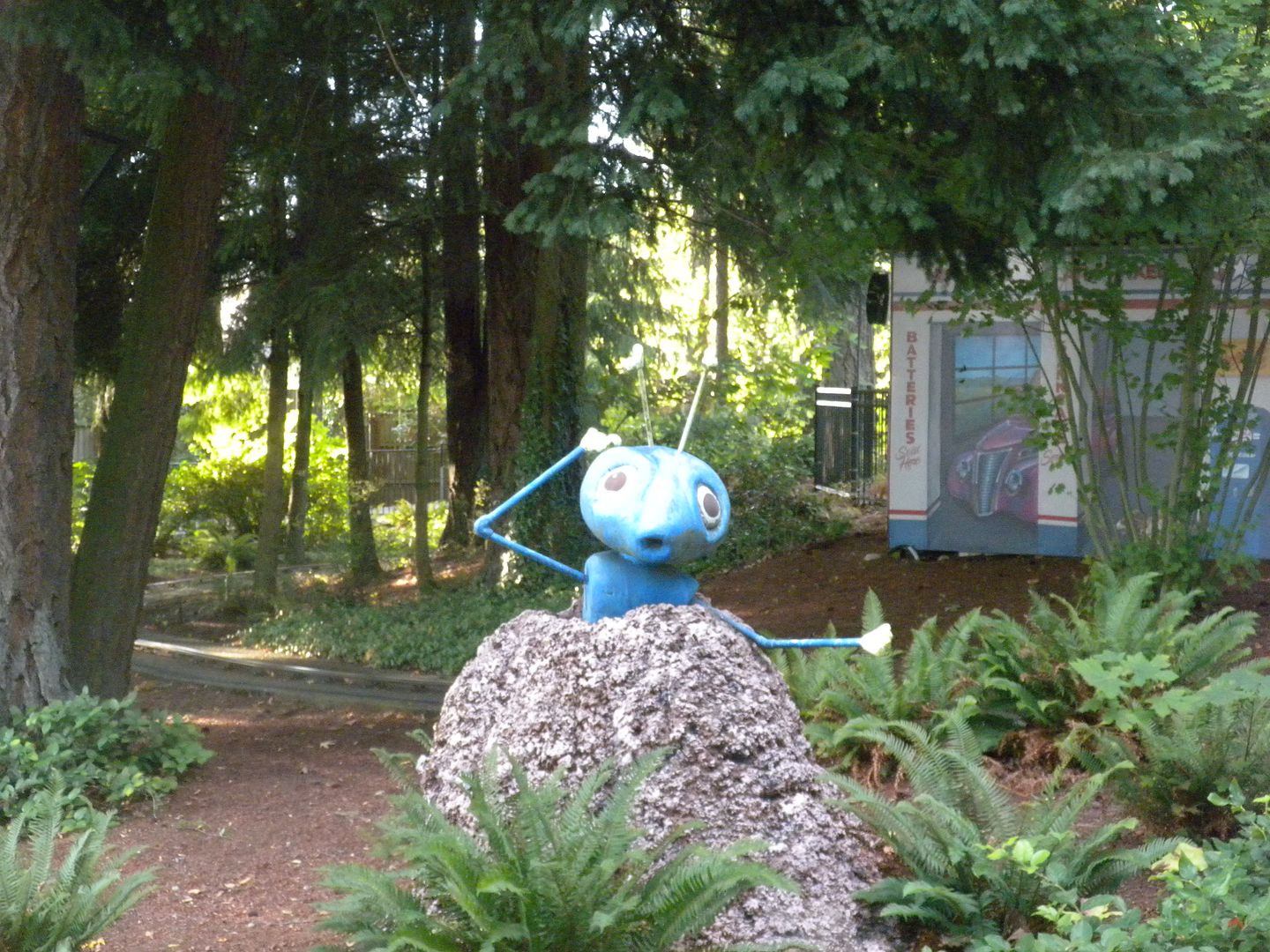 What was once undoubtedly the heart of Enchanted Village is largely devoid of what must have been its original character, but if you look closely there are still signs of it around,


most notably the dragon,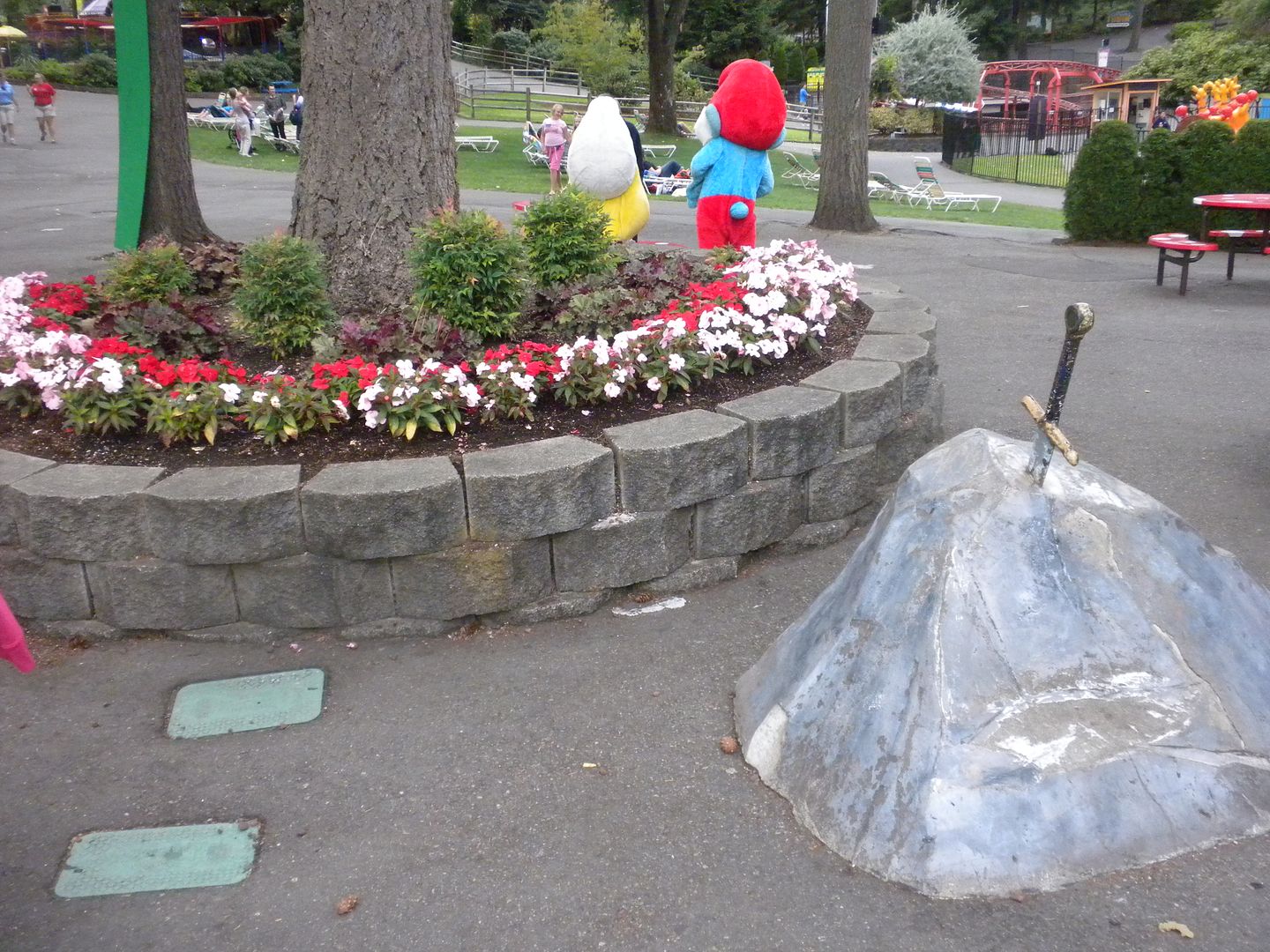 the sword in the stone,


a castle entry


and the fish fountain. Even though it lacks its original character, this wooded section looks nice.


Kiddie Coaster: (Zamperla, Powered Family, 1997) This gave a pretty fast, albeit powered, ride – 1 ride.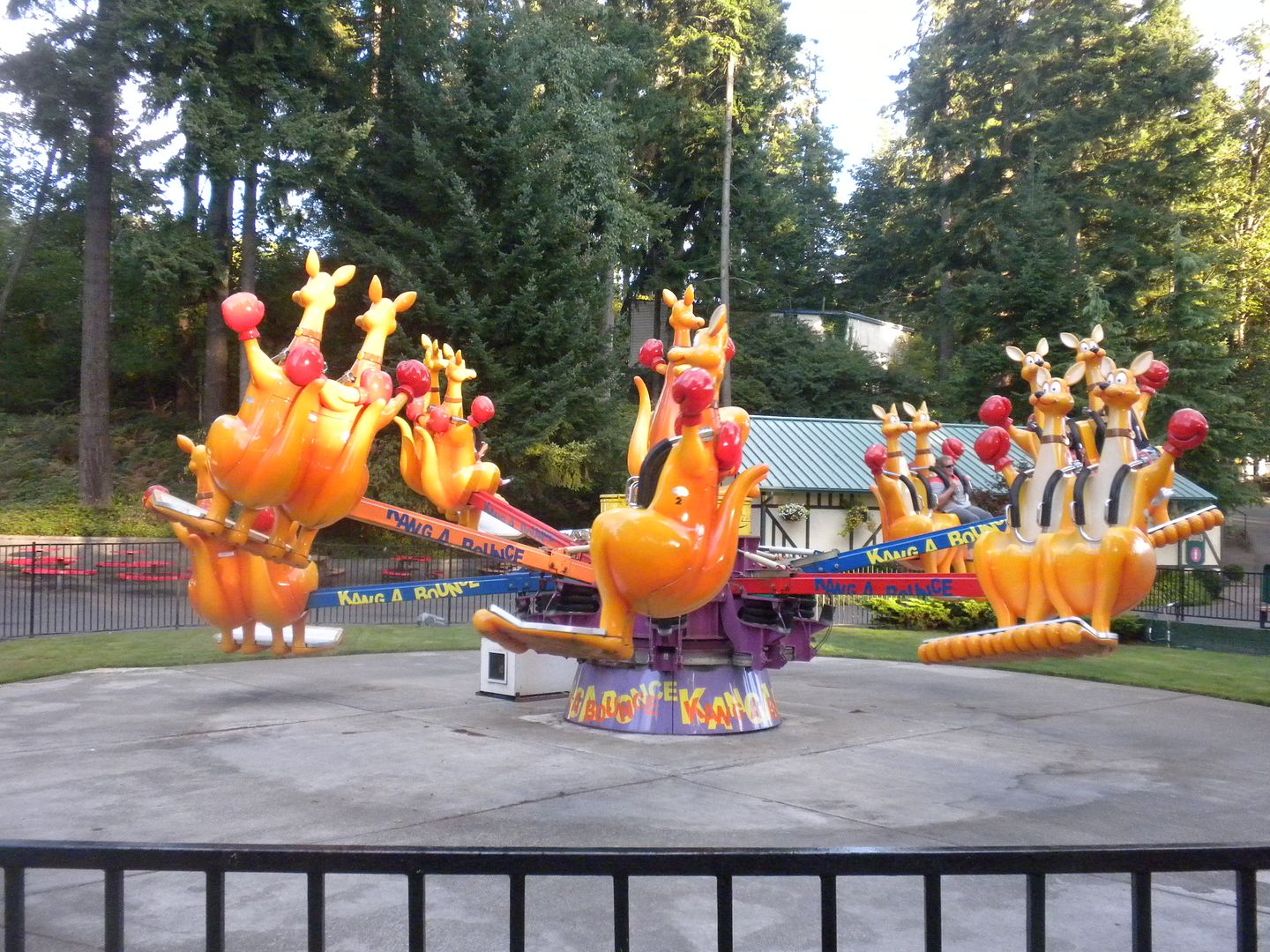 Kang-A-Bounce: This was one of the highlights of this park! The Kangaroos bounce so well that it was tremendous fun – 1 ride.


The Downhill Tubin' dry tube slide was not operating, possibly due to rain earlier that day. I was somewhat disappointed not to get to try this unique attraction. Limited time due to our earlier fair stop did not allow rides on Ferris Wheel, Scrambler, or Tip Top, an old-school spinning teacups ride.
Kiddie rides in this section include Frog Hopper, Safari Jeeps, Space Racer, Kiddie Combo and Kiddie Boats.


Also The Smurfs! show is located here as well, and the characters were out greeting people.
Northwest Territory
This section on the far edge of the park is fairly well themed.


Klondike Gold Rusher: (Zamperla, Wild Mouse, 2002)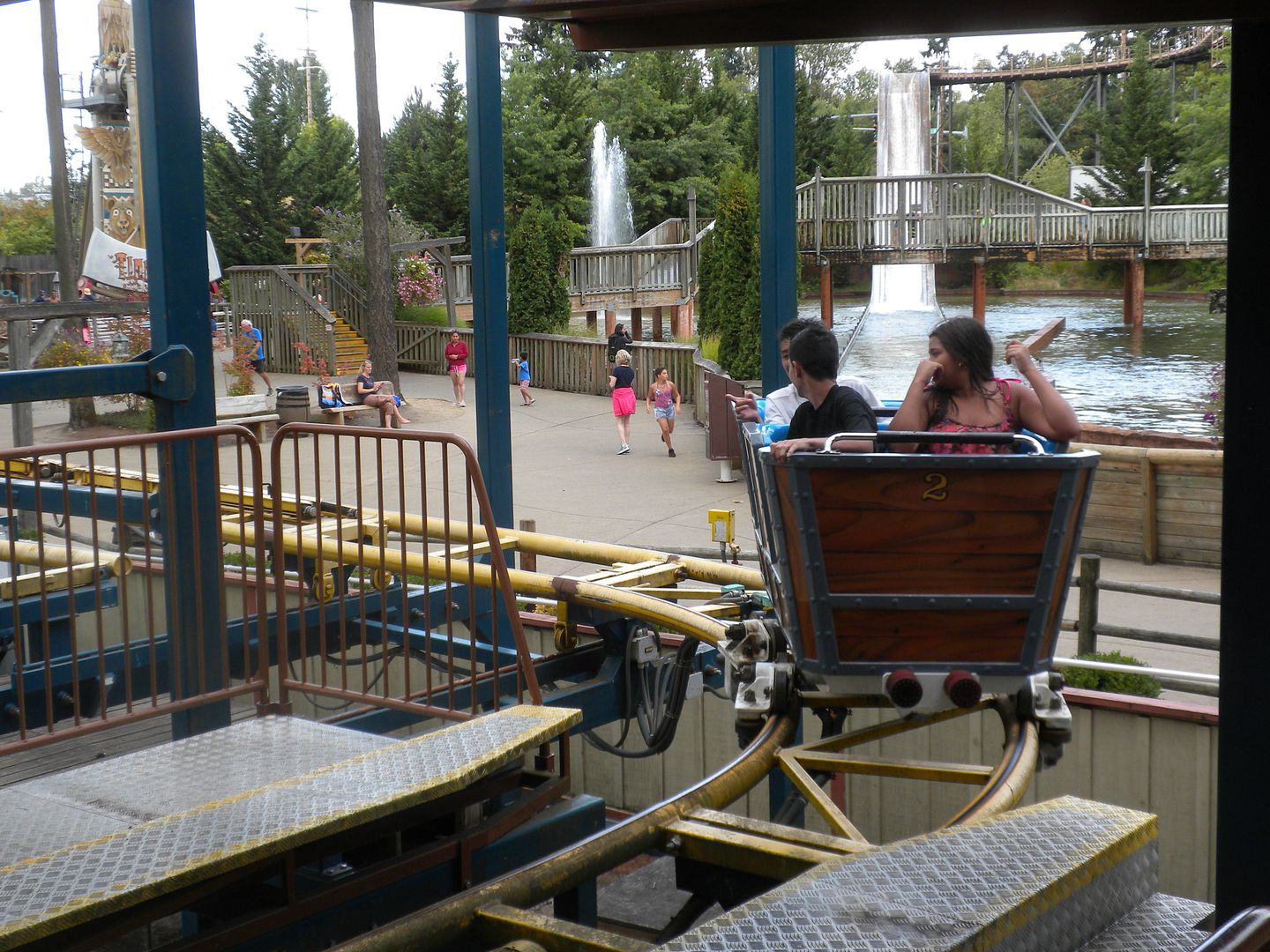 Zamperla is one of the better wild mouse makers, in my opinion, and I liked the mine themed cars – 1 ride.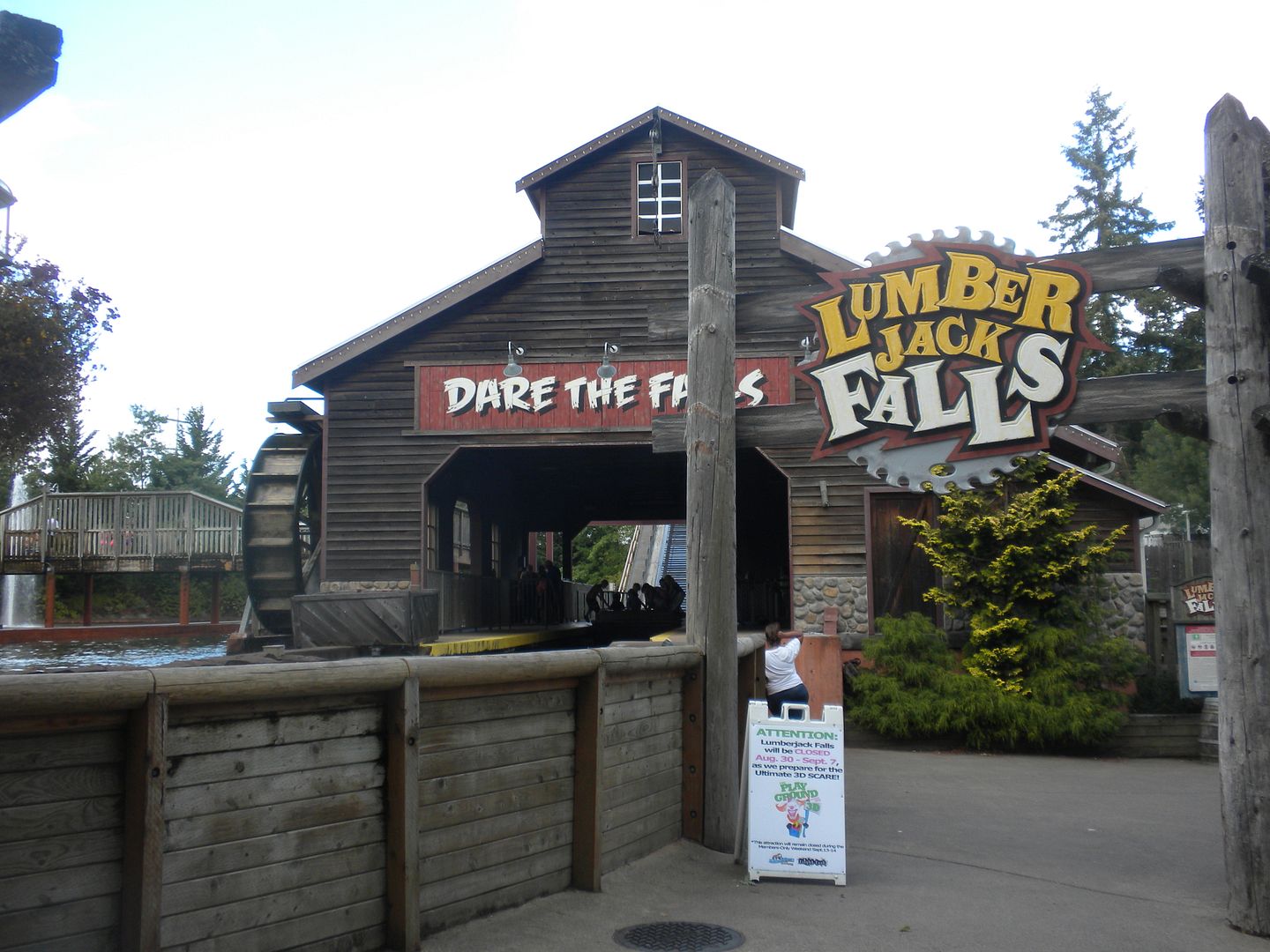 I did not ride Lumberjack Falls, a shoot-the-chutes with a double down, or Timber Axe, an Inverter.
Old West Territory
This was my favorite part of the park. Its hilltop wooded setting is the prettiest part of the park.


Timberhawk Ride of Prey: (S&S Worldwide, Wood, 2003)


While somewhat of a mild ride, it is fun and does have a couple of good airtime pops. It is very smooth and very rerideable.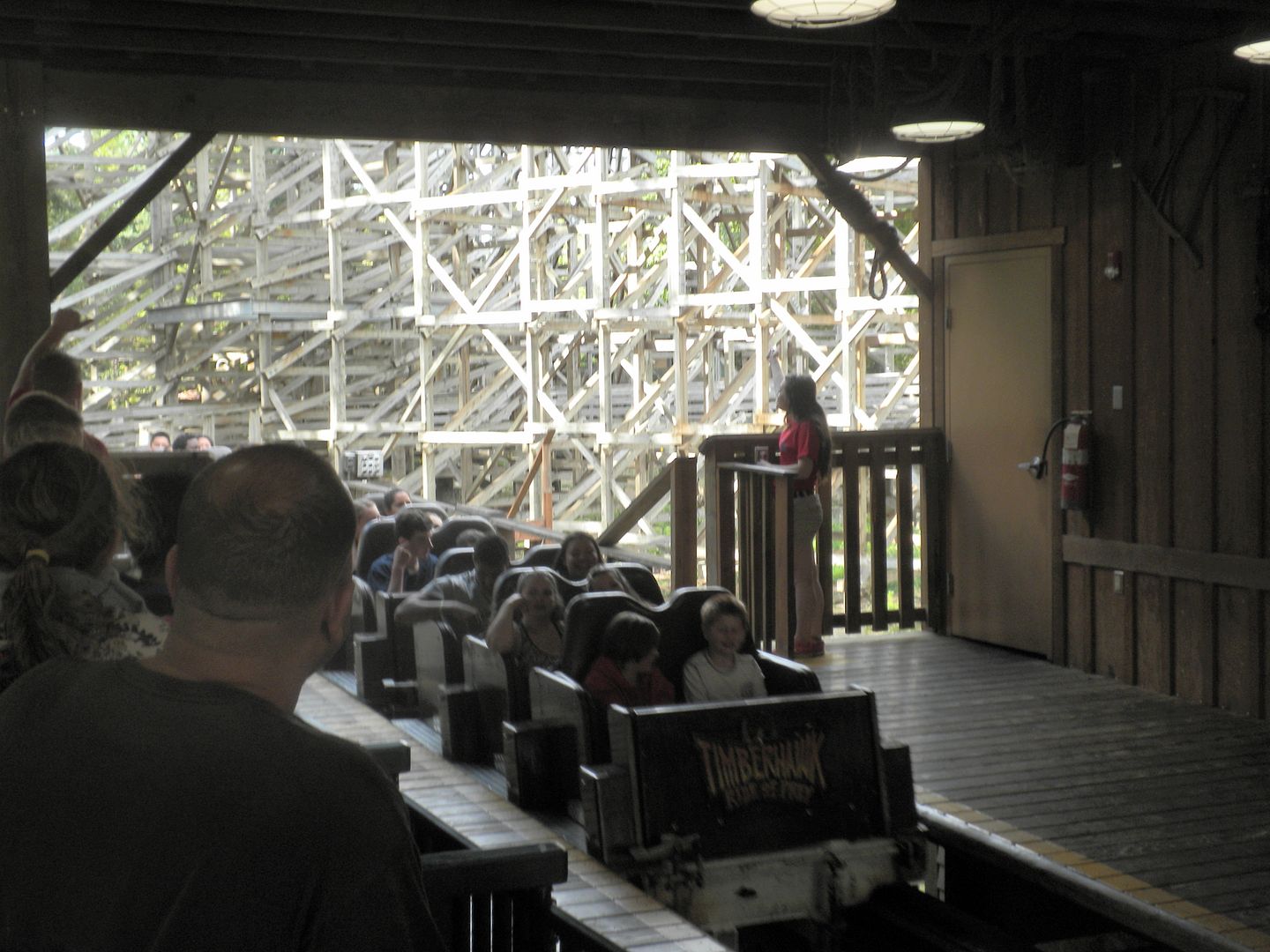 This was my 150th wooden coaster, and with it I have now ridden all 4 S&S wood coasters – 4 rides.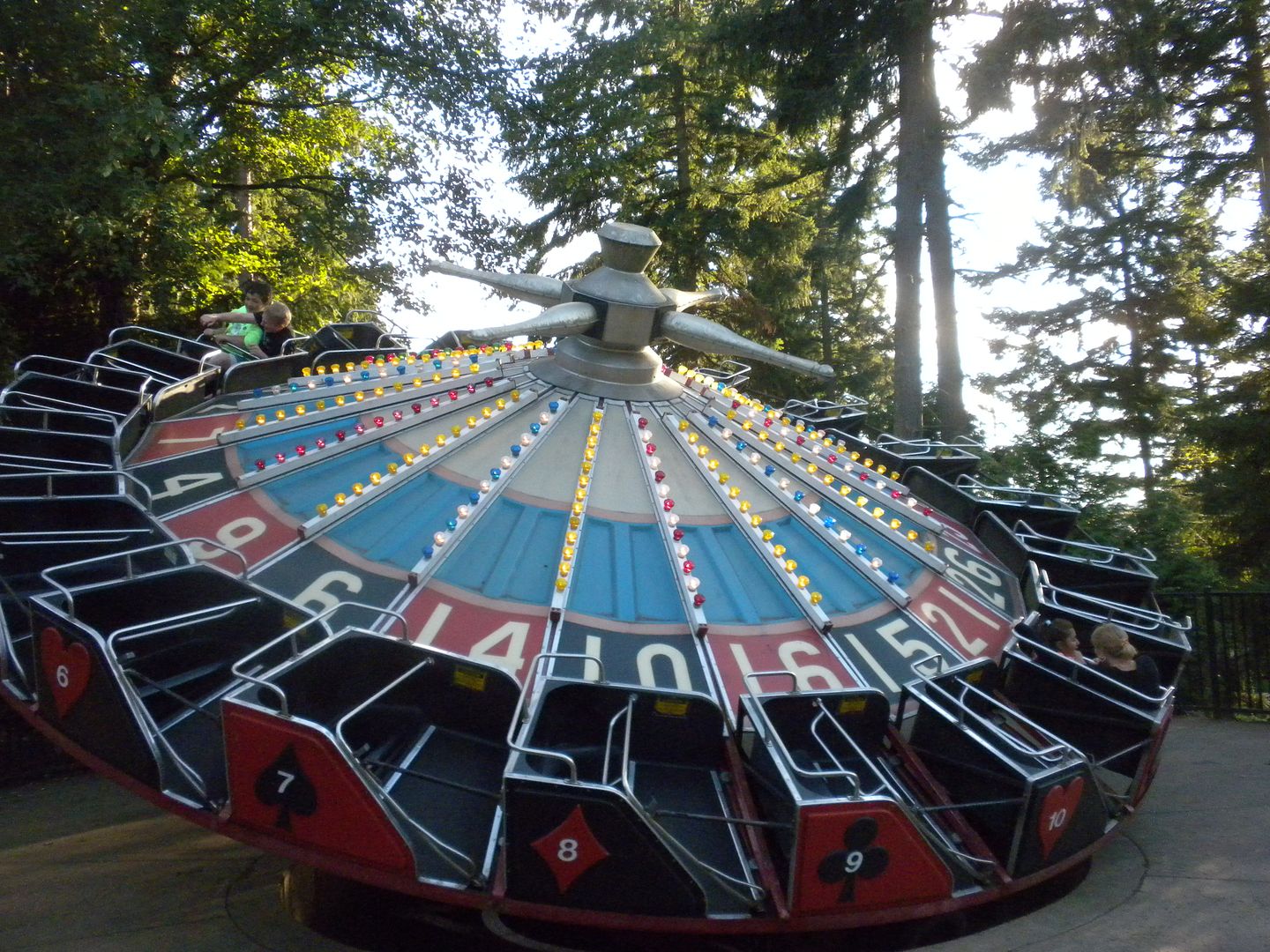 Gambler: I love Trabants and while this one runs rather slow, it was still fun – 1 ride.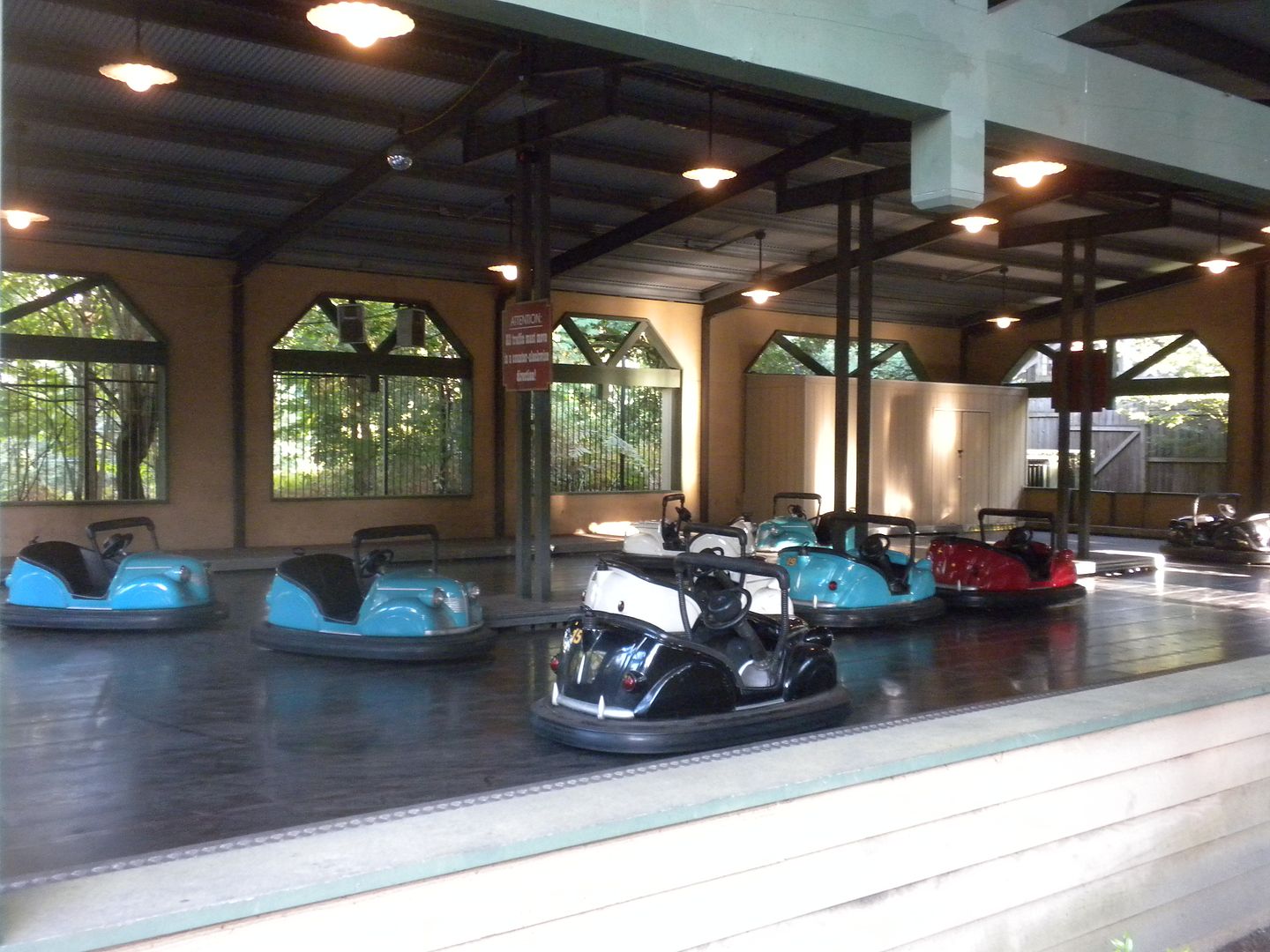 Dodge'ms Bumper Cars: We had great fun on these as they moved pretty quickly and got out of jams fairly easily – 1 ride.
Wagon Train, a Rainbow-type ride, was not operating. I did not ride Paratrooper or Pirate Ship.
Kiddie rides include Red Baron and Enchanted Railway, which looked nice.
Slide Alley
One of two sections of the waterpark, this one focuses on slides. We did not take time to do any of the waterpark attractions. Slides include Riptide, a vortex drop; Zooma Falls, a family raft ride; Konga Lazy River; and Konga Slides, a 4 slide complex. Triple Slide Complex is under construction for 2015.
Pirates Cove


This section includes additional waterpark attractions Warming Tubs; Wave Pool; Raging River Ride, a river pool tube ride that looked neat; Activity Pool; and Hooks Lagoon, a children's play area. Here they also have a Show, The Islanders Steel Drum Band.
While looking like more of an amusement park than the advertised theme park, it is a nice little park with a few good rides. The waterpark is undoubtedly a good draw. I enjoyed our time there. We left about 7:15 to have a good meal at the nearby The Rock Wood Fired Pizza and Spirits with Lisa Zigweid before driving to Portland, OR to our hotel.
Enchanted Forest


On Saturday, August 30 we started our time in Oregon at Enchanted Forest in Turner. This was, perhaps, the biggest surprise of the trip. Built as a children's storybook park on the side of a hill, it has developed into a highly themed family owned park that has only a few rides but lots of surprises around every turn. The park is divided in three sections.
Old European Village


While this highly themed section is home to two major rides, it is also filled with fascinating features. Pinocchio's Playhouse has fun passageways and an animated Pinocchio scene.


Sir Newton's Gravity Factory is a fascinating contraption with balls moving through a complex track structure. The Blackbird Pie Show features animated singing blackbirds.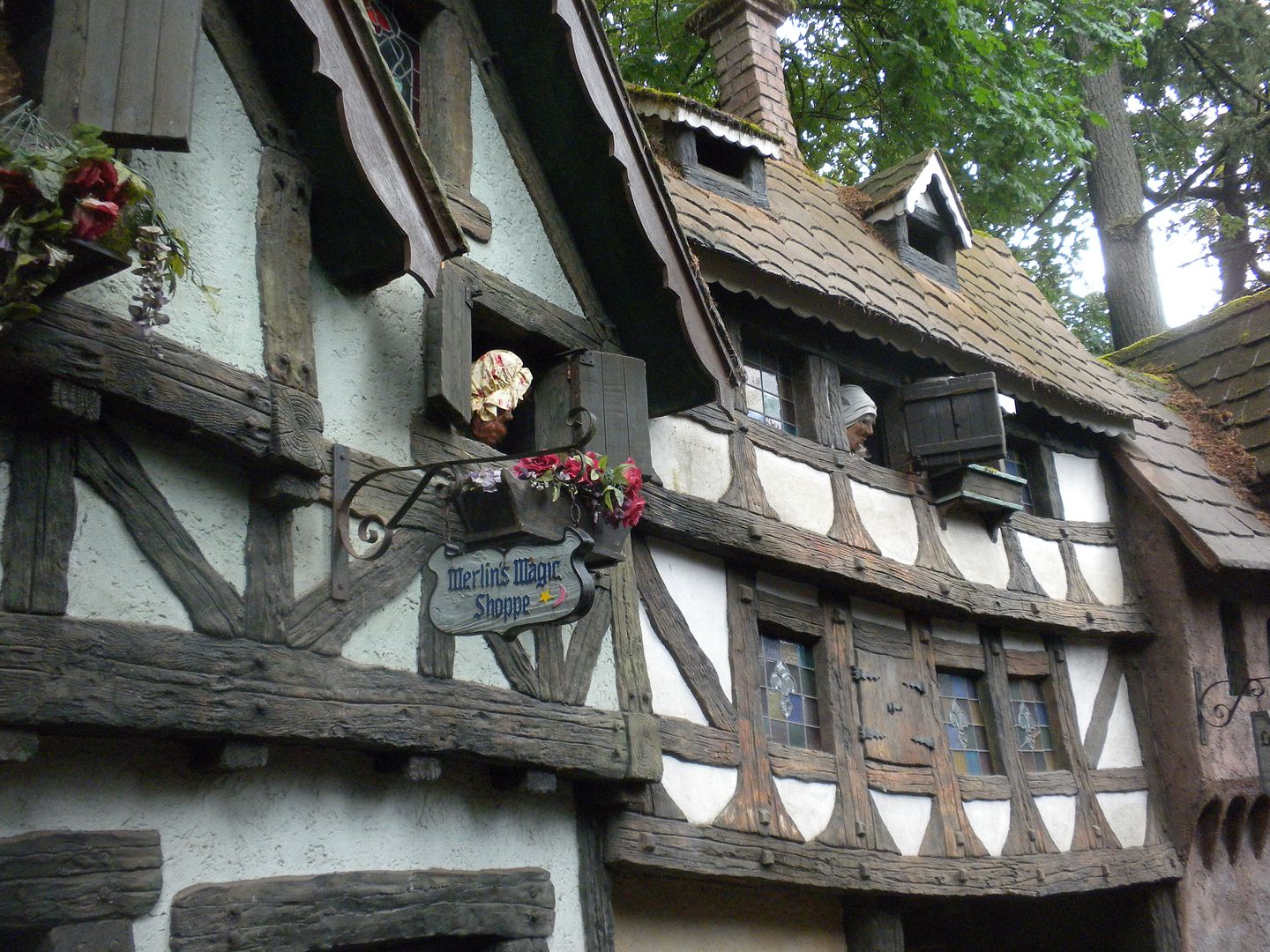 Animated characters converse across the pathways. The theming here is excellent, and so are the area's rides: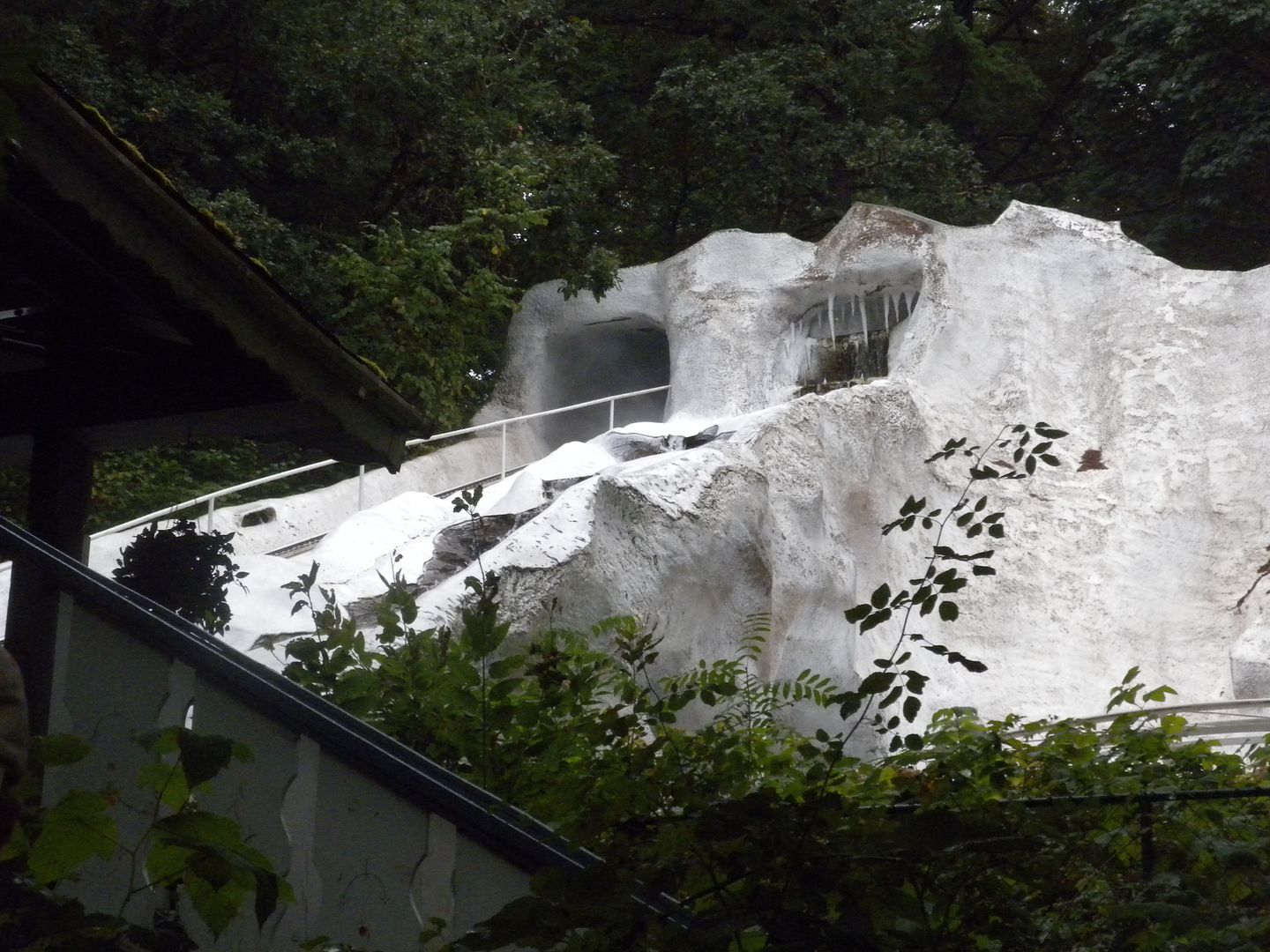 Ice Mountain Bobsleds: (Ascot Design, Steel Terrain, 1983)


This 100 foot tall roller coaster was the first ride opened at Enchanted Forest.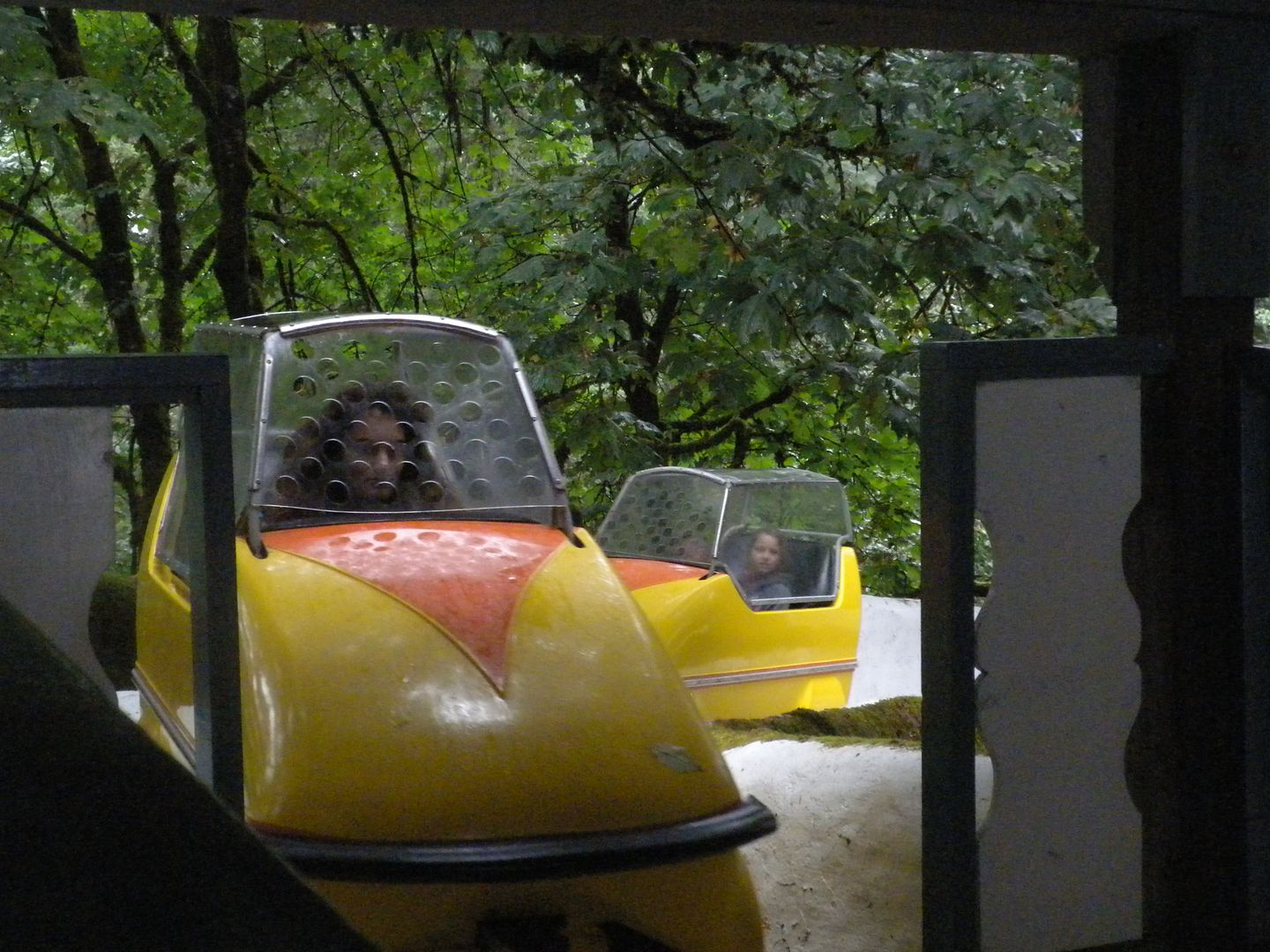 You board unique covered cars and ride to the top of Ice Mountain where you are greeted by a snow creature. You then travel through the mountain and out along the track for an exciting ride with lots of sharp turns, bunny hops and good speed.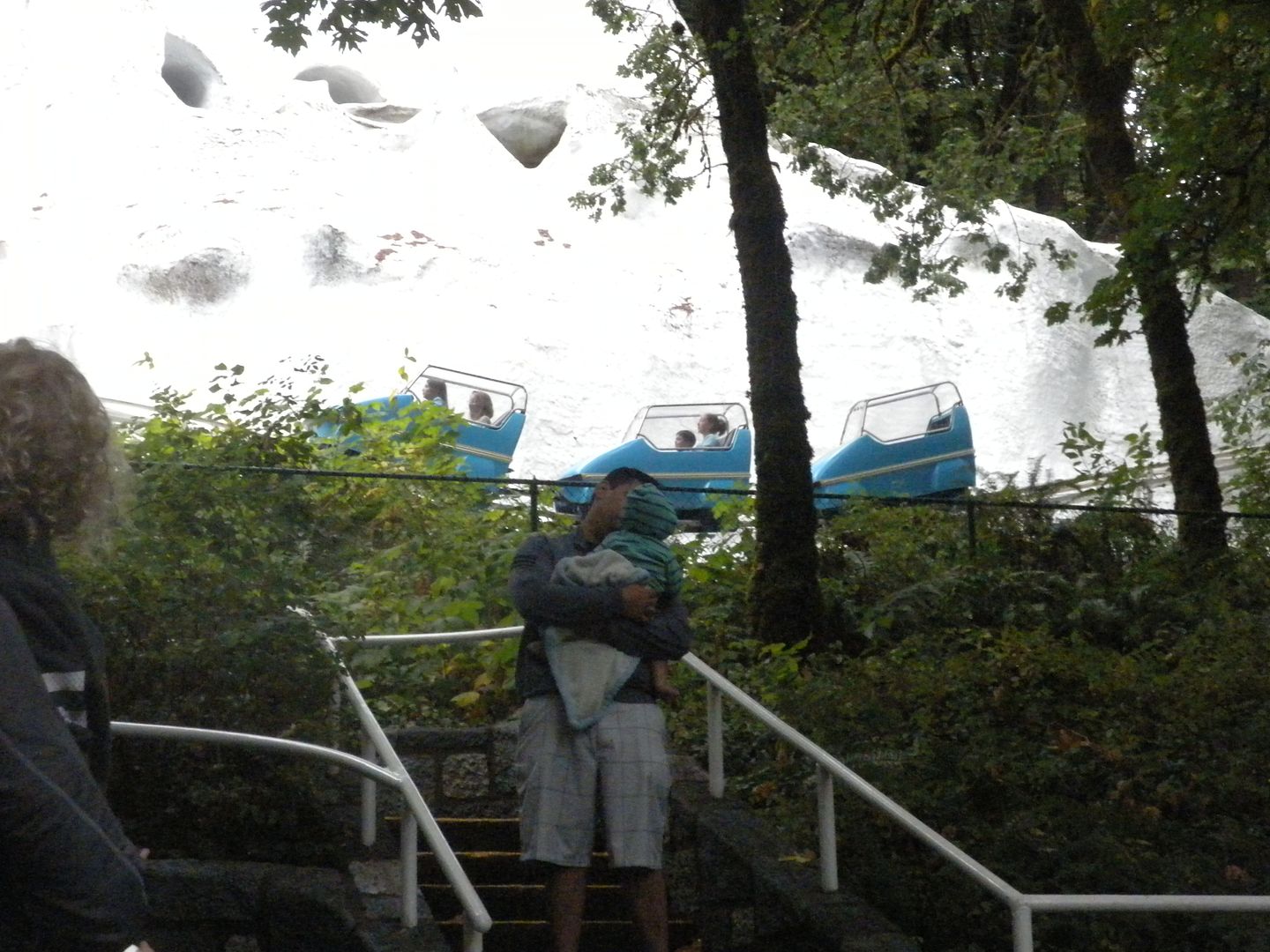 This is one of the most fun coasters I have ridden. Interestingly, it at one time had another track and you can still see the remains of that throughout the ride. This is definitely a standout ride of the trip and one I want to get back to – 3 rides.


Challenge Of Mondor: In this interactive darkride, riders are enlisted to help Mondor the wizard in a quest to save the Drumlins from the evil wizard, Drakko. This is very nicely done and interactive rides are always fun – 1 ride.
Fantasy Fountains: This water and light show, which repeats every 15 minutes, is a great way to enjoy a meal, which we did – 1 show.
Western Town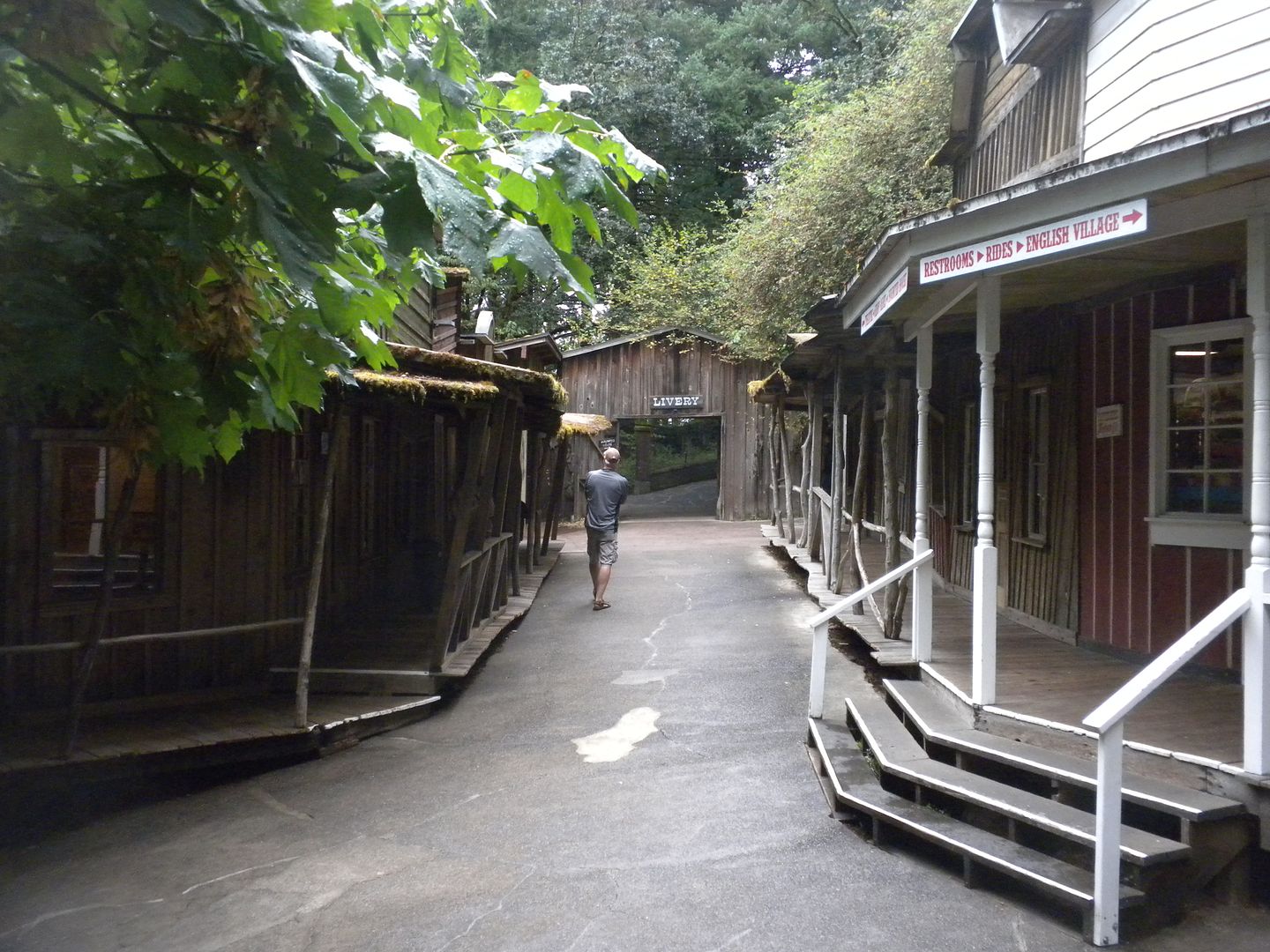 This highly themed section


is also known as Tofteville.


Fort Fearless provides passageways to explore and a slide at the end.


The Indian Caves are a series of underground passages and tunnels


that end in a teepee exit.


There is a funhouse floor to walk across and lots of interesting animated scenes in the town storefronts. There is a documentary in the Opera House on the history of the park. There is also a shooting gallery and a place to pan for treasure.


Several of the park's major attractions are here.


Big Timber Log Ride: (E&F Miler, Water Coaster, 1996) Although parts of this ride are a traditional flume and the vehicles are the typical log, a good portion of this ride is waterless track with gravity drops and inclines, so it is definitely a coaster.


It is very long and has some really good dry portions through the woods as well as two good water drops that get you fairly wet. In an interesting move, the park provides ponchos if you want them – 1 ride.


Haunted House: This walkthrough haunted house is very well done and has some good scenes. It is also very long – 1 walkthrough.
Speedway Bumper Cars: This is a small bumper car arena, but they were pretty good – 1 ride. .

Kiddy rides include: Frog Hopper; Kiddy Ferris Wheel; Kiddy Bumper Boats; and Kiddy Train.
Storybook Lane


The original part of this park begins in a Castle with interesting pasageways and notices posted on the walls.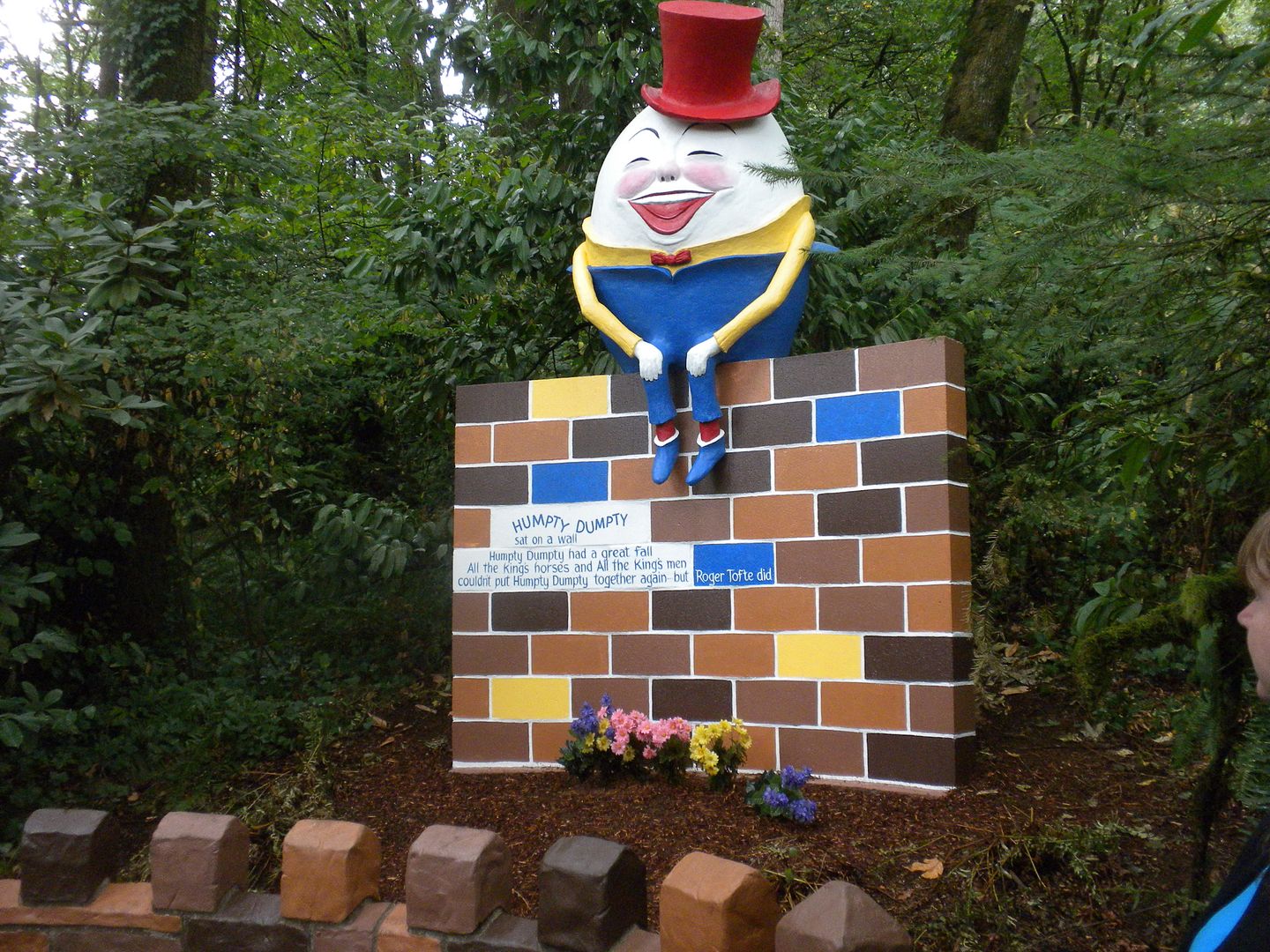 Humpty Dumpty is sitting on the wall before his big fall.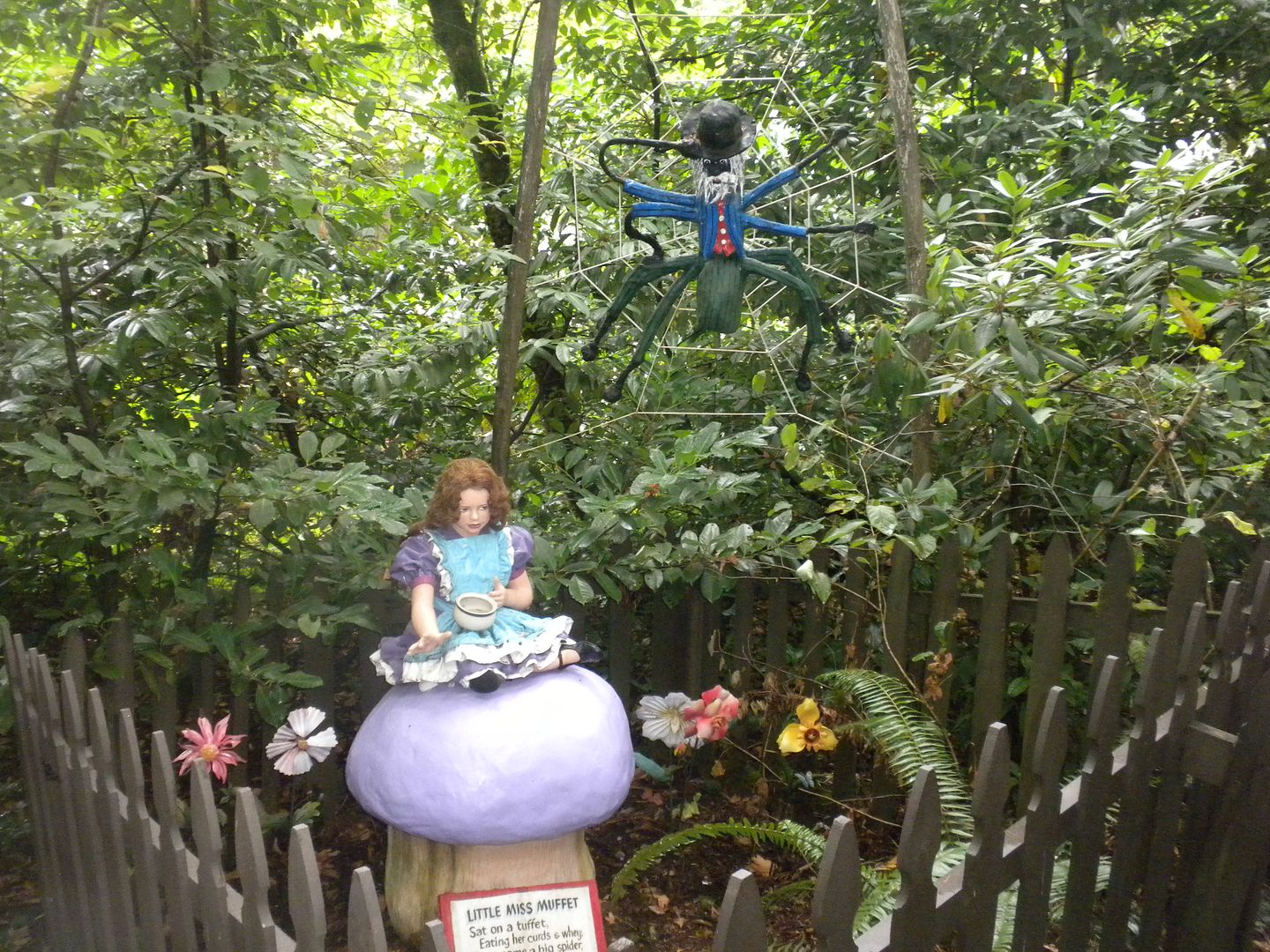 Little Miss Muffett needs to look out for that awfully big spider. Hansel and Gretel need to stay away from the Gingerbread House. Mary and her Little Lamb are here.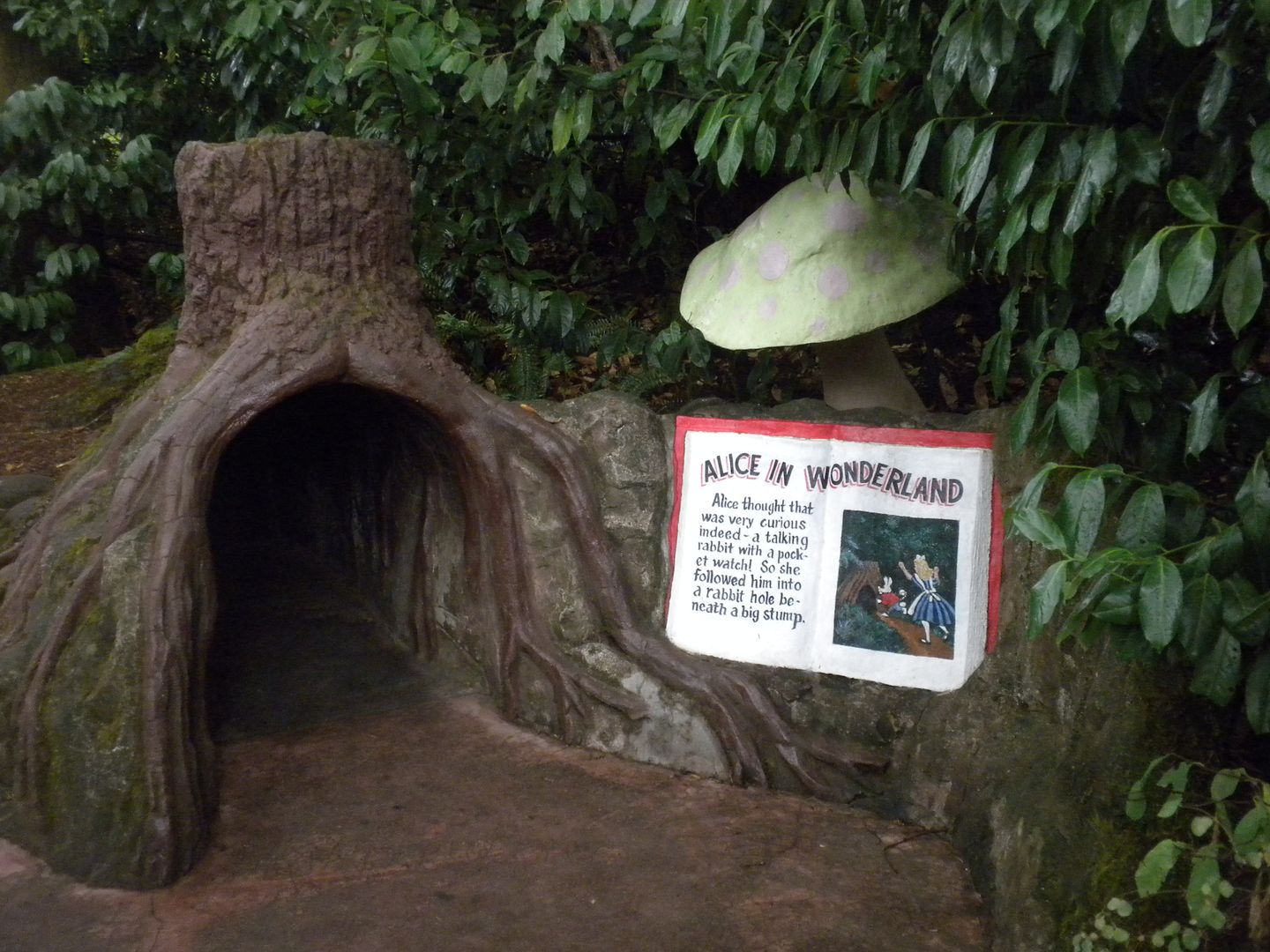 Alice in Wonderland's Rabbit Hole


comes out in a Keyhole. The Mad Hatters' Tea Party is getting underway.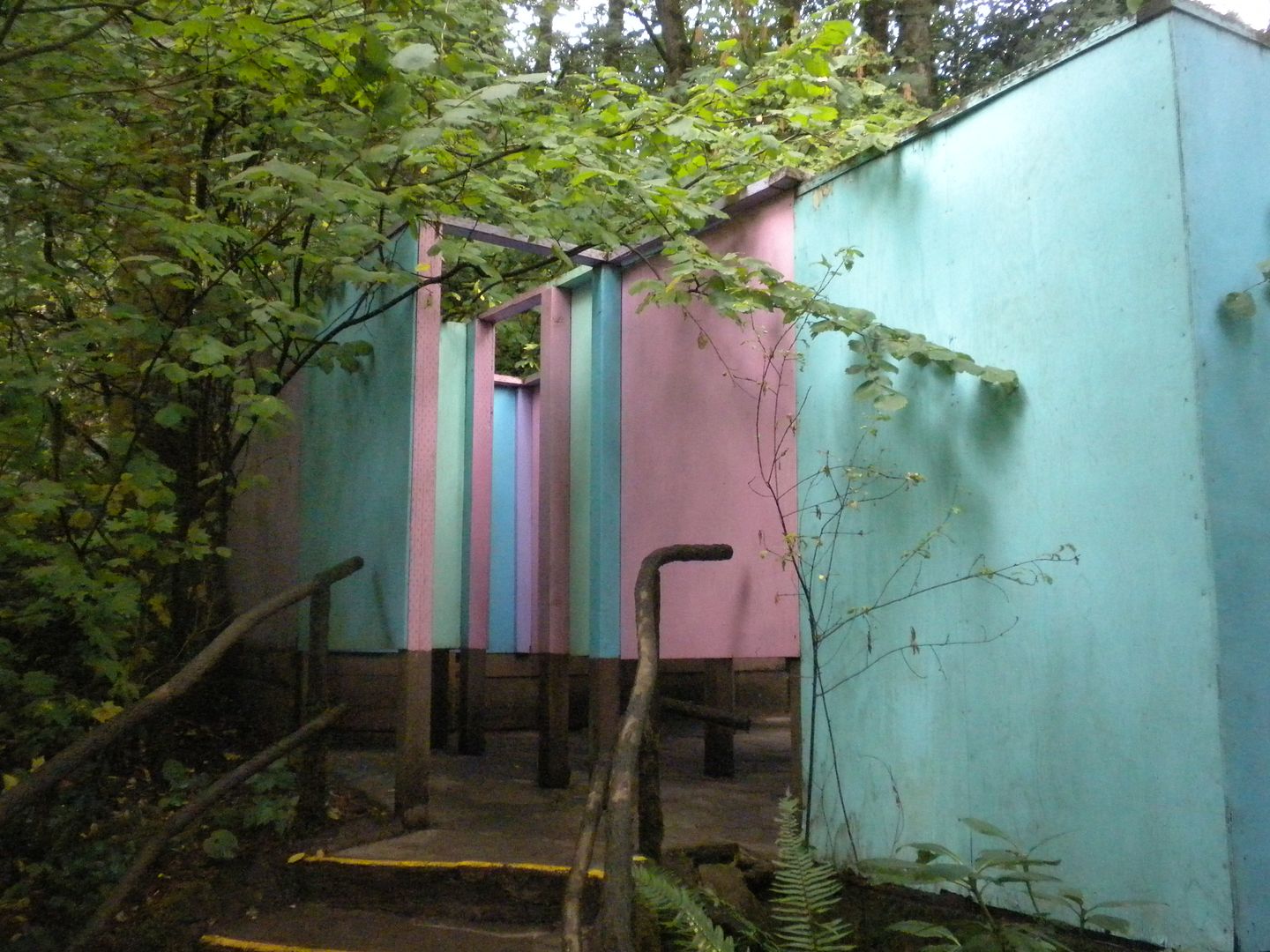 The Queen of Heart's Maze is fun. Snow White's house is here.


The Seven Dwarves Mine has interesting sights to explore.


Walking into the Wicked Witch's Mouth leads to a slide. You can walk through the Three Bears' House and see Goldielocks asleep.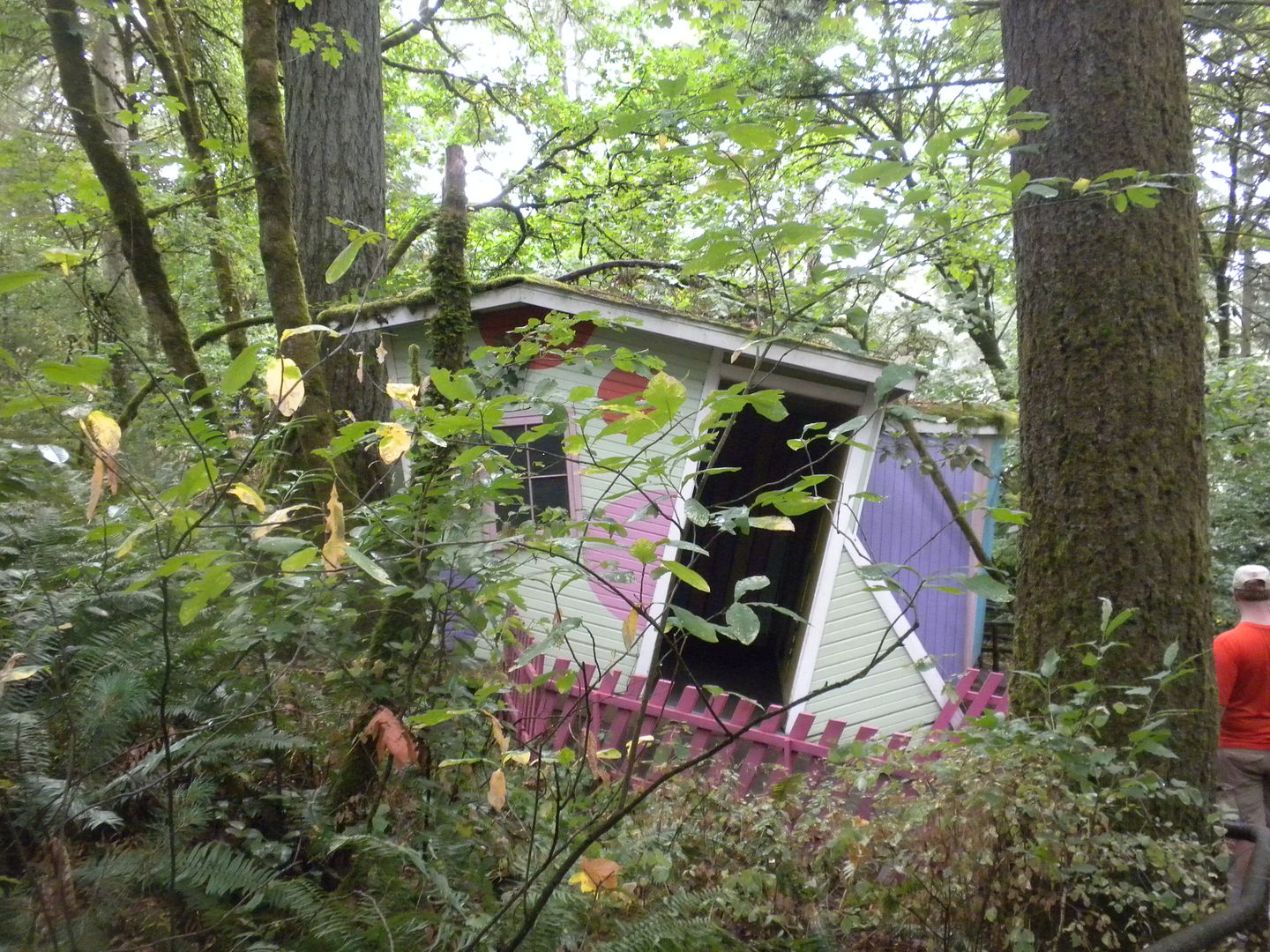 The Crooked Man's House is disorienting. Little Red Riding Hood beware – I don't think that is Grandma. The Pied Piper is outside his pumpkin house.


Storybook Lane ends with a slide down the Old Lady's Shoe Slide. The detail in this section is great and these original creations of Roger Tofte are in excellent condition – 1 walkthrough.
I did not see The Enchanted Forest Comedy Theater which featured Jack & the Beanstalk.
While there are only a few rides, this is one of the most fascinating parks I have been to. There is so much to explore and the attention to detail is excellent. I look forward to returning someday when I have more time. We left about 3:30 to head to our last park of the trip.


Next door this is all that is left of the defunct Thrillville USA.
Oaks Amusement Park
We arrived at Oaks Amusement Park in Portland around 5:00. Although the coaster collection is not overly exciting, I was looking forward to this park as it is really the last old traditional park in the U.S. that I had not been to. It has a traditional park feel and a nice riverfront setting.

Looping Thunder Roller Coaster: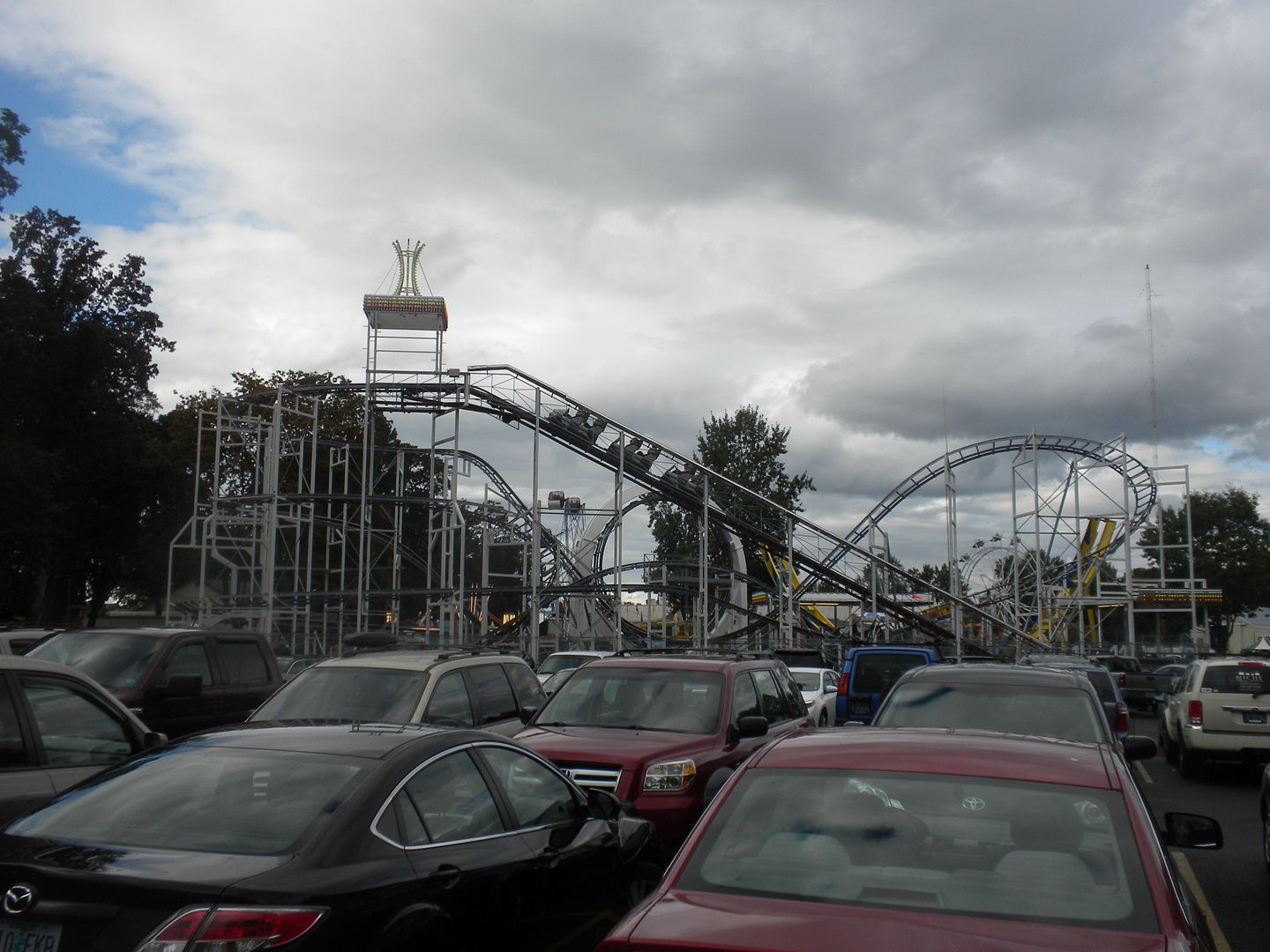 (Pinfari, Zyklon ZL42, 1996)


This gave a good ride except for the transitions going into and out of the loop – 1 ride.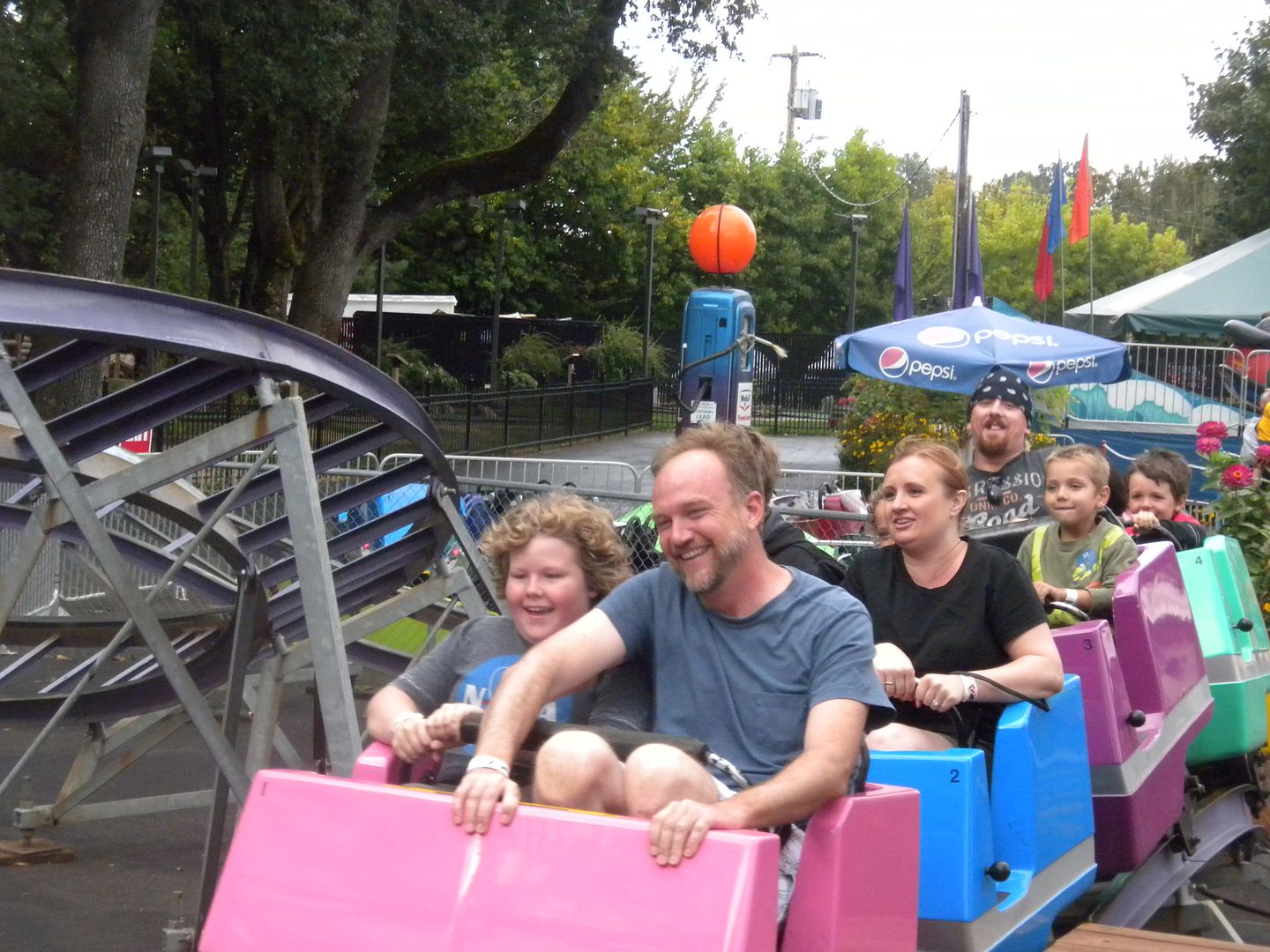 Zoom Coaster: (E&F Miler, Family Coaster, 1999)


This was a very good coaster for a family ride – 1 ride.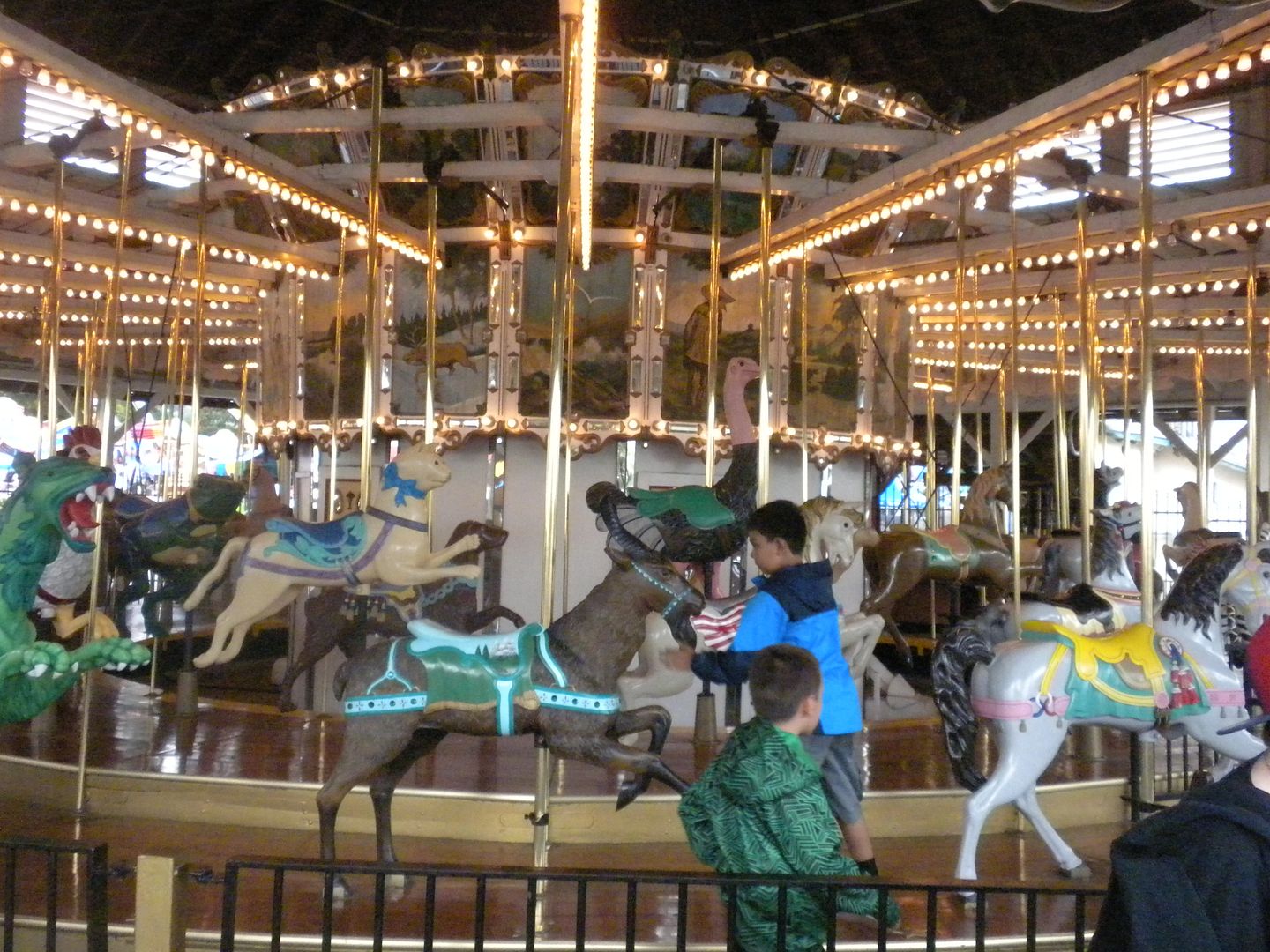 Carousel: (Herschell-Spillman; Classic Wood Carousel: 3 rows-13 Jumping Horses, 11 Standing Horses, 26 Menagerie Animals-1 Cat, 1 Deer, 2 Dogs, 1 Dragon, 4 Frogs, 2 Giraffes, 1 Goat, 1 Kangaroo, 1 Lion, 2 Ostriches, 2 Pigs, 2 Roosters, 1 Stork, 1 Tiger, 2 Zebras, 2 Mules-2 chariots, 2 Tubs; 1911) Listed in the National Register of Historic Places in 1987, this two-level platform carousel has been here since 1924. It gave a good ride and is in good condition – 1 ride.
Disk'O: Good ride – 1 ride.
Ferris Wheel: This is a new Eli Bridge Ferris Wheel and give great views of the Portland skyline – 1 ride.
Rock & Roll: This Himalaya gives good swinging and goes both forward and backward – 1 ride.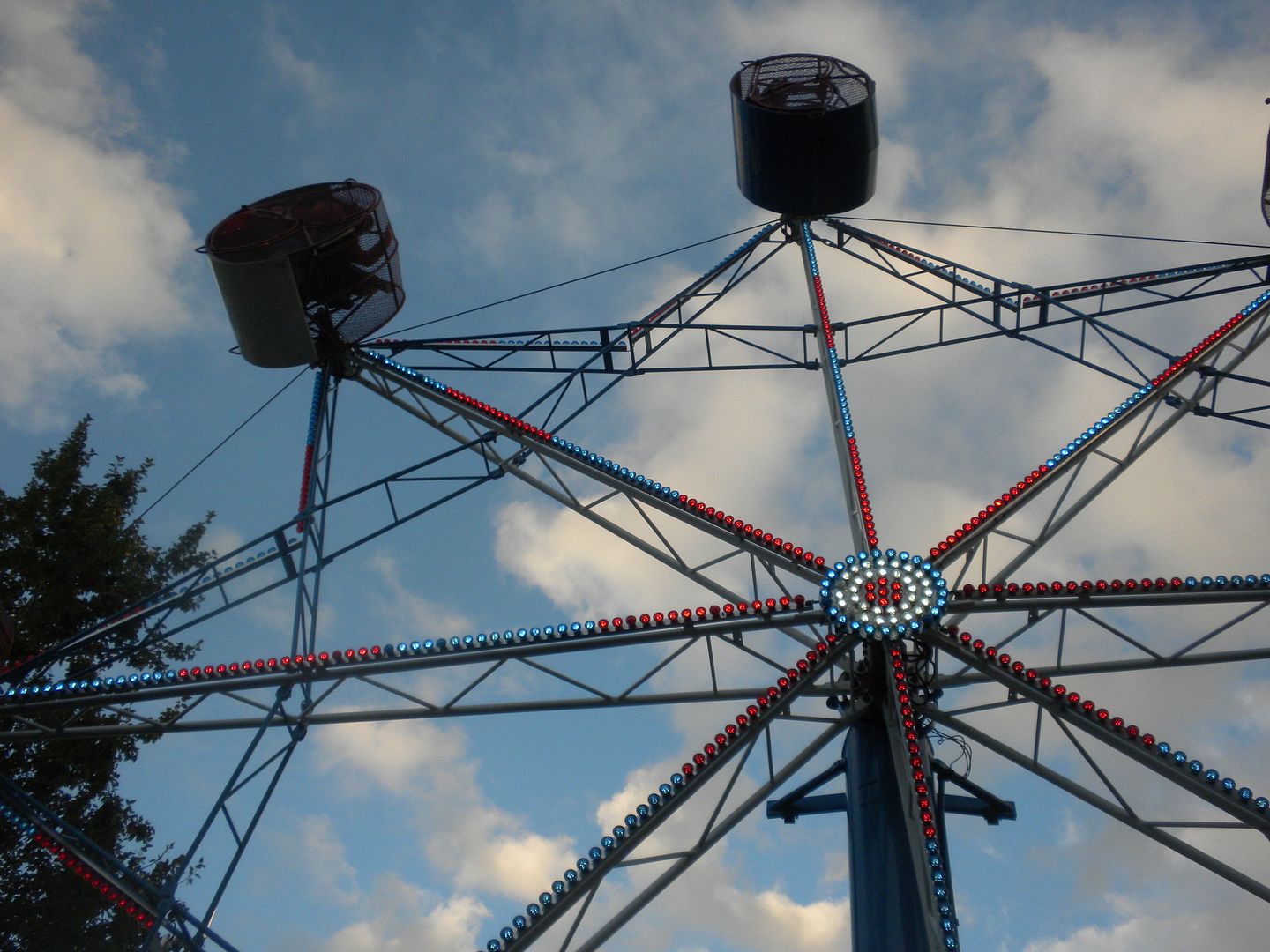 Rock-O-Plane: I love Rock-O-Planes and this one gave good rocking and flipping – 1 ride.
Spider: We had great spinning on this spider ride – 1 ride.
Tilt-A-Whirl: I got pretty good spinning – 1 ride.


Train: They have a new engine for this C.P. Huntington train,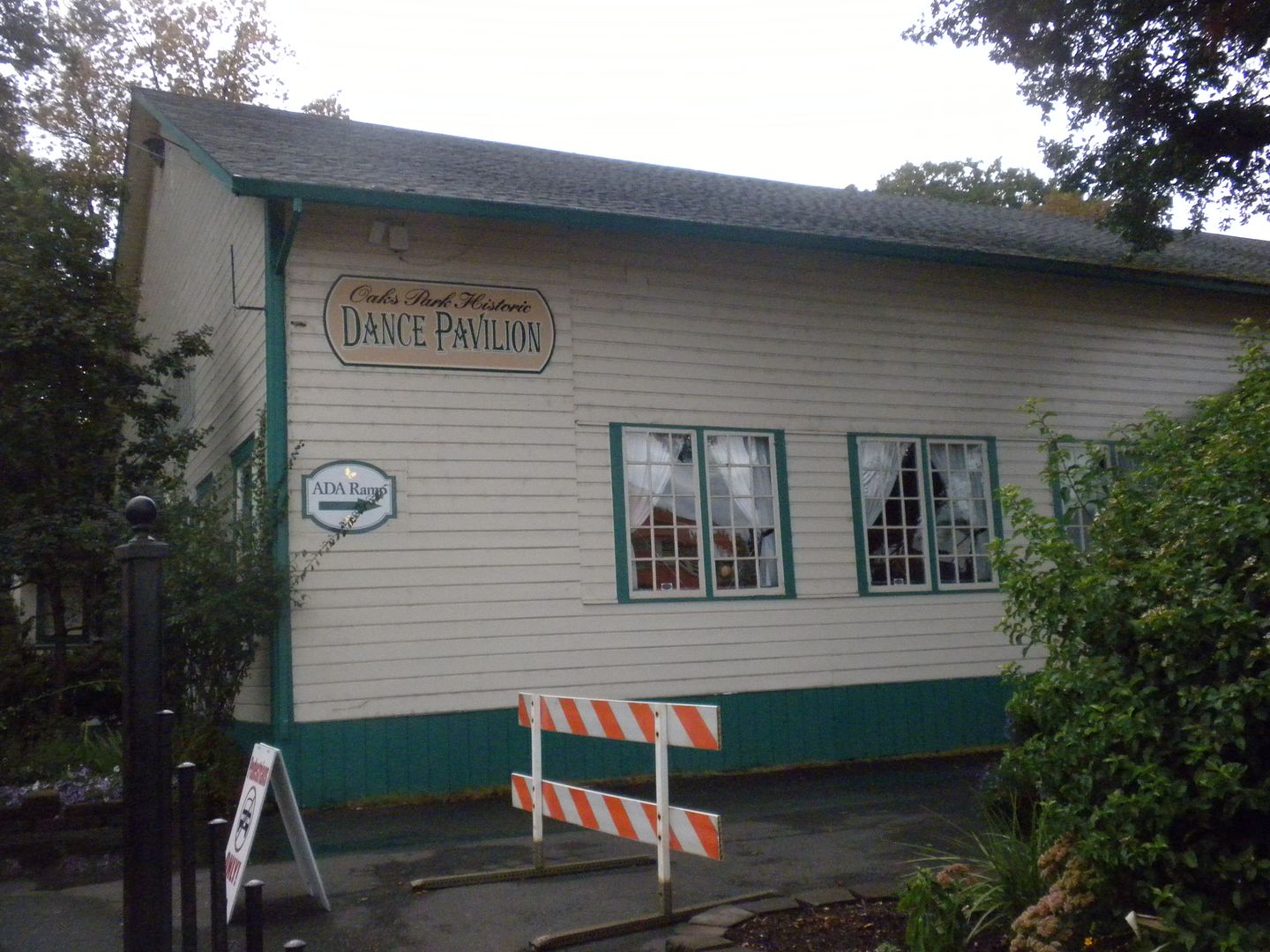 which gives a nice ride by the Dance Hall, which is used for private functions, around the picnic area


and along the river – 1 ride.
Cosmic Crash: These bumper cars were good – 1 ride.
I did not ride Eruption, a Round-Up; Screamin' Eagle, a pendulum ride; or Scrambler. They also have Go Carts for an additional charge.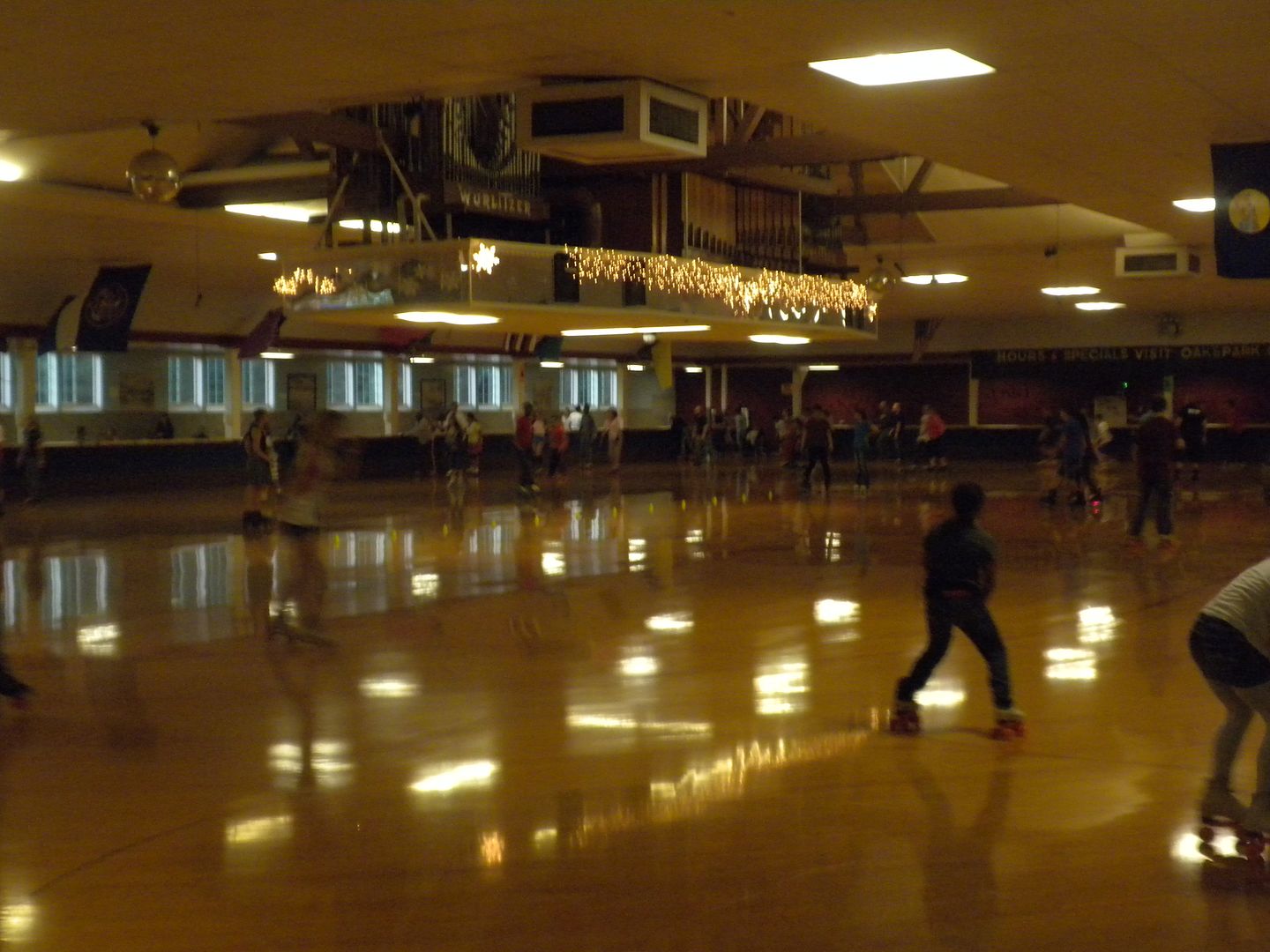 Oaks Park is known for its Roller Skating Rink, said to be America's largest and its Wurlitzer Organ. While I do not skate, the rest of our group went for a spin. Other attractions include Chipper's Woods Miniature Golf Course and Big Pink Slide.
Kiddie rides include: Chipper's Choppers, Frog Hopper, Jump Boats, Rockin' Tug, Sky Fighters, Toon Cars, and Up, Up, and Away.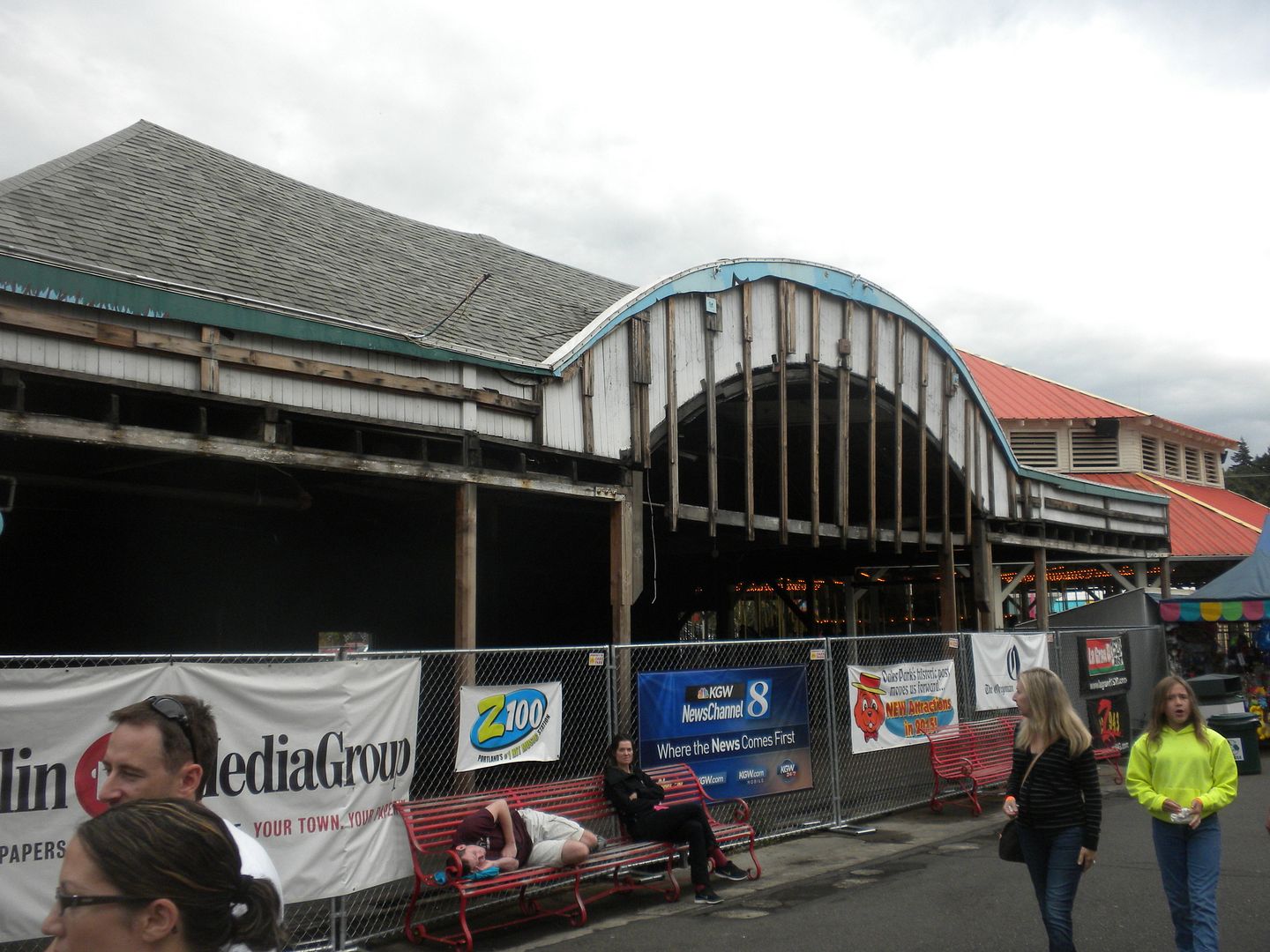 Until recently the park had a dark ride. The building has been gutted and a sign says they are preparing for next year's addition. I do not know for sure if this will be a dark ride, but I hope it will.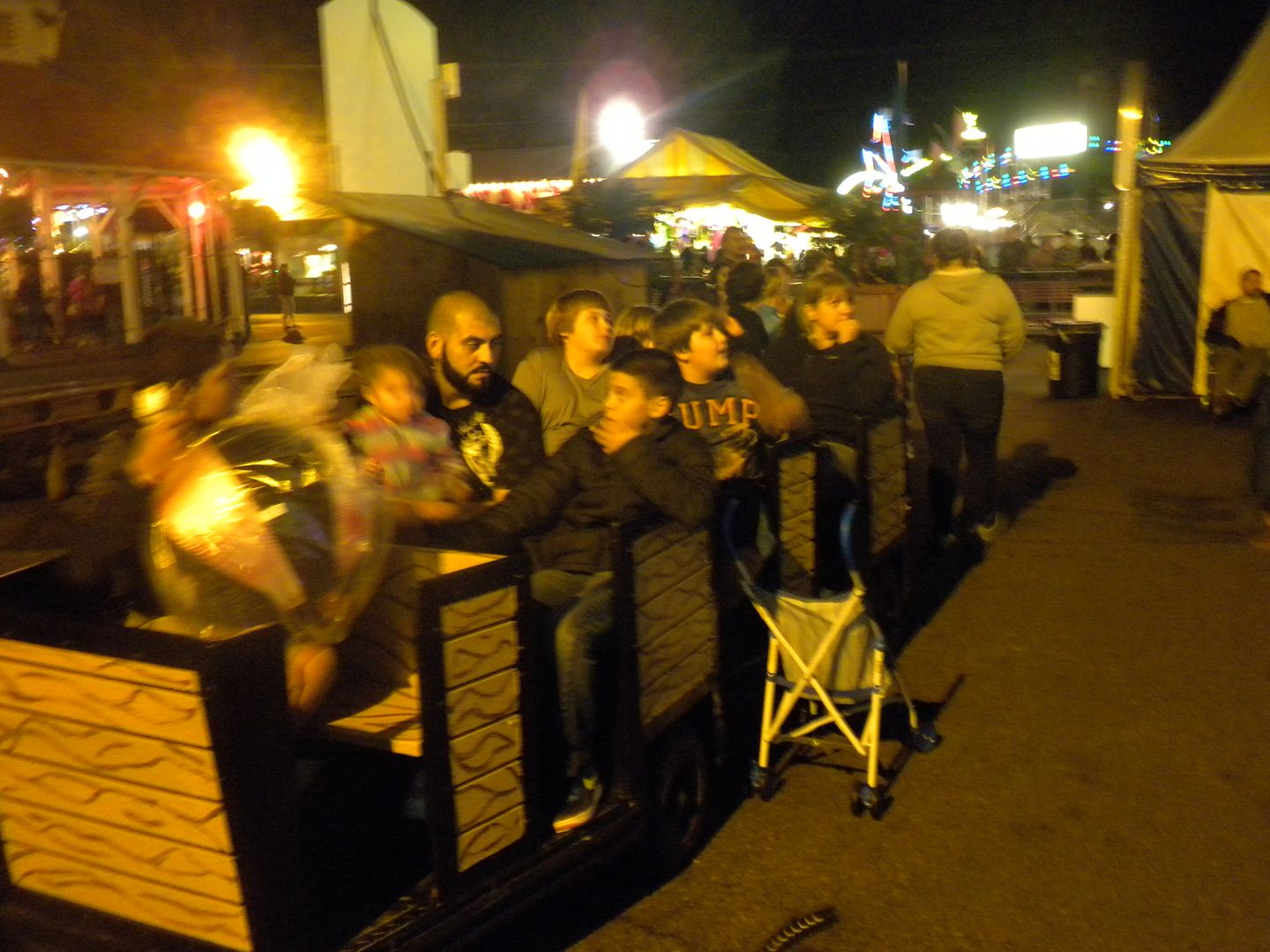 Meanwhile, the old darkride cars are being used as bench seating along the midway.


I was impressed with Oaks Park and enjoyed its traditional park feel, especially after dark as the lights came on. We left about 9:00 for a late dinner at a great seafood restaurant we found, Seasons and Regions, and a long drive back to Seattle.

Seattle
We returned to Washington to a hotel near Seattle. Vanessa had to fly out early on Sunday, August 31, but Richard, David and I were all taking redeye flights that evening, so we had time for more sightseeing.


We started with the Museum of Flight, to get a good understanding of the aviation industry, which has played such a big part in Seattle's development. As the home of Boeing, there is much history here. We toured the displays on early aviation, World War I, World War II and the history and current developments in the space program.


We got to walk through a British Airways Concord


and the Air Force One that was used from Eisenhower to Nixon.


While we could have spent longer here, the 2 hours we spent was fascinating.

We drove to downtown Seattle and had a good lunch at Pike's Place Market.


We walked to Westfield Center to catch the Monorail, which was installed for the 1962 Seattle World's Fair.


We took it to Seattle Center and went to the top of the Space Needle, also built for the 1962 Seattle World's Fair,


where we got great views of Seattle. We could almost make out the outline of Mt. Rainier in the clouded distance.


There were great views all throughout the city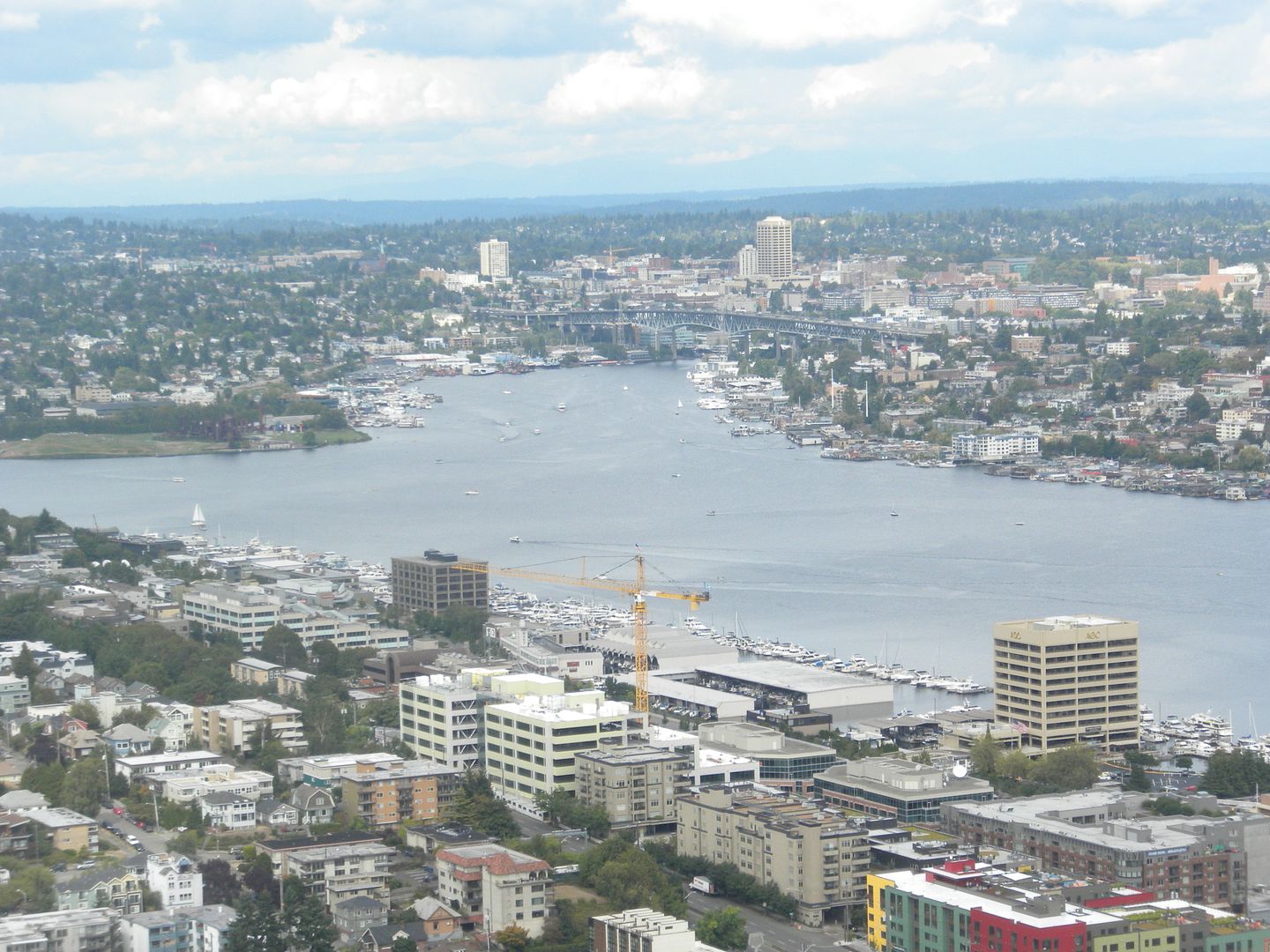 and out into Puget Sound.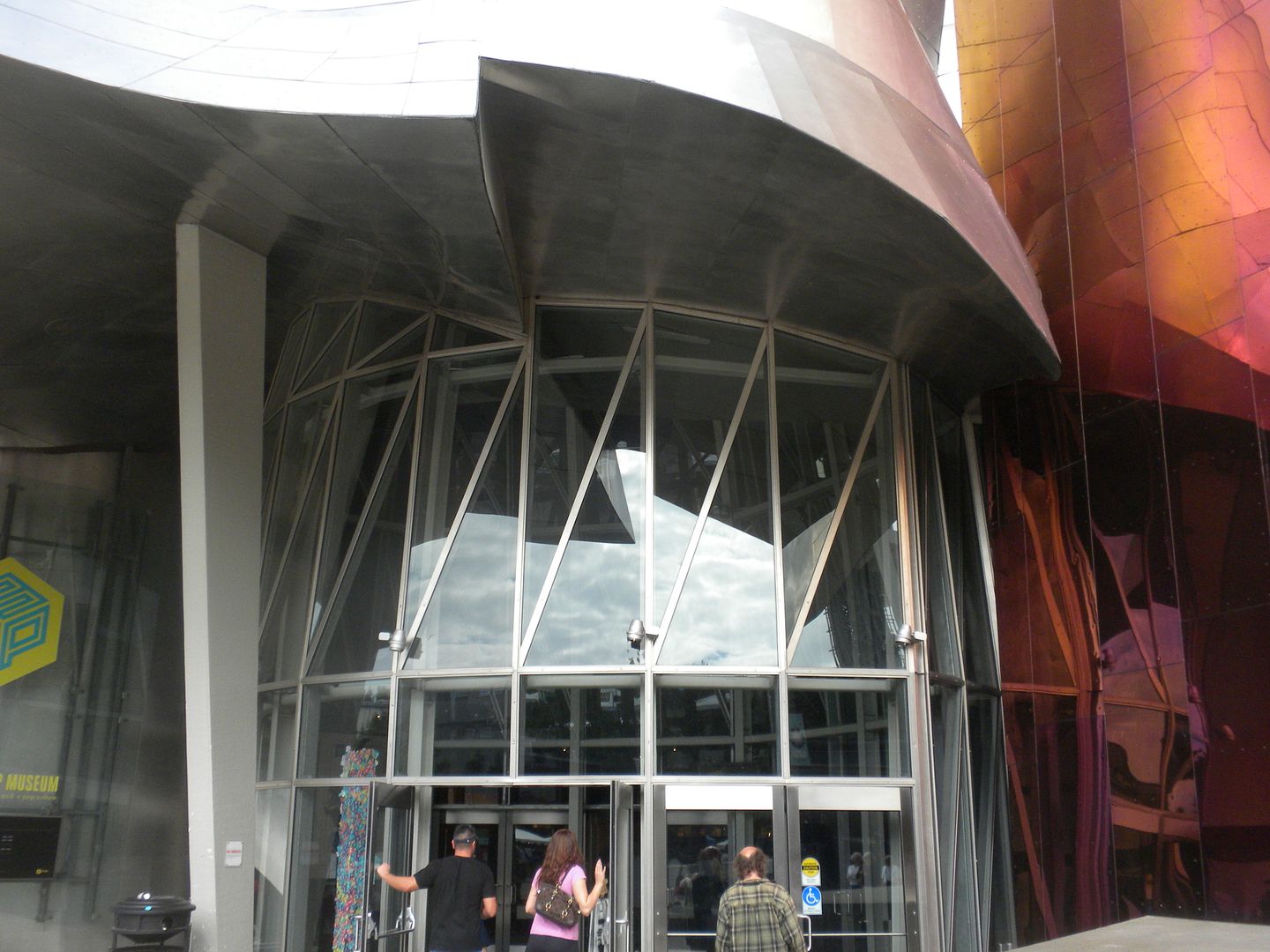 Back on the ground we went to the EMP Museum (Experience Music Project).


They have lots of displays on music including a large guitar display, a music video exhibit and a hands on section where guests can play instruments. Additional exhibits focused on horror movies, fantasy and science fiction. There was plenty to explore, more than enough for the hour and a half we spent. We took the Monorail back to Westfield Center.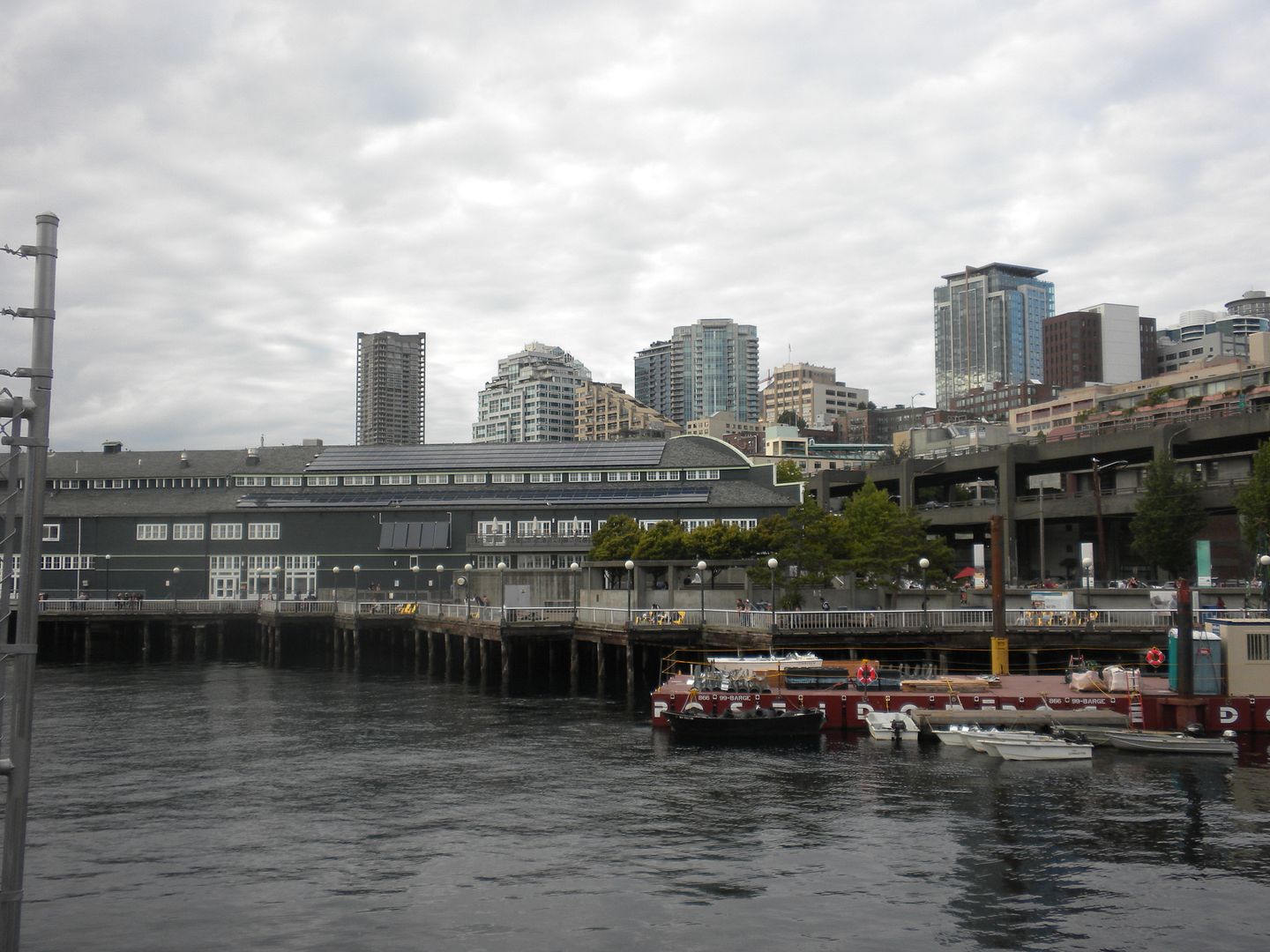 We walked to the Seattle Waterfront.


We rode the Seattle Great Wheel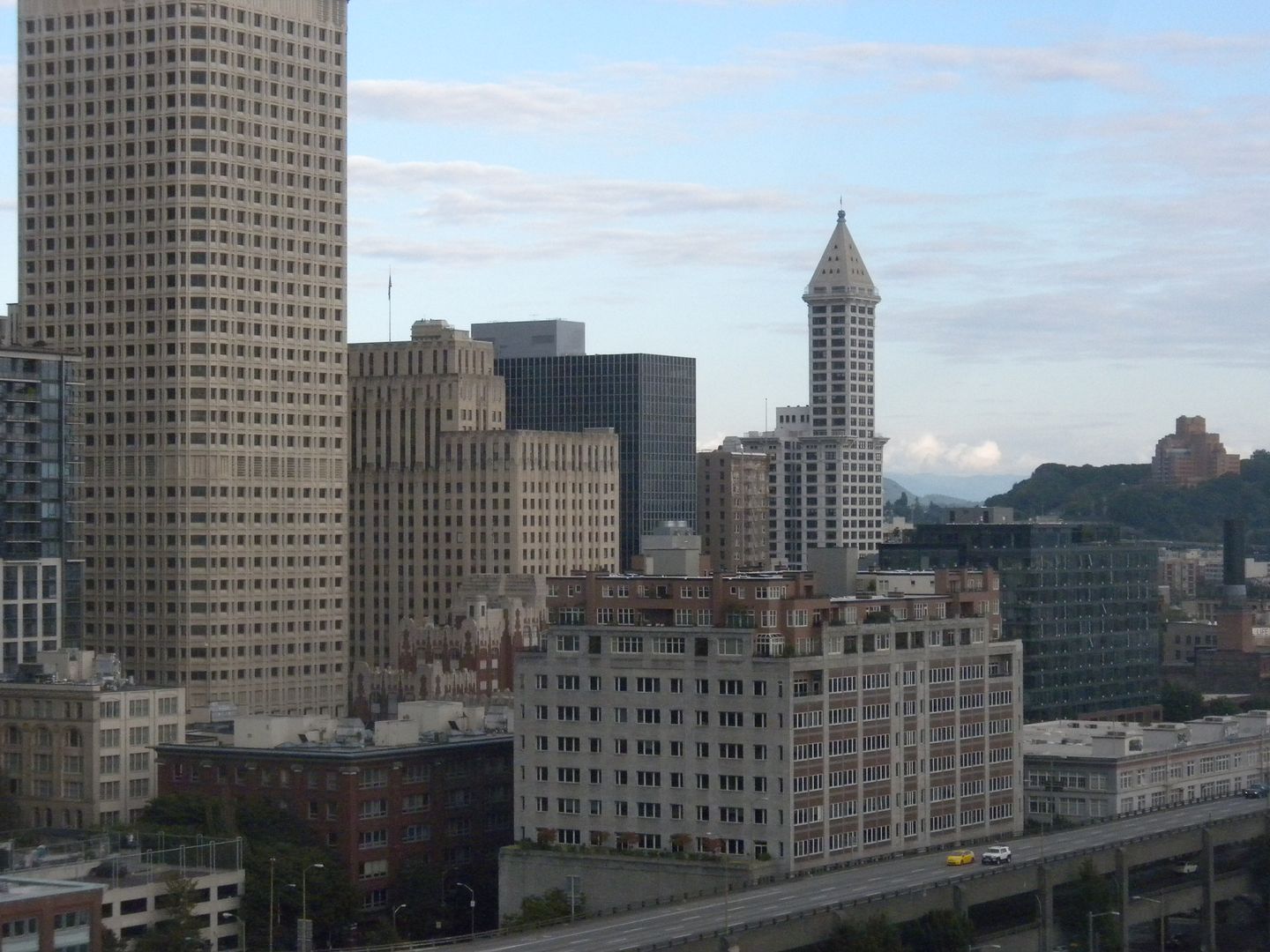 with more great views.


We got an even better view of Mt. Rainier.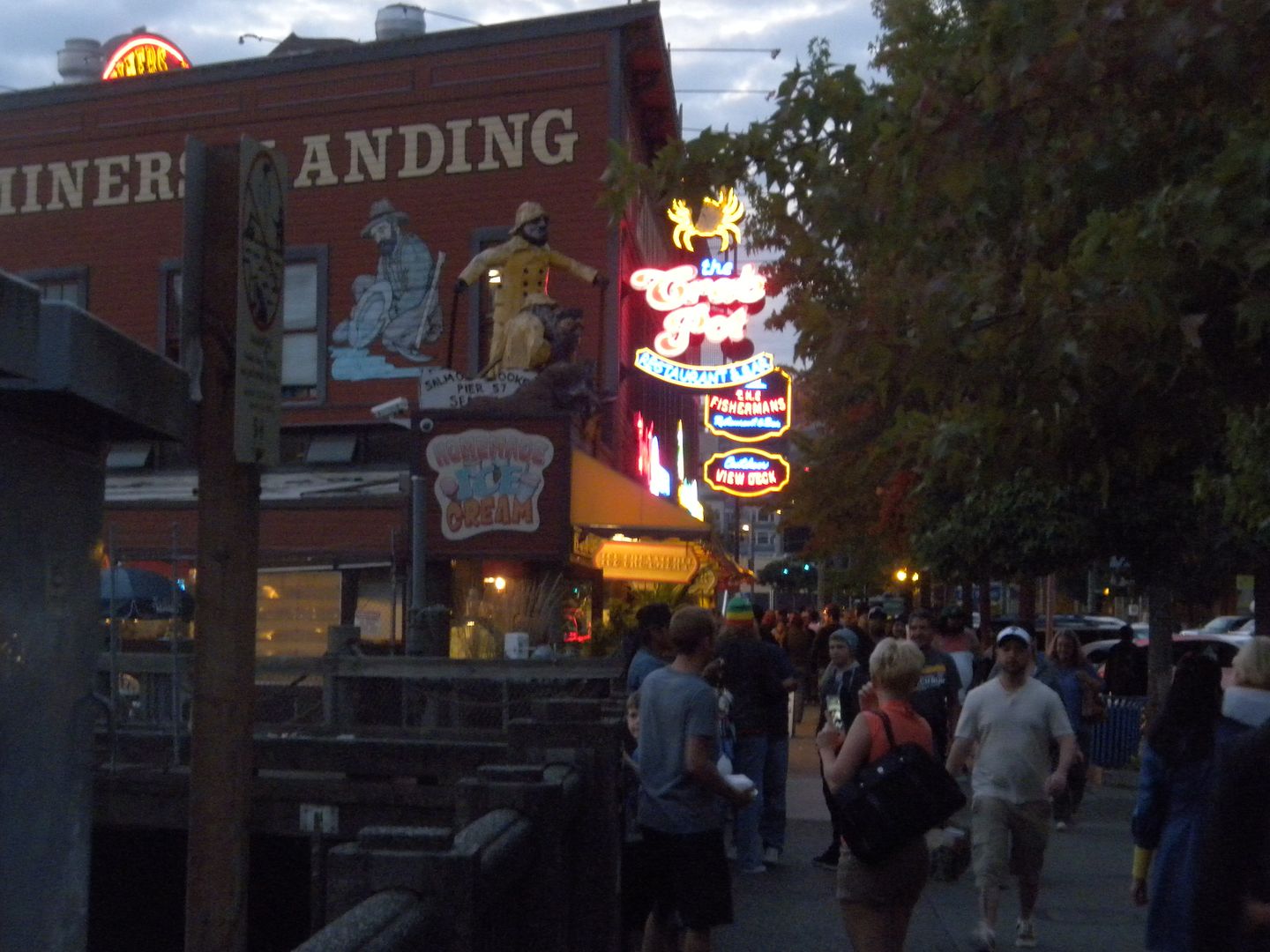 We ate dinner at Fisherman's Restaurant which was good.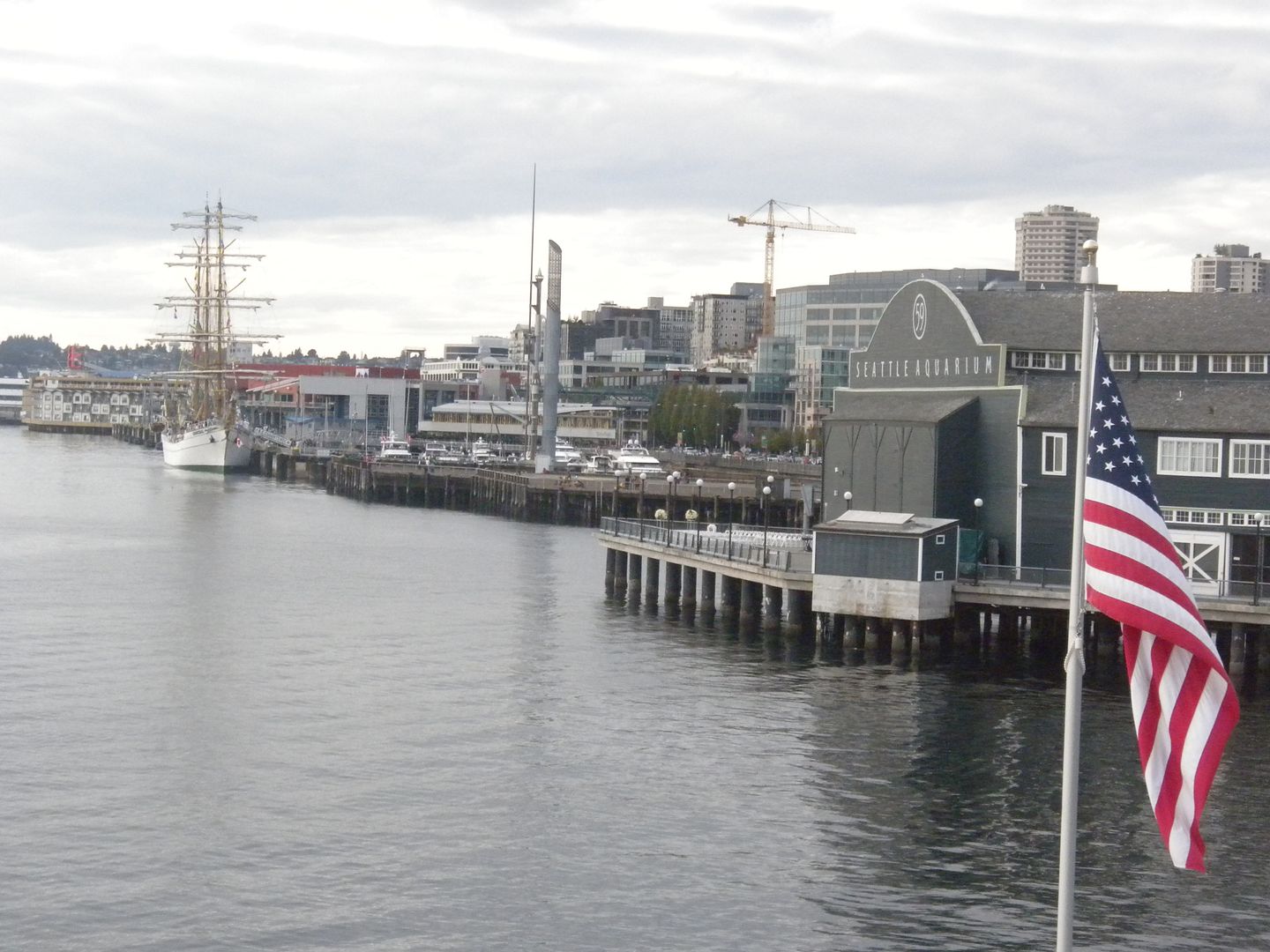 After dinner we walked around the waterfront enjoying the views.


Around 8:30 we left for the airport for our redeye flights.
It had been a great trip throughout the Pacific Northwest and everyone was tired, but we had seen a lot of beautiful sights, ridden some amazing coasters and had some great food. Now it was time to go home and rest on Labor Day to get ready to go back to work.
Thanks for reading!