Calaway Park


On Monday, August 25 we arrived at Calaway Park in Calgary, AB around 3:30.


With only 2 coasters we made the decision to only spend half a day here. We met up with fellow ACE members Michael & Celia Horwood who live nearby.

The Vortex: (Arrow, Corkscrew, 1982)


Previously named Turn Of The Century and Corkscrew,


this standard Arrow corkscrew was pretty smooth and as the largest ride in the park, still attracts a crowd.


They give double rides, which although it made the line take longer, was nice – 2 rides (1 double ride).


Mini Express: (Zamperla, Mini-Mouse, 2013) A replacement for Super Jet (Wisdom, Kiddie, 2002-2012),


this coaster gave the expected smooth ride with 3 laps – 1 ride.


Haunted House: This walkthrough is from the old Flintstone days and is fairly short but has a few good scenes. Interestingly, its storyline starts similarly to Disney's Haunted Mansion – 1 walkthrough.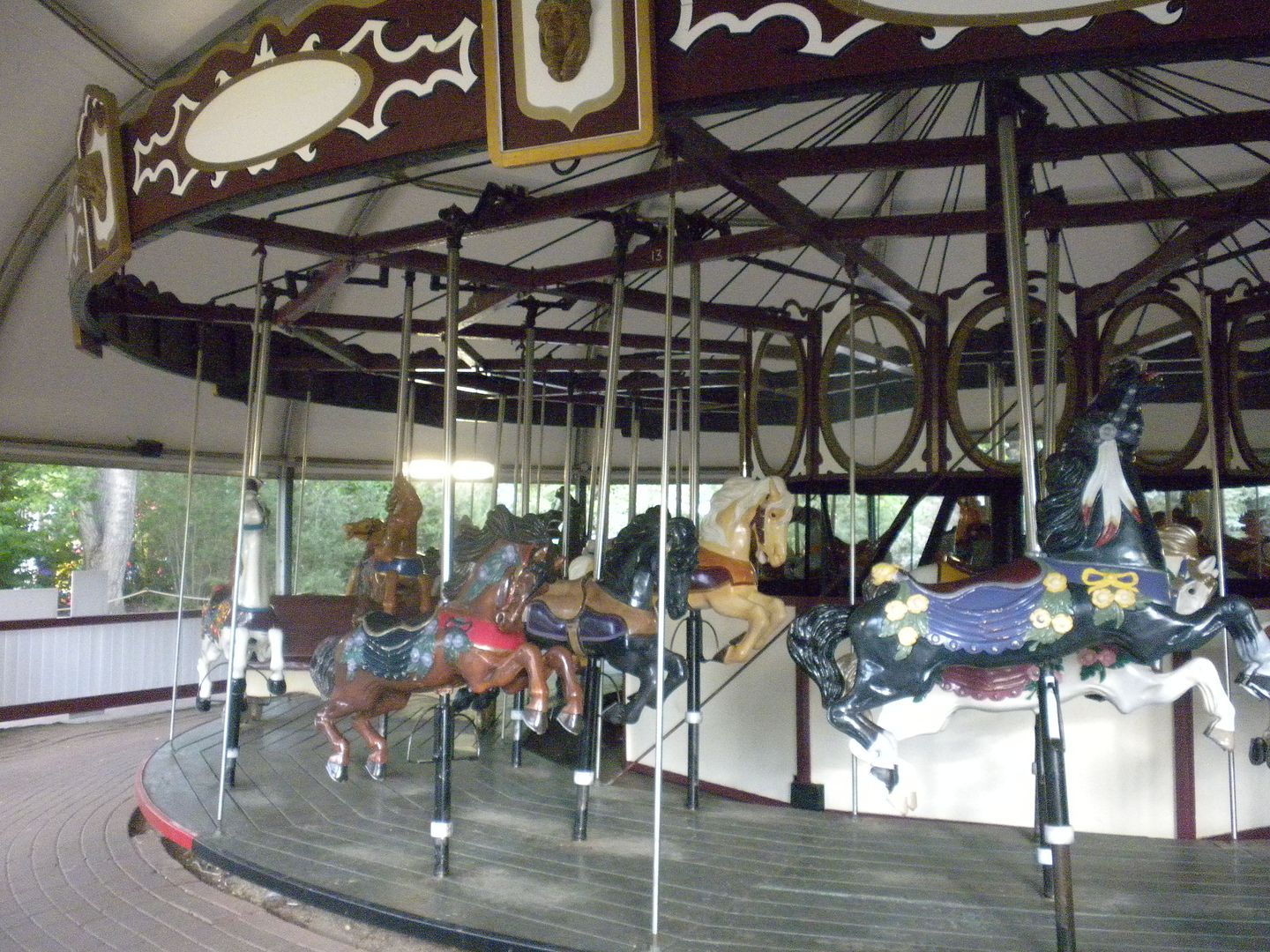 The Carousel: (Allan Herschell; Classic Metal Carousel: 3 rows – 36 Jumping Horses, 2 chariots; 1950′s) This gave a great ride and is in very good condition – 1 ride.


The Wave Rider: Like Klockworks at Canada's Wonderland, this is a fun ride and seems to spin faster than others I have ridden – 1 ride.
The Dream Machine: This Wave Swinger has a medieval theme and a nice setting overlooking a small lake. It gave a good ride – 1 ride.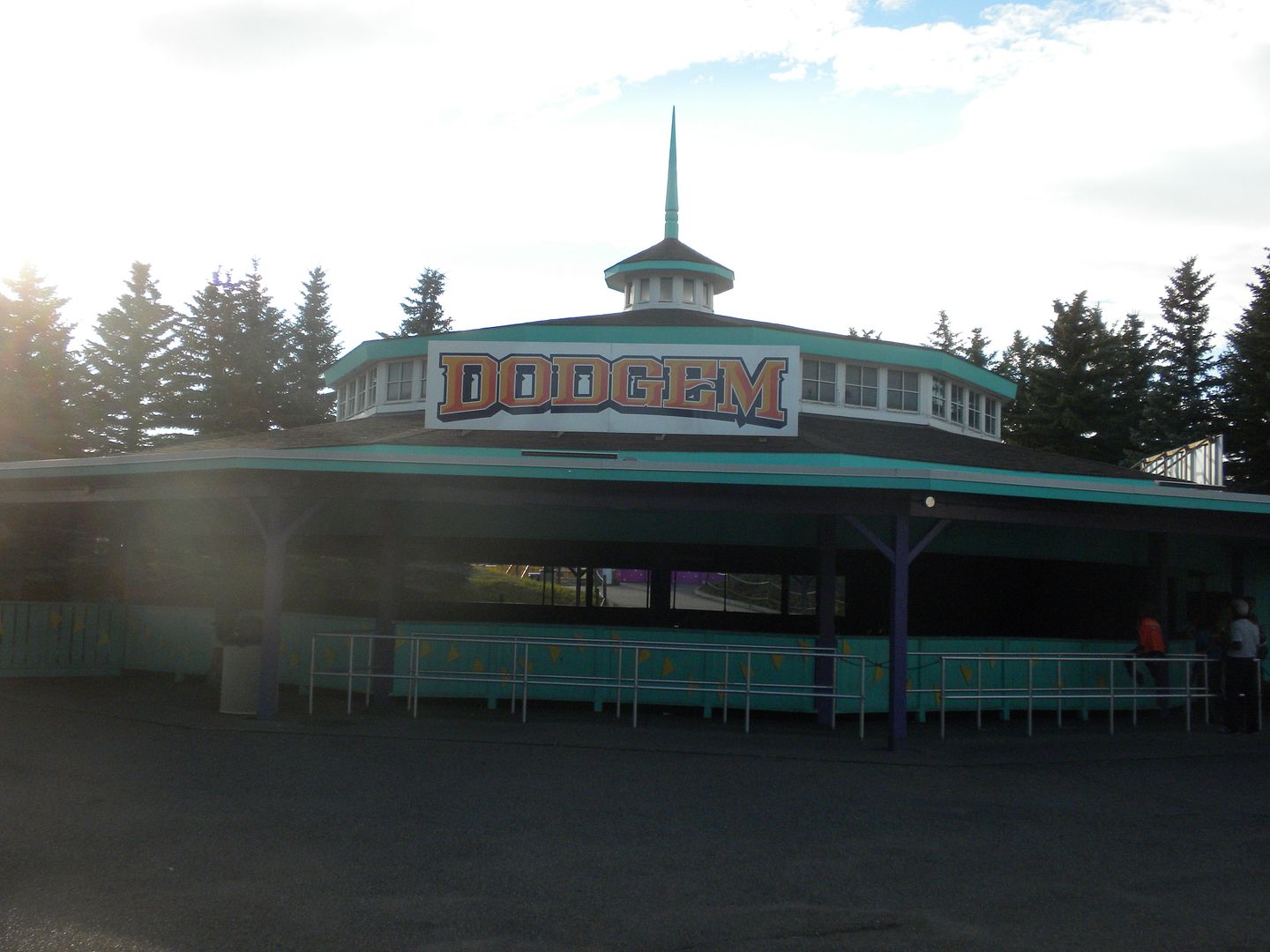 Dodgem: These bumper cars moved well and turned out of jams well. They ran a nice, long cycle – 1 ride.


Rocky Mountain Railroad: This train ride takes guests along the edge of the park and makes a wide circle around what would be an excellent spot for a wood coaster – 1 ride.


U Drive – Safety School of Motoring: This electric track antique car ride has some good theming – 1 ride.
I had hoped to ride Timber Falls!, their remodeled log flume set to open this year, but it was still under construction. Due to limited time I did not get to ride: The Adrenaline Test Zone, a Troika; Chaos, one of the last of these operating; Mind Blaster, a Disc-O type ride; The Storm, a Huss Enterprise; The Berry Go Round; Ocean Motion, a pirate ship; Air Gliders, a Paratrooper; Cosmic Spin, a Round-Up; Aeromax, an airplane ride; and The Bumper Boats.
Kiddie rides include: Balloon Ascension, a balloon Ferris Wheel; Baja Buggies; Biplane Stunt School, kiddie airplanes; Boulder Bumpers, kiddie bumper cars; The Eggs, a hydraulic arms spinning ride;
Flying Ace, kiddie pirate ship; Freddie the Fireboat, children's playground; Free Fallin', small bounce tower; Hilltop Railway; Samba Spin, a family balloon ride; SkyClimber, a kiddie Enterprise; Super Trucks; Swirly Twirl, a kiddie swing; Theodore Tugboat, children's playground; and Tot Yachts.
I did not have time for any shows, but their shows include Illusionist Sean Watson; Pyjama Party, a children's show; and Storybook High, a show about a high school talent show for storybook characters, all at the Celebration Stage; and Cinemagic 3D in the Showtime Theatre.

The park originally had a Flinstones themed section at the front of the park


and while they no longer have Hanna Barbara characters in the park,


the buildings still sport the Flinstones theming and are were quite interesting. When the park closed at 7:00, we went to dinner with Michael and Celia at Big T's BBQ & Smokehouse in Calgary, a barbeque restaurant being a rarity in Canada. We enjoyed our meal together and had a great time catching up with them and telling of our travels thus far. After dinner we headed to Edmonton to our hotel.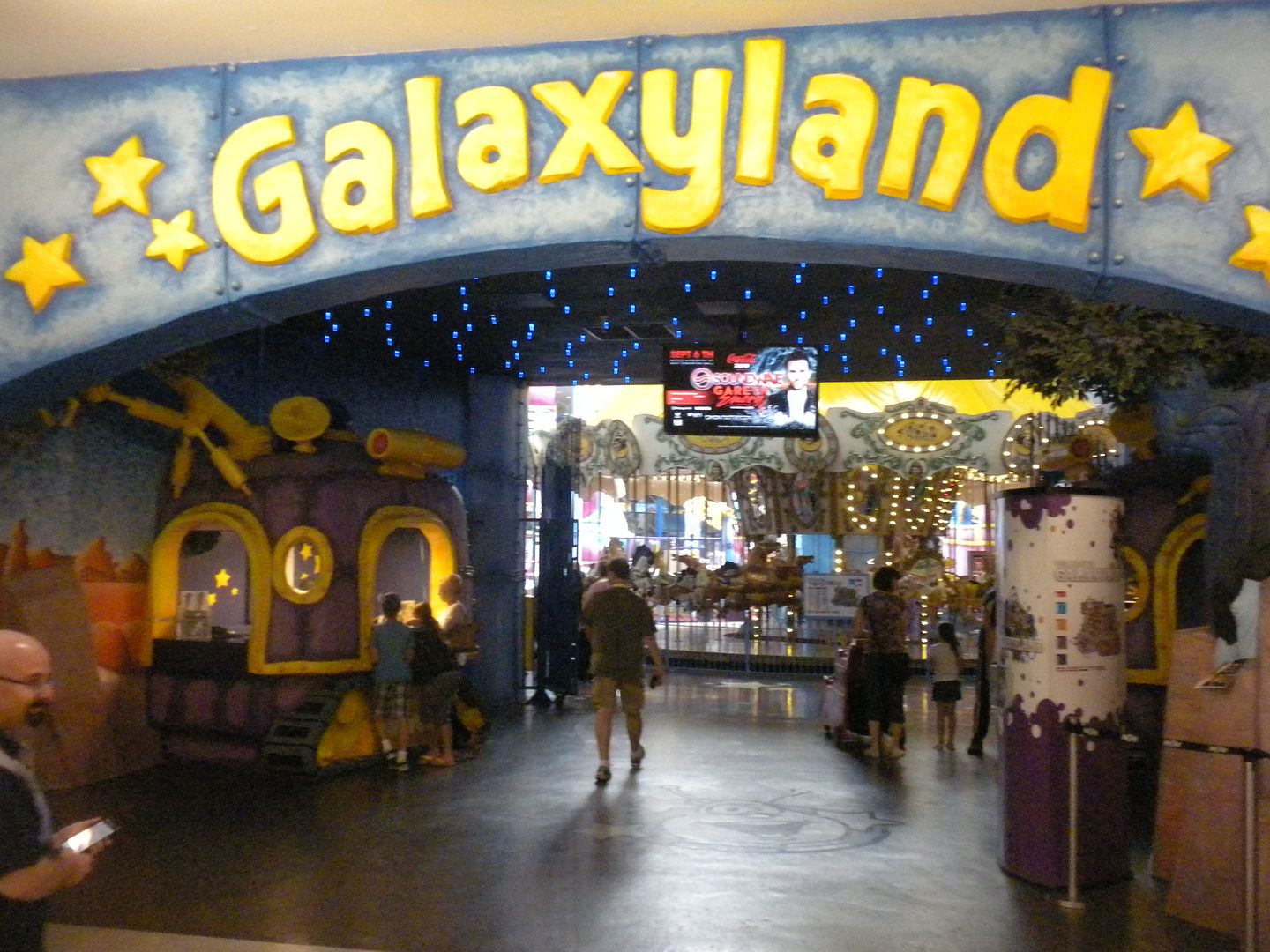 Galaxyland
On Tuesday, August 26 we headed to the West Edmonton Mall for Galaxyland, an indoor amusement park. This mall is amazing in that it has in addition to the amusement park,


a waterpark, several Mini Golf courses, a casino, an ice rink


and a sea lion show.


The mall stores are average for a mall – Hudson's Bay, Sears, and Target are the anchors – but the entire complex is massive.


Arriving at the amusement park around 11:00, we began a fun-filled day with a legendary coaster.

Mindbender: (Schwarzkopf, Looper, 1985) The world's largest indoor triple-loop roller coaster, I have long wanted to ride this "other" Schwarzkopf Mindbender.


It is massive, with quite a bit of action before it reaches the first 2 loops and then with more hill and drop action before taking the third loop. At that point it is still not done, as it has a double helix finale. It uses over-the-shoulder-restraints and while not as uncomfortable as some, it is still quite jarring in various parts of the ride.


Additionally on one train they have the back car facing backwards. I had heard that it was brutal in that seat, but I decided to ride anyway. The seat also has a couple of inches less legroom, so I barely fit, but I rode it. The back is among the most intense rides I have ever had on a coaster. It was not bad, but too intense for me to do again.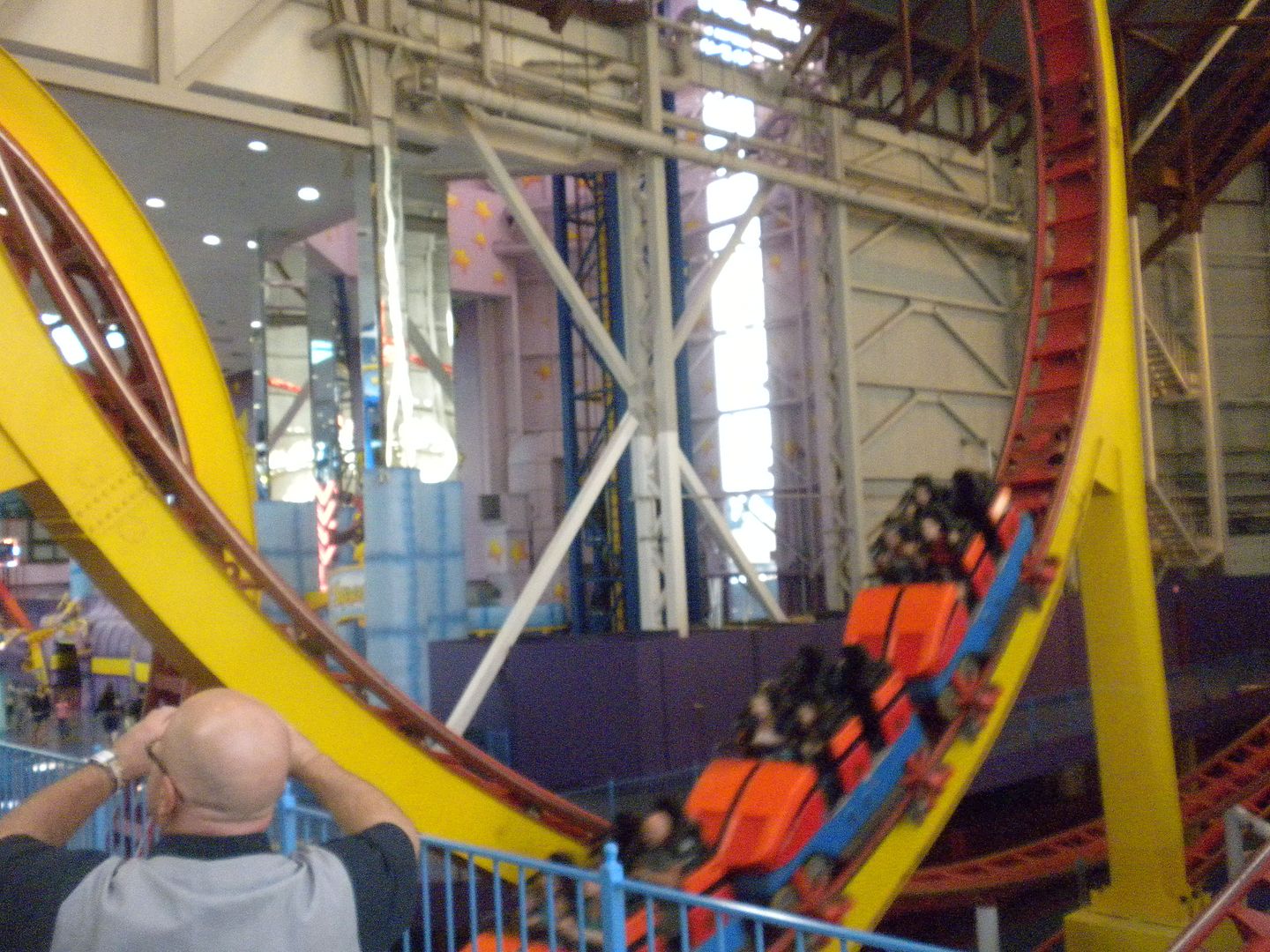 My other forward rides were great, especially the front seat rides. I liked the front part of the train better than farther back as I felt it was rougher toward the back. Overall I liked the ride very much, but not quite as much as Olympia Looping, which is very similar, and not nearly as much as my top 10 Mindbender at SFOG – 6 rides, 5 forward, 1 backward.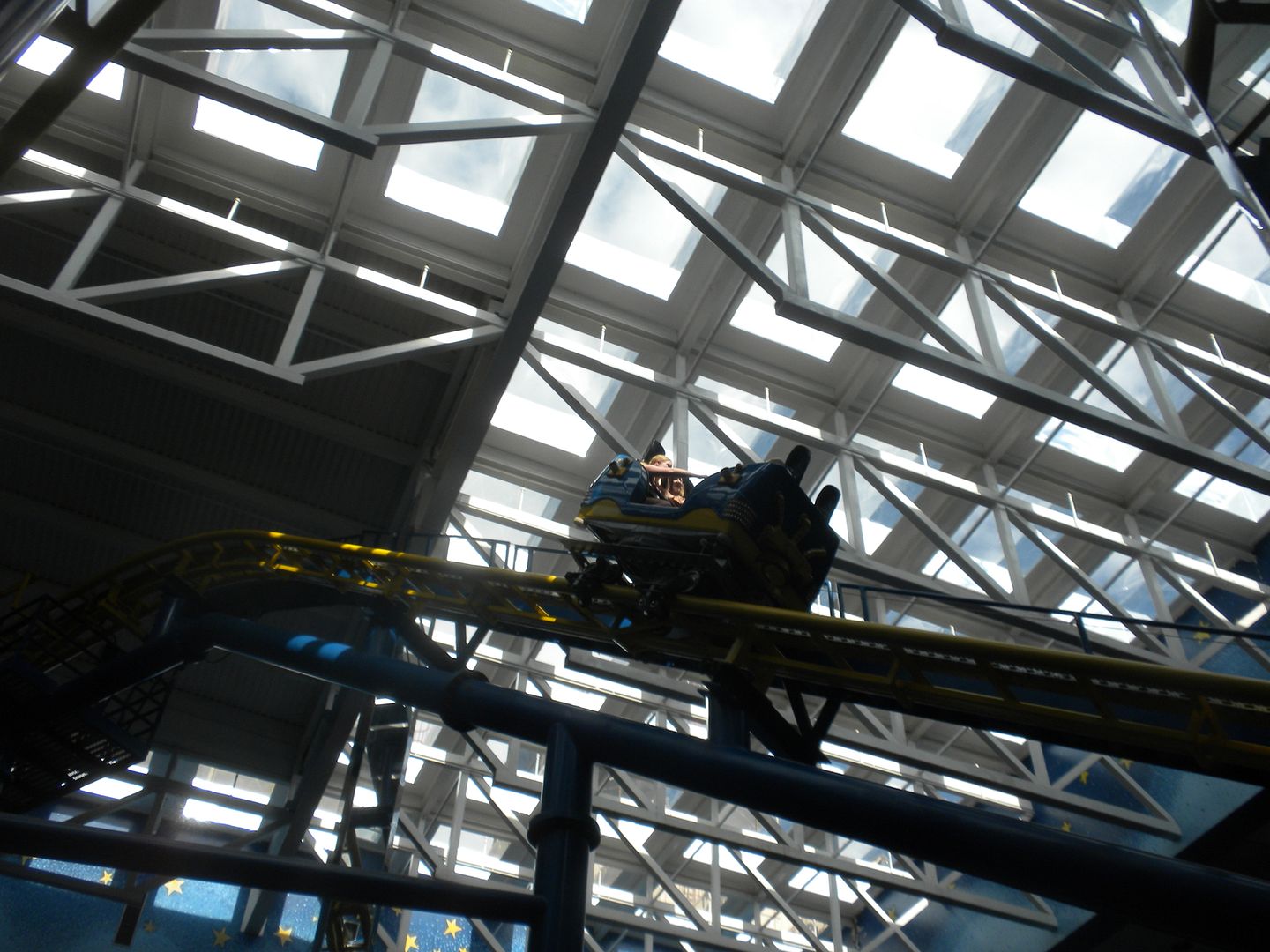 Galaxy Orbiter: (Gerstlauer, Spinning Coaster, 2007)


Billed as the "first spinning roller coaster of its kind in Canada", this has a very good custom design and interacts nicely with rides all over the park.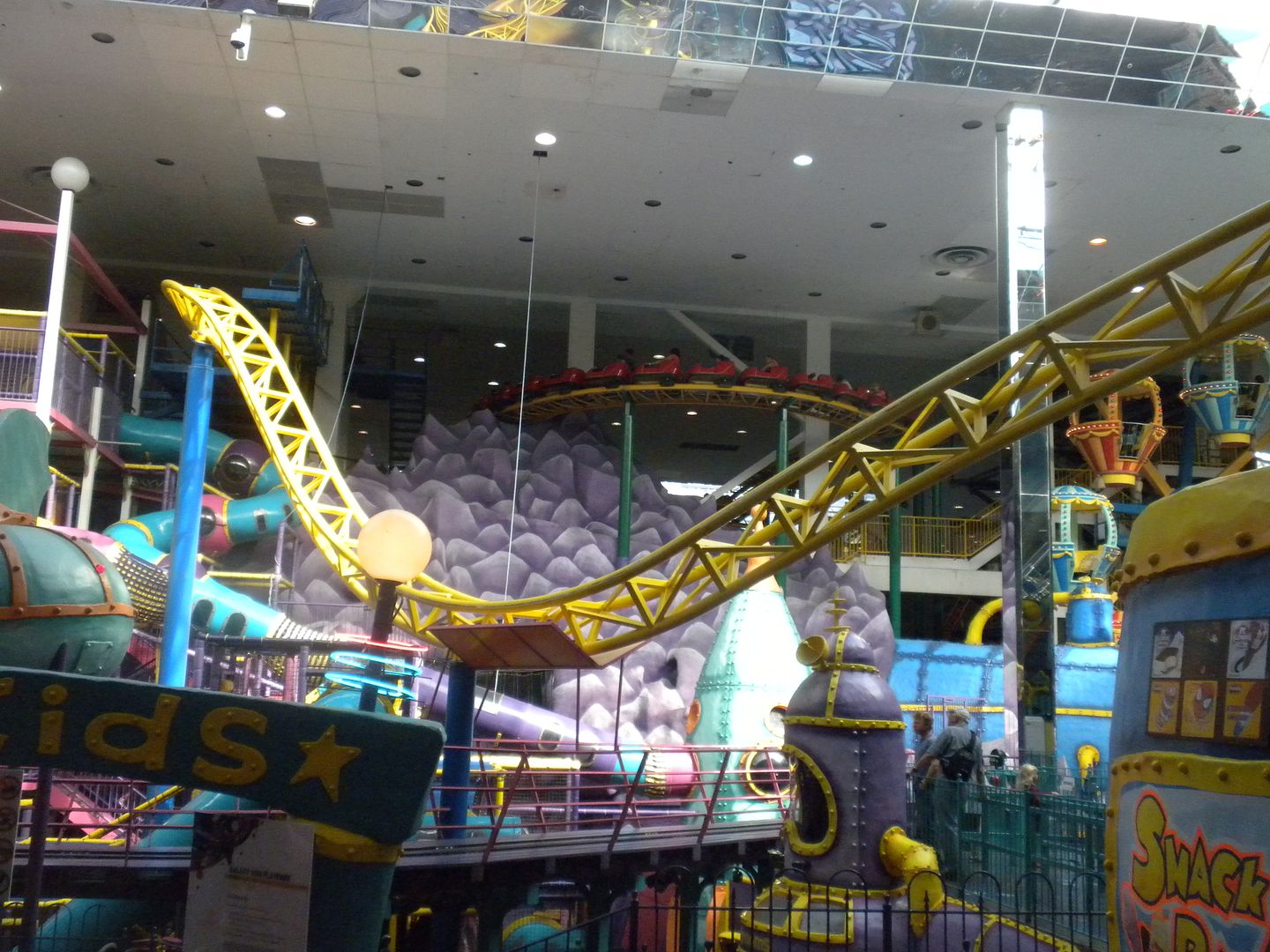 It is one of the better spinning coasters I have ridden, surpassed by a few Maurer Sohne custom models. We had good spinning – 2 rides.


Autosled: (Zierer, Tivoli – Custom, 1985)


This gave a good ride around the park and has some good drops – 2 rides.


Quirks in the Works:


This unique interactive dark ride has cars that slowly spin, and although it is very short, it moves slow and the spinning keeps targets before you at all times – 2 rides.


Haunted Castle: Although an upcharge with regular admission, it was included on the pass we purchased. It is fairly long and has some good gags, several that surprised me – 2 walkthroughs.
FunHouse: Also an upcharge but included with our tickets, this mainly has painted illusions and mirrors, but it ends in a bridged spinning barrel through the exit it shares with the Haunted Castle – 2 walkthroughs.


Space Shot: Billed as the "world's largest indoor tower ride" at 120 feet; this launched drop ride gave a good ride into a tower – 1 ride.


Carousel: Good ride – 1 ride.
Sonic Twister: Although this pendulum ride looks small it is very intense and very fast – 1 ride.
Swing of the Century: This Wave Swinger gave a good ride swinging out in the park – 1 ride.
Flying Galleon: This pirate ship was fun but doesn't have a lot of airtime – 1 ride.


Galaxyland Express: This train takes you throughout the park and into 2 short tunnels with animatronic figures – 1 ride.
Cosmo's Space Derby: These bumper cars were slow and one apparently had a short – 1 ride.


Galaxy Quest 3-D TurboRide Theatre: This interactive 3-D simulator movie is a lot of fun, and the competition from the scoring makes this a popular ride. They have 3 movies: Alien Encounter that we saw, plus Zombies and Los Banditos – 1 ride.
I did not ride Cosmic Revolution, a unique spinning ride, or Cosmic Spinner, a Polyp type ride due to weight limit restrictions.

Kiddie rides include a coaster adults cannot ride, Dragon Wagon: (Wisdom, Kiddie, 1993) as well as Cosmic Bounce, a Frog Hopper; 35th Aero Squadron; Balloon Race, small balloon Ferris wheel; Galaxy Kids Playpark; Galaxy Raceway; Kiddie Convoy; Motojump; and Space Bump, children's bumper cars.


Attractions include Rock 'N Wall, a rock climbing wall; Cosmo's Jumping Fountain; and Lazer Vault, a lazer game.

After exploring the mall and having a good dinner at Sherlock Holmes Pub in the mall, we left and headed to a hotel in Hinton, AB.
Jasper & Banff National Park & the Icefield Parkway


The next morning, Wednesday, August 27, we drove to Jasper National Park.


After a short drive through the park surrounded by beautiful scenery, we turned on the Icefield Parkway. We stopped and saw several sights along the way.


The parkway follows the Athabasca River for a good ways


along the waters journey north to the Arctic Ocean.


We had great views of Mt. Edith Cavel,


Thabasca Pass,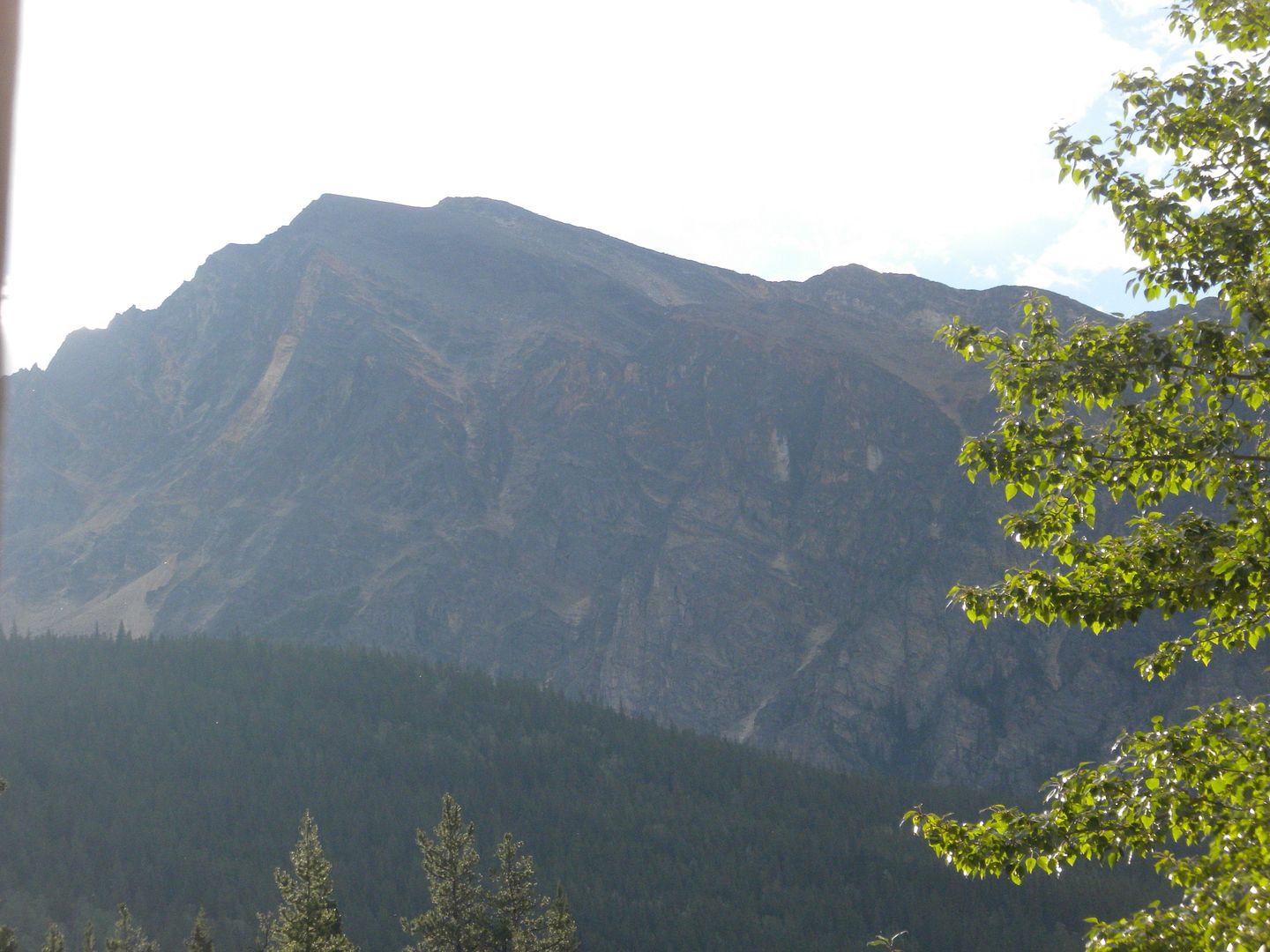 and Mt. Hardisty.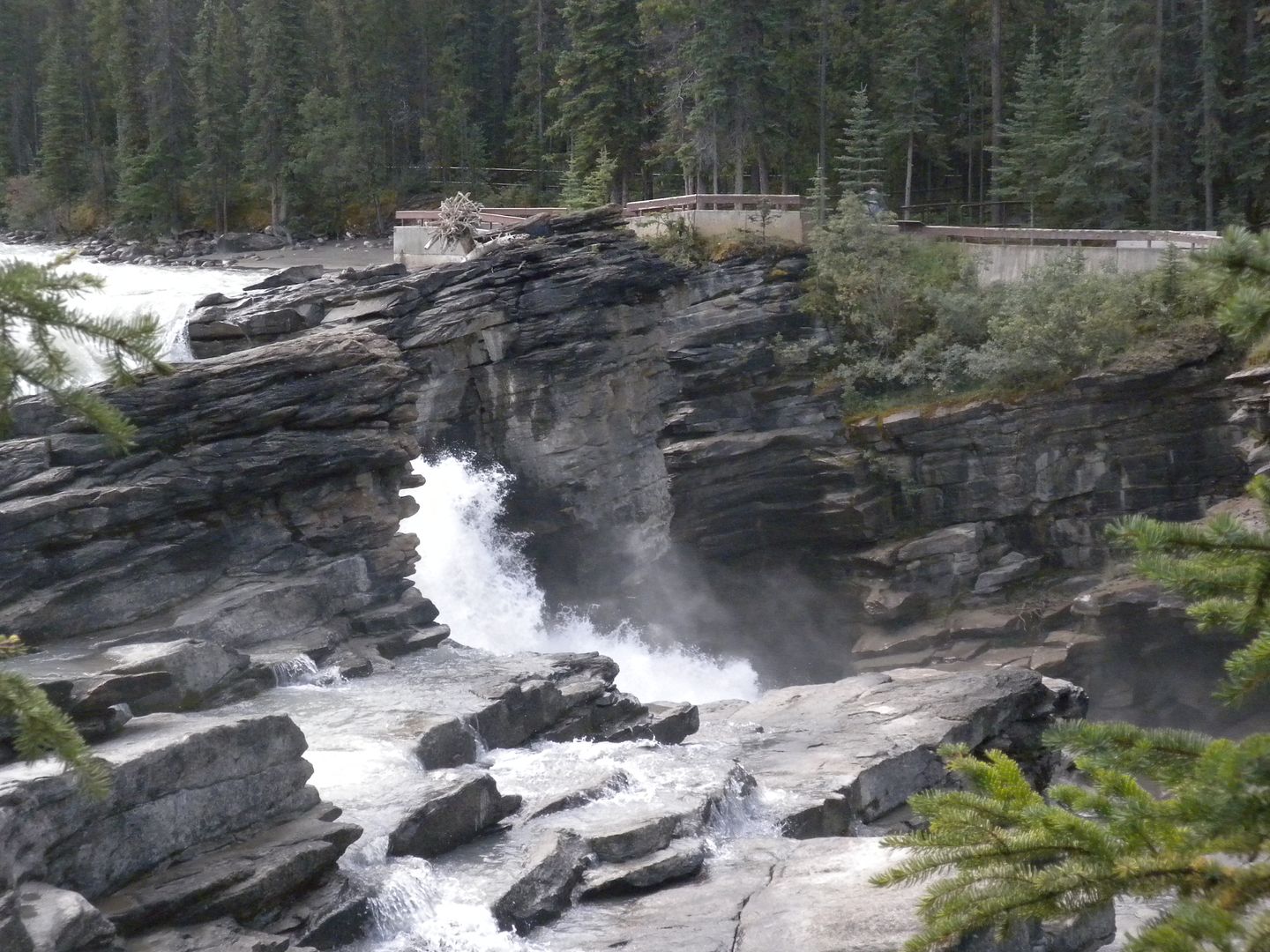 Athabasca Falls


is one of the most impressive sights I have seen.


The force of this glacier fed river


is enormous


and the unique whitish turquois color


is caused from sand from erosion of the rocks as glaciers melt.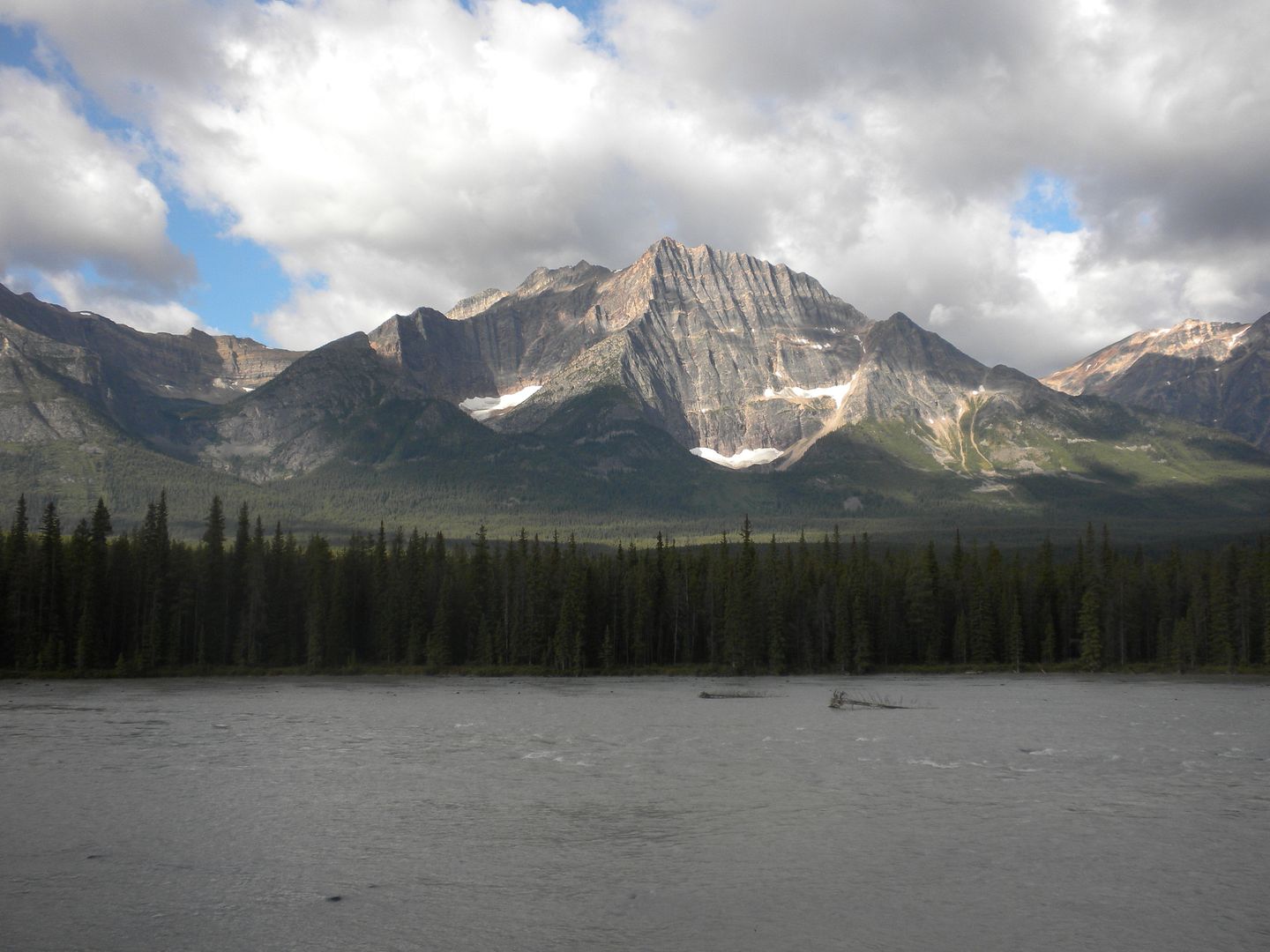 Mt. Kerkeslin is quite impressive.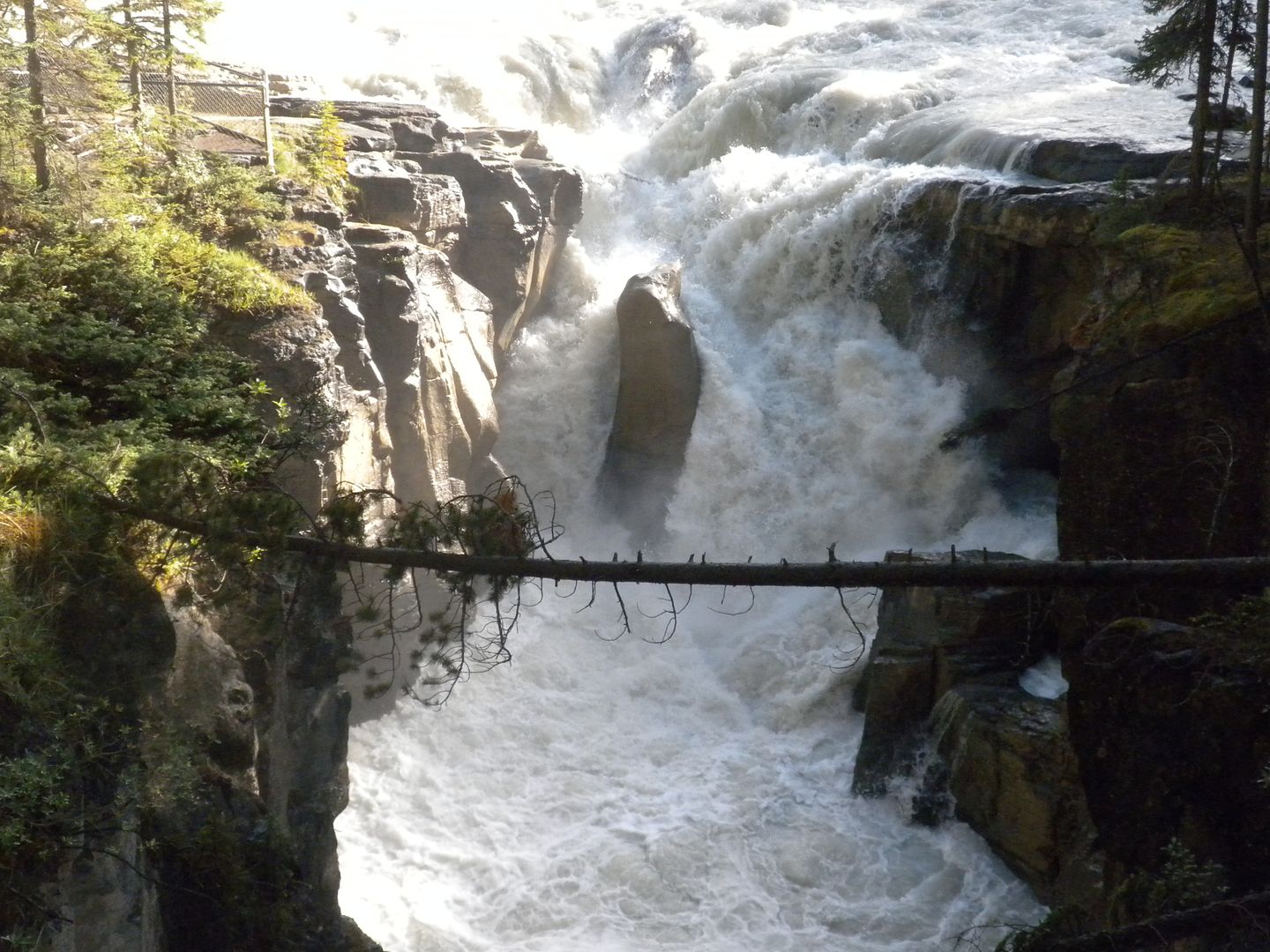 Next we saw Sunwapta Falls, and while not quite as impressive as the first falls we saw, the gorge created by it is quite amazing.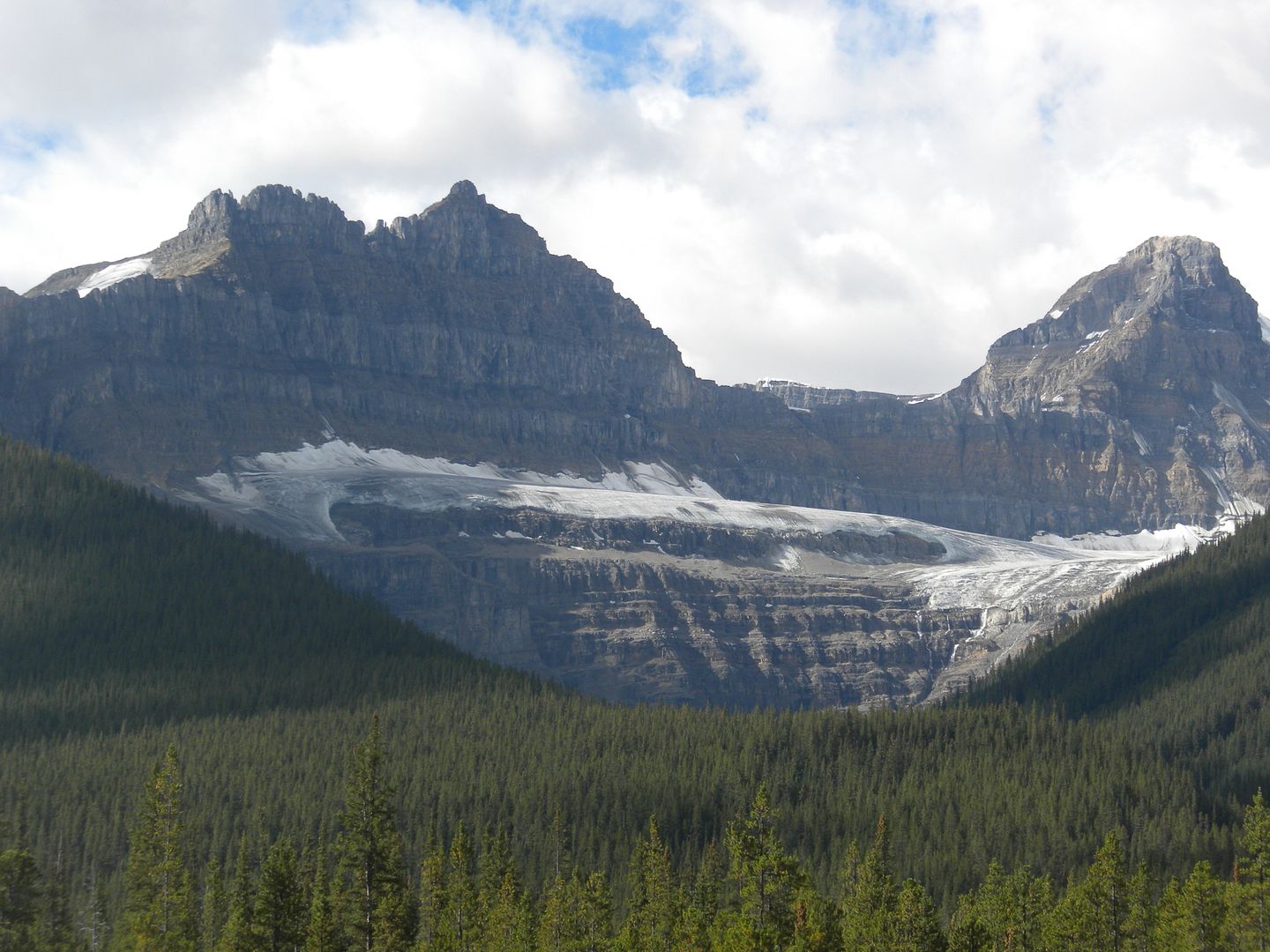 We stopped at the Beauty Flats, where we were able to see some glaciers.


It is amazing to see these ancient glaciers before they completely melt away.


We saw the Endless Chain mountain range, which was also impressive. But we were about to be impressed even more.


We drove up to Columbia Icefield Centre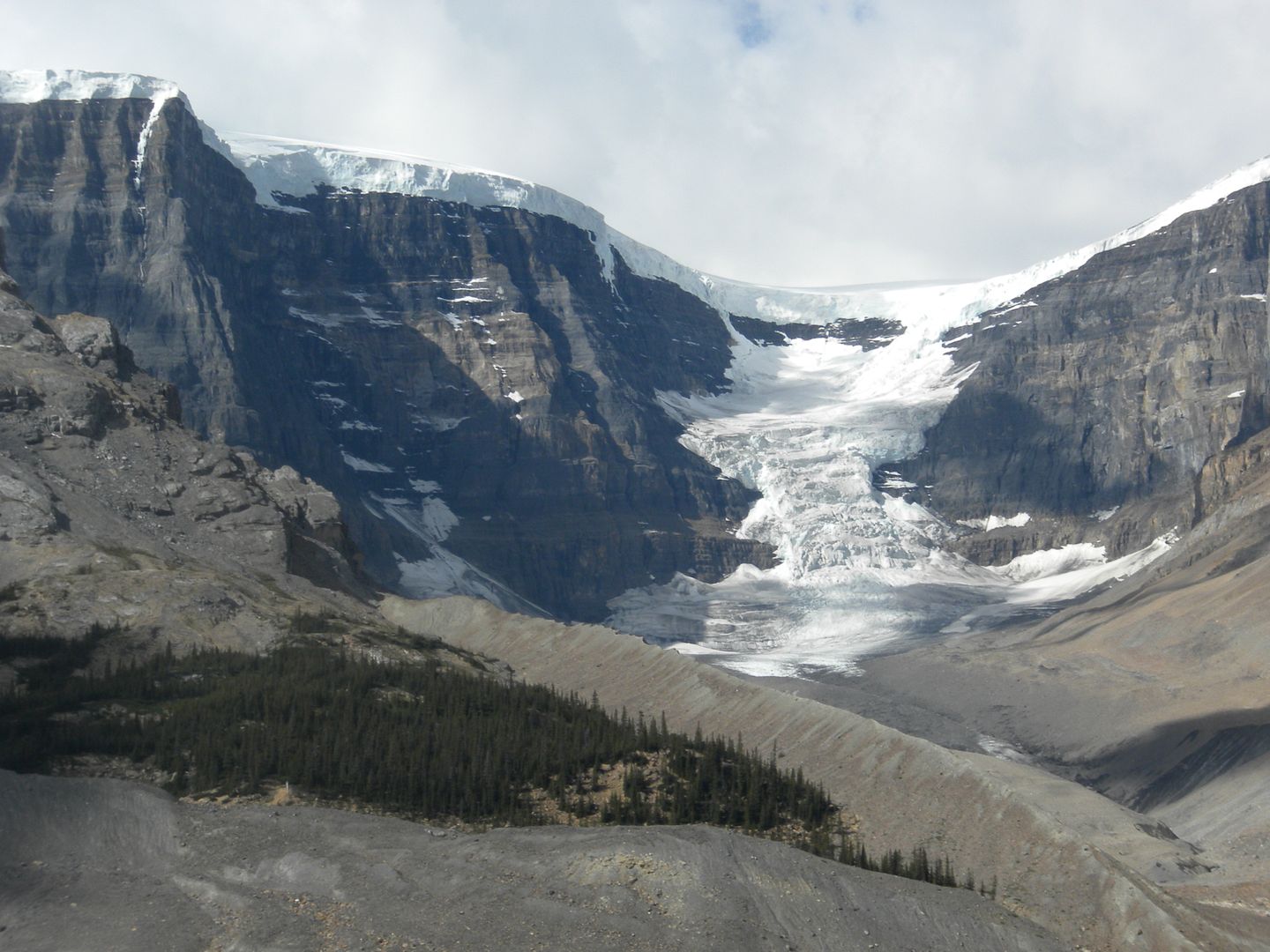 where 8 glaciers are visible,


most notably the Columbia Icefield


and the Athabasca Glacier.


Everywhere you look there are huge glaciers, some of which you can pay to ride out onto.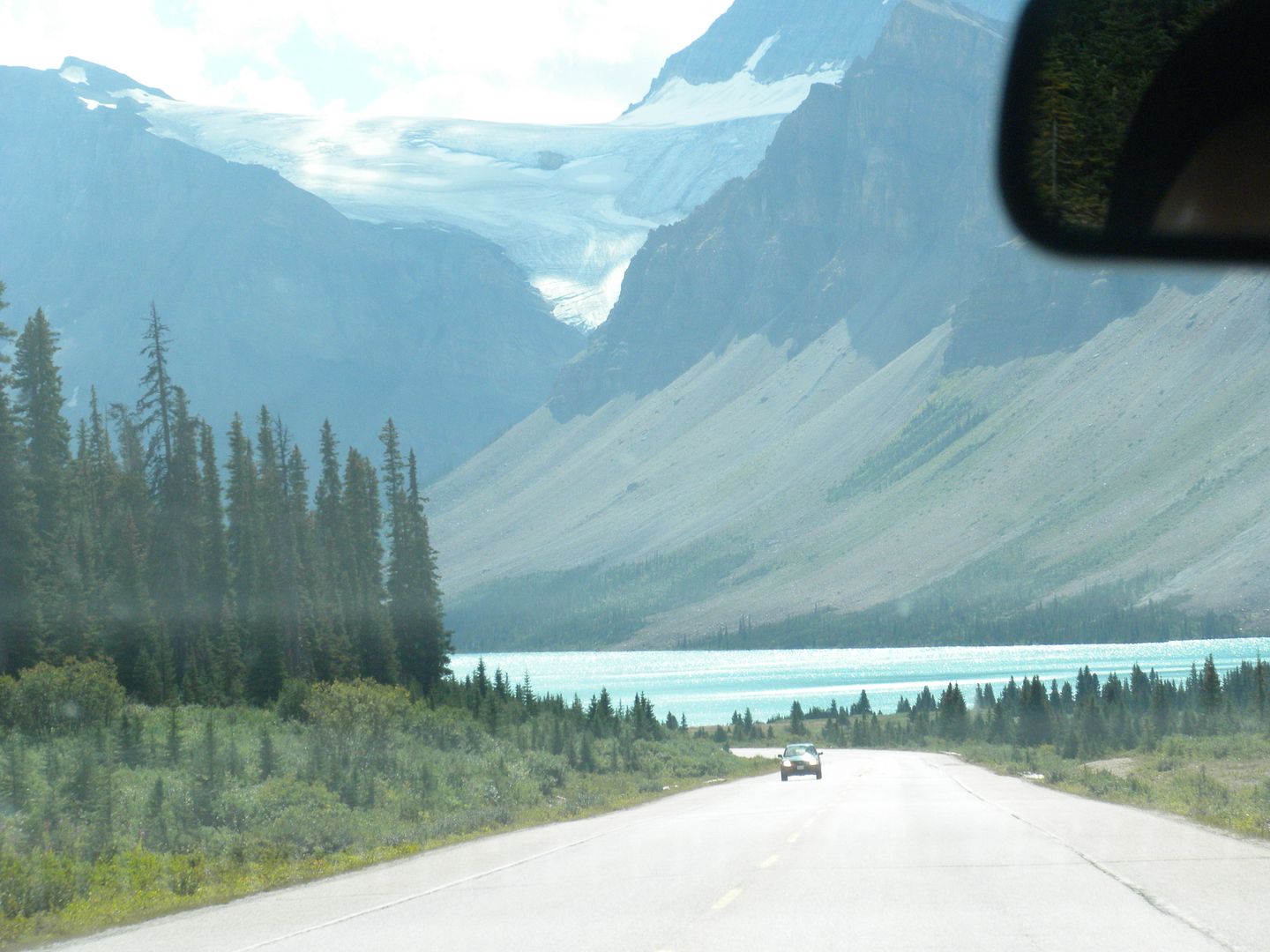 Back on the parkway we soon drove into Banff National Park.


We saw Bow Lake


with the most beautiful turquois water I have ever seen,


with the falls from the Bow Glacier


cascading down to it.


Next was Crowfoot Glacier, so named a century ago before one of the 3 "toes" melted away, as another is about to do.


We stopped by Herbert Lake


for some great shots of the Main Range including Mount Temple. We then reached Lake Louise and the TransCanada Highway and exited Banff National Park. As we crossed into British Columbia we entered Yoho National Park. As this is a different province, it will be the subject of my next report.
Next up: Three National Parks, Vancouver & Playland at the PNE