ACE Day at Silverwood
On Saturday, August 23 we drove to Idaho for the only ACE event of our trip, at Silverwood in Athol, ID.


This was the largest park on our trip and with 2 highly regarded coasters, it was greatly anticipated. We purposely planned the trip to coincide with the regional ACE Day at Silverwood to maximize our time here. We were very pleased with the theming, rides and beauty of the park. I will review it by its themed sections.

Main Street


Steam Engine Train: Historic Engine No. 7 travels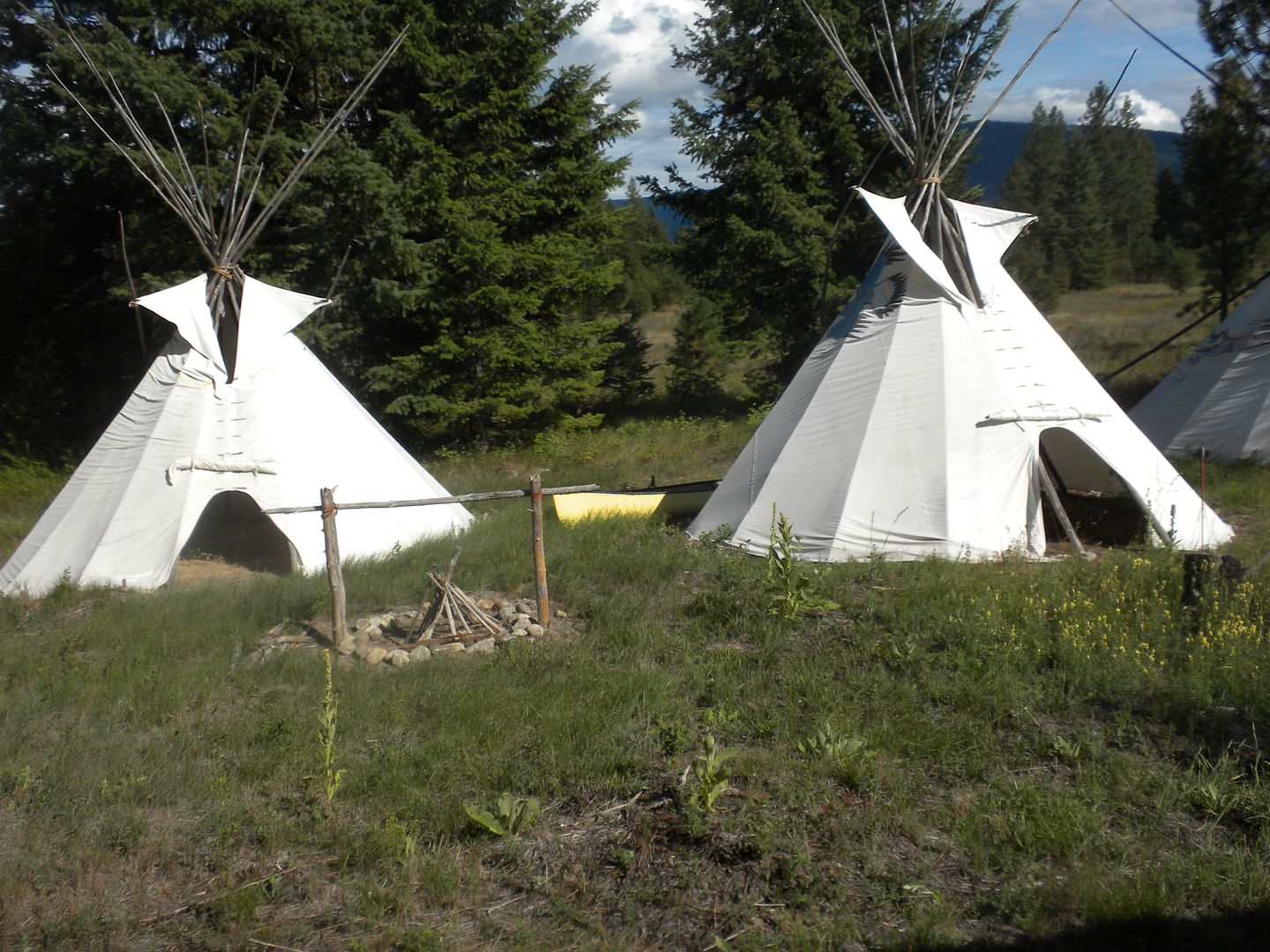 in a large loop


around the park's 221 acres.


In addition to encountering train robbers,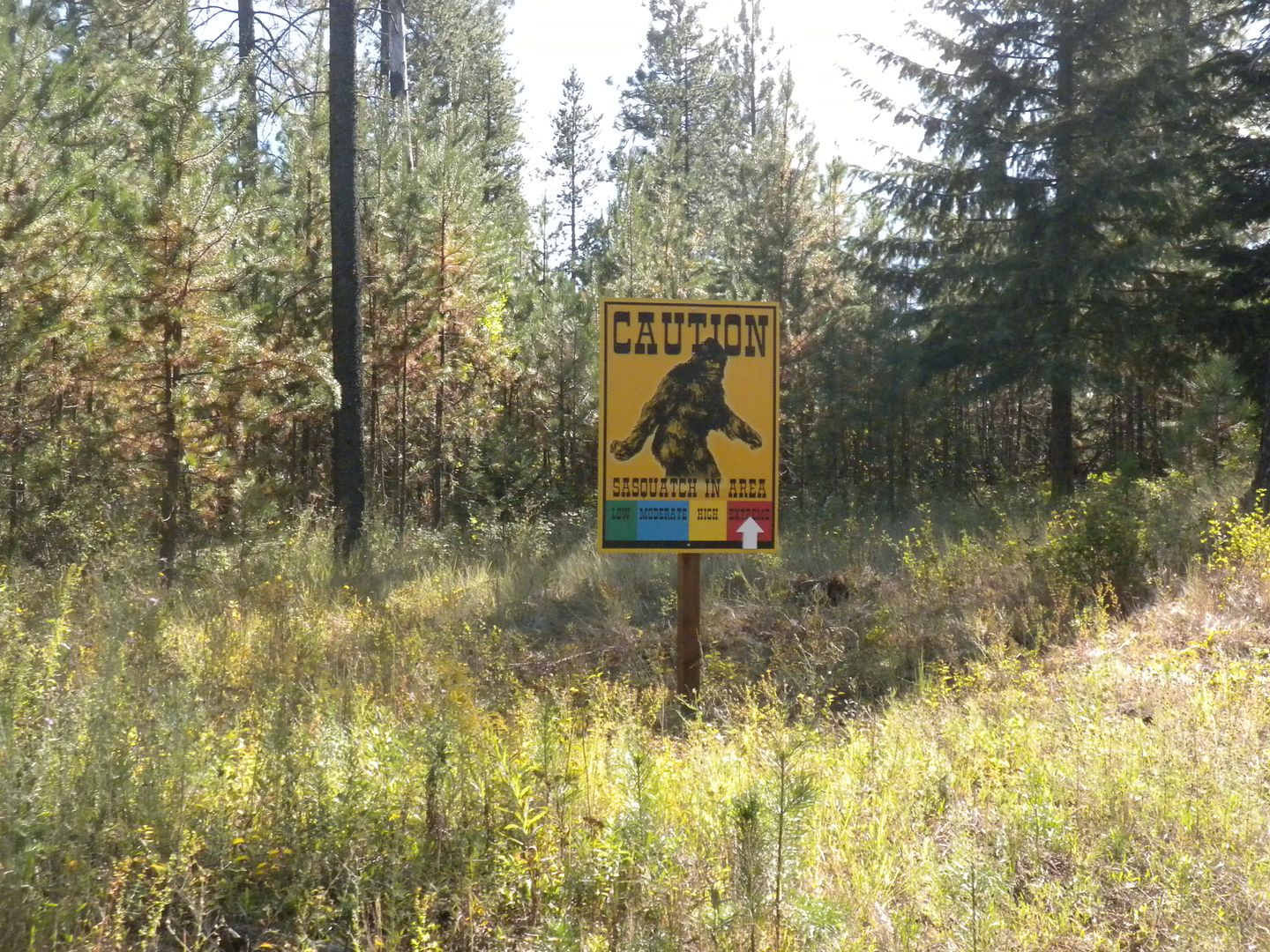 we got a glimpse of a Sasquatch.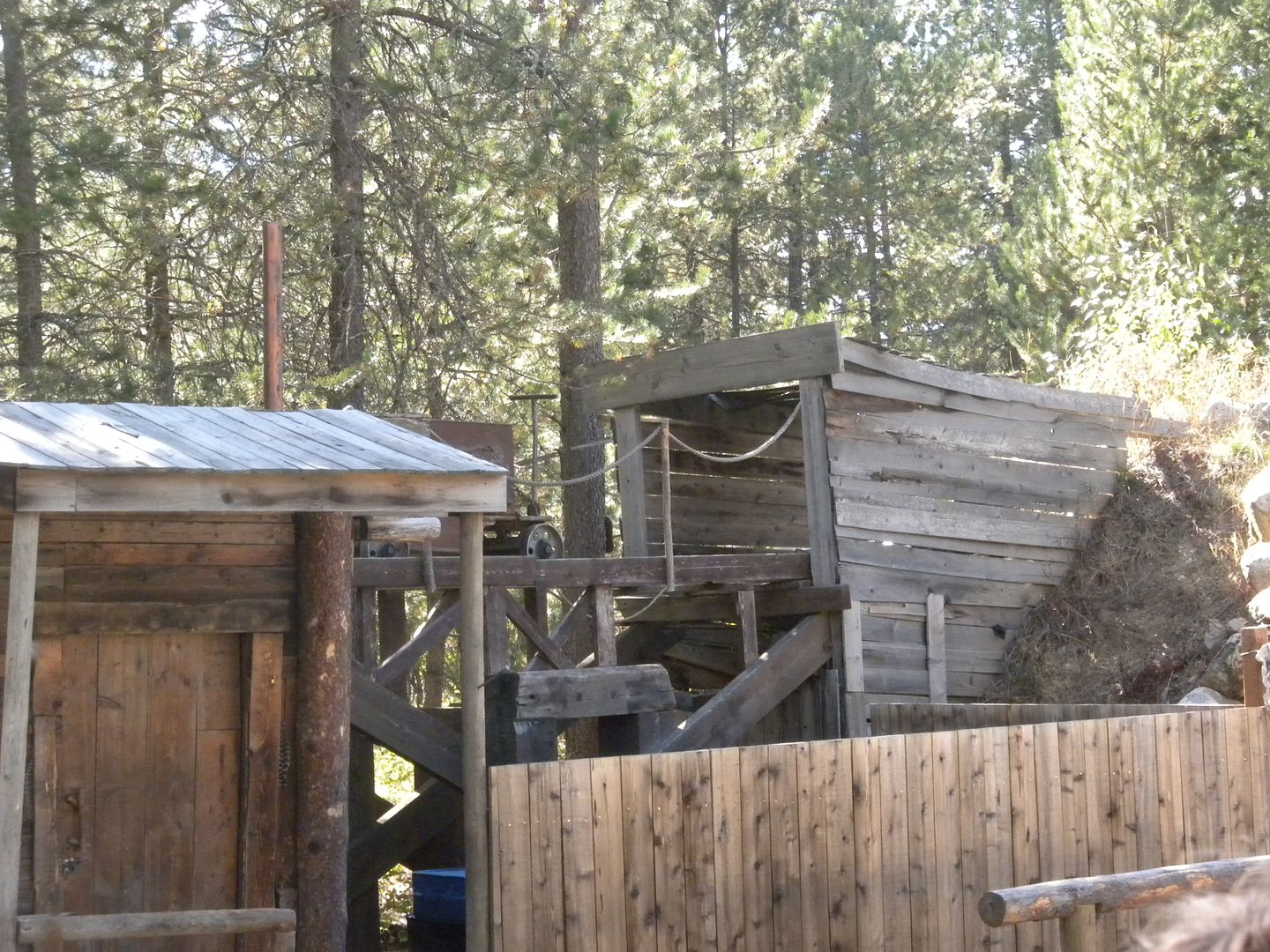 Besides the show portions of the trip,


we also saw their herd of bison.


It takes about a half hour to make the circuit – 1 ride.


Carousel: (Allan Herschell, Classic Metal Carousel: 24 Jumping Horses, 16 Standing Horses, 4 chariots, 1956)


I rode this horse, which was named "ACE". The Carousel is in very good condition and gave a good ride – 1 ride.
Shows
Theater of Illusion: Magician Nick Norton, a member of the family that owns the park, gave an impressive show – 1 show.
In addition the Main Street Theater and the High Moon Saloon have shows I did not see.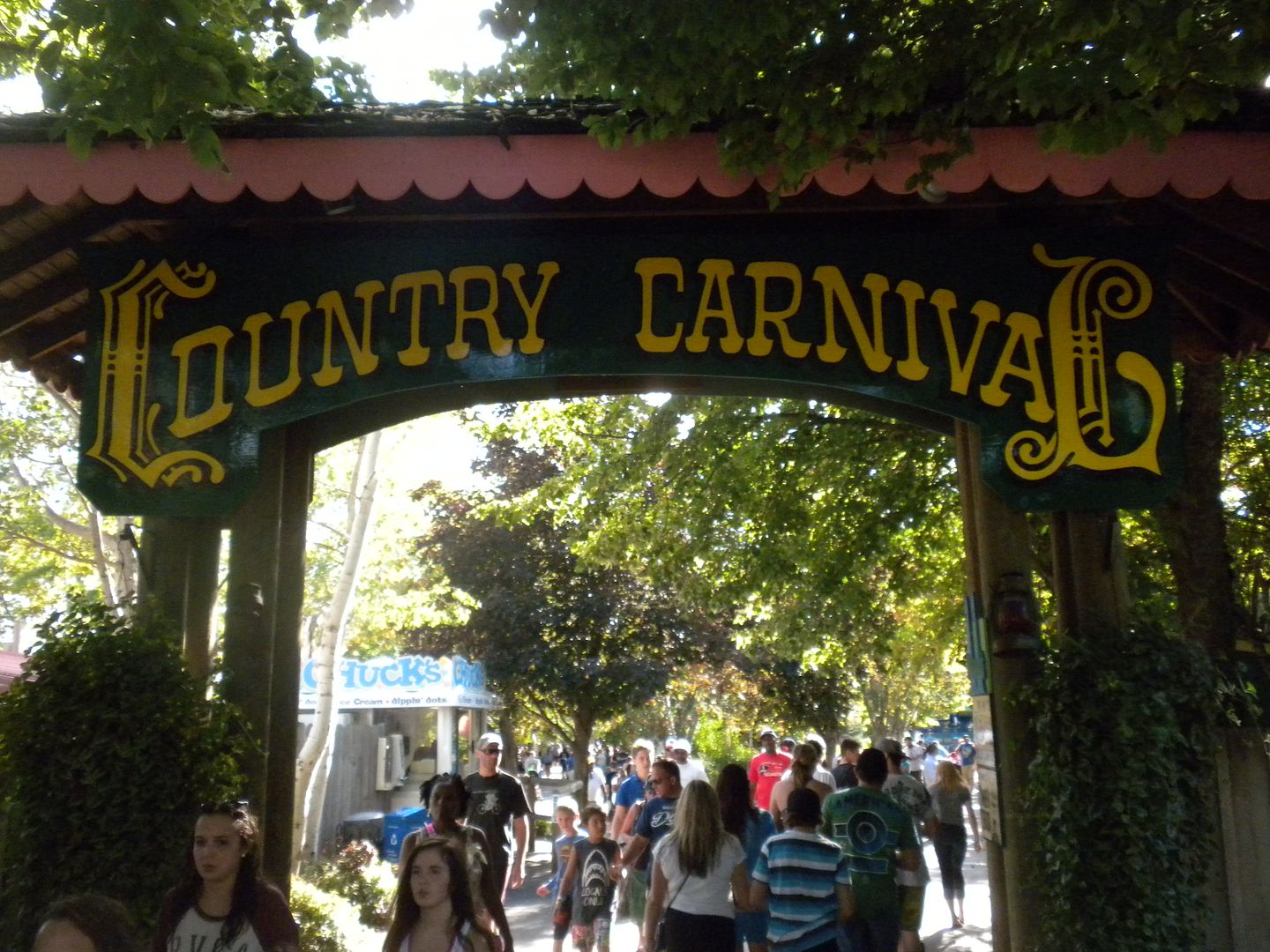 Country Carnival


Corkscrew: (Arrow, Corkscrew, 1975/1990) Relocated from Knott's Berry Farm where it operated as Corkscrew from 1975 to 1989,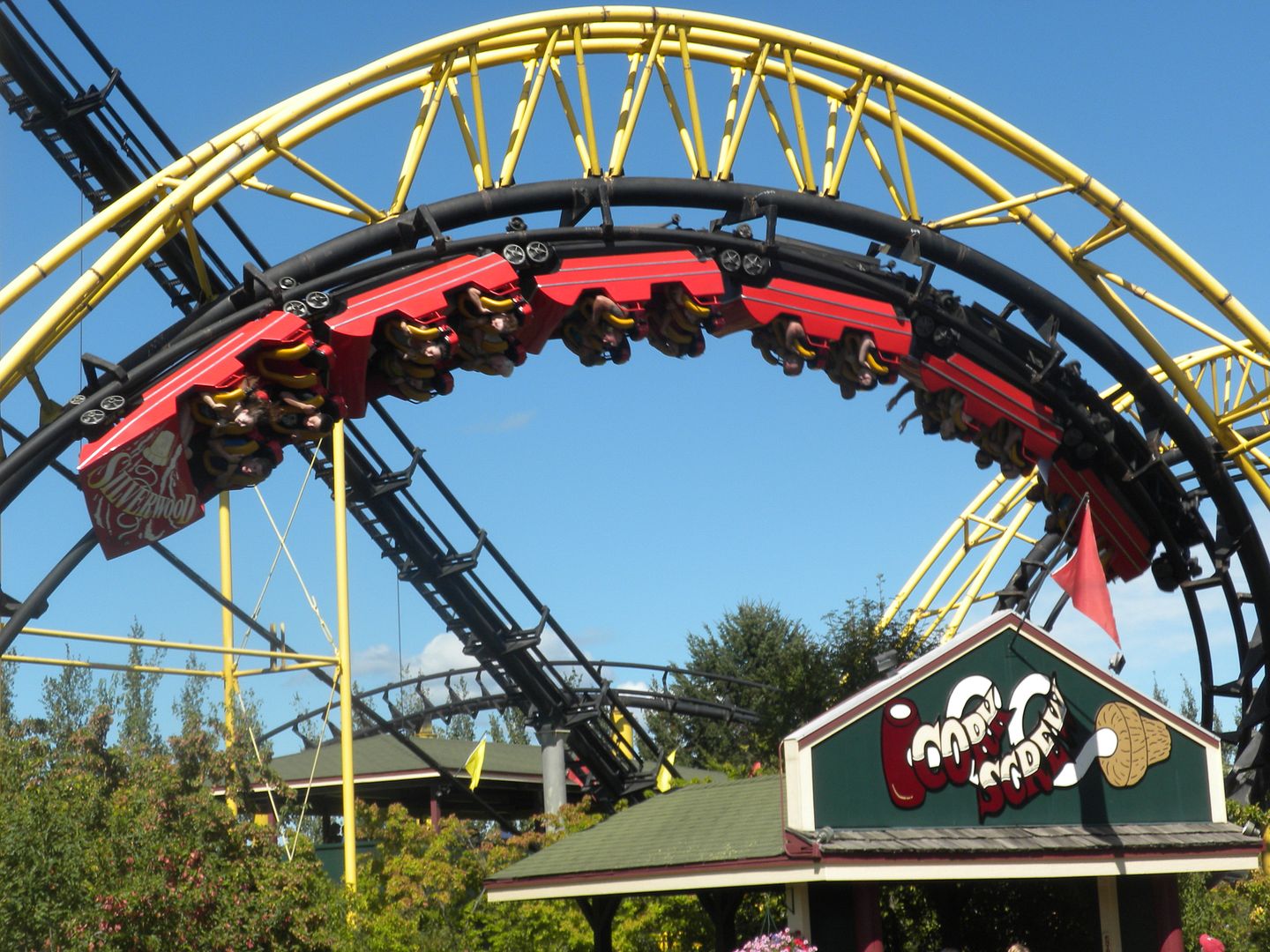 it was the first modern inverting coaster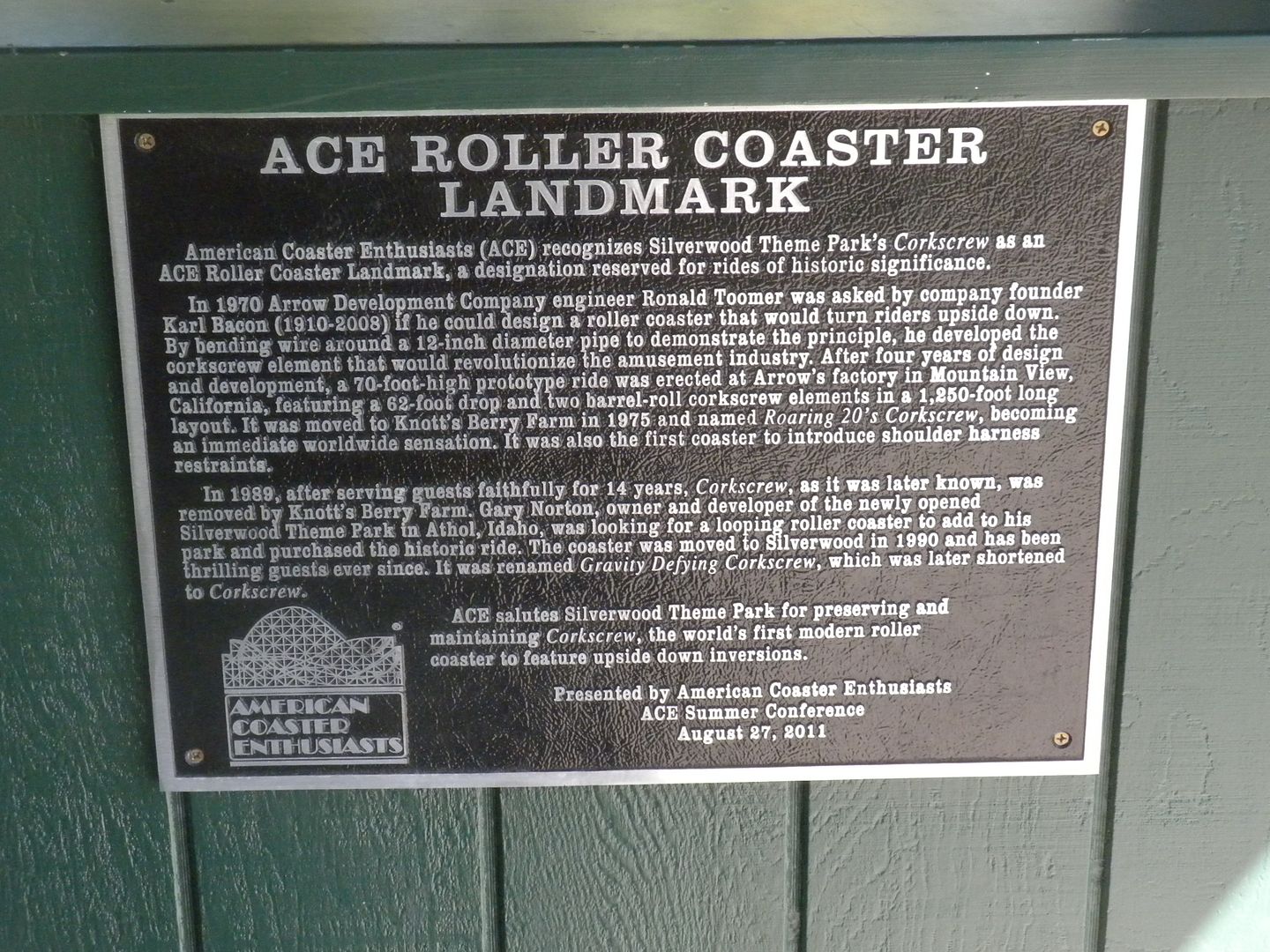 and has been recognized as an ACE Coaster Landmark.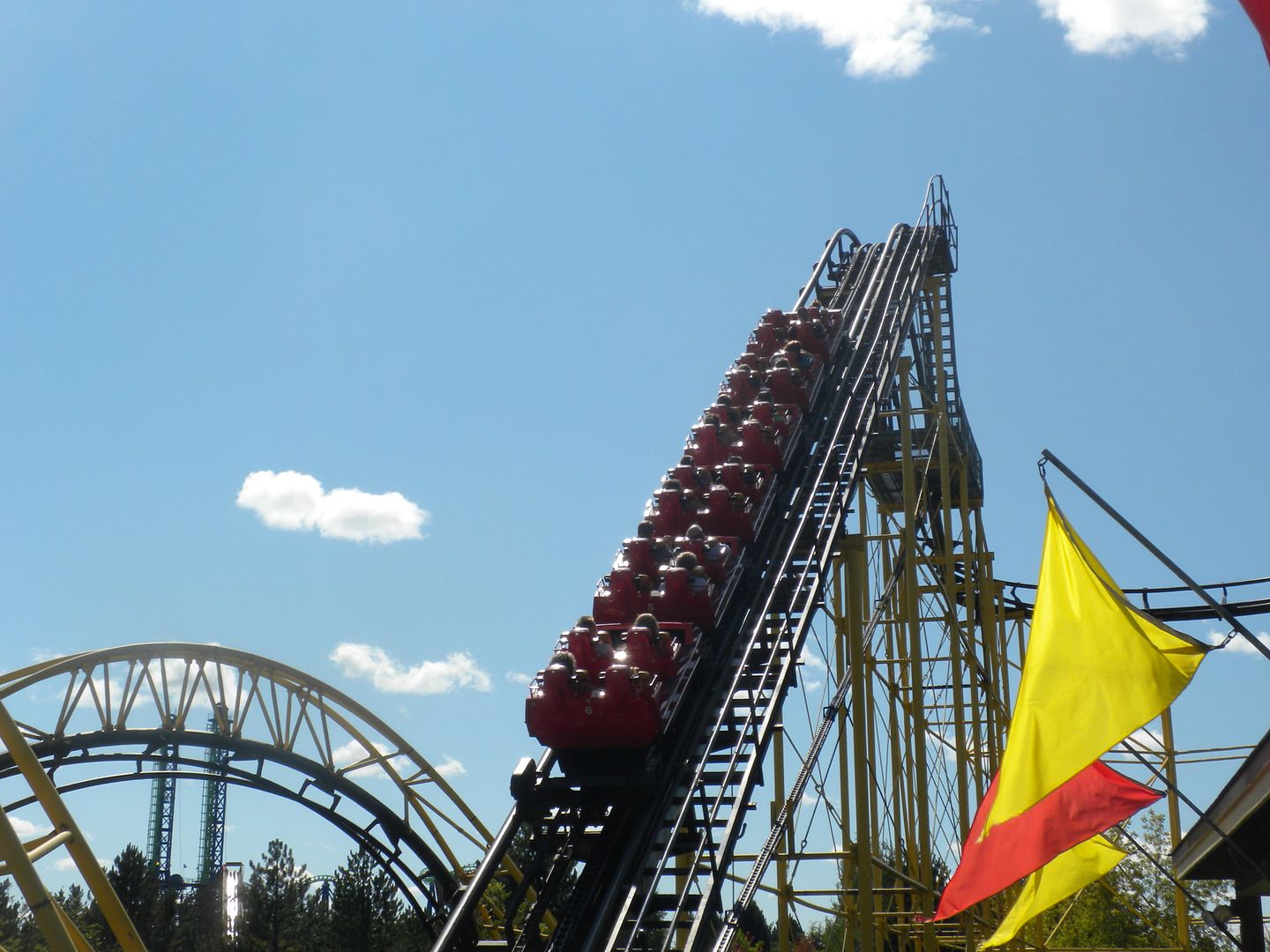 It is fairly smooth and gave a good ride – 1 ride.


Roaring Creek Log Flume: This has a nicely landscaped course and moves really fast. It has only one hill, but gives a good ride with a nice drop – 1 ride.
Paratrooper: This is an old style versions that only load one chair at a time. While it was a long wait, it is very tall, had a very long cycle and is nicely set on an island surrounded by the Bumper Boats – 1 ride.
Scrambler: Good ride – 1 ride.
Tilt-A-Whirl: Very good cycle with lots of spinning – 1 ride.
Trabant: One of my favorite flats, this gave a good ride – 1 ride.


Antique Cars: This has a nice course – 1 ride.


I did not get to ride Thunder Canyon, a rapids ride; Ferris Wheel; Round-Up; Krazy Kars, round bumper cars; or Bumper Boats.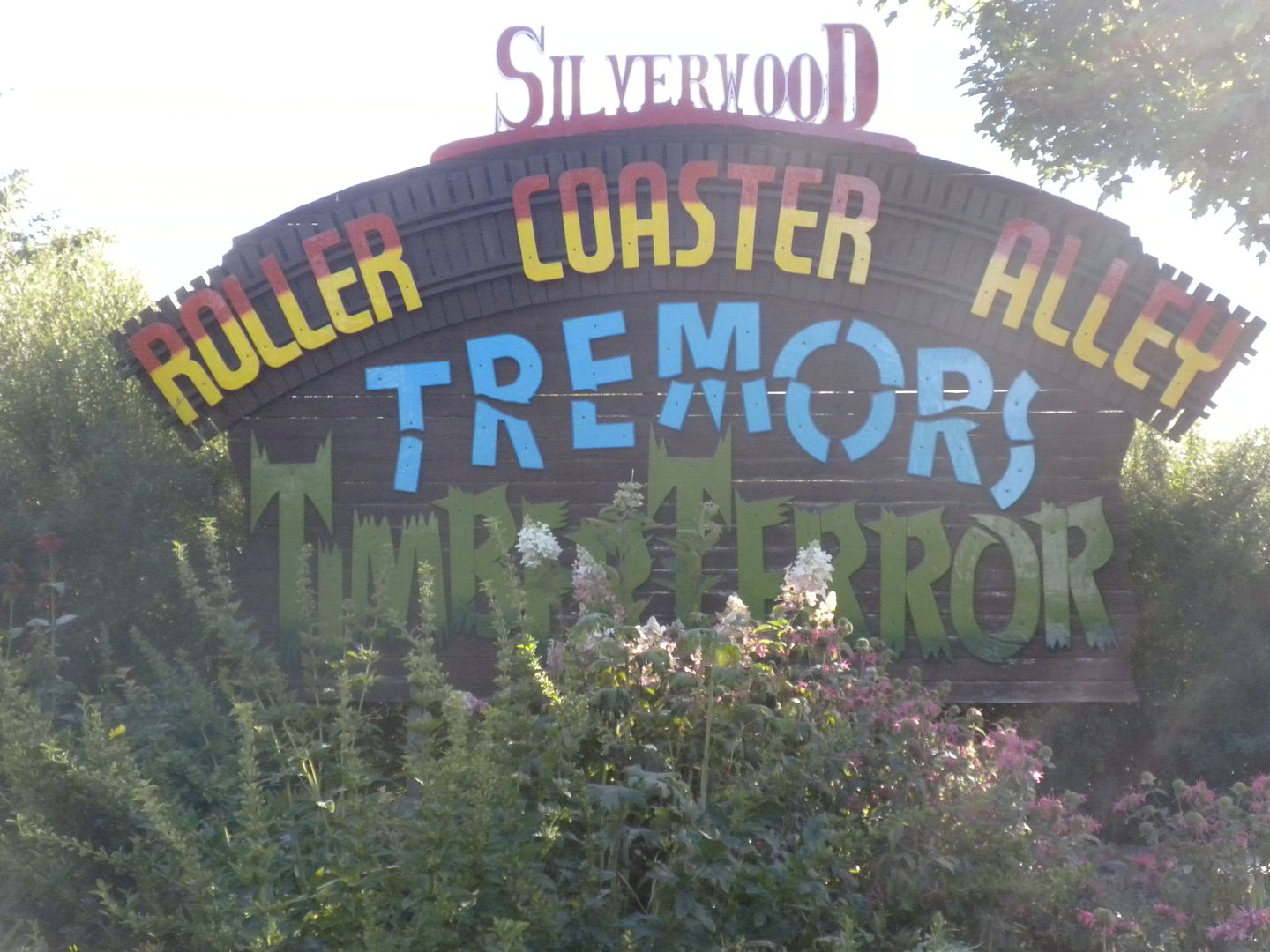 Coaster Alley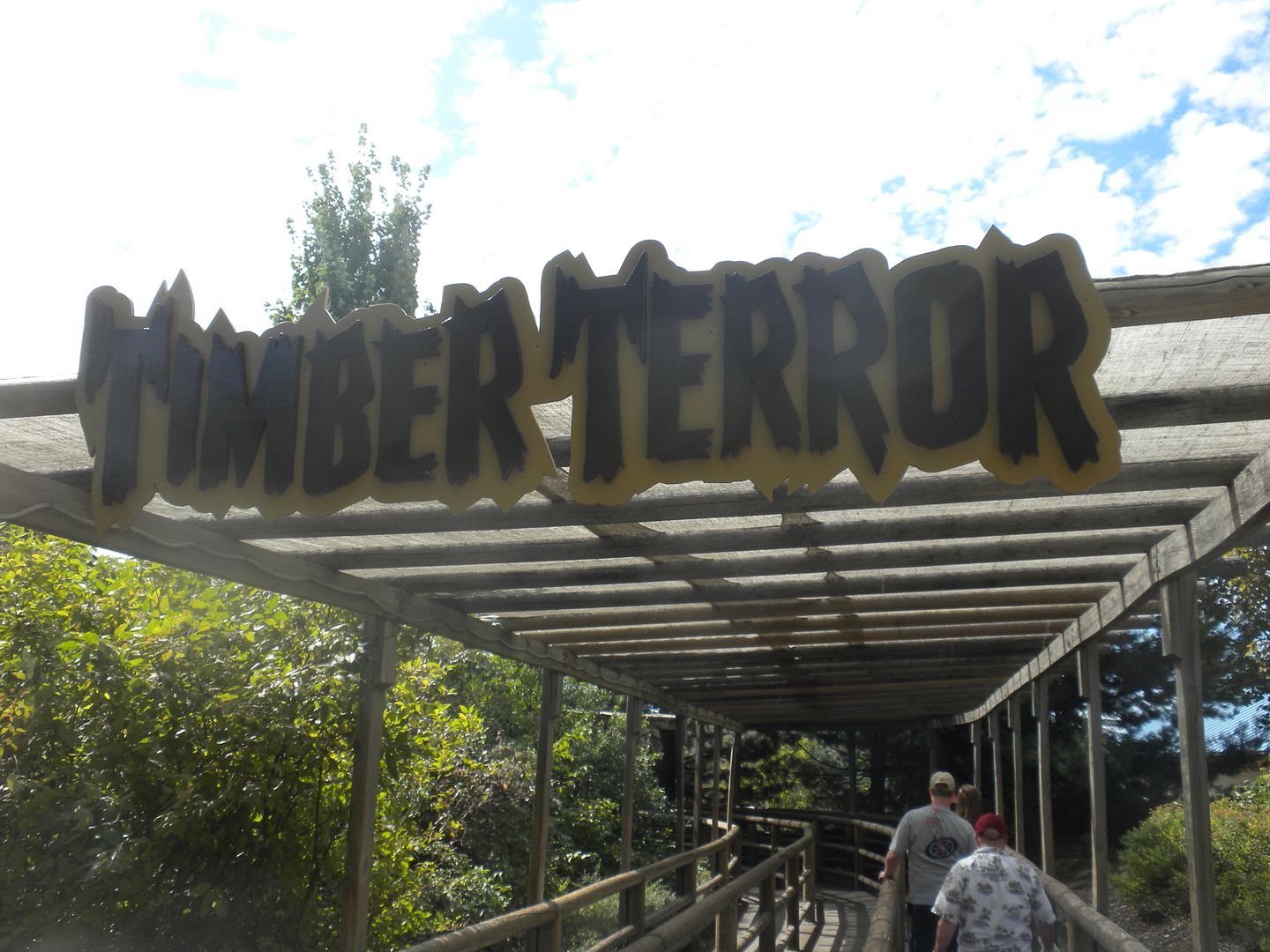 Timber Terror: (CCI, Wood Out & Back, 1996) Originally named Grizzly in 1996, the name was changed so as not to conflict with Paramount's Great America's and Paramount's Kings Dominion's Grizzly coasters.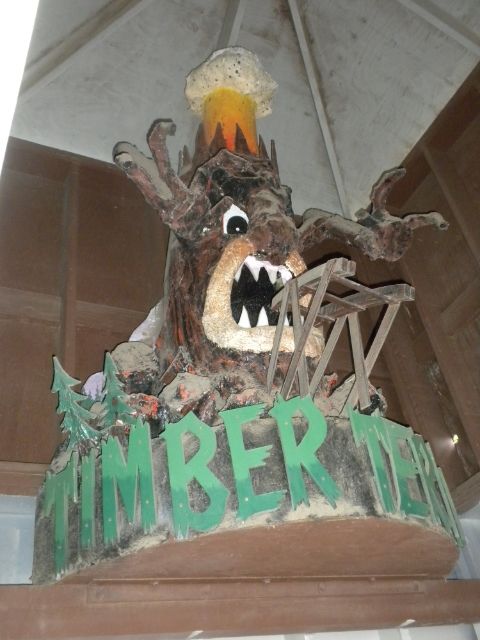 This is an excellent coaster with tremendous airtime throughout, and it even has some good laterals – 6 rides, 5 during ERT.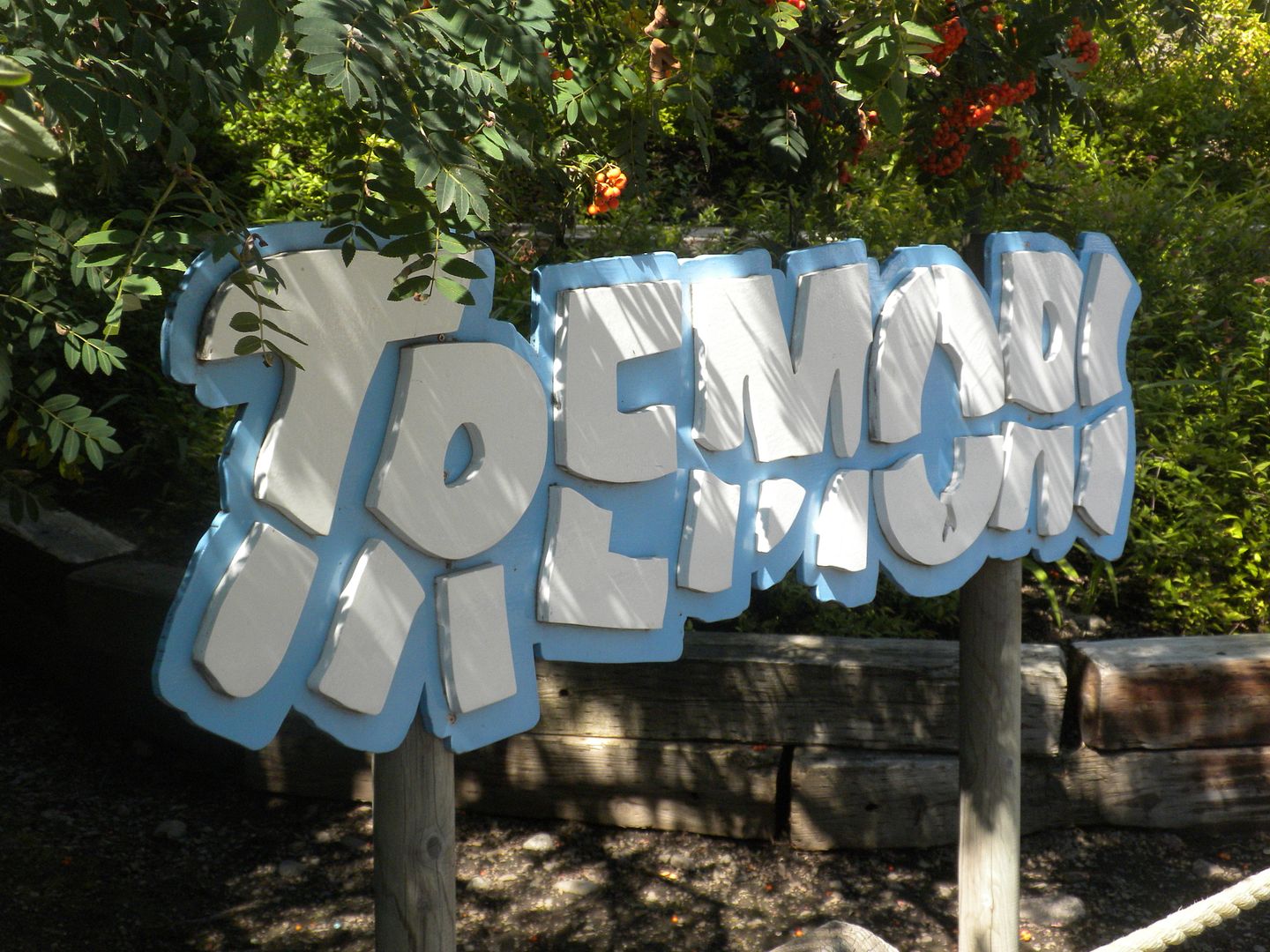 Tremors: (CCI – Dennis McNulty/ Larry Bill, Wood Twister, 1999) With four underground tunnels, this coaster is full of surprises.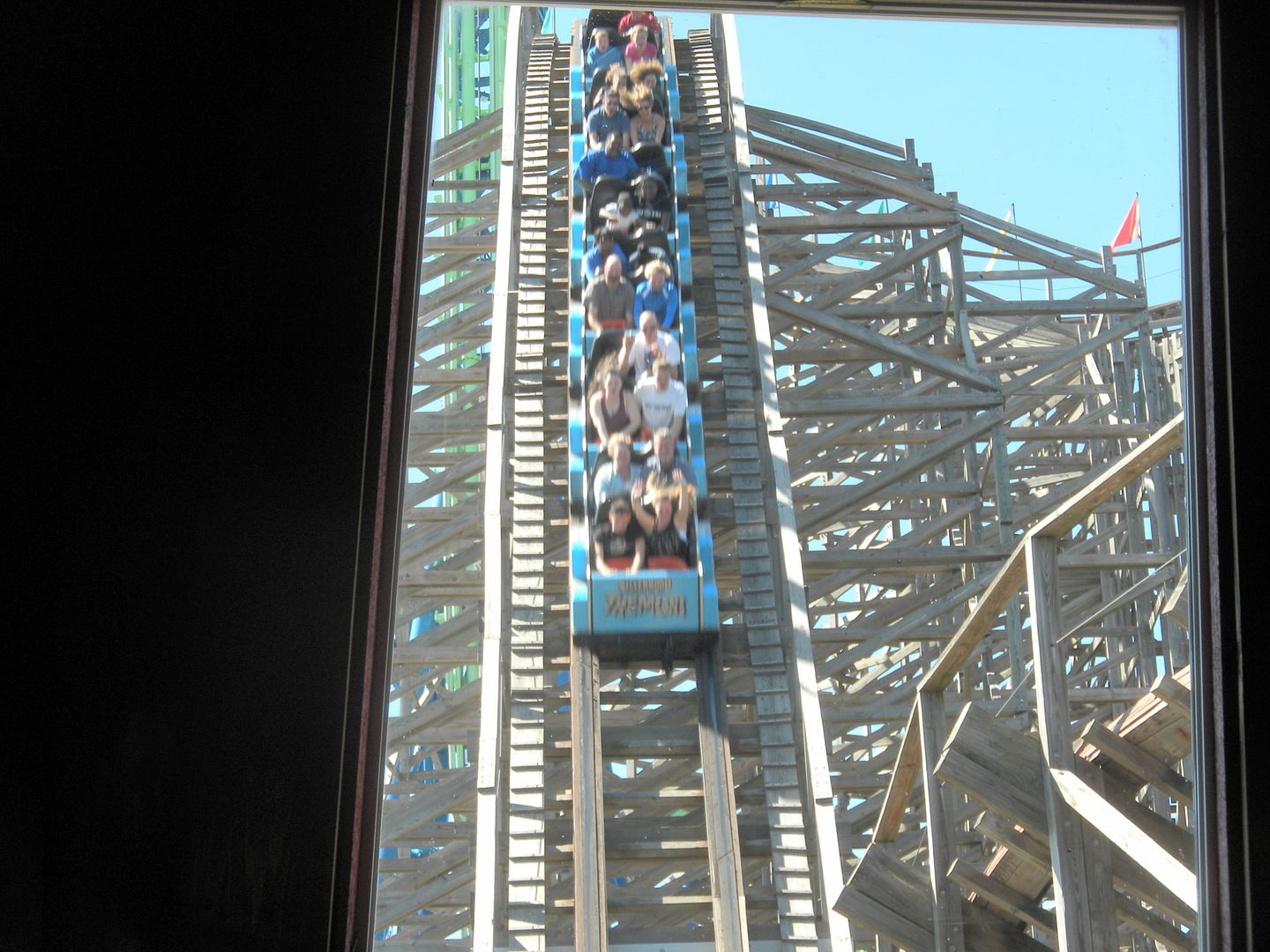 It even has a tunnel that runs through the gift shop.


This is a very fun coaster and we had an exceptionally fun ERT session.


It is great in the front and the second row on the axle is almost as good. It is more intense and rougher toward the back – 14 rides, 13 during ERT.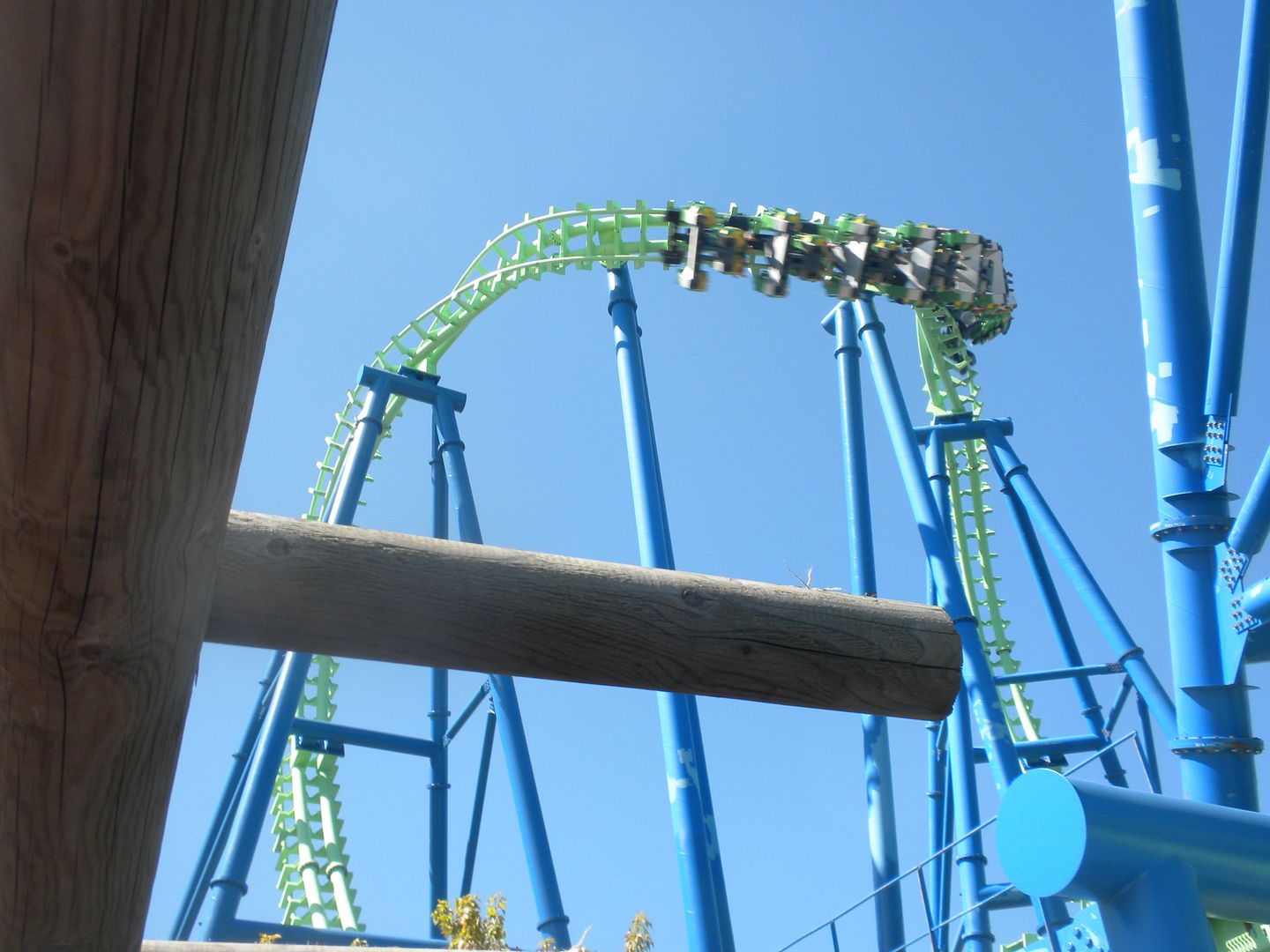 Aftershock: (Vekoma, Giant Inverted Boomerang, 2001/2008) Relocated from Six Flags Great America where it operated as Déjà Vu, it was moved here in 2008. It gave the expected ride – 1 ride.
Panic Plunge: This Larson drop tower gives great views and has a good drop – 1 ride.
I did not ride Sky Diver or SpinCycle, an inverting pendulum from Visa International. There is one kiddie ride, Flying Elephants.
Garfield's Summer Camp


Krazy Koaster: (SBF Visa Group, Family Spinner, 2014) This may be the best kiddie coaster I have ridden. The spinning on my first ride was unbelievable – 2 rides.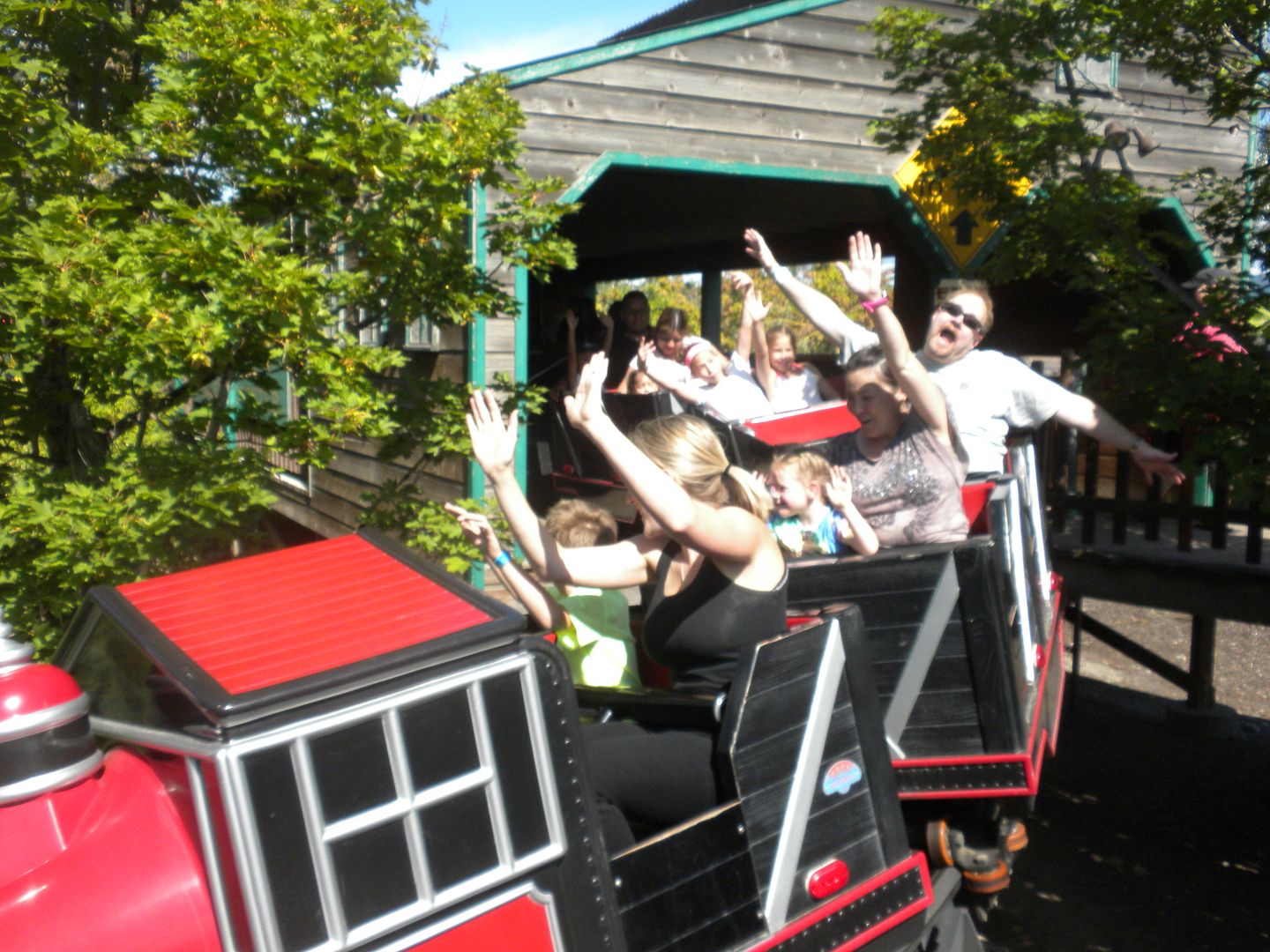 Tiny Toot Roller Coaster: (Zamperla, Powered Family, 1998)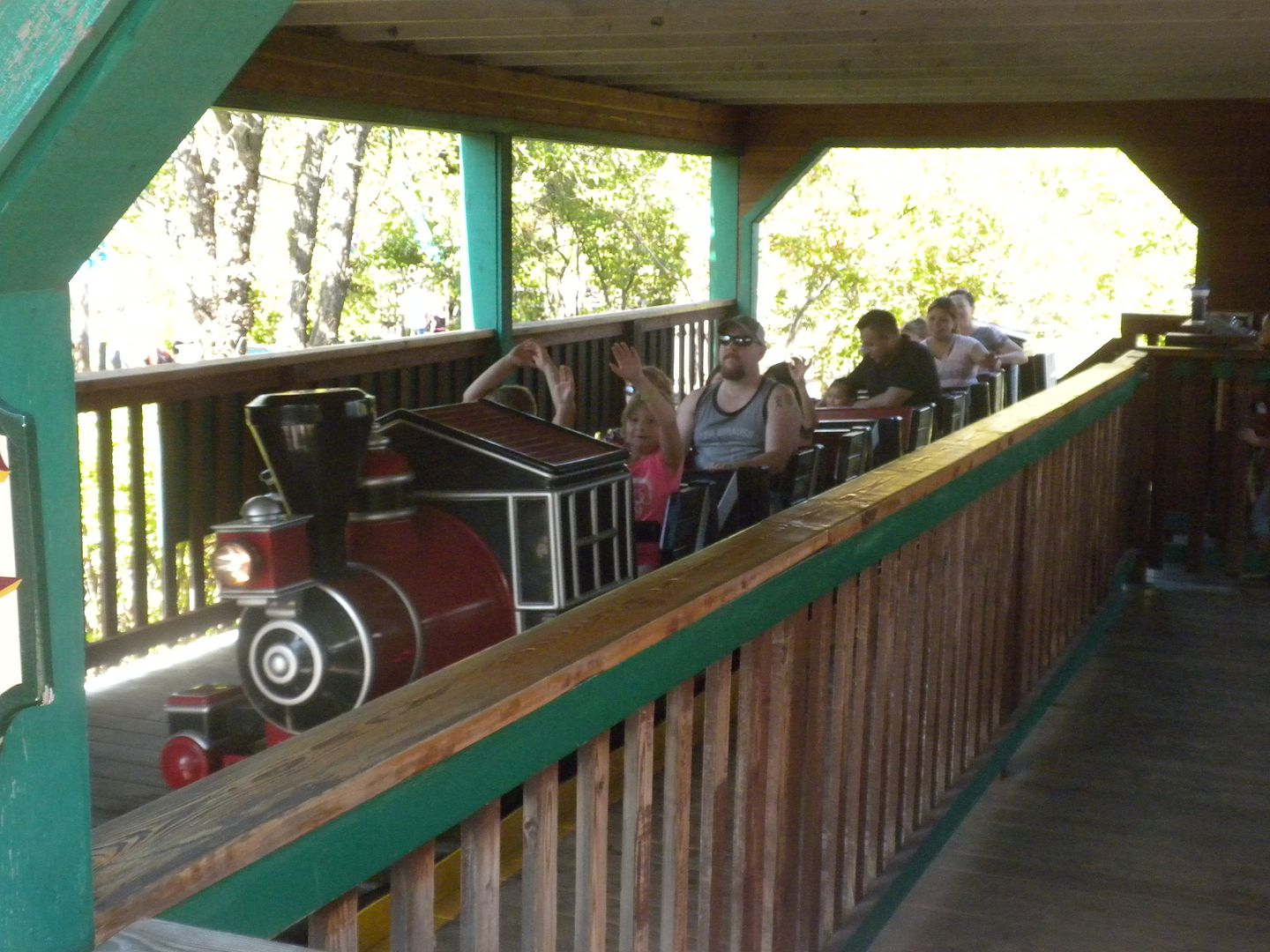 This powered coaster is small but had a lot of cycles – 1 ride.
Kiddie rides include: Barnstormer, Butterflyer, Frog Hopper, Kiddie Copters, Kiddie Wheel, Puppy-Go-Round, Red Baron and Climbing Trees. There are also Garfield & Odie appearances for kids.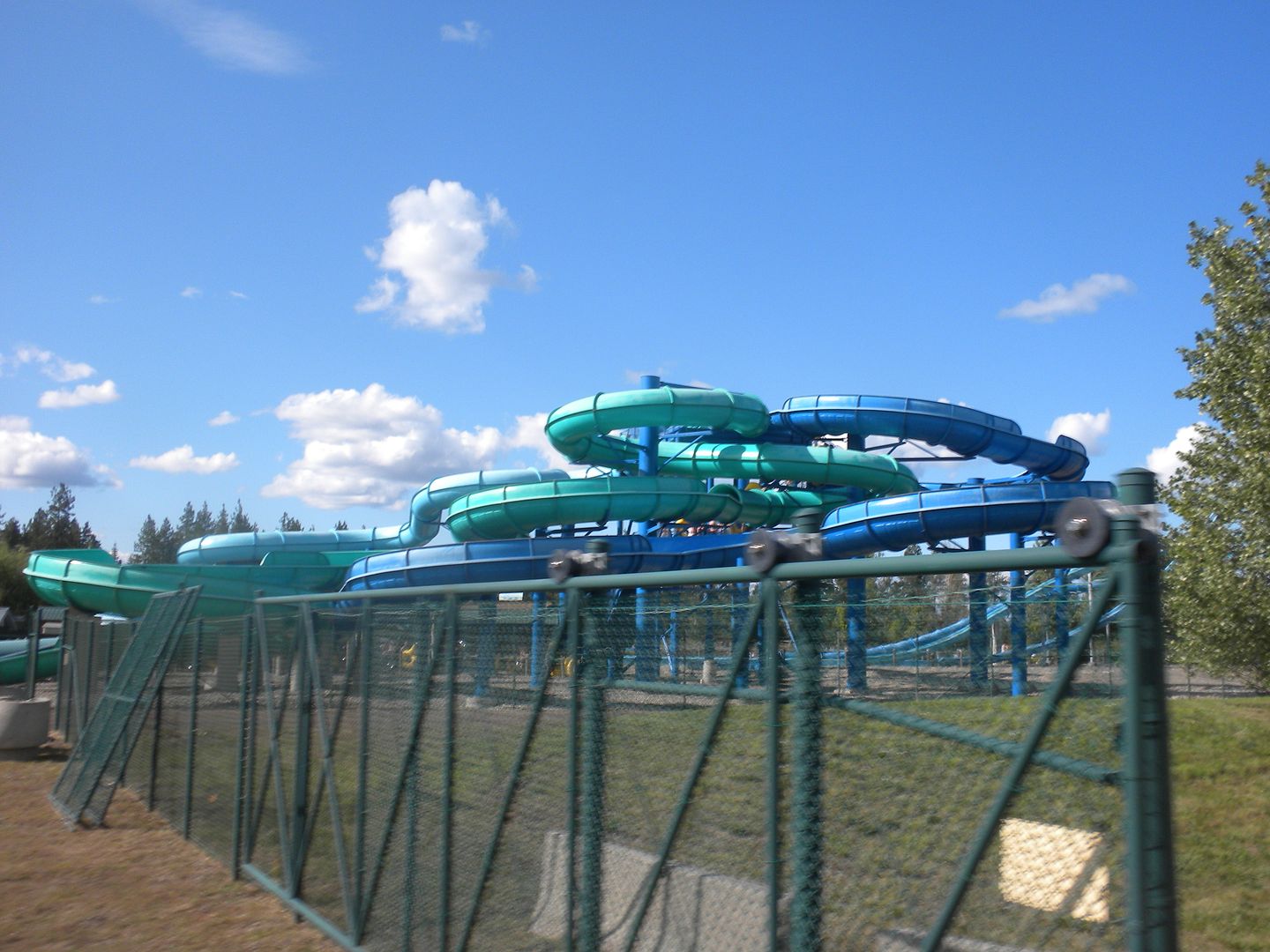 Boulder Beach Water Park
I did not make it to the water park, but it includes Avalanche Mountain, a raft slide; Boulder Beach Bay, 2 wave pools; Elkhorn Creek, a lazy river; Polliwog Park; a kids play area; Ricochet Rapids, a family raft tube slide; Rumble Falls, a 4 slide complex; Toddler Springs, a kids play area; and Velocity Peak, speed body slides.
This is a beautifully landscaped and well themed park. The park provided us with a delicious barbeque meal that evening. They allowed us about 15 extra minutes of ERT than scheduled and ACE put together a really nice event. I look forward to return visits to this excellent park. ACE Northwest Regional Rep Lisa Zigweid invited attendees to meet at Applebee's, which we did and I enjoyed getting to talk with fellow ACE members I did not know. We returned to our hotel in Spokane.
North Idaho Fair and Rodeo
On Sunday, August 24 we visited Riverfront Park (see Part 1).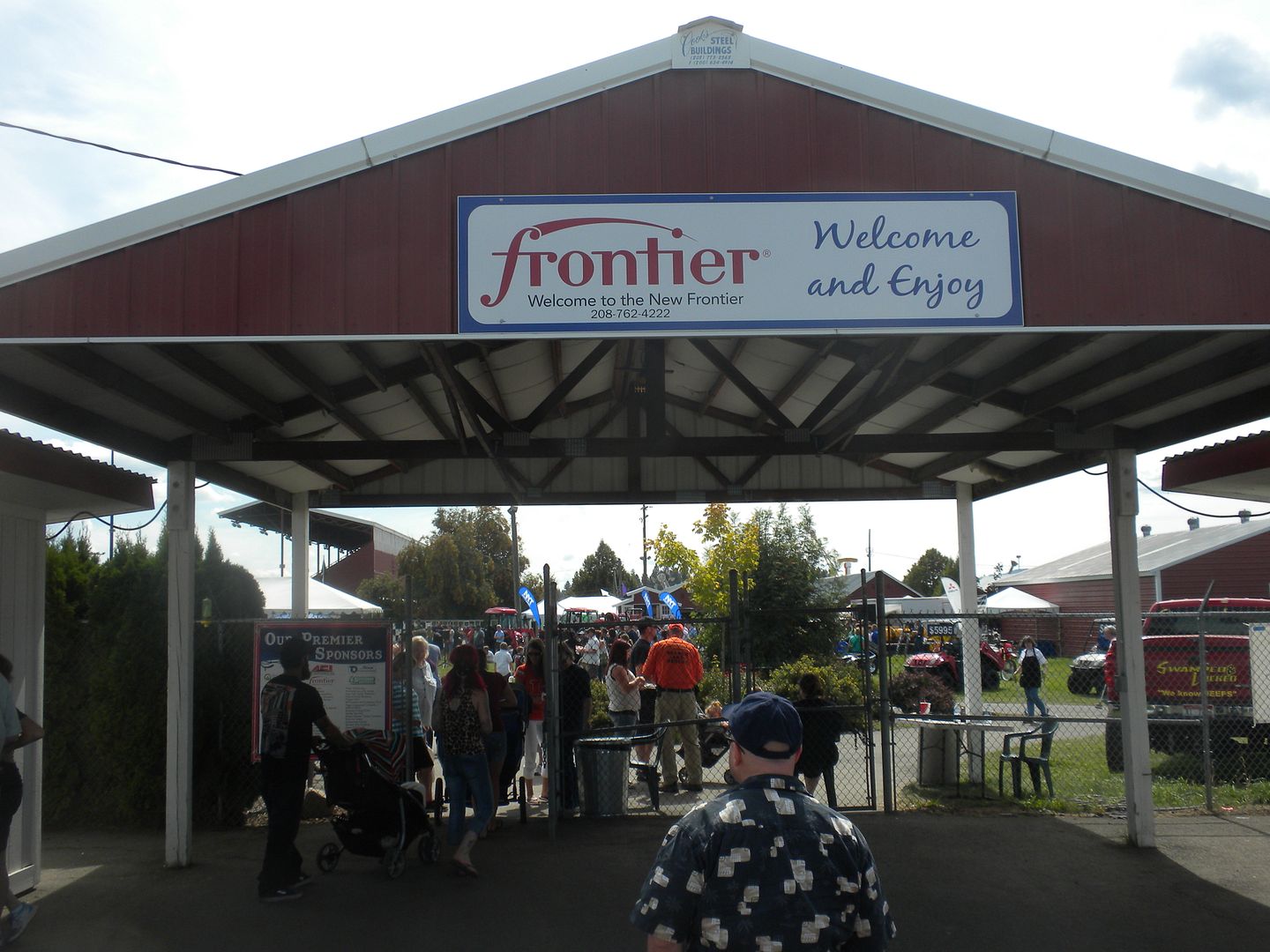 That afternoon we returned to Idaho and made a short stop at the North Idaho Fair & Rodeo in Coeur d'Alene around 1:00.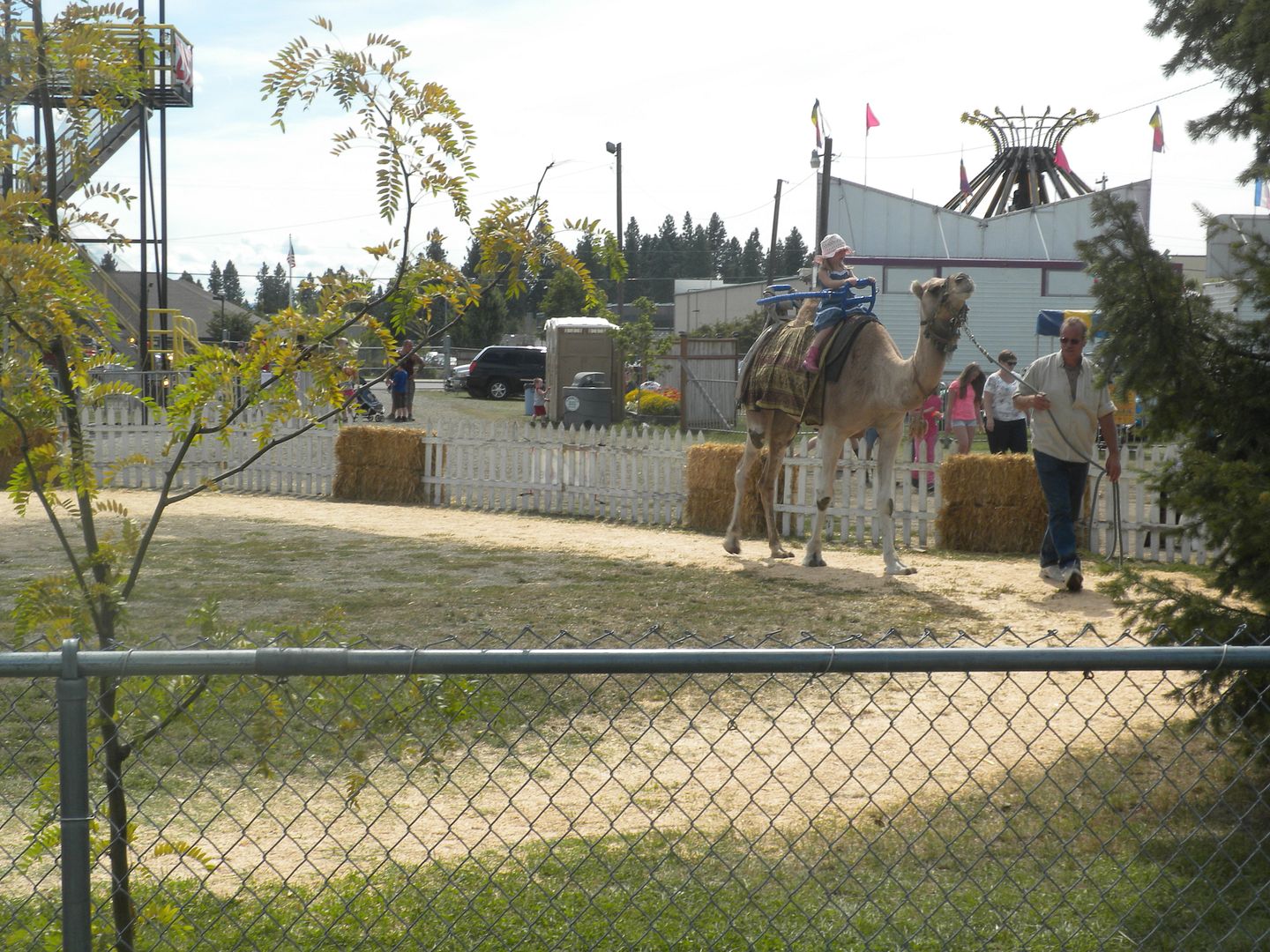 We had learned a couple of weeks earlier the fair would be here, so we decided to make a stop.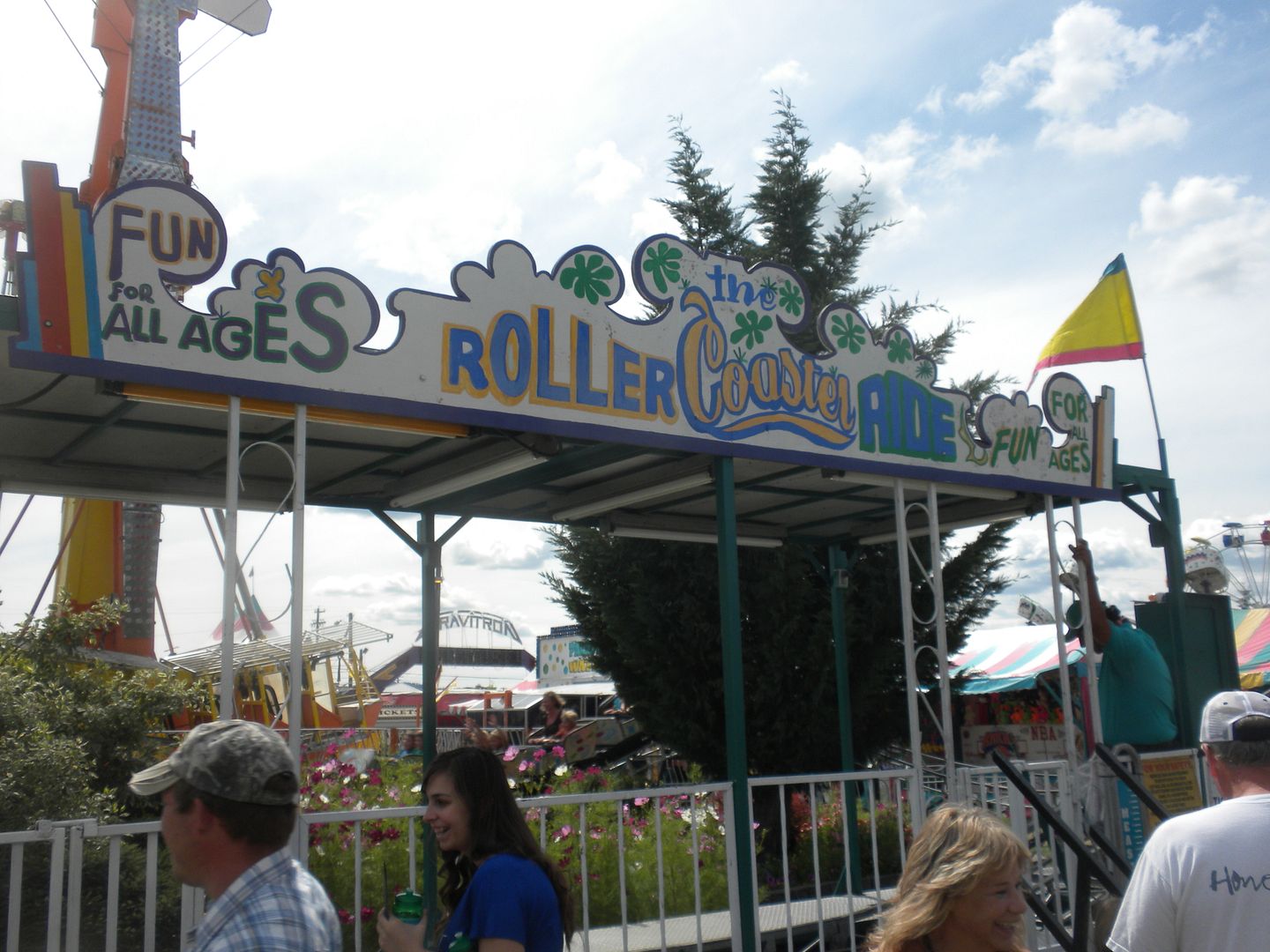 Roller Coaster: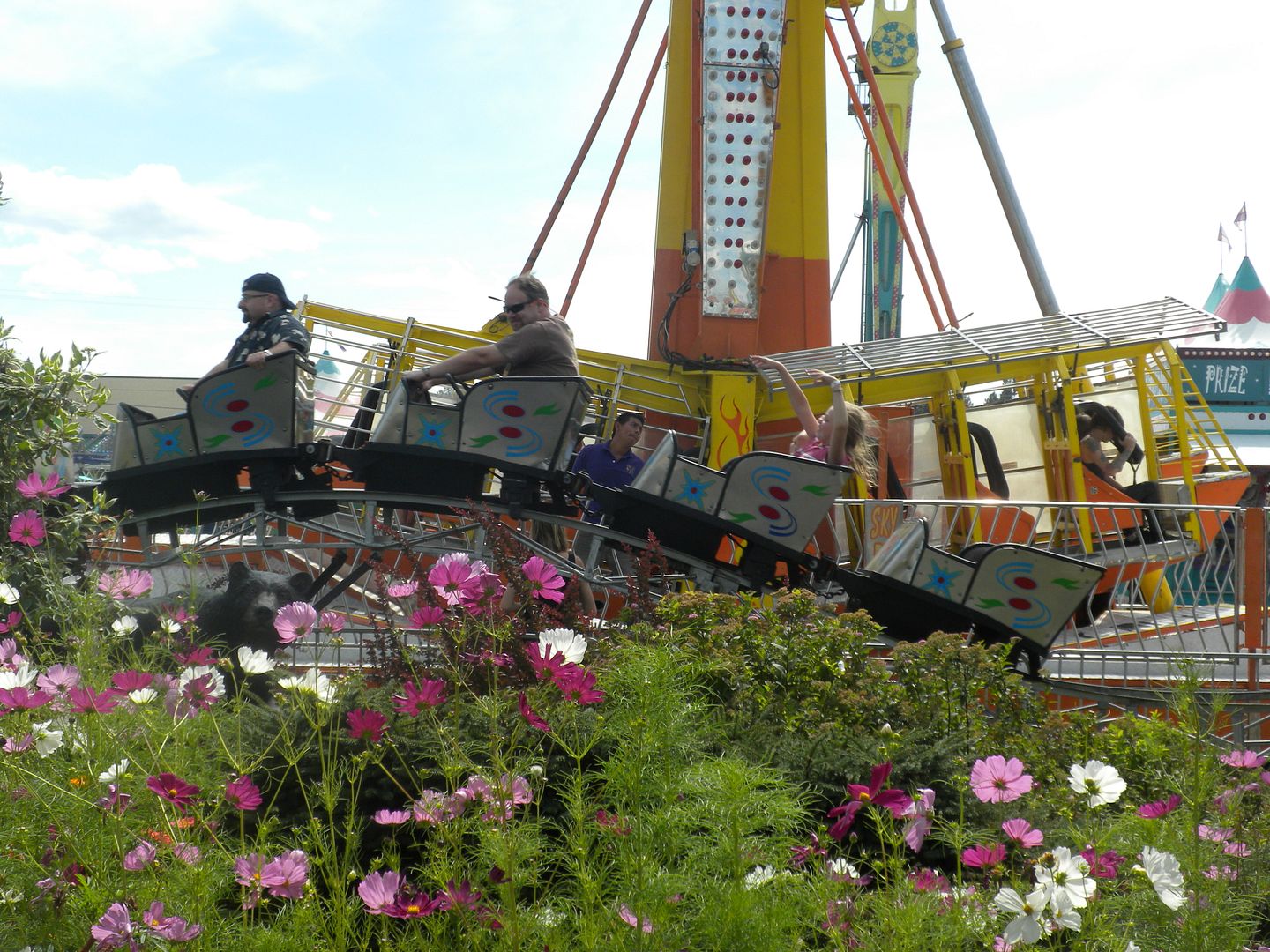 (Unknown Manufacturer, Kiddie Coaster, Unknown Year)


Lots of cycles, a little rough but fun – 1 ride.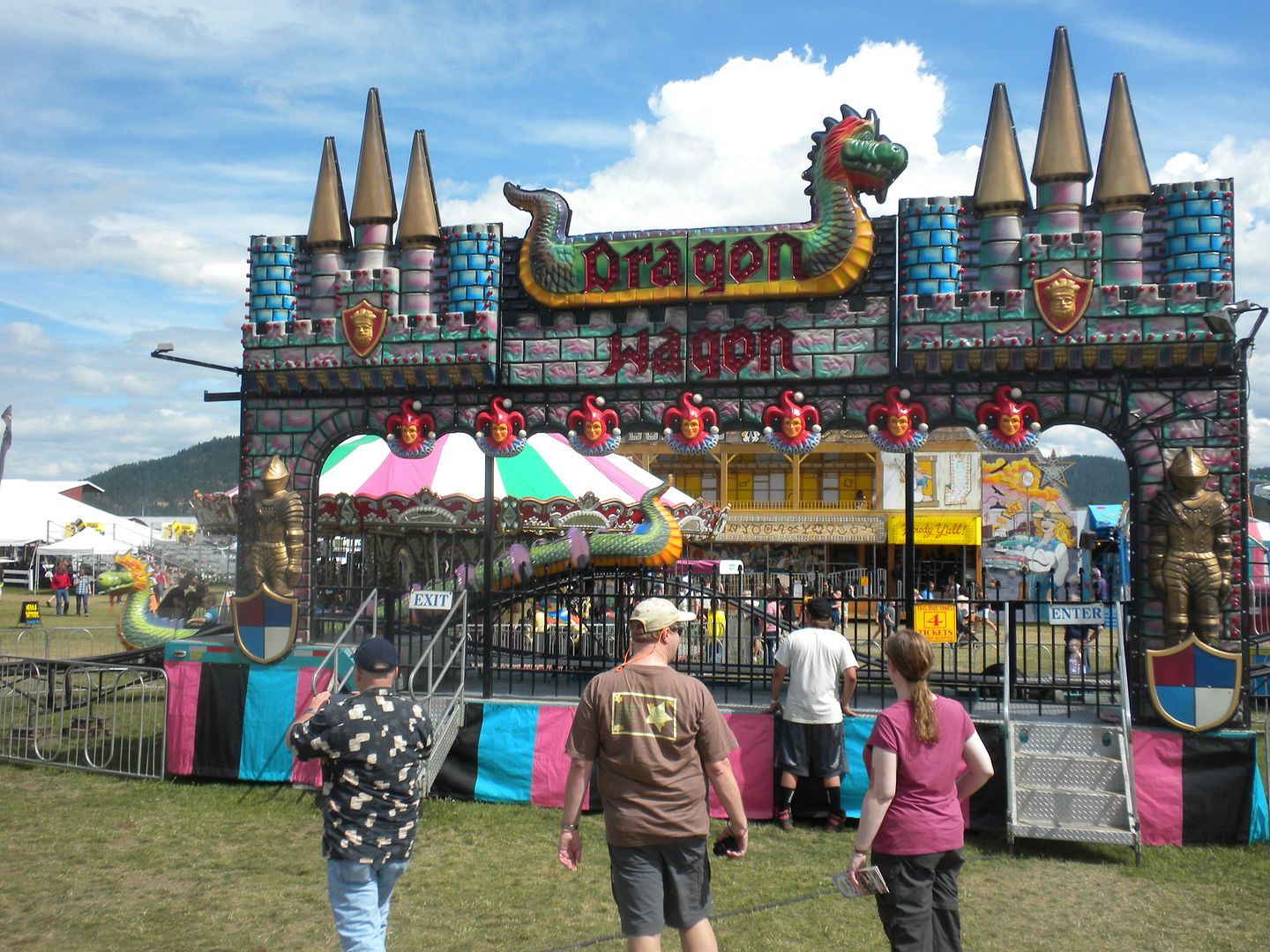 Dragon Wagon: (Unknown Manufacturer, Kiddie Coaster, Unknown Year)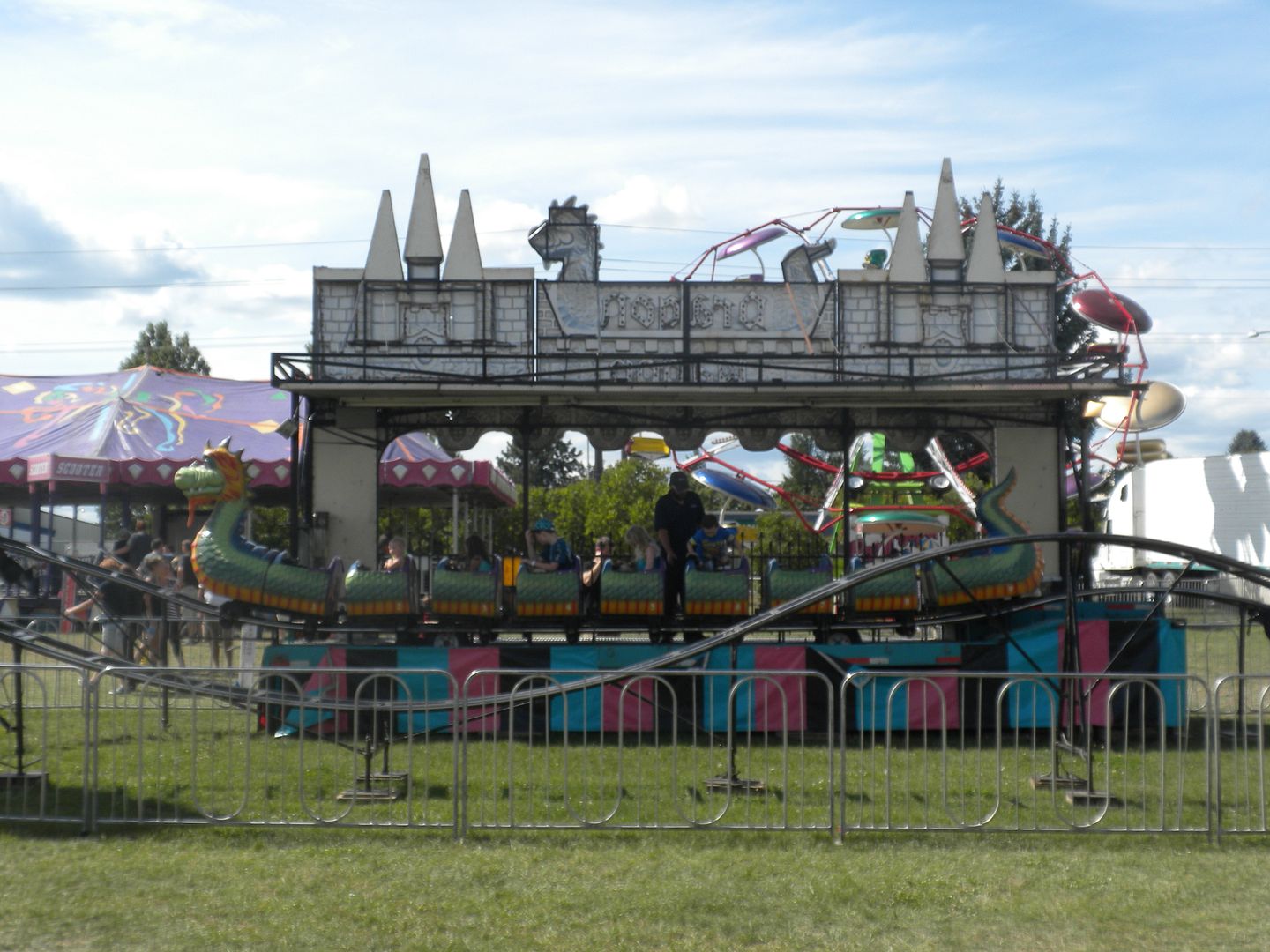 We had to sit sideways but were allowed to ride – 1 ride.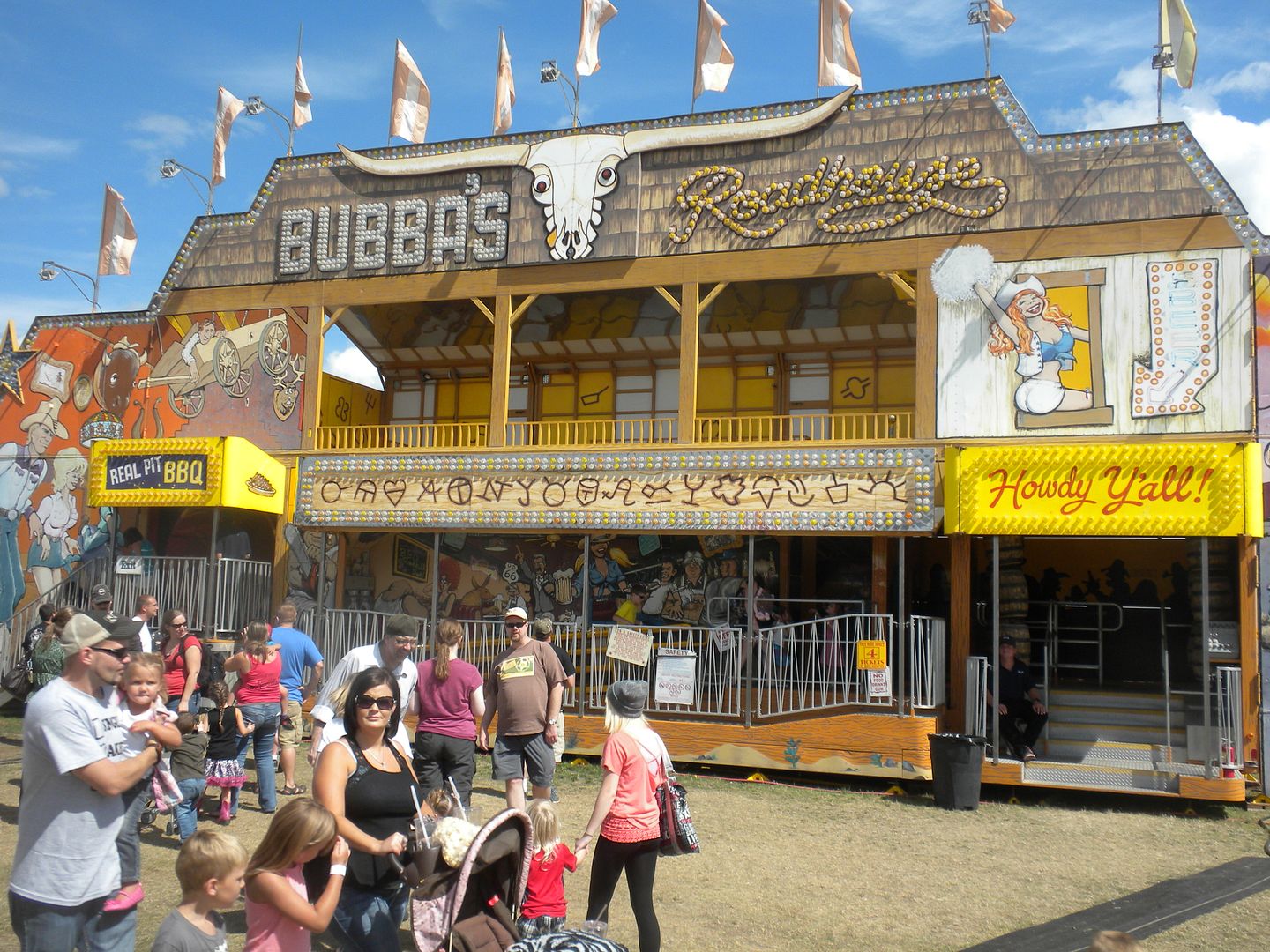 Bubba's Roadhouse: Funhouse, fairly good but some things were not working – 1 walkthrough.
I had a delicious loaded Idaho potato and the best grilled cheese sandwich I have ever had. We left the fair around 2:30 headed to Montana.
Next Up: Montana – Glacier National Park