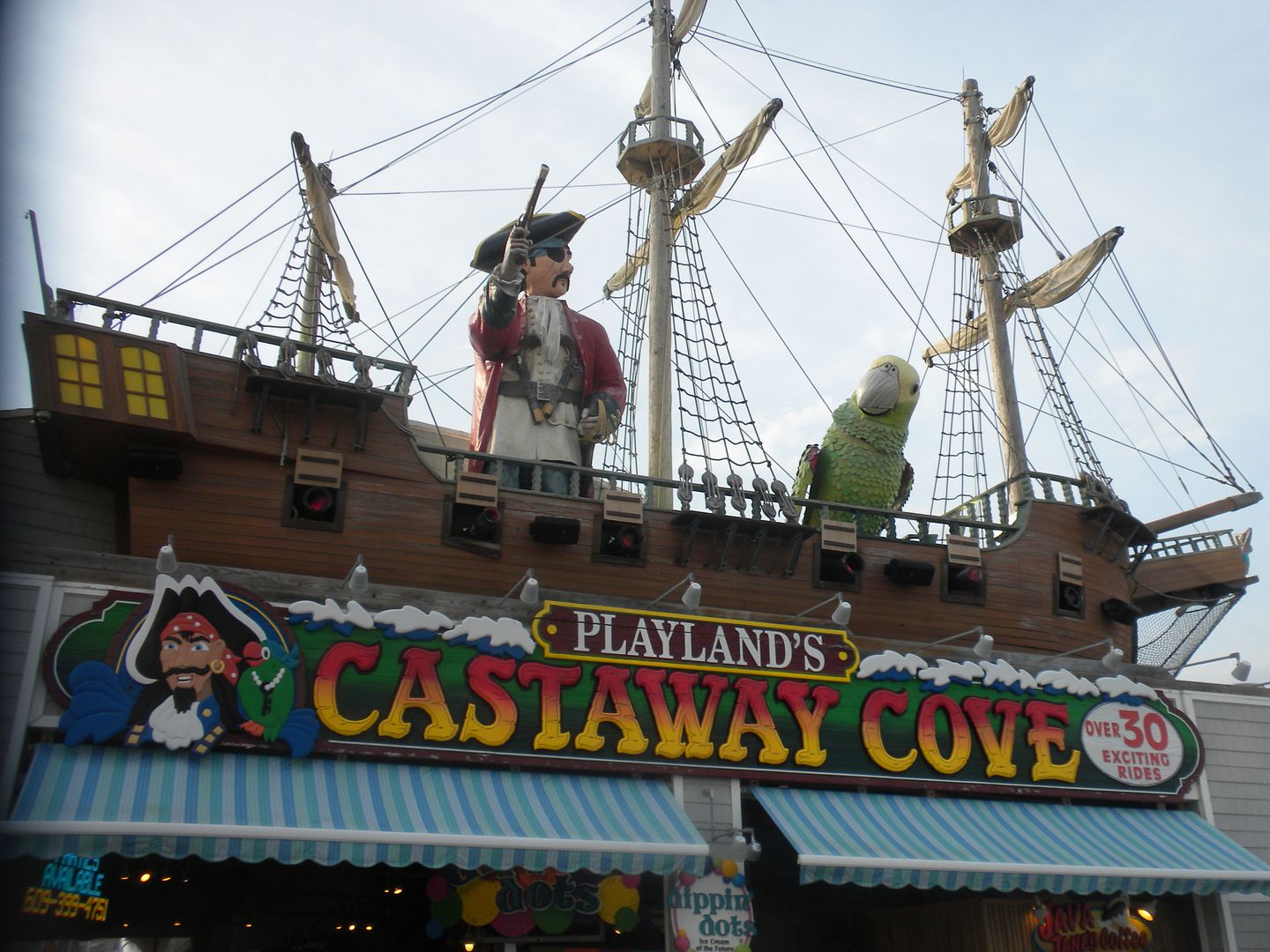 Playland's Castaway Cove
Our informal ACE Shore Crawl event began Friday afternoon, June 26 at Playland's Castaway Cove in Ocean City, NJ. In addition to the rest of the group that had done the Con together, Vanessa Thomas joined us for these 3 days.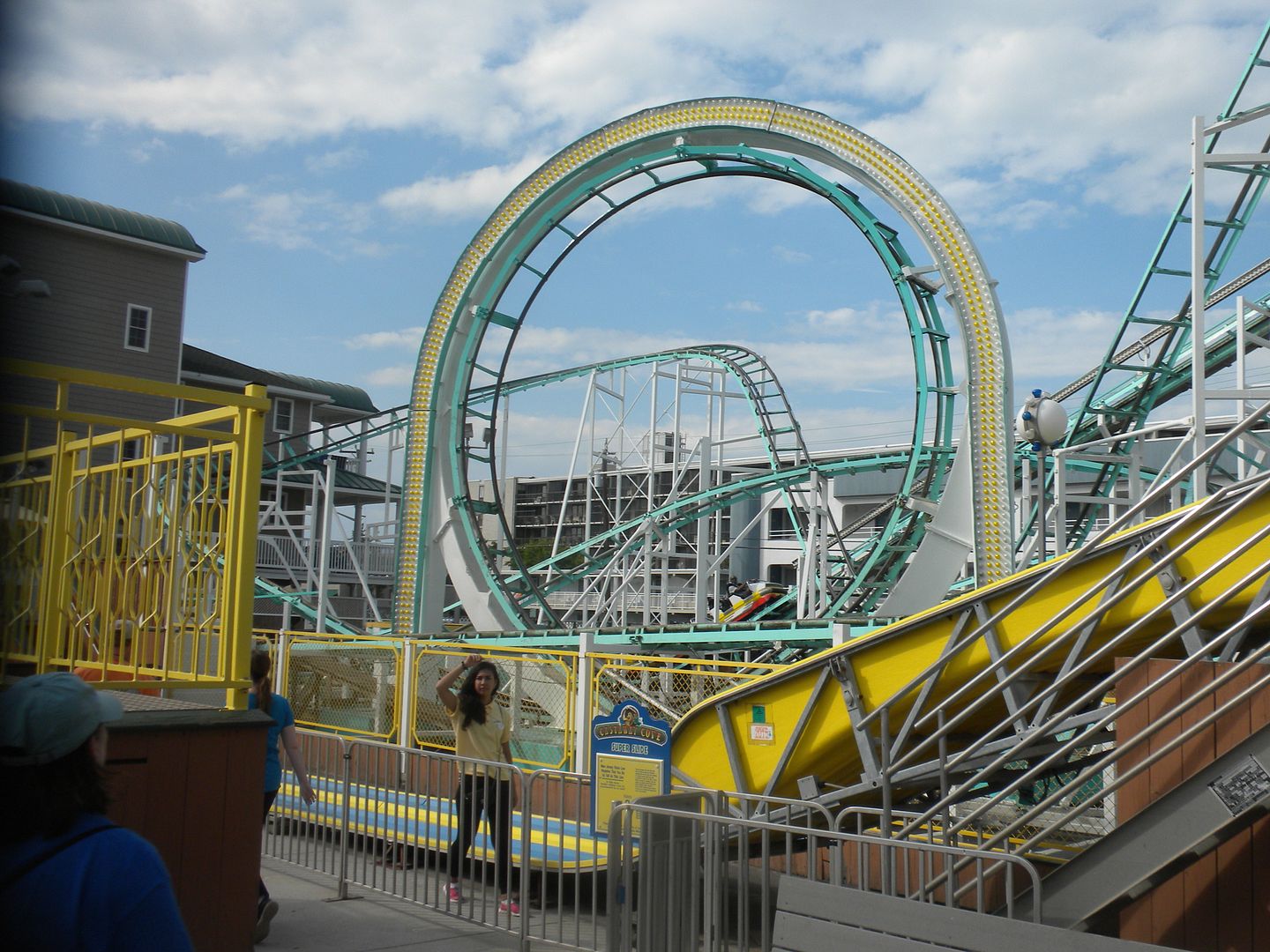 Python Coaster: (Pinfari, Zyklon ZL42, 1996) The entry and exit to the loop on these are always painful – 1 ride.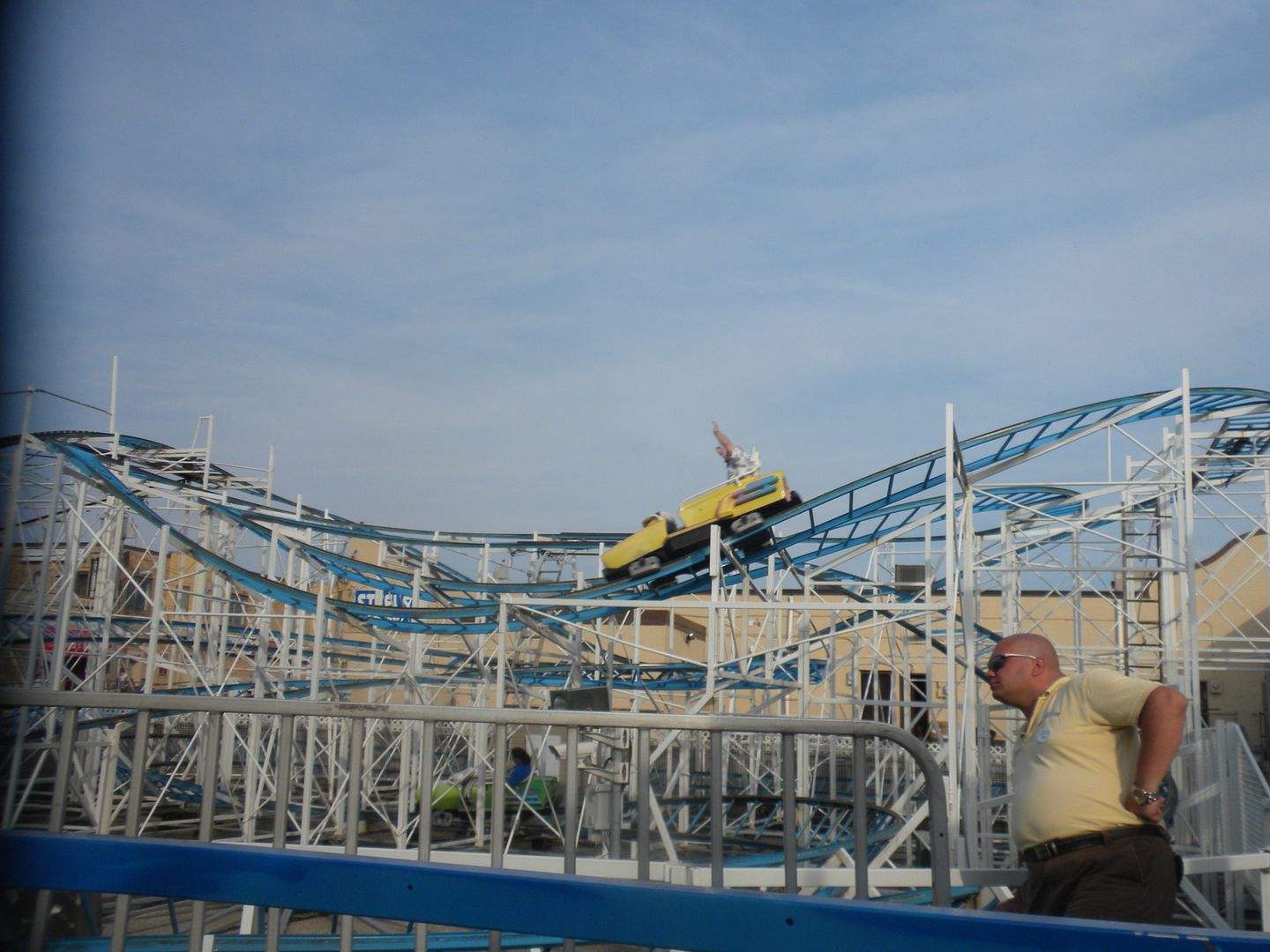 Flitzer Roller Coaster: (Zierer, Flitzer, 1994) Another great Flitzer.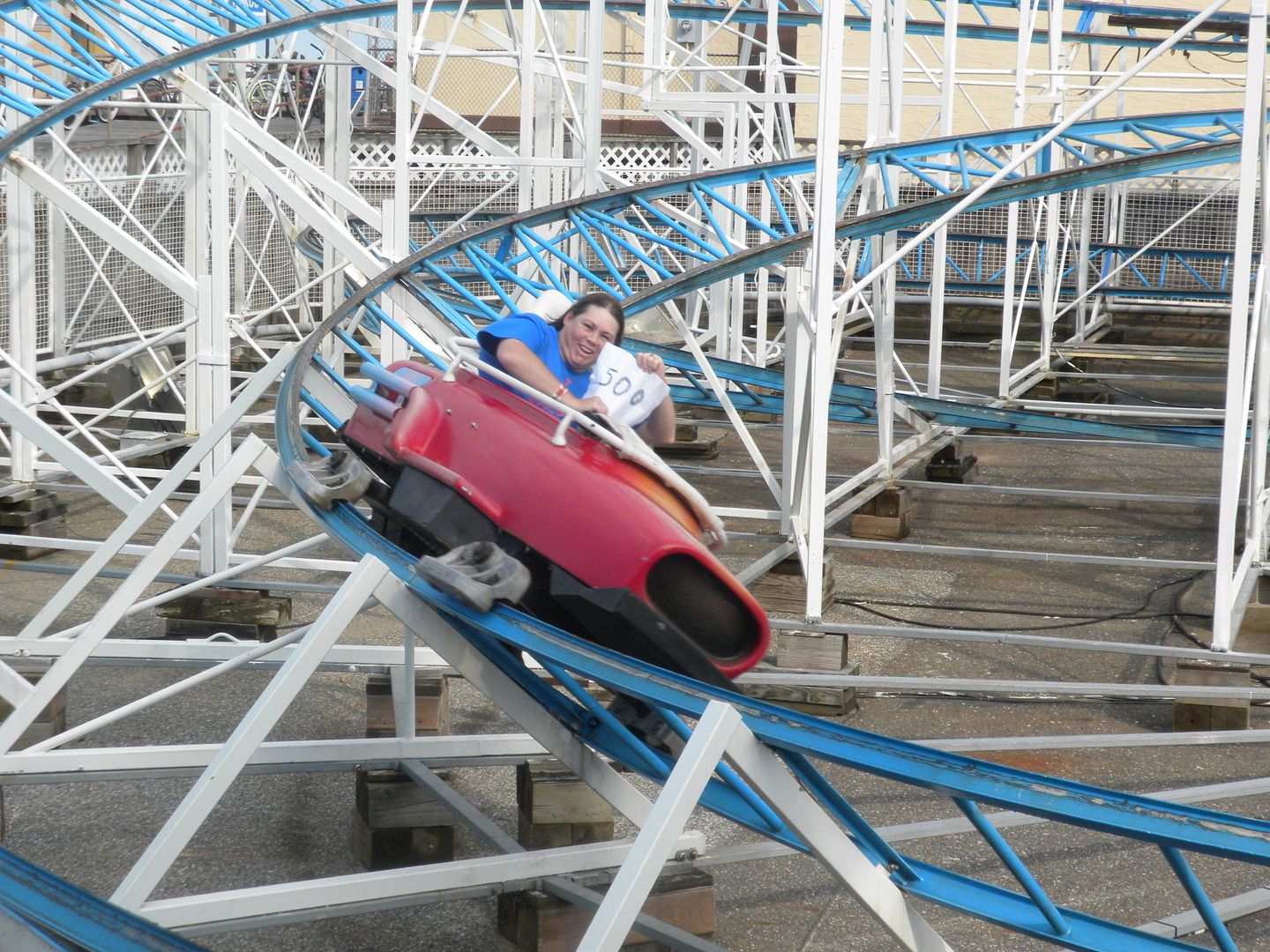 This was Tina's 500th coaster – 2 rides.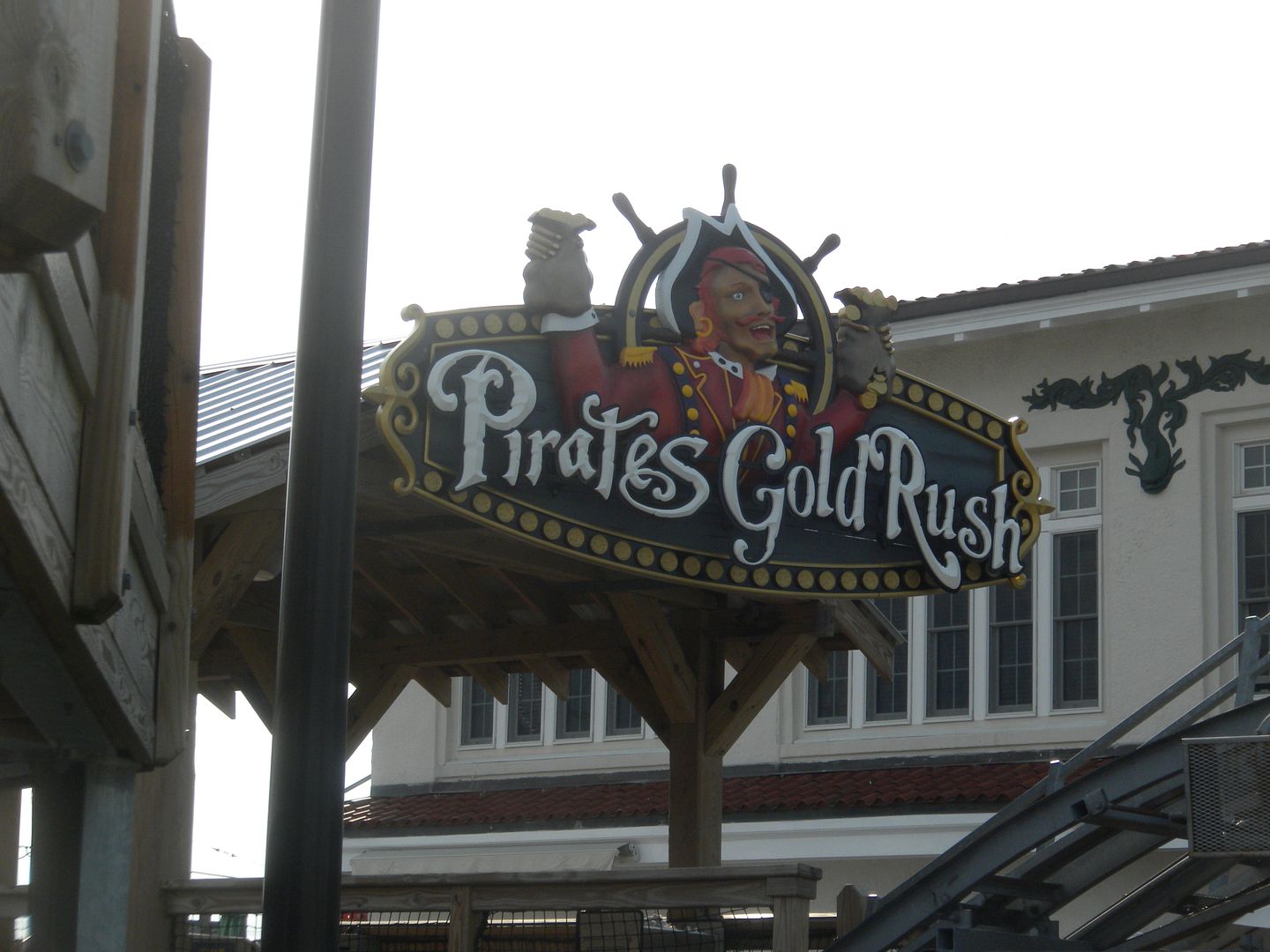 Pirates Gold Rush: (E&F Miler Industries, Family, 2013)


This coaster replaced Sea Serpent (E&F Miler Industries, Family, 1997-2012), for which I got the credit in 2010, that was relocated to Fun Spot America as Sea Serpent, for which I got the credit last year. This new ride is a good starter coaster – 1 ride.

Surf Shack: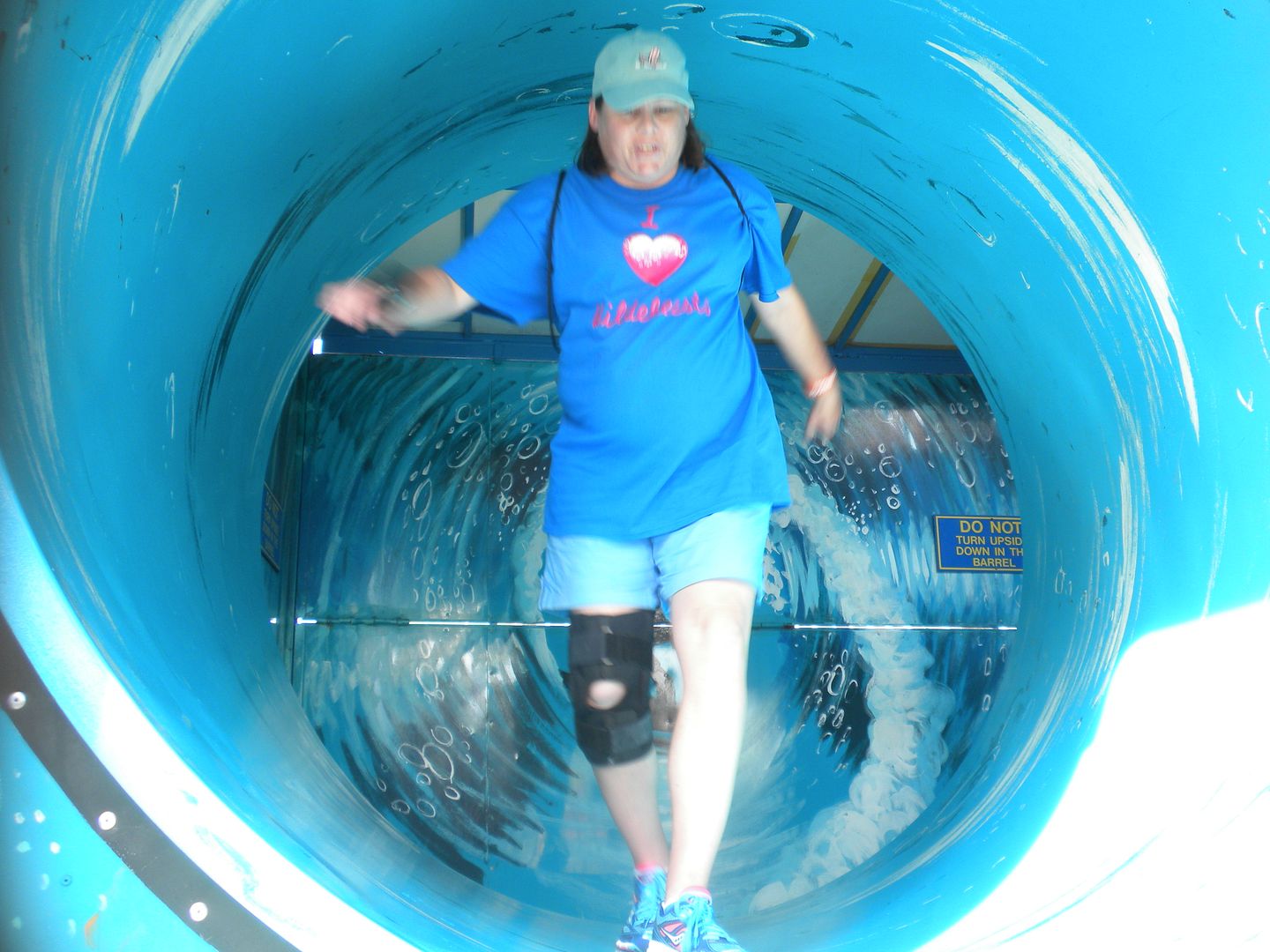 This is a good portable funhouse with classic stunts including a rotating barrel – 1 walkthrough.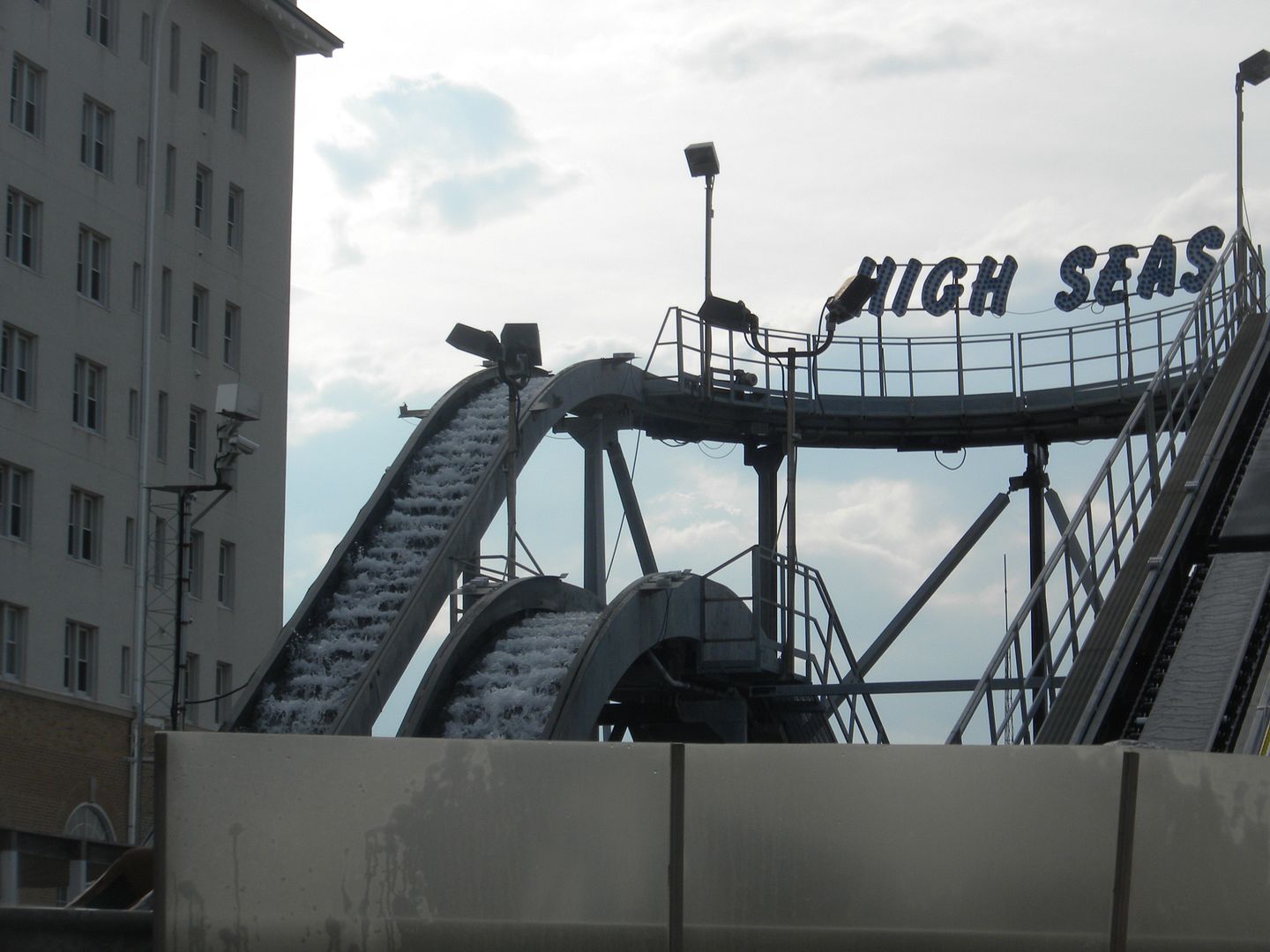 High Seas Log Flume: A standard portable log flume – 1 ride.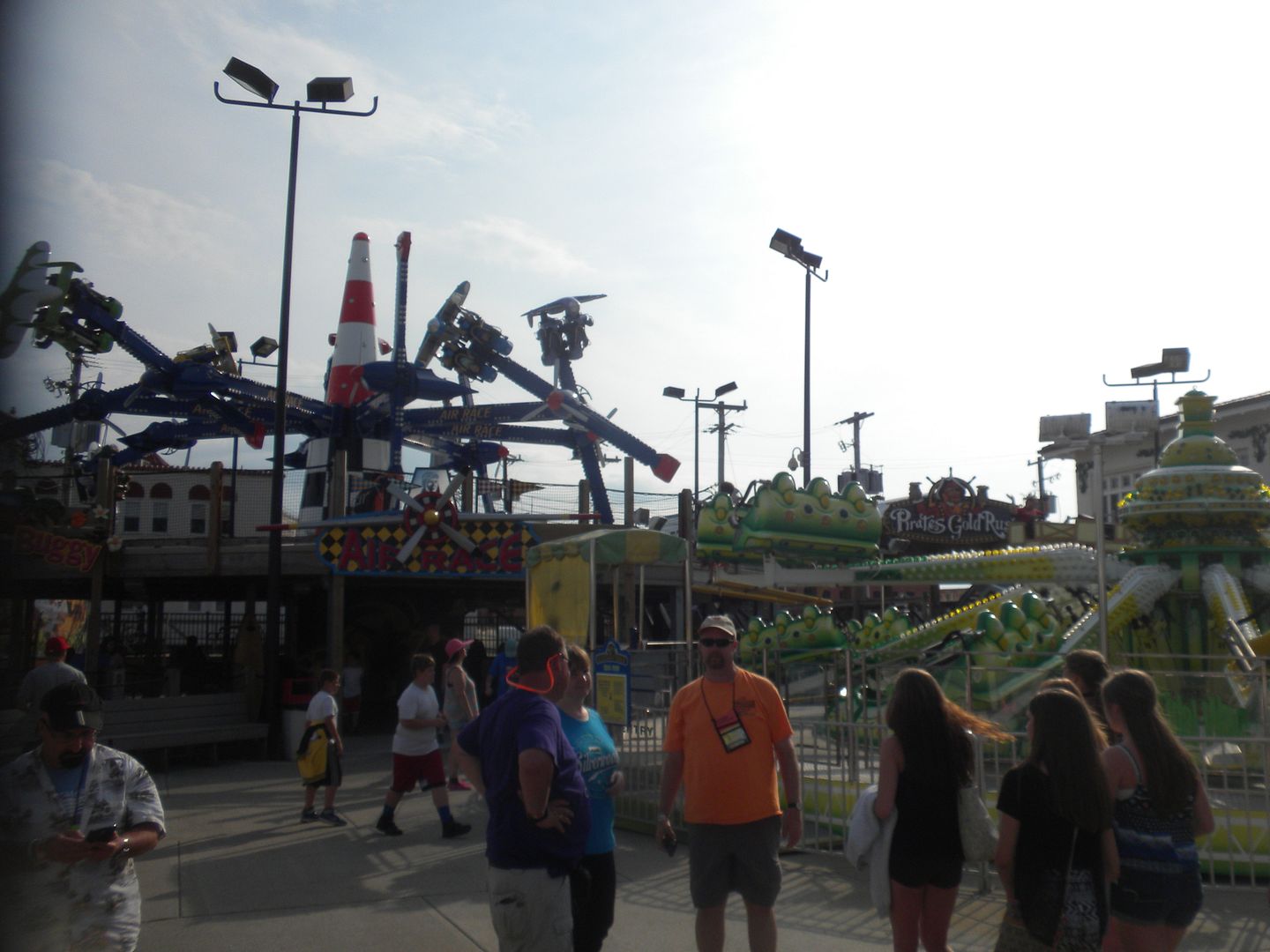 Air Race: This new ride adds a lot to the park – 1 ride.
Tidal Wave: This modern Kangaroo type ride is tremendous fun – 1 ride.
Buccaneer: This new giant Pirate Ship has good airtime – 1 ride.
We did not ride Double Shot, a drop tower; Scream Machine, a bounce tower; Merry-Go-Round; Swings; Gravitron; Riptide, a Music Express; Tilt-A-Whirl; Ferris Wheel (90 foot); Extreme Cyclone; Tropical Storm; Hurricane; Classic Train; Big Bumper Cars; and Spin Zone. The park has 8 children's rides, a Super Slide and Go Kart Speedway.

Gillian's Wonderland Pier


After delicious pizza at Manco & Manco on the Boardwalk,


we walked to Gillian's Wonderland Pier, in Ocean City,NJ.

Runaway Train Coaster: (L&T Systems, Family Coaster, 2006) L&T's last coaster project, this is a fun ride – 1 ride.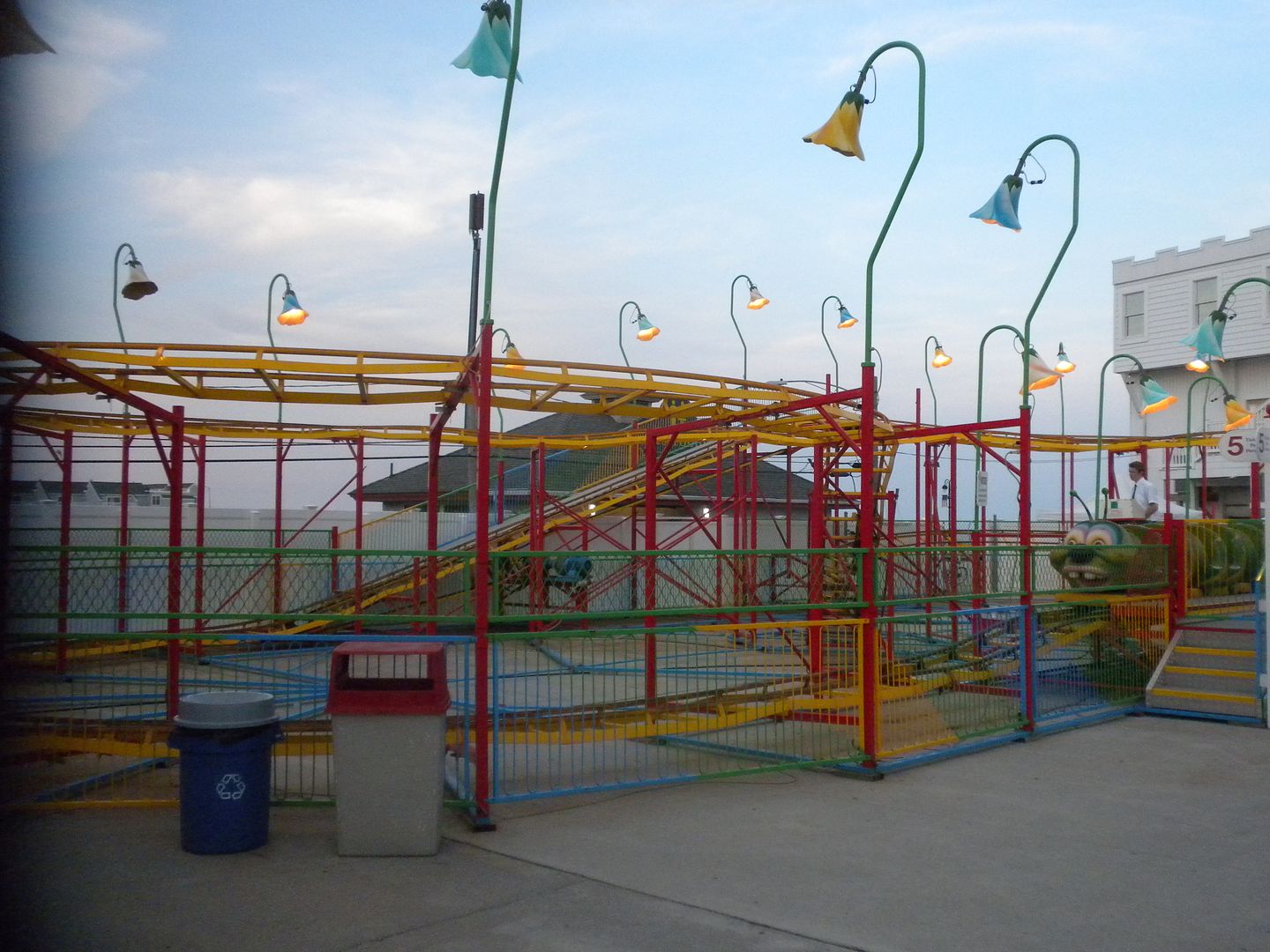 Wacky Worm Roller Coaster: (Unknown, Big Apple/Wacky Worm, 2012) This replaced the previous Wacky Worm (Fajume, Big Apple/Wacky Worm, 2005-2010), for which I got the credit in 2010 and is now at Alabama Splash Adventure as Centi-SPEED, for which I got the credit last year. This was a new credit for me – 1 ride.

Haunted House: This is a good darkride and is fairly new – 1 ride.
Canyon Falls Log Flume: This is an excellent log flume with a large covered portion and a steep drop – 1 ride.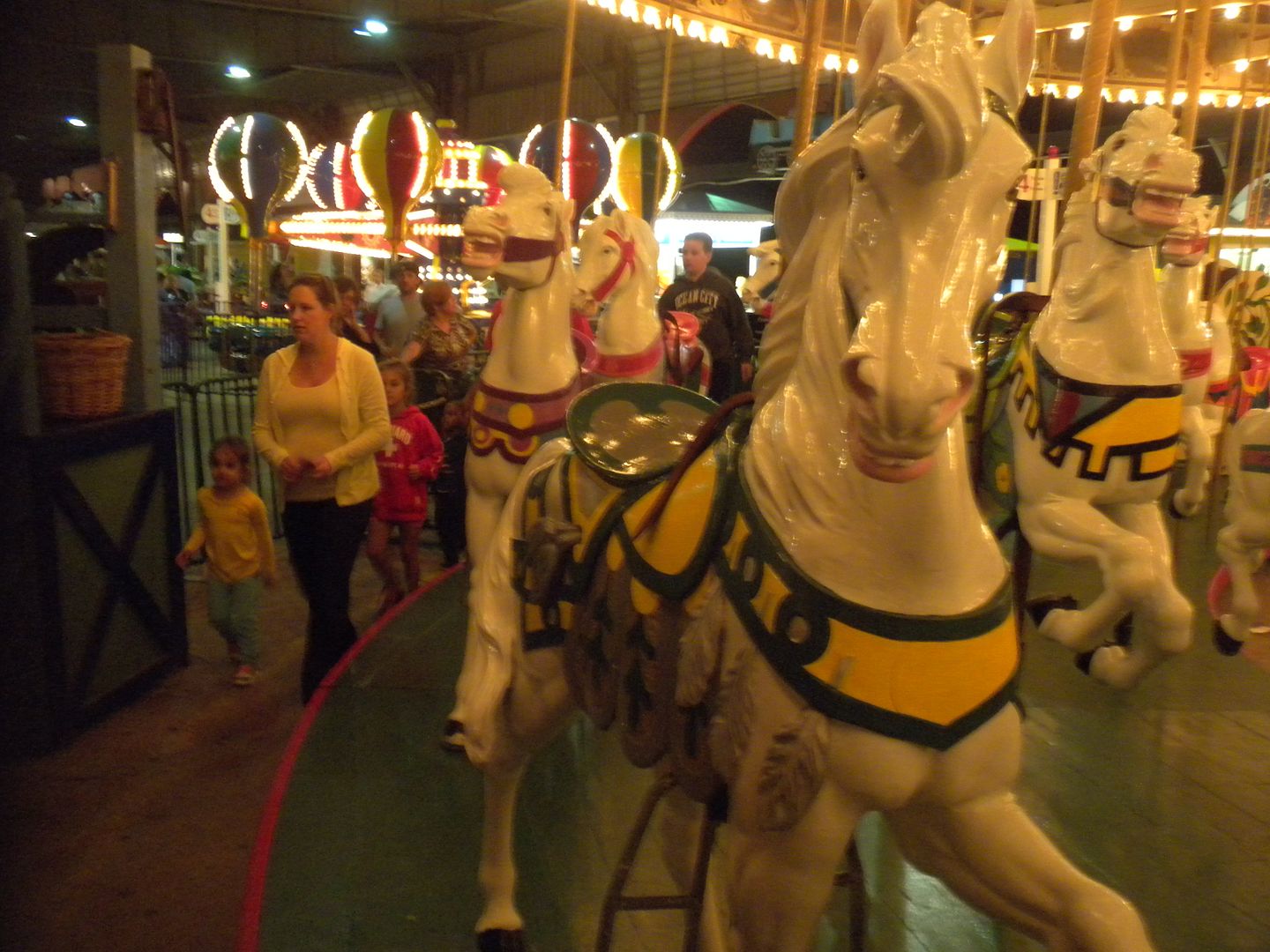 Carousel: (PTC #75; Classic Wood Carousel: 3 Rows – 28 Jumping Horses, 22 Standing Horses, 2 chariots; 1926) It has an operational Ring Arm. It was located at Fernbrook Park, Dallas, PA, 1926-1944; Rolling Green Park, Sellinsgrove, PA, 1944-1972; Wonderland Pier, Ocean City, NJ, 1972-present. I won the brass ring, so I got a free ride – 2 rides.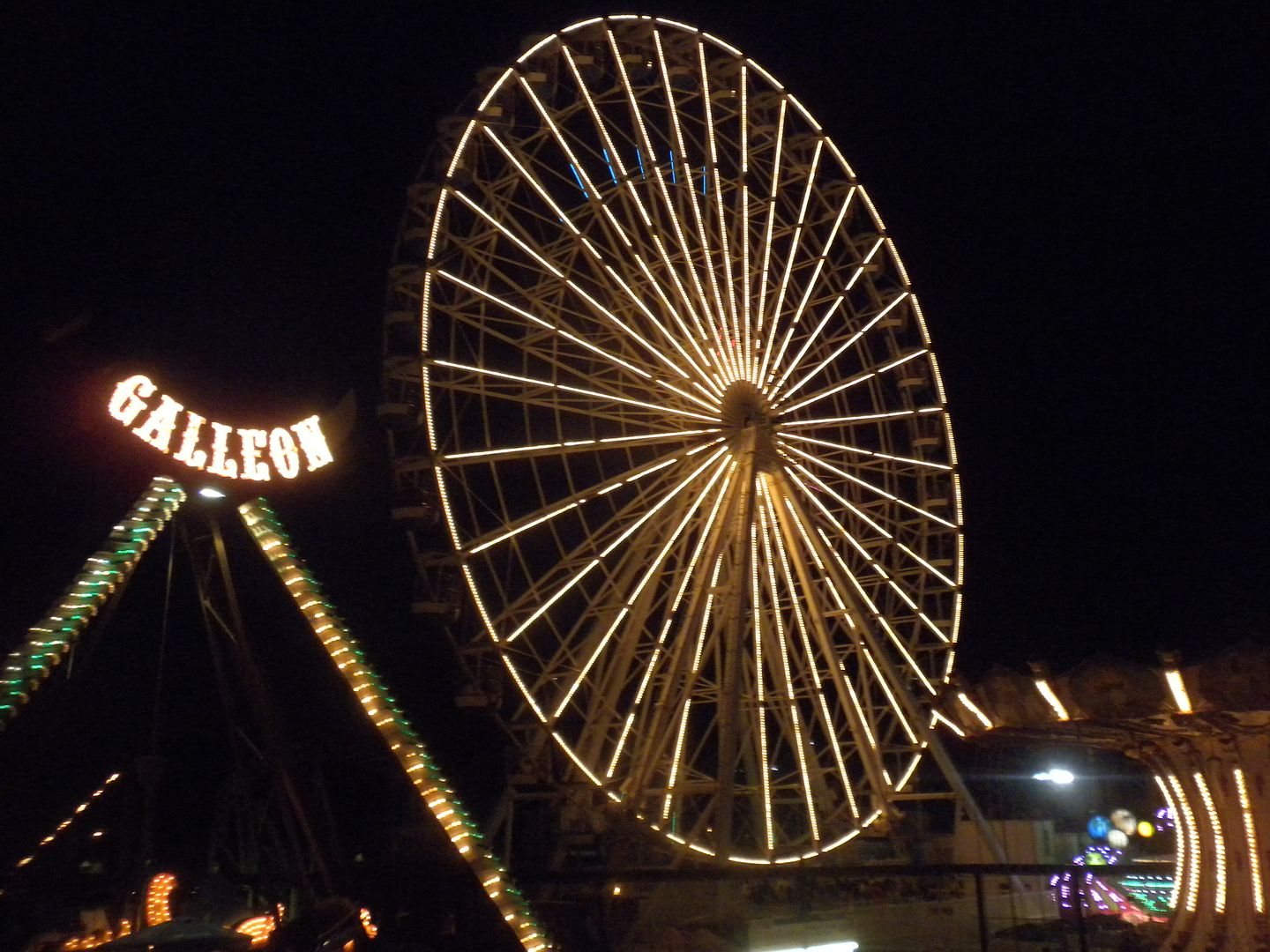 Giant Wheel: We could see Atlantic City from it – 1 ride.
MonoRail:


This gives a great tour of the park and you see their version of the Country Bear Jamboree in line – 1 ride.
We did not rides Moby Dick; Musik Express; Trabant; Tilt – A – Whirl; Swings; Galleon; Alien Abduction, a Gravitron; Scrambler; Airborne Shot; and Skooter Bumper Cars. There are 10 children's rides. We left for Atlantic City.
Steel Pier
After parking in the Trump Taj Mahal and cutting through the casino, we made our way to Steel Pier in Atlantic City, NJ. Operating since 1898, it was slated to close several years ago, but was saved. We had very limited time here.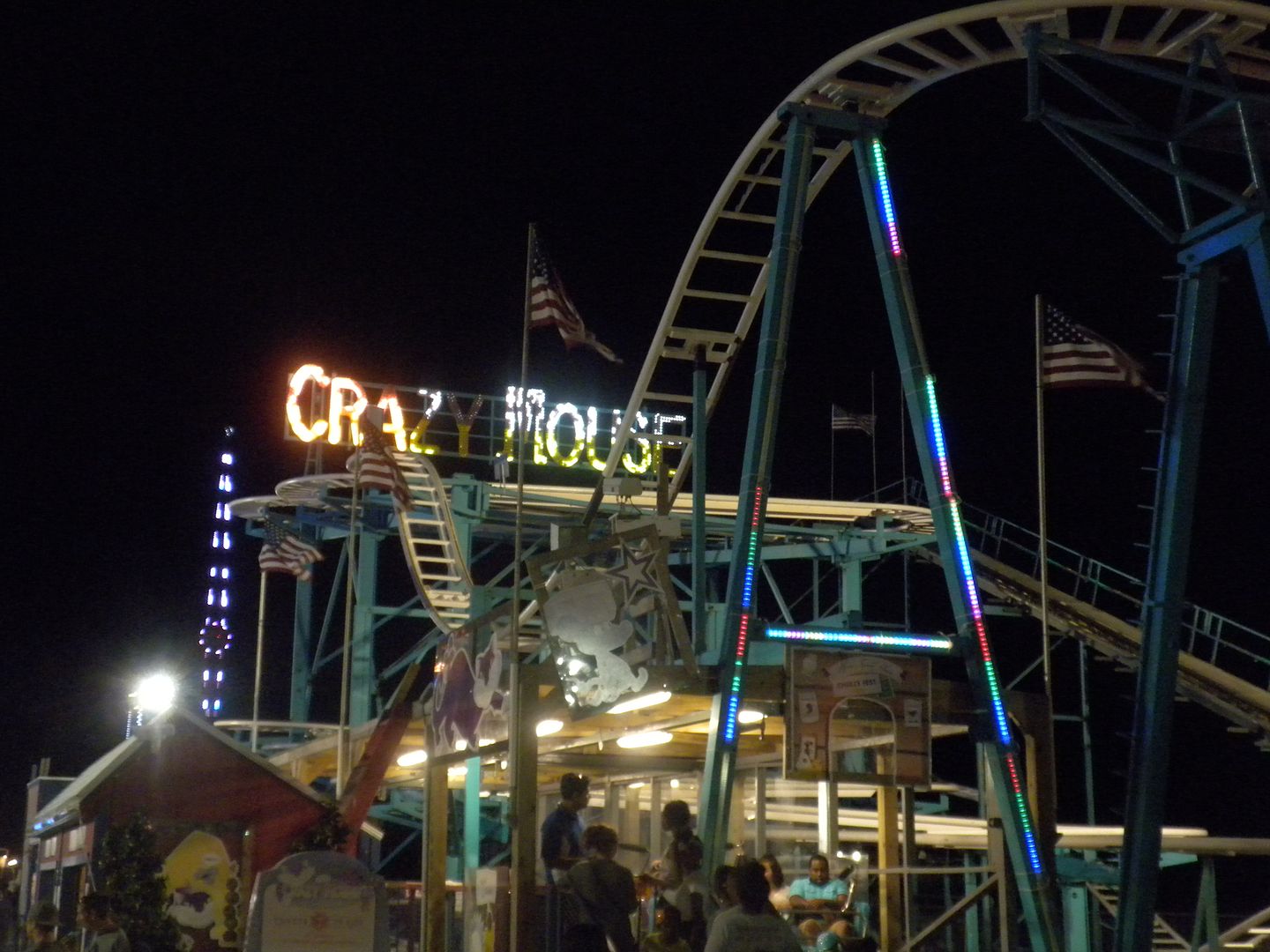 Crazy Mouse: (Reverchon, Spinning Wild Mouse, 1997/1999)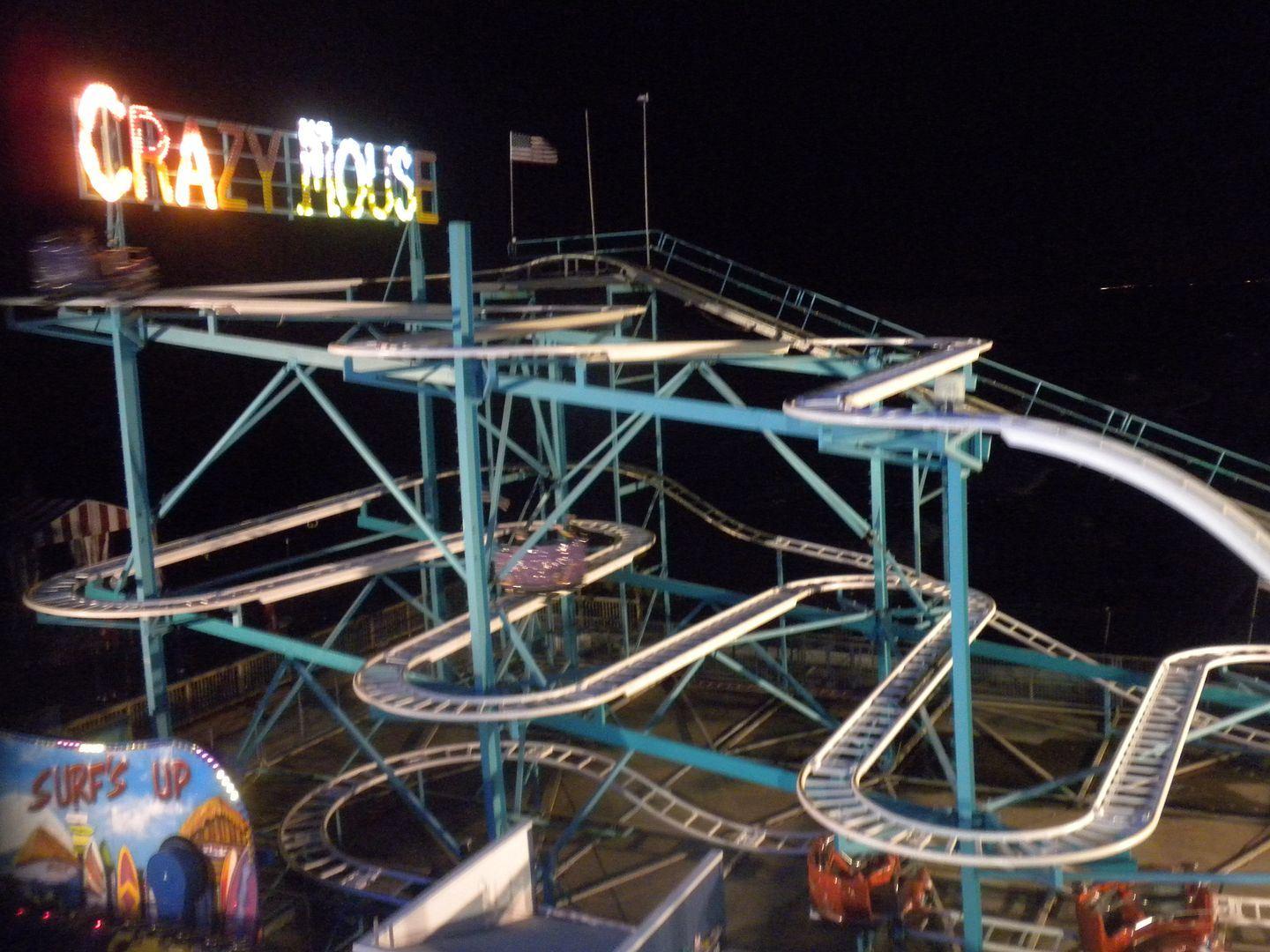 Relocated from Dinosaur Beach as Crazy Mouse, this is the first time I have gotten airtime on a mouse. We had a great ride – 1 ride.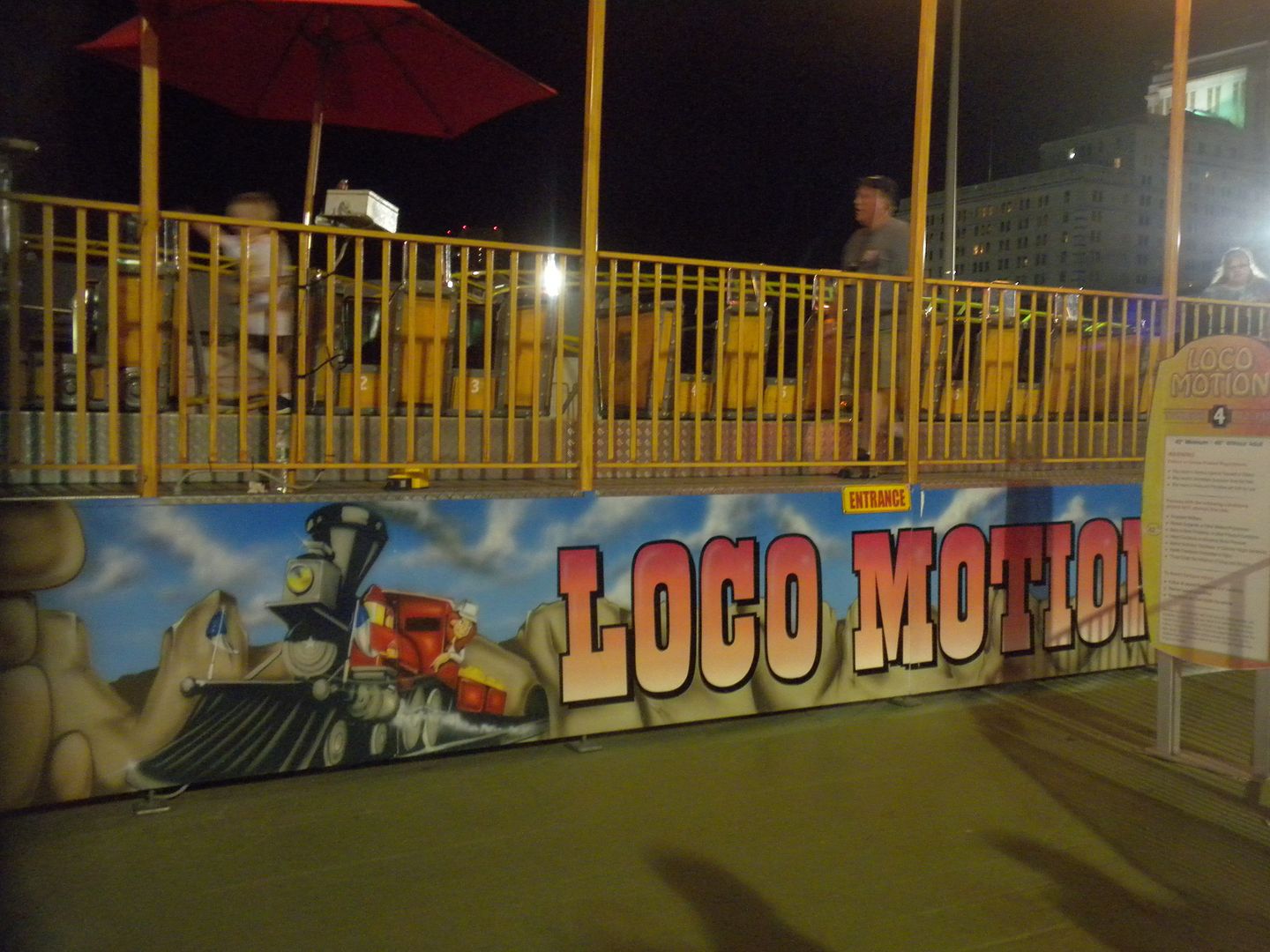 Loco Motion: (SBF Visa Group, Family Coaster, 2013) This coaster replaced Little Leaper/ Mini Mouse/ Big Top Side Show (B. A. Schiff & Associates, Kiddie, 1994-2012) for which I got the credit in 2010, so this was a new credit – 1 ride.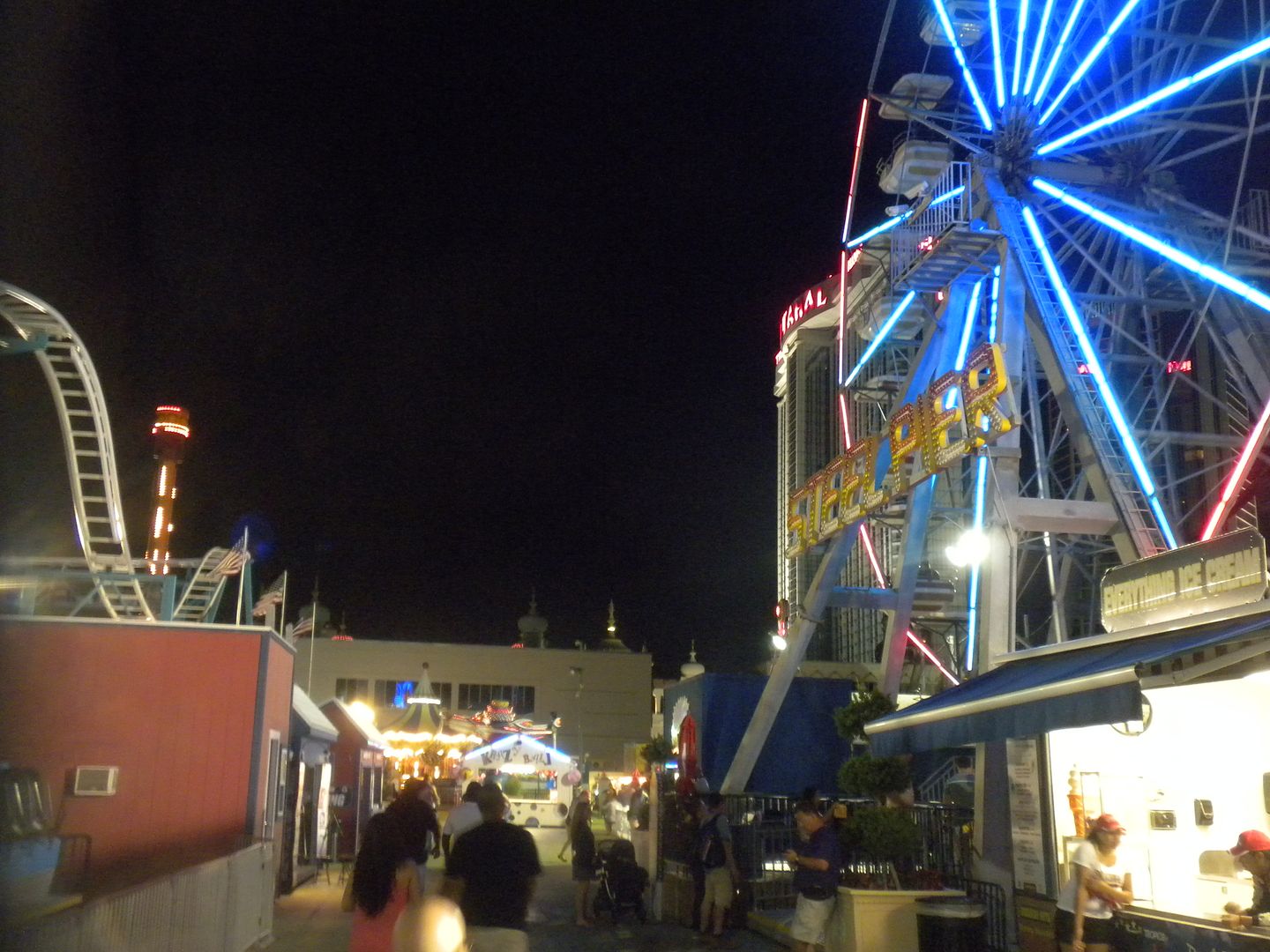 Pin Wheel: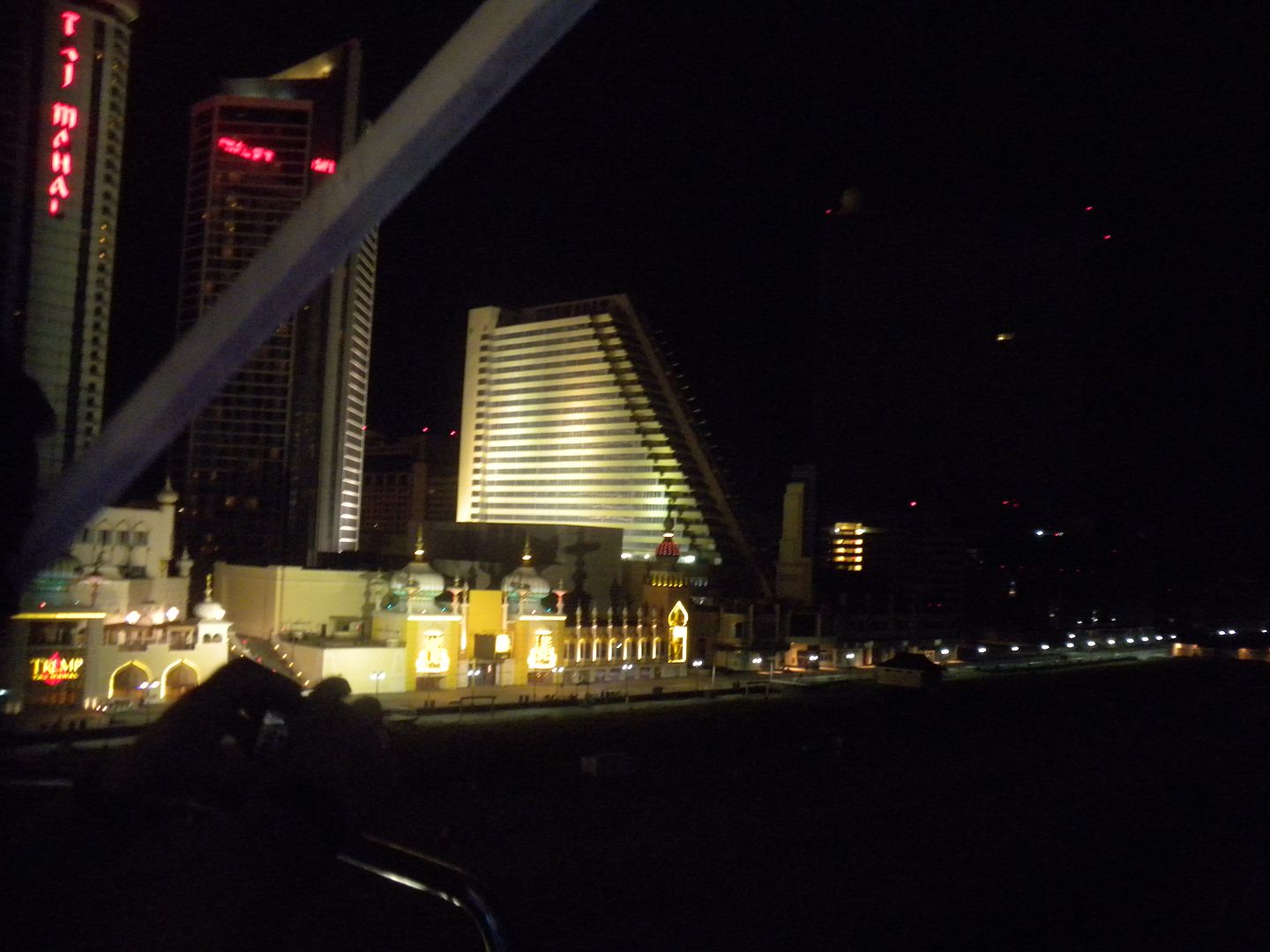 We rode this Ferris Wheel to view the Atlantic City coastline, which was beautiful at night – 1 ride.
We did not ride Monster Plunge, a drop ride; Grand Carousel, a double decker carousel; Flying Ace; Freedom Flyer, a pendulum; Hero's Flight; Joy Ride; Mighty Stampede; Pirate; Rock N Roll, a Himalaya; Sugar Sugar; Surf's Up, a Rainbow type ride; Swing Carousel; and Demo Derby, bumper cars. They have 6 children's rides and 2 upcharge attractions, SlingShotAC and Mix. We left for our hotel to prepare for my first return to Seaside Heights since Sandy.

Casino Pier
On Saturday, June 27 we went to the Seaside Screams regional ACE event at Casino Pier in Seaside Heights, NJ. As we walked to the Boardwalk and got a view of the pier, it hit me how much shorter it is than on my previous visit. Operating since 1932, this park was devastated by Superstorm Sandy in 2012. This was one of the main places I wanted to visit to show my support as they recover from such a devastating event.


We walked down the Boardwalk to the almost unrecognizable site of Funtown Pier in Seaside Park. As if having the entire pier collapse during Sandy wasn't enough, the remaining businesses suffered a fire a year later, destroying the already rebuilt Boardwalk.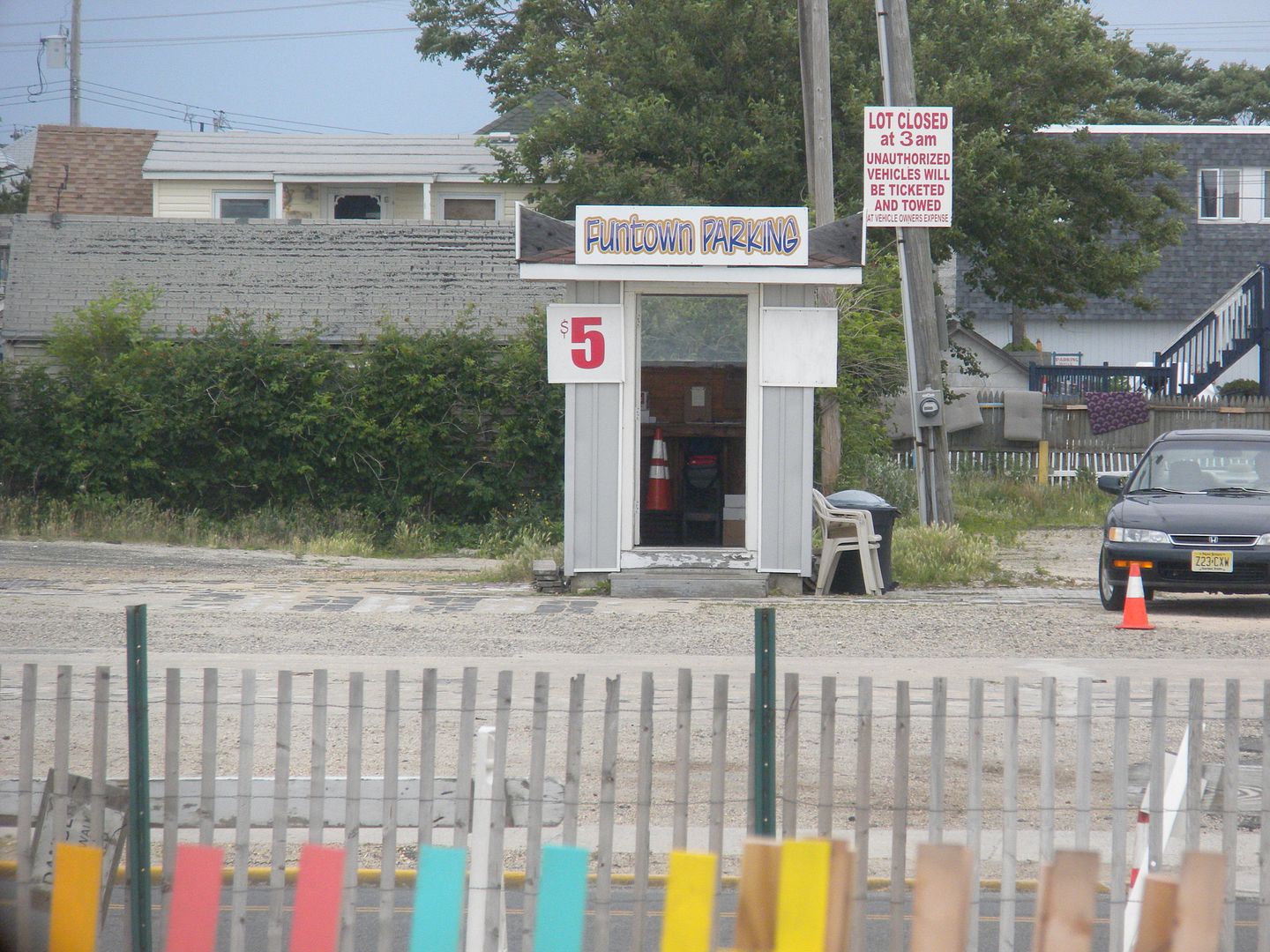 The parking lot still bears the Funtown sign.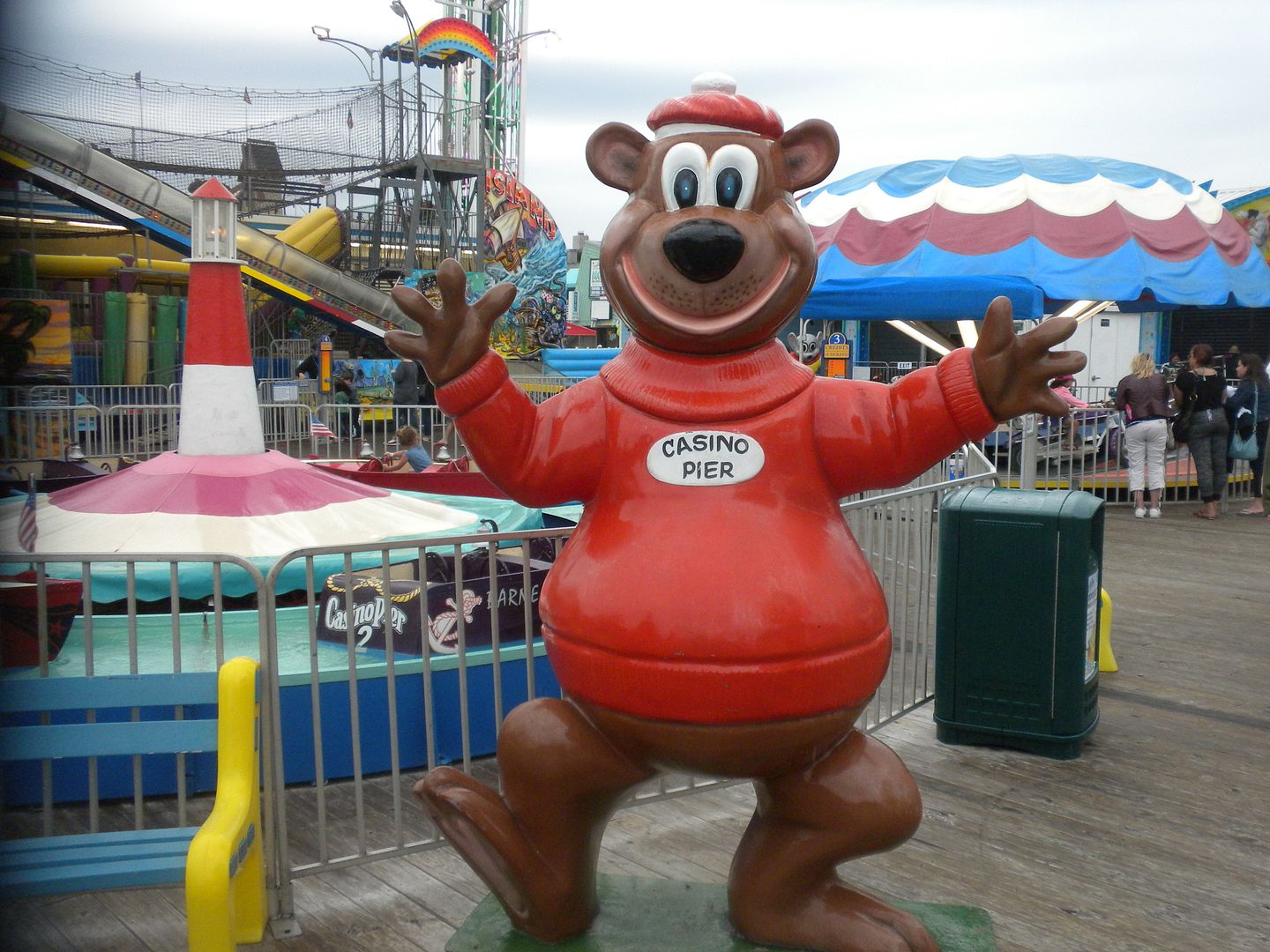 Back at Casino Pier our event got underway with ERT on most of the rides.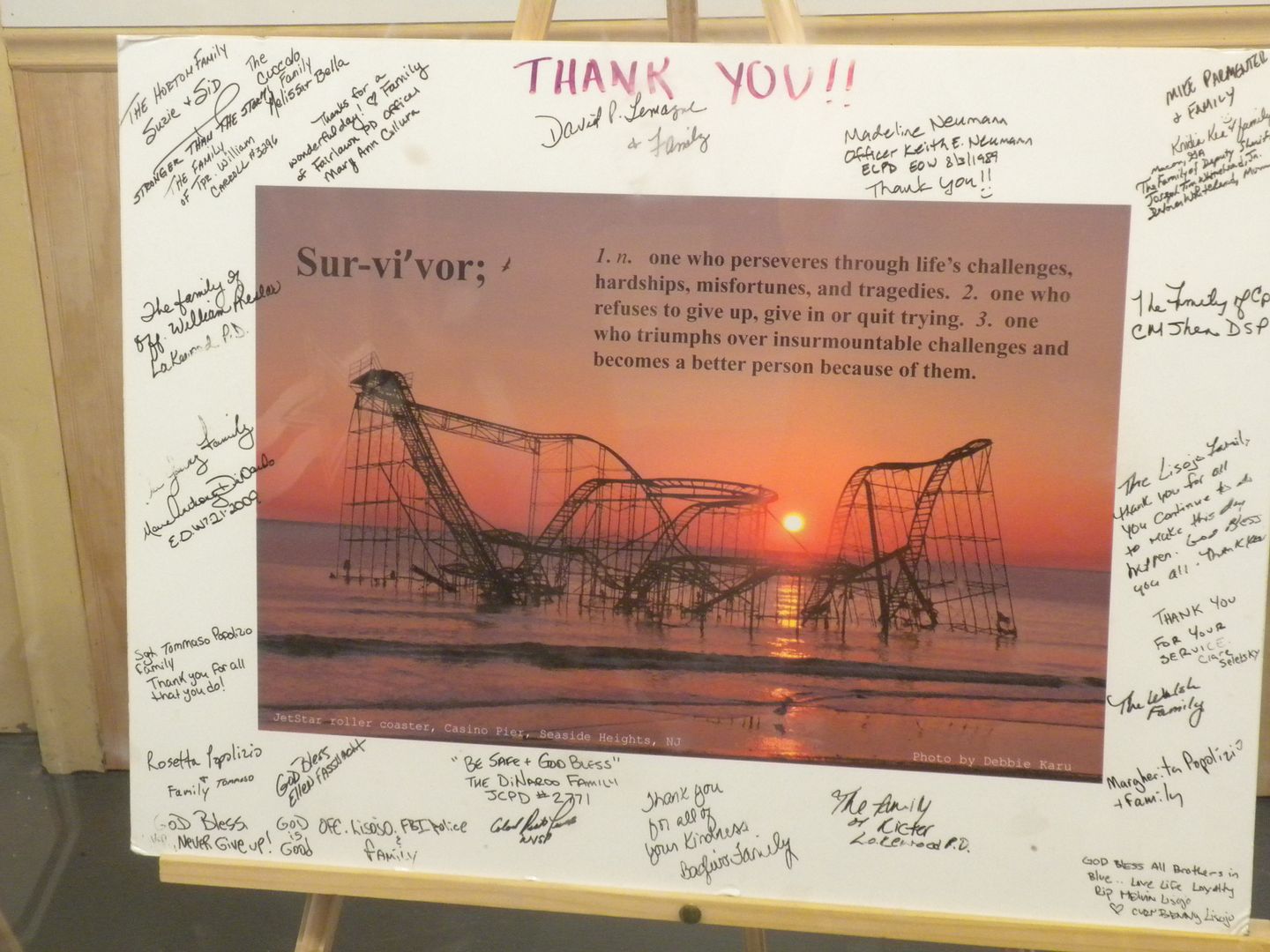 While I had the credits on the coasters (and 2 destroyed [Star Jet (E&F Miler, Steel, 2002-2012)]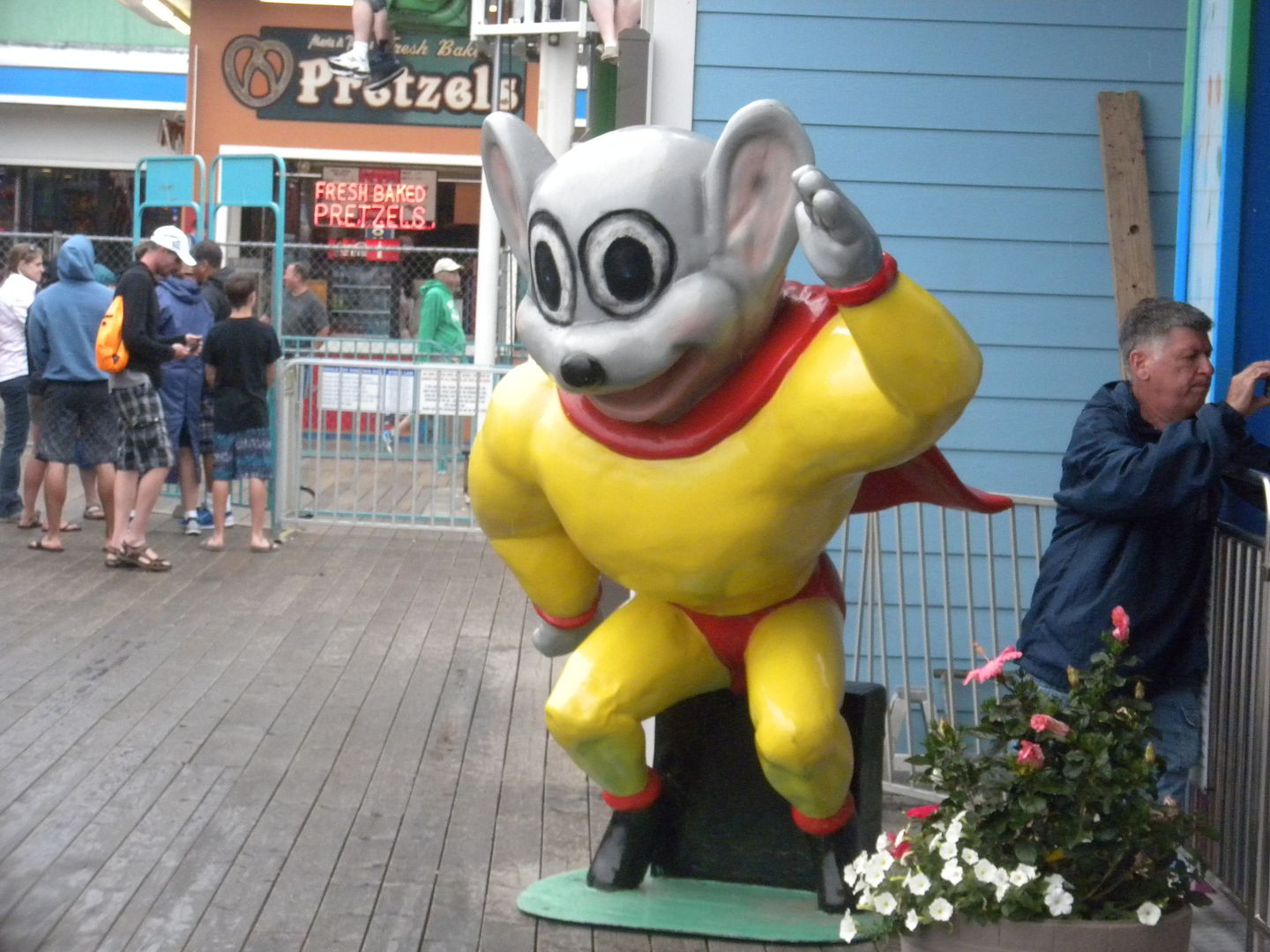 or damaged [Wild Mouse (E&F Miler, Wild Mouse, 1999-2012), now operating at Scandia Family Fun Center in Sacramento, CA as Crazy Dane Coaster] by Sandy), I looked forward to this revisit.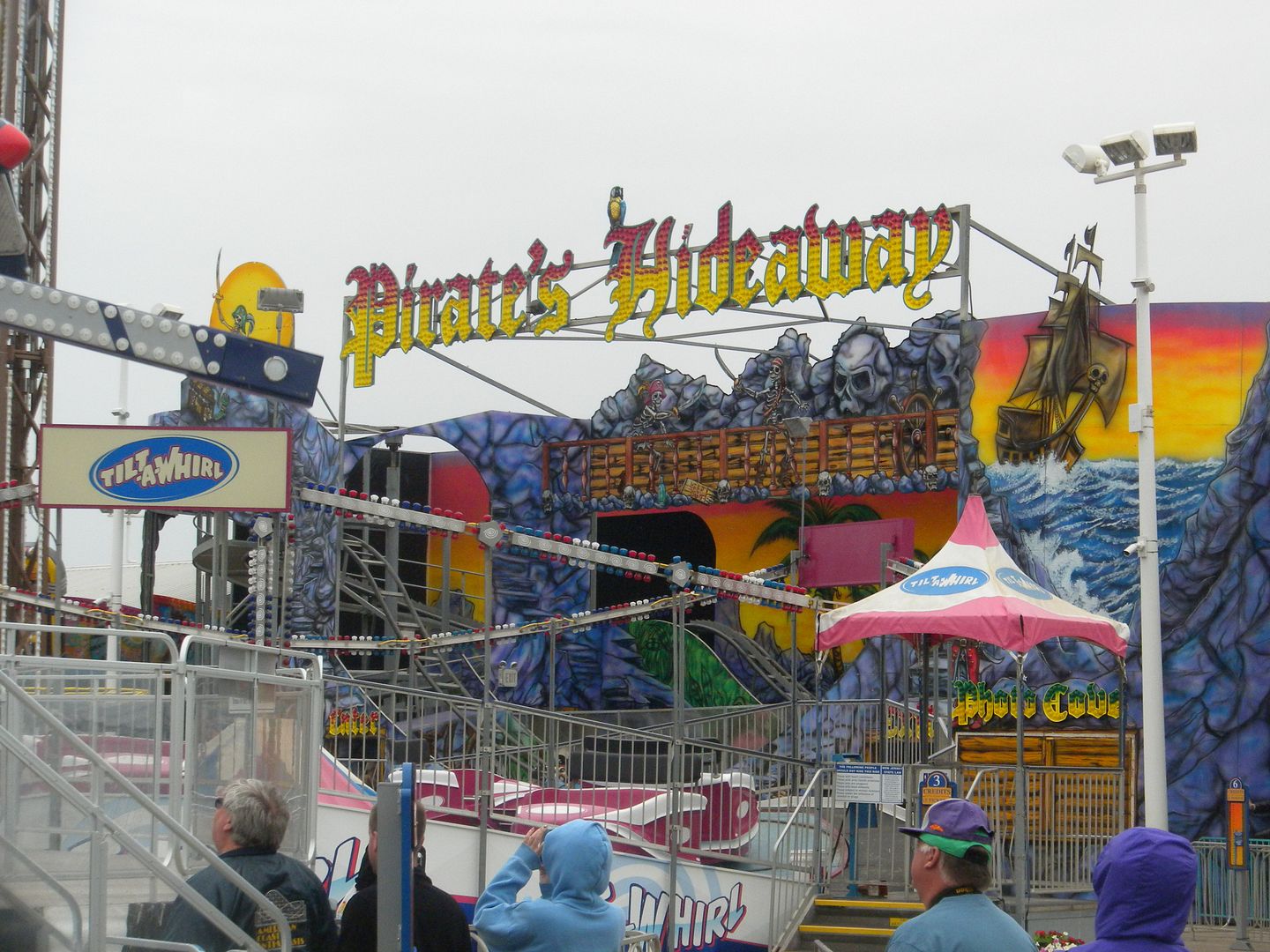 Pirate's Hideaway: (Wisdom Rides, Partially Enclosed Coaster, 2007) Partially enclosed with a unique spiral lift, this harkens back to enclosed coaster/darkrides like Wizards Cavern/Love Bugs (Mack Rides, Enclosed Family Coaster, 1962/1964/1967/1972/?-2003), once here, after relocations from Fun Forest, Cedar Point, Palisades, and Canadian National Exhibition. It has no darkride elements but is a fun ride – 2 rides during ERT.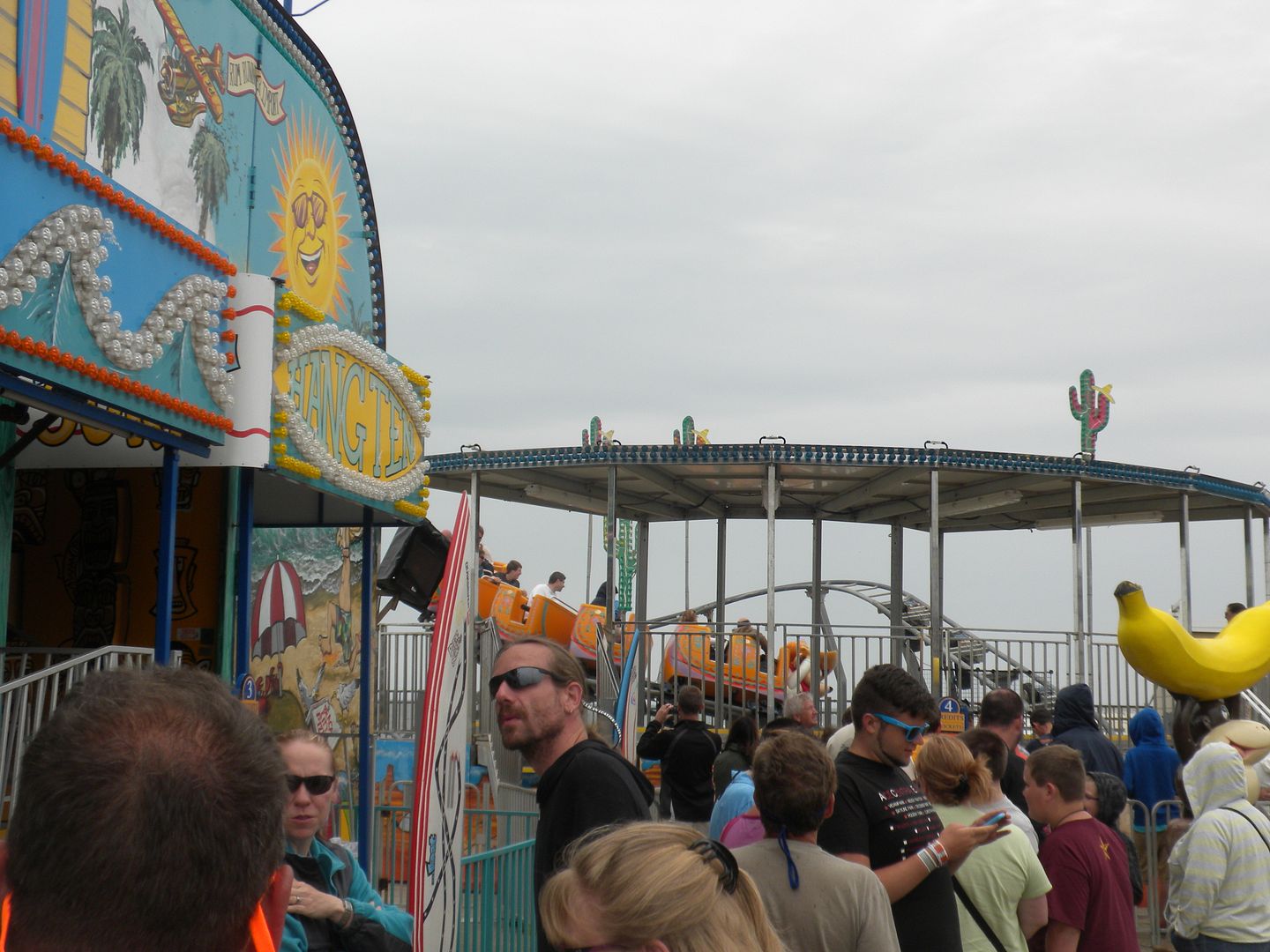 Hot Tamales: (L&T Systems, Kiddie Coaster, 2003) This gives a good ride – 1 ride during ERT.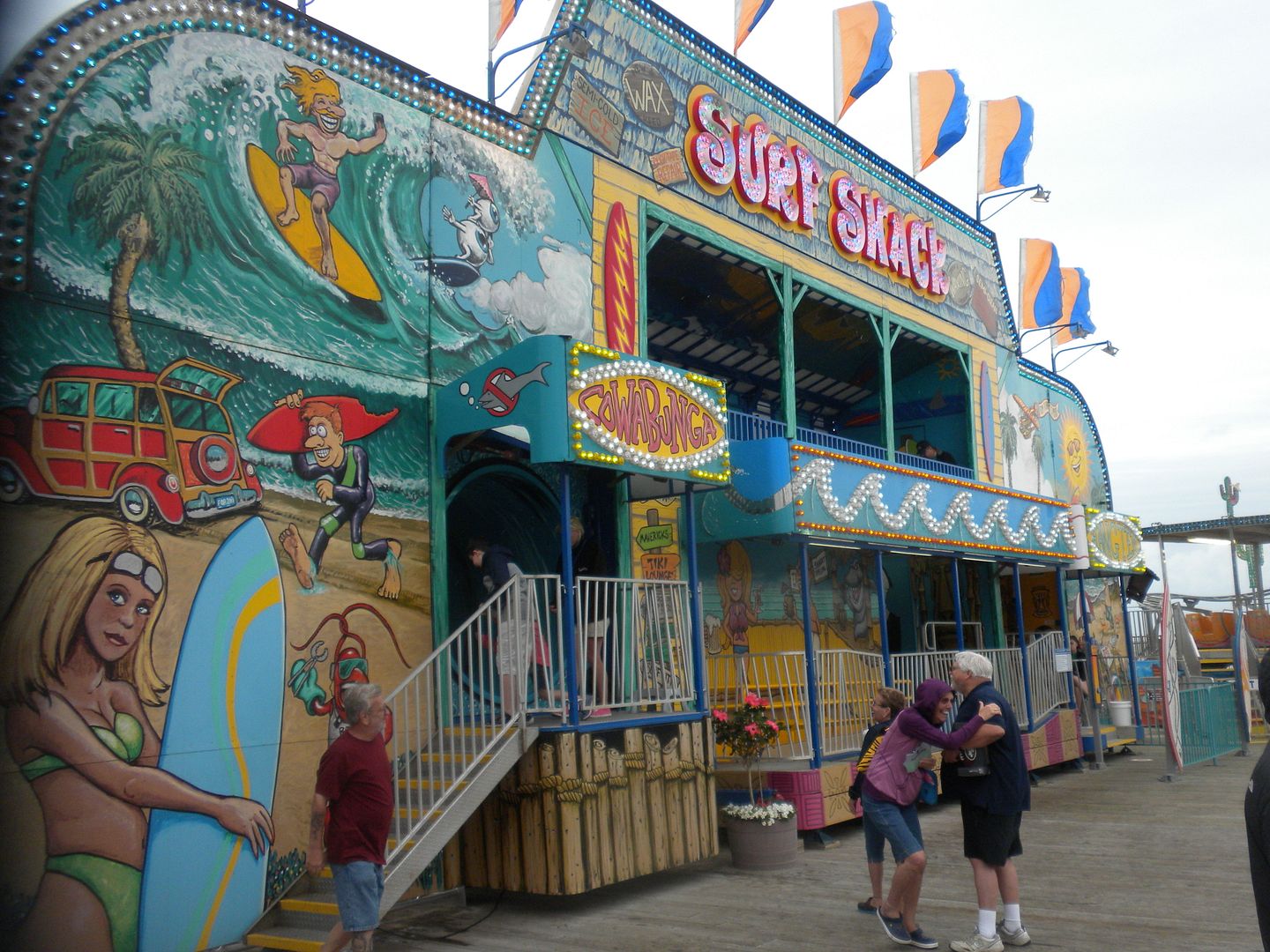 Surf Shack: This is a good standard funhouse, like the one at Playland's Castaway Cove – 1 walkthrough during ERT.
Pirate's Plunge: This drop and bounce tower is good – 1 ride during ERT.
Shore Shot: This 125 foot tower drop ride is good – 1 ride during ERT.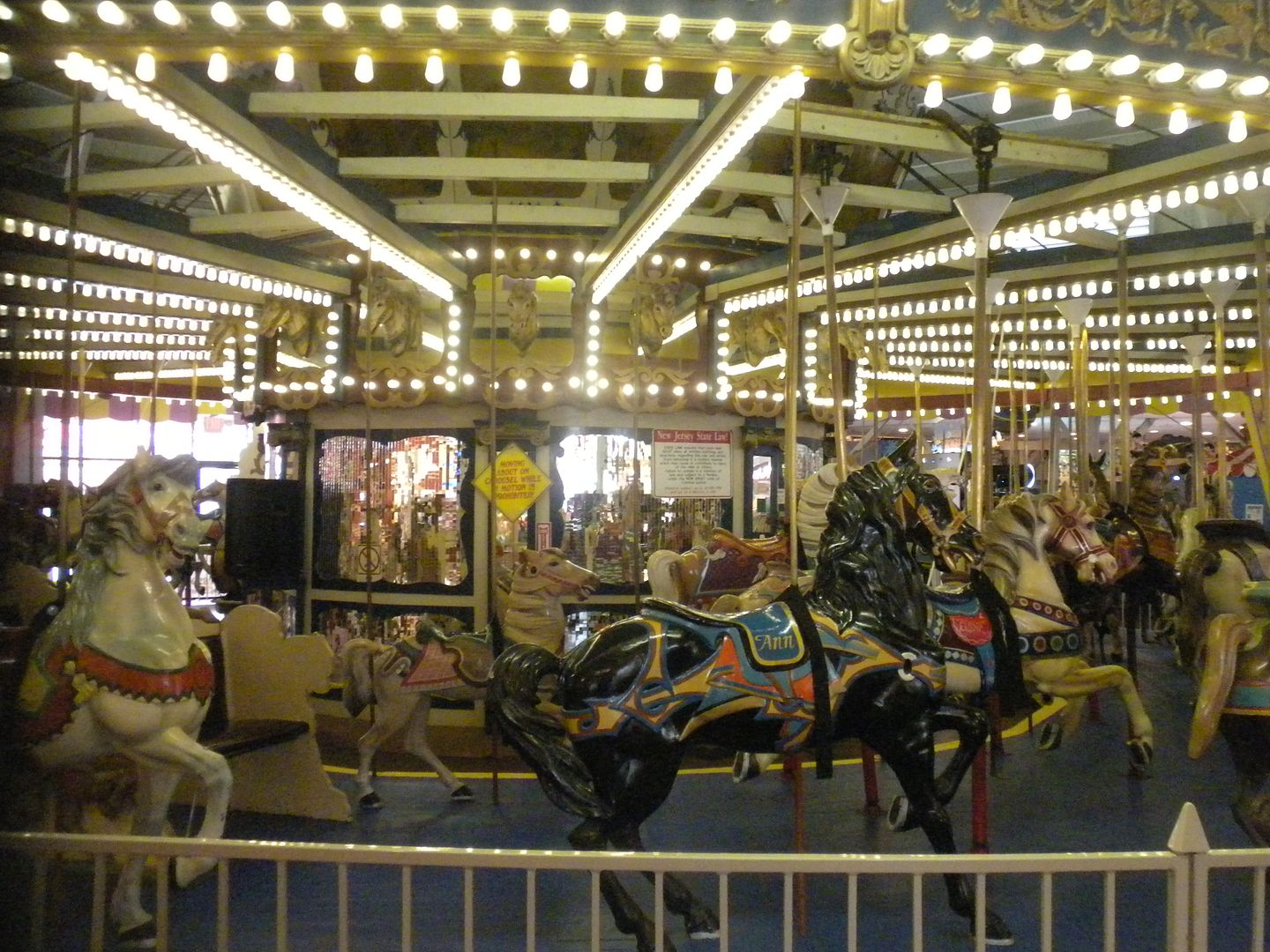 Dr. Floyd L. Moreland Carousel: (Dentzel/ Looff; Classic Wood Carousel -35 Jumping Horses, 18 Standing Horses, 5 Animals, 2 chariots; 1910) Original Location Unknown, Date Unknown; Island Beach Park, Burlington, NJ, Date Unknown-1920s; Casino Pier, Seaside Heights, NJ, 1932-present. Music is provided by the only continuously operating Wurlitzer Military Band Organ in NJ.


It is in great shape and gave a good ride. The park considered selling it to rebuild the pier, but thankfully they have decided to keep it operating by working a deal with the city – 1 ride.


Air Race: This was our second of these in 2 days. They are fun but intense – 1 ride.
Disk'O: This gave a good ride looking down the beach and at the water – 1 ride.
Tilt-A-Whirl: Good ride – 1 ride.
Wave Swinger: With the wind blowing this became bumper swings – 1 ride.
Bumper Cars: These were good – 2 rides.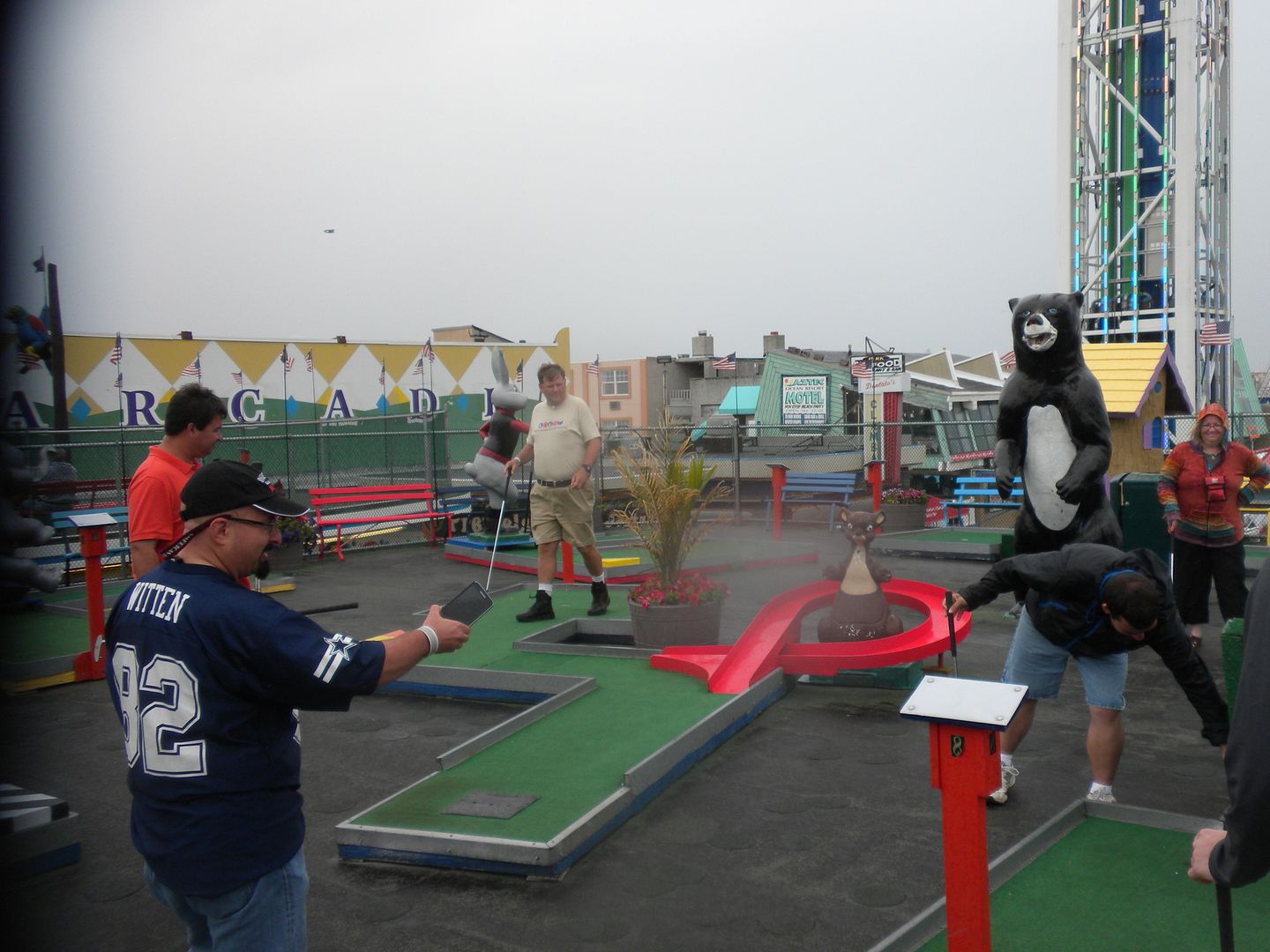 Wacky Rooftop Golf: While an extra charge, it was included for us. It was fun but is slated to be removed – 1 play.
We did not ride Moby Dick or Musik Express. Superstorm, a swinging pendulum ride named after Sandy, was not operating.


I wanted to ride Sky Ride, which has been installed along the Boardwalk, but it was too windy to operate. There are 7 children's rides. Upcharge attractions include Skycoaster, Skyscraper, and Go-Karts.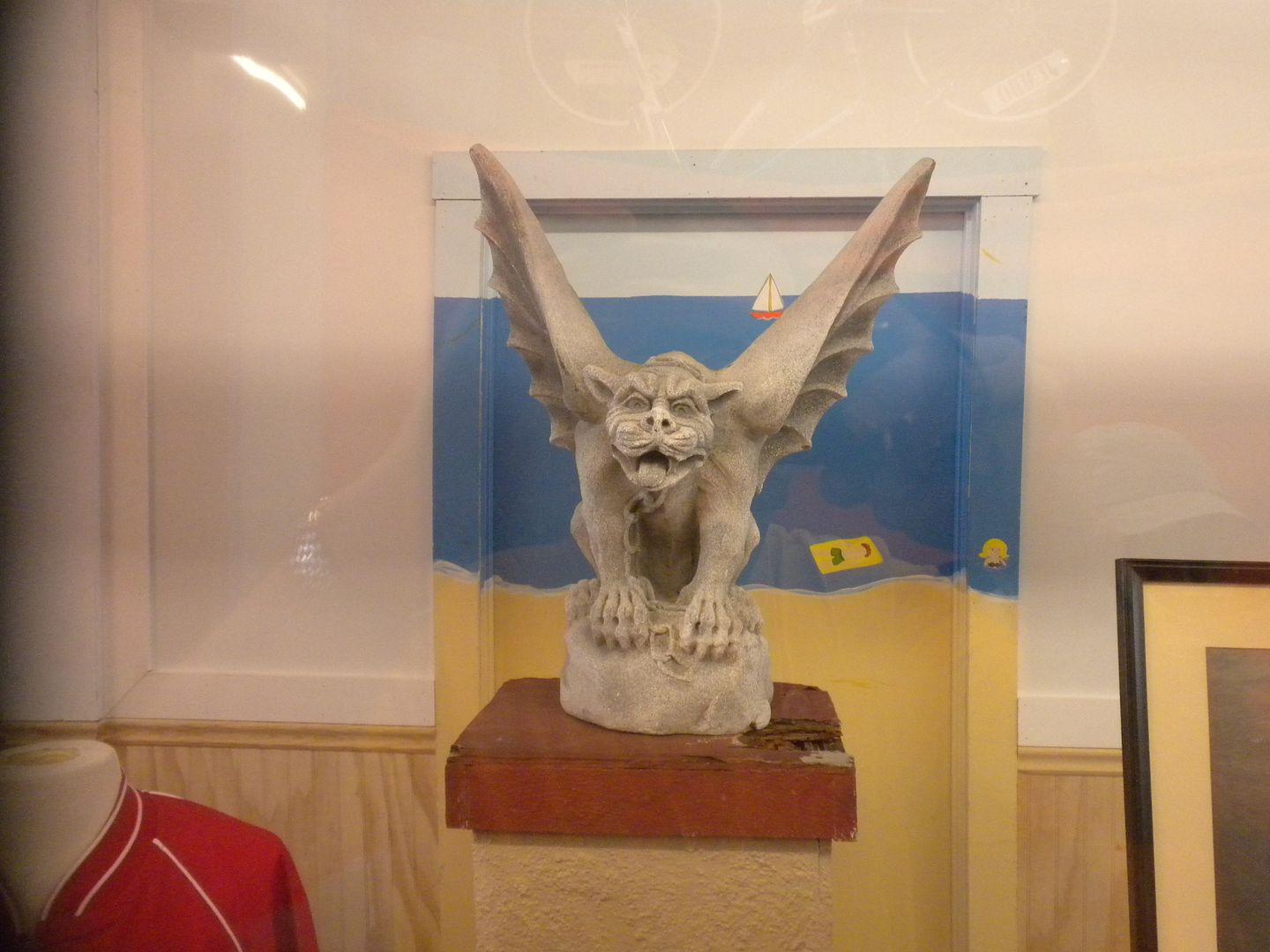 There was so much that was lost at this park, especially the wonderful Stillwalk Manor darkride. They plan to rebuild along the beach rather than into the water.


It will be good to watch as this park continues to recover.


We had the best pizza meal of our trip at Maruca's, where the sauce is swirled on top of the cheese. We dealt with rain and wind all morning, but it seemed worse after lunch. After a few last rides, we left to attempt the rest of our stops this day.
Blackbeard's Cave
Our next stop was Blackbeard's Cave in Bayville, NJ, a family entertainment complex. Dragon (Wisdom, Flying Dragon Family Coaster, 2001) was not operating due to rain. The park has Bumper Boats; Go-Karts; Archery; Batting Cages; Climbing Wall; Driving Range; Boxing; and Miniature Golf, along with children's rides in Adventure Station.
Jenkinson's Boardwalk
As we arrived at Jenkinson's Boardwalk in Point Pleasant Beach, NJ, the rain was picking up. Rides were running so we went to the coasters. As we walked onto the platform of Flitzer (Zierer, Flitzer, Unknown Date) we were told it was being shut down due to rain. We soon learned the same was true of Tornado (Zamperla, Powered Family Coaster, Unknown Date). While I had the credits, some did not. We went to the attraction we knew would be open.
Fun House: This is perhaps the best funhouse in the U.S. as it is a custom build that contains many classic funhouse elements. We enjoyed our time in here – 1 walkthrough.
Other rides include Dark Ride at South Beach Arcade, a "7D" interactive movies 'Zombies!' and 'Gigamon' (not sure what the 7 Ds are); Carousel; Wave Swinger; Starship, a Gravitron; Tilt-a-Whirl; Moby Dick; Pendolo, a pendulum; Super Himalaya; Bumper Cars; and Train, which encircles the kiddie rides. They have 16 kiddie rides. Other attractions include Rooftop Golf, Castaway Cove Mini Golf, and Lighthouse Point Miniature Golf. Once out of Funhouse we went to check on the coasters but learned they decided to send workers home and close for the day.
State Fair Meadowlands
Our next plan was to go to the New Jersey State Fair at the Meadowlands in East Rutherford NJ. Considering the weather, we made the tough decision to not go as we feared ride would be closed. We returned to our hotel and found a place for dinner. Since Richard and Tina were driving, they went to the fair the following night. They rode Crazy Mouse (Reverchon, Spinning Wild Mouse, unknown year) and Wacky Worm (Fajume, Wacky Worm, unknown year) and as is usually the case, adults were not allowed to ride Go Gator (Wisdom, Kiddie Coaster, unknown year), all operated by Amusements of America. Zyklon (Pinfari, Zyklon Galaxi, year unknown) operated by James E. Strates Shows was to be at the fair, but was not there. Several darkrides/walkthroughs were there, but they did have time for them. Following our Saturday dinner we returned to the hotel before for our final day at Coney Island.

Luna Park
On Sunday, June 28, we drove into New York City to Coney Island for Luna Park Fest V at Luna Park in Brooklyn, NY. Operating since 1927, its previous iteration, Astroland, closed several years back and was replaced by Luna Park, a nod to the former Coney Island park that operated in the early 20th century across Surf Avenue. This was my first visit since Astroland closed, having been to that park 3 times. We arrived for ERT before the park opened.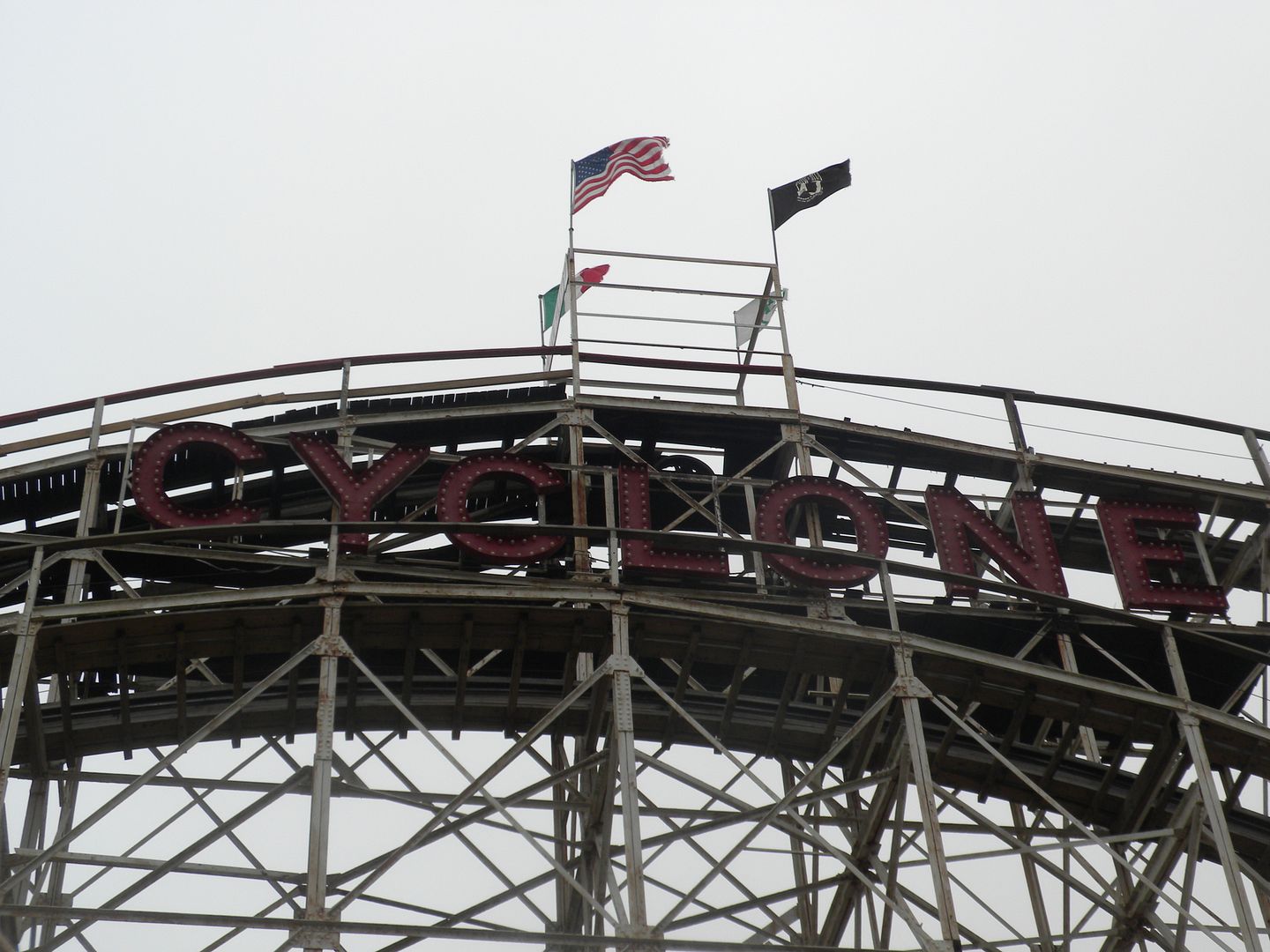 Cyclone Roller Coaster: (Harry C. Baker, Wood, 1927)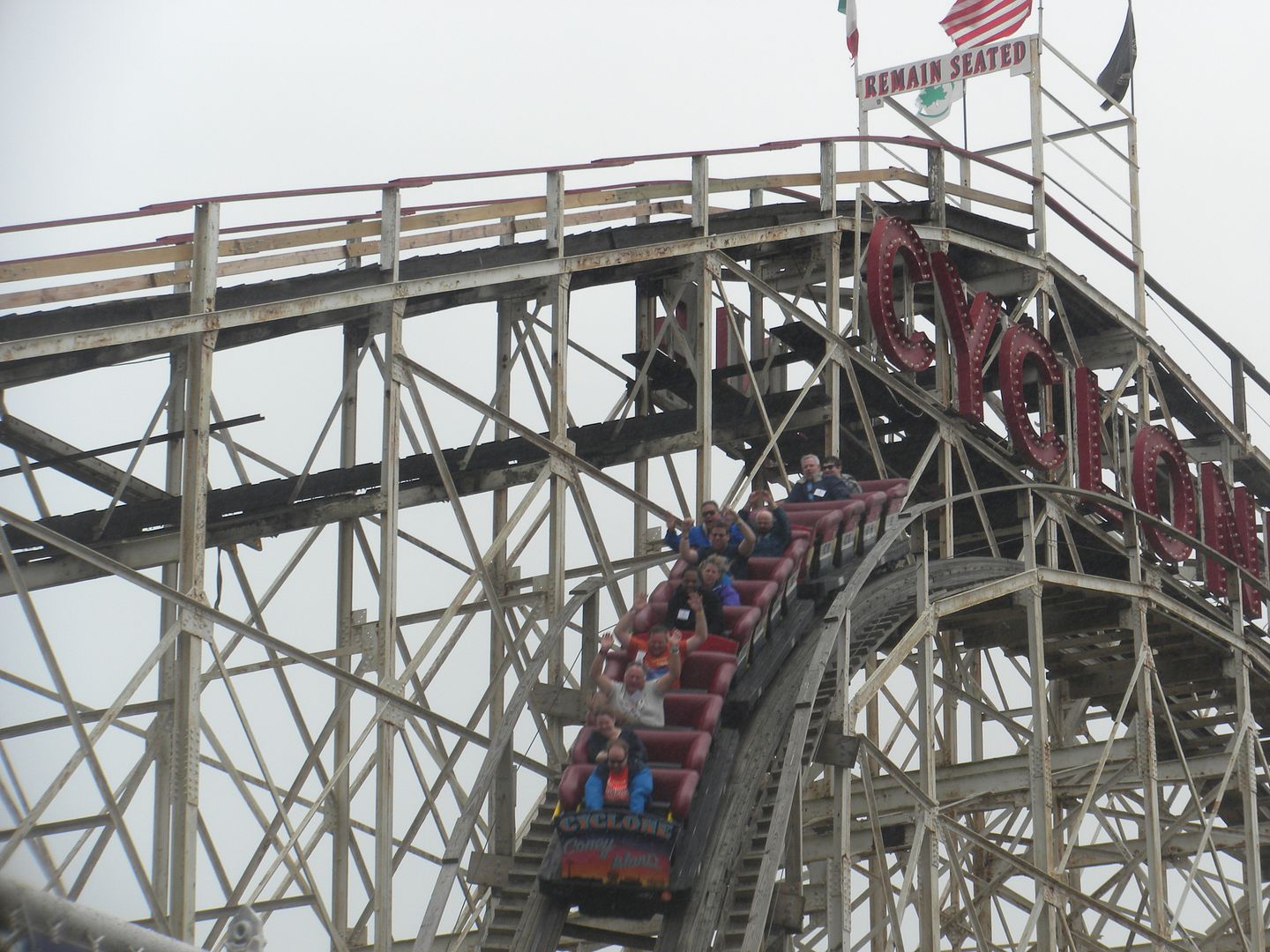 Of course the star of the show is this classic coaster,


perhaps the best known wood coaster in the world. This was the first time I have ridden it since the retracking.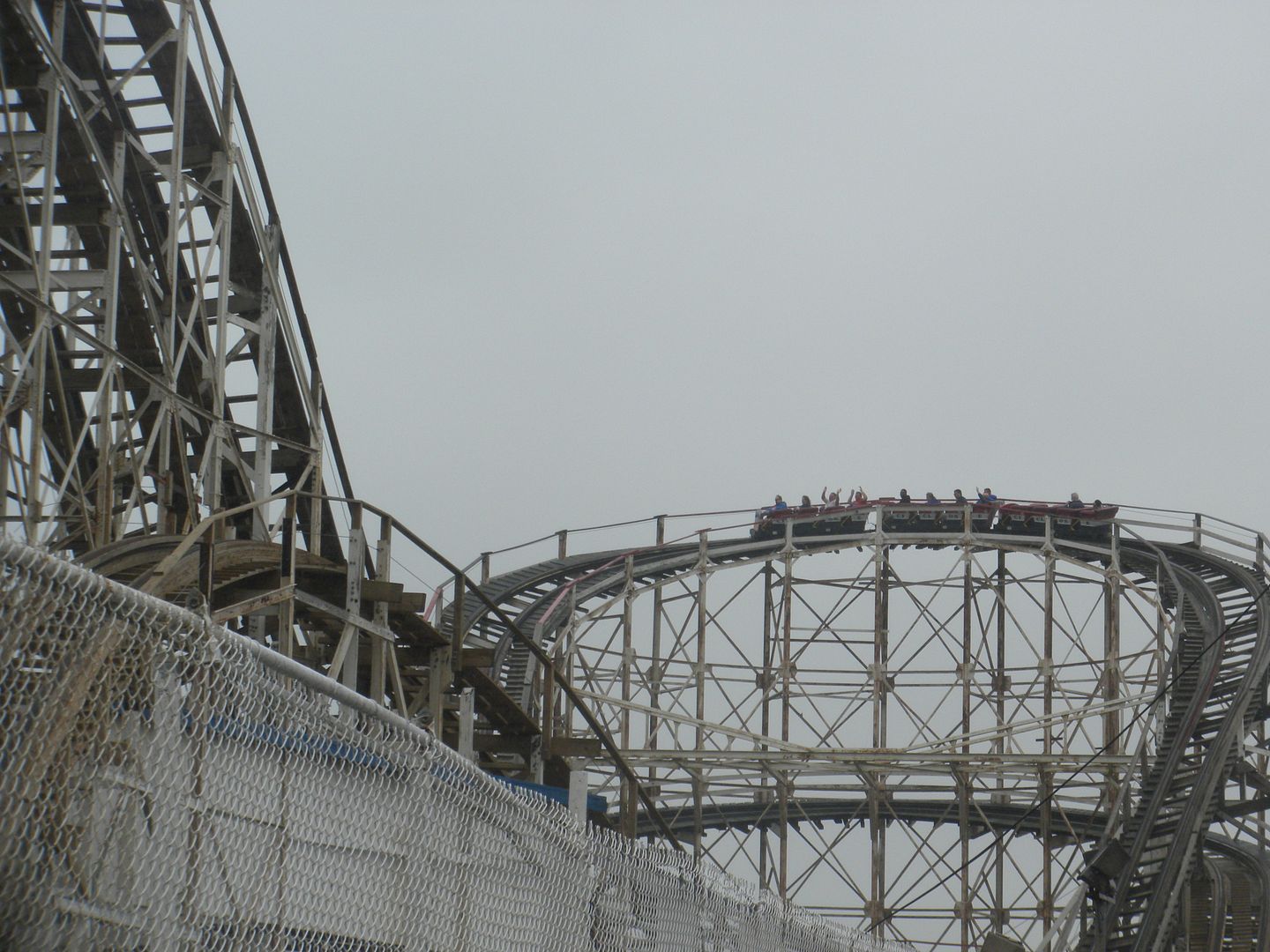 It may not be quite as intense as it was previously, but it is very smooth and rides good, which I prefer to super intensity.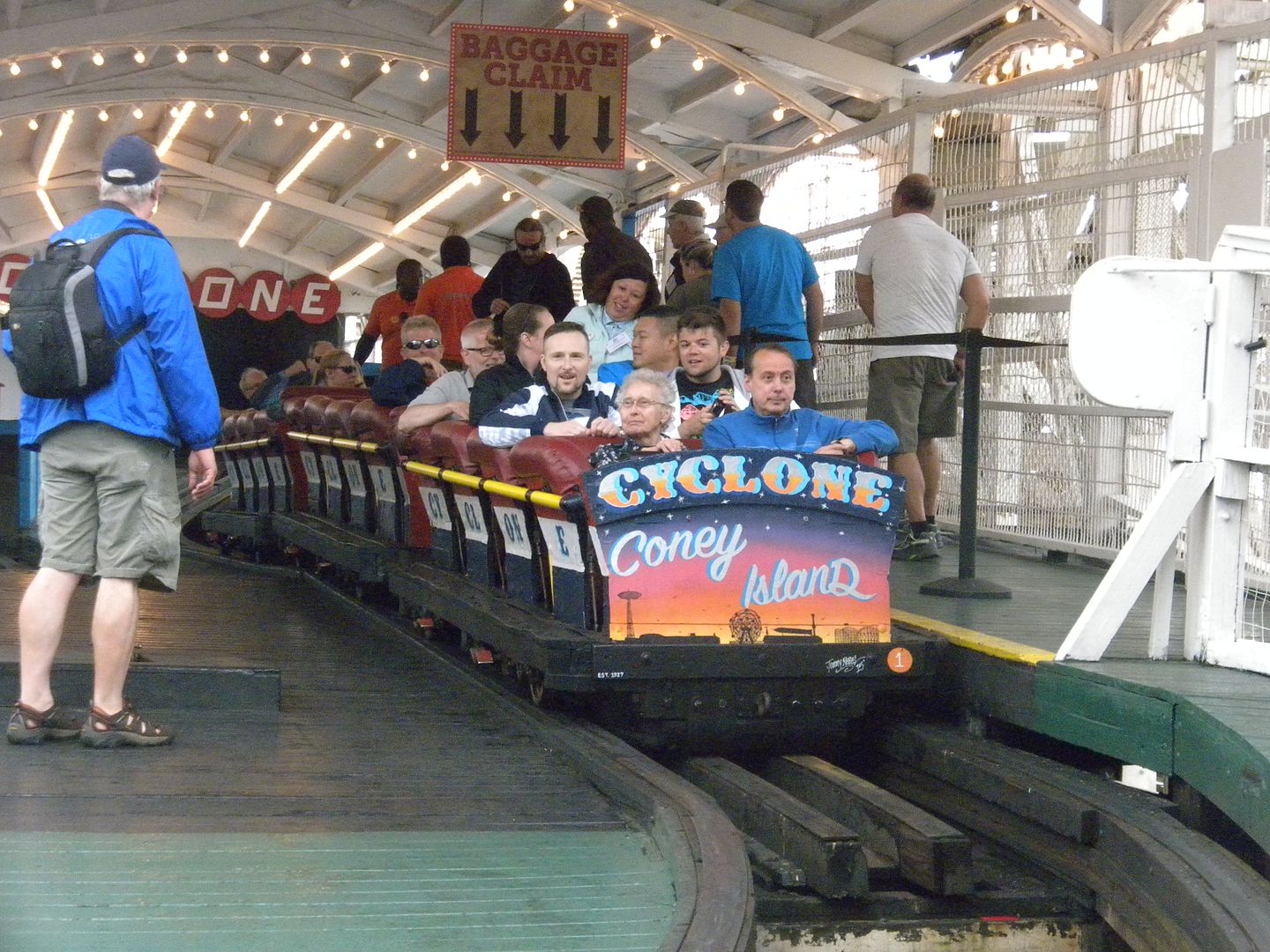 We had 30 minutes of ERT which afforded 2 rides and we were also given 3 entitlements to rides not on the wristband.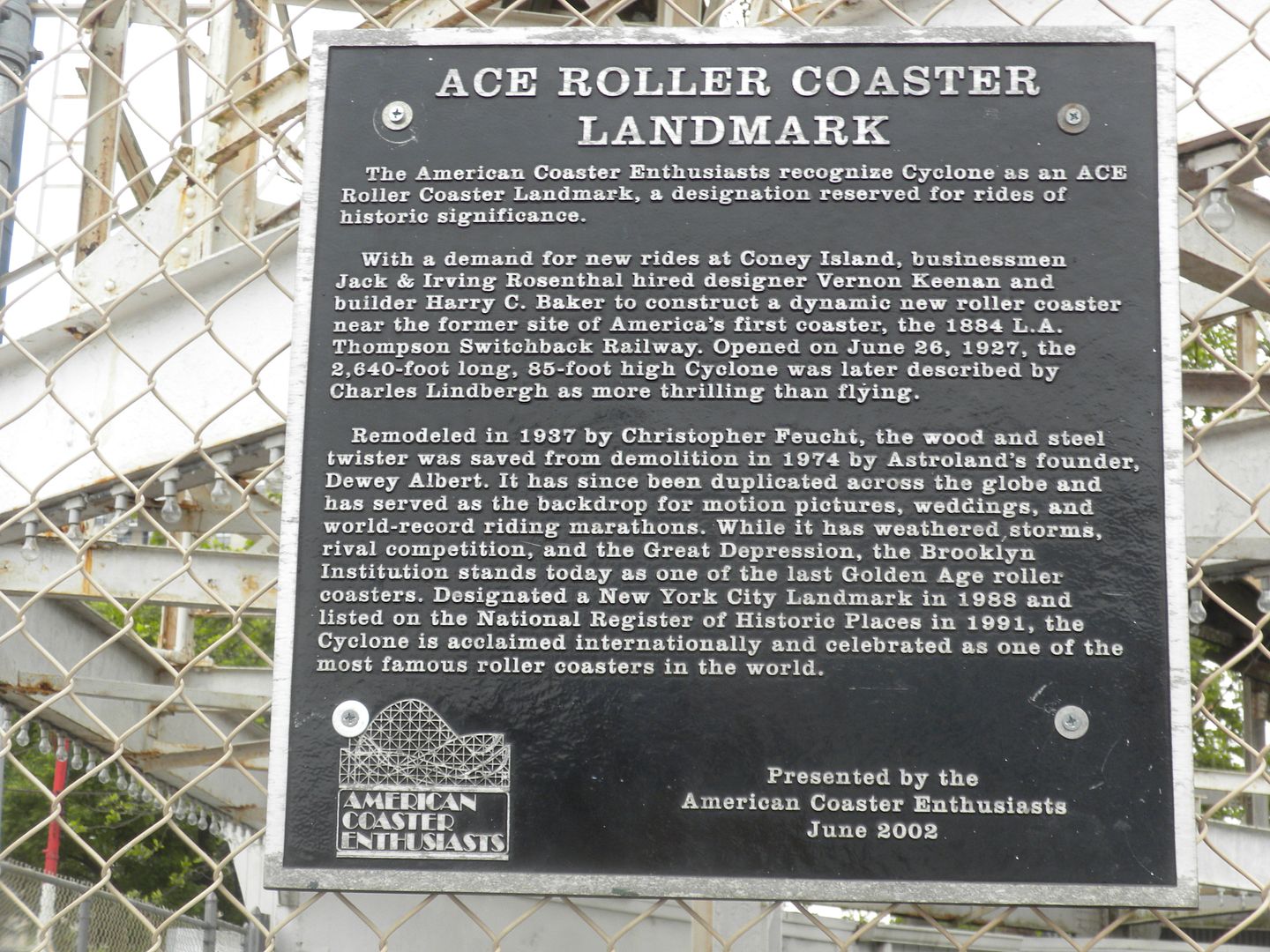 I planned to use 2 of these for the Cyclone, but it had problems and did not reopen that day – 2 rides during ERT.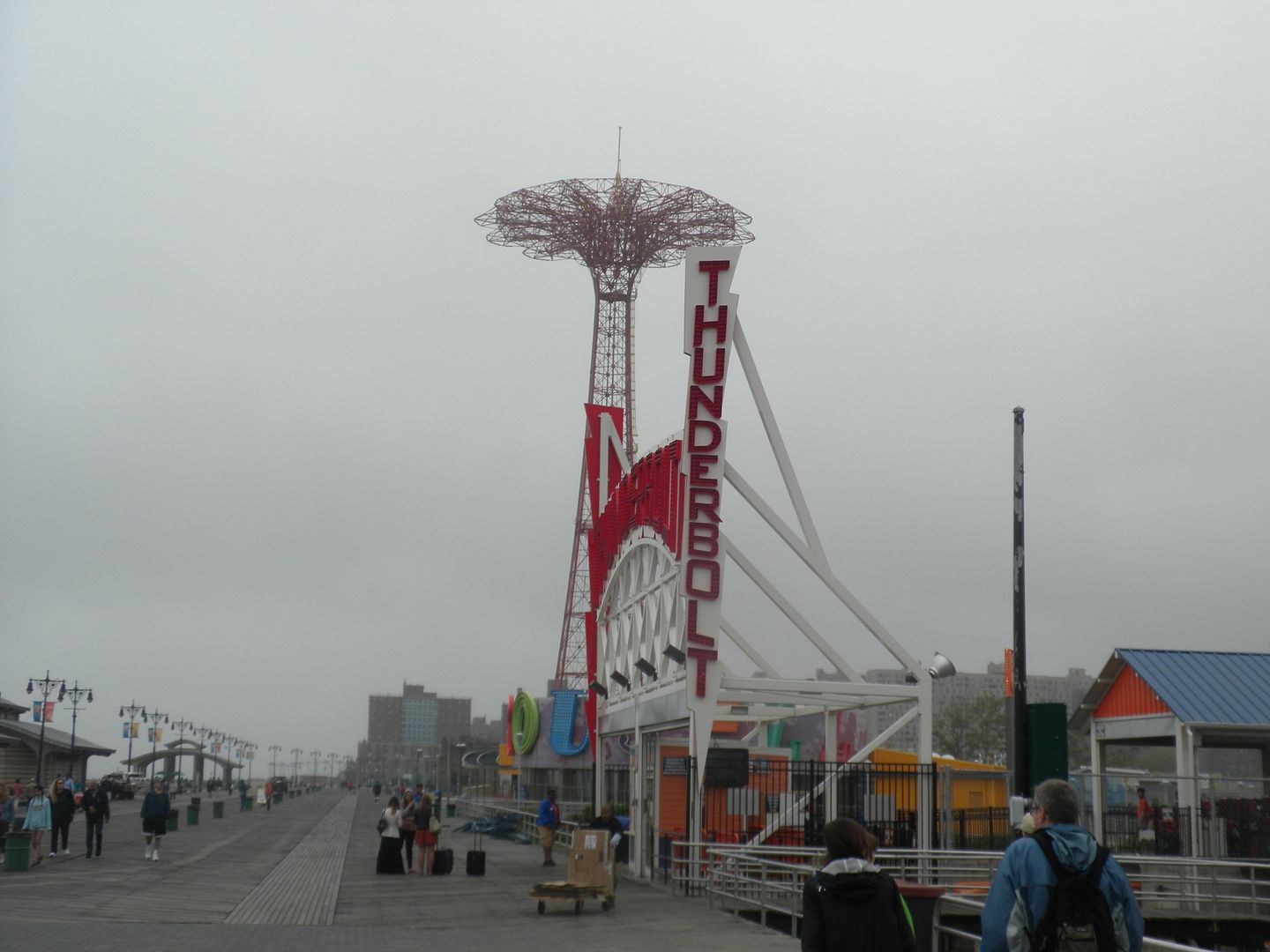 Thunderbolt: ( Zamperla, Steel Looper, 2014)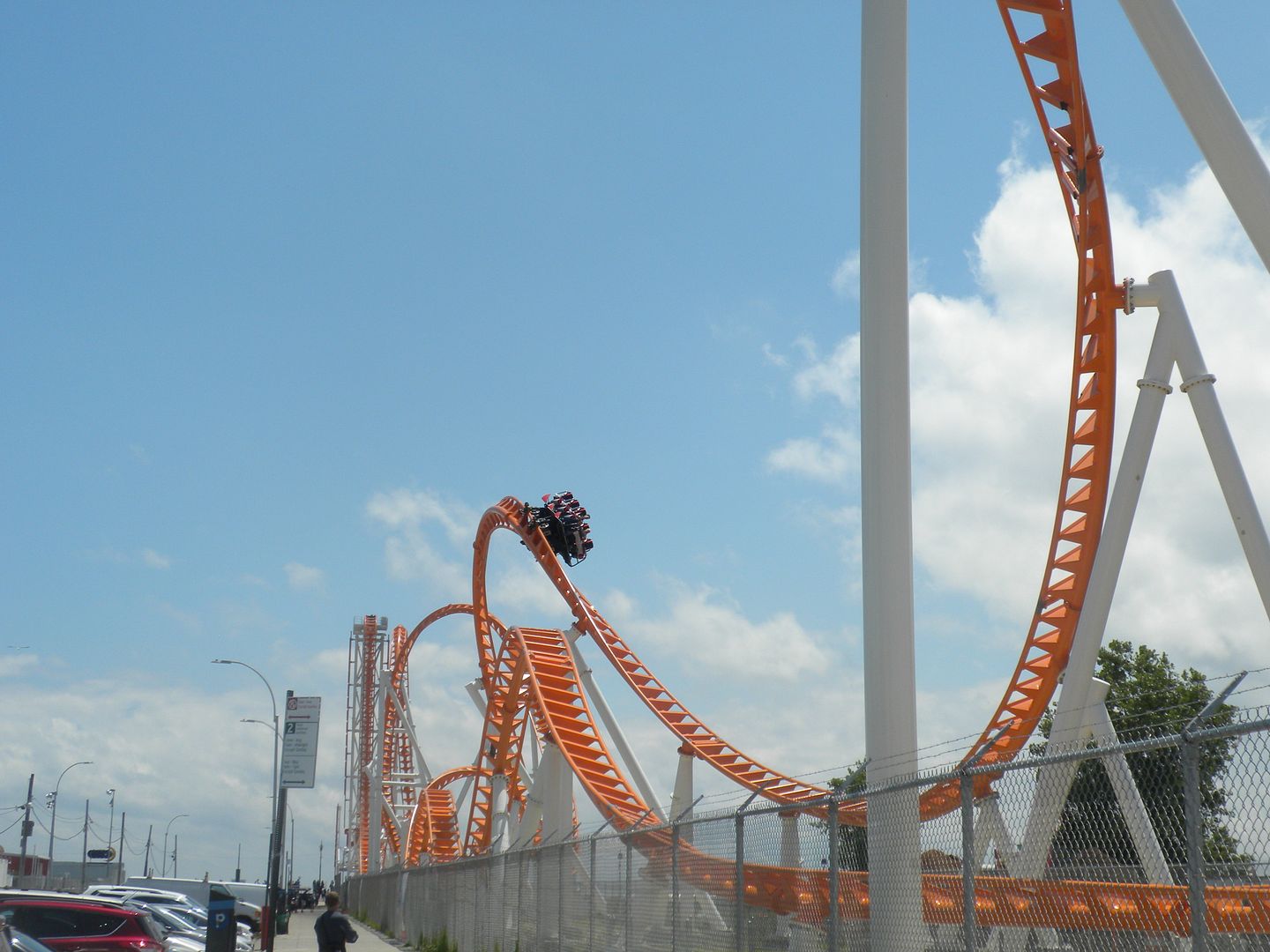 We were given a ticket for 1 ride and the 3 entitlements mentioned earlier.


Since the Cyclone was down, I used all 3 entitlements on this coaster – 4 rides.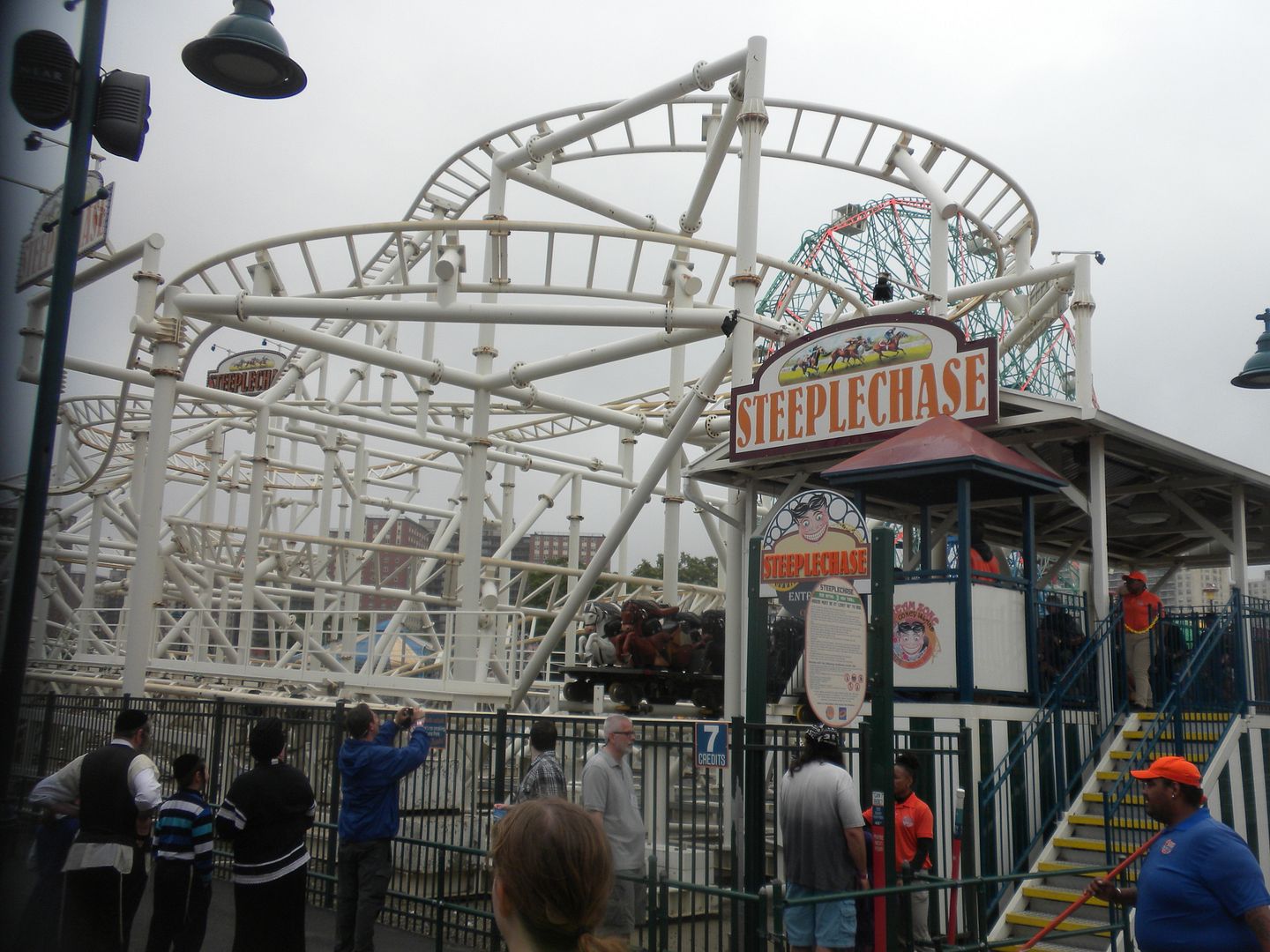 Steeplechase: (Zamperla, MotoCoaster, 2011)


This horse themed coaster gives a nod to the signature attraction of old Steeplechase Park in Coney Island, but with an added twist as it is launched. It gives a good, fun ride – 1 ride.


Soarin' Eagle: (Zamperla, Volare Flying Coaster, 2011)


Relocated from Elich Gardens as Flying Coaster, this was not as uncomfortable as some I have ridden – 1 ride.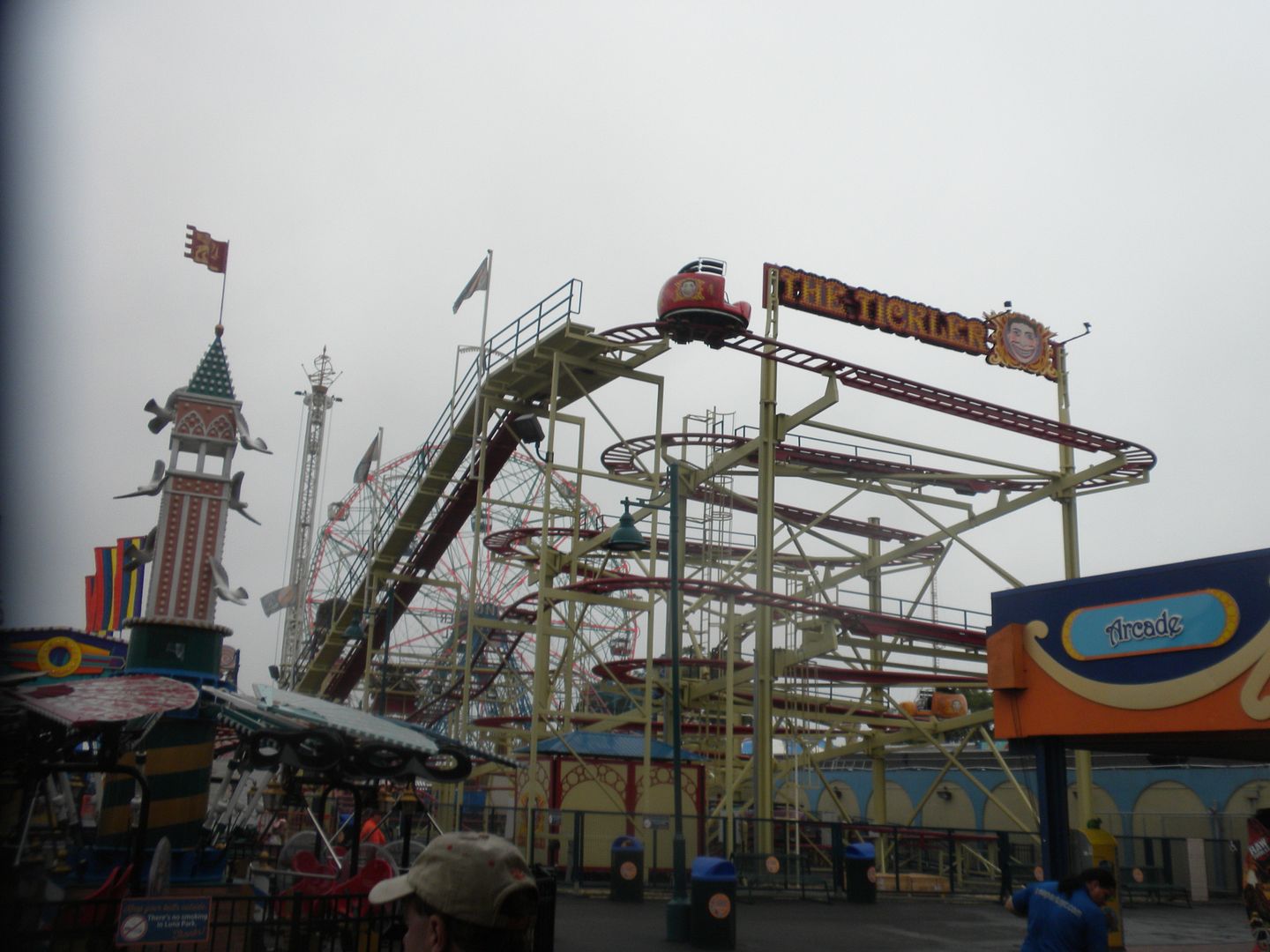 The Tickler: (Zamperla, Spinning Wild Mouse, 2010)


This had good spinning – 1 ride.


Circus Coaster: (Zamperla, Family Coaster, 2010)


This is a good starter coaster – 1 ride.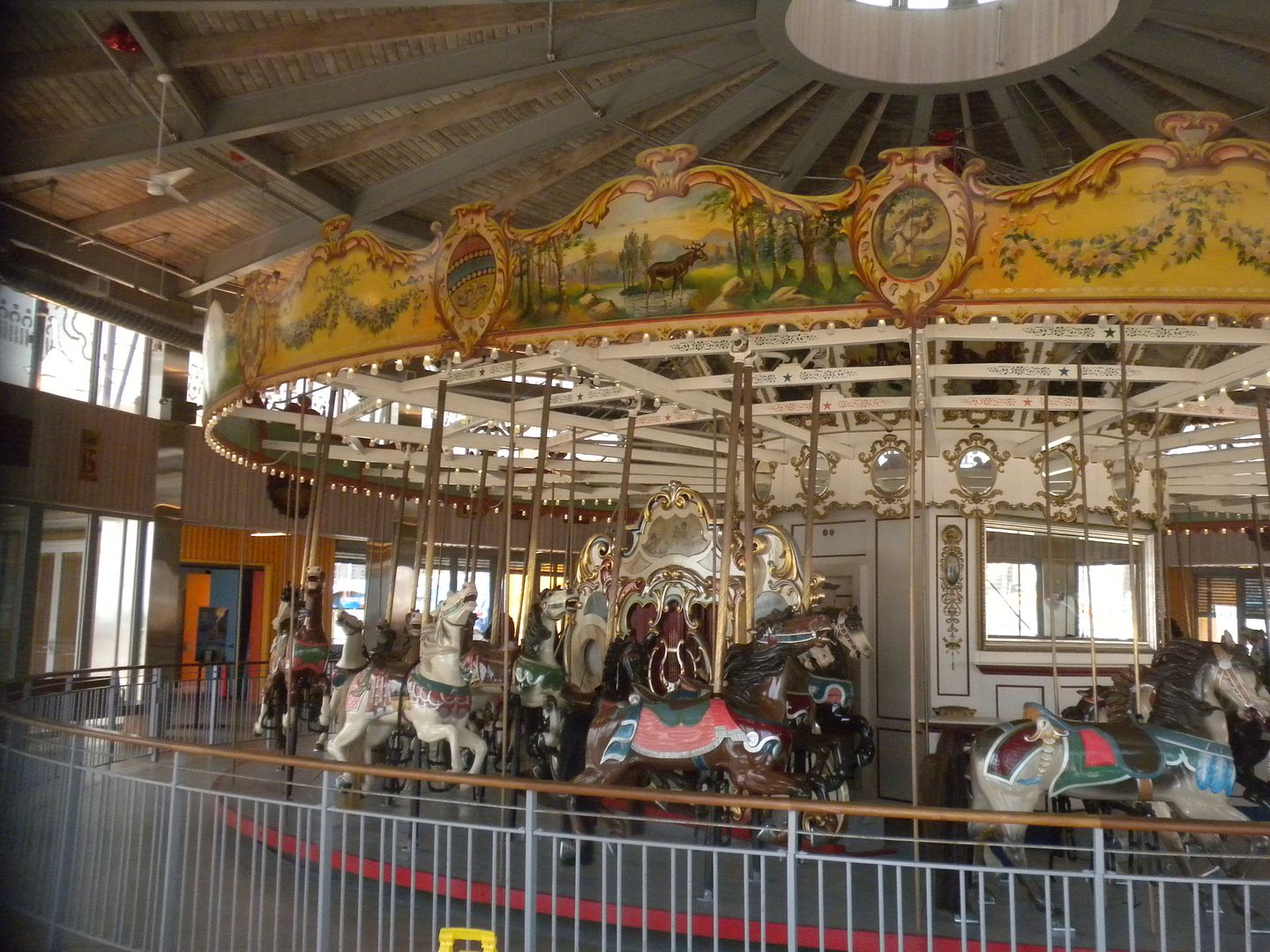 B&B Carousell: (Mangels/Carmel; Classic Wood Carousel: 3 rows – 36 Jumping Horses, 14 Standing Horses, 2 chariots; 1906) Original location unknown; Bertrand Island, Lake Hopatcong, NJ-1932; Coney Island, Brooklyn, NY, 1932-2005; Storage, 2005-2013. Steeplechase Plaza, Coney Island, NY, 2013-present.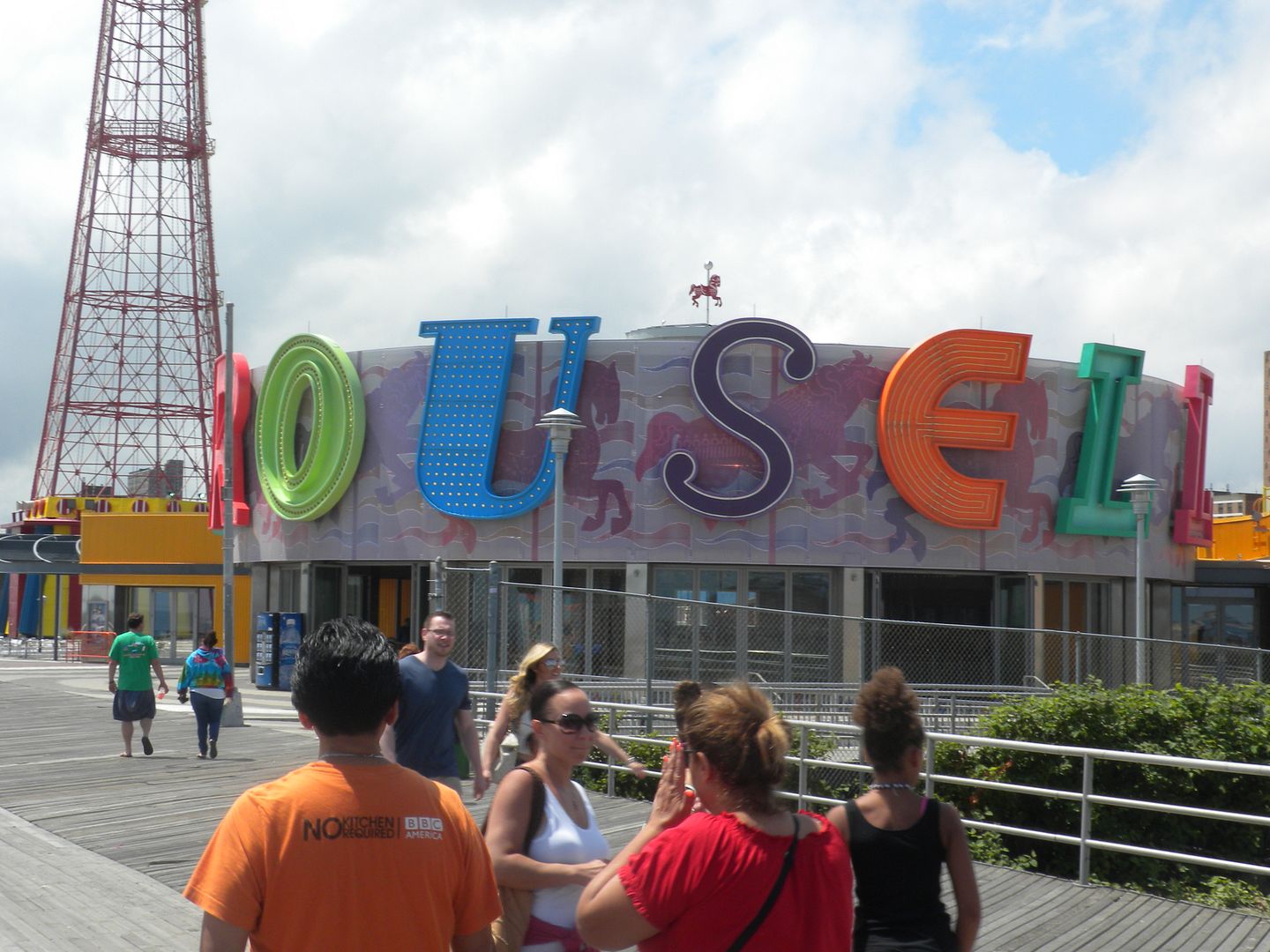 The last historic carousel at Coney Island, it was restored and installed in a new building


near the Parachute Drop.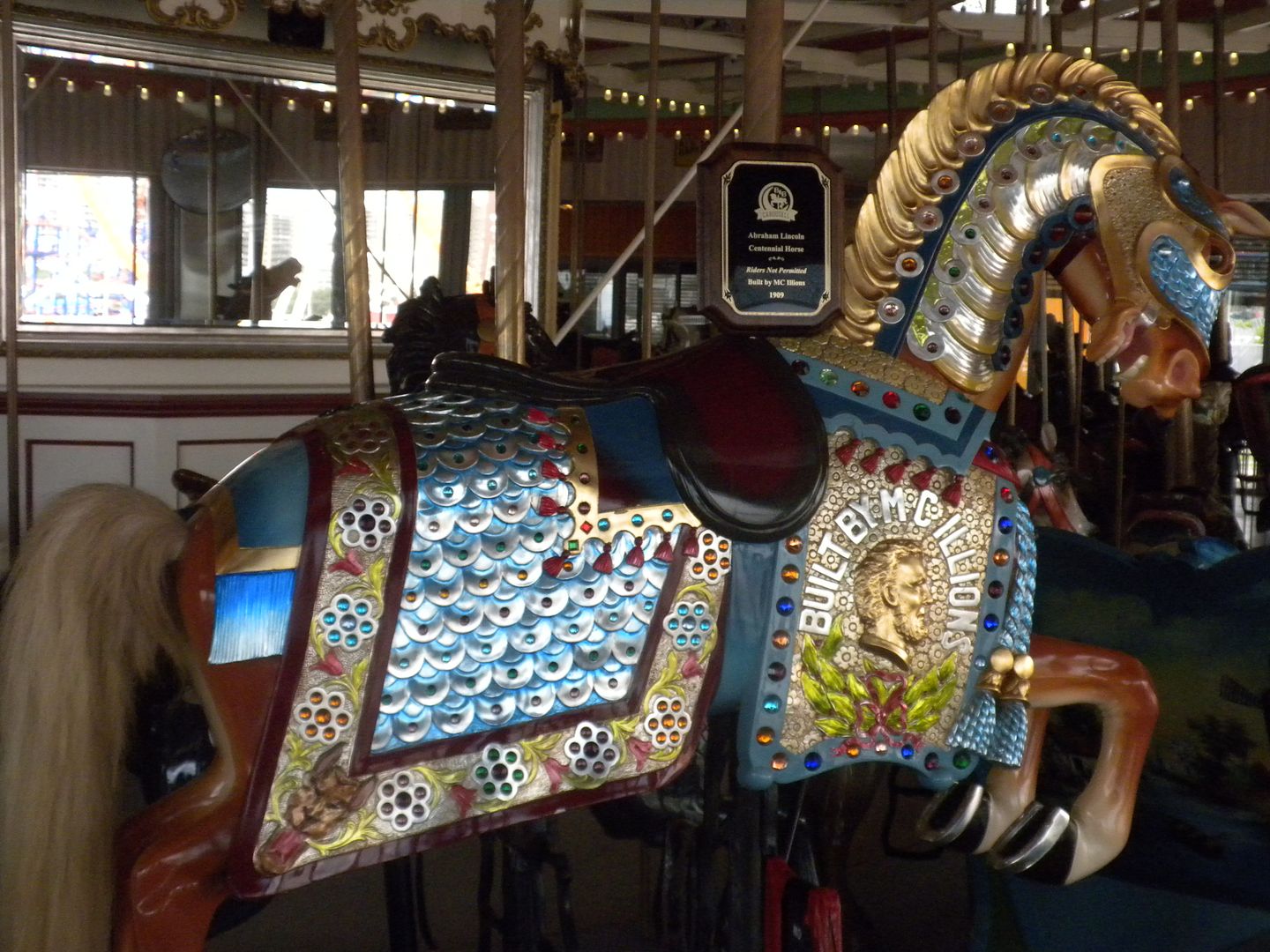 There is an Illions armored horse on the carousel. It is beautiful and rides great, albeit slower than it did in the old B&B building in 2002 – 1 ride.
We did not have time to ride Coney Tower, a drop tower; Wild River, a log flume; Watermania; Air Race; Brooklyn Flyer; Luna 360, a swinging pendulum; Electro Spin; Coney Island Hang Glider; Coney Island Sound; and Lynn's Trapeze. There are 6 children's rides. Upcharge attractions include Coney Island Raceway; Sling Shot; and Zenobio.
The park served us a hamburger and hot dog meal at the B&B Pavilion. I was quite impressed with the park and look forward to having more time there in the future as we had to leave for the airport by mid-afternoon.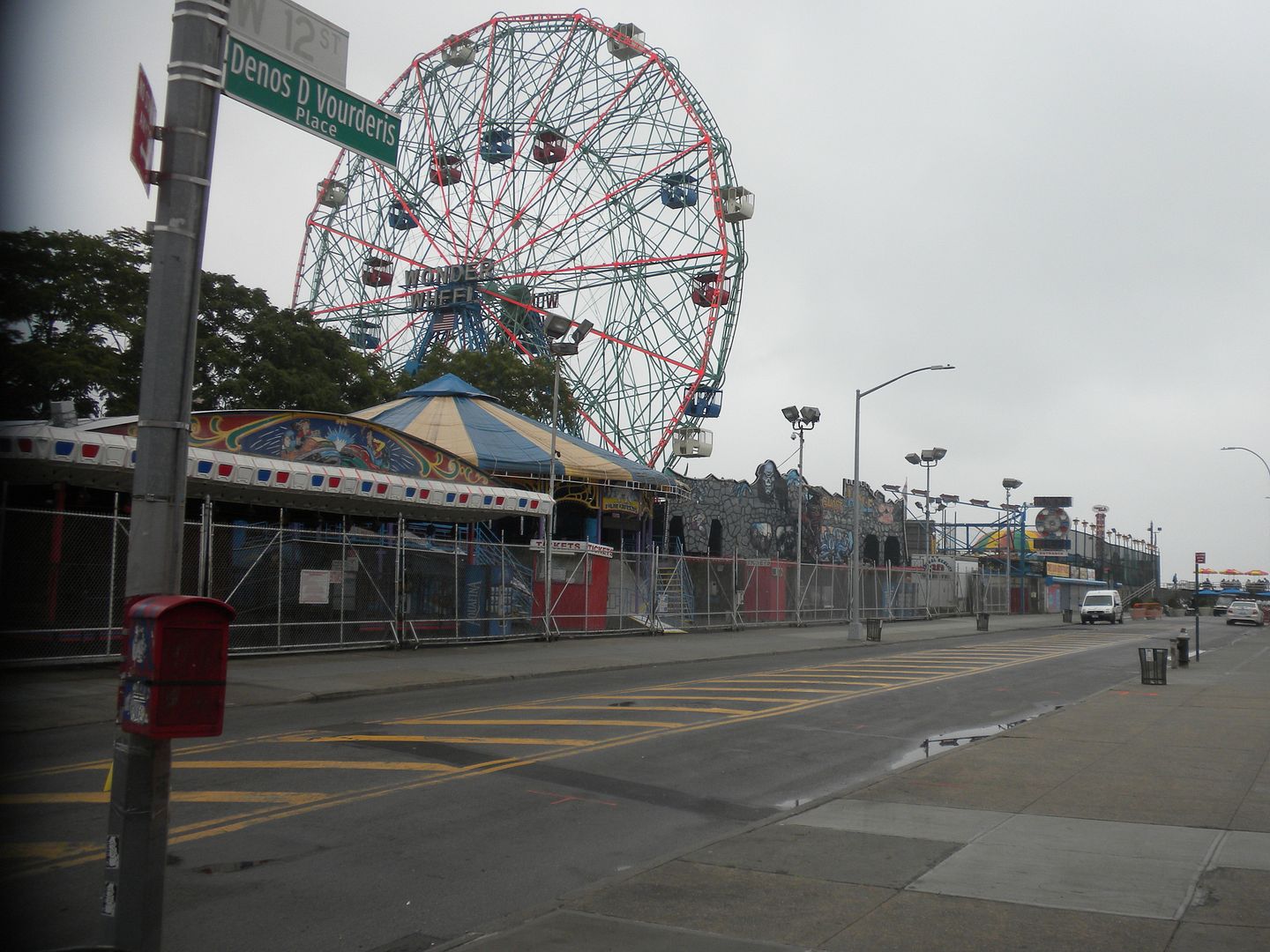 Deno's Wonder Wheel Amusement Park
During our time at Coney Island we also stopped by Deno's Wonder Wheel Park in Brooklyn, NY. Operating since 1920, it has changed little since my last visit.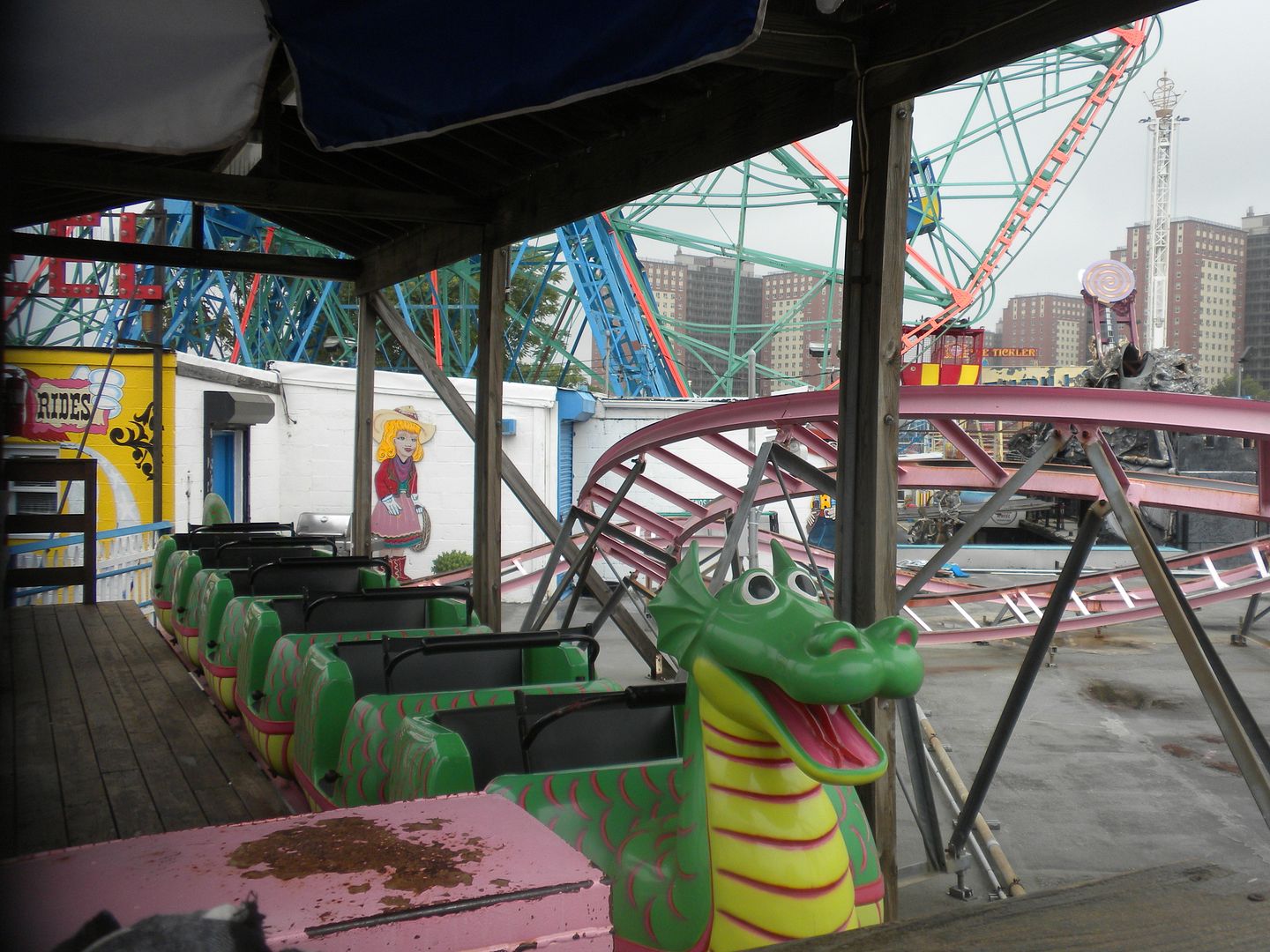 Sea Serpent Roller Coaster: (E&F Miler Industries, Family Coaster, 1999) As I did not ride this previously it was a new credit for me. It gave a good ride – 1 ride.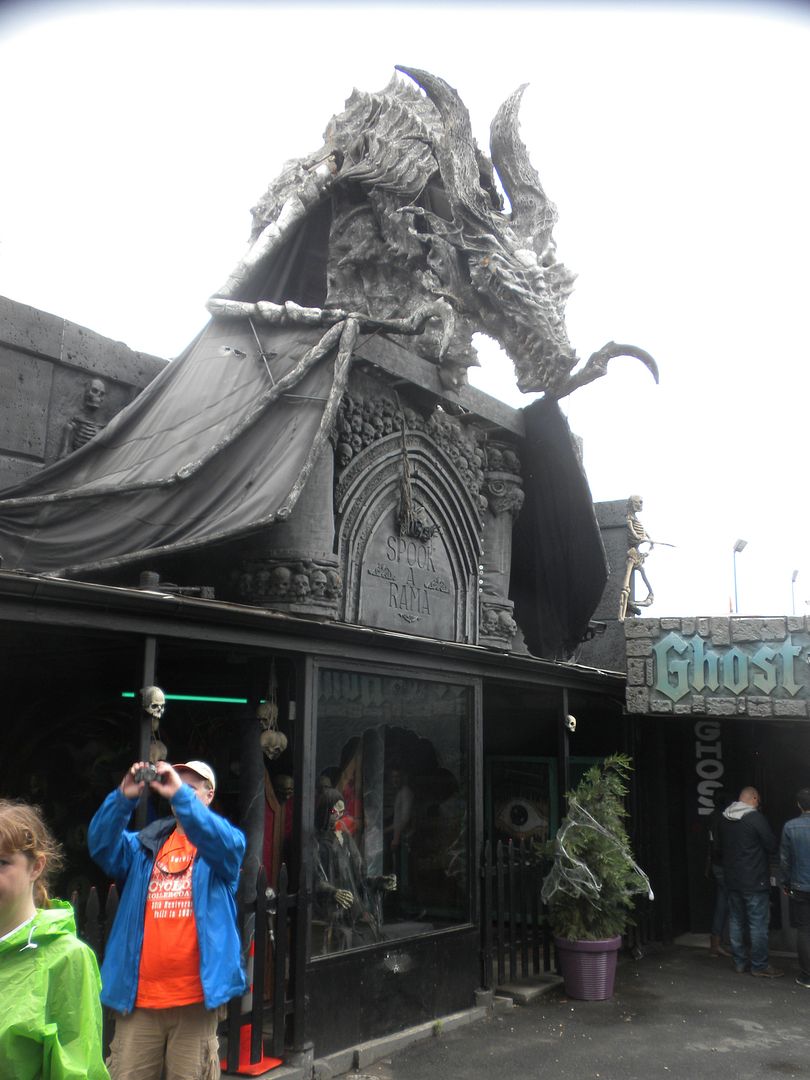 The Spook-A-Rama: One of the largest traditional darkrides built, it is now shorter but still quite thrilling. Most of the ride is in a large room, but you are turned to where you only see the stunt in front of you. There are quite a few stunts and they are good.


It does have Pretzel cars but they no longer spin – 1 ride.


The Wonder Wheel: This classic ride is the source of the park's name. At 150 feet high and weighing 400,000 pounds, it can hold 144 people at once. Built in 1920, it has been in continuous operation ever since. While there are stationary cars, we rode a swinging car, which is fun as it swings along its track – 1 swinging ride.
Other rides here include Thunderbolt, a Music Express; Tilt a Whirl; Scrambler; Carousel, a modern model; and
Bumper Cars. There are 13 children's rides. We had a great time at this little park.
Other Coney Island Attractions
As Coney Island is an amusement district there are plenty of other independent rides and attractions there.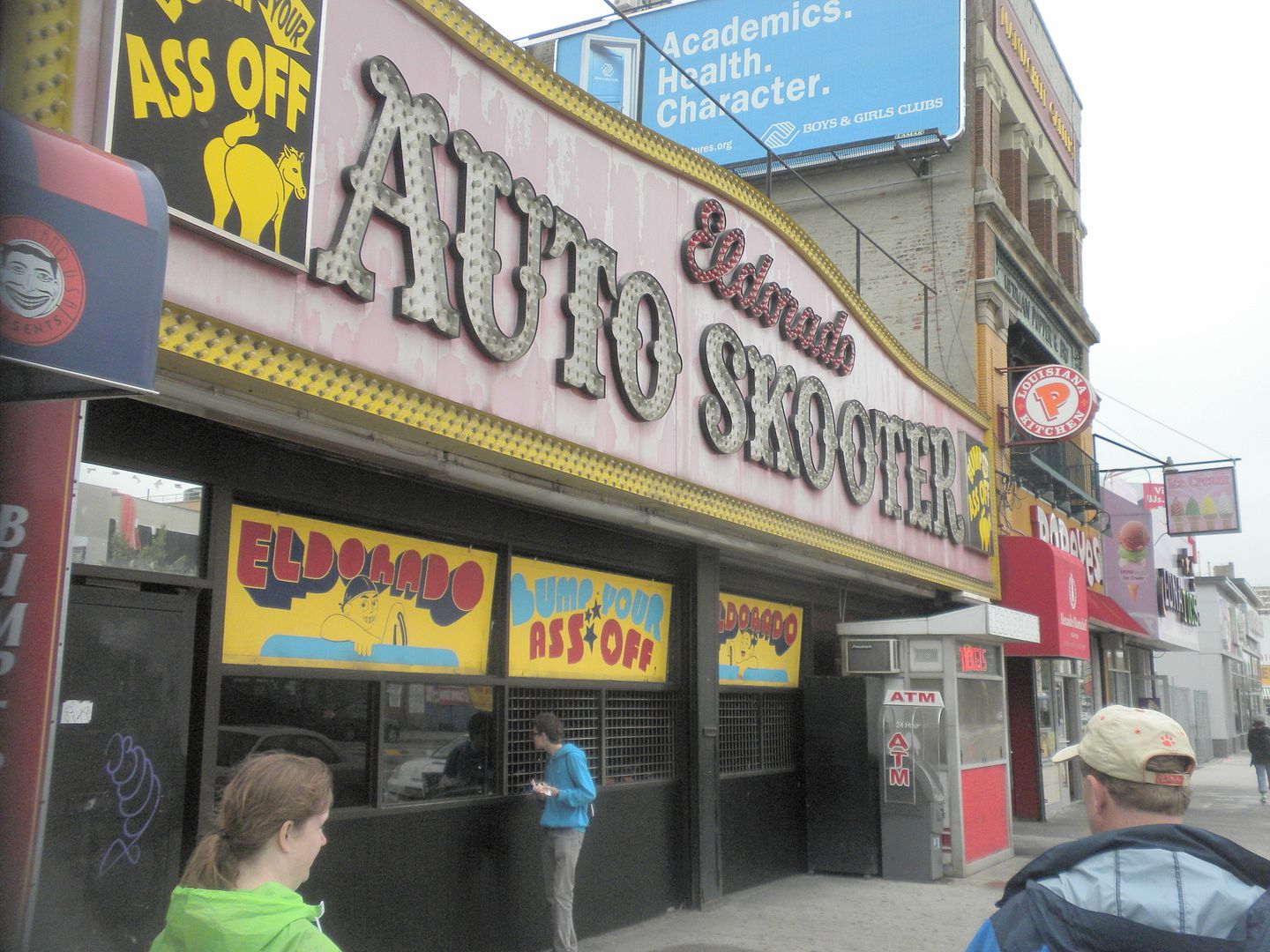 Eldorado Auto Skooter: Some of the best bumper cars, these are in the dark with loud music and the operators jump from car to car during the ride. It is expensive but worth it for the experience – 1 ride.


Coney Island History Project: A great display of this historic place where roller coasters began in 1894 – 1 viewing. Other attractions include The Ghost Hole, which I have ridden before and am glad it is still operating; several flat rides; and Sideshows By The Seashore, a tribute to the sideshows.


Perhaps the best other attraction at Coney Island is Nathan's, the original hot dog. In spite of lunch at the park, we had to stop for a hot dog here, and it was excellent.
David and I left for LaGuardia Airport at 3:30, while others stayed longer. It was a great Coaster Con, and I had ridden 20 new coasters. I returned home with less than 3 weeks before my next adventure, ACE UK! 2015.
Thanks for Reading!