East Meets ACE – Epilogue – Part 3:  Kijima Kogen / セントレジャー城島高原
On Saturday, October 6 after another good breakfast, we departed Hakata Green Hotel No. 1 for Hakata Station, catching a bullet train to Kokura Station, where we changed trains to a regular train to Beppu.  We arrived at Beppu Station later that morning and dropped off our luggage at the nearby Beppu Komenoi Hotel. This was another part of the trip where logistics were tricky due to difficulty in researching bus schedules online.  At the tourist office we were able to purchase tickets for the park along with bus tickets and soon we were on our way.  Fortunately for us the typhoon that was to hit this day had headed for South Korea instead and only left wind and a chance of rain in our forecast, but this was unfortunate for other ACE members who had headed to South Korea following East Meets ACE.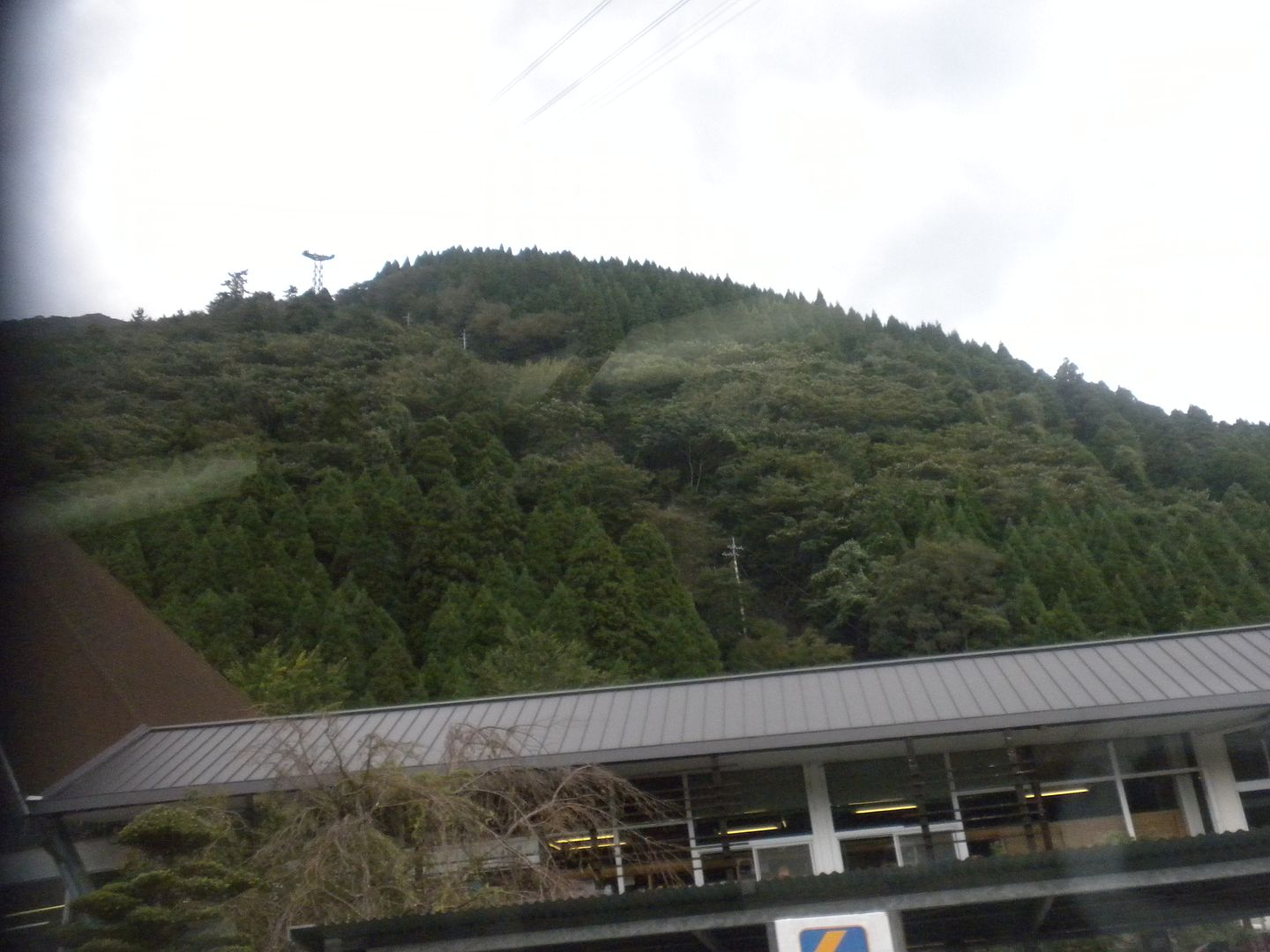 The only casualty to our plan was we had planned to take the Beppu Ropeway cable car to Mount Tsurumi for purported amazing views, but it was closed due to high winds, as we suspected.


After a short bus ride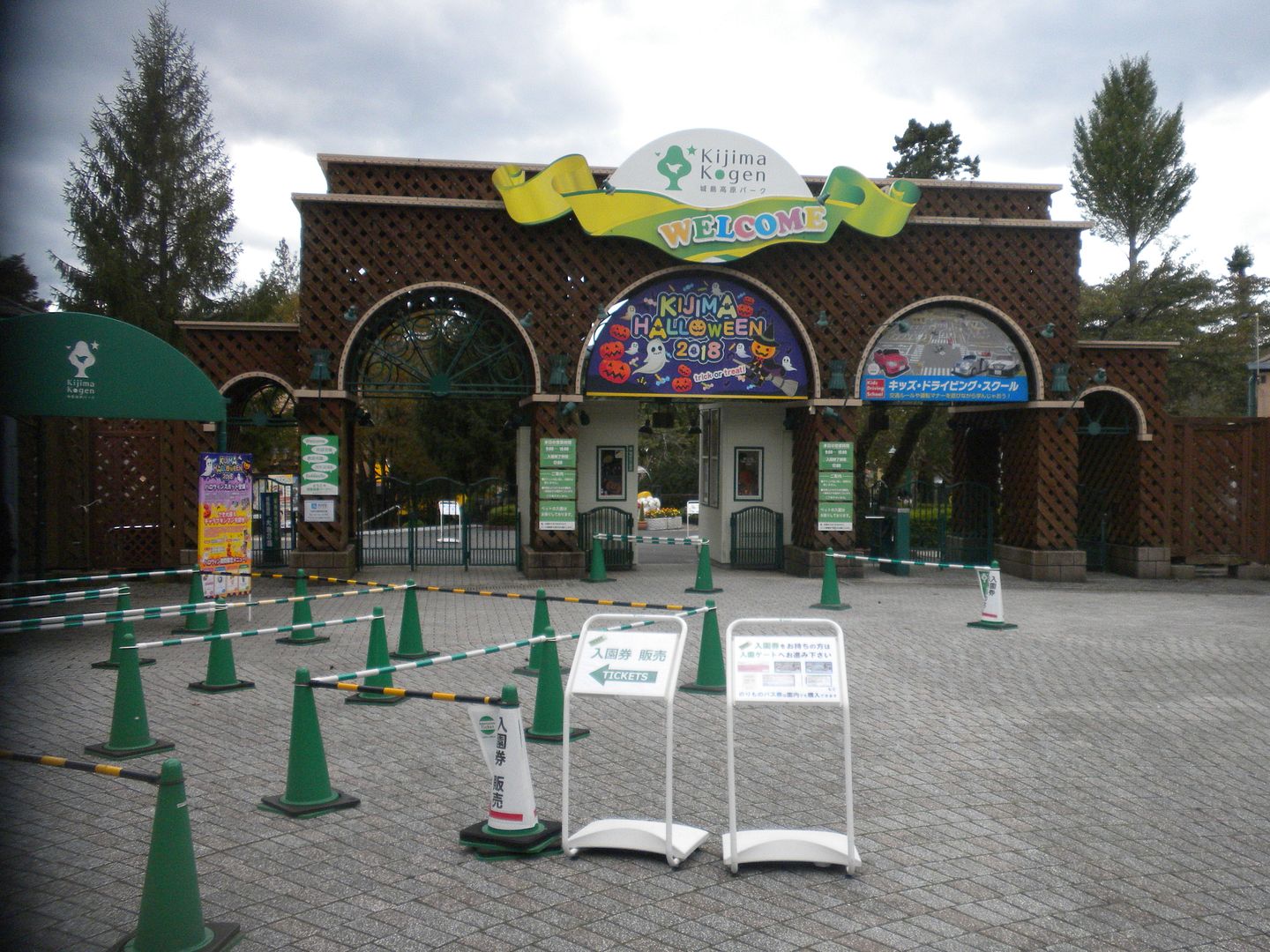 we arrived at Kijima Kogen in Beppu, Oita, Japan.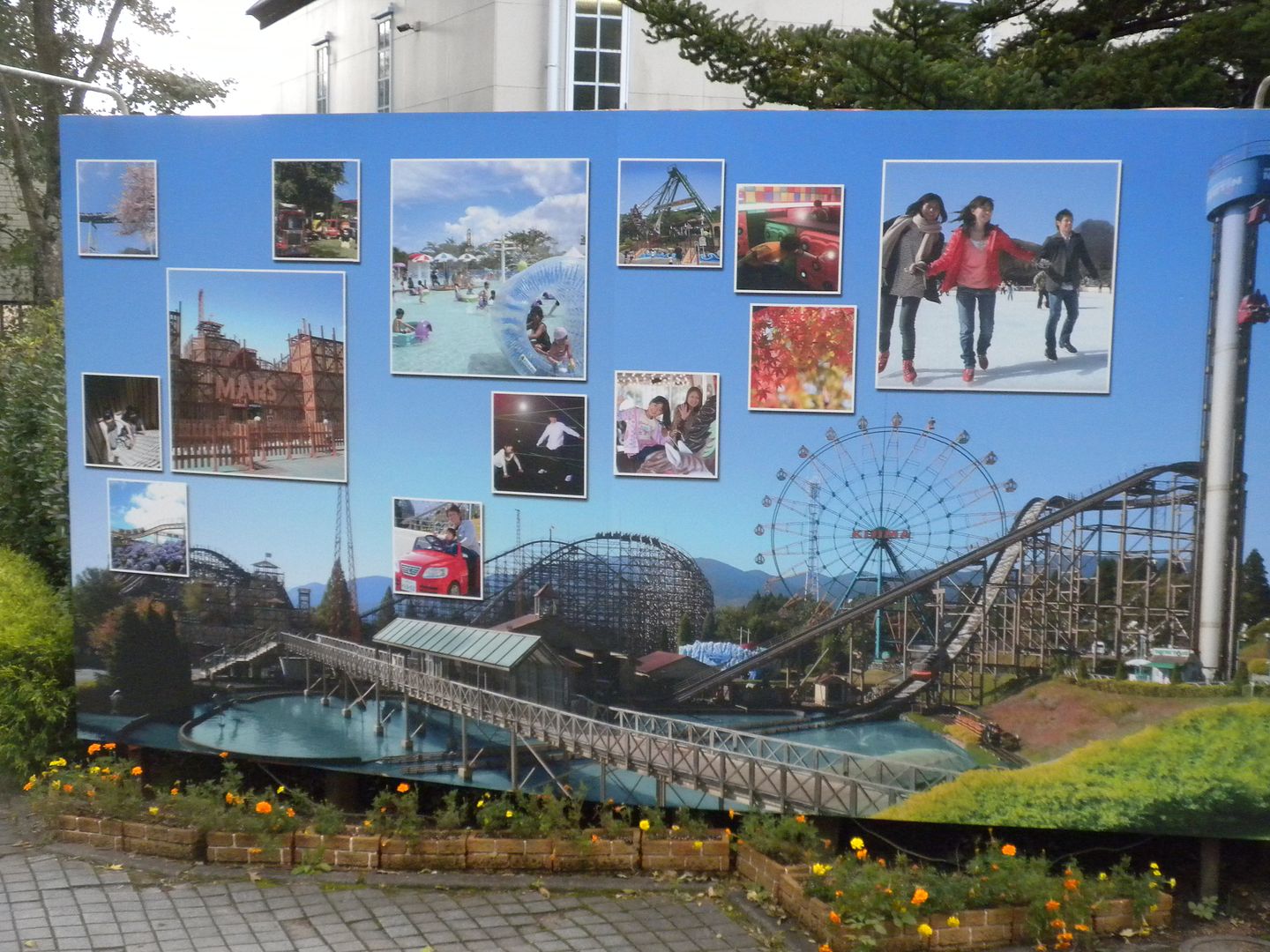 Operating since 1983 or earlier,


this park has the distinction of having one of the three remaining wood coasters in Japan and was the catalyst for our decision to visit Kyushu.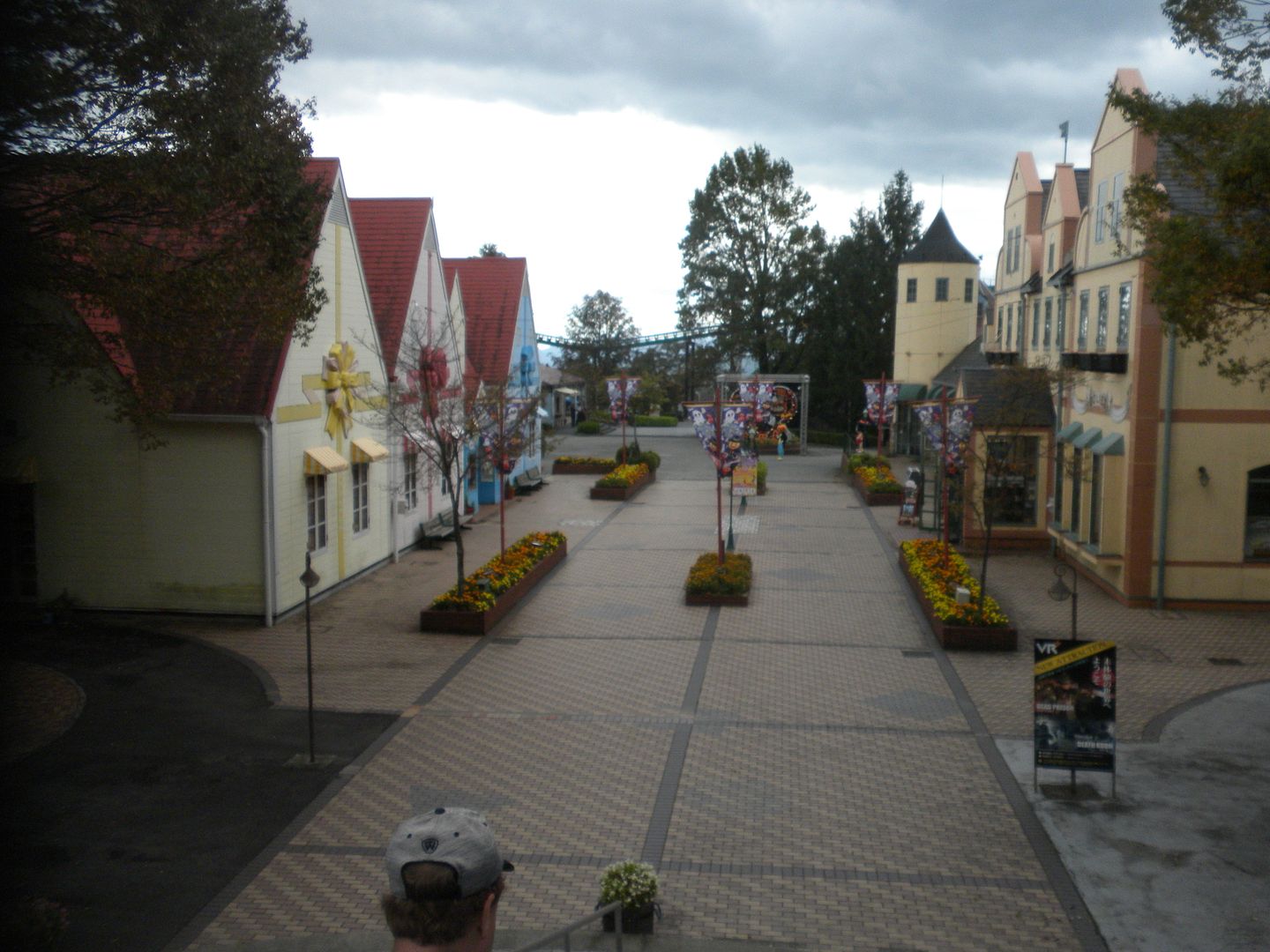 The wind was higher than normal, but it did not immediately impact the operations of any of the park's rides.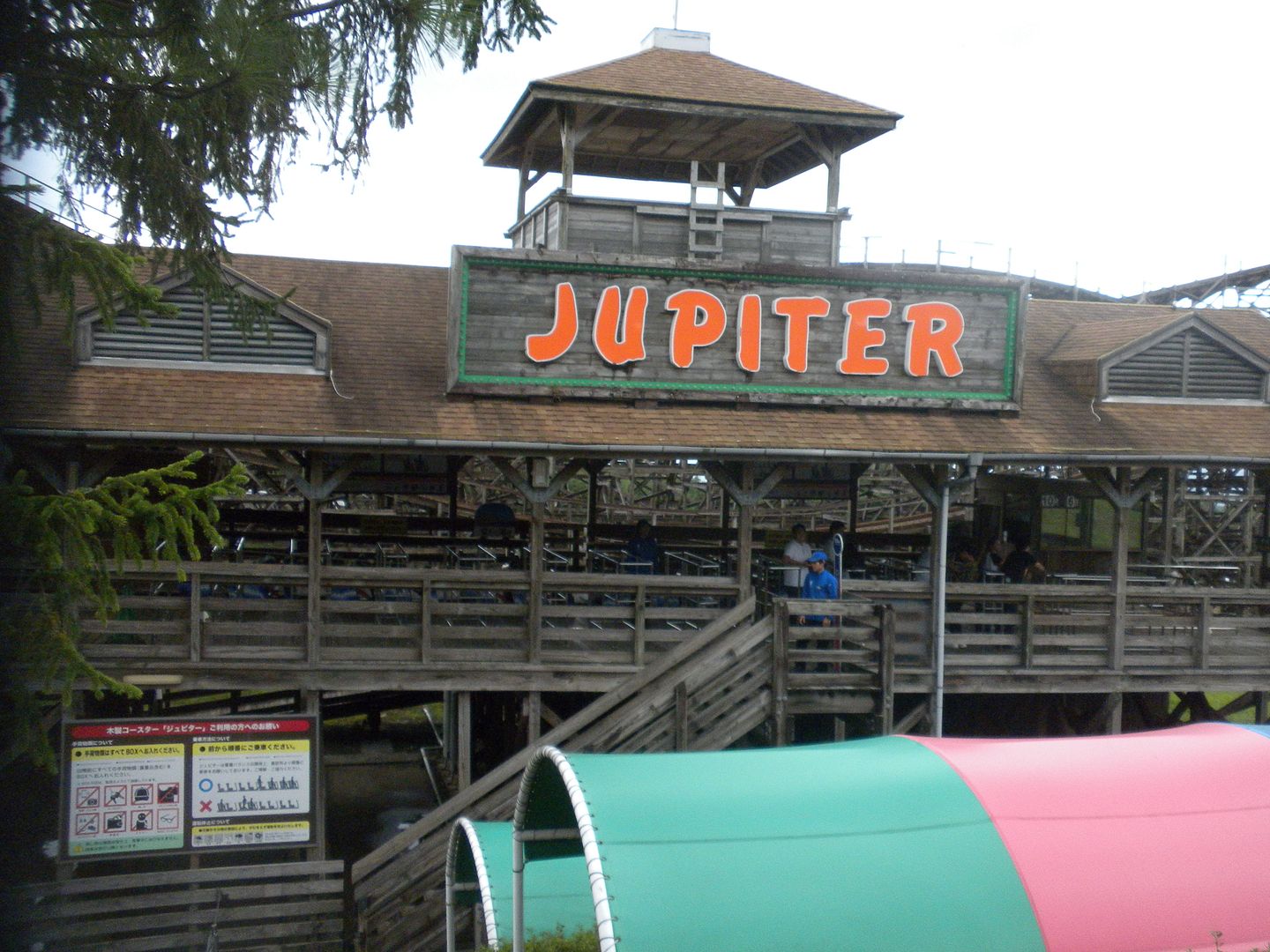 Jupiter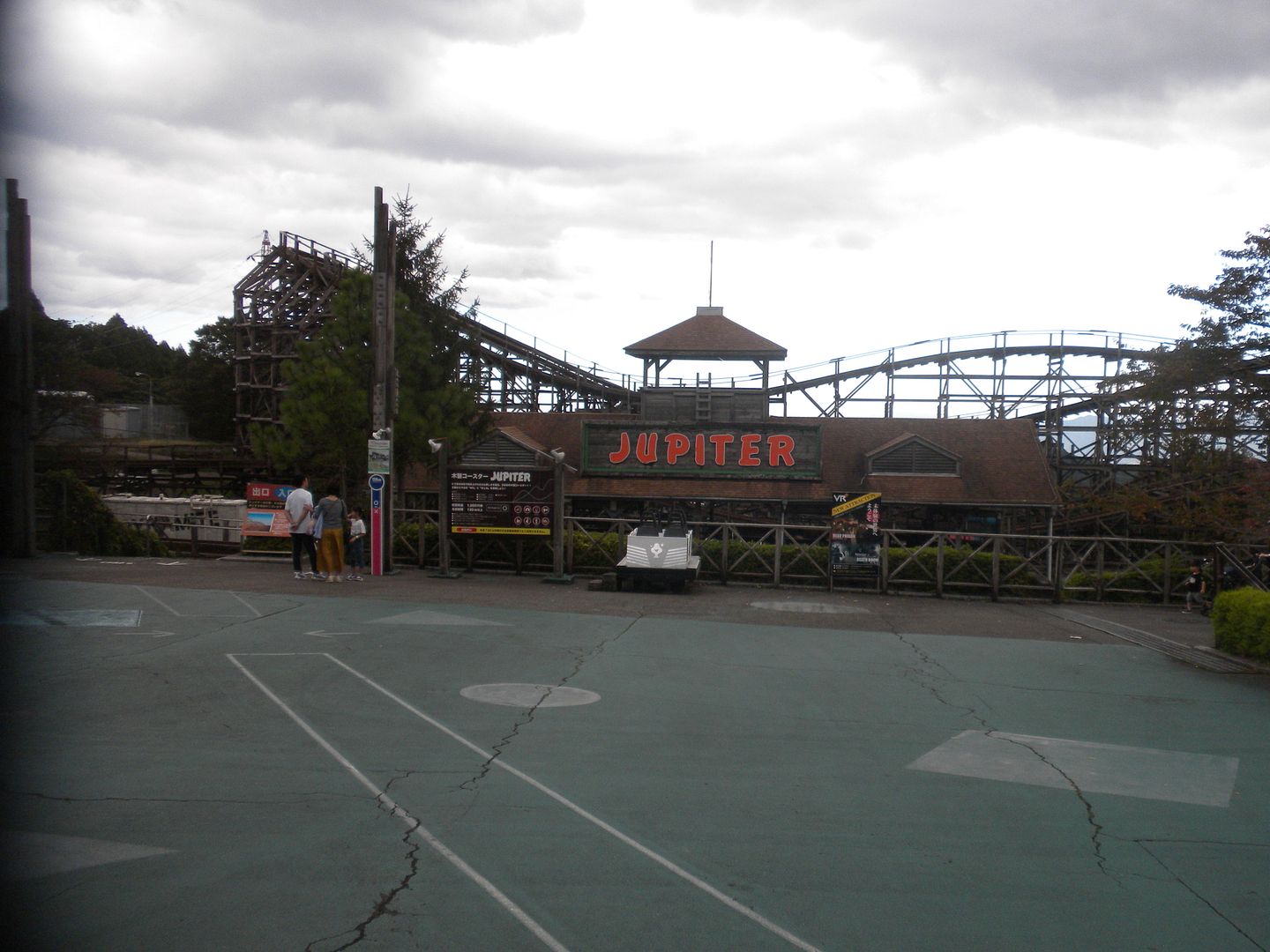 (Intamin Amusement Rides/Curtis D. Summers, Wood-non prefab, 1992)


This is one long coaster at 5,249', and it was featured briefly in the 1994 movie Godzilla vs. Space Godzilla.


Built of Douglas fir, it was Japan's first wooden coaster.  I had heard that it was running rough, but I thoroughly enjoyed it.  It has a great and thrilling layout, not the least of which is a number of hills and elements that occur before it gets to the lift hill.


It has great speed and even in the axel seat was not that rough to me.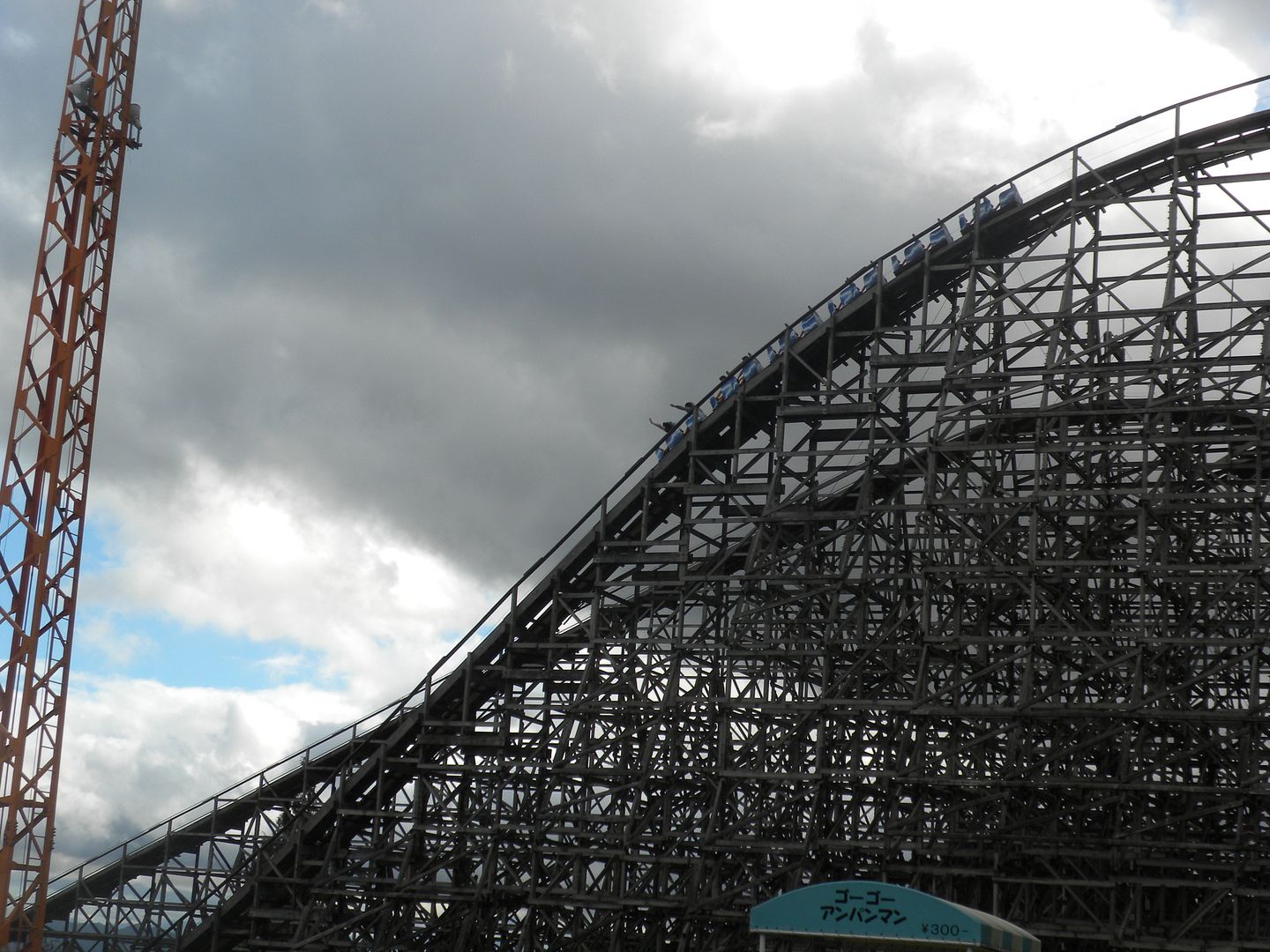 It was my favorite wood coaster of the trip even though I liked the other two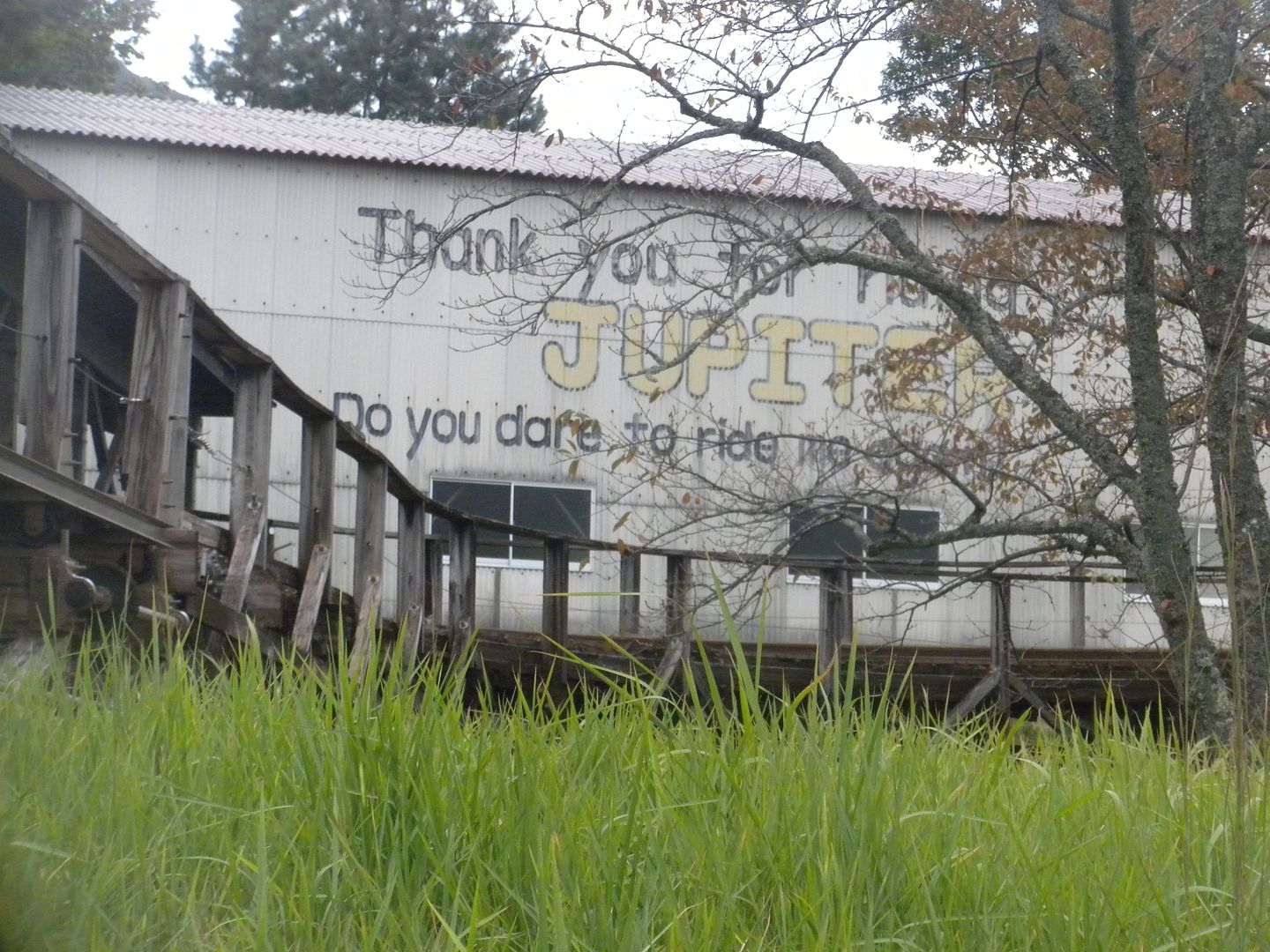 – 3 rides.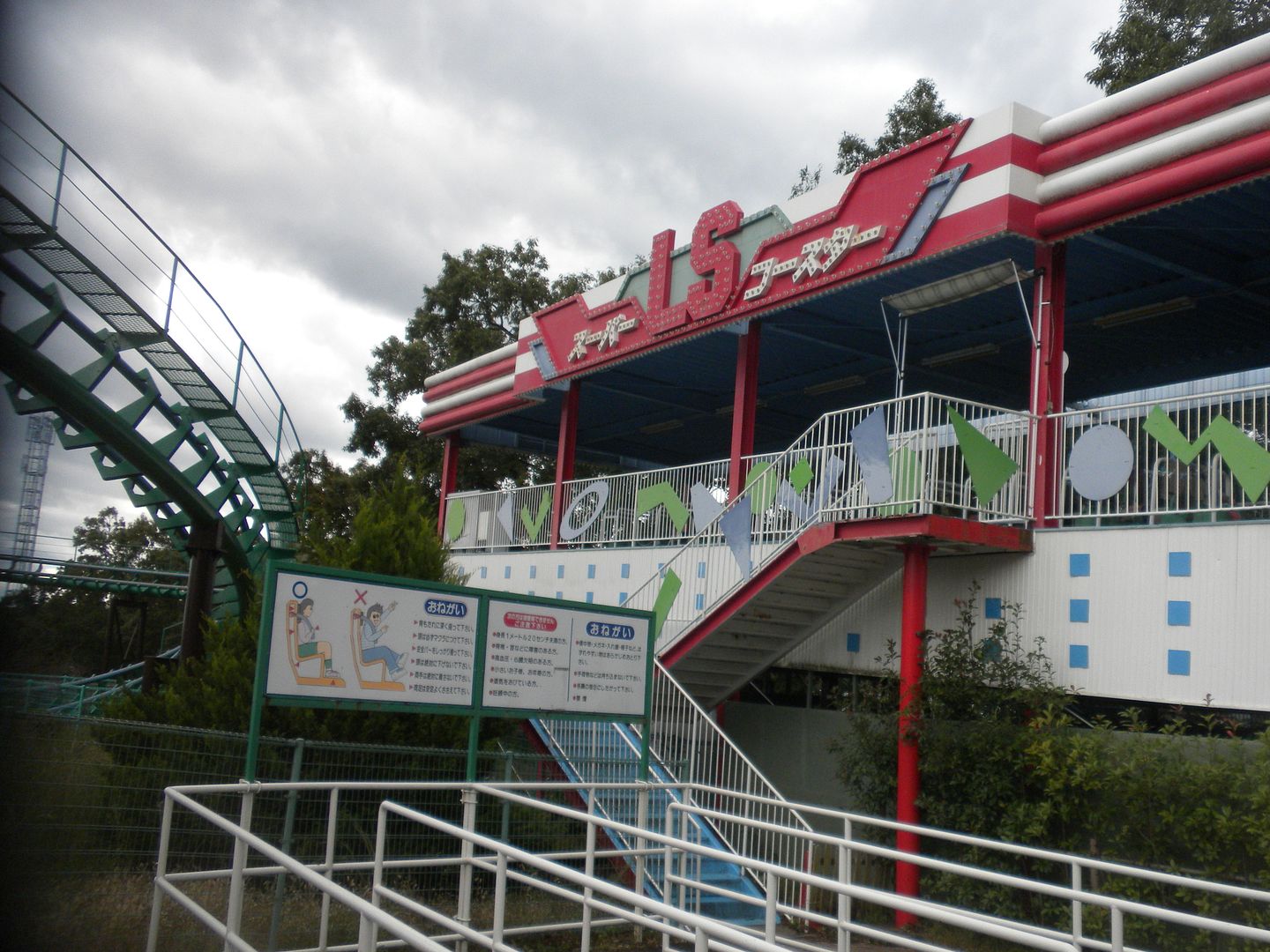 Super LS Coaster (Meisho Amusement Machines/Okamoto Co., Ltd., Looper, 1983) This was my first Meisho Loop and Corkscrew, and I found it to have much better transitions than the standard Arrow and Vekoma versions.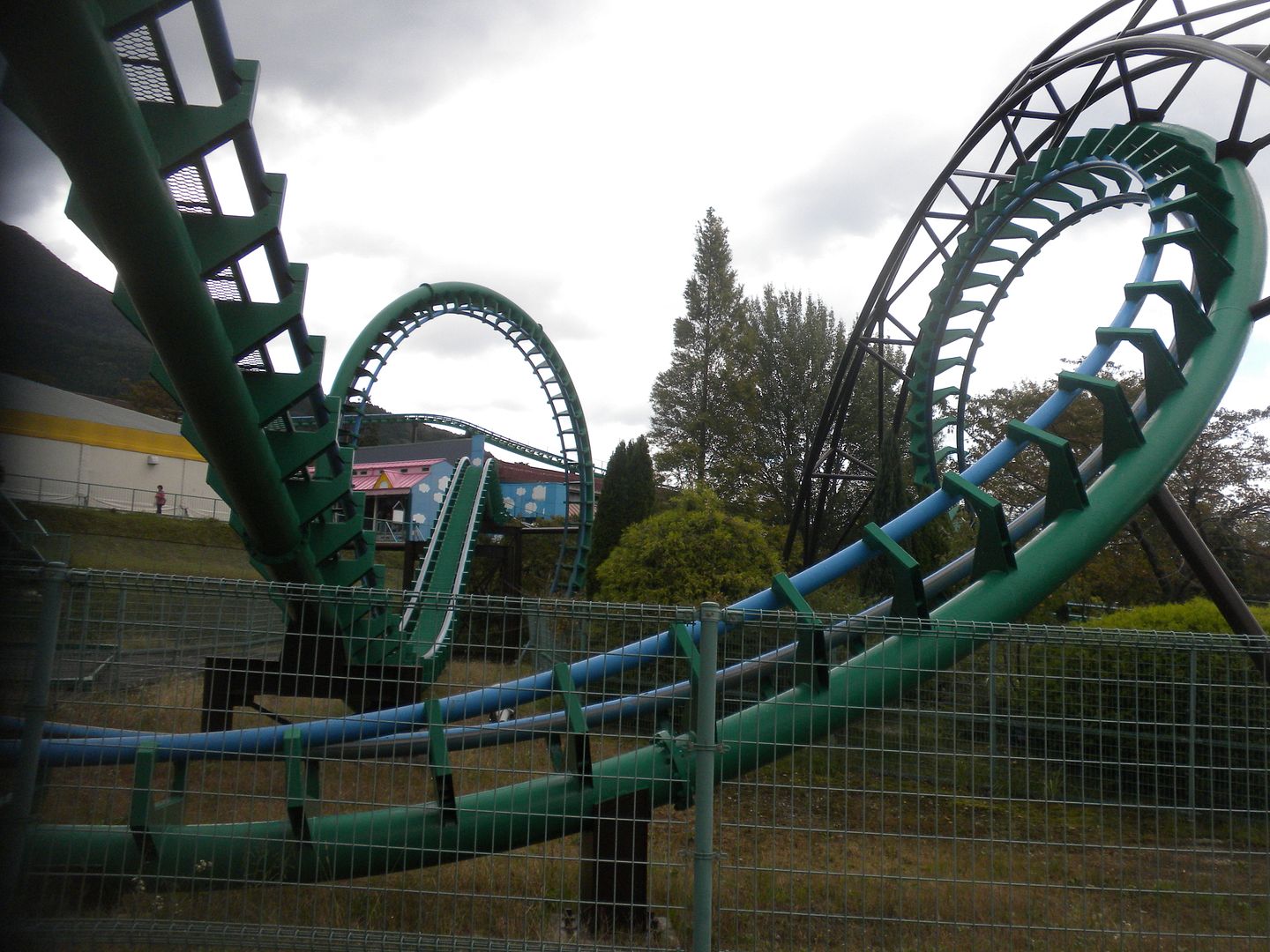 It is also neat that the coaster travels through the loop.


Not all in our group agreed, but I enjoyed this coaster – 1 ride.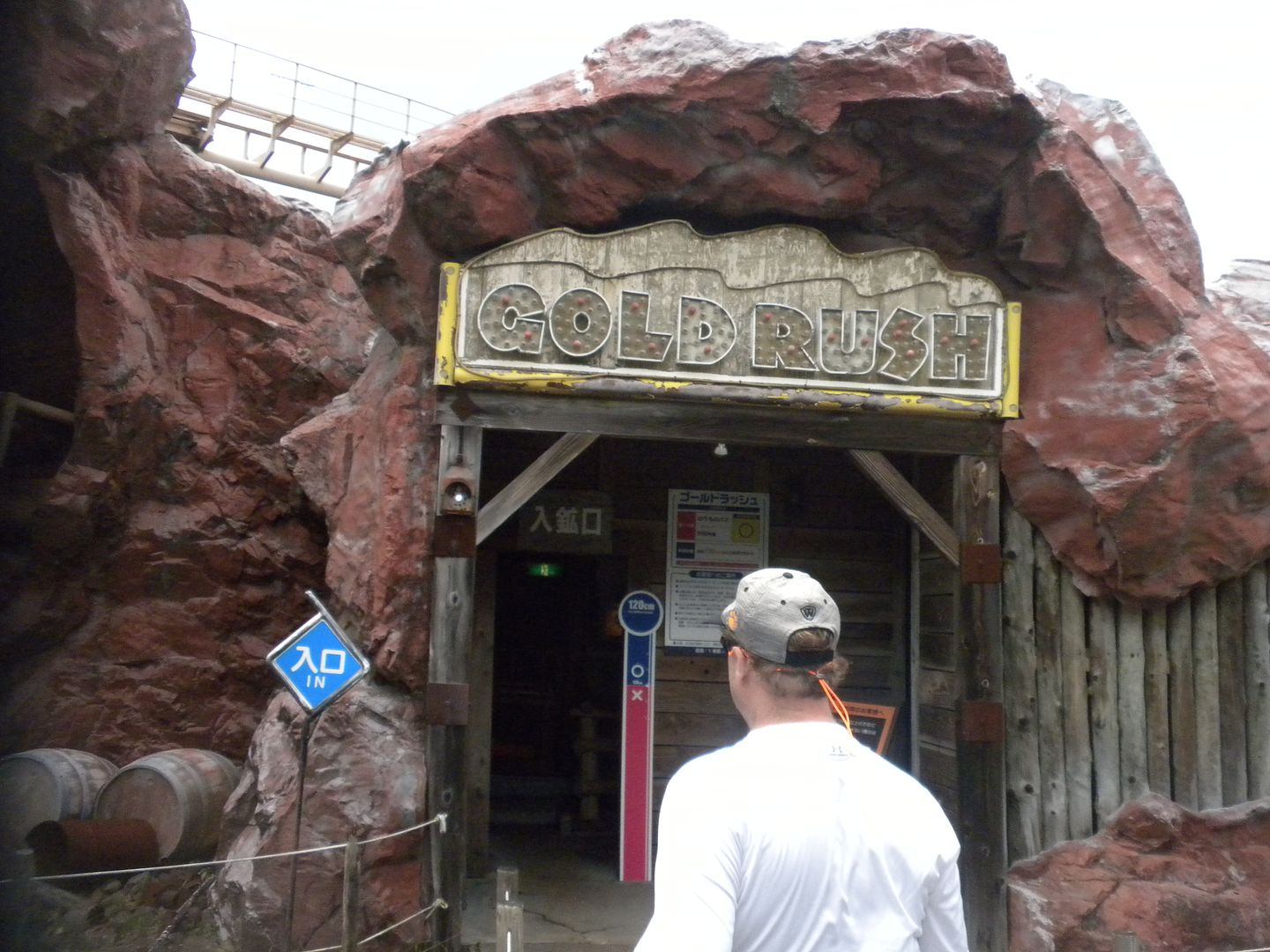 Gold Rush (Unknown, Partially Enclosed Family, Unknown)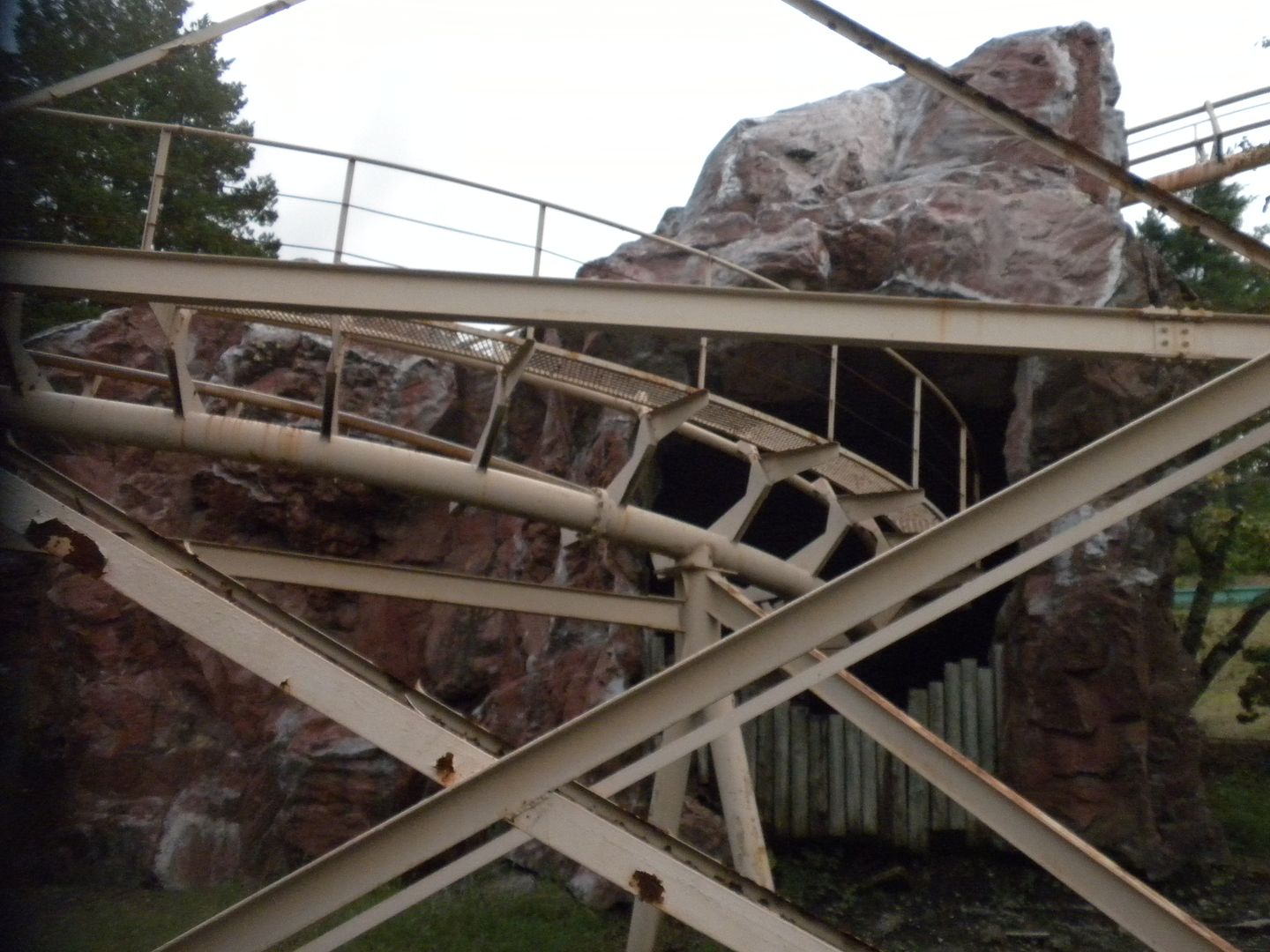 This family coaster is larger than I thought it would be


and is nicely themed and partially enclosed in a rock structure.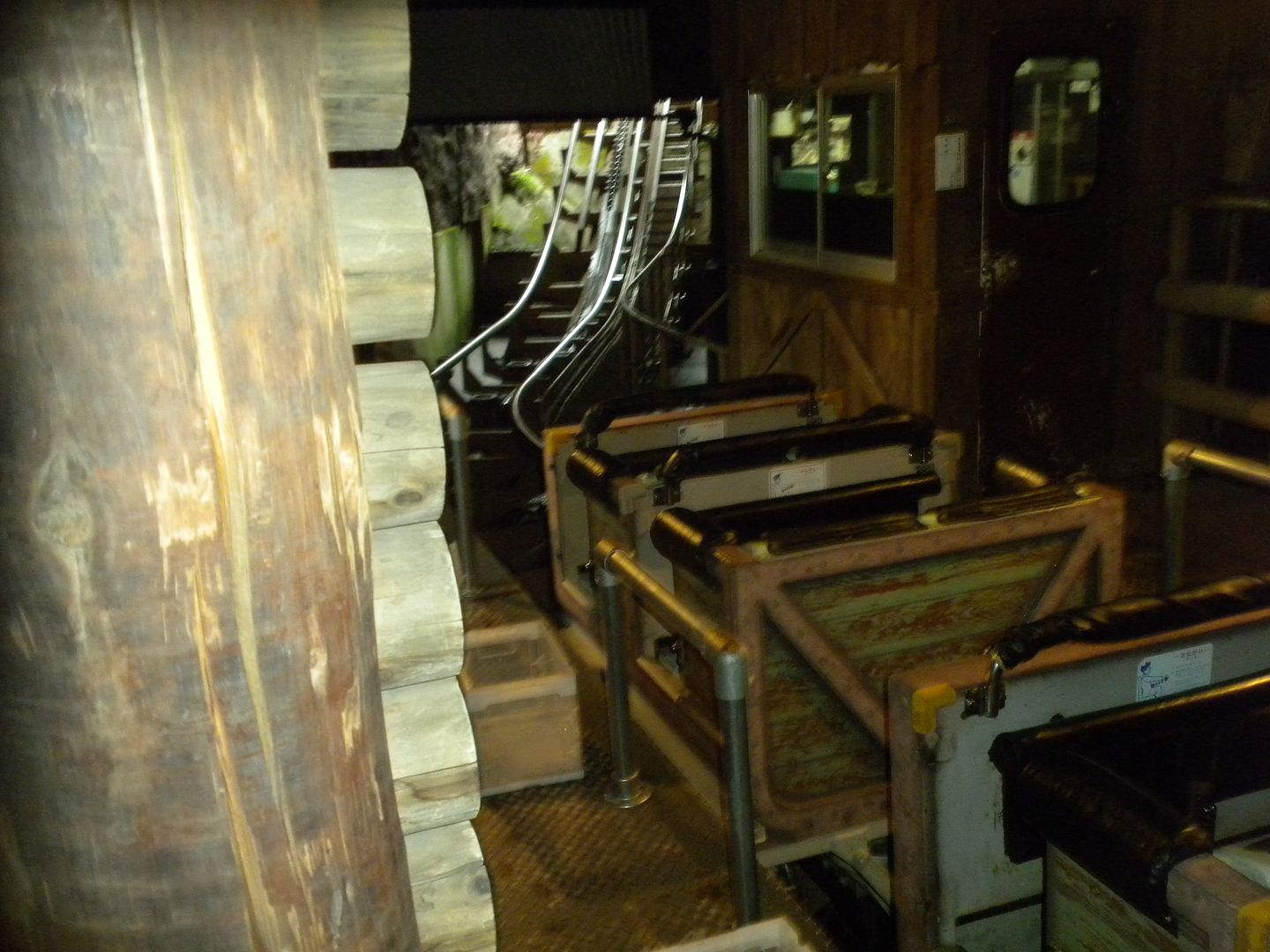 The trains are tight, but the biggest issue comes from the hills that feel far more triangular than they should be – 1 ride.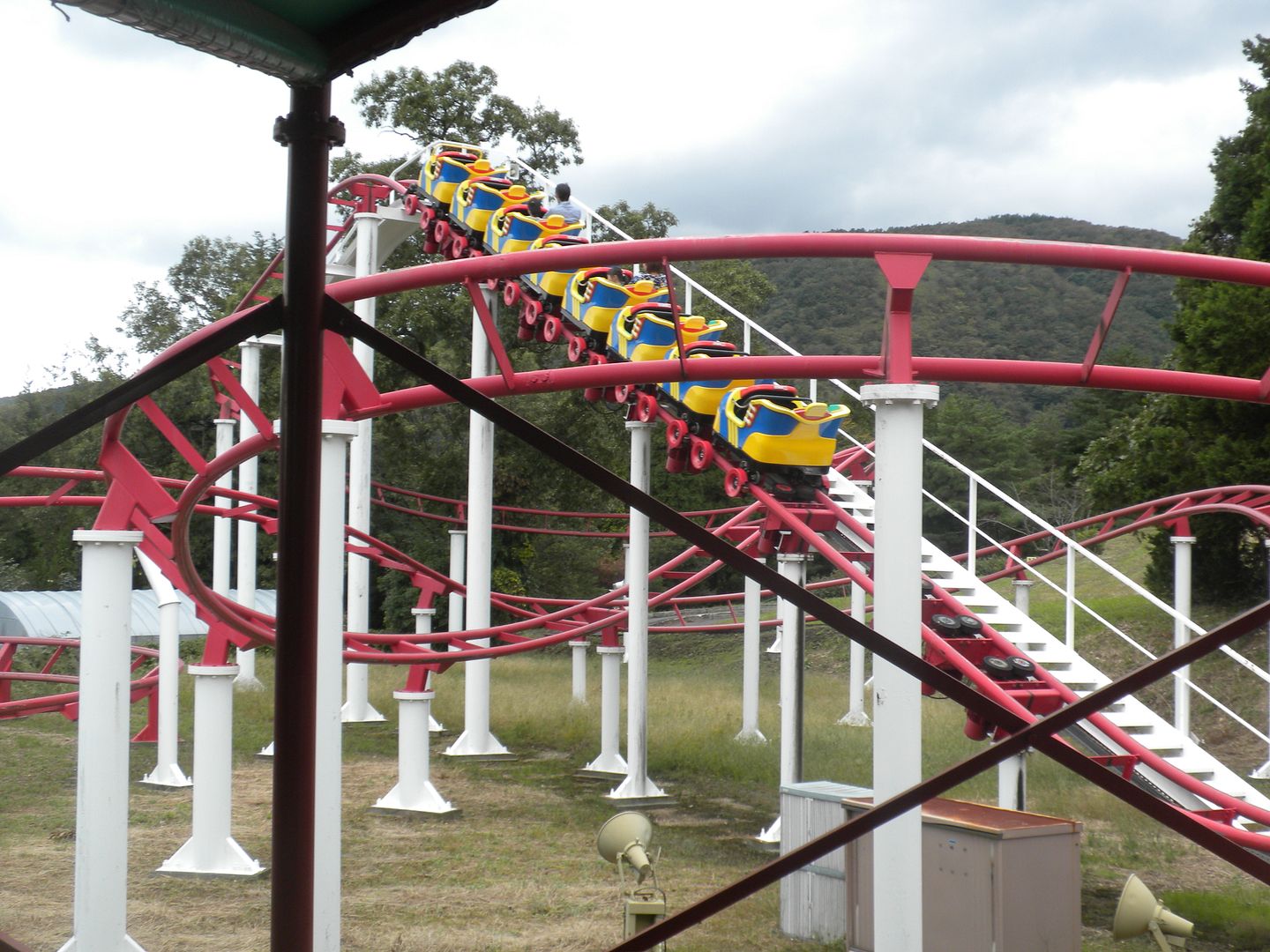 Roller Skater (Vekoma, Junior Coaster Family, 1997/2000)


Relocated from Tokiwa Park as Unknown, this gave the expected ride – 1 ride.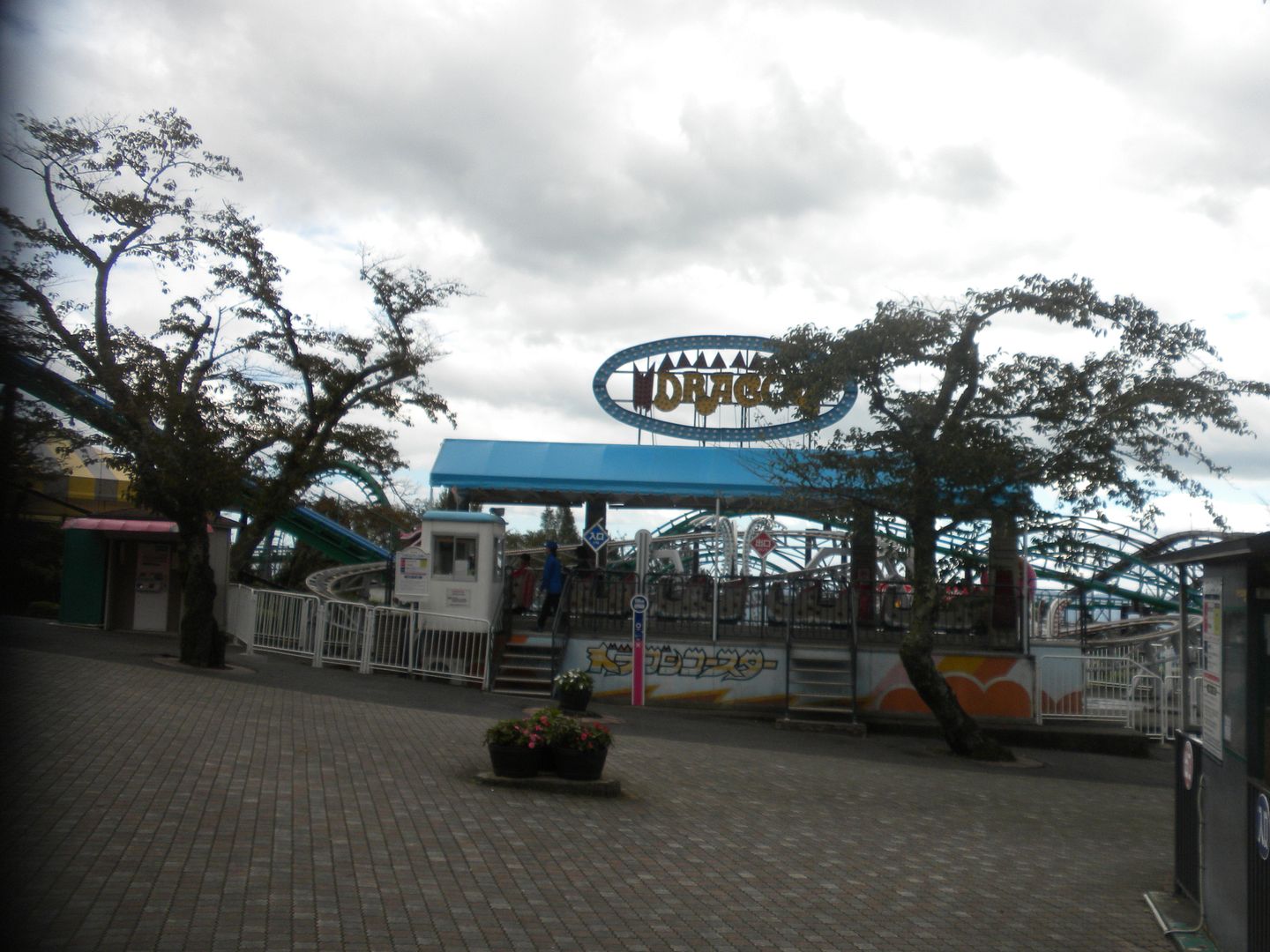 Dragon (Zamperla, Powered Family, 1997) Fun small ride – 1 ride.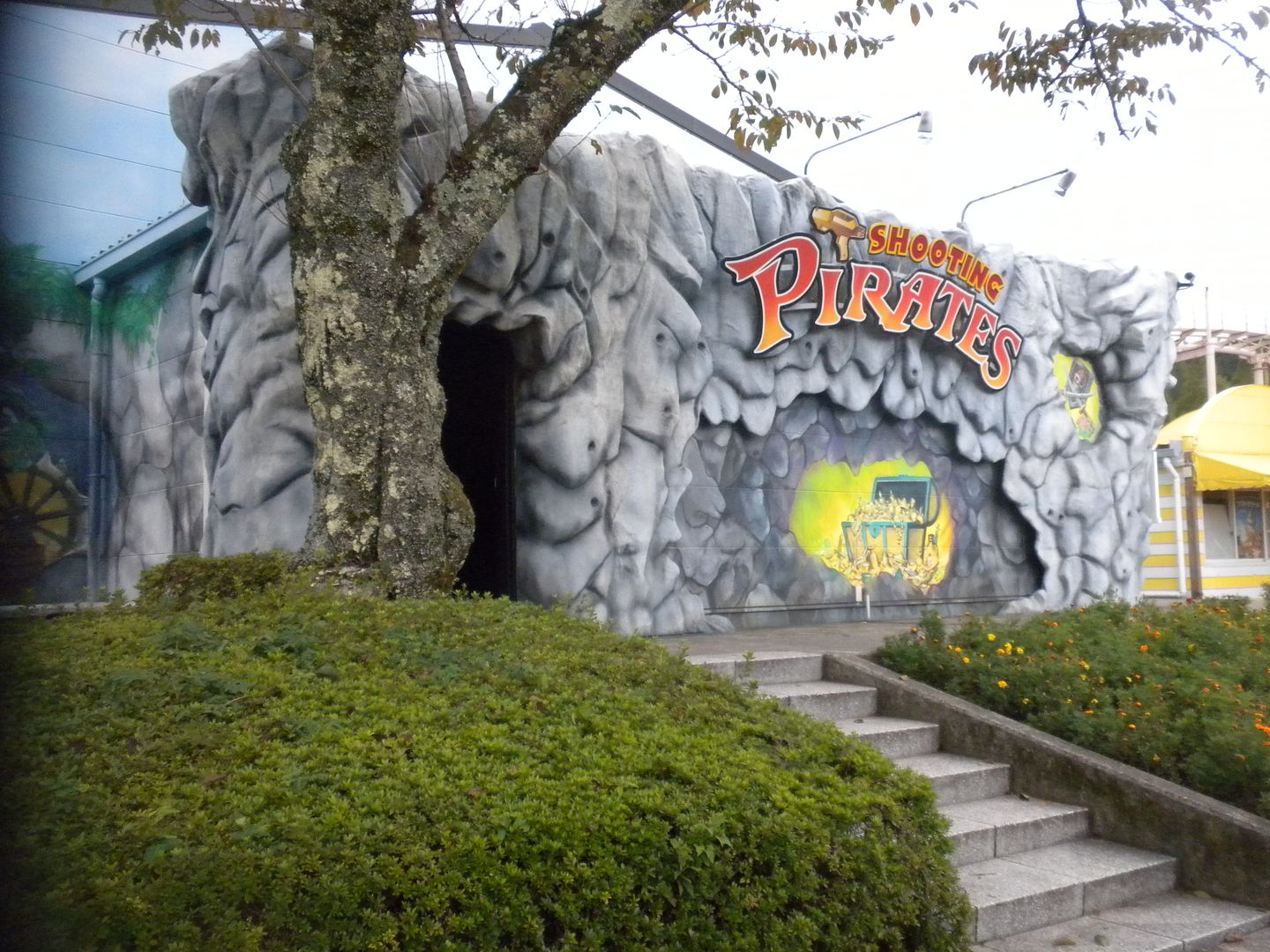 Pirates – This interactive ride had four person vehicles that rotated, allowing everyone a chance to shoot at the various targets.  It was fun – 1 ride.


Ice World – This was perhaps the best of the Ice Houses as they had an extensive exhibit including statues of polar bears, penguins, a walrus and even a Viking ship – 1 walkthrough.
Forest Escape – This was part obstacle maze and part laser maze as you had to avoid walking through lasers – 1 walkthrough.
Experiential 3D SUPER360 Theater – This 3D in 360 degrees about dinosaurs was good – 1 show.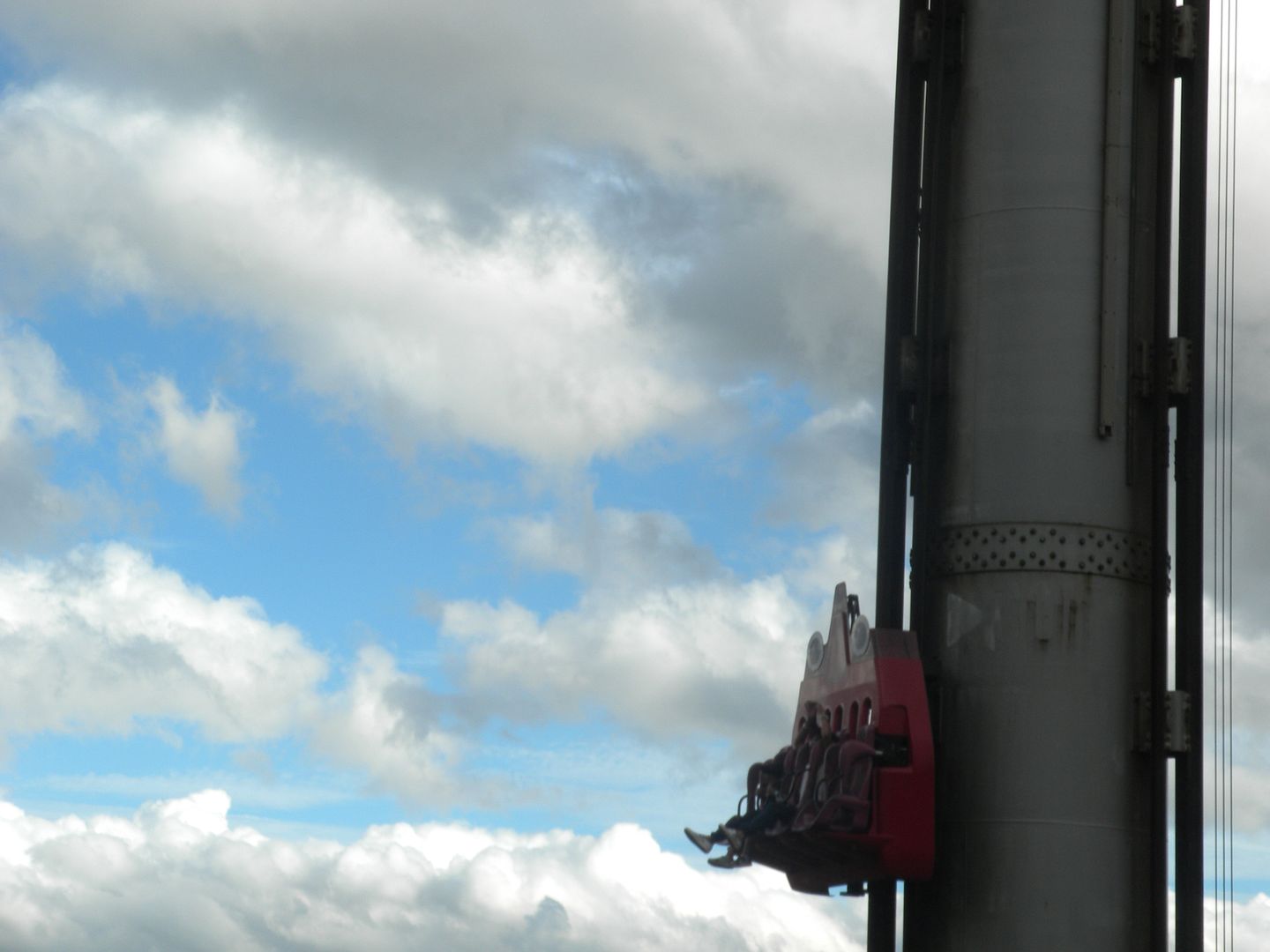 Newton – This Intiman drop tower was good and had amazing views.  It was a little unnerving due to the high winds from the typhoon – 1 ride.


Water Shoot Poseidon 30 – While I usually skip shoot-the-chutes so as not to get drenched,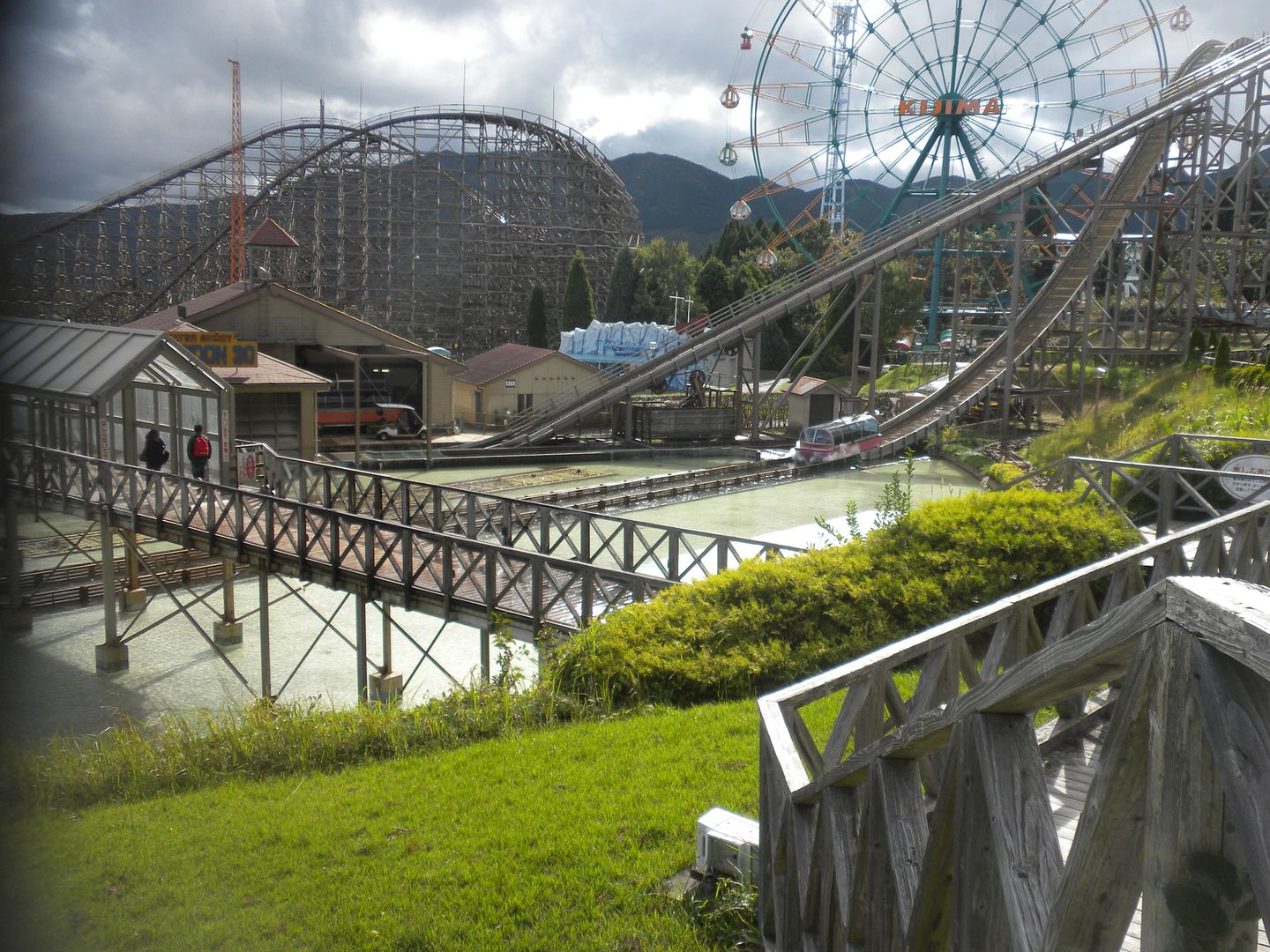 this one has a boat completely covered in glass, so we couldn't resist.  It was amazing when we hit the water and it made a huge splash over us, but we remained dry.  There is an age limit of 60 – 1 ride.


Stork Sky Merry –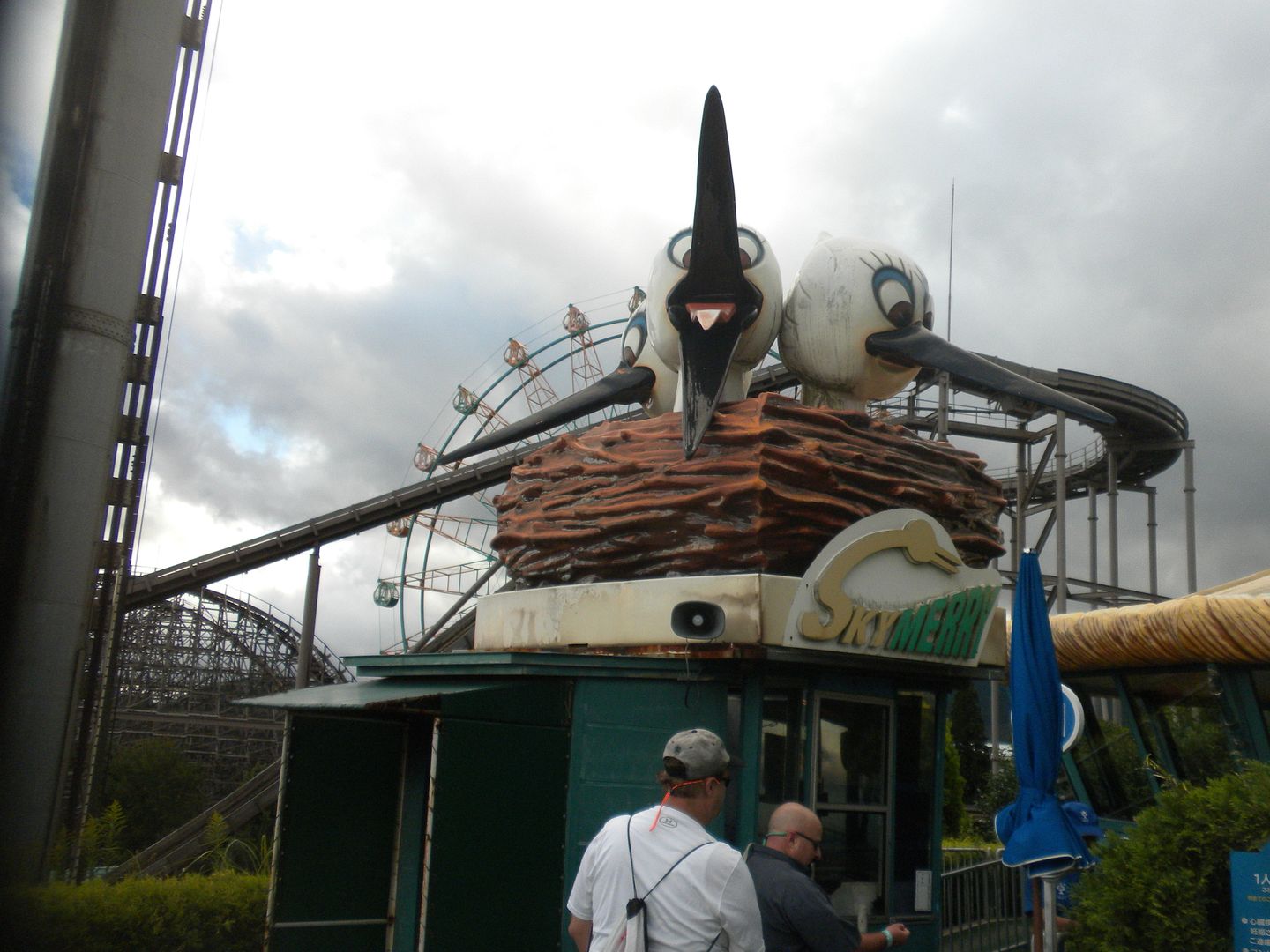 Somewhere I have seen an observation ride like this before themed as a stork, but I cannot remember where.


It gave amazing views


of the surrounding mountains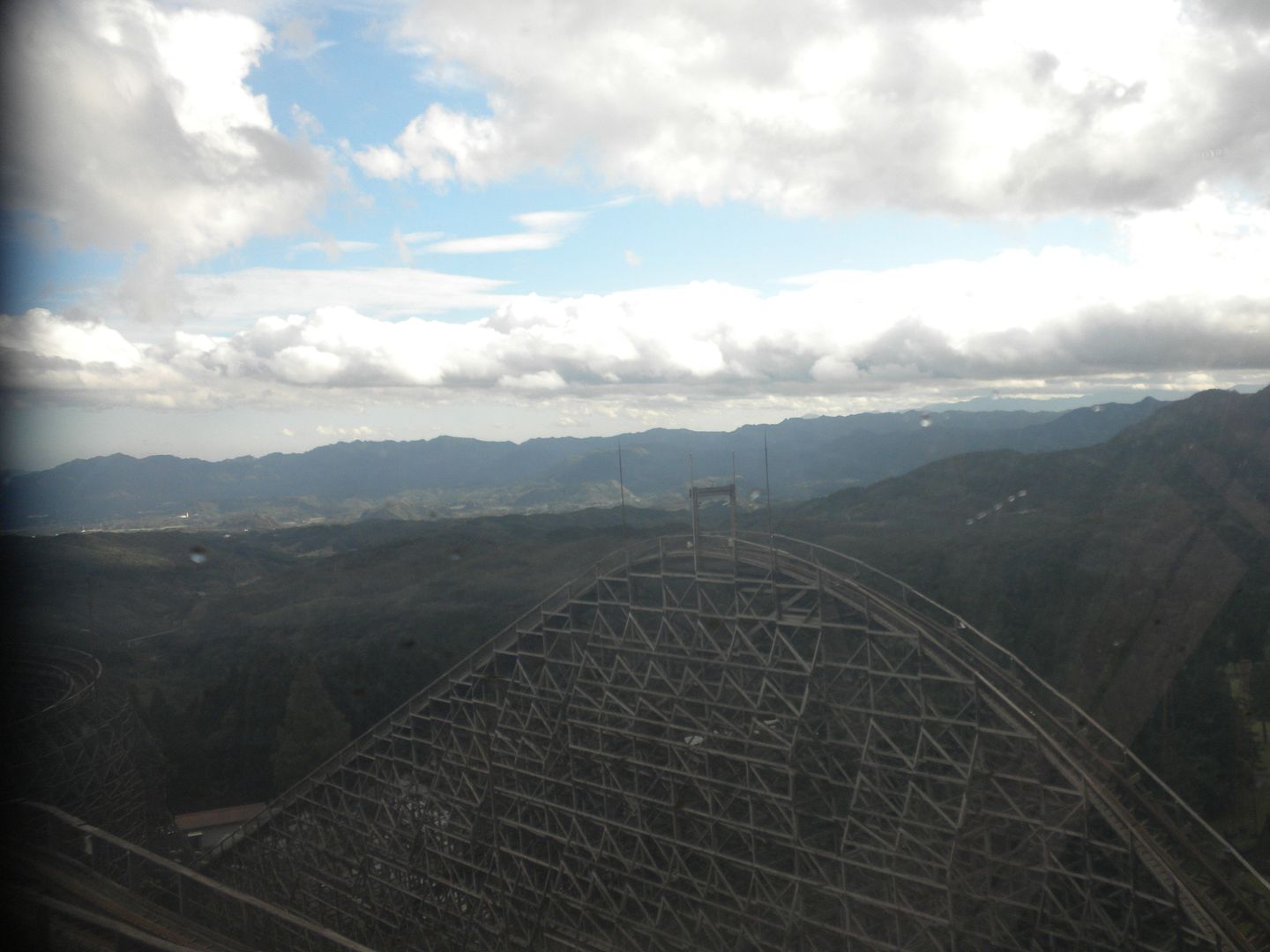 as it rotated – 1 ride.
Moon Parade – This gasoline powered monorail is user controlled and gave a good view of the Go-Karts and other parts of the park – 1 ride.


Merry-Go-Round – This carousel has some horses that are on poles as usual, while others are on half poles but still move up and down – 1 ride.
Ferris Wheel Sky Palette – This is a huge Ferris Wheel, but I am surprised they were operating it this day due to the high winds from the typhoon.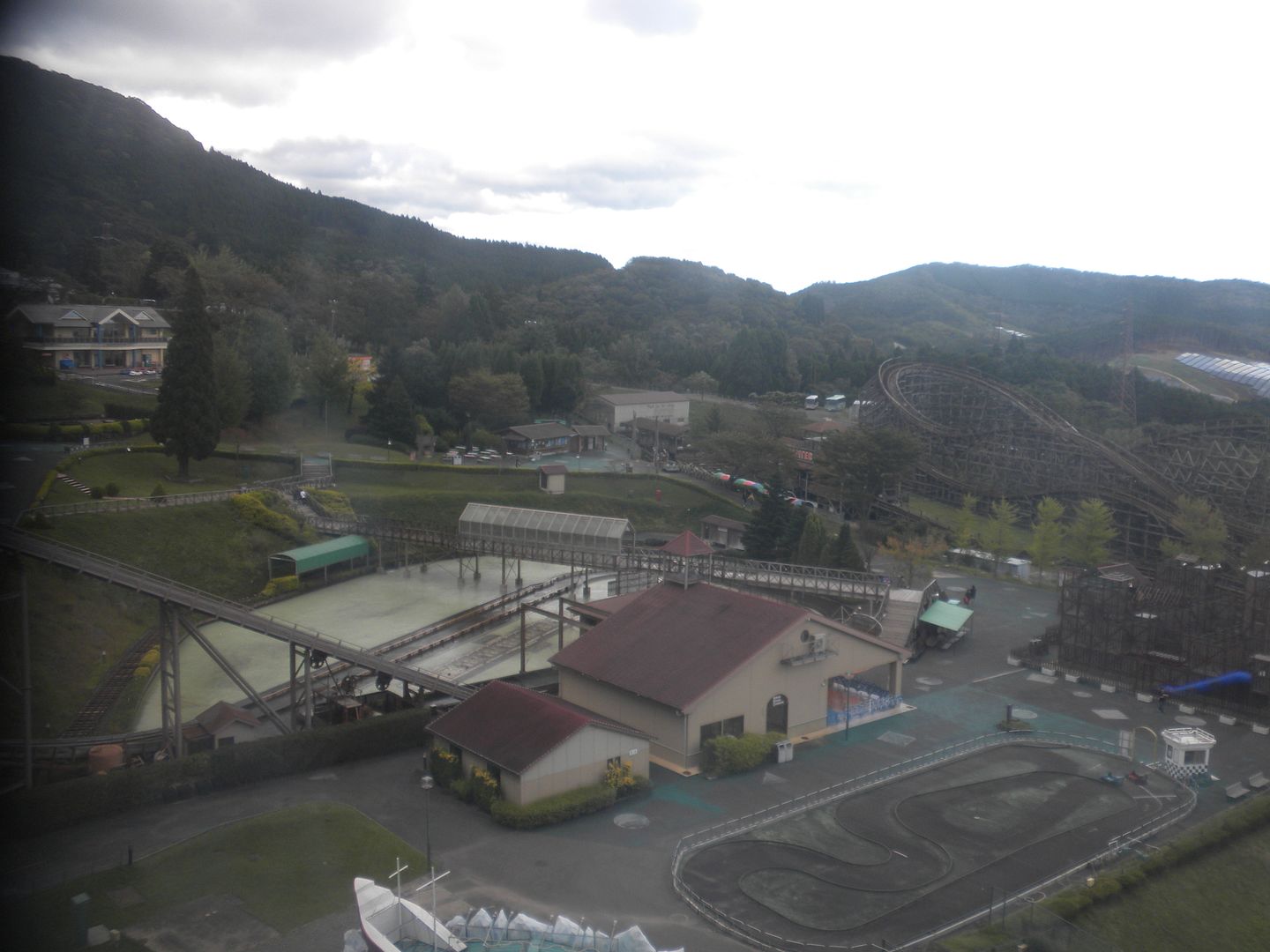 While I am sure it was safe,


it was quite unnerving as we slowly made our way to the top


with the wind whipping and rattling as much as it was – 1 ride.
Go-Kart – This was good and had an interesting course – 1 ride.
We did not get to Plateau Train; Age of Discovery Kijimaru; Pendulum of Da Vinci, a Flying Carpet; Wave Swinger; Sea Stone Barn, a Music Express; Tea Cup; Dragon Boat; and Birdman, a Sky Coaster.  They have five children's attractions.  The one defunct roller coaster in their history was Mini Coaster (Unknown, Steel Sit Down, ?-1999).
We had a good Japanese meal at the park. In spite of it being a Saturday of a holiday weekend (Health and Sports Day was Monday), it was not busy at all as the effects of the typhoon likely kept people away. We went back for another ride on Jupiter later in the afternoon, but it had closed.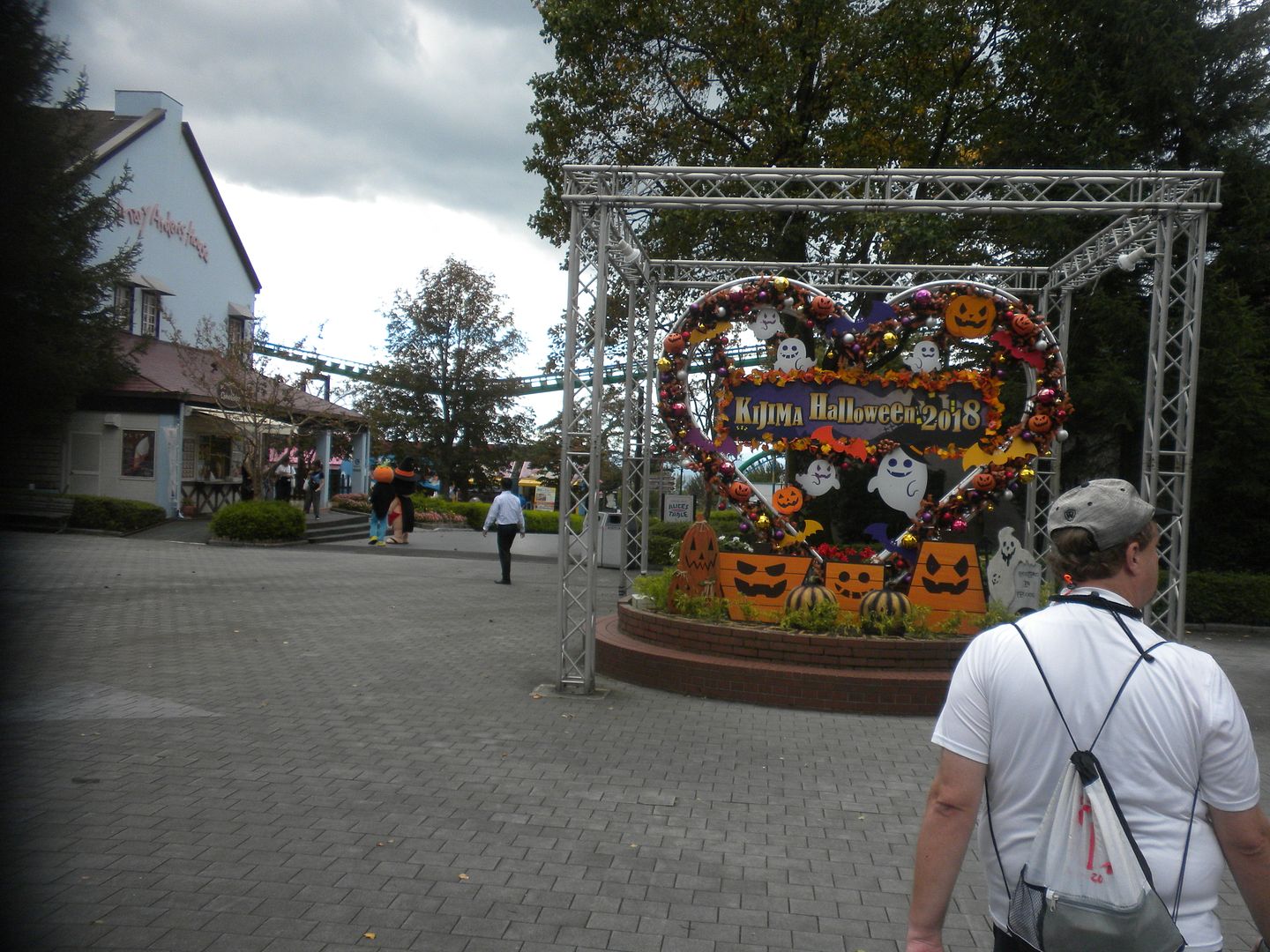 I really enjoyed this park, among my favorites on the trip, and its wood coaster would be worth another visit someday.
We took the bus back to Beppu Station and got checked into the Beppu Komenoi Hotel. Our plan for the evening was to find a nice place for dinner and possibly check out a little of Beppu, but David and Vanessa were extremely tired from the journey and day and opted to find some food at a convenience store. Richard and I ventured out to find a good restaurant and we found a little place that was truly a "hole in the wall" type place, but even with its limited menu, it probably was our most authentically Japanese meal of the trip. The food was good and I enjoyed my last Japanese meal of the trip. We then walked to Beppu Station to find information on the bus we would need for our morning journey. Having found what we needed with help from a nice, British tourist, we stopped by a convenience store to get food for breakfast and headed back to the hotel to get some rest before an early morning.
Up Next: Beppu, Rakutenchi & Return to Tokyo (I apologize but this will not link properly. Please click home and select next post.)