East Meets ACE – Epilogue – Part 2: Greenland / グリーンランド and Fukuoka
On Friday, October 5 after a good Japanese inspired breakfast at the hotel, we ventured out to the first of three parks we would visit on Kyushu. This day would take some good logistics to make it work.  From Hakata Train Station we took a train to Tosu Station, where we changed trains.  This was a small open air train station.  We then took a train to Aaro Station.  Upon arriving we had to take a bus to our park, which was hard to find information about online.  After a short wait our bus arrived and took us to Greenland in Arao, Kumamoto, Japan.  As we rode on the bus it began to rain, and with another typhoon headed our way, we worried we might miss some coasters at the park. 


Upon arriving they were quick to point out that a number of the rides did not operate in the rain, but we were here for better or worse, so we bought our tickets and walked in.  The rain had stopped and we soon saw that coasters that had been closed were beginning to open.  This park opened in 1966, and with nine coasters, is the largest park in Kyushu and one of the largest in Japan.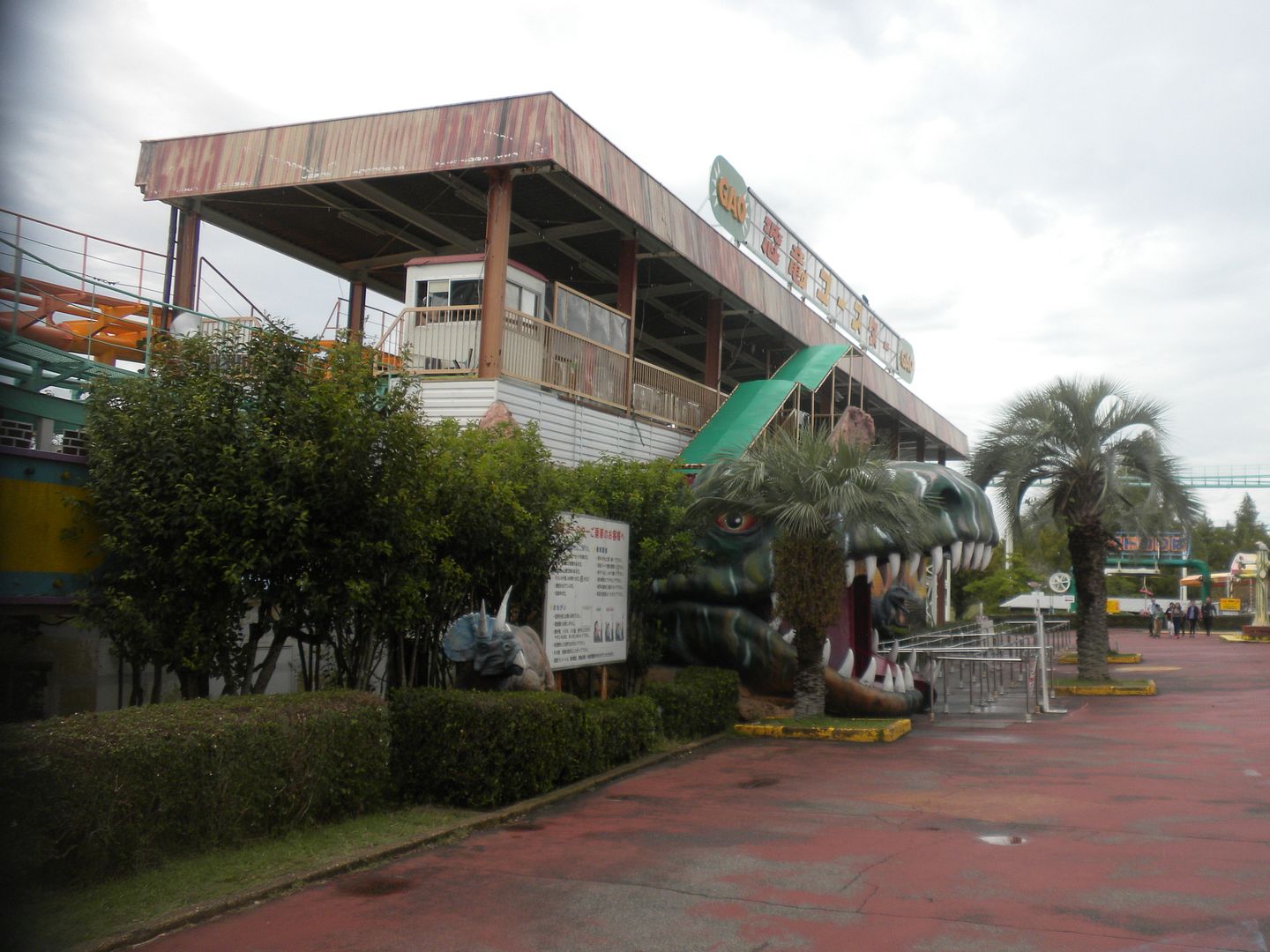 Gao (Meisho Amusement Machines, Steel Sit Down, 1998)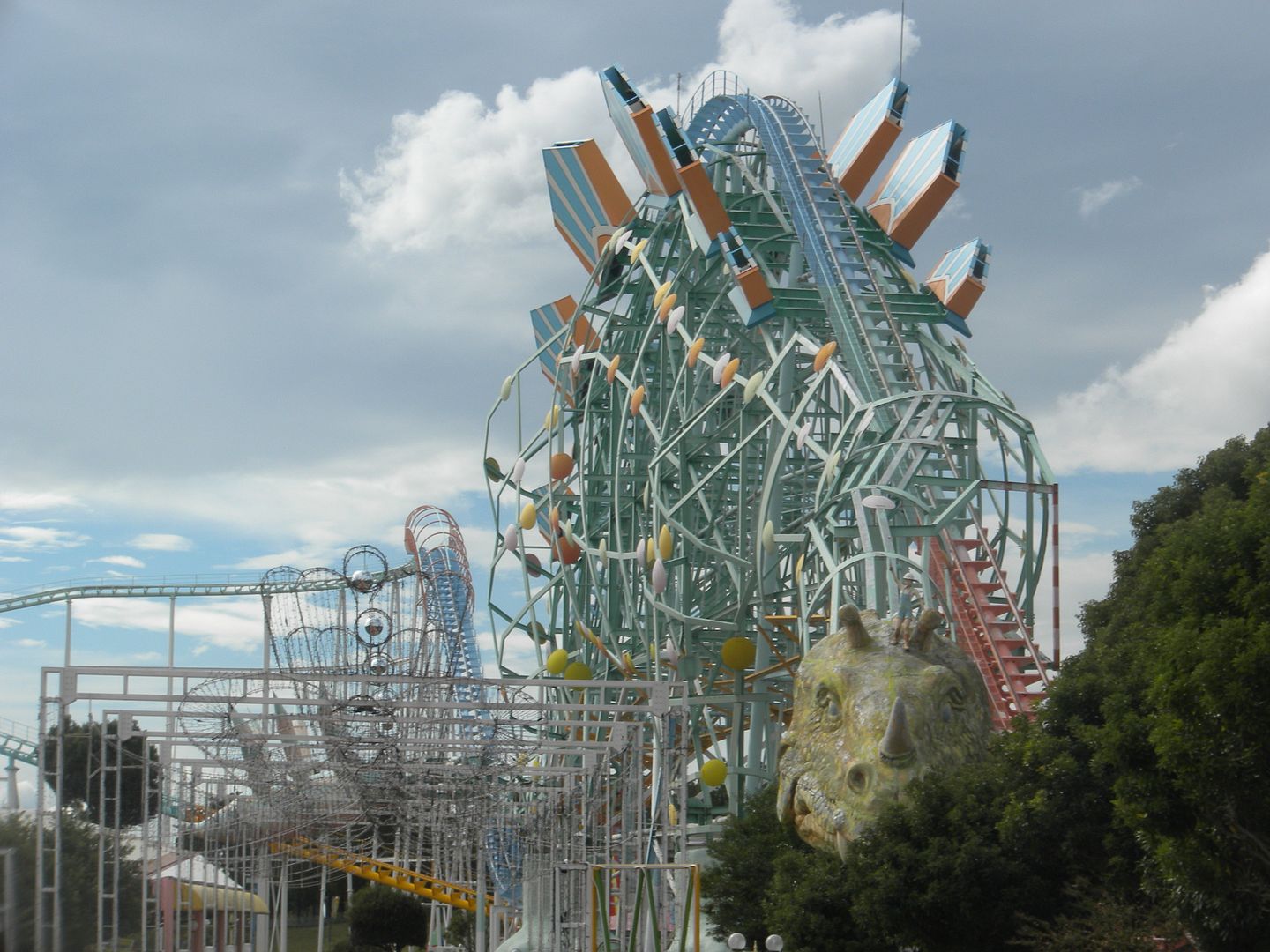 My most anticipated ride at this park, this 5,458' long ride is themed to look a dinosaur. 


When we arrived it was not running due to rain,


and it was the last of the major rides to open, but we got to ride it and it is a very good ride. 


It gives a smooth ride with some forceful elements.  Interestingly, it uses a tire driven braking system, so the smell of rubber is in the air.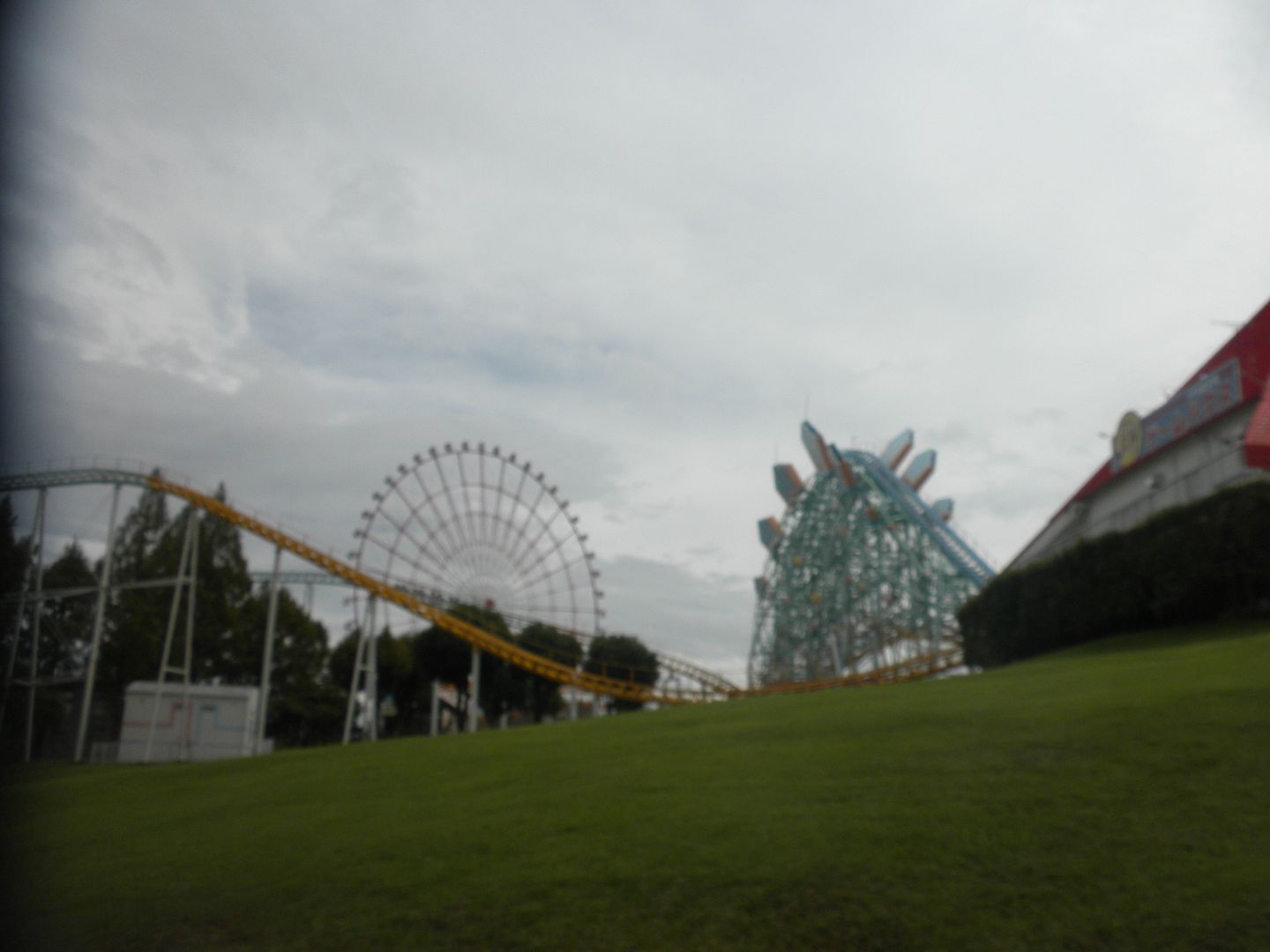 It builds up some really good speed and delivers well.  There is an age limit of 64 – 2 rides.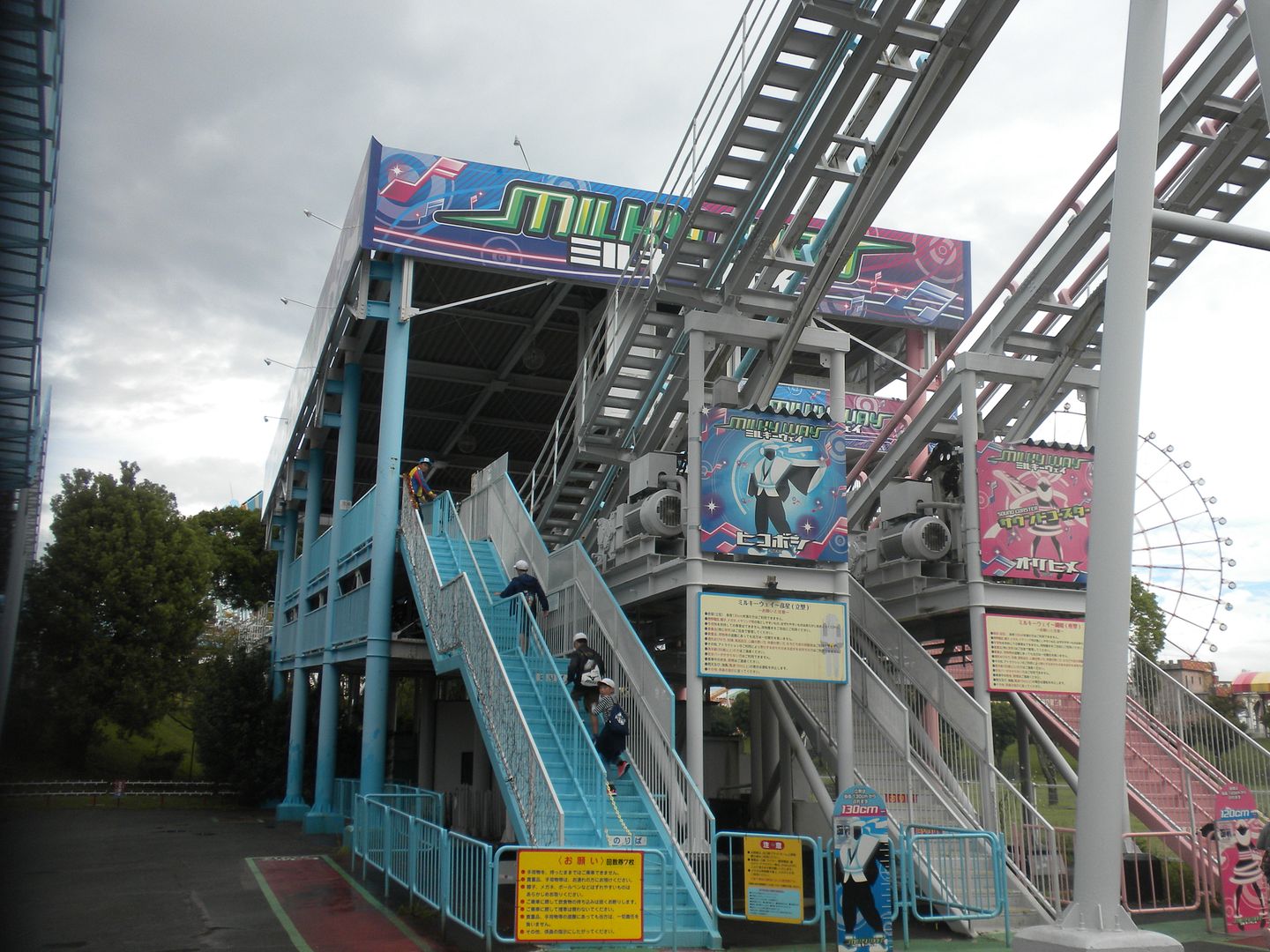 Milky Way (Togo, Twin Stand Up, 1990/1991) Formerly known as Fujin-Raijin and Ultra Twin, it originally opened in 1990 as part of the Garden and Greenery Expo in Osaka and was moved to Greenland in 1991.  This twin coaster runs sit-down trains on the blue side and stand-up trains on the pink side. Originally both sides had stand-up trains.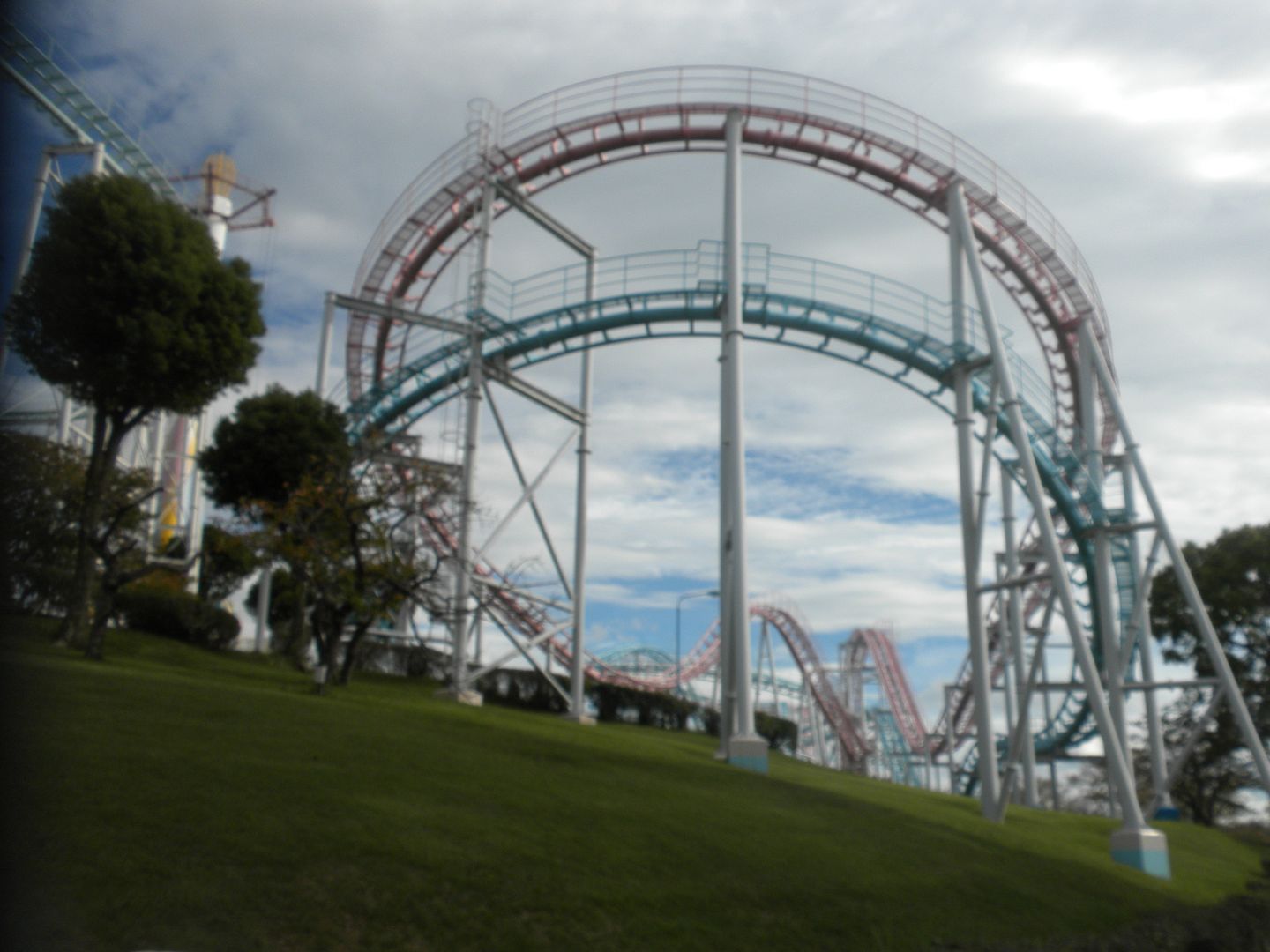 Although the tracks are the same length, the sit-down side seems to have an advantage to win, which it did each time we rode that it raced.  Some of us liked the sit-down side better, others the stand-up side.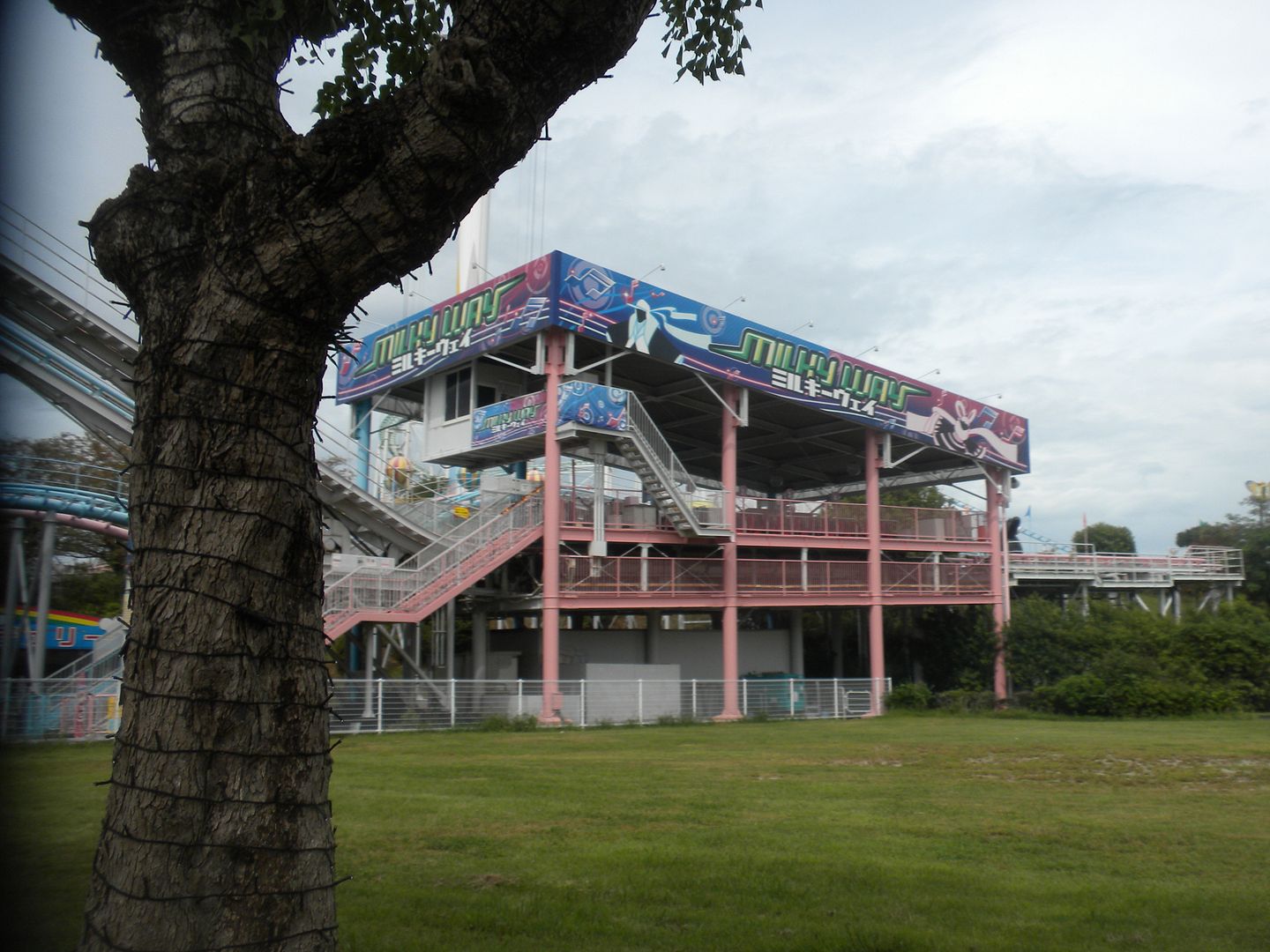 I liked the sit-down side better as the airtime on the standup side tended to throw me into the restraints painfully.  There is an age limit of 64 – 4 rides, 2 on each side.


Ultra Twister Megaton (Togo, Ultra Twister Pipeline, 1994) This was the second of these unique coasters of our trip and the third I have ridden.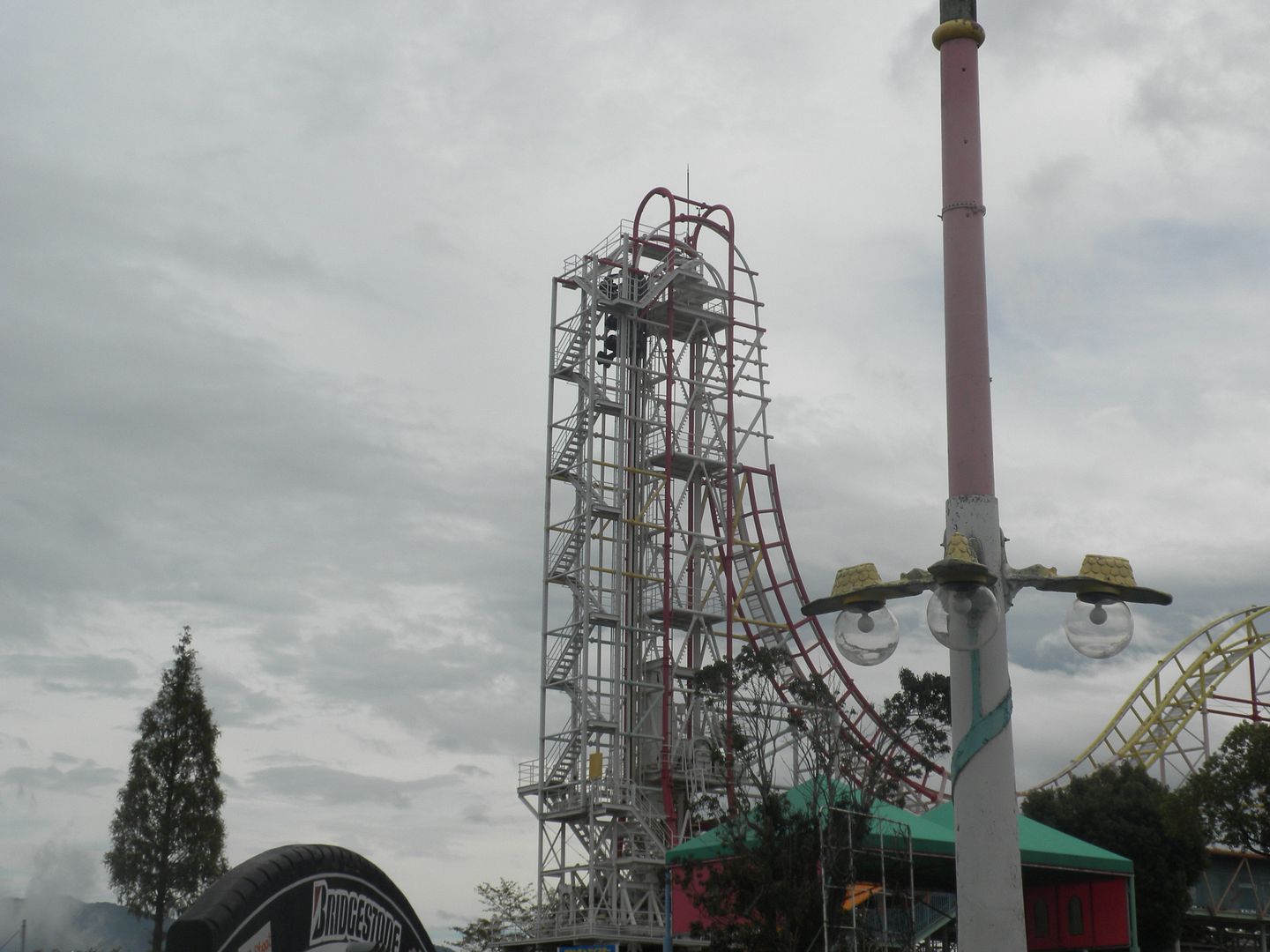 With its unique placement of the car between the track, the three heartline rolls are truly at the rider's heartline.  Like the others I have ridden, it was a lot of fun – 2 rides.


Grampus Jet (Vekoma, Swinging Turns Suspended, 1994)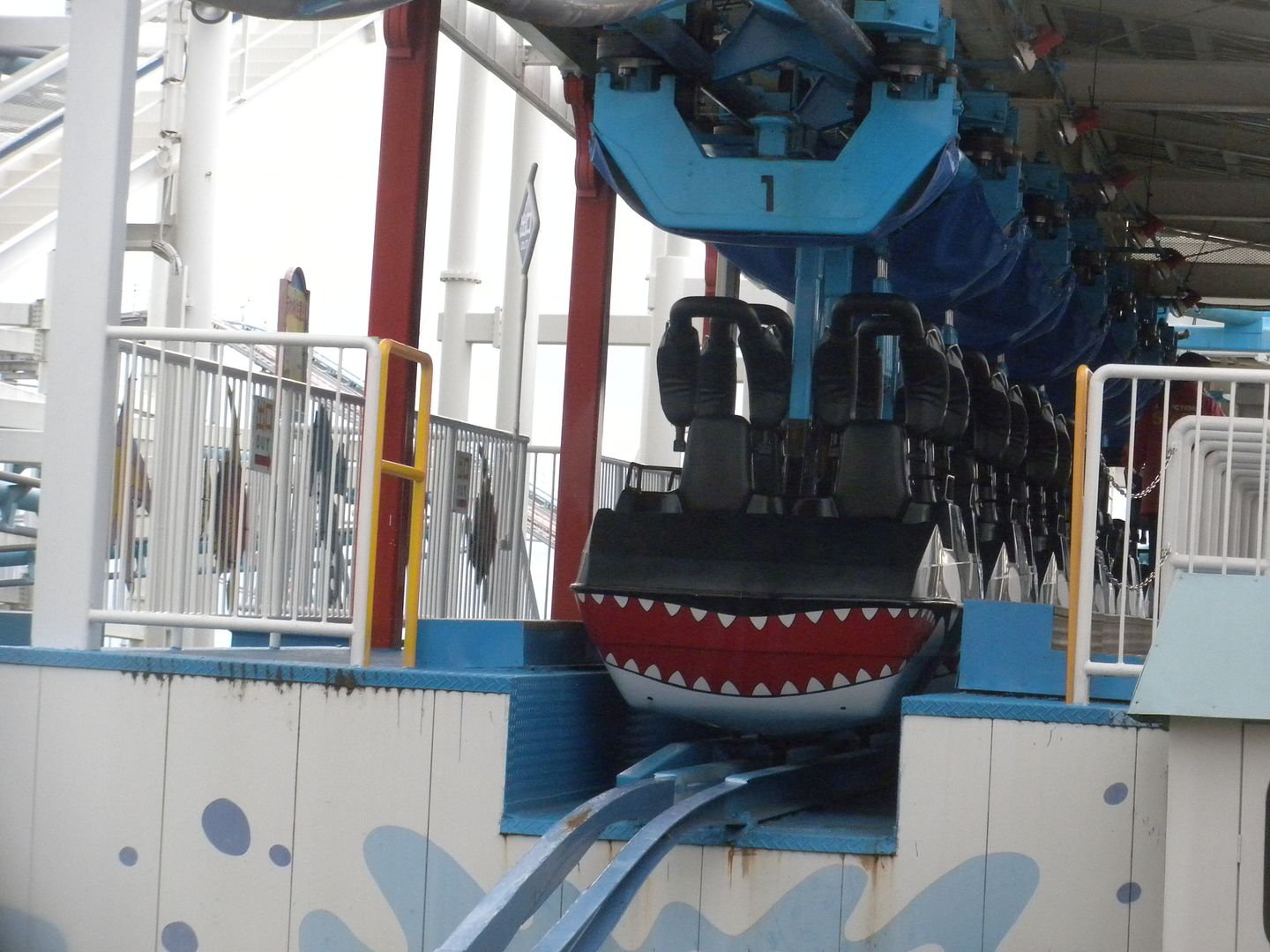 With trains built by Arrow Dynamics, this Vekoma Suspended Flying Turns is one of only three ever built, with the other two being in Belgium at Bobbejaanland and in Thailand at Dream World.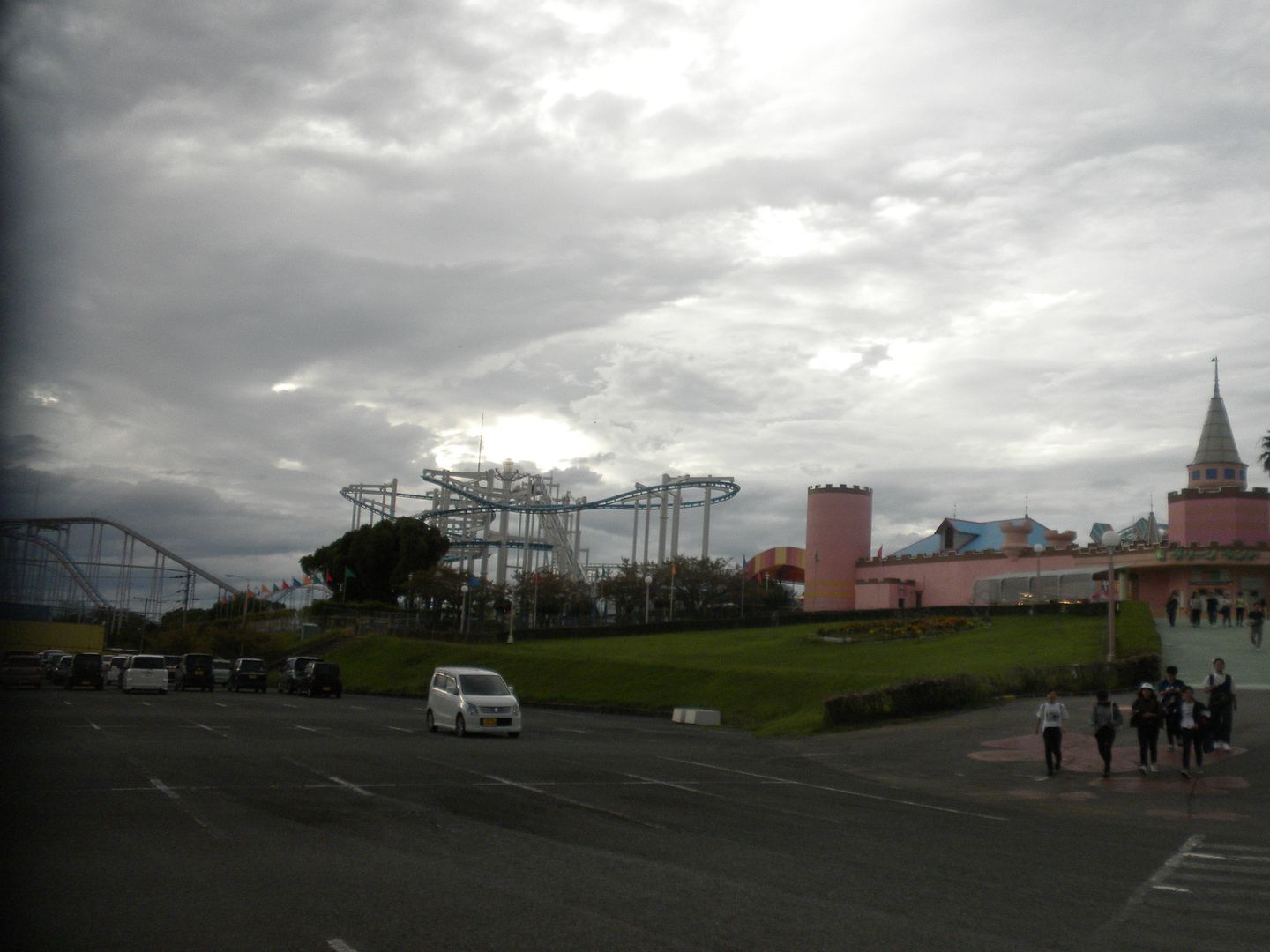 It gives some good swinging, and although its layout is fairly compact, it creates some good elements – 2 rides.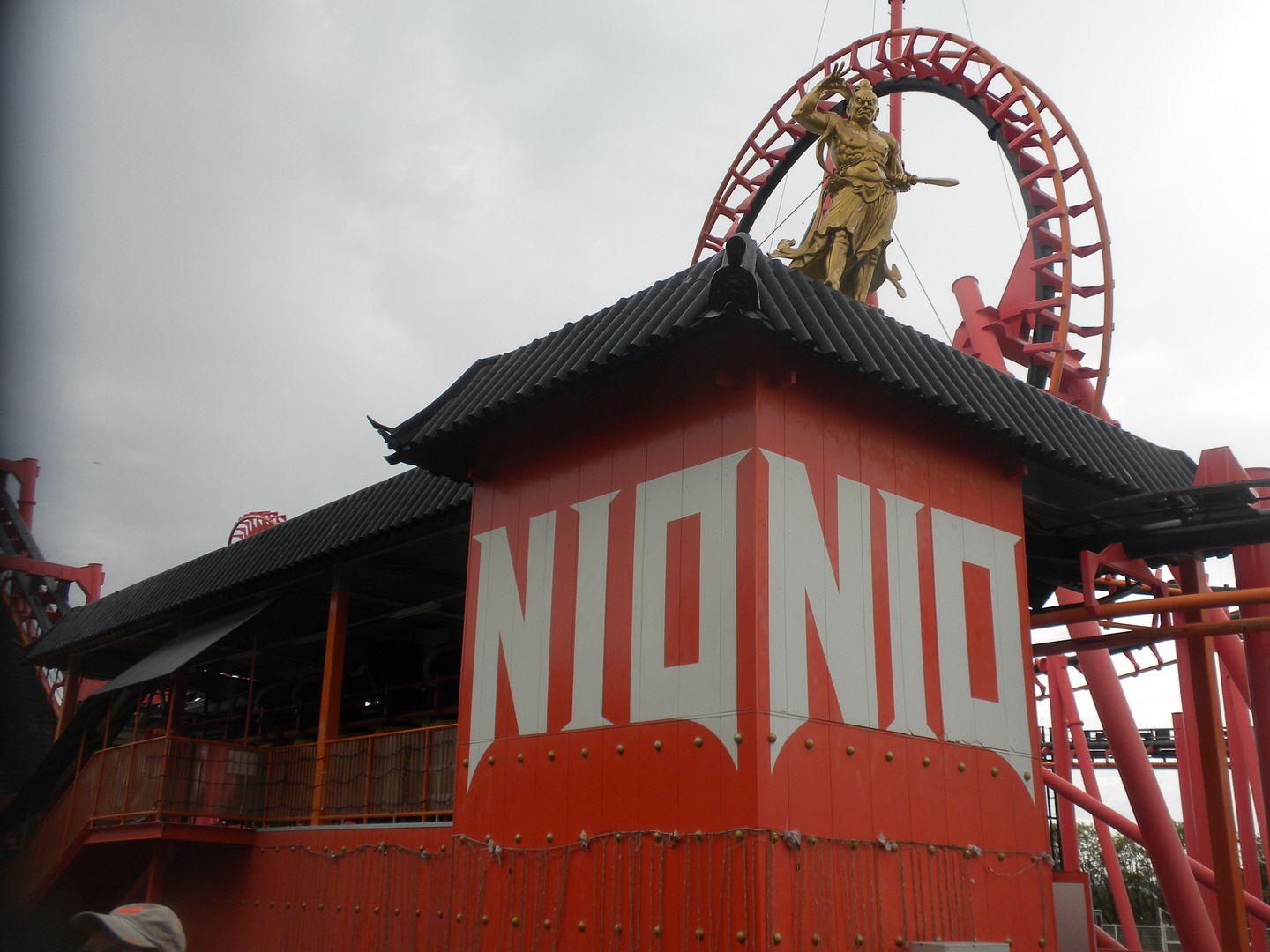 Nio (Vekoma, SLC Inverted, 1997)


This gives the standard ride and is well themed.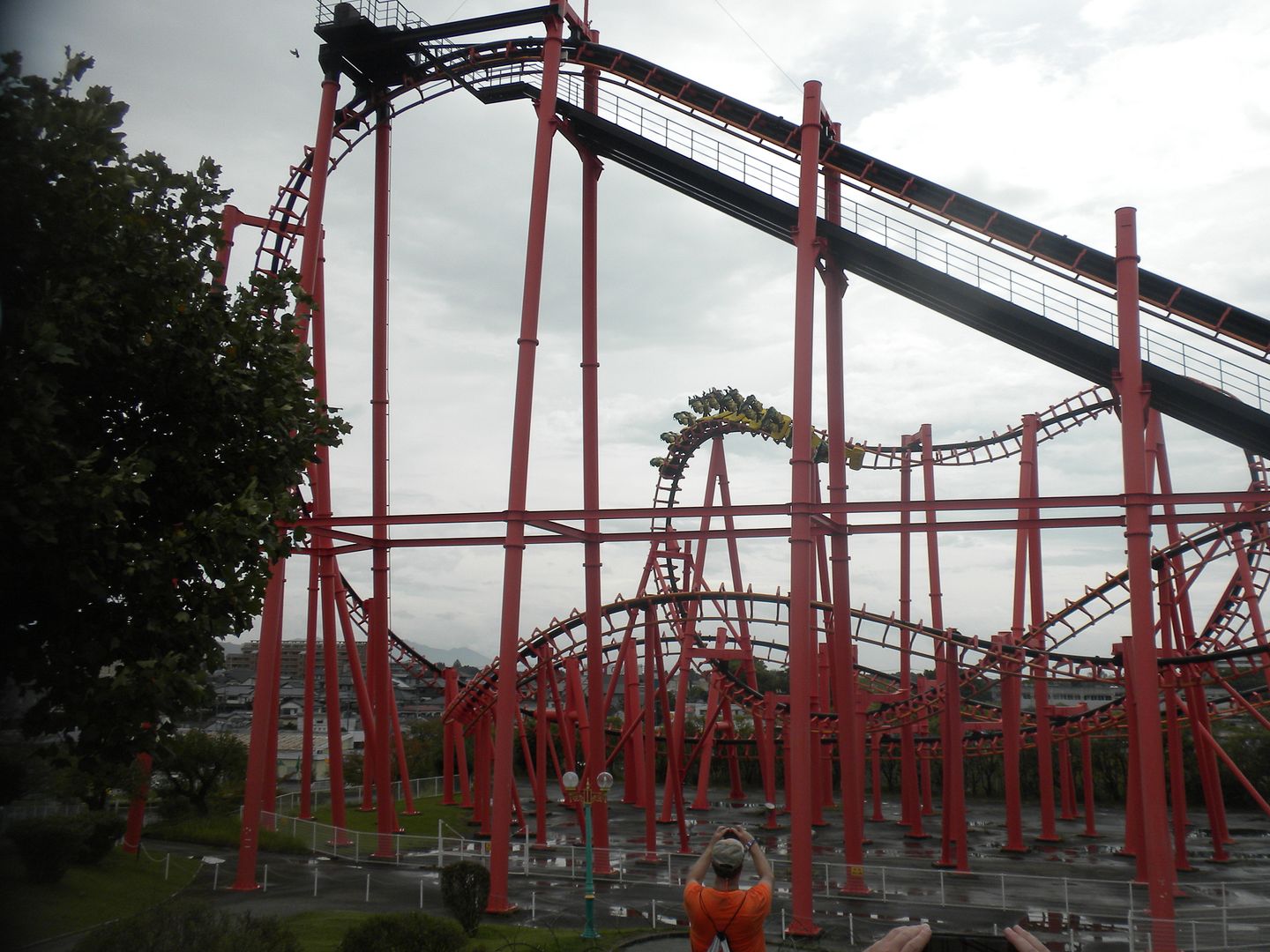 It has an age limit of 64 – 1 ride.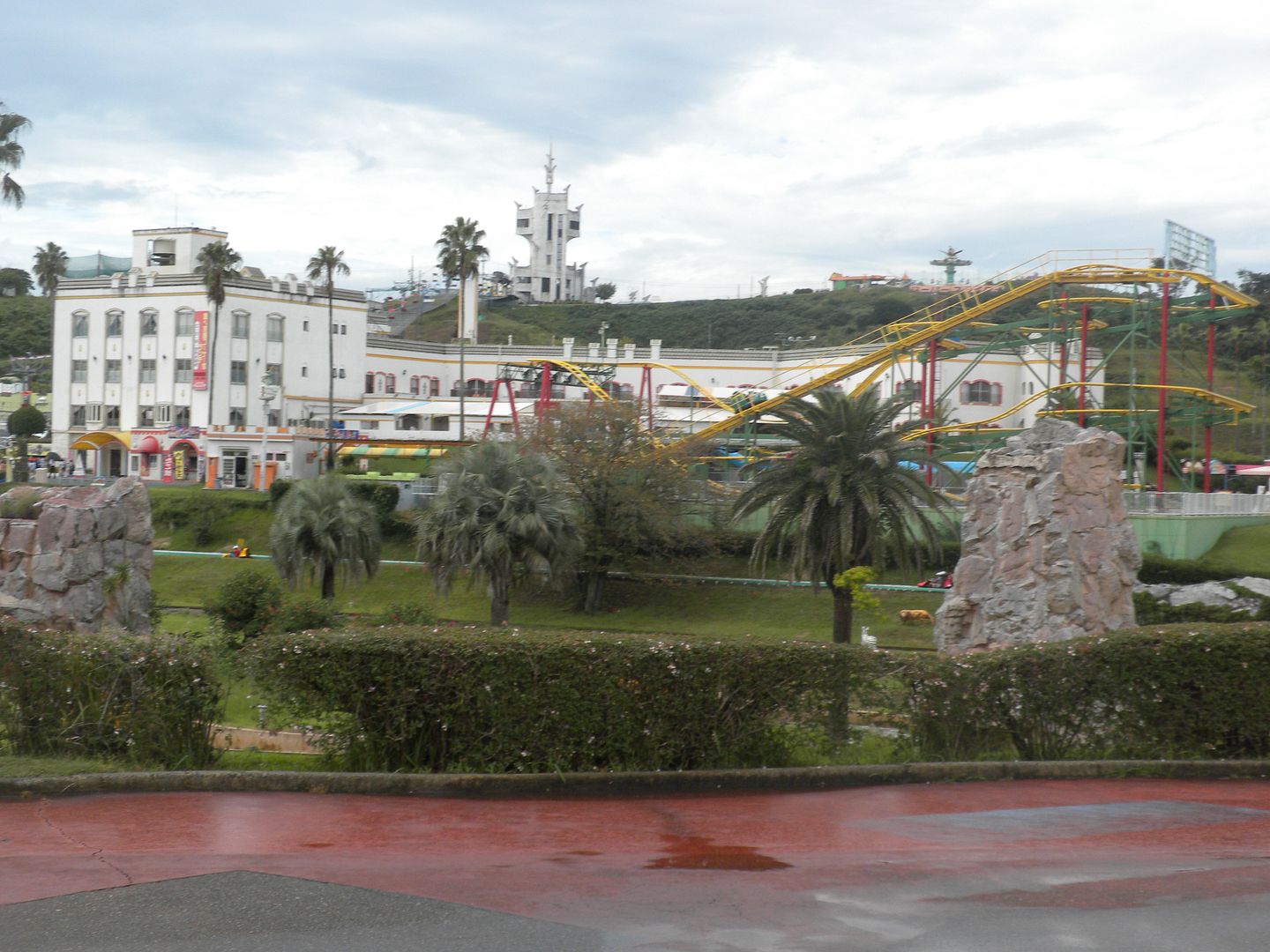 Spin Mouse (Reverchon, Spinning Wild Mouse, 1998) This was the best Reverchon Spinning Mouse of our trip with really good spinning and more comfortable restraints that than others we rode.  There is an age limit of 64 – 1 ride.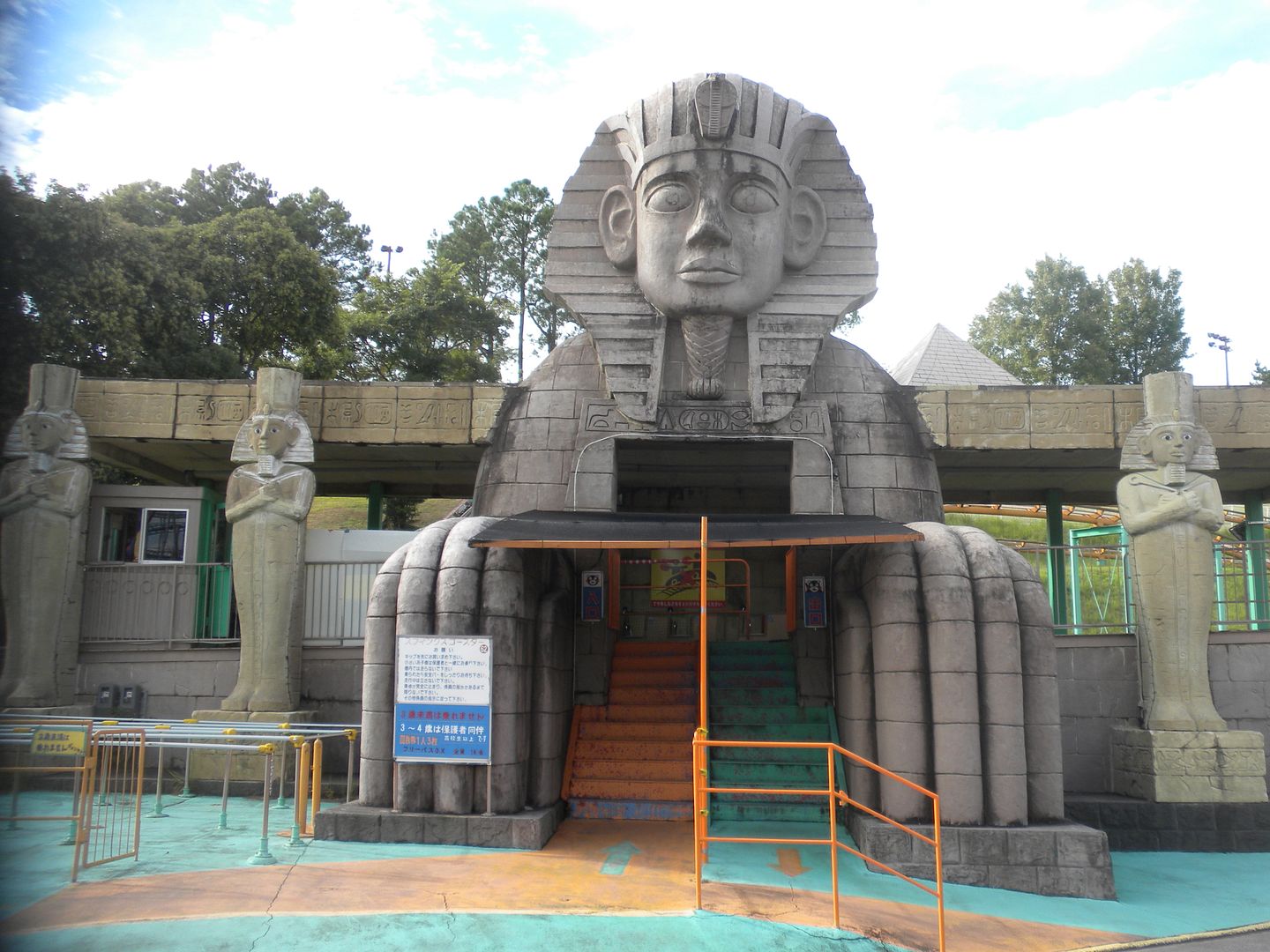 Sphinx (Unknown, Family, 1993) This nicely themed coaster is fun – 1 ride.


Blackhole Coaster (Meisho Amusement Machines/Zamperla, Enclosed Powered Family, 2007) Enclosed in a well themed structure made to look like rock, this space themed powered coaster gives a fun ride – 1 ride.


Unfortunately Ladybird (Unknown, Powered Kiddie, 2005 or earlier) was closed for repair, so we did not get to ride. Others visited two days later and did get to ride it.

Hell Hall – This haunted darkride with headphones was good, and the eerie voices in your ears add greatly, even if I could not understand what they are saying – 1 ride.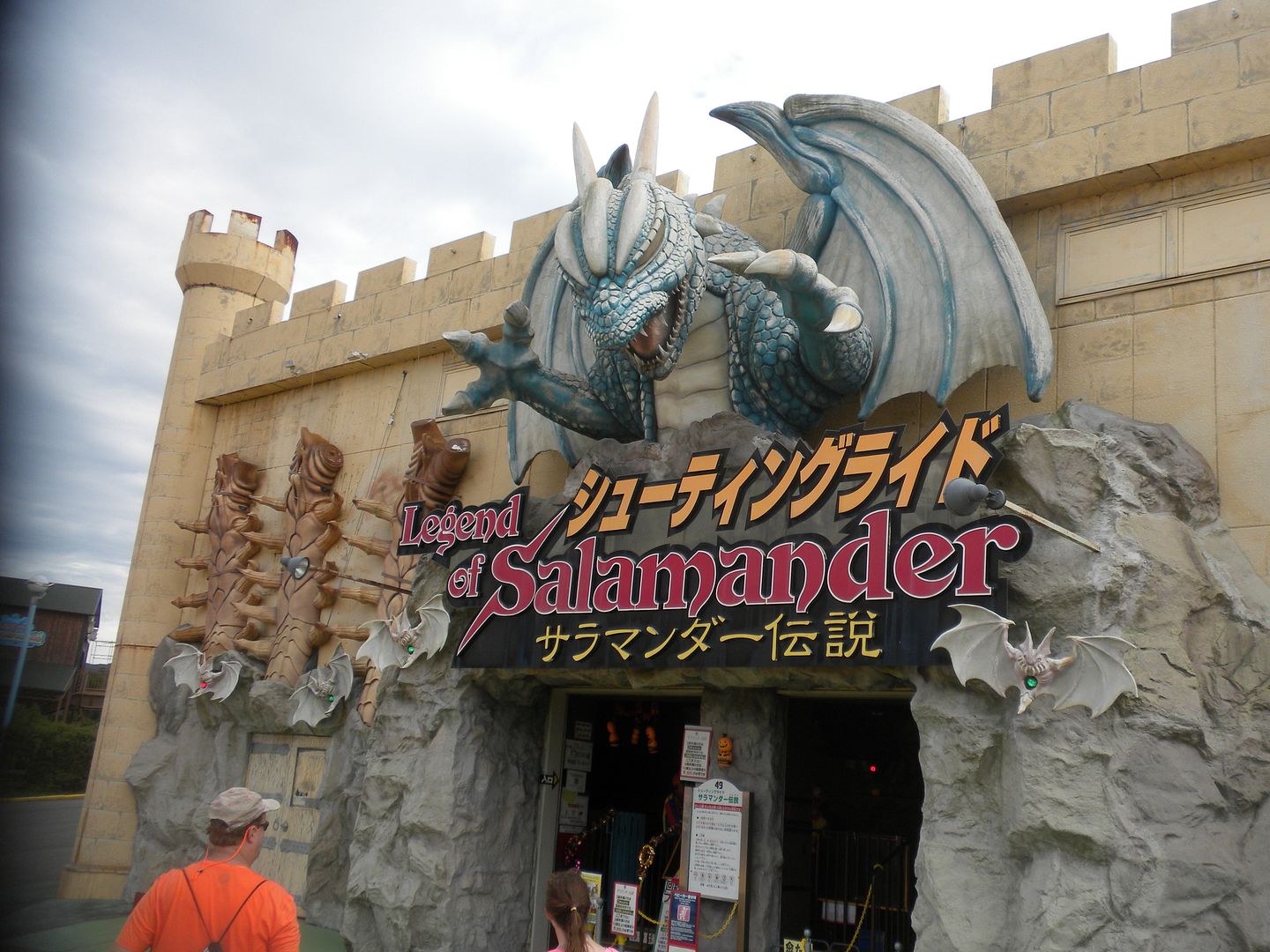 Legend of Salamander – This is another interactive darkride of the type we have seen frequently in Japan, and it is well themed – 1 ride.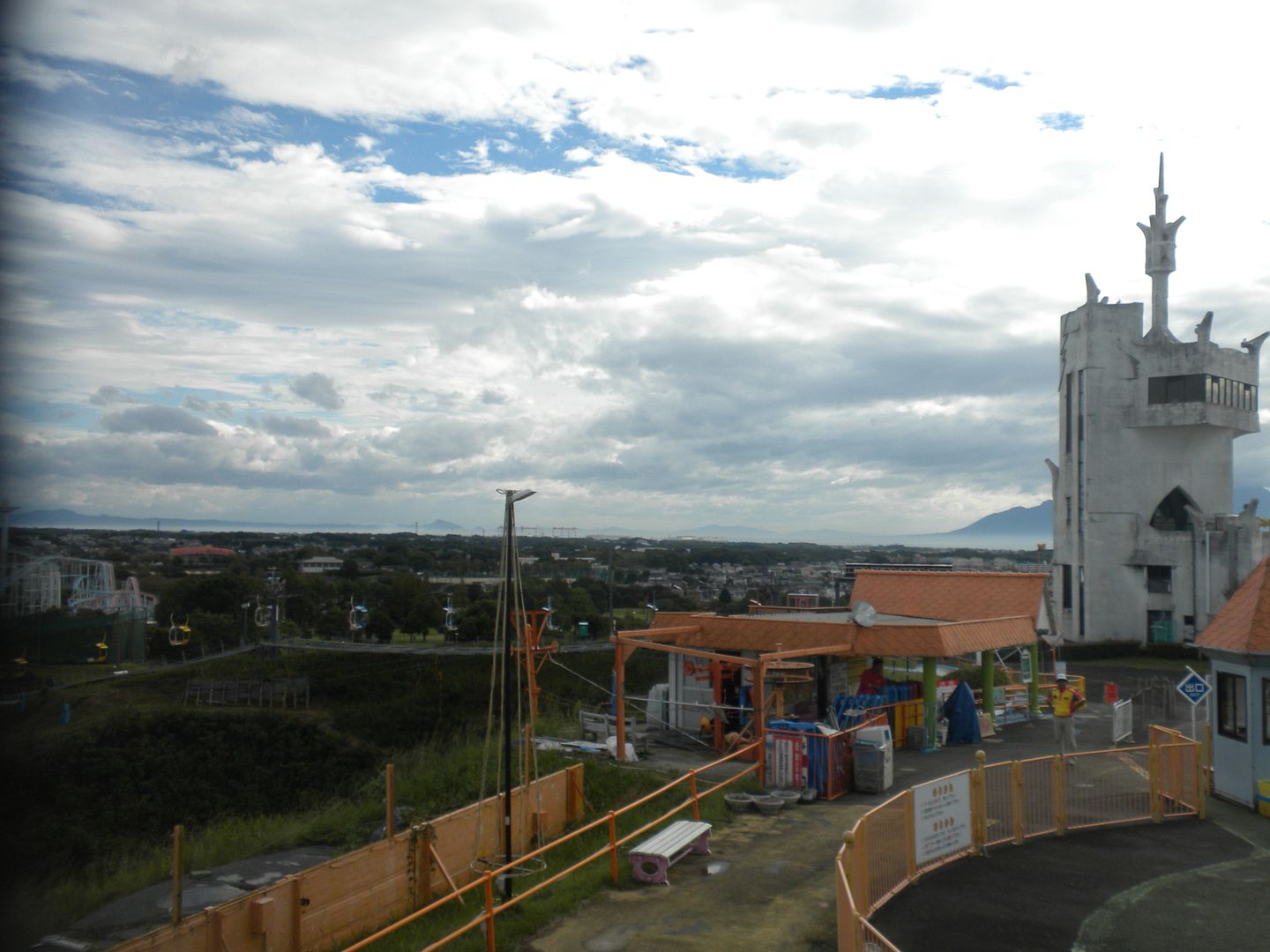 Horror Tower – This unique haunted walkthrough is in a weird, multi-story tower at the top of the hill, accessible only from the double sky lift. It is on both the fourth and second floor of this tower building and is themed to an abandoned school. It had some good gags – 1 walkthrough.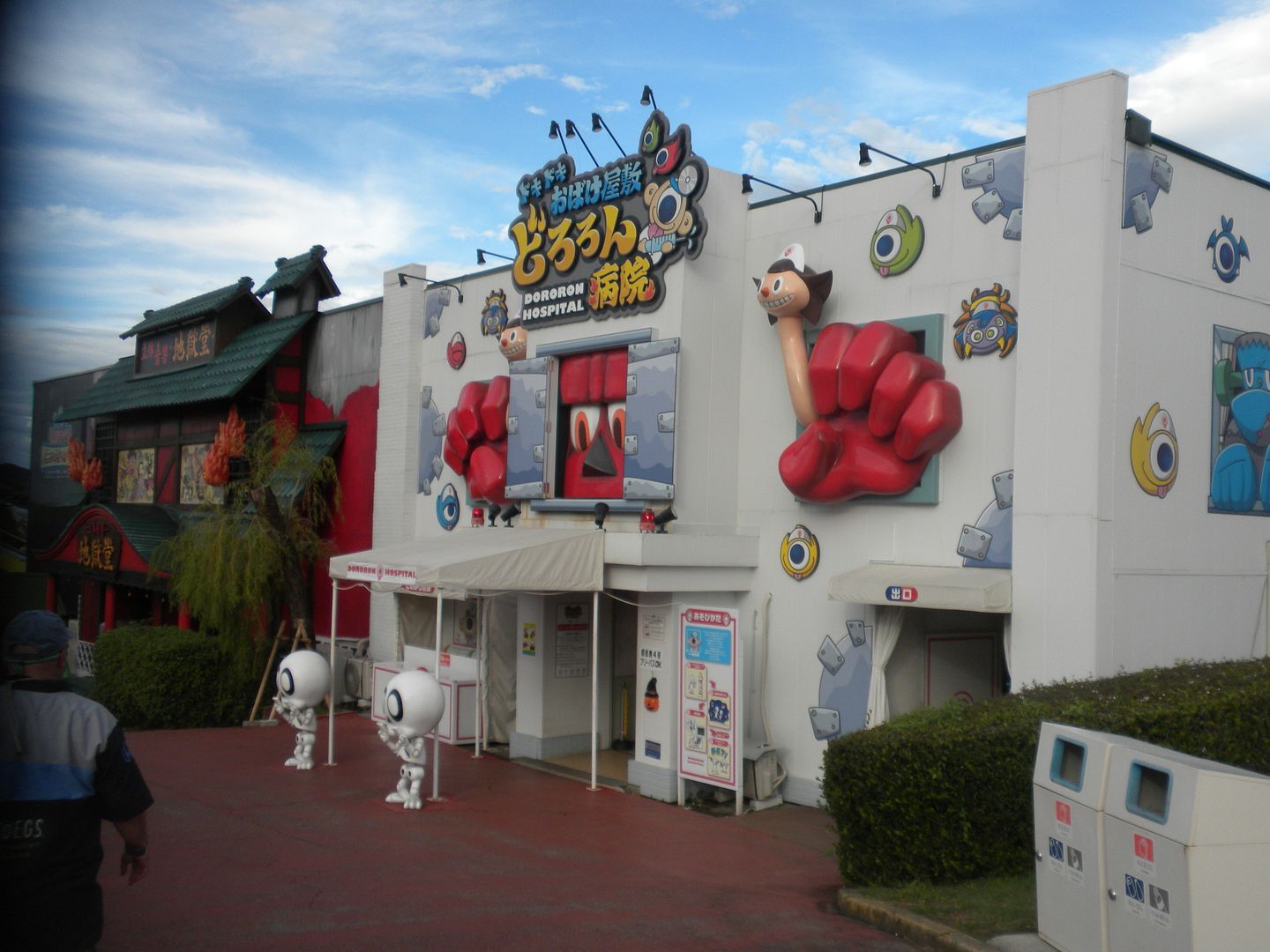 Doki Doki Dorono Hospital – This haunted hospital walkthrough was themed to the same characters as the darkride at Hirakata Park. Upon entering, you are given a battery operated candle with you can use to complete tasks and receive a diagnosis at the end – 1 ride.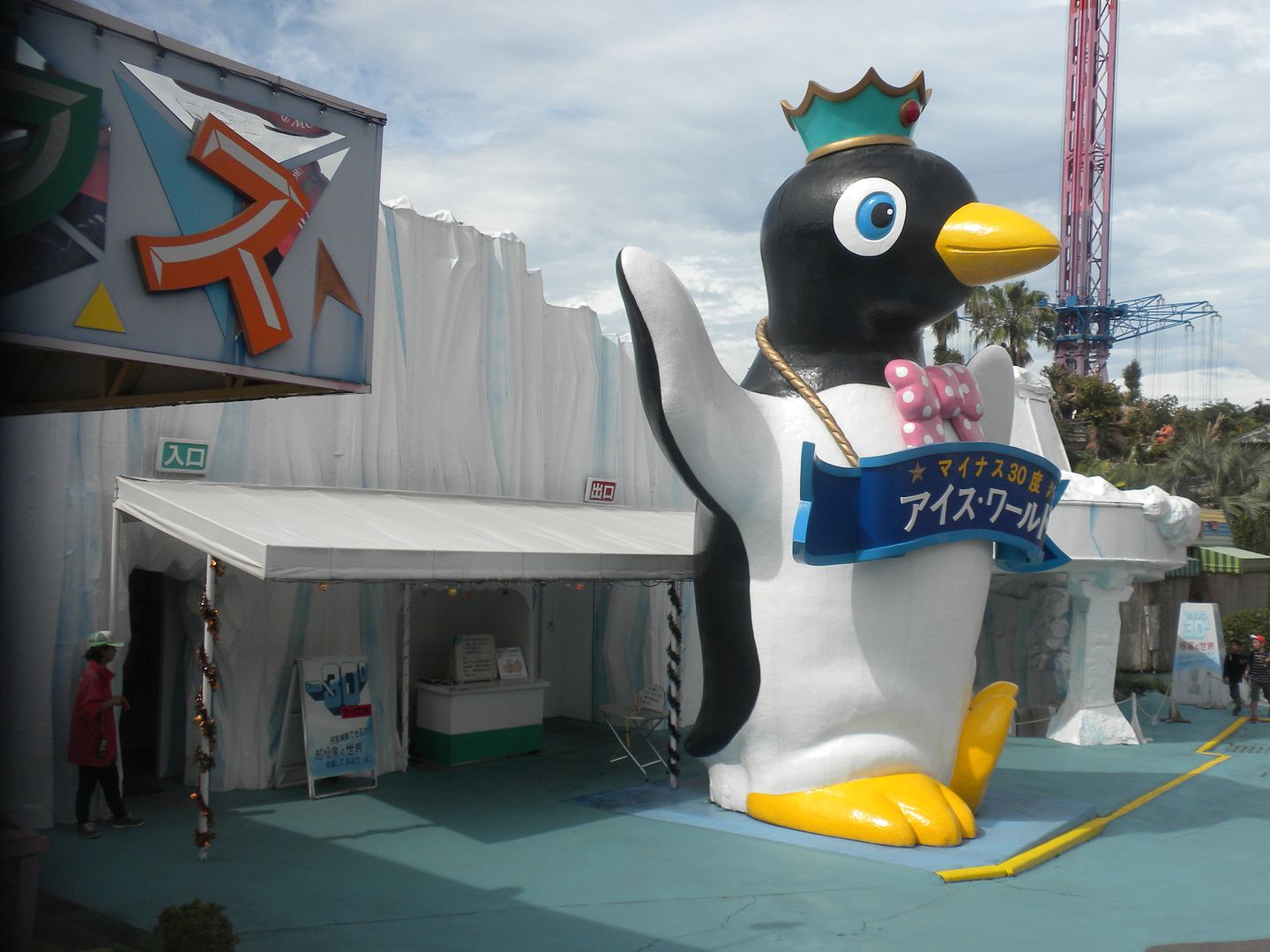 Ice World – This was a good ice house at 30 degrees below 0 Celsius, and felt really good on this hot and humid day – 1 walkthrough.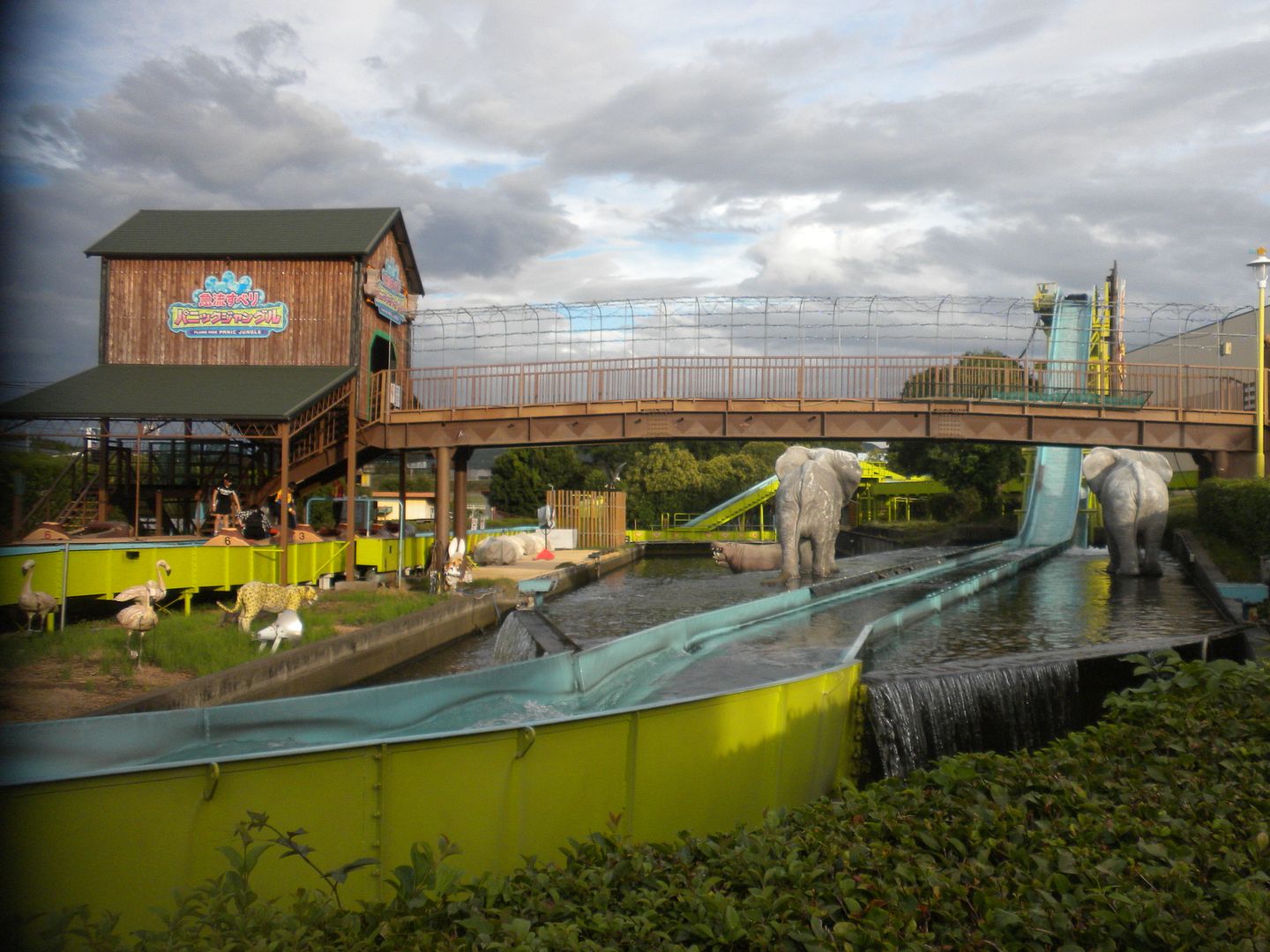 Flume Ride Panic Jungle – This is a nice log flume with an indoor portion and good splash, but not too wet – 1 ride.


Road Train – This trackless train is a great way to get around this huge and hilly park as it makes eight stops – 2 rides.
Sky lift – This double seat chair lift with no restraint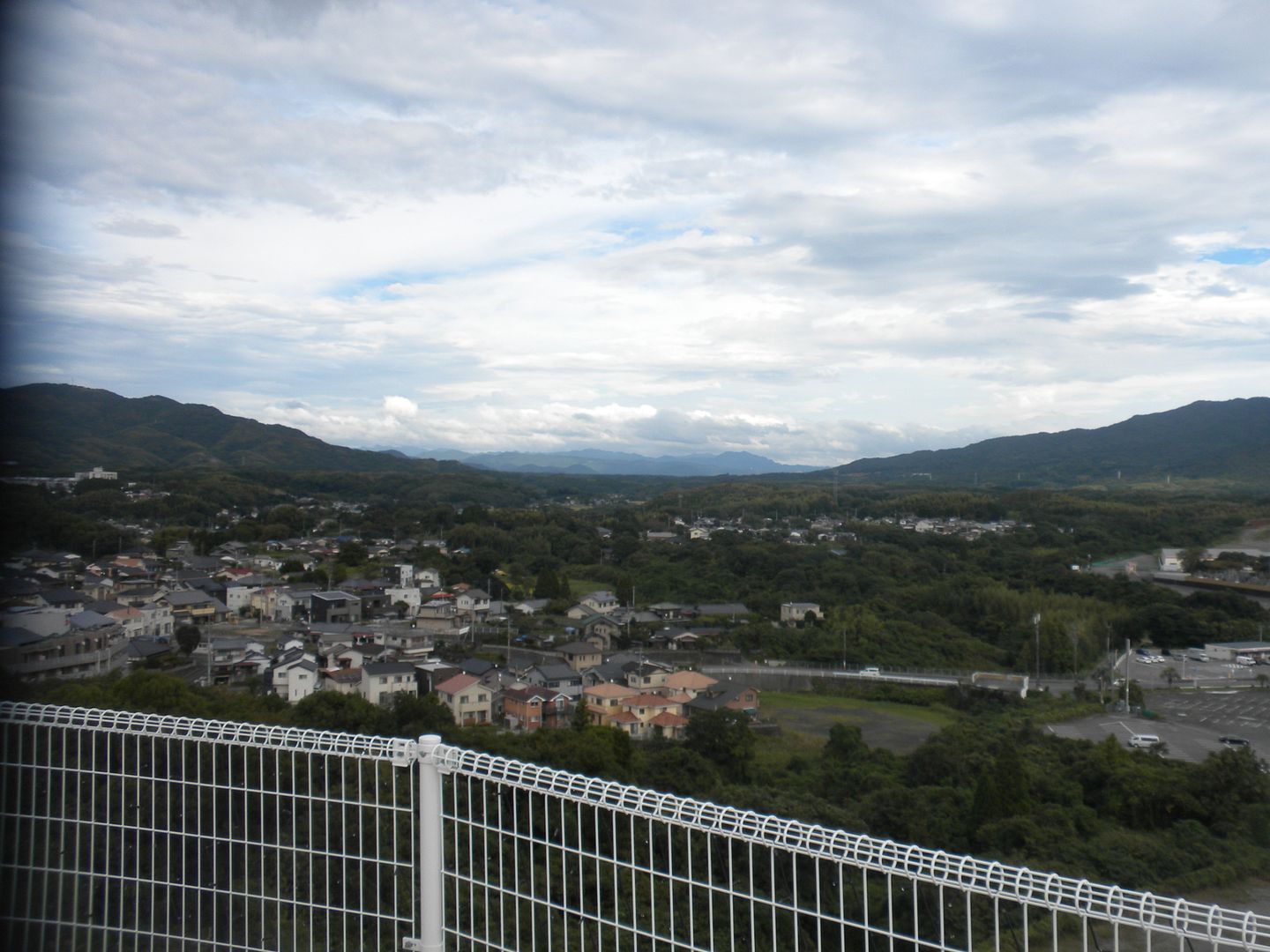 gets you to the top of the big hill for several rides – 1 ride.


Chair Lift – This one small seat chair lift has no restraint, but is a great way to get across the park – 3 rides.
Super Slider – This alpine slide is fairly old and is slow in spots, but was fun as long as you are careful not to crash, as I was – 1 ride.


Witch's Flying Chair – This spinning ride is at the top of the hill and had great views – 1 ride.


Ball Shoot – This unique ride allows you to toss plastic balls in targets as you go around – 1 ride.
Several rides were closed this day including the huge 345' Ferris Wheel Rainbow, which was being worked on.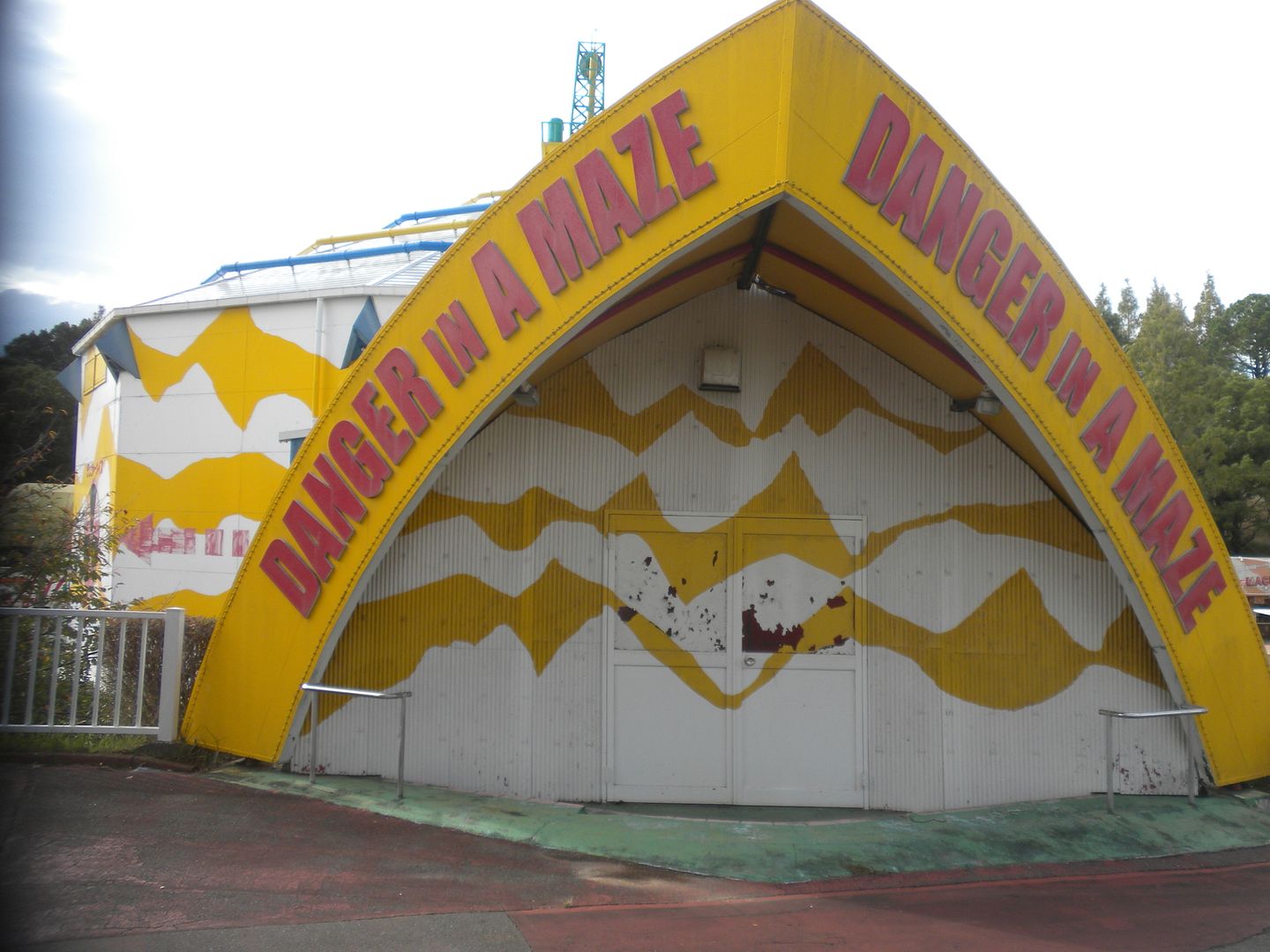 Also closed was Danger In a Maze, an escape maze;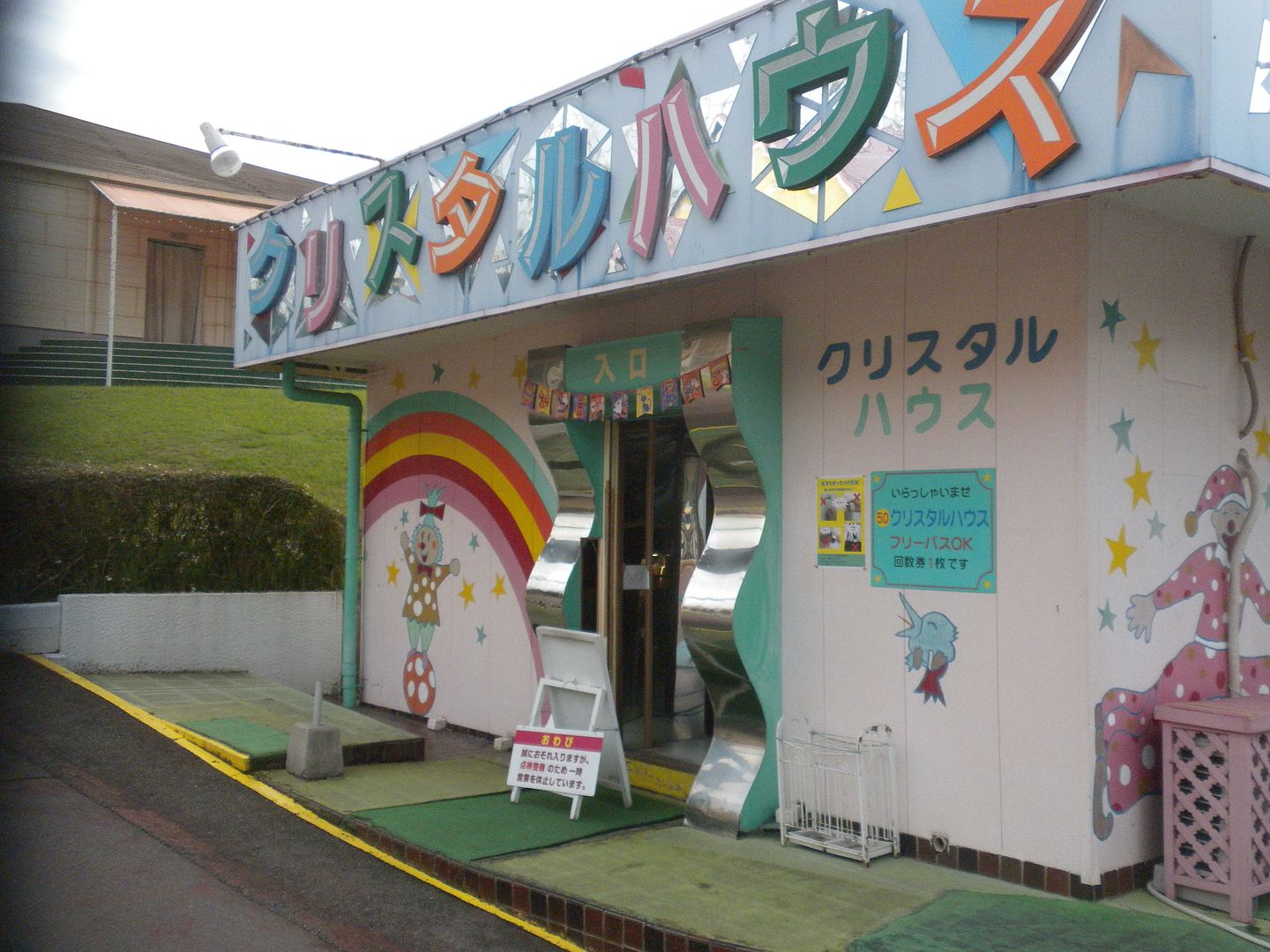 Crystal House, a mirror maze; and Small Java, a walkthrough with animals in the jungle. Other rides we did not get to include: 4D Theater – 3D sound theater "Dracula"; 4D Gimmick Theater "Zero";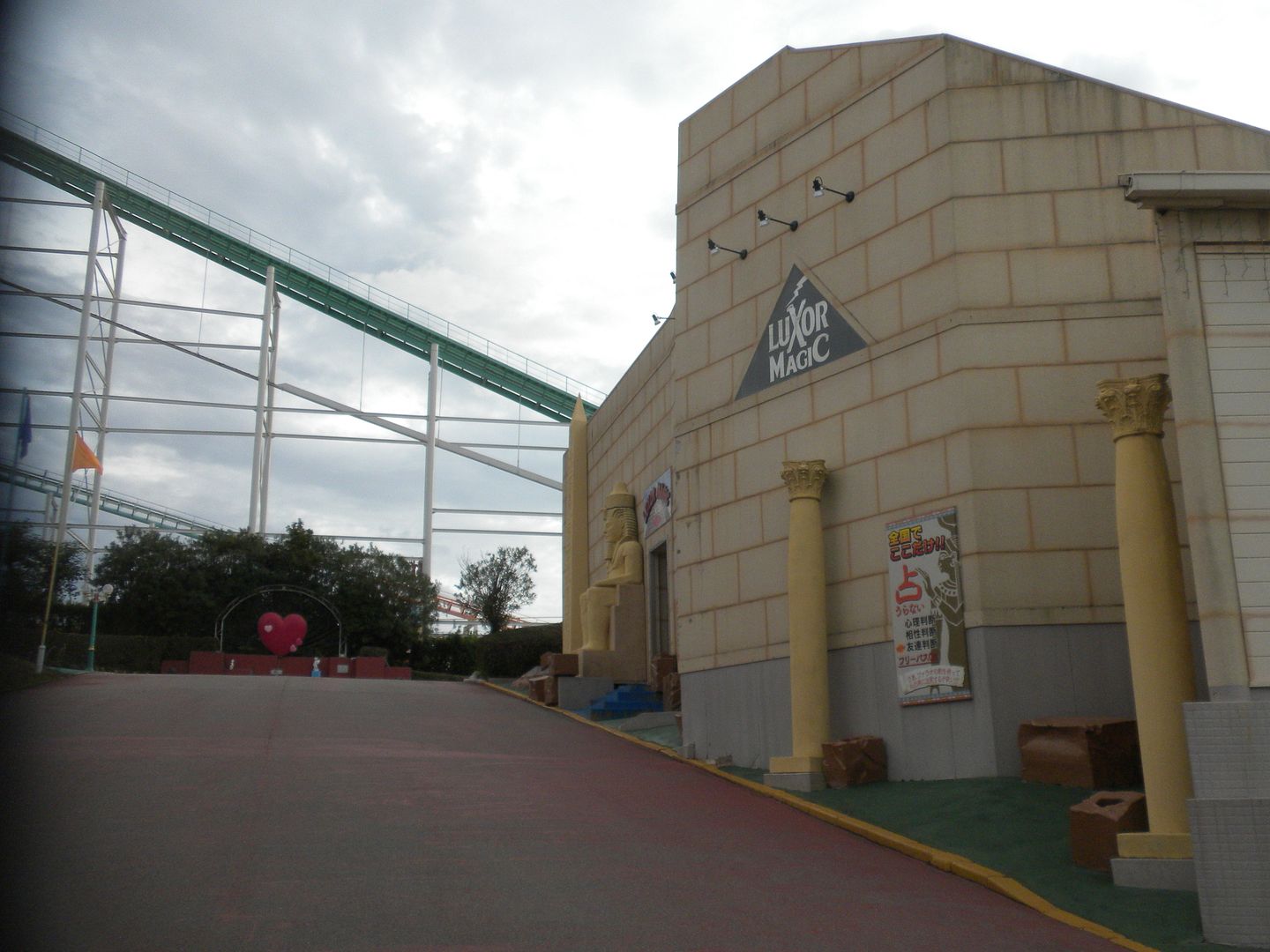 Luxor Magic; Card Maze Gourmet Forest Adventure, a game maze; Dragon River, a rapids ride; Splash, shoot-the-chutes; Sky Jet, monorail; Skyship, self-propelled monorail; Bumper Boat;


Merry-Go-Round Rendezvous, with a 92' diameter, the largest carousel in Japan; Wave Swinger; Balloon Tower; Tea Cup; Super Viking, swinging pirate ship; Gyro Storm; Indy cart, go-carts; and GT Go Kart. There are also some children's rides.
Continued in Next Post (I apologize but this will not link properly. Please click home and select next post.)