Joyland Amusement Park
On Saturday, July 25 we expected to have our most challenging day of the trip as we had 3 parks and 10 coasters to get in over 6 hours. We drove from Park Inn By Radisson Petersborough to Joyland Amusement Park in Great Yarmouth, Norfolk, England.


We arrived at about 9:45, but the park let us come on in and begin riding. This is a very small children's park, but it is amazing how much they fit into such a small space.

Tyrolean Tub Twist: (Horace Cole, Wood Powered Junior Virginia Reel, 1950) The debate will rage on as to whether this a coaster or not and while it is powered, it does have some freewheeling, so I would consider it a coaster even if I did not count powered coasters.


It is the only operating example of a Virginia Reel, even though it is powered and is a junior version. Although powered, it has side wheels that guide the tub and control the spinning along panels through the channel side, some of which are wood.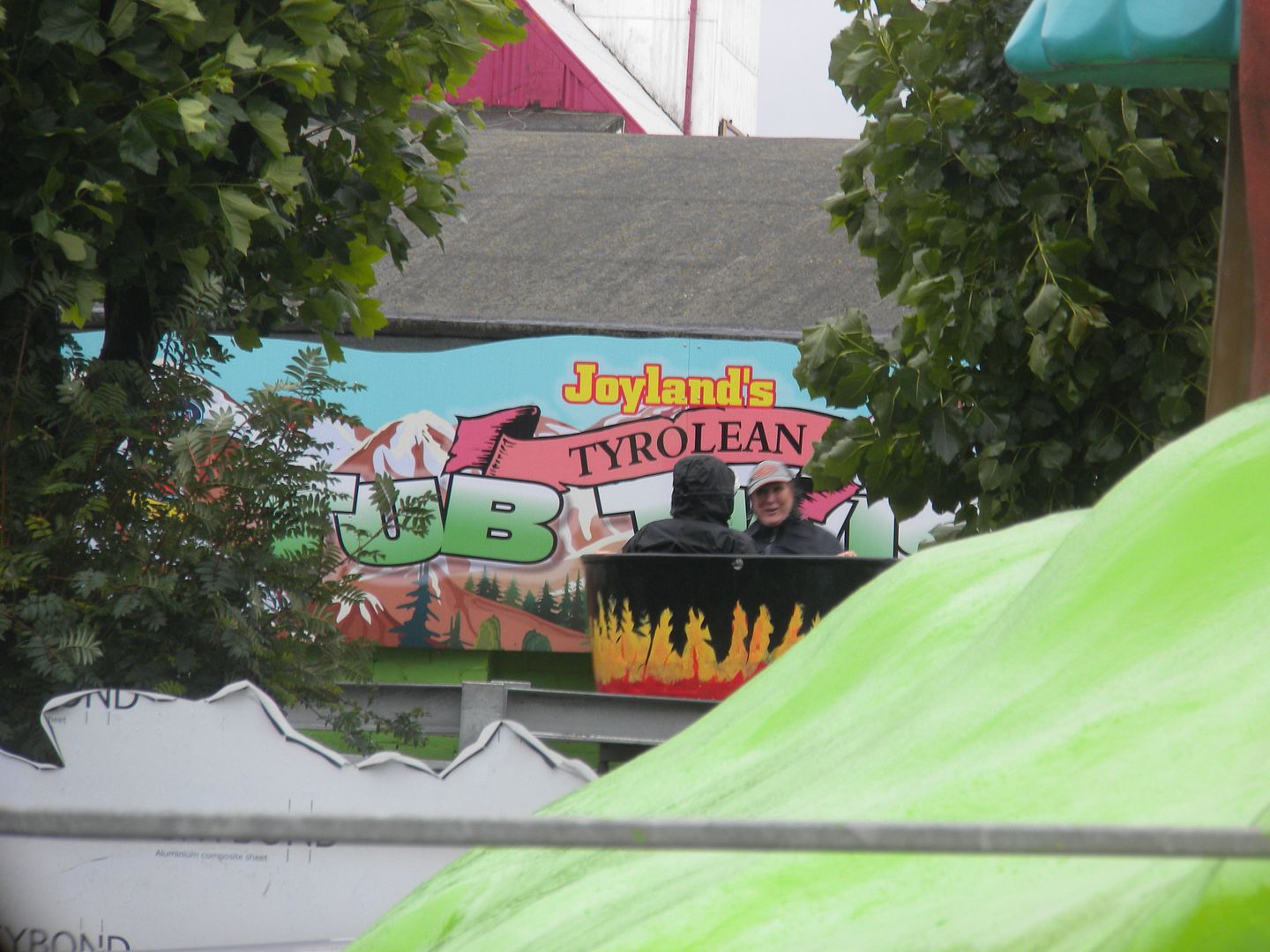 Having never had the opportunity to ride a Virginia Reel, this was a much anticipated ride for me. It is very fun and has some good spinning.


While the channel is not that long, it is a very fun ride – 2 rides.


Spook Express Kiddie Coaster: (WGH Transportation, Family, 1998)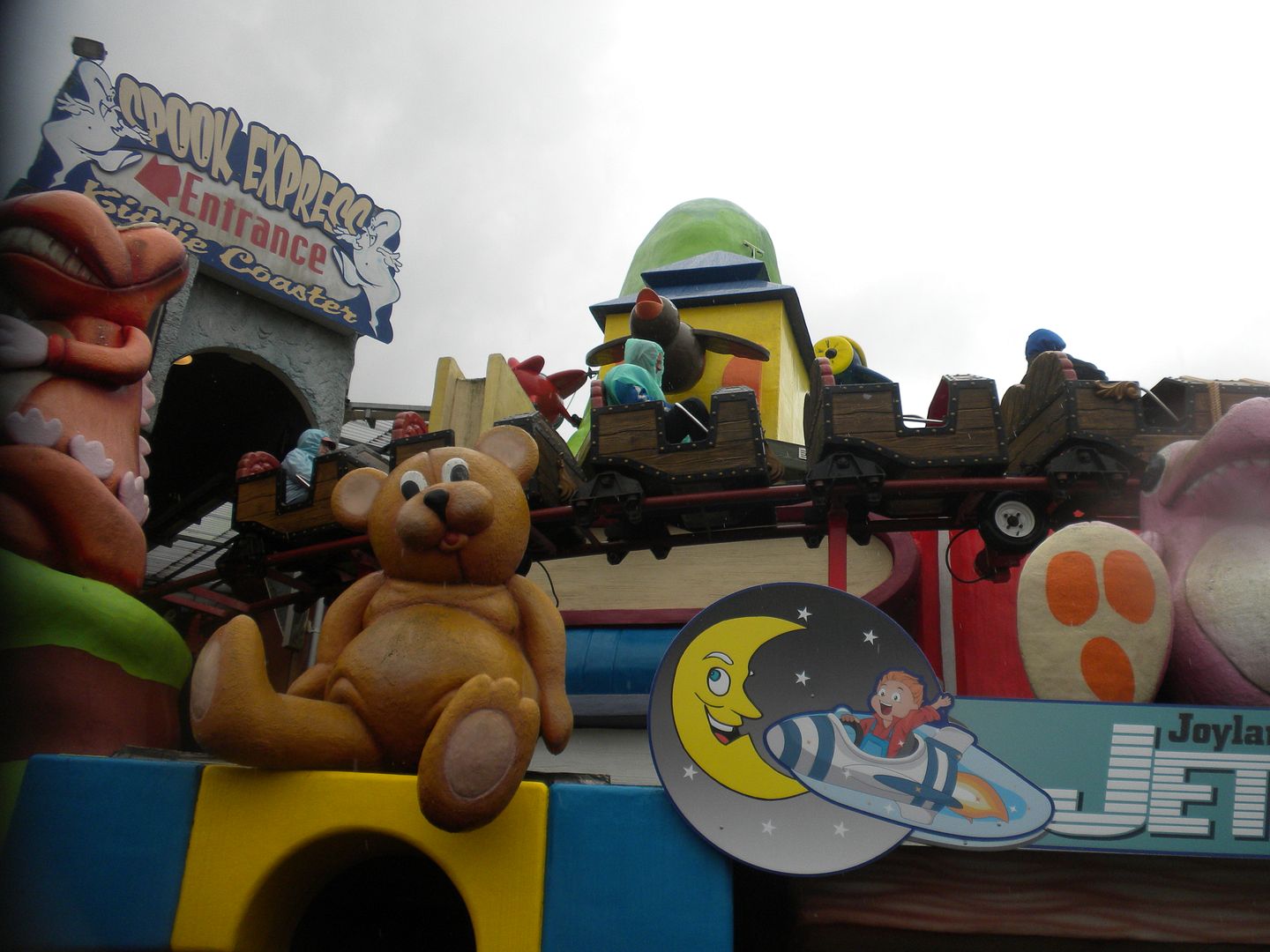 This is a fun, partially enclosed coaster.


It makes 2 circuits around.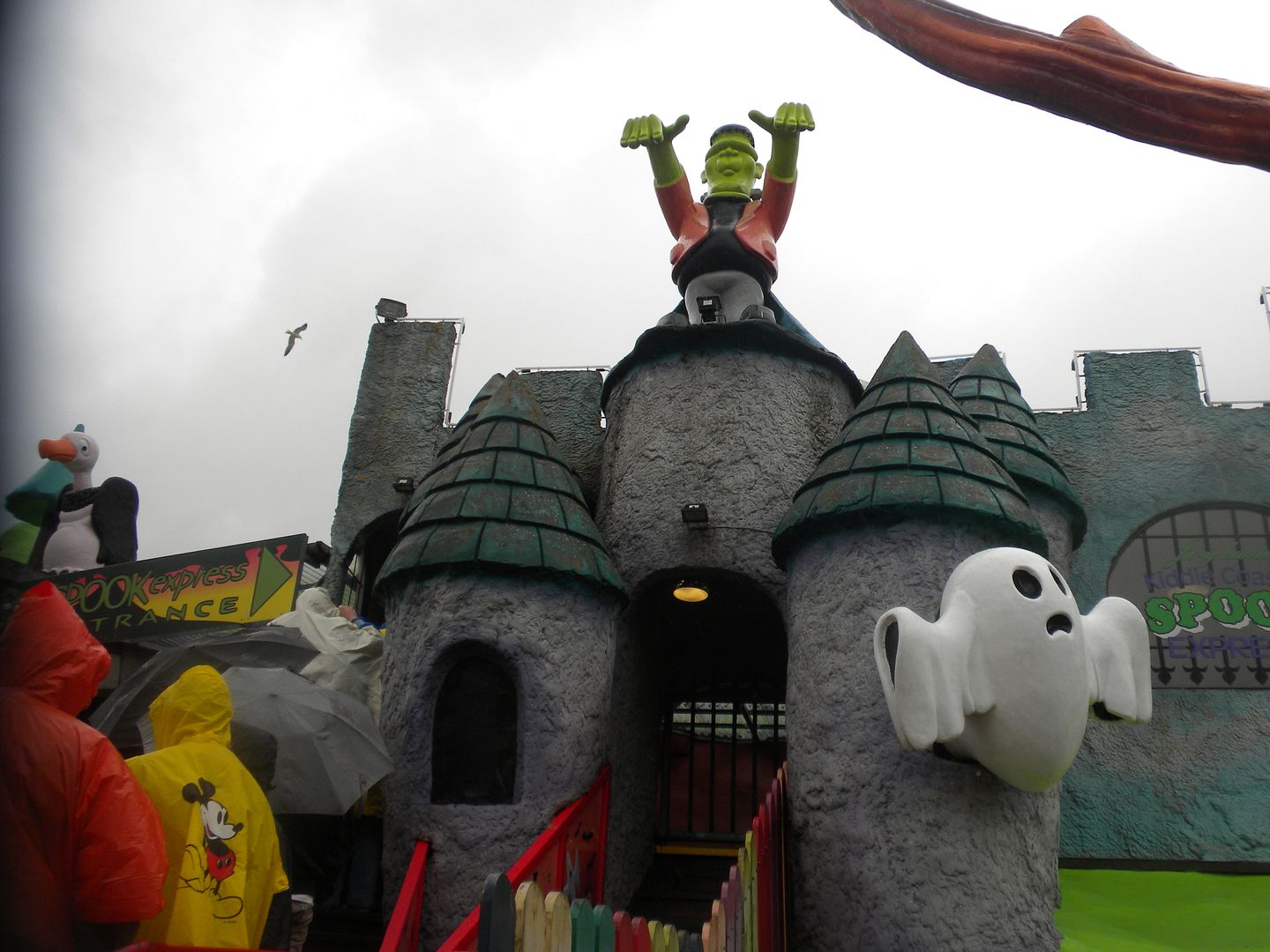 They would only allow 3 adults to ride in the 5 cars of the train, so it took a while to get most of the 171 of us on, but the line moved along with the last riders finishing just before time to move on at 11:00 – 1 ride.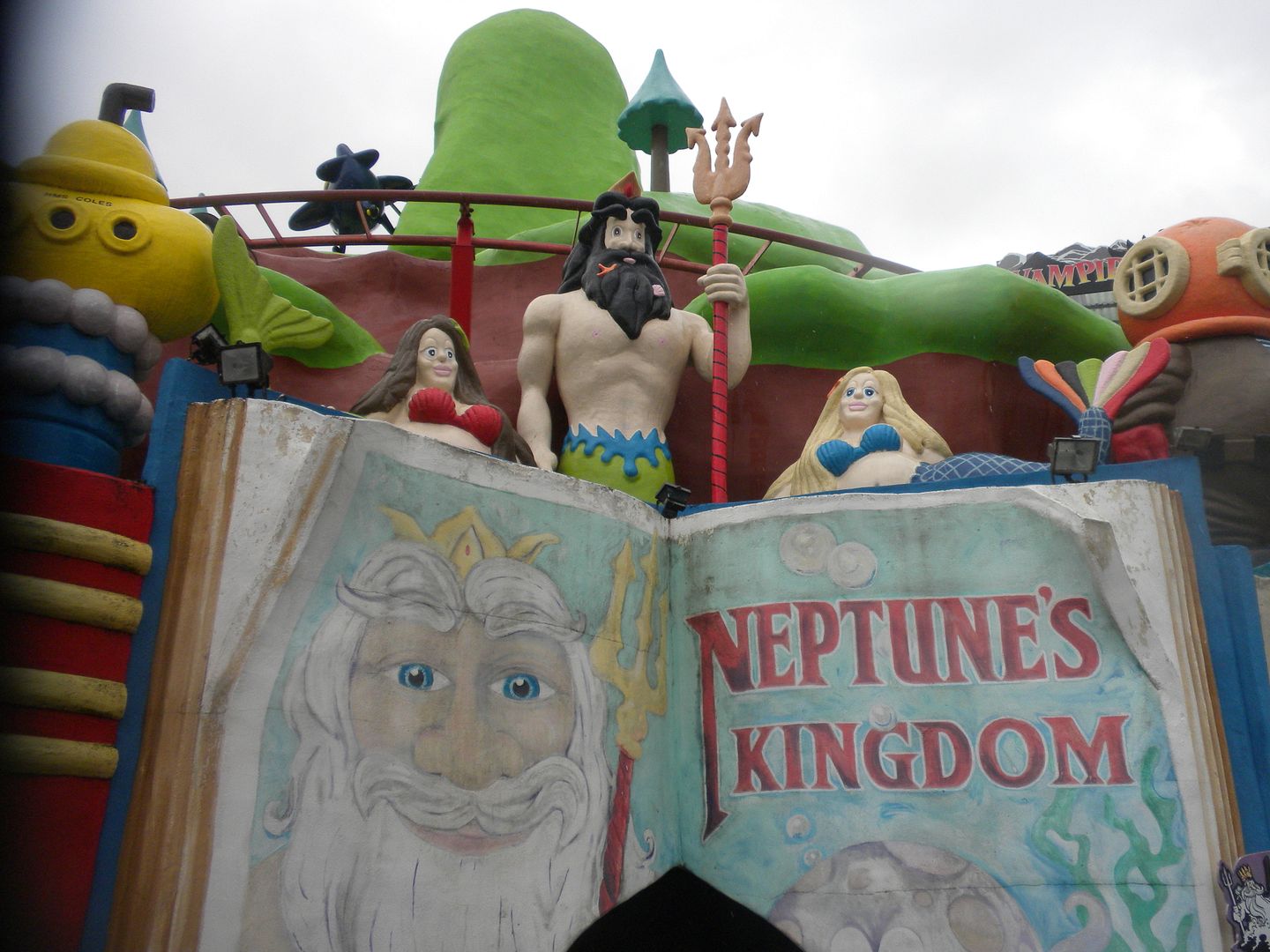 Neptune's Kingdom Undersea Fantasy Ride: This was a good nautical themed darkride and was longer than I expected based on the amount of space the park has – 1 ride.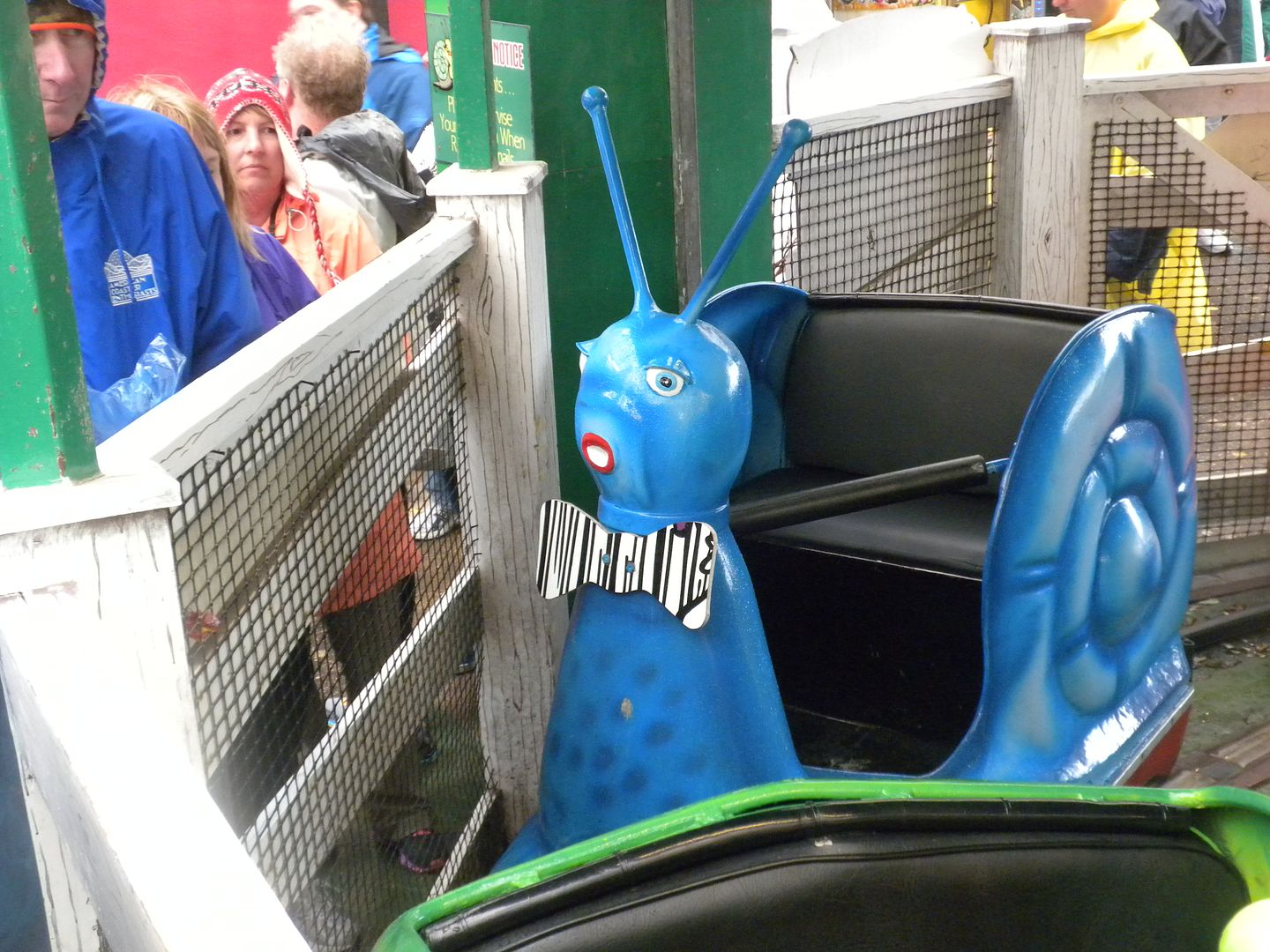 World Famous Snails: This is a great ride with some really good hills and it has nice scenes along the course.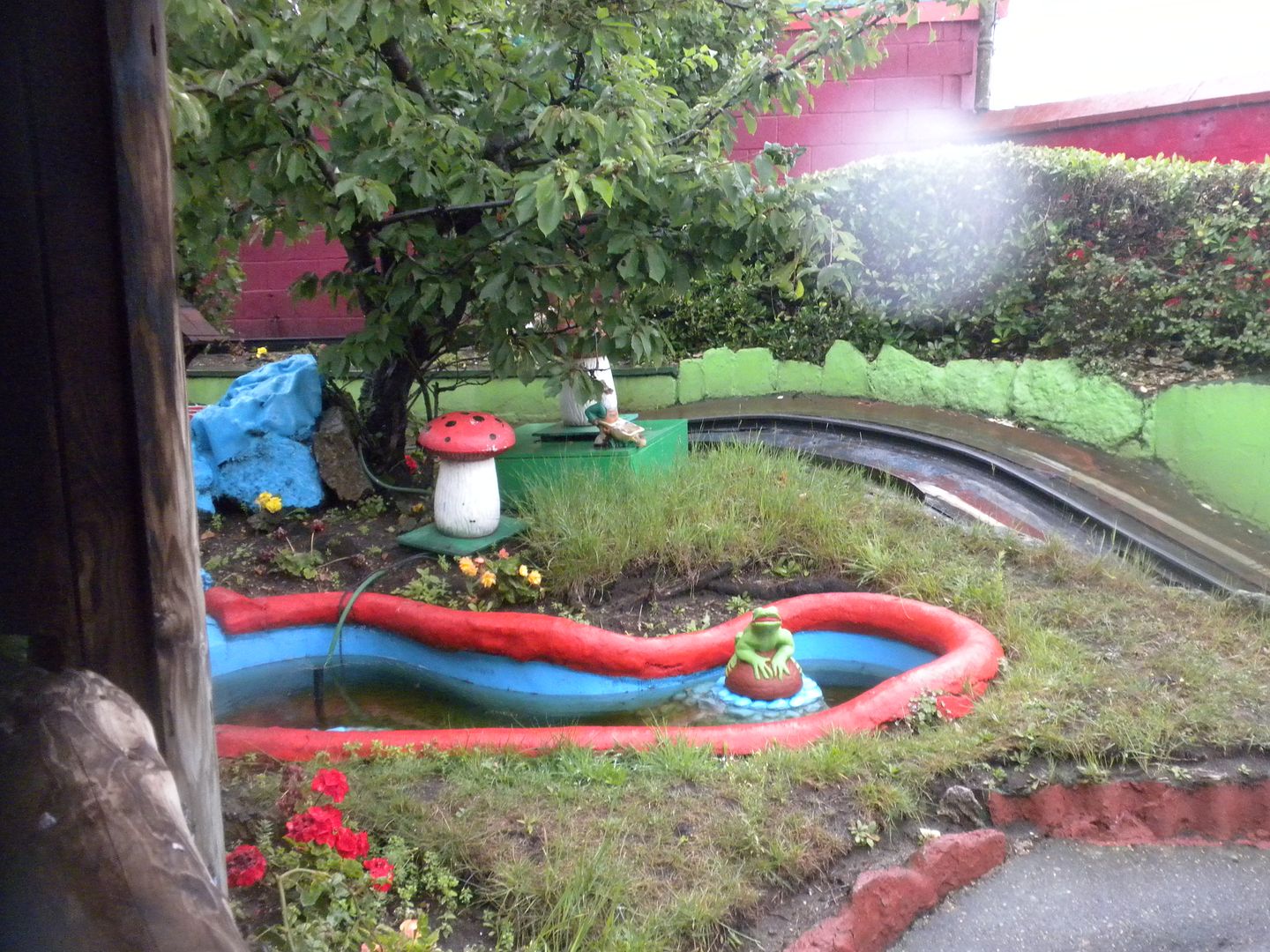 Although not considered a coaster, the hills are as much fun as a coaster – 1 ride.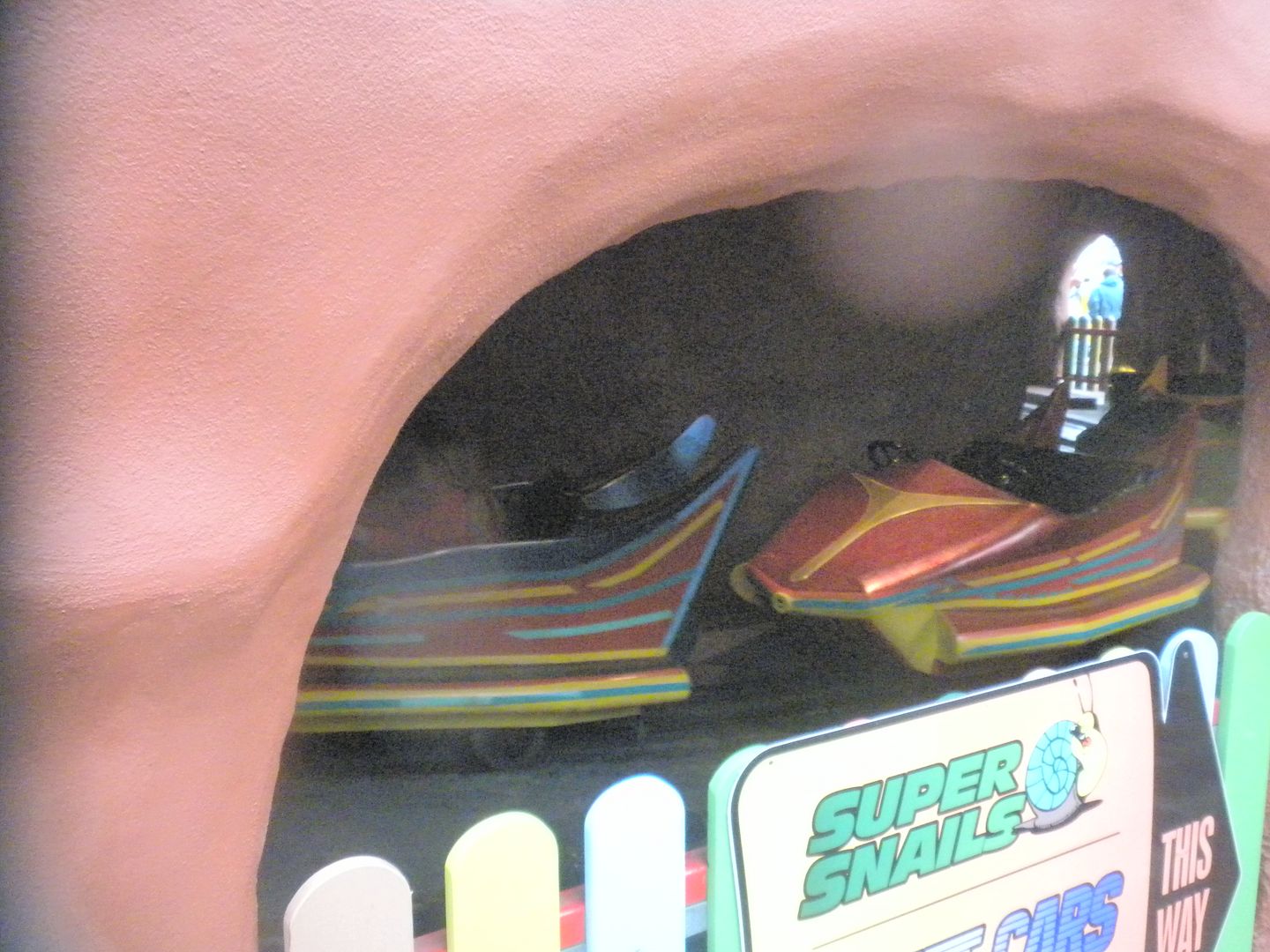 Cave Train/Jet Cars: This is a transport ride that makes several circuits through a cave – 1 ride.
The park has 4 kiddie rides. I thoroughly enjoyed our hour here and would gladly return for more rides on the Tubs and the Snails.
Britannia Pier
Next door to Joyland is Britannia Pier, which has a Ghost Train, so quite a few went over to ride it, although this was not on the official schedule.


Ghost Train: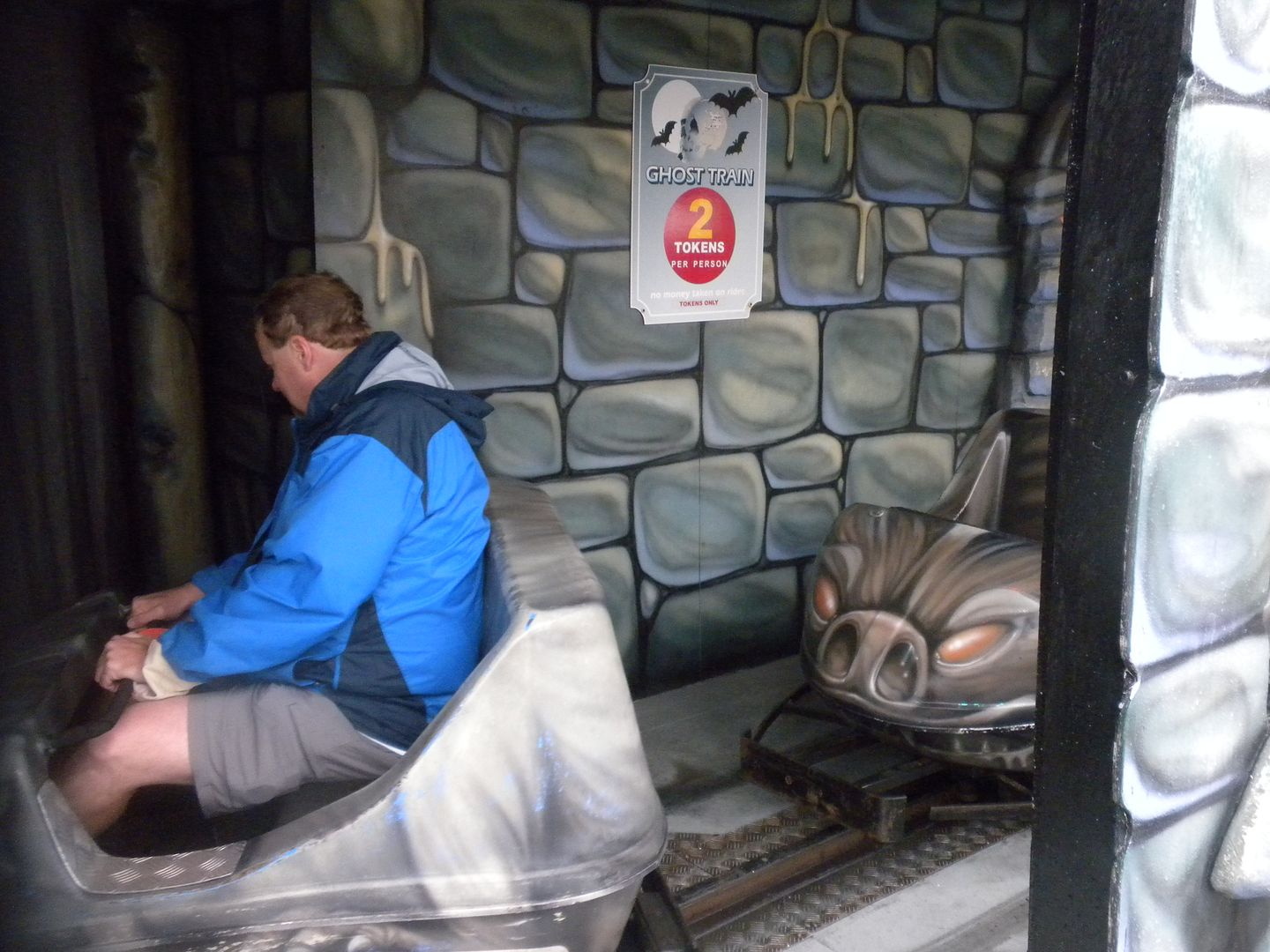 This was a pretty low end darkride, but I am glad I got to ride – 1 ride.
Great Yarmouth Pleasure Beach


Next we went about a mile south along the coast to Great Yarmouth Pleasure Beach in Great Yarmouth, Norfolk, England.


We only had 2 hours at this park and with 4 coasters, 3 darkrides and a couple of other historic rides, we realized we were in for quite the challenge to get everything done. We arrived around 11:15. Operating since 1910, this is a great seaside park with a really good feel.

Roller Coaster: (Erich Heidrich, Wood Scenic Railway with Brakeman, 1928-9/1932) This was my 7th of 9 scenic railways in the world (6 wood, 1 concrete) with the 8th hoped for later in the trip if it were to reopen in time. Beyond that one, only one in Australia will remain for me to ride.


First shown at the 1929 Paris Colonial Exhibition, this coaster was relocated to Great Yarmouth in 1932.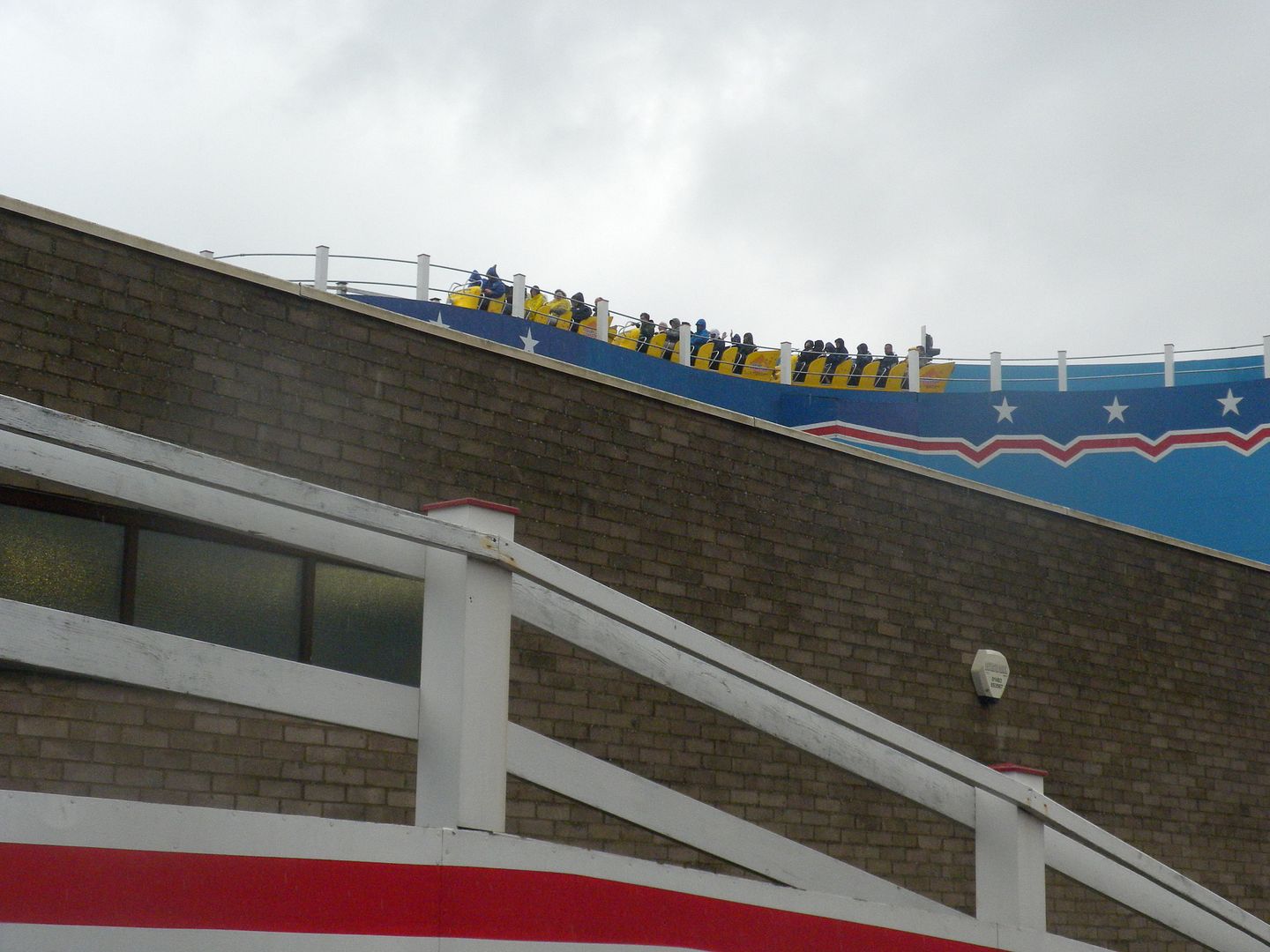 It is quite long and gives a good, smooth ride. I had one ride behind the brakeman, who sits in the middle of the train, and one ride in the last car.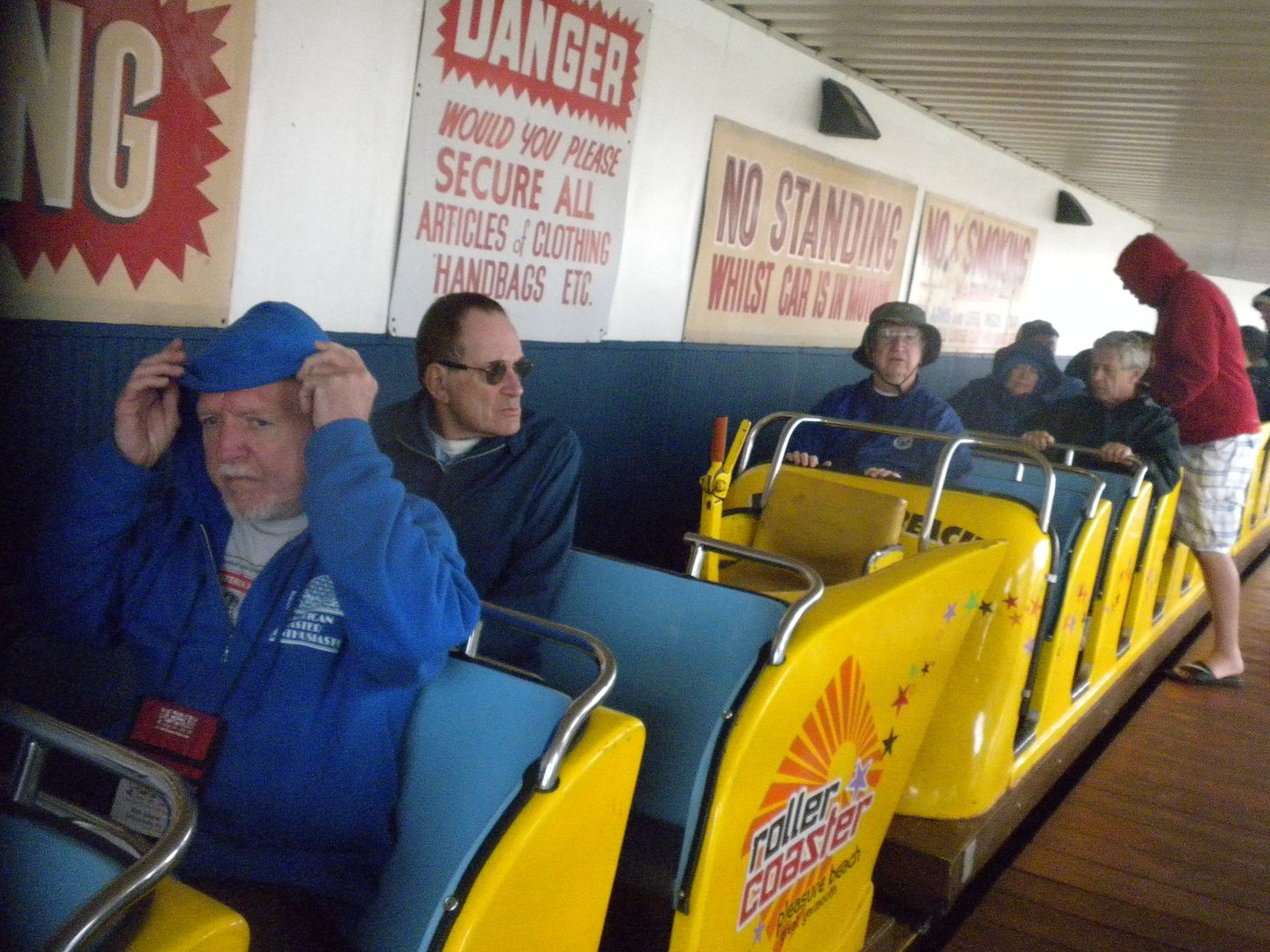 While not the most thrilling of the Scenic Railways I have ridden, it is extremely fun and I thoroughly enjoyed it – 2 rides.


Family Star Spinning Coaster: (Fabbri, Spinning Wild Mouse, 2007/2011/2013) Relocated from Trampolino Familien- und Freizeitpark where it operated as Family Star and Sommerland Syd where it operated as Family Star, it is similar to Neo's Twister at PowerLand.


While it has good spinning and gives a good ride, perhaps the most notable feature is its split lifthill. When we arrived we were told the coaster wouldn't open until 1:00. With our departure time set at 1:15, we knew it would be impossible to get many ACEers on this coaster.


Although there were some issues with the coaster, the park went out of its way to get the coaster open around 12:00, staffing it with several mechanics in addition to ride ops. I believe everyone had time to get the credit. We had some good spinning – 1 ride.


Whirlwind: (SBF Visa Group, Family Spinning Figure Eight, 2015) This is a fun spinning coaster.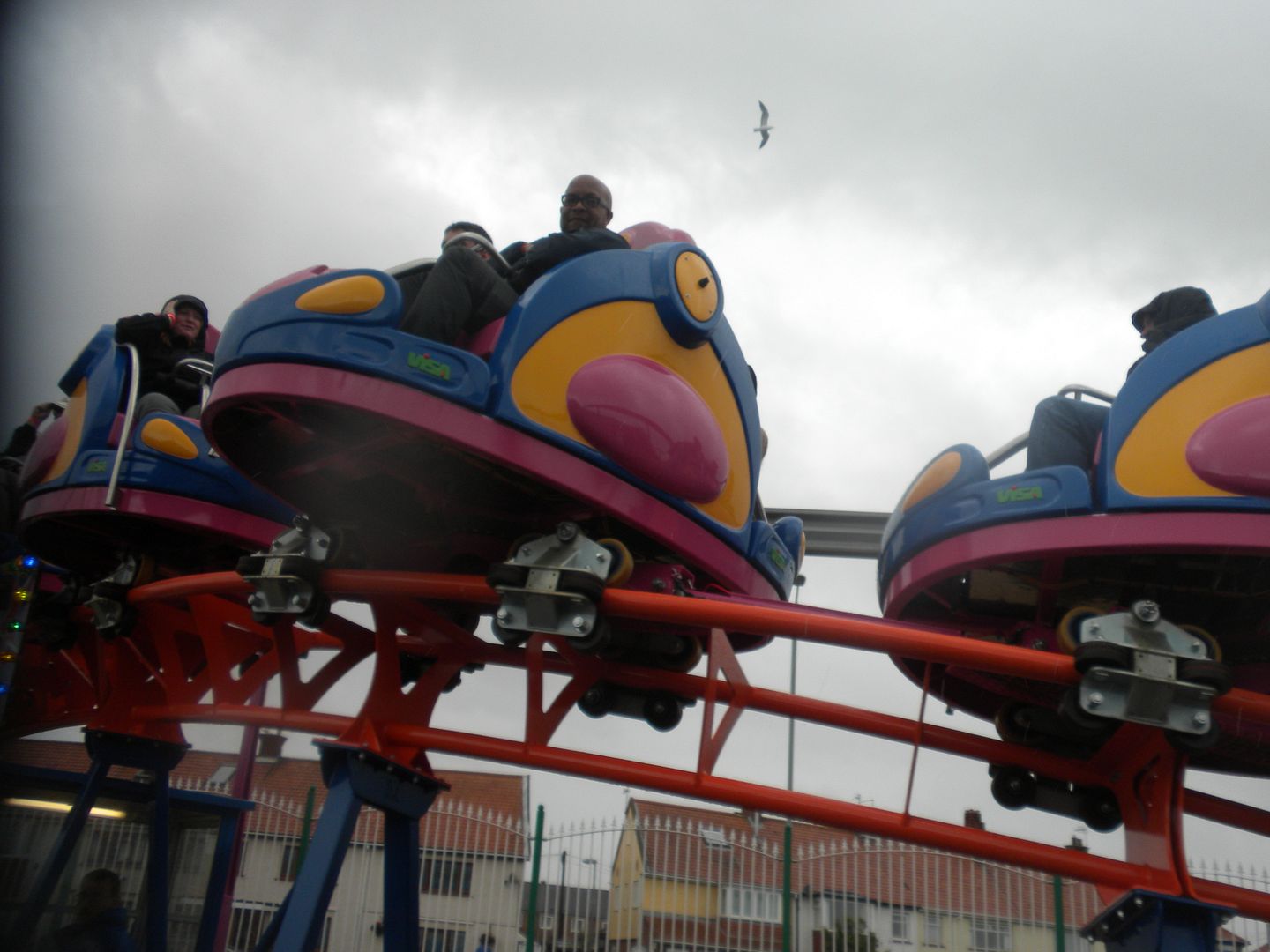 Although the track is short, we made 7 circuits – 1 ride.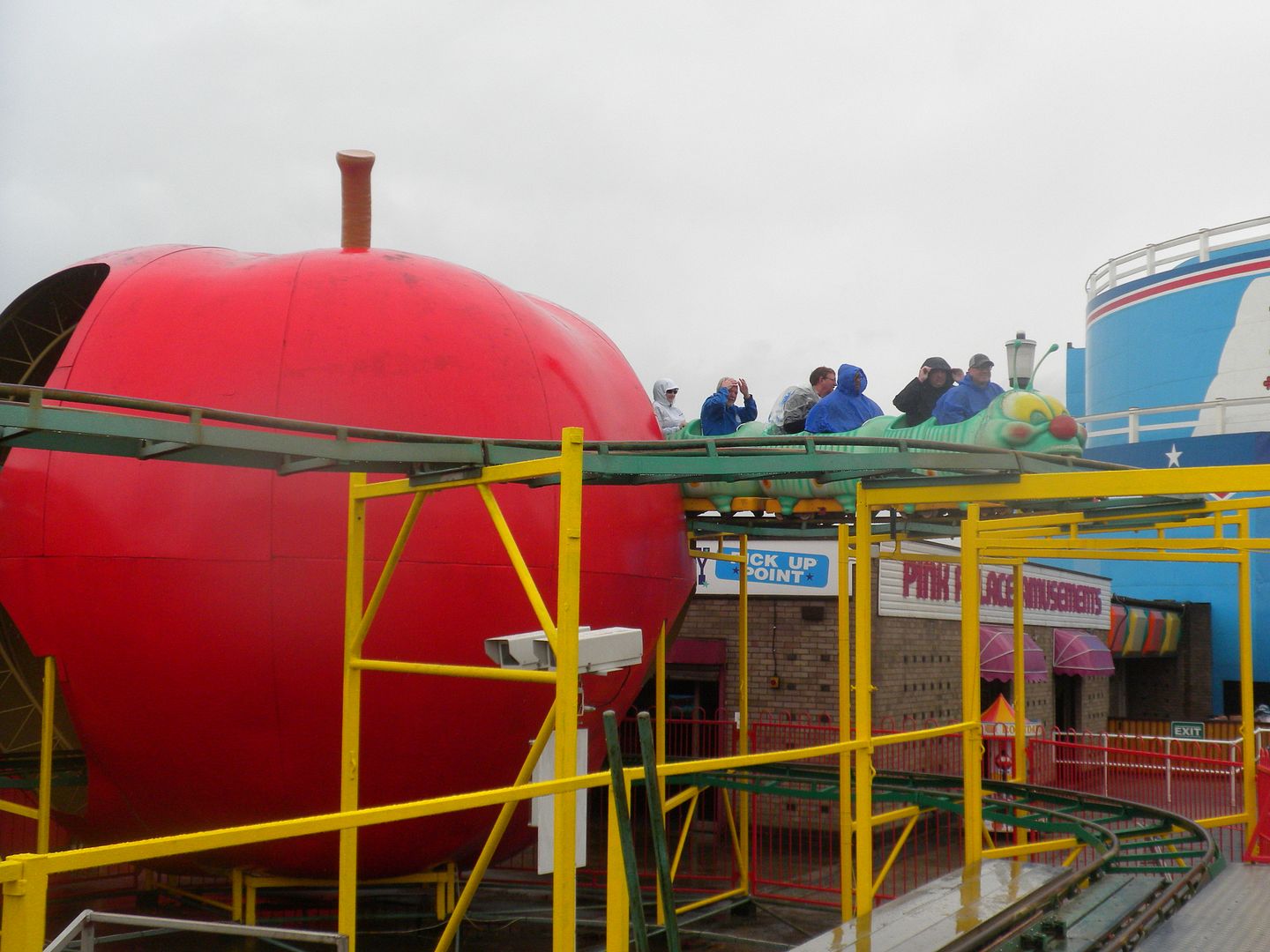 Big Apple Coaster: (Pinfari, Big Apple/Wacky Worm, 1982/1998) Relocated from Alton Towers as Mini Apple, this has an apple that the track passes through on 2 levels.


It gave a good ride – 1 ride.

Haunted Hotel: This is a good haunted house and is fairly long – 1 ride.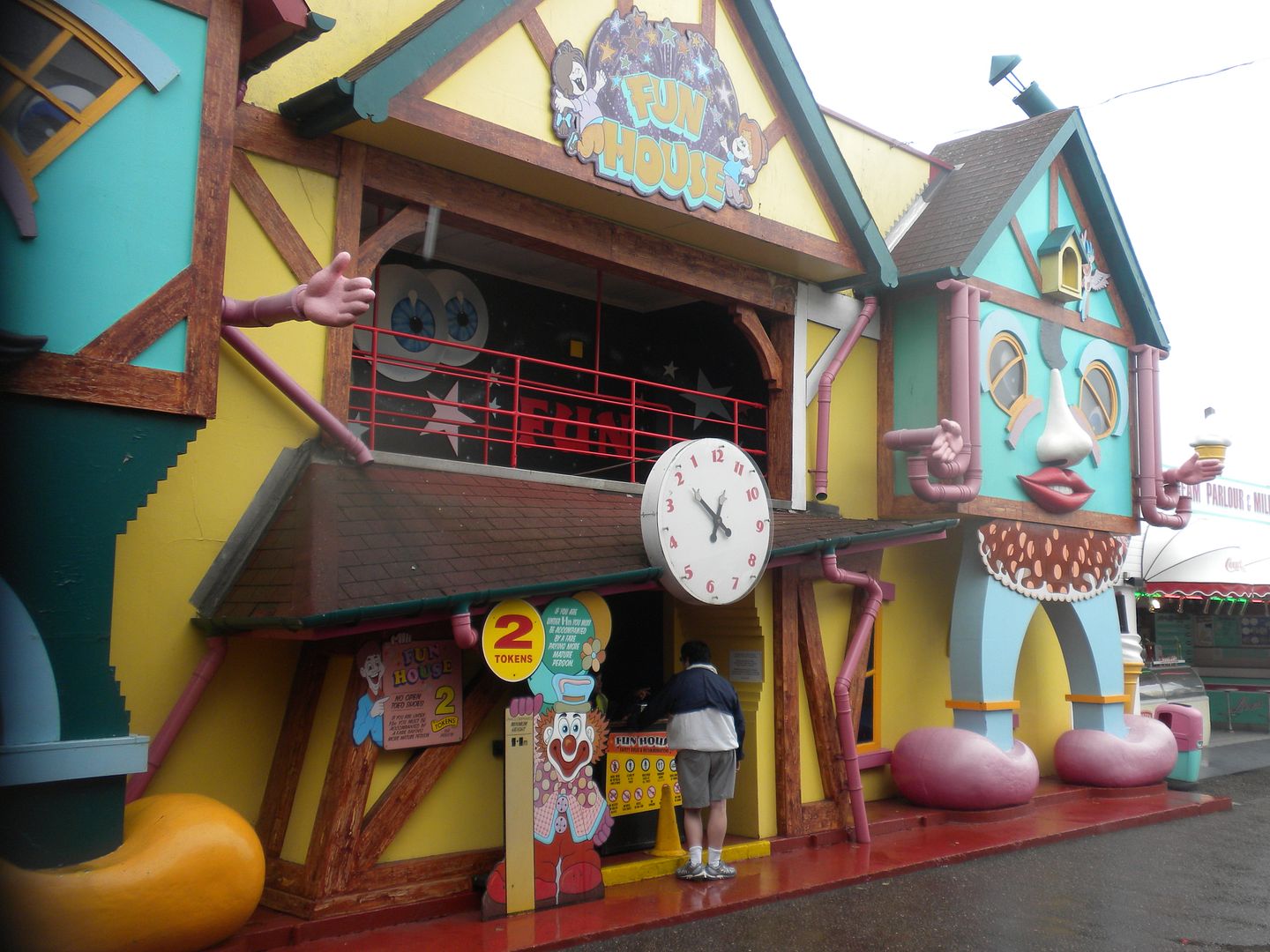 Fun House: This is a unique fun house that encircles a large open room which you move around a couple of times. It has a lot of moving floor tricks and it is fairly dark – 1 walkthrough.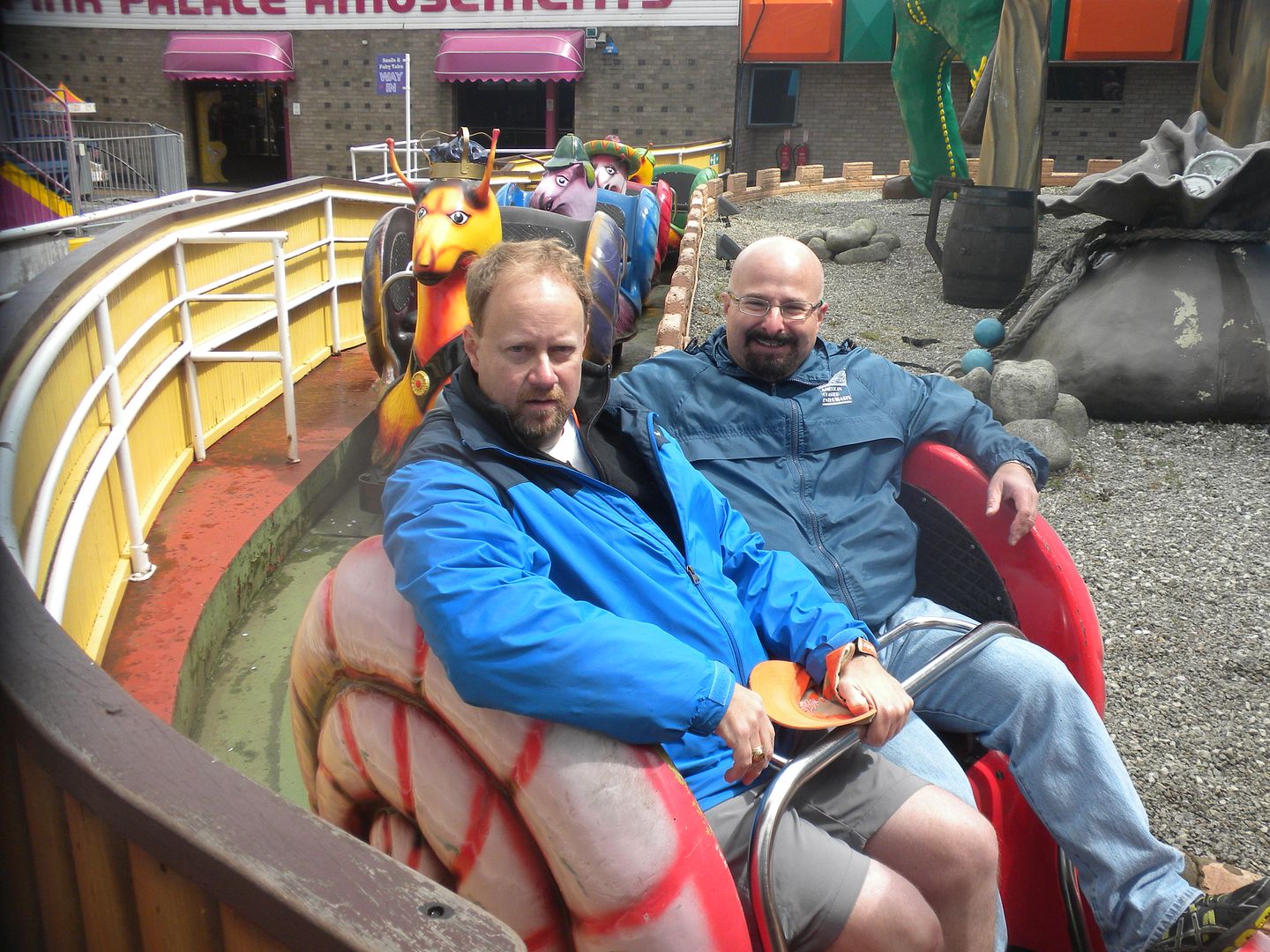 Snails and Fairy Tales: While the Snails ride at Joyland is more of a transport ride, this one has a large darkride section including farm animals, pirates, wild animals, Pinocchio, Peter Pan and Alice in Wonderland.


It is nicely done, fairly long, and is housed under Roller Coaster – 1 ride.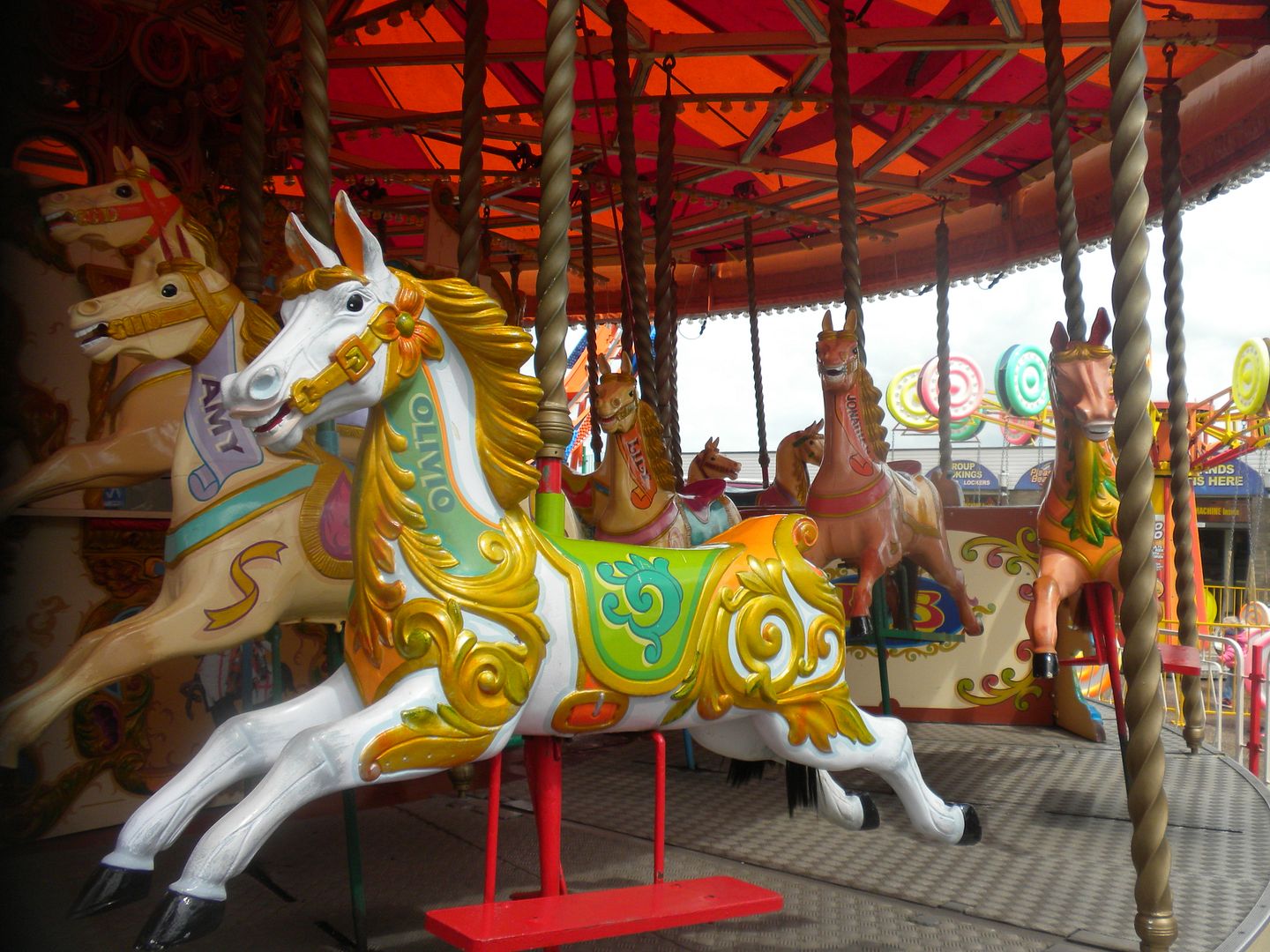 Gallopers: This 1901 Savage Carousel has 30 horses and 2 chariots.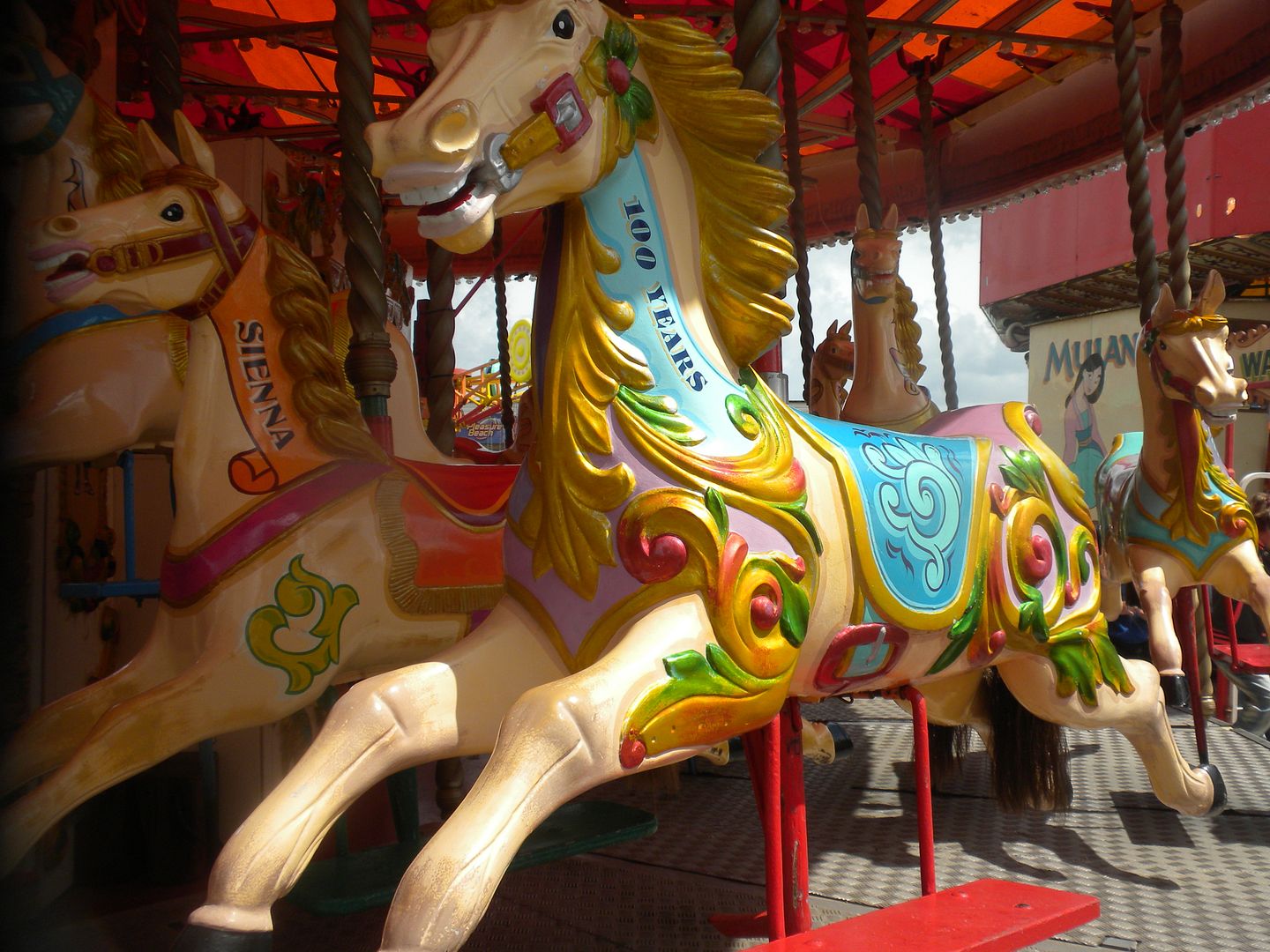 While most of the horses were named, I rode the one that read "100 Years" – 1 ride.


Mulan: Caterpillar with canopy. These rides are rare. This one was larger than the other 2 I have ridden, with the cars the size of a Music Express, but the canopy structure works the same way. It gave an intense, fun ride – 1 ride.
Due to limited time I did not get to ride Sky-Drop, a 22 metre drop ride;


Log Flume, which looks really good; Dodgems; Monorail, which goes through Roller Coaster; Disko; Evolution, a Frisbee type ride; Pirate Ship; Twister; Waltzer; 4D Cinema; Tube Slides; Bonanza, a horse track ride; and Go-Karts. They also have 6 kiddie rides.
With only a couple of minutes to spare I grabbed a sandwich for the bus and made it back in time. Great Yarmouth Pleasure Beach is relatively small, but the number of historic rides and its traditional seaside park atmosphere makes it well worth a stop. We headed out to our next park of the day.
Pleasurewood Hills
Our final park of the day was Pleasurewood Hills in Lowestoft, Suffolk, England. Although just 11 miles away, we passed from Norfolk into Suffolk.


Operating since 1983, this park is more of an inland type amusement park spread out over a large space, although it is actually not far from the sea.

Enigma: (Schwarzkopf, Jumbo V, 1983/1995) Previously named Cannonball Express,


it was relocated from Funland Park/Rotunda Amusement Park where it operated as Super Figure Eight.


It is the only Jumbo V that Schwarzkopf built.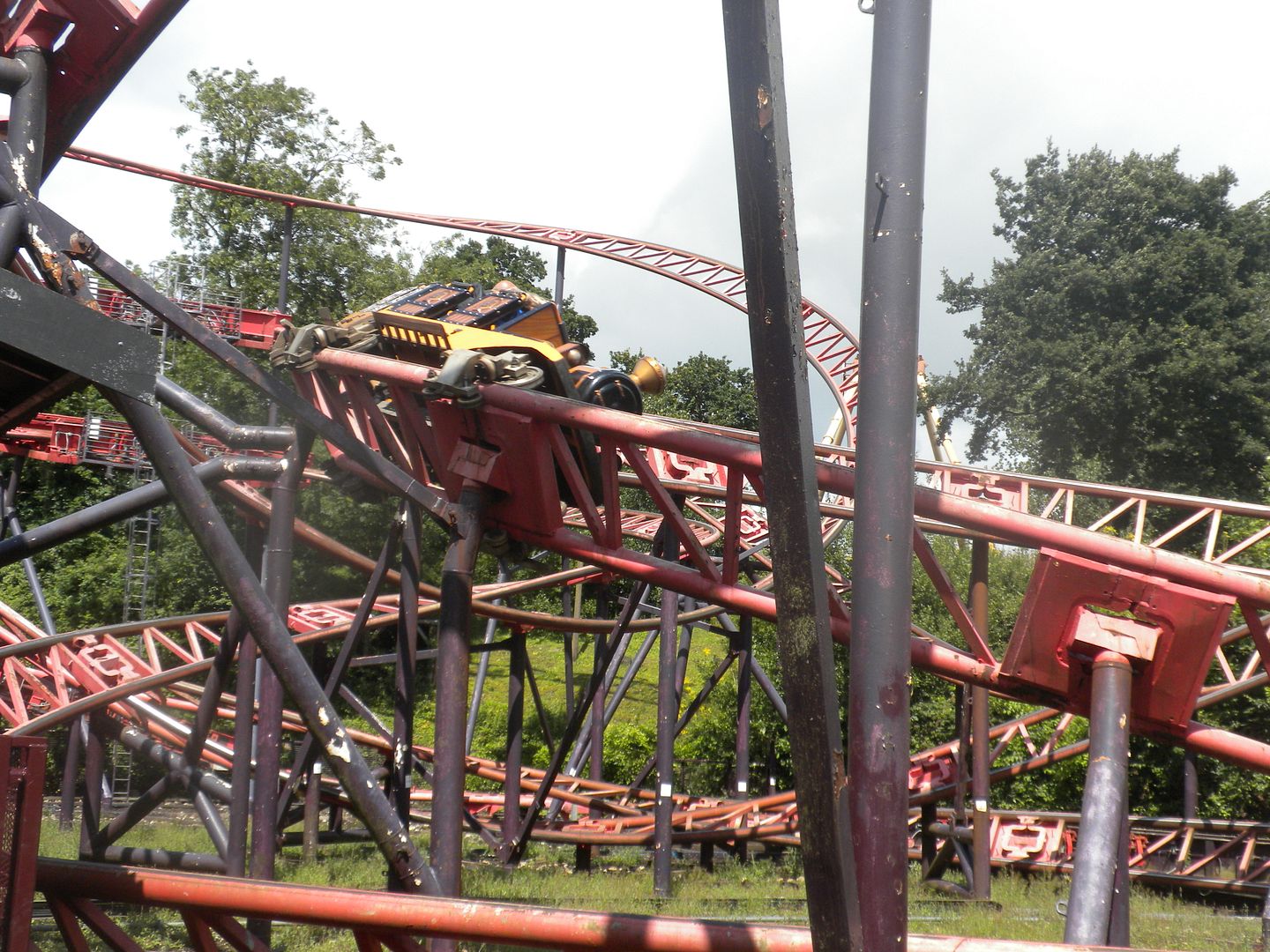 It is a very fun ride with great turns and continues my saying – I never met a Schwarzkopf I didn't like – 1 ride.


Marble Madness: (Maurer AG, Wild Mouse, 1997/2014)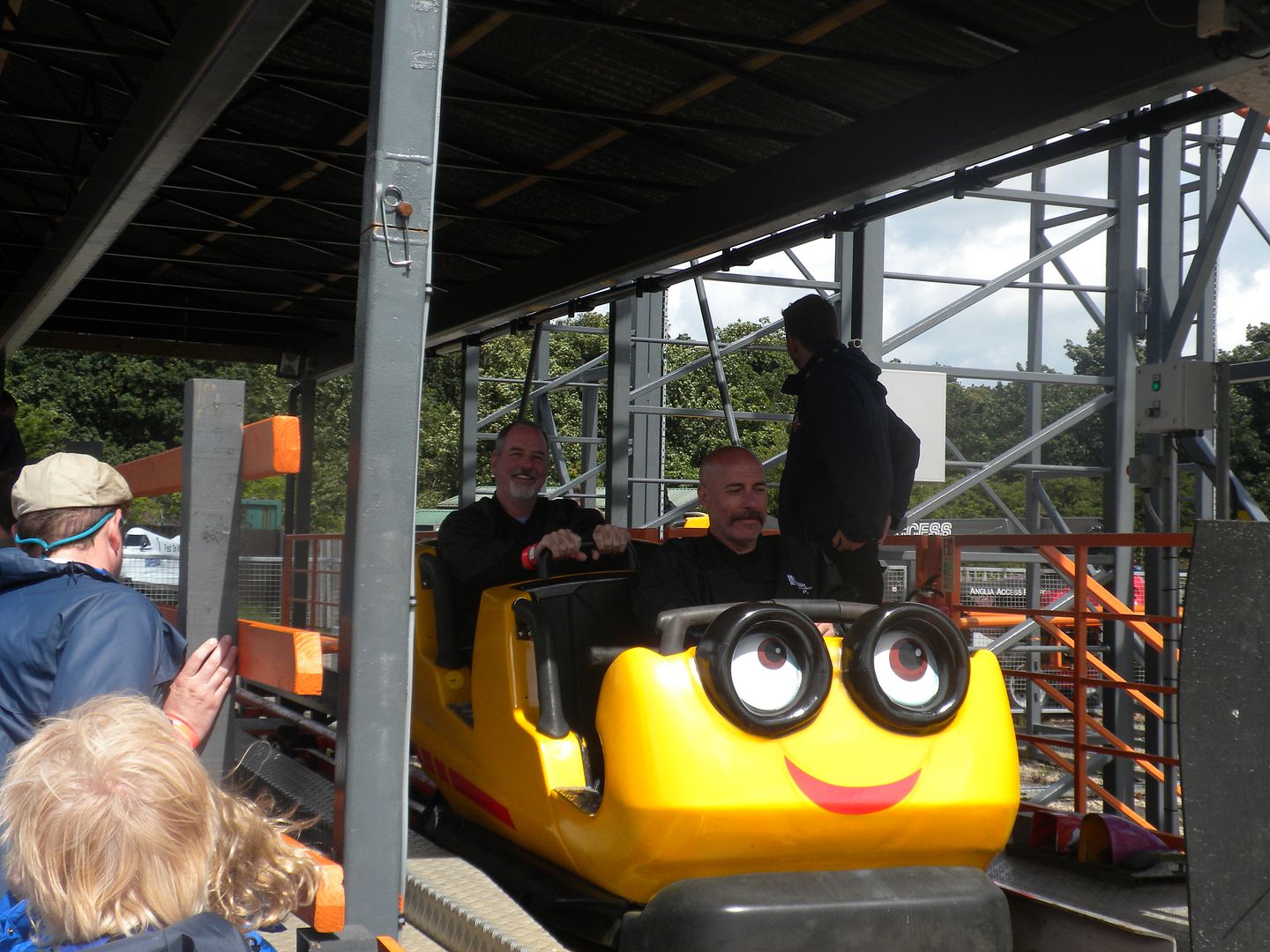 Relocated from Flamingo Land where it operated as Wild Mouse,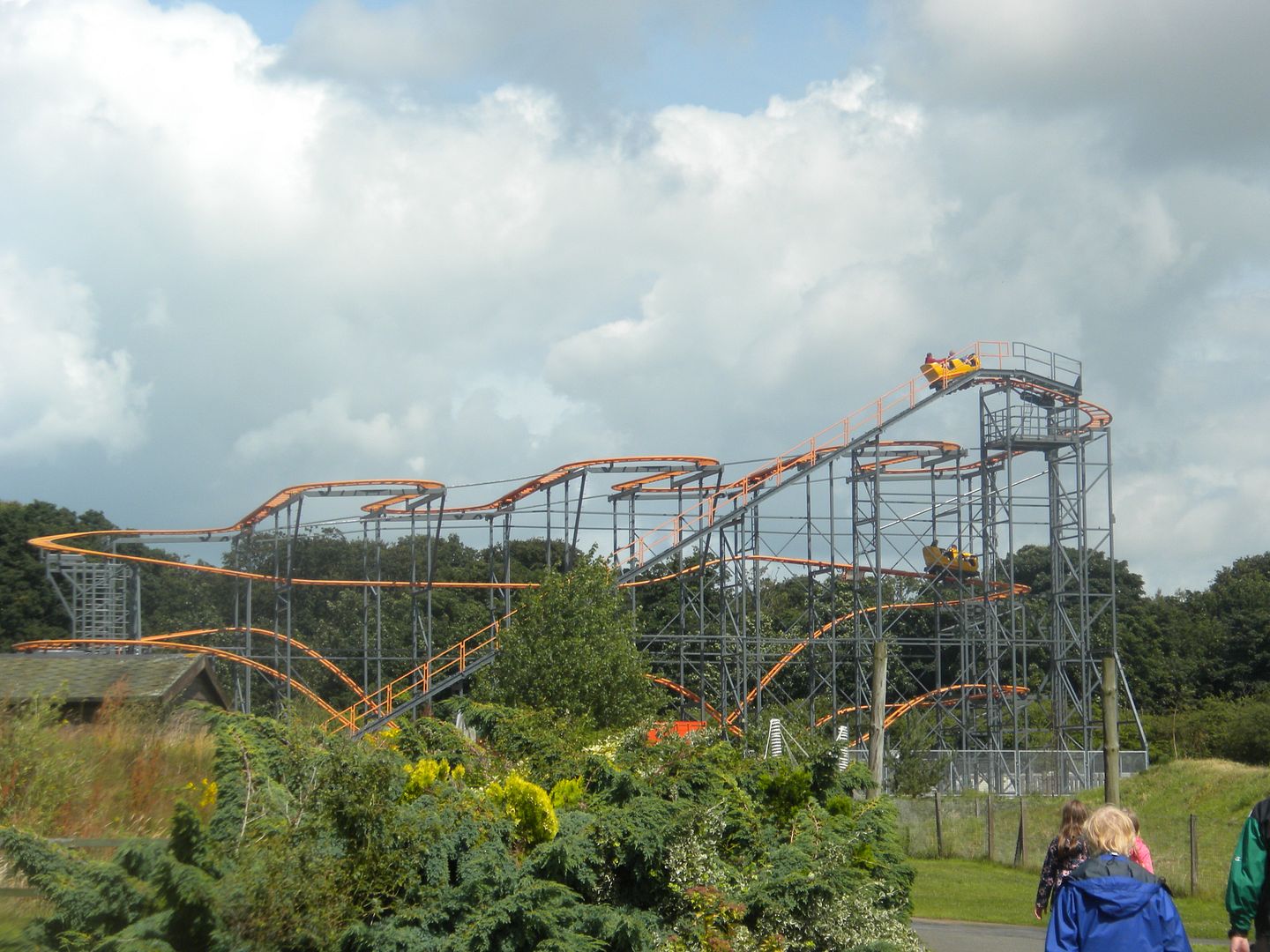 this is a standard mouse layout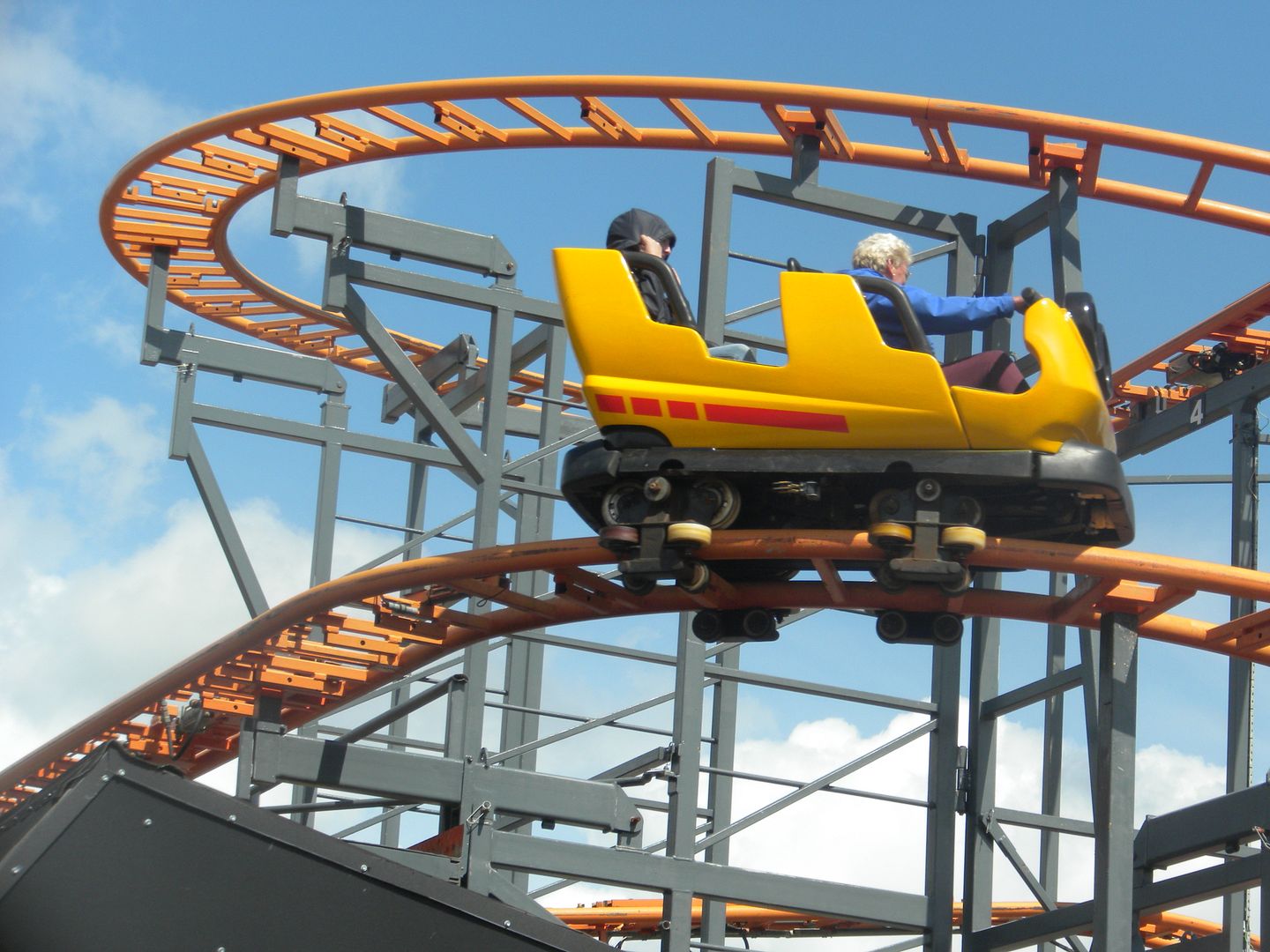 with good turns and drops – 1 ride.


Wipeout: (Vekoma, Boomerang, 1988/1989/2007) Relocated from Glasgow Garden Festival where it operated as Coca-Cola Roller and American Adventure Theme Park where it operated as Missile,


it is billed as the region's biggest roller coaster.


It gives the expected ride – 1 ride.


Rattlesnake: (Zierer, Tivoli – Large, 1986) Opened as the Ladybird Coaster, it was re-themed to Rattlesnake in 1990,


then named Snake In The Grass in 2007 before being renamed Rattlesnake in 2014.


Most notable is tunnel lifthill and its nice run through the woods– 1 ride.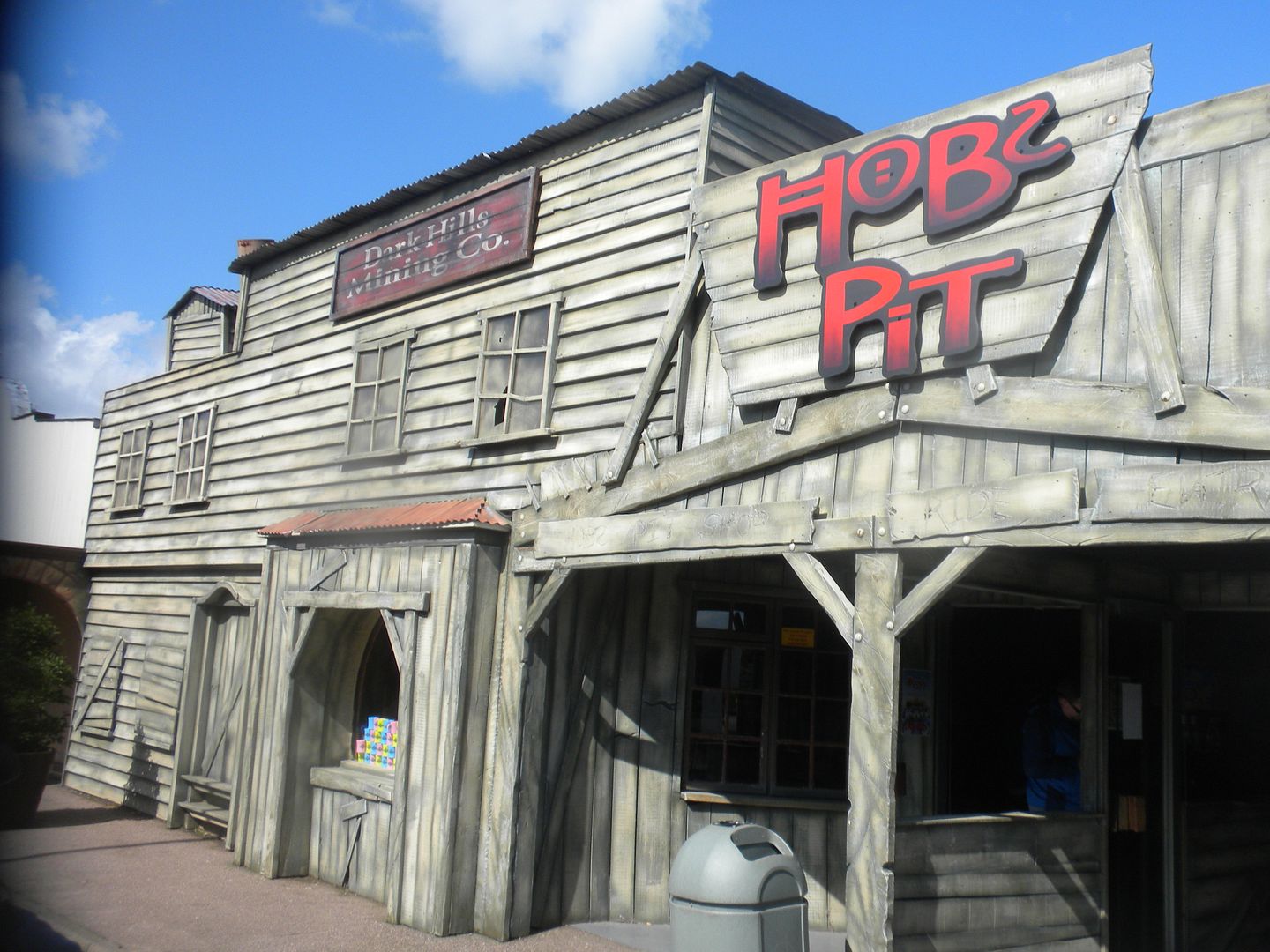 Hobs Pit: This haunted darkride from 2013 combines a walkthrough portion with a ride portion with a few live actors to produce what has been dubbed 'one of the UK's scariest attractions', and has a 12 year-old restriction.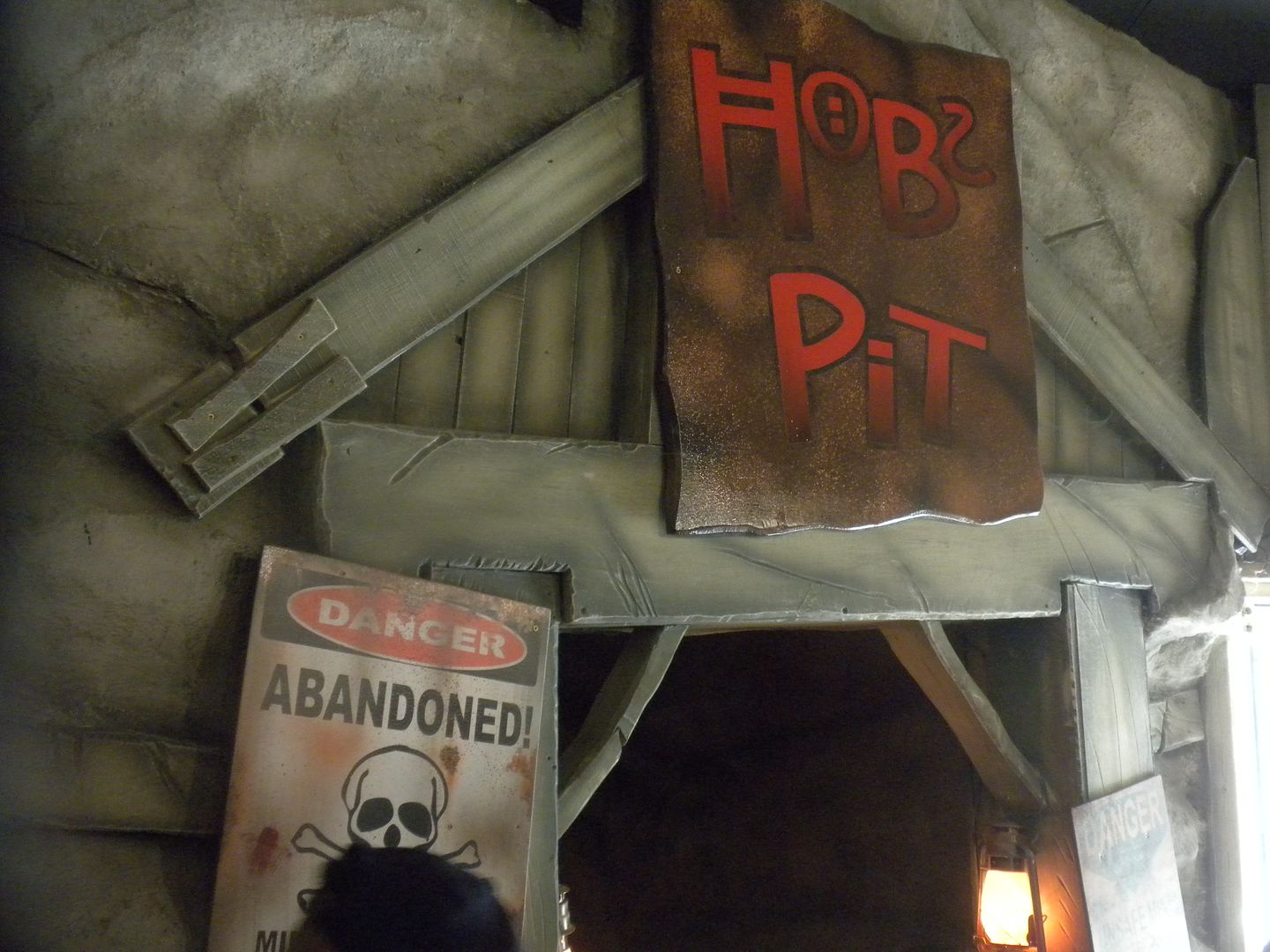 This was very well done and effective – 1 ride.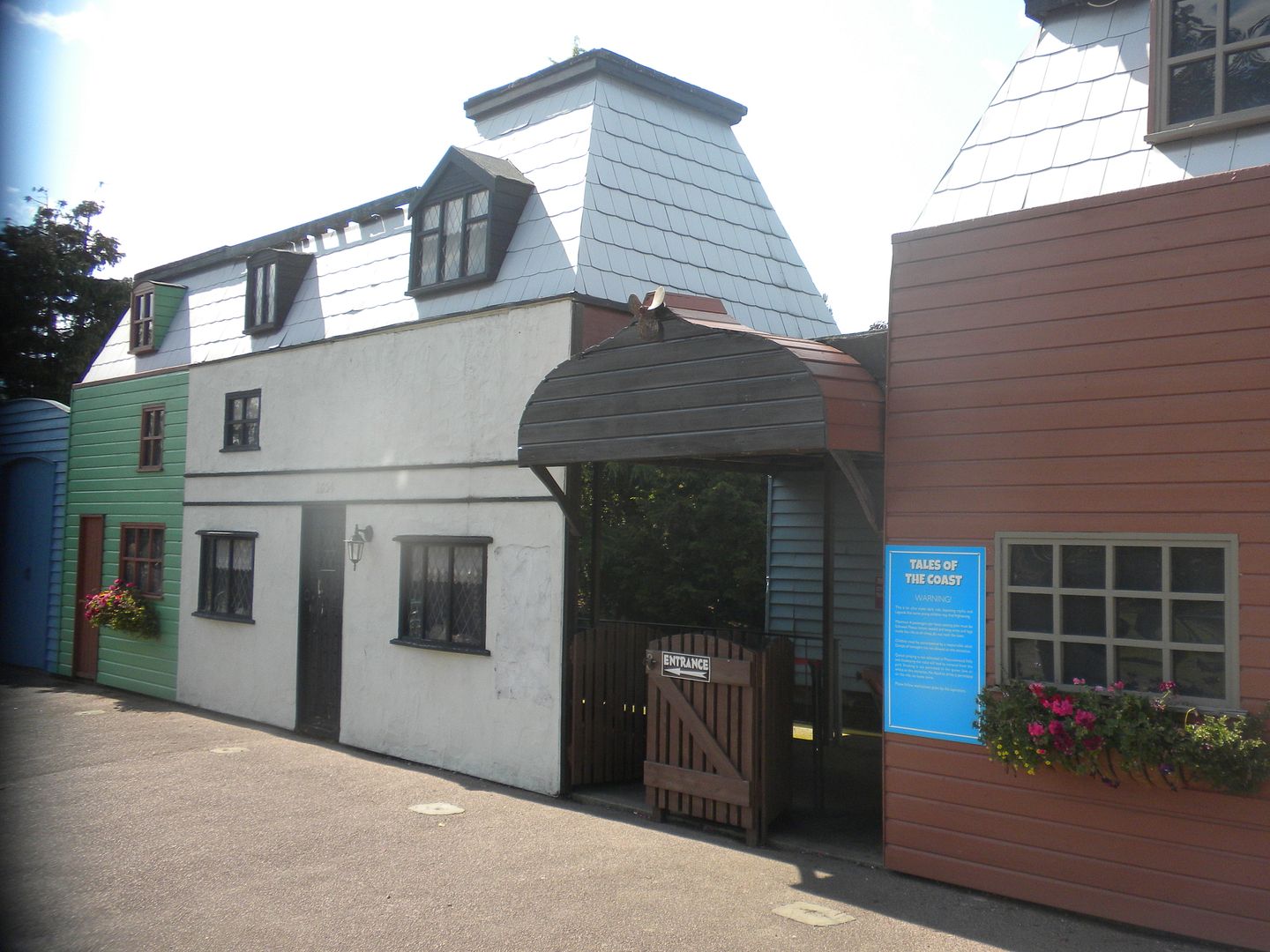 Tales Of The Coast: This story telling boat ride form 1984 was previously called Fantasy Boat Ride and Voyage To Aladdin's Cave.


Now it takes riders through a mysterious adventure through myths and legends of the Norfolk and Suffolk coast. It was very well done – 1 ride.
PHW Express: This train has several stations – 2 rides, 1 to each of 2 stations (1 station currently closed).


Chairlifts: Previously called Merry-Go-Straight, this chairlift took us across the park – 1 ride.
I did not have time to get to the rest of the rides: The Jolly Roger, a 131 foot drop ride; Timber Falls, a log flume; Wavebreaker, a dinghy slide; Mini Railway; Hyper Drive, bumper cars; PWH Paddlers, pedal boats; Double Deck Carousel; Fireball, a KMG Afterburner pendulum; Tide Traveler, a Huss Tri-star; Shiver M' Timbers, a swinging pirate ship; or Woody's Tea Party. Additional charge attractions include Go Karts and Laser Labyrinth.

The park has 15 children's rides. There are several shows, although we did not have time to see them, including Sealion Show; Parrot Show; and High Dive Show.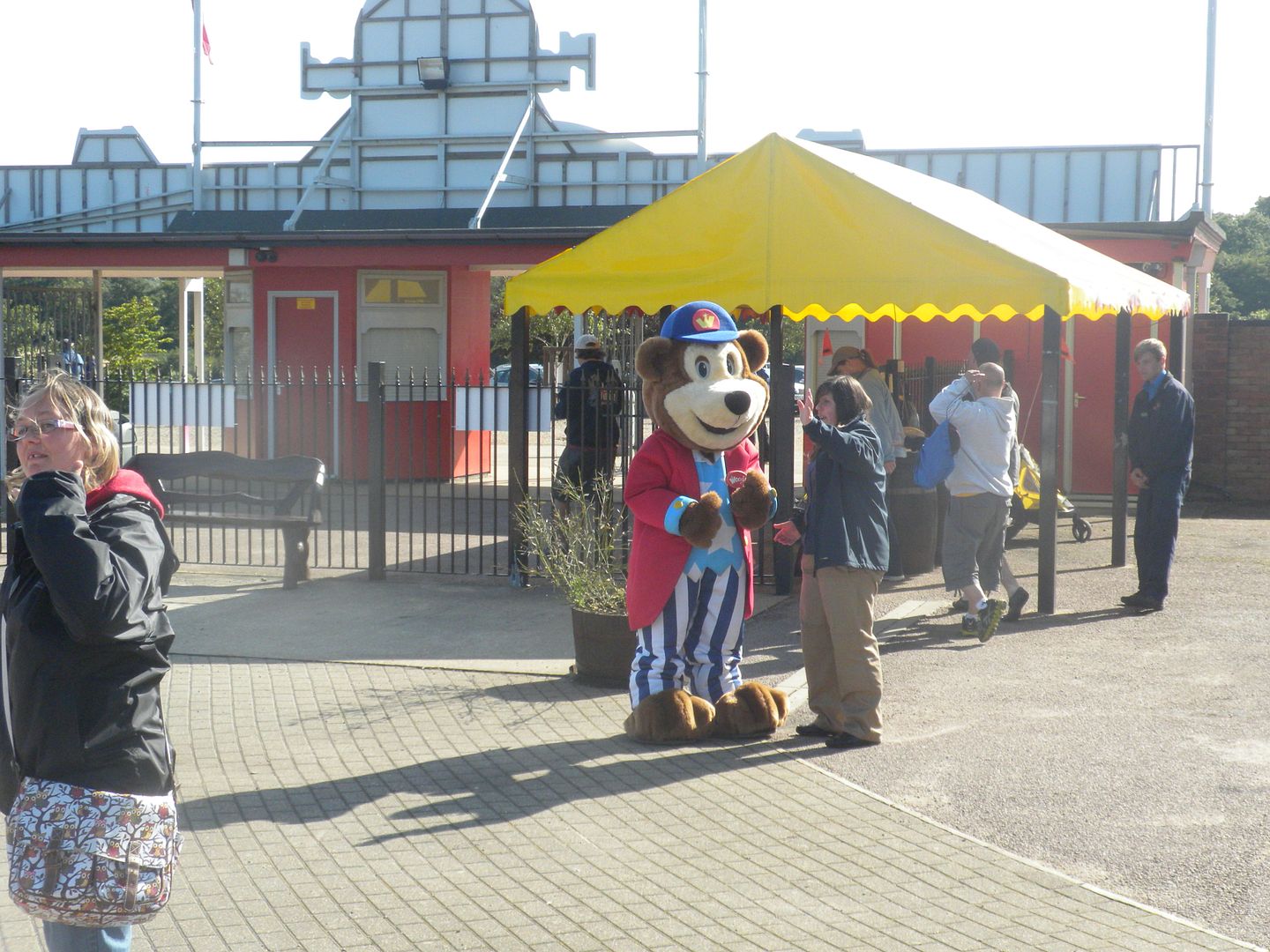 Although our time in the park was relatively short, I had a good time. We boarded the buses at 5:00, which was also park closing time, and headed toward Radisson Blu Edwardian Heathrow, which would be our home base for the Add-On trip. We said goodbye to 23 ACEers who would not be joining us for the 4 day ACE UK! 2015 Add-On as this was the end of the ACE UK! 2015 trip. The next morning 148 of us would depart in 3 buses instead of 4. We had dinner at the hotel.
Up Next: Drayton Manor