Flamingo Land
On Friday, July 24 we left the Doubletree by Hilton Hotel Leeds City Centre in Leeds and arrived at Flamingo Land in Malton, Yorkshire, England around 9:30. Operating since 1959, this park has a zoo and lots of rides. Of 9 coasters, 5 are family coasters. Although theming is not overly elaborate, I will review it by themed sections.
METROPOLIS
Home to 3 of the park's coasters, this section, despite its name, does not display Superman theming.


Velocity: (Vekoma, Motorbike Coaster (Custom), 2005) This was expected to be the main attraction for our stop, but unfortunately when we arrived it was closed with no sign that it might open later. We continued to watch it all day, but we had little hope. Then a couple of hours before our departure, there was activity in the station, a line of ACEers formed and soon there was a test train.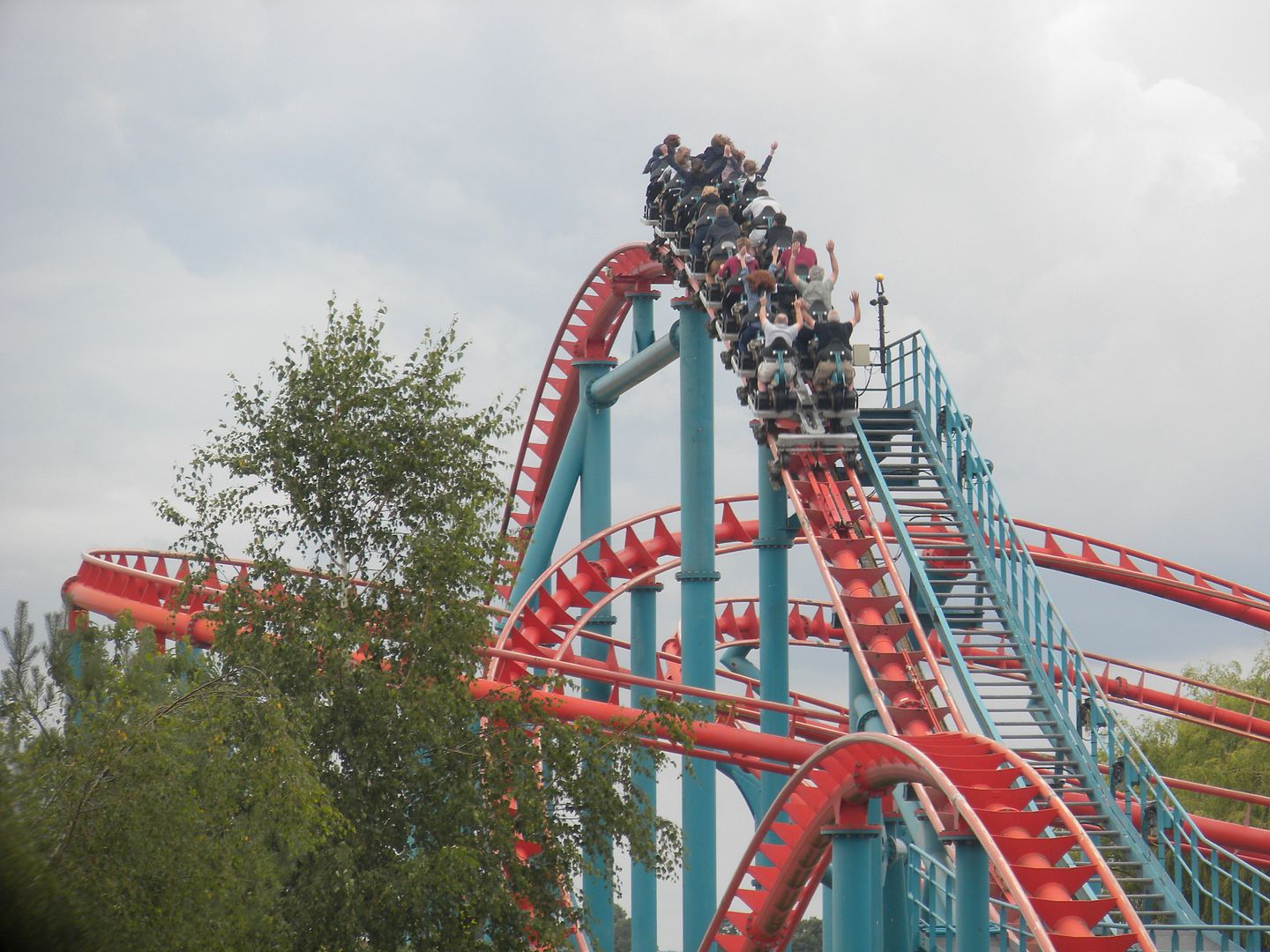 With 90 minutes to go the coaster opened to thunderous applause. It was well worth the wait.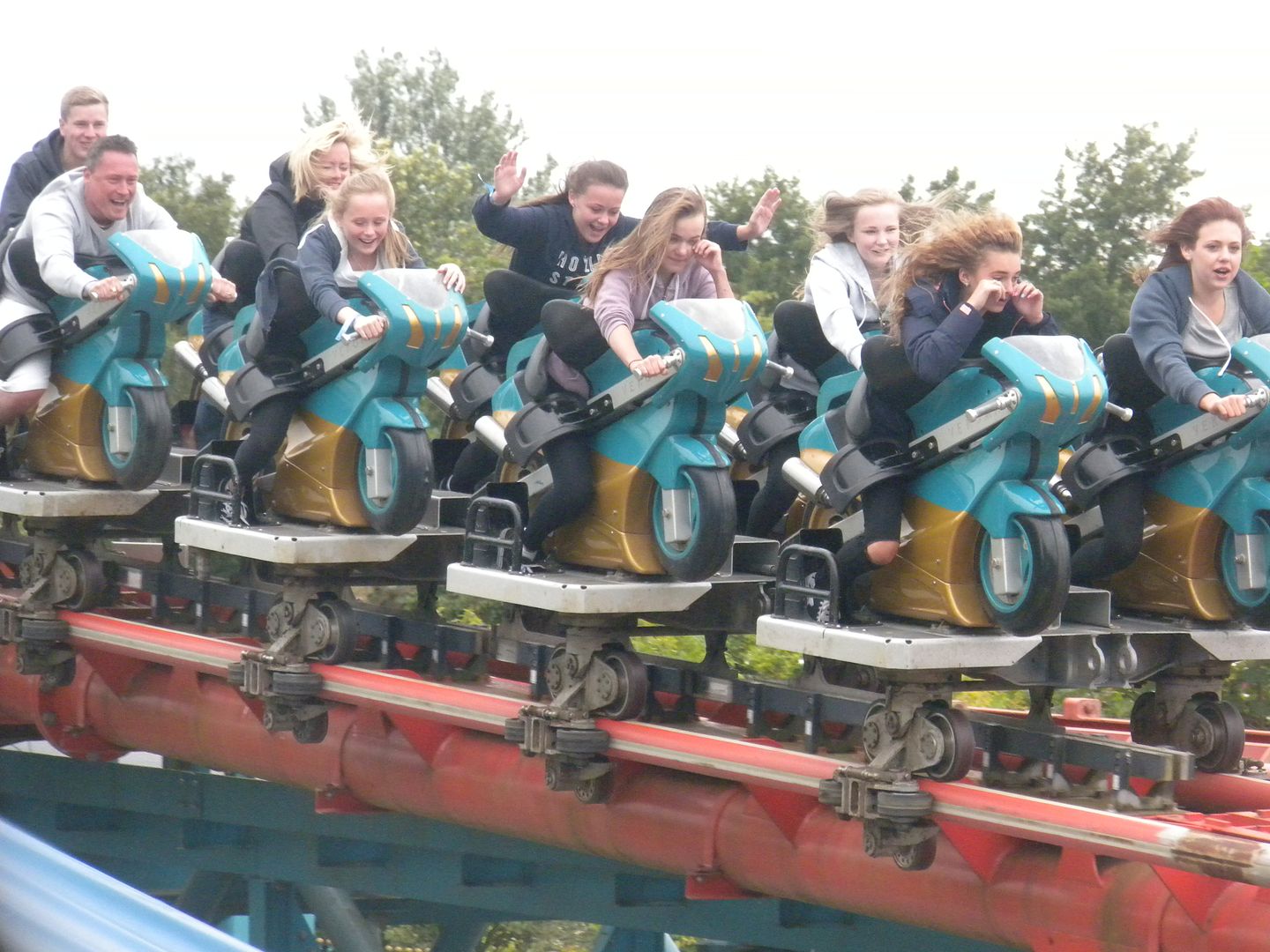 Like the other one of these Vekoma Motorbike coasters I have ridden, it is a thrilling launch and a great ride.


Through being in the right place at the right time I was invited to make use of an exit pass for a second ride. Although I know there were a few who missed it because they were on the other side of the park when it opened, most everyone got to ride – 2 rides.


Hero: (Zamperla, Volare Flying Coaster, 2013) Although no one was looking forward to this coaster, it also did not open with the park. It opened a while before Velocity, so most had already gotten their ride on this in – 1 ride.


Runaway Train: (Zamperla, Family Gravity Coaster,2004/2006/2007) Relocated from Gulliver's Warrington where it operated as Runaway Train and American Adventure Theme Park where it operated as Mini Mine Rush, this gave a good ride – 1 ride.
Cycle Monorail: This gives a scenic ride around this section of the park – 1 ride.
I did not get to ride The Navigator, the first Mega Disk-O,


or Flying Clowns, a unique spinning ride that looked fun. This section also has 4 children's rides.
SEASIDE ADVENTURE


This sea themed section is located at the far corner of the park.


Gallopers: This classic carousel is a Savage and as such moves clockwise in true English fashion. It gave a good ride.


Each horse is named and while David found a Dave horse, I took the Charlie horse – 1 ride.
People Moover: We took a ride on this monorail to Muddy Duck Farm, across the park – 1 ride from Seaside Adventure to Muddy Duck Farm.
I did not get to ride Cliff Hanger, an S&S combo drop tower, or Professor Bubbles Seaside Adventure, a car ride. There is also one children's ride here.
RIVERSIDE ONE
This small section has one children's ride and a stage.
LOST KINGDOM
Perhaps their most well themed section, it is home to 2 of their thrilling coasters and a highly themed water ride.


Kumali: (Vekoma, SLC-Shenlin, 2006) We were all expecting yet another SLC, but this is not a standard SLC –


it has 4 inversions (Loop-1, Cobra Roll-2, Zero-G Roll-1) instead of 5 (Roll Over-2,Sidewinder-1, Double In-Line Twist-2). The only other 3 of these models are in China, so this would be my first encounter with one and I was very pleasantly surprised.


Due to the layout there is little head banging, making for a pleasant and well-paced ride that I would have gladly ridden again had time permitted.


It is a shame more of these have not been built instead of the other – 1 ride .


Mumbo Jumbo: (S&S, El Loco, 2009)


My 2nd of 6 of these, it gave a good, intense ride without headbanging.


It was certified by Guinness


as the world's steepest coaster when it opened – 1 ride.


Lost River Ride was testing throughout the day, but apparently did not open. It is a long river ride by animals that ends with a Shoot-the-Chutes drop. I did not ride Voodoo, a pirate ship or the Cable Cars to the Zoo, due to a long line. The Daktari Express Train has a Lost Kingdom Station, which we exited on our ride from the Zoo.
SPLOSH
This water themed section has several rides.


Zooom: (Zamperla, Air Force (Custom), 2011) With only 3 of these suspended family coasters in the world, many of us were not allowed to ride the one in Spain without a child. Although it doesn't have much change in elevation, it is a fun little ride for kids – 1 ride.
We did not ride Flip Flop, a swinging pendulum ride, Splash Battle or the 4D Theater. We rode the Daktari Express Train through the Splosh Station. This section also has 3 children's attractions and Crazy Combat Laser Battle.
DINO-STONE PARK


This dinosaur themed section has 2 of the park's family coasters.


Twistosaurus: (Zamperla, Junior Twister Coaster, 2013) This is a very fun ride with great spinning on its multiple laps through its figure 8 layout – 1 ride.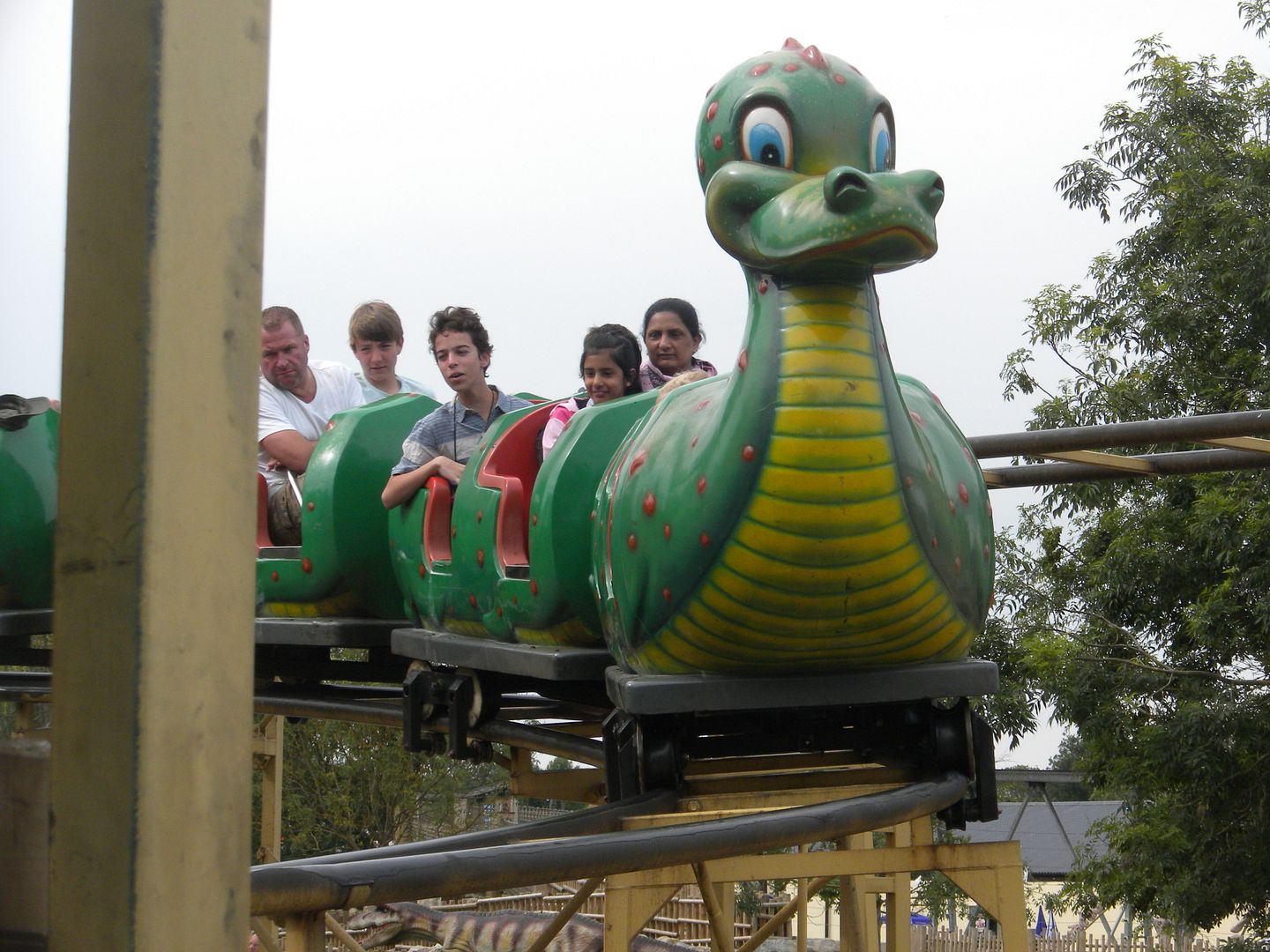 Dino Roller: (Cavazza Diego, Super Nessi Junior Coaster, 1988) Formerly known as Dragon Coaster through 2012, this was my first ride on this model which interestingly travels across the station roof. It gives a fun ride – 1 ride.


I did not ride Pterodactyl, a tower swing ride, or Cyclosoar, a spinning cycle ride. There are 2 children's attractions.
MUDDY DUCK FARM


This farm themed section has a lot of rides


as well as many farm animals.


Adults are not allowed to ride Go Gator (Wisdom Rides, Go Gator Powered Coaster, year unknown), although it may have been hard to fit anyway.


Mischief Mansion: This Ghost Train themed to Little Monsters and was fun – 1 ride.


Little Monsters Exploratorium: This small one room funhouse has a few tricks – 1 walkthrough.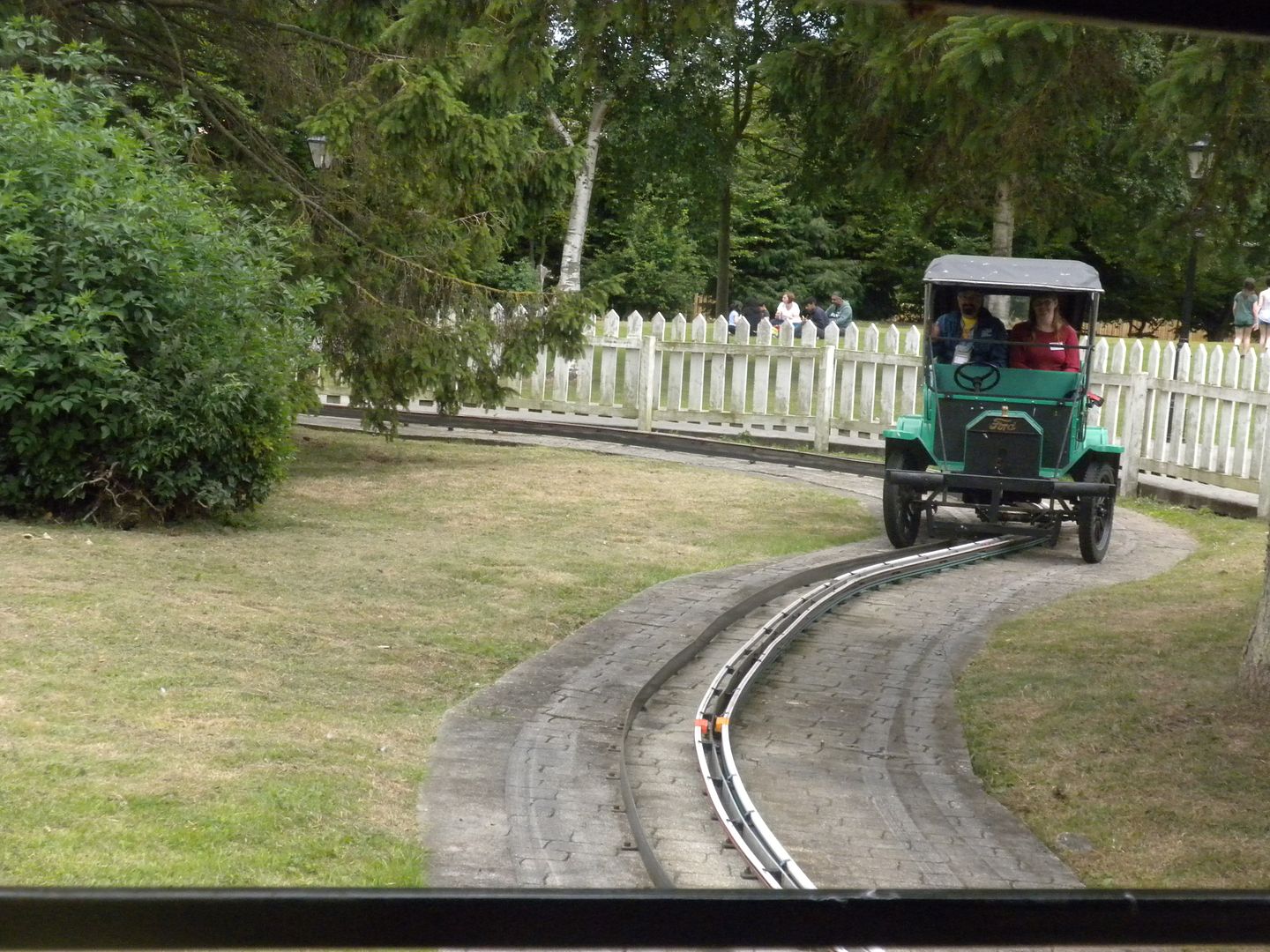 Little Monsters Wacky Races: This Model T Ford ride has a nice course – 1 ride.
We arrived on the People Moover from Seaside Adventure. We did not ride Muddy Duck Tractor Ride.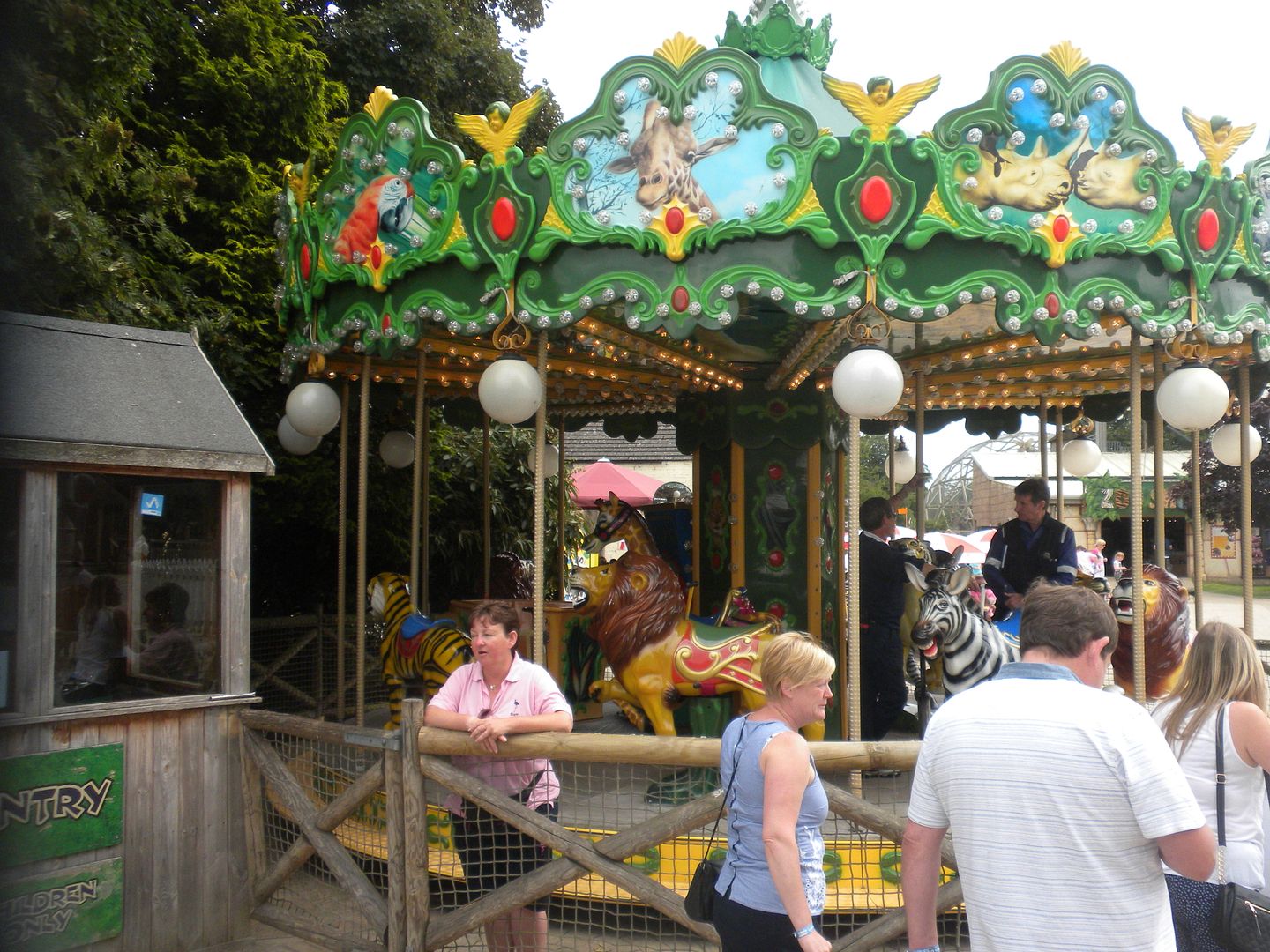 There are also 3 children's rides.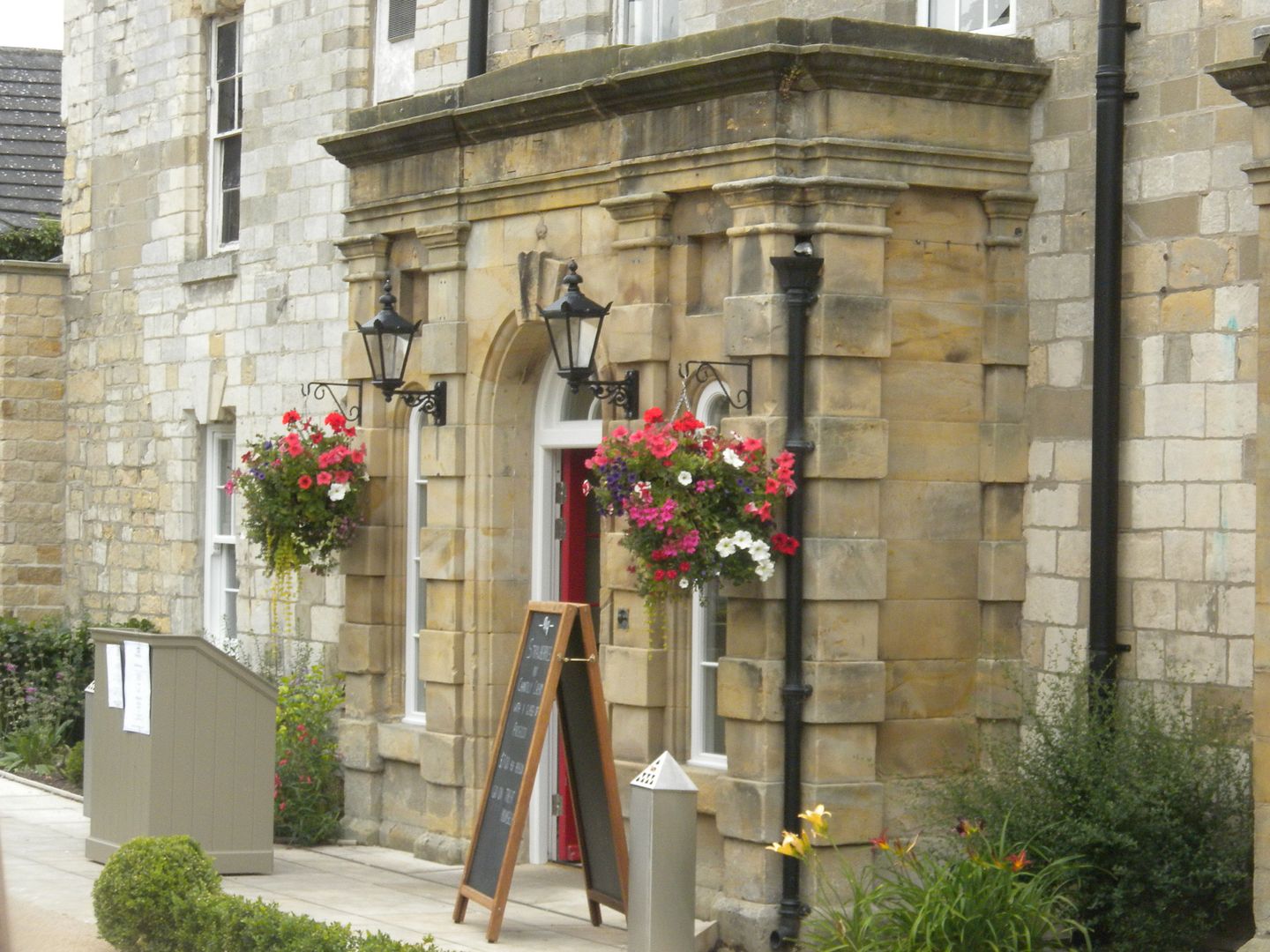 We had an excellent meal at The Mansion House & Tea Rooms,


set in the old manor house.
CHILDREN'S PLANET
This section is a children's play area is designed to bring animals and children together.
ZOO


Daktari Express Train: We rode from Zoo Station through Splosh Station to Lost Kingdom Station – 1 ride.


We intended to get back to the Zoo Monorail before we left, but the opening of the 2 coasters that opened late changed those plans. We planned to ride the Cable Cars back to Lost Kingdom, but again the line was too long.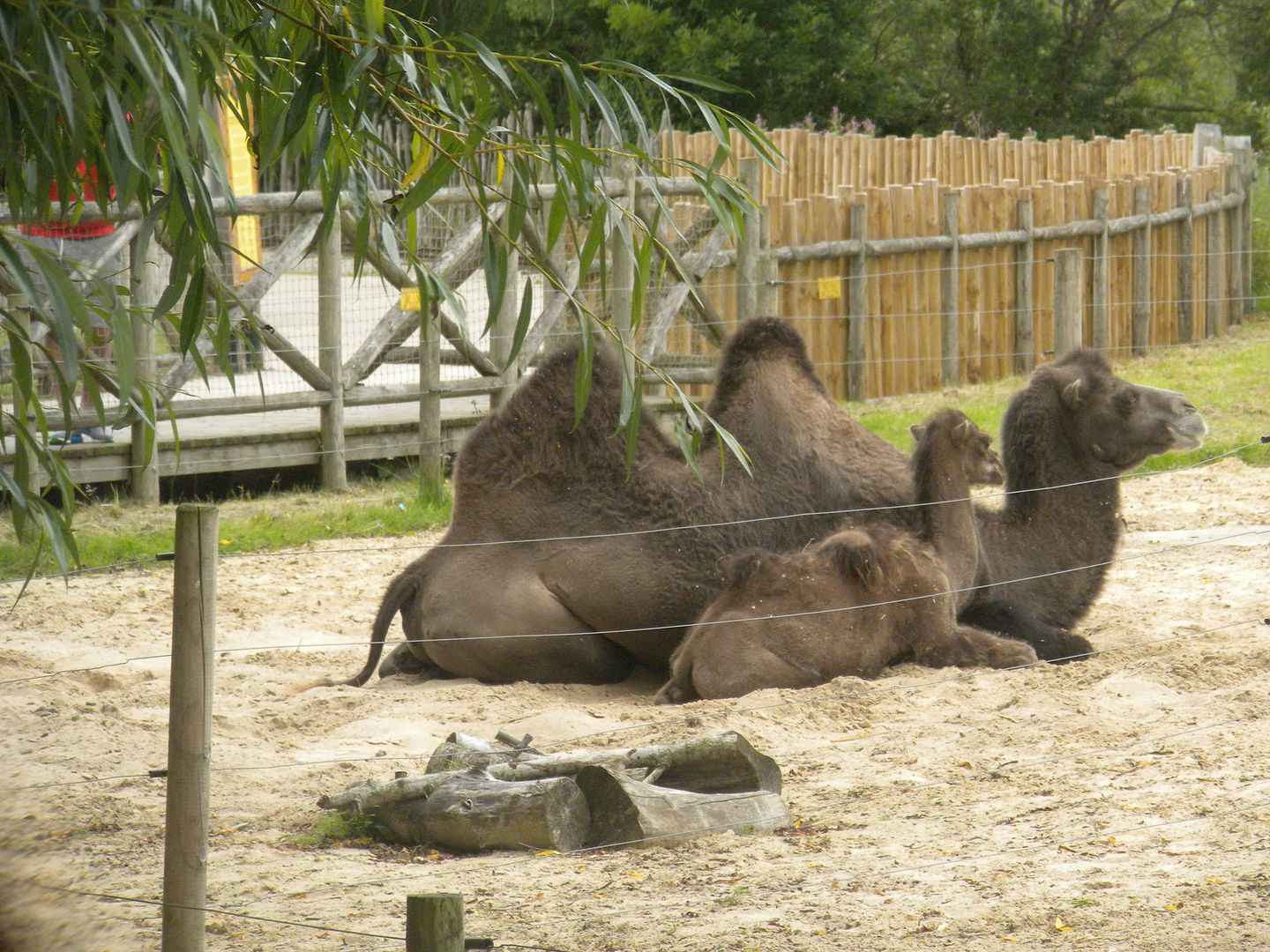 We did see a number of the animals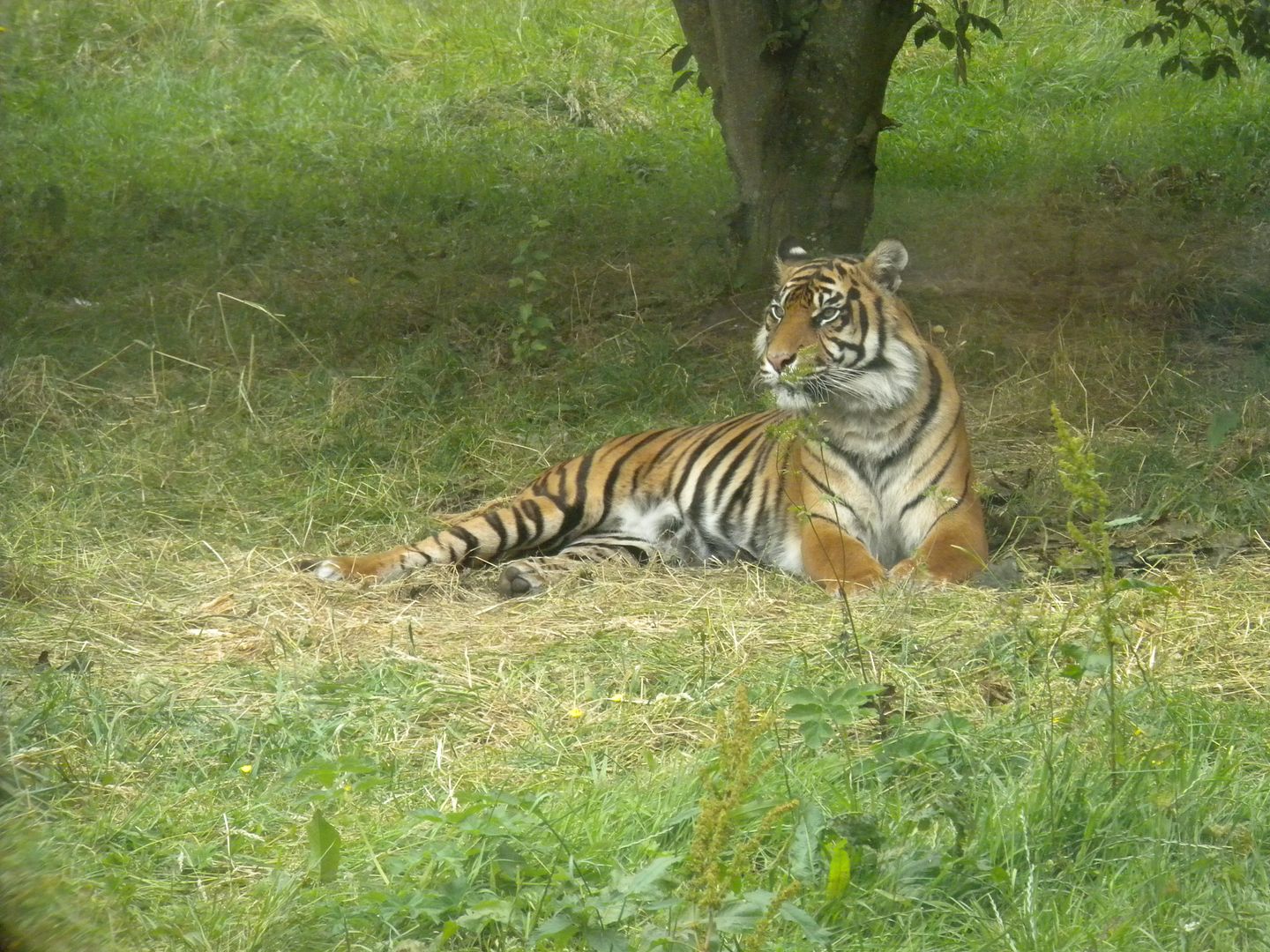 but did not get through the entire Zoo.
This is a fun park, and while we could have spent longer, we had time to do most of what we really wanted to do. We left around 4:45 for a long ride to Park Inn By Radisson Petersborough in Petersborough, England.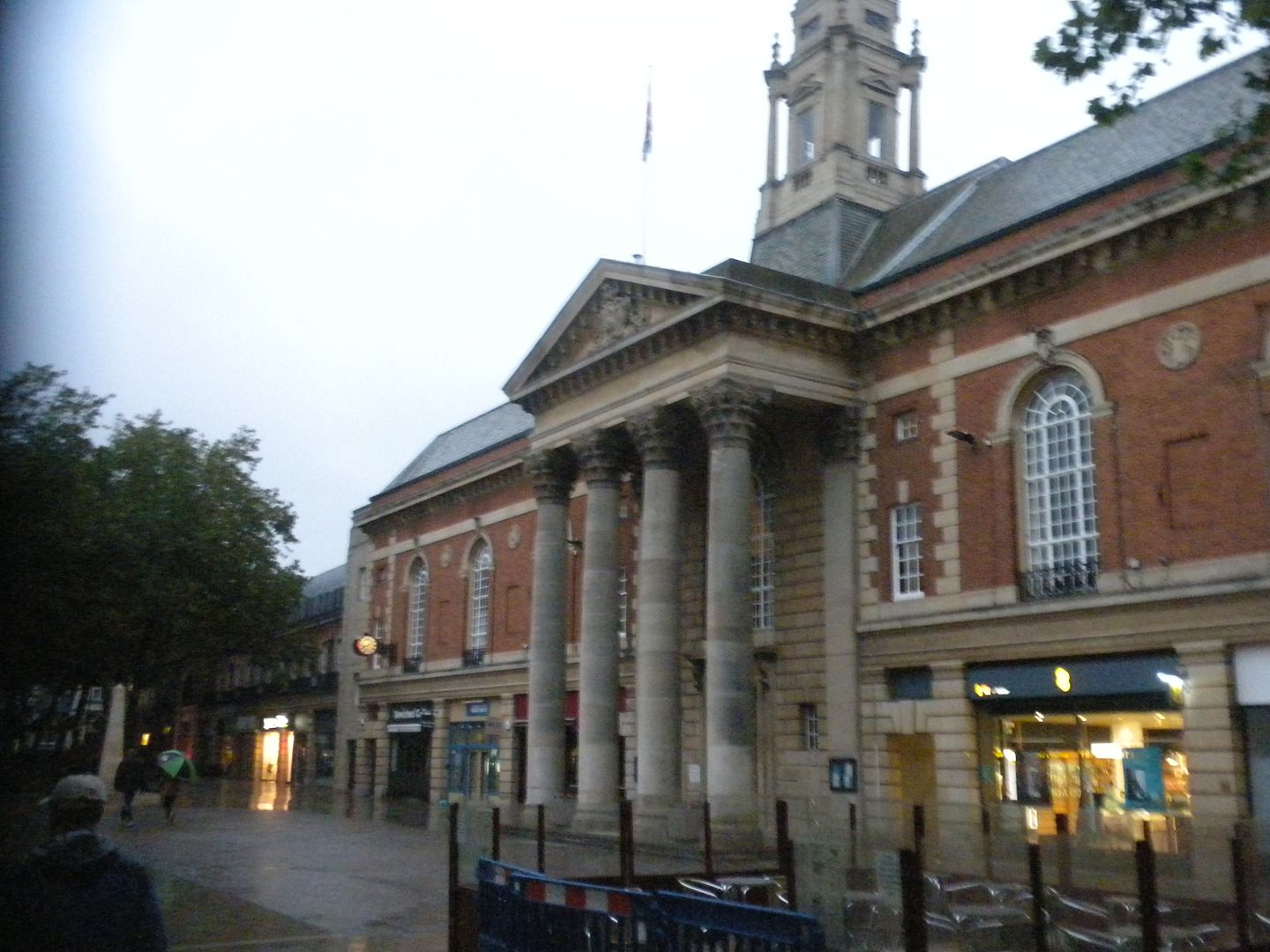 Although it was raining,


we toured along the nearby streets of Petersborough,


past the Church


and had a good dinner at TopoGigio's Italian Restaurant.
Up Next: Joyland Amusement Park, Great Yarmouth Pleasure Beach & Pleasurewood Hills