Oakwood Theme Park
On Monday, July 20 we drove from the Hilton Newport Hotel in Newport, Wales to Oakwood Theme Park in Narberth, Pembrokeshire, Wales, arriving just after 9:00. Operated by Aspro Parks out of Madrid, this is a park I have wanted to get to for a long as its wood coaster is highly acclaimed. Although they use the term 'Theme Park' in their name, most of the park is not highly themed. They do have several sections that are nicely themed, but since many of the rides are not in a themed section, I will review this park by the rides and note sections where appropriate. This was our first encounter with rain on this trip, and it threatened to keep us from getting some of the credits.

Megafobia: (CCI – Dennis McNulty/Larry Bill, Wood, 1996) This would be my 31st of 34 CCIs to ride. Of the remaining 3, 2 are defunct, so I only have one more to get to. We had an hour of ERT on this, but unfortunately it was in the rain (as we would soon learn to get used to), but this day it was mostly just a heavy mist, so it could have been much worse. With 171 on the trip and one train operating, it took a while to get everyone through.


This coaster is a similar layout to Rampage at Alabama's Splash Adventure, but it is 20 feet shorter and the placement of the station and the brakerun is different.


While the layout is very similar to Rampage, it is much less intense.


It gives a great, smooth ride with several rambunctious elements reminiscent of its younger sister. When riding it after it dried in the afternoon, it was moving much better. It is a great ride and I fully enjoyed it – 3 rides, 2 during ERT.


Speed: (Gerstlauer, Eurofighter (Custom), 2006)


I had ridden 8 of 18 Eurofighters, so this was my 9th with 2 more later in the trip.


It has OTS, but they were not overly painful to me. The hanging airtime is faster than on some Eurofighters. I enjoyed my ride – 1 ride.


Treetops Coaster: (Zierer, Tivoli – Large, 1989) The setting for this coaster is excellent as it is fully in the woods, with trees everywhere throughout its course.


This standard model is made much better by the many twists and turns through the woods.


It did not open with the park due to the rain, but once the rain stopped, we got to ride – 1 ride.


Circus Clown Coaster: (Pinfari, Kiddie, 1997) Located in Circus Land, one of the park's two sections for children, the website states that only children 4' 3″ and under are allowed on this ride, so we were not sure we would get to ride. Then with the rain it could not open. But in the afternoon the track dried and they were able to open it and we got to ride. It is quite a unique little coaster.


From its clown head front


to its clown feet back,


from its most unique lift system to its drop through an oversized drum, this is unlike any coaster I have seen. It doesn't fall more than 4 to 5 feet at the most, but it is still a fairly fun little coaster. We got 2 circuits around – 1 ride.


Crocodile Coaster: (Unknown, Powered Kiddie, 1992/2013) Relocated from Camelot Theme Park where it operated as Junior Dragon Coaster, this is located in Neverland, the park's other children's section. Although ACE does not consider powered coasters as coasters, I do count them. This coaster also was late opening due to rain, but eventually it did open and we got to ride.


The theme fits well with this section and I like the way it runs right along the flume retaining pond.


In fact, just the right timing can cause the splash on the log ride to be felt on the coaster. It also did not open due to rain, but they got it open just in time for everyone who wanted to get a ride – 1 ride.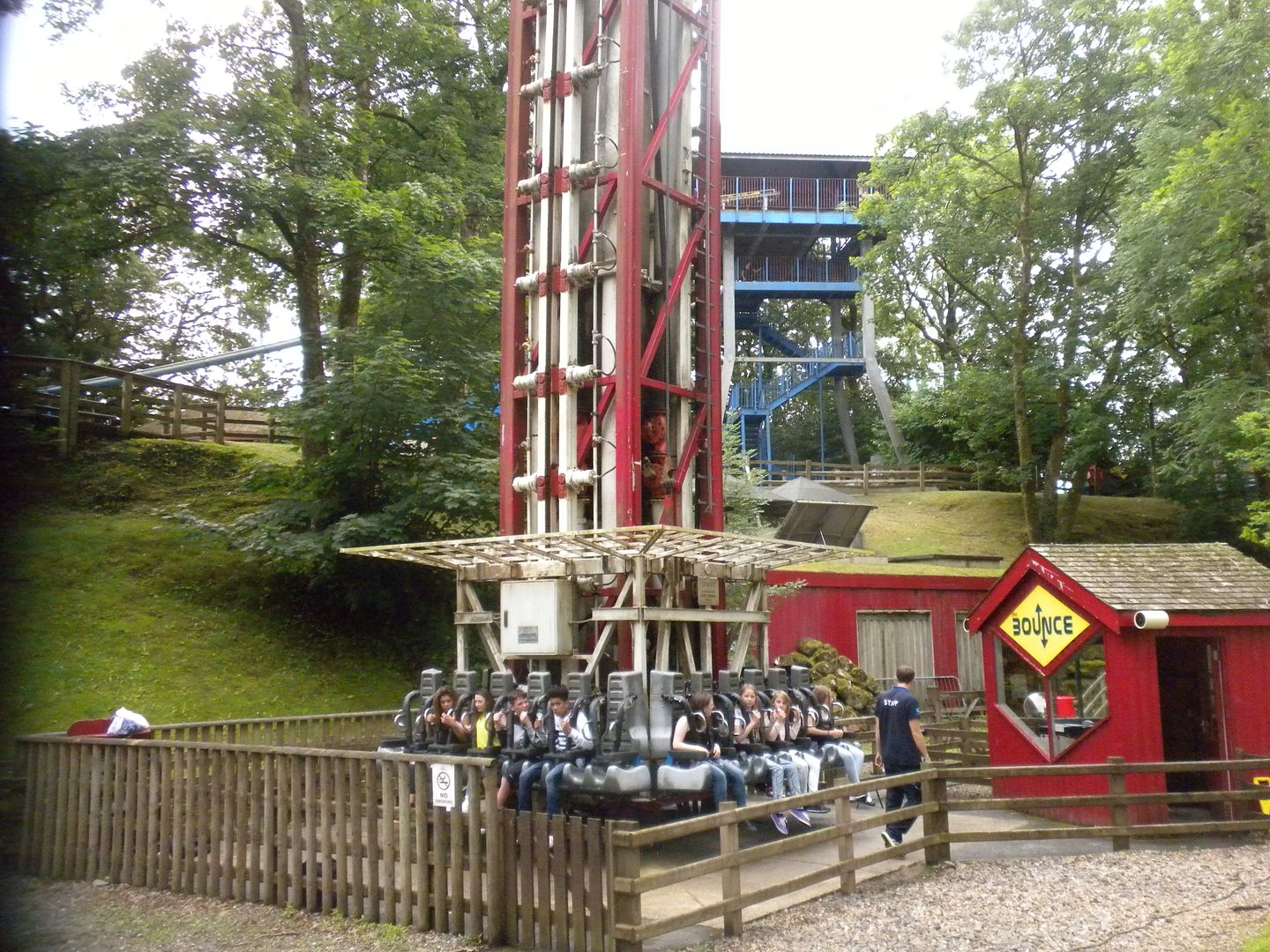 Bounce: This Huss tower has a bounce up as well as a drop down and gives a great view of the park – 1 ride.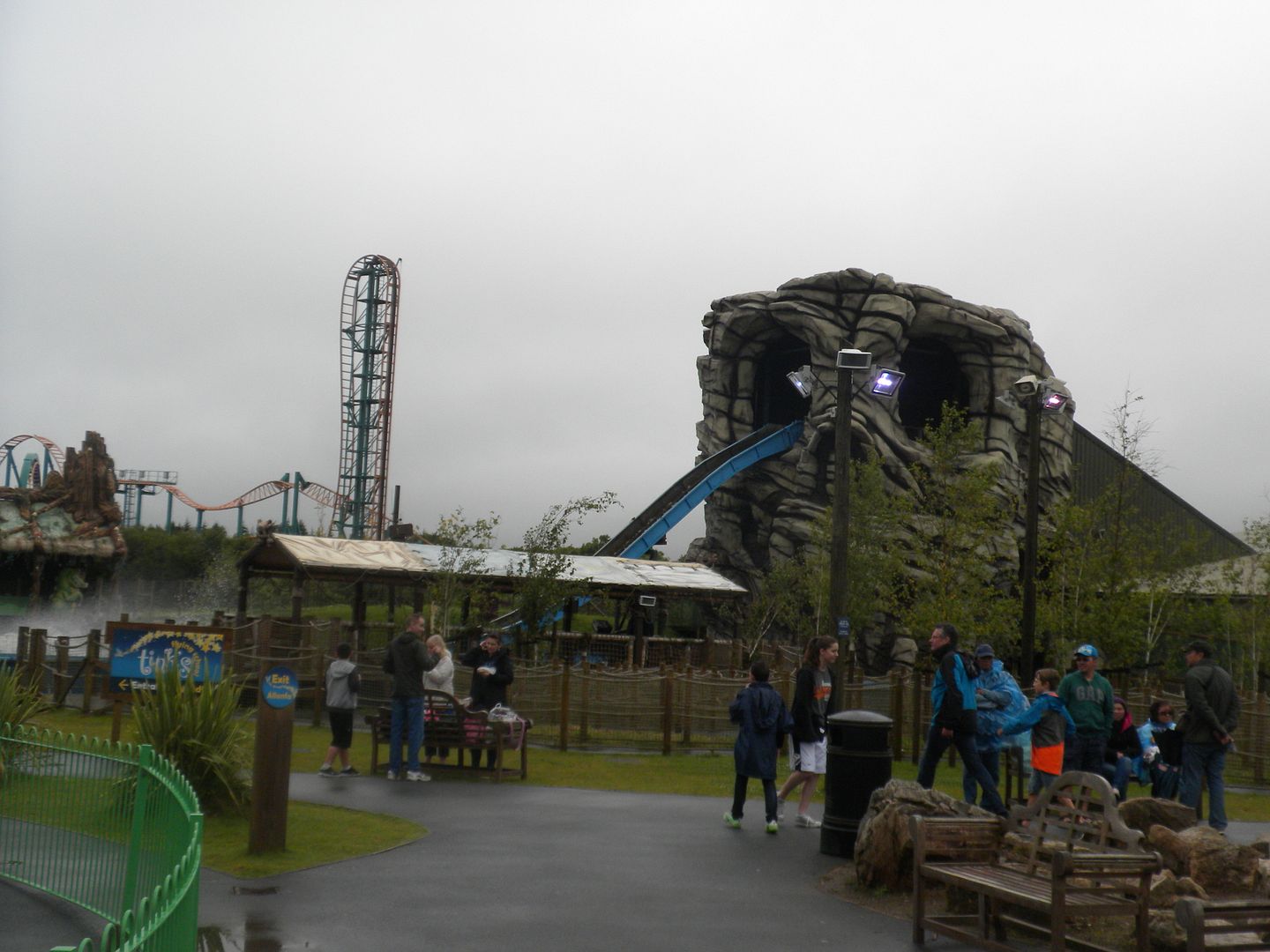 Skull Rock:


Located in Neverland, this has a short darkride section with some scenery that keeps its theme well, and has one drop. The only negative was that it has the dirtiest water I have ever seen in a flume – 1 ride.


Spooky 3D: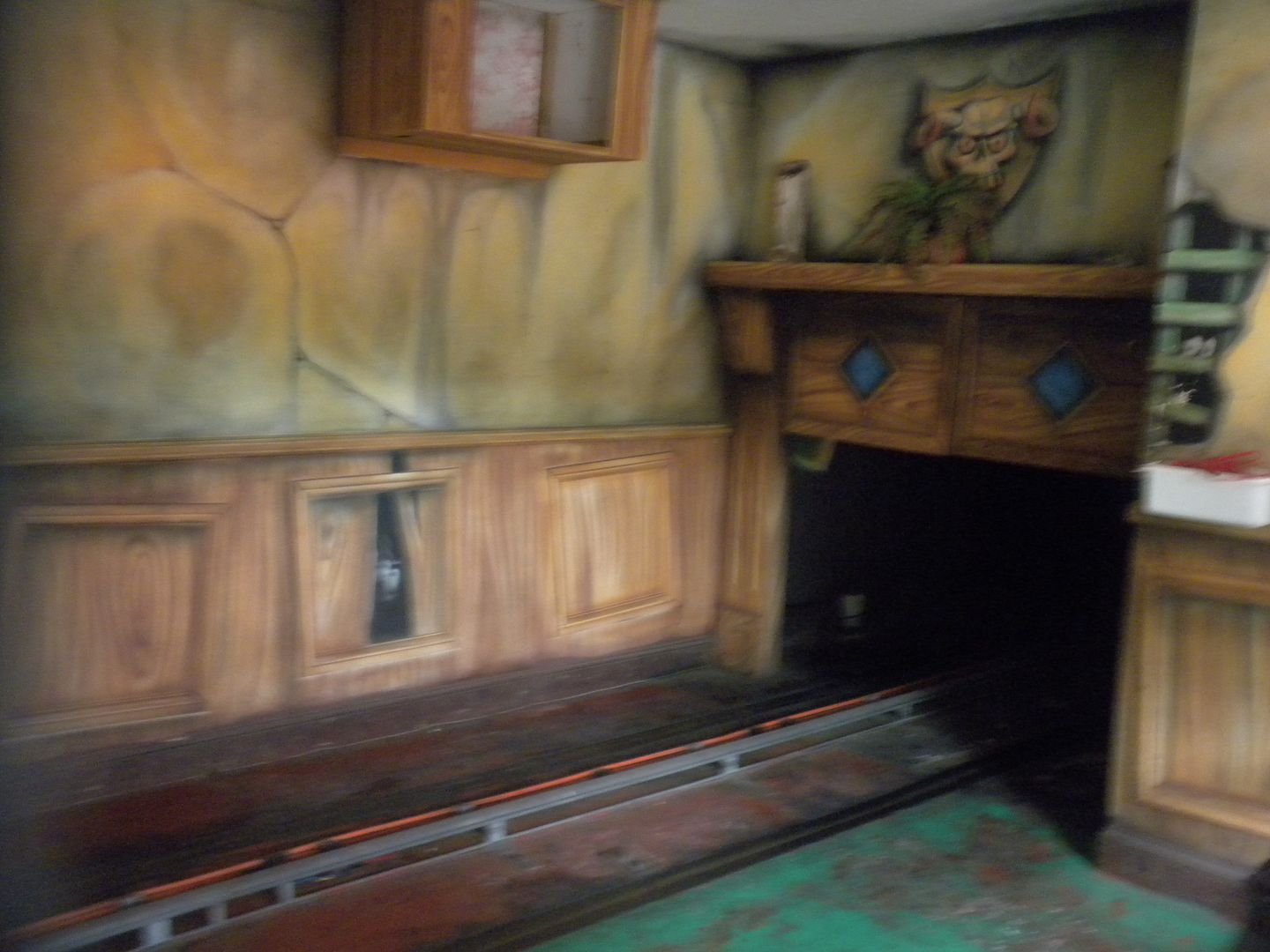 Located in the Wild West section, this 3-D ghost train had some good gags and it is fairly long – 1 ride.


Journey to Neverland: Located in Neverland, this indoor walkthrough shows models of the Darling's home and a story of Peter Pan. The light show is rather elaborate for a small park and fun to follow – 1 walkthrough.


Tink's Flying School: Located in Neverland, this flyer ride was fun, especially with the wind blowing – 1 ride.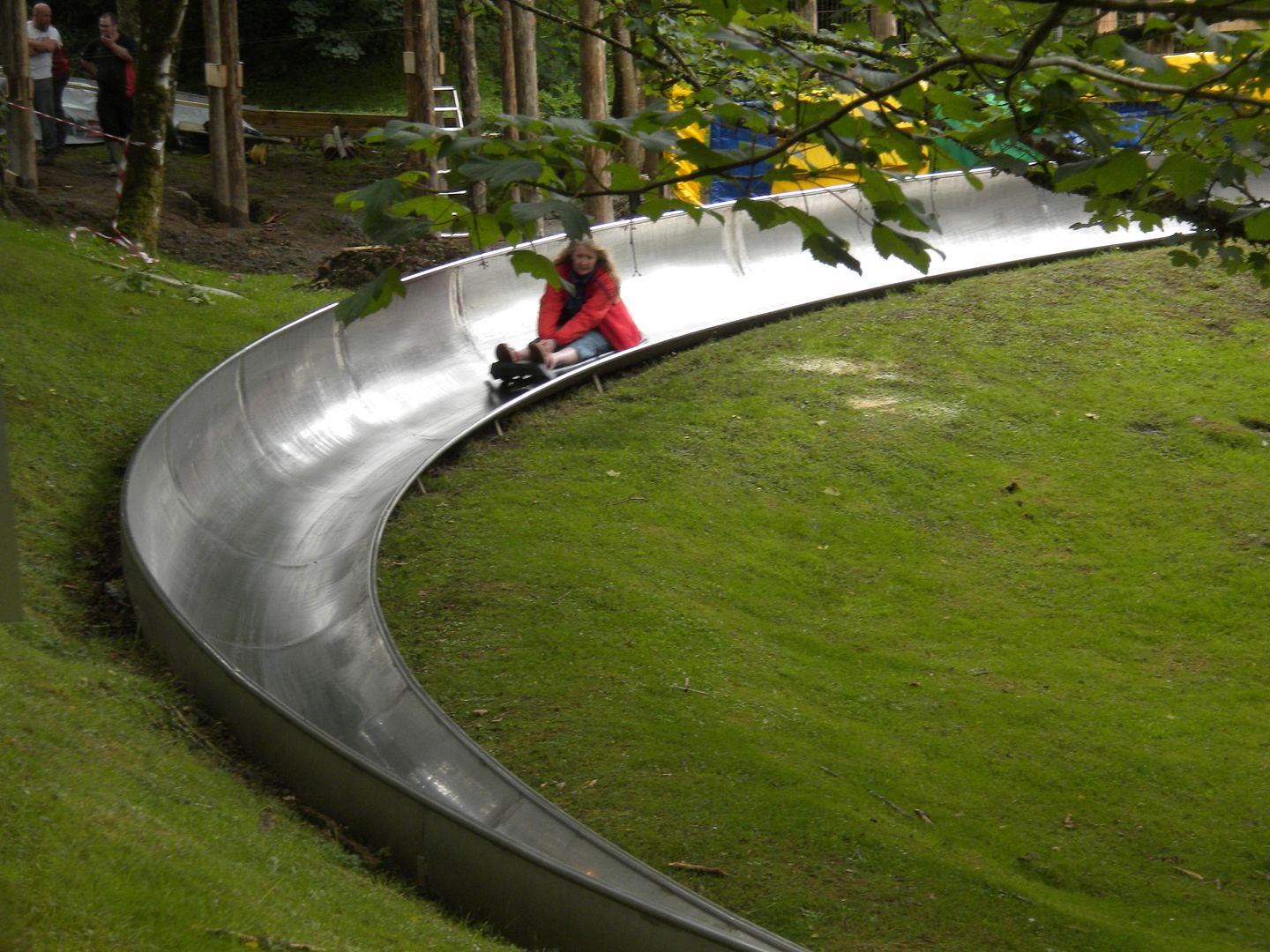 Bobsleigh: This toboggan alpine slide is one of the park's original attractions and it has a good, fun course – 1 ride.


Neverland Chase: This small car ride in Neverland has a nice course. Intended for children, they let us ride – 1 ride.


London Taxi Ride: Another small car ride in Neverland,


it has a nice course as well – 1 ride.


Moon Landing: This exhilarating free fall slide has an almost straight down drop. It is quite scary. I did do it, although I was somewhat apprehensive. Prior to 2013 it was known as Sky Leap – 1 slide.

I did not have enough time to get to Drenched, which was previously known as Hydro and was the same as the now defunct Perilous Plunge formerly at Knotts Berry Farm; Waterfall, a tube waterslide; Snake River Falls, a racing dinghy slide; and Pirate Ship.


In addition to the attractions noted above, there are 4 children's rides in Neverland and 3 in Circus Land. They also have Mini-Golf and an upcharge attraction, Vertigo, a sky coaster.

At least a portion of Wild West is being rethemed to The Legend of Sleepy Hollow, a spooky new £2m multi-attraction section originally due to open in 2014, but apparently pushed back to 2016. The Br'er Rabbit dark ride was removed at the end of 2013 for this new area.


Announced attractions include the Headless Horseman and the Tree of the Dead, but it is not yet known exactly what these attractions will be. The information on this new section sounds like it will be well done to a similar level as Neverland. Some of us had a good meal at The Little Darlings Café in Neverland with our meal vouchers.

I was quite impressed with this park. The level of theming in Neverland with a new section under construction leads me to believe that in time they may theme more sections. The park is nicely landscaped and has a small but nice selection of rides. We left around 3:45 for a long drive back to England to our hotel in Birmingham. We stopped for a driver's break along the way where I had my worst meal of the trip. Be aware that the steak sandwich at Soho Grill is tough as whip leather and can only be cut (why put something too tough to bite between bread?). Additionally they took so long to get it ready that I only had 8 minutes to eat it before having to give up my knife and get on the bus. We arrived at the Holiday Inn Birmingham in Birmingham later that evening where I got a dessert to make up for the meal. Hmmm – going from Megafophia to Birmingham – maybe we weren't that far from Rampage after all!
Next Up: Alton Towers