Alton Towers


For some the most anticipated stop of the trip was Alton Towers in Alton, Staffordshire, England. Hands down the U.K.'s best theme park, it first opened in 1980 and has grown steadily through the years, building quite a collection of coasters and other rides. It is operated by Merlin Entertainments that owns several other theme parks in the U.K. that we would visit later in the trip. Here, the emphasis is on elaborate theming of both the sections and the rides.


What really sets this park apart, however is the castle – Alton Towers – that sits in the middle of the park. While other theme parks have created castles as their centerpiece, this park has a real castle.


The result is stunningly beautiful architecture and a large green space and lake in front of it, all surrounded by a highly themed park. To further keep the setting, all rides are required by ordinance to be below the tree line. This does not mean the rides are small, it just means that they are often partially underground or in ravines. We arrived at the Alton Towers Splash Landing Hotel around 9:00 a.m. on Tuesday, July 21 and dropped off our luggage before entering the park just after opening at 10:00. While at the park, our luggage was delivered to our rooms without our having to move it – what great service! We had about a day and half at the park. I will review this park by its highly themed sections.
TOWERS STREET
This is the entrance section of the park.


Just outside the park you are greeted by a section of track


from Corkscrew (Vekoma, Corkscrew with Bayerncurve, 1980-2008), a nice touch. The entry section provides shops and restaurants, but what strikes you most is the view of the magnificent Alton Towers in the distance.
Skyride to Forbidden Valley: These 8 passenger gondolas are a great way to tackle the parks huge size and great hills – 1 ride from Tower Street to Forbidden Valley.
Monorail: Located outside the park, it takes you from the hotels and water park to the front entrance of the park – 3 rides, 2 from Hotel to Tower Street, 1 from Tower Street to Hotel.
THE TOWERS


The Towers, as they are called, were from 1412 until 1924 the home of the Talbots, the Earls of Shrewsbury.


Though now partially in ruin, they stand majestic as the centerpiece and heart of the park.


On a return visit I want to take the time to tour them.


There is one ride located in the castle.
Hex: Located inside the castle, this is the best theming on a Vekoma Madhouse Haunted Swing I have seen. The story, no doubt based on local legend of the chained oak, is engaging and it is played out to full effect. Perhaps most effective is the use of a moving tree in the basement of the haunted swing, which better disguises the angled cut out basement, which sometimes works against the illusion, but here keeps the illusion intact. What a great ride! – 1 ride.
THE GARDENS


The Gardens are a beautiful diversion from the rest of the part. Located in a valley to the left of The Towers, they are quite elaborate. Due to time constraints I was only able to view them from the Skyride.
CBEEBIES LAND


Located to the right at the front of the park, this section is based on popular British children's characters.


Octonauts Rollercoaster Adventure: (Zamperla, Family Coaster, 2015)


This gave a good ride – 1 ride.


I hoped to get to the In The Night Garden Magical Boat Ride, but ran out of time. This section also contains 10 children's rides and attractions.
ADVENTURE LAND
Located to the right of The Towers is this small section themed to adventure.


Sonic Spinball: (Maurer, Xtended SC 2200 Spinning Coaster, 2004) Previously known as Spinball Whizzer, the original theme was as a giant pinball machine, with the trains as metallic silver balls. In 2010 the theme was changed to the Sega character Sonic.


This is a very good spinning coaster (as most Maurer spinners are) – 1 ride.
This section also includes a children's play area.
X-SECTOR
Moving further back in the park and just to the right of The Towers, is this futuristic themed section.


Its largest attraction sits closed indefinitely with an uncertain future in light of the tragic incident at on The Smiler (Gerstlauer, Infinity Coaster, 2013) in early June. With 14 inversions, it holds the record as the coaster with the most inversions: heartline roll, corkscrew, dive loop, dive loop, dive loop, sidewinder, corkscrew, corkscrew, roll over (2 inversions), cobra roll (2 inversions), corkscrew, & corkscrew. It is a huge area of track that goes every which way. It is so sad about what happened here and my heart goes out to those injured, especially the 2 girls that lost legs. The signage at the entrance has been removed, but there is still some theming visible. Time will tell what the park will do here. Of note this location is where Black Hole (Schwarzkopf, Jet Star 2, 1983-2005) previously stood.


Oblivion: (Bolliger & Mabillard, Dive Coaster, 1998) This was my 3rd of 9 B&M Dive Coasters, and this was the first one built. It has no inversions and is basically just the drop. It is fun as long as you don't stand in line long – 2 rides.
I did not take the time to ride the other ride in this section, Enterprise.
MUTINY BAY
At the front of the park to the left is Mutiny Bay, a well themed pirate section.
The Flume: This nicely themed flume is long and has a great course through the woods with several drops – 1 ride.
I did not make it to any of the other rides or attractions in this section which include Battle Galleons, a well themed Splash Battle; Marauder's Mayhem, a Teacup ride; Heave Ho!, a swinging pirate ship; and Sharkbait Reef by Sea Life, a sea life attraction.


Also, an entry for Haunted Hollow, a haunted shortcut to Gloomy Wood, is here.
KATANGA CANYON


This river themed section has 2 rides that interact well together.


Runaway Mine Train: (Mack Rides, Powered Coaster (Custom), 1992)


This is a very fun custom layout


that crosses the path several times and interacts effectively in a tunnel with the rapids ride – 2 rides, 1 during Hotel Early Entry.
Although on my list to get to, I ran out of time before riding Congo River Rapids, which looked good.
GLOOMY WOOD
This section sets the mood with its two attractions.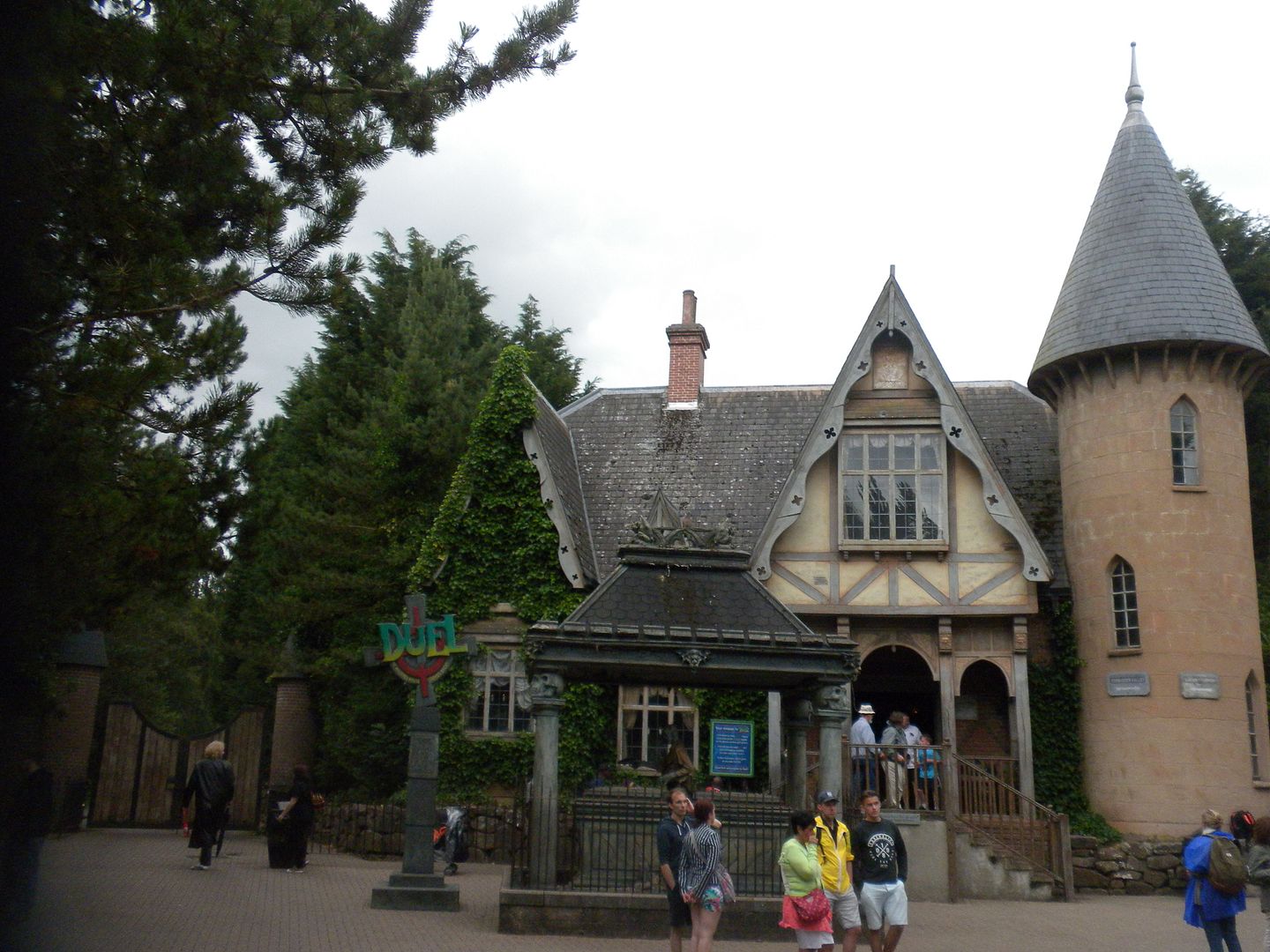 Duel: The Haunted House Strikes Back!: This is an extremely long interactive darkride, and it is very well done with lots of targets and things you don't see in other such rides – 1 ride.


Haunted Hollow: This walkthrough shortcut to Mutiny Bay


has a good many interactive displays that hold the theme well – 1 walkthrough.
FORBIDDEN VALLEY
Perhaps the most thrilling section, it contains 6 attractions, and the theming is well done.
Nemesis: (Bolliger & Mabillard, Inverted Coaster, 1994) This was the 4th B&M inverted coaster to be built and the 2nd besides the Batman design.


It was Richard's most anticipated ride of the trip as he has wanted to ride this coaster for over 15 years.


In a stroke of luck and good timing he was able to make it his 900th coaster.


Cut into a ravine, it is to me the best B&M inverted I have ridden.


It is filled with foot choppers everywhere you turn as you dip into and out of the ravine.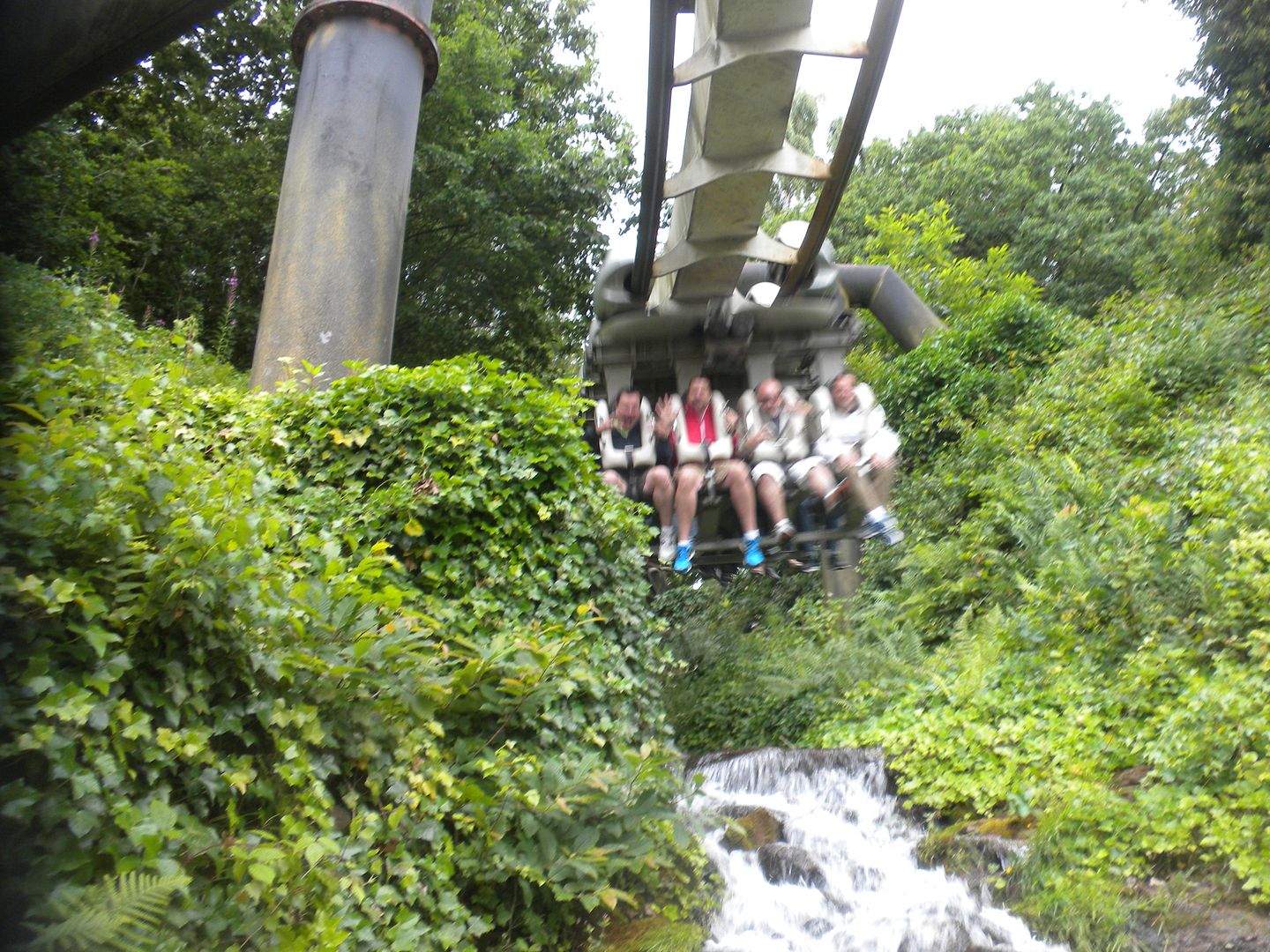 It has only 4 inversions, but it is so well paced, that I wanted to just keep riding and riding.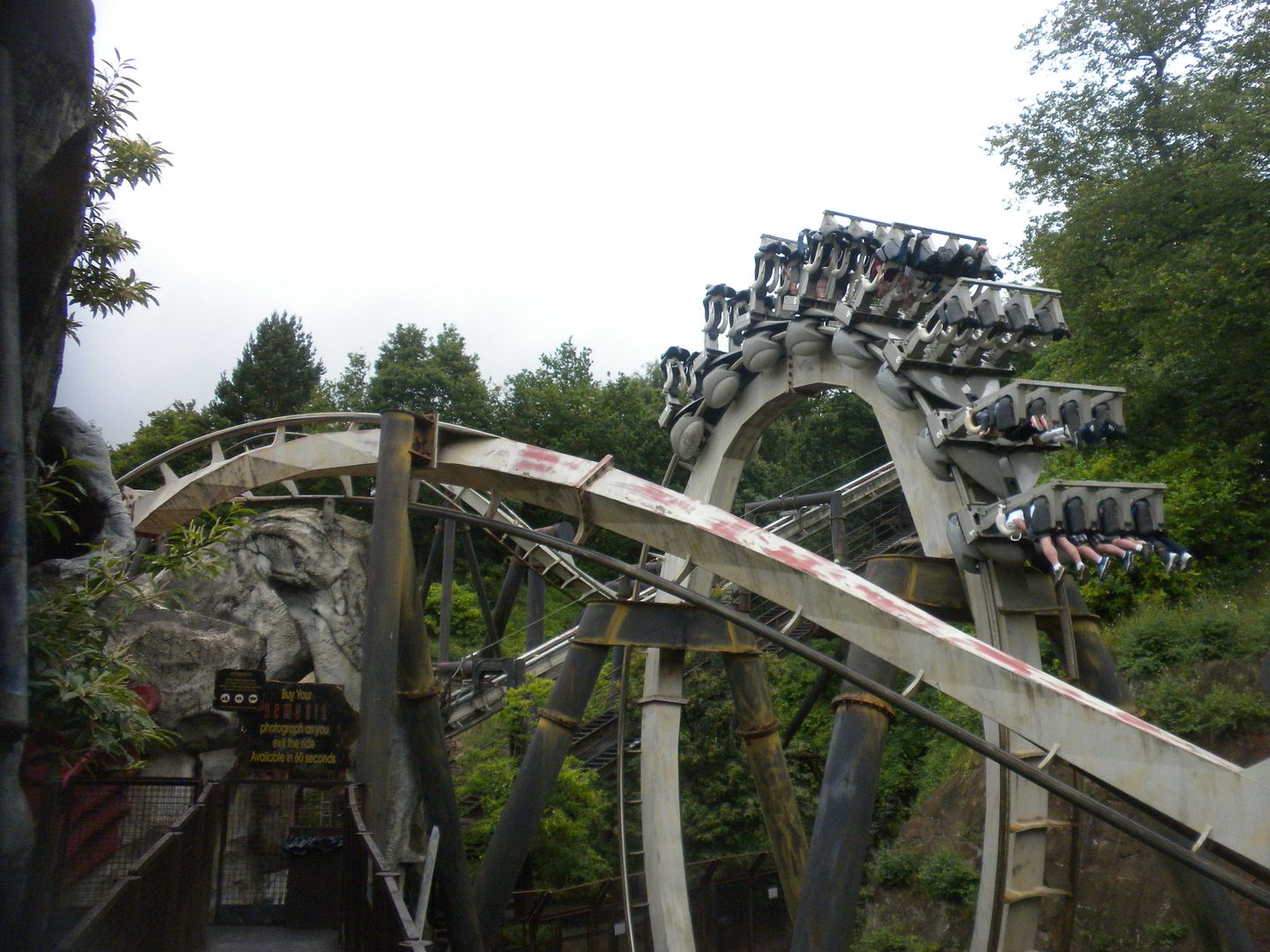 Since we had an hour of ERT on this and several other rides and Hotel Early Entry, I was able to get more rides on this than on any other coaster of the trip – 18 rides, 11 during ERT, 5 during Hotel Early Entry.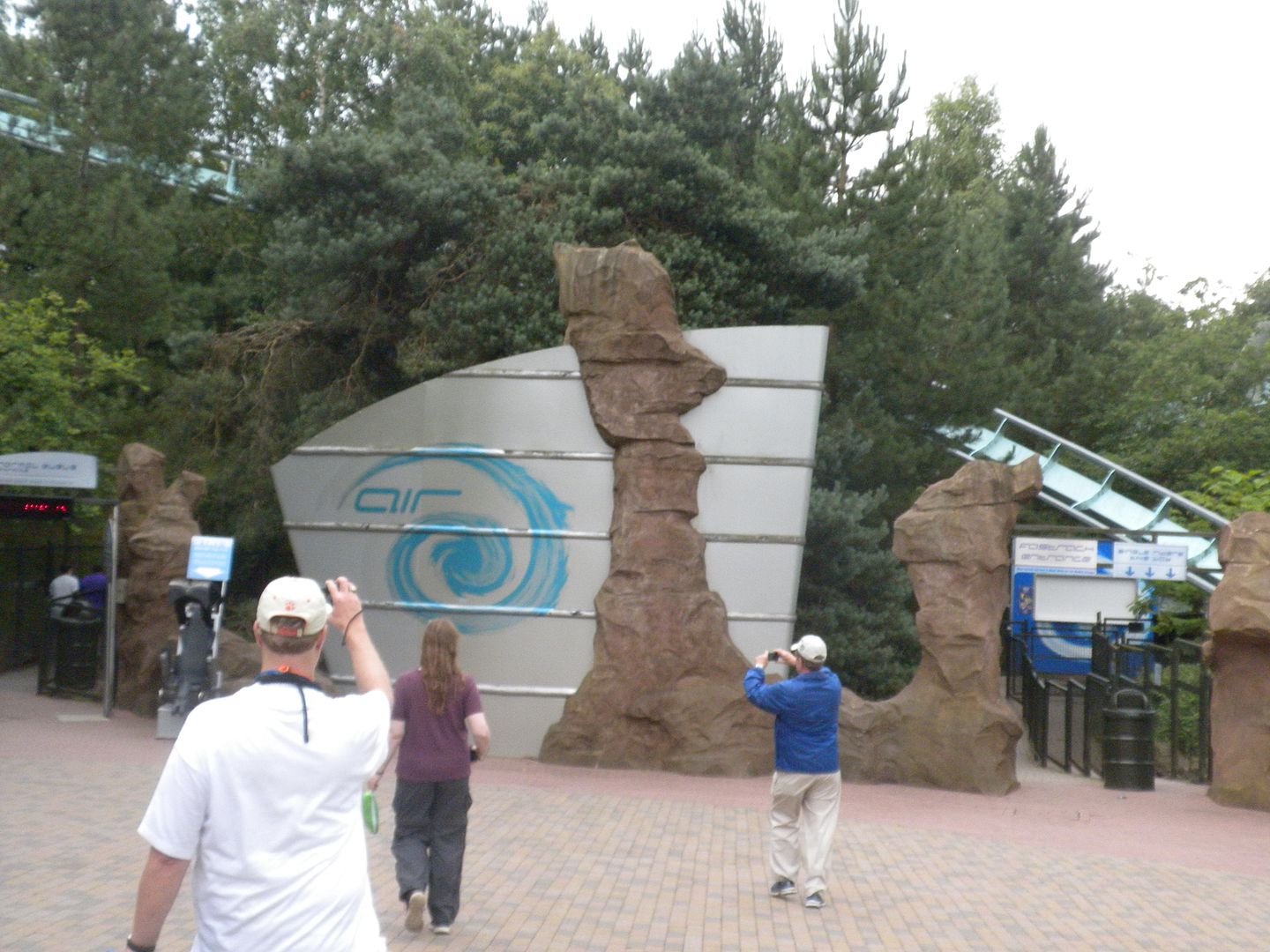 Air: (Bolliger & Mabillard, Flying Coaster, 2002)


This first B&M Flyer was my 6th of 10, and I really liked it.


It only has 2 inversions and does not have a pretzel loop. Since pretzel loops are so intense, the lack of one here makes for a much more enjoyable ride. Also, with so many spots where it is close to the ground the sensation of landing is also great – 5 rides, 4 during ERT.


Nemesis Sub-Terra: This underground drop ride is unique. It is a cross between a space themed show and a drop ride, albeit the drop is only a few feet. Still it is unexpected and quite fun. Additionally it is part walkthrough with live actors, so that is good, too. The only negative is that the restraint systems covers all seats in a section, so locking them can really slow down operations – 1 ride.


Skyride to Cloud Cuckoo Land or Towers Street: Due to the hills we really made use of the gondolas – 2 rides from Forbidden Valley to Cloud Cuckoo Land, 1 ride from Forbidden Valley to Tower Street.
I did not ride Ripsaw, a Topspin or The Blade, a swinging pirate ship with an elaborate theme.
DARK FOREST


This well themed section is located next to Forbidden Valley, but is only accessible from it by a long walk into the valley and back up the hill or by the Skyride.
TH13TEEN: (Intamin AG, Family Drop Coaster, 2010) This is a great coaster as it has a show section that drops it from one track to a lower one that it exits backwards – 4 rides.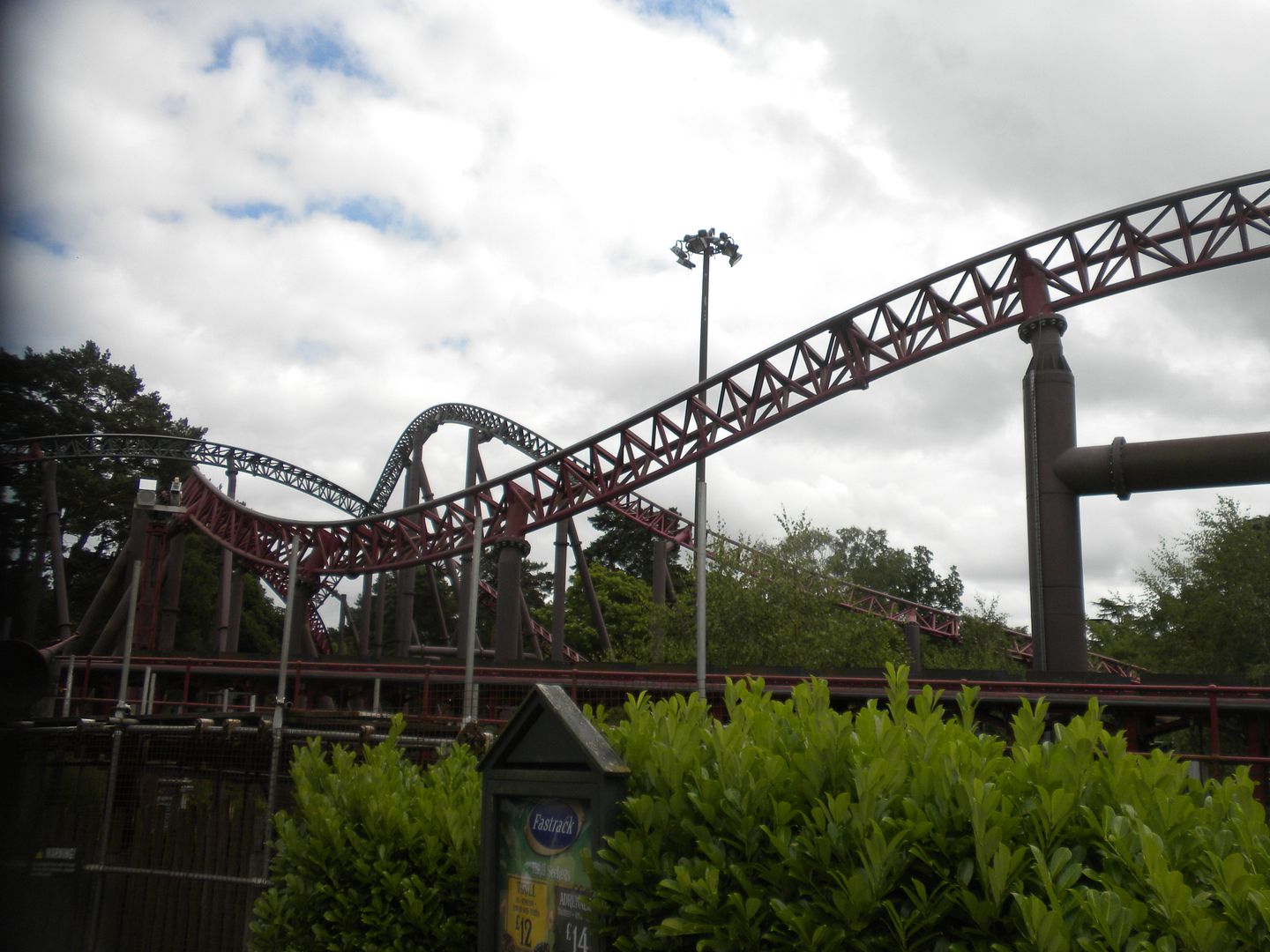 Rita: (Intamin AG, Accelerator Coaster, 2005)


This was my 8th of 14 of these, but this one does not have a top hat to ascend and descend, so it seemed somewhat boring. We were given a timed entry pass for this ride – 1 ride.
We had a very good lunch at Woodcutter's Bar & Grill with vouchers from the park.
CLOUD CUCKOO LAND
Another children's section, this is located at the back of the park behind and to the left of The Towers.


Charlie & The Chocolate Factory: The Ride: This is a great water darkride with an ending elevator trick – 1 ride.
Twirling Toadstool: These mushroom themed swings were fun – 1 ride.
Skyride to Forbidden Valley: The farthest of the 3 stations, we made good use of this ride – 2 rides from Cloud Cuckoo Land to Forbidden Journey.
This section also has Ice Age 4D Experience in the Cloud Cuckoo Theatre as well as 4 children's rides.
Outside the park is the Splash Landing Waterpark, which has 9 attractions including Master Blaster Water Coaster. Also nearby is Miniature Golf and Enchanted Forest Tree Top Quest, a ropes course that is new this year. In addition to Splash Landing Hotel at which we stayed there is also Alton Towers Hotel. Our hotel rooms were very nice with a beach theme. The park treated us to a delicious buffet after the park closed, complete with music and a disco that lasted into the evening. We were also given a Fastrack Adrenaline Ticket for 3 rides. I was amazed at the beauty of the park and at its sheer size. It is a mammoth park and with the amount of hills, it can be a daunting task to get across the park quickly. While it has a few really good coasters, some of its collection is the first of a new type and therefore are often shorter than other such coasters. Still the landscaping is beautiful, The Towers are majestic, the rides are well themed and unique, and it is by far to me the best theme park in the U.K. On Wednesday, we boarded the buses at 12:30 to leave for our next park, and this one would be my most anticipated visit of the trip.
Next Up: Pleasure Beach Blackpool