Dreamland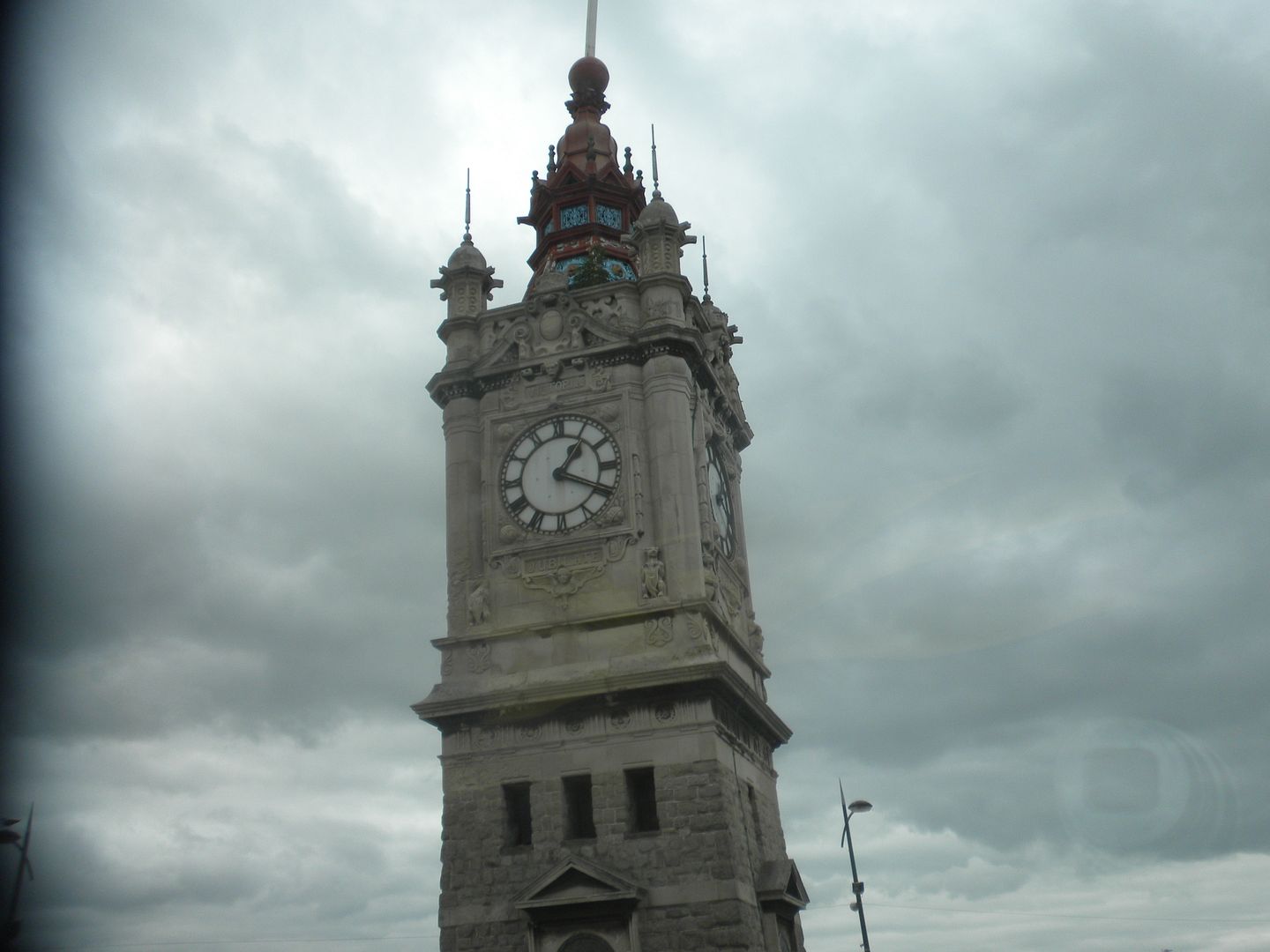 On Tuesday, July 28 we left the Radisson Blu Edwardian Heathrow for our much anticipated trip to Dreamland in Margate, Kent, England. Having operated from 1863 to 2006, the park sat closed since then until its exciting reopening on June 19 this year. While known as Hall by the Sea from 1863 to 1919 and Bembom Brothers Theme Park from 1981 to 1989, it has spent most of its years as Dreamland. The oldest coaster in the U.K. and one of only 9 scenic railways in the world was the stimulus to get this park reopened. After a 2008 fire destroyed a third of the coaster including its station and trains, the dream of a heritage park helped raise the funding and support necessary to bring this park back. We were well aware that the coaster was not ready for park opening, but we held out hope it would be ready by our visit. Had we known the state of the new trains we would have realized there was no such hope. Originally the park intended to have many rides from closed amusement parks, but most of these saved rides are not currently in the park. They have put together a collection of rides from each decade of the 20th century. We arrived at 10:00.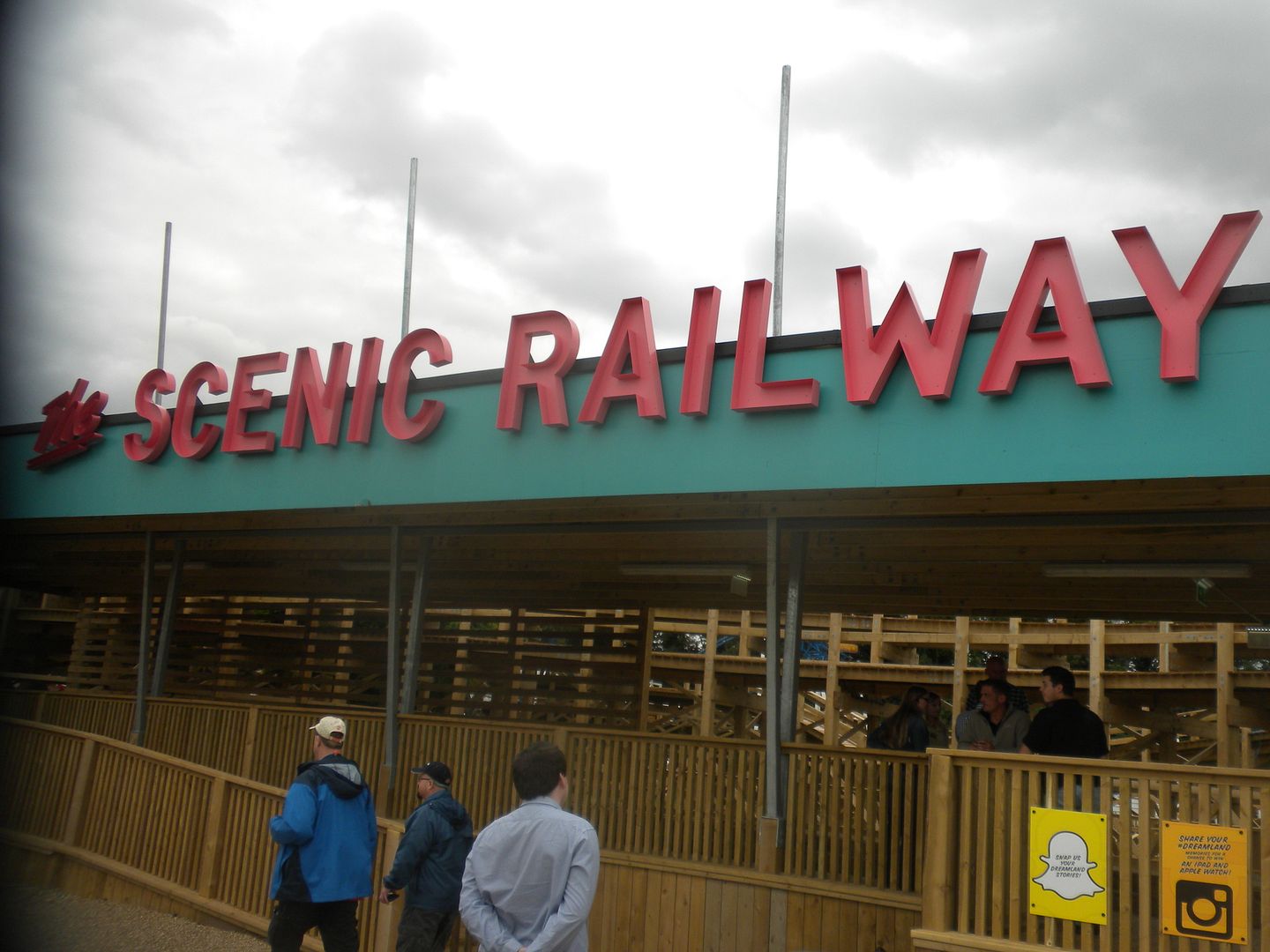 Scenic Railway: (Unknown, Wood Scenic Railway, 1920)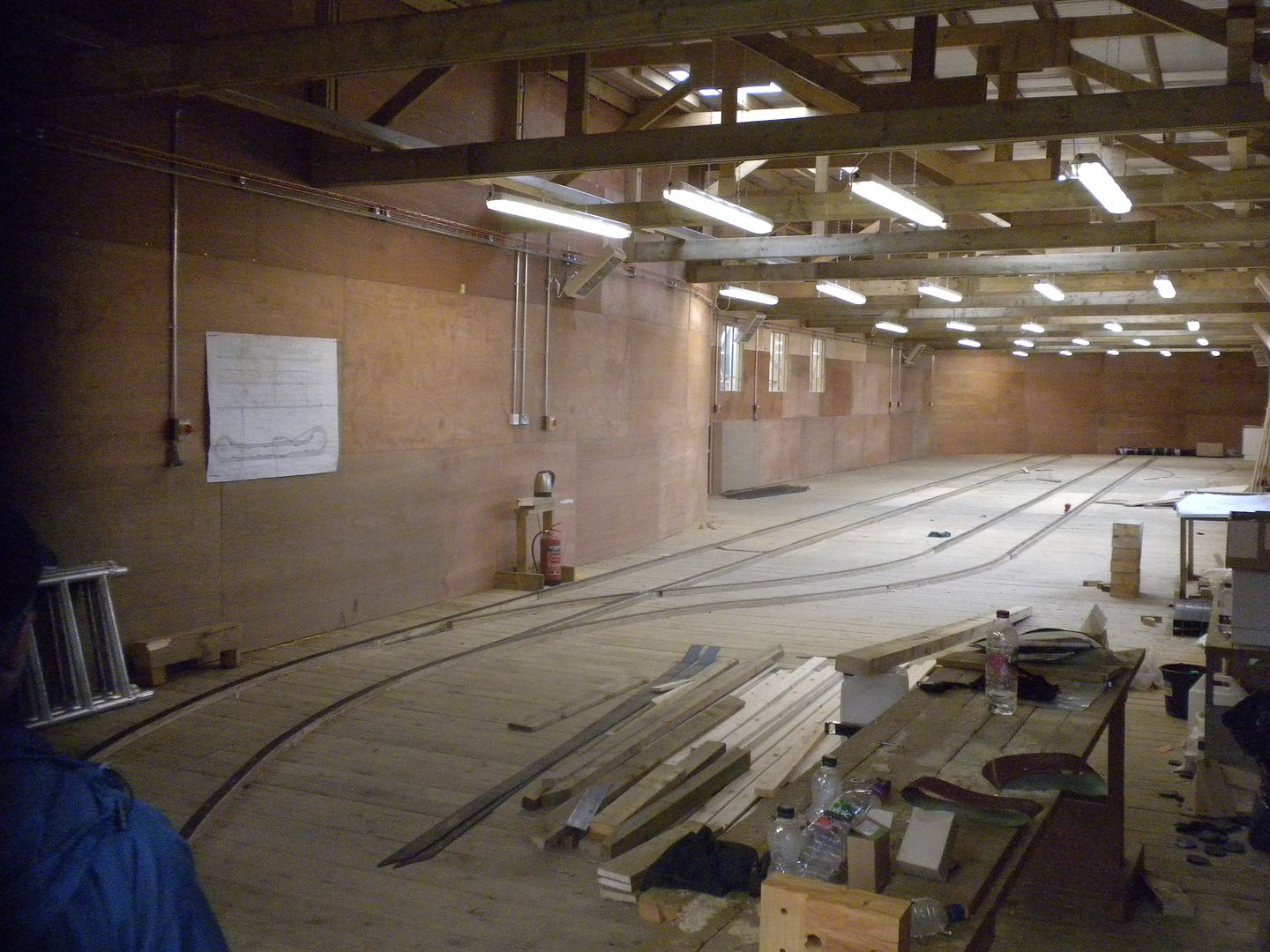 While we did not get to ride, we were given a tour of the station and maintenance shed. Although the coaster is complete, the trains, in order to retain the coaster's Grade 1 historic listing, must be rebuilt from the same materials originally used, but must comply with today's standards.


They are currently testing the chassis of a train from which the trains will be built.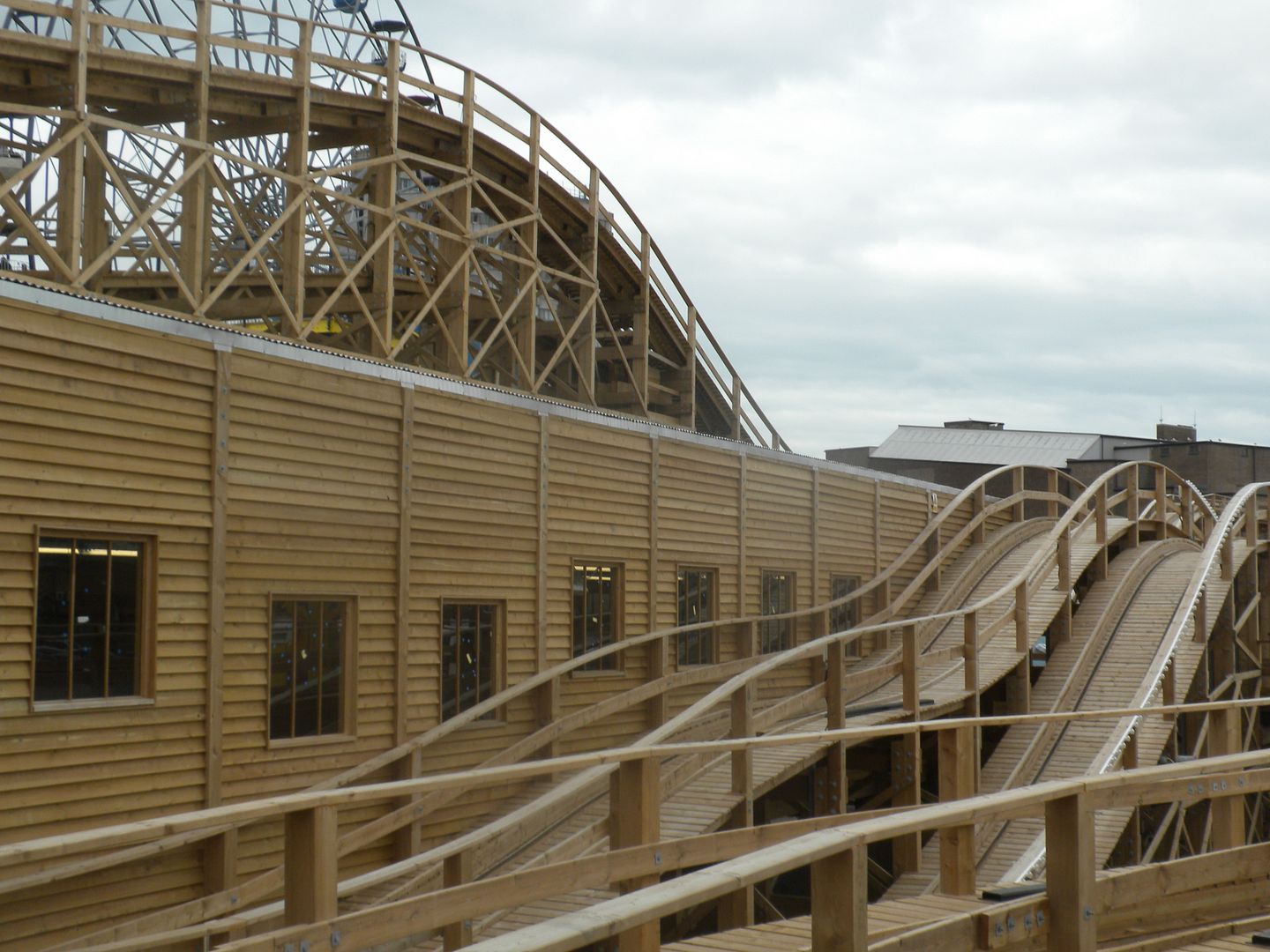 While not giving a date for opening, they were hoping to have it open in early September. I have not yet heard of it opening as of this posting.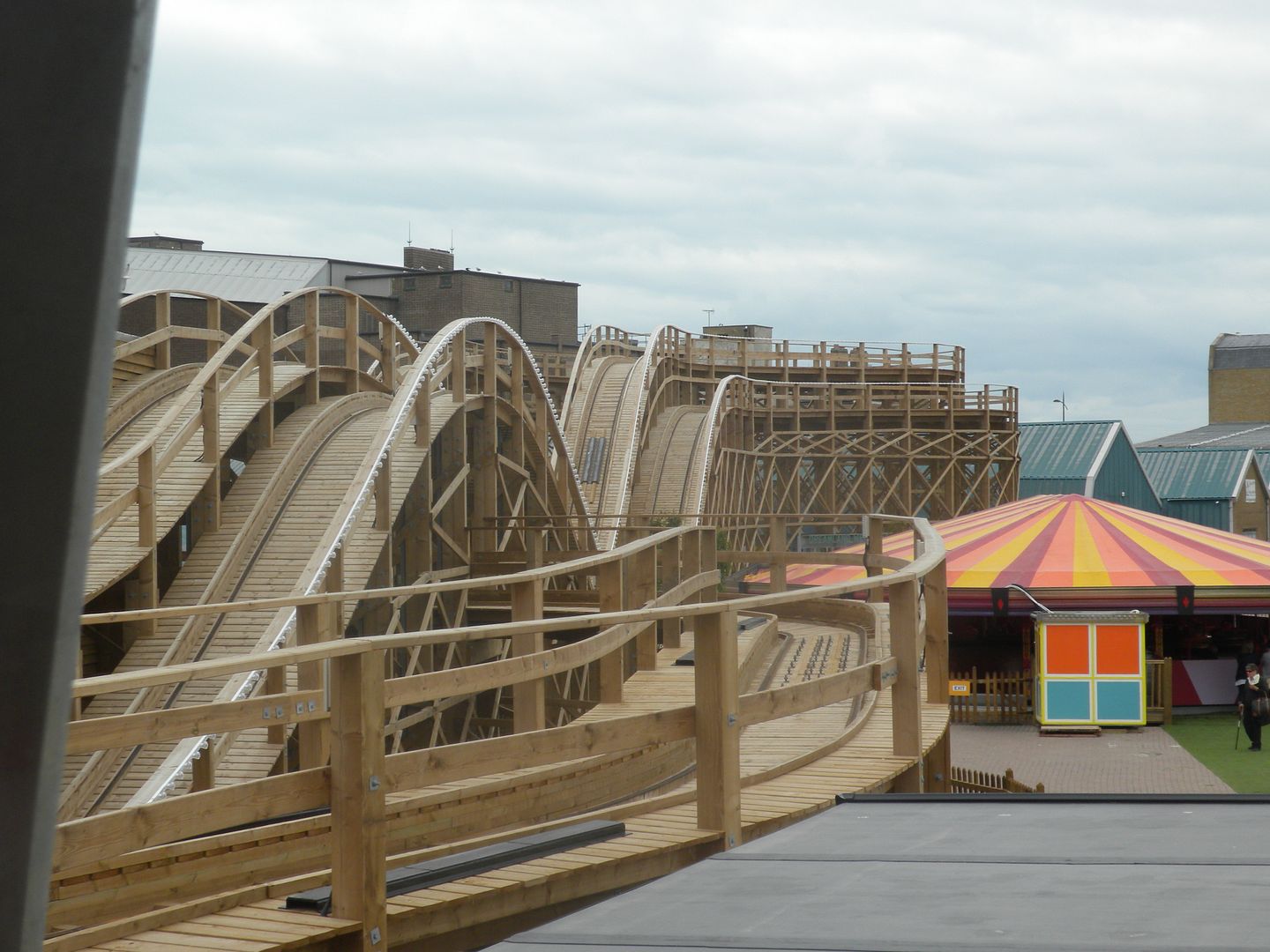 The coaster has been completely rebuilt, but has been done in such a way by section so as to retain its Grade 1 listing.


I look forward to riding this in the future.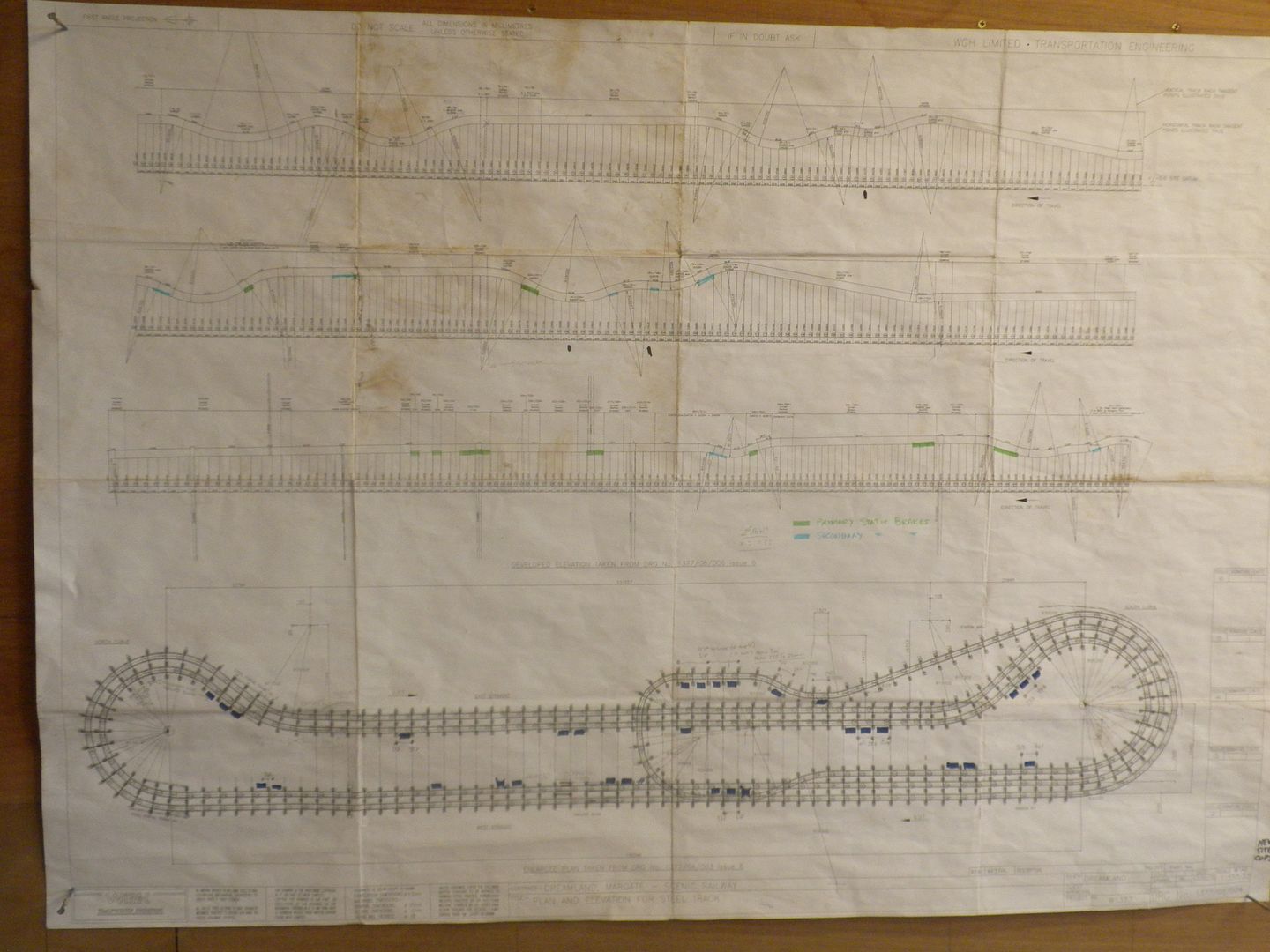 After the missed credits the day before I had hoped this might be running, but it would not be a milestone for me this time – 1 tour.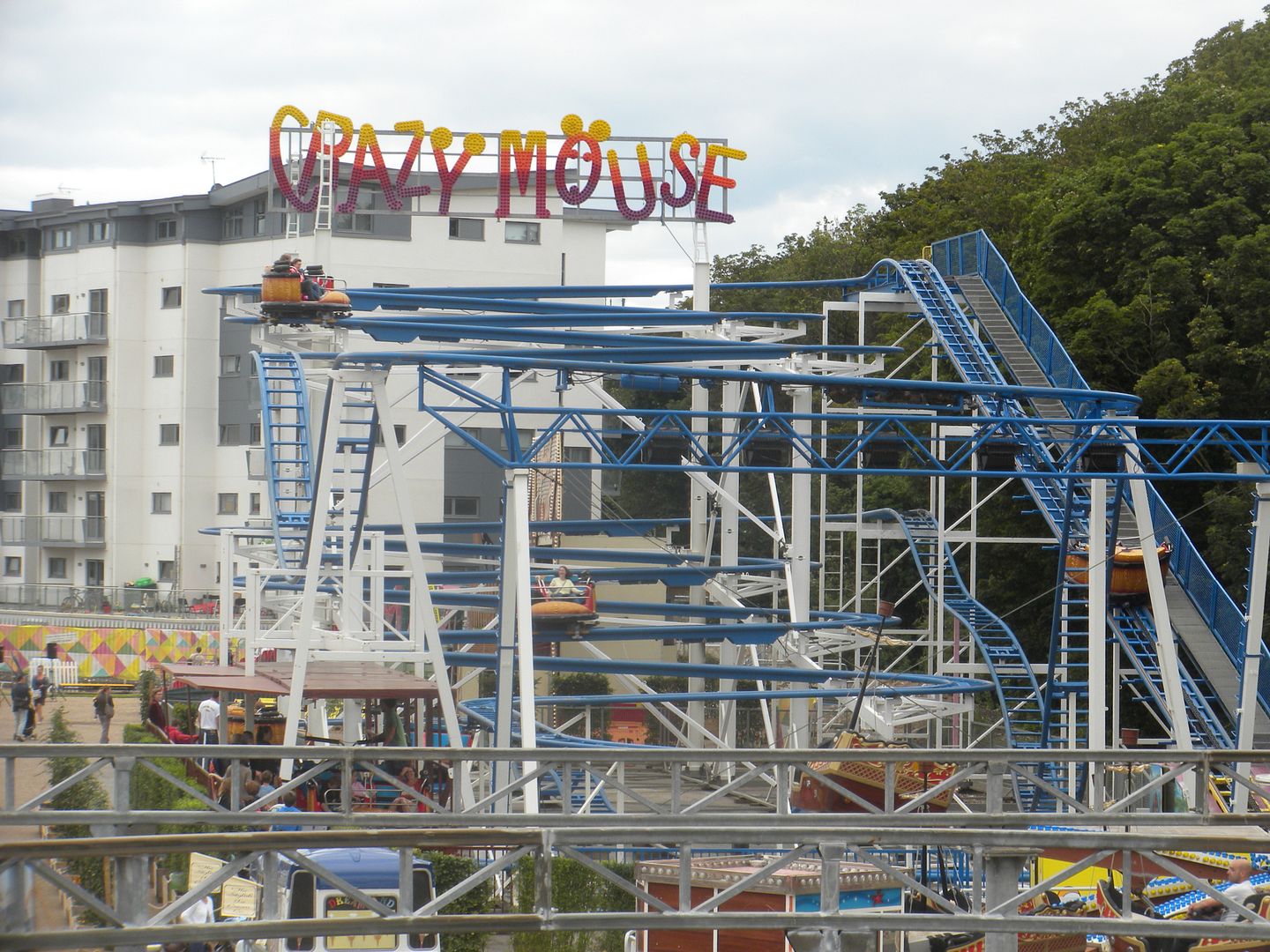 Crazy Mouse: (Reverchon, Spinning Wild Mouse, ?/2015) Purchased from a showman, this coaster was moved in when it became obvious that the Scenic Railway would not be ready.


Although not a glamorous milestone, it became my 900th coaster, and I am honored to have a milestone at a park I feared would never reopen. It gave good spinning, although the mid-course brake did reduce spinning considerably – 1 ride.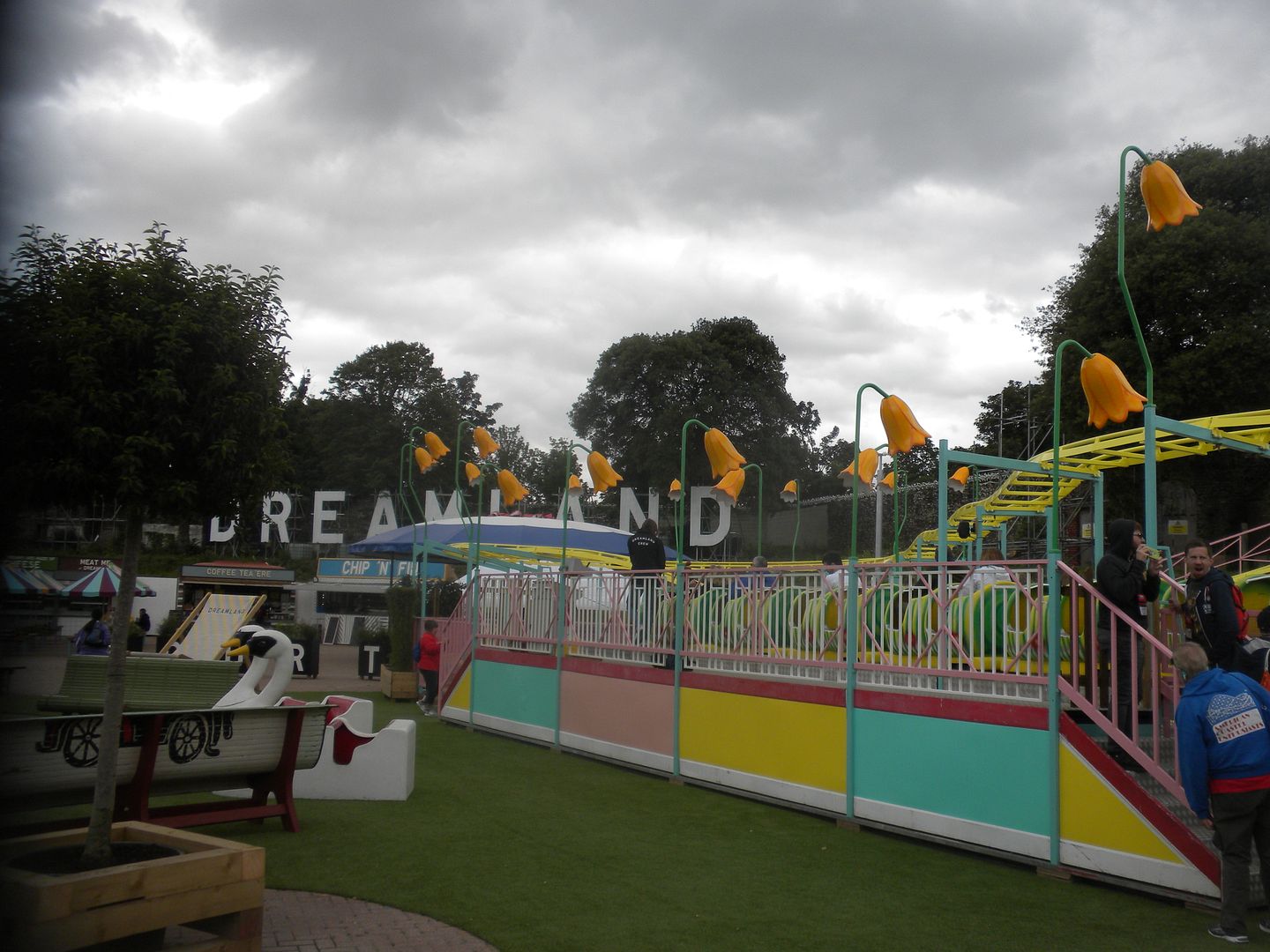 Counter Culture Caterpillar: (Unknown, Wacky Worm, 2015) While this is expected to have a pop music theme, the theming has not been completed yet.


It gave a good ride – 1 ride.

The Maze: This mirror maze could possibly be the 1961 Mirror Maze from Pleasureland Southport known as 1001 Troubles, as that is one of the rides they have in storage. It was very good – 1 walkthrough.


Dodgems: These gave a good ride although their out of the way placement left them not very busy. Once the coaster opens they will get more traffic – 1 ride.


Monotopia: The pedal monorail gives a good view of the park, but of the 3 cars, 2 had problems with one set of pedals not working, creating a lot of work for one person – 1 ride.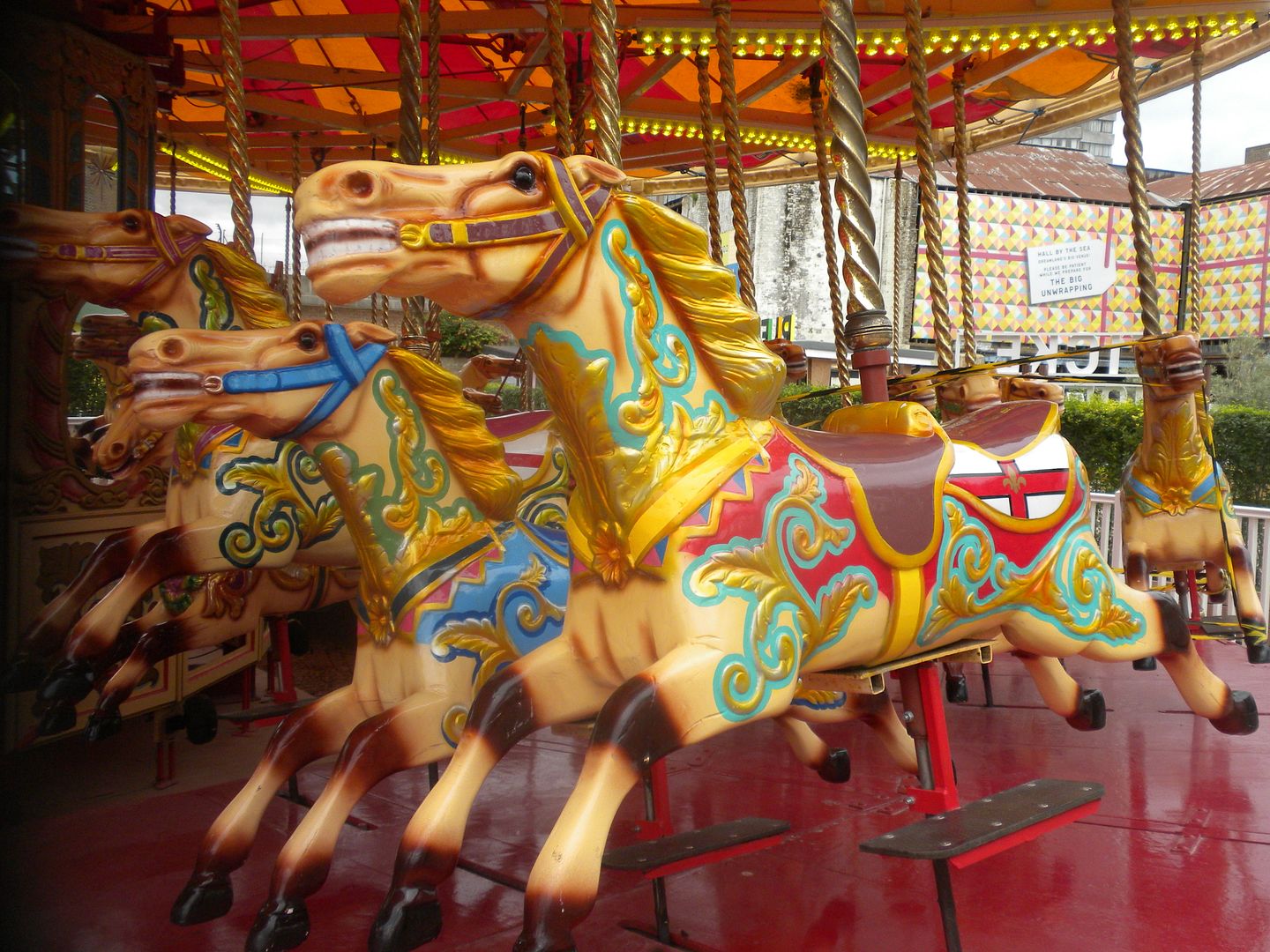 Galloper: This is one of 5 rides currently operating that were originally envisioned at the park. It is a four-abreast 1922 Savage and has been beautifully restored – 1 ride.


Motorcycle Carousel: This unique ride is surprisingly fast and a lot of fun. You sit on wooden motorcycles and like on a derby racer, you really have to lean in to keep your balance. This was a surprise hit – 1 ride.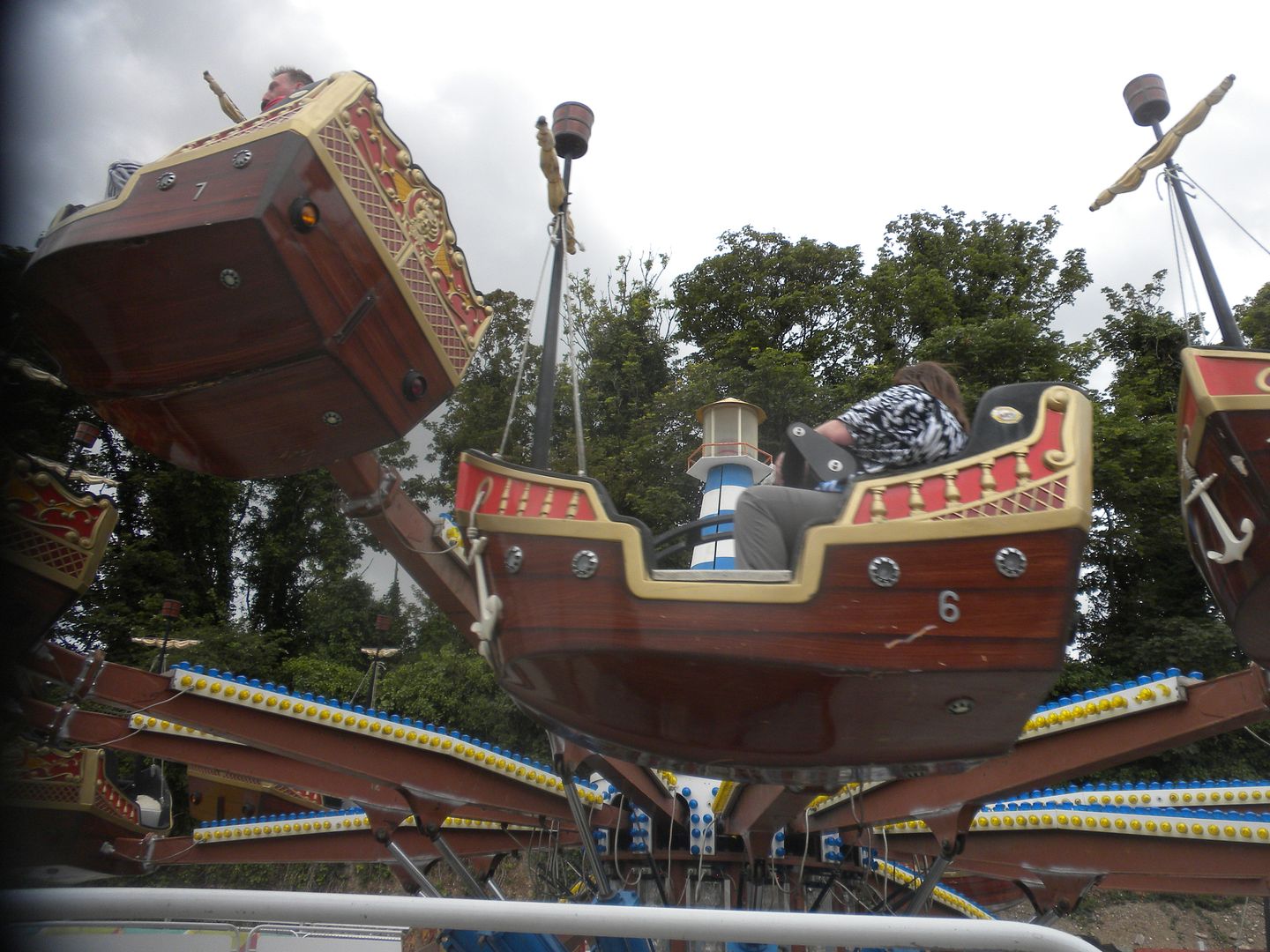 Jumping Pirate Boats: This jumping circular ride is fun and gives a good ride – 1 ride.


Helter Skelter: This is one of 5 originally envisioned rides currently operating at the park, and it gave a good slide although it was somewhat rough on clothing and at least in one person's case, skin – 1 slide.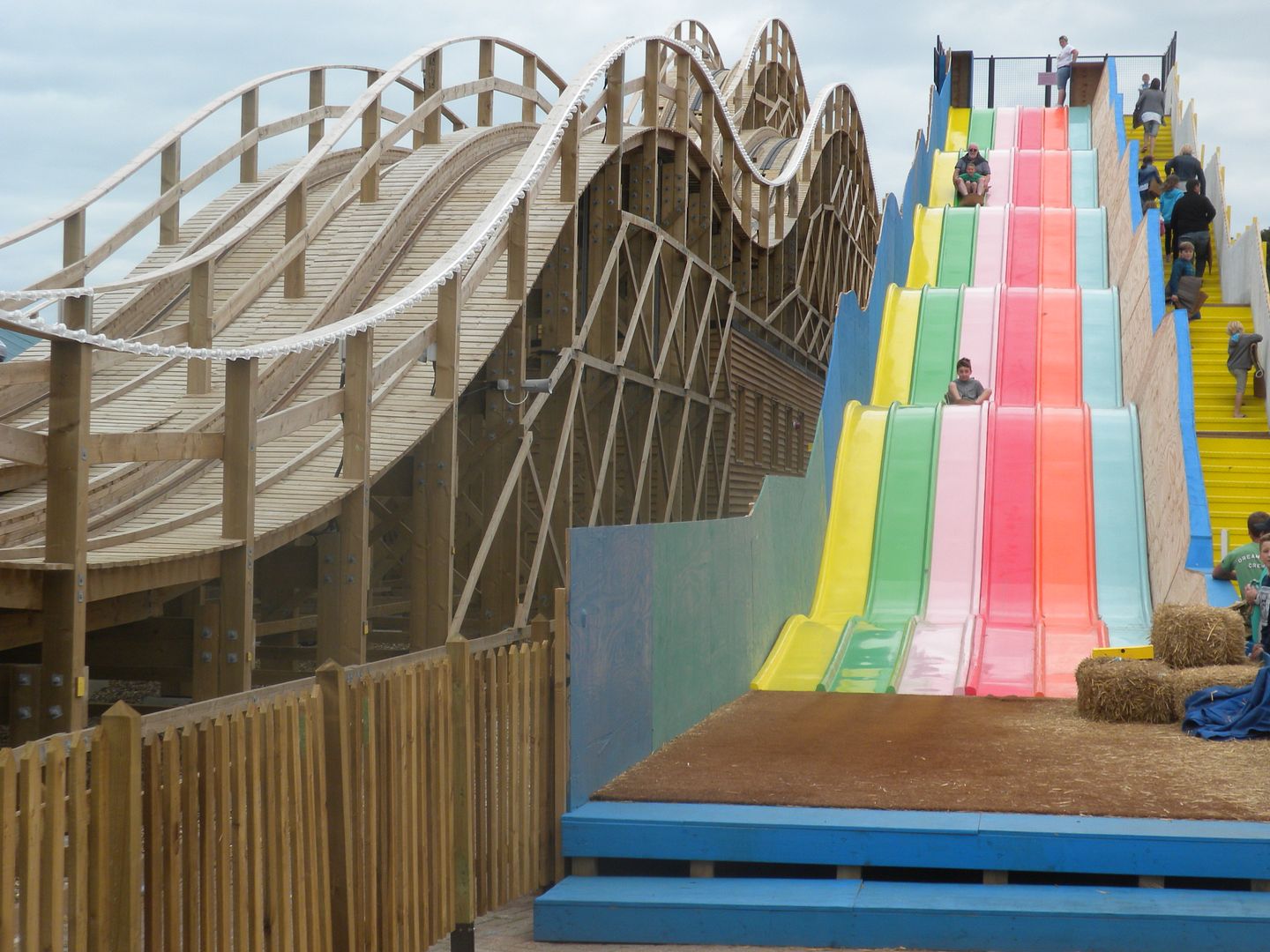 Born Slippy: This colorful racing slide is good – 1 slide.
I did not get to ride the Hurricane Jets or the Big Wheel, a Ferris Wheel. The Cyclone Twist was not running.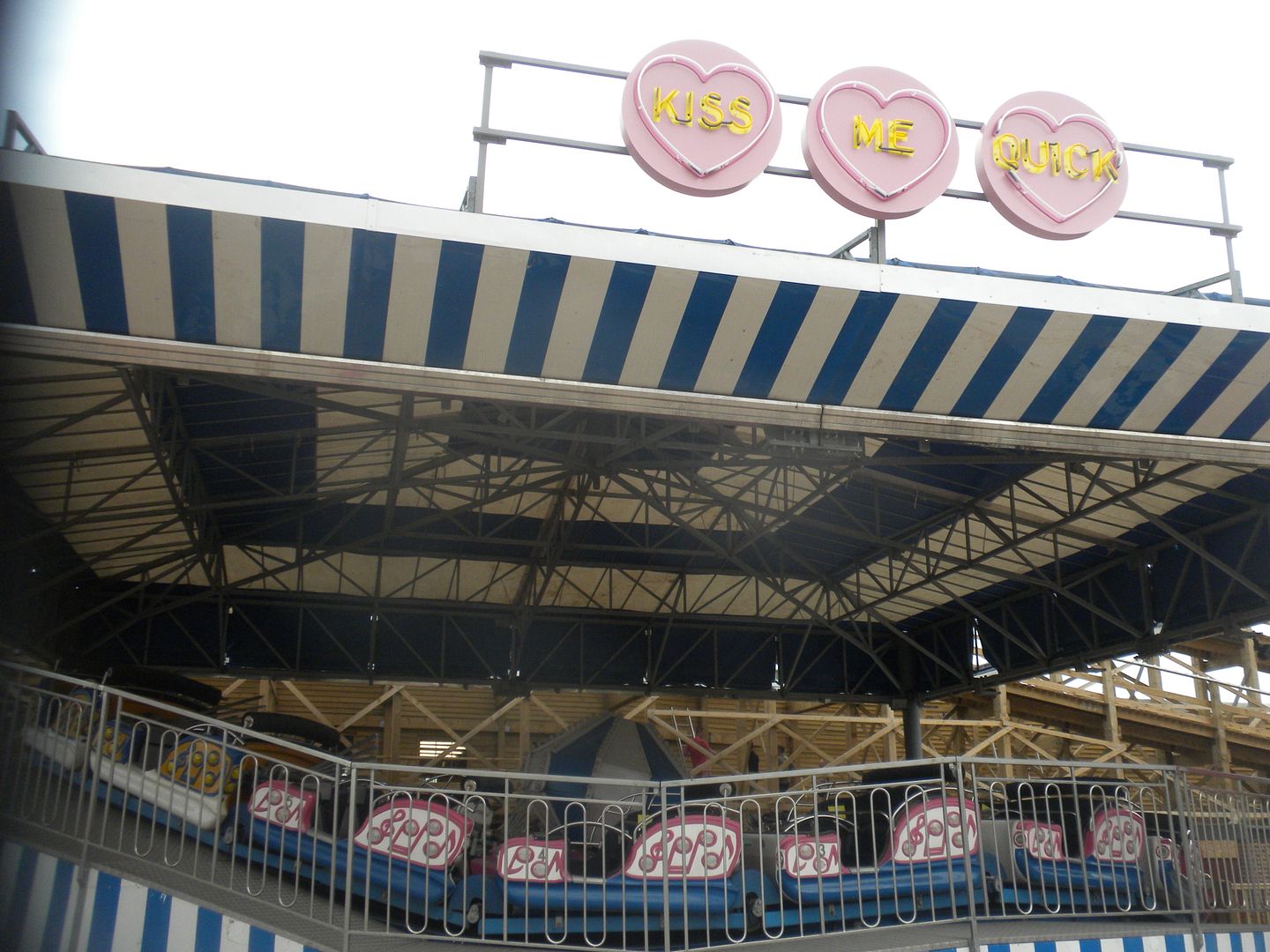 Kiss Me Quick, a 1914 Caterpillar with working canopy from Pleasureland Southport, one 5 originally envisioned rides currently operating, was closed for a maintenance issue. Although advertised on the website and on the map, the Chair-o-plane swings did not appear to be present.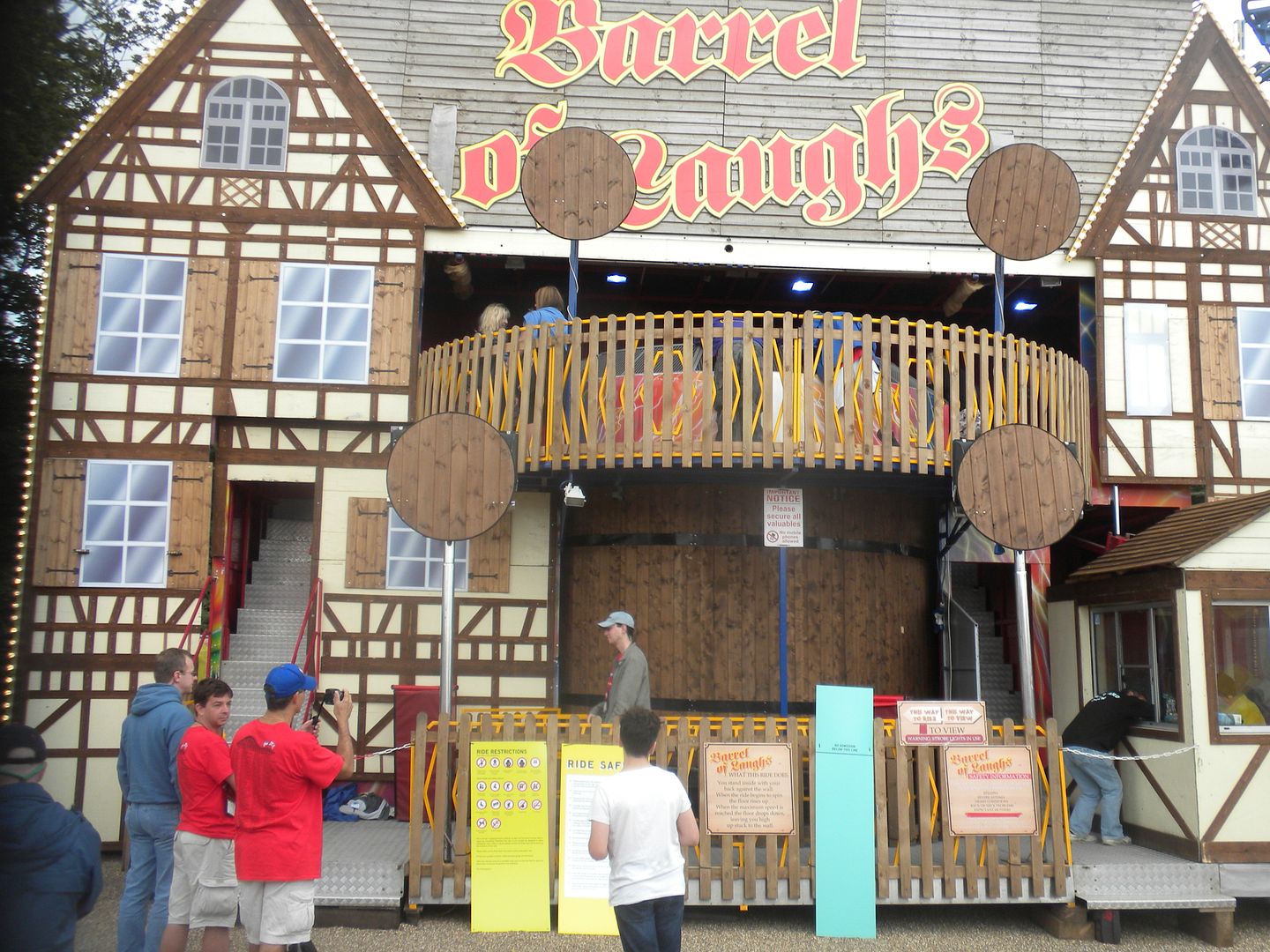 Several additional rides not previously on the website have been brought in including Barrel of Fun, a Roter, which was operating, and TopSpin, which was still under construction.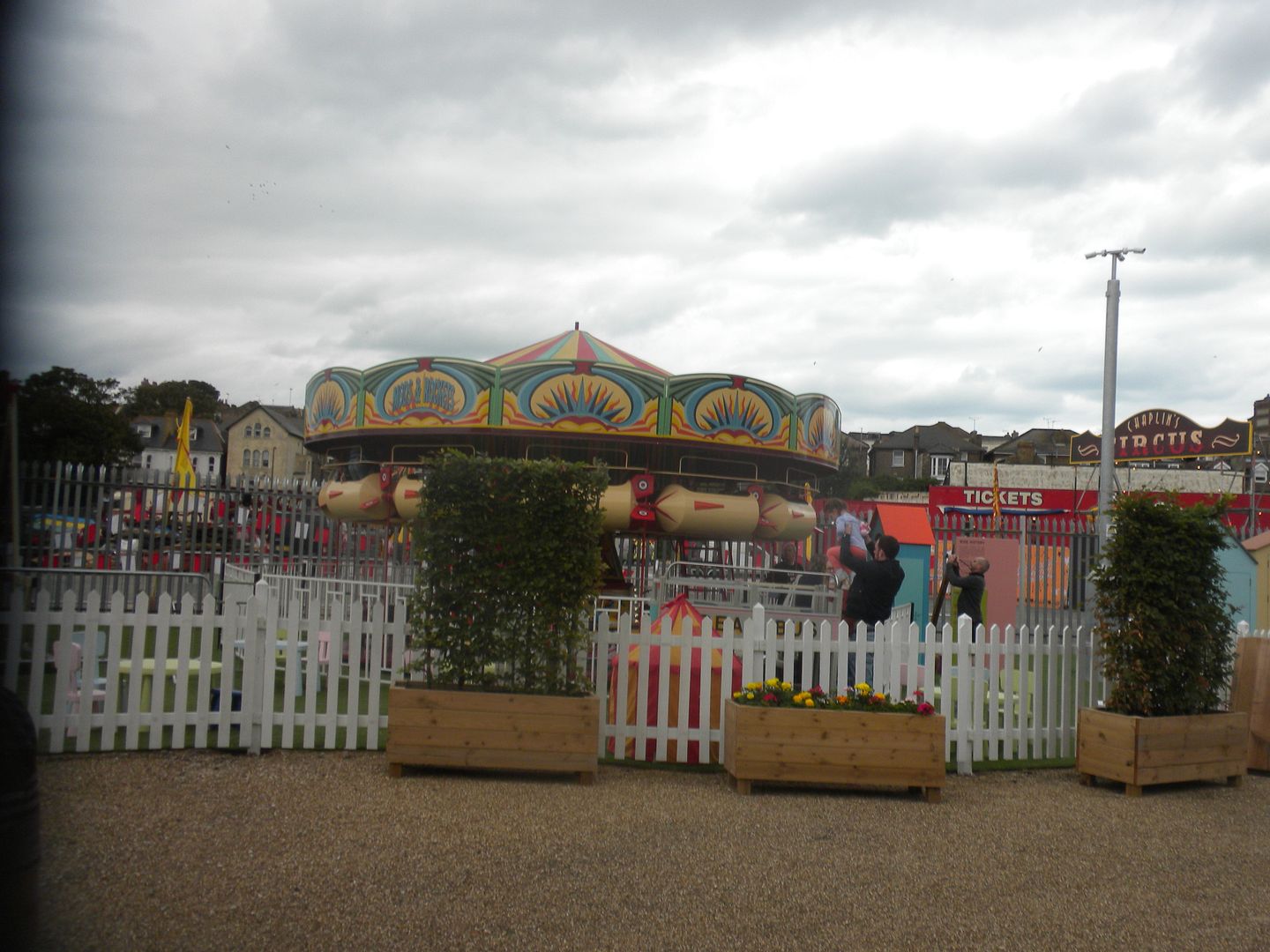 They have 4 children's rides.
Although no longer available or mentioned, the Save Dreamland campaign once posted a list of the rides they planned to have in the park. It will be worth watching to see if some of these appear in the future. Rides in storage which the Dreamland Trust acquired include: Wild Mouse (Unknown, Wood Wild Mouse, 1960/2000), from Morecambe Pleasure Park in northwest England where it operated as Runaway Mine Train and Pleasureland Southport where it operated from as King Solomon's Mines; boats and mechanical parts from Water Chute, a 1958 shoot-the-chute water ride from at Rhyl's Ocean Beach Fun Fair in Wales that RCDB at one time, but not longer, considered to be a wood coaster; River Caves, a 1923 indoor boat ride from Pleasureland Southport; Ghost Train, a 1978 Ghost Train from Pleasureland Southport; Fun House, a 1955 funhouse from Pleasureland Southport including moving steps, ramps and floors and the spinning table known as the social mixer; Haunted Swing, a 1961 Haunted Swing from Pleasureland Southport; Cableway, a 1974 aerial Cableway from Pleasureland Southport; Corbiere Wheel, a 1956 Corbiere Ferris Wheel that spins vertically while rotating horizontally at the base, from Clarence Pier and later Pleasureland Southport; Whip, a 1914 W. F. Mangels Co. Whip, Europe's last surviving one, from Blackpool Pleasure Beach; Meteorite, a 1969 centrifugal force wheel from Pleasureland Southport; Flying Scooters, a 1997 replica of the vintage ride from Pleasureland Southport; and Junior Whip, a 1927 junior whip from Blackpool Pleasure Beach, said to be the U.K.'s last surviving junior whip (but we found one later this day – is it the same one?). Time will tell if these rides reappear.
With another park to visit this day we didn't have long, so it was time to go before I got to all the rides or got to explore the Dreamland building.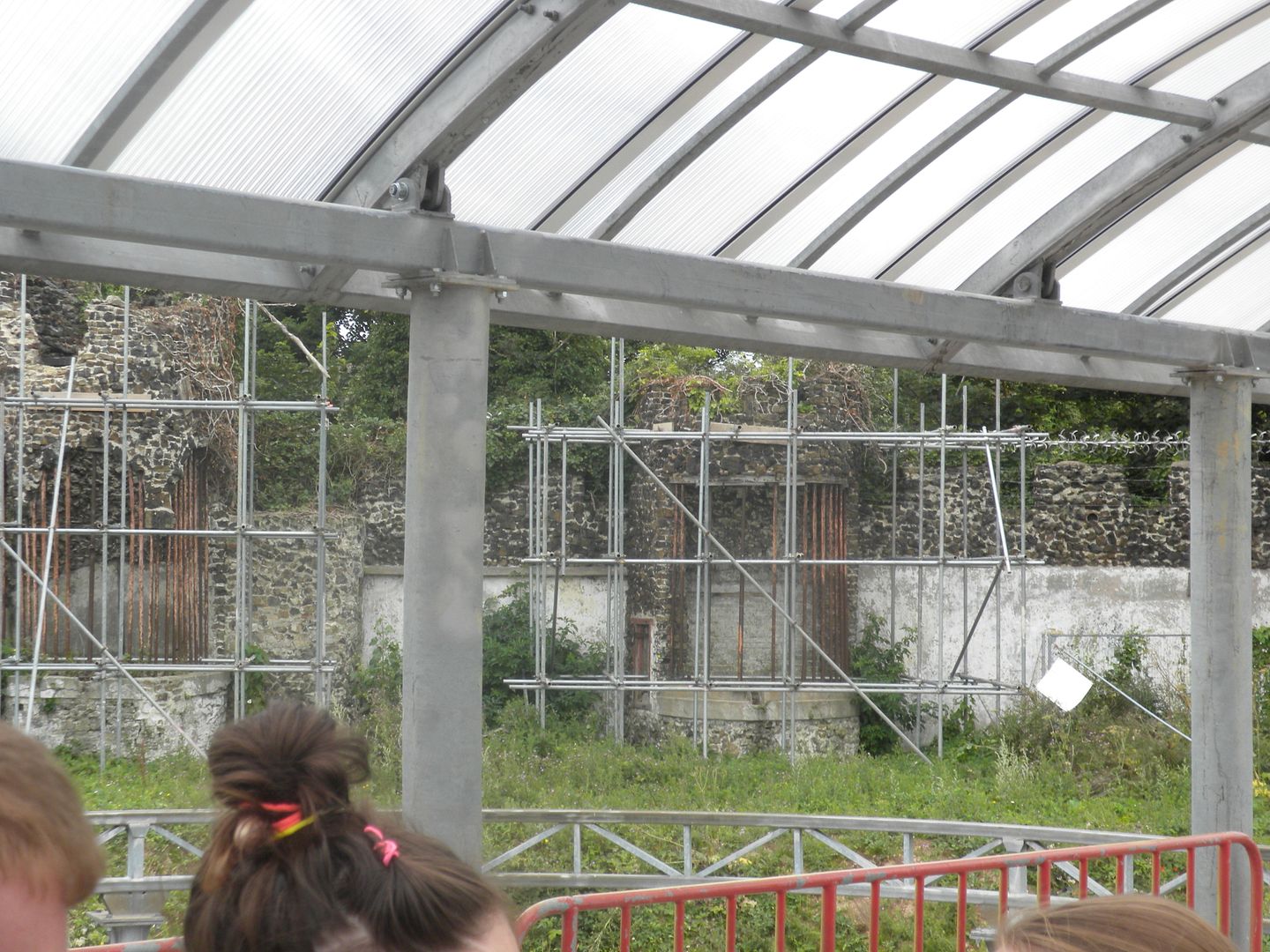 I did get to view the animal cages from the monorail and would love to delve into the story behind those. After grabbing a quick sandwich for the bus from one of the food vendors for which we were given a voucher, it was on to the next stop of the day, another seaside park, Adventure Island.
Adventure Island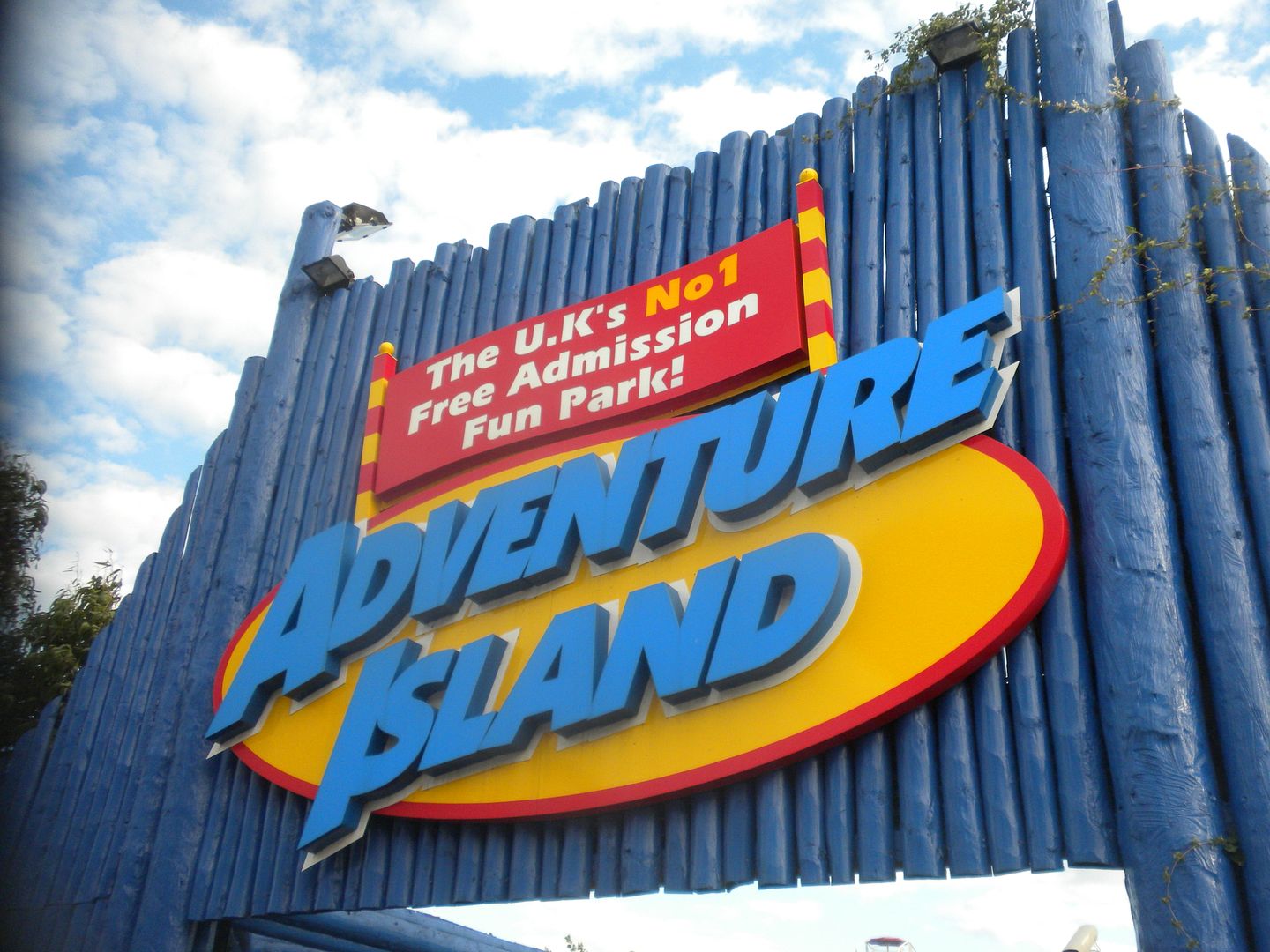 On Tuesday afternoon, July 28 we drove to Adventure Island in Southend On Sea, Essex, England.


Operating since 1918, this was quite a surprise of the trip.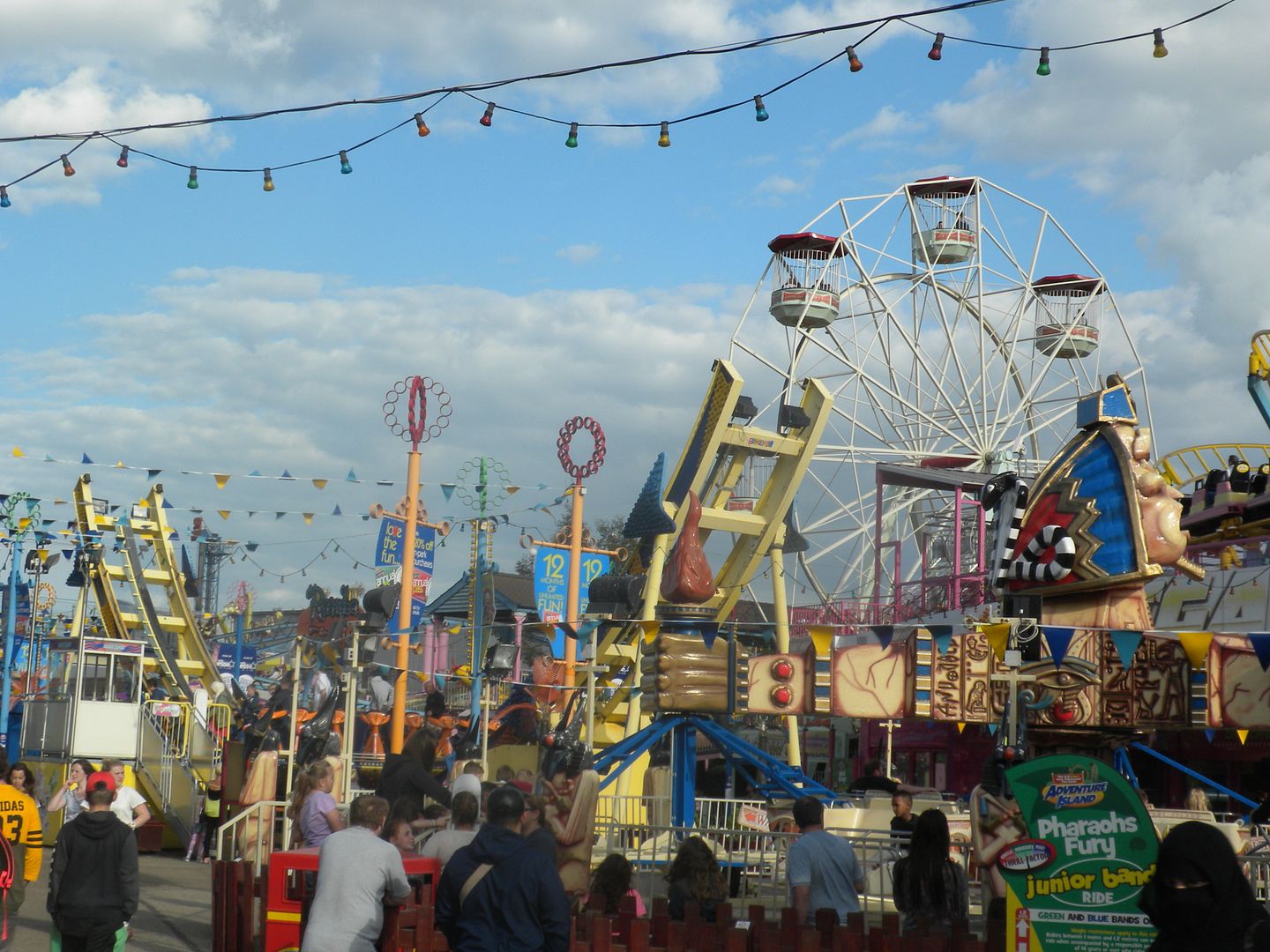 I thought it would be a matter of getting credits, but what we found was a charming seaside park, packed with rides and character. It opened in 1918 as Sunken Gardens, and you can see where it gets its name as it is far below the street level toward the sea.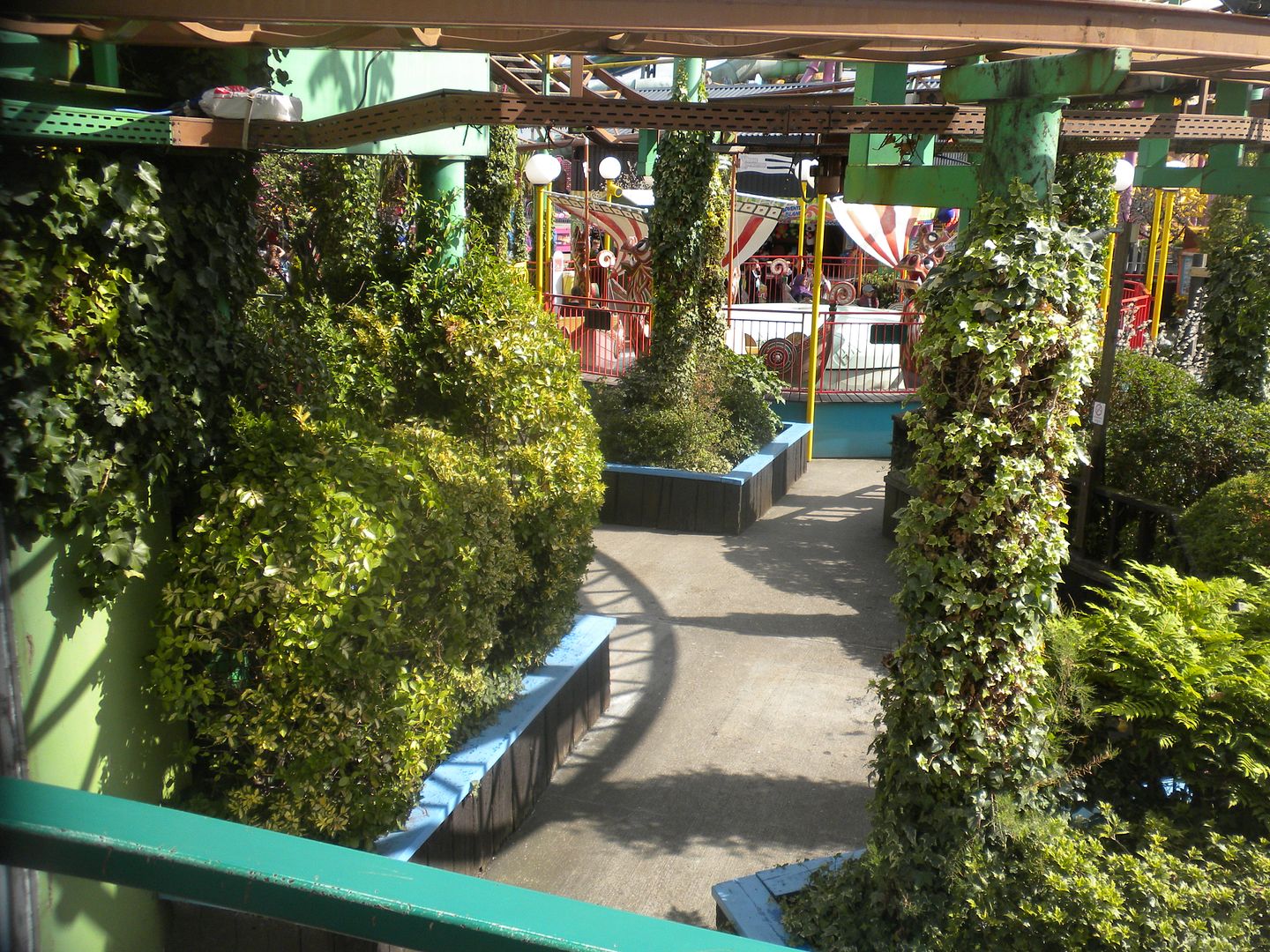 With the landscaping around Green Scream, I can even imagine it at one time living up to its name. In 1976 it became Peter Pan's Playground and later Peter Pan's Adventure Island.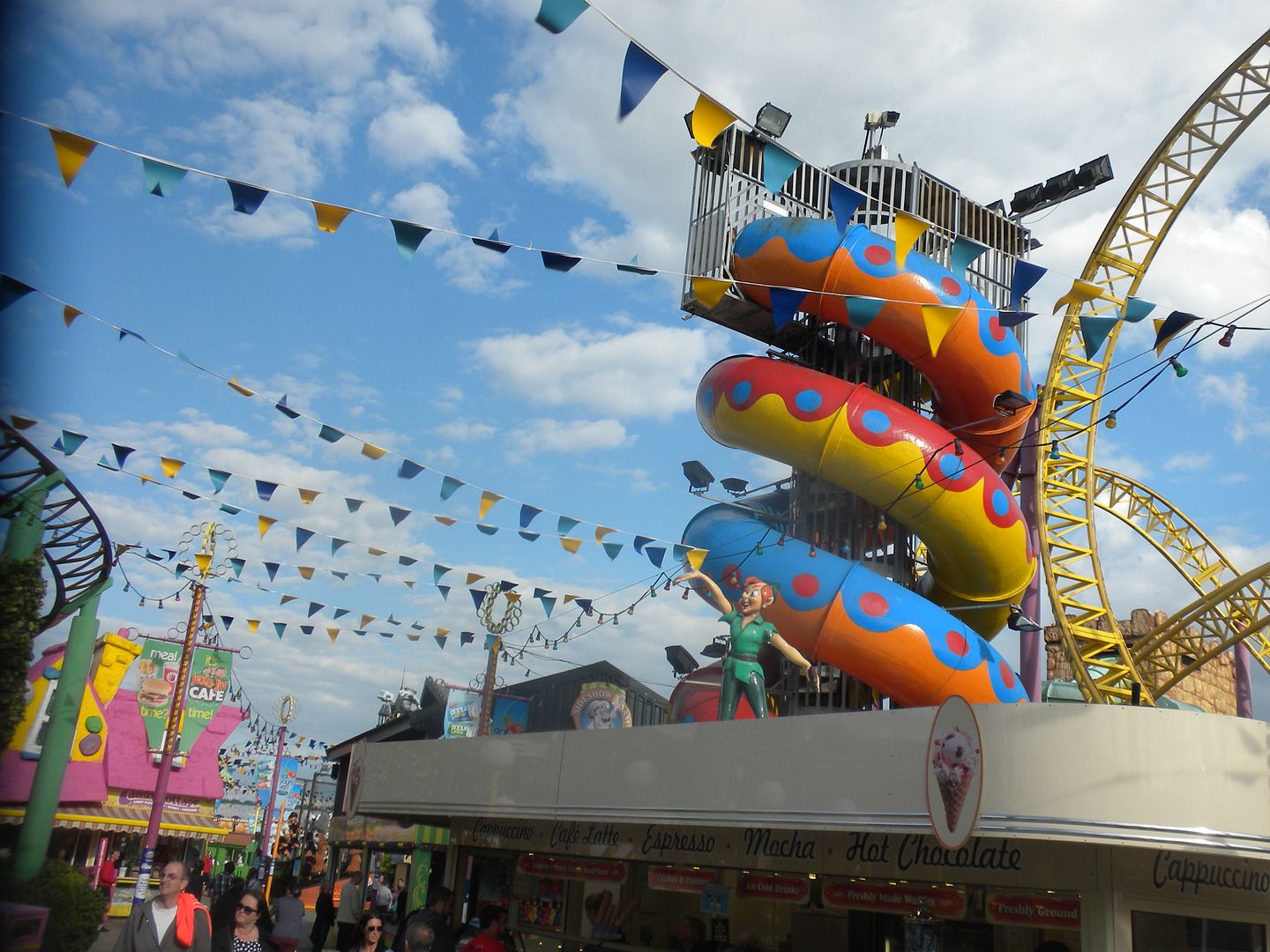 Now it is known simply as Adventure Island, but if you look closely


you can still find Peter Pan.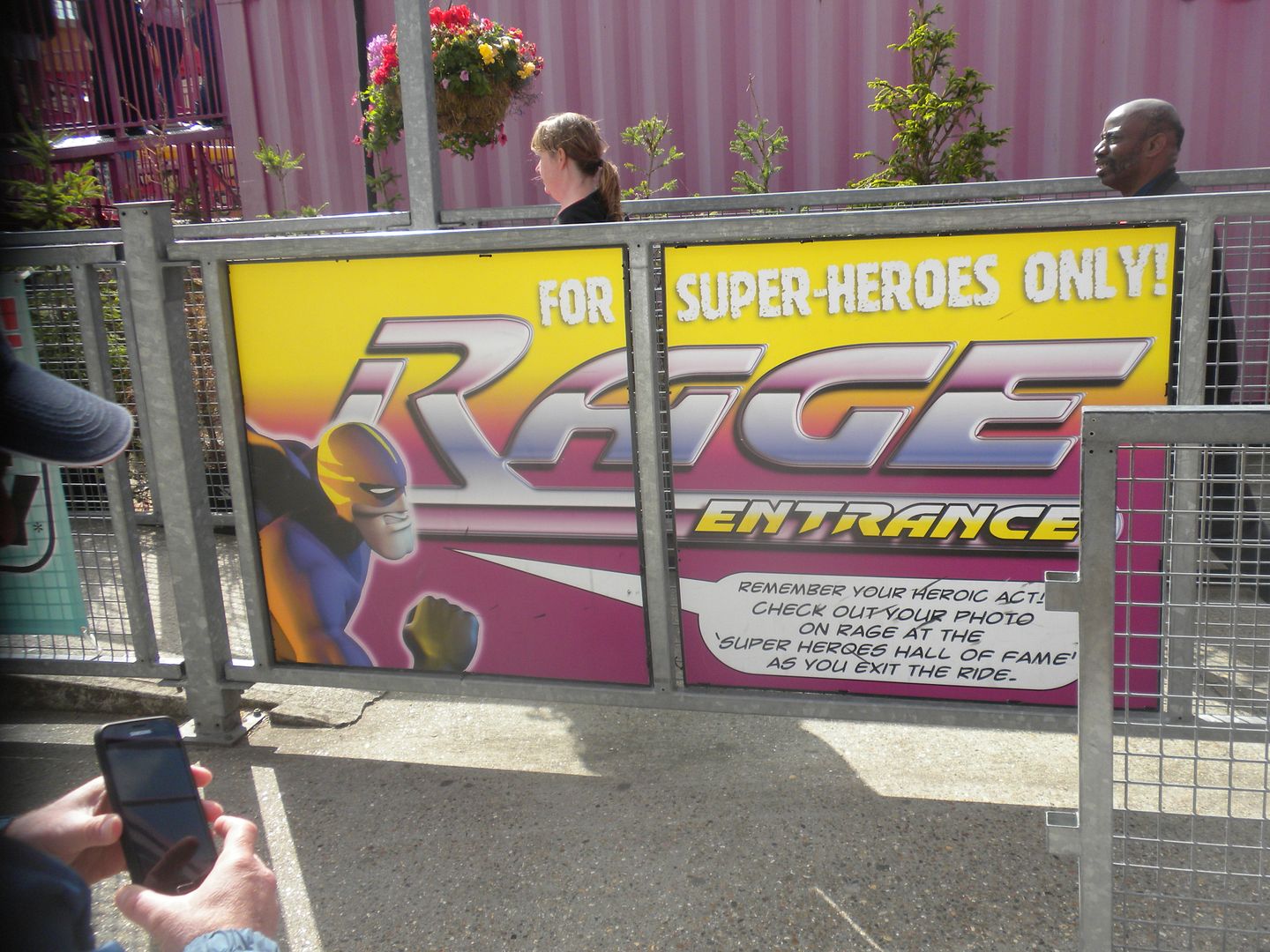 Rage: (Gerstlauer, Euro-Fighter 320+, 2007)


Like Untamed at Canobie Lake Park,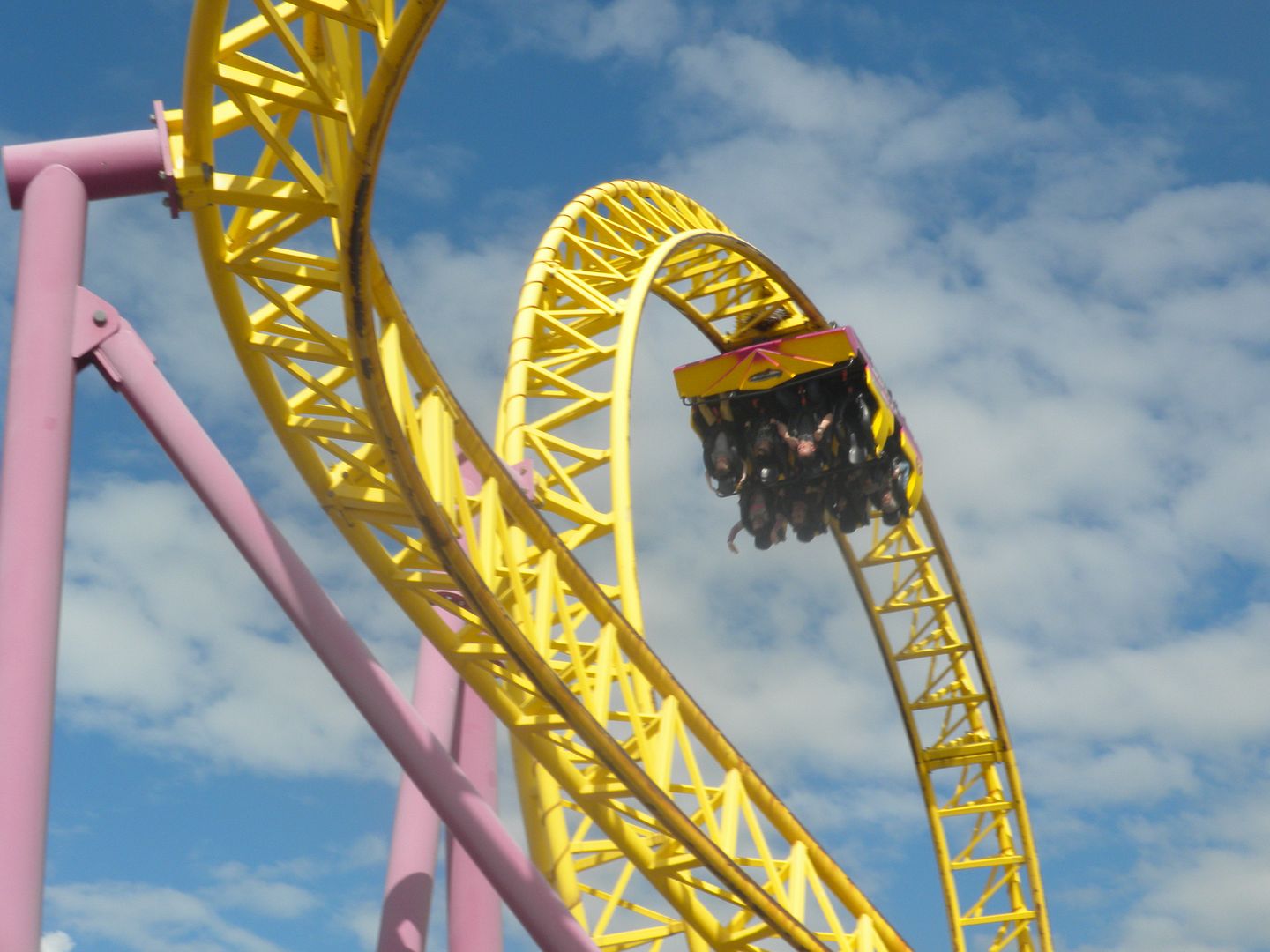 this is a good Eurofighter.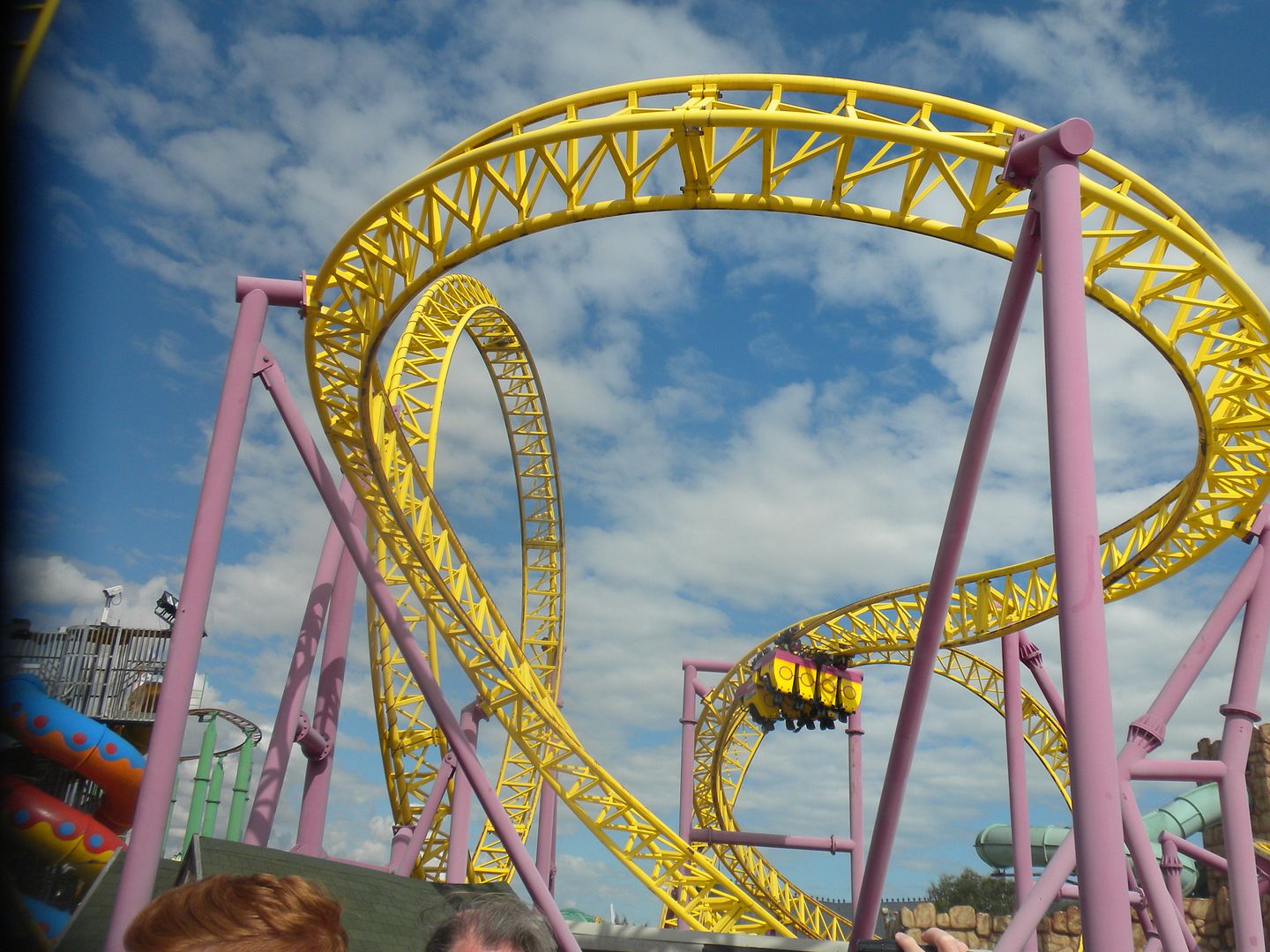 Its OTSR can be uncomfortable, but I didn't have a problem with them – 1 ride.
Green Scream: (Zierer, Tivoli – New Family, 1999)


The crocodile in the front car of this coaster is Snappy, a park mascot.


This is a fun ride that has a nice course high above the midway with some nice drops. It makes 2 circuits.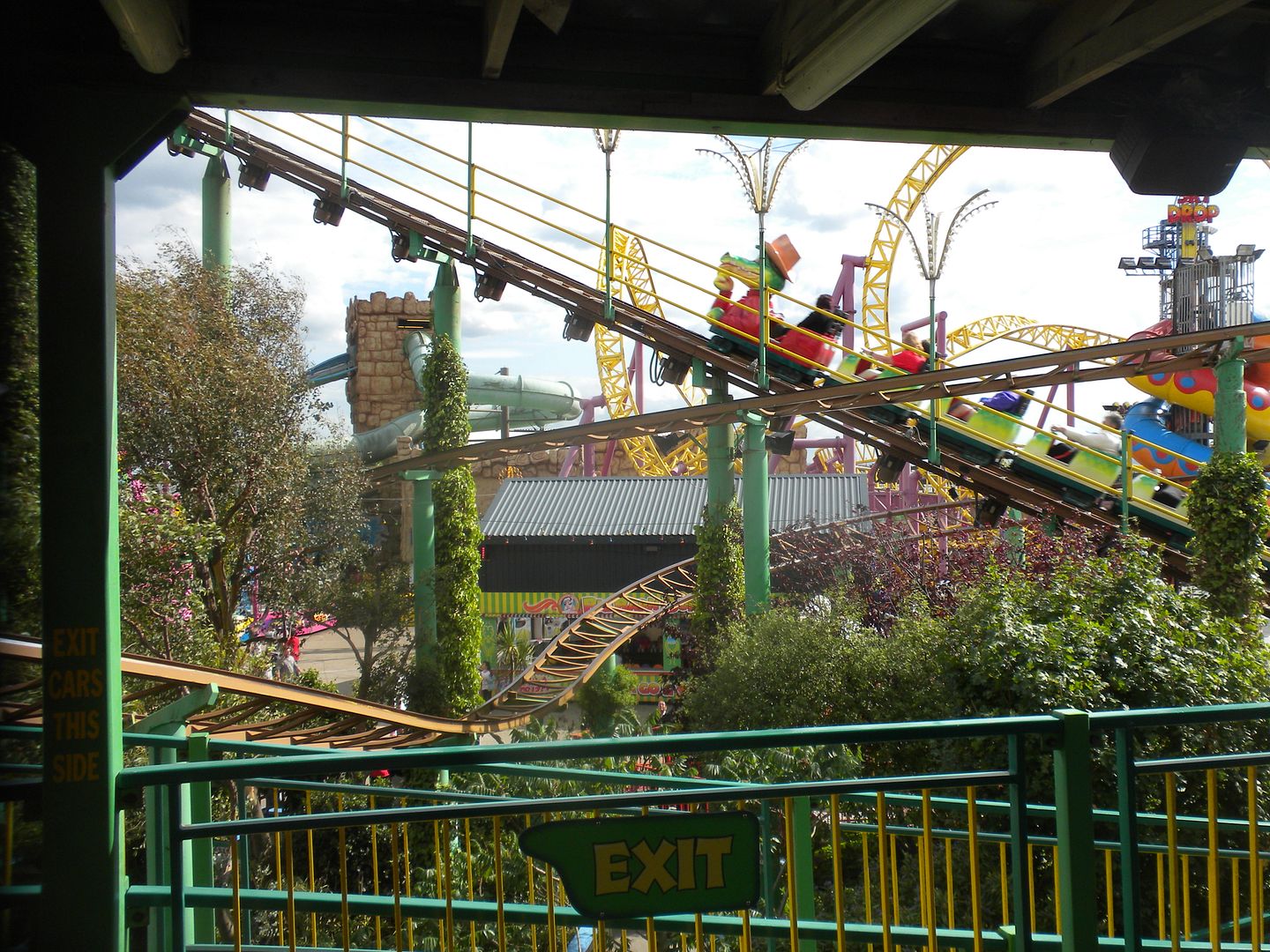 I especially like the garden like feel of the area beneath the coaster – 1 ride.


Mighty Mini Mega: (Pinfari, Mini Mega Coaster MM29, 2003) Built on top of an arcade, it has a good layout.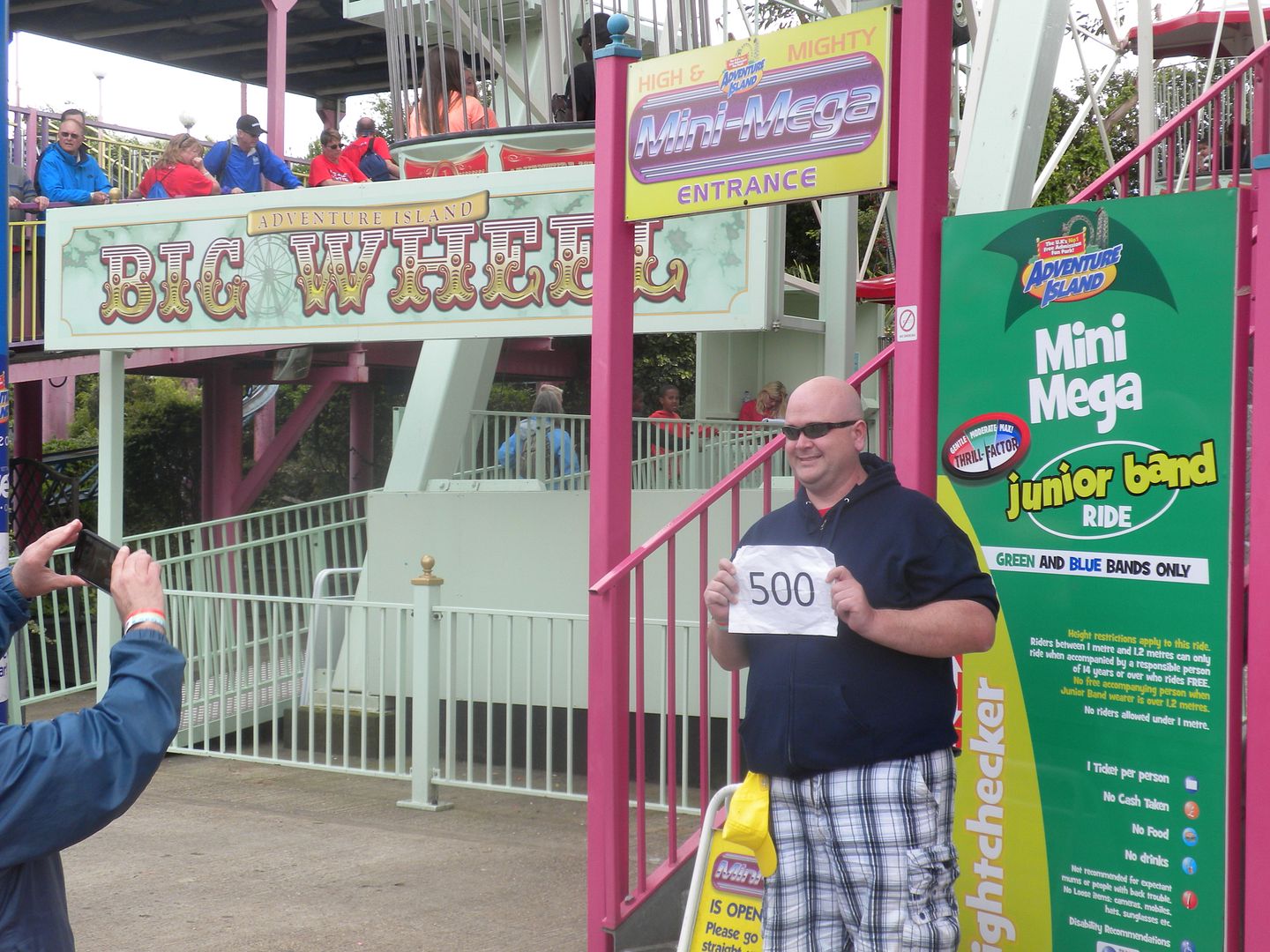 It was Jeff Kelly's 500th coaster – 1 ride.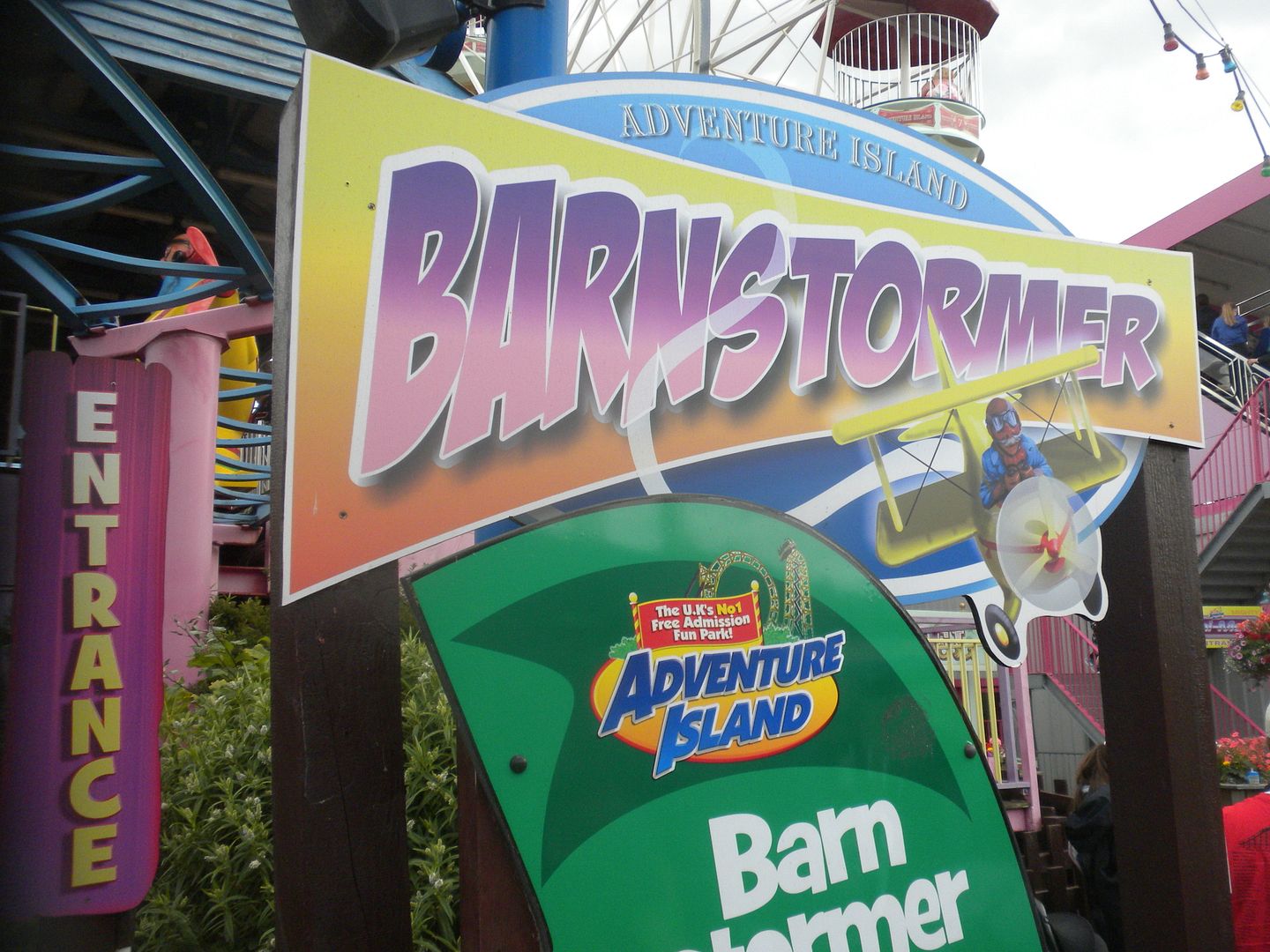 Barnstormer: (Zierer, Tivoli – Custom Family, 2000)


This is a fun coaster with a nice curving drop – 1 ride.


Kiddi-Koasta: (Zamperla, Speedy Family Coaster, 2011)


This is a good starter coaster for kids – 1 ride.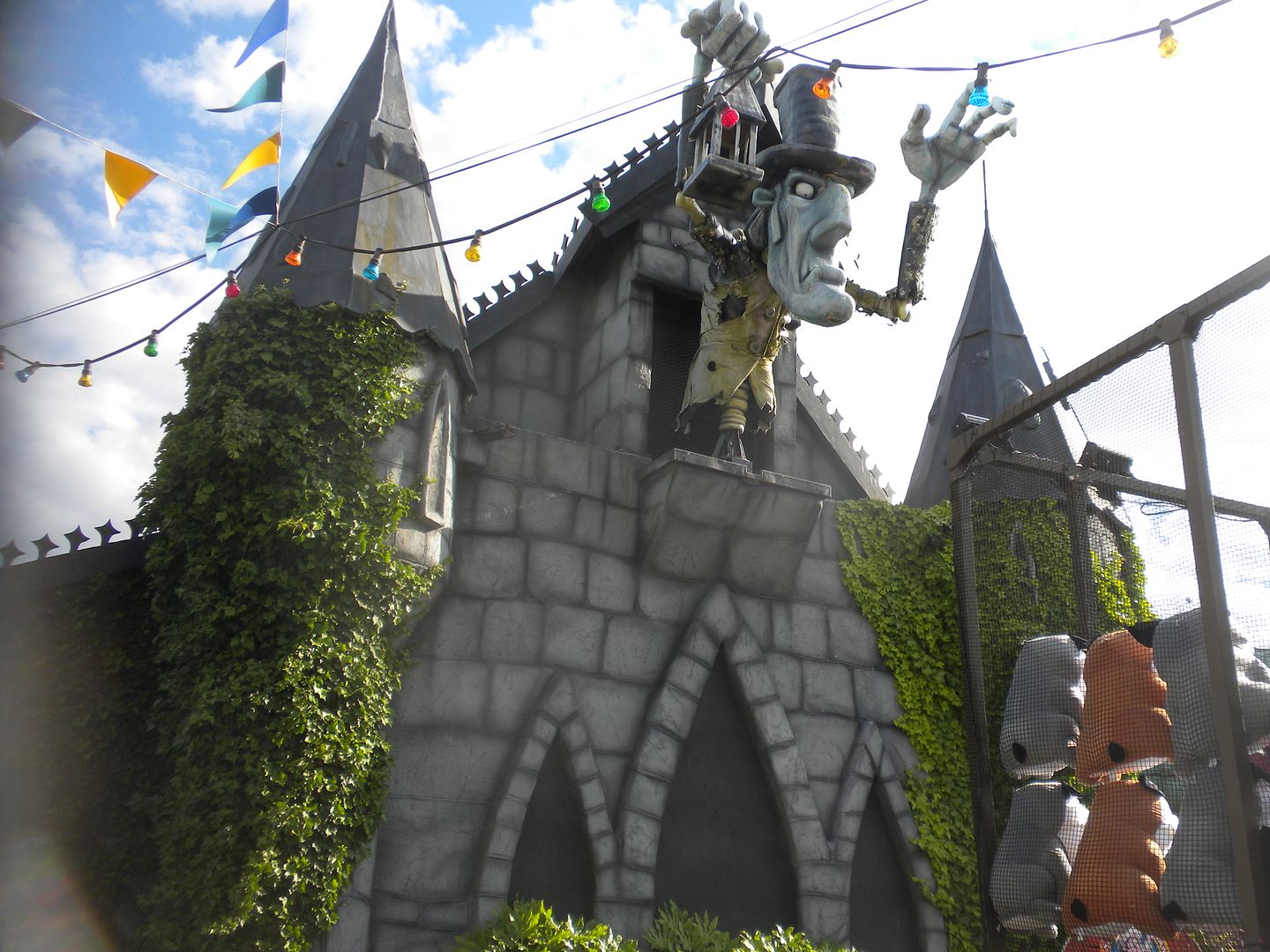 Over The Hill: This is quite a unique darkride. From its undertaker theme to its surprise ending, it is a lot of fun and quite different from your normal ghost train. It replaced a similar ride called Beelzebobs – 1 ride.


Crooked House: This 1953 crooked house is small, but has a surprisingly long walkthrough – 1 walkthrough.


Devils Creek Goldmine: One of the most unique rides I have seen, this is a train that pulls spinning barrels through a darkride and outdoor course.


If you get it spinning good before you leave you can have great spinning along the track. Although it is not a coaster – the track is all one level – it has a similar feel as Tyrolean Tub Twist at Joyland – 1 ride.


Archelon: This turtle themed Zierer Wave Swinger was good – 1 ride.


Time Machine: This was one of the most intense flats I've ridden. I'm glad I rode but might not again – 1 ride.


Ramba Zamba: I understand this was the first Zamperla Disk-O when it opened in 2004 – 1 ride.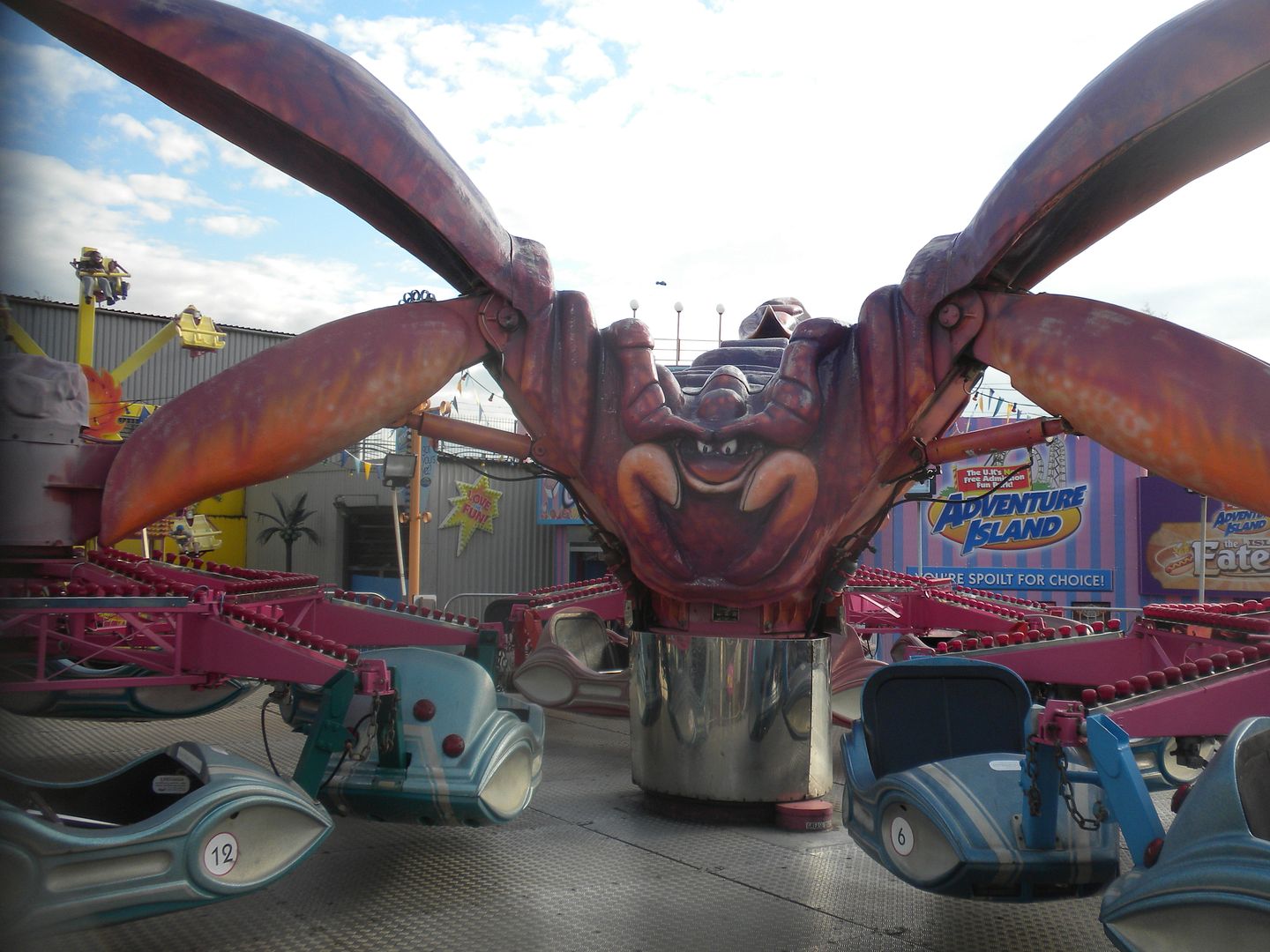 Scorpion: This Troika has a good theme – 1 ride.


American Whip: Since this junior Whip opened in 2009, I wonder if it is the one Dreamland once had in storage from Blackpool. Adults were allowed to ride, and I think this was my first junior whip – 1 ride.
Other rides I did not ride include SkyDrop, a 70 foot Zamperla bounce tower; Tidal Wave Blue, an enclosed wet/dry tube slide for double riders; Tidal Wave Green, an open wet/dry tube slide; Dragons Claw, a Zierer Spin-Out; Vortex, a Zierer Orbiter; The Dragon, a Zierer roundabout ride; Pharaohs Fury, a Sonacase Twister; Cow Jump, a Magic Carpet; Fireball, a Ferris Wheel type spinner; Big Wheel, a Ferris Wheel;


Helter Skelter, a mat slide (which David rode) and Sea Serpent, a burlap slide. Surprisingly Dodgems is an extra charge, as expected for Adventure Golf, Go-Karts, and Sea Life Adventure Aquarium. They have a huge selection of children's rides – 14.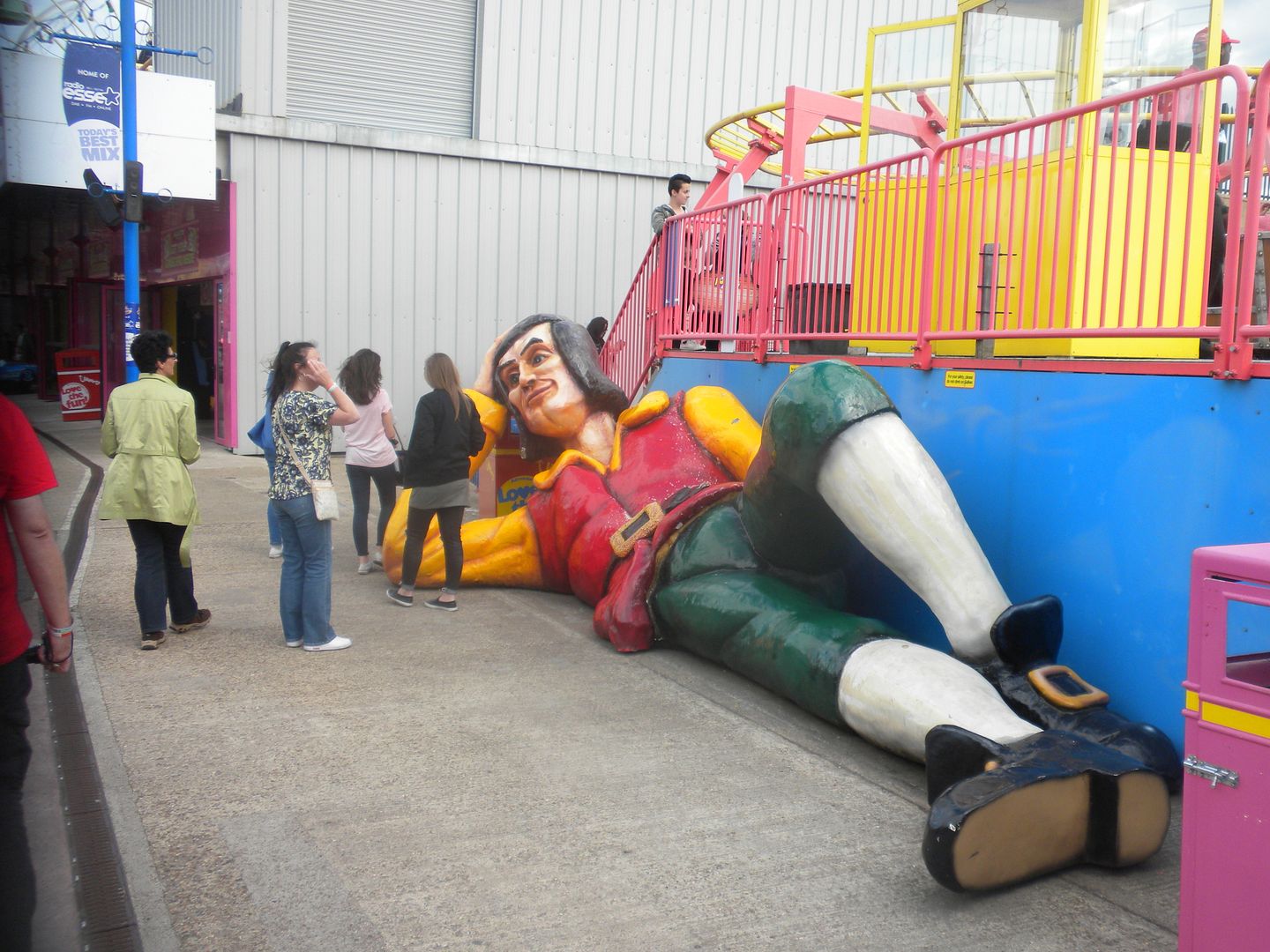 I was quite impressed with this park as its feel is exciting, and it is packed with rides. It forms 2 halves with a building between which contains some children's rides.


While the coasters were fun, it is not an overly exciting collection, but I would love to return here to explore more someday.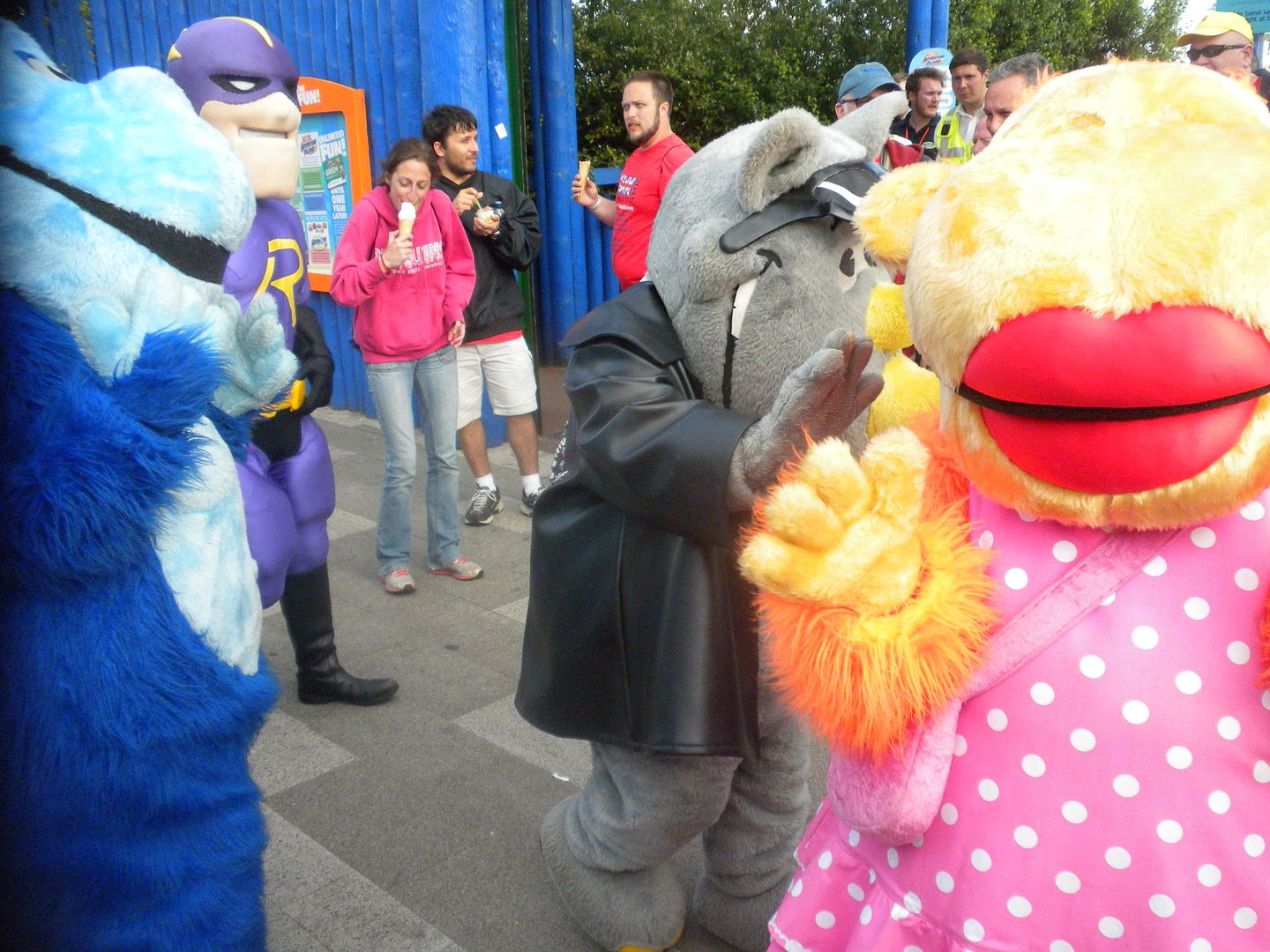 After a photo with the mascots, we headed back to the Radisson Blu Edwardian Heathrow, to prepare for the final day of this fun adventure. We had dinner at the hotel.
Up Next: Thorpe Park