ACE Spring Conference 2016 – Family Kingdom & Carowinds
The ACE Spring Conference 2016 was held Friday, April 29 to Sunday, May 1 at Family Kingdom Amusement Park in Myrtle Beach, SC and Carowinds in Charlotte, NC, along the SC/NC border. I drove to Myrtle Beach after work Thursday, April 28, arriving at 11:30. I met up with Richard Bostic, David Lipnicky and Rick Oltman, with whom I would spend the next few days.
Family Kingdom Amusement Park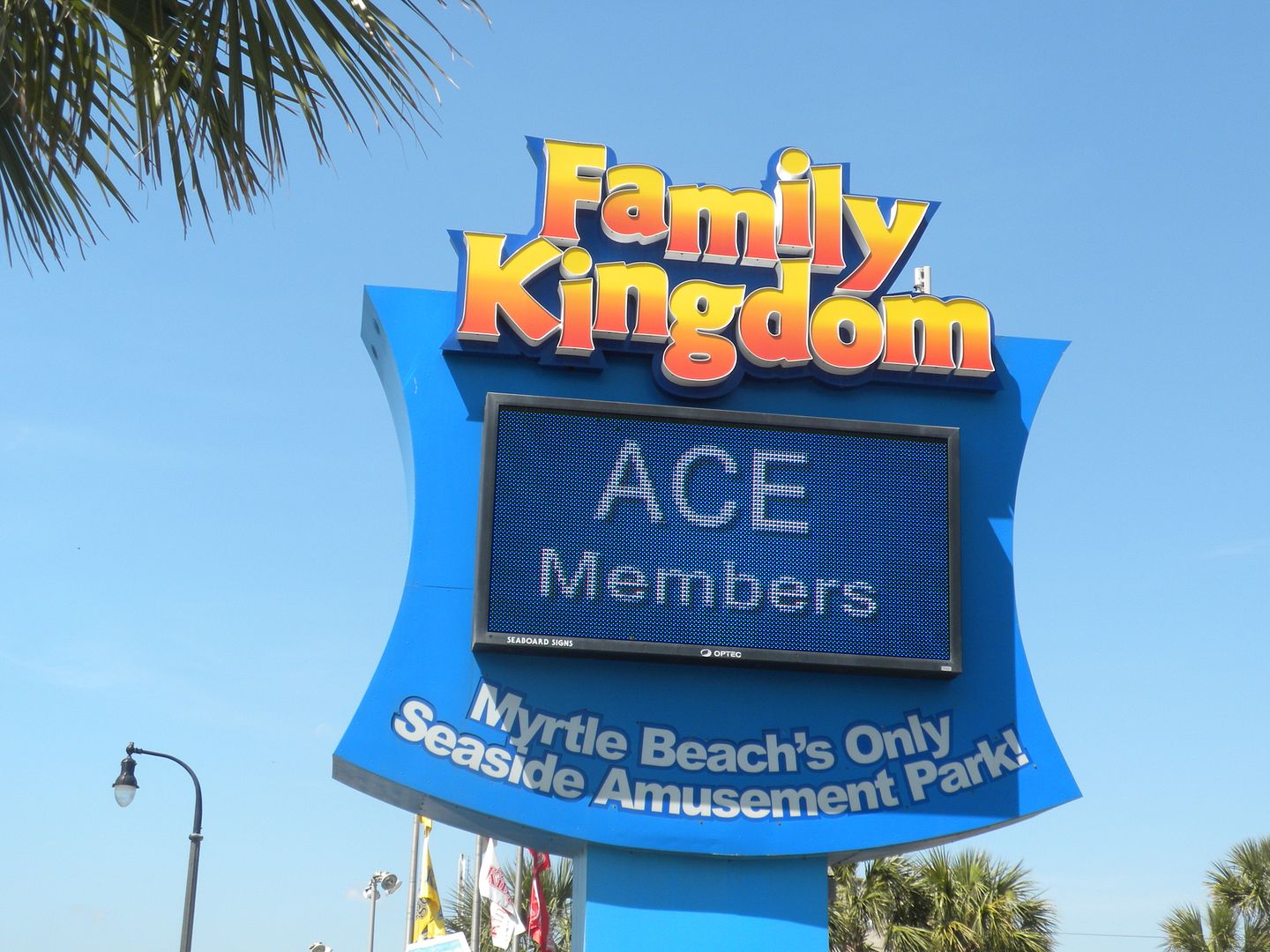 It had been 8 years since I was last at Family Kingdom Amusement Park and I was looking forward to a return visit. It is one of the few full scale seaside parks left and the only one in the Southeast.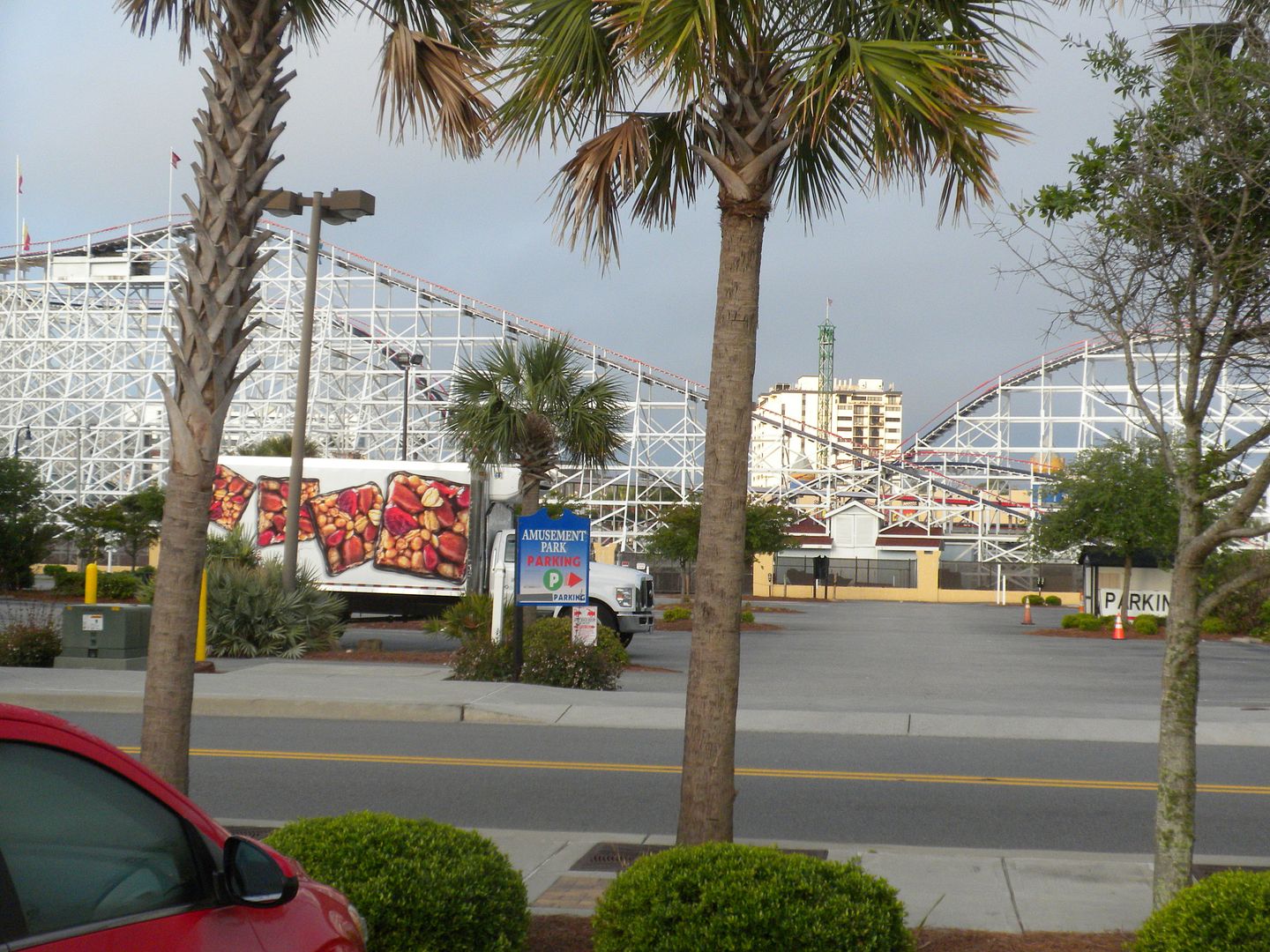 With a classic John Allen coaster, a darkride and several classic rides, it is what you expect a seaside park to be. We would have 2 ERT sessions: 45 minutes prior to park opening and 90 minutes following park close. It is the 50th anniversary of both the park and its classic coaster, so it was a particularly good time to visit. Formerly Grand Strand Amusement Park, it was heavily damaged by Hurricane Hugo in 1989. After extensive work, the park reopened in 1992 under new ownership (the current ownership) and a new name. I will review by ride categories.
Roller Coasters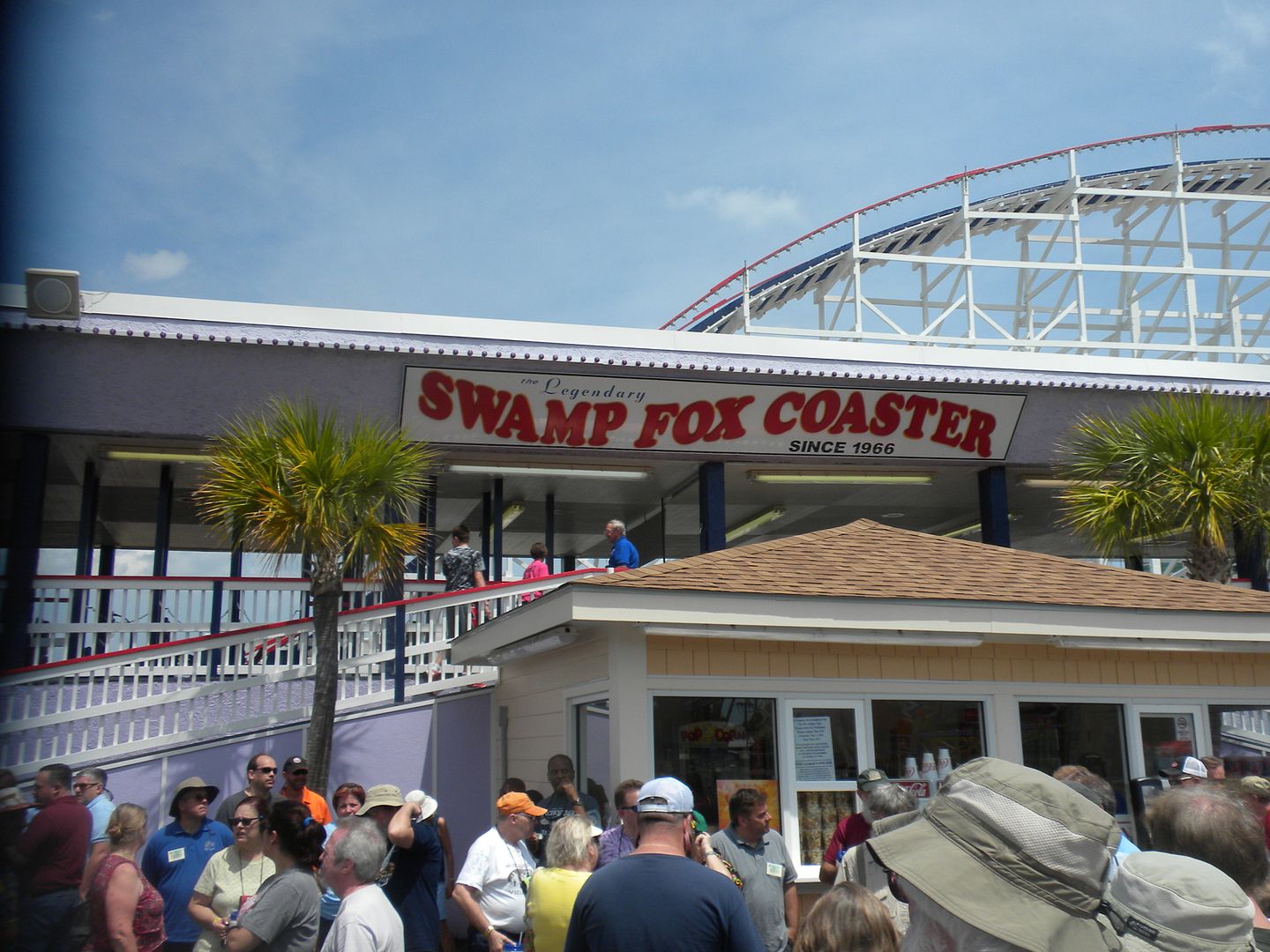 Swamp Fox: (PTC-John Allen, Wood Figure 8, 1966) Named after Revolutionary War hero Francis Marion, who was known as the "Swamp Fox" for his ability to outwit and outrun British troops by hiding in the Pee Dee region swamps, it was damaged by Hurricane Hugo in 1989 and rebuilt and reopened in 1992.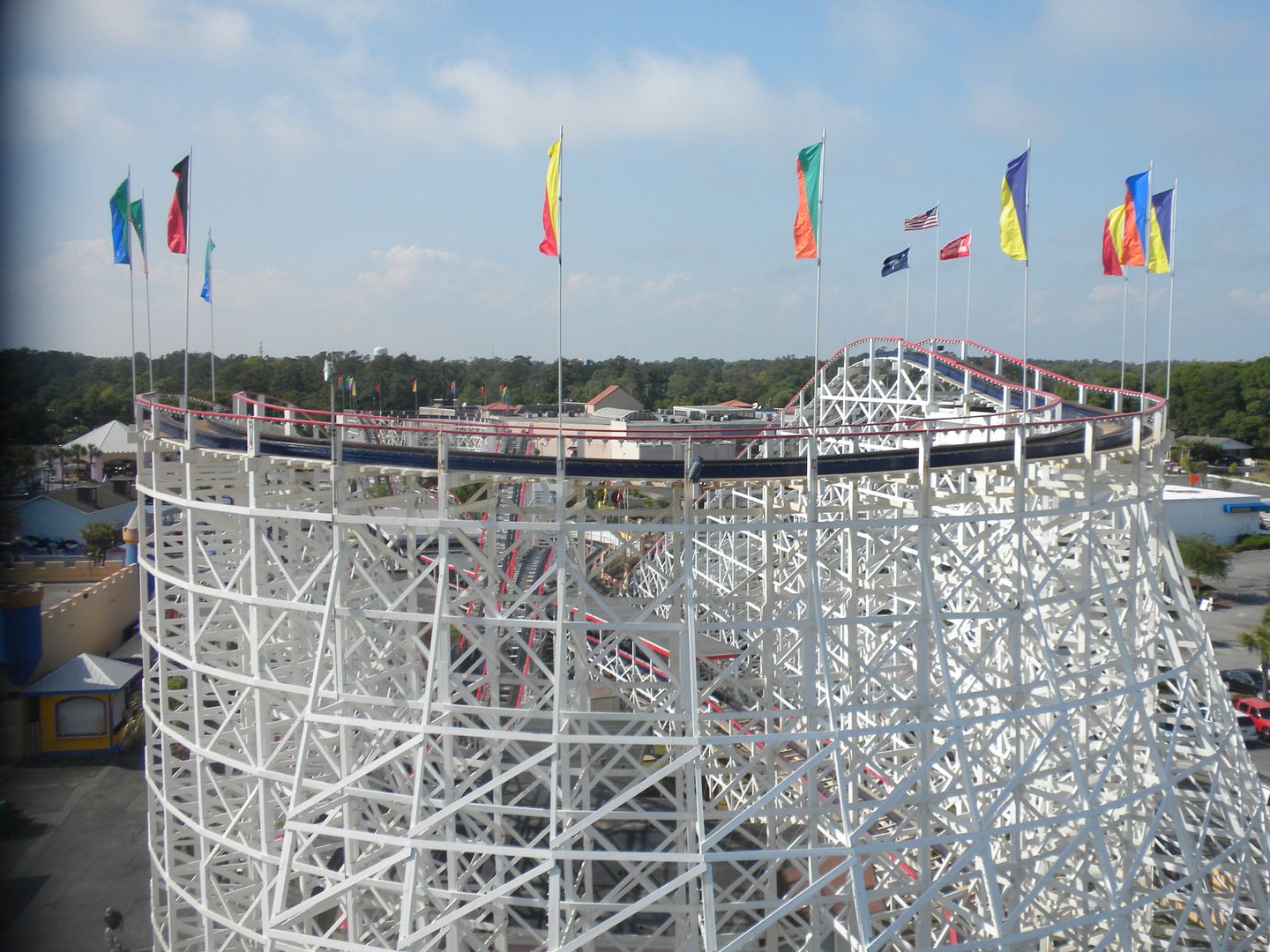 This classic coaster is celebrating its 50th with a new paint job of red, white and blue. They only run one train each season while the other undergoes rehab for the following season.


One of the trains is from the former Shooting Star that operated from 1968 to 1986 at the now defunct Lakeside Amusement Park in Salem, VA.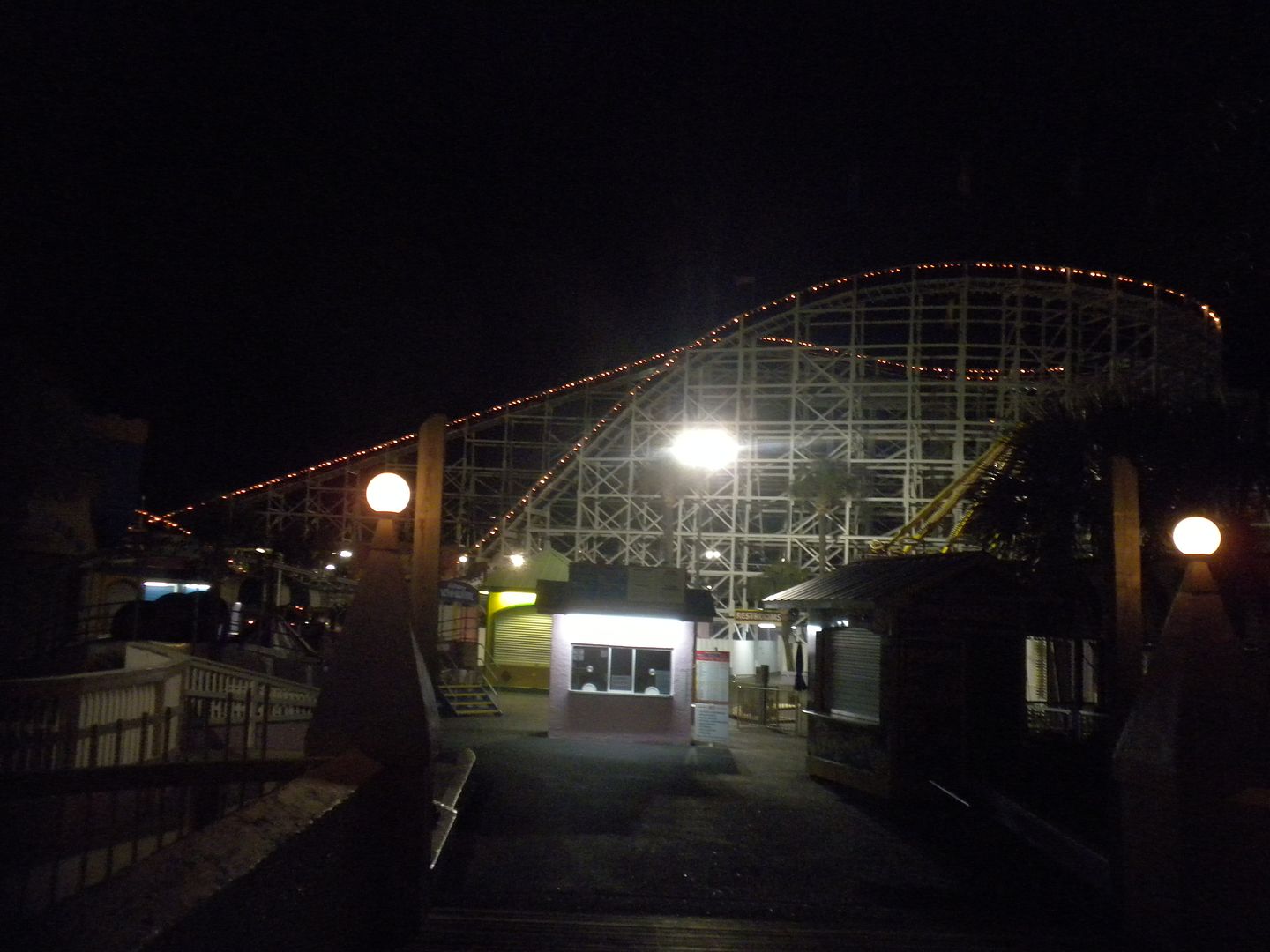 On the whole it is running pretty good this year, but there are a couple of rough spots that you feel in the axel seats. They have installed new seats which are less soft, so this may make for a slightly rougher ride. Still it is running good and we had 2 excellent ERT sessions – 19 rides, 3 during noon ERT and 12 during evening ERT including the last 5 or 6 without exiting the train. This was one of the most fun ERT sessions I have experienced, and it was a highlight of this Conference.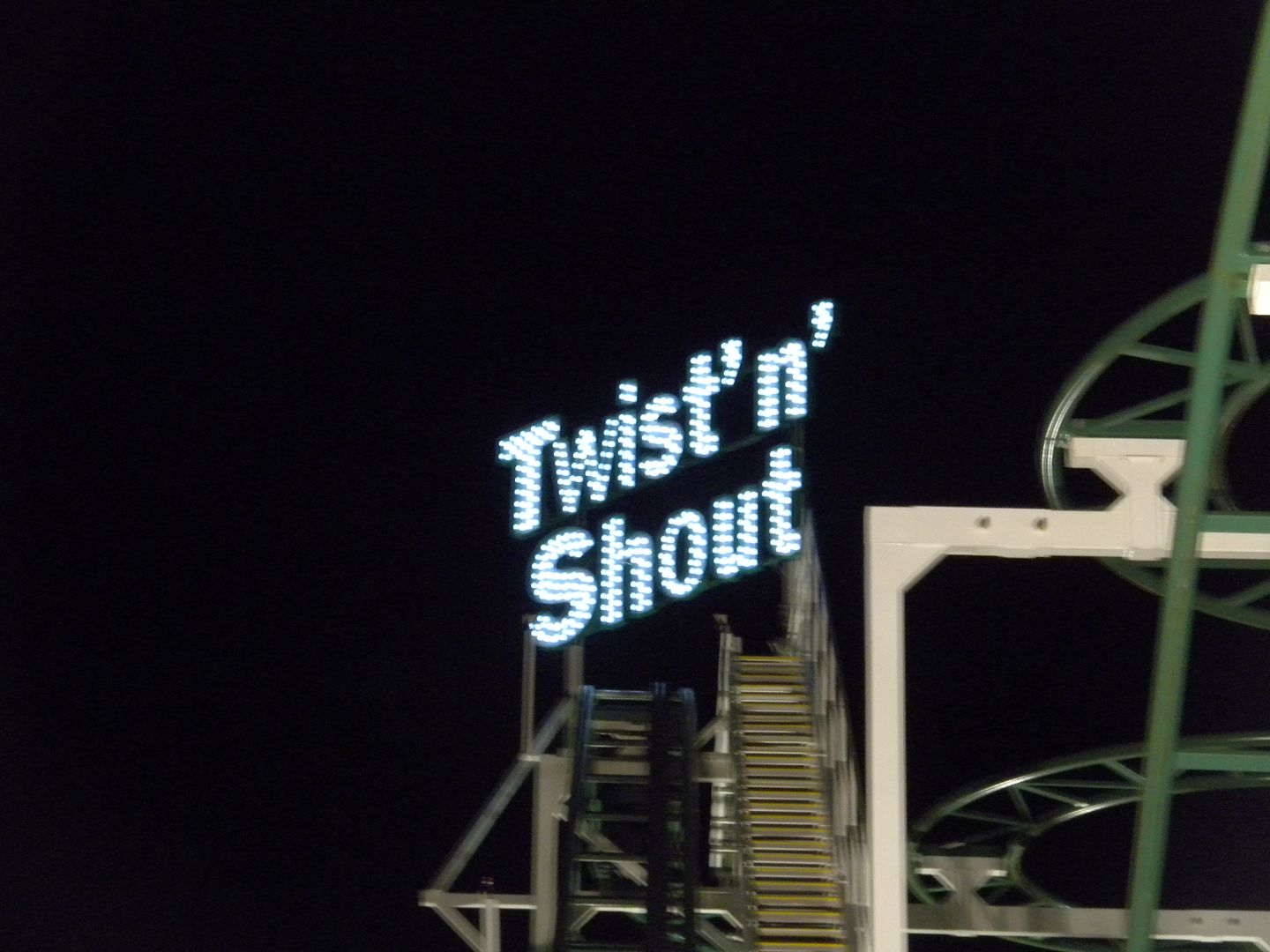 Twist 'n Shout: (Zamperla, Wild Mouse, 1999/2000/2013)


Relocated from Gillian's Wonderland Pier as Wild Wonder and Magic Springs & Crystal Falls as Twist 'n' Shout, it was a new credit for me. It's a fun ride with a 50s theme – 2 rides, 1 during ERT.
Adults are not allowed to ride Kiddie Coaster (Sartori Rides International, Big Apple/Wacky Worm, unknown year).
Dark Ride


Pistolero Roundup: This was the first interactive darkride Sally produced and it is fun. It has a Mexican theme and while short, it is still a good ride – 3 rides, 1 during ERT.
Drop Tower
ERT was scheduled on Sling Shot, a 100-foot drop tower, but it was not operating, so Pistolero Roundup was substituted.
Water Rides
Log Flume: This log flume has a section that goes uphill on a track, but I don't consider it a coaster. It is a lot of fun – 2 rides.
I did not ride the Bumper Boats.
Transport Rides
Dodgems Bumper Cars: These are pretty good bumper cars – 1 ride.
Antique Cars: These powered antique cars have a nice, scenic route track under the Swamp Fox – 1 ride.
Kings Model T's Antique Cars: These gas-powered antique cars are controlled by the driver and although the course is short, it gives good views of the Log Flume – 1 ride.
Train: This scenic ride under the Swamp Fox and around the park gives a good overview of the park – 1 ride.
Flat Rides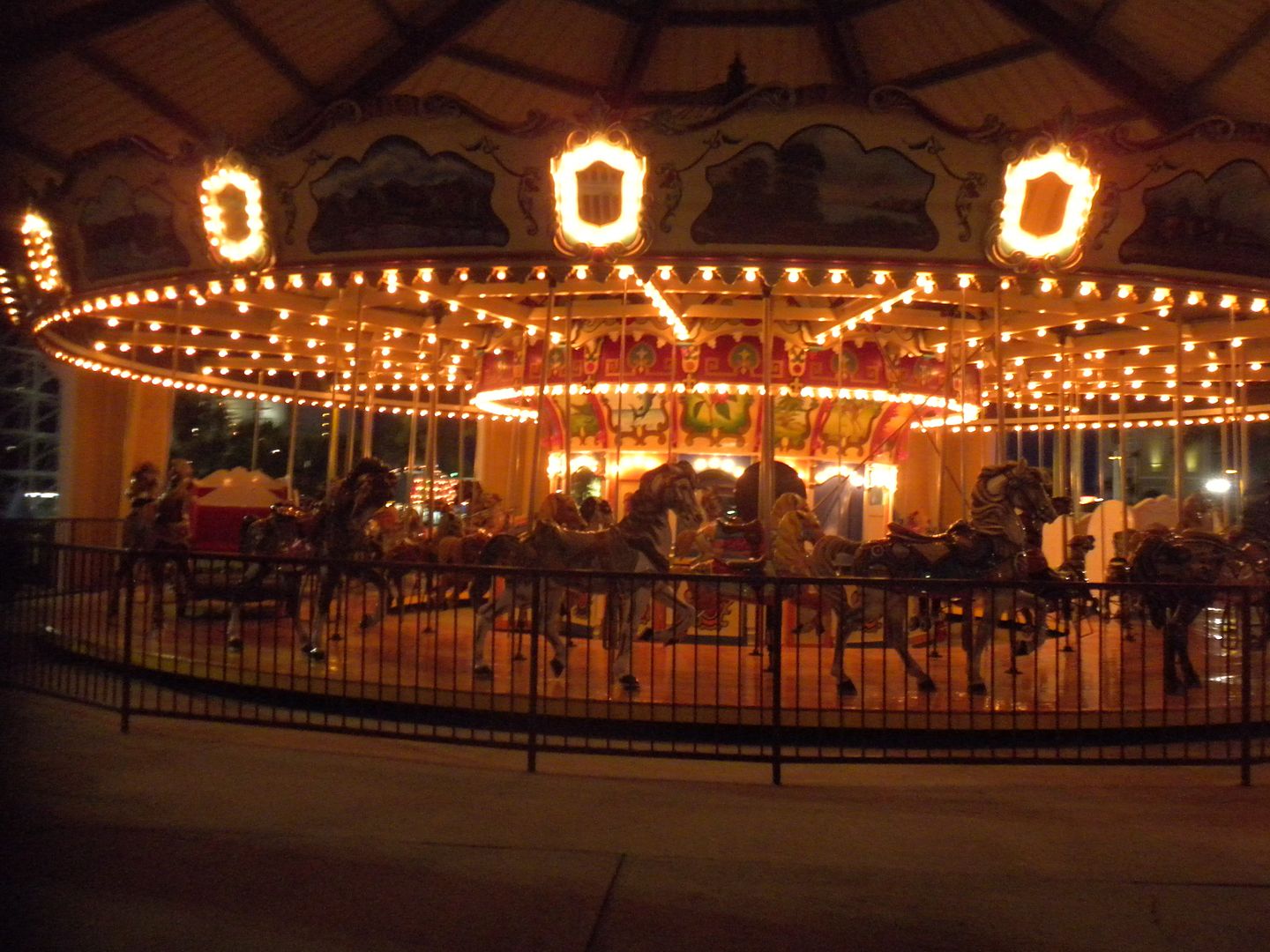 Carousel: (PTC #87; Classic Wood Carousel with new fiberglass horses – 3 Row Park, 28 Jumping Horses, 20 Standing Horses, 2 chariots; 1932)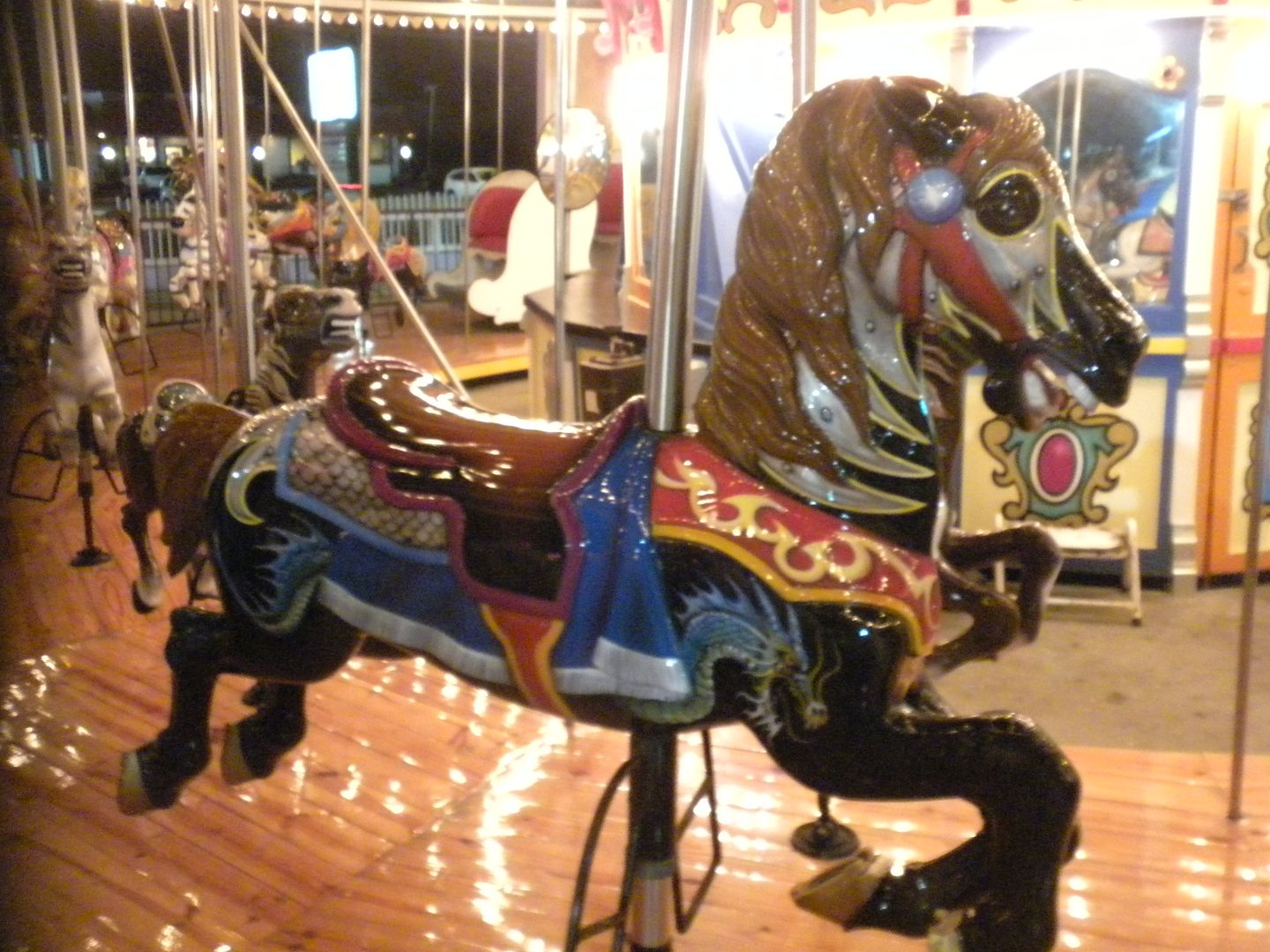 The horses were replaced with fiberglass reproductions in the 1980's while in Asbury Park. History: Casino Park, Asbury, NJ, 1932 to 1990; Family Kingdom, Myrtle Beach, SC, 1990 to present. It gives a good ride – 1 ride.
Galleon: This gave pretty good airtime – 1 ride.
Hurricane: This Music Express gave a good ride – 1 ride.
Scrambler: They gave a really long cycle on this – 1 ride.
Thunderbolt: I always enjoy these swinging circular rides – 1 ride.
Tilt-A-Whirl: We had great spinning, almost to the point of not stopping the entire ride – 1 ride.
Yo-Yo: This gave a good ride – 1 ride.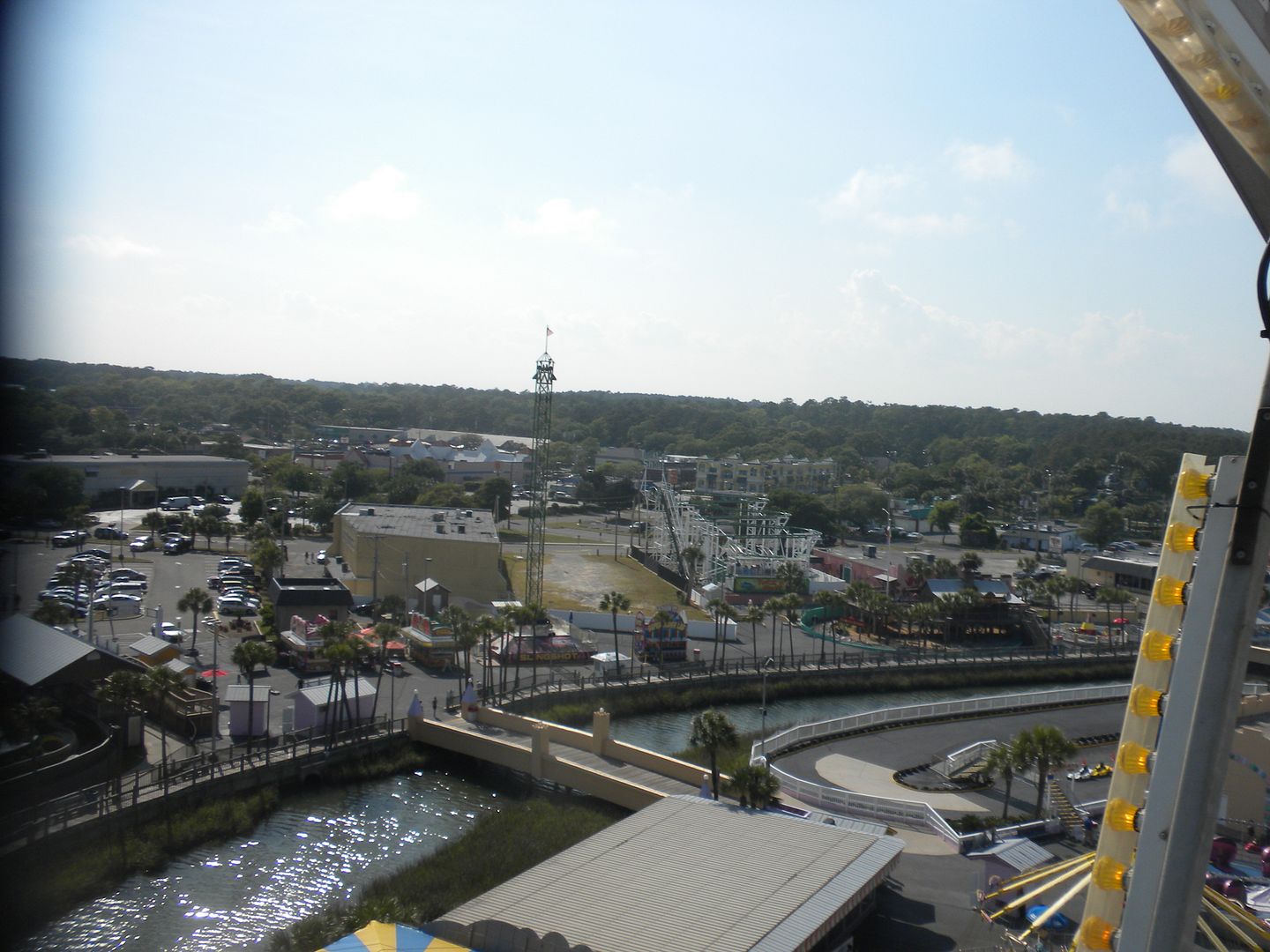 Ferris Wheel:


This has good views of Myrtle Beach


and the Atlantic Ocean although the cycle was a bit short – 1 ride.
The park has 2 Up Charge Go-Cart tracks which I did not ride: Figure 8 Track and Oval Track (which was not operating this day). In addition to the coaster, there are 17 children's rides, most of which adults are not allowed to ride.
The park provided a meal voucher, a drink bottle with 2 refills and a snack during ERT. The food was good for park food.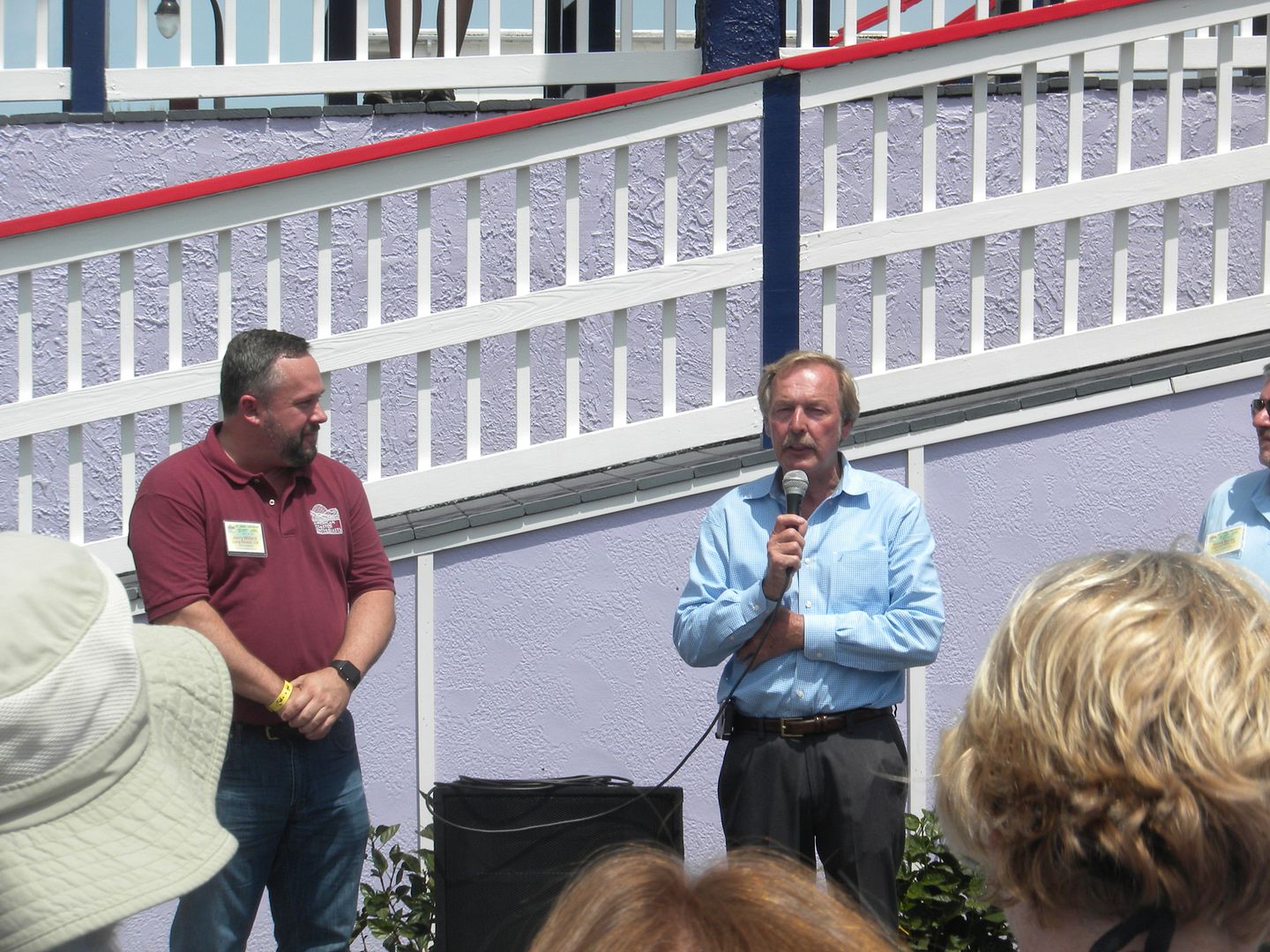 We presented the Swamp Fox with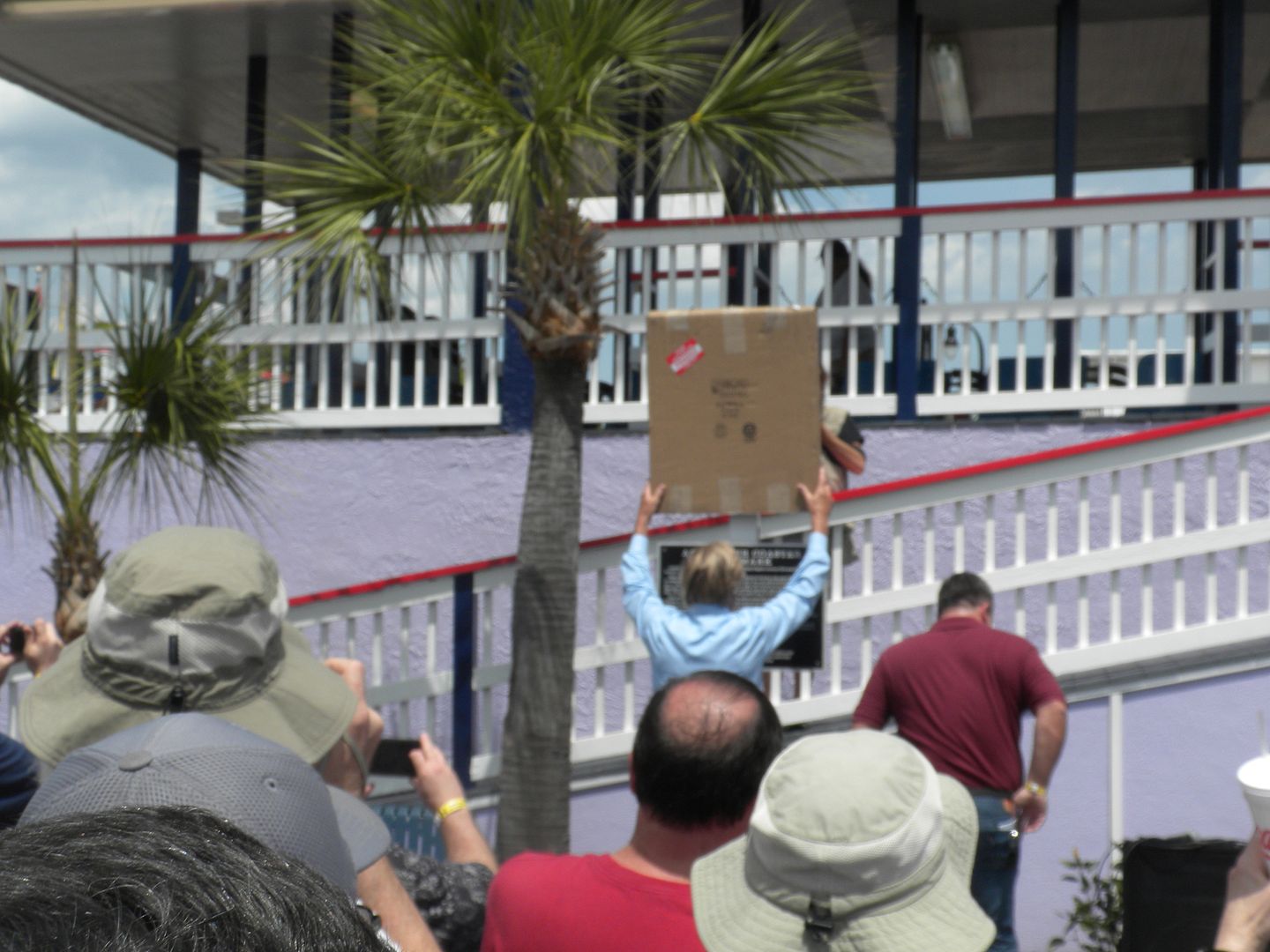 an ACE Landmark Coaster plaque


during a special ceremony and heard a little about how the coaster was saved after Hurricane Hugo.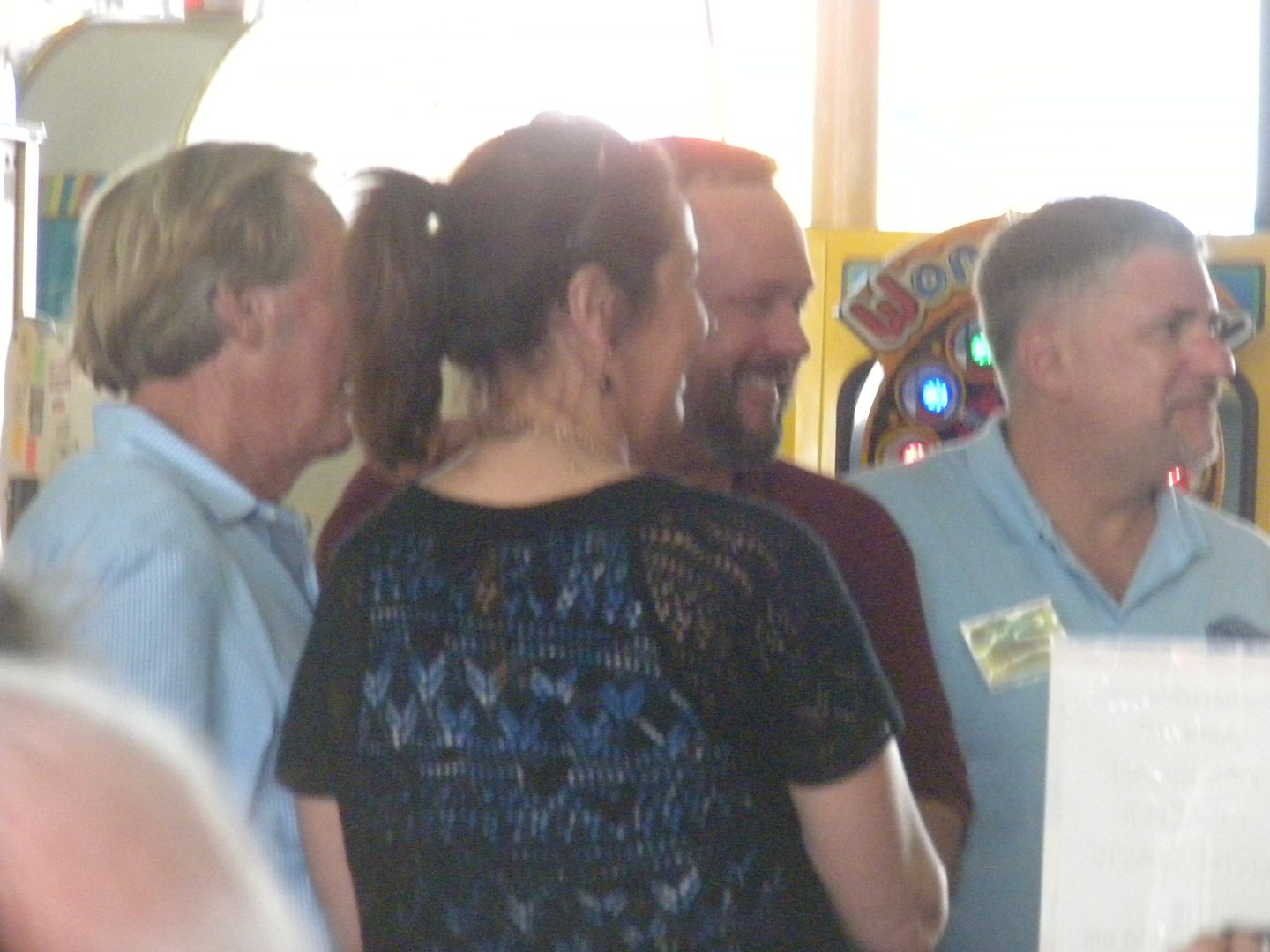 We also had a question and answer session with the park and presented them with a plaque recognizing them for hosting Spring Conference.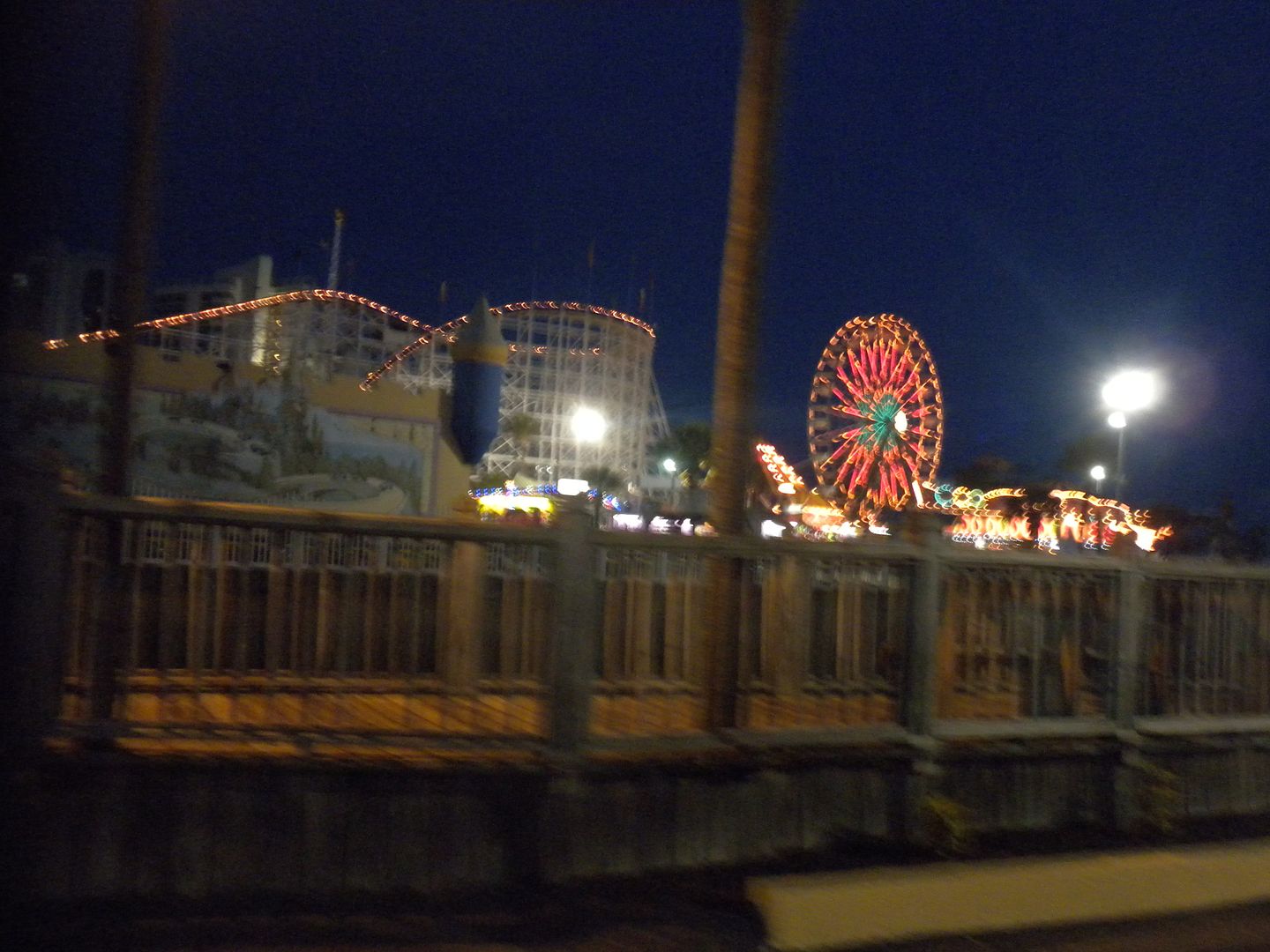 The park is extremely clean and well cared for and they went out of their way to make our time there special.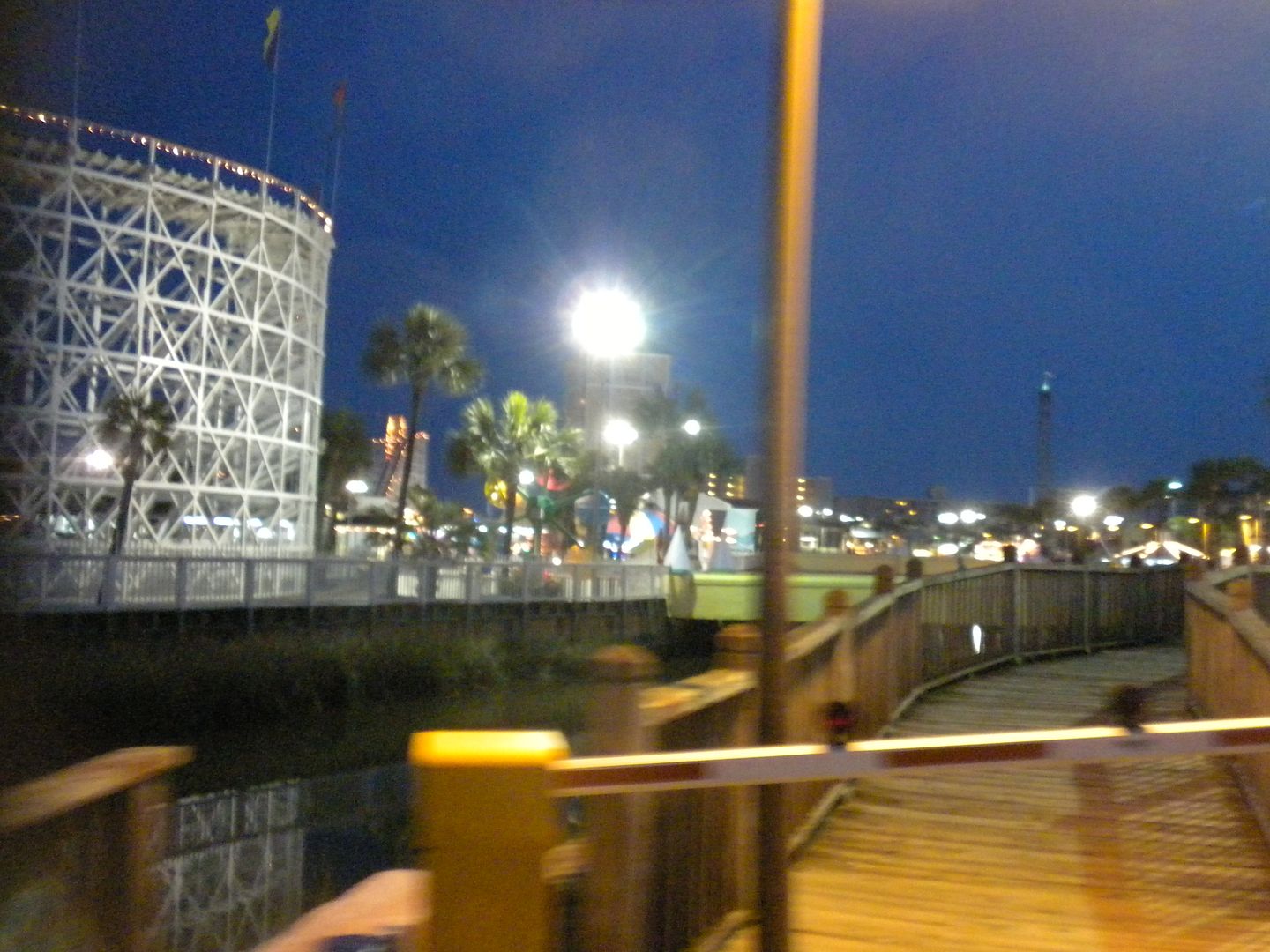 I truly look forward to a return visit sooner than letting 8 years go by.
While we were at Family Kingdom we wanted to take a few hours to drive over to Broadway at the Beach to see Pavilion Park. This development is owned by the company that owned the original Pavilion, which closed in 2006. Several of the rides from the old park are here. The open air shopping and entertainment complex has three amusement areas located throughout it. We had hoped to ride their coaster, but it was not operating. We did get to ride a couple of the rides from Pavilion.
Pavilion Park West


As noted, Myrtle Turtle (SBF Visa Group, Family Spinner, 2014) was not operating this day.


This section also has West Carousel, a Chance model and 5 children's rides, some of which are likely from Pavilion.
Pavilion Park Central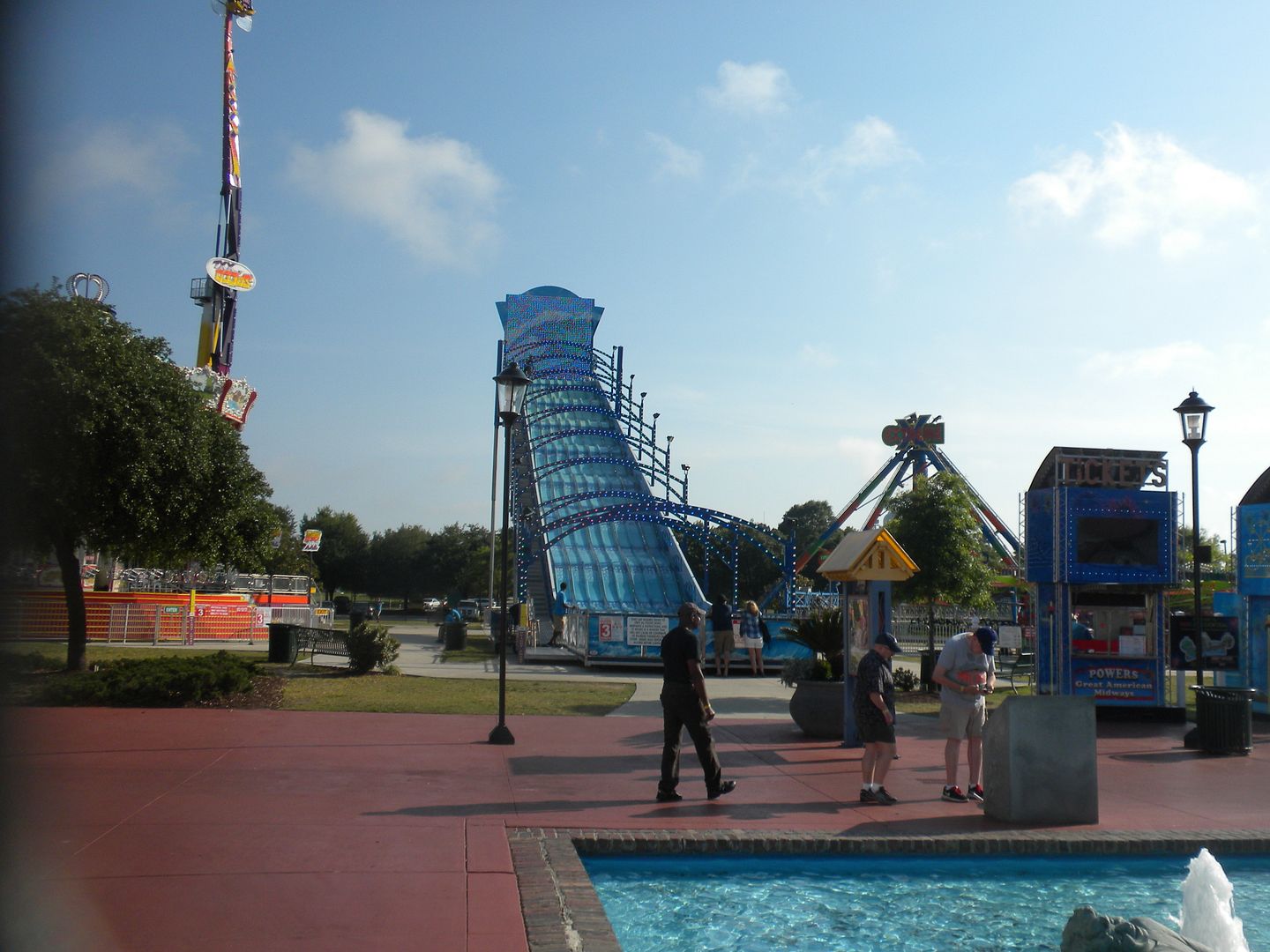 This section has XTREME, a giant claw ride; Wave Swinger, likely from Pavilion; Cliff Hanger, a Kite Flyer; Speed XXL, an intense flat ride; and Pipeline Slide, a giant slide likely from Pavilion.
Pavilion Park East
This section has 2 classic rides from Pavilion that we wanted to ride:


East Carousel: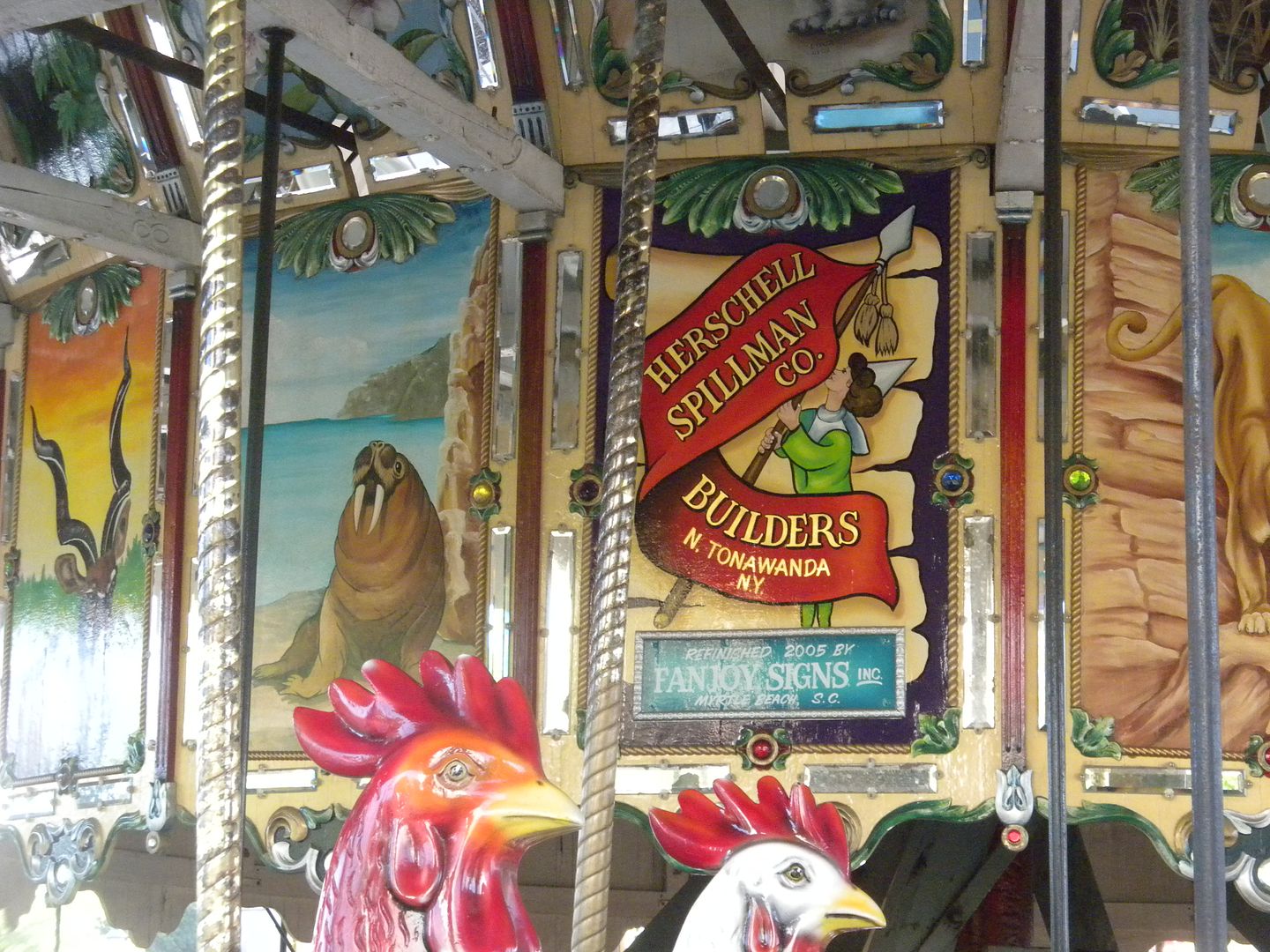 (Herschell-Spillman; Classic Wood Carousel – 3 Row Park Menagerie – 12 Jumping Horses, 11 Standing Horses, 27 Menagerie Animals (2 Elephants, 1 Tiger, 2 Giraffes, 1 Camel, 1 Deer, 2 Frogs, 2 Zebras, 1 Dragon, 2 Dogs, 2 Pigs, 2 Roosters, 2 Ostriches, 2 Cats, 1 Lion, 1 Stork, 1 Goat, 2 Mules), 2 chariots; 1912) History: Original Location Unknown, Dates Unknown; Oxford Lake Park, Anniston, AL, Date Unknown-1950; Myrtle Beach Pavilion & Park, Myrtle Beach, 1950-2006; Storage, Myrtle Beach, 2006-2007; Broadway at the Beach, Myrtle Beach, 2007-present. This gave a good ride and I am glad it has a new home – 1 ride.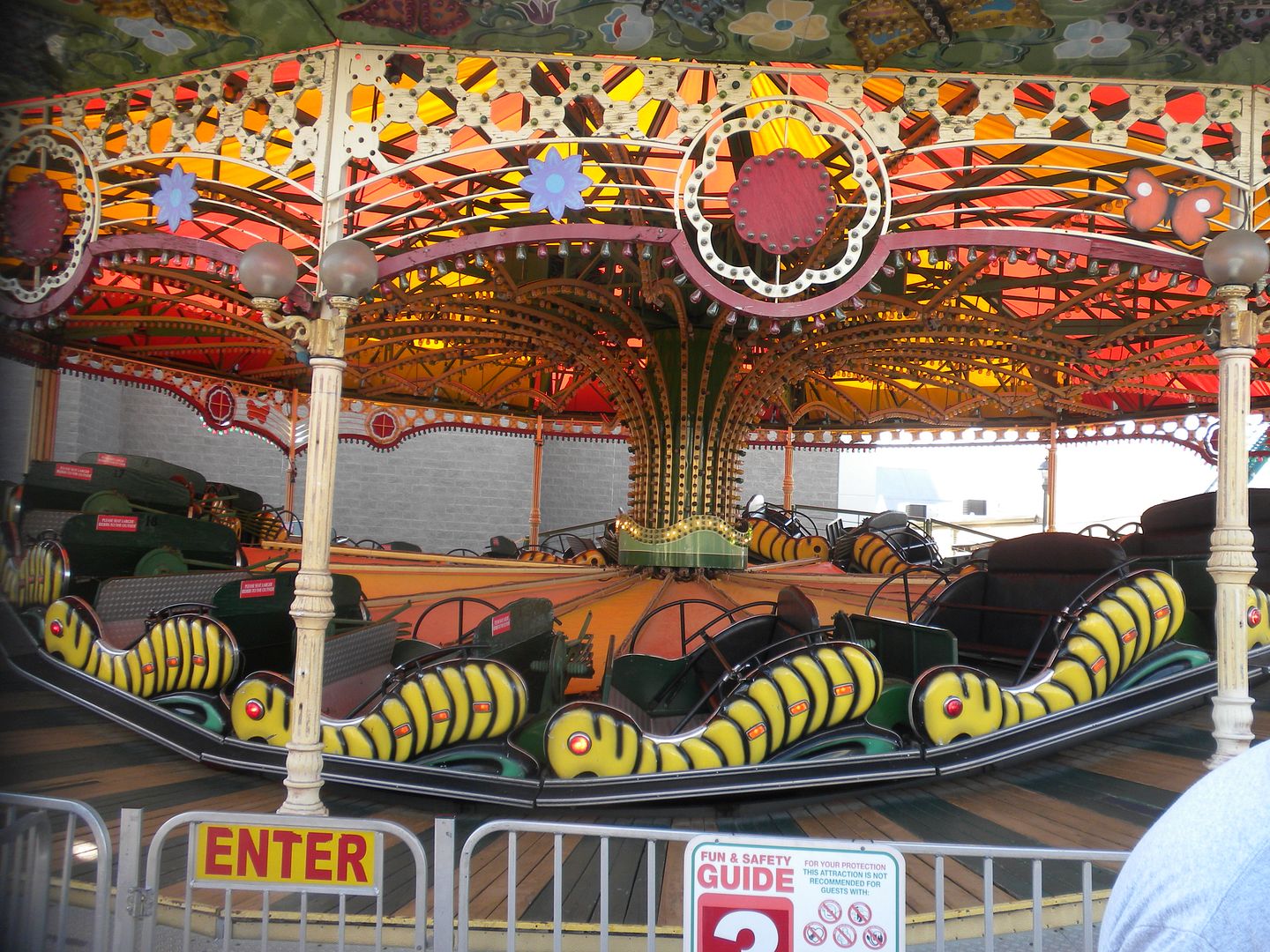 Caterpillar: This classic ride, which I rode at Pavilion, still has the mechanism that operates the cover, although it is not in use. It gave a good ride both forward and backward – 1 ride.
Other rides here include Pirate Ship and Demolition Derby, bumper cars, both likely from Pavilion, and The ROCKET, an intense inverting circular ride. Also 5 children's rides, all likely from Pavilion, are here.
Also at Broadway at the Beach is Backstage Mirror Maze, which we did not do. We ate at Jimmy Buffett's Margaritaville before returning to Family Kingdom. The next morning we left Myrtle Beach and headed to Carowinds for part 2 of Spring Conference.
Carowinds
On Saturday, April 30 we arrived at Carowinds in Charlotte, NC around noon for the second part of ACE Spring Conference 2016. We had 2 days in the park, but we were aware our big challenge would be rain. Rain, thunder and lightning started at dinner Saturday night, eventually closing the park 25 minutes early and cancelling ERT on Fury 325 and Drop Tower. Sunday morning we entered the park in heavy rain, but it let up and some ERT began. In a gracious offer to make up for lack of ERT, the park let us to use Fast Lane for Fury 325 all day. Due to rain I did not get to ride as much as I had hoped, but I did get to all the coasters.
Our last national event here was Coaster Con in 2012, but this is a park that I usually get to every year. As noted in a previous report its theming is not overly immersive, but much original theming was removed in the Taft Broadcasting/King Entertainment days and further changed by Paramount's attempts to make it fit movies. Cedar Fair removed some theming, but mostly Paramount's branding. Although there is little original theming, I will review by section with a nod to original park sections.
Carowinds Plaza
Formerly known as Plantation Square, this entry section was originally themed to a 19th century Carolina town, and among its original attractions were a Train, a Trolley and the Sternwheeler riverboat, which took passengers by all seven of the parks original sections. At one time the island formed by the river was a children's section, Smurf Island. While theming has changed significantly, one original ride remains.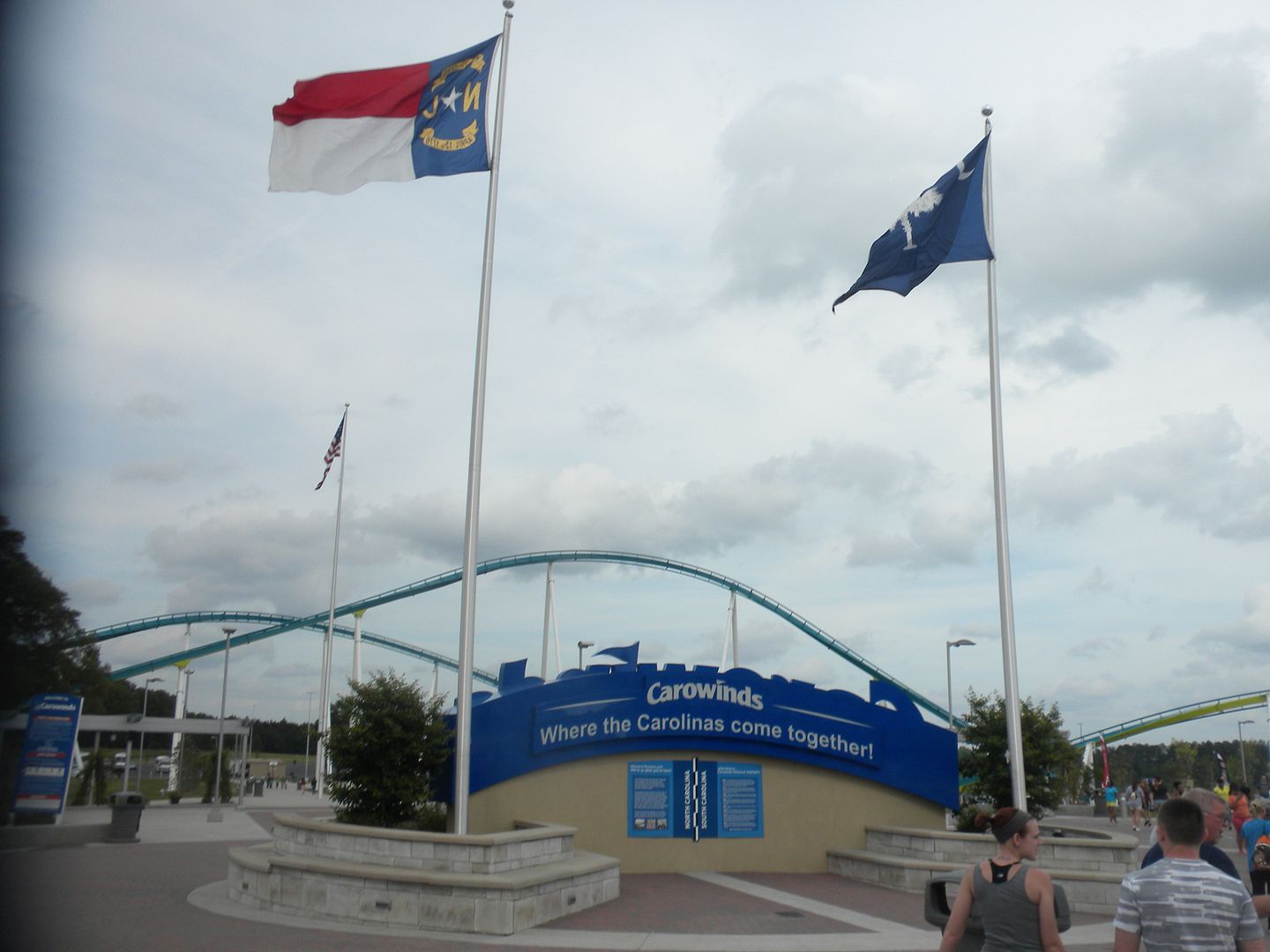 This section lost some of its character with the demolition of the southern plantation entry building, but the new sleek, modern entry plaza framed by Fury 325 makes a great statement as guests enter the park.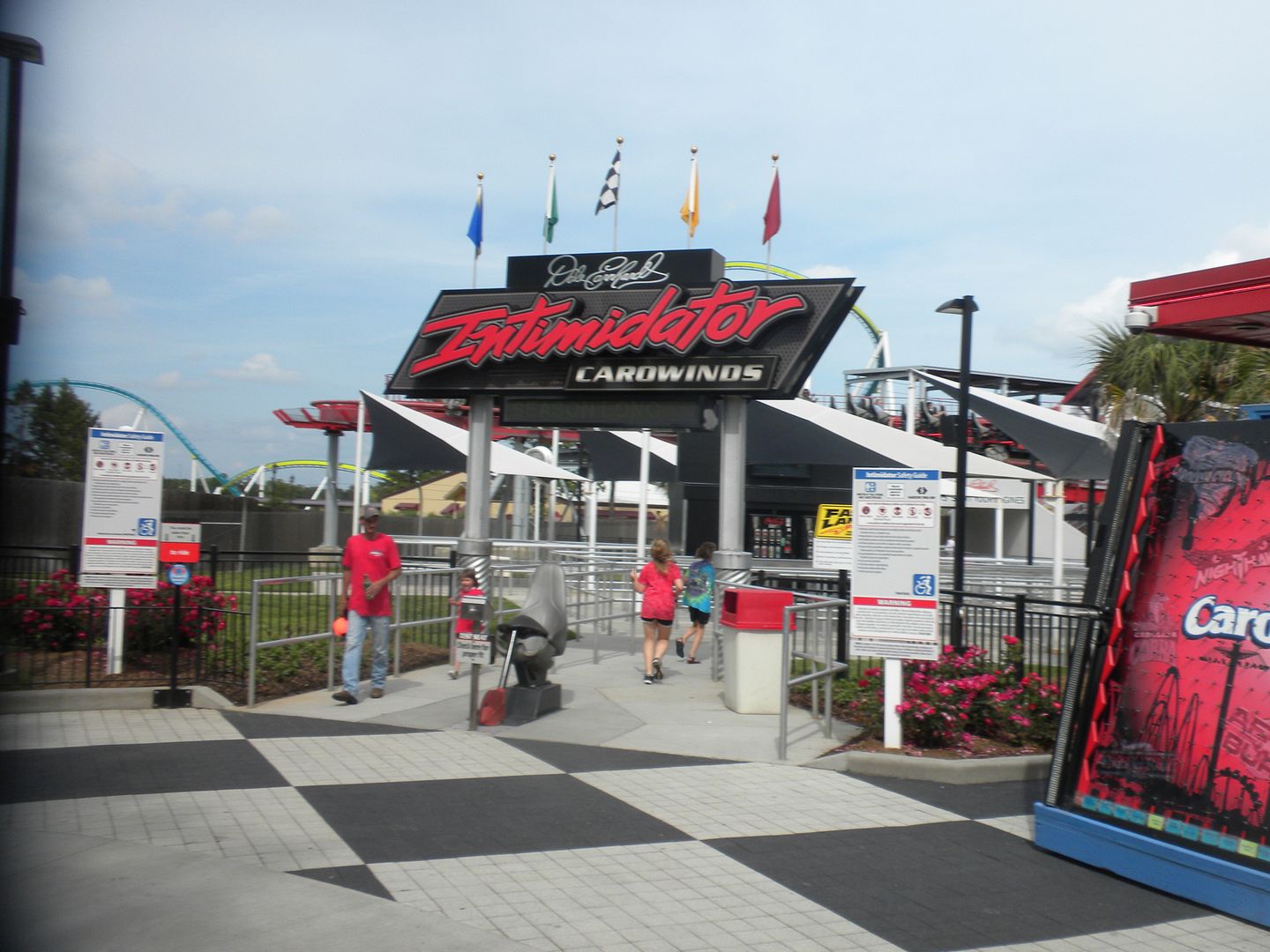 Intimidator: (Bolliger & Mabillard, Hyper Coaster, 2010) The airtime is plentiful, the speed is relentless and it is excellently paced.


Although now dwarfed by the park's latest coaster, its smooth ride makes for a coaster I could ride again and again, but rain prevented much riding time this visit – 1 ride.


Nighthawk: (Vekoma, Flying Dutchman Flying Coaster, 2000/2004) Relocated from Paramount's Great America as Stealth, this prototype Vekoma Flyer is not a favorite for me. It is painful and usually not worth the slow load, but the public loves it – 1 ride.
I did not ride Rip Roaring Rapids


or Carolina Skytower, one of 4 remaining original attractions. Carowinds Plaza Stage is here.
Planet Snoopy
The original portion of this section was formerly known as Queen's Colony, themed to the British influence on the settlement of the Carolinas. Original attractions included Skyway to Frontier Outpost, removed under Taft, although the building remains as Snoopy's Boutique, and the Powder Keg Flume, removed by Cedar Fair for Intimidator. Later this section was Old World Marketplace. The remainder of this section was the first section added to the park by Taft in 1975, with a family wood coaster and the relocated Shortline Railroad. It has been themed as Hanna Barbera, Nickelodeon and Peanuts.
Woodstock Express: (PTC – John Allen, Wood Family Coaster, 1975) While operating under several names this junior sized coaster has continued to deliver great airtime and lots of fun – 1 ride.
Flying Ace Aerial Chase: (Vekoma, Family Inverted, 2003) This is a good starter coaster with a nice course over streams– 1 ride.


Woodstock Gliders: These are great fun – 1 ride.
I did not ride Lucy's Crabbie Cabbie (E&F Industries, Kiddie Coaster, 1998), which only allows adults to ride with kids. In the past they have made this available during ERT, so I have the credit. I also did not ride Character Carousel: (PTC # 67; Classic Wood Carousel – 4 Row – 48 Jumping Horses, 20 Standing Horses, 2 Chariots; 1923) History: Pleasure Park, Evansville, IN, 1923 to 1936; Mesker Park, Evansville, IN, 1936 to 1973; Carowinds, Charlotte, NC, 1973 to present. Other rides here include Snoopy's Junction, one of 4 original attractions remaining; Peanuts Pirates; an undulating pirate ship flat ride and 6 other children's rides.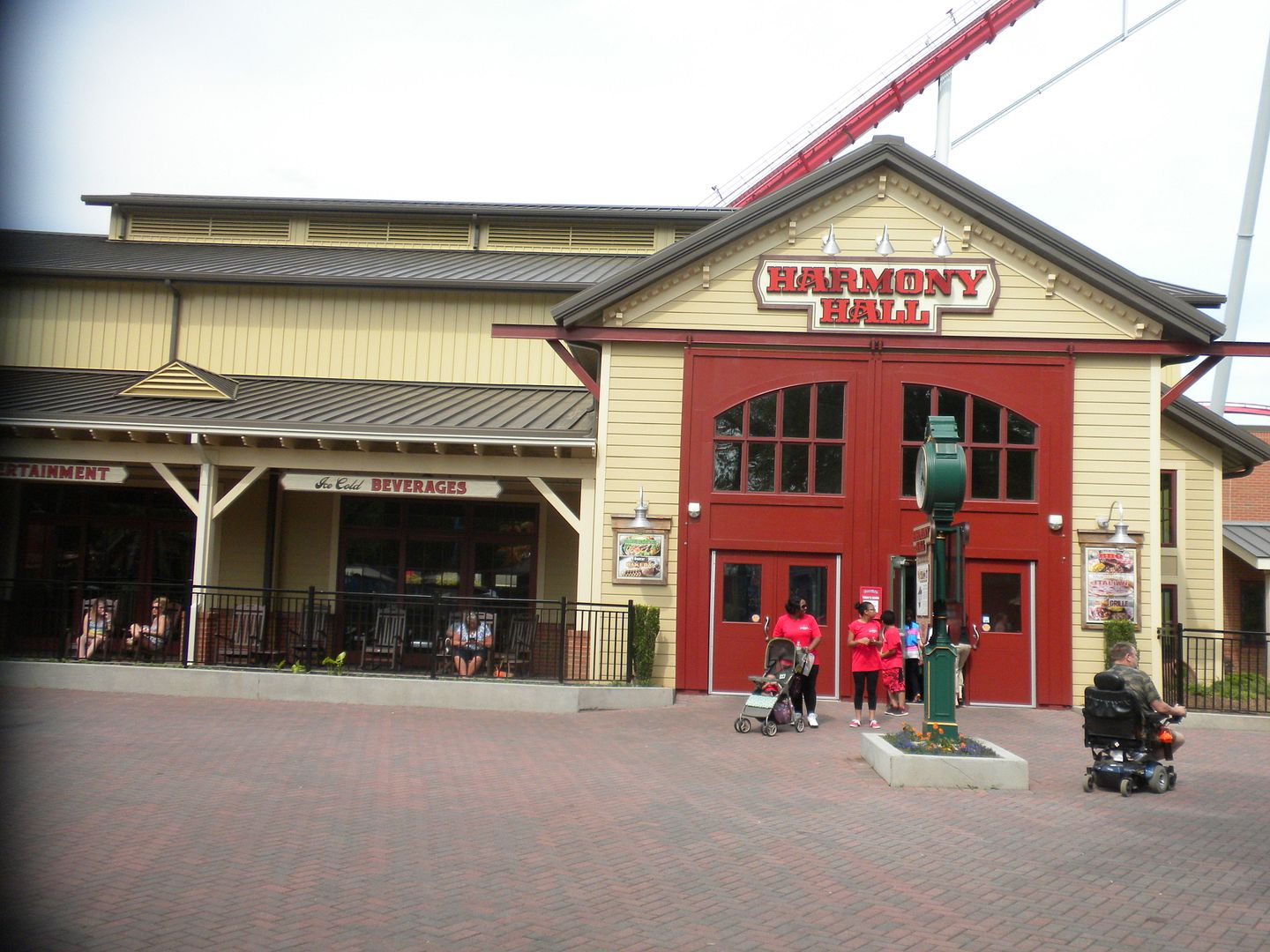 The new Harmony Hall and Peanuts Showplace Theater are here as is the upcharge attraction Rip Cord, a sky coaster.
Carolina RFD
This section takes the place of 3 original sections: Carolina Crossroads, Indian Thicket and Pirate Island. Carolina Crossroads was themed to a rural farming community and featured Hillbilly Jalopies, Shortline Miniature Railroad, a Train Station and Harmony Hall Theater, converted into a darkride by Paramount. Only the Shortline Railroad remains, now in Planet Snoopy. Several buildings remain including the barn, the schoolhouse and the old mill. The covered bridge between Carolina Crossroads and Queen's Colony is still in use. This section now themed Carolina RFD is perhaps the closest to its original. Indian Thicket was removed after only 2 seasons when Taft took over. It contained only Indian Canoes and a flat ride. Now part of Carolina RFD it houses games and restaurants. Pirate Island was themed to a coastal town in the days of pirates and contained flat rides. Its large amounts of water have long since been removed as has its later addition of White Lightin' (Schwarzkopf, Shuttle Loop, 1977-1988), now at Gold Reef City in Johannesburg, South Africa, as Golden Loop. This area is very bland now.
Carolina Cobra: (Vekoma, Boomerang, 1996/2009) Relocated from Geauga Lake as Head Spin, this Boomerang, with its new restraint system, is the best Boomerang I have ridden. All Boomerangs should have this. It replaced Flying Super Saturator (Setpoint, Suspended Water Coaster, 2000-2008) – 1 ride.
I did not ride Windseeker, a tower swing ride or Whitewater Falls, a shoot-the-chutes. The upcharge Dinosaurs Alive! is here.
Carolina Boardwalk
Formerly known as the original section Frontier Outpost, it was themed as a frontier settlement and featured the park's first coaster, a Train Station and the Skyway to Queen's Colony. Although I realize it was a Carolina frontier theme and not western, it is ironic that almost every theme park in Europe and many in the U.S. have a western section, yet their frontier section, later named Blue Ridge Junction, was taken out. It was replaced by Carolina Boardwalk, now arguably the best themed section of the park, and my favorite. The Train Station is now a gift shop and the Skyway Station is now Chickie's & Pete's Sports Grill.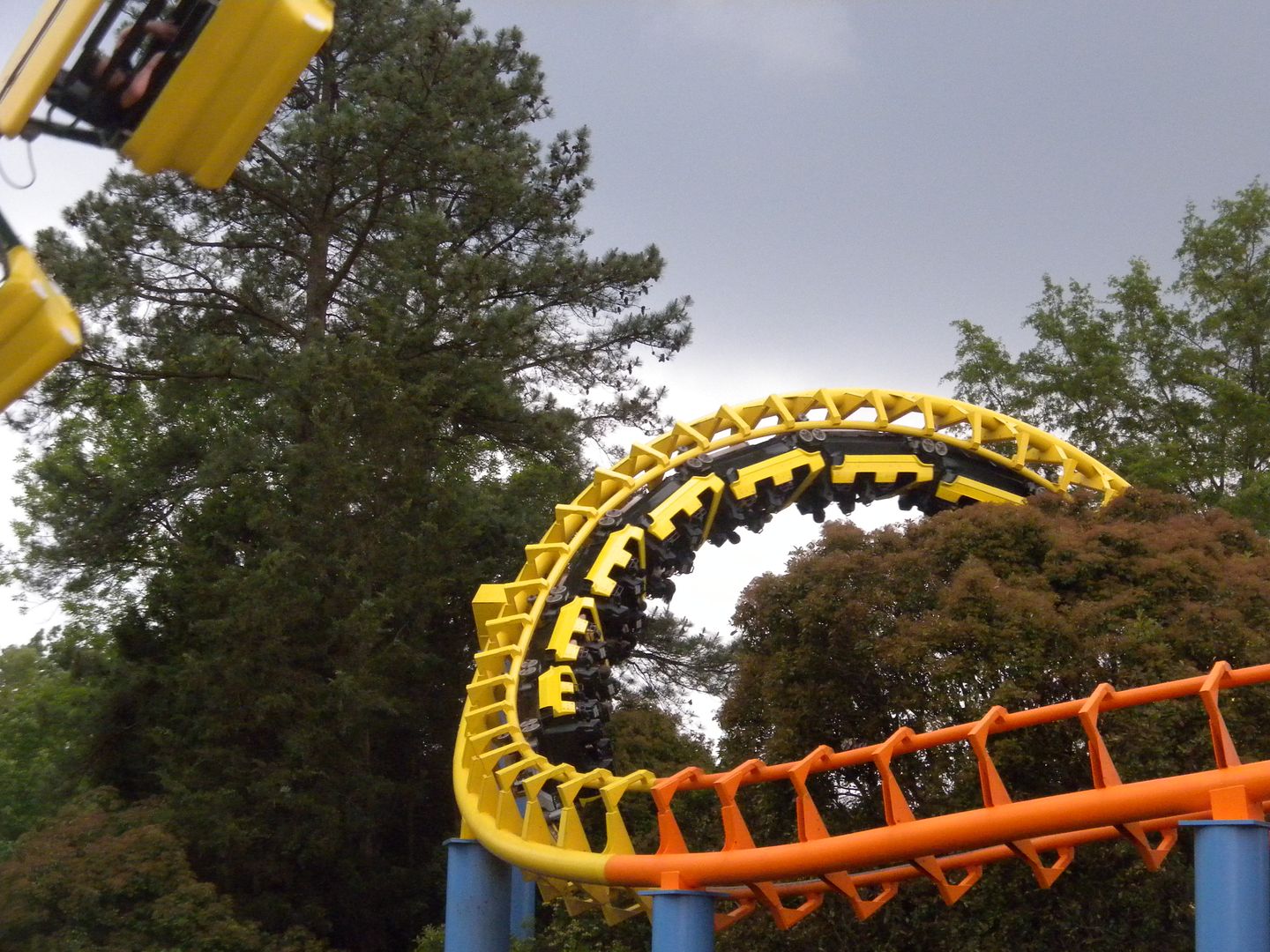 Carolina Cyclone: (Arrow, Looper, 1980) One of the better Arrow loopers, I really like this ride.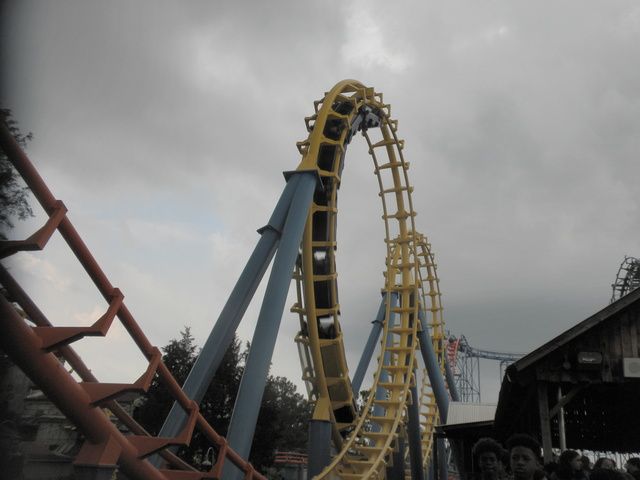 It has a slightly rough transition or two, but not overly so, and the ending helix with headchoppers is a nice effect – 1 ride.
Carolina Goldrusher: (Arrow, Mine Train, 1973) One of 4 original rides still in operation, this is a really good mine train. Its use of a helix, headchoppers and quick turns culminate in a great long tunnel at the end. I just wish the seats were bigger – 1 ride.
Ricochet: (Mack, Wild Mouse, 2002) Mack is one of the better makers of this type of coaster, and this one is a lot of fun – 1 ride.
Carolina Showplace
Formerly known as Contemporary Carolinas, this original section was themed as modern Carolinas. It featured a Monorail; The Speedway sports cars; Kaleidoscope, a Scrambler; and a Theater. In some ways the Carolina Showplace section of today is in keeping with its modern beginnings. The Monorail and Speedway were removed under Taft.
Vortex: (Bolliger & Mabillard, Stand Up Coaster, 1992) This being the third of B&M's stand-ups, it is considered quite rough. I ride it defensively and enjoy it for what it is – 1 ride.
I did not get to ride Scrambler, one of 4 original rides, now without its Kaleidoscope moniker, but still in its original location. The Carowinds Theater is here as is the upcharge attraction SlingShot.
County Fair
The second new section to be added was County Fair and it has retained its theme to this day. In 1976 a wood racing coaster was added behind Country Crossroads and in 1979, the County Fair section was added featuring Bumper Cars and flat rides.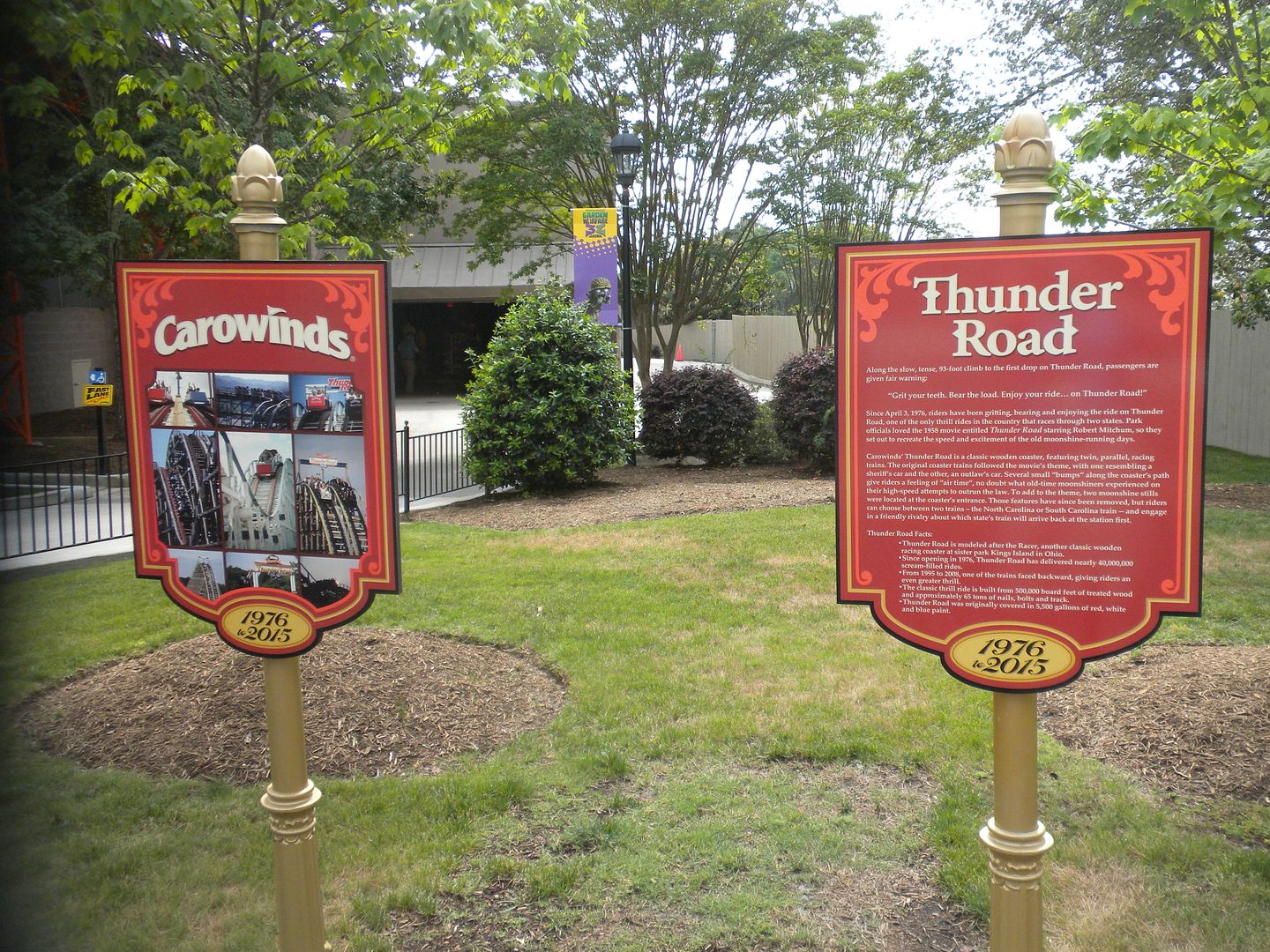 Sadly, Thunder Road (PTC-Curtis Summers, Wood Racing Out & Back Coaster, 1976-2015) was surprisingly closed and destroyed last year after an extensive rebuild that saw the vast majority of it reconstructed from the ground up. The reasons for this sudden fate of a classic coaster are shrouded in mystery and may never be fully understood, especially to coaster enthusiasts.
Afterburn: (Bolliger & Mabillard, Inverted Coaster, 1999) This is one of the best inverted coasters I have ridden. It gives a thrilling ride with nicely paced elements, especially the tunnel; I wish it still had mist – 1 ride.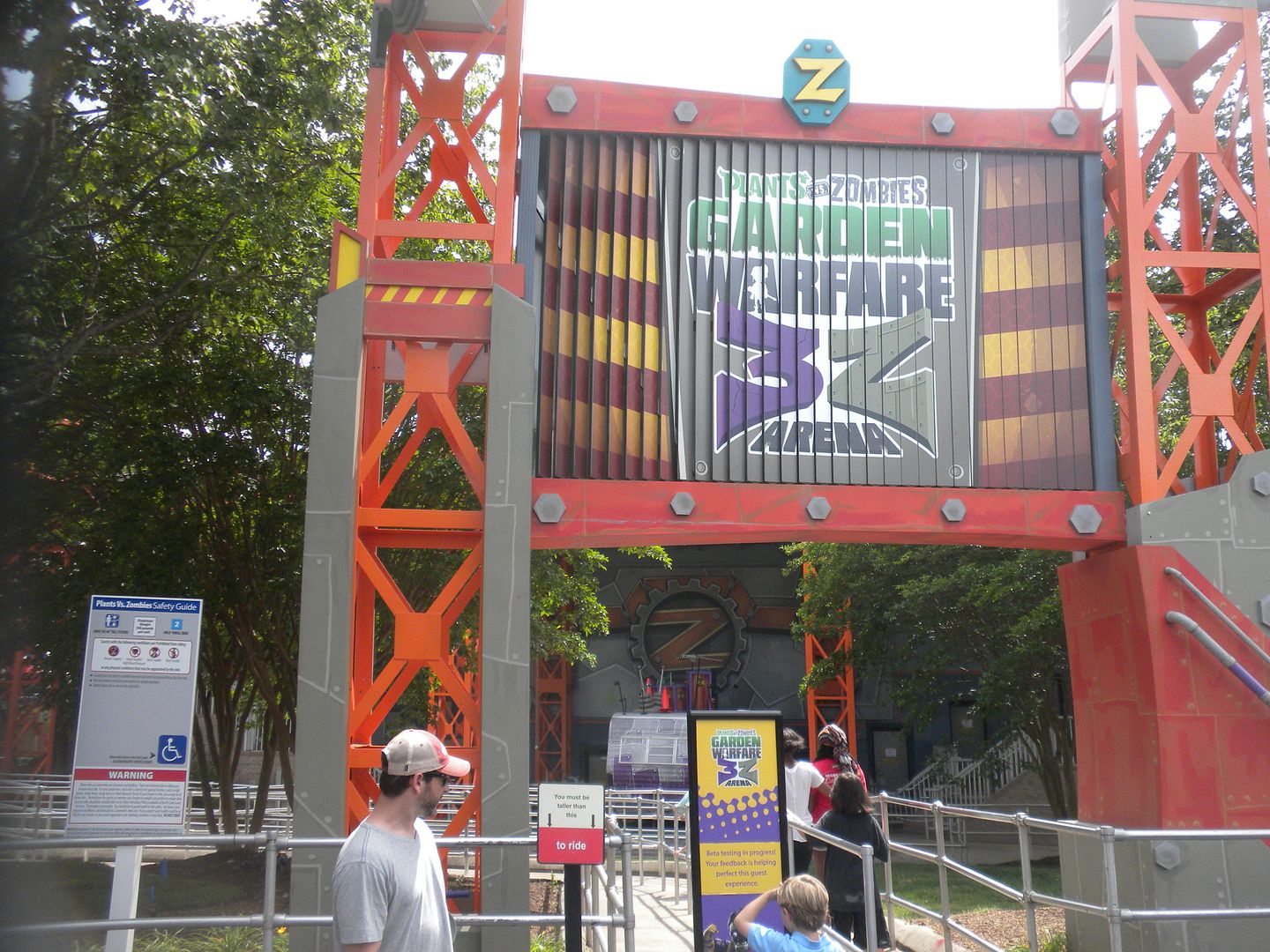 Plants vs. Zombies Garden Warfare: 3Z Arena: New for 2016, this is a video game come to life. While I am not big on the rather absurd premise, it is a lot of fun as you compete against the other half of the theater. Also, it runs in the rain! – 4 rides.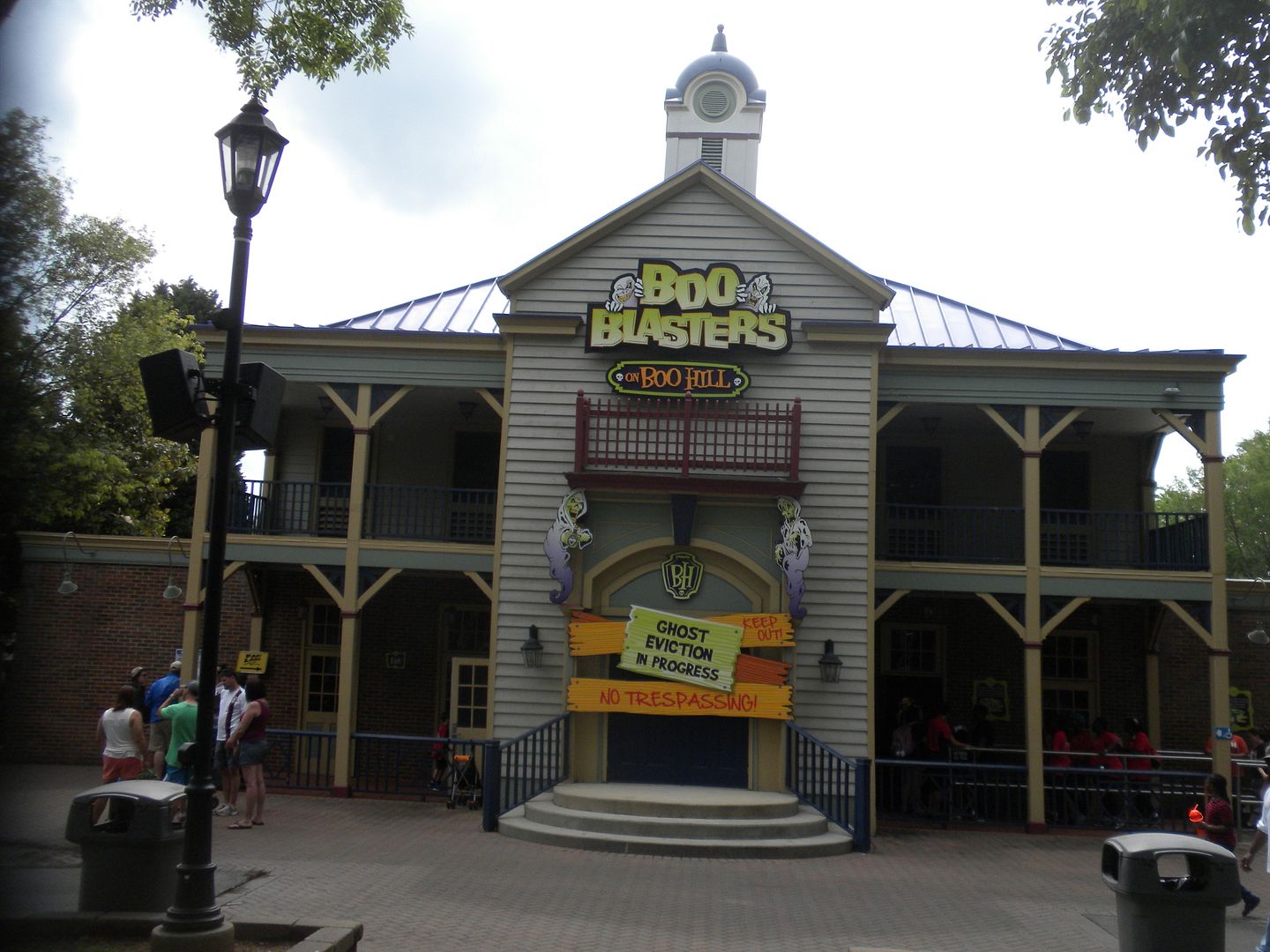 Boo Blasters on Boo Hill: This 3-D Sally interactive dark ride is nicely done – 1 ride.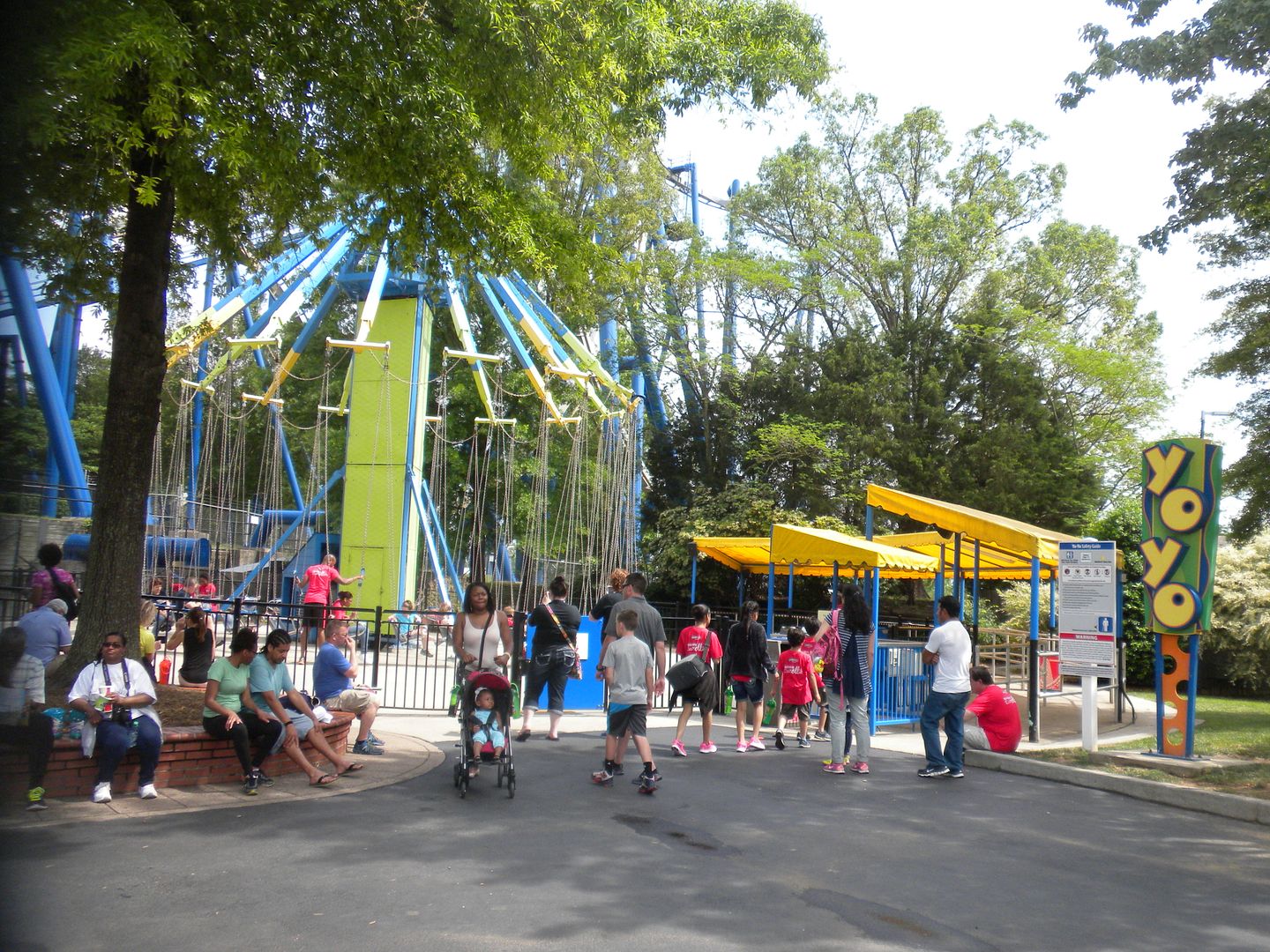 Yo-Yo: As I suspect this ride will be replaced by the Wave Swinger they recently purchased, I got a ride on it – 1 ride.
I did not ride Bumper Cars or Southern Star, a looping pirate ship.
Thrill Zone
This third new section was added in 1994 as Wayne's World under Paramount for a movie tie-in. It now has the generic bland name Thrill Zone.


Fury 325: (Bollinger & Mabillard, Giga Coaster, 2015)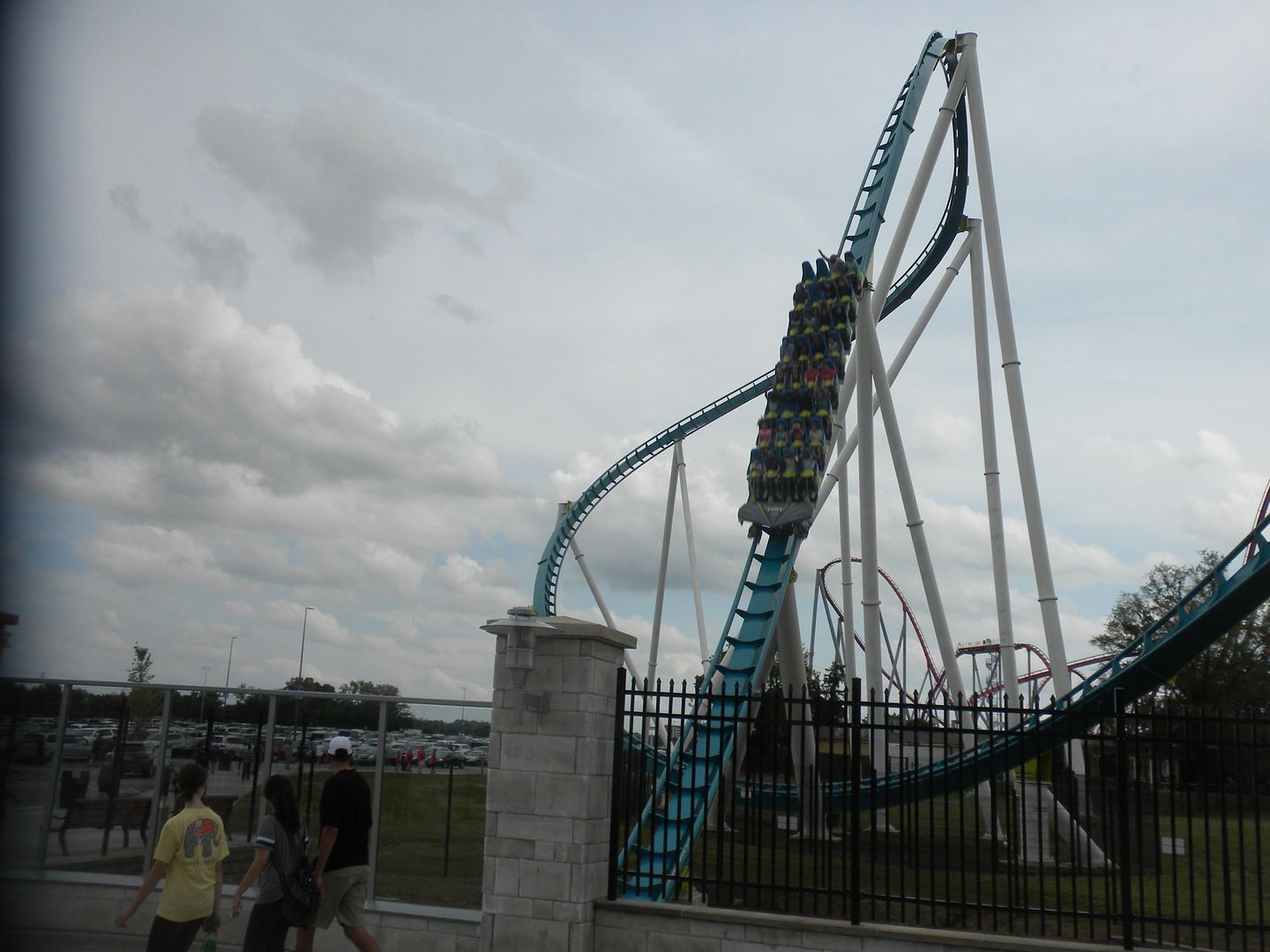 This is an excellent coaster and a great addition to the park. It is truly one of the best coasters I have ever ridden.


It is excellently paced, has tremendous airtime and the flyunder tunnel at the front entrance is great fun.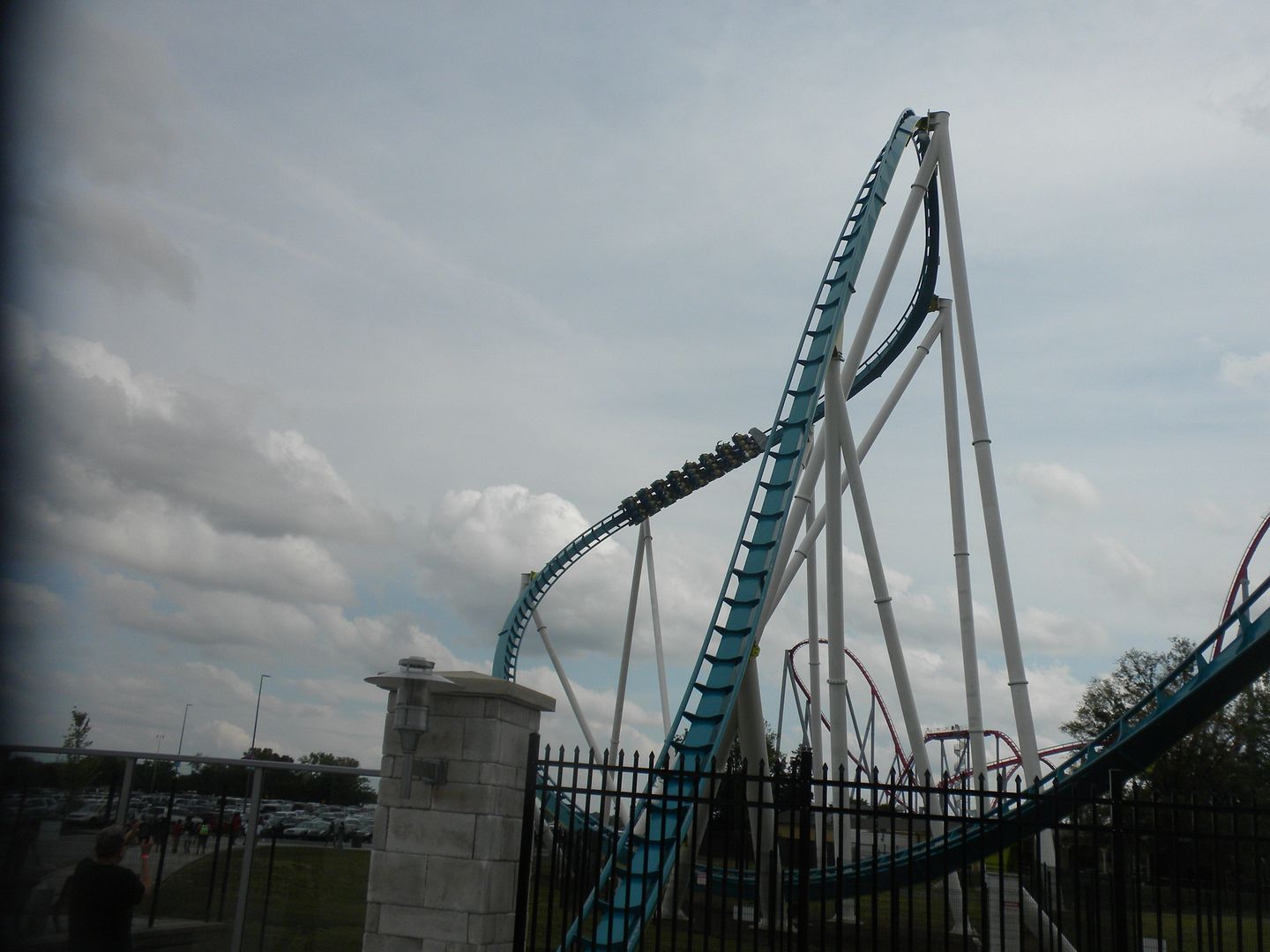 Thanks to using our badges as Fast Lane entry


I got in lots of rides – 8 rides, 3 during shared ERT.


Hurler: (International Coasters, Inc., Wood Twister, 1994)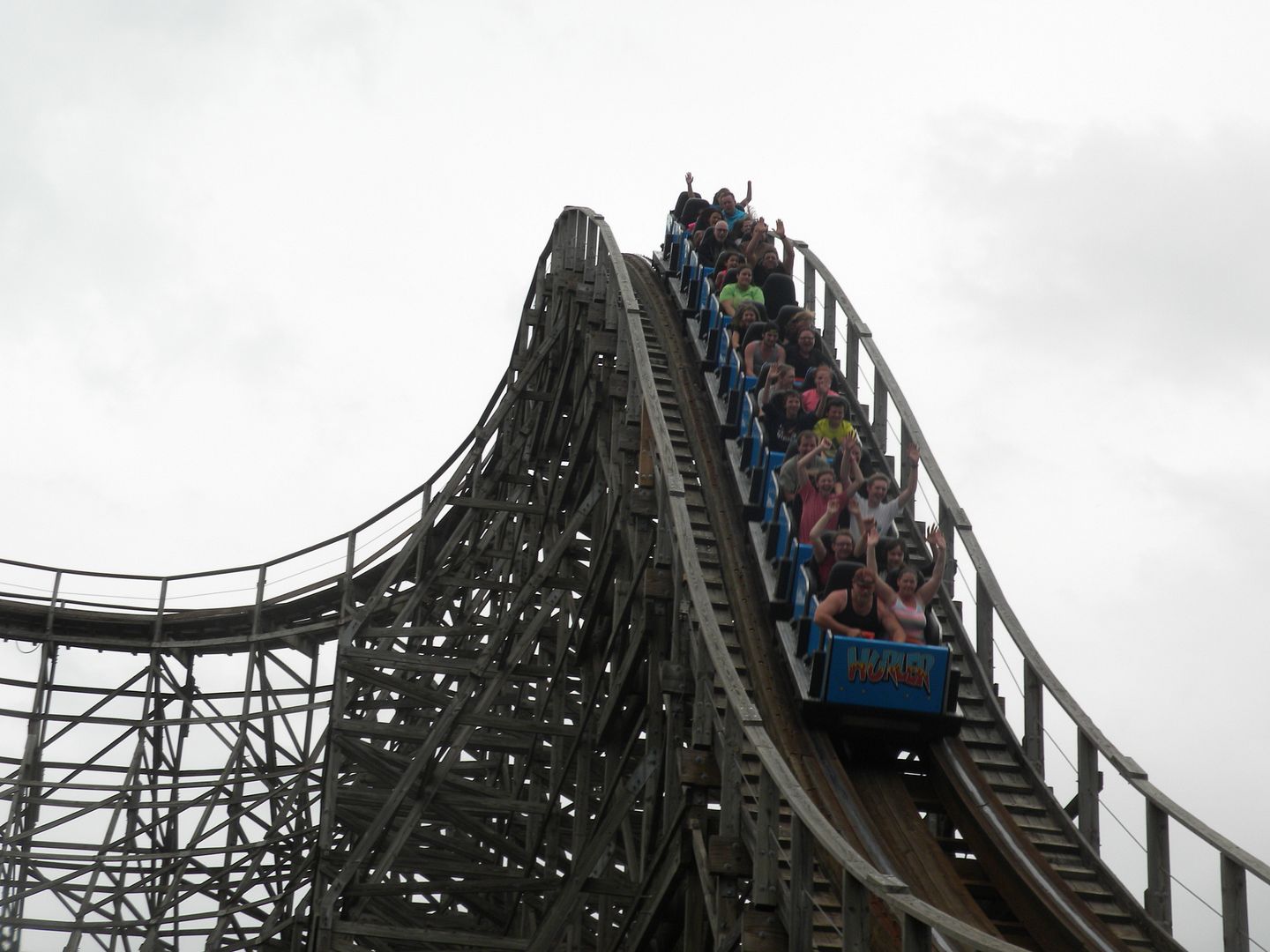 This used to be extremely rough and now it is smoother, but the added brakes slow it down and take away a lot of its thrilling elements – 1 ride.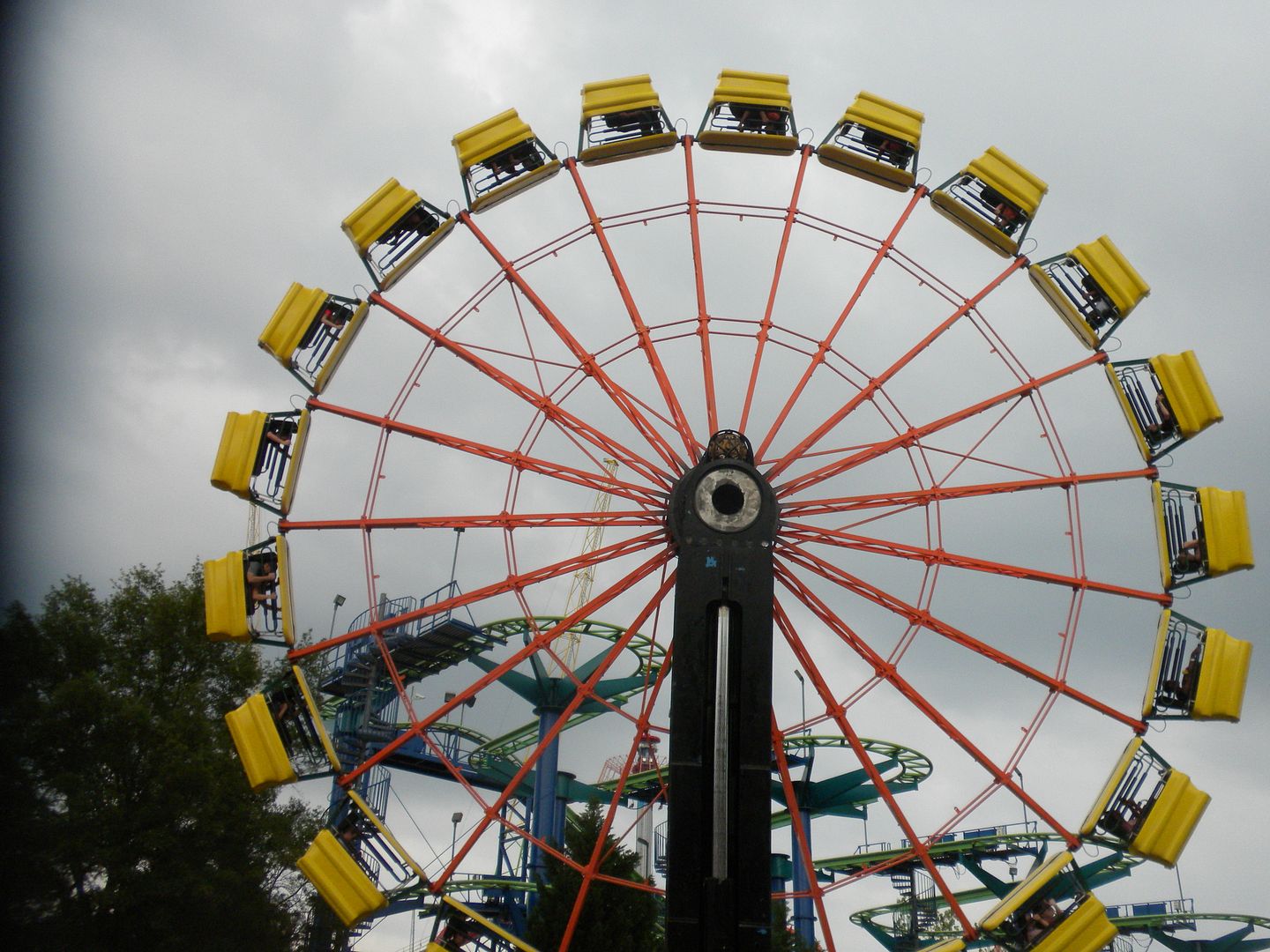 Scream Weaver: This Huss Enterprise gave a good ride – 1 ride.
I did not get to ride Drop Tower.
The original sections and theming of the park depicted life in the Carolinas over 300 years. Although much is gone, remnants of this theming remain if you know where to look. The current sections focus on areas of the states with many local references.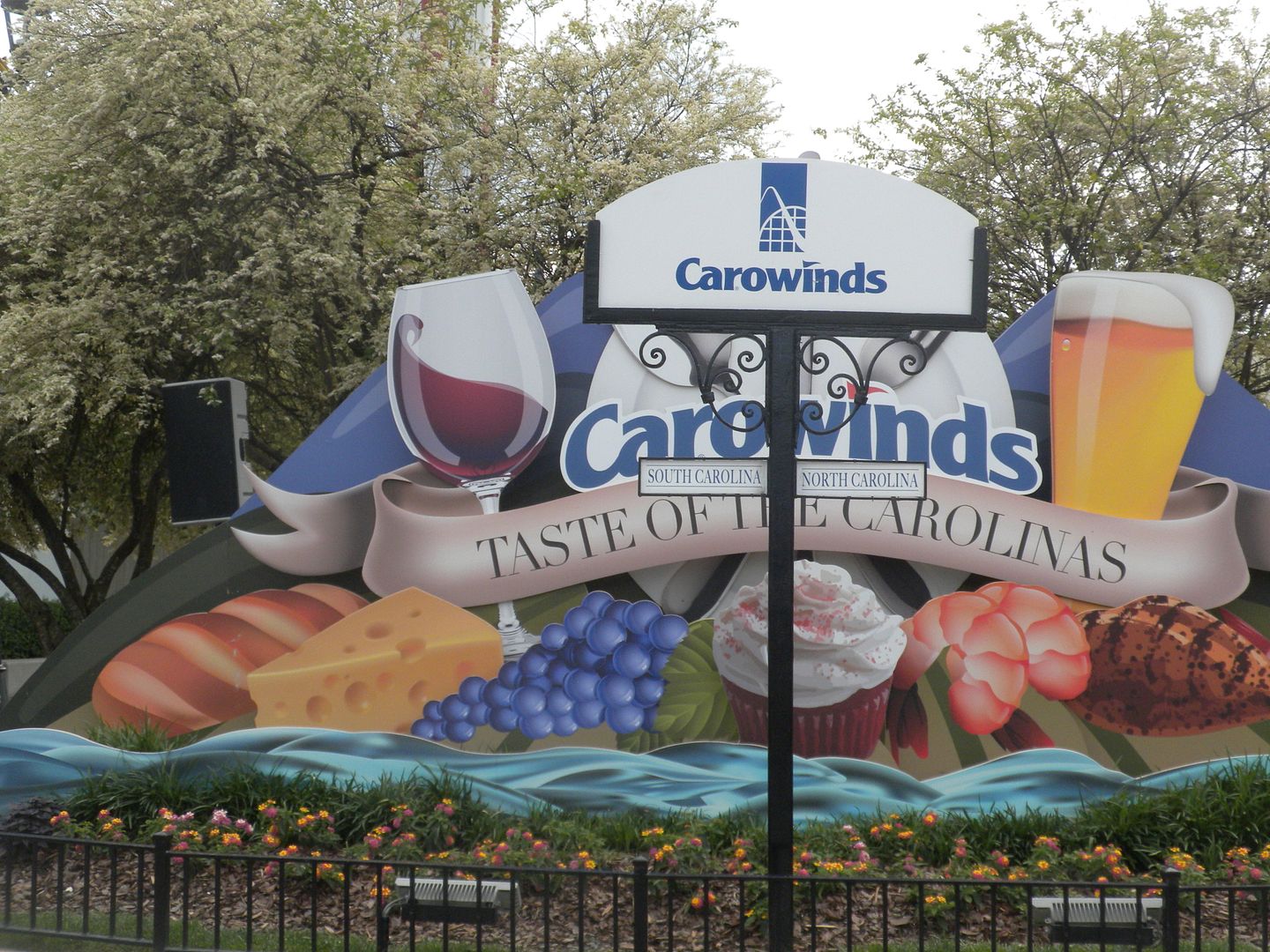 We were fortunate enough to be there for the final weekend of their Taste of the Carolinas festival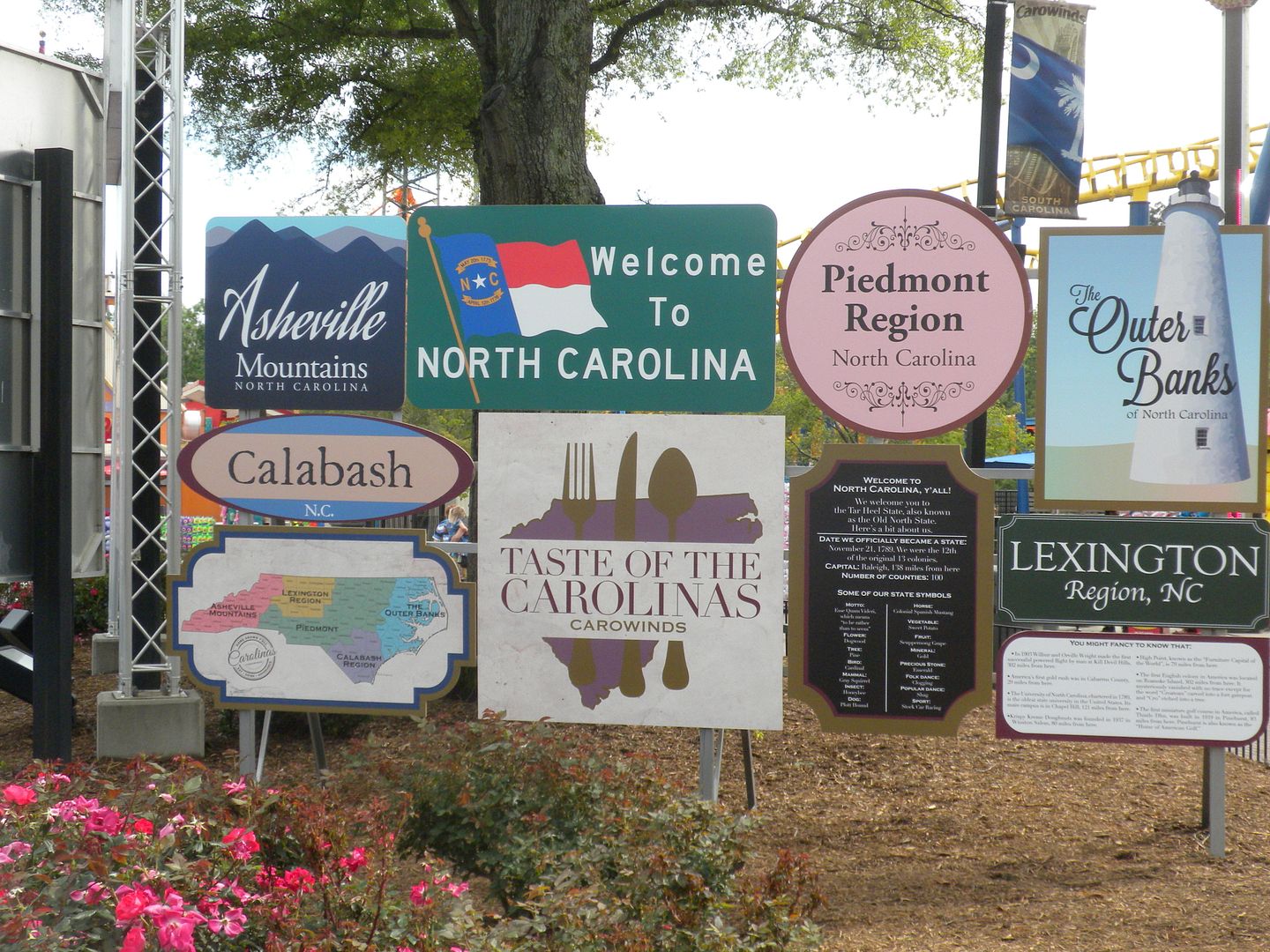 which offers regional food and drink choices from 7 regions in North Carolina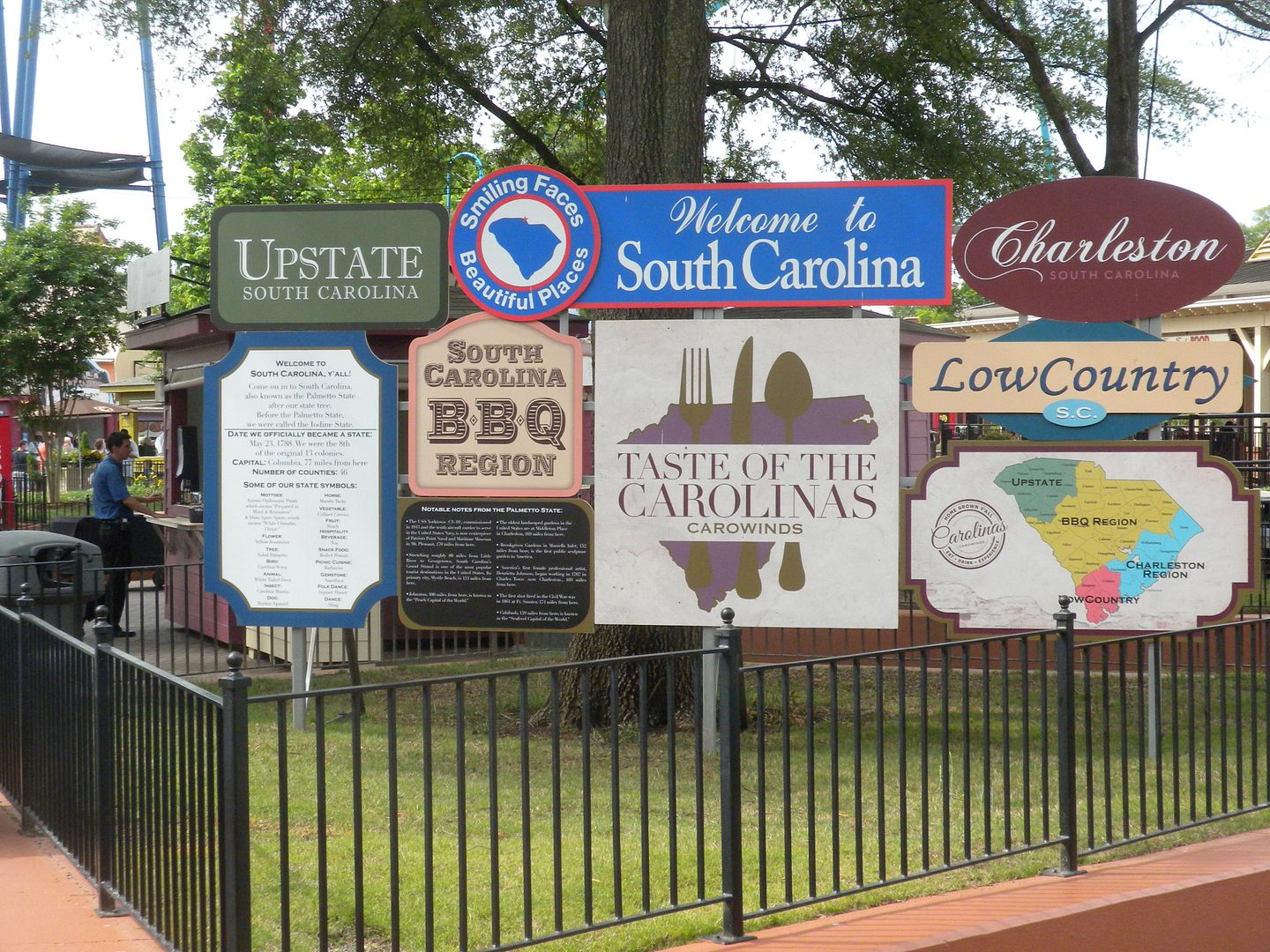 and South Carolina. Some of these are really good. Along with the ones we were served at the 3 delicious meals the park provided, I got to sample 9 of the 21 food selections they offered. Although it rained for about 6 hours of our park time, the park went above and beyond to give us a good time, most notably with the aforementioned Fast Lane entry to Fury all day Sunday. While I would have loved to have stayed and ridden more,


we had a long drive to Dollywood for the ACE Southeast regional event Lightning Rod Run the next day, so we got on the road mid-afternoon. Richard and David left around 3:30 while Rick and I left around 4:30.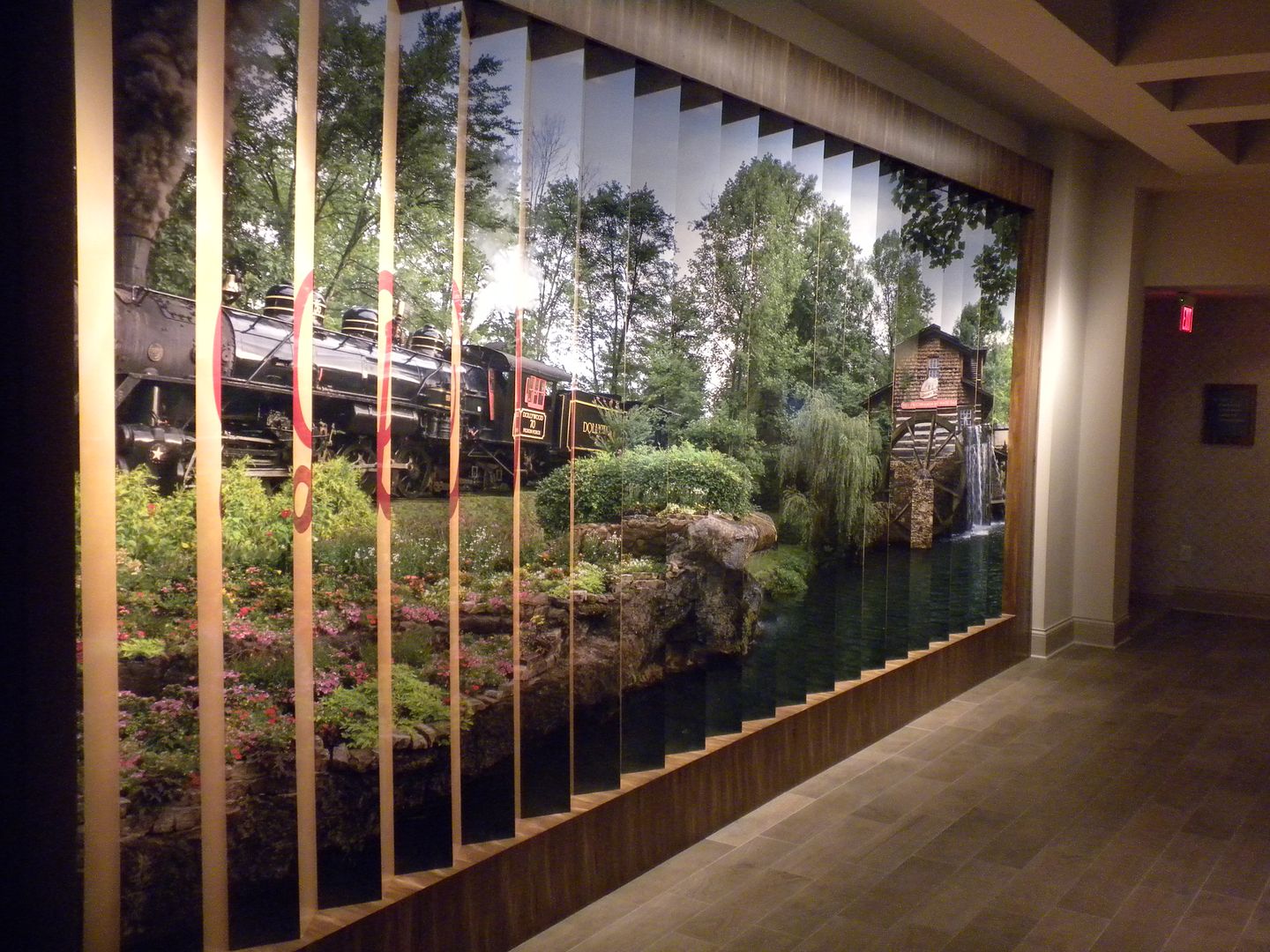 We hoped to get to the Dreammore


for dinner at Song and Hearth Restaurant, but an earlier closing time than posted meant only the first car made it in time.


Rick & I had fast food and arrived around 9:00. Spring Conference had been challenged by rain, but we still had a lot of fun.
Dollywood – Lightning Rod Run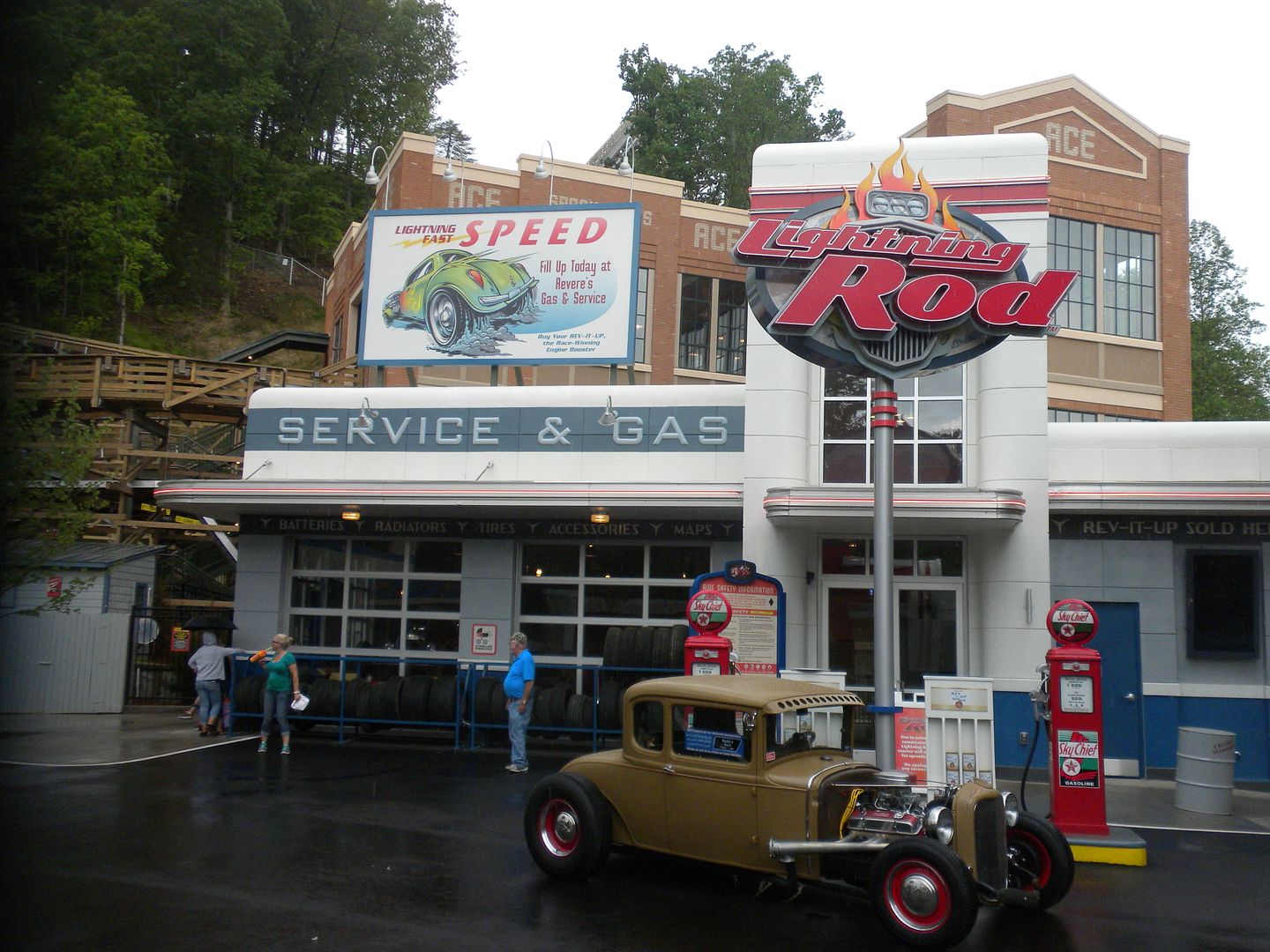 On Monday, May 2 ACE Southeast held its regional event Lightning Rod Run. Unfortunately, the star of the show would be a no-show as Lightning Rod was not yet open. While we knew that likely would be the case, I decided to go ahead with my plans to go. In addition to the lack of the star attraction, rain was in the forecast and would claim almost the entire day after 2:00. I had hoped to get a lot of rides in this day, but the rain prevented that. I will review by section including the few rides we got in.
Showstreet
This entry section is home to two theaters, Showstreet Palace Theater and Dolly Parton's Celebrity Theater; an outside show venue, Showstreet Gazebo; a museum, Southern Gospel Museum and Hall of Fame; and lots of shops and restaurants.
Timber Canyon
Themed to a logging camp, this section is worth the long winding uphill climb.
Thunderhead: (GCI, Wood Twister, 2004) One of my favorite wood coasters was everything it always has been – tremendous airtime, great speed, exciting turns, and a fairly smooth ride. I have ridden most of GCI's creations, and while some of them come very close, none of them has been quite able to top this to me – 2 rides.
Mystery Mine: (Gerstlauer, Eurofighter, 2007) The most elaborately themed ride at the park, this partially enclosed coaster delivers thrills and fun. Although some complain of the OTSRs, they have never been too much of a problem for me – 1 ride.
This section also has Lumberjack Lifts and a children's play area, Beaver Creek.
Wilderness Pass
The newest section of the park completed the loop to connect it with the rest of the park.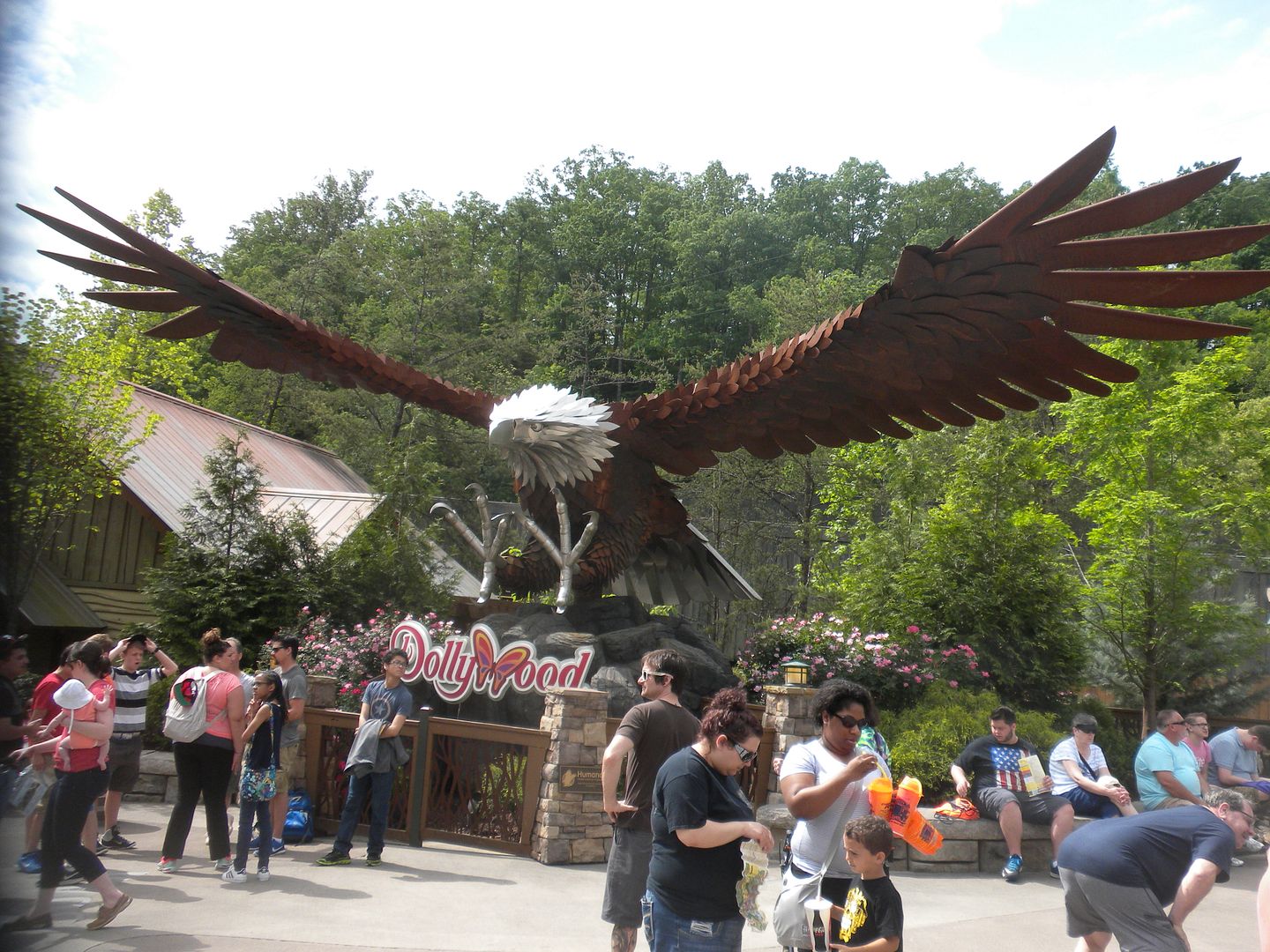 Wild Eagle: (Bolliger & Mabillard, Wing Coaster, 2012) High atop the highest point in the park, this wing coaster truly gives the feeling of eagle flight. It is very well placed among the trees, is nicely paced and is thrilling, yet appealing to younger children. It has the lowest height restriction of a B&M coaster. The trains are beautiful with the eagles head and wings prominently displayed, as if you are riding on eagle's wings. It delivers an exciting ride with great elements – 3 rides.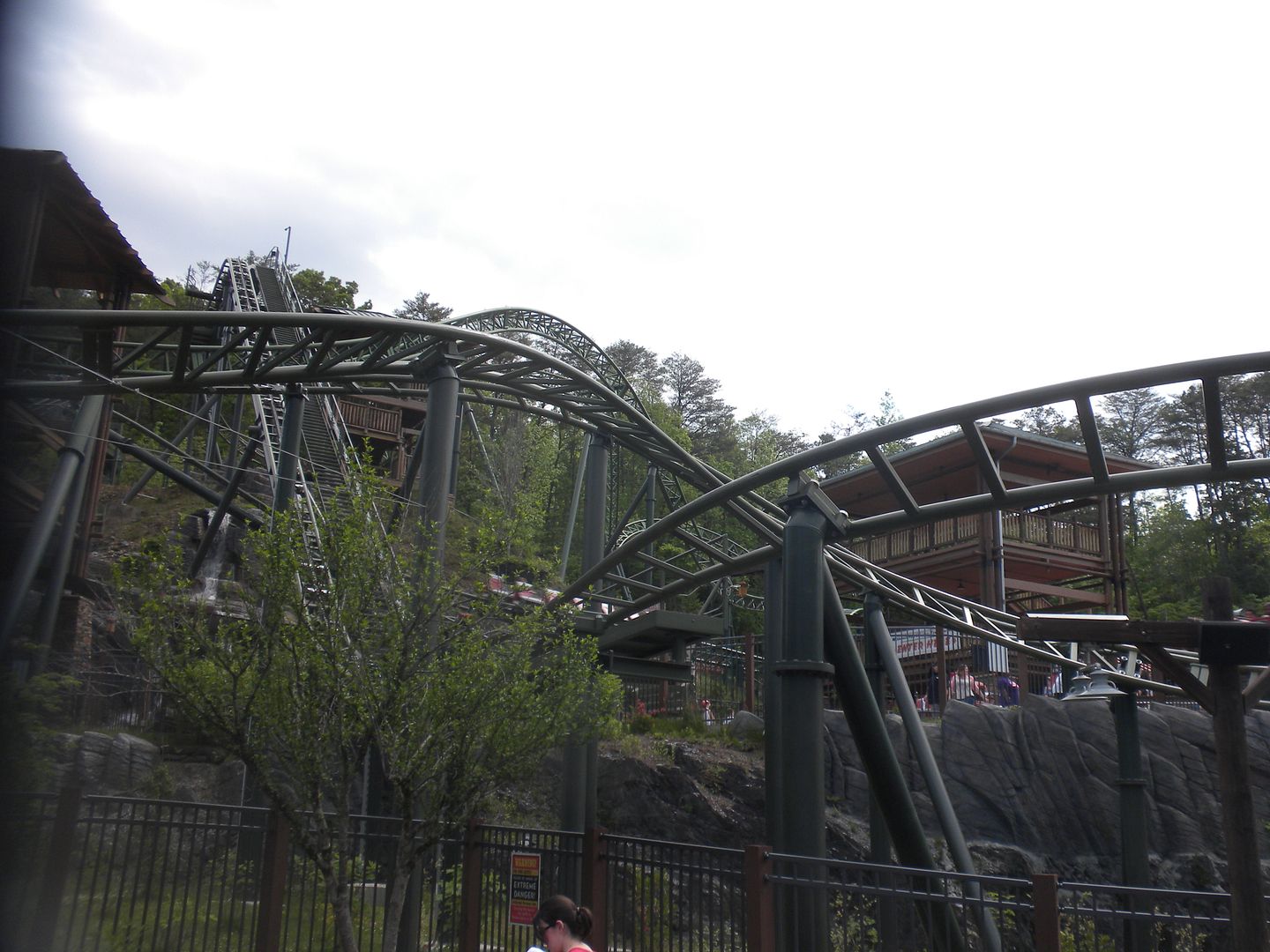 FireChaser Express: (Gerstlauer, Launched Family, 2014)


This is an excellent family ride that launches, has fire effects, goes backward, and has a great storyline – 2 rides.
This section also has River Battle, a Splash Battle ride, and SkyZip zip lines.
Craftsman's Valley
This craftsman themed section is perhaps the most interesting in the park.
Tennessee Tornado: (Arrow, Looper, 1999) The last of Arrow's sit down looping coasters, this is one of the best. The transitions are good, the descent into the tunnel off of the lift hill is exciting and the butterfly loops are nicely executed – 1 ride.
Blazing Fury: (Silver Dollar City (in-house), enclosed powered coaster/darkride, 1978) While many don't count powered coasters, I do. I love the dark ride portion and the 3 drops are fun. Much of the afternoon this was about the only ride operating – 15 rides, 7 during ERT including 3 with lights on and 2 in total darkness with no sound or effects.
This section includes Daredevil Falls, a well themed log ride; Valley Theater; Wings of America Theater; Robert F. Thomas Chapel; Craftsmen including Blacksmith & Foundry, Custom Glassworks, Grist Mill, Old Flame Candles, Smoky Creek Leather, Rocky Top Log Furniture, Valley Carriage Works and Woodcarving; as well as additional shops.
Owens Farm
This small section has two rides, Barnstormer, Screaming Swings and Mountain Slidewinder, a unique water slide; and the children's play areas Granny's Garden, The Pig Pen and Lil' Pilots Playground.
Rivertown Junction
This nicely themed section is in the heart of the park and offers Smoky Mountain River Rampage, Back Porch Theater, and Dolly's Tennessee Mountain Home, a recreation of Dolly's childhood home.
The Village
This small section is themed to a small town and has Dollywood Express, a coal burning train; Village Carousel (Chance Modern Carousel); Heartsong Theater; and Magic Theater.
Country Fair
This well themed section is filled with rides: Sideshow Spin (L&T Systems, Kiddie Coaster, 2005); Dizzy Disk, a Disc-O; Lemon Twist, teacups; Scrambler; Dolly's Demolition Derby, bumper cars; The Waltzing Swinger; Wonder Wheel, an Eli Bridge Ferris Wheel; Sky Rider; The Amazing Flying Elephants; Shooting Star, a kiddie drop tower; Busy Bees; Lucky Ducky; and Piggy Parade.
Jukebox Junction
The '50s section, though small, is very well themed.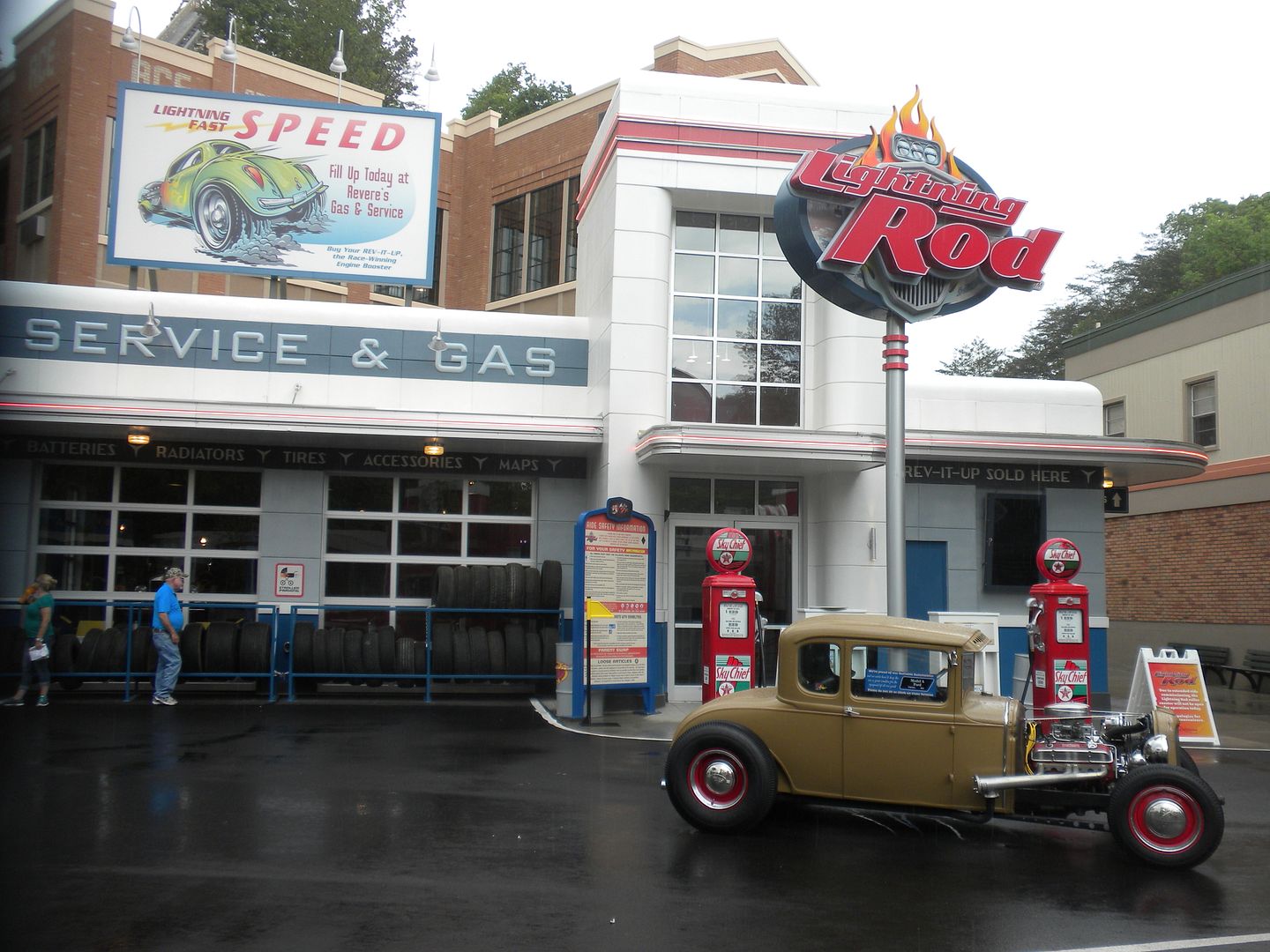 Lightning Rod: (Rocky Mountain Coasters, Wood Topper Track Launched, Under Construction Opening 2016)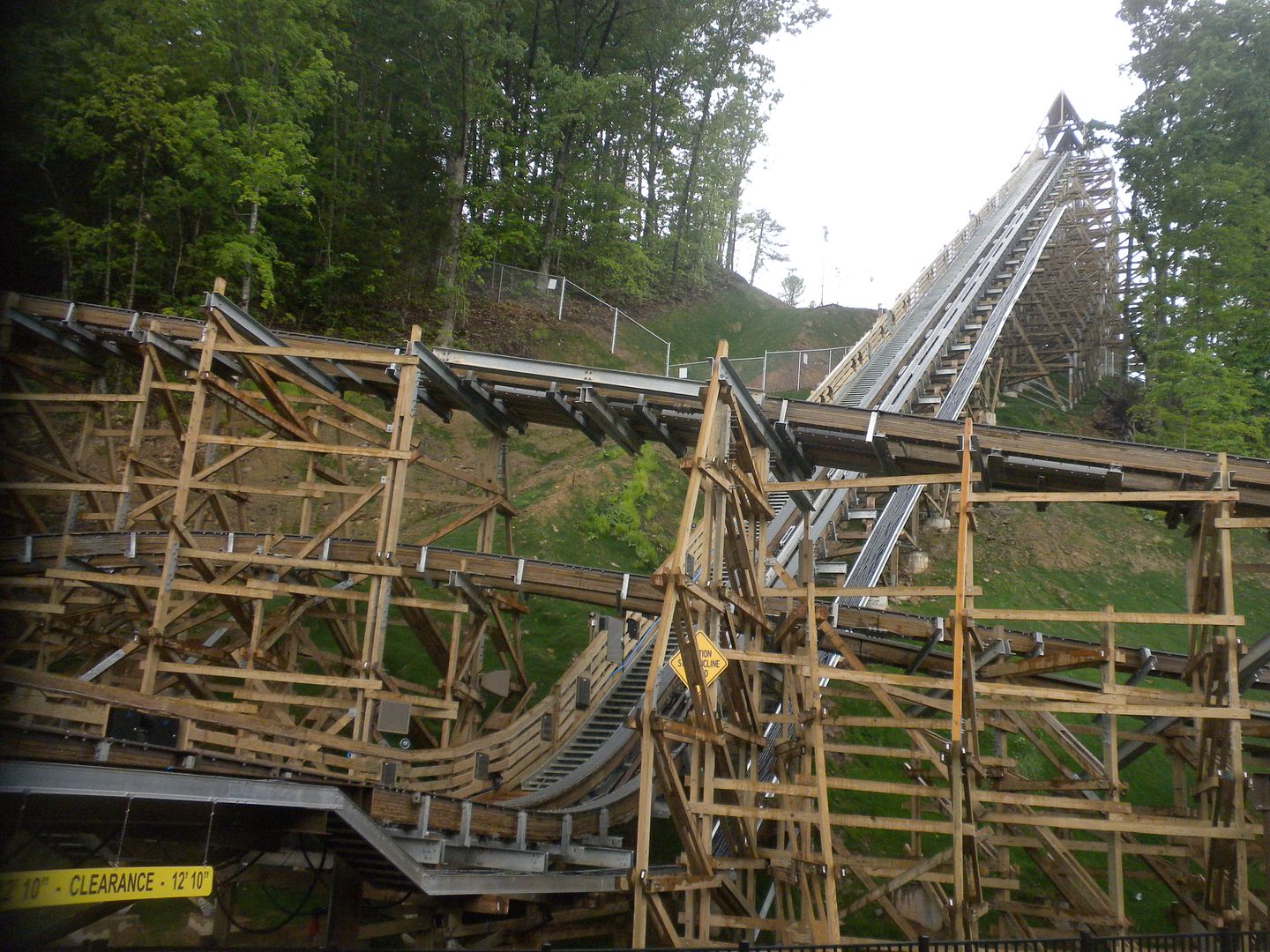 While not yet ready


to open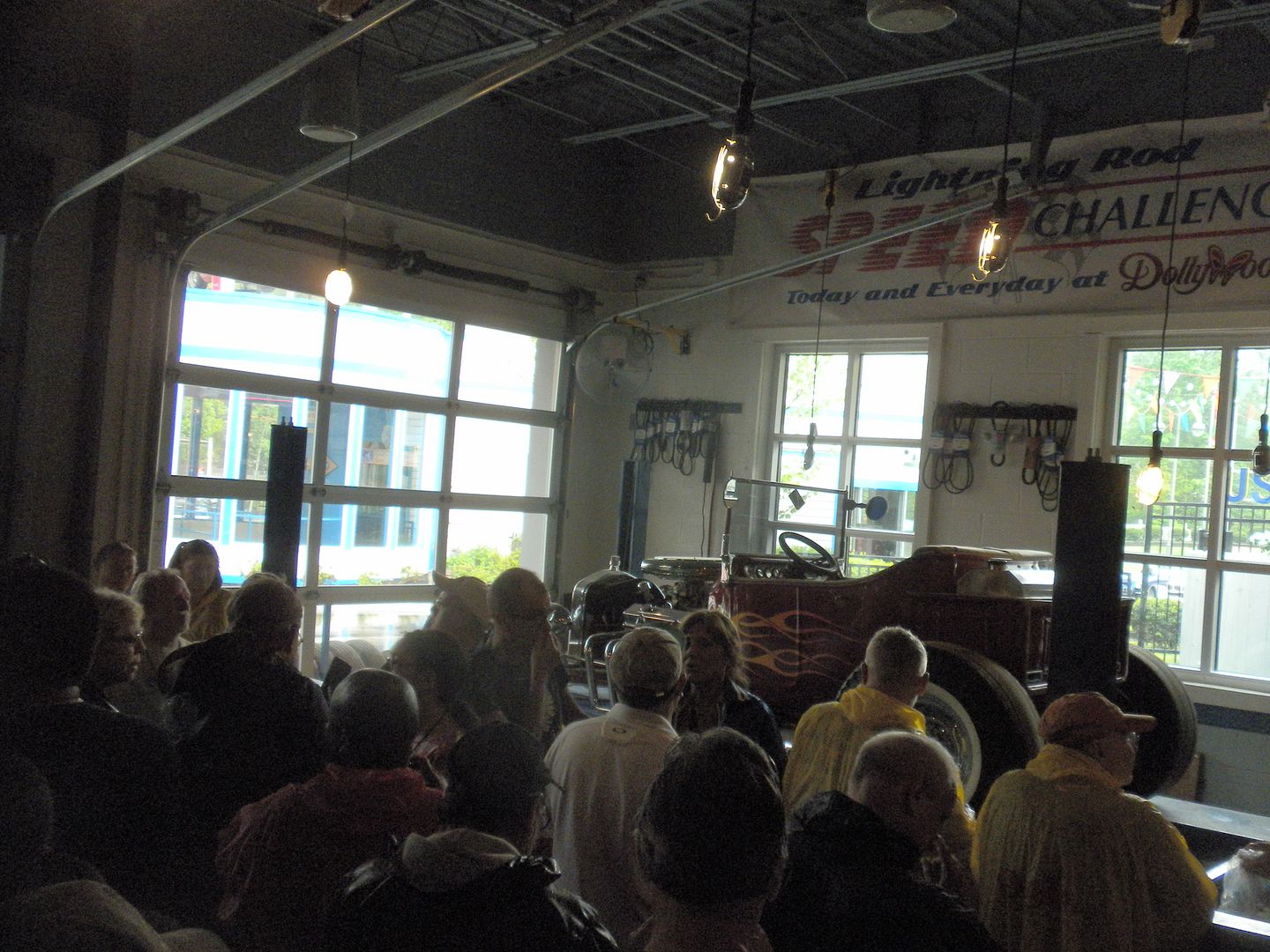 we got a tour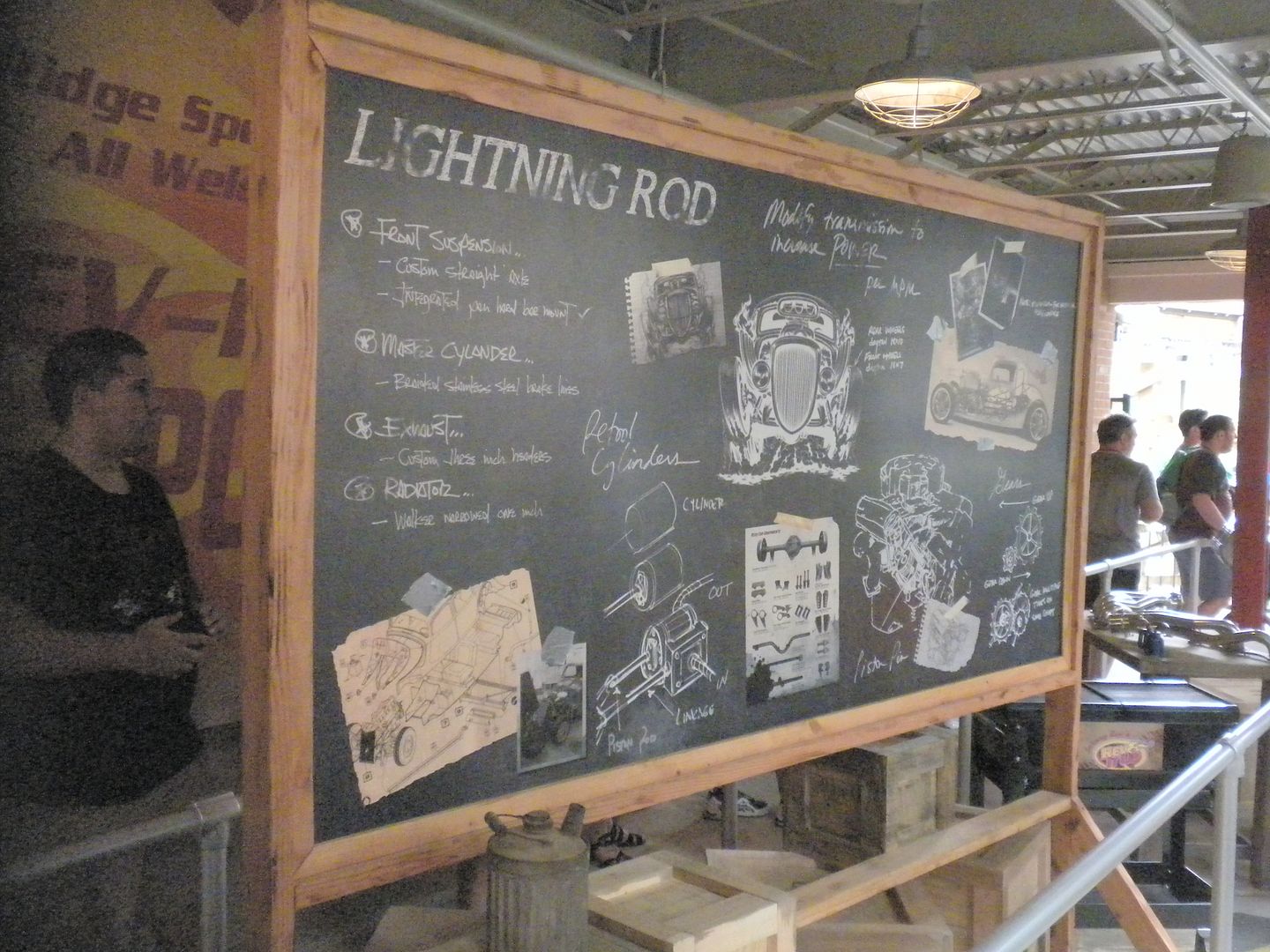 through the highly themed station


and got a good view of the train – 1 walkthrough.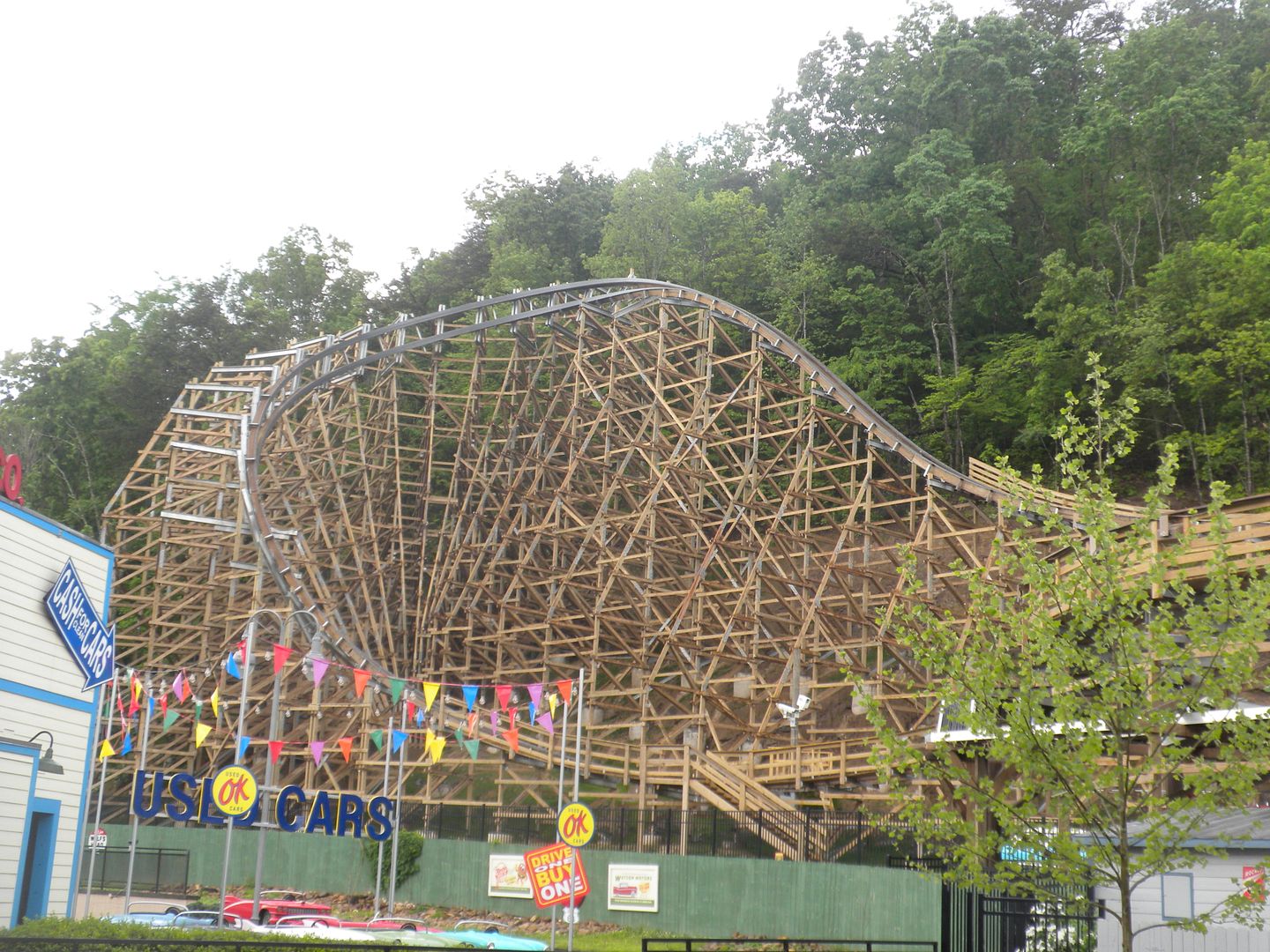 Rockin' Roadway: This is a nicely laid out and landscaped '50s car ride and I applaud Dollywood for keeping this ride while installing its new neighbor – 1 ride.
This section also has the Pines Theater.
Adventures In Imagination
The park's smallest section offers a theater, Dreamsong Theater, and a museum.
Chasing Rainbow Museum and Dolly's Home on Wheels: This museum about Dolly is nicely done – 1 walkthrough.
Although rain prevented ERT on Thunderhead, we were given an hour of ERT on Blazing Fury, which was fun.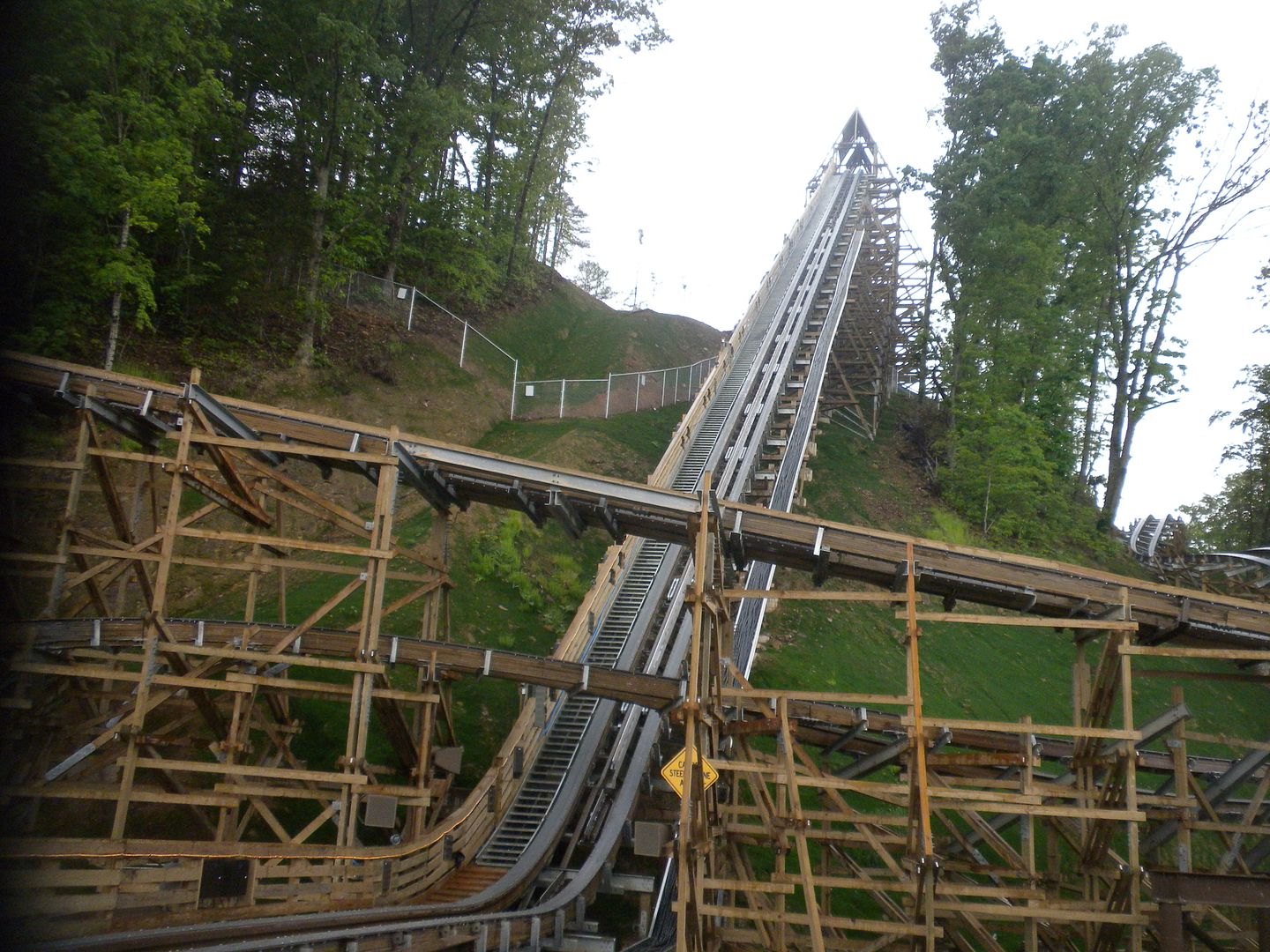 And although Lightning Rod was not ready for the event, the Lightning part was well represented all afternoon long, closing rides and outdoor shows throughout the park.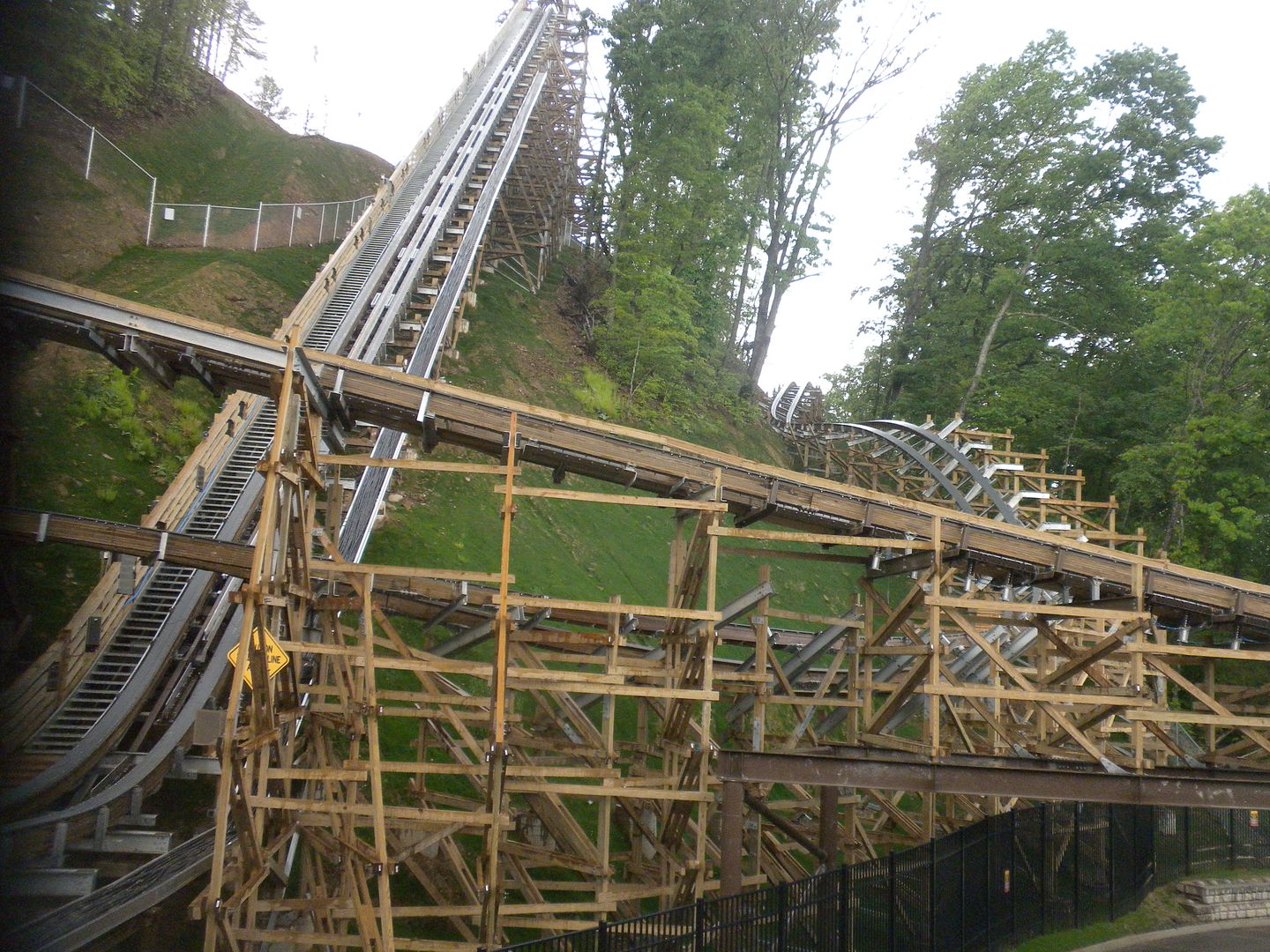 I look forward to a return visit soon to ride Lightning Rod.
Thanks for reading!