ACE South of the Border 2017 Trip Report
While I have travelled a good bit in Europe and Canada over the last few years, I had never been to Mexico. Concern for safety has always made it a destination I have been somewhat apprehensive of visiting, but hoped that someday I would be able to make the trip with a group. I seriously considered the Coaster Zombies trip in 2014 but in the end decided not to go. So when ACE announced the South of the Border trip for spring 2017, I jumped at the chance. While I wanted to visit the parks in Mexico City, what particularly intrigued me was the add-on portion to visit the parks in Monterrey and Guadalajara because the parks looked very unique and were so far off the beaten path that I would likely never get to them except on a trip like this. Additionally, my favorite ethnic food is Mexican (at least the Americanized version) and I wanted to see how I would like the real thing. I made it my mission to eat as many Mexican meals as possible, and I succeeded by having only one non-Mexican meal during my stay. But I'll get to that. Due to a very busy spring and summer I am just now getting to post this report that I wrote during and shortly after my trip. Since then a major earthquake has rocked Mexico City. The people of Mexico City have been in my thoughts and prayers and I while I do not know the full status of the people I met or the places we visited, I hope that they all are well.
ACE South of the Border 2017 Part 1: Bosque Mágico & Parque Plaza Sesamo
On Monday, April 17 I flew from Atlanta to Monterrey with my friend Richard Bostic, with whom I would be rooming. We would meet up with David Lipnicky there and Vanessa Thomas would meet us for the main portion of the trip in Mexico City. Richard and I arrived in Monterrey around 12:30 p.m. and walked to the Hilton Garden Inn Monterrey Airport, which is attached to the airport. We had our first Mexican meal at the hotel restaurant. I had really good steak, fish and shrimp tacos with guacamole and grilled onions. After looking at other restaurants at the airport we decided to return to the same restaurant for dinner where I had skirt steak, chicken enchilada mole with guacamole and beans, which was also very good. So far, so good with Mexican food. David arrived late that evening due to weather delays in Dallas.
Bosque Mágico (Magic Forrest)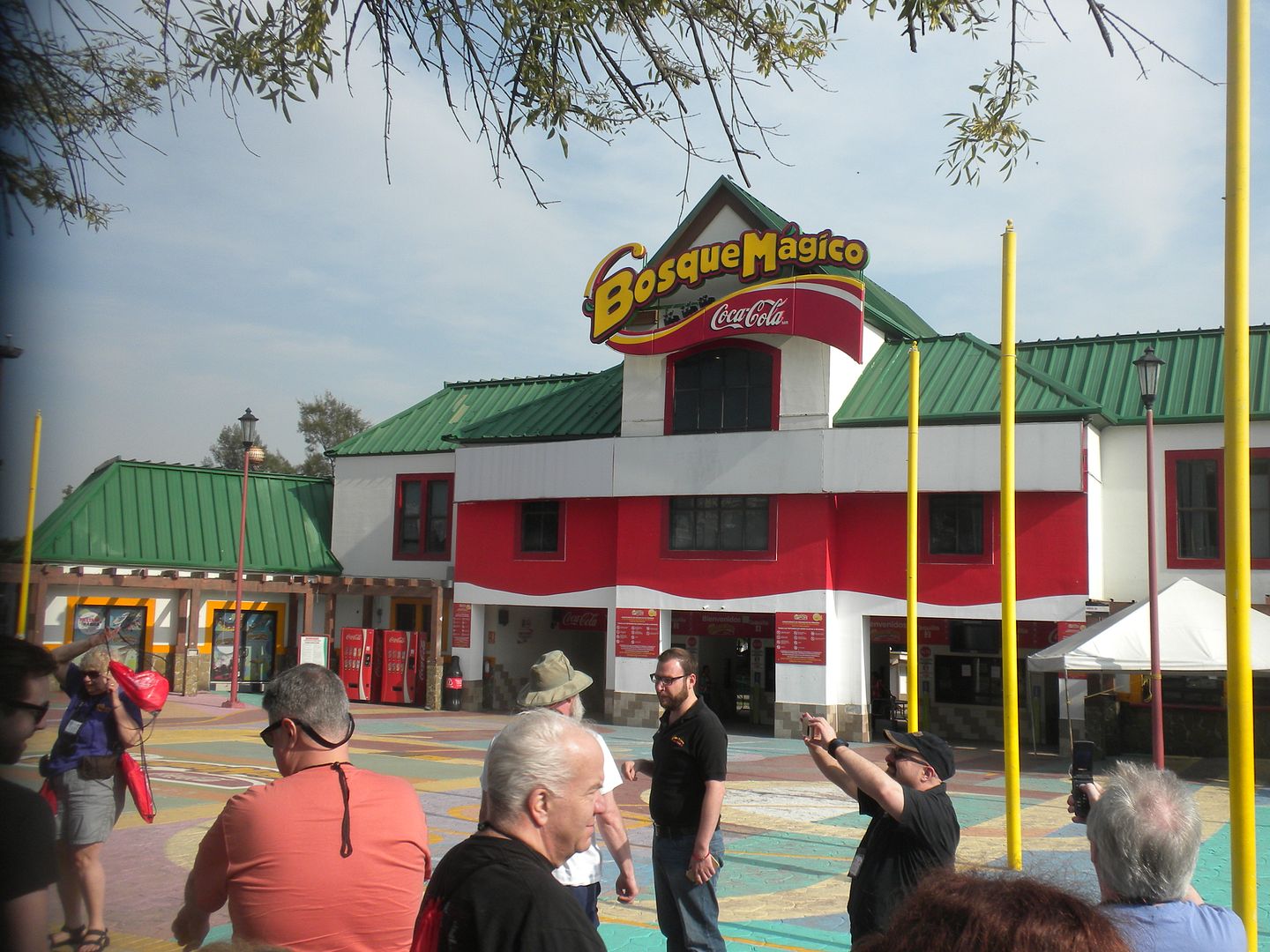 Our first park of the trip was Bosque Mágico in Monterrey, Mexico.


The park's name means Magic Forest and it is divided into four sections.


We arrived around 10:00 for a plaque presentation to recognize and thank the park for hosting us as well as around 30 minutes of ERT on their signature coaster. I will review the park by its 4 themed sections.
Vía Aventura
Translated as Road Adventure, this section contains attractions based on means of travel. Rides include: Sky Flyer, Tower Swings; Simulador, a simulator; Carrusel (Carousel), which was being rebuilt and thus was not operating; Carnaval (Carnival), a Tower Balloon Ride; and a couple of children's rides. GallerÍa Del Trio, a Shooting Gallery is also located here. This section previously contained Expresso Magico (Magic Express) a trackless train, but it apparently has either been removed or was not operating.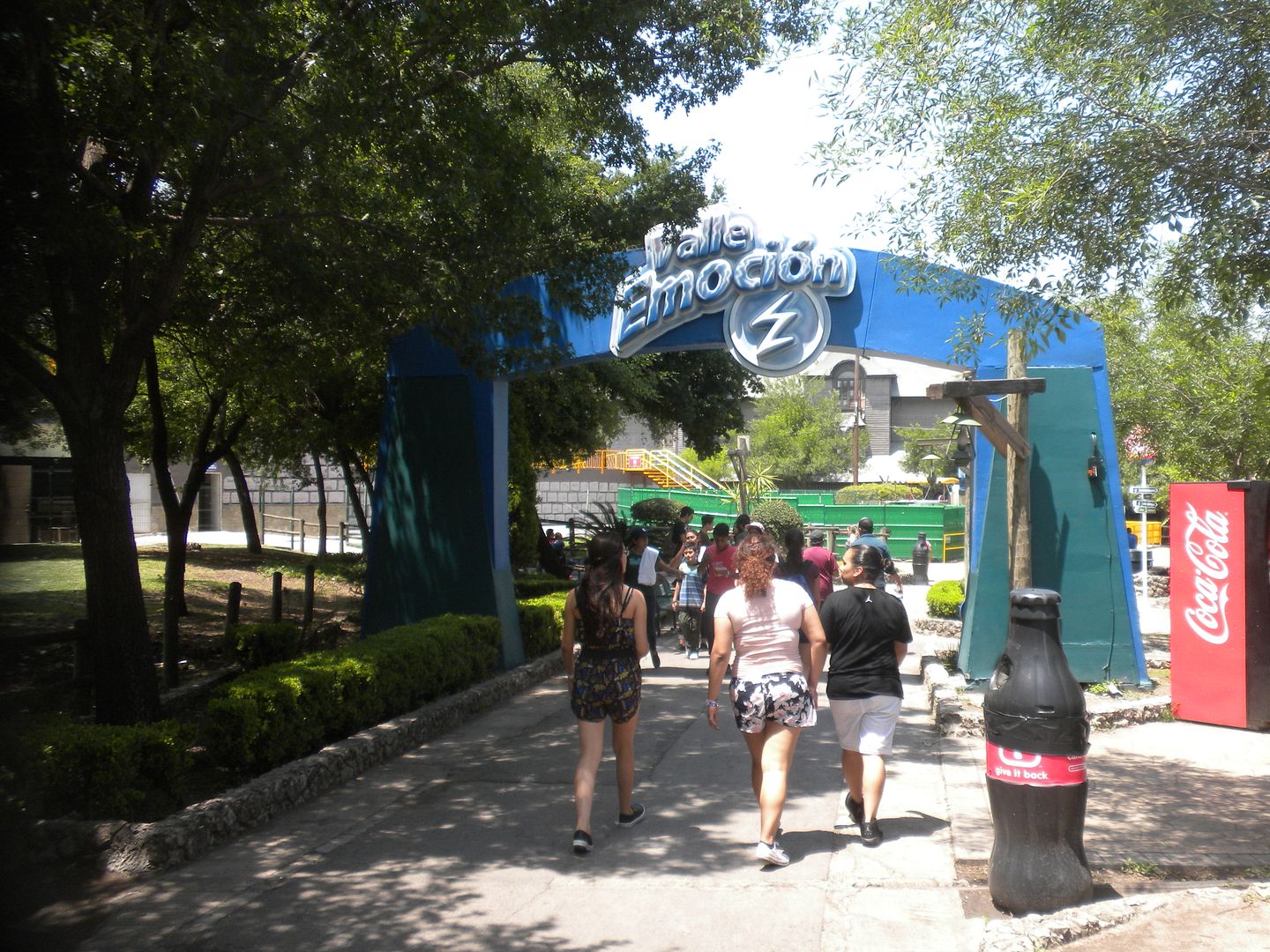 Valle Emoción
Translated as Emotion Valley, this section and has many of the park's thrill rides.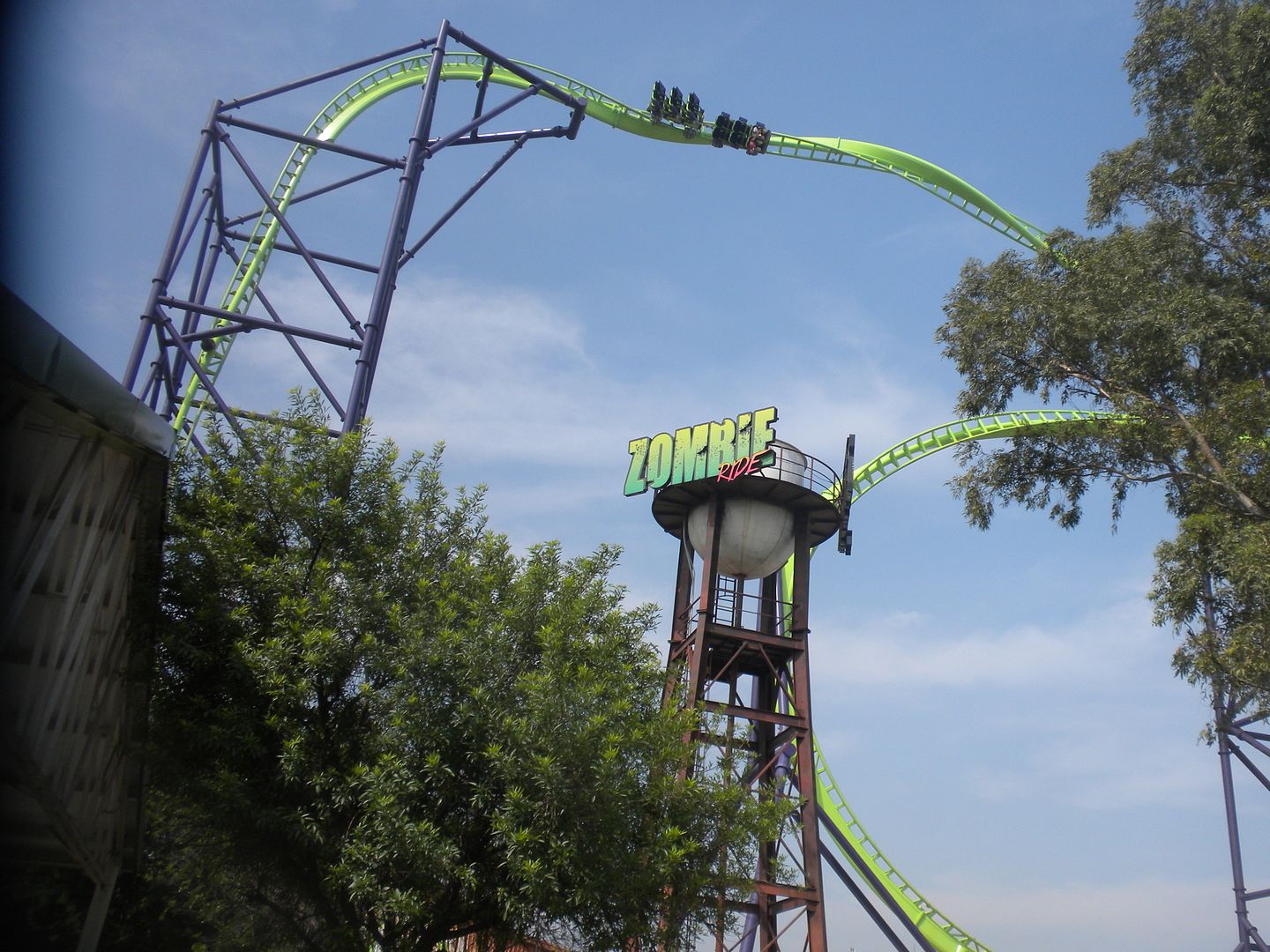 Zombie Ride: (Premier Rides, Launched, 2015)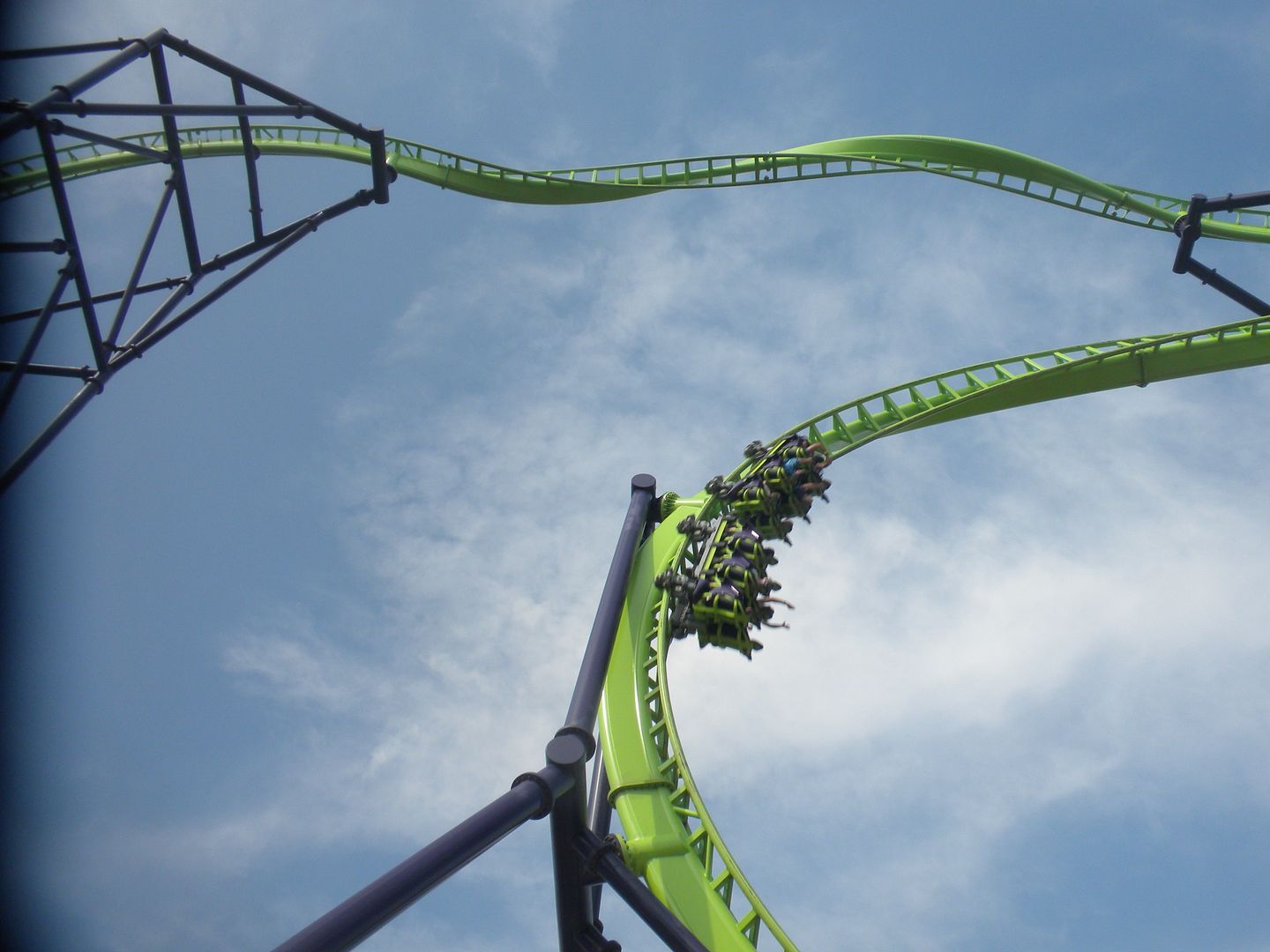 The fastest coaster in Latin America with speeds of 100km per hour, this ride has amazing theming for a small park.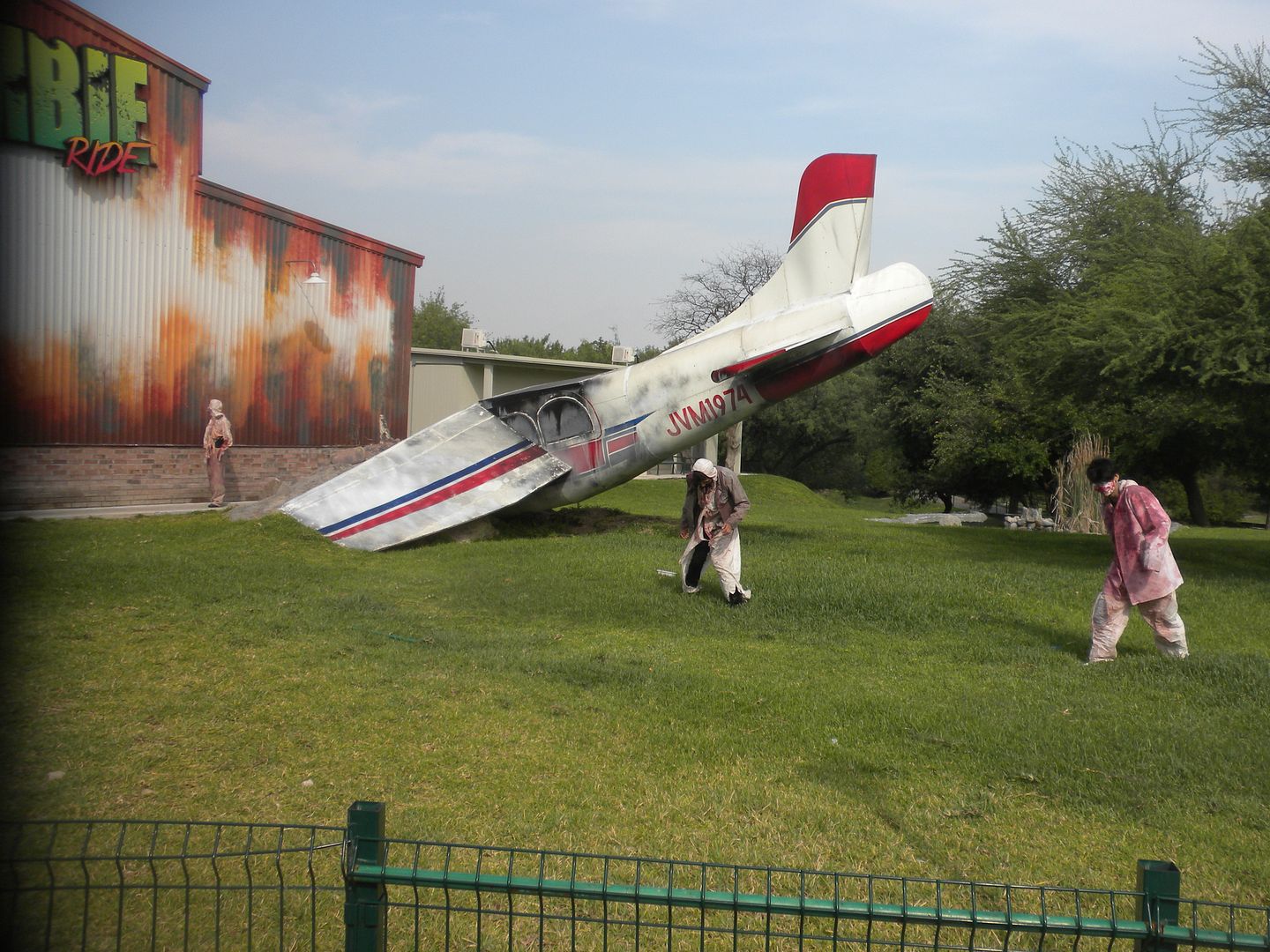 From a crashed plane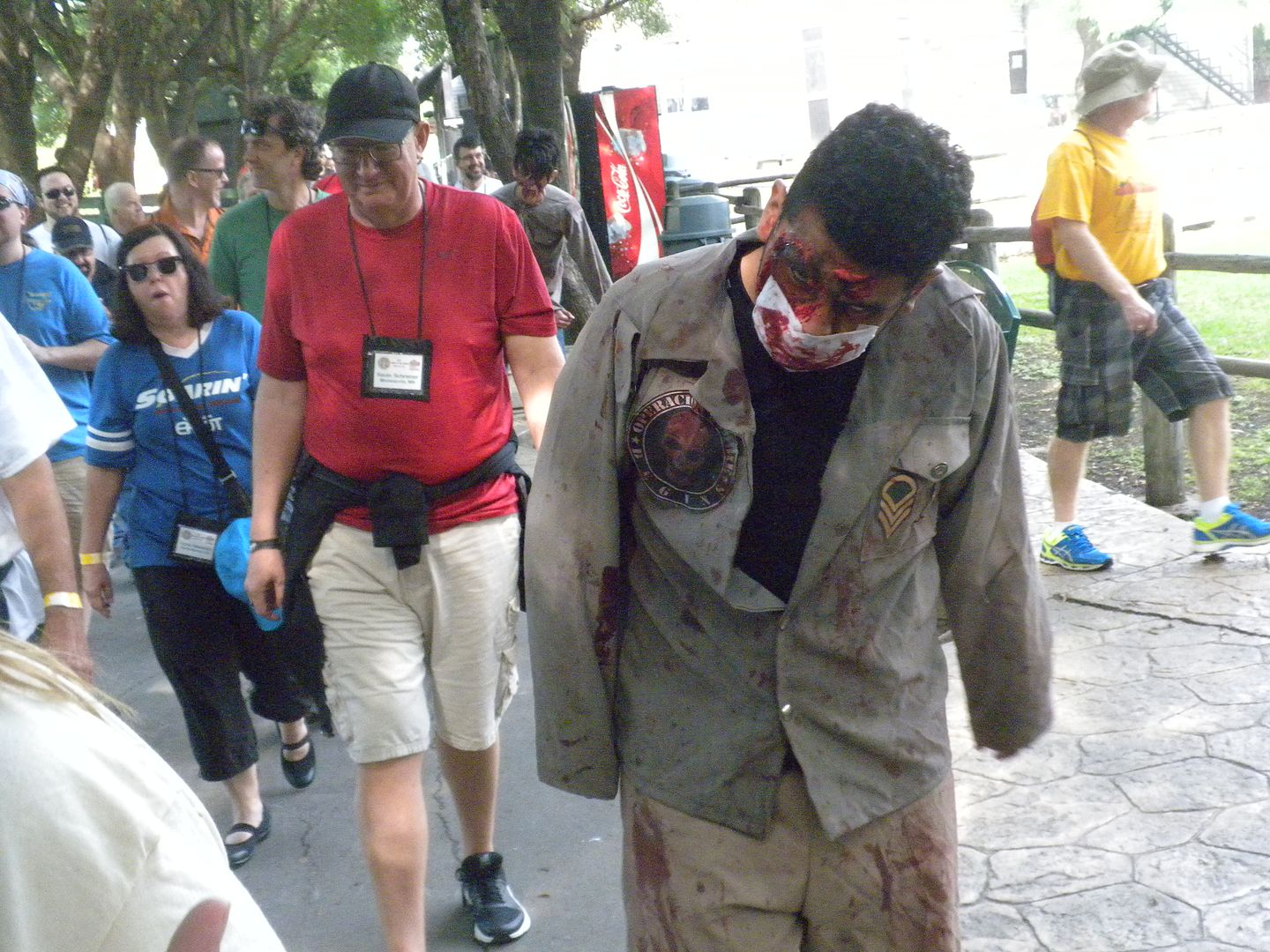 to numerous scare actors dressed as zombies, to an animatronic themed queue, to a video that explains how a girl becomes a zombie after putting on a cursed amulet, the queue itself is like another attraction. The ride is good as well.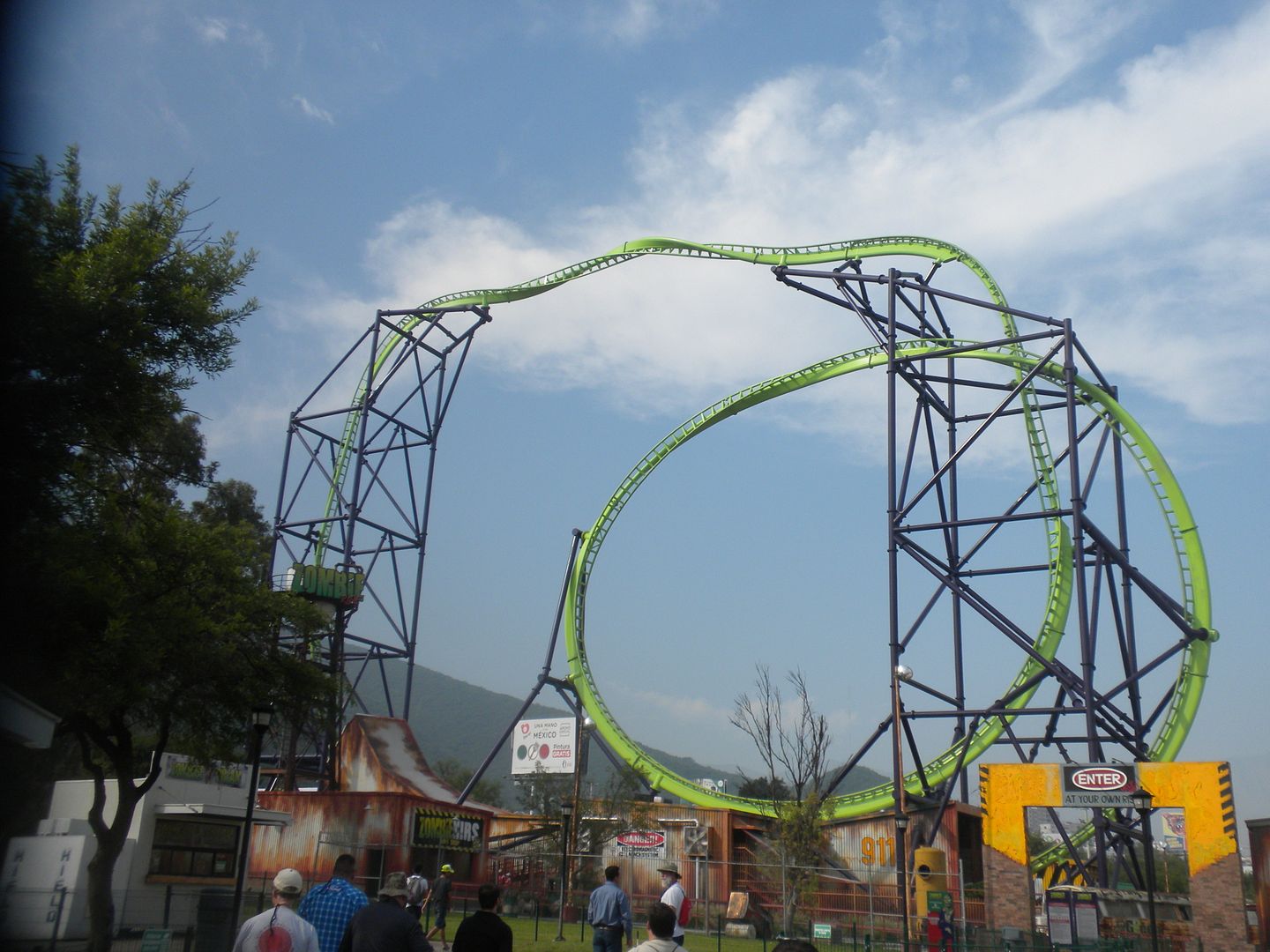 It is the same as other such models I have ridden but has a duel loading station and allows riders to go around on 2 cycles. It is thrilling but not painful and a really strong attraction for this park to have as its signature ride – 3 rides during ERT.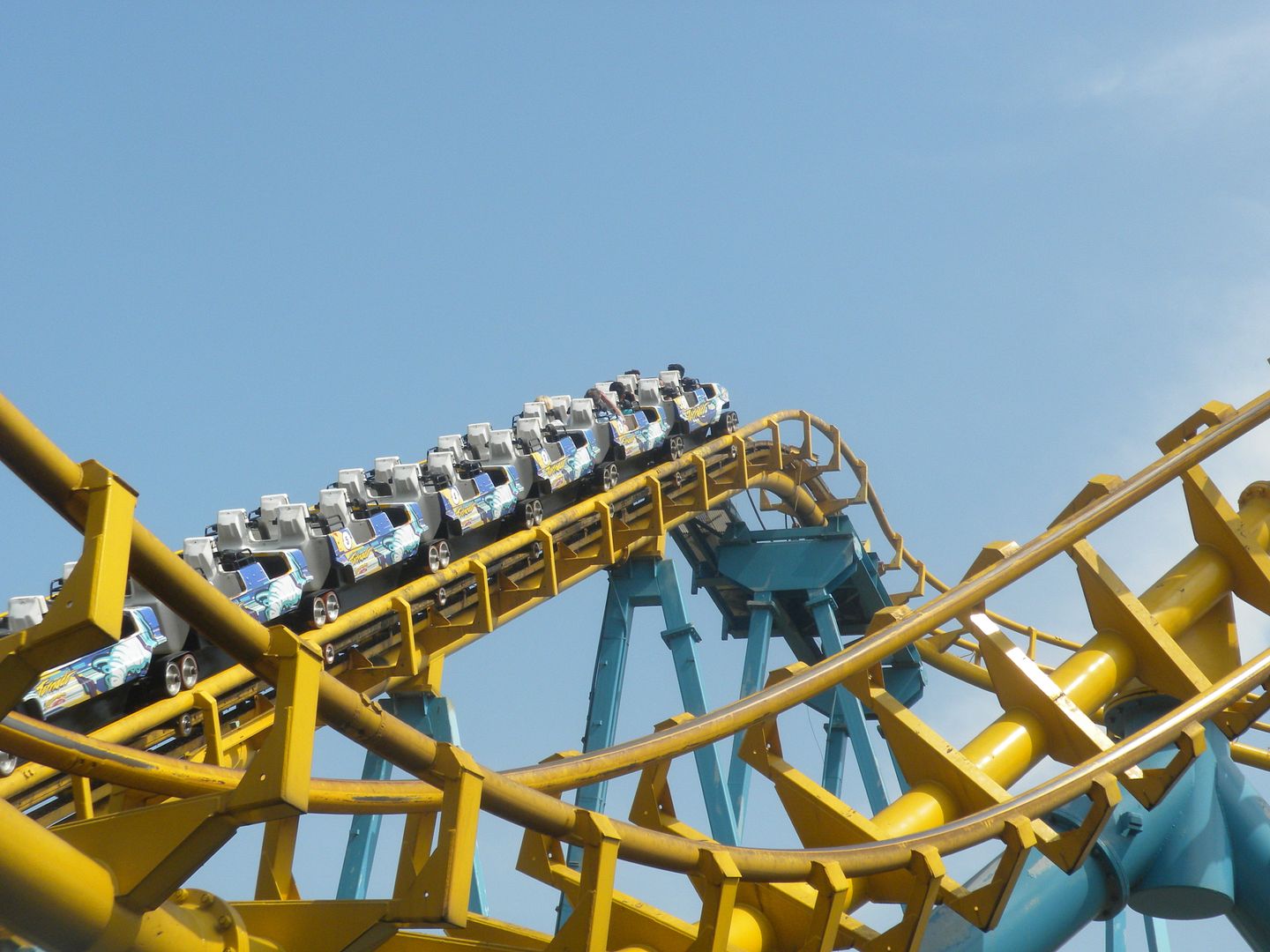 Tornado: (Vekoma, Whirlwind Looper, 2001):


While I was expecting this coaster to be rough, it was surprisingly smooth with just a couple of bad spots


and transitions felt seamless – 2 rides.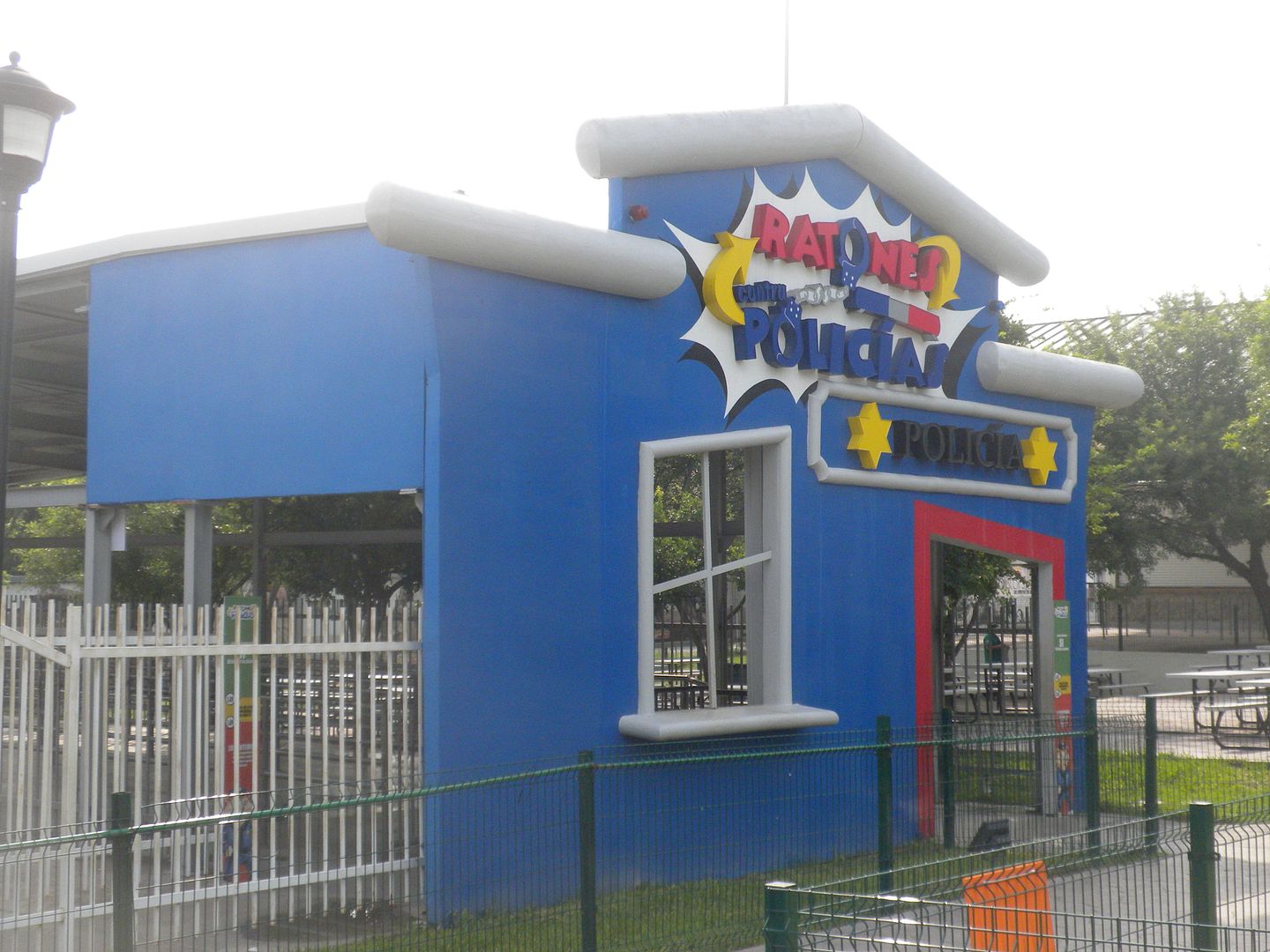 Ratones Contra PolicÍas (Mice Against Police): (Reverchon, Spinning Wild Mouse, 2016)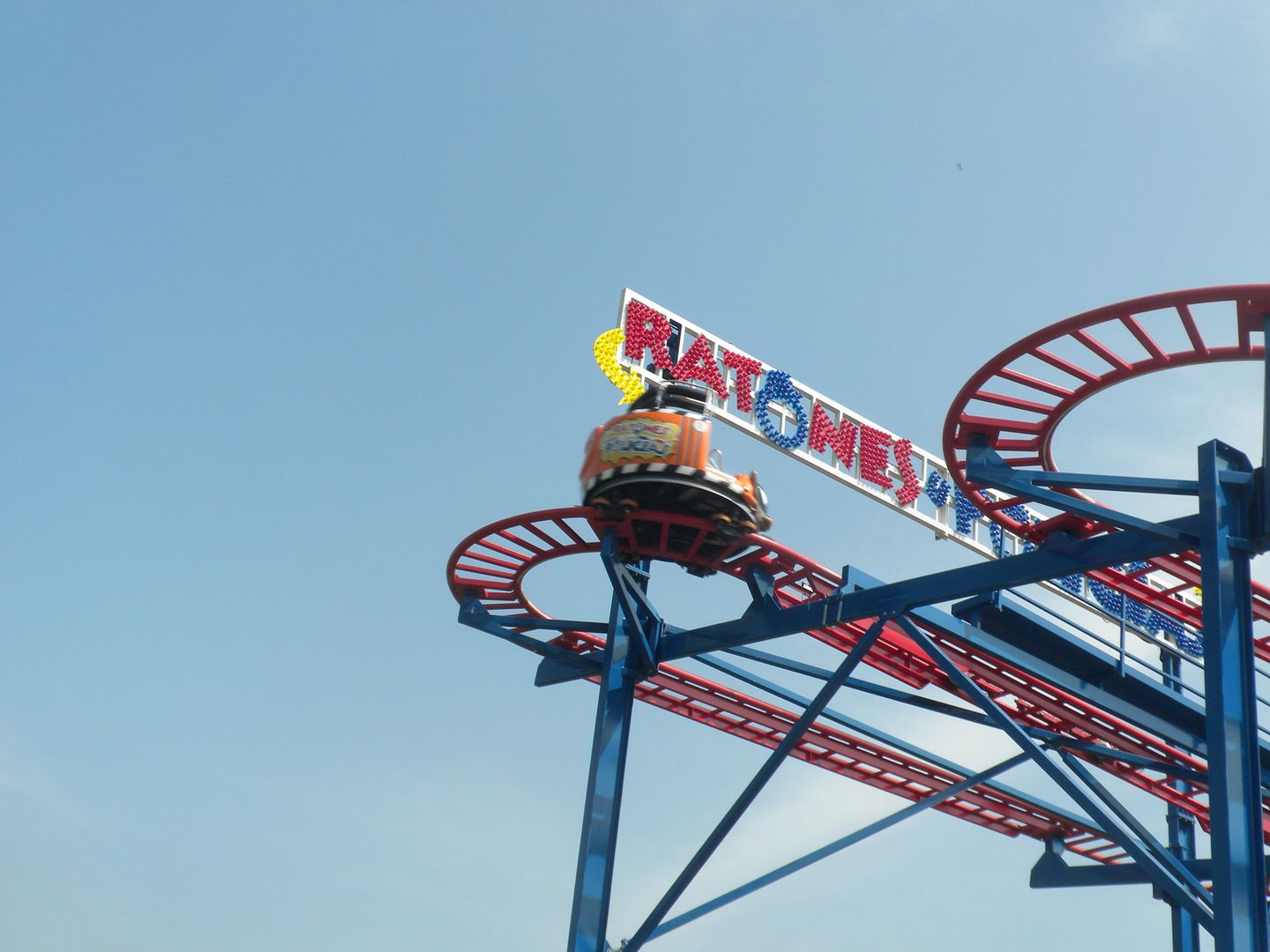 This has a great theme with cars alternatingly themed as mice and police cars.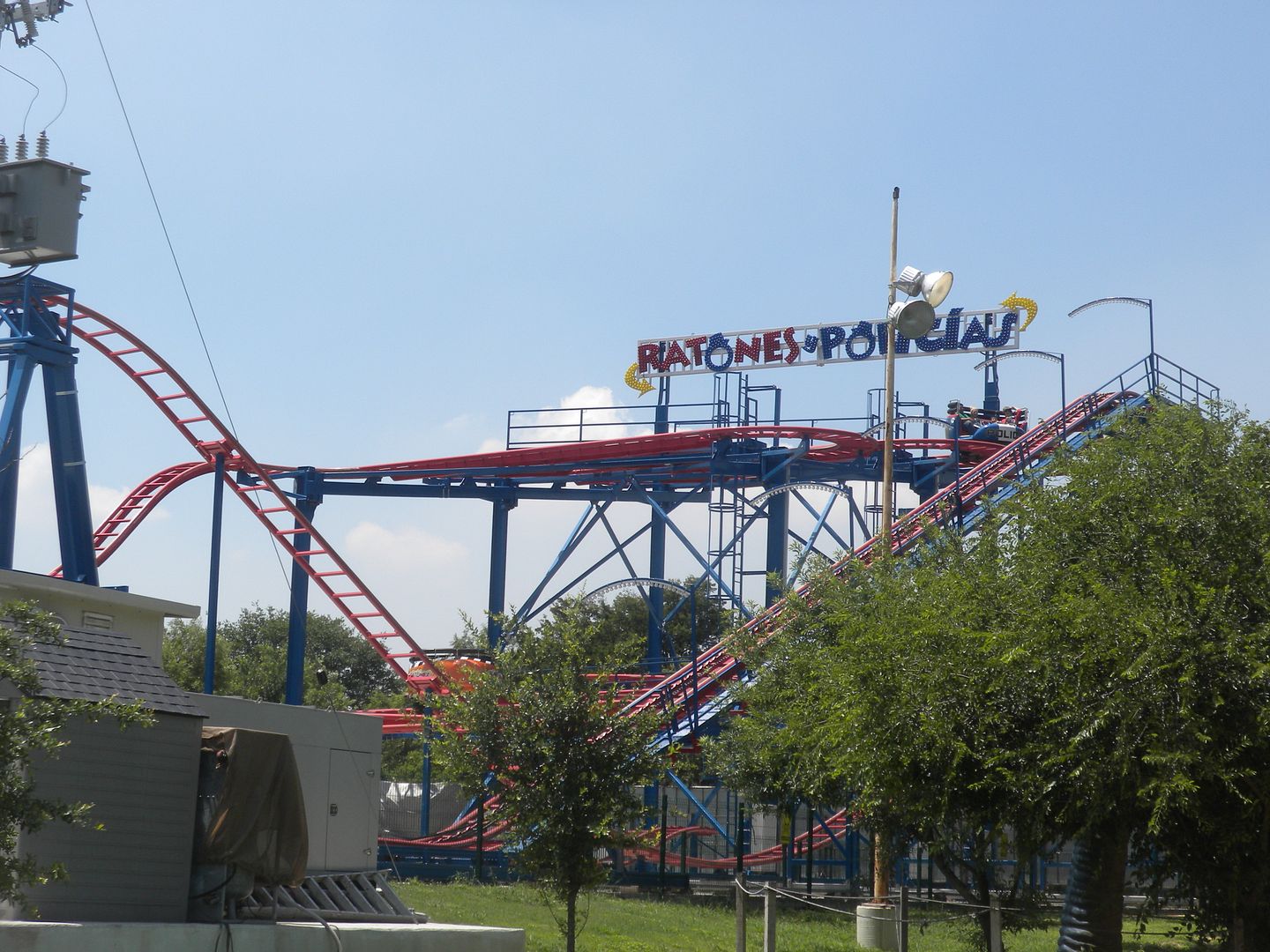 We got really good spinning – 1 ride.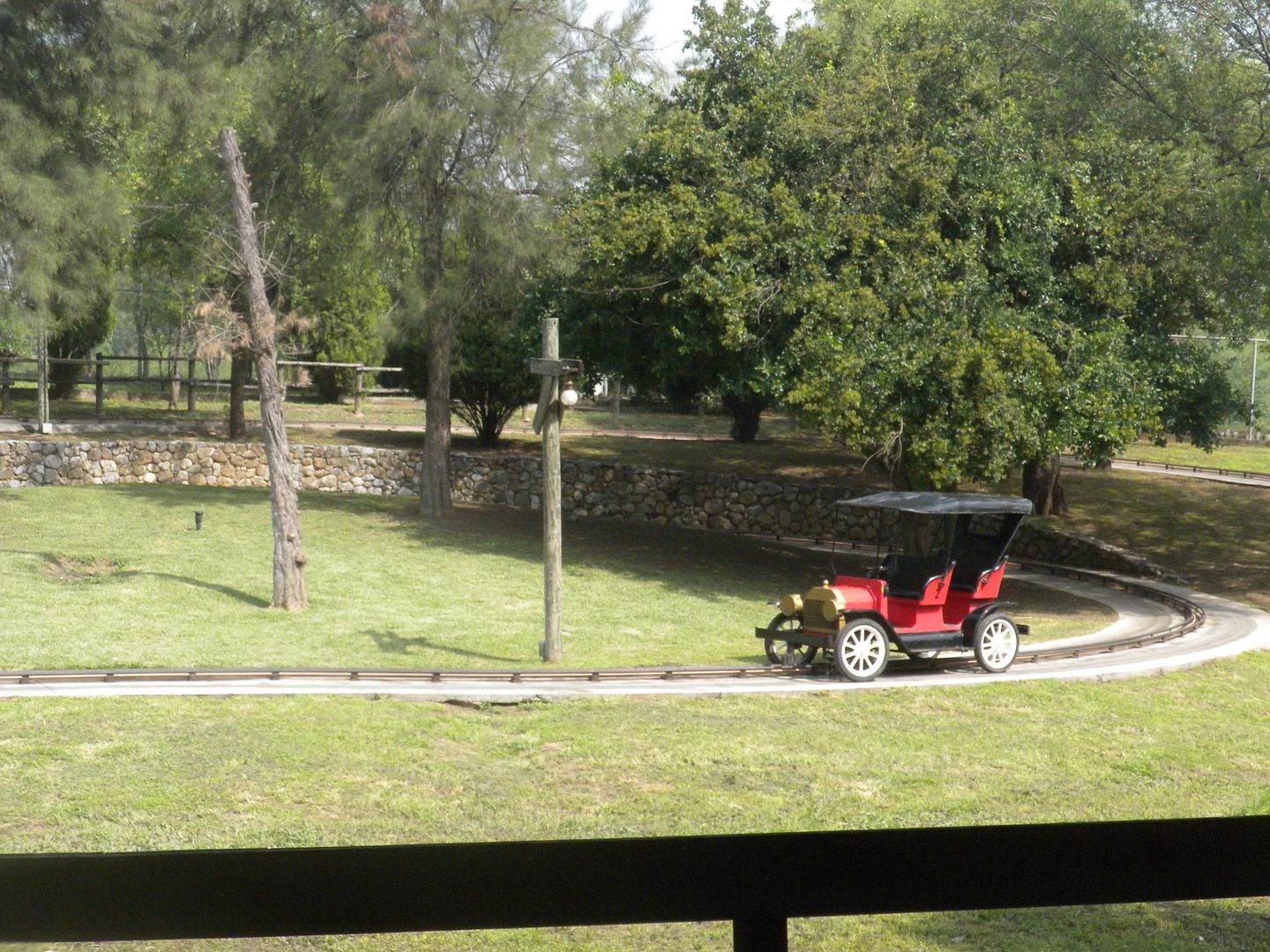 Carros Antiguos (Old Cars): This powered car ride has a very nice course with hills and bridges in a picturesque landscape – 1 ride.

Mansión Del Terror (Mansion of Terror): This upcharge walkthrough attraction is very dark and has a very long course that is nicely done. We would discover that we would encounter a walk through haunted house at almost every park. This was by far the longest and in my opinion the best. The Park provided us with a ticket – 1 walkthrough.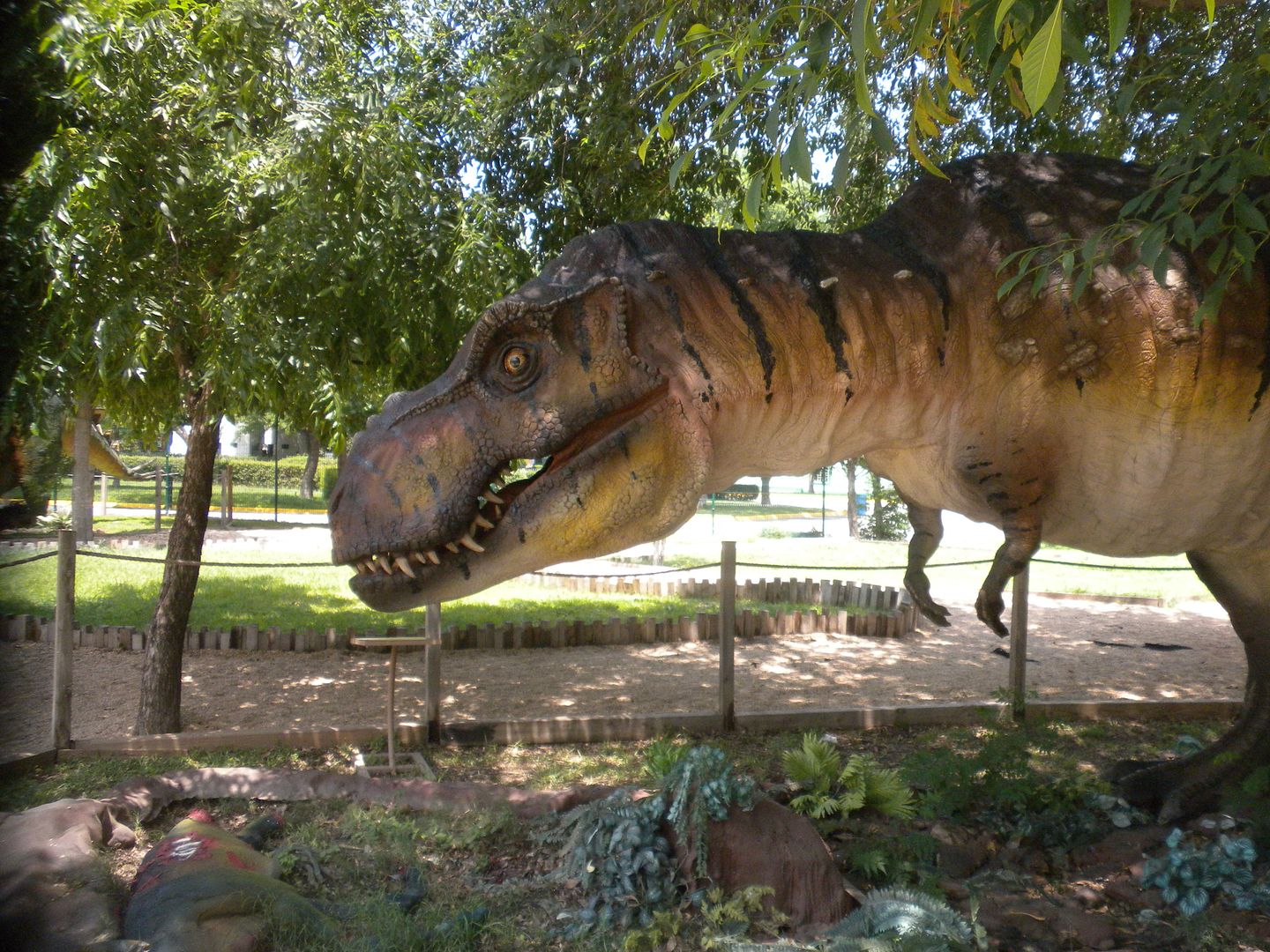 Dinosuarus: Thisupcharge walkthrough attraction was similar to the ones at Cedar Fair parks, but much shorter. The Park provided us with a ticket – 1 walkthrough.
Other rides in this section include Barnstormer, an airplane themed flat ride; Boomerang, a pendulum swing ride; and RÍo Rápido (Rapid River), a rapids ride.
Villa Diversión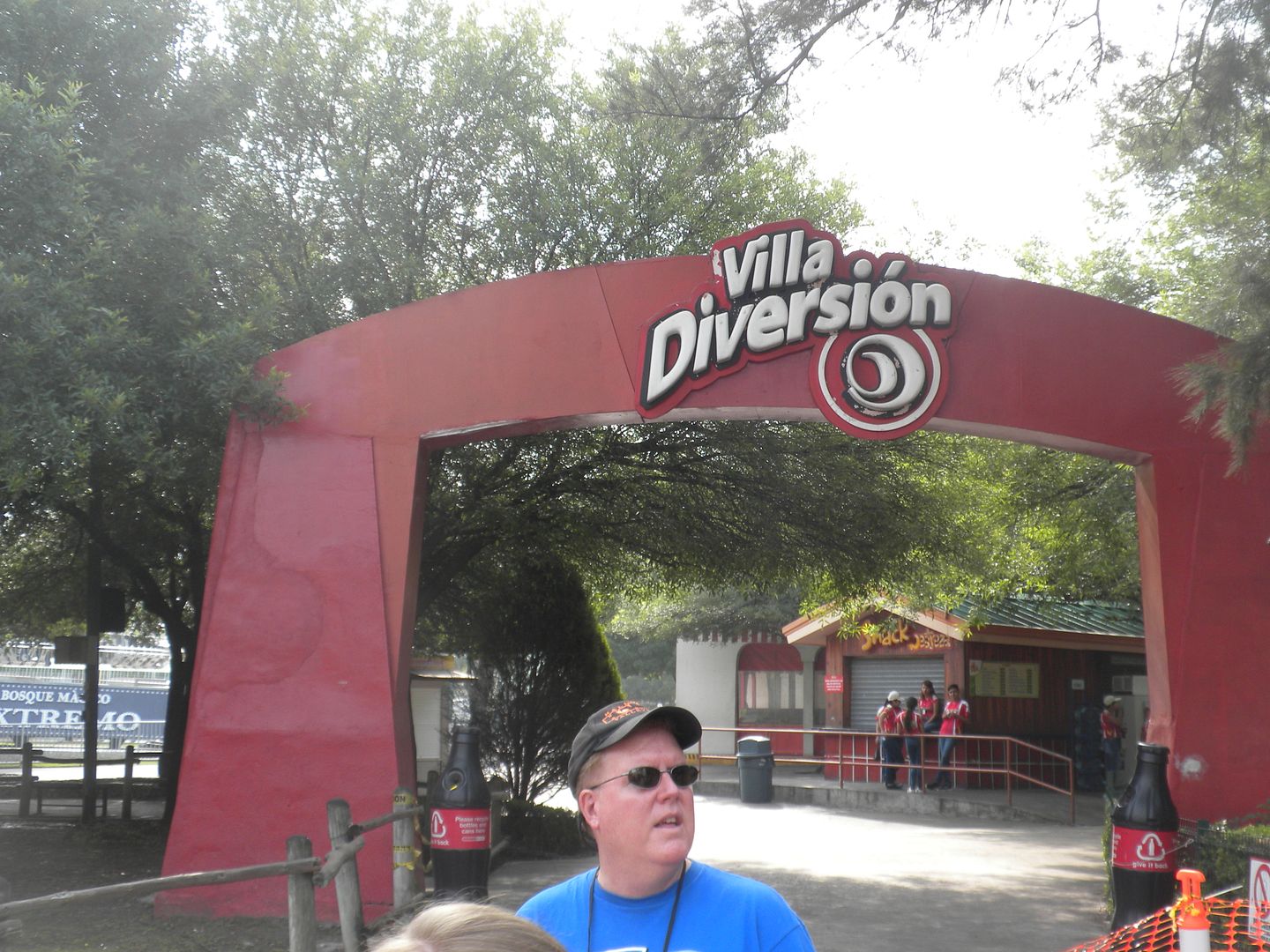 Translated as Villa of Fun, this section has a collection of attractions ranging from family to intense.
Cabaña Del TÍo Chueco: This was the first of four tilt houses we would encounter of this trip. It started with an opening show which I did not understand much of due to the language barrier. We then began a walk through disorienting pathways before seeing water seemingly run uphill. This was followed by a four room tilt house with various optical illusions and audience participation. It was very steep, perhaps the steepest I've seen and therefore more disorienting than usual. It was very good – 1 walkthrough.
Other attractions include: Kamikaze, an Inverting Ride; Carros Chocones (Bumper Cars); Fuente Loca (Source Loca), a play Water Fountain; The King, an Inverting Ride, Go-Kart, an upcharge attraction which was not operating this day.
Isla Recreo
Translated as Pleasure Island this section is themed to recreation and contains mostly children's rides.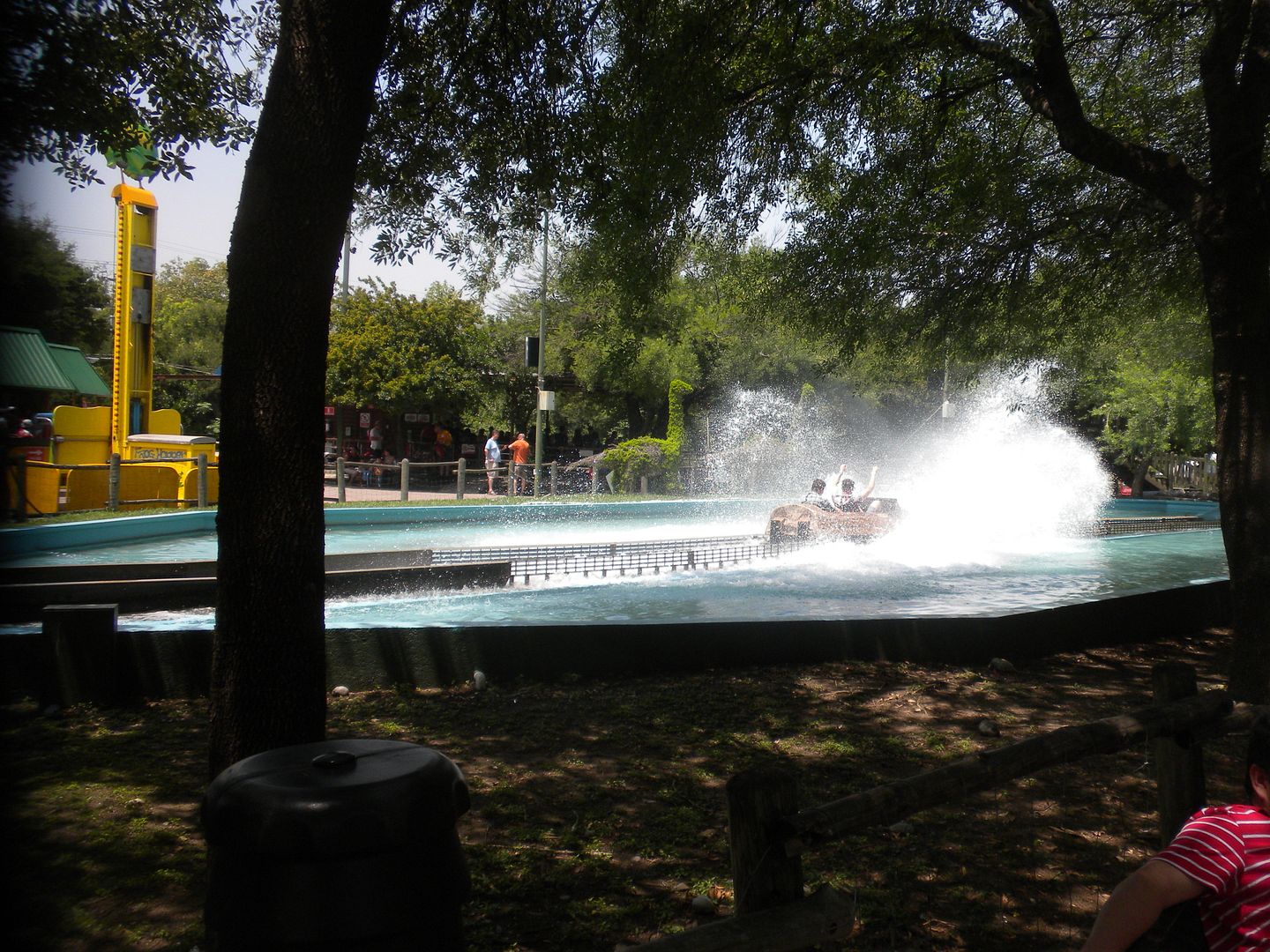 Splash: This Log Flume is good with a course around many children's rides with one drop. It is not overly wet – 1 ride.
This section has 13 children's rides.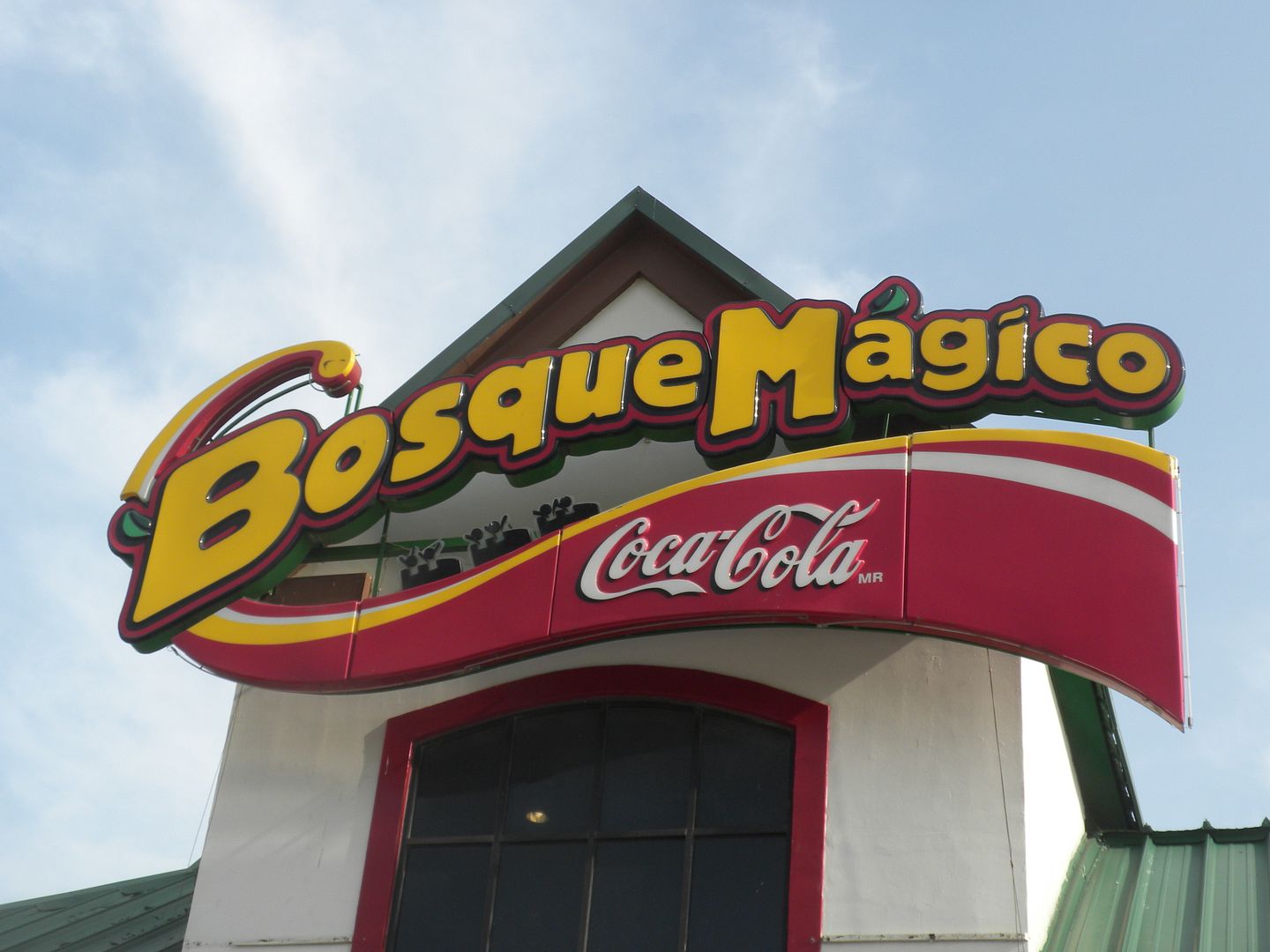 Bosque Mágico is a nice family park,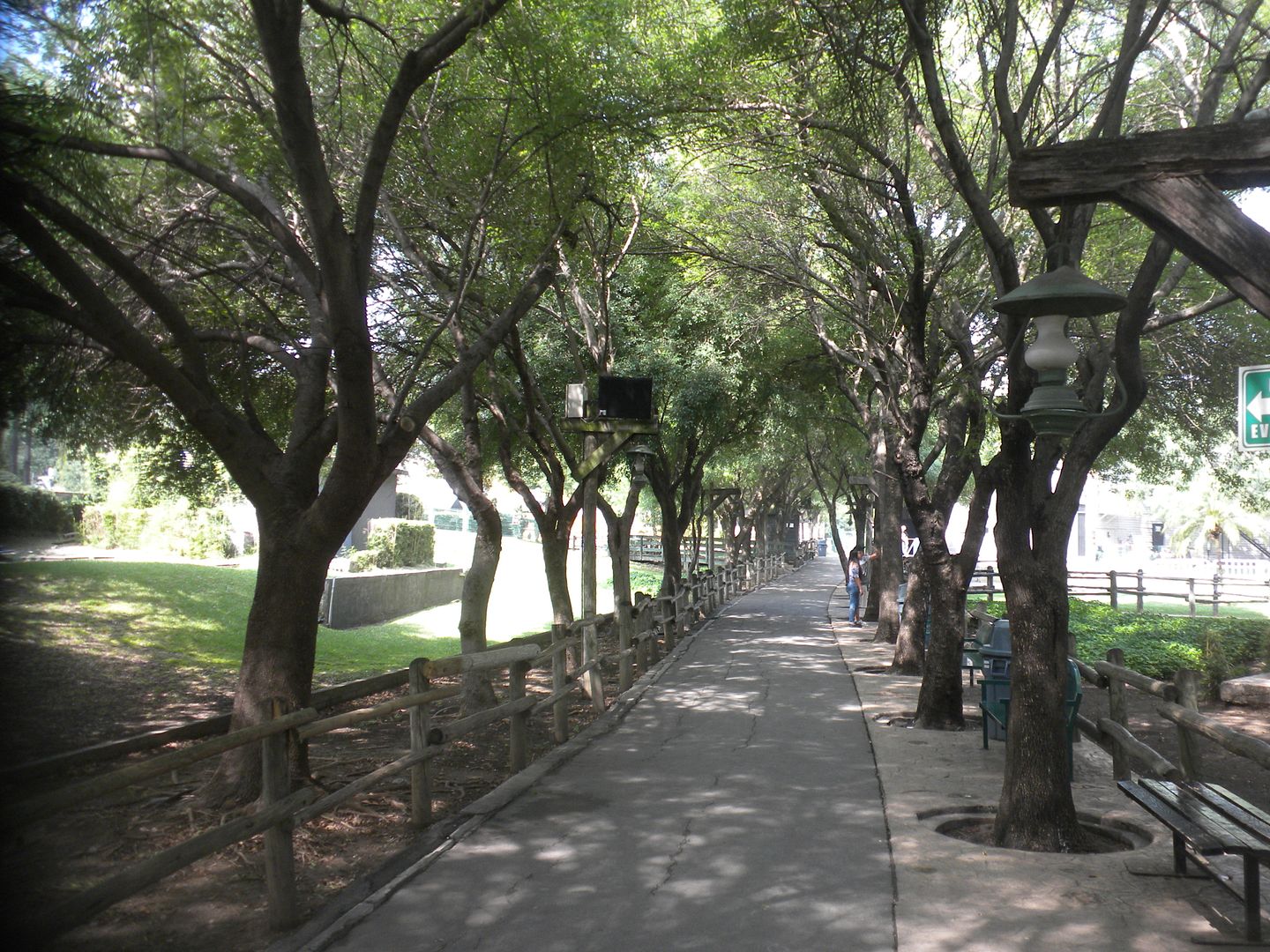 carefully landscaped with beautiful tree-lined pathways,


elaborate water features and picturesque hillside vistas.


For lunch we ate at the main restaurant and I got the 5 taco meal, one of each of 5 meats they offered. We joked about mystery meat, but it was beef, pork and chicken prepared various ways. Some were really good while others were not too good, but it was an interesting experience. We left the park about 3:00 in order to get to our next park. We had a great time at this park and it was a good start to our trip.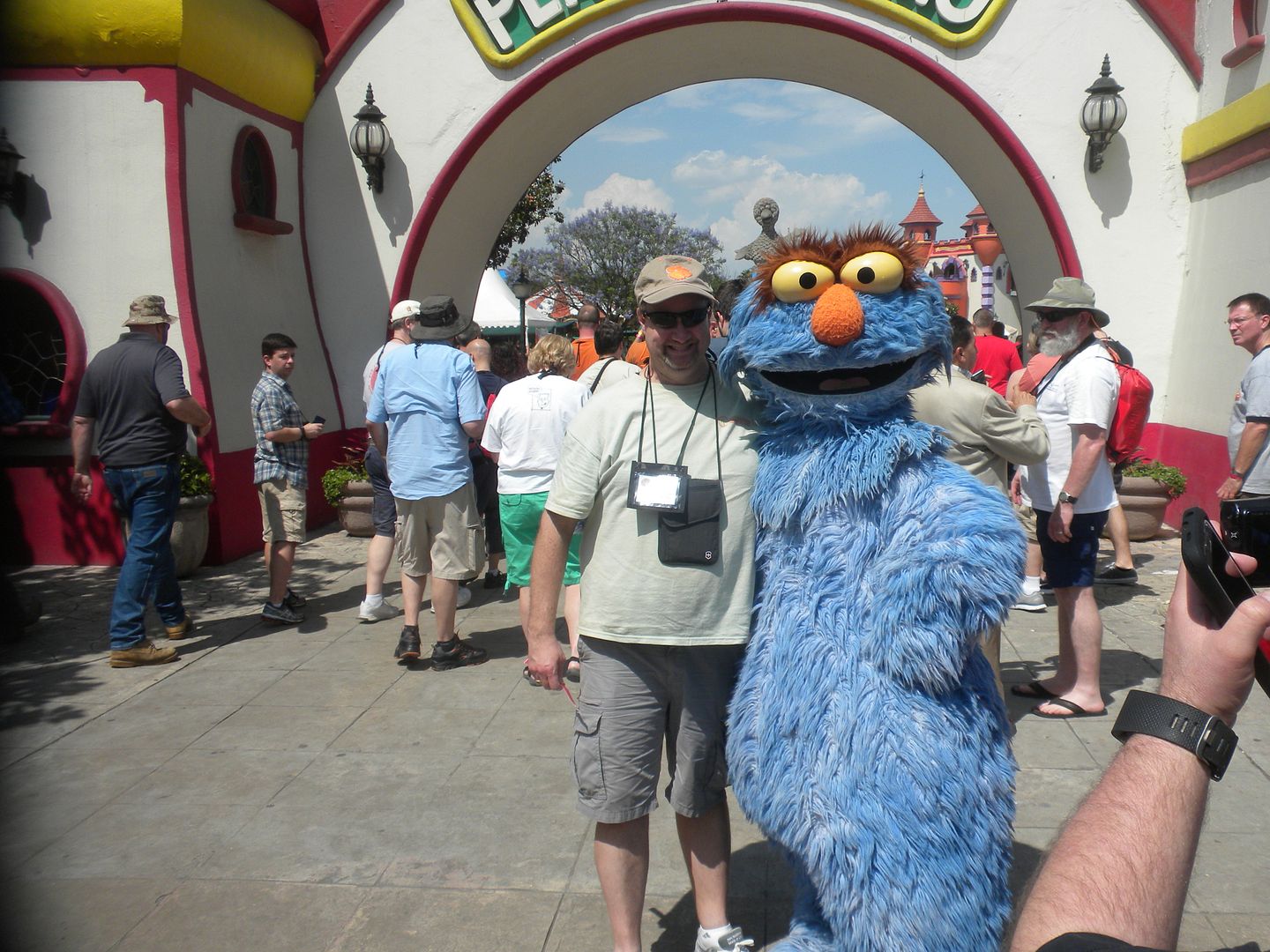 Parque Plaza Sesamo
Our next stop was a 2 hour visit to Parque Plaza Sesemo in Monterrey, Nuevo León, Mexico, a children's park and water park, the only park licensed to use Sesame Street characters outside of the U.S. We were greeted by the park president to whom we presented a plaque, and he gave us a brief history of the park before we were off to ride the coasters.
Catariños: (Zierer, Tivoli – Small, 2006) We enjoyed a ride on this nicely landscaped kiddie coaster – 1 ride.
Expreso Minero: (Mack Rides, Powered Coaster, 2006) With a queue that takes guests through a mine, this attraction is highly themed and nicely placed above the Lazy River that extends from the water park.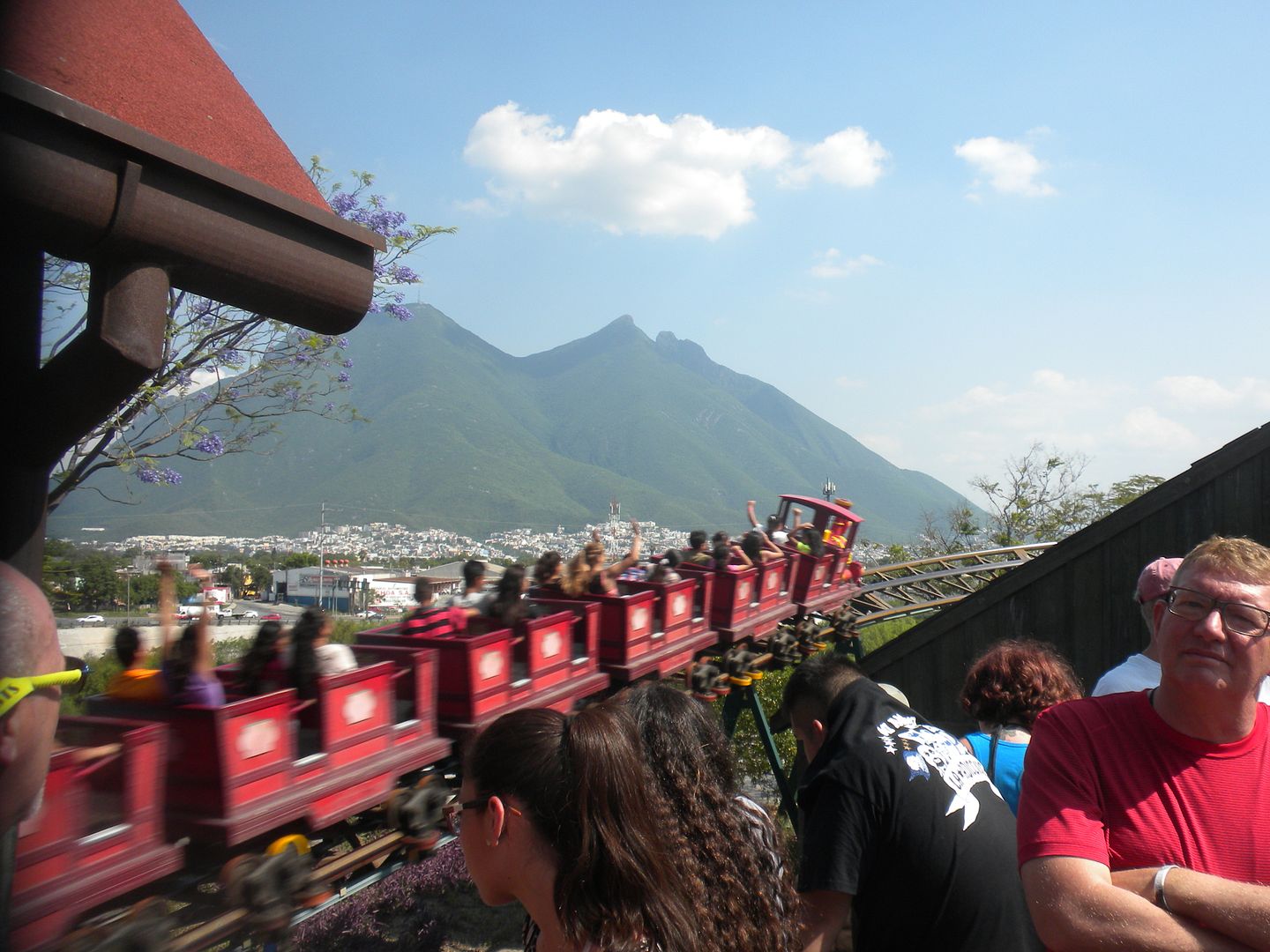 It gave 2 circuits around for a good ride – 1 ride.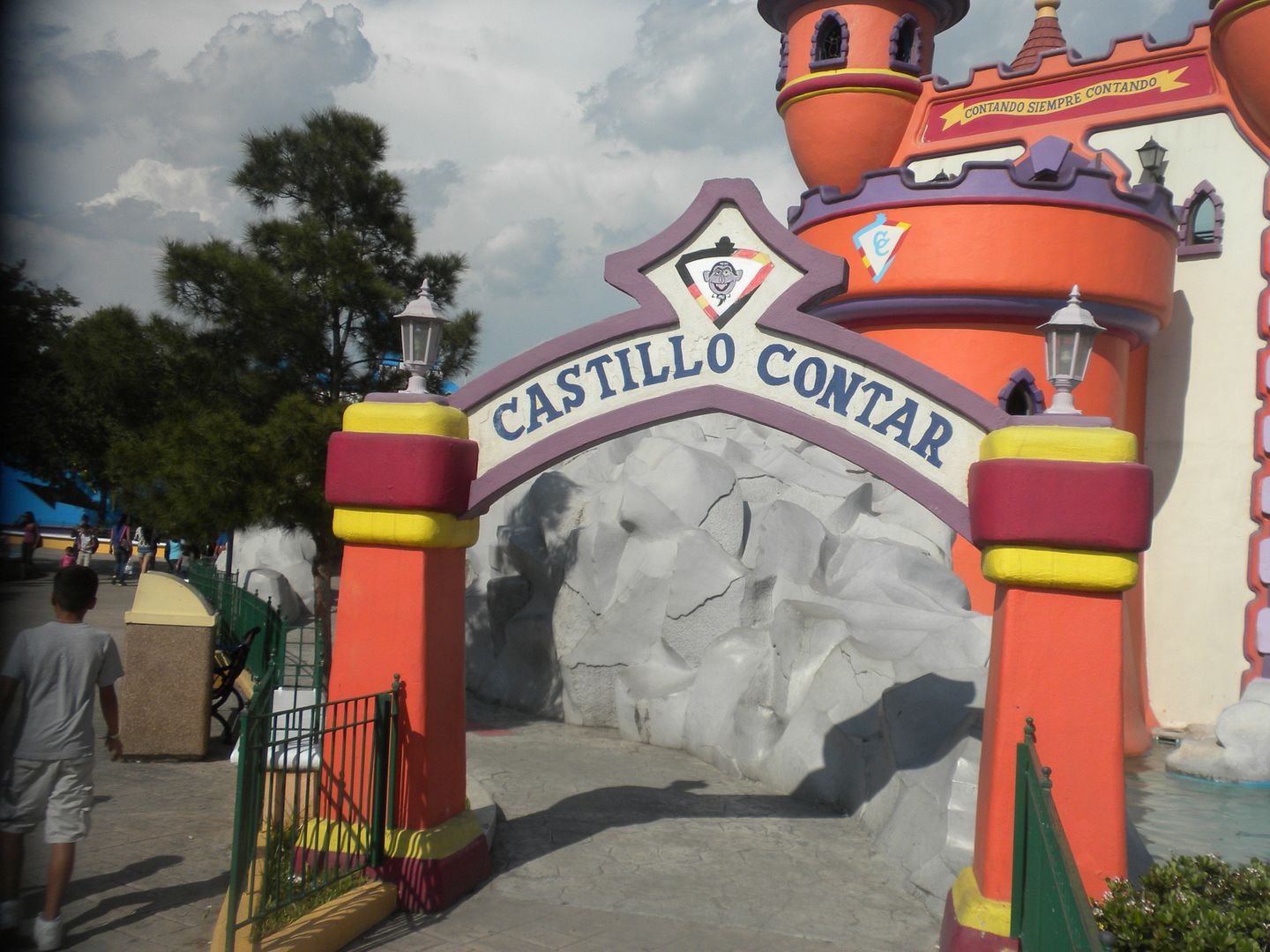 Castle of Count Count: This castle is a centerpiece attraction for the park and contains many stairways and passageways to explore and interacts well with two other attractions – 1 walkthrough.


Crazy Tower: This Crazy Bus type flat sits high atop the tower and gives good views – 1 ride.
Space Shot: This drop tower is one of a few thrilling rides in the park and was good – 1 ride.
Other rides include: Lake Count, a relaxing boat ride under Castillo del Conde; Circus Sesame, a carousel; Tecnoaventuras; Grand Prix, go-carts; Trenecito; Tornado (Twister); Maremoto (Seaquake); SKP; and 5 children's rides.
The water park is Aquamundo Park and has 12 attractions. Time did not permit for us to visit the water park. Parque Plaza Sesemo is a nicely themed park, and the water park looked very good. We left about 5:30 for the airport for a flight to Guadalajara for our next park the following day. We ate at the airport at a restaurant where I had very good red and green enchiladas, beans and guacamole and chips.
Next Up: Selva Mágica