Last year I had the opportunity to go on a comprehensive tour of Washington, Oregon, Idaho, Montana, Alberta and British Columbia that included 10 amusement parks, 2 fairs, 6 national parks and sightseeing in 2 cities that I covered in an extensive photo trip report here. But the one thing that we could not include was the Washington State Fair, which only operates during the fair in April and September. As it is the home of a 1935 John Miller wood coaster, this was a must visit for me to eventually get to in order to meet my goal of riding all wood coasters in the U.S. When ACE announced that the 2015 Preservation Conference would be held at the Washington State Fair, Oaks Amusement Park and Enchanted Forest, I knew I wanted to make a return trip to the Pacific Northwest. I flew on Thursday evening, September 17 to Seattle and met up with Richard Bostic and David Lipnicky.
Washington State Fair
We arrived at the Washington State Fair in Puyallup, WA just before 10:00 Friday morning, September 18. Operating since 1900, this is the only fairground that doesn't operate as a permanent park that has a wood coaster. We were treated to a delicious raspberry scone, a fair tradition since the early 1900s,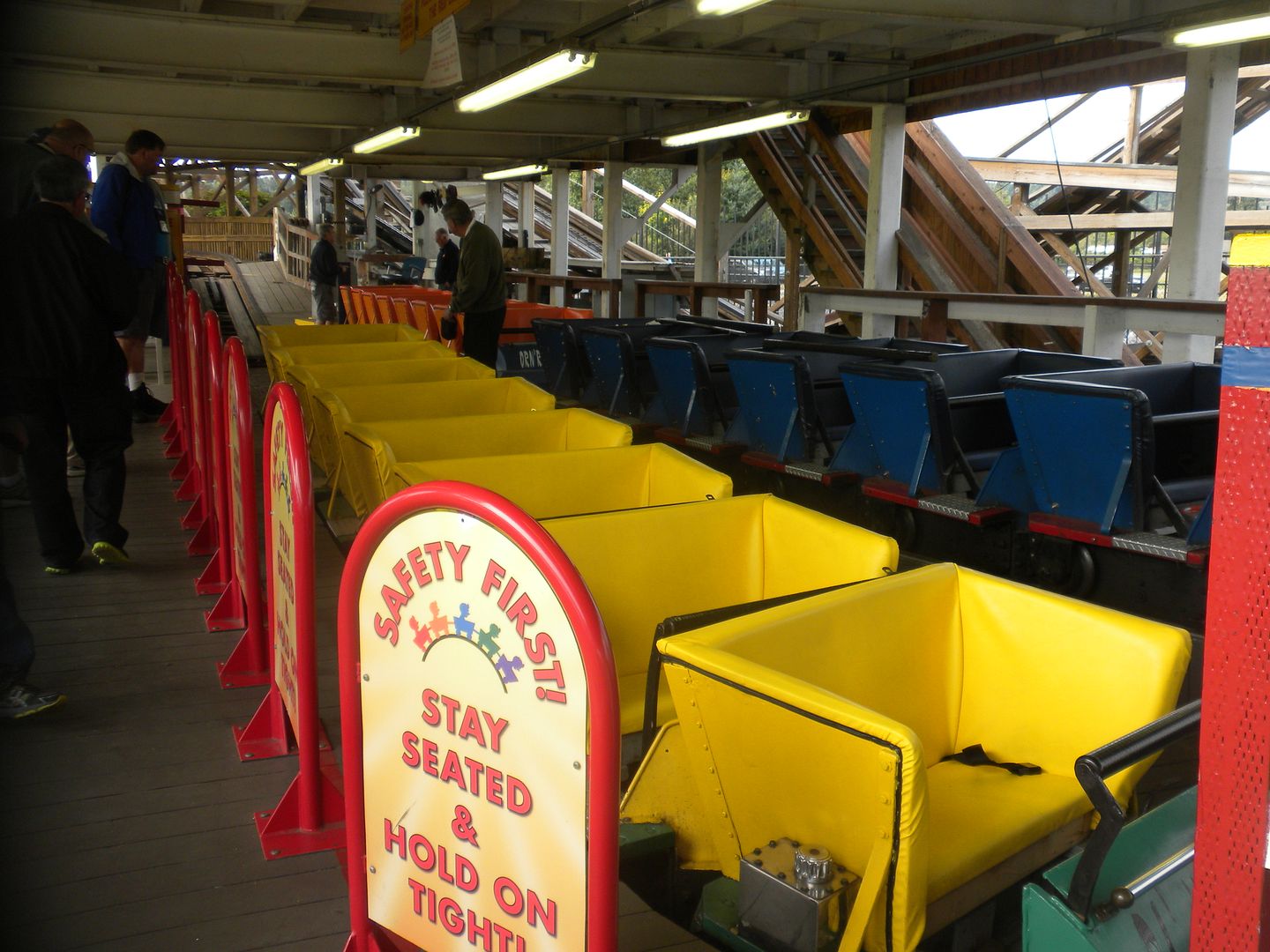 and then given a tour of the station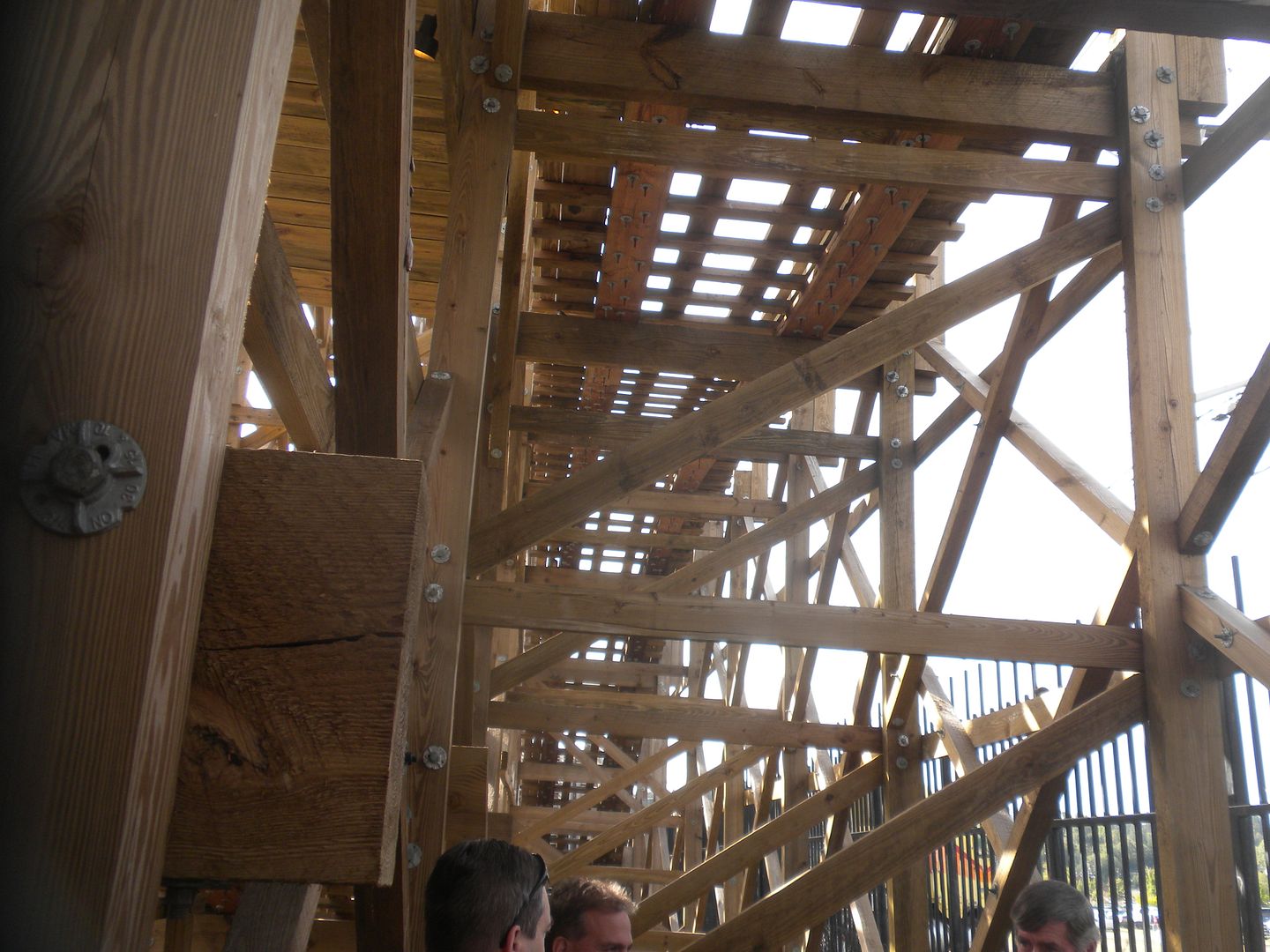 and under the coaster


by John Hinde,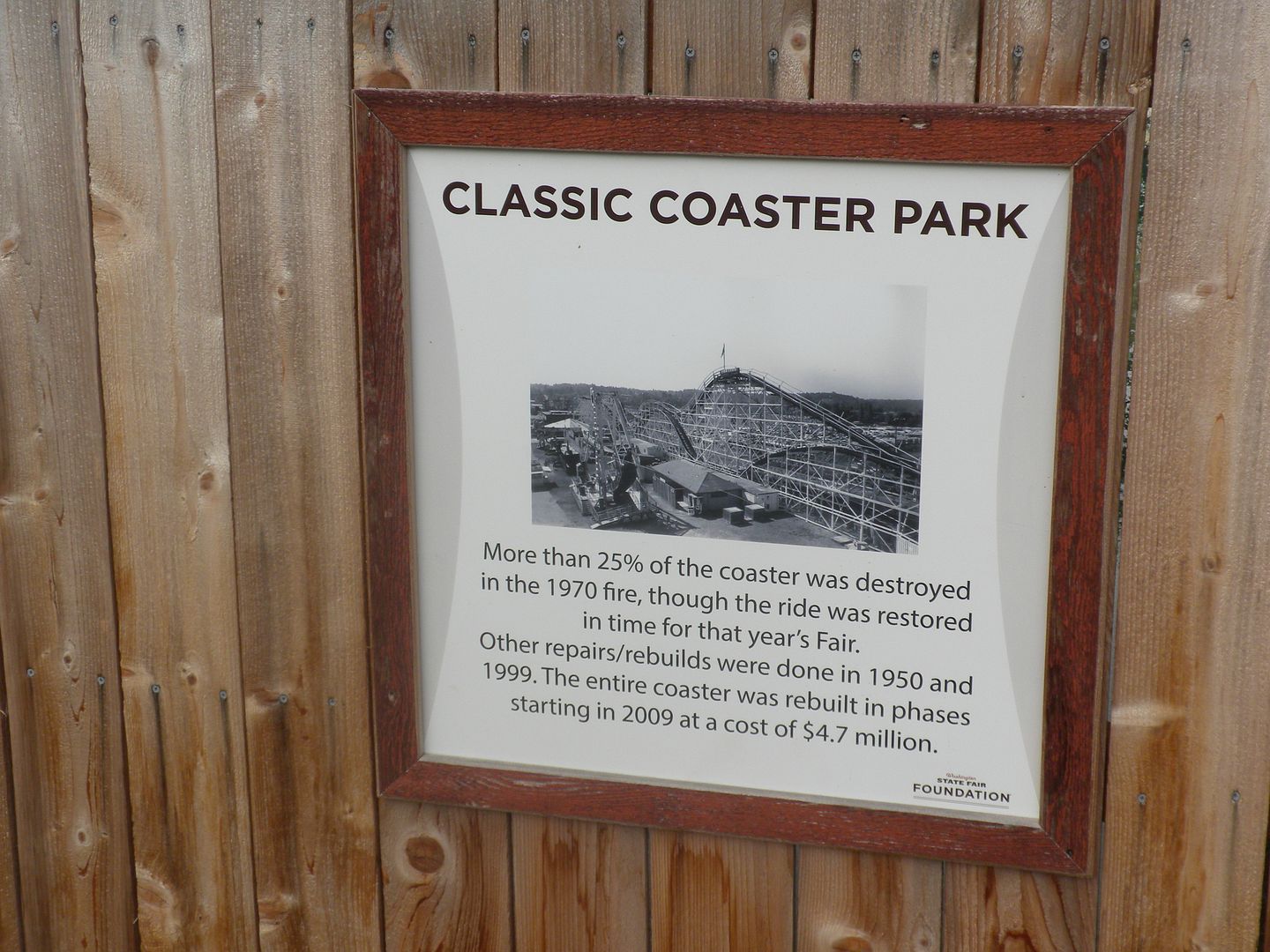 who has overseen a complete rebuild of the coaster over the last 5 years. Later, he spoke to us about his work with wood coasters through a long career that included working with famed coaster designers including John Allen and Charlie Dinn. At 11:00 we were treated to an hour long ERT session before the midway rides opened to the public at 12:00.

Classic Coaster:


(John A. Miller, Wood, 1935)


Originally built as a side-friction roller coaster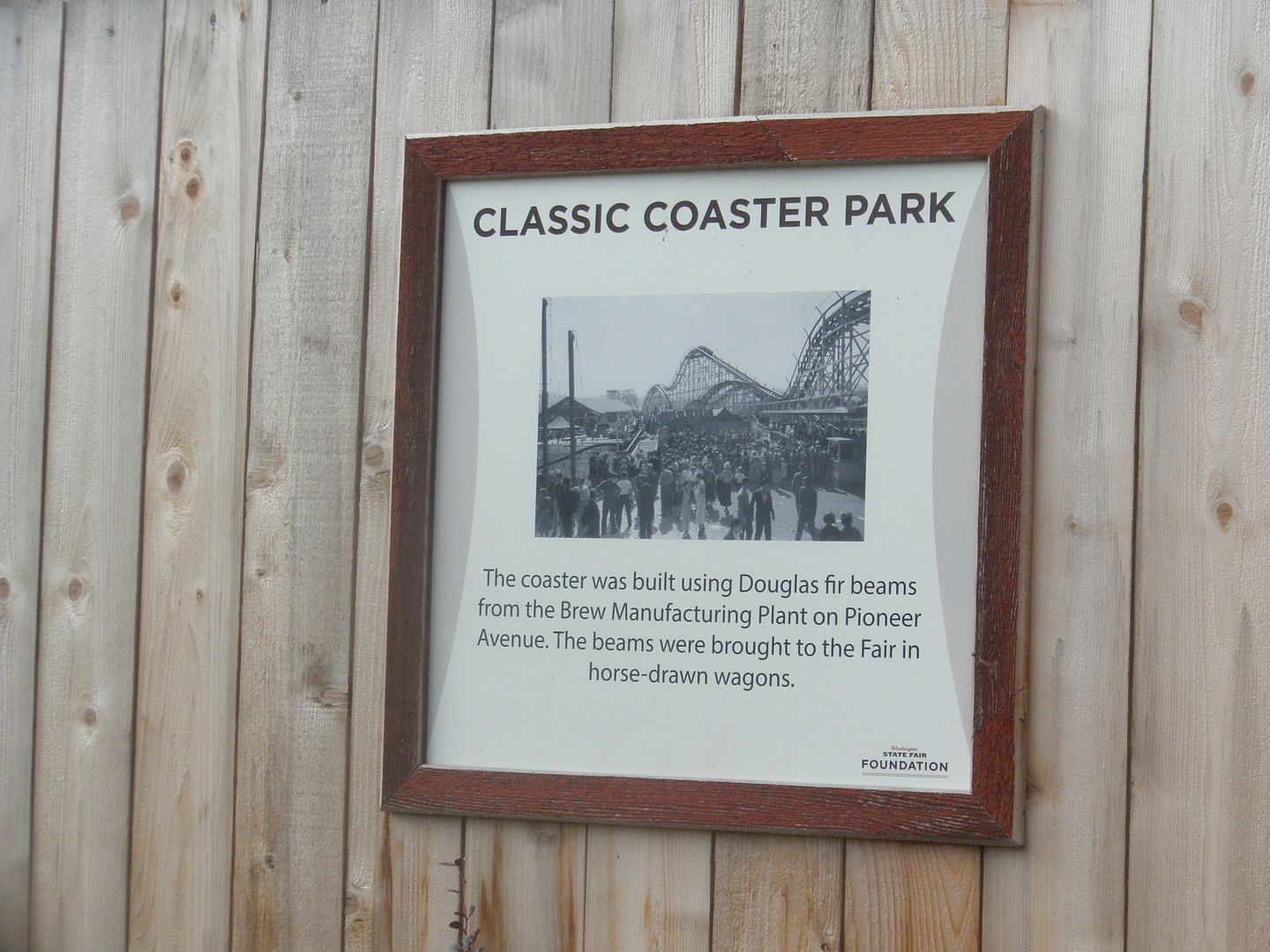 to accommodate trains from the Scenic Railway (Designer Unknown, Wood Scenic Railway, ? – 1934?) from Oaks Amusement Park in Portland, OR,


in 1950, the track was updated by Walker LeRoy and trains from the former Giant Dipper (Prior & Church, Wood, 1925-1947) at Happyland Park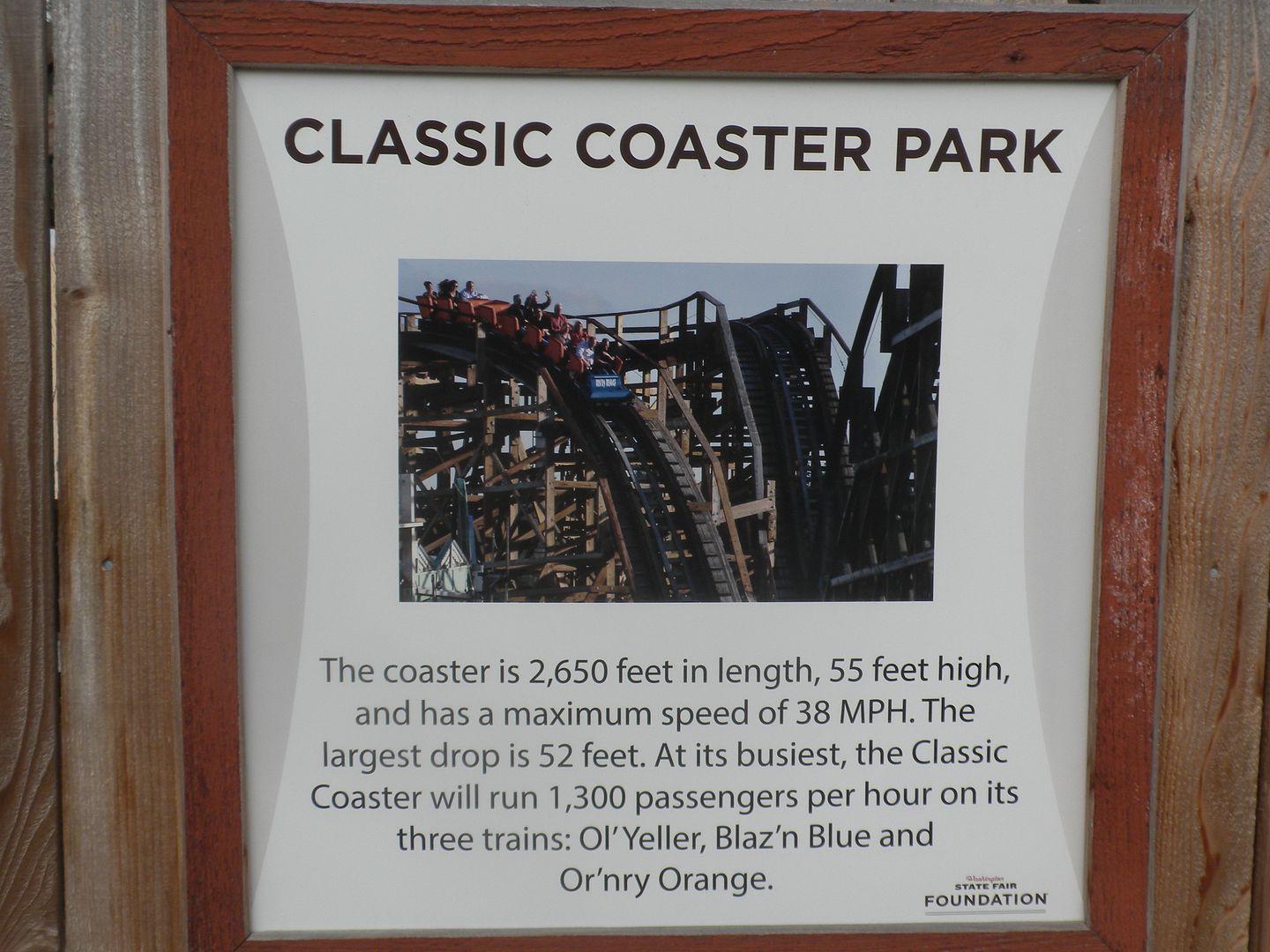 in Vancouver, BC, Canada were used.
These trains were built by Fredrick Church and are still in use.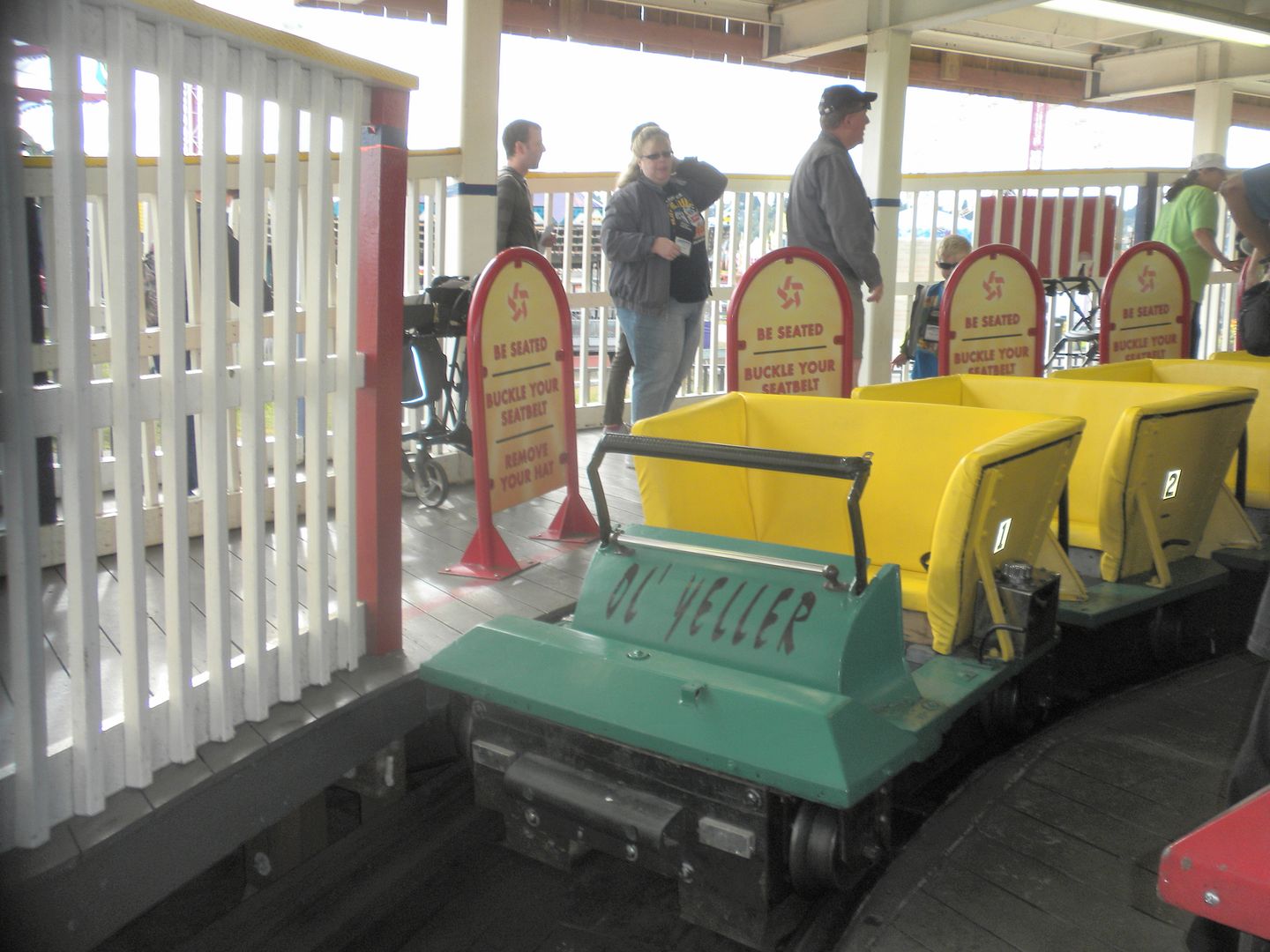 They are named Ol' Yeller,


Or'nry Orange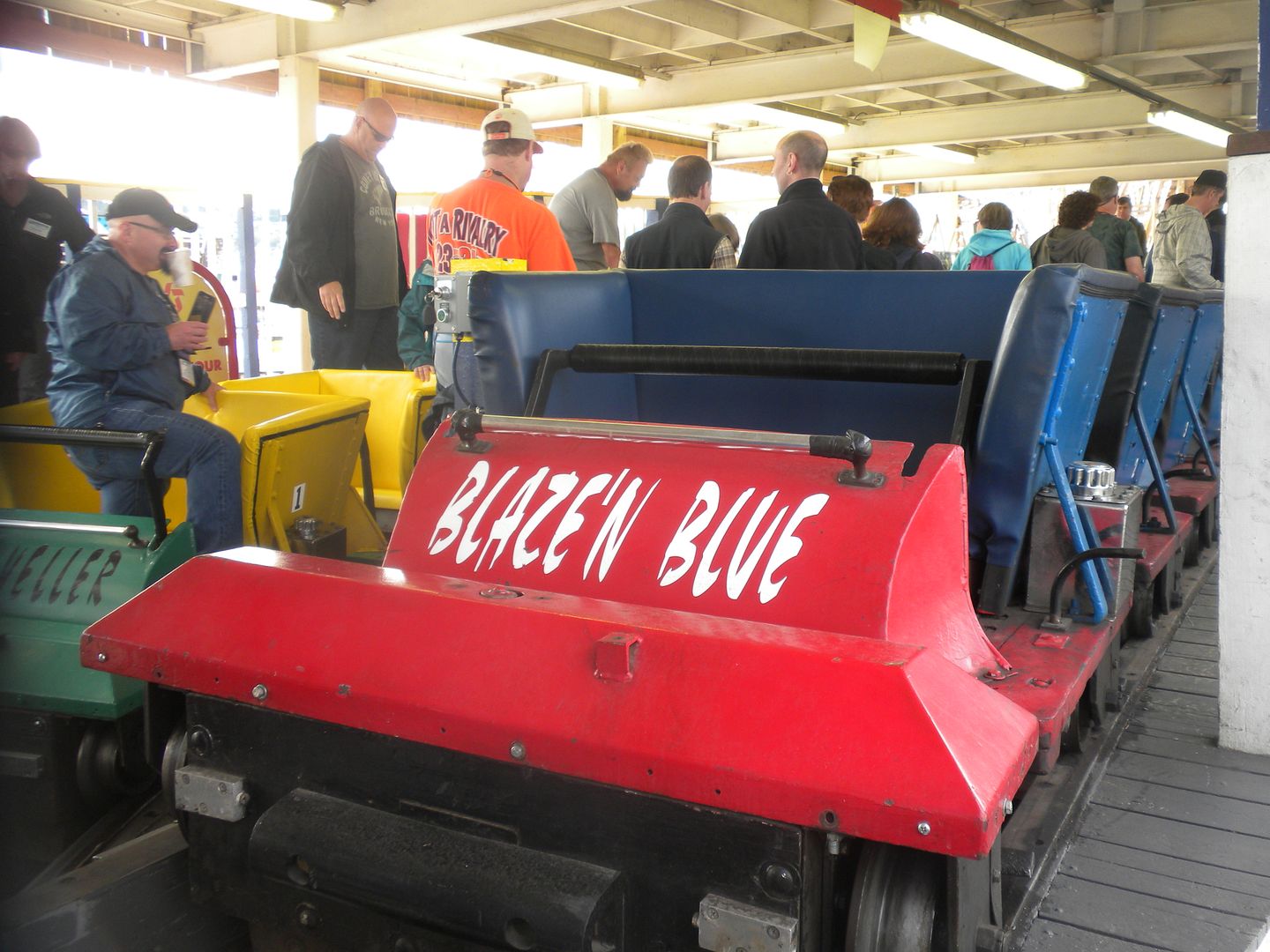 and Blaz'n Blue. Blaz'n Blue is not currently regularly used.


A large portion of the coaster was destroyed by a fire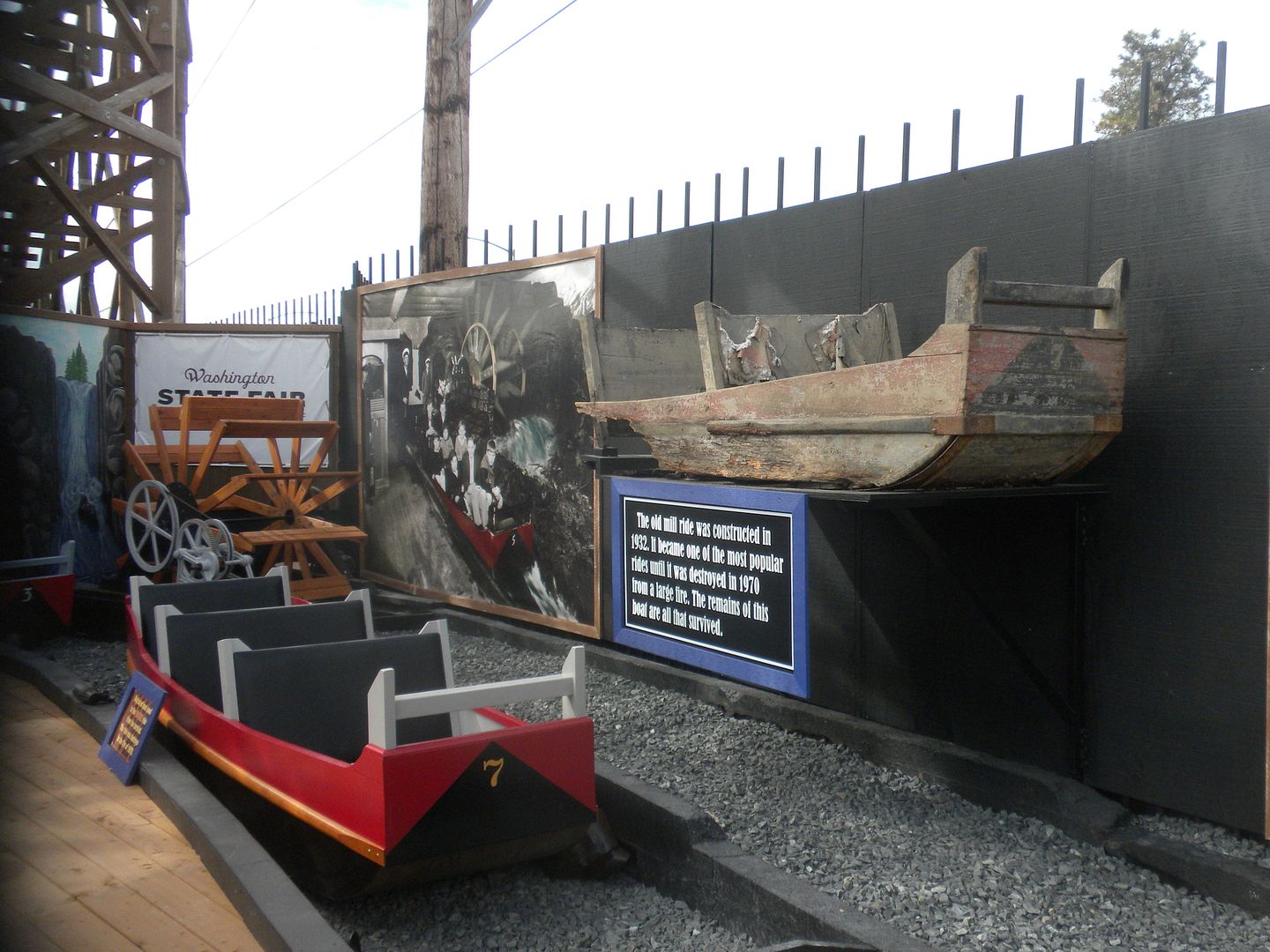 that consumed the Old Mill ride in 1970.
This coaster was previously known as Roller Coaster, Coaster Thrill Ride, & Giant Coaster.


After a complete rebuild, the coaster is running really well and has some tremendous ejector air in a couple of spots, particularly in the back seat of Ol' Yeller.


It has the signature John Miller all the way to the ground drops and has a number if pops of airtime.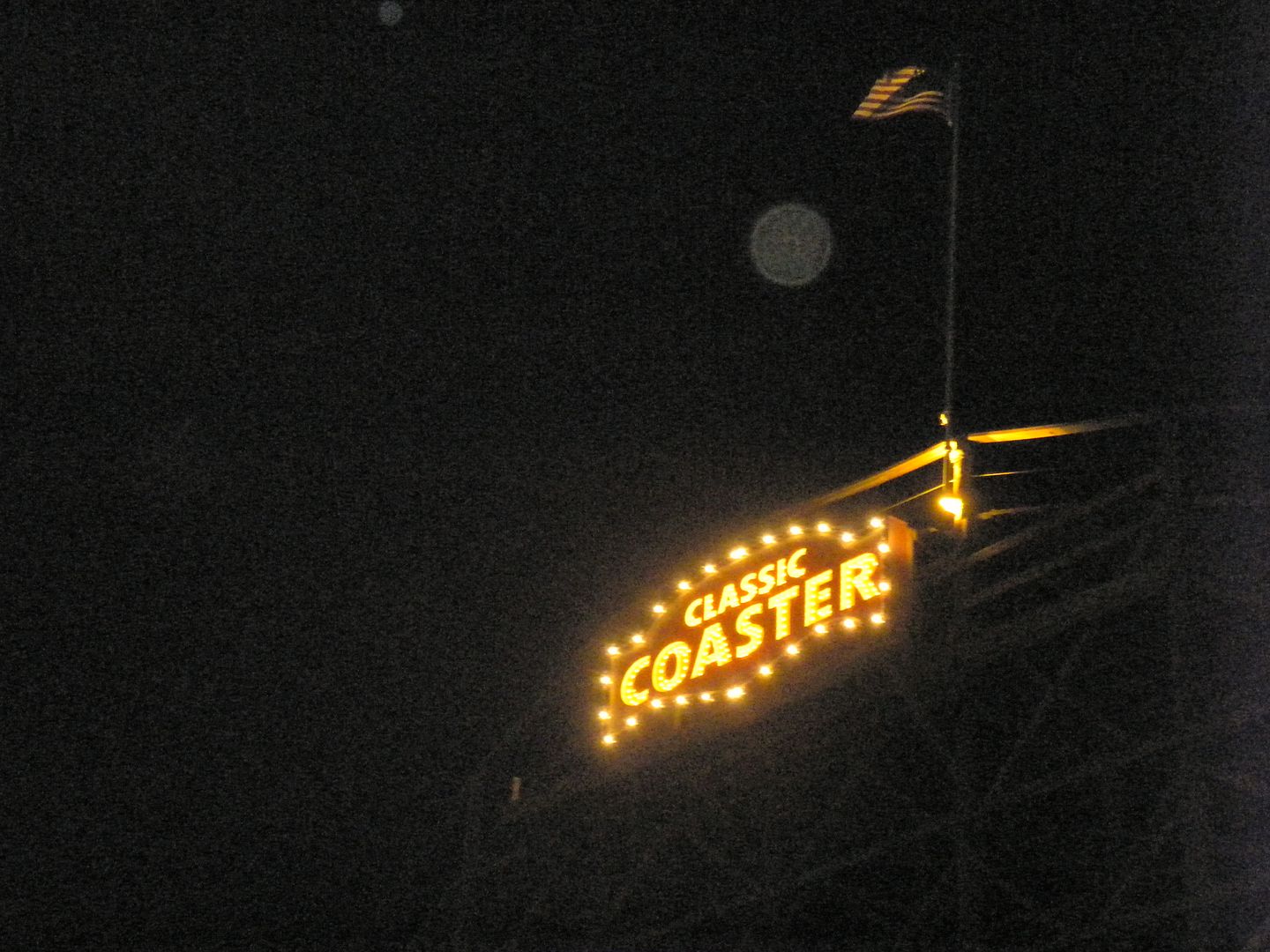 We had a tremendous ERT session – 11 rides including 9 during ERT & 2 night rides.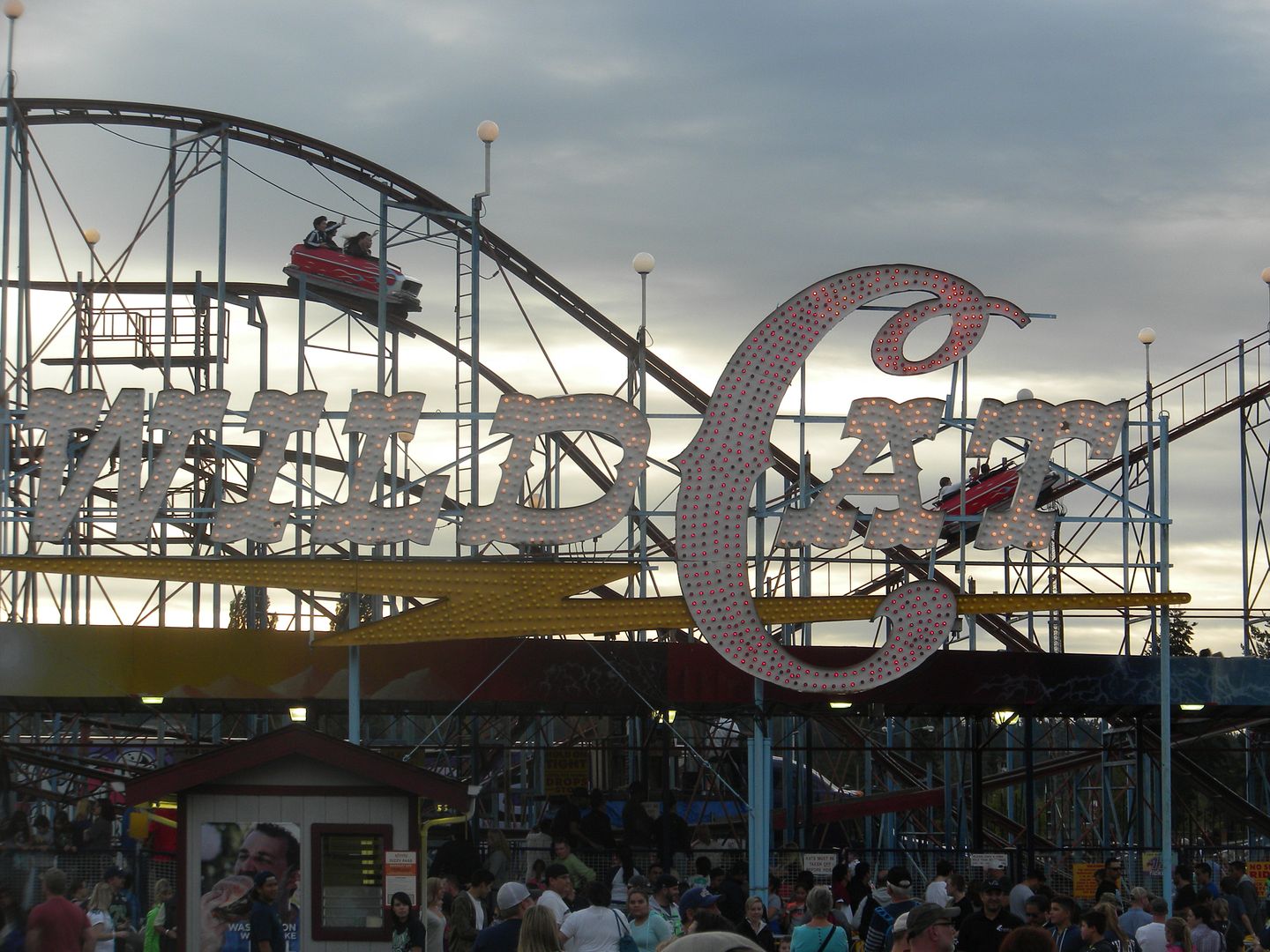 Wild Cat: (Schwarzkopf, Wildcat-65m, 1985) I always enjoy a Wildcat and this on runs great, its long drops and exciting helixes making for a great ride.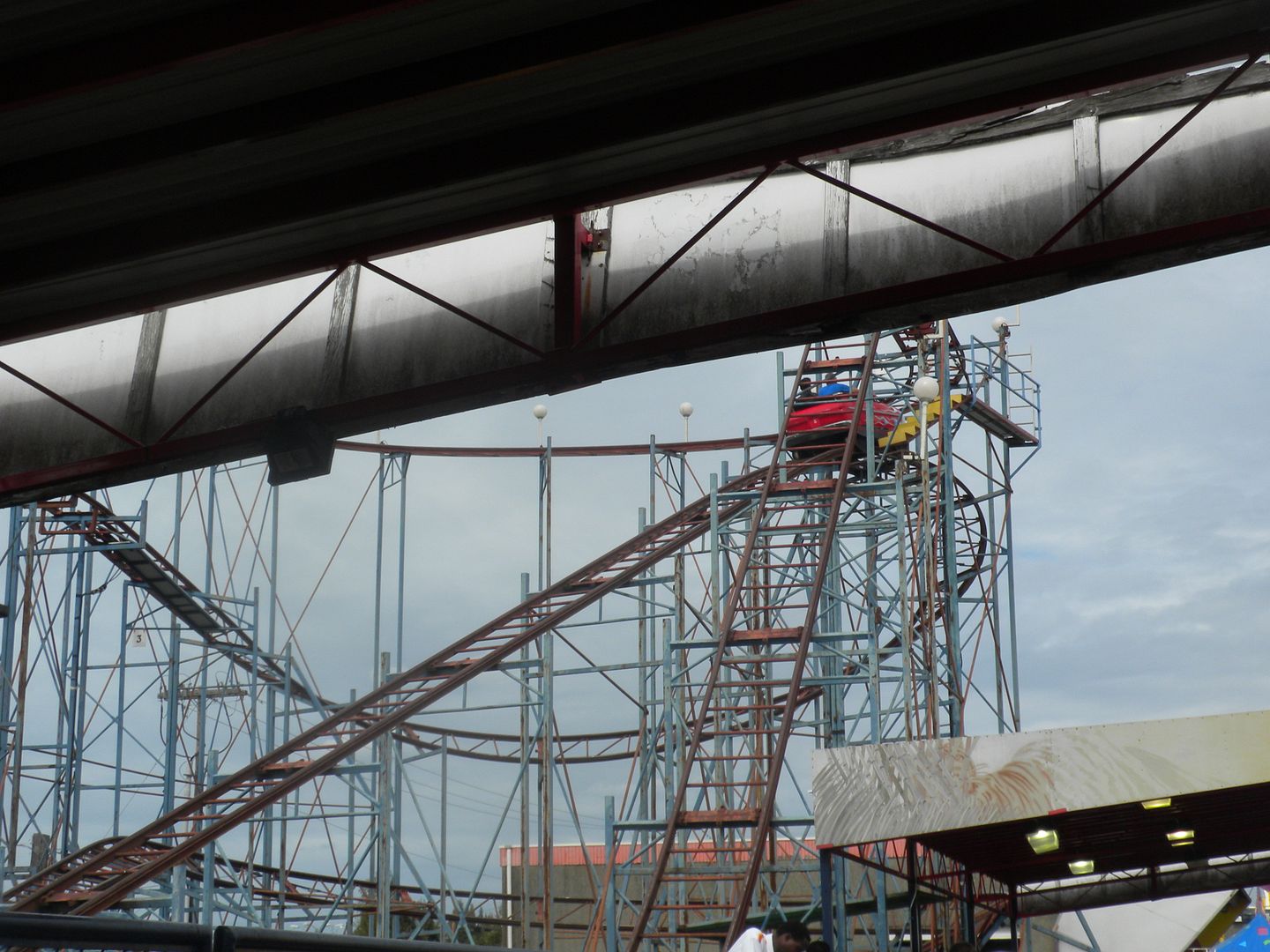 It has remained at the fairground year round since 1985. Be aware that they will not let you in the ride unless you have an even number of riders – absolutely no single riders are allowed – 2 rides.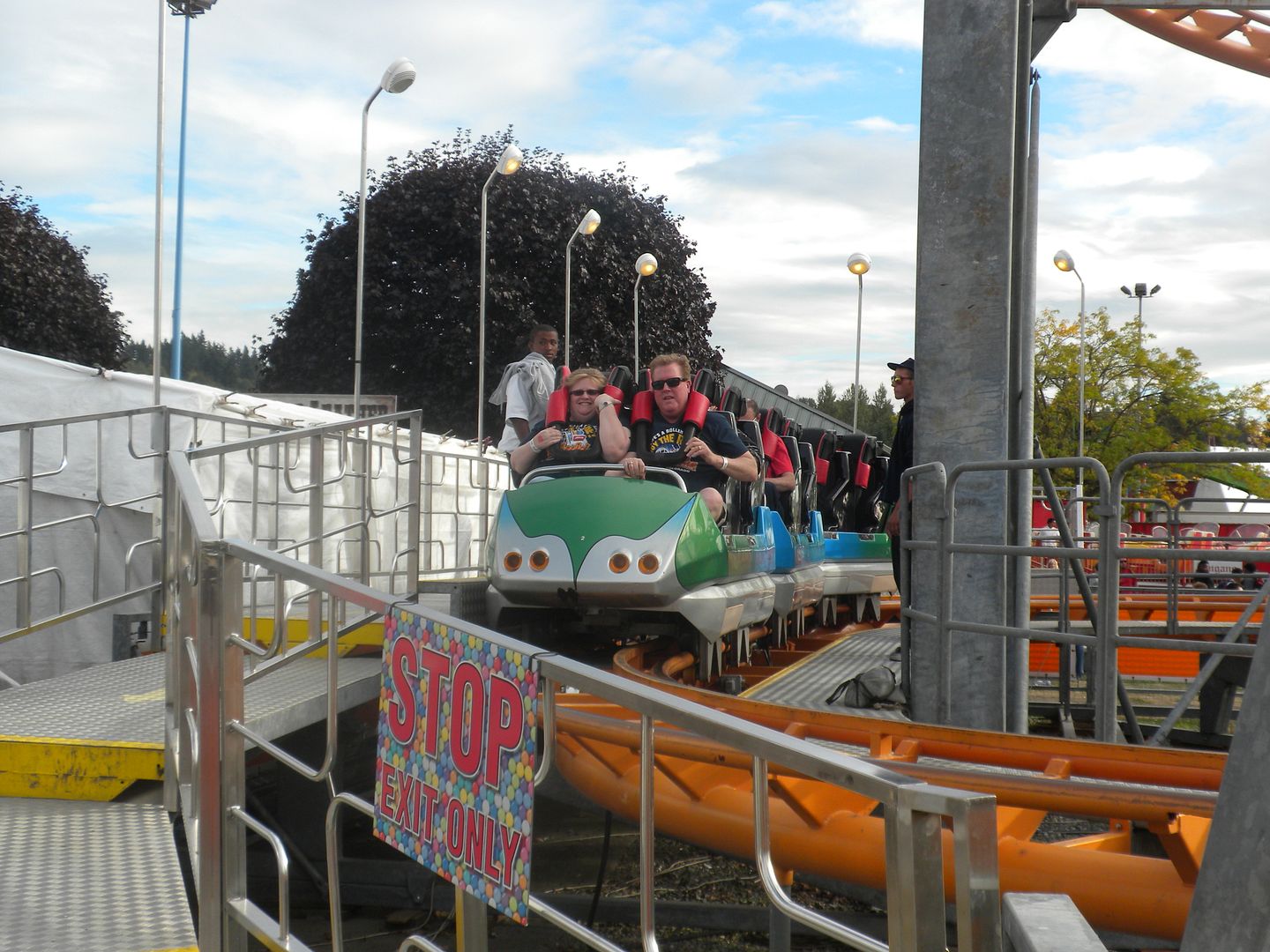 Rainier Rush: (Top Fun; Typhoon, 1998/2011/2013) Relocated from Santa's Village AZoosment Park as Typhoon and Los Angeles County Fairgrounds as Typhoon, this ride remains at the fairground year round.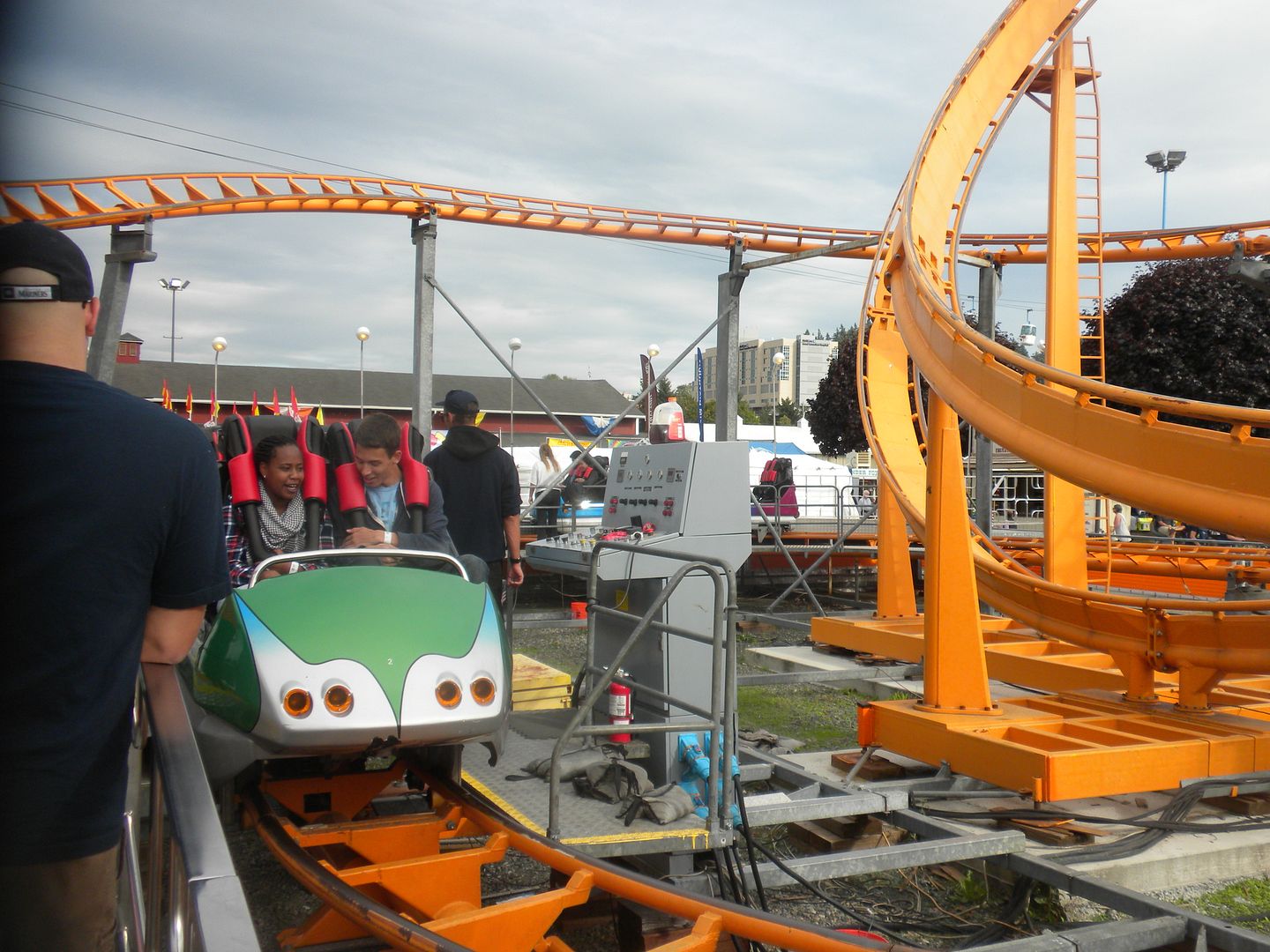 It is somewhat rough and there is a significant amount of head banging on the OTSR. Fortunately, these are somewhat soft, so it makes it less painful than it could be.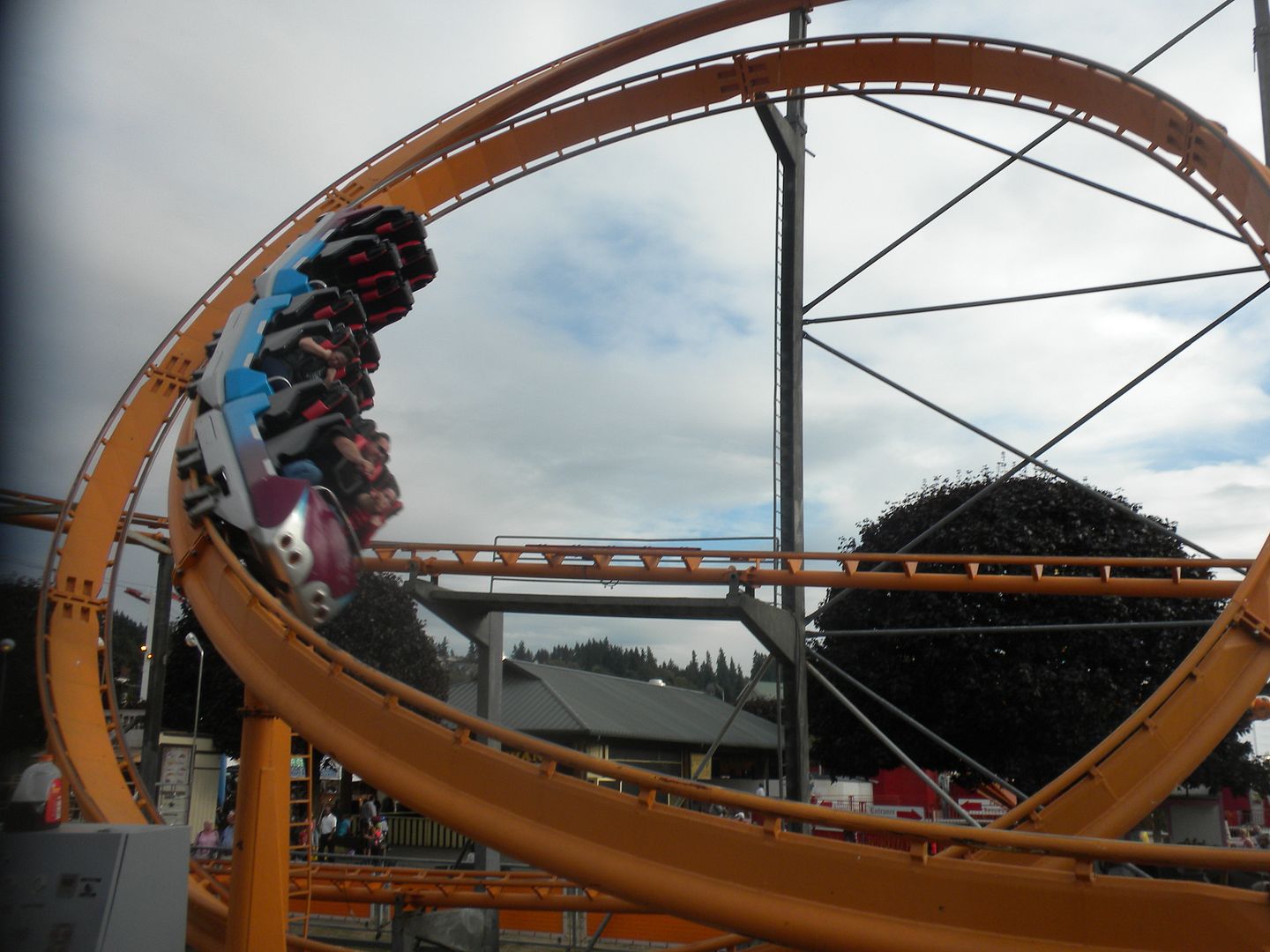 It has an interesting angled loop – 1 ride.


Speedy Coaster: (Unknown, Wacky Worm, Unknown Year)


Located in SillyVille, the children's midway, and new for the fair last year, this portable coaster is brought in for the fair and gave a good ride.


Some were told adults could not ride, but most were allowed to ride – 1 ride.


Tiger Express: (Unknown, Kiddie Coaster, Unknown Year) Located in SillyVille,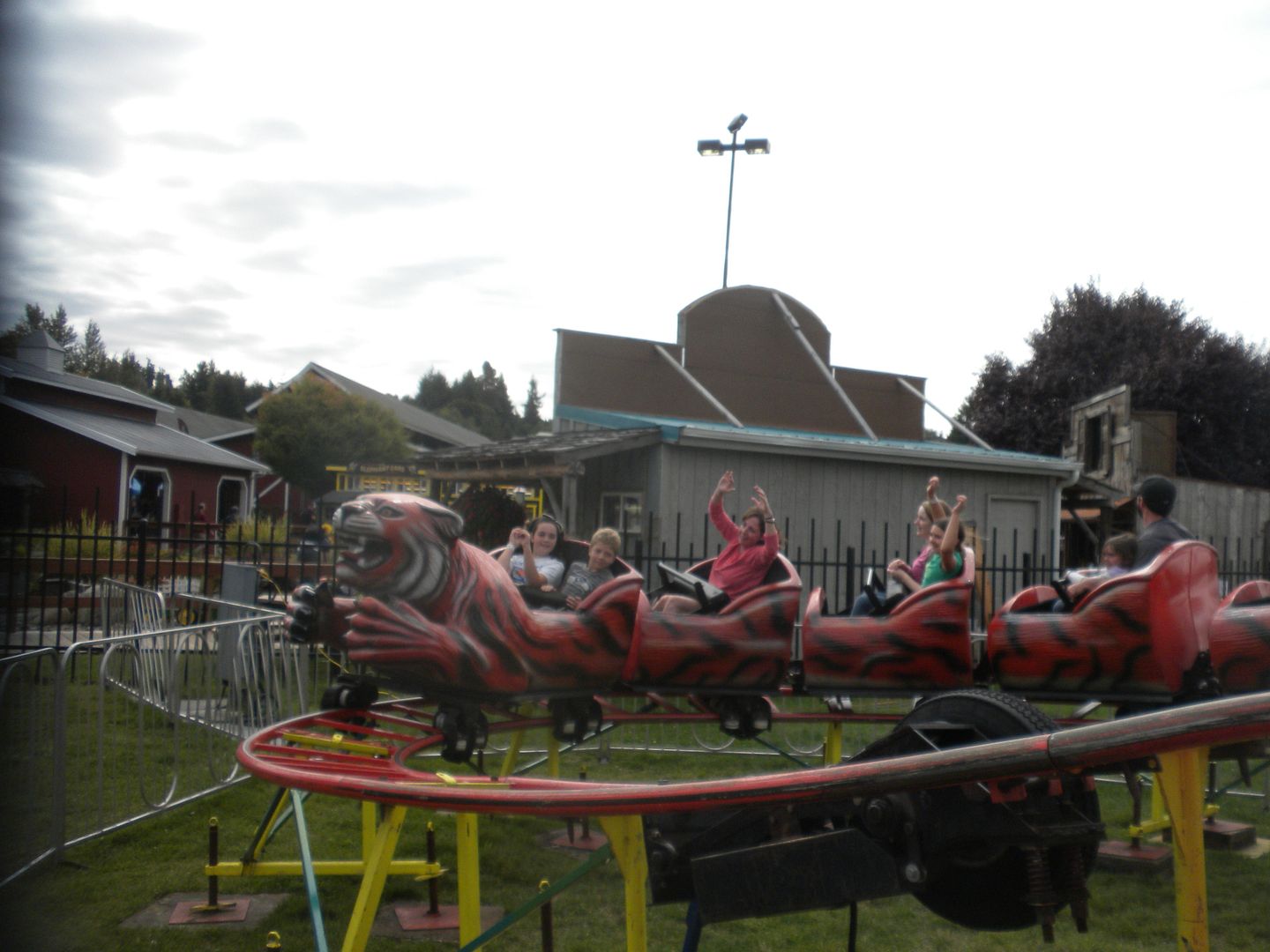 I was not aware this ride would be here, but it apparently has been brought in for the fair for the last several years – 1 ride.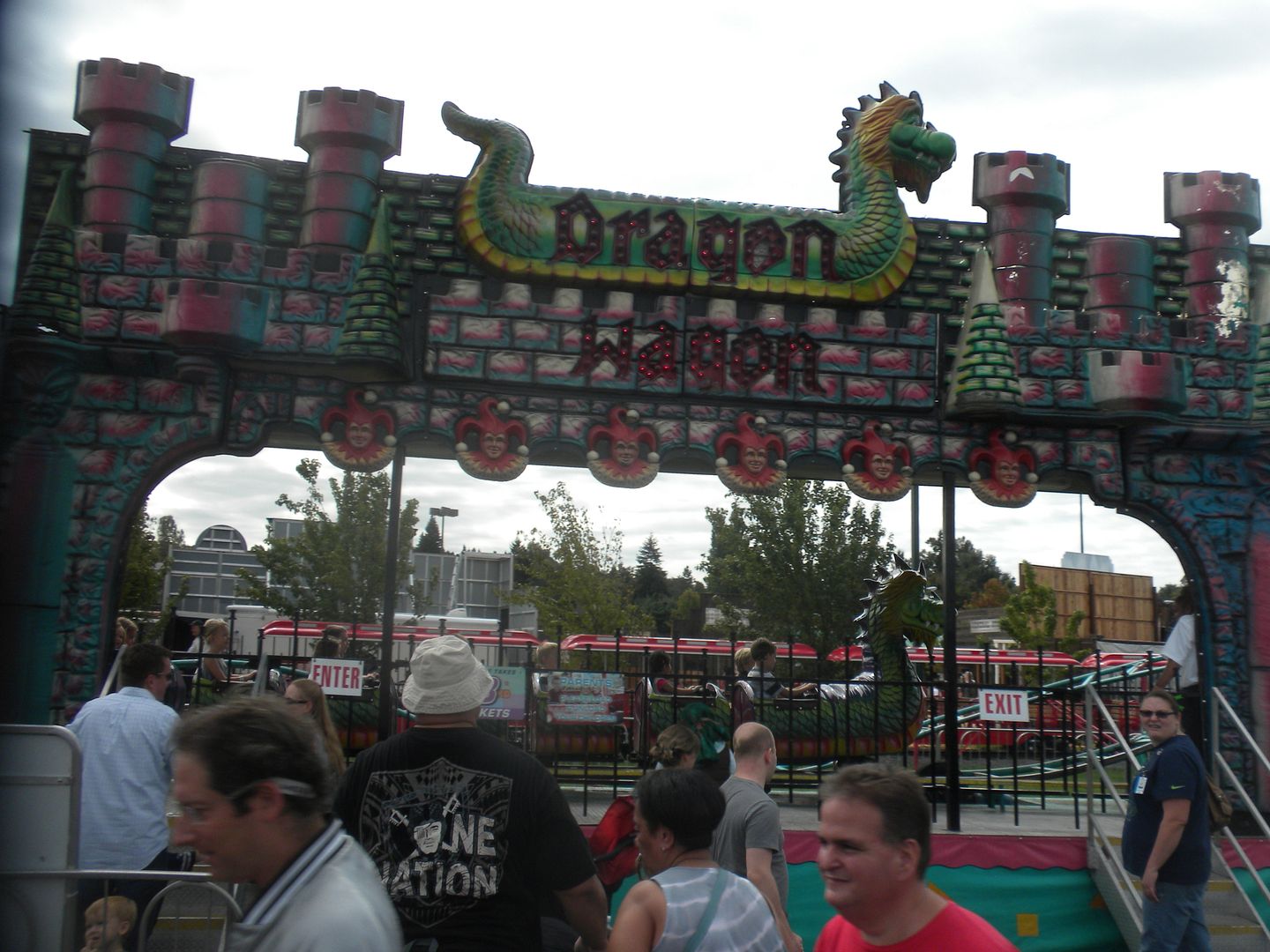 Adults were not allowed to ride Dragon Wagon (Wisdom, Dragon Wagon, Unknown Year), also brought in for the fair in SillyVille, and most of us would not have fit anyway.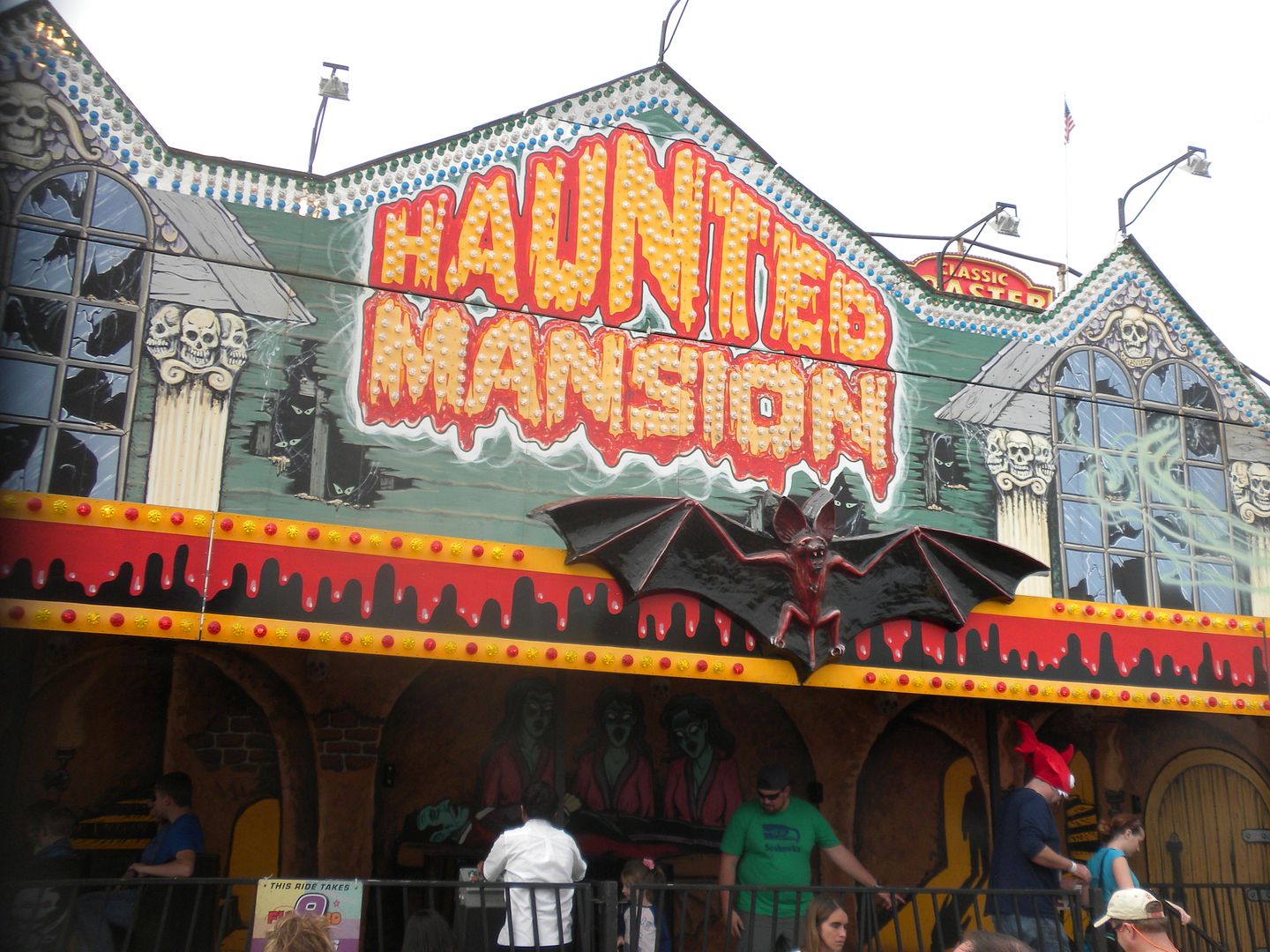 Haunted Mansion: Although I do not expect much from fair darkrides, this was pretty lame, even for a fair. It has a few small scenes that are not that well lit, although I do appreciate them having a darkride – 1 ride.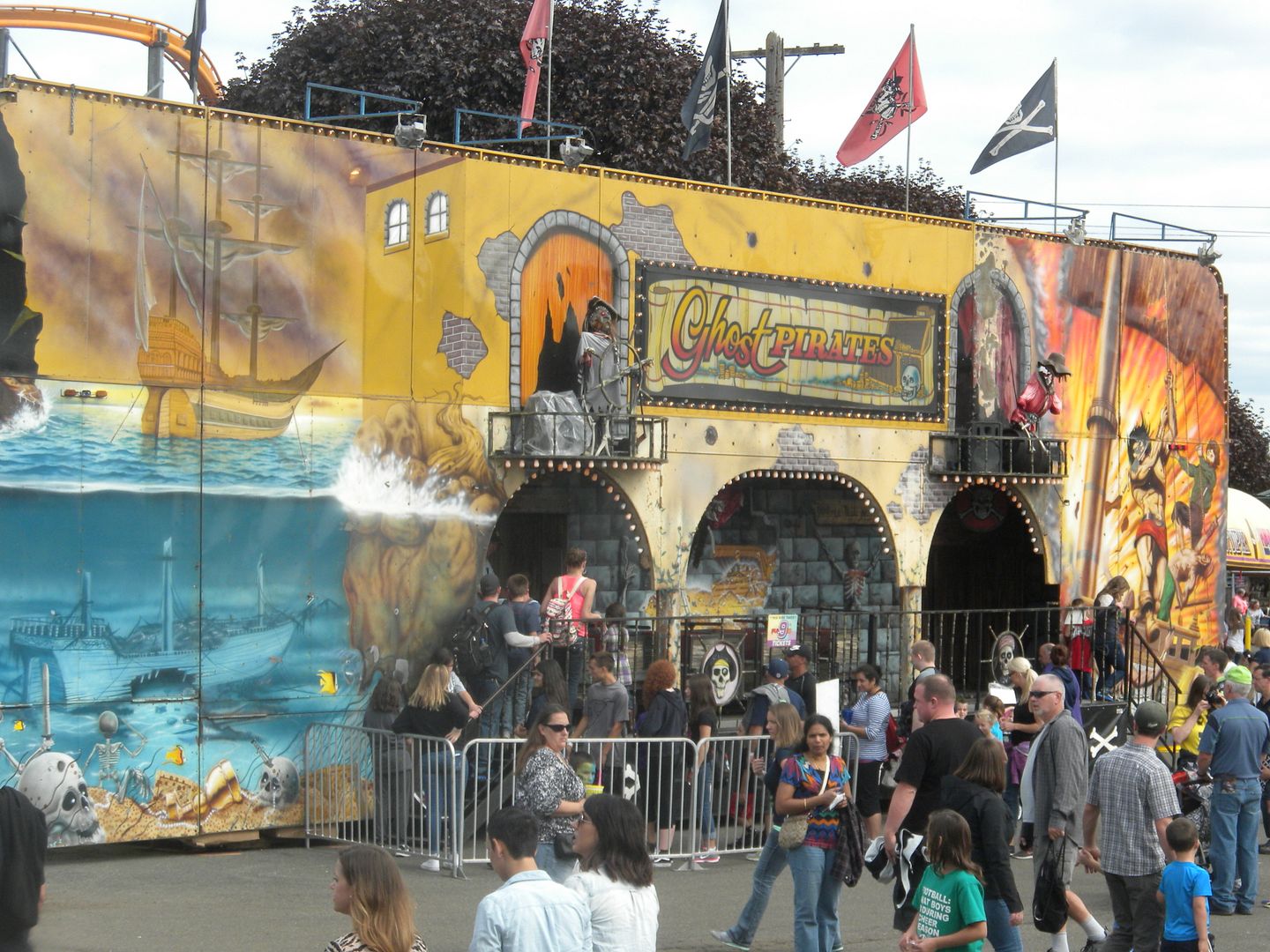 Ghost Pirates: Even lamer than the other ride, this had a pirate theme – 1 ride.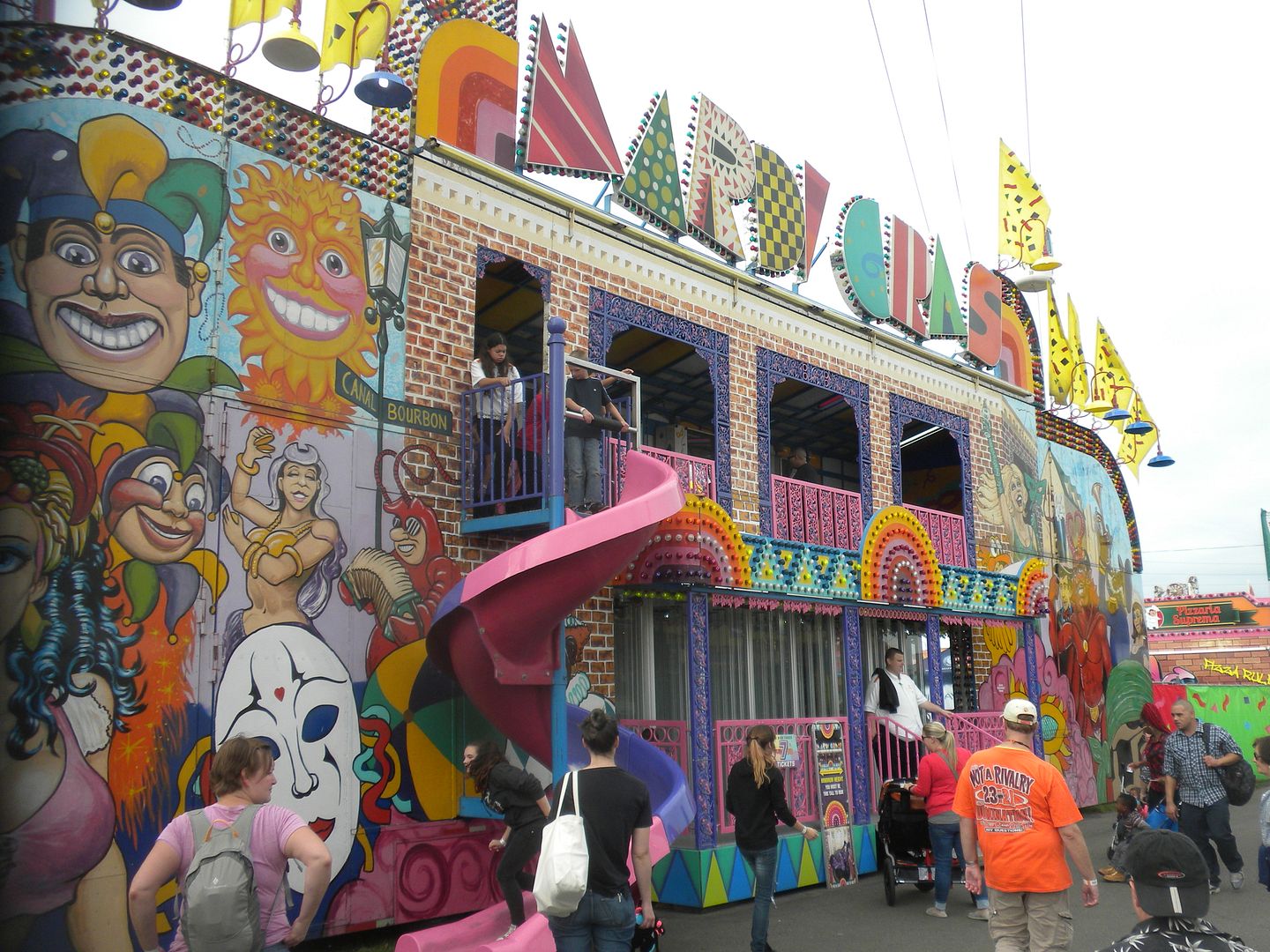 Mardi Gras: This is the standard portable mirror maze with a slide ending – 1 walkthrough.


Rat Race: This is a standard small portable fun house with a spinning barrel – 1 walkthrough.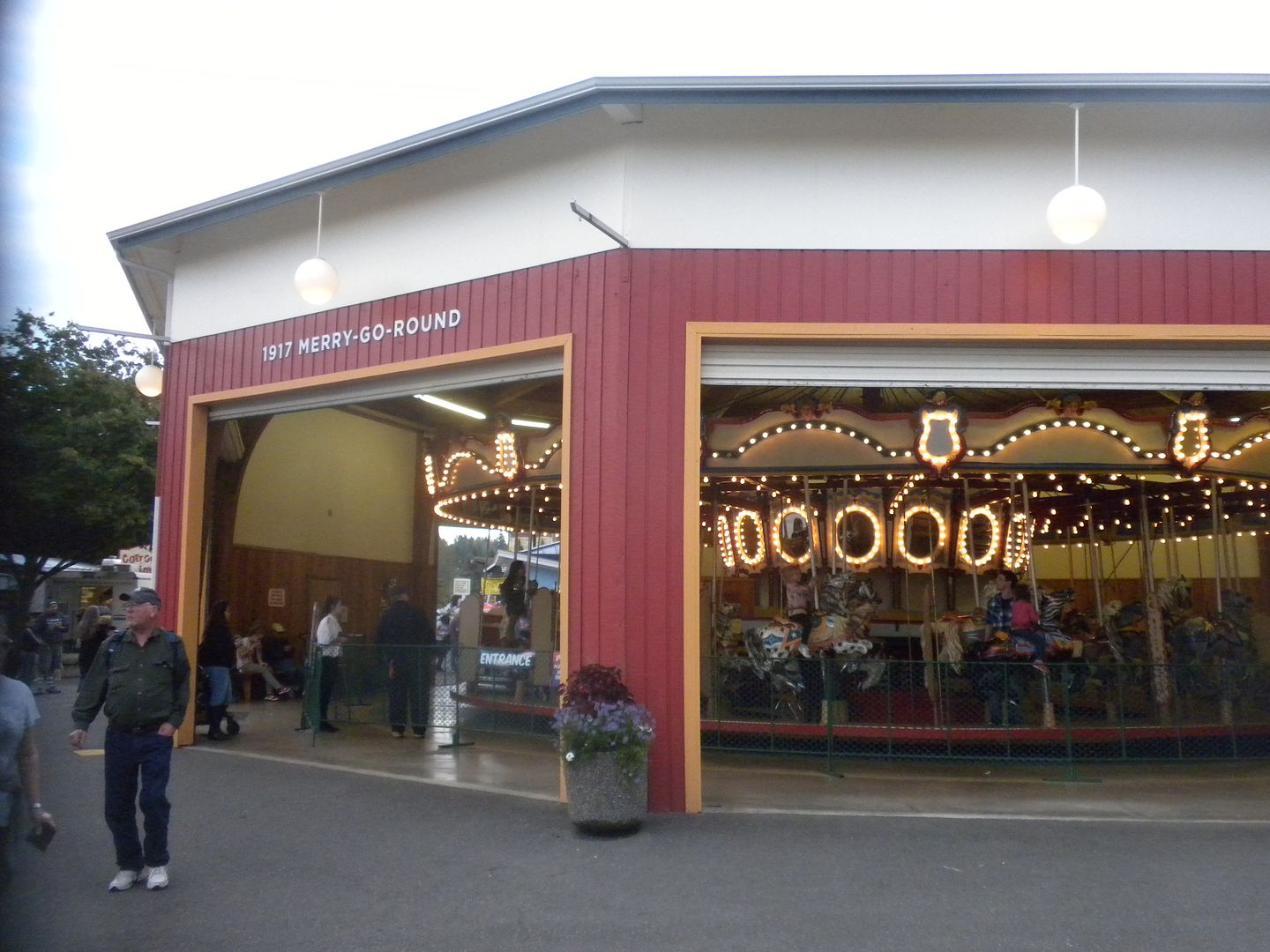 Antique Merry Go Round: (PTC #43; Classic Portable Wood Carousel: 3 Rows, 42 Jumping Horses, 2 Standing Horses, 2 chariots; 1917)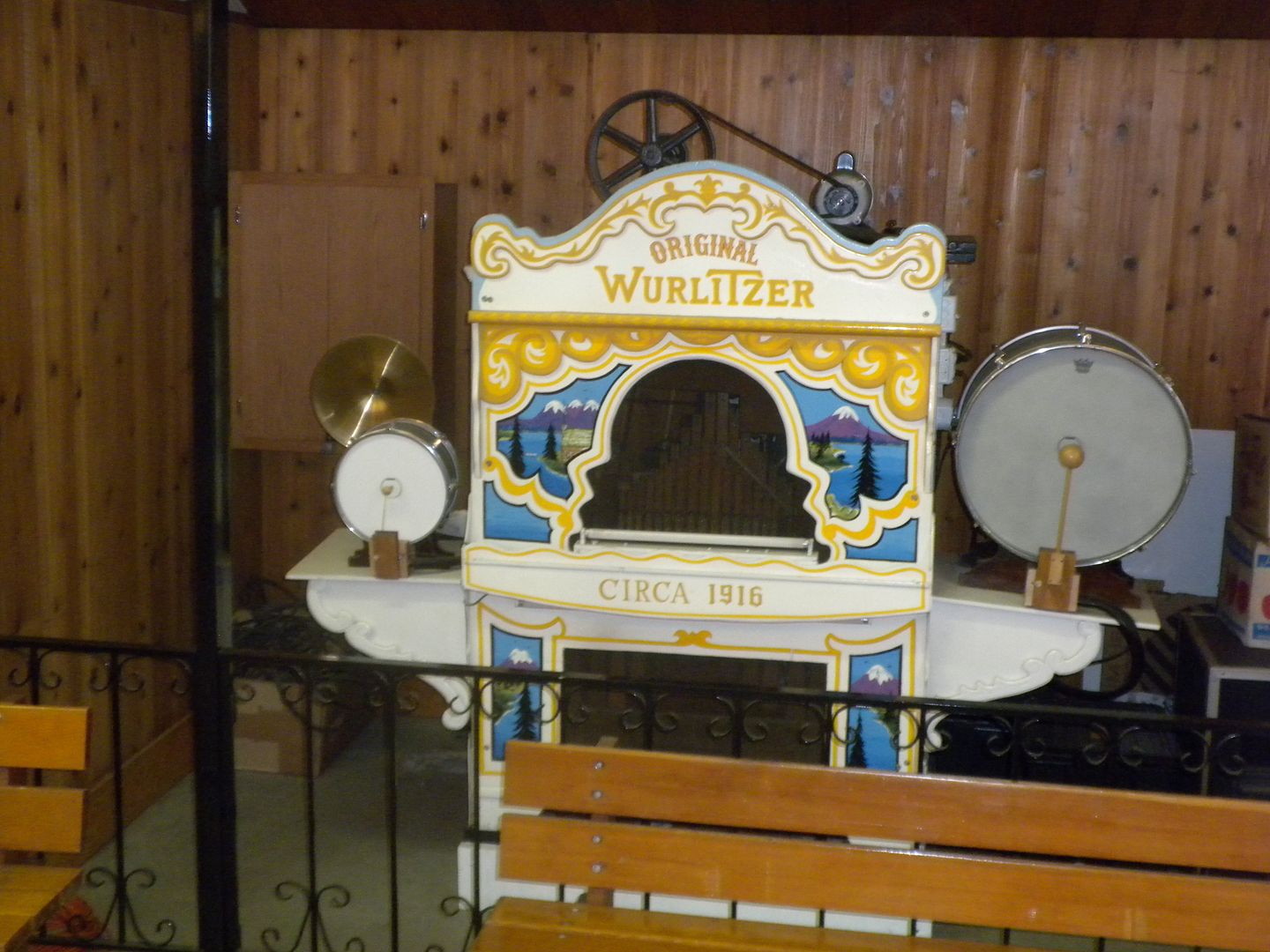 The Band Organ, which was not playing, is a c1916 Wurlitzer 145.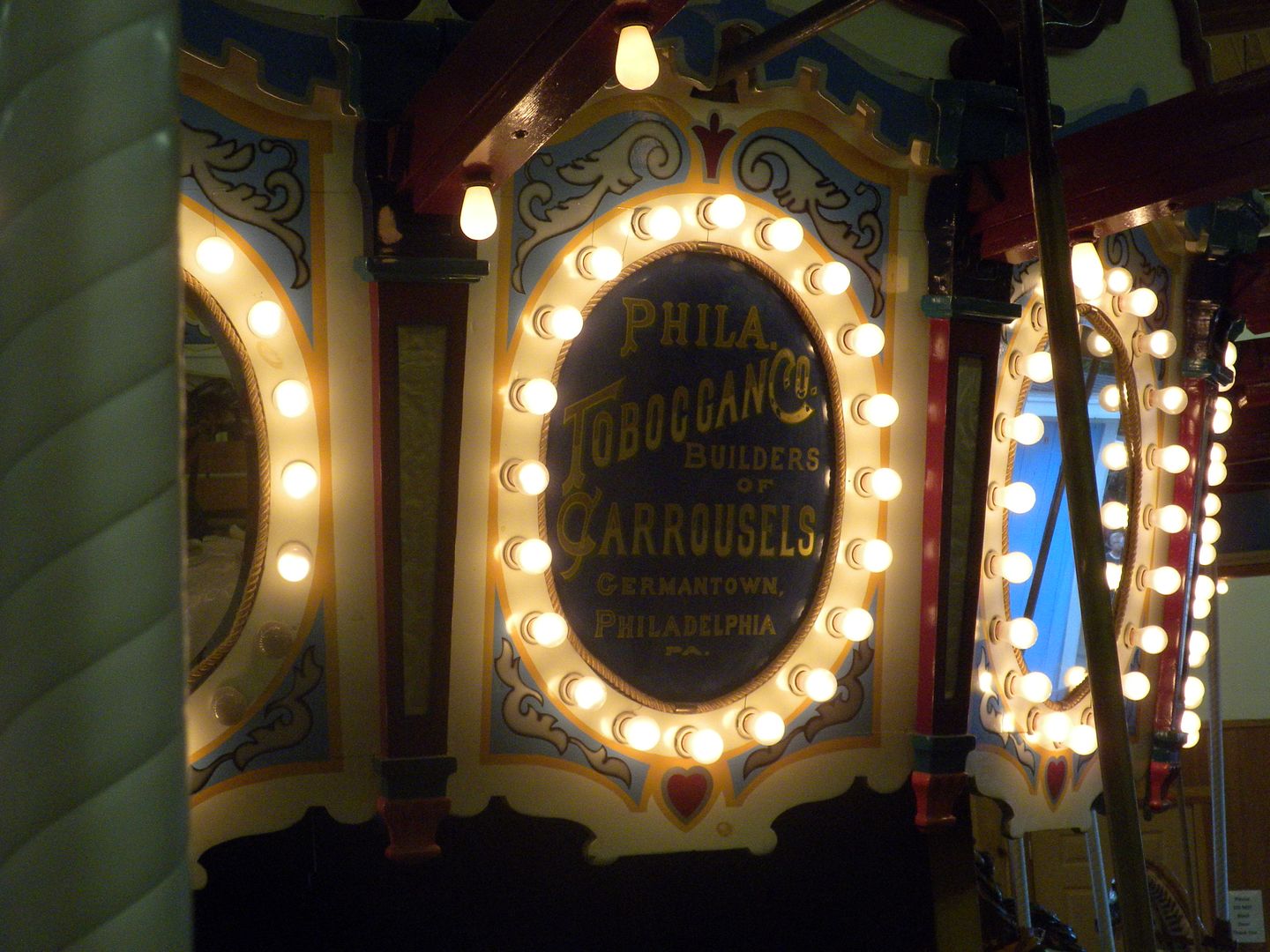 This is the only PTC portable carousel still operating. The center pole was factory mounted on a wagon. It was donated by Robert Bollinger to the Fair in 1966. It is believed to have traveled the carnival circuit from 1917 until 1966 (which included the Washington State Fair since 1923) and has been permanently at the Washington State Fair from 1966 to present.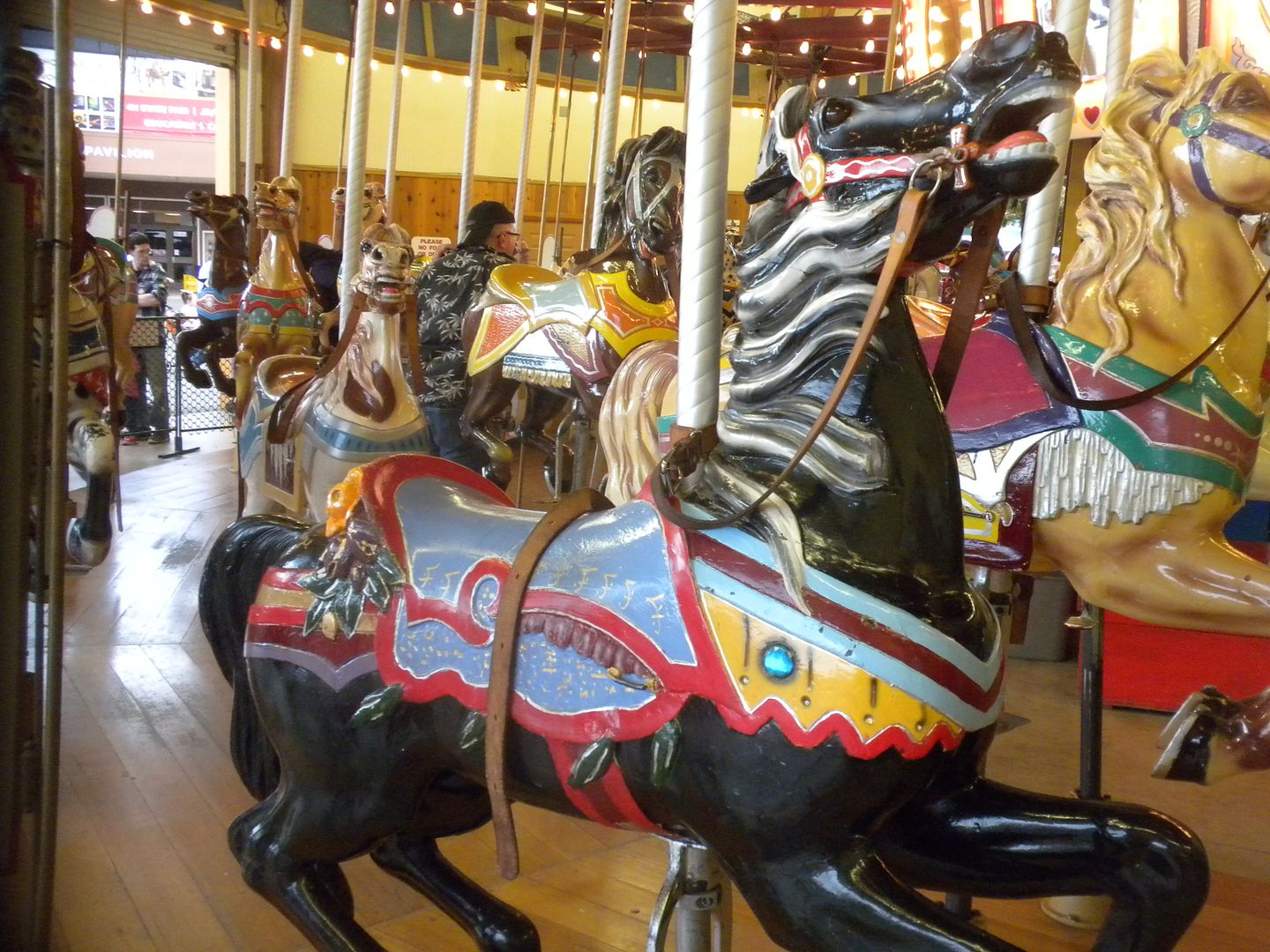 The horses have great detail but are somewhat smaller than on park models. It gave a good ride – 1 ride.


Inferno: This Zierer model is similar to an Air Racer, though much less intense – 1 ride.
Wave Swinger: This gave a good ride – 1 ride.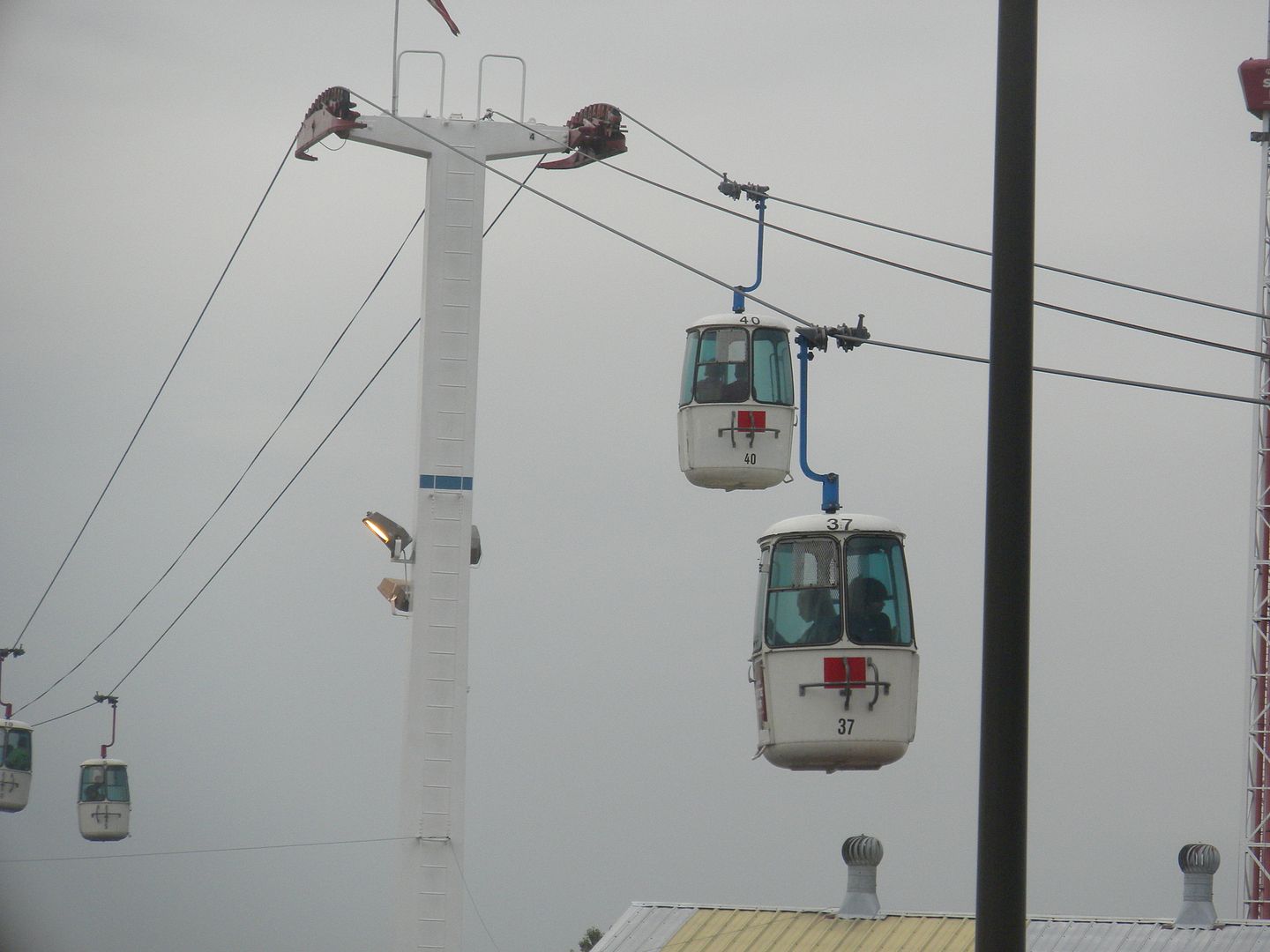 Skyride: This permanent Skyride takes you from one end of the midway to the other – 2 rides, 1 each way.
Train: This small train gives a nice ride around SillyVille and includes a themed tunnel – 1 ride.


Giant Slide: This is a really tall slide that is a lot of fun and gives some airtime – 1 slide.
Other rides along the midway include: Cliff Hanger; El Nino; Enterprise; Evolution; Extreme Scream, a 200 foot drop tower that is not included on the Xfinity Dizzy Pass; Giant Wheel; Kamikaze; Matterhorn; Monster; Orbiter; Paratrooper; Rock Star; Scooter; Scooters (yes there are 2 sets of bumper cars); Scrambler; Sea Dragon; Starship 2000; Tornado; Vertigo; Zero Gravity; and Zipper. The children's midway, SillyVille, contains the following larger rides in addition to the rides that we rode noted above: Giant Wheel (yes, there is another one in this section); Merry Go Round; Merry Go Round (yes, there are 2 in addition to PTC #43 noted above); Phoenix Wheel; Scrambler (in addition to the one on the midway); and Tilt-A-Whirl.


This section also has 25 children's rides.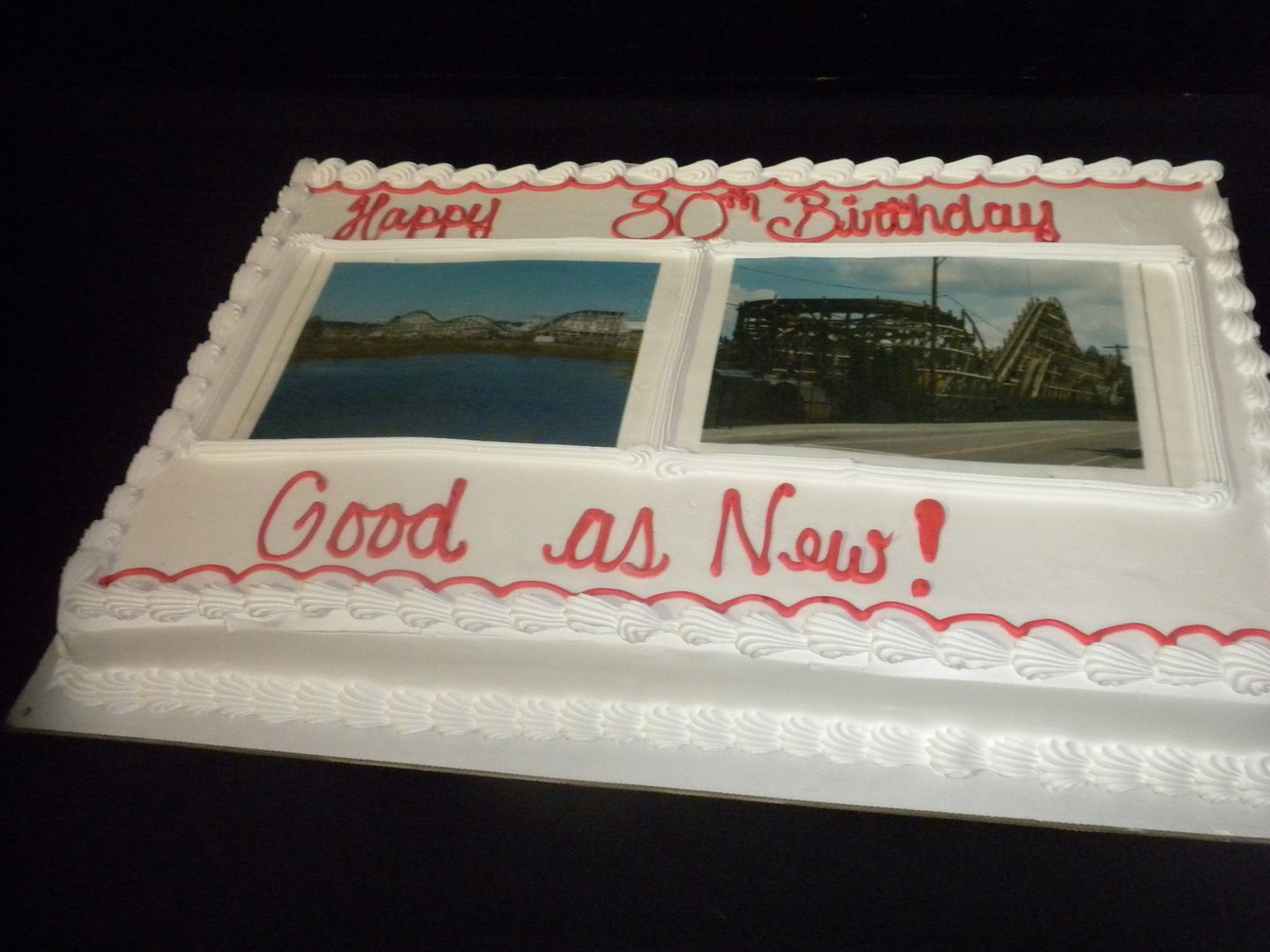 We had a delicious meal provided to us along with a presentation by John Hinde, who as noted earlier has enjoyed a long career in the amusement and wood coaster industry. He discussed his first job at Cedar Point working for John Allen on the Blue Streak (PTC-John Allen-Frank Hoover, Wood Out & Back, 1964). His career has included working with Marriott at the Great America parks, with wood coaster designer Charlie Dinn at Kings Island, at Ocean Park in Hong Kong, rebuilding Swamp Fox (PTC-John Allen, Wood Out & Back, 1966) at Family Kingdom after Hurricane Hugo in 1989, relocating Florida Hurricane (Don Rosser, Wood Out & Back,1978/1992) from Florida to Arkansas as Arkansas Twister, working with his brother to maintain and preserve Classic Coaster at the Fair, and overseeing a 5 year complete rebuild of this coaster. You could tell it was with great pride that he operated the coaster during our ERT and when we rode later in the day. Interestingly, he stated to me that he would love to relocate a classic coaster to a fair ground as so few fairs have a wood coaster available to them anymore. I don't know if he will be able to realize this dream, but he certainly has the knowledge to do so. I was fascinated by the things he told us about his career, and it was an honor to talk with someone who knew John Allen and Charlie Dinn personally. One thing that sets Preservation Conference apart is that we get to hear from those who have contributed to preserving coasters and parks for us to still enjoy.
We had a great time at the Fair and stayed until after dark. We all selected various Fair foods for dinner. We left about 9:30 and drove to our hotel in Clackamas, OR.
Oaks Amusement Park
We arrived at Oaks Amusement Park in Portland on Saturday, September 19 just before our ERT session at 11:00.


Although the park's coasters are not overly exciting, we had a fun ERT session at this traditional park with a nice lake setting.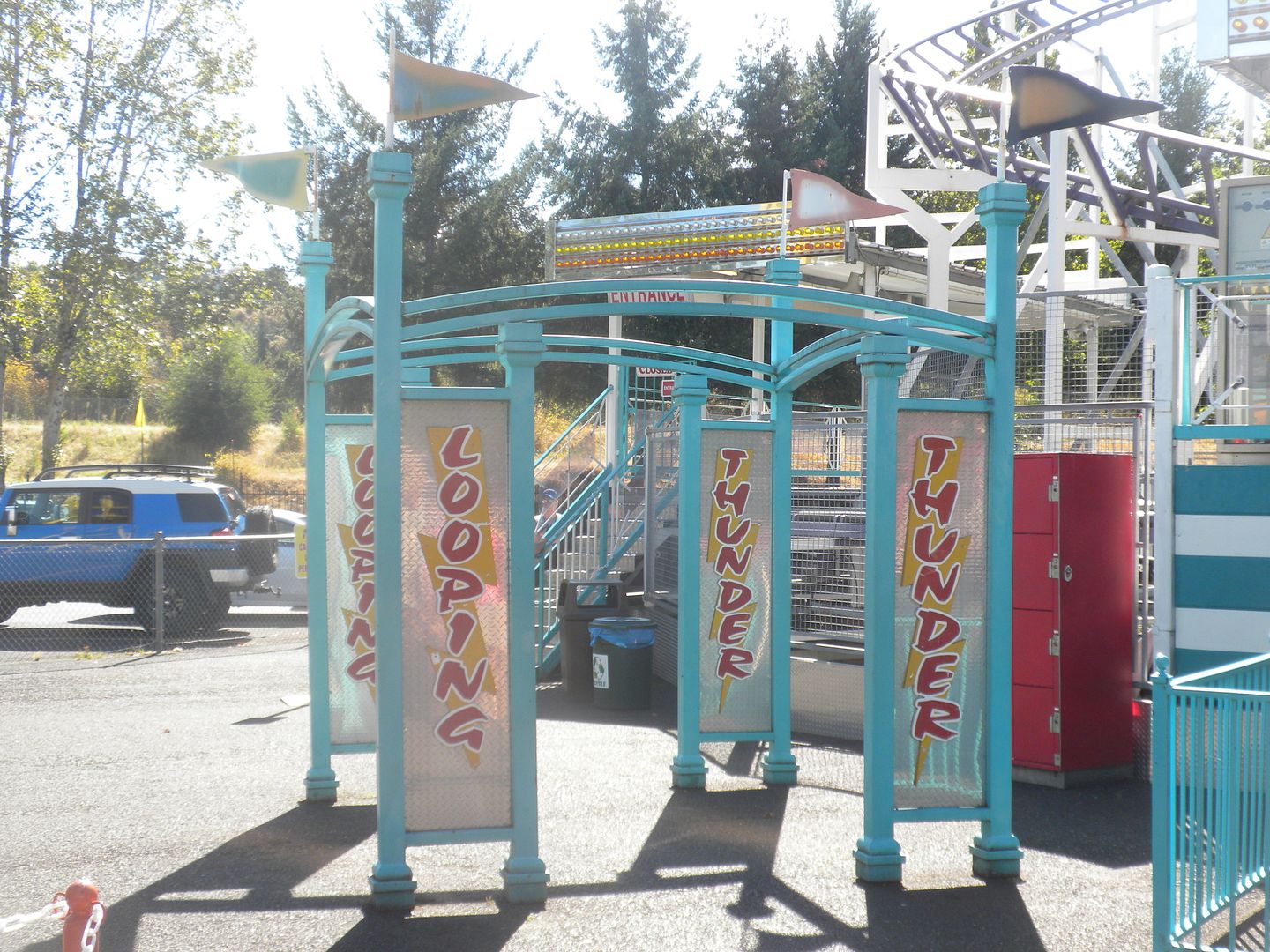 Looping Thunder Roller Coaster: (Pinfari, Zyklon ZL42, 1996)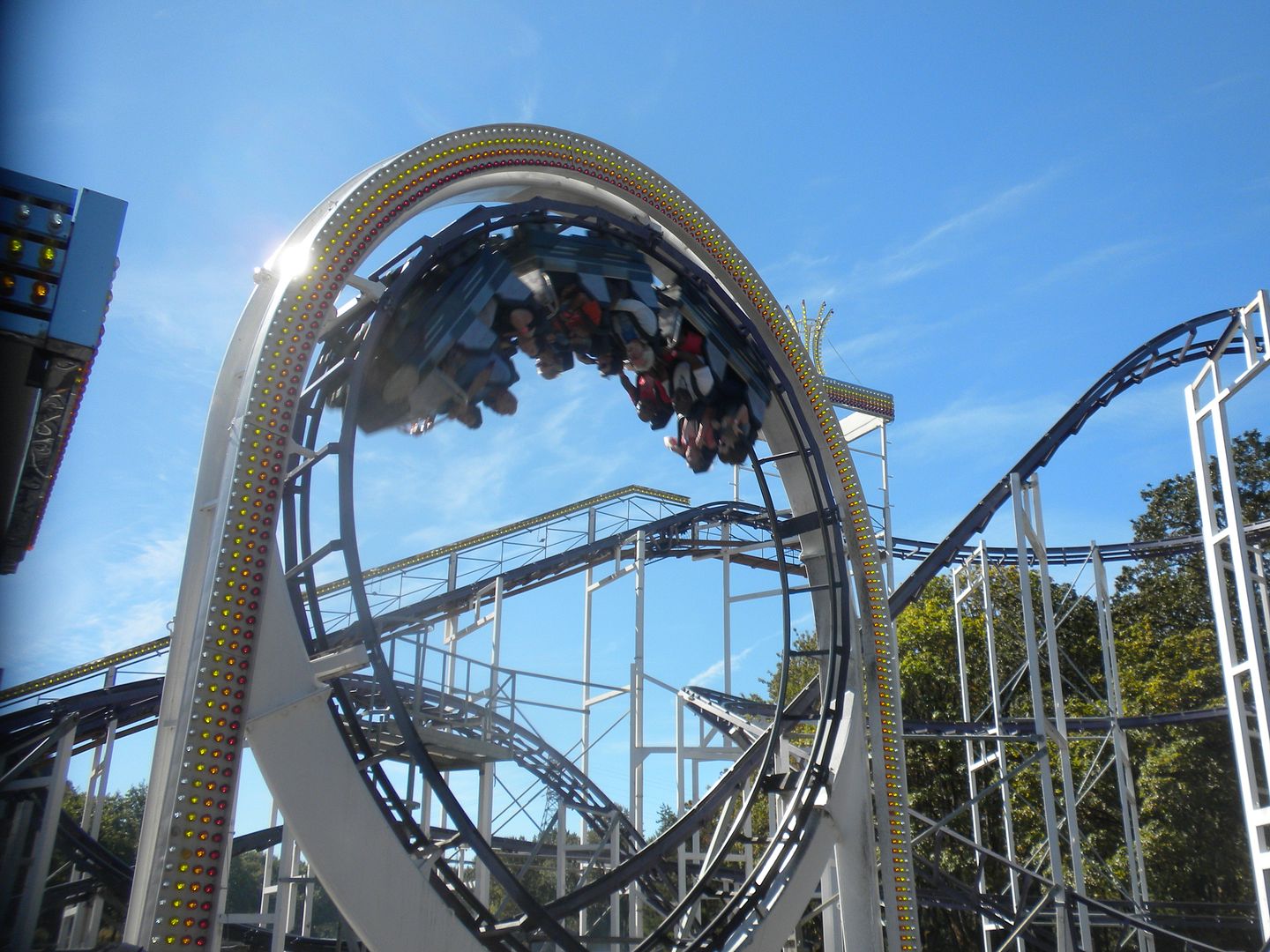 While the transitions into and out of the loop are rough, it gives a better ride than some Pinfari loopers I have ridden – 1 ride during ERT.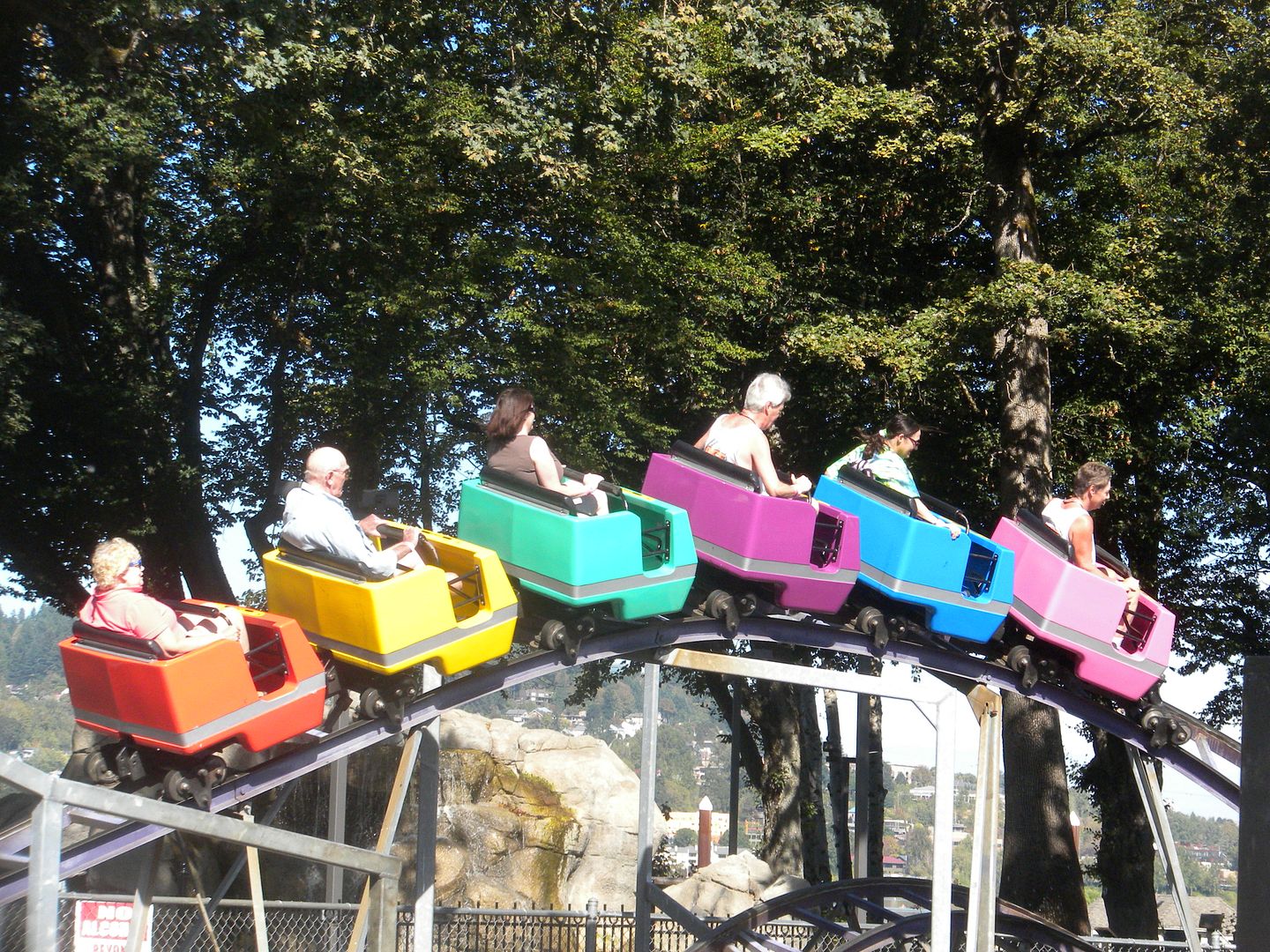 Zoooooom Coaster: (E&F Miler, Family Coaster, 1999)


This is a very good coaster for a family ride – 1 ride during ERT.

Rock-O-Plane: I love Rock-O-Planes and this one gave good rocking and flipping – 2 rides during ERT.


Carousel: (Herschell-Spillman; Classic Wood Carousel: 3 rows-13 Jumping Horses, 11 Standing Horses, 26 Menagerie Animals-1 Cat, 1 Deer, 2 Dogs, 1 Dragon, 4 Frogs, 2 Giraffes, 1 Goat, 1 Kangaroo, 1 Lion, 2 Ostriches, 2 Pigs, 2 Roosters, 1 Stork, 1 Tiger, 2 Zebras, 2 Mules-2 chariots, 2 Tubs; 1911) Listed in the National Register of Historic Places in 1987, this two-level platform carousel has been here since 1924. It gave a good ride and is in good condition – 1 ride.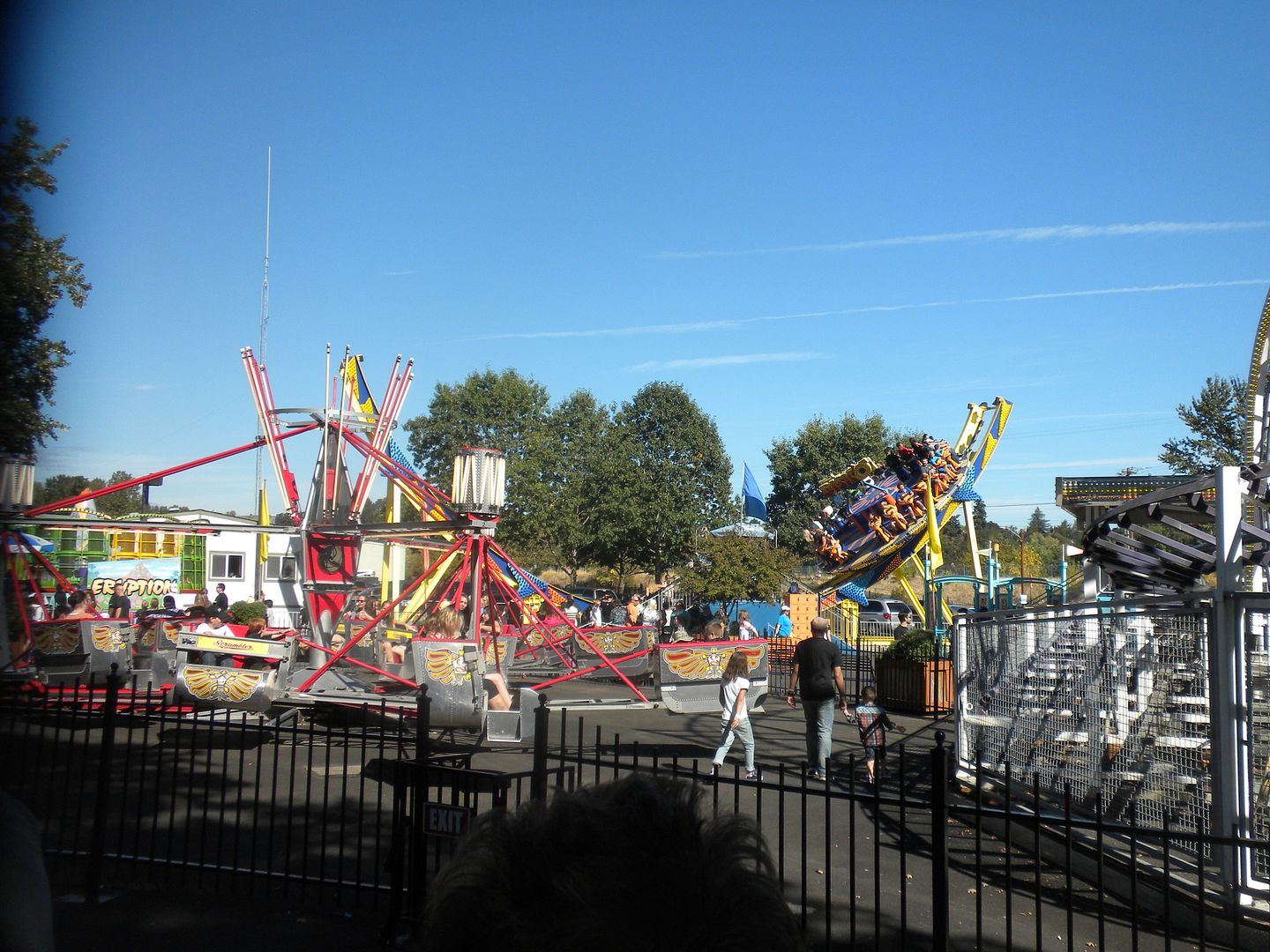 Disk'O: Good ride – 1 ride.
Ferris Wheel: This is a new Eli Bridge Ferris Wheel and give great views of the Portland skyline – 1 ride.
Rock & Roll: This Himalaya gives good swinging and goes both forward and backward – 1 ride.
Spider: We had great spinning on this spider ride – 1 ride.
Tilt-A-Whirl: With new cars, the spinning was very limited – 1 ride.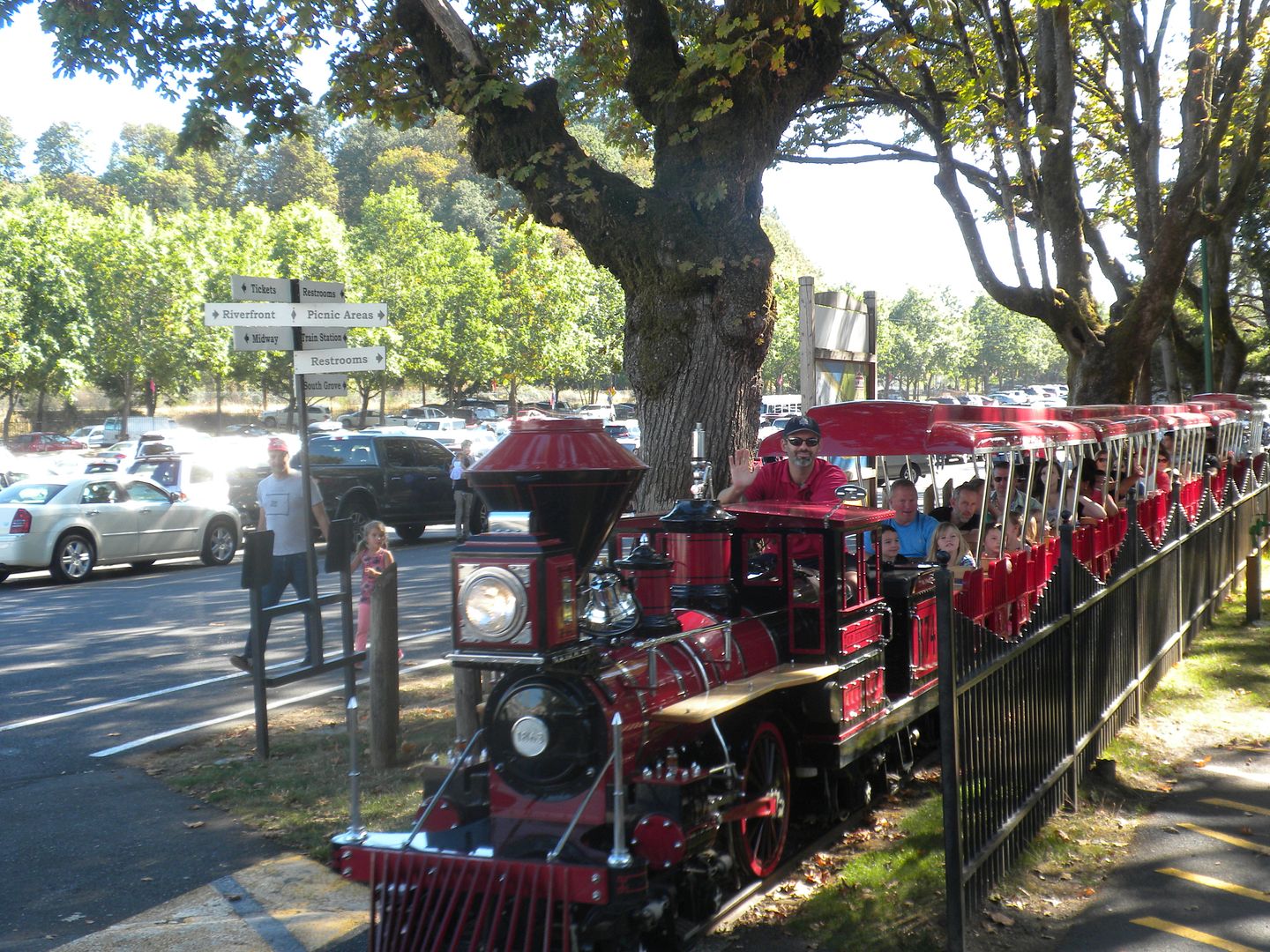 Train: This shiny new engine of this C.P. Huntington train gives a nice tour around the picnic area and along the bank high above the lake – 1 ride.
Cosmic Crash: These bumper cars were good – 1 ride.
Eruption: This well themed Round-Up has a long cycle – 1 ride.
Screamin' Eagle: This swinging pendulum ride was a lot of fun – 1 ride.
Scrambler: Good ride – 1 ride.
I did not ride Go Carts, which has an additional charge.

Oaks Park is known for its Roller Skating Rink, said to be America's largest and its Wurlitzer Organ, the last remaining theater size organ at a skating rink. We were given entry to skate and several ACEers took them up on it, but I just watched as I no longer skate. Other attractions include Chipper's Woods Miniature Golf Course and Big Pink Slide. There are 7 children's rides.
We were treated to a delicious German meal in honor of their Oktoberfest event that would take place the following weekend.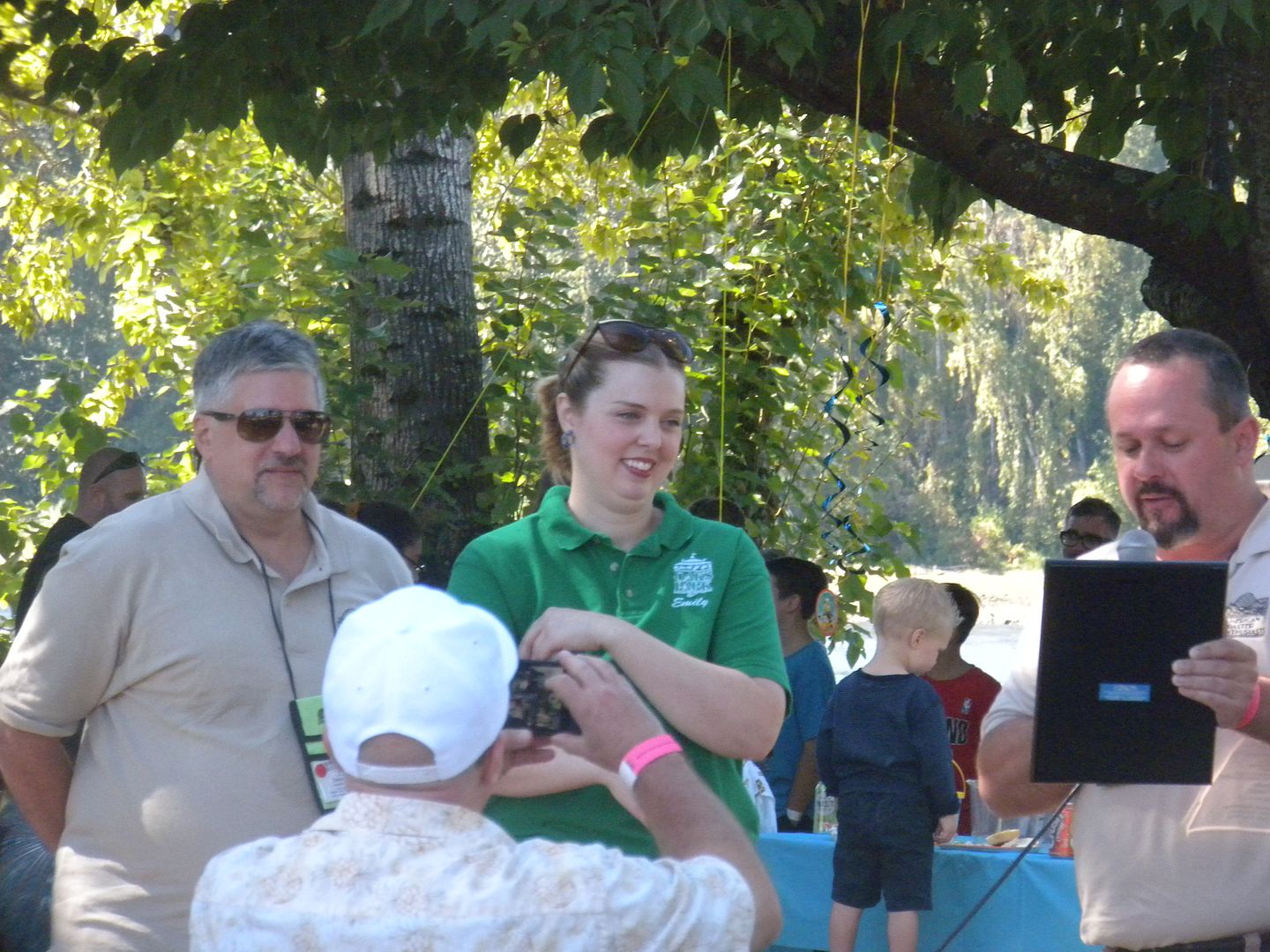 Our guest speaker was one of the park managers. While she is still young, she is a long time employee of the park and shared with us information about the Bollinger family that owned the park for many years, and how it is now as a trust still operated like a family owned park.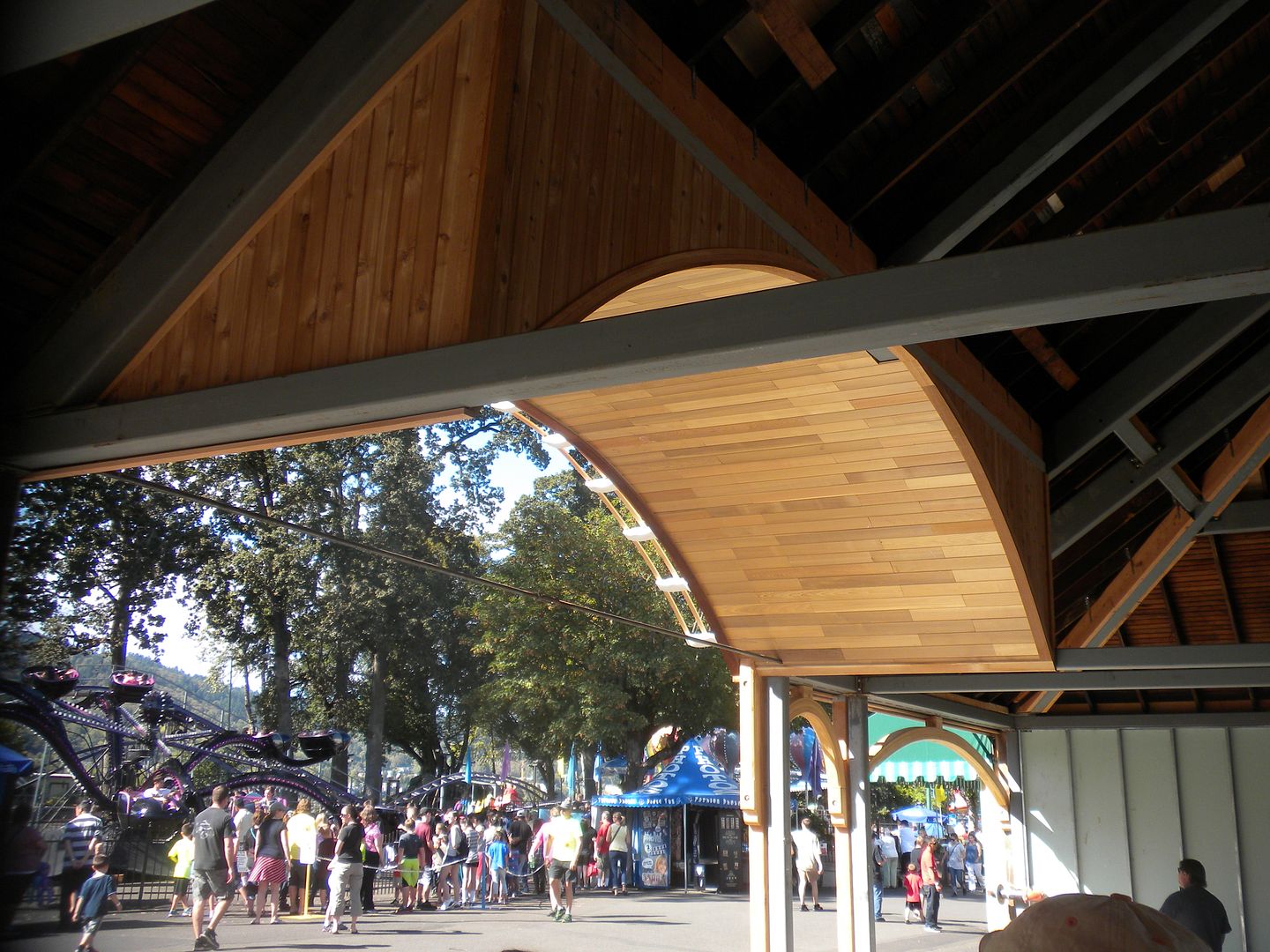 She told us that the park's darkride was recently removed to renovate the historic Blue Streak building that it was located in, so named for the coaster that once operated here.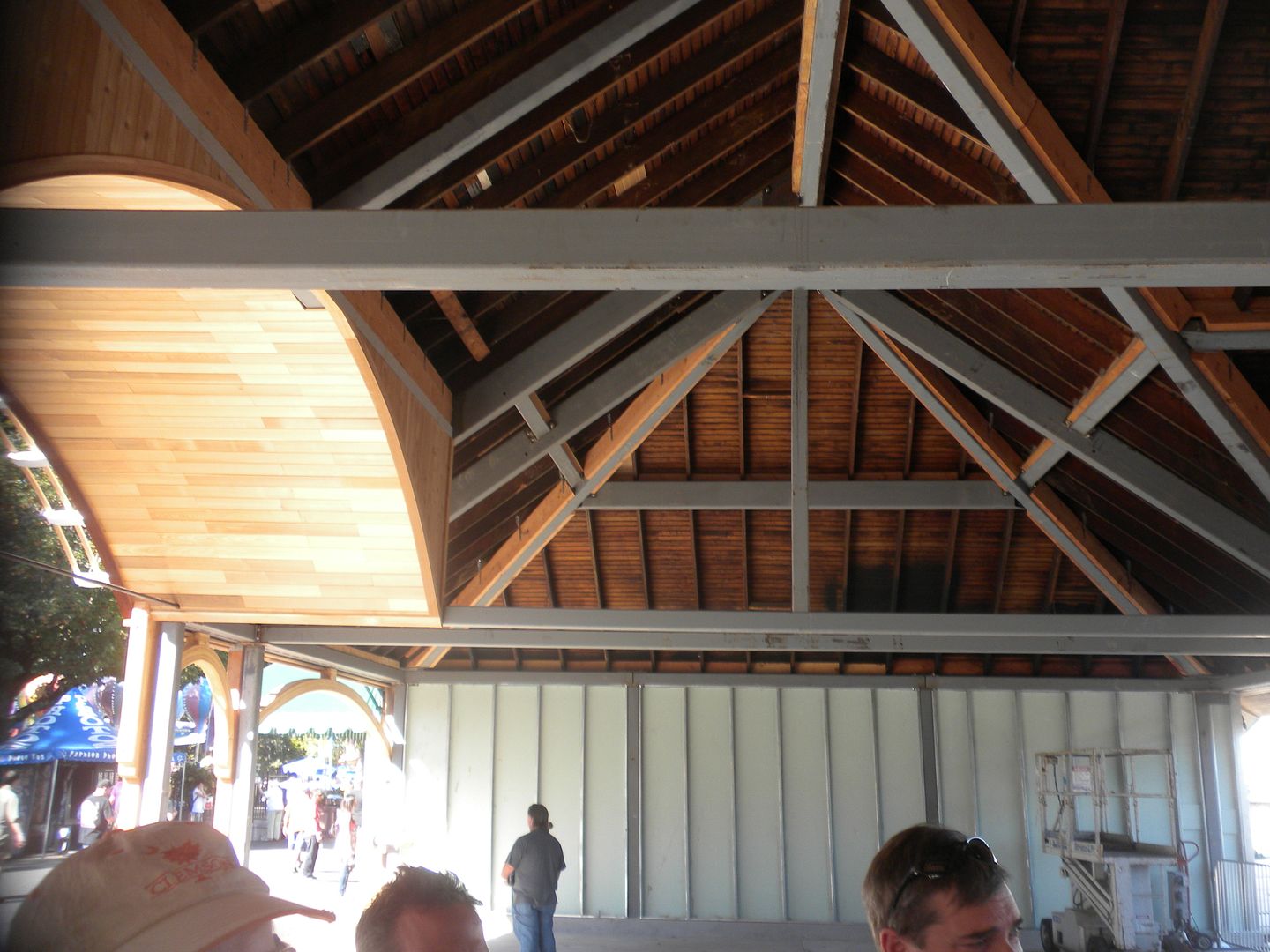 She told us that this building is very important to the future of the park, alluding to how it may be used in the future. She described the serious issues with flooding the park has dealt with through the years and the innovative way they allow the skating rink floor to float upward in the event of a flood. Those who wanted were given a walking tour that included the historic Dance Hall,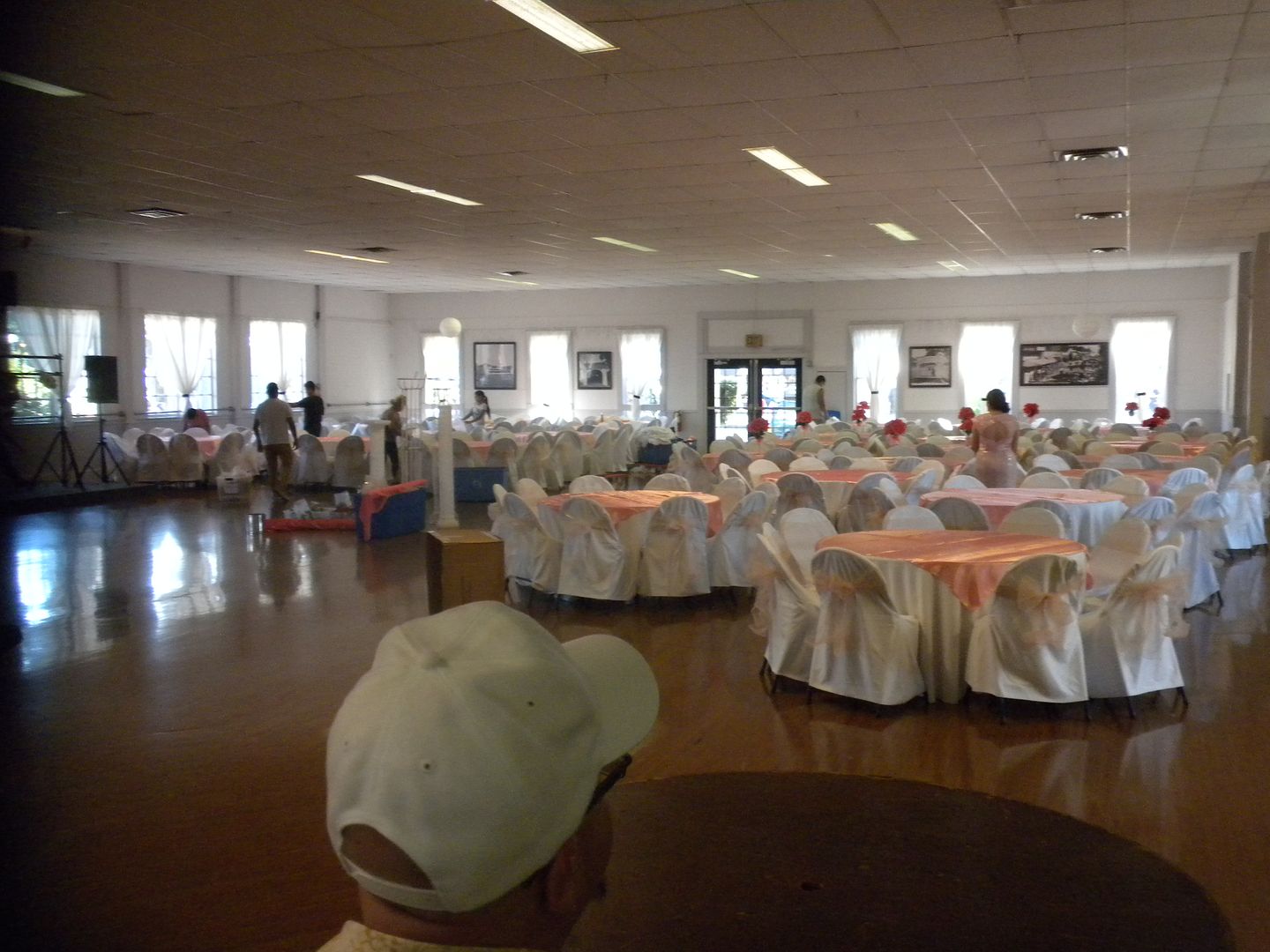 which is still used for private events;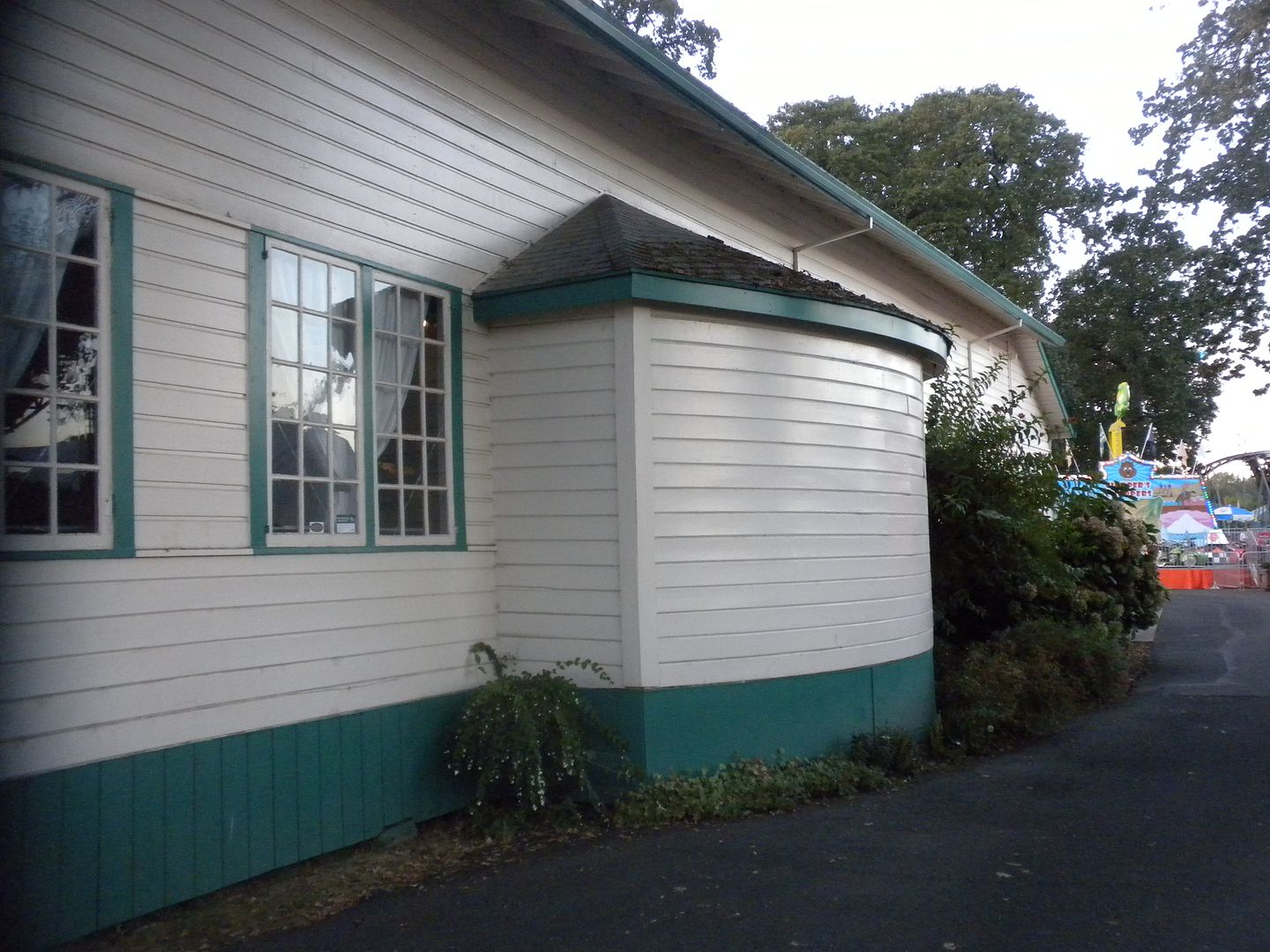 the original bandshell,


slated for renovation;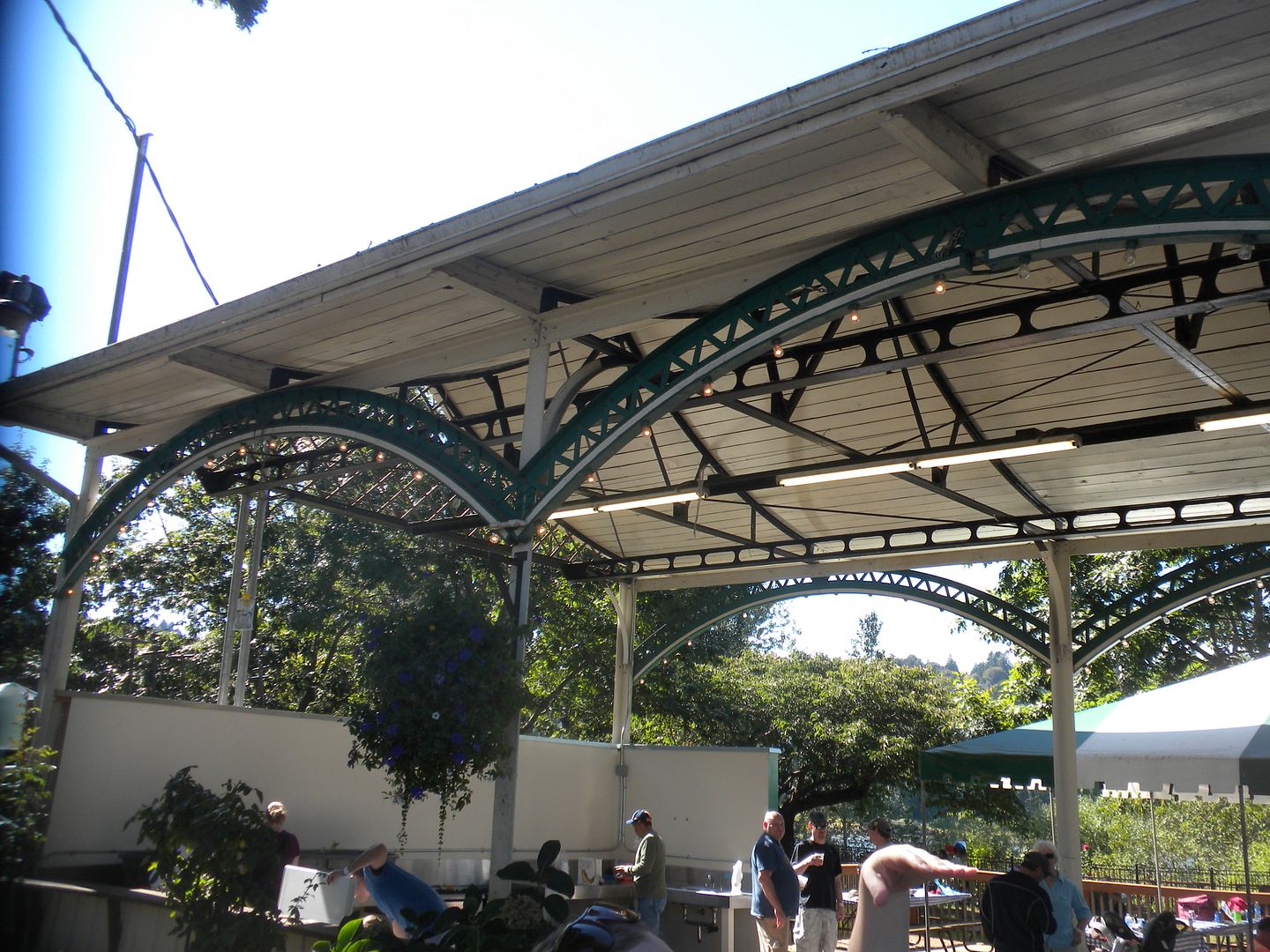 and many of the park's historic structures. We toured throughout the park,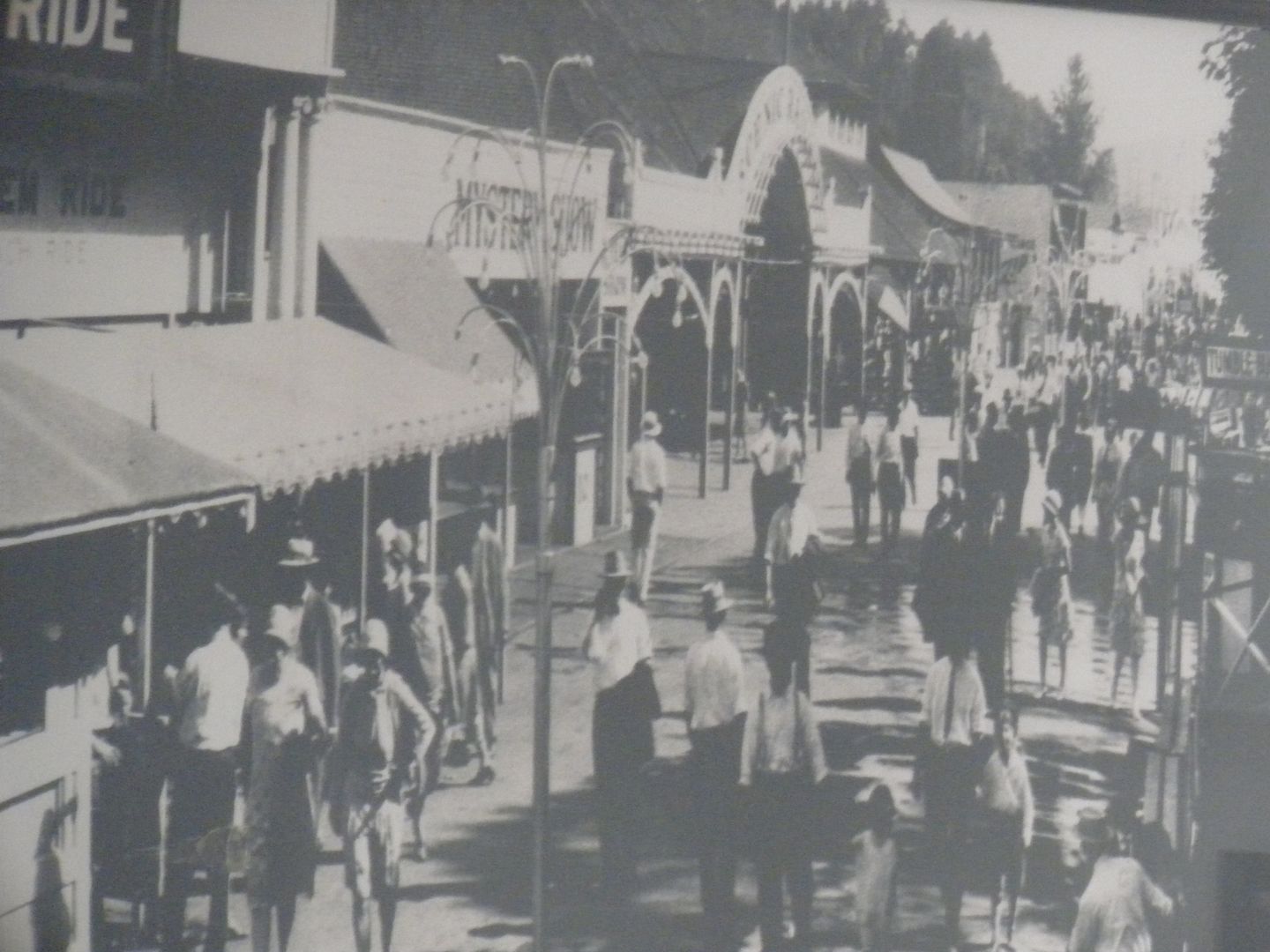 learning which structures date back to the early days of the park and ended our tour in the skating rink.


While I liked the park a lot when I visited last year, I now have a much better understanding and appreciation of its history.
The park closed at 7:00 and after we watched some ACEers skate, we left just before 8:00 for a late dinner at Bamboo Grove Hawaiian Grille nearby.

Enchanted Forest
On Sunday, September 20 we arrived at Enchanted Forest in Turner, OR. Operating since 1971, this children's storybook park on the side of a hill, the dream of creator Roger Tofte, has evolved into an elaborately themed family owned park. While it has only a few rides, I was so amazed by this park on my previous trip that I could not wait to return. The park is divided into three highly themed sections.
Storybook Lane
The original part of this park begins in a Castle complete with dungeon. I took time to read the interesting notices posted on the walls. As you leave the castle Humpty Dumpty is sitting on the wall.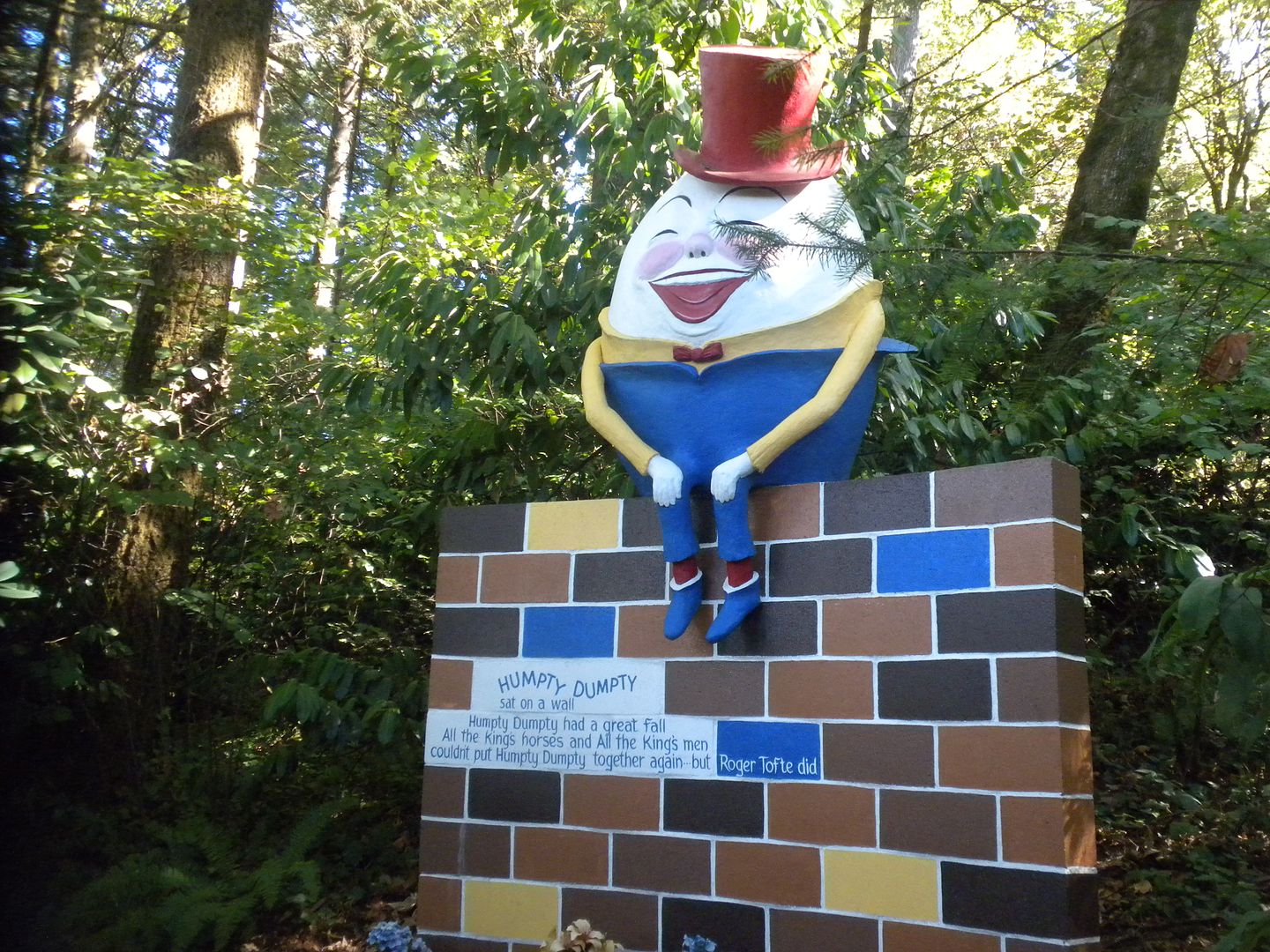 We are all aware that he had a great fall, but actually that is exactly what happened. He fell off the wall and was broken.


As the wall says, "all the kings horses and all the king's men could not put Humpty Dumpty together again…but Roger Tofte did!" Roger Tofte had to repair Humpty when he fell from the wall, which made national news.


Little Miss Muffet, watch out for that big spider!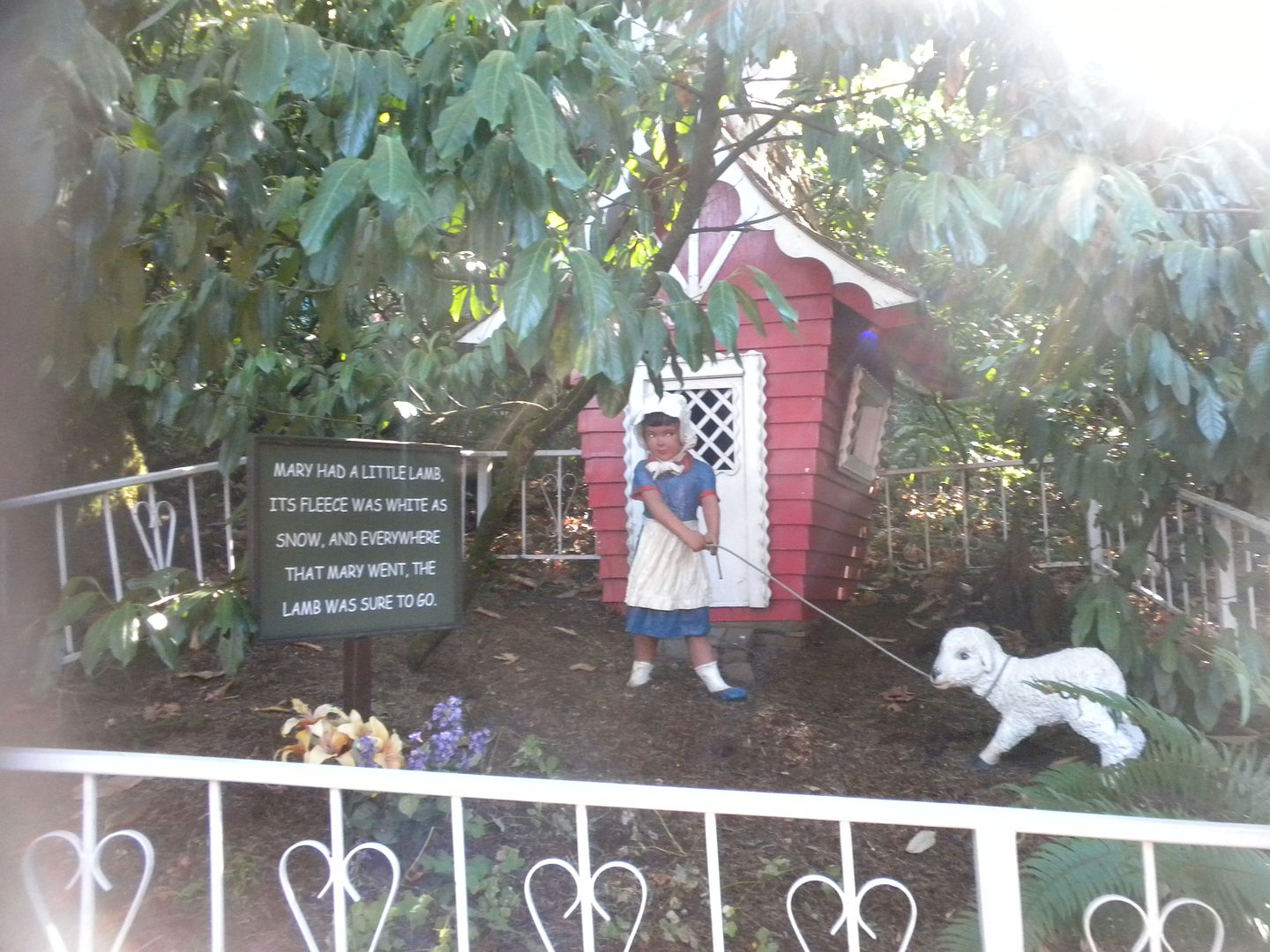 Mary's Little Lamb doesn't seem to want to go.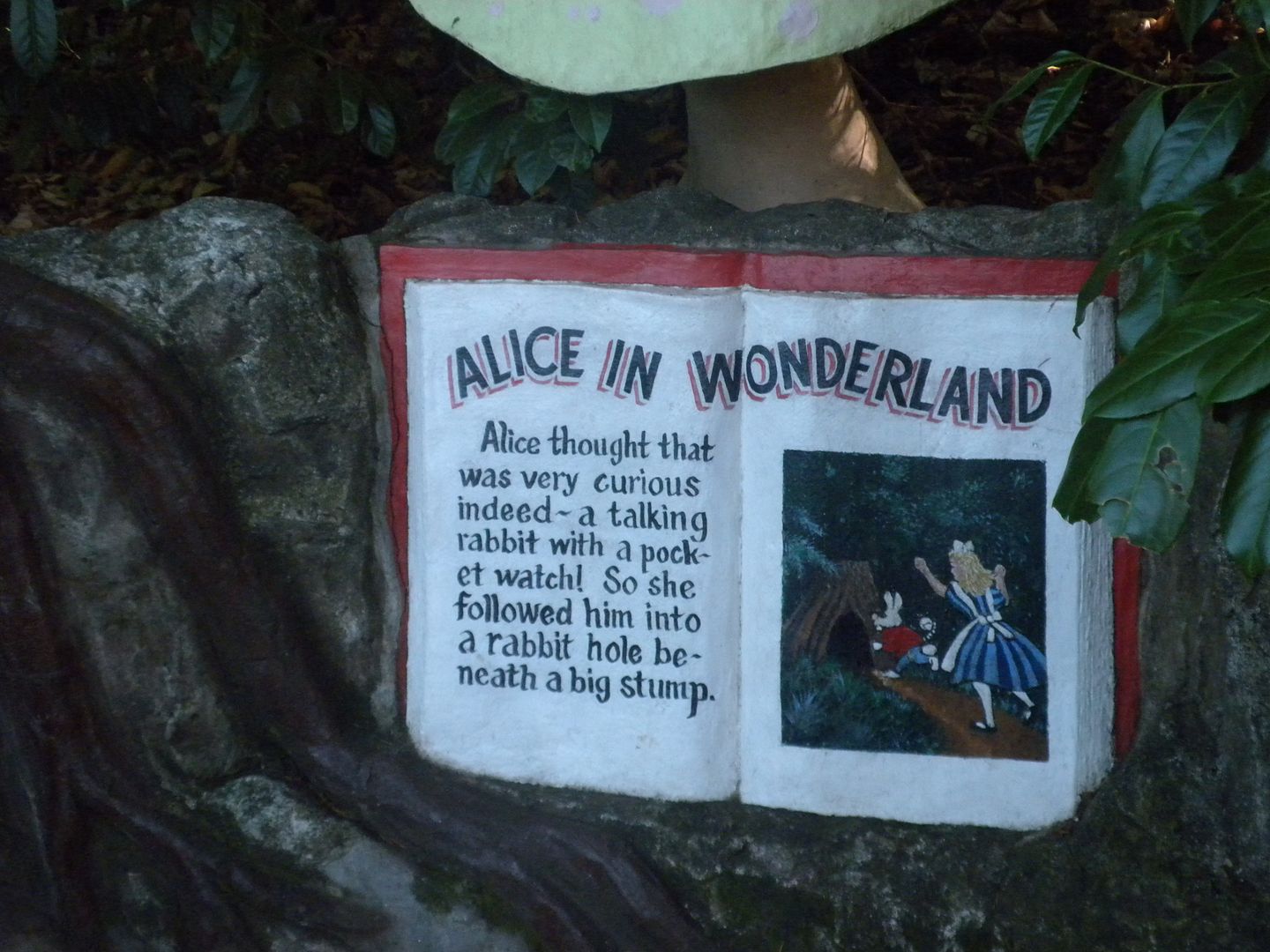 Alice in Wonderland's Rabbit Hole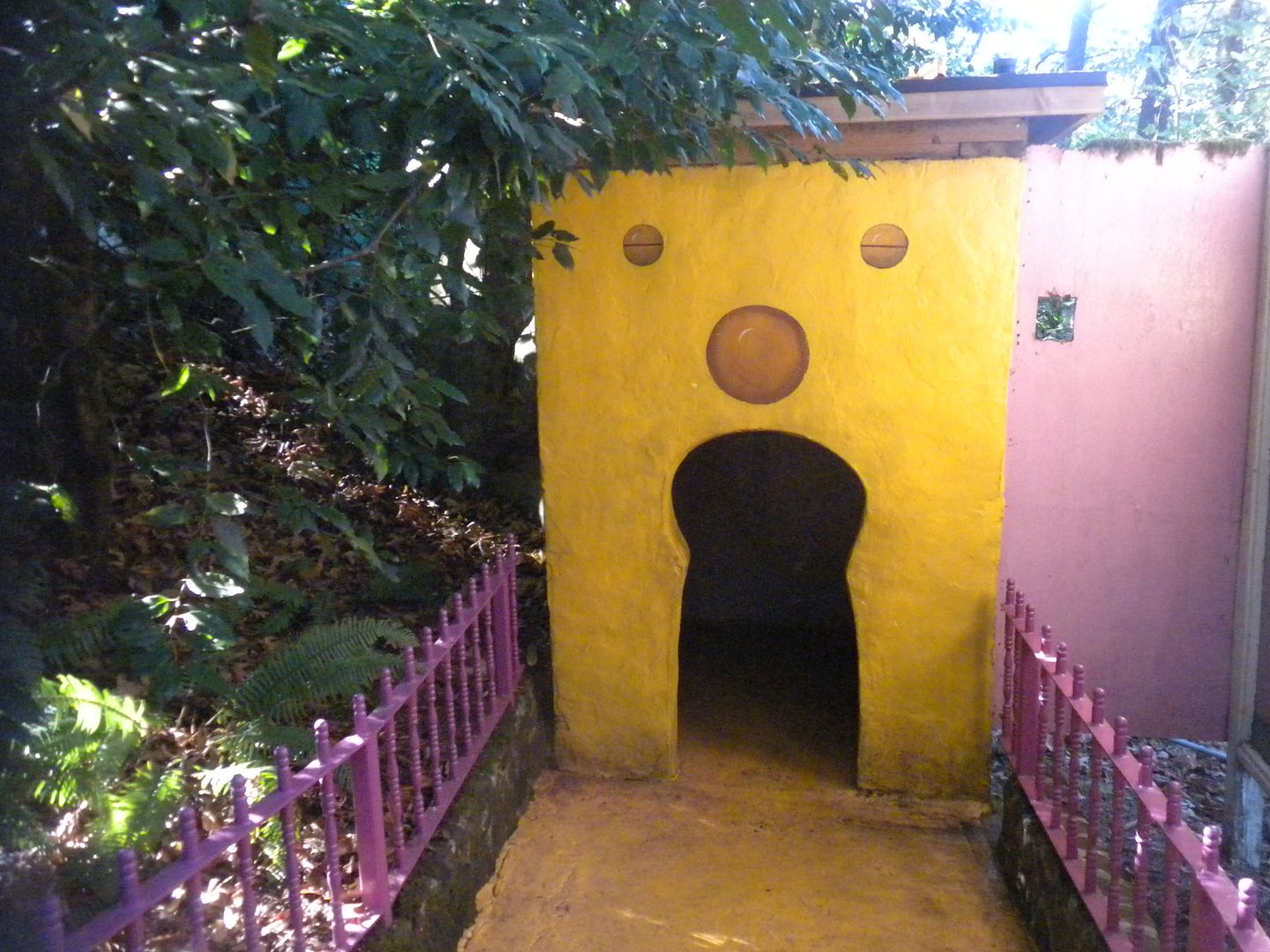 comes out in a Keyhole. The Mad Hatters' Tea Party is getting underway. The Queen of Heart's Maze is fun.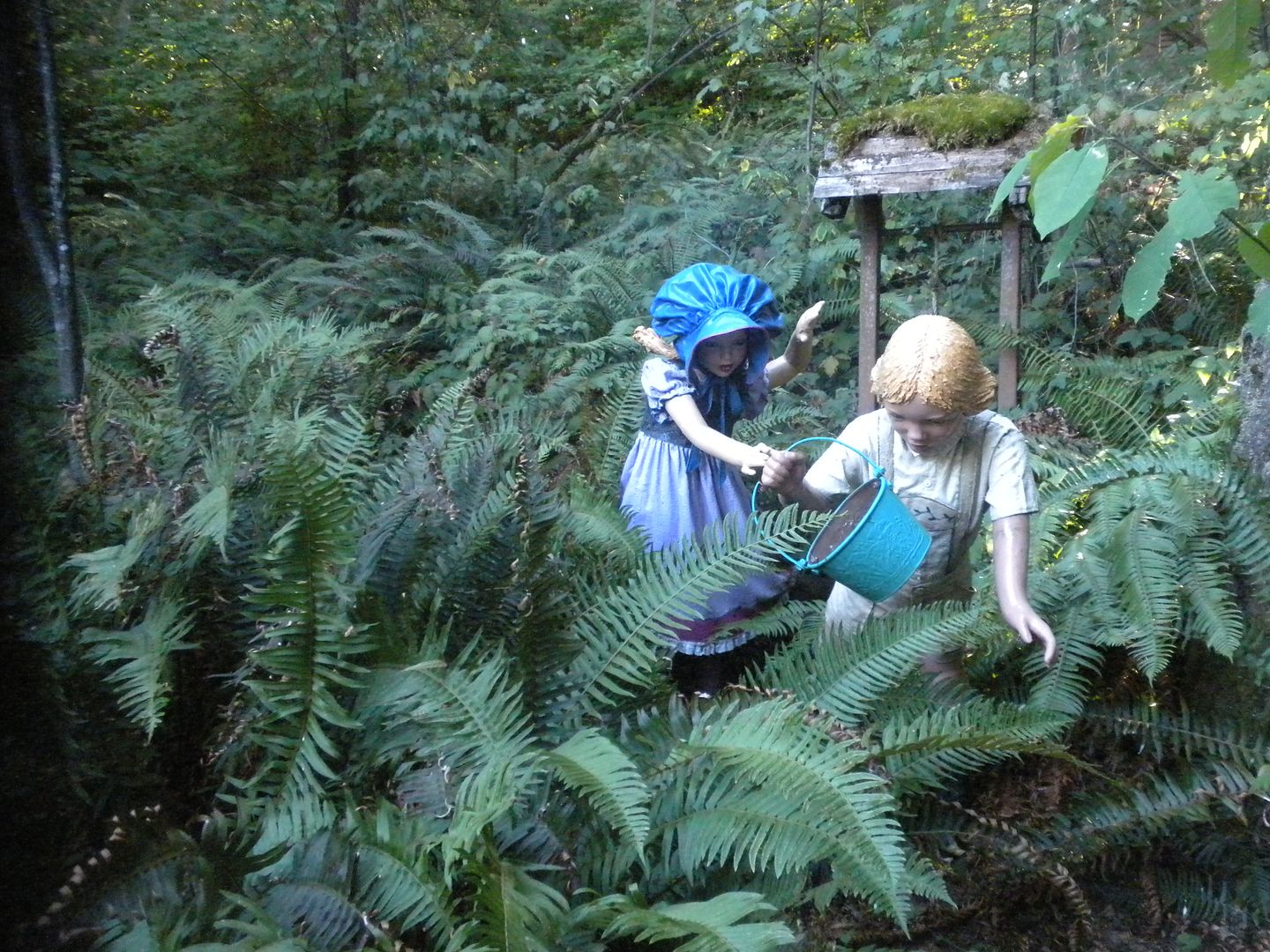 Jack & Jill are here.


The Seven Dwarves Mine is interesting to explore.


Walking into the Wicked Witch's Mouth leads to a slide.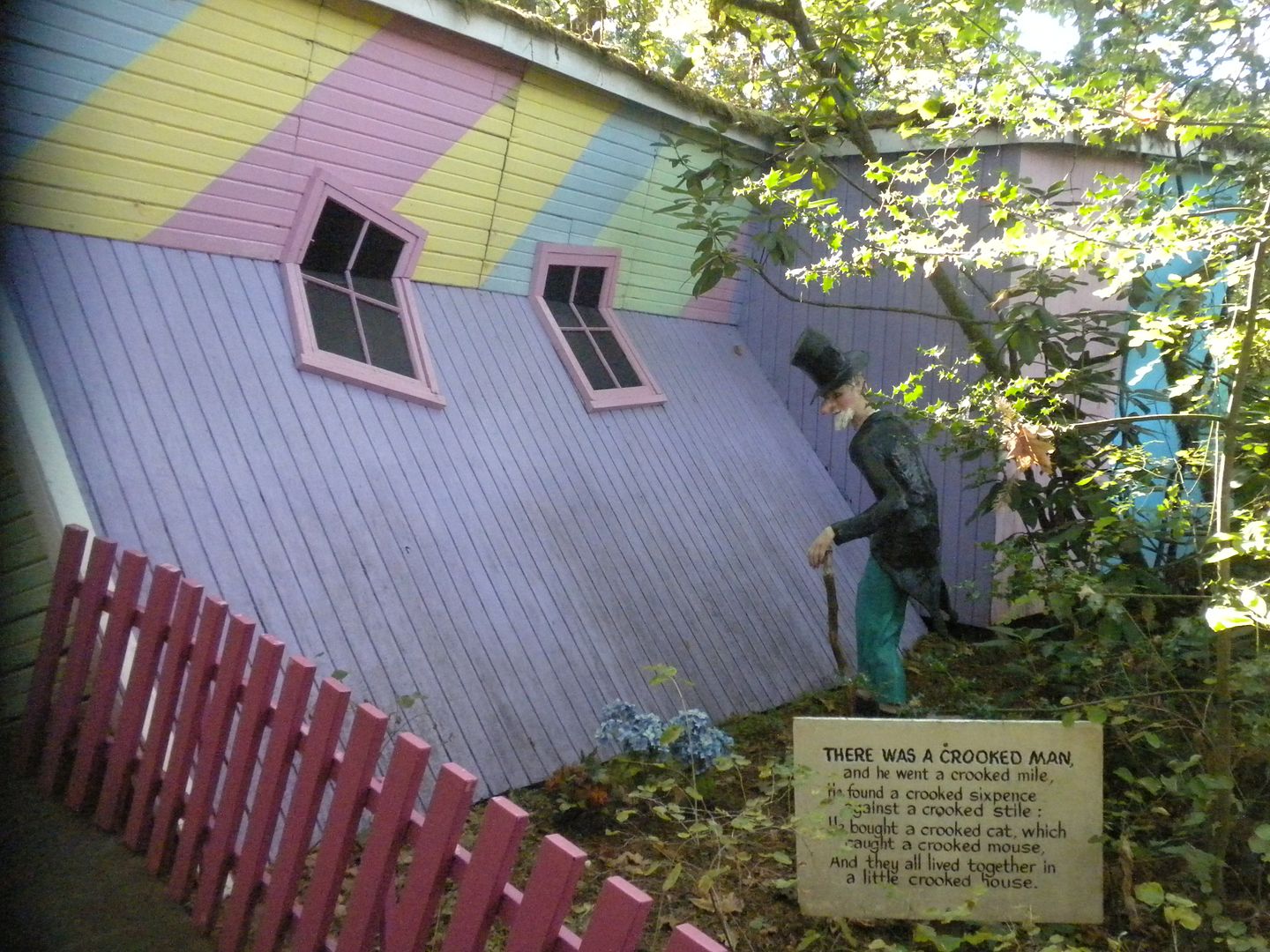 The Crooked Man's House is disorienting.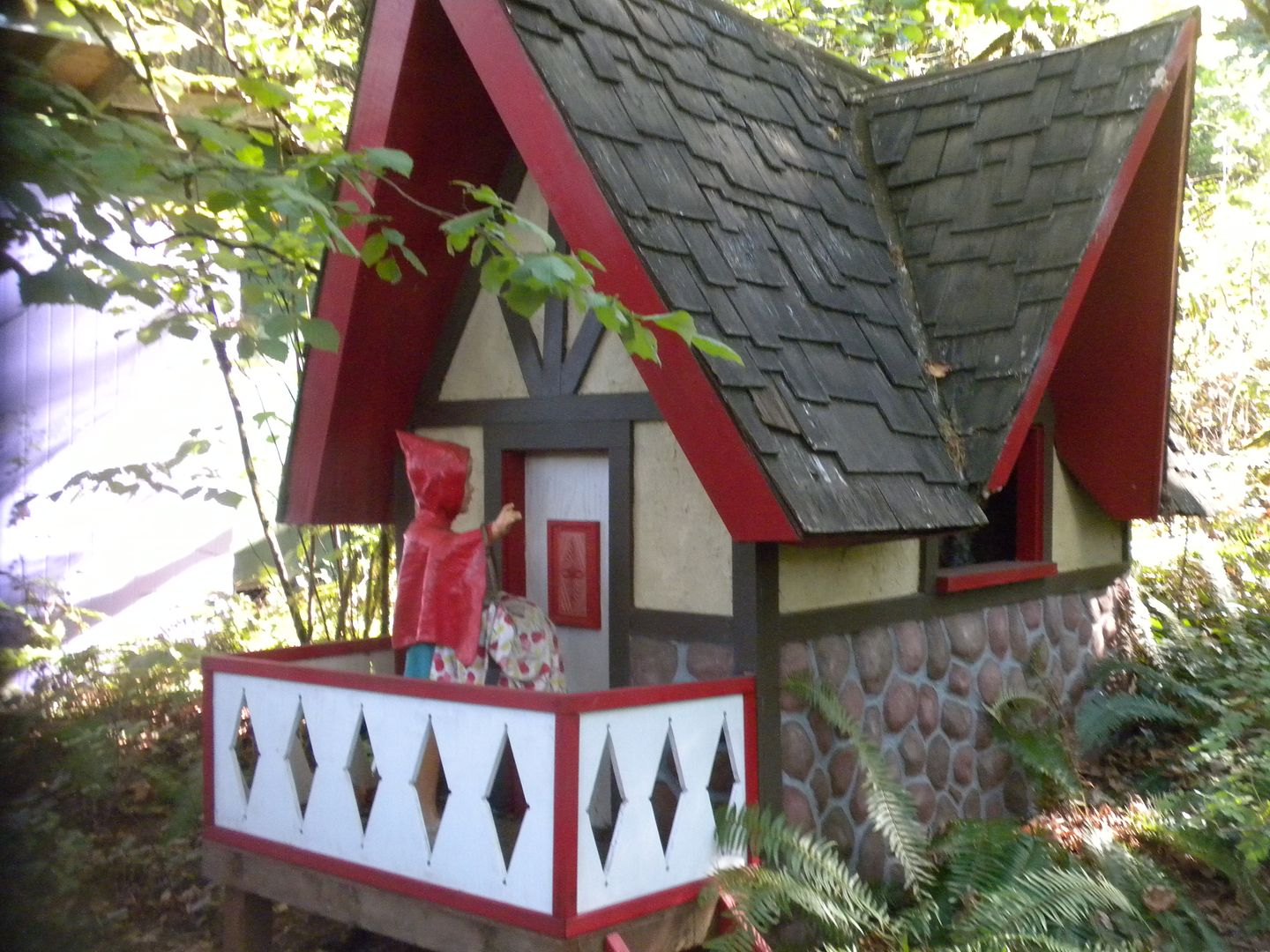 Little Red Riding Hood beware – I don't think that is Grandma.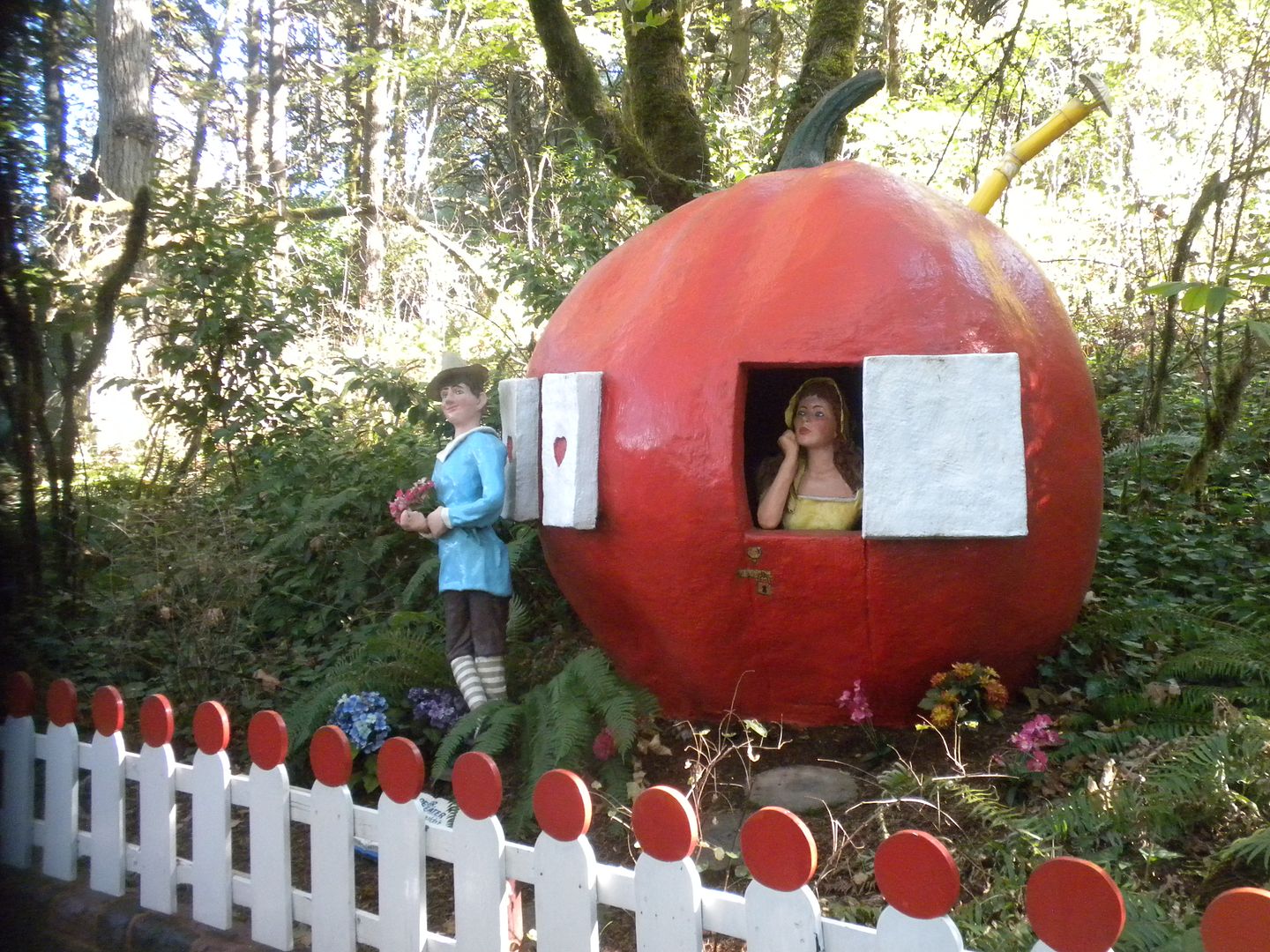 Peter Peter Pumpkin Eater is Roger Tofte's first project here – it all started with a pumpkin.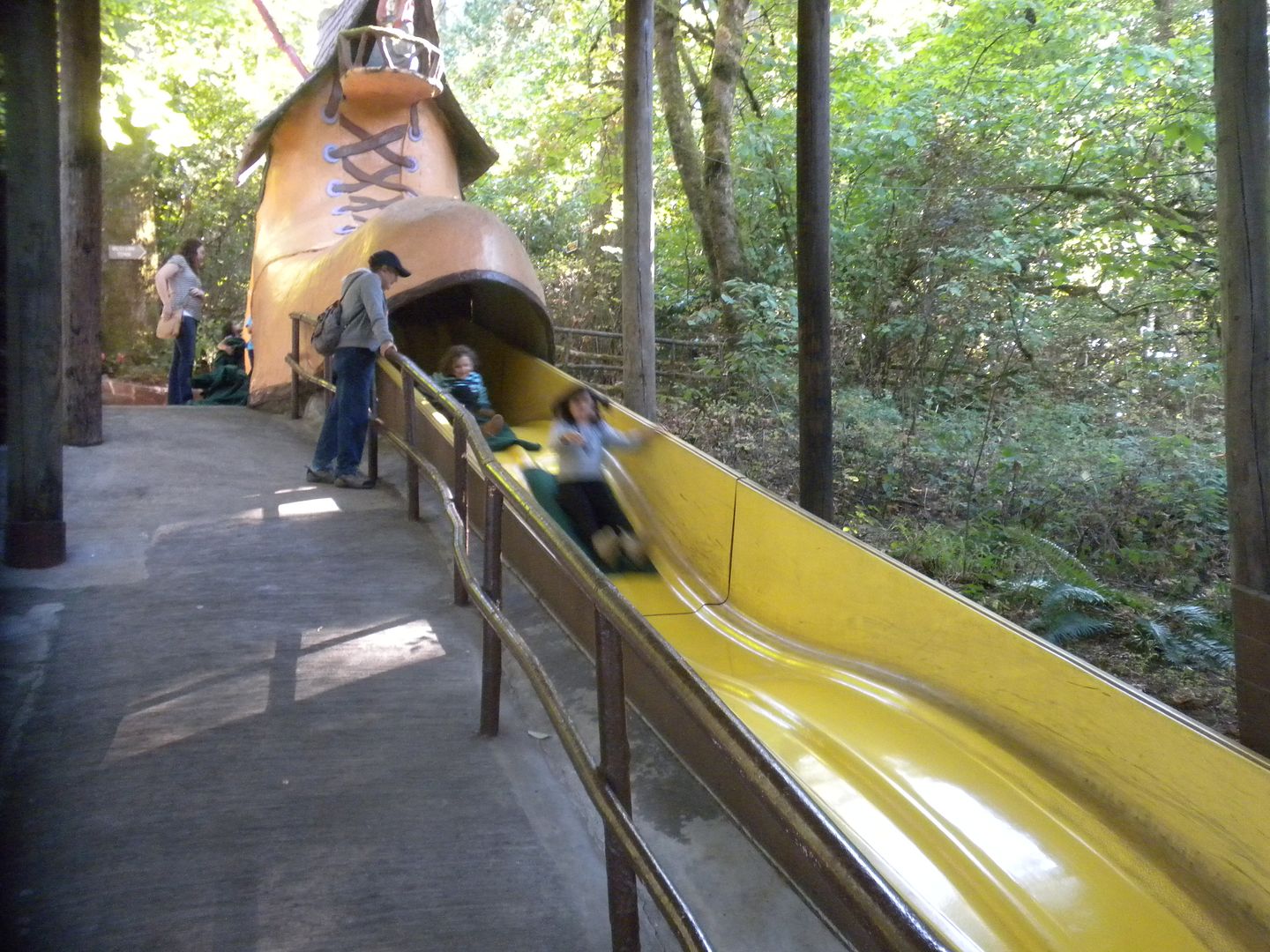 Storybook Lane ends with a slide down the Old Lady's Shoe Slide. The detail in this section is great and these original creations of Roger Tofte are in excellent condition – 1 walkthrough.
Western Town


This highly themed section is also known as Tofteville. Fort Fearless provides passageways to explore and a slide at the end. The Indian Caves are a series of underground passages and tunnels that end in a teepee exit. There is a funhouse floor to walk across and lots of interesting animated scenes in the town storefronts. Also here is a shooting gallery and panning for treasure. Several major attractions are here: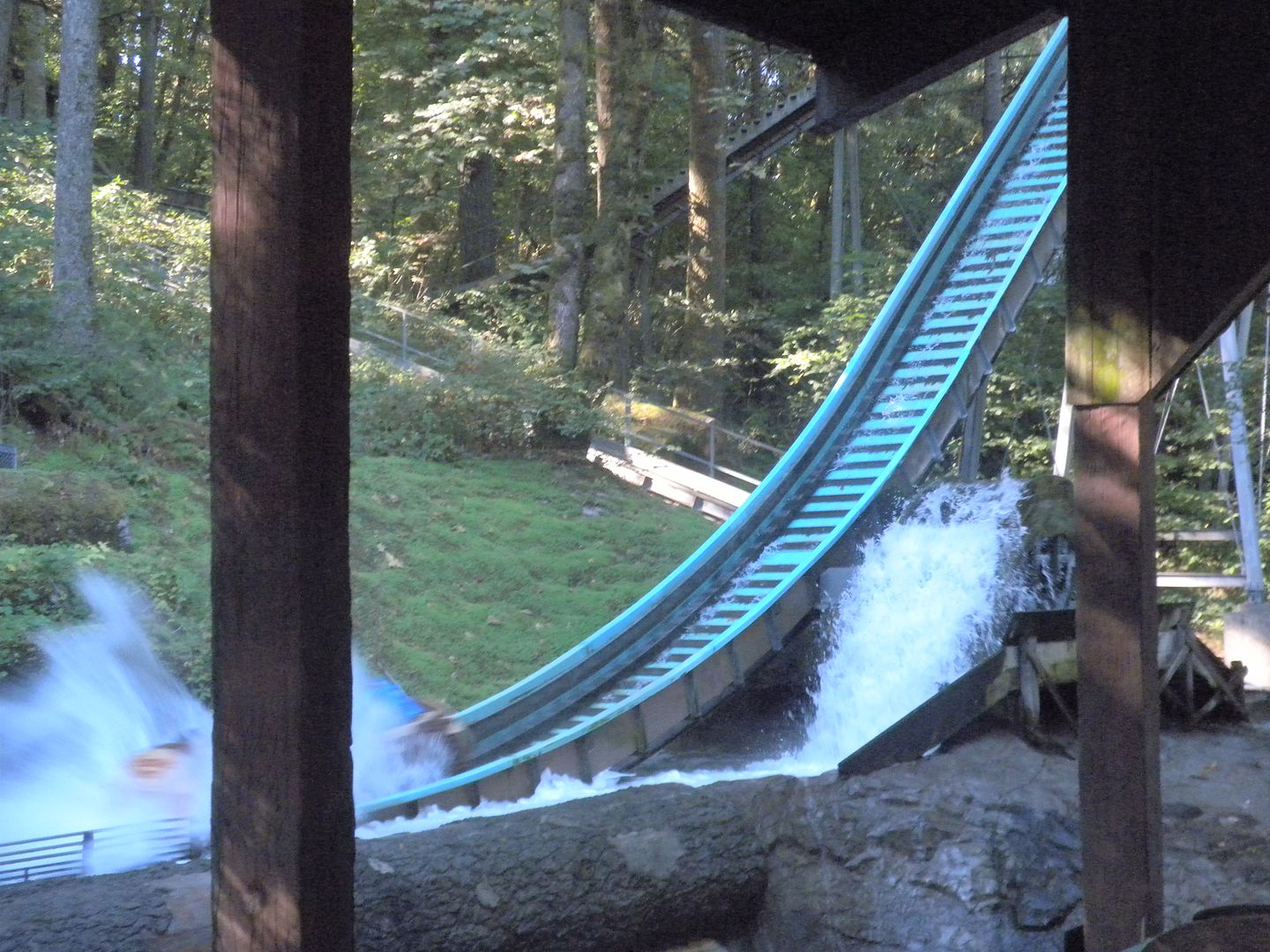 Big Timber Log Ride: (E&F Miler, Water Coaster, 1996) Although parts of this ride are a traditional flume and the vehicles are the typical log, a good portion of this ride is waterless track with gravity drops and inclines, so it is definitely a coaster.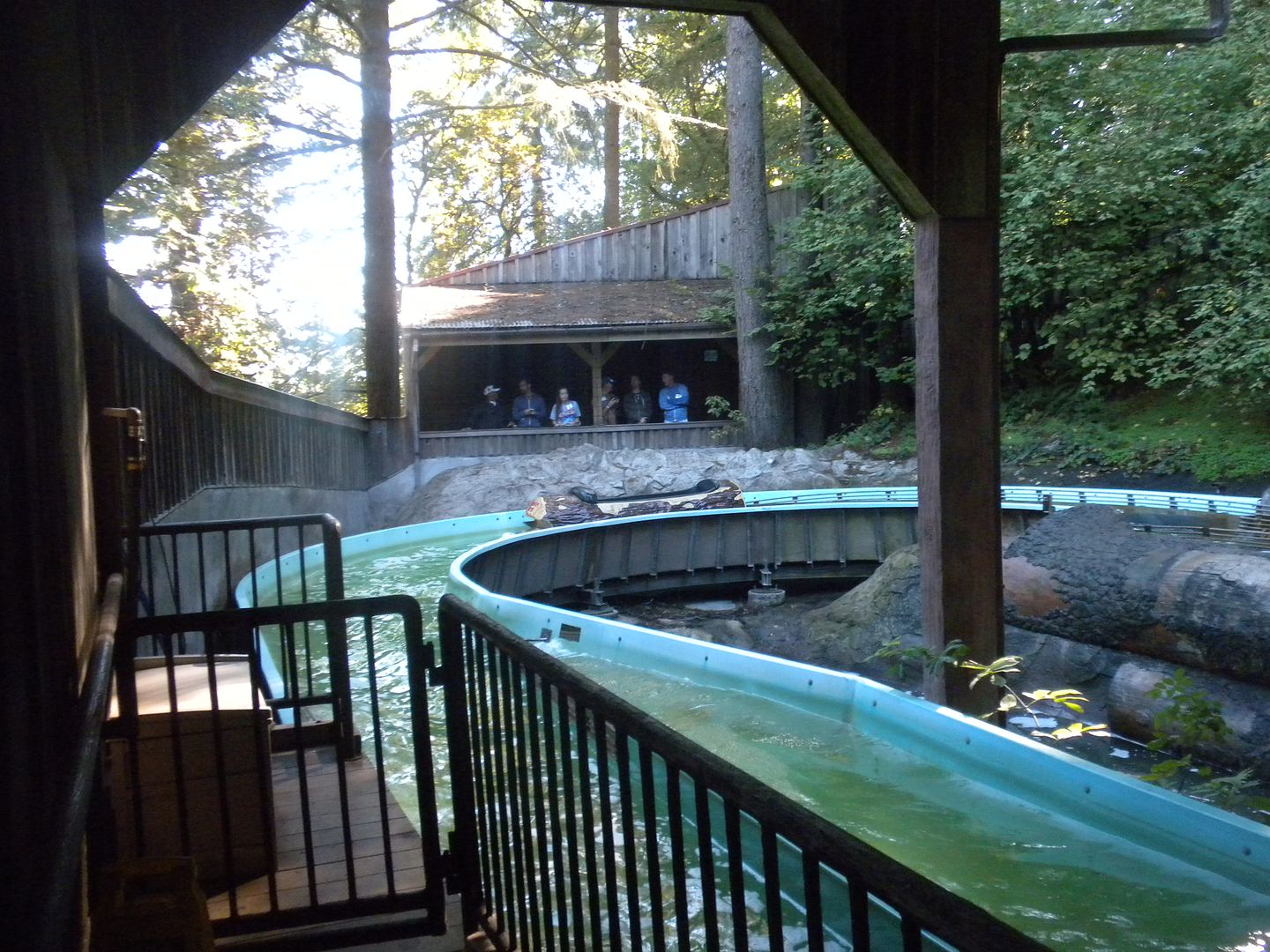 It is very long and has some really good dry portions through the woods as well as two good water drops that get you fairly wet. In an interesting move, the park provides ponchos if you want them – 1 ride.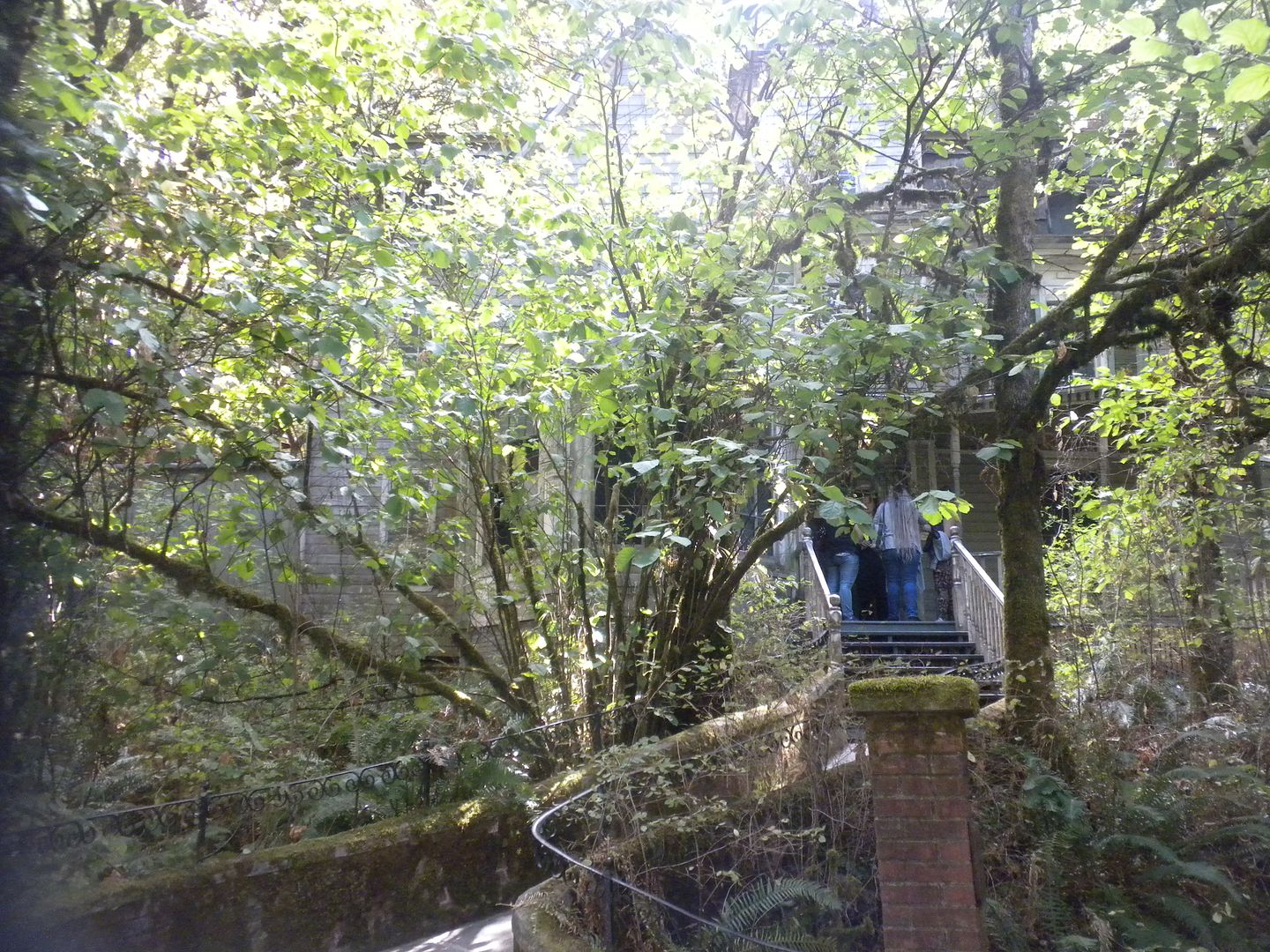 Haunted House: This walkthrough haunted house is very well done and has some good scenes.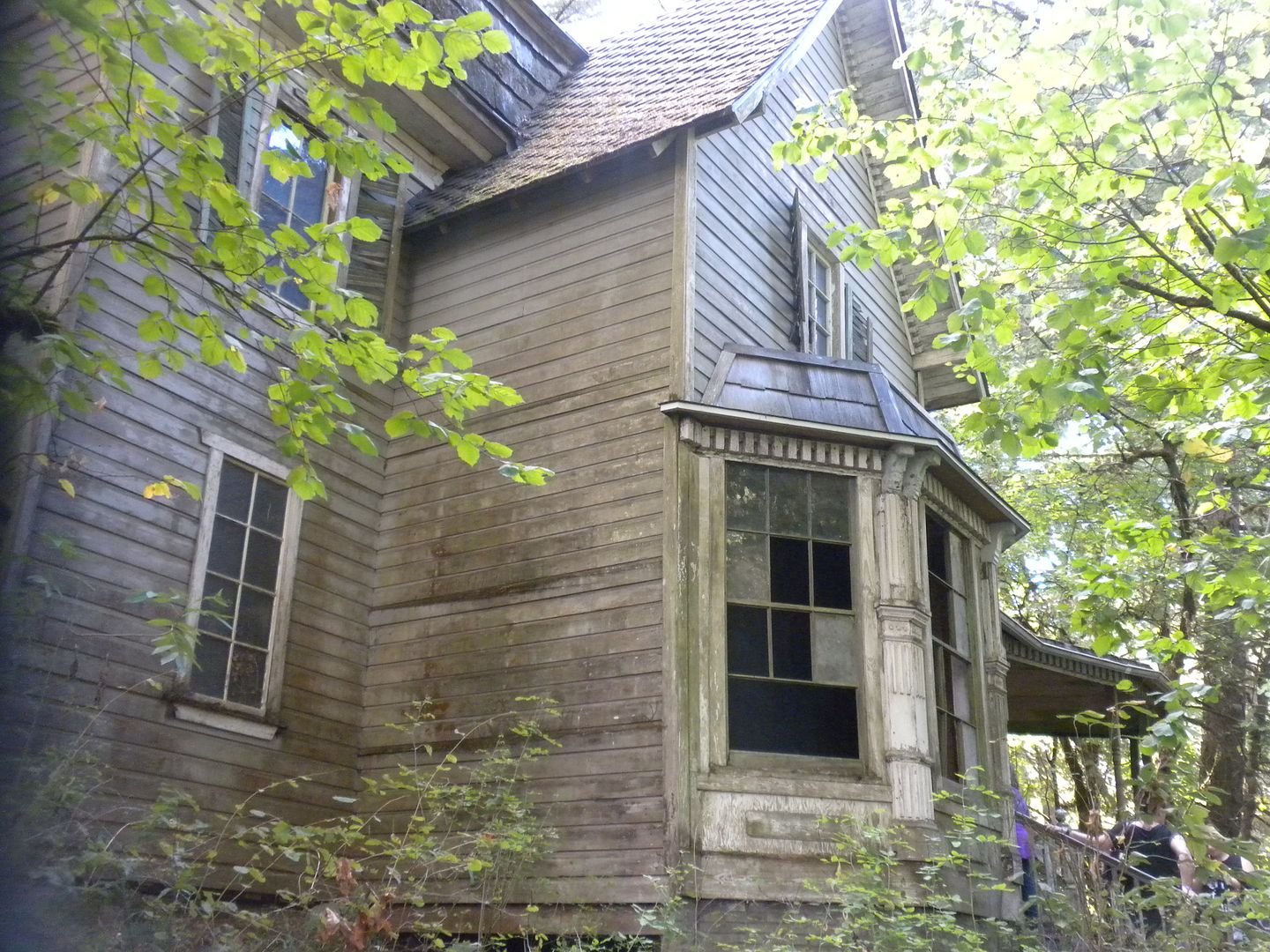 It is also very long – 2 walkthroughs.
Speedway Bumper Cars: This is a small bumper car arena, but they were pretty good – 1 ride.
Opera House: A documentary on the history of the park plays continually every 30 minutes. This was very interesting and informative – 1 show.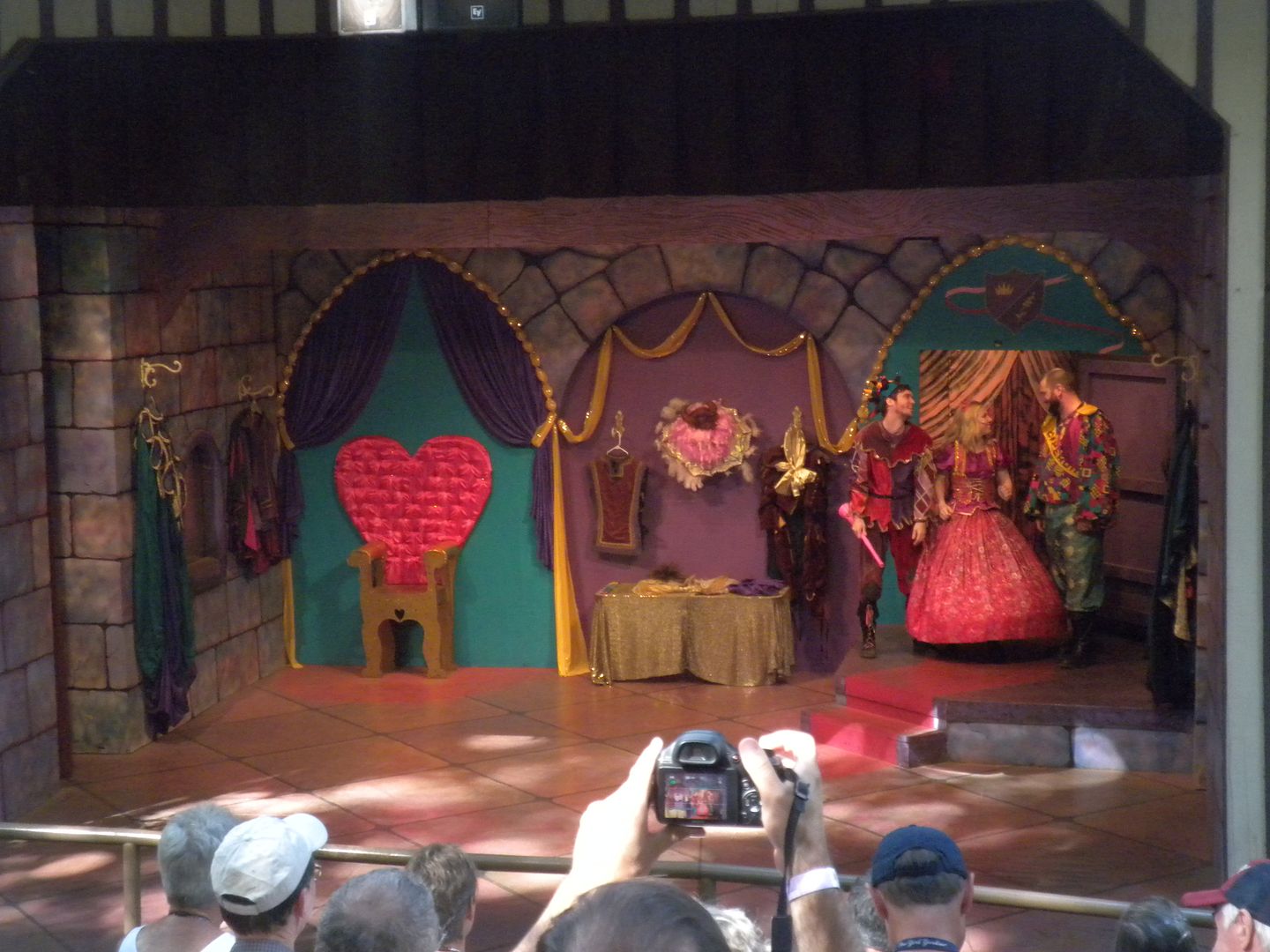 The Enchanted Forest Comedy Theater – The Emperor's New Clothes: They had a special presentation just for ACE in the afternoon. It was very funny and has good audience participation, including things specific for ACE – 1 show for ACE.
This section has 4 children's rides.
Old European Village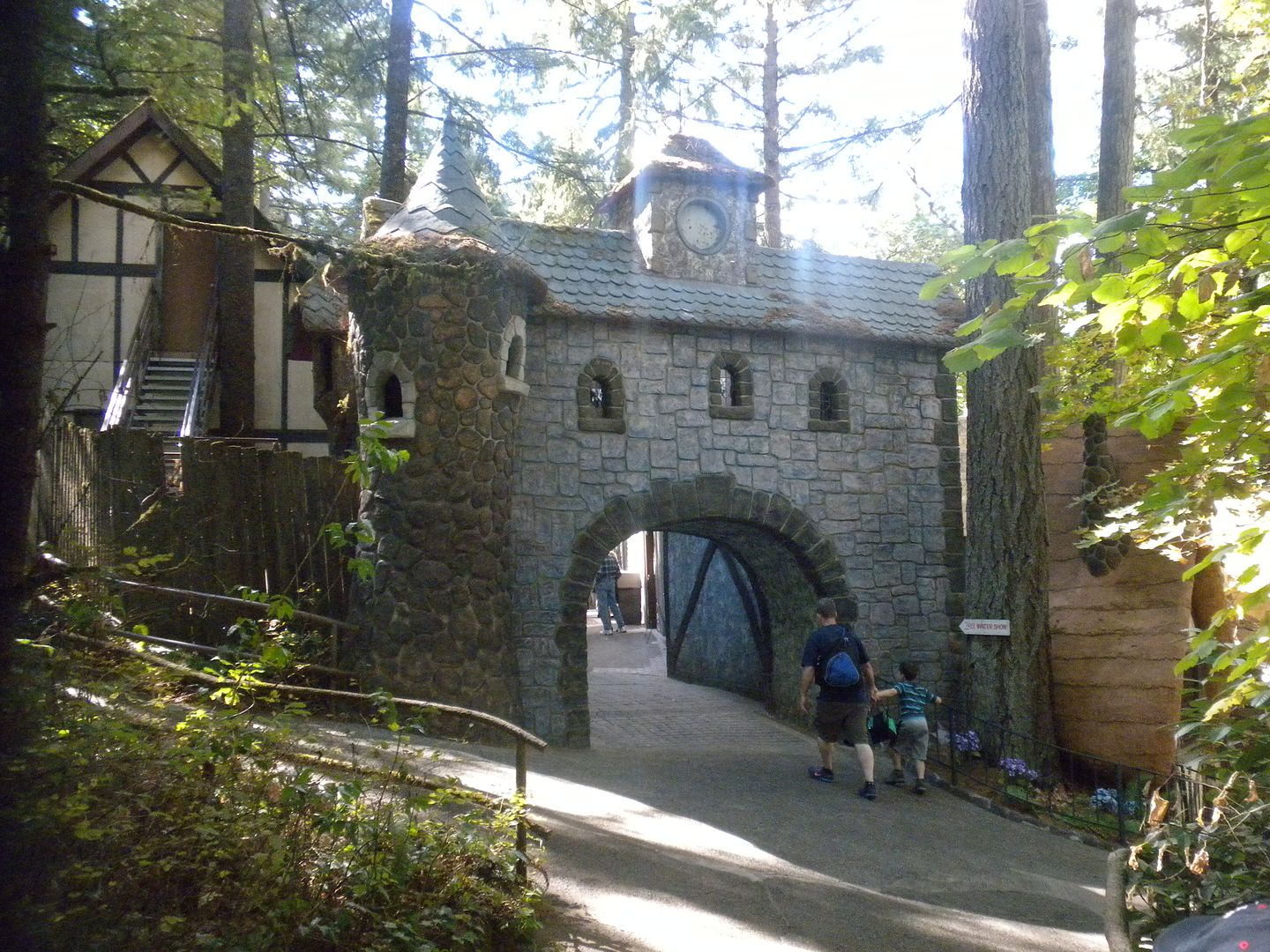 While this highly themed section is home to two major rides, it is also filled with highly detailed features. Pinocchio's Playhouse has passageways and an animated Pinocchio scene.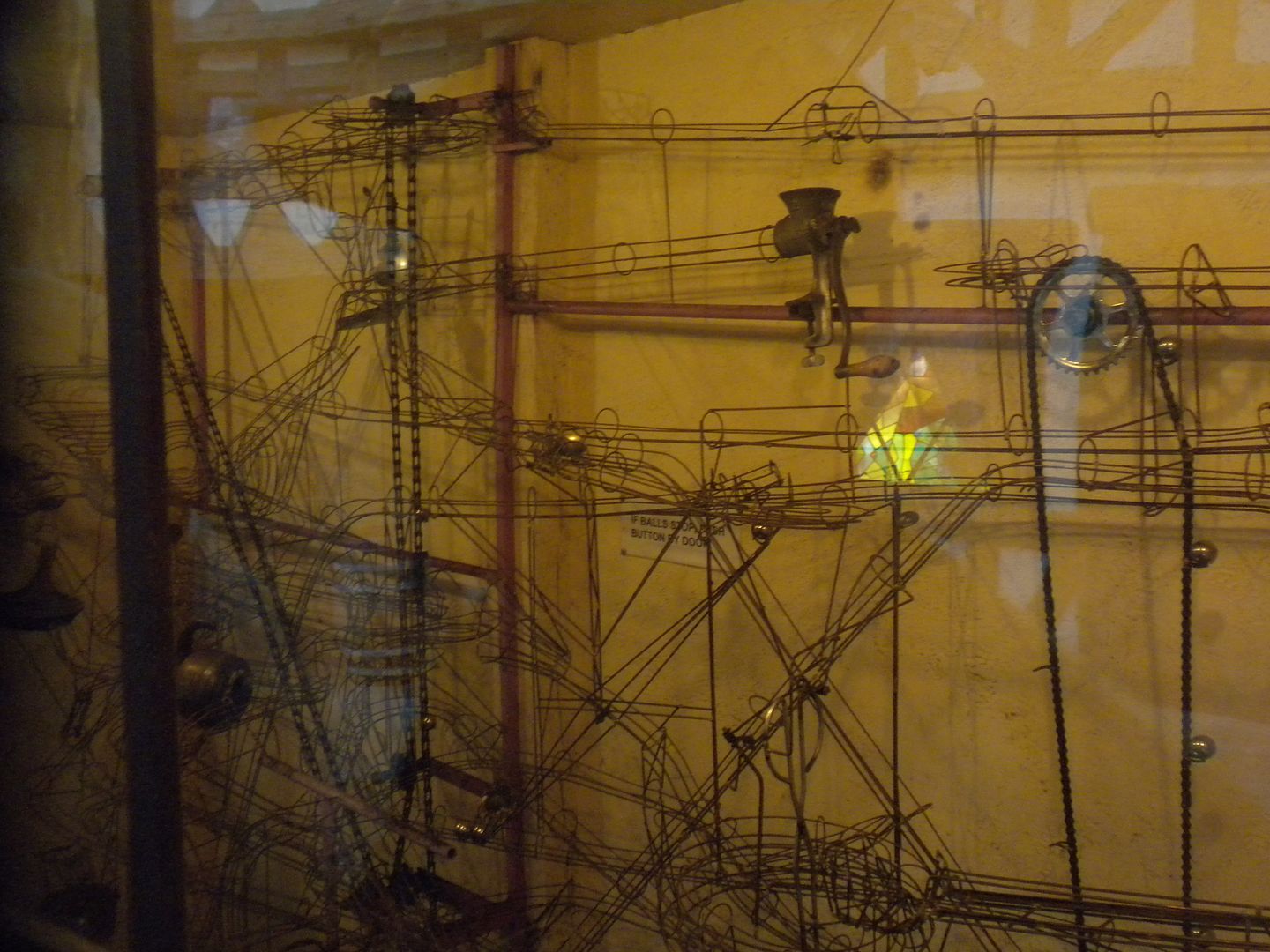 Sir Newton's Gravity Factory is a fascinating contraption with balls moving through a complex track structure. The Blackbird Pie Show features animated singing blackbirds.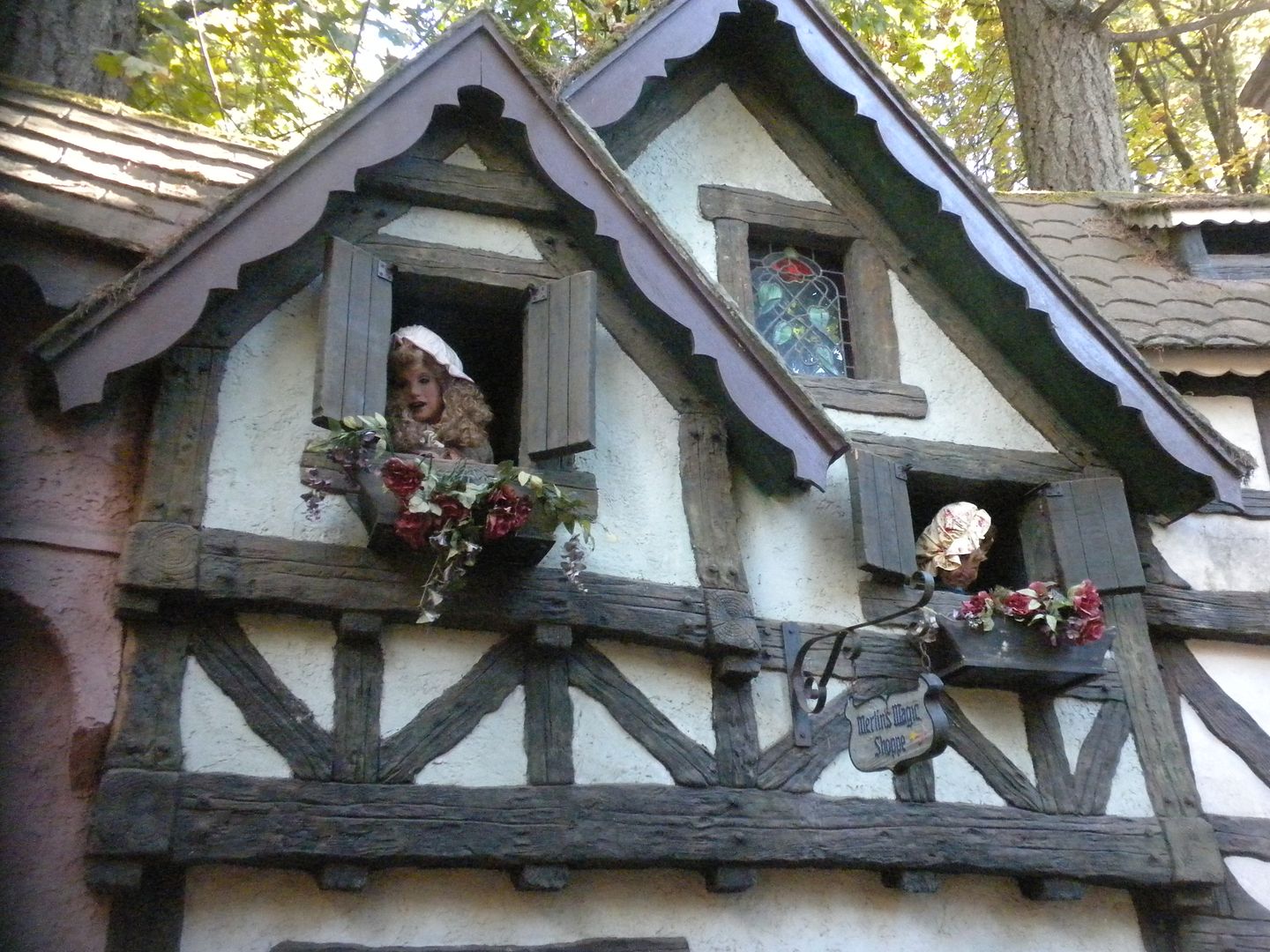 Animated characters converse across the pathways. The theming here is excellent, as are the area's rides:


Ice Mountain Bobsleds: (Ascot Design, Steel Terrain, 1983) This 100 foot tall roller coaster was the first ride opened at Enchanted Forest.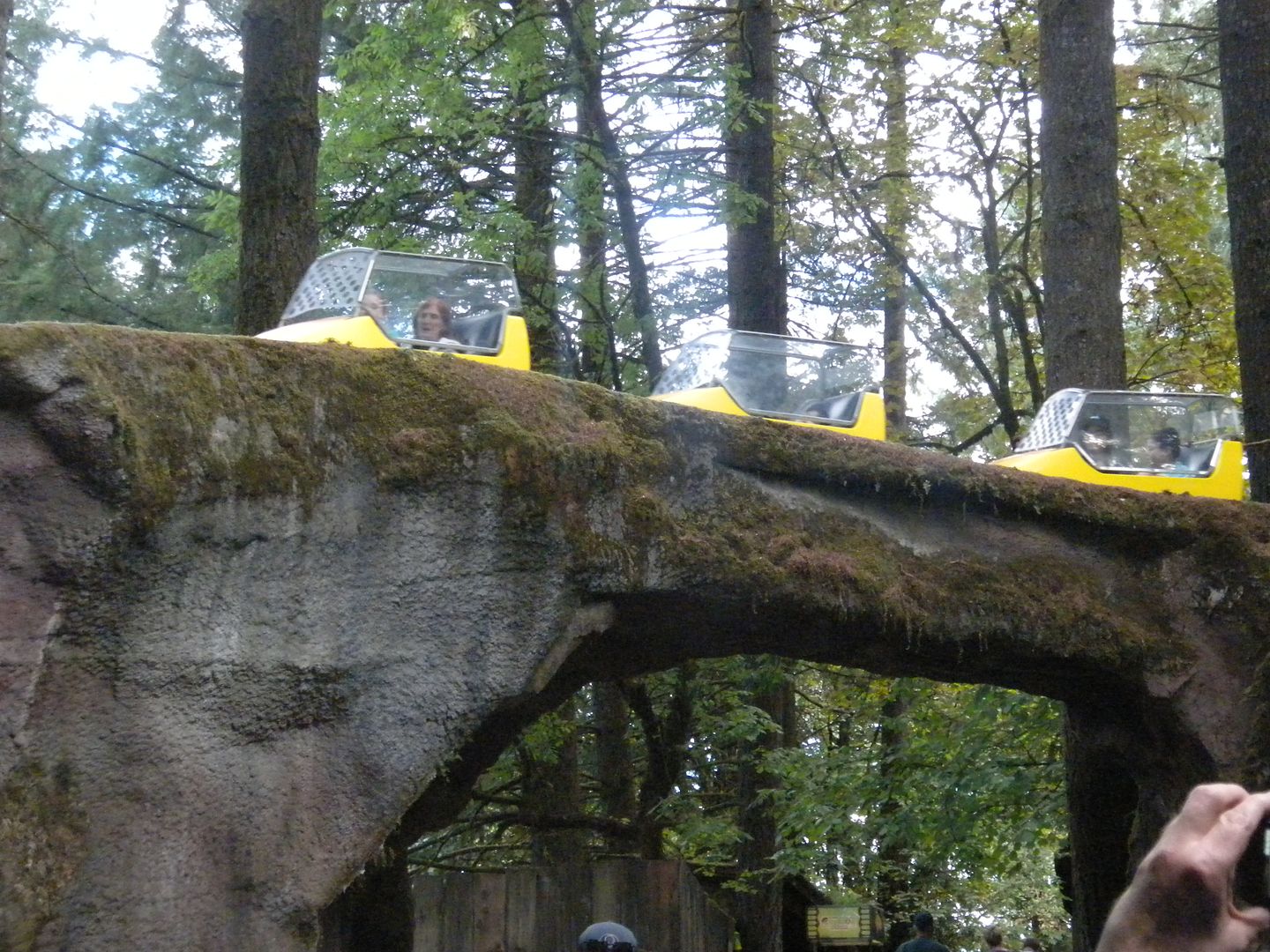 Originally more of an alpine slide with a duel fiberglass track, it did not operate as anticipated, so in 1985 it was modified into a coaster with tubular steel track. Only one of the sides was used, so you can still see the unused side in various places along the course.


You board unique covered cars and ride to the top of Ice Mountain where you are greeted by a snow creature. You then travel through the mountain and out along the track for an exciting ride with lots of sharp turns, bunny hops, good speed


and tight clearances that would not be possible if the cars were not enclosed. This is one of the most fun coasters I have ridden. We had an hour of ERT on this, the other coaster and the dark ride. With only the yellow train running, and it holding only 3-6 people, it took a while for the line to move.


Later in the afternoon when the park was busier, they added the blue train, doubling capacity.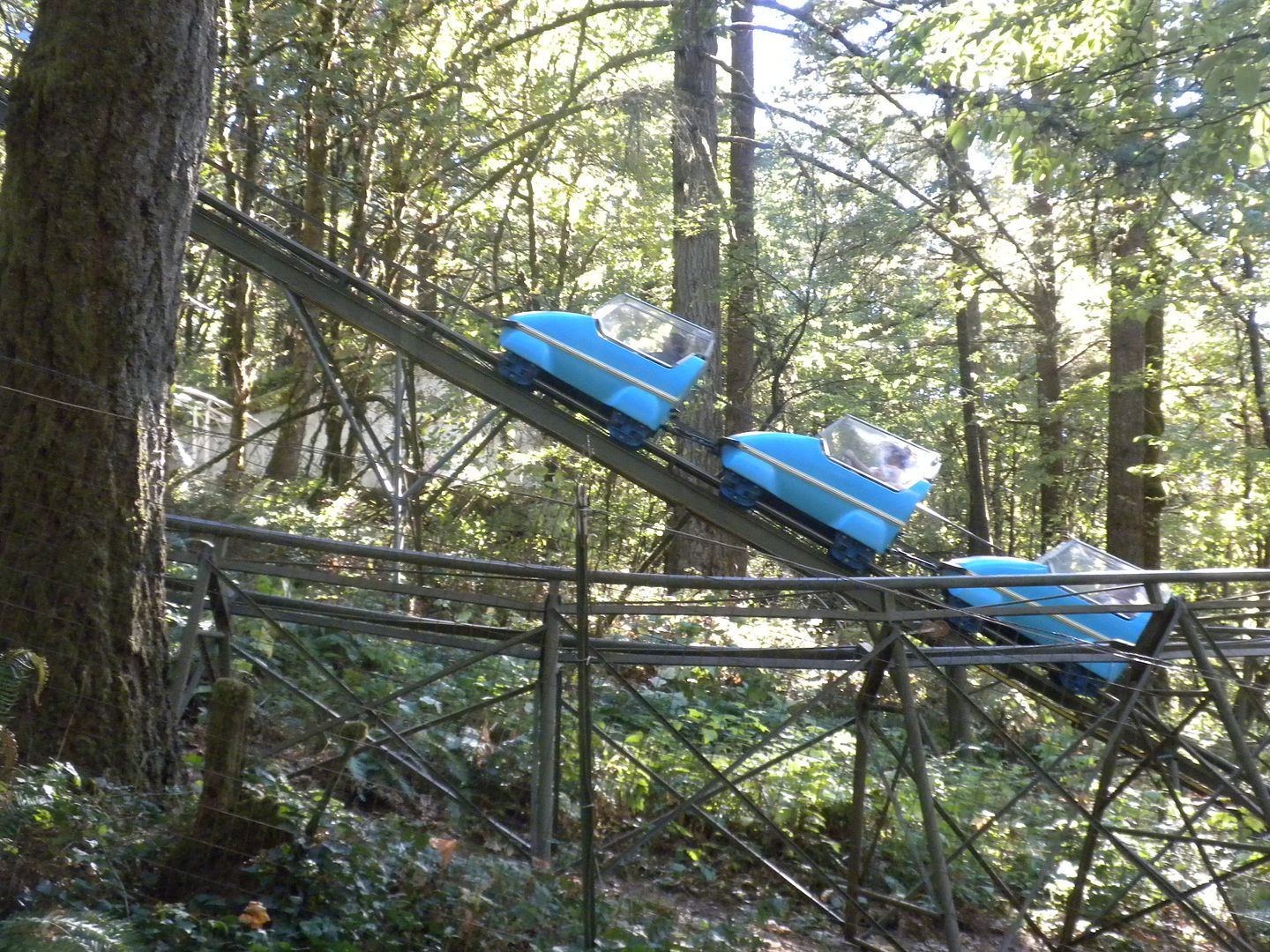 This coaster was one of the main reasons I wanted to get back to this park – 6 rides, 2 during ERT.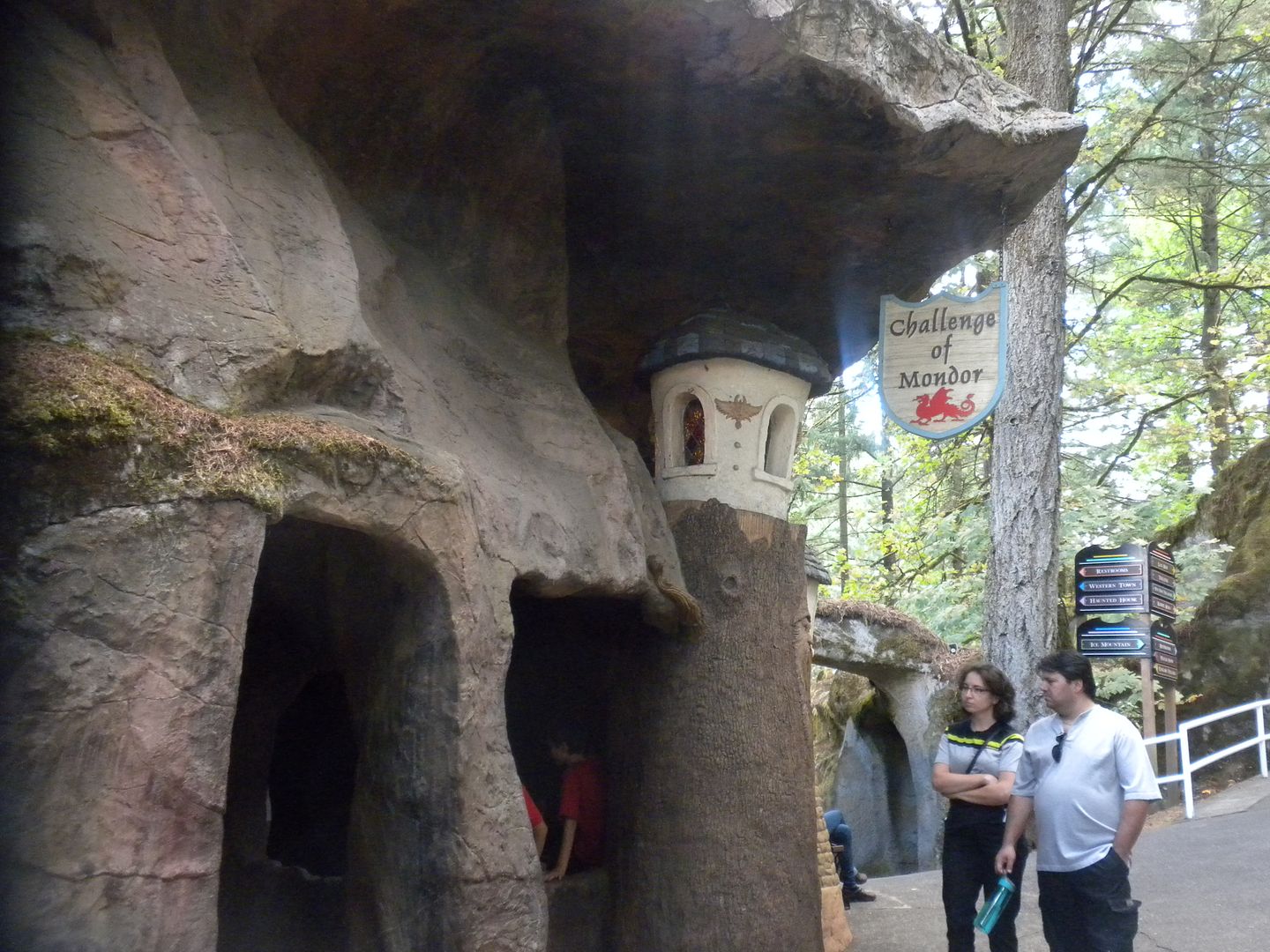 Challenge Of Mondor: In this interactive darkride, riders are enlisted to help Mondor the wizard in a quest to save the Drumlins from evil wizard Drakko. This is nicely done and interactive rides are fun – 2 rides.
Fantasy Fountains: This water and light show repeats every 15 minutes and is a great place to eat. The park provided us with a pizza buffet lunch and some of us brought it in here to watch the show – 1 show.

After lunch we gathered for a presentation from the park's creator, Roger Tofte, now 85. He bought the property in 1964 with the hopes of building a storybook attraction. After 7 years of work, he was finally ready to open it to the public. From there he added the Western Town and eventually rides, building the park into the exciting attraction it is today. It was fascinating to hear him talk about how he and his wife and children built the park into what it is.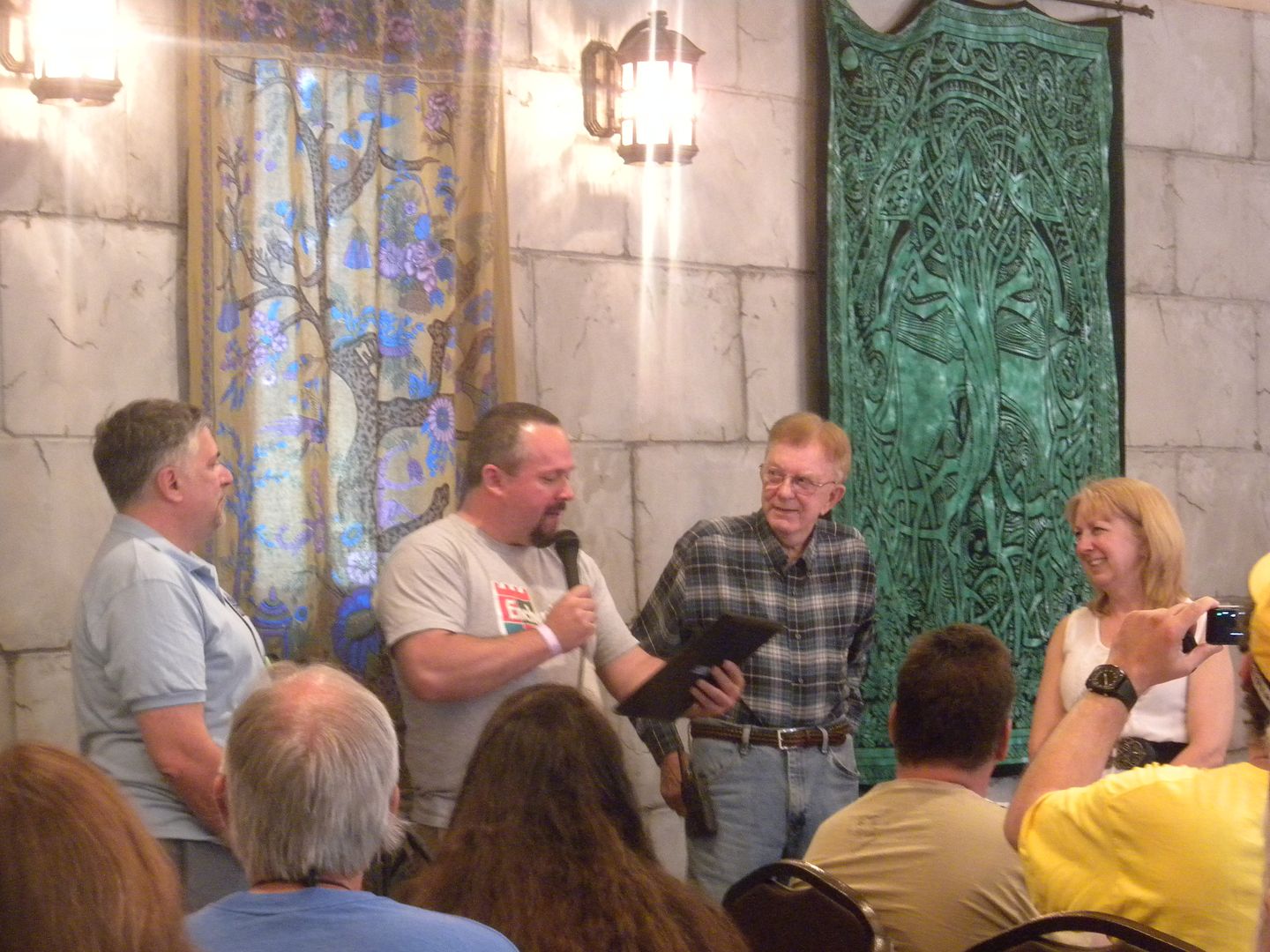 For many years his wife was park manager, and now one of his daughters is, who we also got to meet. Another daughter is CFO and his son does all the animatronics. His youngest daughter is an architect nearby and provides all the building designs. Mr. Tofte still works at the park, continuing to add tremendous detail.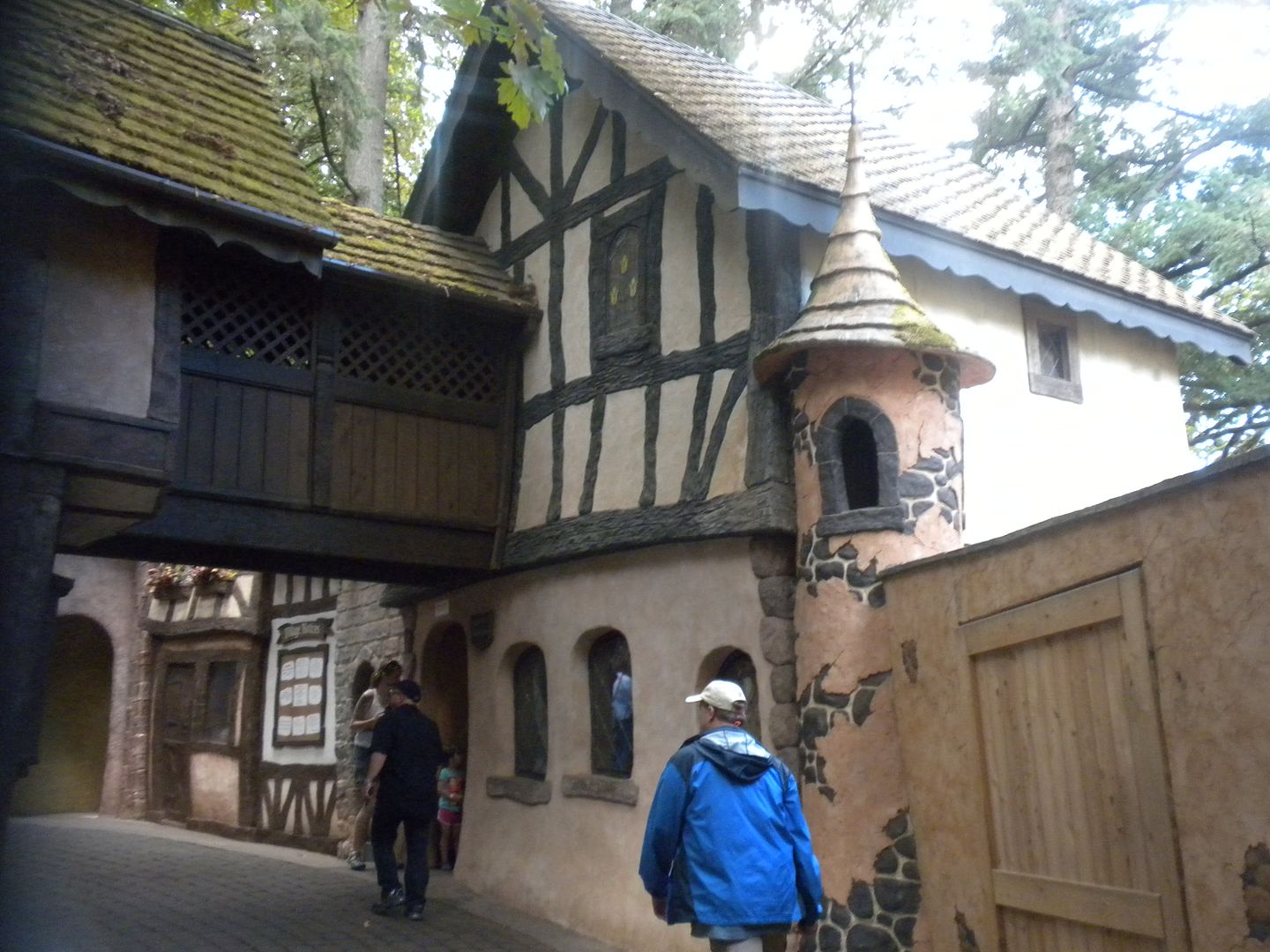 I complemented him on the level of detail of his theming – we're talking almost Disney quality here – and he noted that he is so detail oriented. I am truly inspired by how he had a dream and in spite of lack of money, he persevered until he made his dream come true.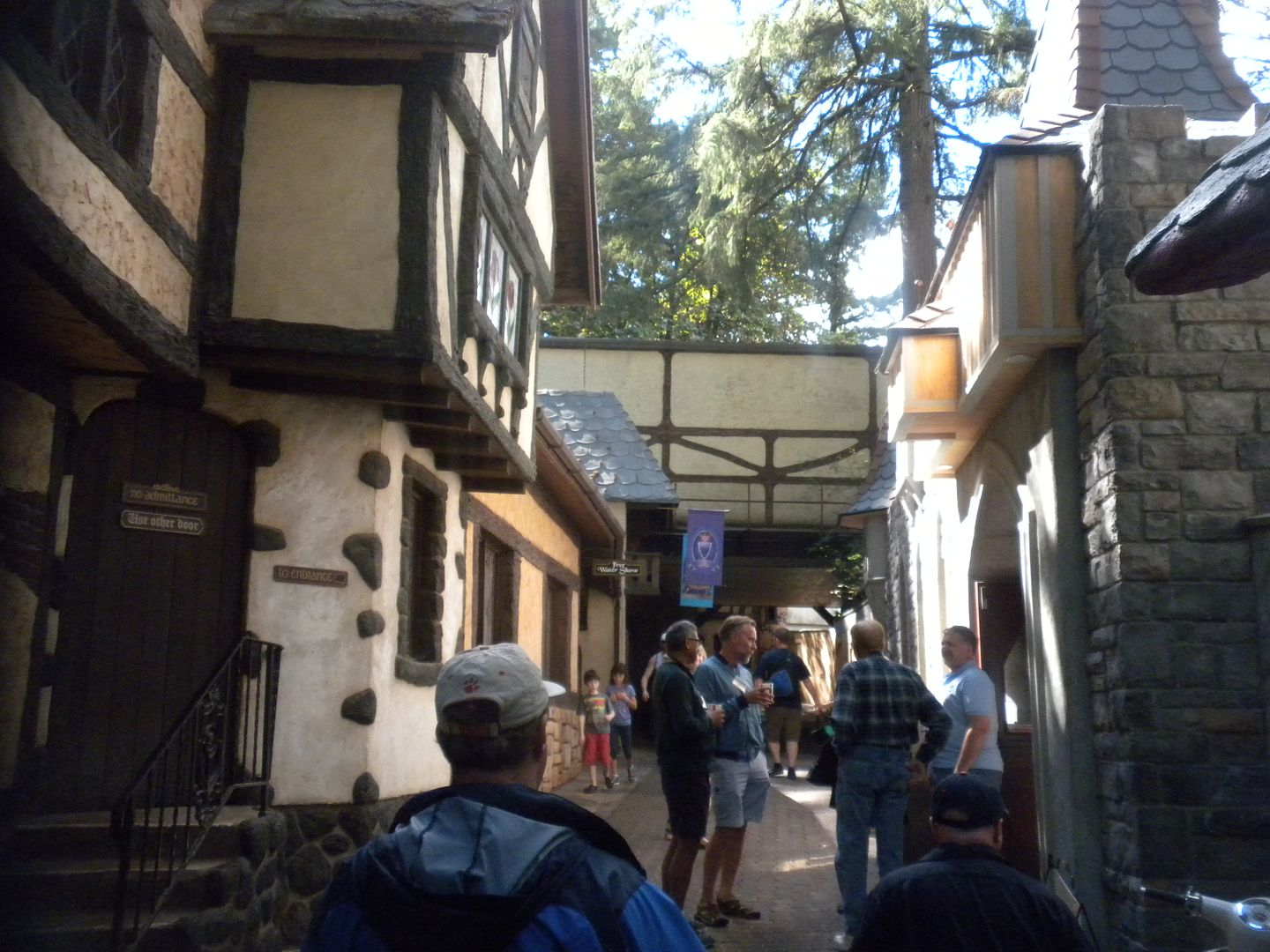 While there are only a few rides, this is one of the most fascinating parks I have been to.


There is so much to explore and the attention to detail is excellent.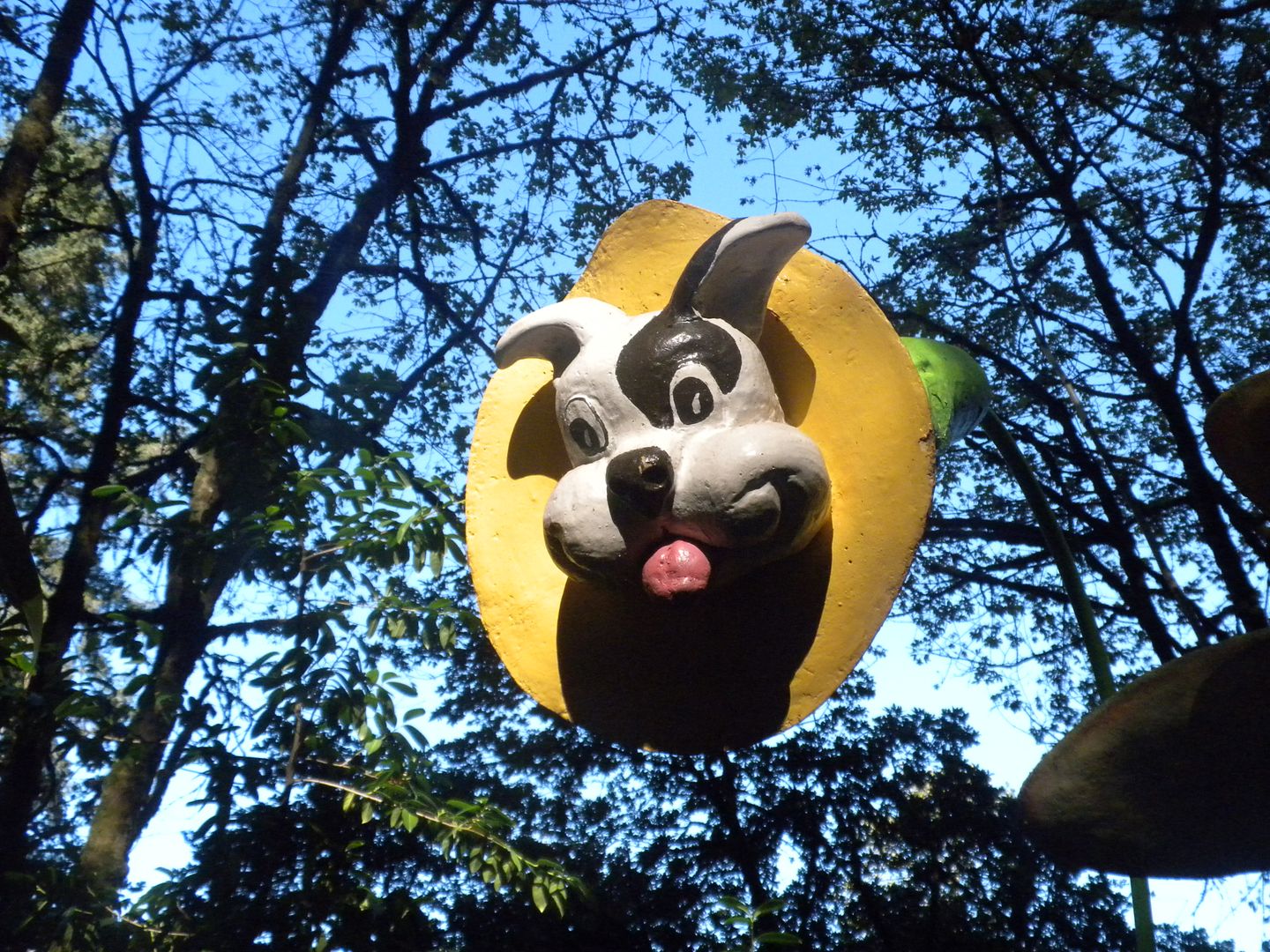 If you have not been to this park – and most people have not – you should go. It is truly amazing. While David had to leave around 2:45 to catch his plane, Richard and I stayed until the park closed at 5:00. I drove him to Portland for his redeye flight and I drove on to Seattle for a flight on Monday morning. It had been a short trip for such a long distance from home, but having ridden my last John Miller coaster to get to, learning more about a wonderful traditional park, and meeting the man who created such a treasure as this last park we visited, it had been well worth the effort.
This is my last trip report for this year. Until 2016, thanks for reading!