Legoland Florida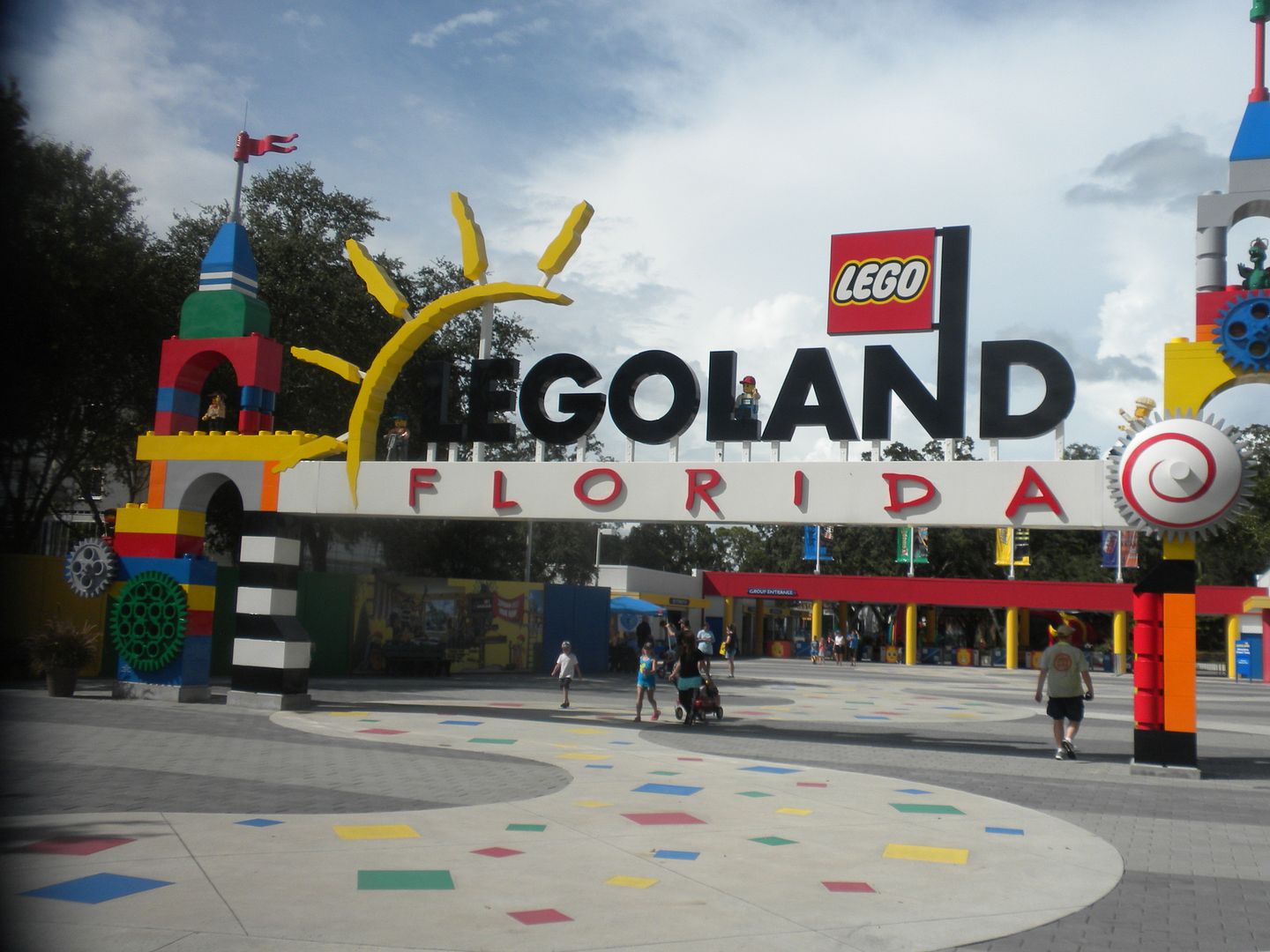 After leaving Busch Gardens Tampa Saturday afternoon Richard and I made a detour in ACE Fall Conference 2014 for a quick stop at Legoland Florida in Winter Haven.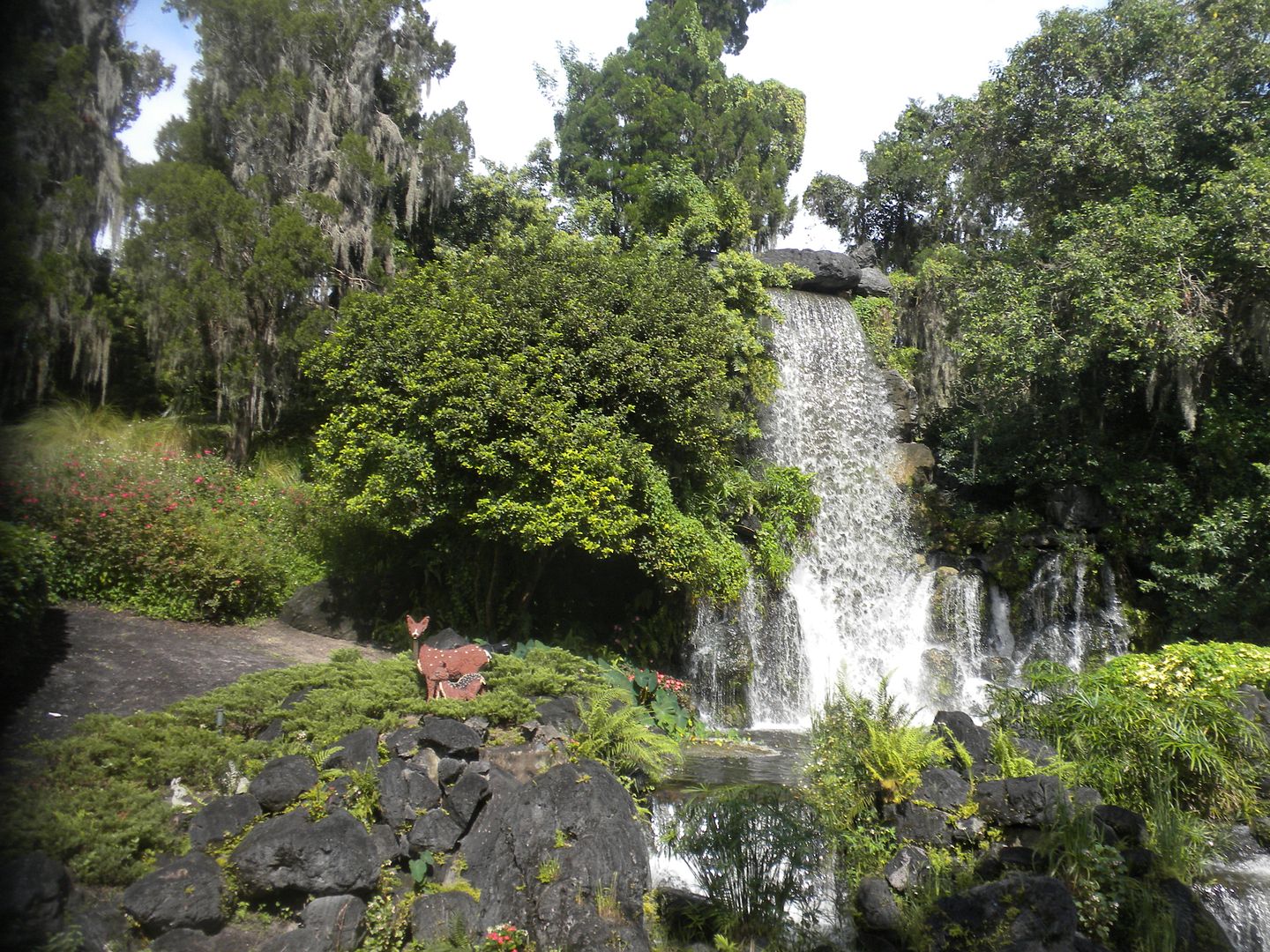 Formerly Cyprus Gardens, I visited this attraction as a child as well as during the time that the amusement park was added and it became Cyprus Gardens Adventure Park. Unfortunately I never made it during the brief time that the relocated Starliner (PTC-John Allen, Wood Out & Back, 1966/2007[/2015 hopefully!]) operated. We arrived around 3:30, a little later than I had planned. It was an expensive proposition to pay for just 2 and half hours in the park, but such is this crazy hobby! Our game plan was to get the coasters and darkride in and hopefully have time for a few other attractions. Had a storm not closed things early, we would have made it to everything, but as it was we got most of it in. The park is nicely themed so I will review by section.
The Beginning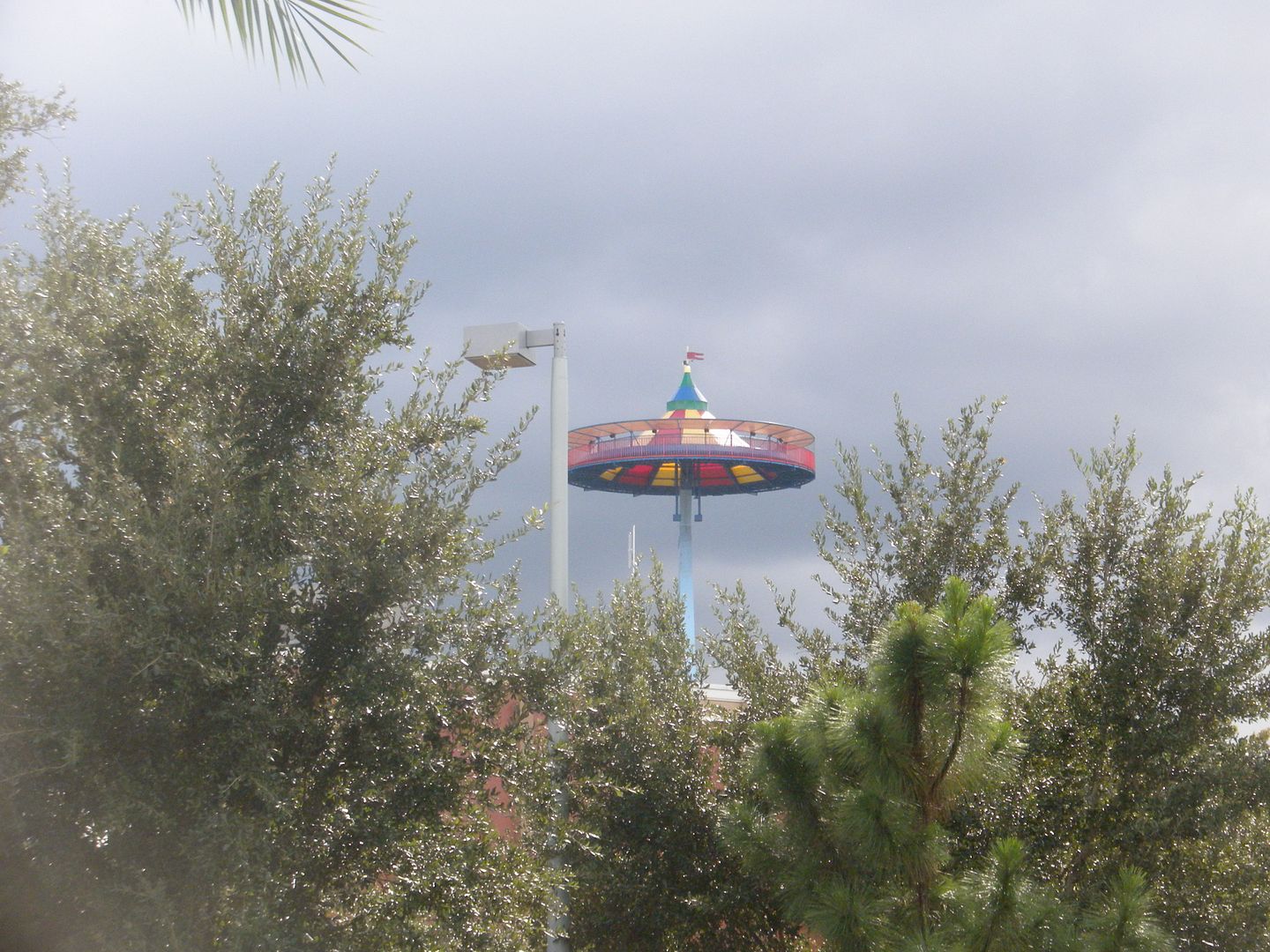 At one time the park's only ride, I had wanted to ride Island in the Sky, a 150 foot rotating observation platform from which you can see the whole park, but when we got to it they had just shut it down for the approaching storm. I have ridden it before, and I am glad they have kept it.
Fun Town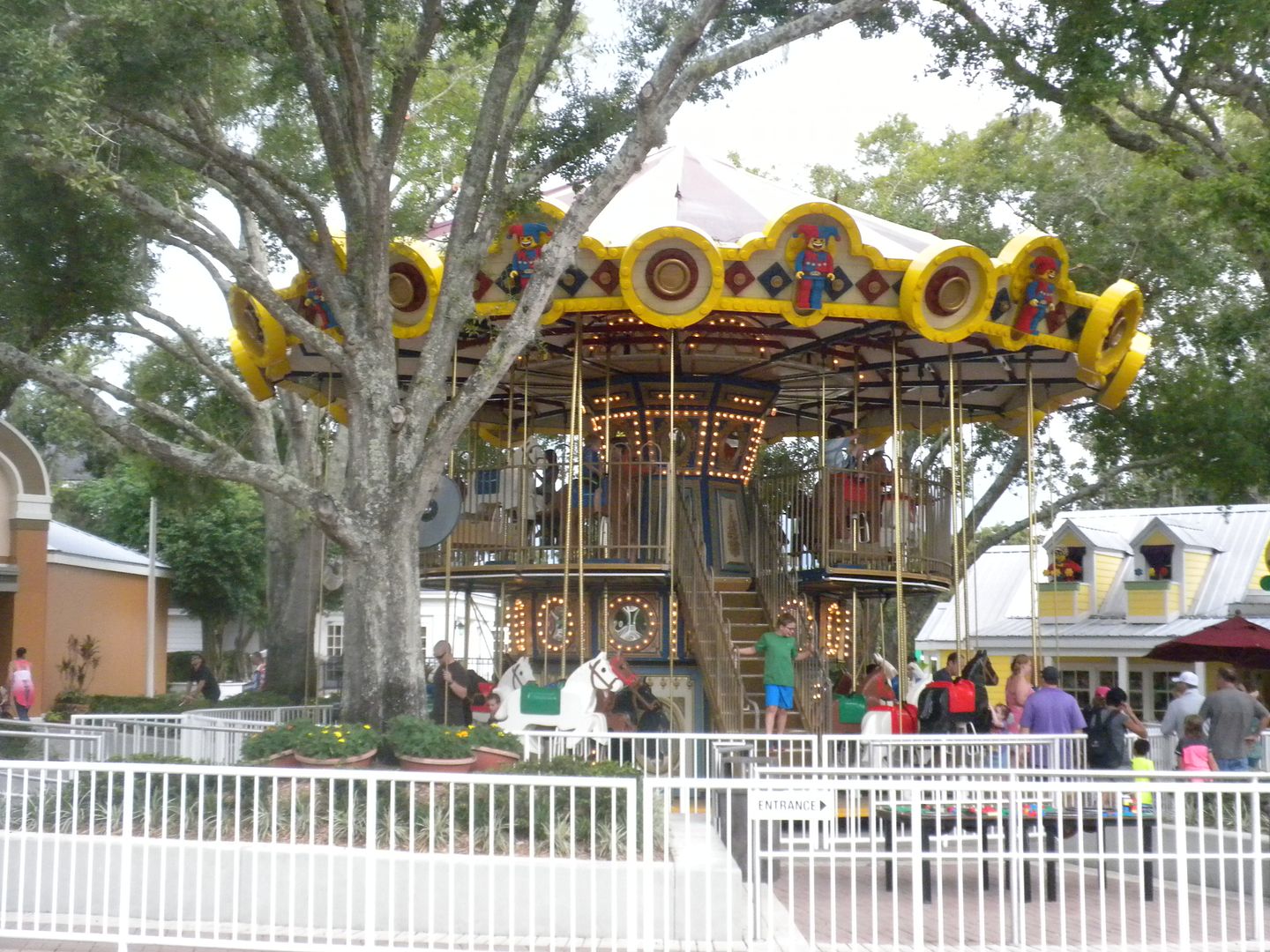 This section includes the Factory Tour, which was closed for refurbishment; The Grand Carousel; a double decker carousel; and the Wells Fargo 4D Theater, which shows 3 movies – A Clutch Powers 4-D Adventure, Spellbreaker 4-D, and LEGO Legends of Chima 4-D Experience.
Miniland USA
We spent a fair amount of time looking through these detailed exhibits which includes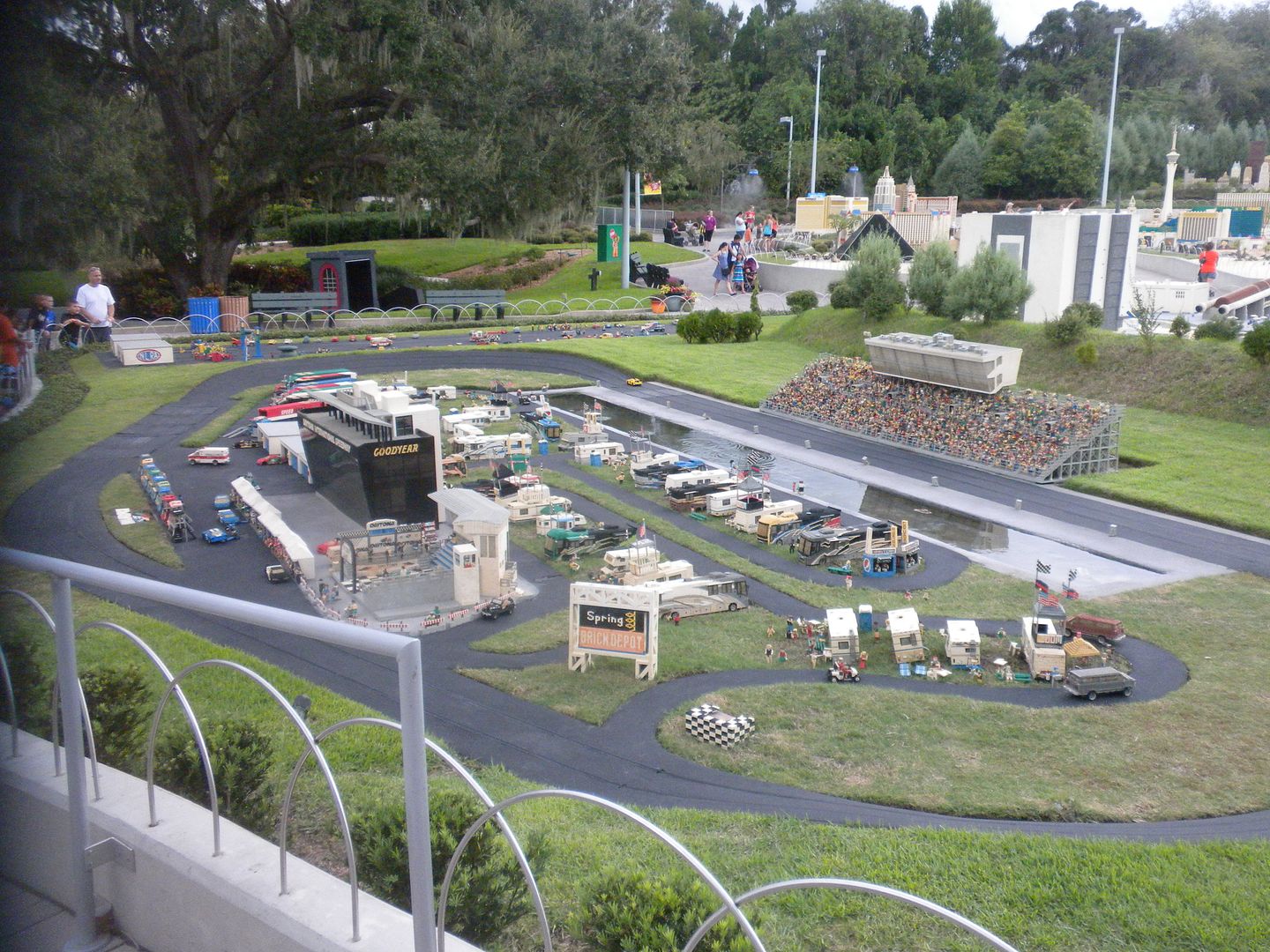 Daytona International Speedway,


Florida, Kennedy Space Center,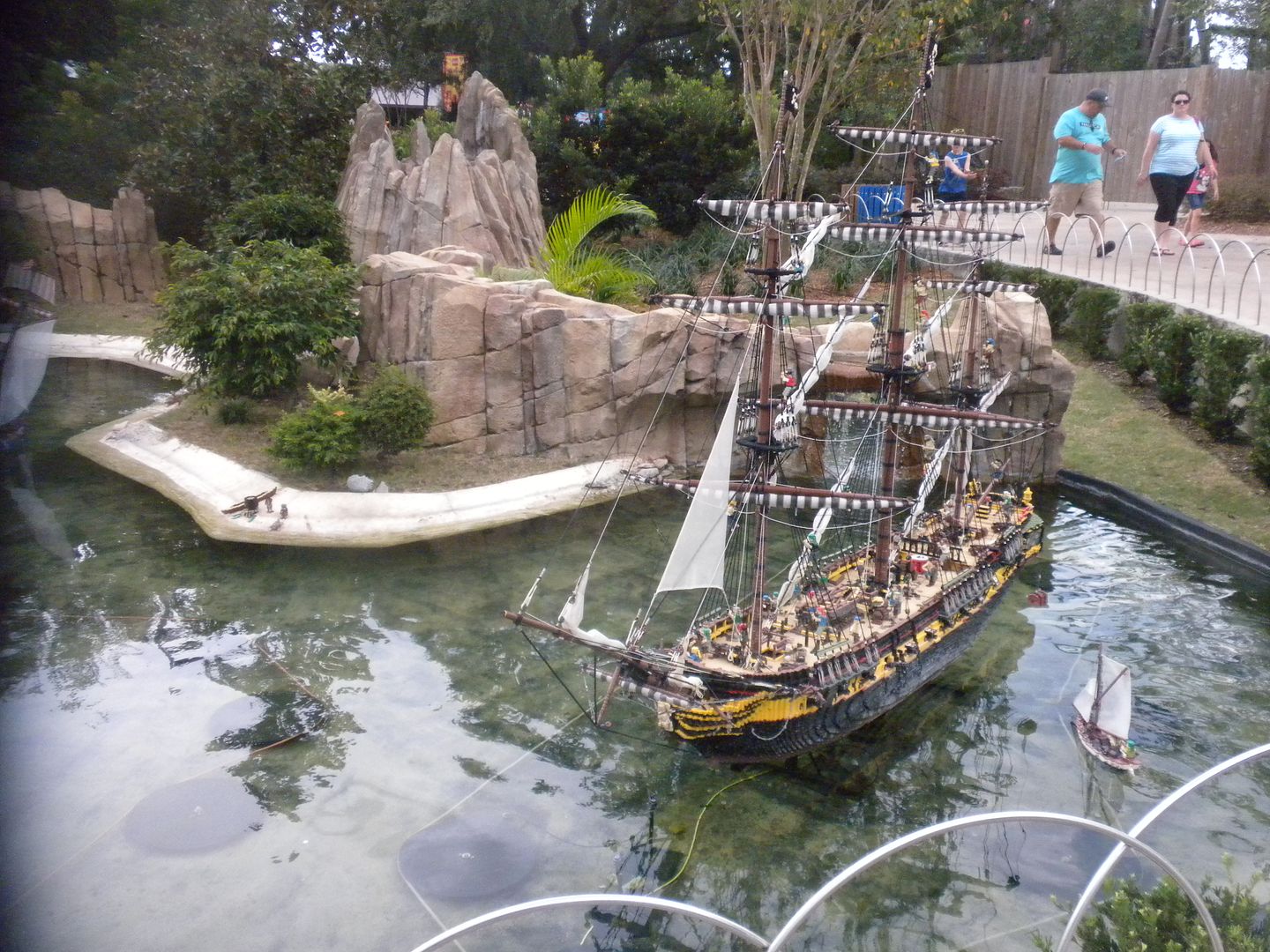 Pirate's Shores, California,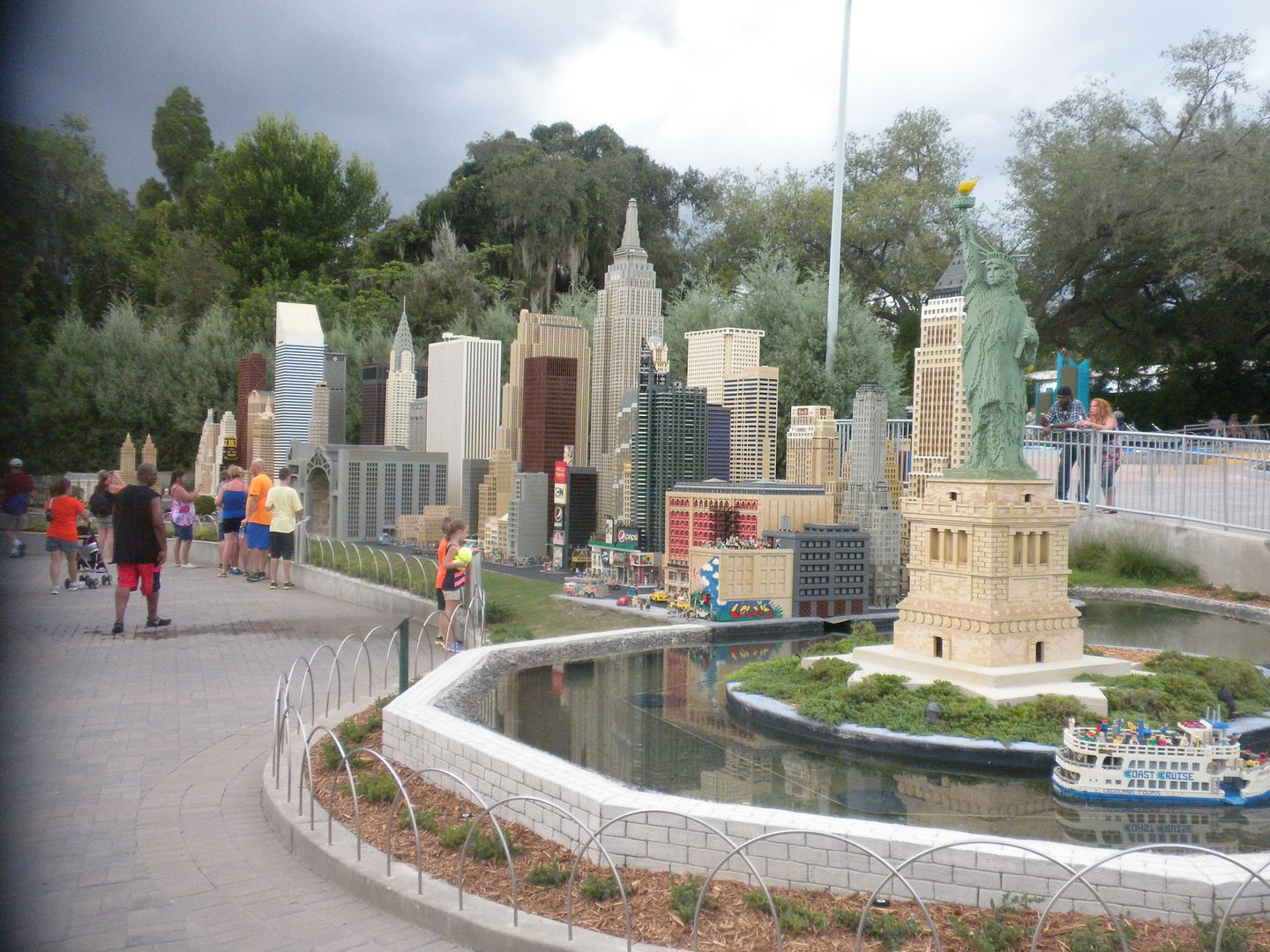 New York,


Washington D.C.,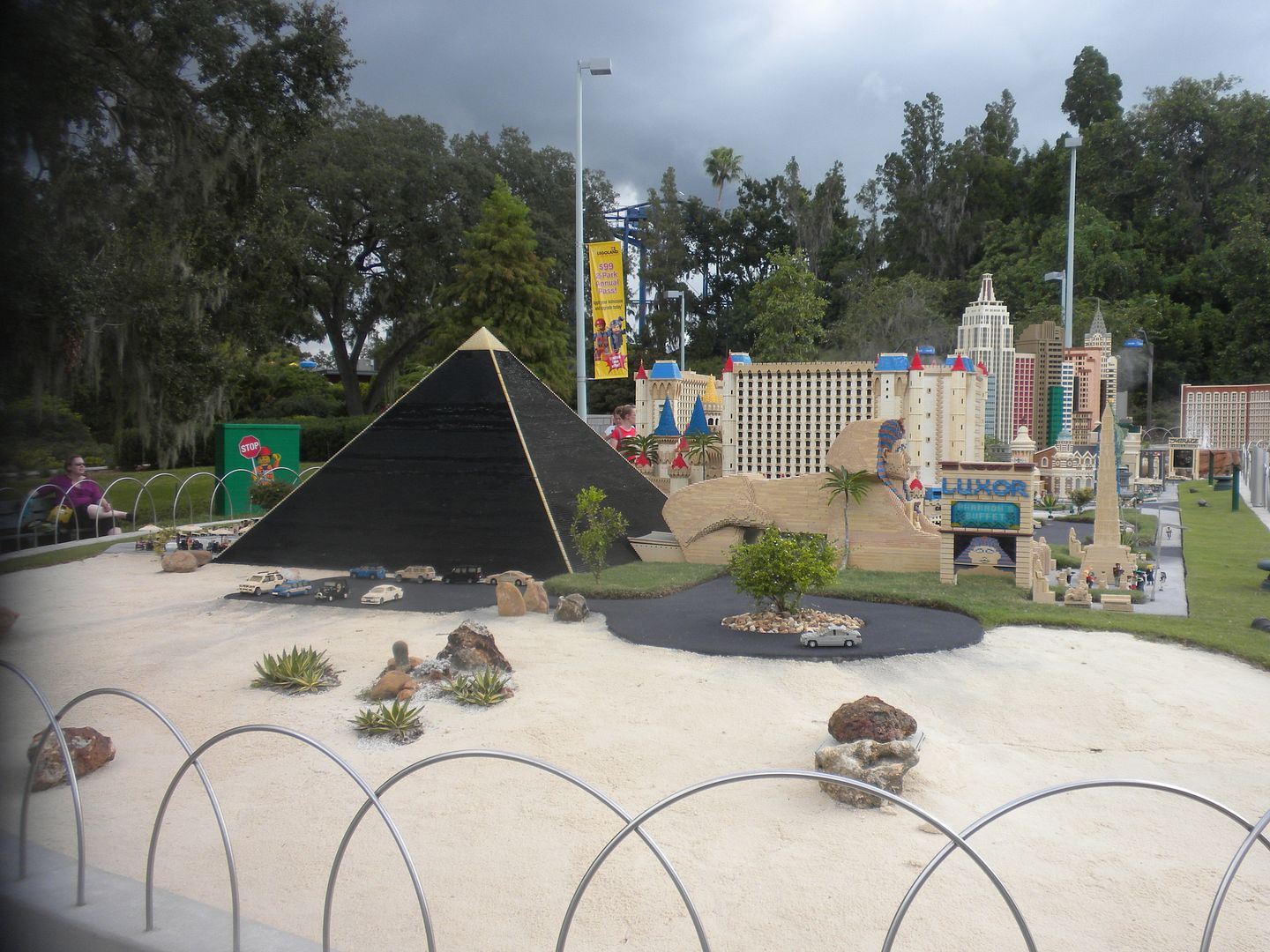 Las Vegas and LEGO STAR WARS – 1 walkthrough.
DUPLO Valley
Kiddie rides include DUPLO Train, DUPLO Farm, DUPLO Tractor and DUPLO Splash & Play.

LEGO Kingdoms


The Dragon: (Vekoma, Junior Coaster – modified, 2004)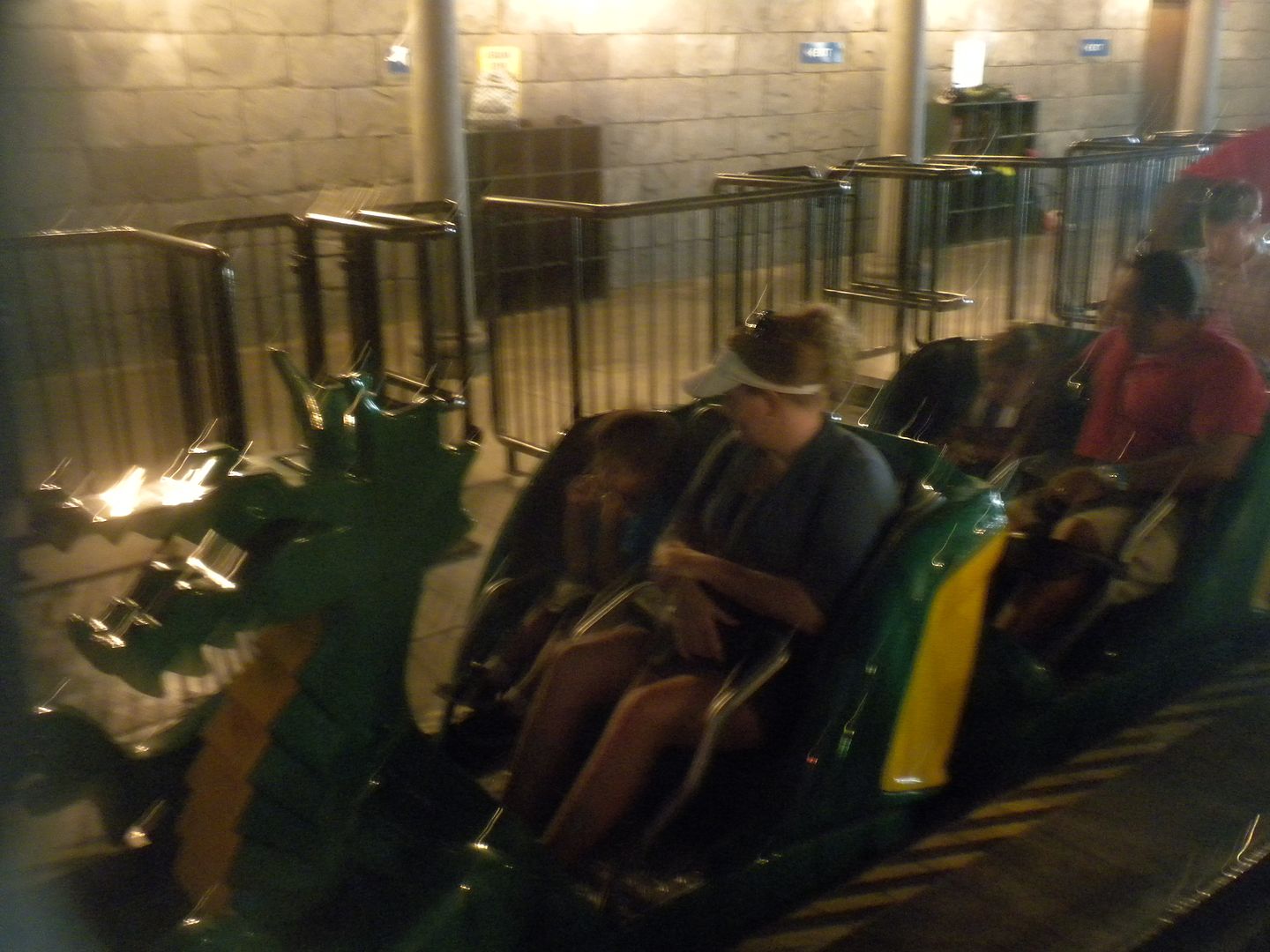 This has been extended and modified into a darkride/coaster since I rode it as Okeechobee Rampage.


The darkride portion is very nicely done – 1 ride.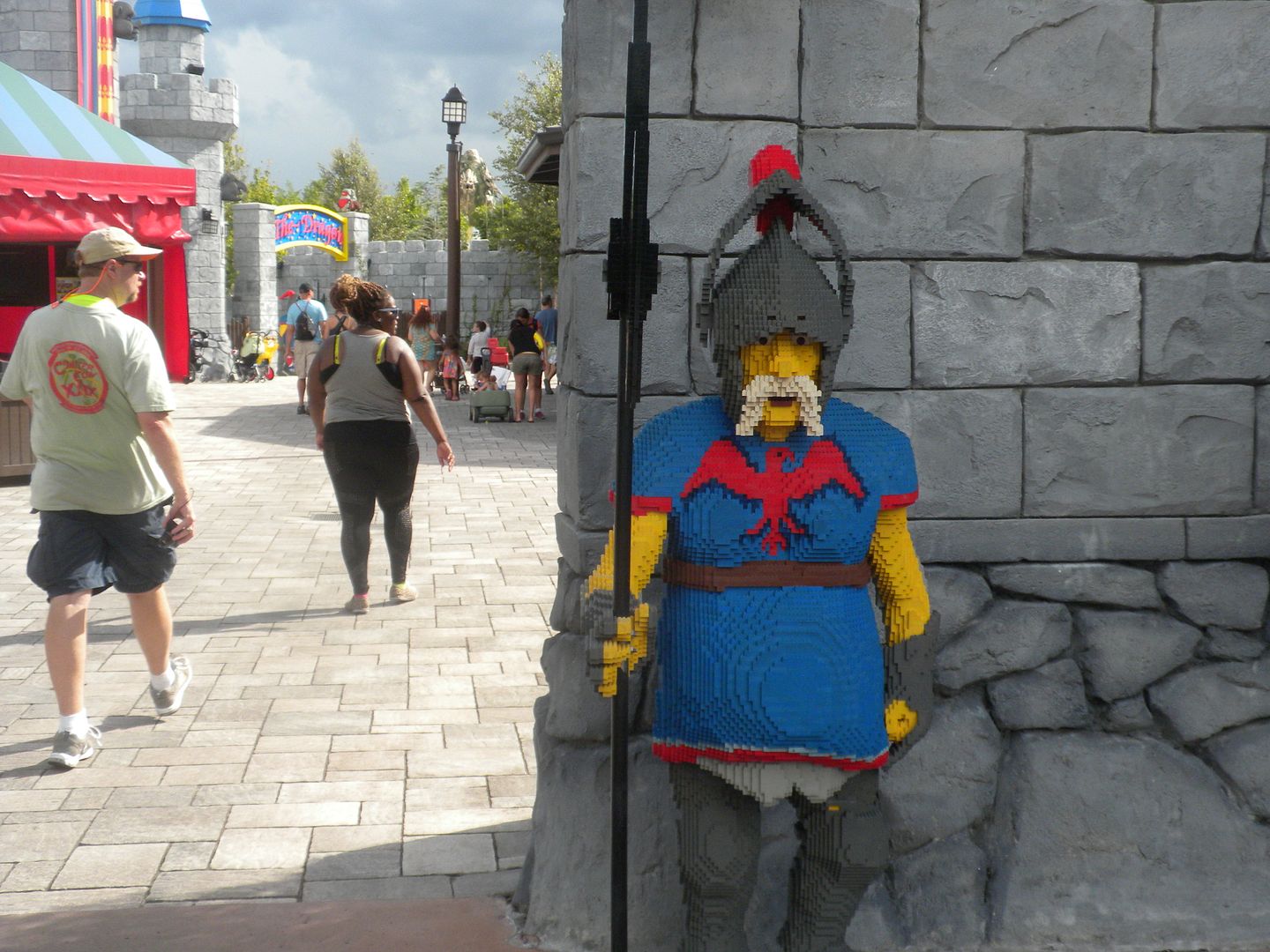 This section also has Merlin's Challenge, a Music Express type ride.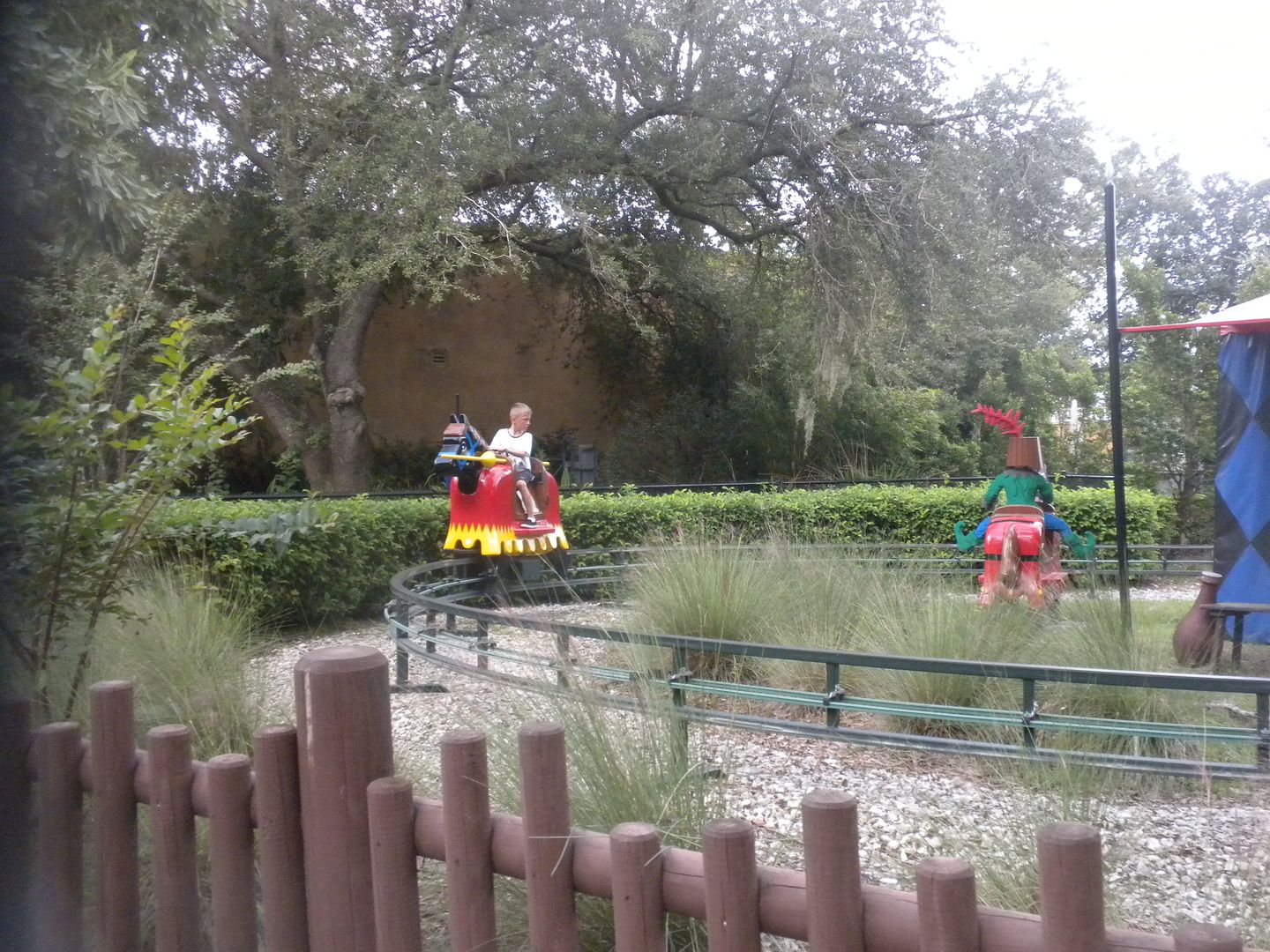 Kiddie rides include Royal Joust and The Forestmen's Hideout.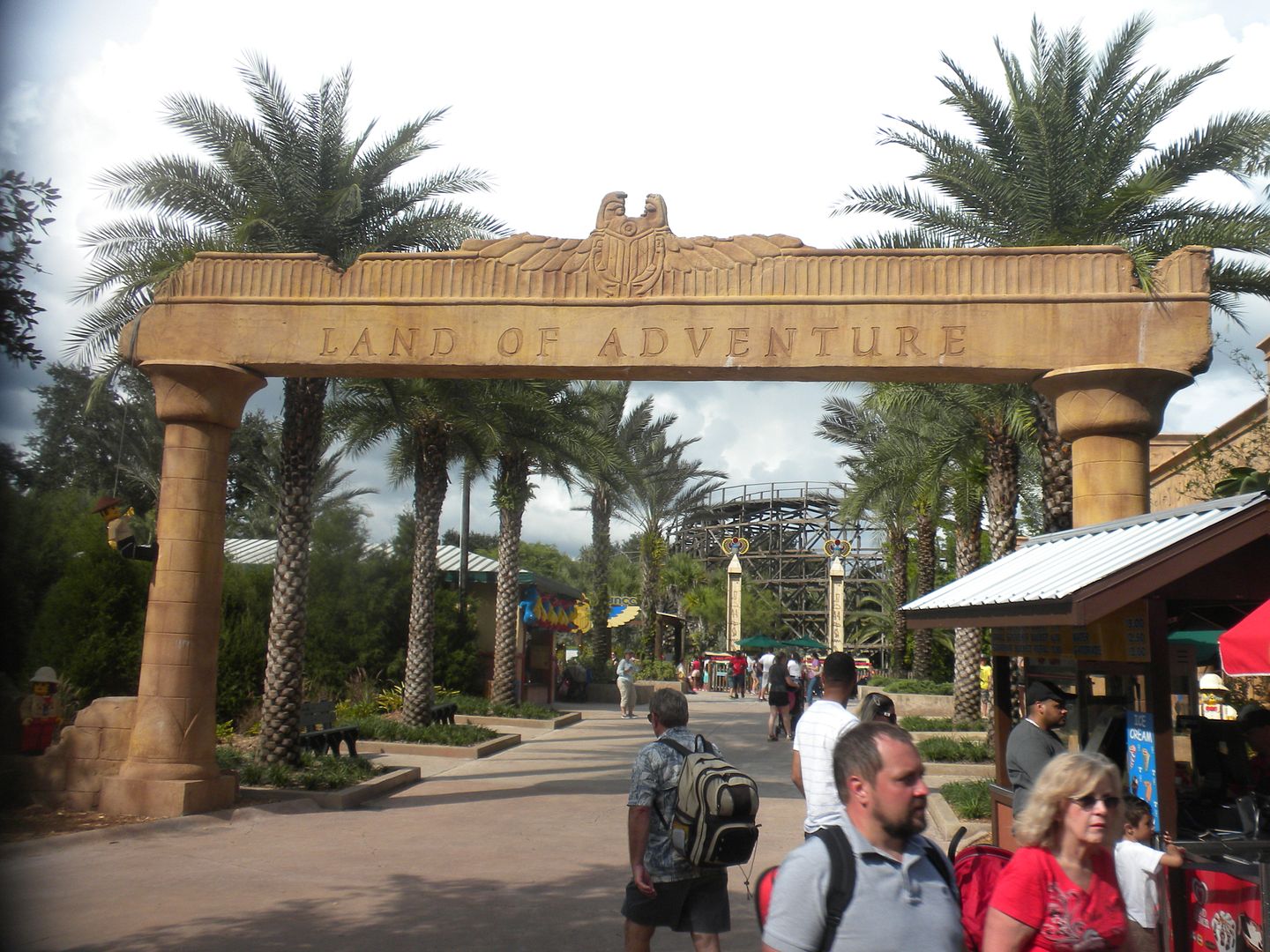 Land of Adventure


Coastersaurus: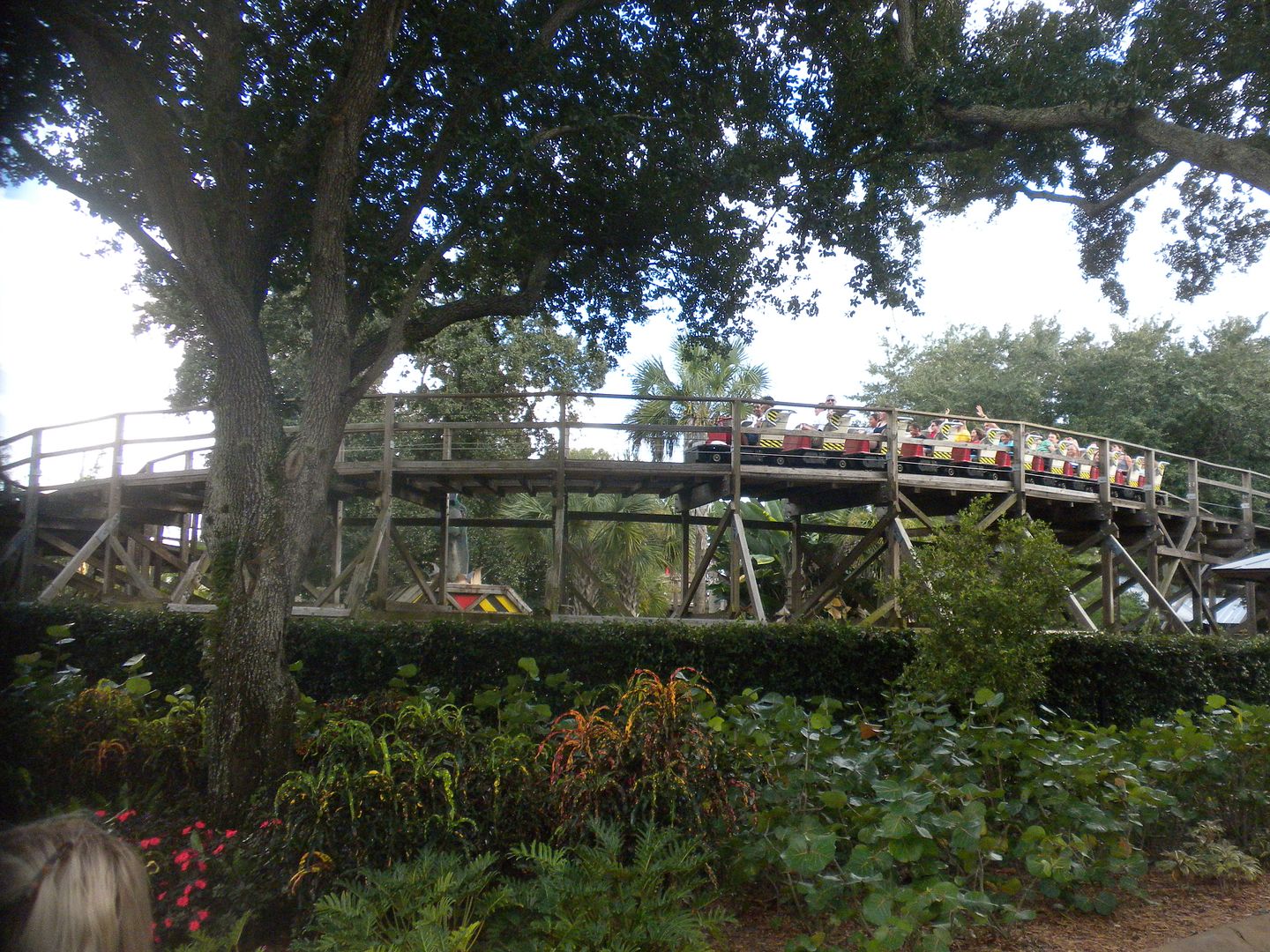 (Martin & Vleminckx, Junior Wood, 2004)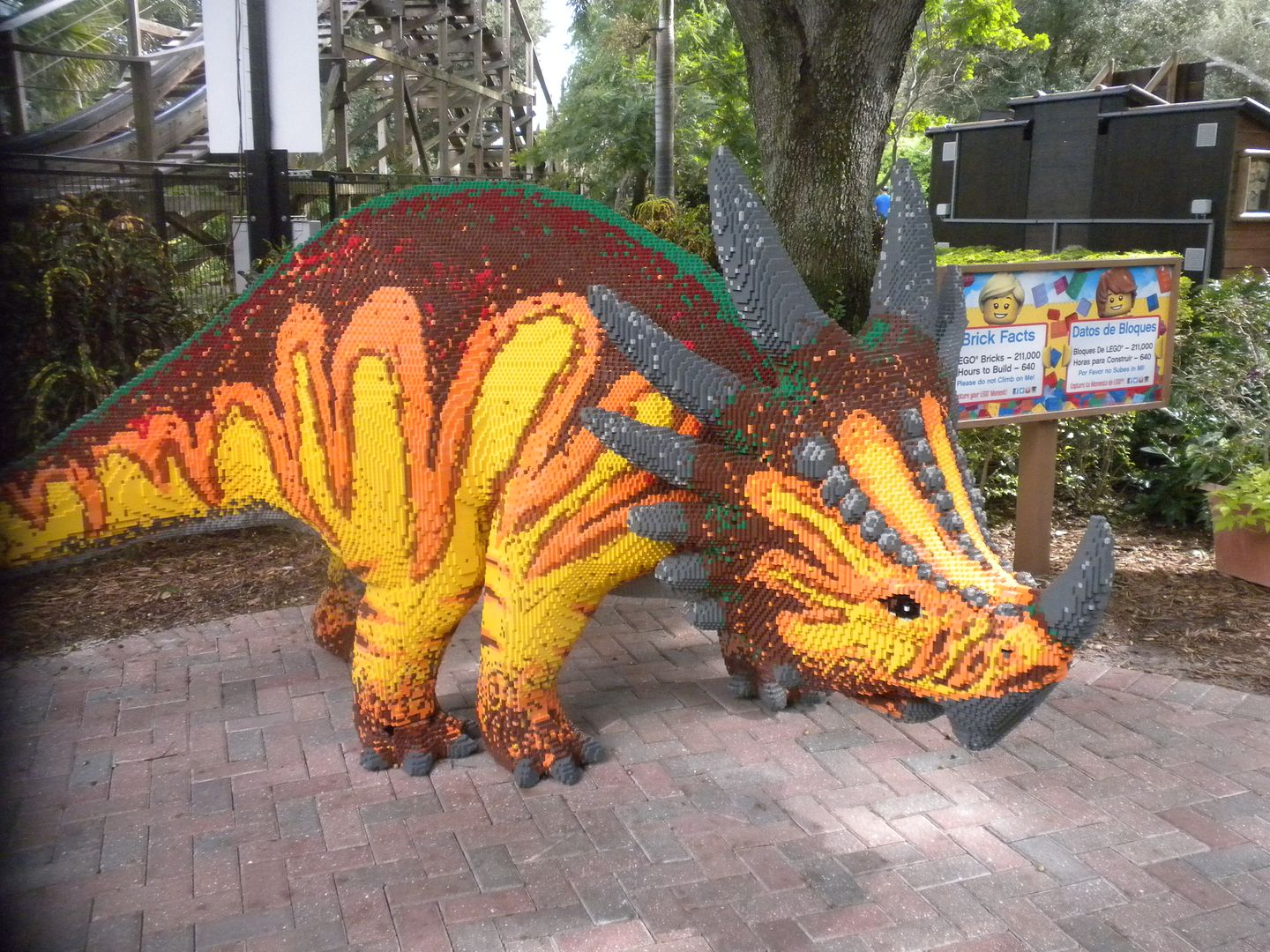 Previously Triple Hurricane,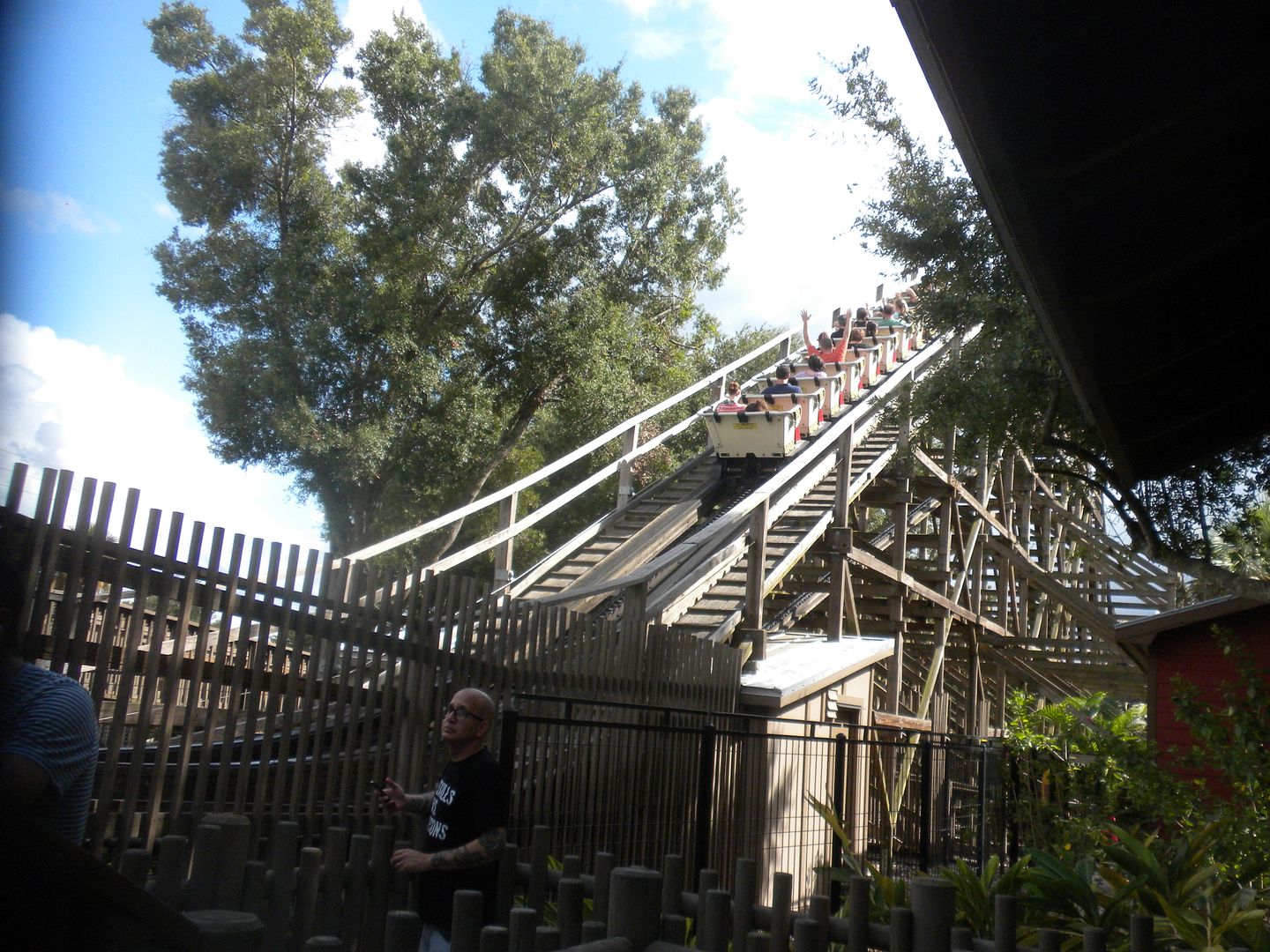 it is running very good and gave a nice ride – 1 ride.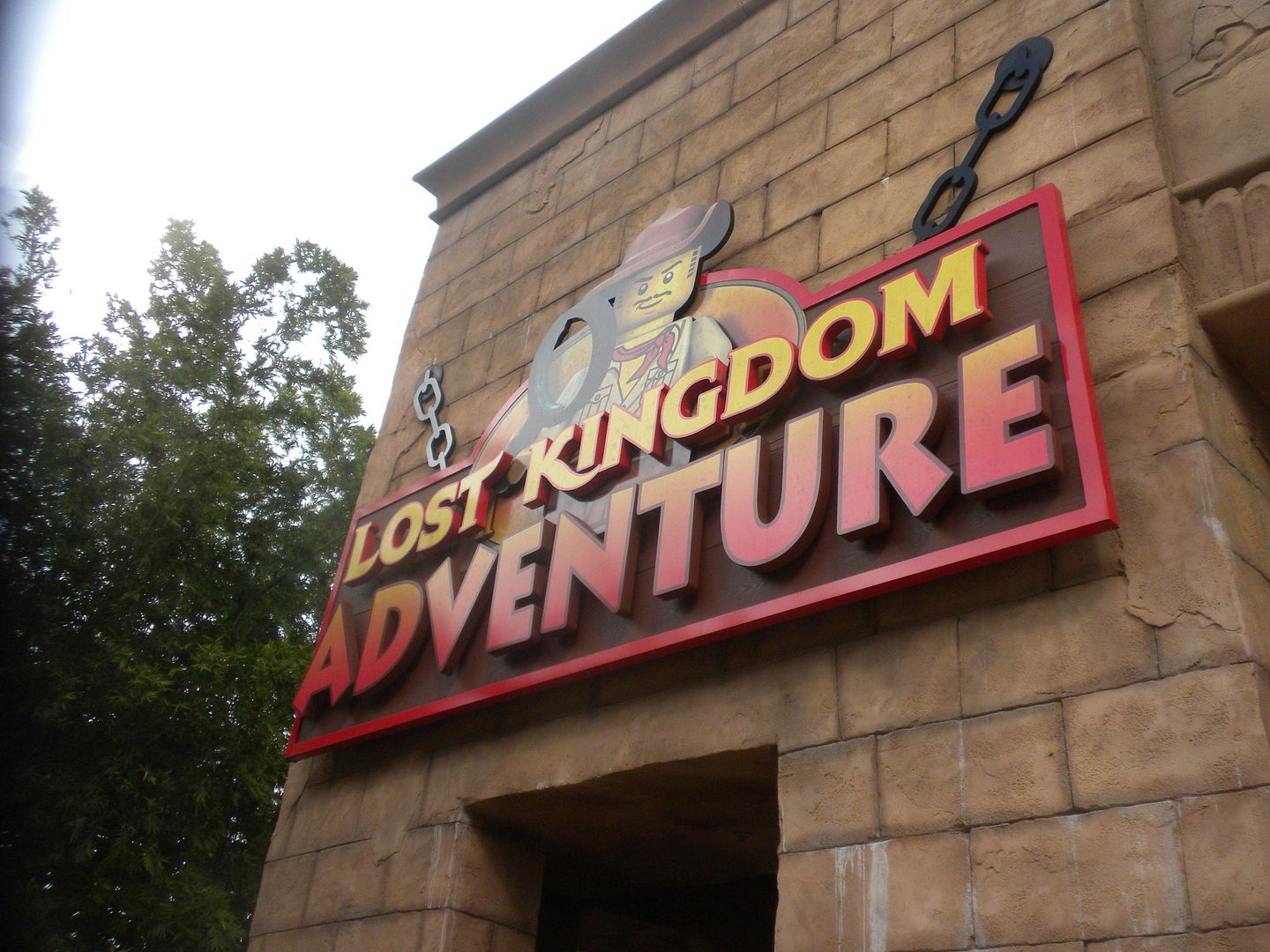 Lost Kingdom Adventure: This interactive dark ride invites takes guests through the Egyptian landscape in an attempt to unearth treasures – 1 ride.
Kiddie rides include Safari Trek, a car ride; Pharaoh's Revenge; and Beetle Bounce.
LEGO City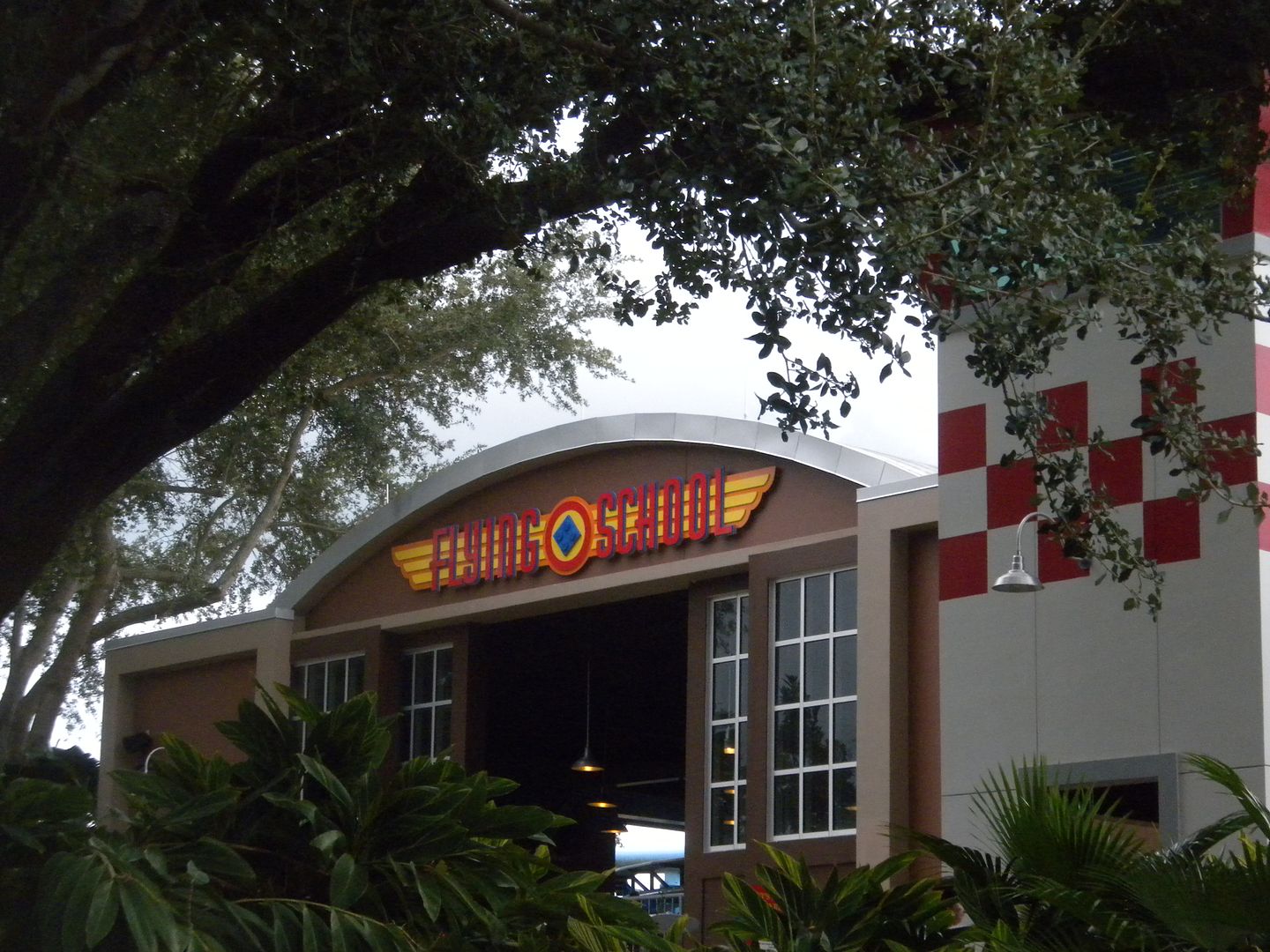 Flying School: (Vekoma, Suspended Family Coaster, 2004) I barely got this in before the rain came – 1 ride.
They also have a Boating School ride in this area.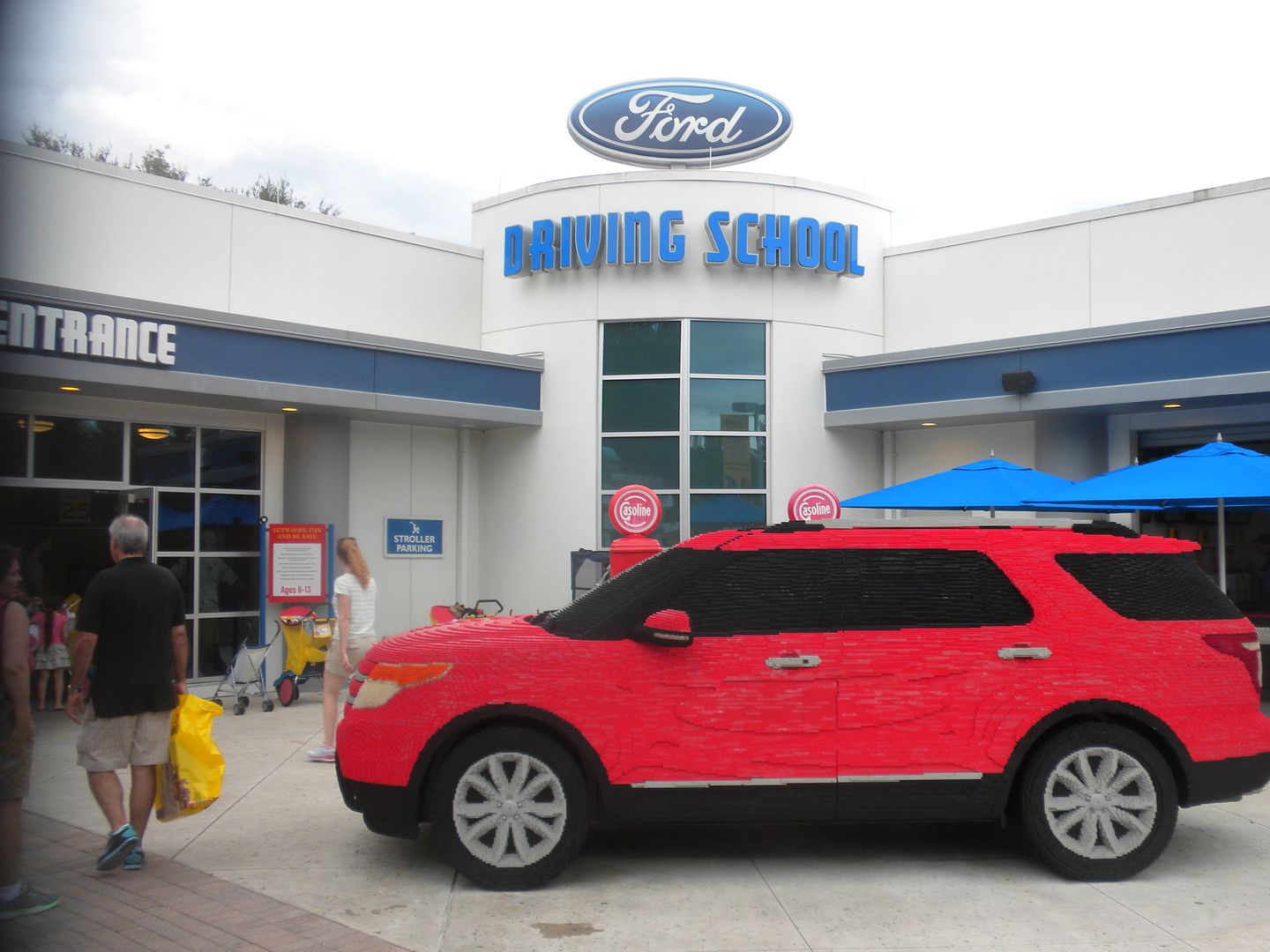 Kiddie rides include Rescue Academy, Ford Driving School and Ford Jr. Driving School. They have a show here – Big Test Live.
Imagination Zone
This section includes LEGO MINDSTORMS, Build & Test, LEGO Hero Factory and Kid Power Towers.
LEGOTECHNIC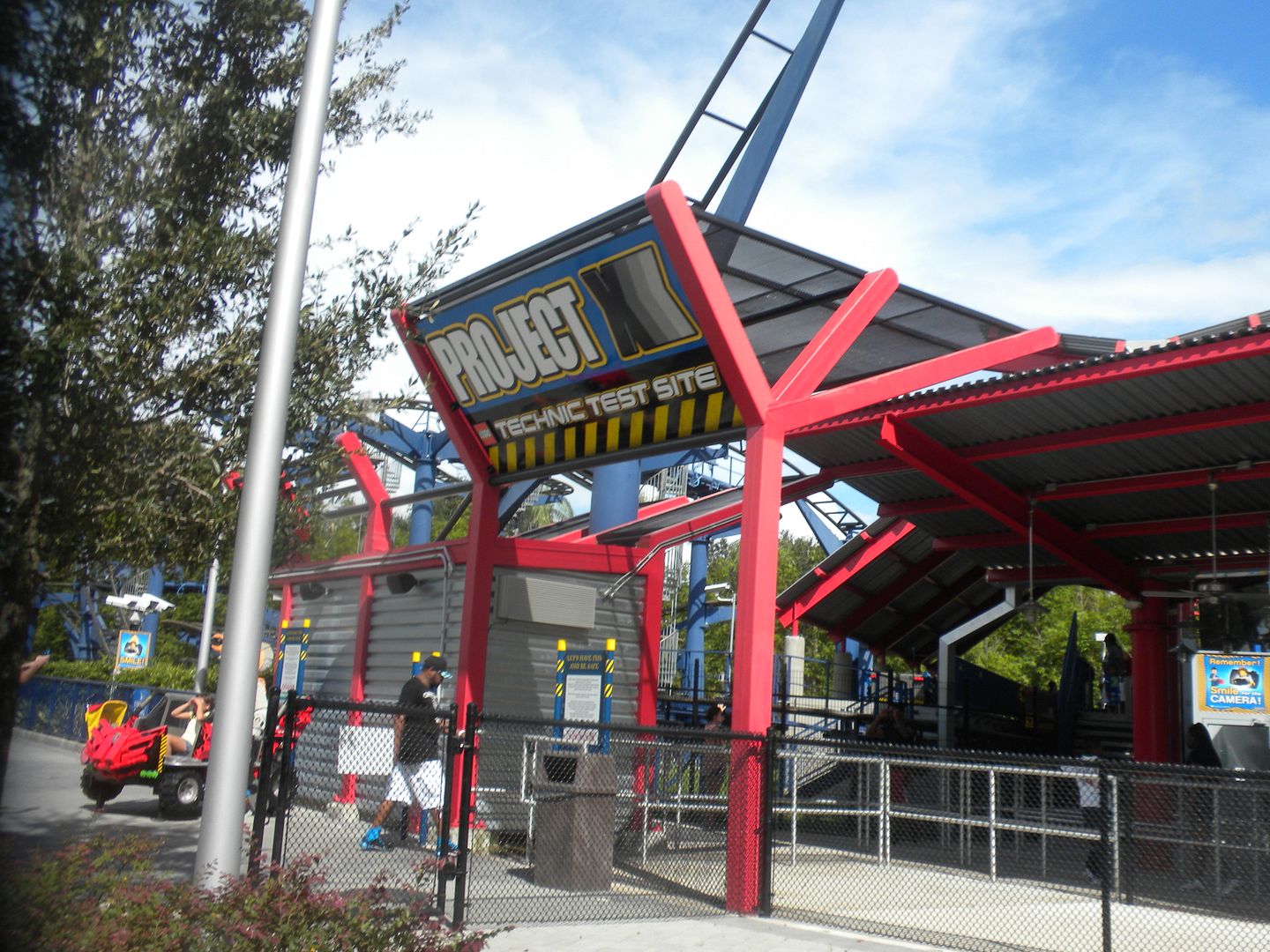 Project X: (Mack, Wild Mouse, 2004/2011)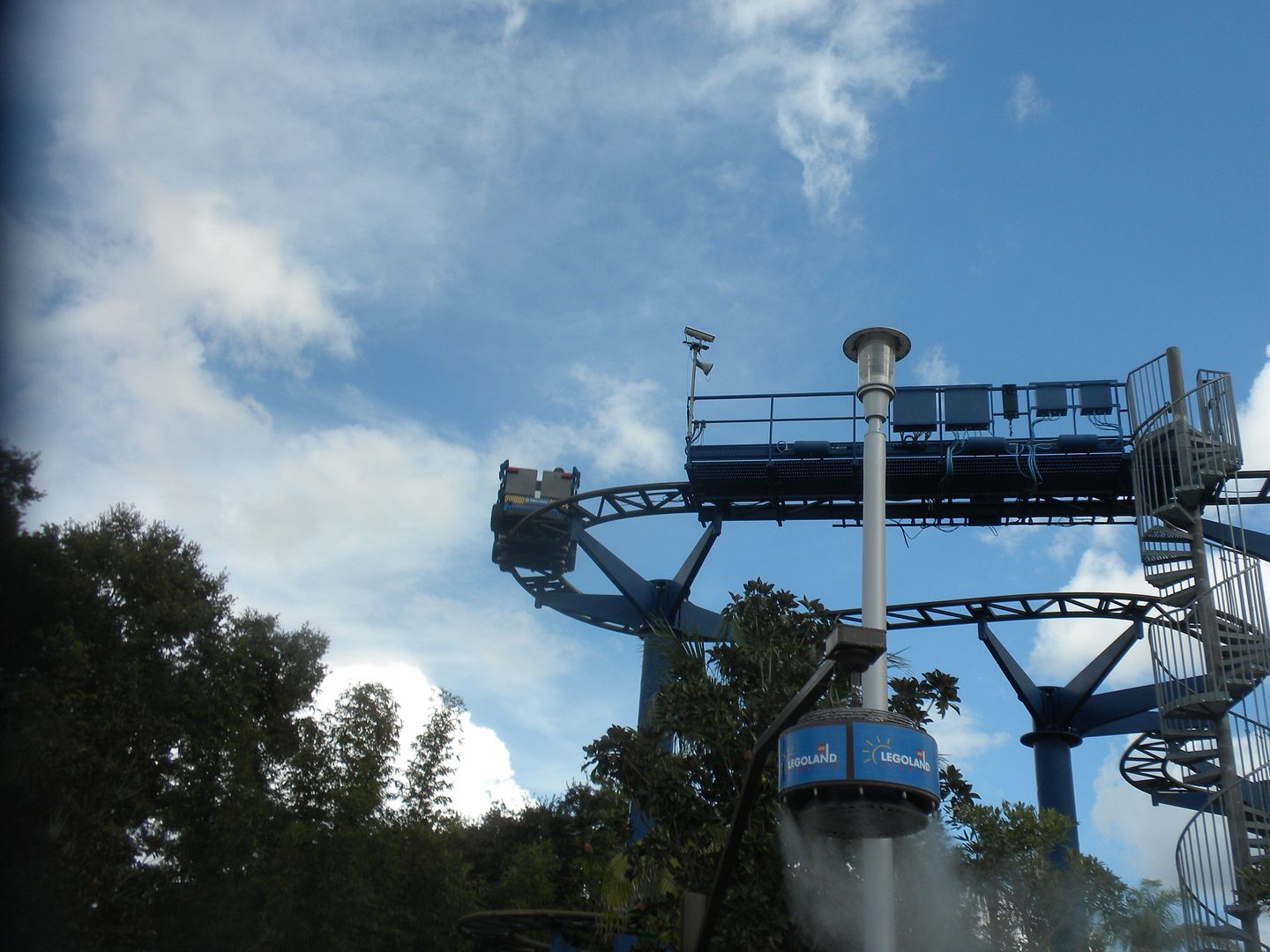 Relocated from Legoland Windsor where it operated as Jungle Coaster, this was a new credit for me. It gave the good ride I expect from a Mack wild mouse – 1 ride.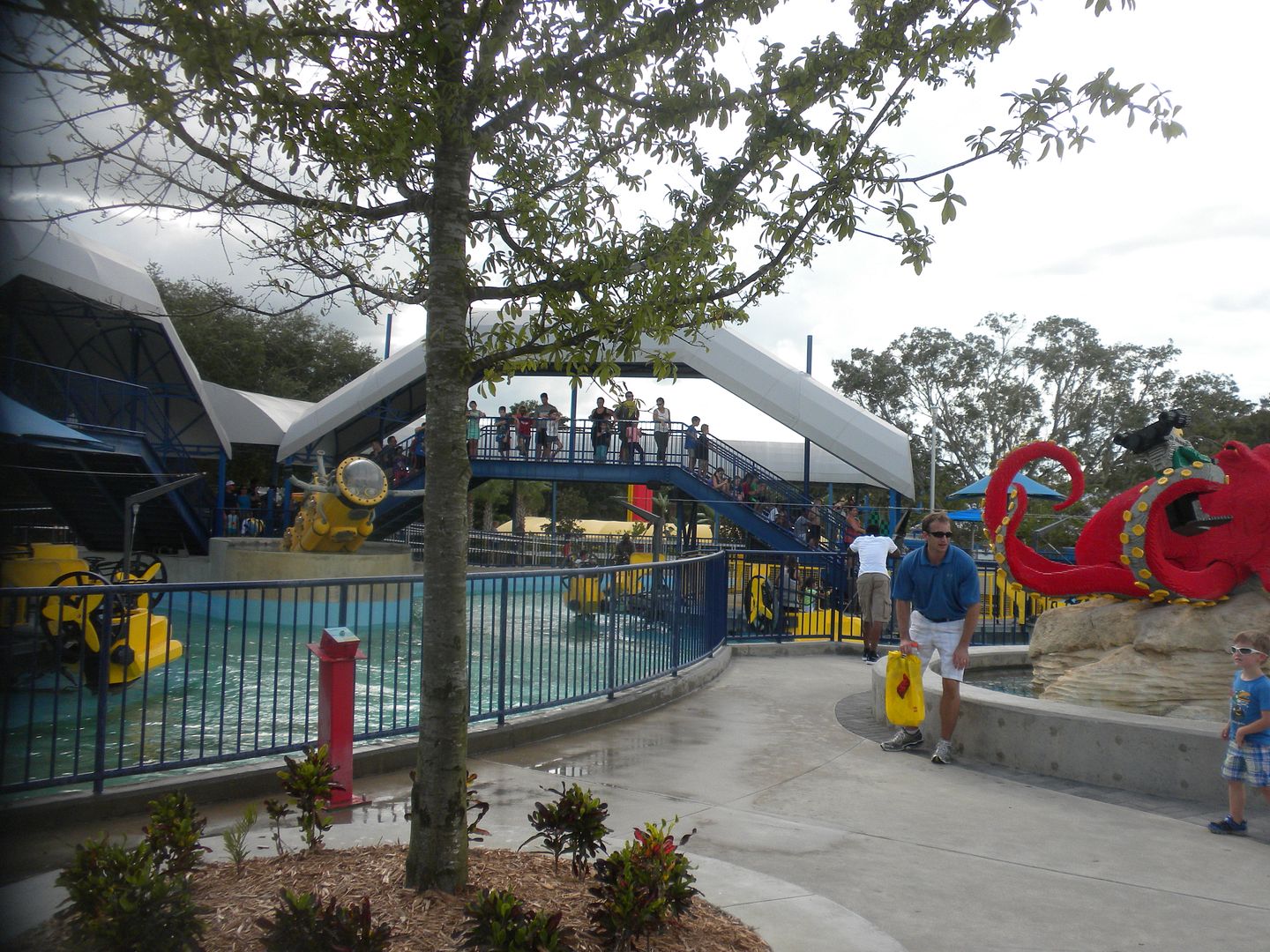 On my list of rides to get to was AQUAZONE Wave Racers, a water carousel like I have only seen in Europe, but I didn't get to it before the rain moved in. Also here is Technicycle, a peddle powered ride.

Pirates' Cove
This section still has the Live Water Ski Show, a n live action, water-stunt show on Lake Eloise.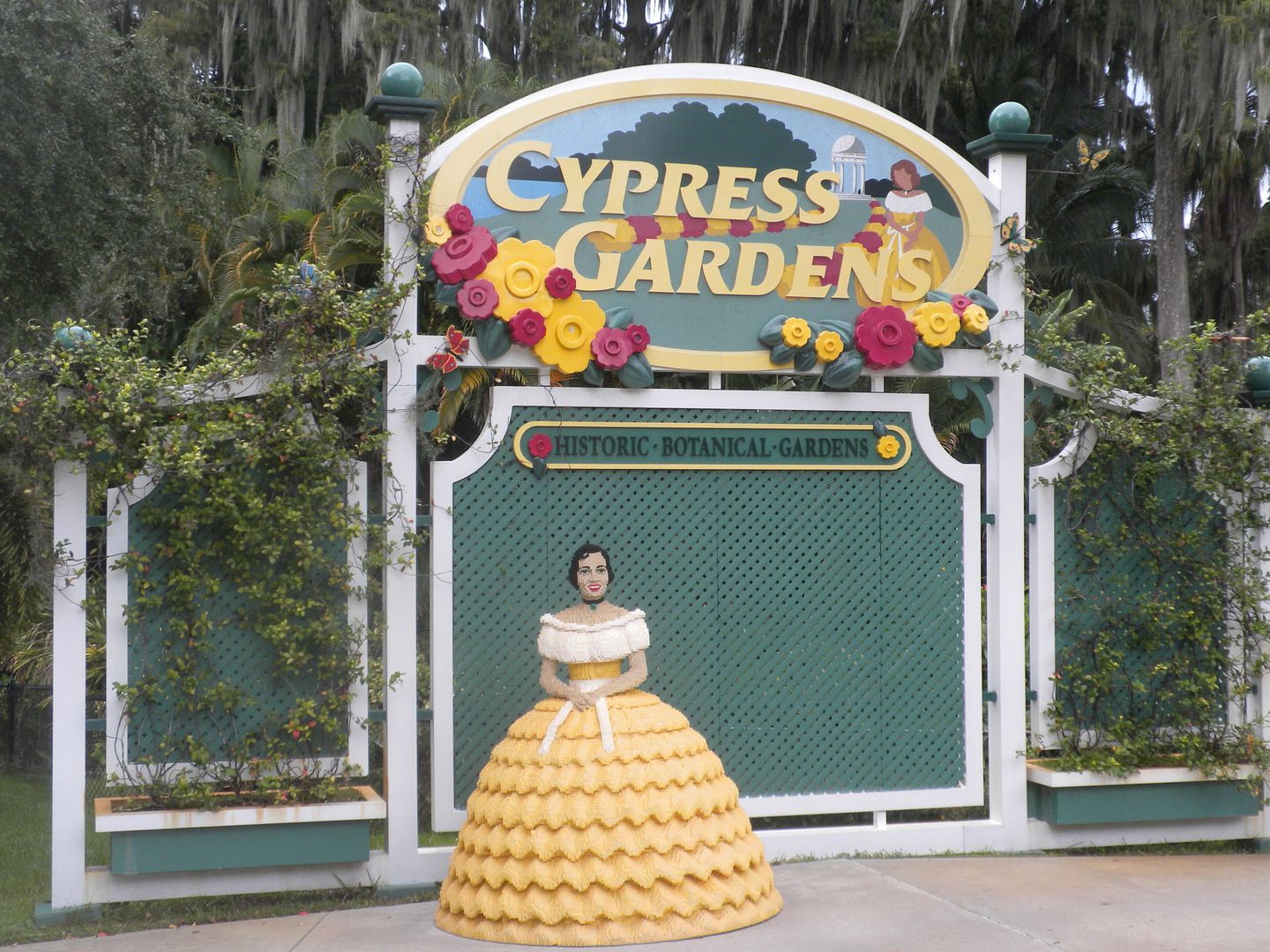 Cypress Gardens
We tried to get to the Botanical Gardens after the rides had closed, but with the impending storm, they closed they gardens. Another thing for next time.
World of Chima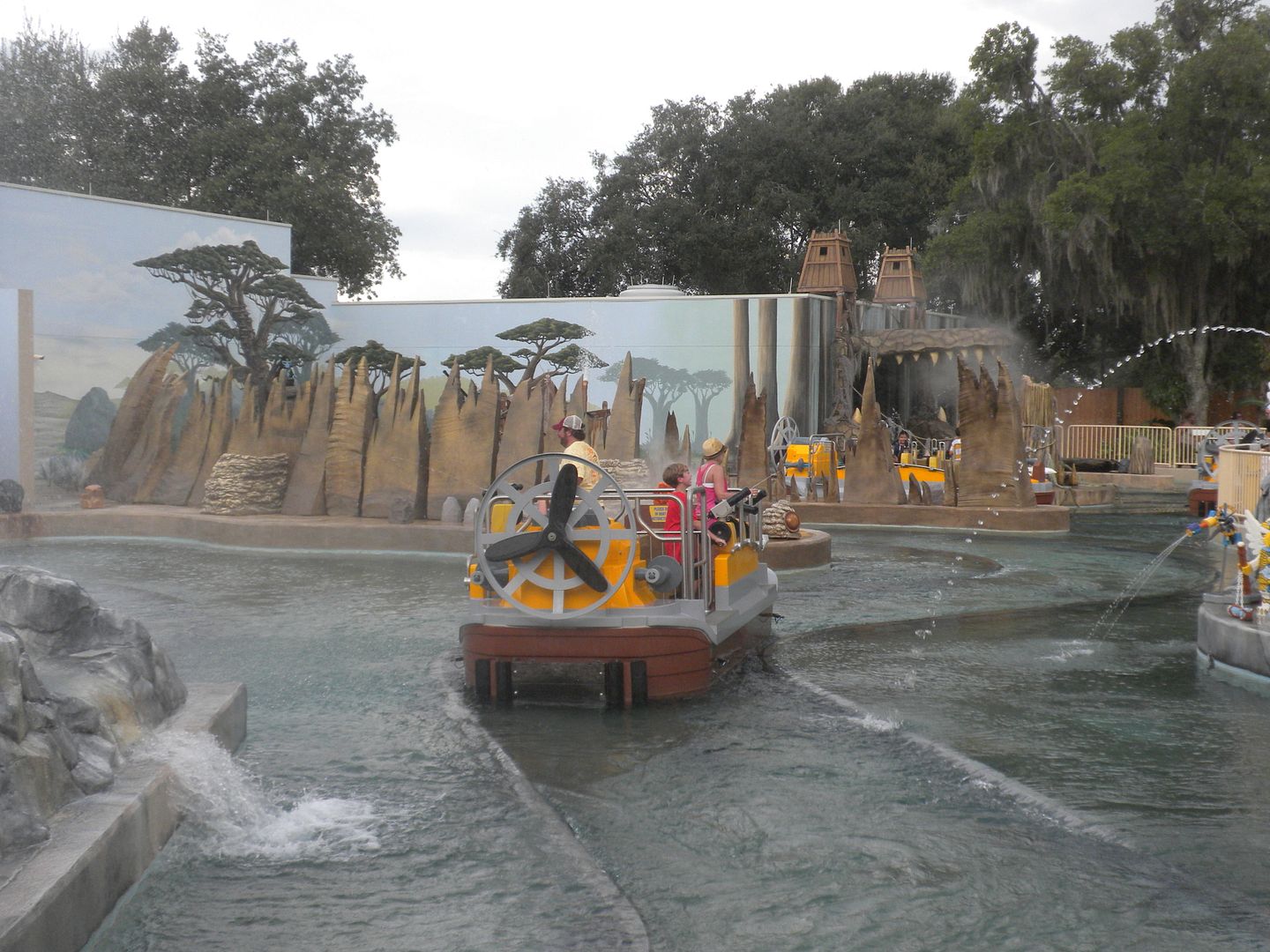 If I hadn't wanted to stay dry The Quest for CHIMA, a River Battle ride looked quite nice. Kiddie rides include Speedorz Arena and Cragger's Swamp.
LEGOLAND Water Park
The waterpark includes: LEGO Wave Pool, Twin Chasers, Splash Out, Joker Soaker, Build-a-Raft River, and DUPLO Splash Safari.

We had a nice, albeit short, visit to Legoland. We left at 6:00 to meet David for dinner before continuing with Fall Con at Fun Spot America in Kissimmee.
After a good meal, we arrived at Fun Spot America in Kissimmee around 8:30. There were no specific Fall Conference events planned for our time there, so we headed to the coasters first.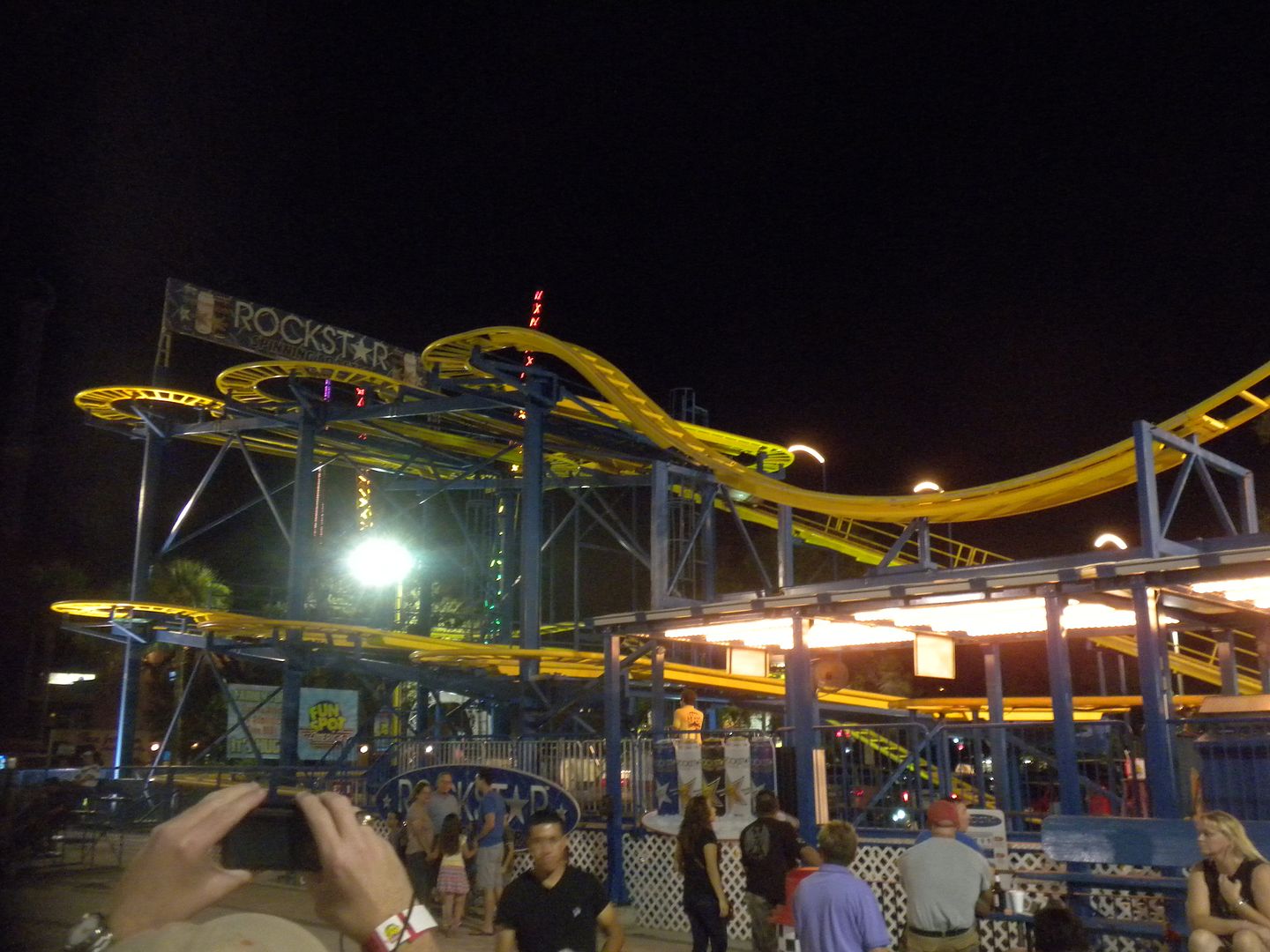 Rockstar Coaster: (Zamperla, Spinning Wild Mouse, 2005/2011) Relocated from Cyprus Gardens where it operated as Galaxy Spin.


Our first ride had almost no spinning, and the ride operator noticed this and graciously had us wait for a different car (the one he said spun the best) and allowed us to ride again. One our second ride we had some of the best spinning I have had on a coaster – Tilt-A-Whirl quality. It was very good of him to allow us this second ride – 2 rides.


Kiddie Coaster: (E&F Miler, Family, 2001/2010/2012) Relocated from Wonderpark in Cincinnati, OH where it operated as Boa Squeeze, and Enchanted Forest in Utica, IL where it operated as Boa Squeeze, it replaced Kiddie Coaster (Herschall?, kiddie coaster, 2009-2011), which I rode the last time I was here. It gave the expected ride – 1 ride.
Flying Bobs: Himalaya – Good ride – 1 ride.
Hot Seat: Low capacity Screaming Swing – Good ride – 1 ride.
Screaming Eagles: Flyers – Fun ride – 1 ride.
Tilt-a-Whirl: I did not get very good spinning – 1 ride.
Paratrooper: This loaded half the ride at the time, which allowed it to stick out over the lake to good effect – 1 ride.
Yo-Yo: Good ride by the side of the lake – 1 ride.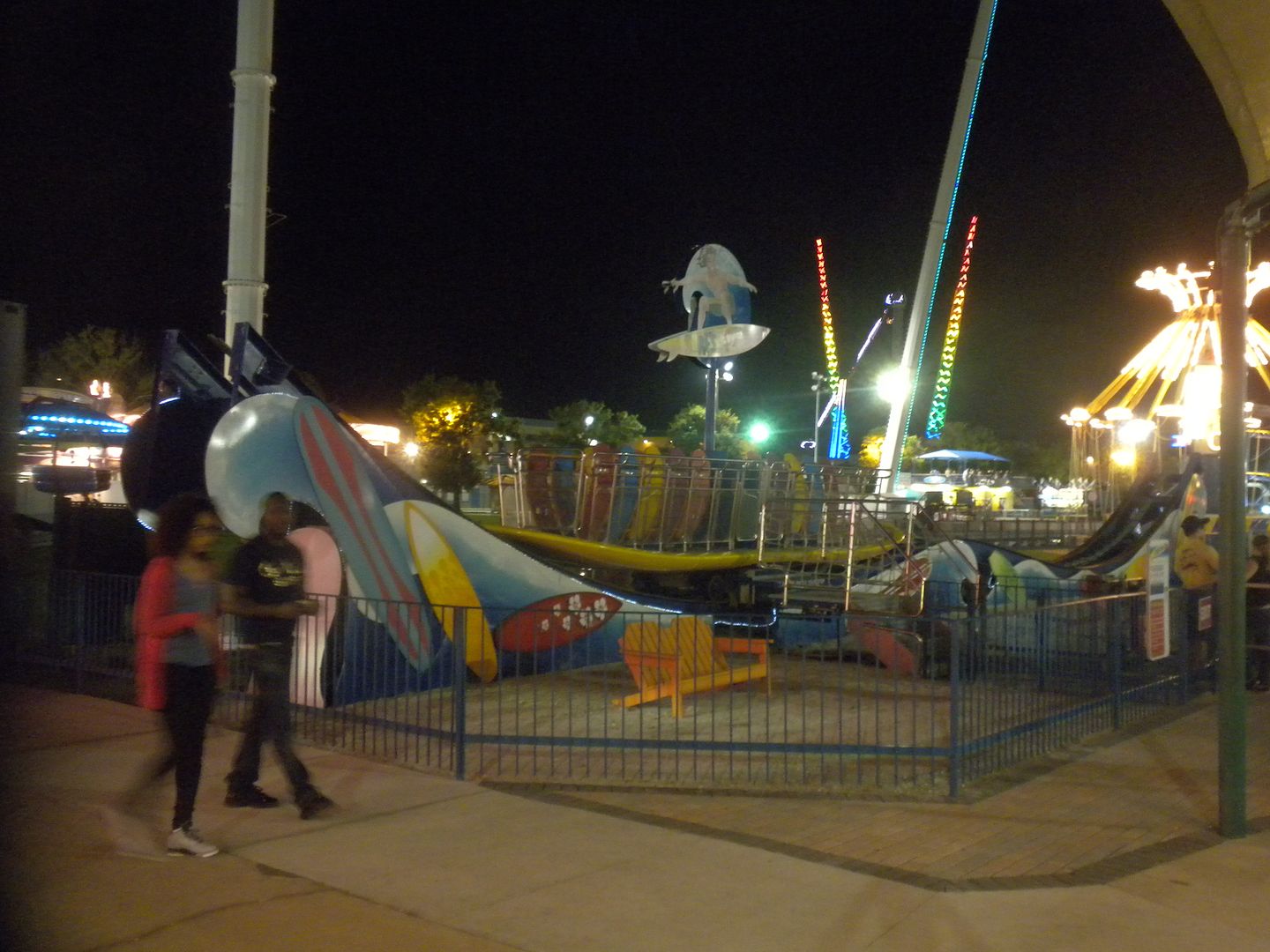 Surf's Up: Stand Up Disc-O type ride – This was unique and gave an interesting ride – 1 ride.
I did not ride the Bumper Kars as the building looked pretty small.
Kiddie rides include Screamer, a family drop tower; Baron Planes; Convoy; Happy Swing; CastleMania, a kiddie castle themed fun house; Fun Slide; Kiddie Bumper Kars; and Carousel, a kiddie carousel.
The park has several Go-Cart tracks and we did the 2 most extreme ones.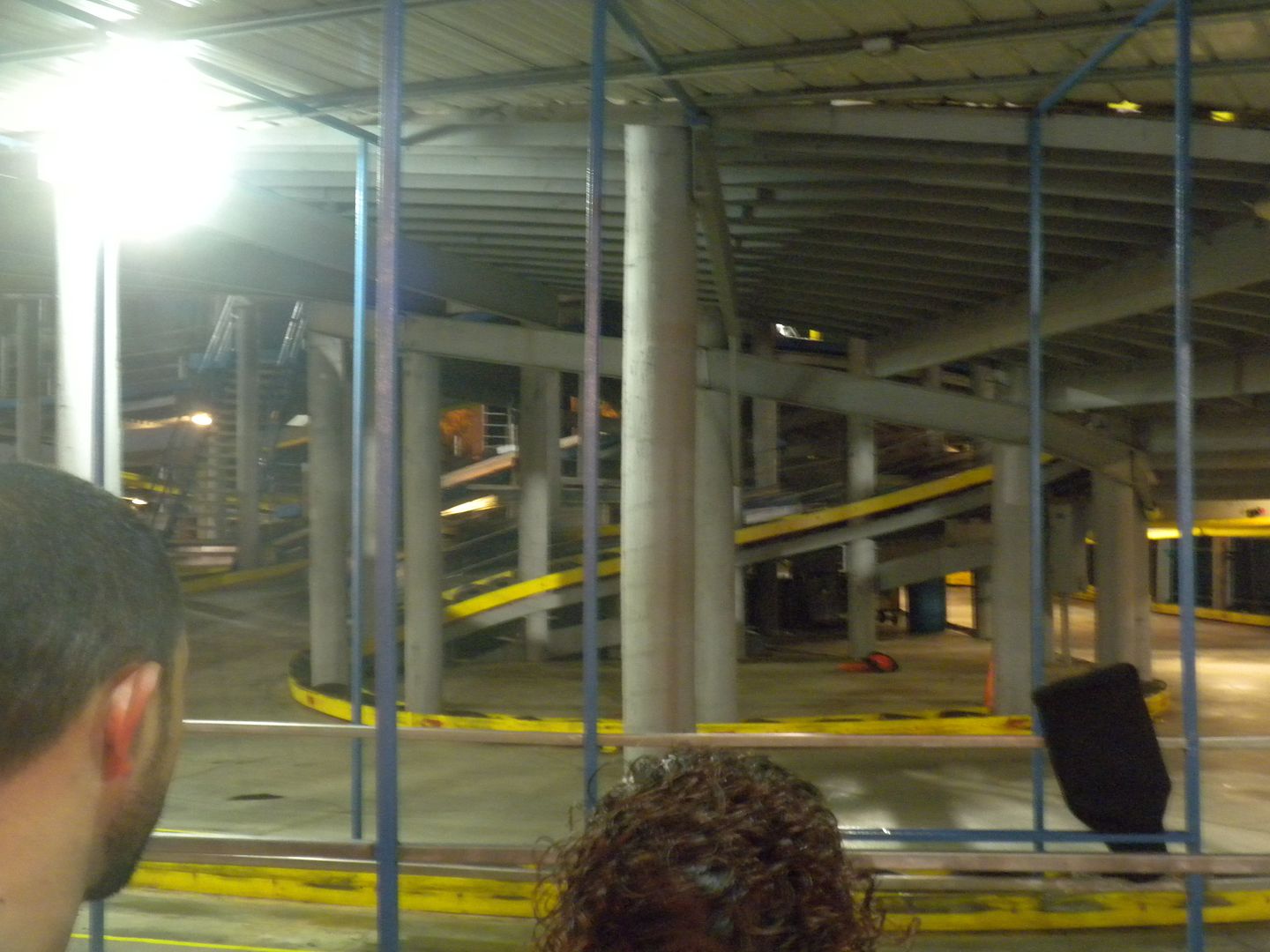 Vortex Track: At 40 feet high it features the world's steepest banking curve at 32 degrees. It was a very good track and a lot of fun – 1 ride.


Chaos Track: This multi-leveled track is not quite as extreme as Vortex, but was quite good as well. – 1 ride.
We did not have time to ride Slick Track or Road Course.
Although I don't ride them, the upcharge SkyCoaster is the world's tallest sky coaster at 300 feet.
This is a nice park and has change some since my last visit in 2011. We left around midnight for our hotel in Orlando.
On Sunday, September 28 ACE Fall Conference 2014 would conclude at Fun Spot America in Orlando. We arrived that morning for ERT on the 2 largest coasters before the park opened. This was my first visit to this park and it is quite nice.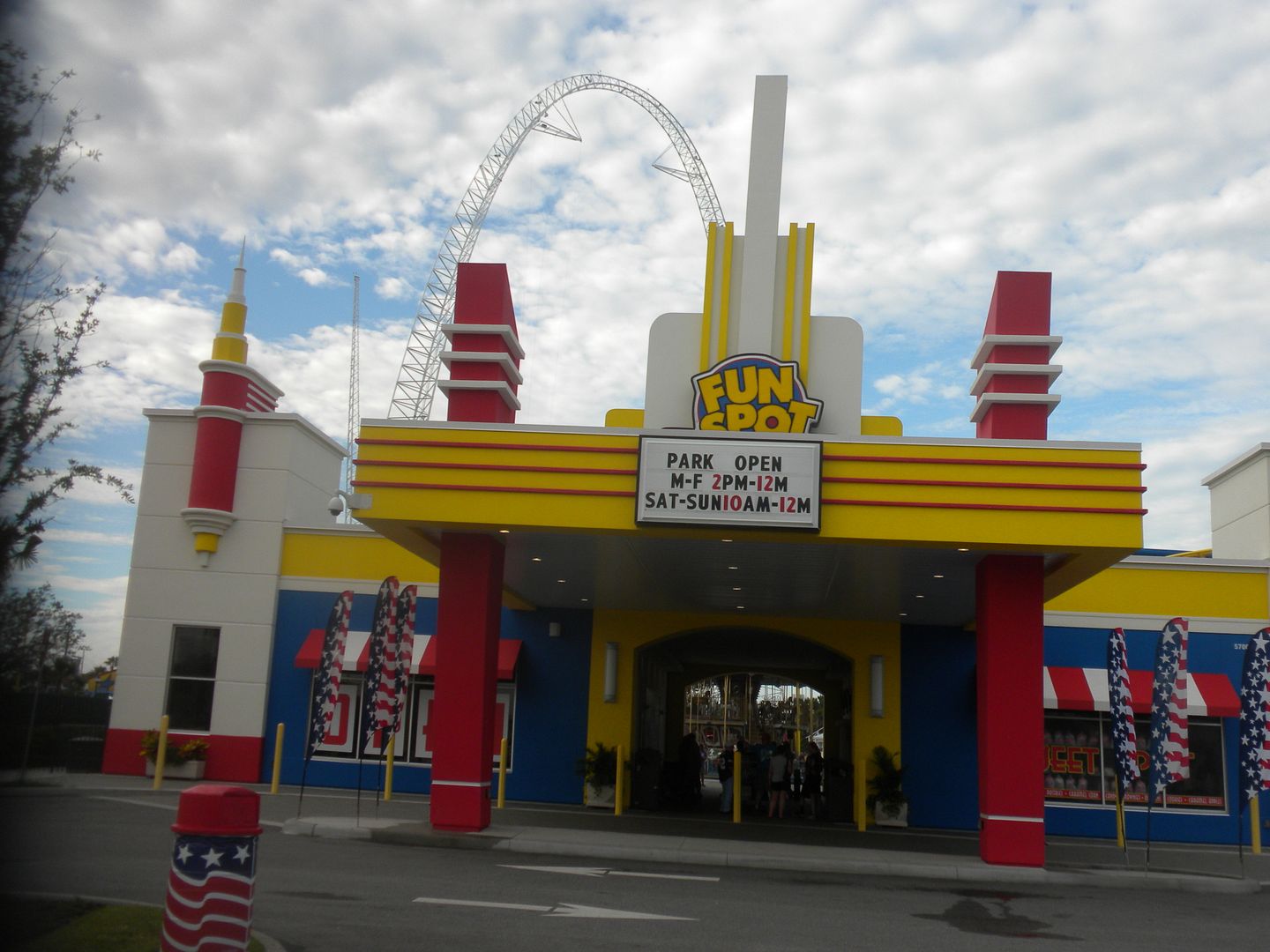 With its front entrance designed to look like a 1950s era service station and its nicely laid out midway, this feels more like an amusement park that the one we visited the previous night, which has more of a carnival feel.

White Lightning: (GCI, Wood Out & Back, 2013)


This coaster is not overly large, but has a lot packed into it.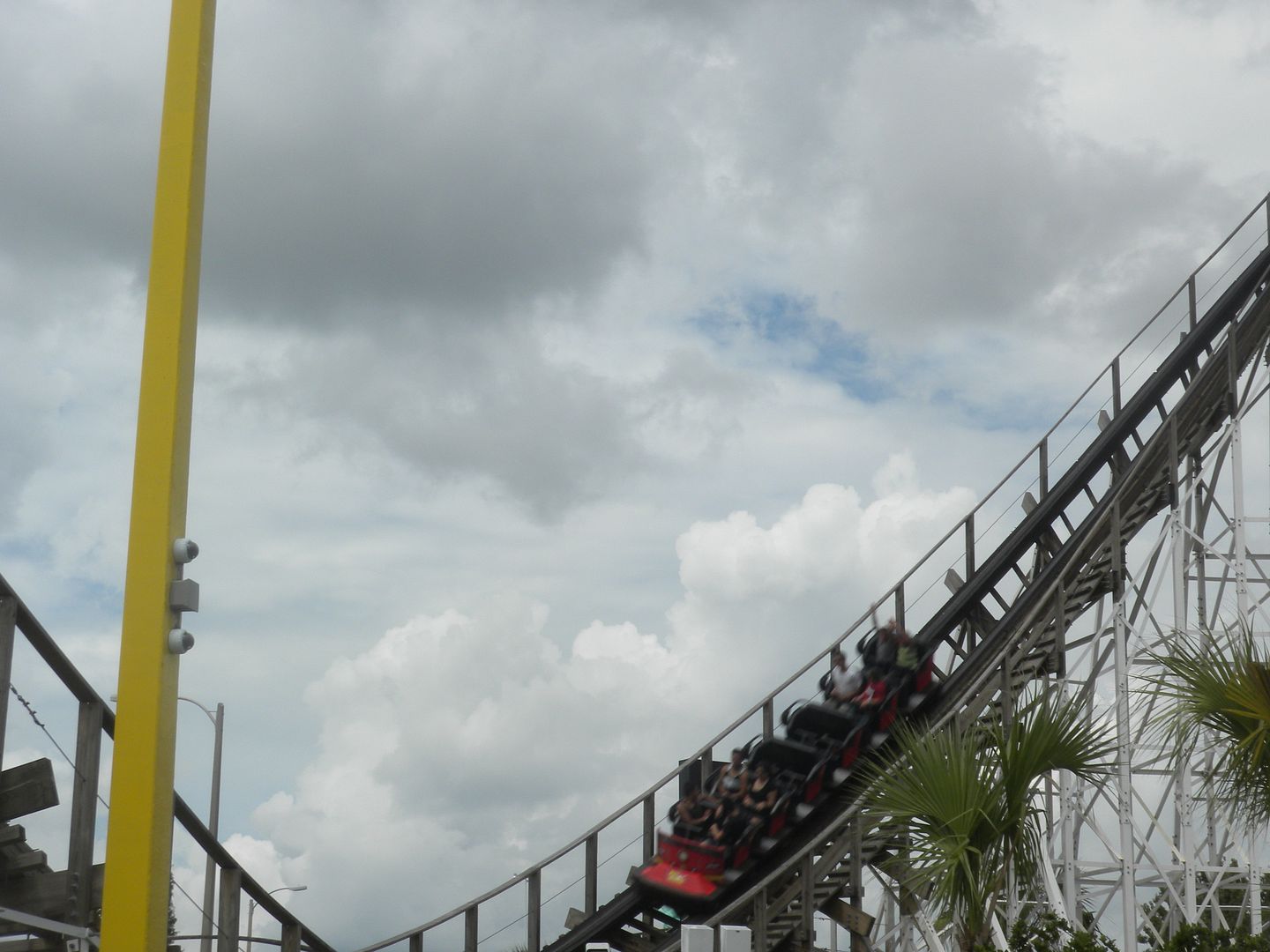 It is extremely fun and much more thrilling than it looks.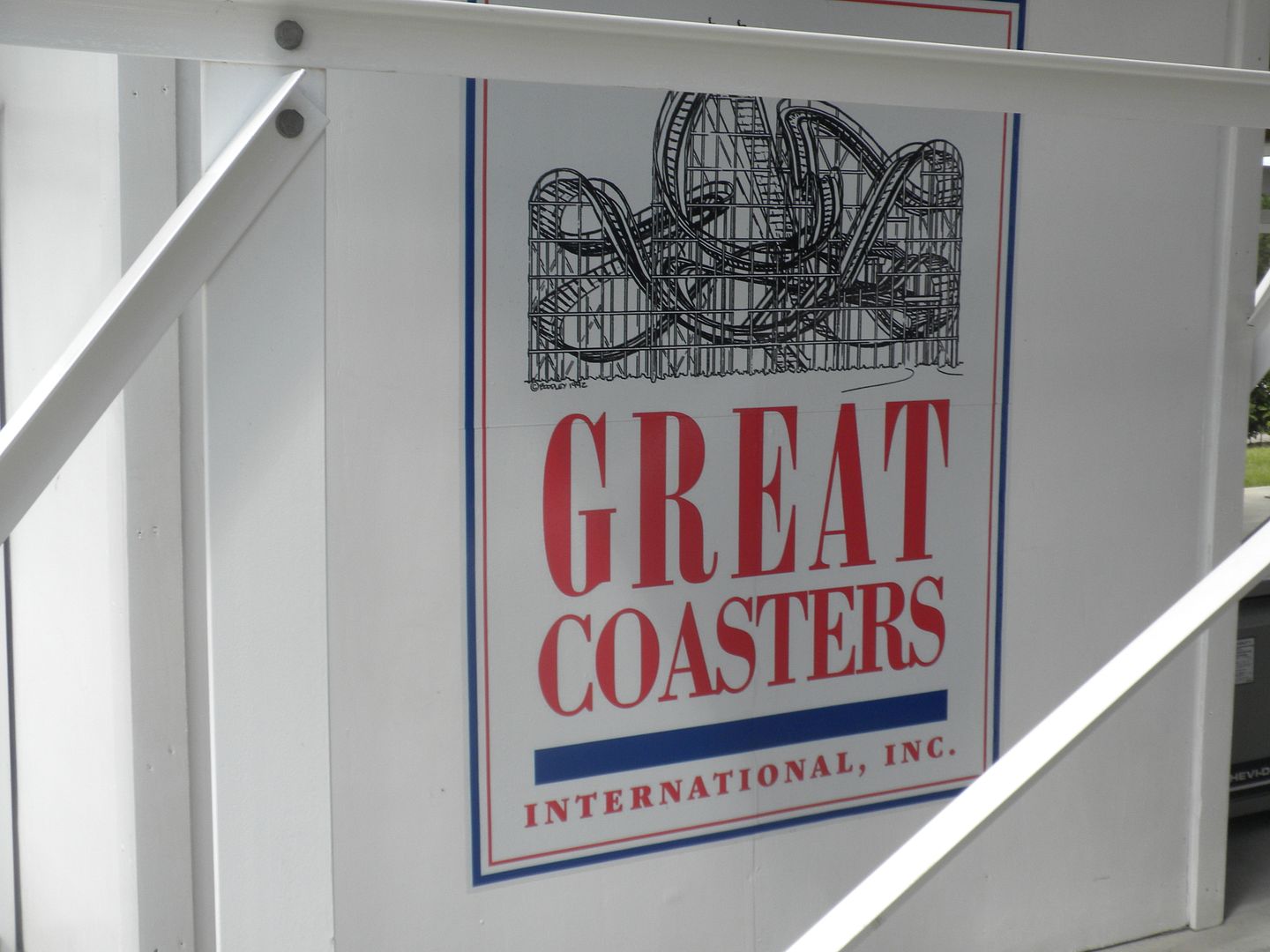 GCI is known for their twister coasters,


but they have incorporated some of those elements into this exceptional out & back.


What a great coaster! – 14 rides including 9 during ERT.


Freedom Flyer: (Vekoma, Suspended Family Coaster, 2013)


This custom design fits nicely in the park and gives a good ride – 3 rides, including 1 during ERT.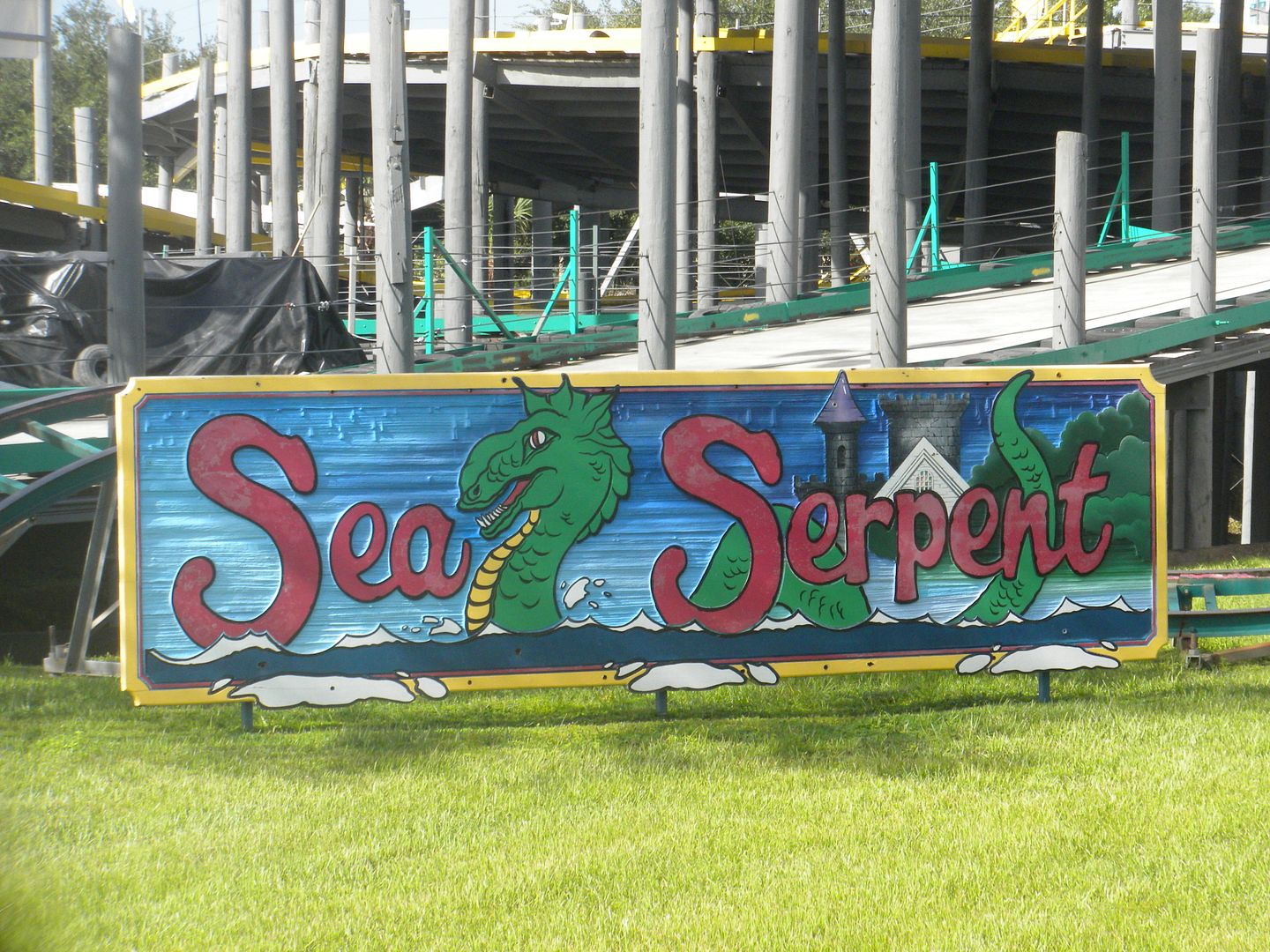 Sea Serpent: (E&F Miler, Family, 1997/2013)


Relocated from Playland's Castaway Cove in Ocean City, NJ where it operated (and I rode it) as Sea Serpent, it gave the expected ride – 1 ride.
Rip Curl: Music Express that the park says has dips made especially for them. Good ride – 1 ride.
Tilt-a-Whirl: Good spinning – 1 ride.


Paratrooper: Most notably this ride goes both forward and backward, which is an excellent effect. It is an individual loader, but we rode before it got crowded – 1 ride.
Scrambler: Good ride – 1 ride.
Revolver: Ferris Wheel with views of downtown Orlando – good ride – 1 ride.


Bumper Boats: These seemed harder to steer than others I have ridden, which made it hard to keep from getting wet, but it was fun – 1 ride.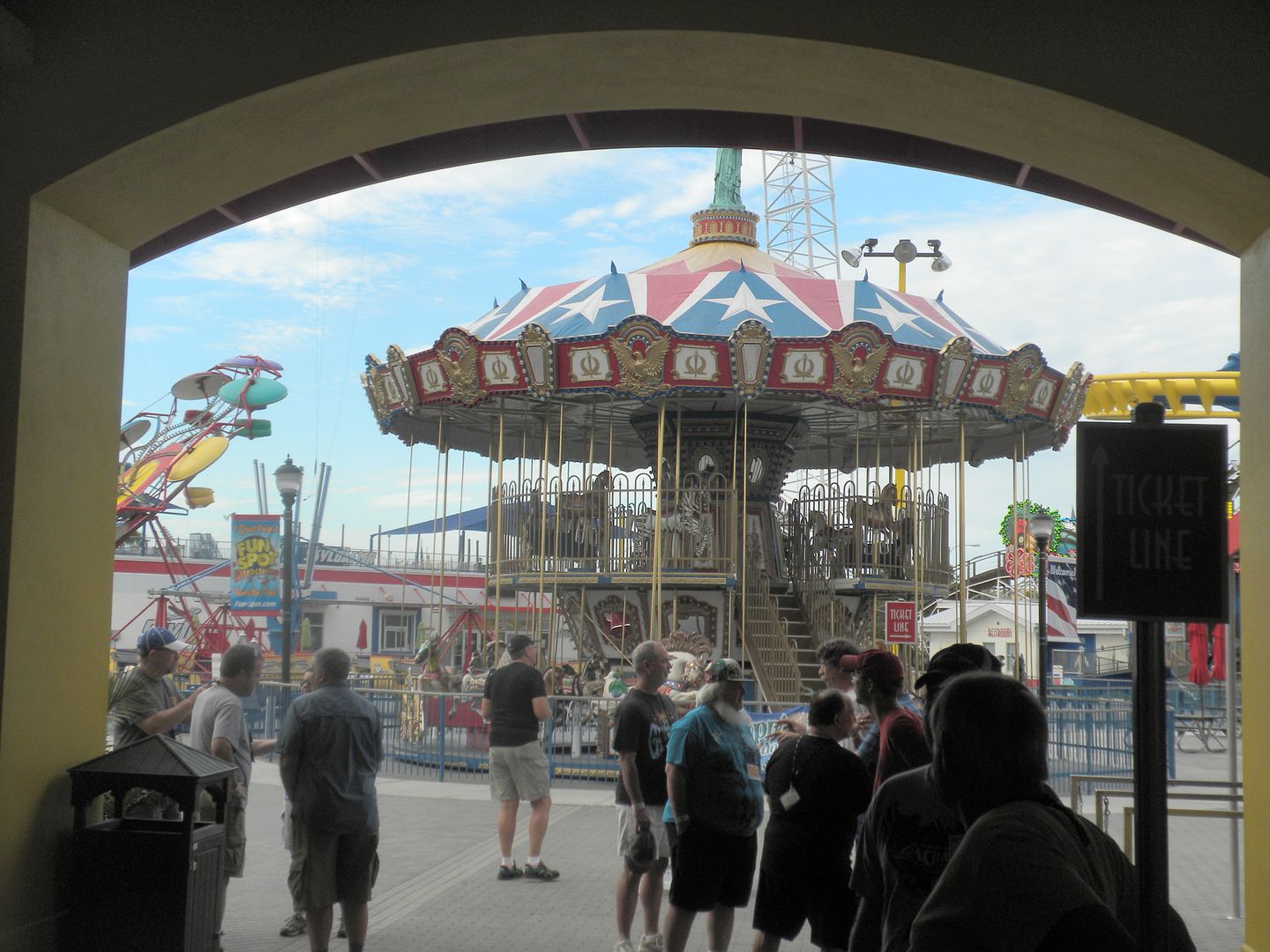 Carousel: Double Decker Carousel: Good ride on the upper level – 1 ride.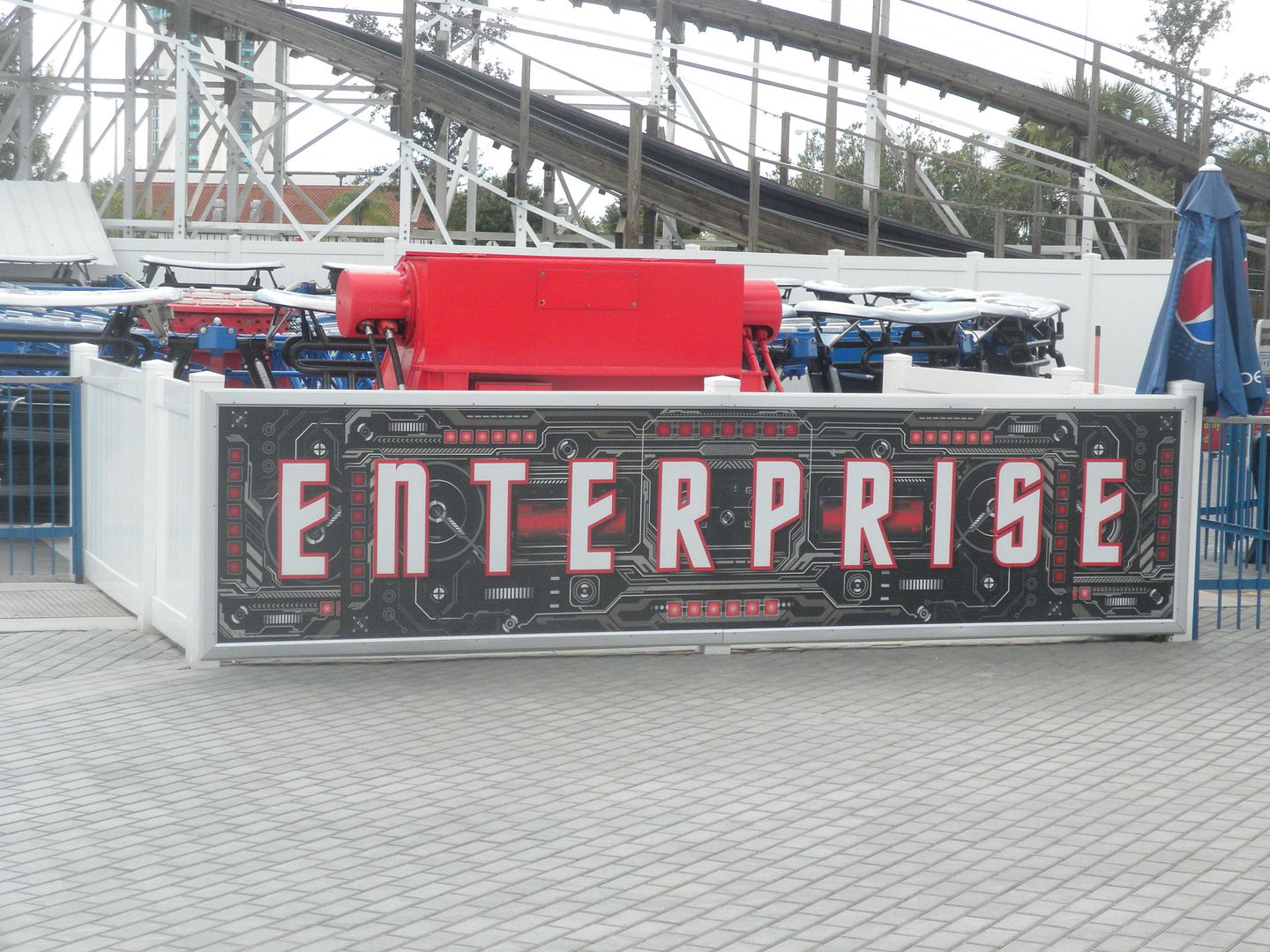 Most disappointing was that Enterprise was not operating as it was awaiting a part.


I had especially wanted to ride it as it was formerly Wheelie at SFOG. It was good to see it again. Oh well, another reason for a return visit! I did not ride Bumper Kars as, like the ones at the other park, they were in a pretty cramped space. Kiddie Rides include Kiddie Swings; Super Trucks; Tea Cups; Happy Swing; Scooby Boo, a Scooby Doo themed kiddie obstacle course; Fun Slide; and Frog Hopper.
This park also had 4 Go-Cart tracks, and I got to ride all of them.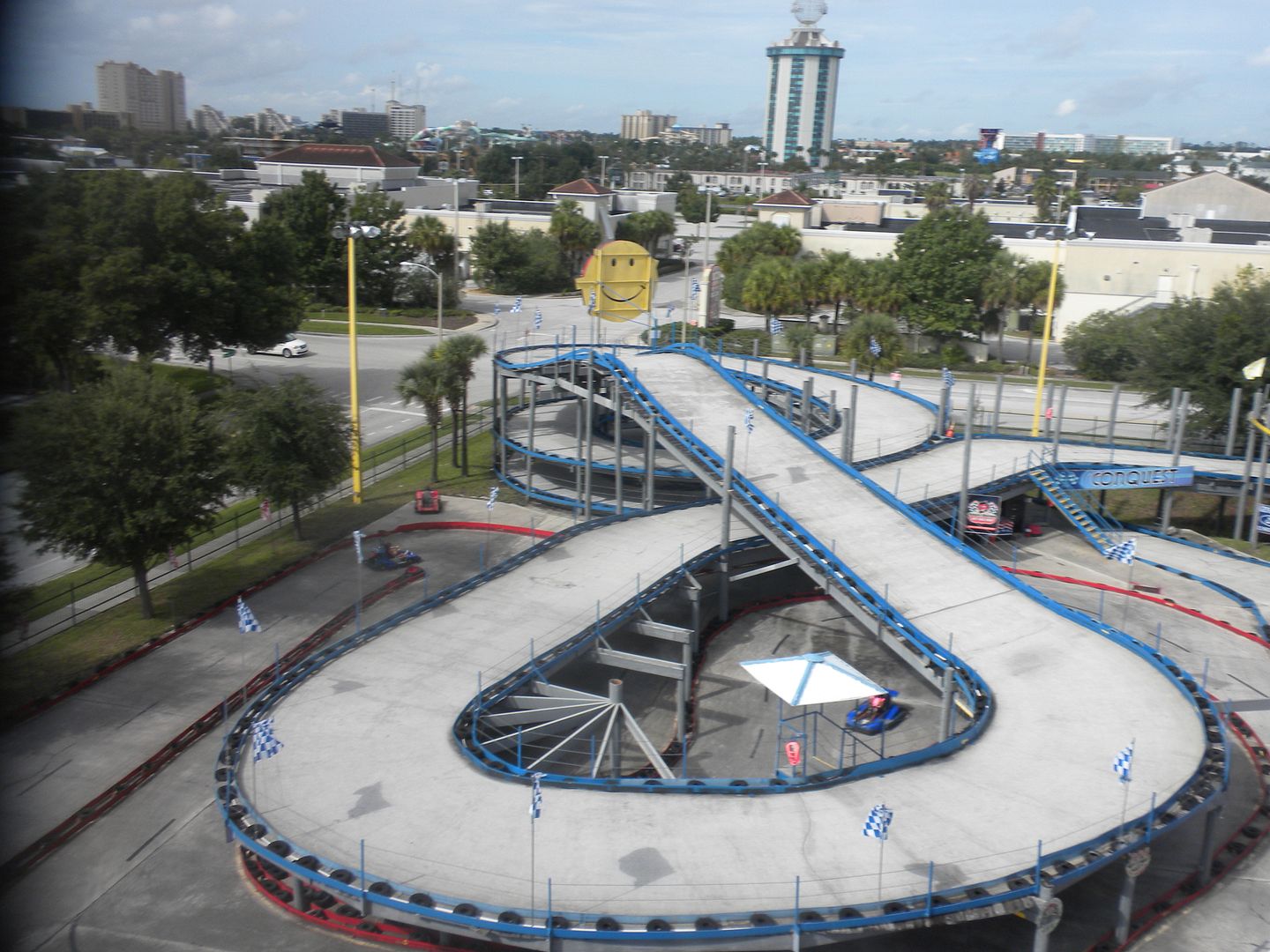 Conquest –BLUE TRACK: This multi-level double corkscrew track was my favorite at this park – 1 ride.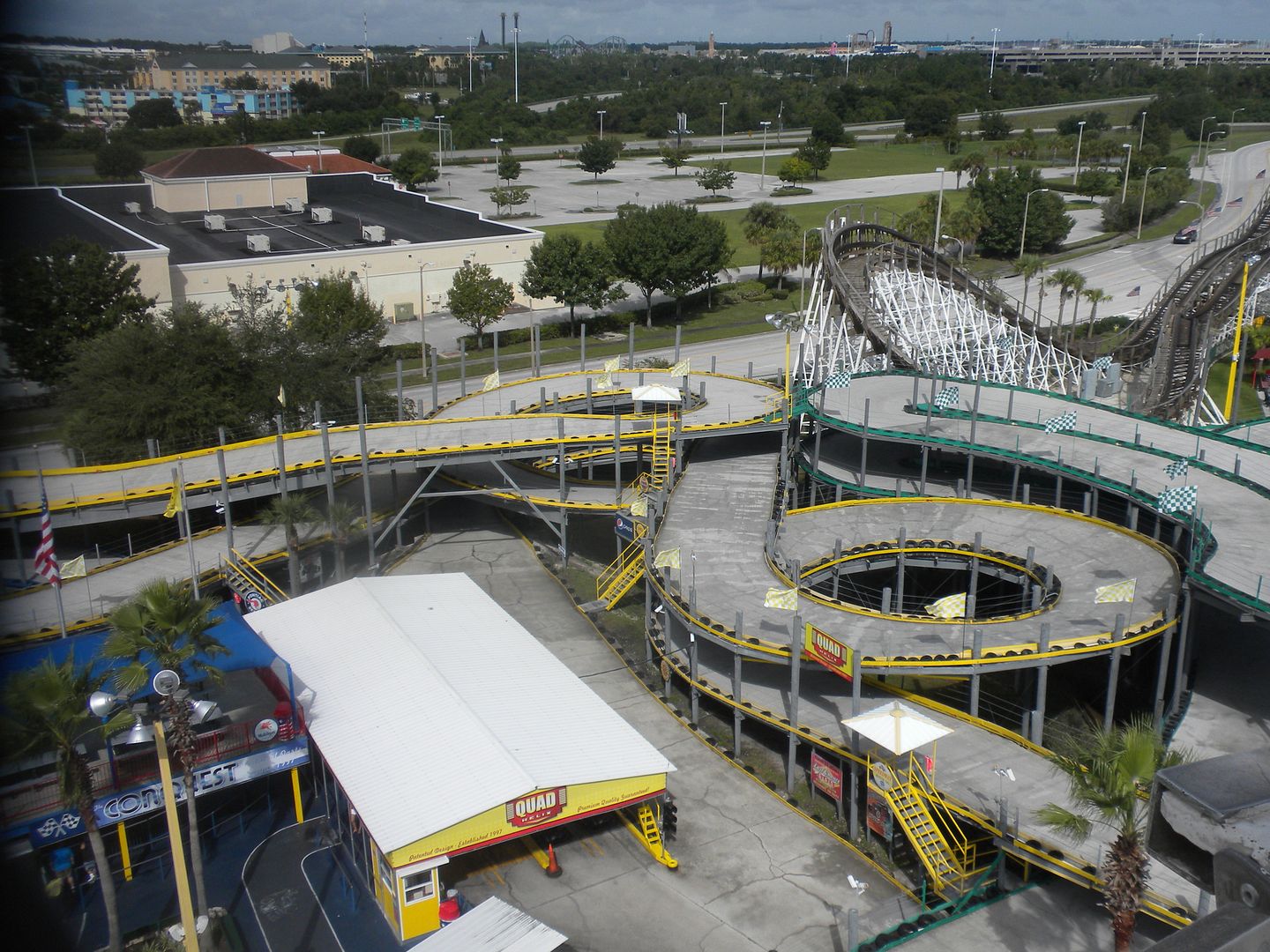 Quad Helix –YELLOW TRACK: This multi-level quad corkscrew track was very good as well, and features 25 degree banks. It was my second favorite here – 1 ride.
Commander -GREEN TRACK: Considered to be the most extreme track with a height of 45 feet, and the only road course style multi-level track here, this was very good as well – 1 ride.
Thrasher –RED TRACK: This flat road course track was the least exciting of the ones here – 1 ride.
For those that like them we were given a free ride on the upcharge SkyCoaster, which is the world's second tallest sky coaster at 250 feet. Richard was among those that took a ride on this.

The park treated us to a good pizza meal and held a Q&A session with the park owners.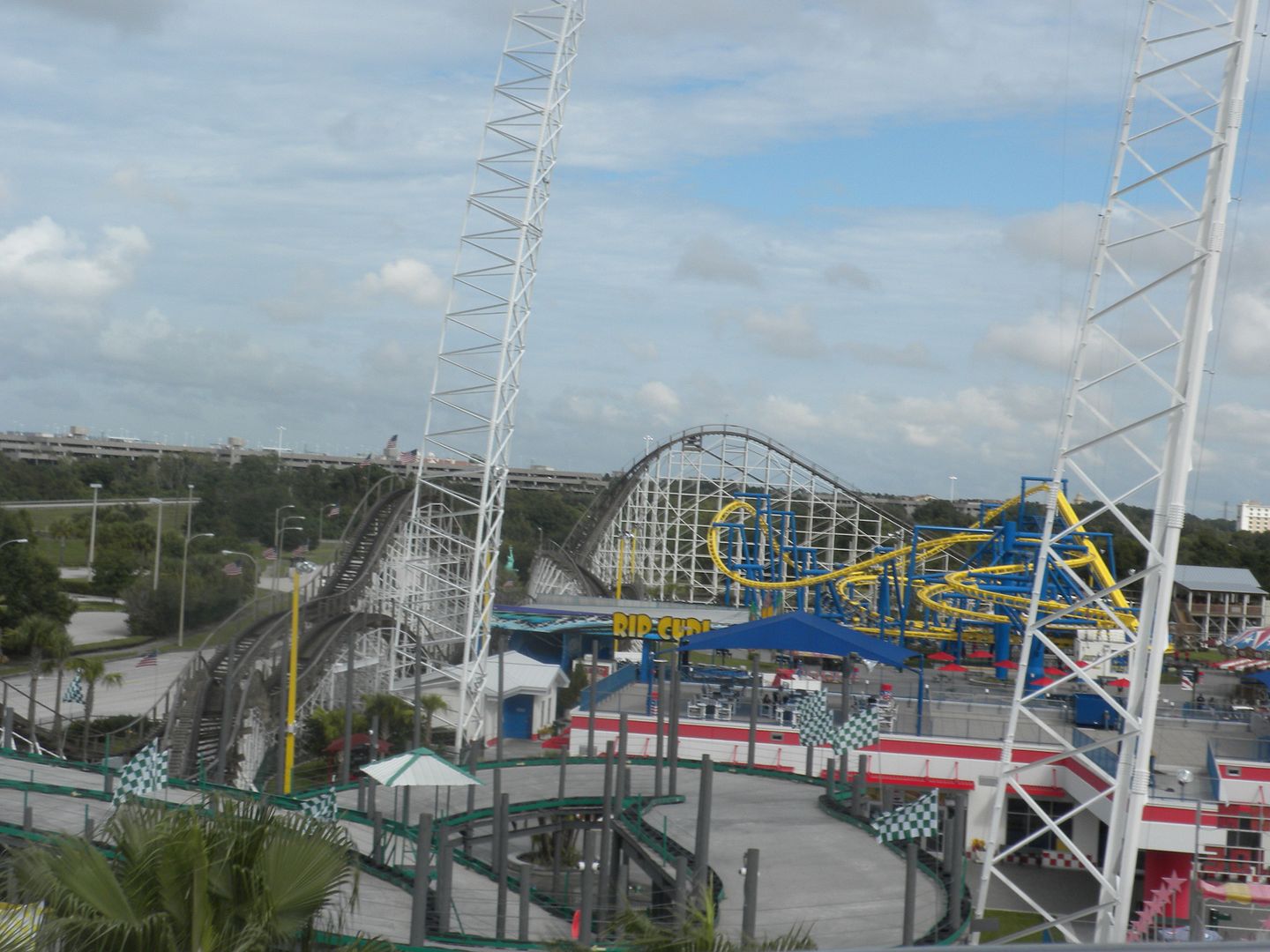 They have really turned this park into a nice traditional amusement park and I look forward to seeing what they add in the future. After saying goodbye to everyone, I left around 3:00. I look forward to return visits to this park.
Richard and David headed back to Universal for another night at Hollywood Horror Nights as well as another partial day at the Universal parks on Monday.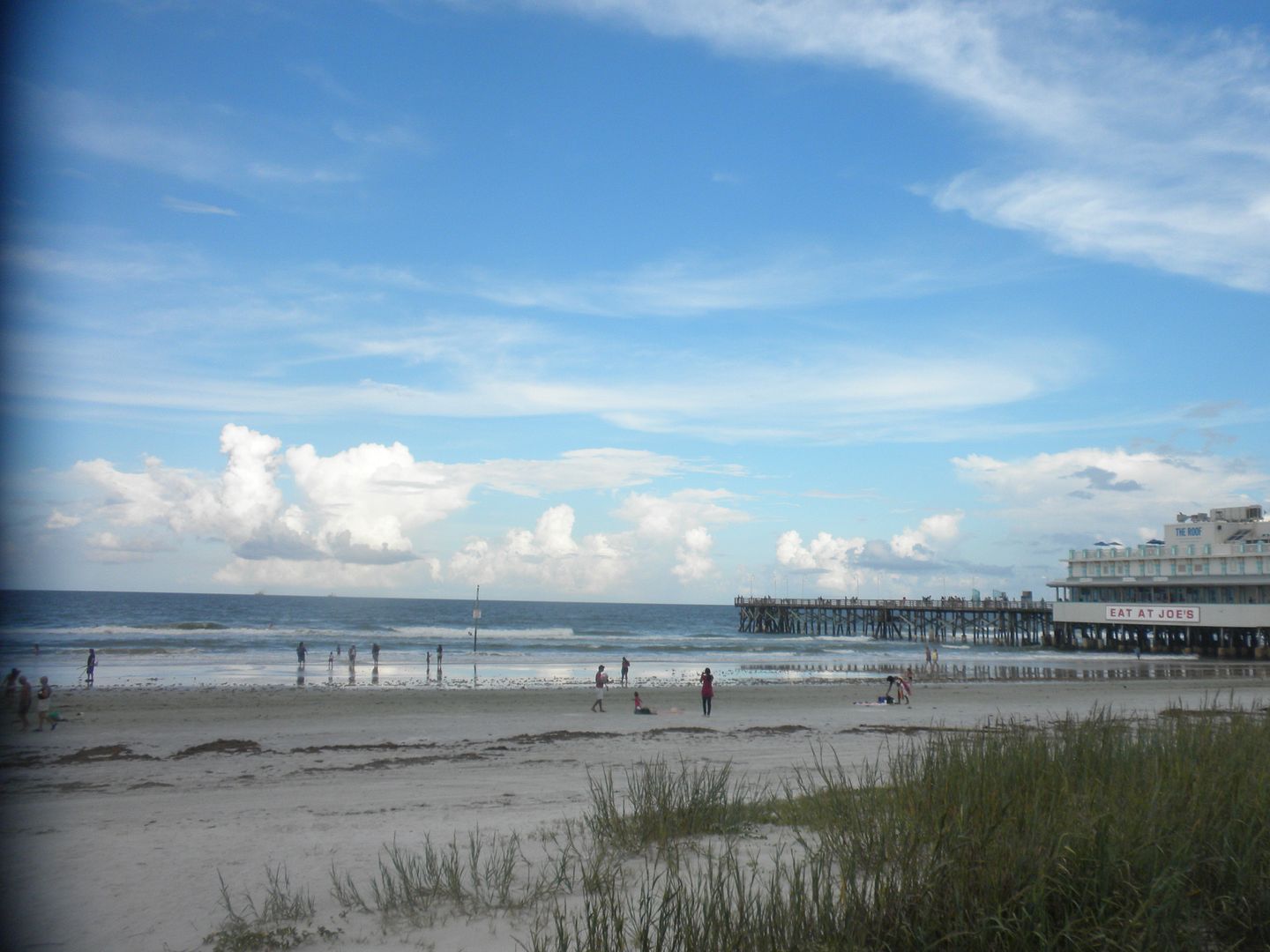 On my way home Sunday afternoon, I made a quick detour by Daytona Beach for a stop by Boardwalk Amusements. I had followed the relocation of the coaster to this park and figured this would be a good opportunity to stop for the credit. As I drove up and found a parking place on the street, I could see the coaster and a dilapidated Ferris Wheel.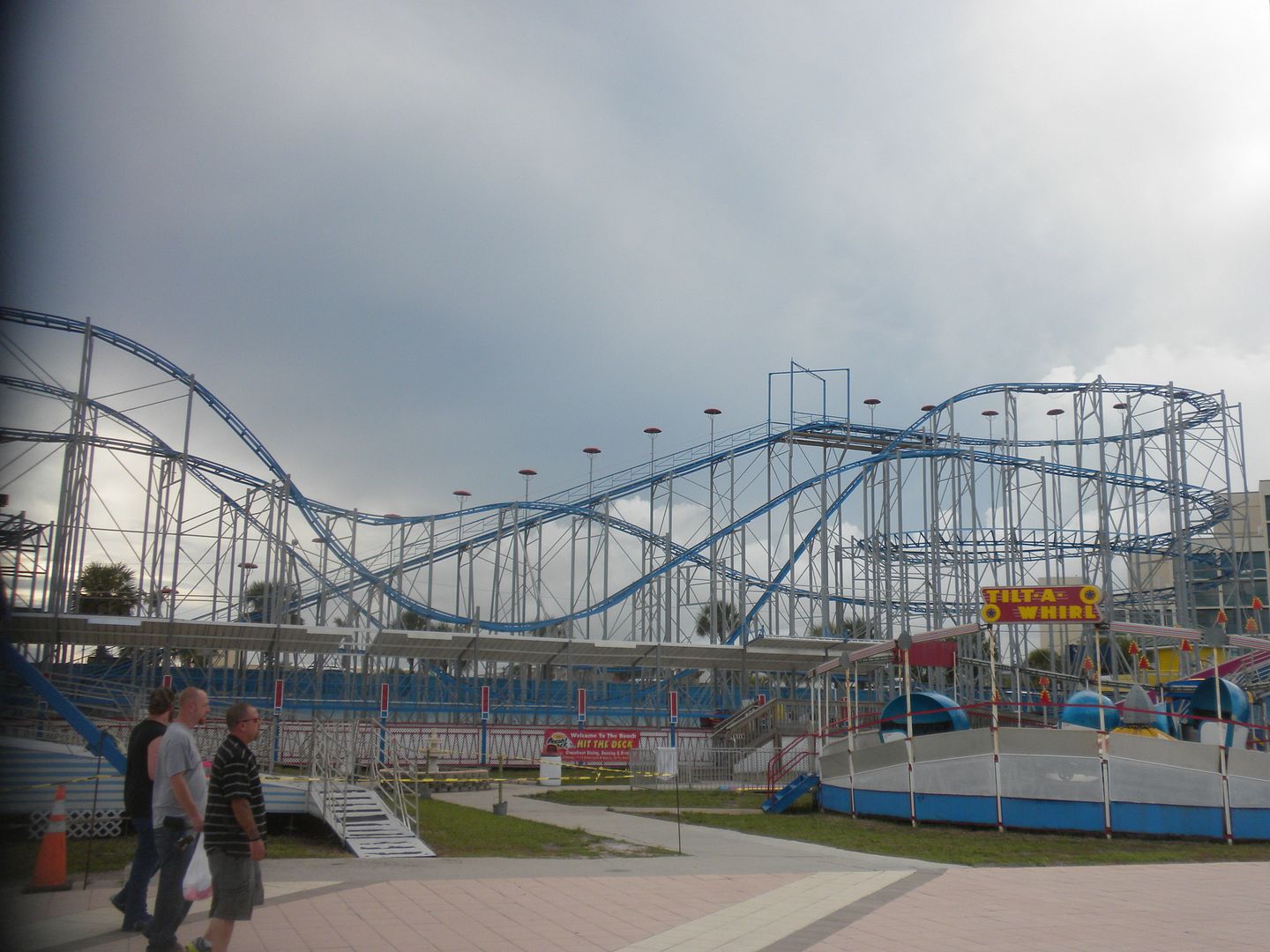 I began to feel this would be a missed credit, but I got out and walked onto the Boardwalk. Boardwalk Amusements is what it says it is, a small collection of amusement rides just off the Boardwalk. Seeing no activity at the coaster or any of the rides,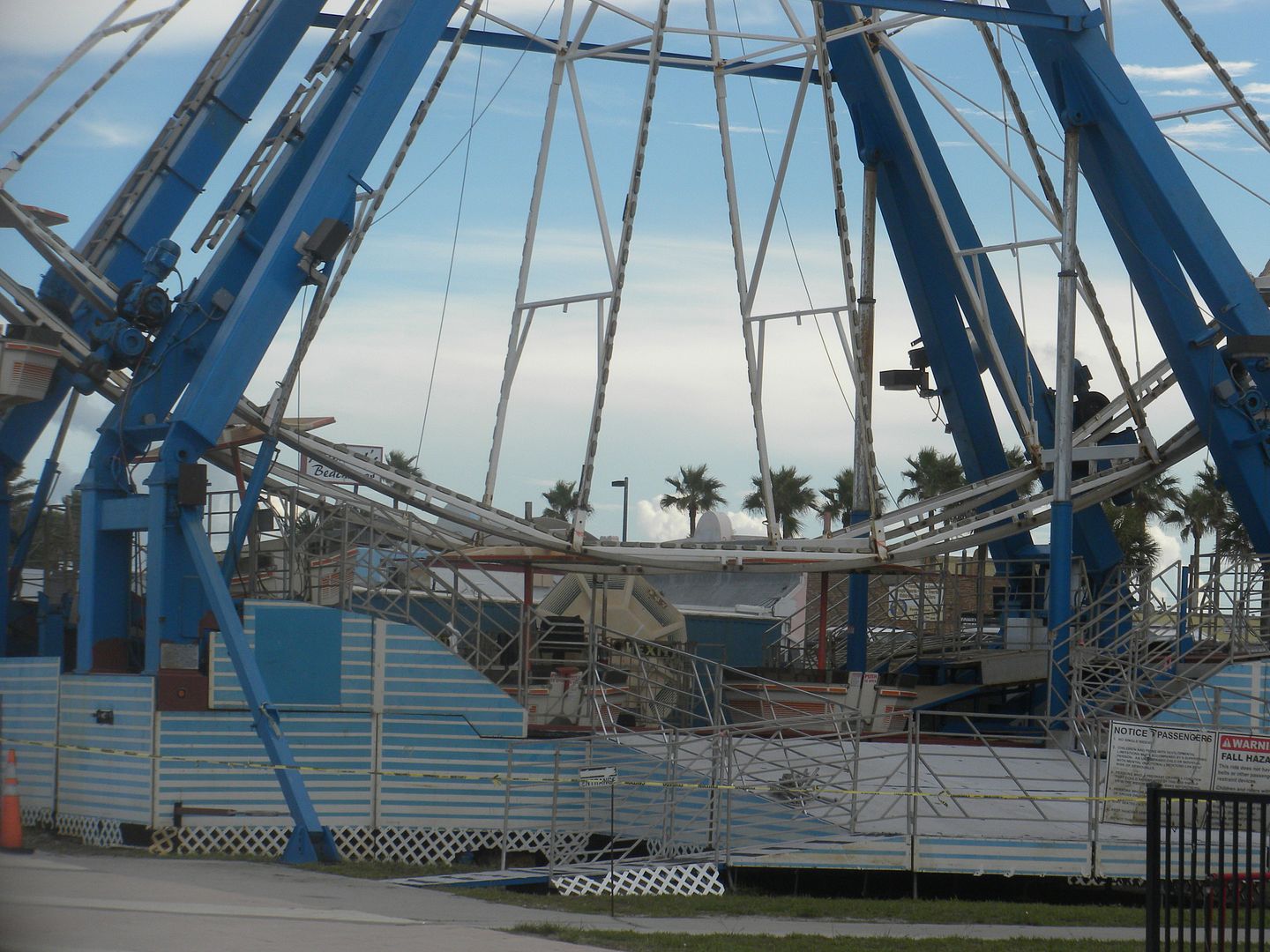 and realizing the partially complete Ferris Wheel probably hasn't run in years, I made my way to the ticket booth to see if anything was open. Oh, yes, they replied the coaster is open, and so were the Go Karts and one of the flats (not the Ferris Wheel). When I questioned the fact that no one was at the coaster, she replied to walk up to it and they would come. I did and sure enough 2 ride ops and a rider were suddenly present as if they materialized out of thin air. After my ride I walked away and they were gone once again.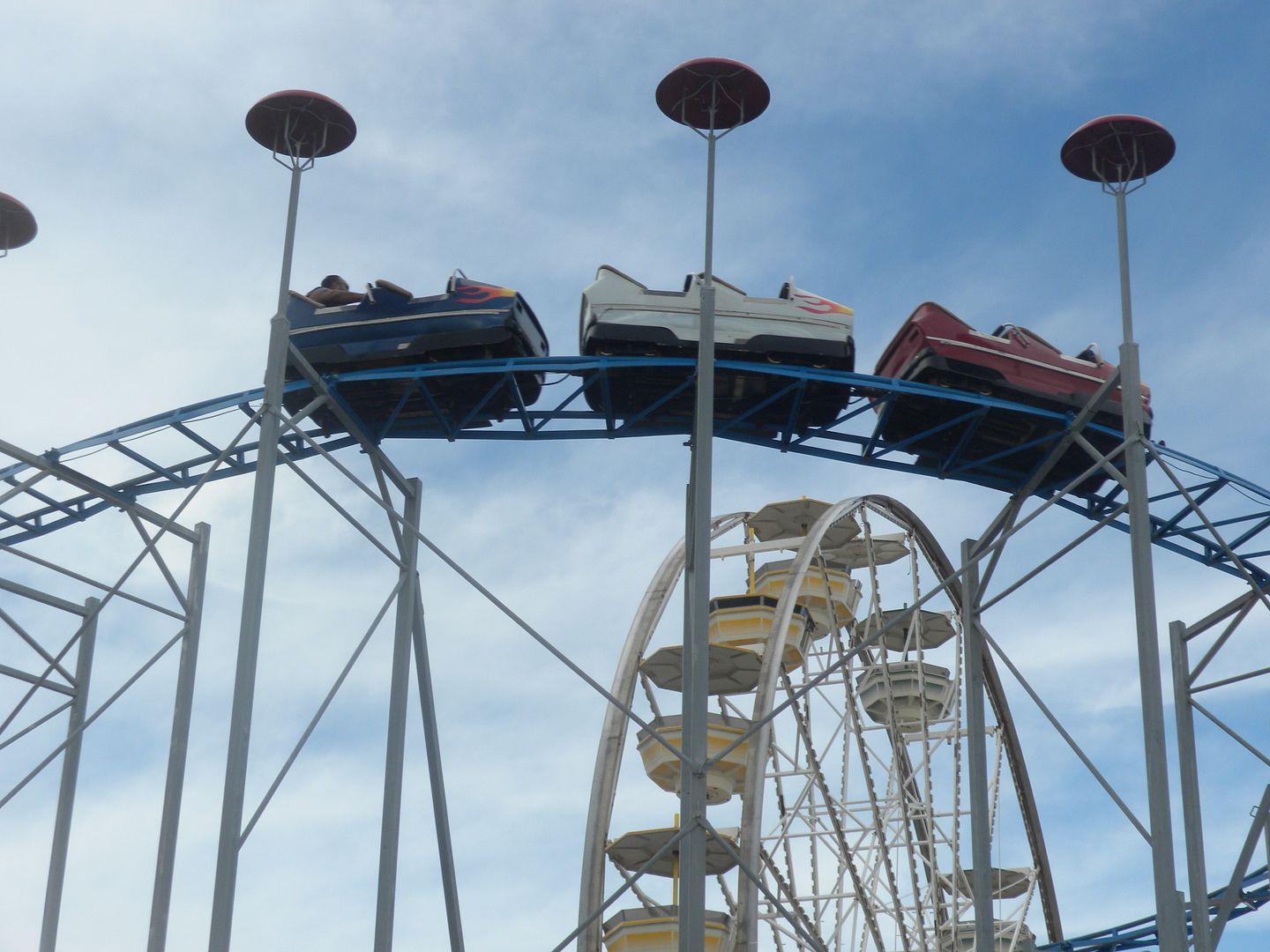 Before I left, more riders came up and I was able to get pictures of it operating.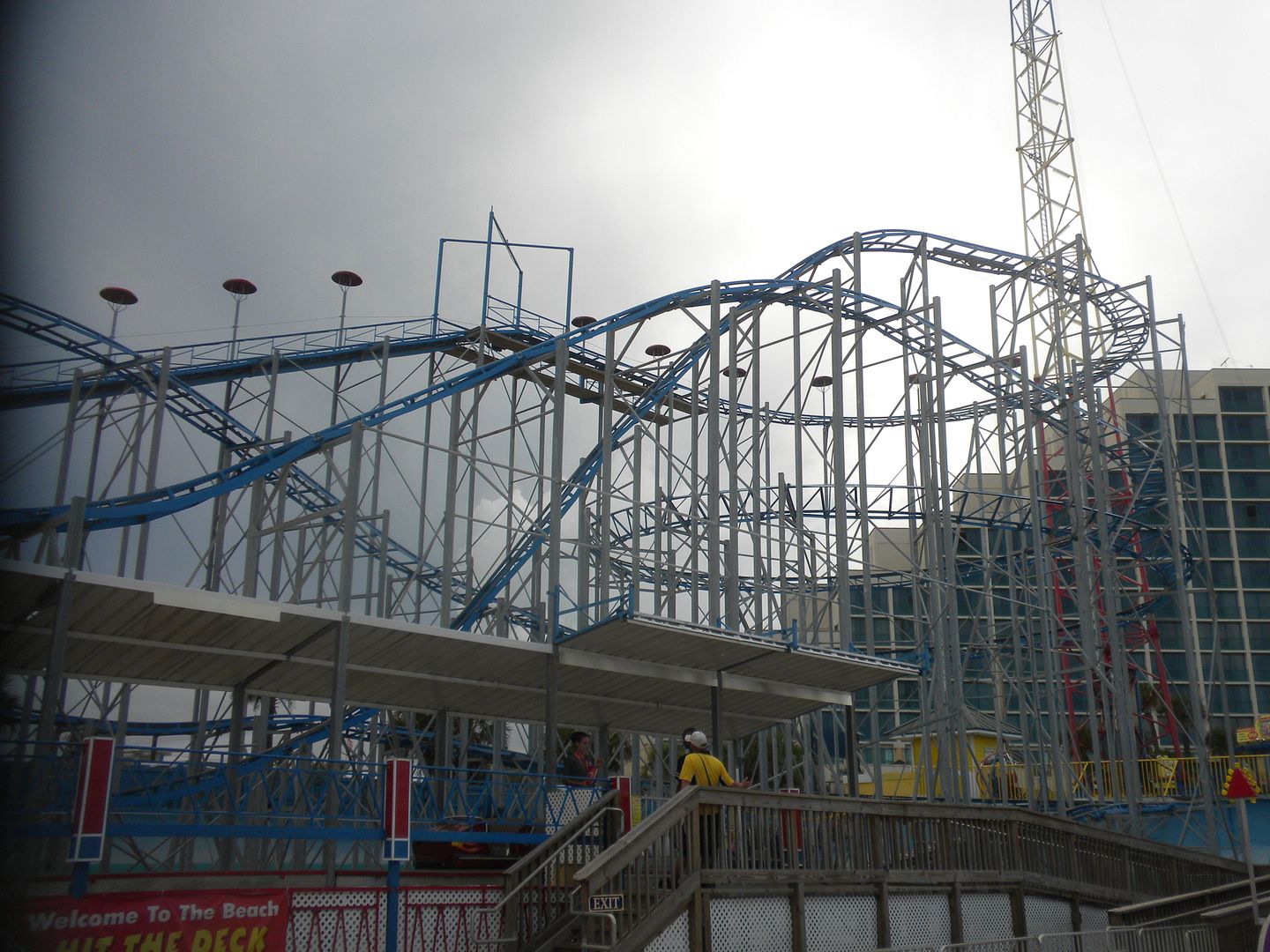 Sand Blaster: (Pinfari, Zyklon Galaxie, 1971/ 1978/1987/2002/2013) Relocated from the defunct Adventureland Park in Addison, IL where it operated as Super Italian Bobs, the defunct Legend City in Phoenix, AZ where it operated as Sidewinder, DelGrosso's Amusement Park in Tipton, PA where it operated as Zyklon, and Blue Diamond Park in New Castle, DL where it operated as Blue Diamond Streak, this well travelled coaster now resides in Florida. Perhaps in its pedigree of parks, the most interesting is its time at the defunct legend city in Arizona, which was built back in the hay day of theme park development as a response to what Walt Disney did with Disneyland and Angus Wynn did with Six Flags Over Texas. After reading about Legend City in an issue of the ACE publication Roller Coaster!, it is one of the parks I most wish I could have visited.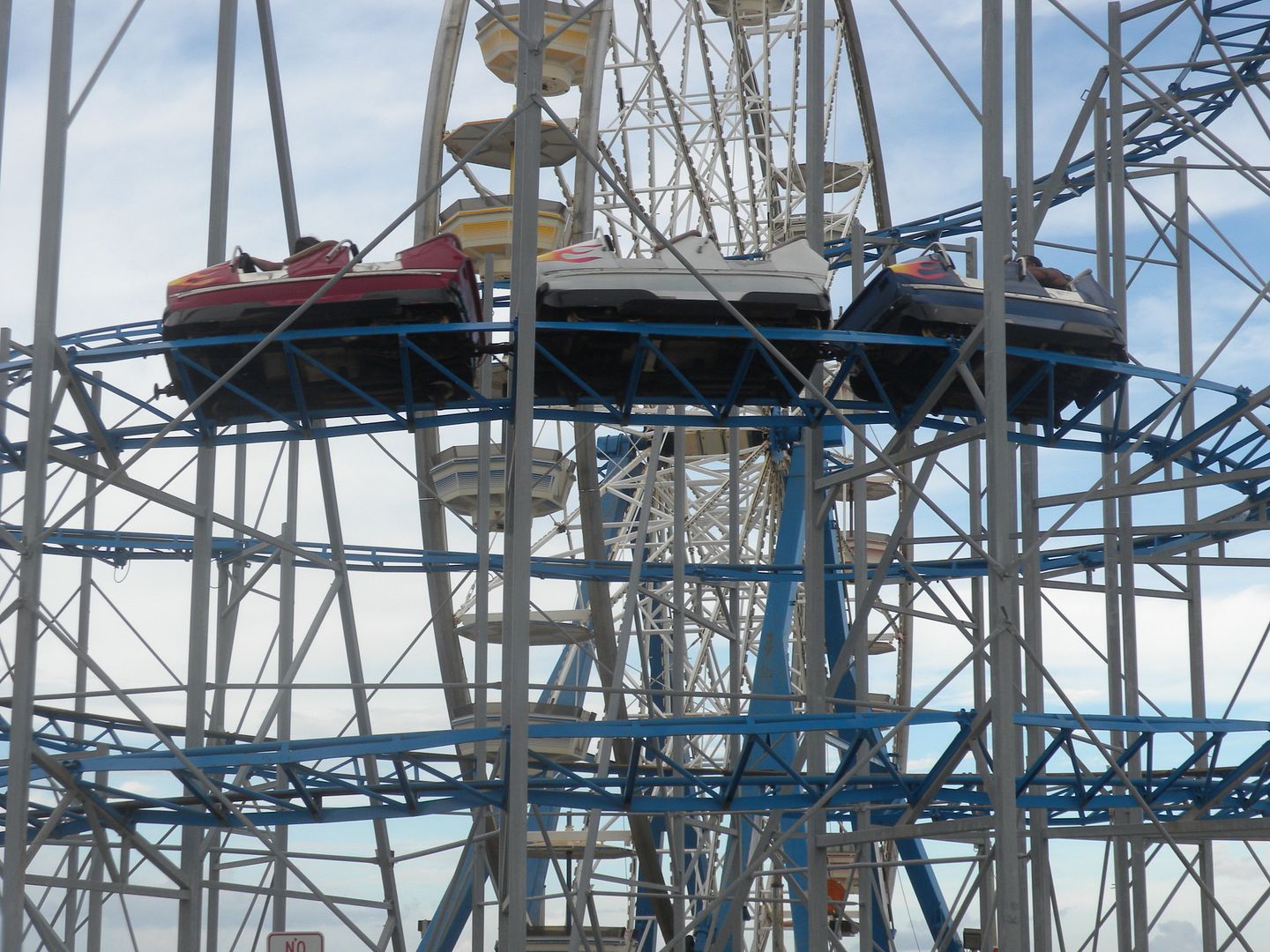 Anyway, back to this coaster at its current location, it gave a good ride, which I enjoyed quite a bit as I think Galaxies are always fun – 1 ride.
Boardwalk Amusements also has a Tilt-A-Whirl and The Hurricane, at least one of which was operating this day, but I did not ride.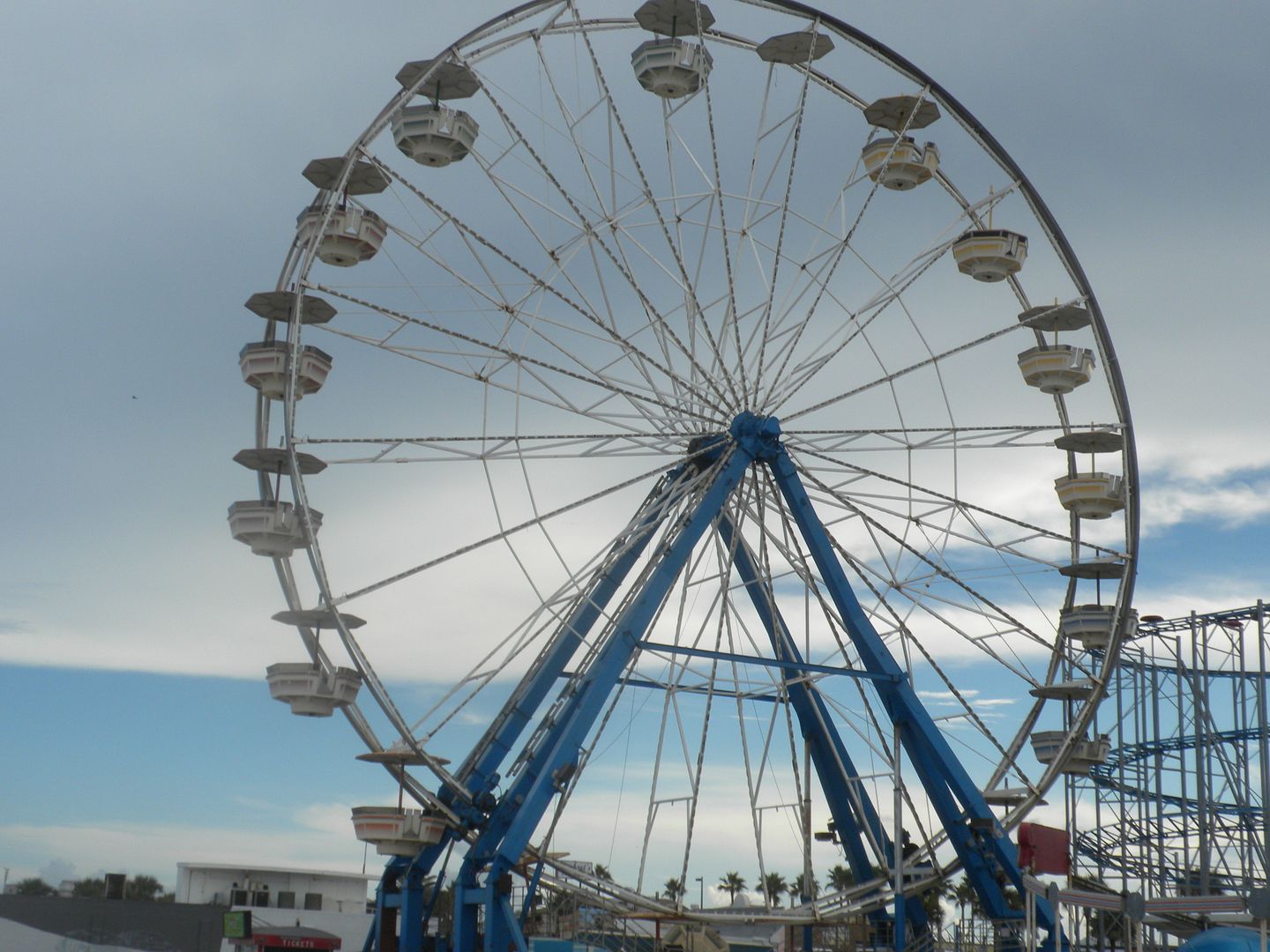 As noted earlier, The Giant Ferris Wheel looks like it has operated in a long time. They have one kiddie ride, The Tug Boats and the Grand Prix Go-Kart Raceway, which was operating, but I did not ride.
Hopefully they do alright with the few attractions they have during the summer when the crowds are there, but I have rarely felt so much like I was at an abandoned amusement park. My advice if you want this credit is to get to it quickly it felt like it could dematerialize as quickly as the rides ops seemed to materialize.
I made it home that night late and it was back to work on Monday after a great long weekend in Florida.
Thanks for reading!