Universal Orlando Resort
On Wednesday, September 24 I drove to Florida for the ACE Fall Conference at Busch Gardens Tampa and Fun Spot America parks in Kissimmee and Orlando. Before the Conference would get underway on Friday, I met up with Richard Bostic and David Lipnicky for a day and night at Universal Orlando Resort. I had never been to Hollywood Horror Nights at Universal, so the timing of this Conference gave me the perfect opportunity.
On Thursday, September 25 we went to Universal Studios Florida and Islands of Adventure. We started at USF, then took the train to IOA before returning to USF to prepare for HHN. I will review each park/ event separately. Since I have reviewed these parks previously and many people have been to them, I will keep my comments brief.
Universal Studios Florida
We arrived at Universal Studios Florida for their early opening and immediately headed to the newest section of the park.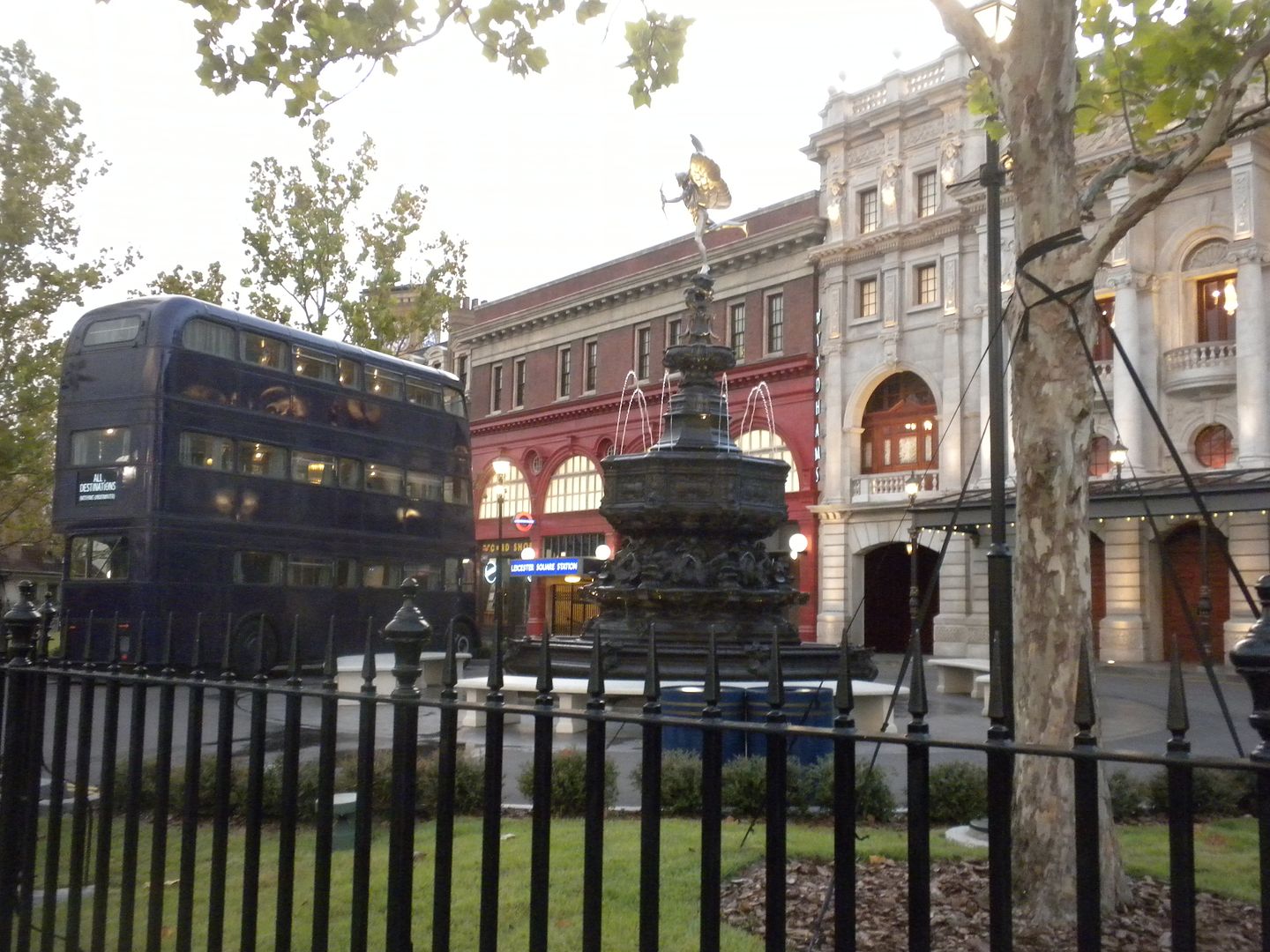 The Wizarding World of Harry Potter – Diagon Alley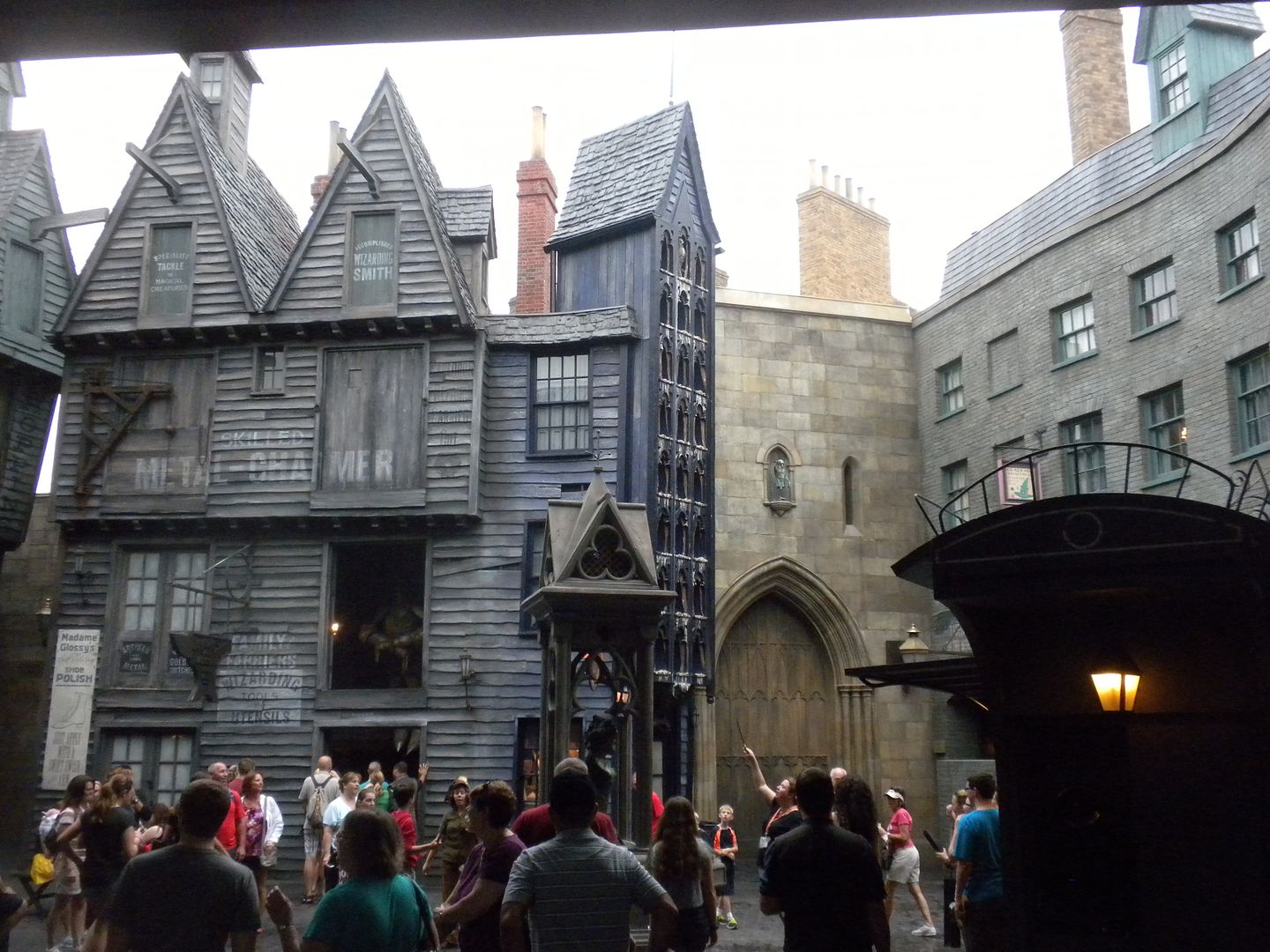 Like the section in IOA, the level of detail is amazing. I could have spent hours looking at all the details and still would have missed something.


Harry Potter and the Escape from Gringotts: (Unknown, Enclosed Darkride Coaster, 2014) Since I work in Accounting at a Bank, I was especially interested in riding my first bank-themed coaster.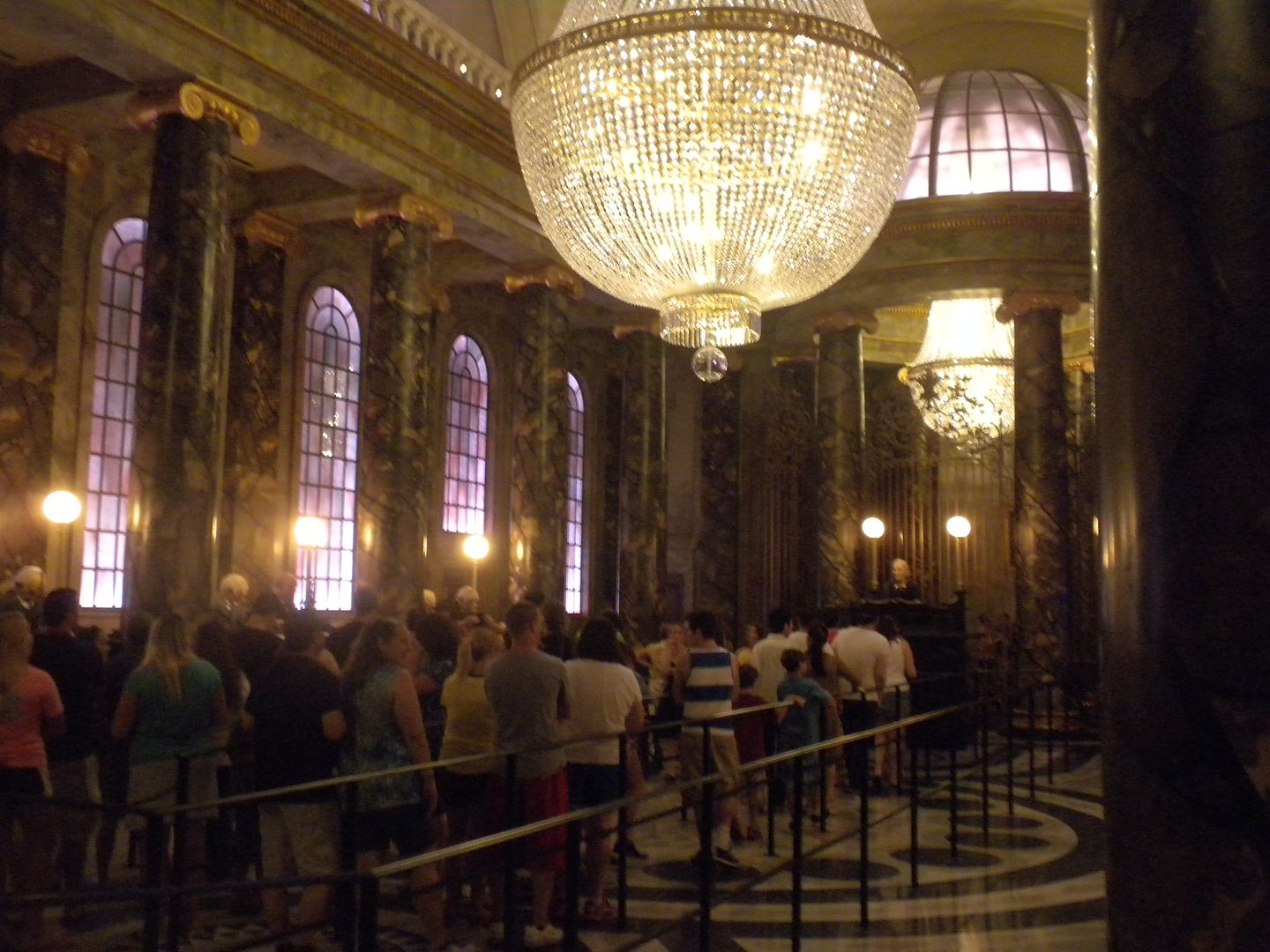 The bank lobby that is part of the queue is amazing


with great detail on the animatronic tellers.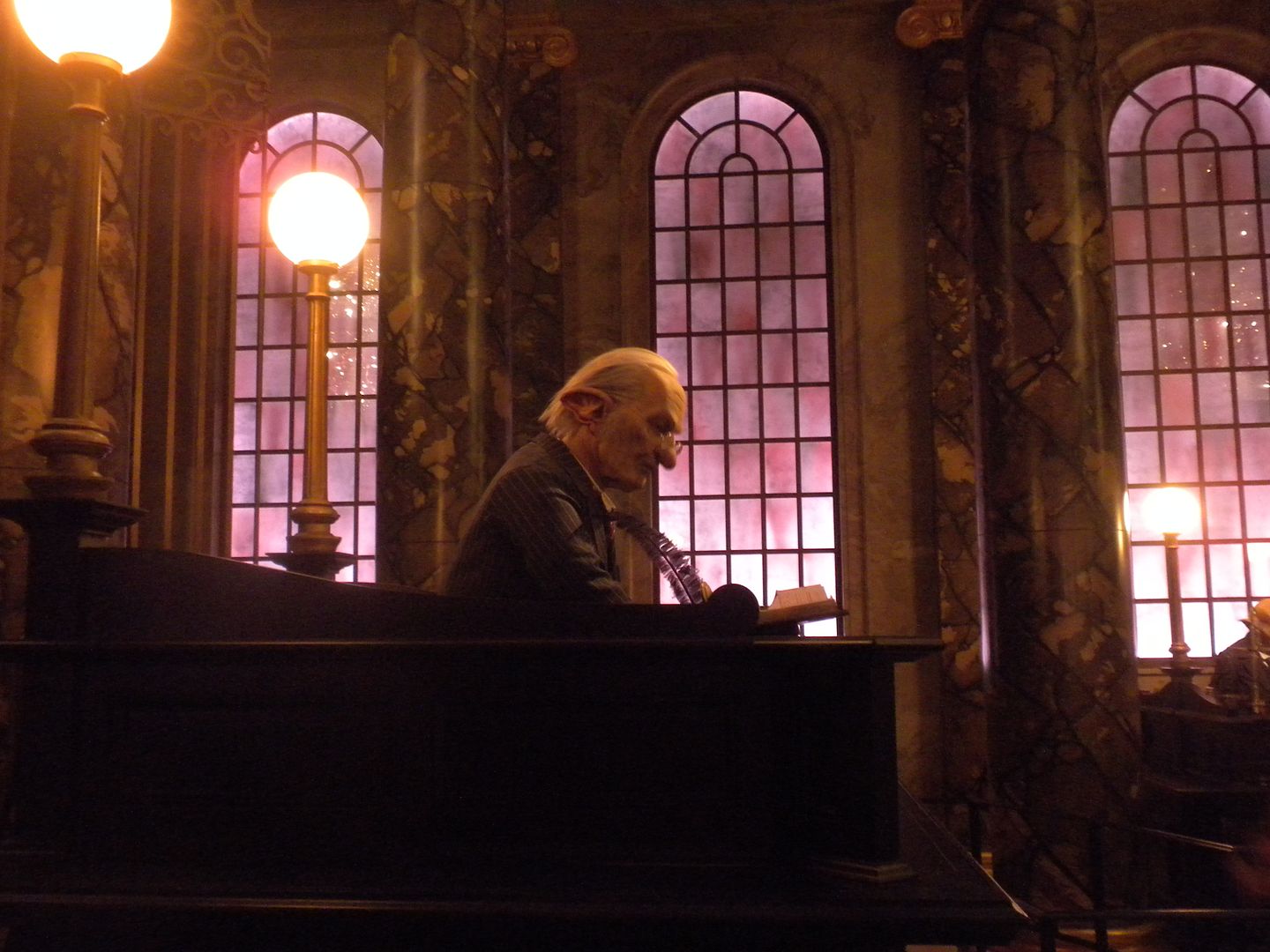 Although I am not familiar with the books and movies, this is excellently done. While it is more darkride than coaster, it has several coaster drops and clearly qualifies. It is very well done – 2 rides.


The Hogwarts Express – Kings Cross Station:


This takes riders to Hogsmeade in IOA.


What a great means of transportation with interesting views and stories along the way – 1 ride to Hogsmeade.
Production Central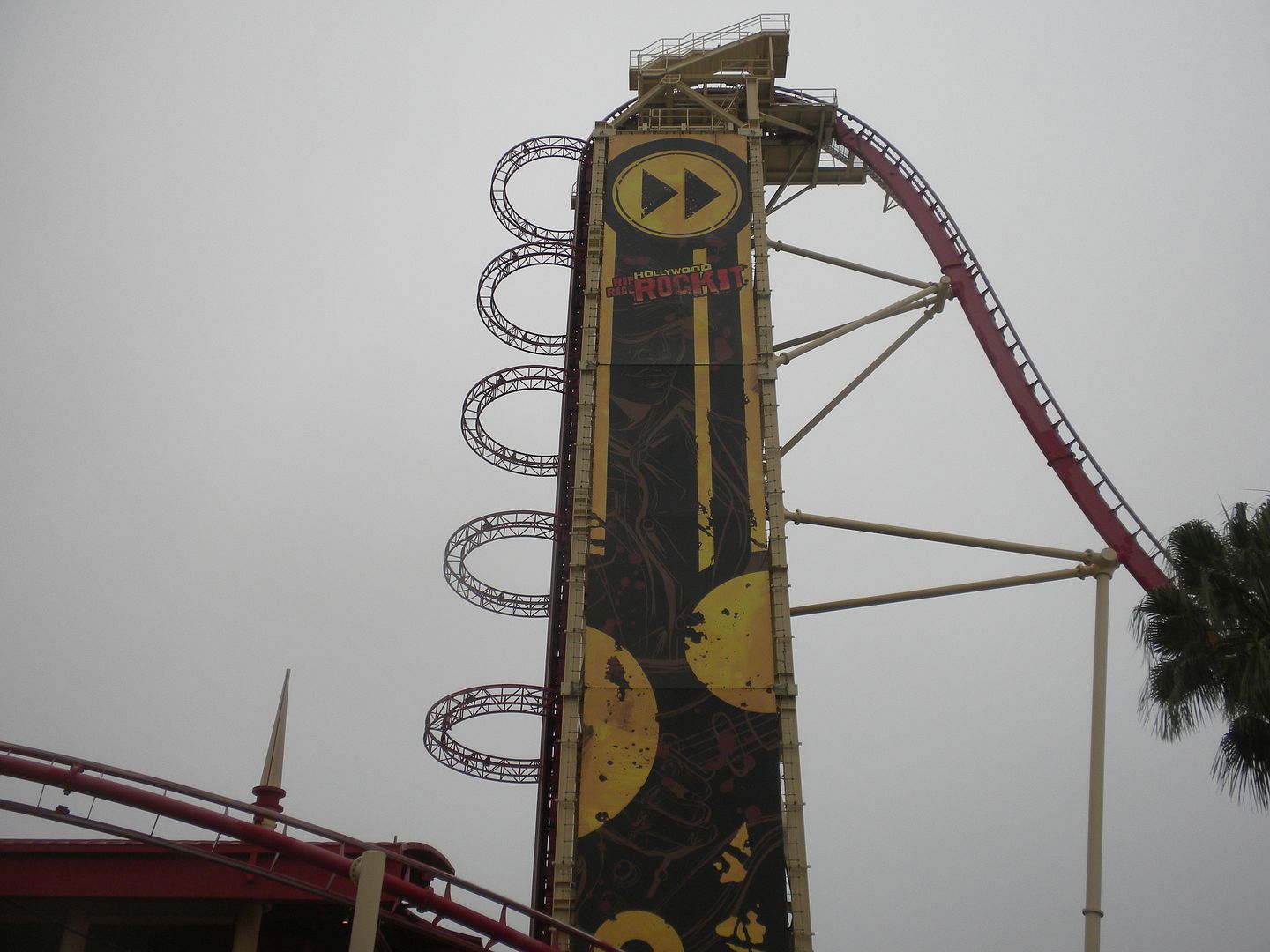 Hollywood Rip Ride Rockit: (Mauer Sohne, Steel Coaster, 2009)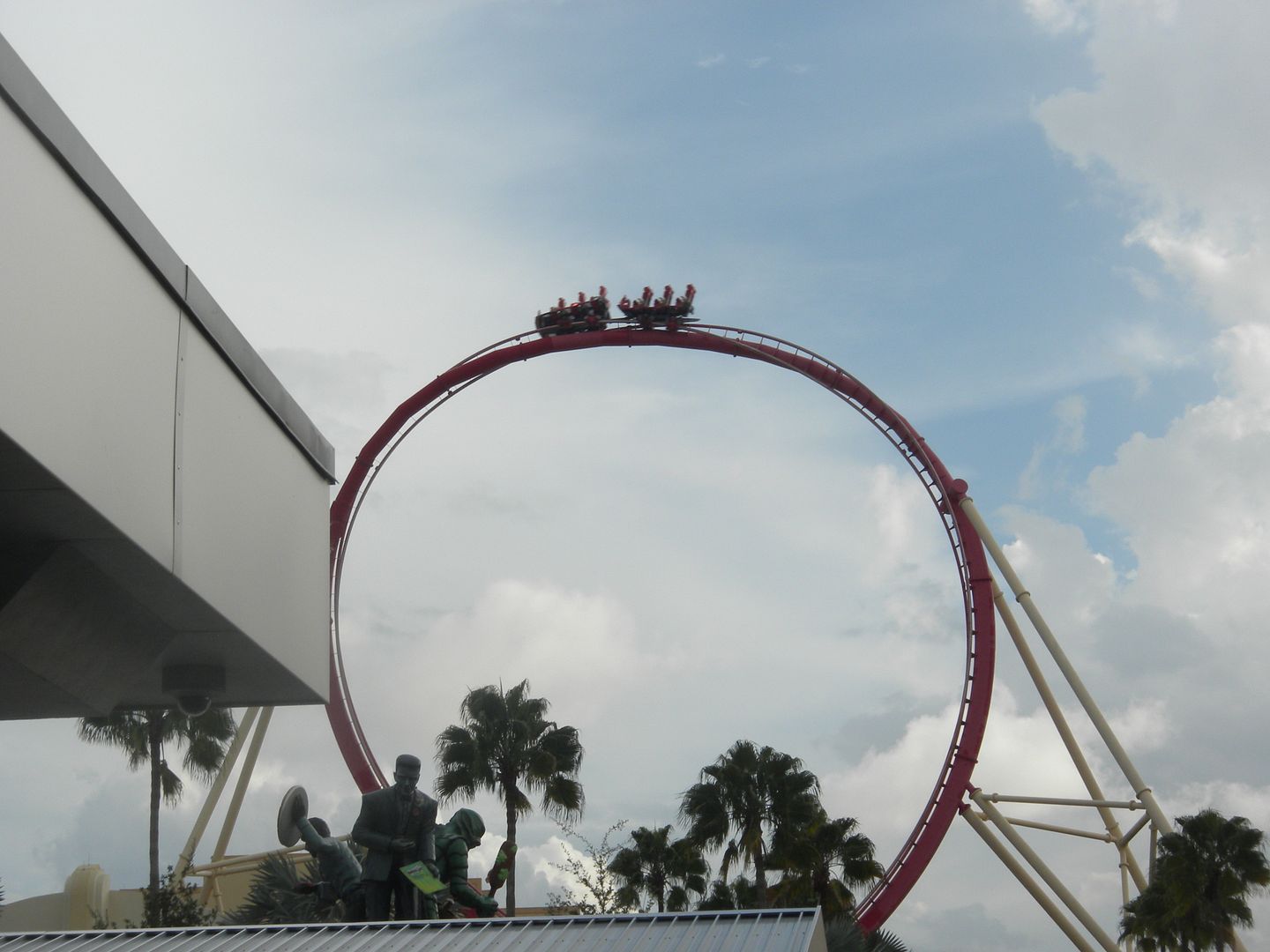 This is a great ride, but their new 'nothing in your pockets' policy, even your wallet, even in a zipper pocket is crazy and resulted in 3 complaints to Guest Relations from us. Although they provide free lockers, being separated from my identification and source of funding is not something I care to do. We only rode it once – 1 ride.
Despicable Me Minion Mayhem: My first time on this 3-D simulator ride, it is nicely done – 1 ride.
TRANSFORMERS: The Ride-3D: My first time on this 3-D darkride, it is very well done – 1 ride.
I did not do Shrek 4-D.
New York
Revenge of the Mummy: (Premier Rides, Enclosed Launched Coaster, 2004) This is a great coaster with very good effects – 1 ride.
I did not do Twister, which is rumored to soon be replaced, but I have done it previously. I did not see The Blues Brothers Show.
World Expo
Men In Black Alien Attack: This interactive darkride is fun – 1 ride.
The Simpsons Ride: This simulator that used to be Back to the Future is fun with its Krustyland storyline – 1 ride.
I did not ride Kang & Kodos' Twirl 'n' Hurl. I had a good taco meal that evening during HHN from the Simpson's Taco Truck. Fear Factor – Live was not operating at this time.
Woody Woodpecker's Kidzone
I did not make it to Woody Woodpecker's Nuthouse Coaster (Vekoma, Family Coaster, 1999), which I have ridden previously or E. T. Adventure, a suspended darkride which I have ridden previously and really like. This section has 2 shows I did not see: Animal Actors on Location and A Day in the Park with Barney.
San Francisco


Since my last visit this section lost its joint Amity theming (a little is left) and the Jaws ride was removed for Diagon Alley. I did not do Disaster or Beetlejuice's Graveyard Review, both of which I have done before.
Hollywood
I did not do Terminator 2: 3-D, Horror Make-Up Show, or Lucy – A Tribute, all of which I have done before.
Islands of Adventure
We arrived at Islands of Adventure from USF by train mid-morning and stayed for about 5 hours. I will review by section in order of our visit.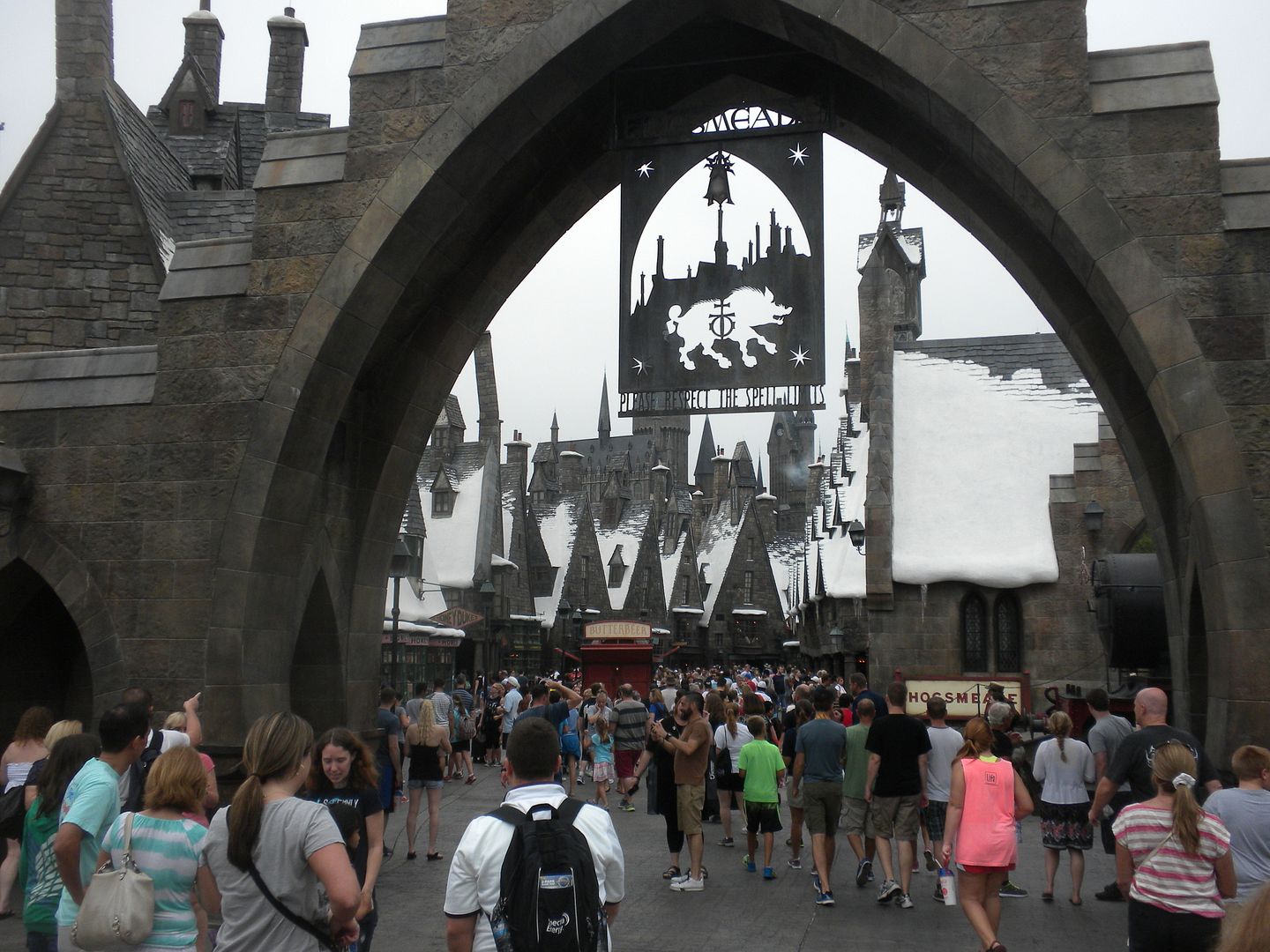 The Wizarding World of Harry Potter – Hogsmeade
Returning to this amazingly themed section was a lot of fun.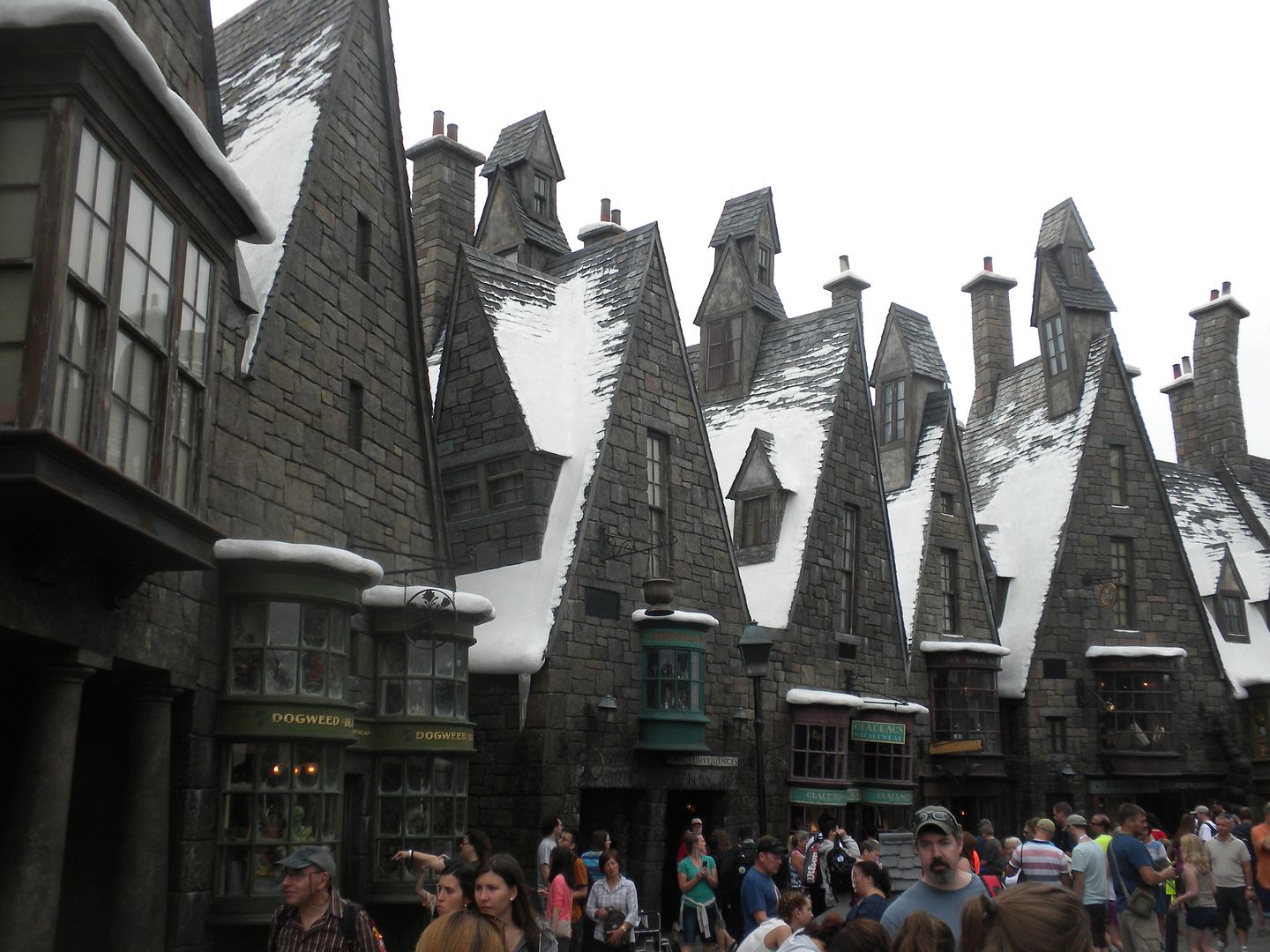 There is so much detail here. I had to have a Butterbeer, the butterscotch cream soda that is so identified with this area.


Harry Potter and the Forbidden Journey: This is one of the best darkrides I have ridden – 1 ride.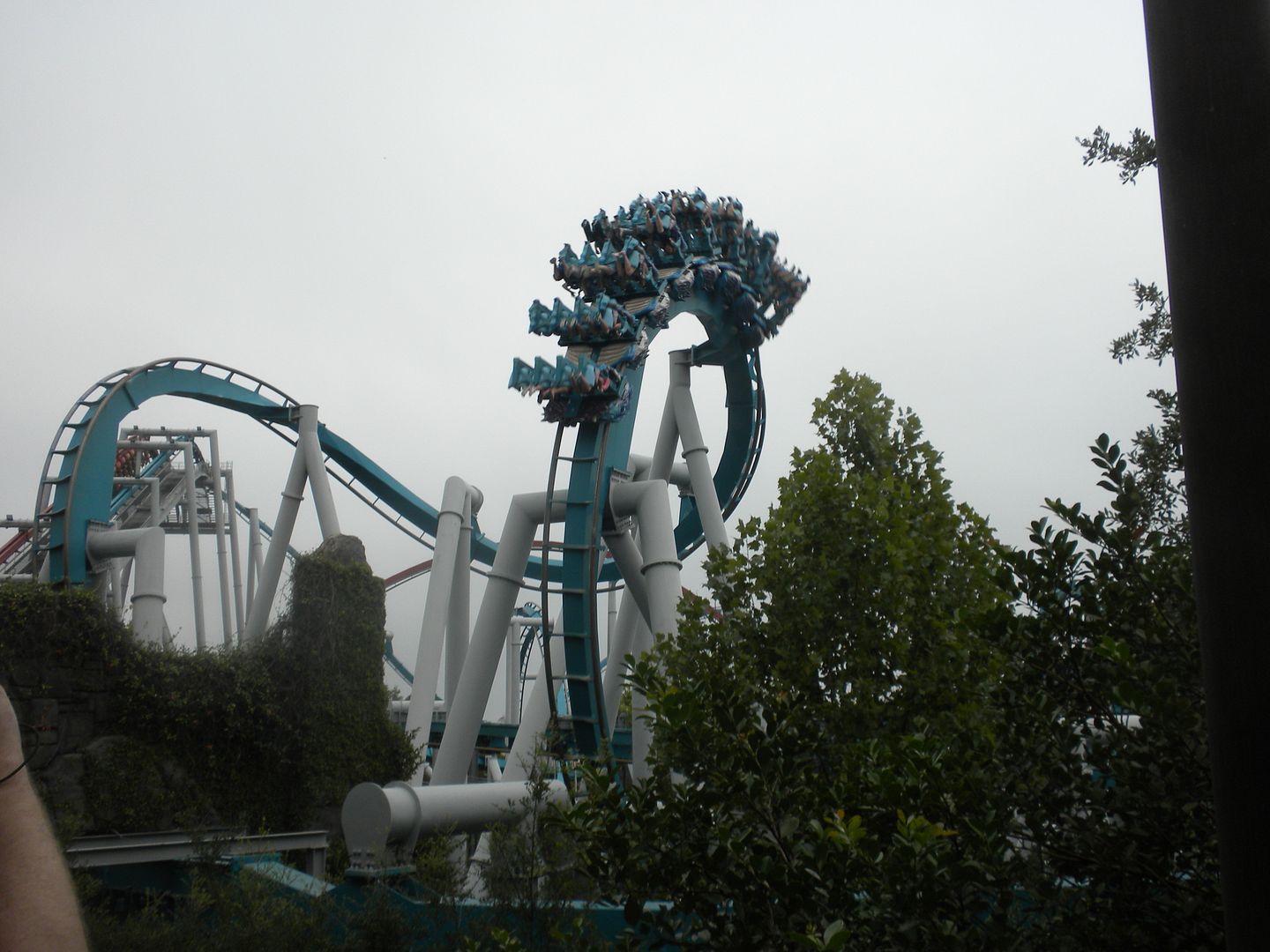 Dragon Challenge: (Bolliger & Mabillard, Dueling Inverted, 1999) Although it doesn't duel anymore it was running good.


We got 2 rides each on Chinese Fireball and Hungarian Horntail – 4 rides, 2 on each side.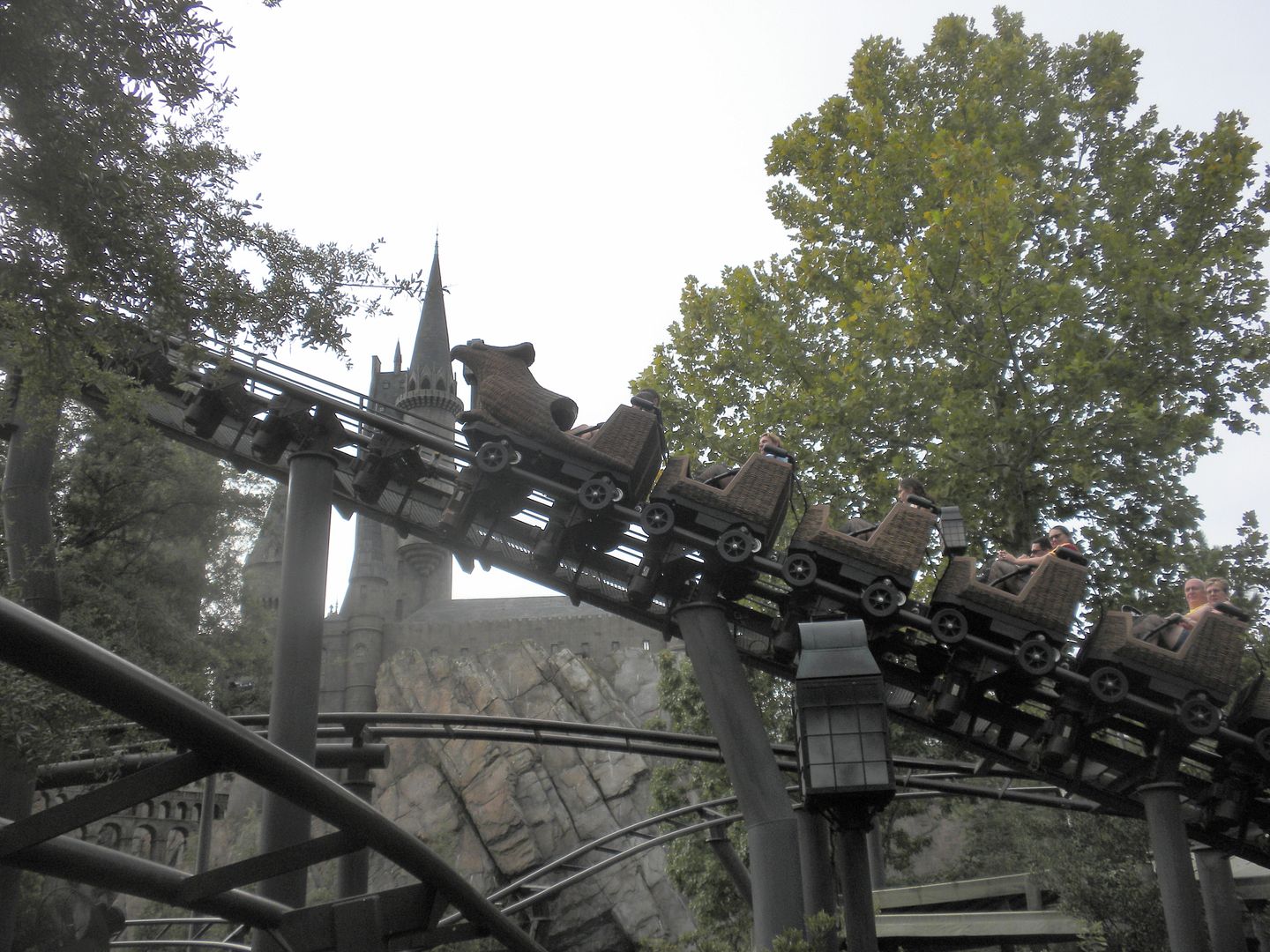 Flight of the Hippogriff: (Vekoma, Family Coaster, 2000) Good ride with nice theming – 1 ride.
The Hogwarts Express – Hogsmeade Station: Great ride back to London – 1 ride to London.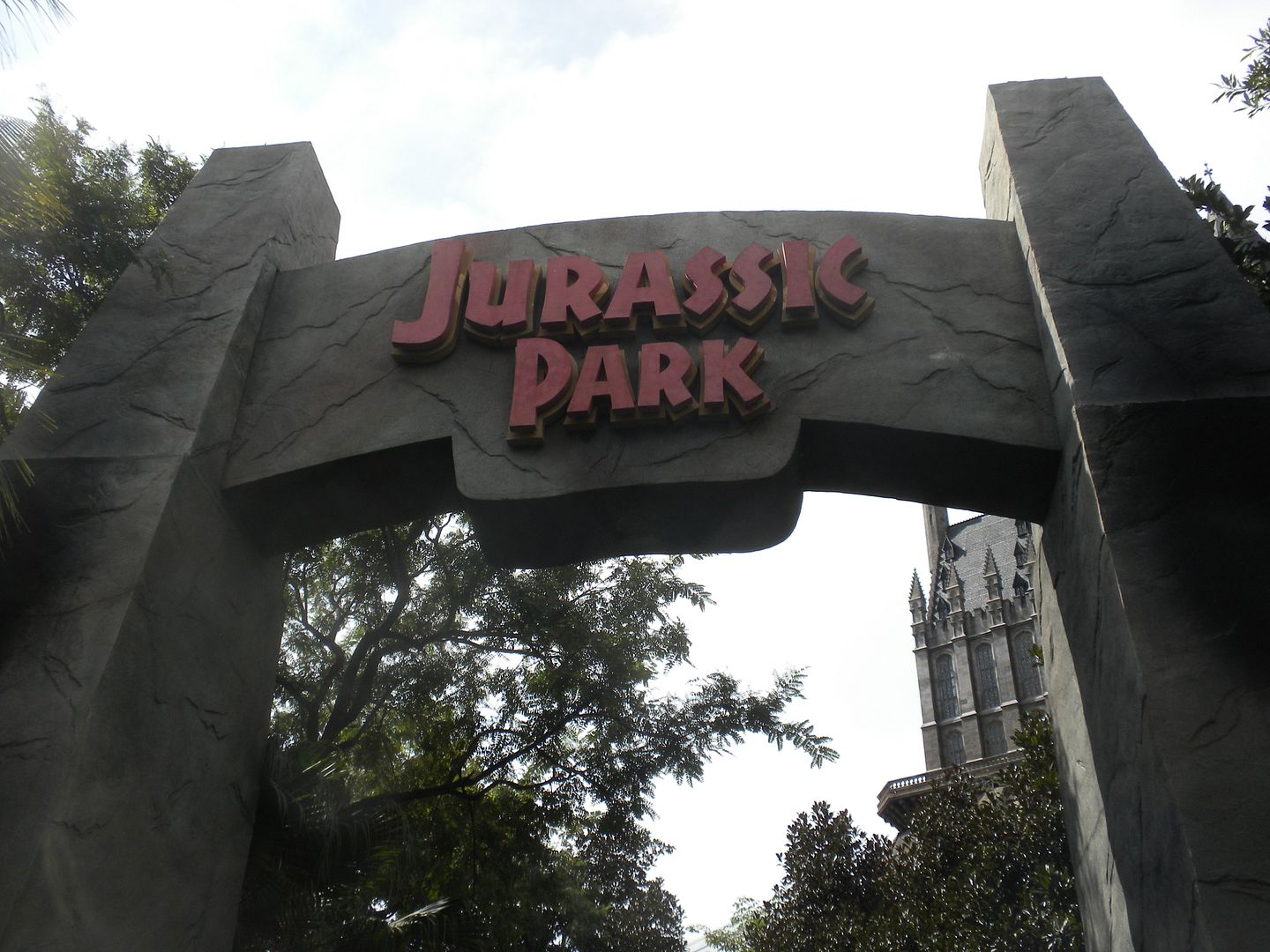 Jurassic Park
We did not ride Jurassic Park River Adventure, although I have ridden it previously, or Pteranodon Flyers (Setpoint, Suspended Family, 1999), which requires a child to ride. Hopefully one day I can get this credit as it looks like an interesting ride.

Toon Lagoon
We did not ride Dudley Do-Right's Ripsaw Falls flume ride or Popeye & Bluto's Bilge-Rat Barges rapids ride, both of which I have ridden before.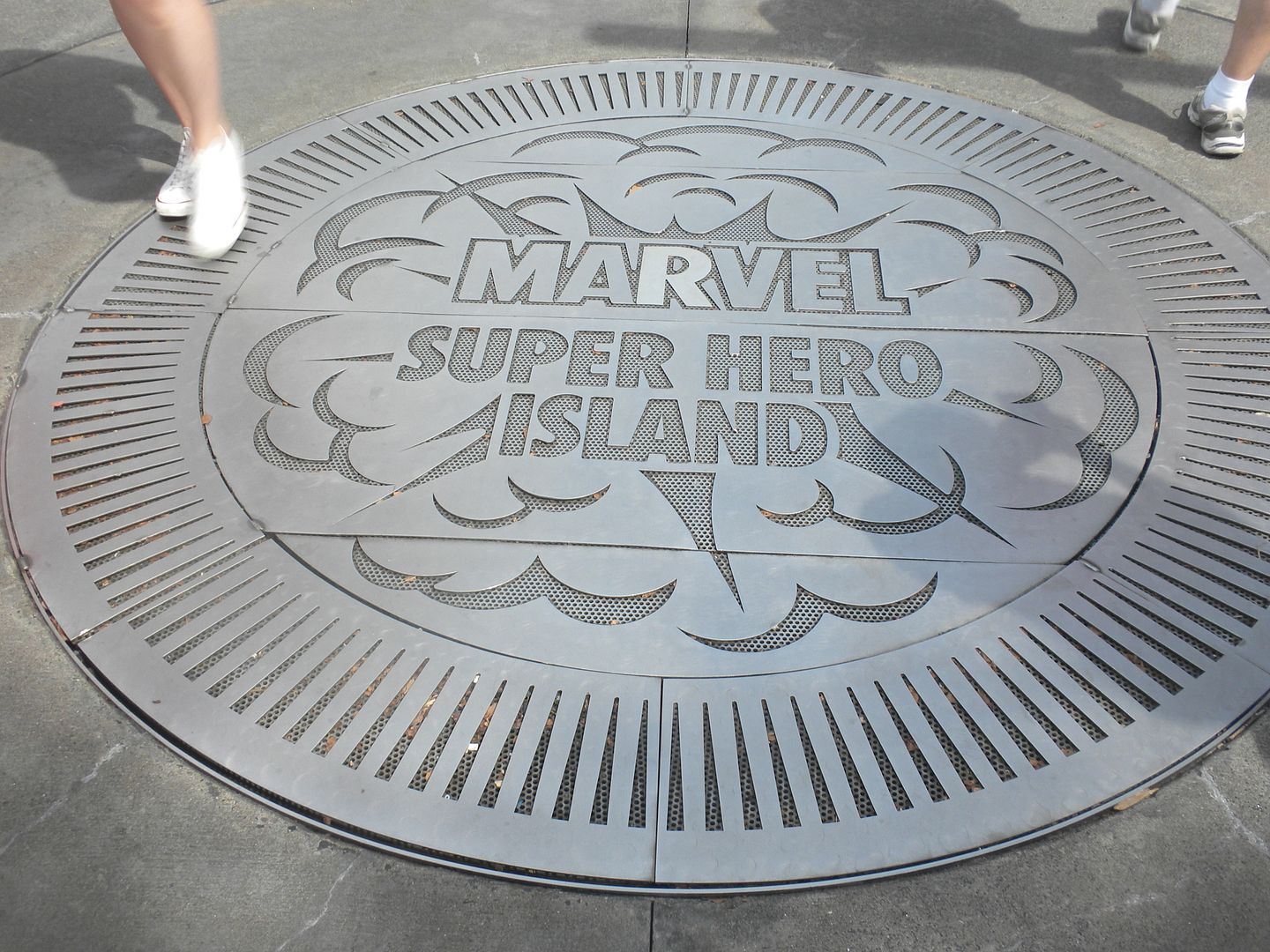 Marvel Super Hero Island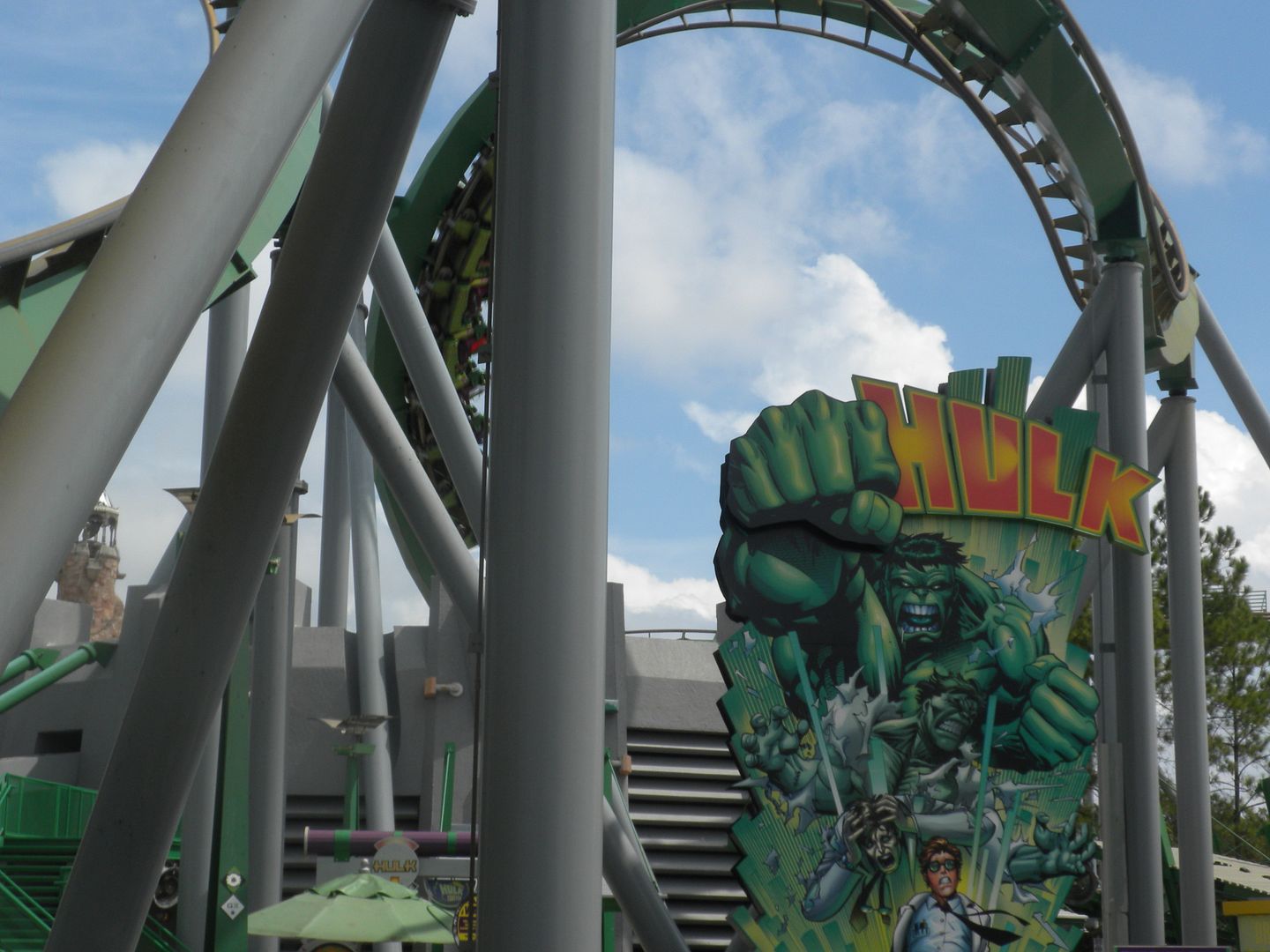 The Incredible Hulk Coaster: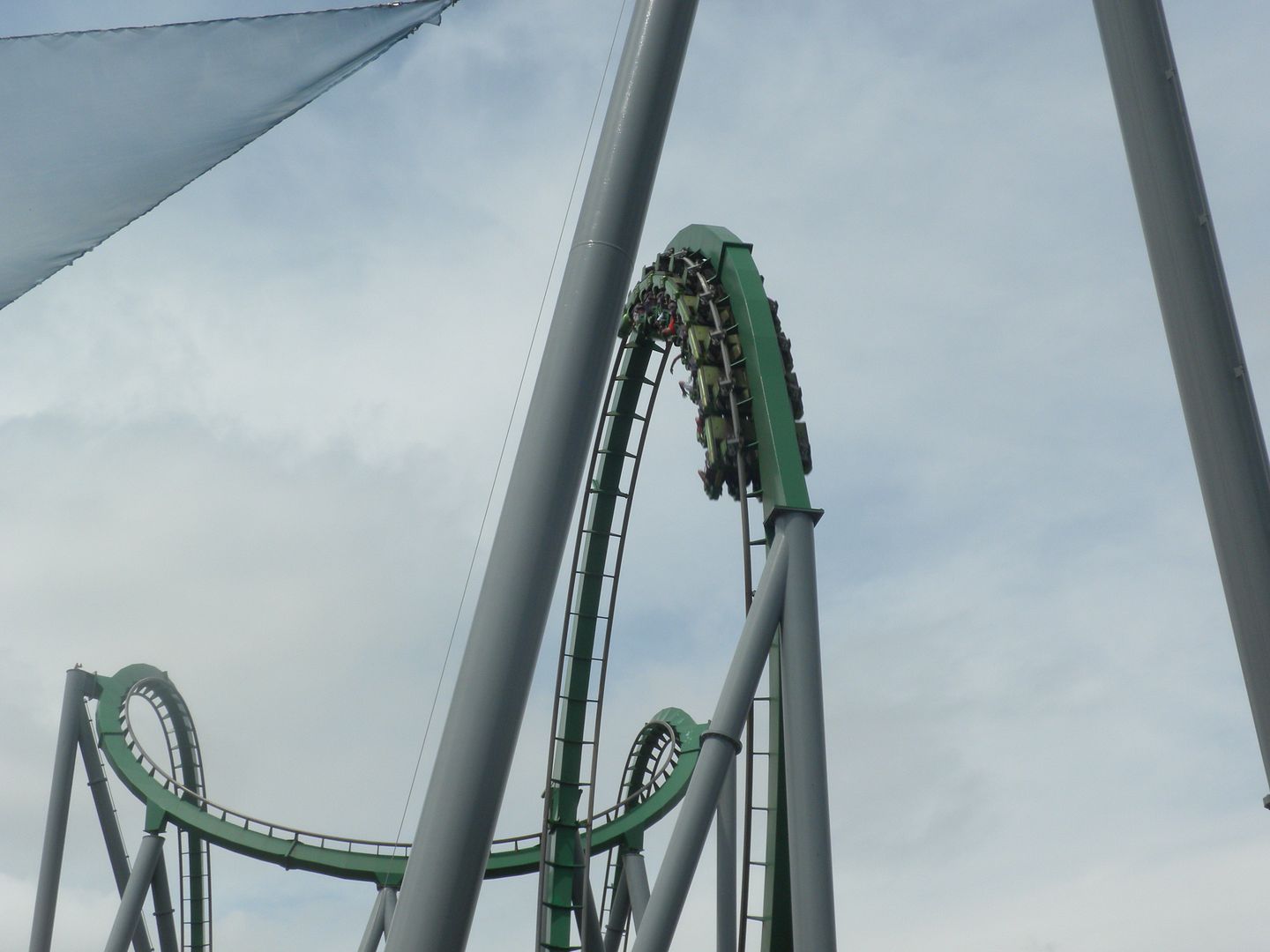 (Bolliger & Mabillard, Looping Coaster, 1999)


This is an excellent ride and the launch really adds to the experience – 2 rides.
The Amazing Adventures of Spiderman: One of the best darkrides I have done, this is fun – 1 ride.


Doctor Doom's Fearfall: Good space shot ride – 1 ride.
I did not ride Storm Force Acceleration, a tea cup style ride, which I have ridden before.

Port of Entry
This well themed entrance is filled with shops and food.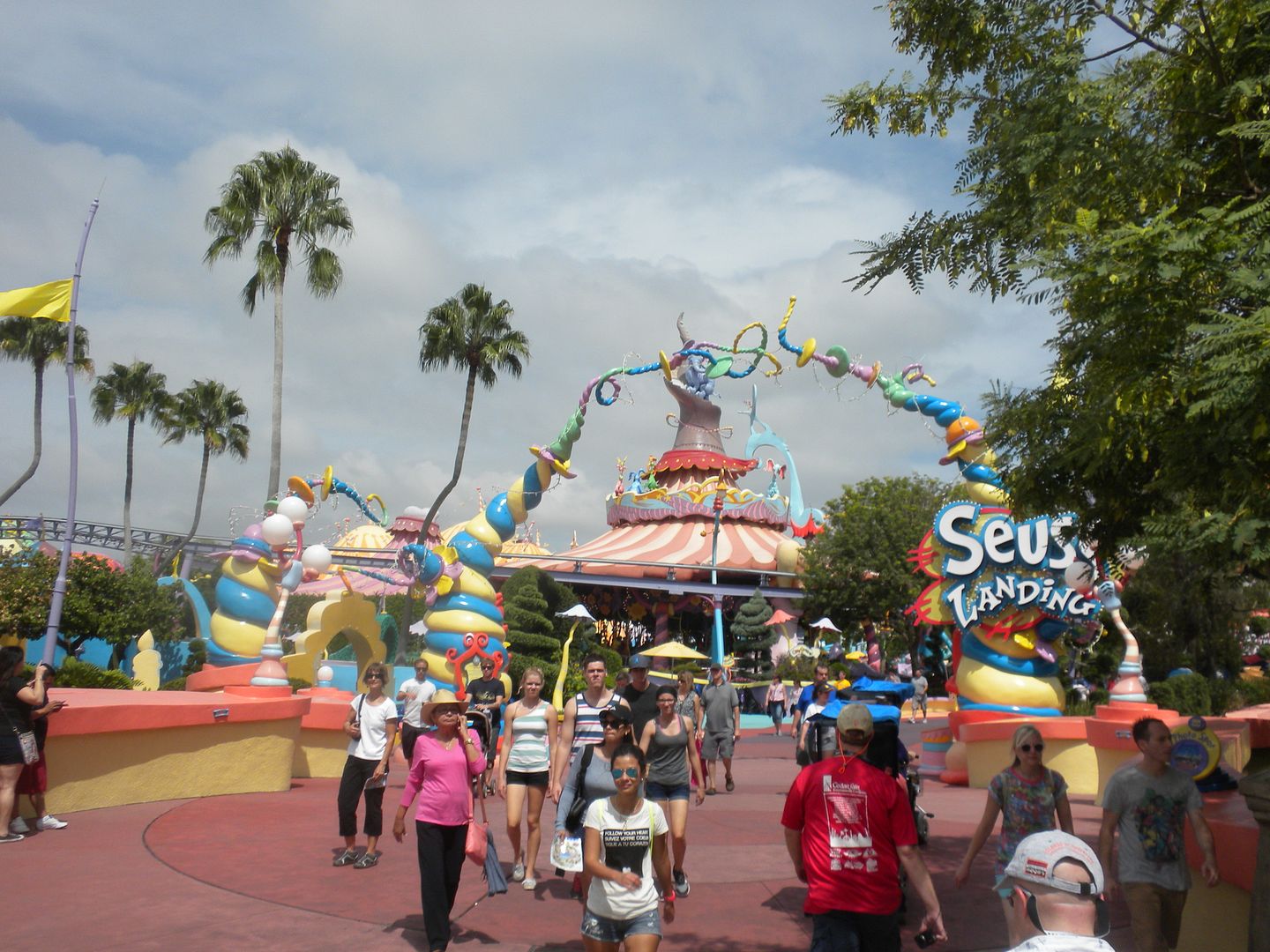 Seuss Landing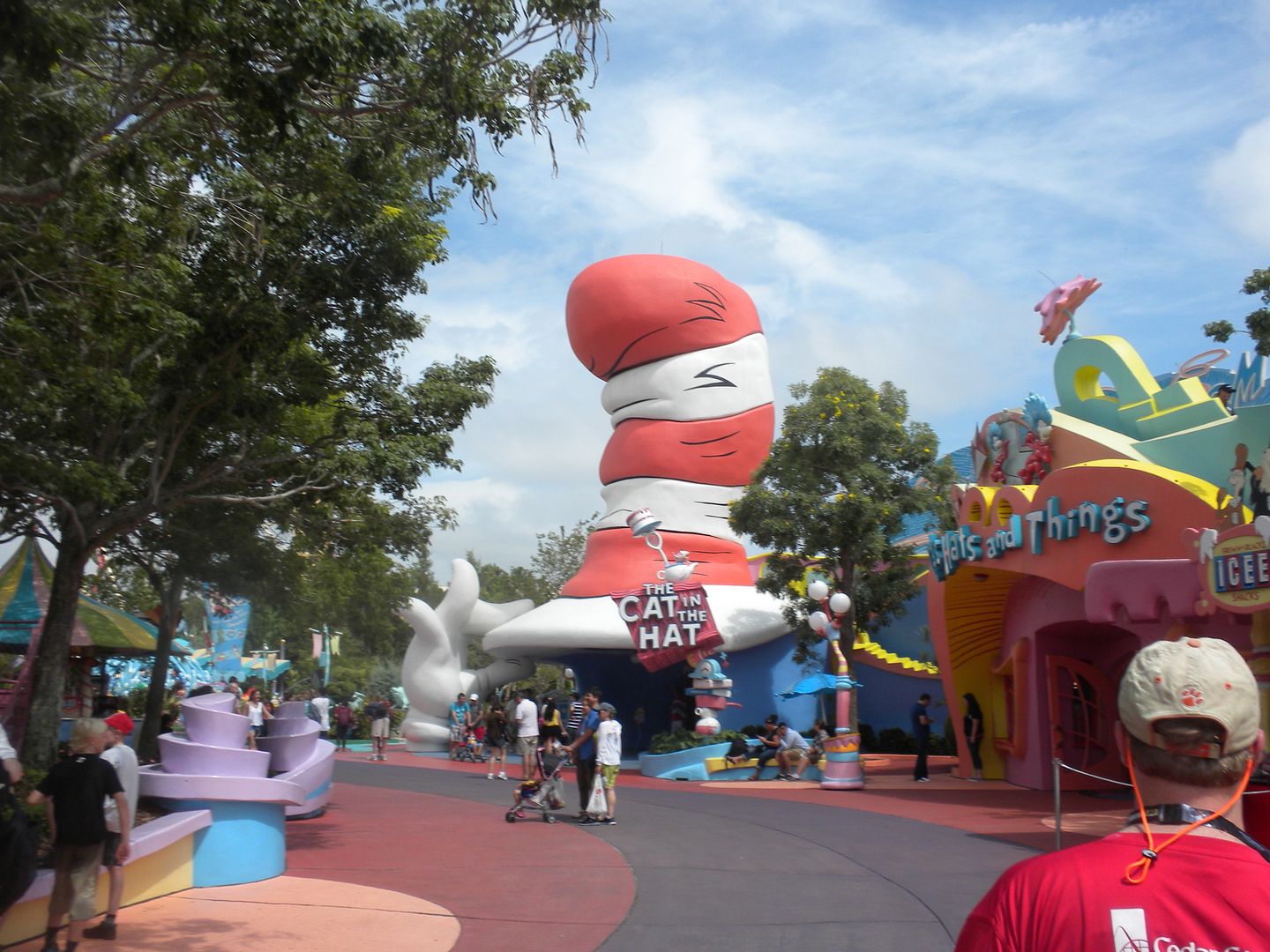 The Cat In The Hat: This is a really fun darkride, and it is pretty long – 1 ride.
We did not ride The High in the Sky Seuss Trolly Train Ride!, or Caro-Seuss-el, both of which I have ridden previously, or One Fish, Two Fish, Red Fish, Blue Fish, which I have not ridden. They also have a show: Oh! The Stories You'll Hear!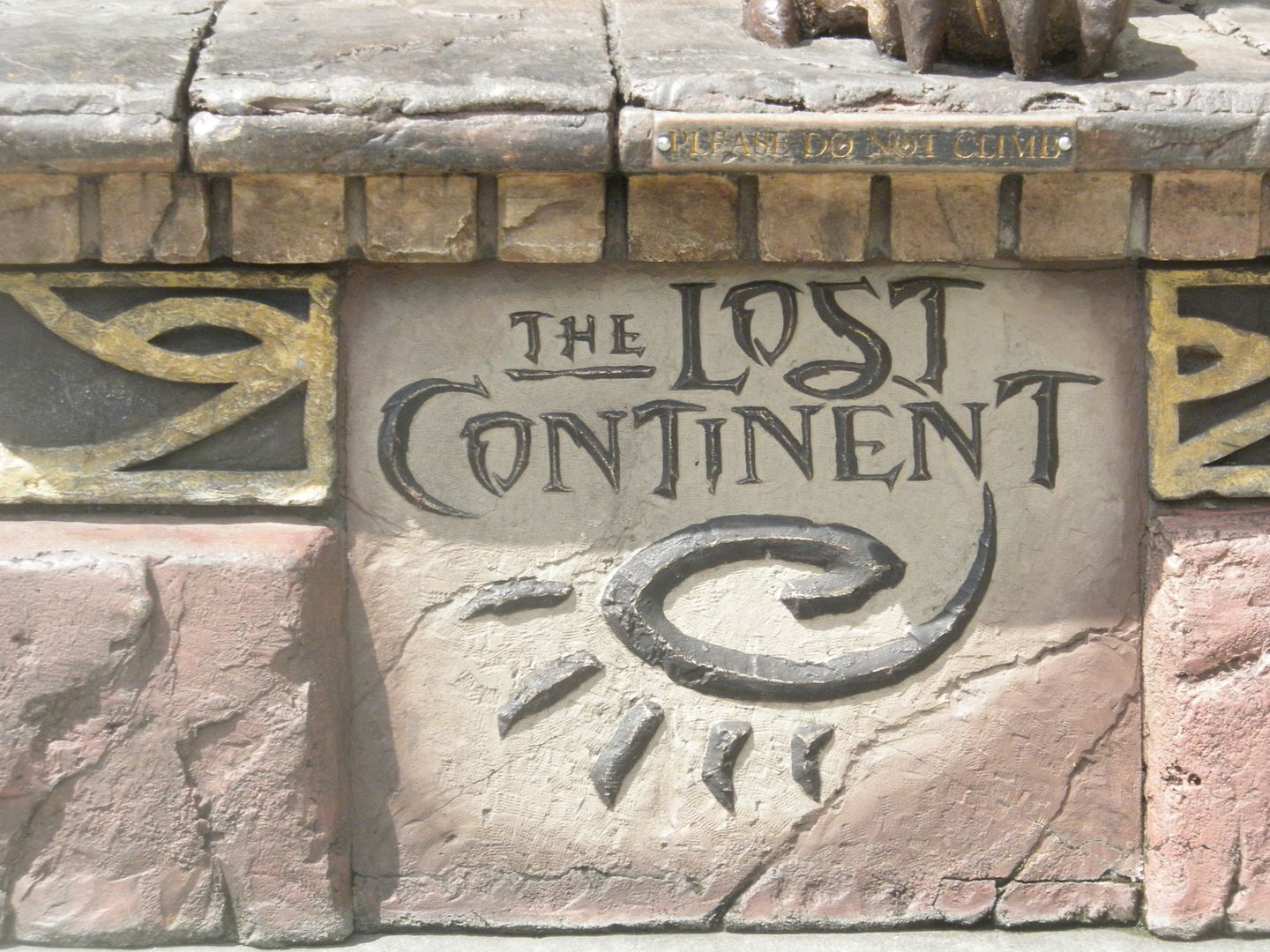 The Lost Continent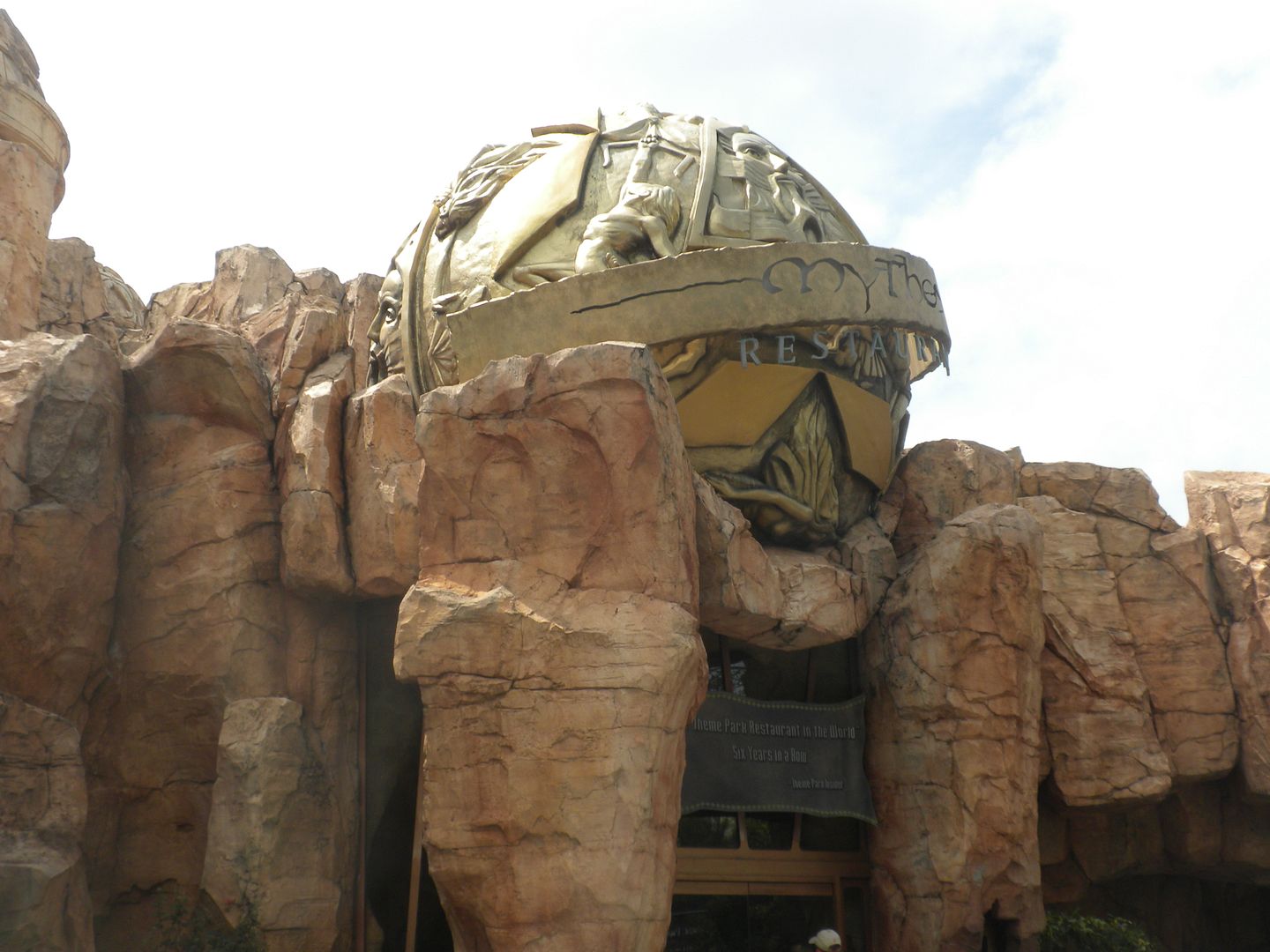 We had a delicious lunch at Mythos. The food was excellent and reasonably priced for what you get. The atmosphere is very nice as well.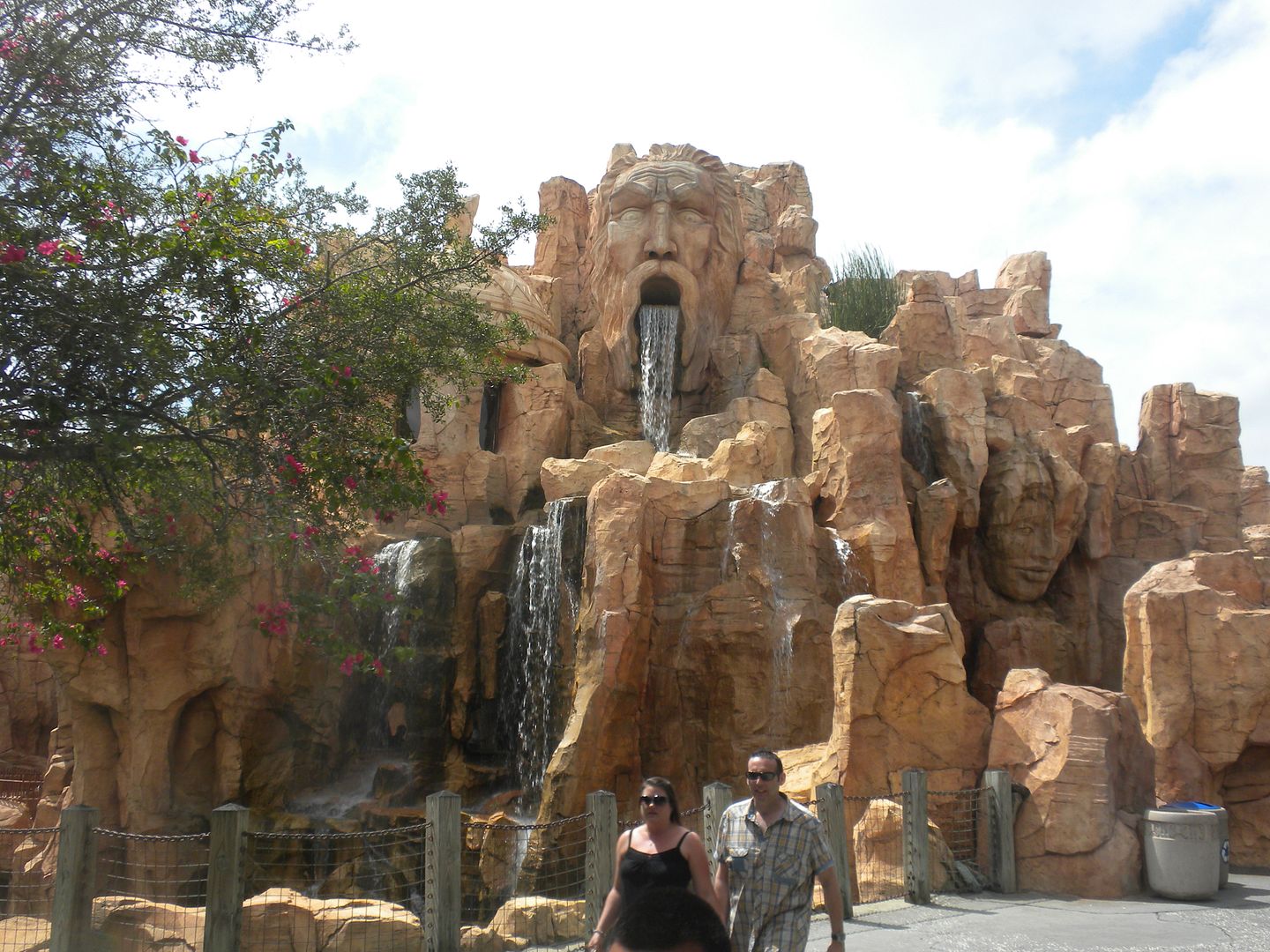 We did not do Poseidon's Fury or The Eighth Voyage of Sinbad, both of which I have done previously.
Hollywood Horror Nights 24


This was my first visit to this event and I was fully impressed with the production quality, which is what I would expect from a movie studio. Since I only had one night to go, we purchased the express pass. I will rank the Houses in order of my favorite:


Halloween: This was true to the movie, well-paced and Michael Myers' was literally everywhere. Excellent! – 1 walkthrough.
Roanoke – Cannibal Colony: The execution of this fabled Virginia colony that resorted to cannibalism was exceptionally well portrayed, with exquisite detail – 1 walkthrough.


The Walking Dead: End of the Line: Although I don't watch the show, the detail level of this was nicely executed – 1 walkthrough.
Dracula Untold – Reign of Blood: This adaption of the tale of the transformation of the legendary Vlad the Impaler into Dracula along with the battles against the Ottoman Turks was well executed – 1 walkthrough.


Dollhouse of the Damned: This was well done with great detail – 1 walkthrough.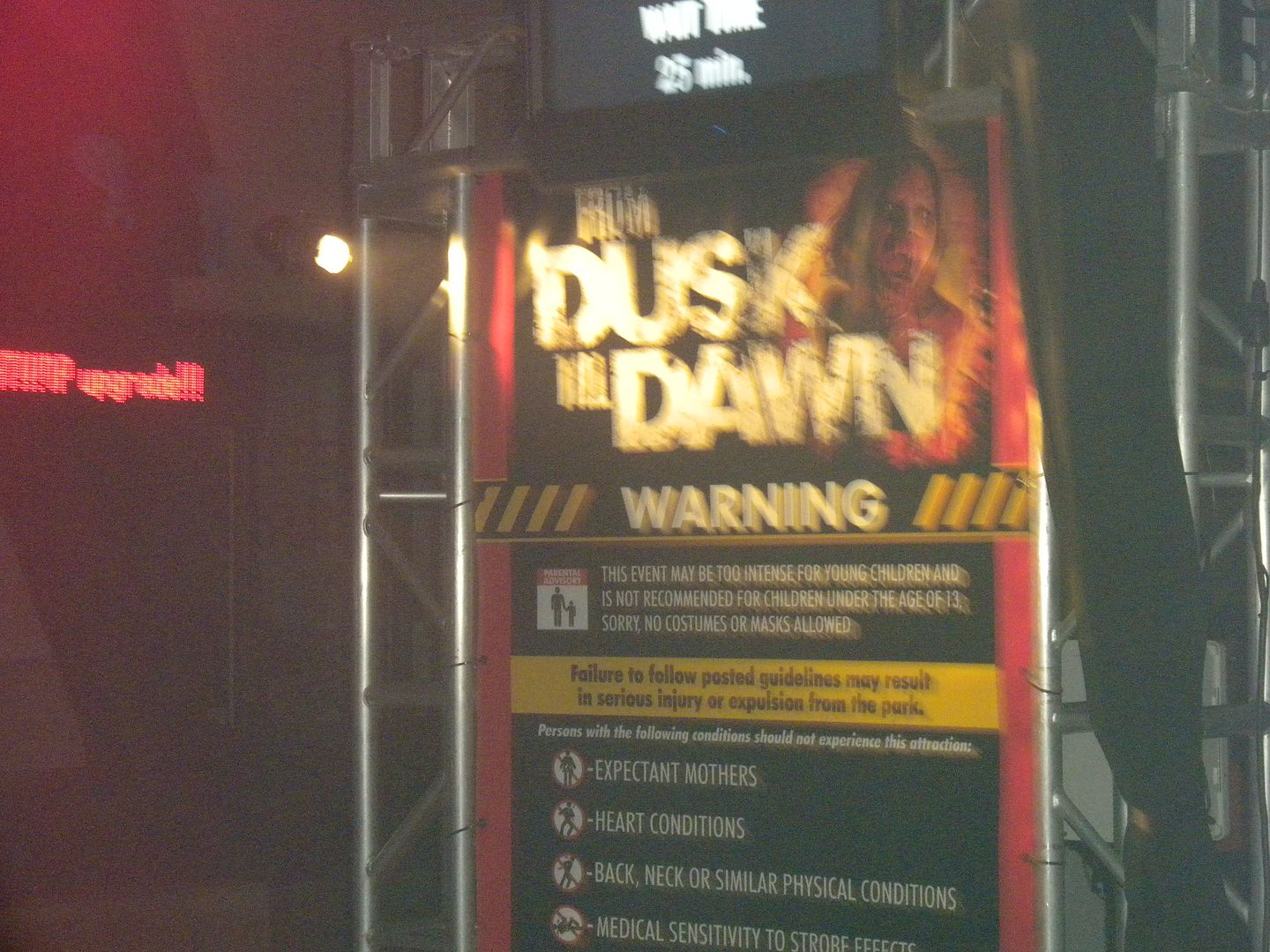 From Dusk Till Dawn: The more provocative of the houses, the detail was well done – 1 walkthrough.


AVP: Alien Vs. Predator: Although nicely executed, I'm really not into alien theming – 1 walkthrough.


Giggles & Gore Inc.: Although fairly well done, I thought this was the weakest house – 1 walkthrough.

I was not as impressed with the Street Scarezones, as I was expecting them to be more immersive.
Bayou of Blood: The exception to the scarezones, this was very immersive one themed to a Louisiana bayou. Although helped by its treelined location, it was very well done – 1 walkthrough.
MASKerade: Unstitched: The costumes here were nicely done, but I didn't feel it was immersive – 1 walkthrough.
Face Off – In the Flesh: This had some good characters but was not immersive – 1 walkthrough.
The Purge: Anarchy: Over such a large area, this didn't seem immersive – 1 walkthrough.
As for Shows, we made it to one of the two.
Bill & Ted's Excellent Halloween Adventure: This pop culture show was pretty good, but I am not up on enough pop culture to get all the jokes – 1 show.
I did not see The Rocky Horror Picture Show.
I enjoyed the event and am glad I finally made it. While it is not something that I can afford to do every year (in terms of money and vacation with all my other trips), it is an event I would like to return to periodically. As for my day at Universal, it was a lot of fun and I got done everything that I absolutely wanted to do and then some. I look forward to return visits. We returned to the hotel to get ready for ACE Fall Conference 2014 which would begin the next morning at Busch Gardens Tampa.
Up Next: ACE Fall Conference 2014 – Busch Gardens Tampa including Howl-O-Scream