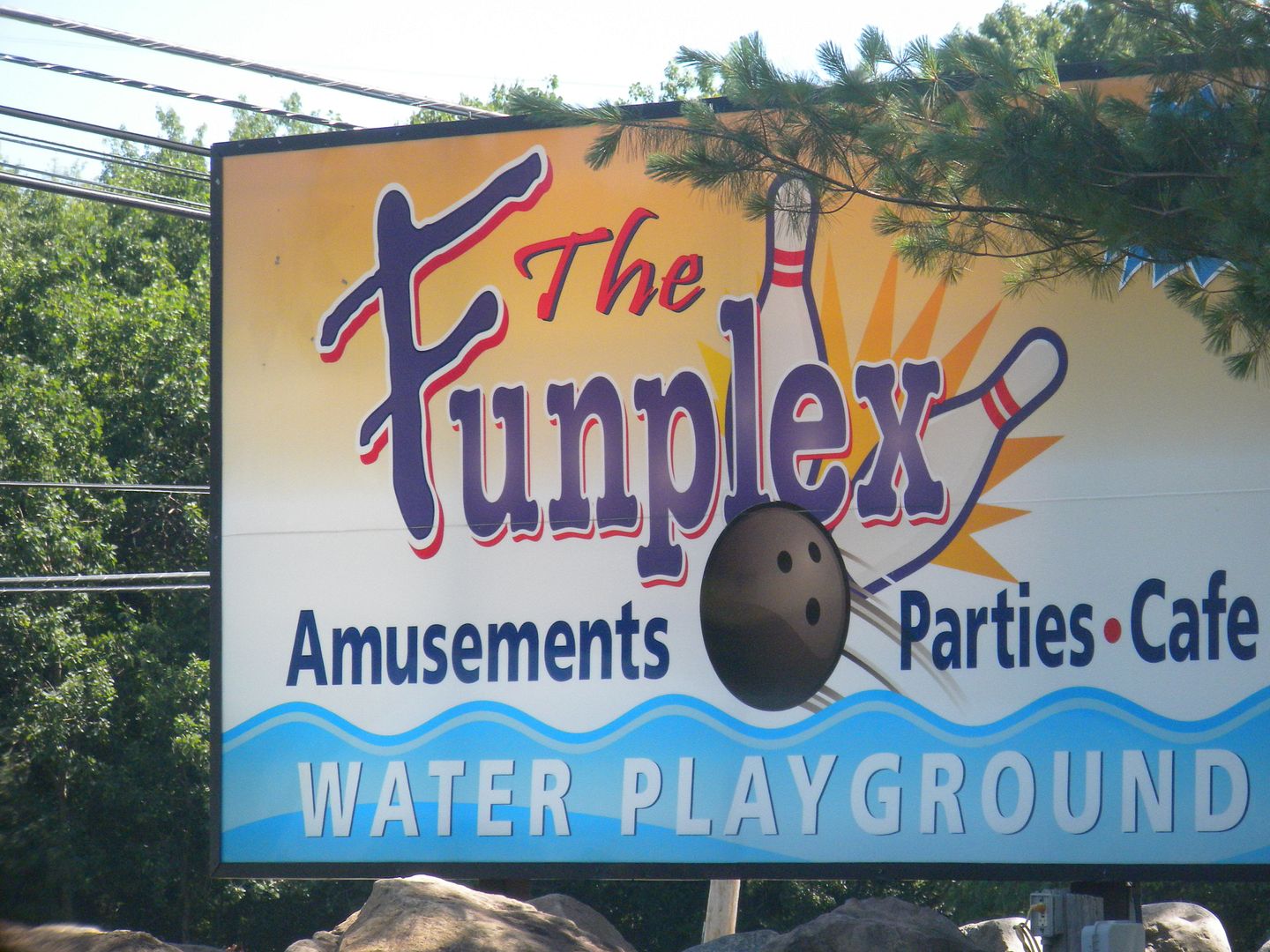 Funplex
On Wednesday, June 24 we left for Storybook Land.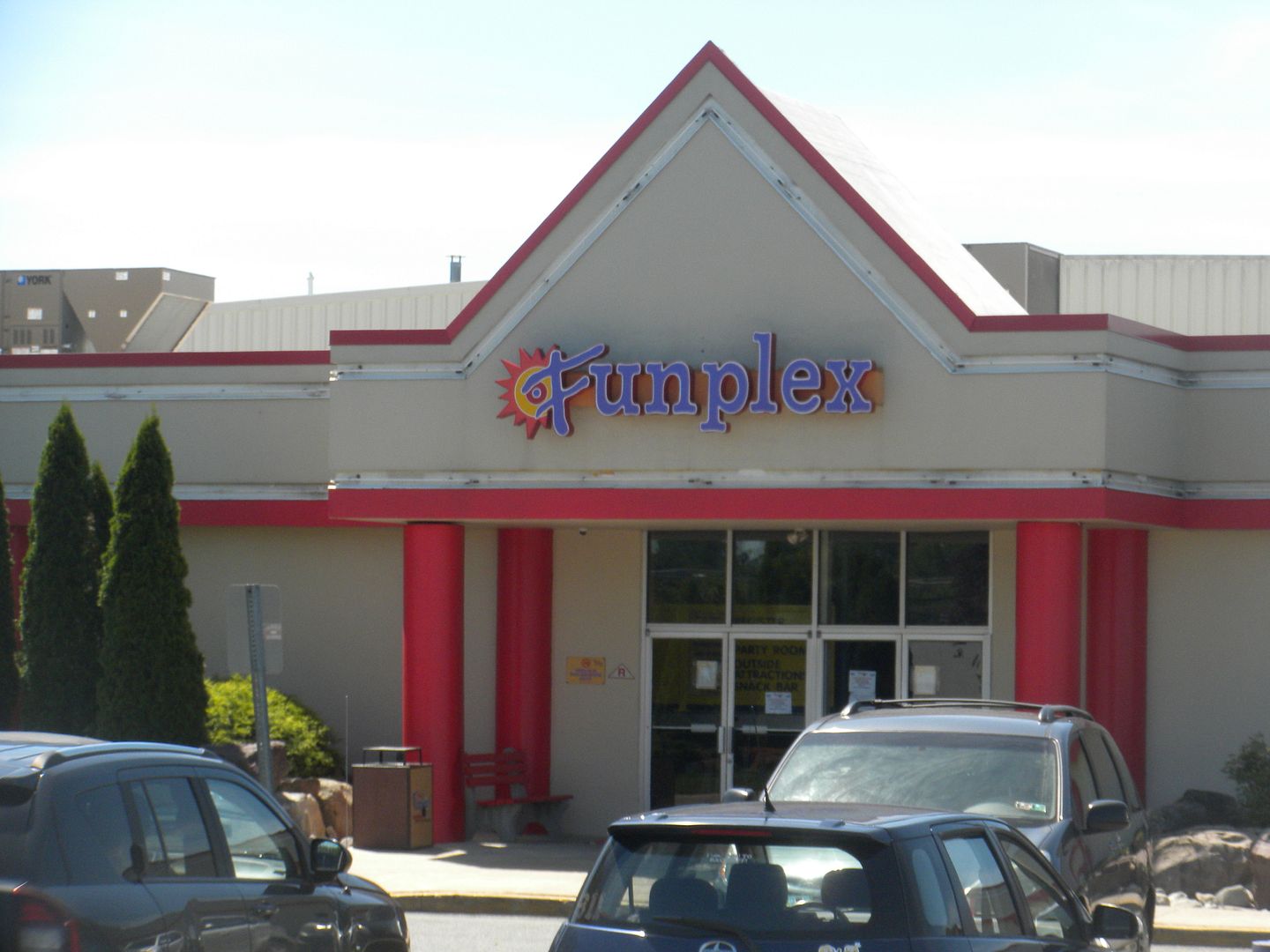 On the way we made a stop at Funplex, a family entertainment center in Mount Laurel, NJ. Operating since 1997, they recently added a coaster. After we had taken some pictures we were asked not to, a rare occurrence at parks. Therefore I will only post pictures that I took from the parking lot.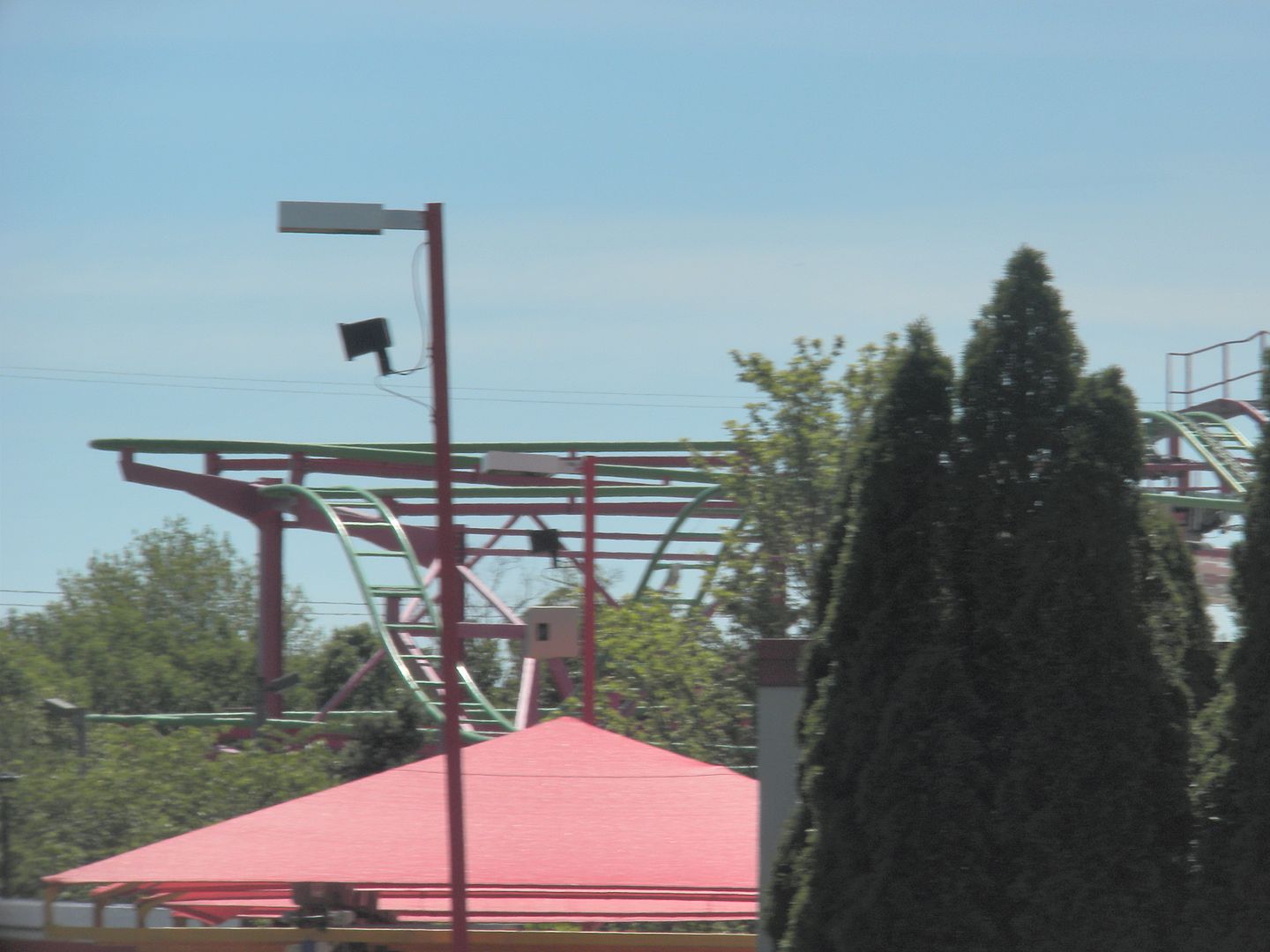 FunCoaster: (SBF Visa Group, Spinning Wild Mouse, 2013) This was my first ride on a coaster from this manufacturer, and the spinning was excellent – 1 ride.
Other rides include: Free Fall, a 40 foot drop tower; FunTwister; Tilt-A-Whirl (inside); Tilt-A-Whirl (outside); Airborne, a new ride; Grand Prix Karts; Bumper Cars; Electric Go-Karts; Bumper Boats; XD Theatre ; Motion Simulator; Splashin' Speedway; Miniature Golf; Bowling; Lazer Runner; Jr. Bumper Cars; and Foam Frenzy.

Storybook Land
After a quick stop we left for Storybook Land but soon ran into traffic issues caused by severe thunderstorms in southern NJ the night before. These storms caused rain for us Tuesday night at SFGAd but cleared in time for ERT. But further south the storms took down numerous trees and left electricity and cell phone service out.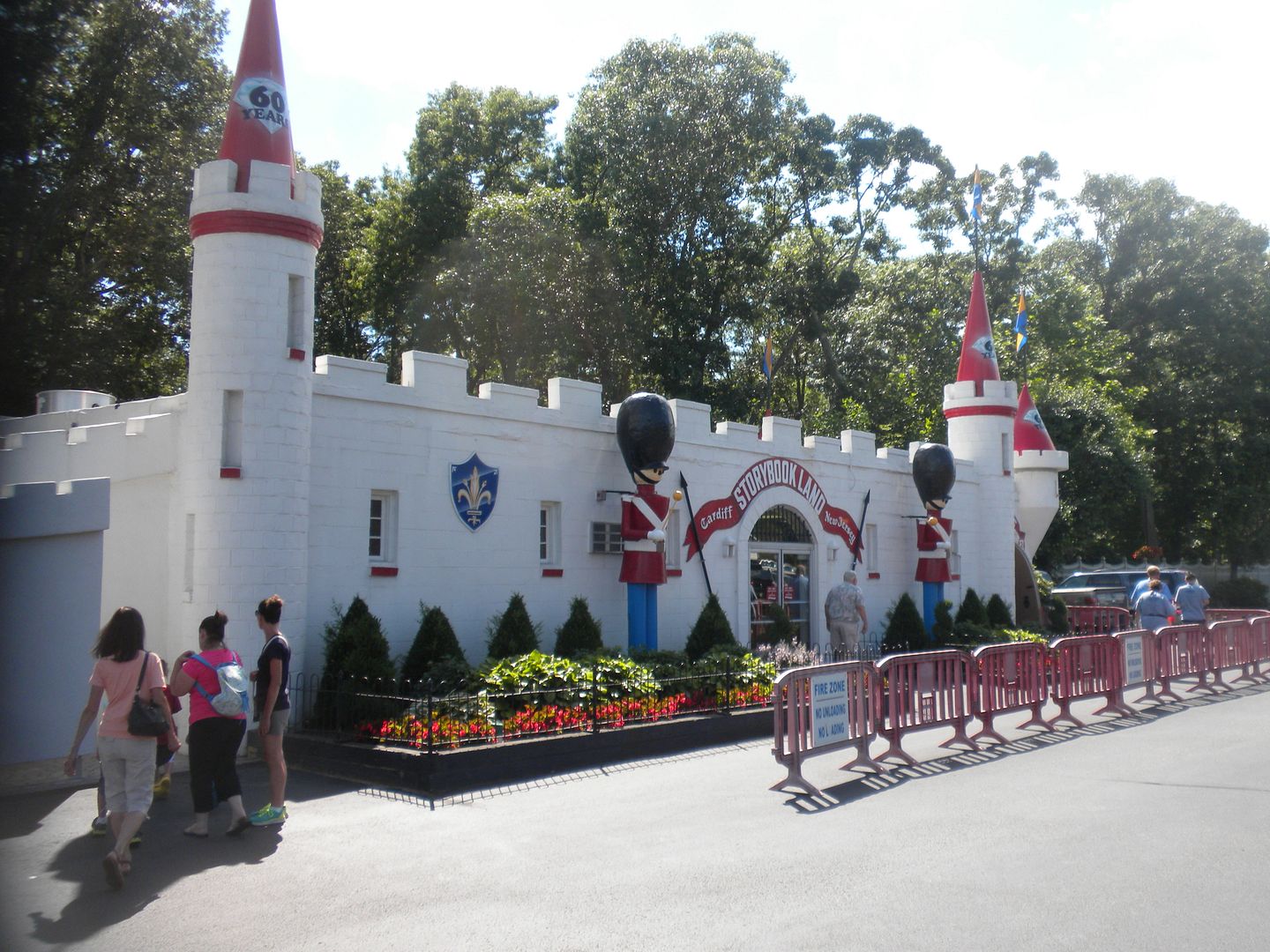 We arrived at Storybook Land in Egg Harbor Township, NJ about 20 minutes late for our meeting time and just in time for a couple of us to make the group photo. Operating since 1955, this is a really nice family park. The park provided us with a snack. After a quick lunch we headed out to some of their unique rides.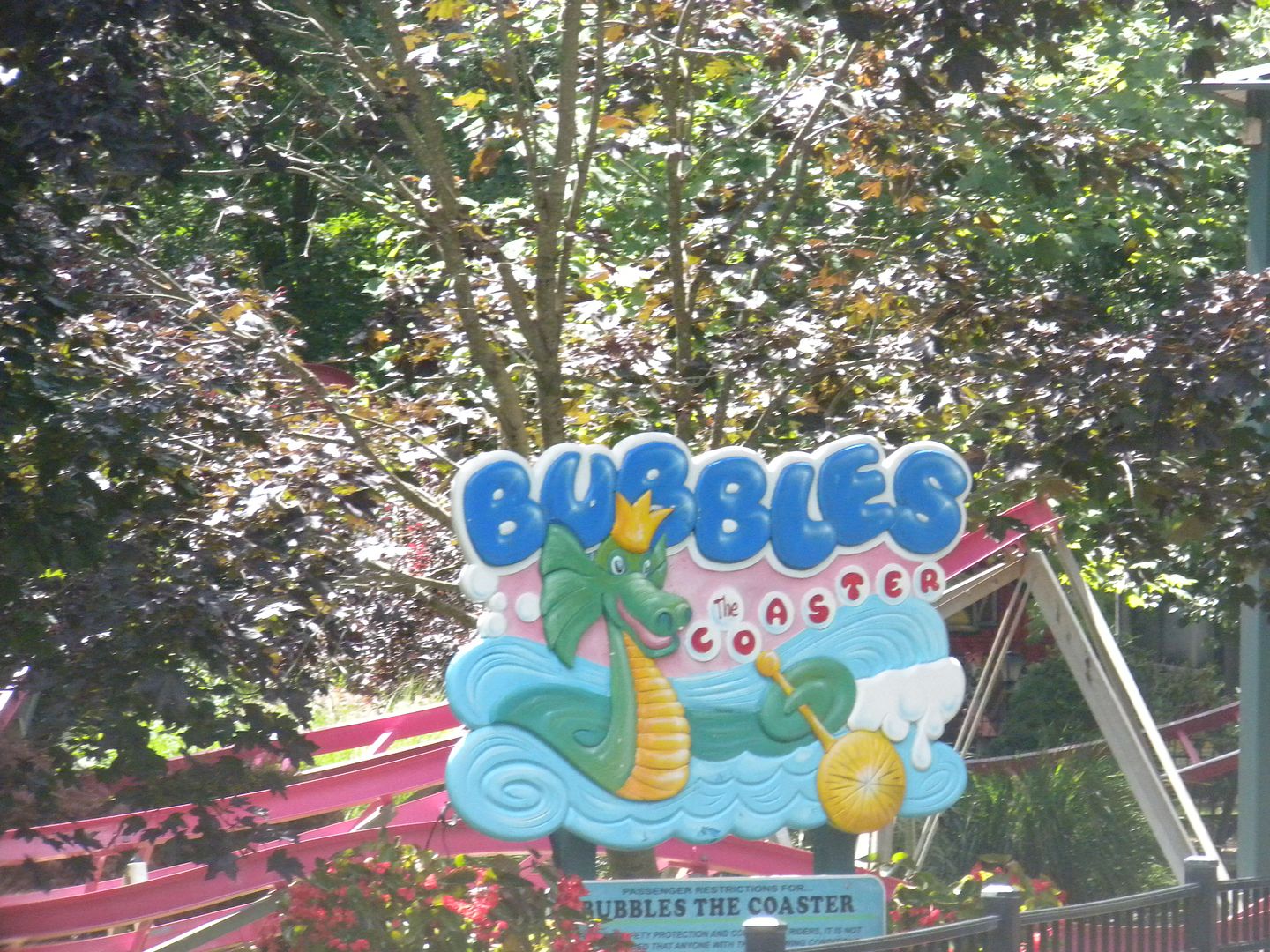 Bubbles the Coaster: (E&F Miler, Family Coaster, 2000)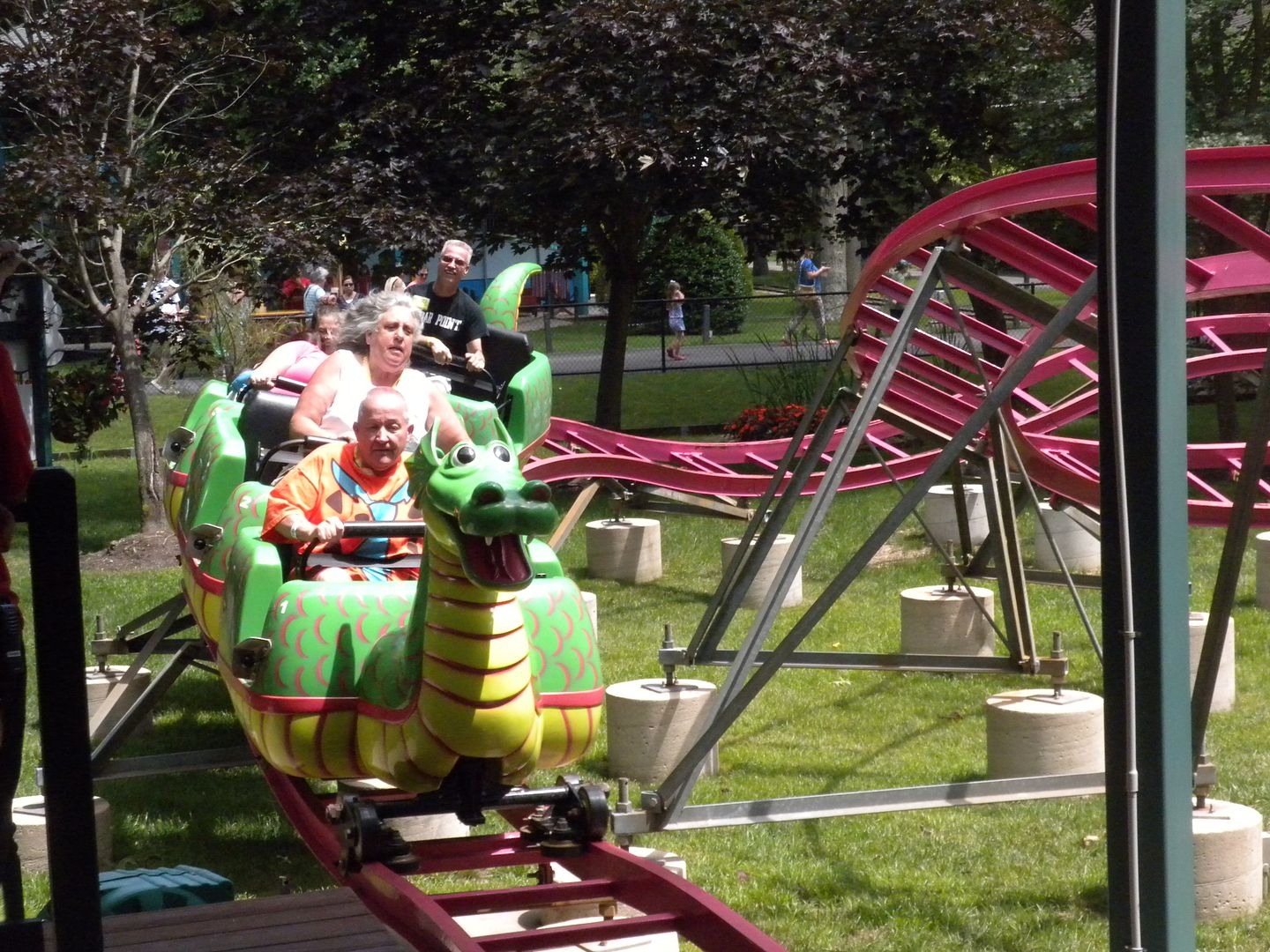 This is a fun little coaster


and the bubbles near the lift hill are a nice touch – 1 ride.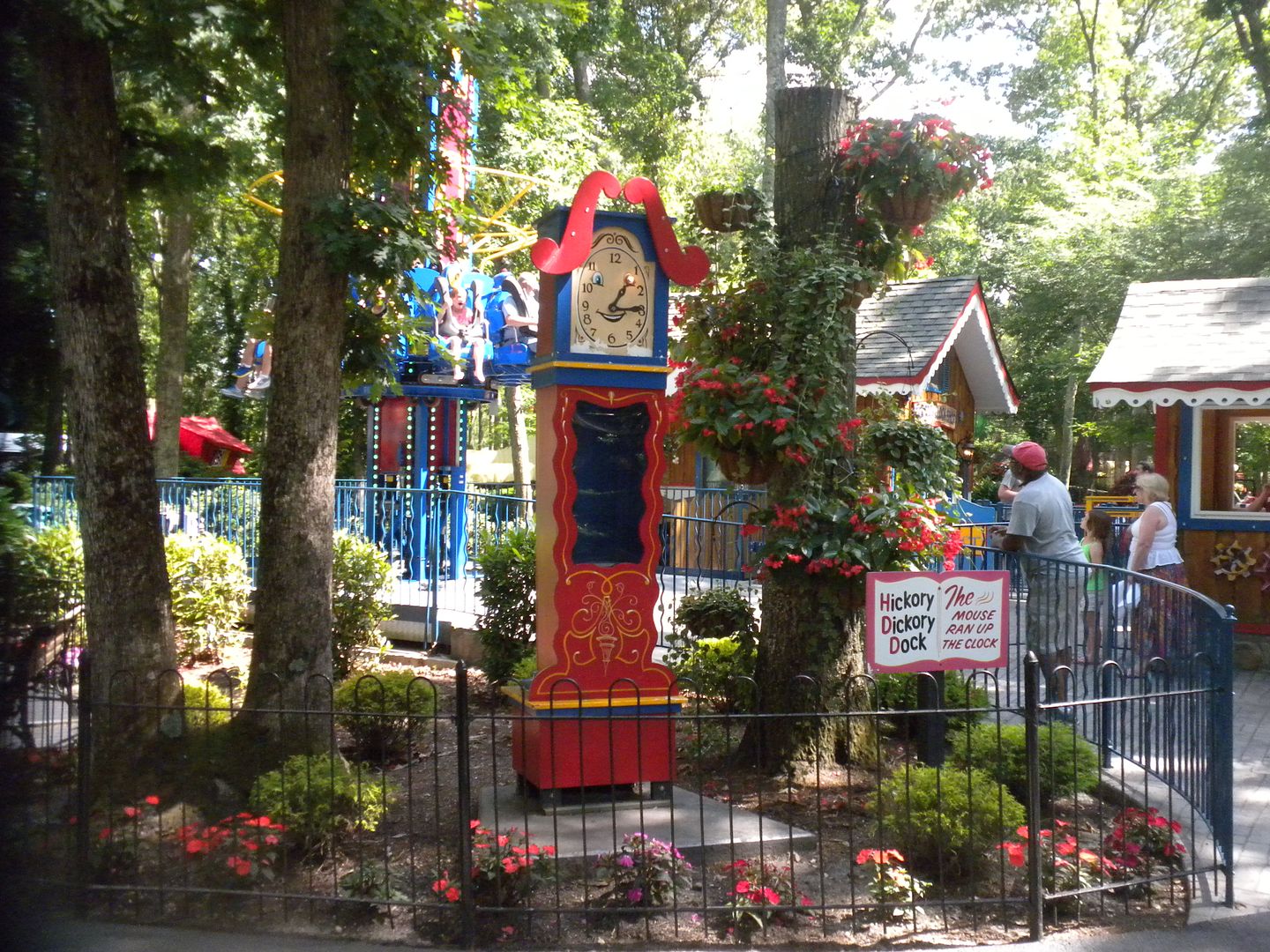 Tick-Tock Clock Drop: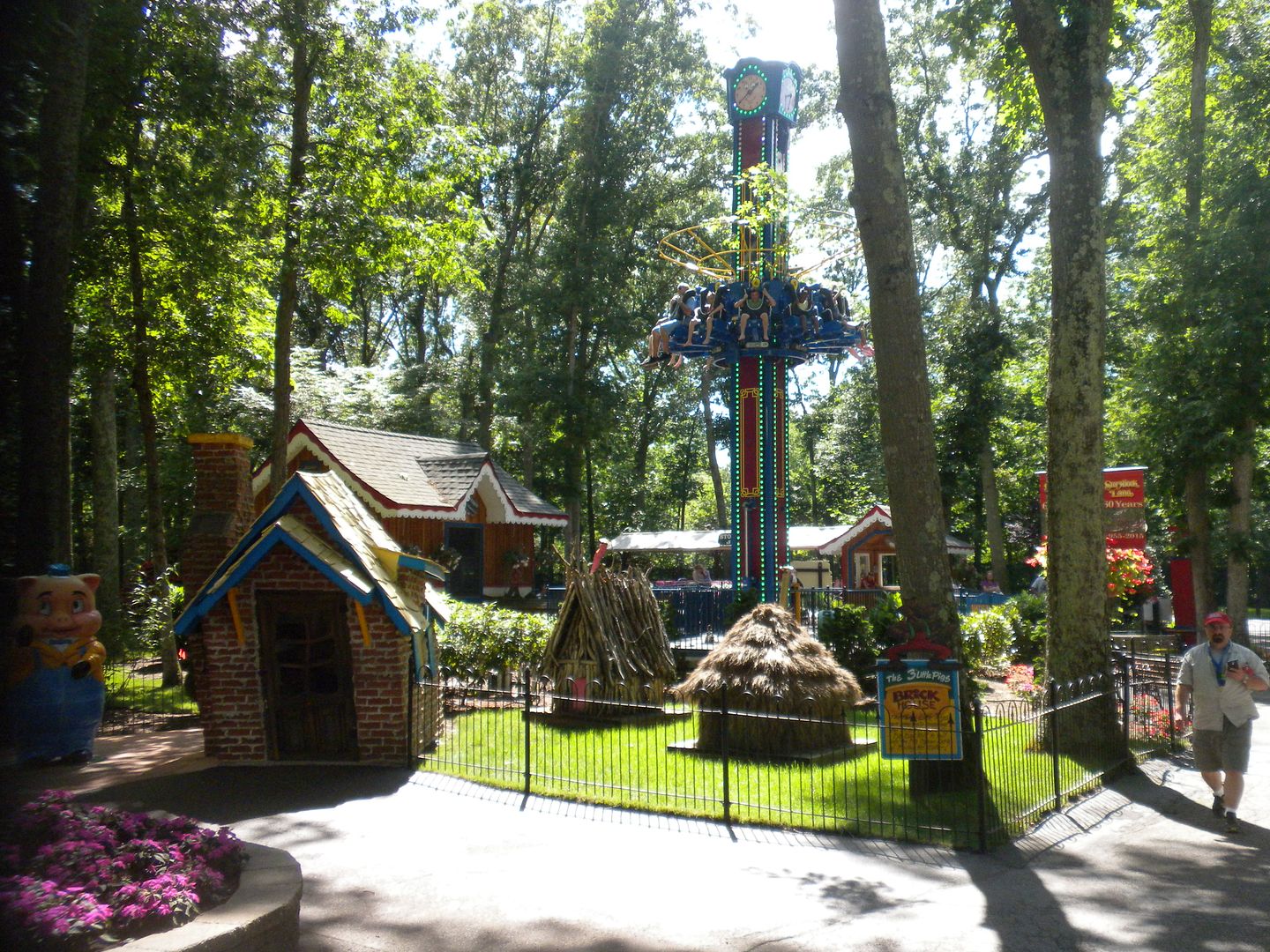 This small drop/bounce tower has a great theme and is a nice addition to the park since my last visit in 2010 – 1 ride.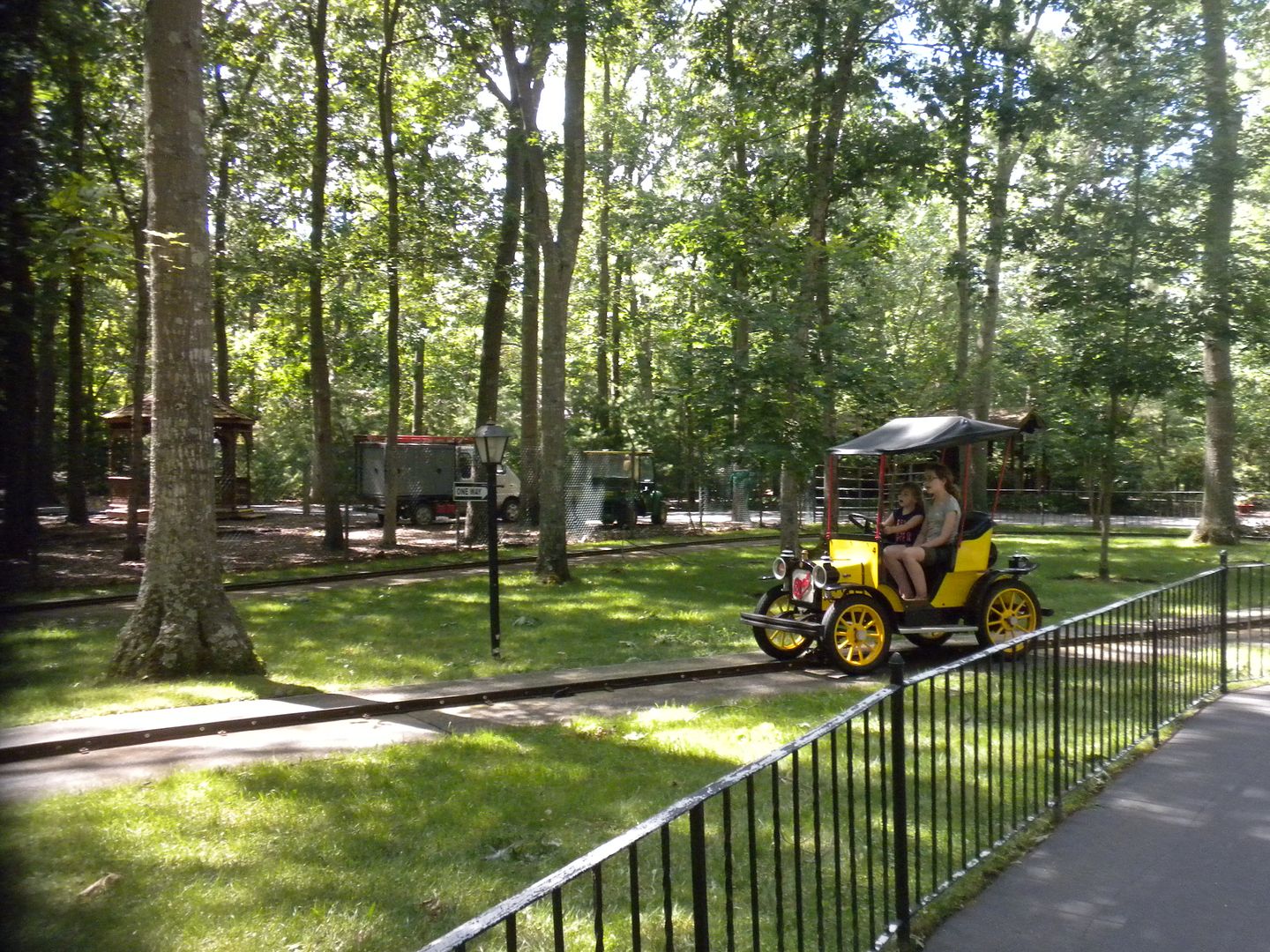 Old Tymers: This antique car ride has a nice course – 1 ride.
J&J Railroad: This C. P. Huntington train encircles the park with great view of rides & nursery rhyme scenes – 1 ride.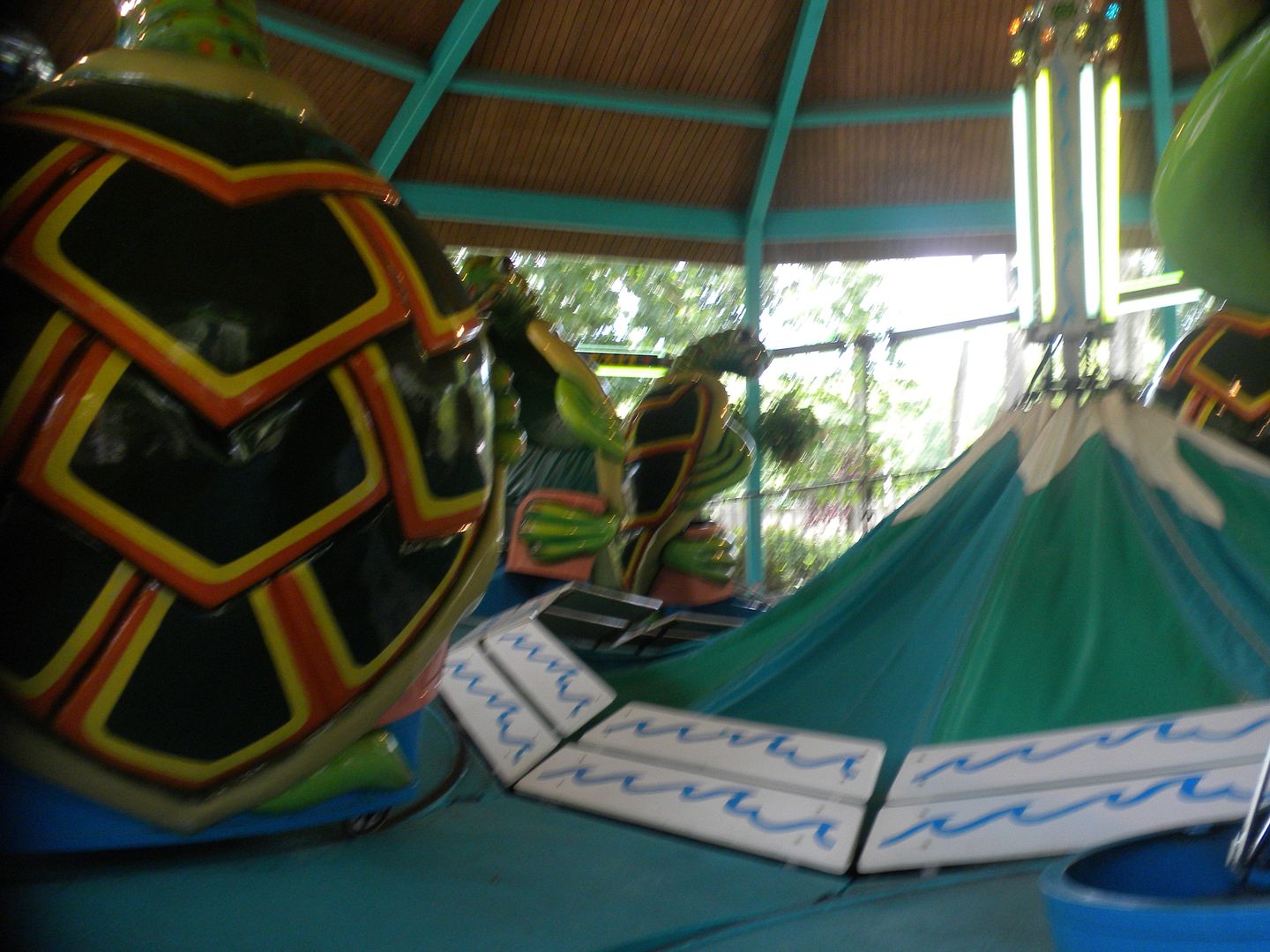 Turtle Twirl: This highly themed Tilt-A-Whirl had some good spinning – 1 ride.


Alice in Wonderland Tunnel & Maze: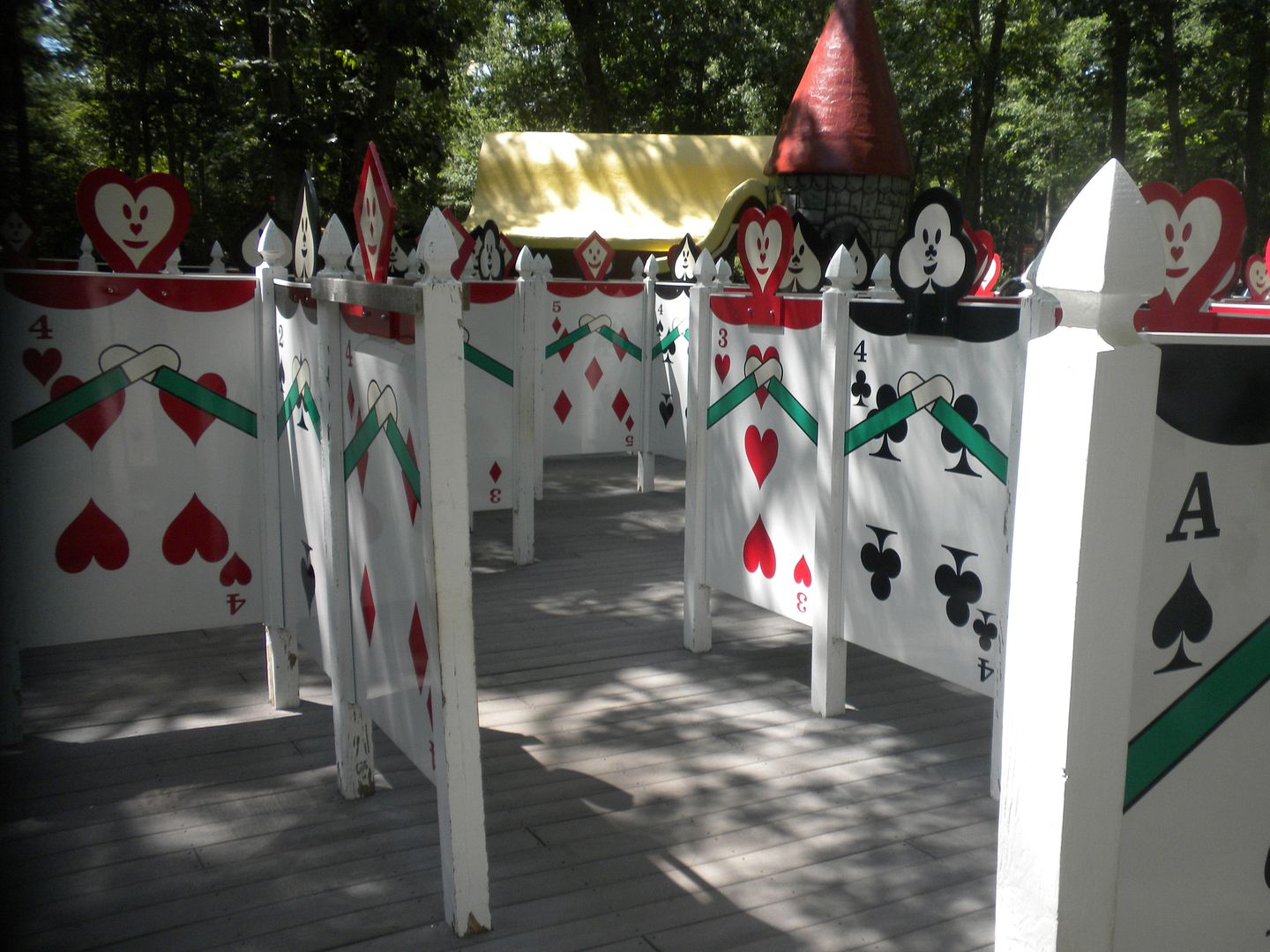 This is an attraction not to miss – 1 walkthrough.


Carousel: This historic small carousel gave a good ride – 1 ride.
They also have the Storybook Land Tram/Candy Cane Express. There are 9 children's rides.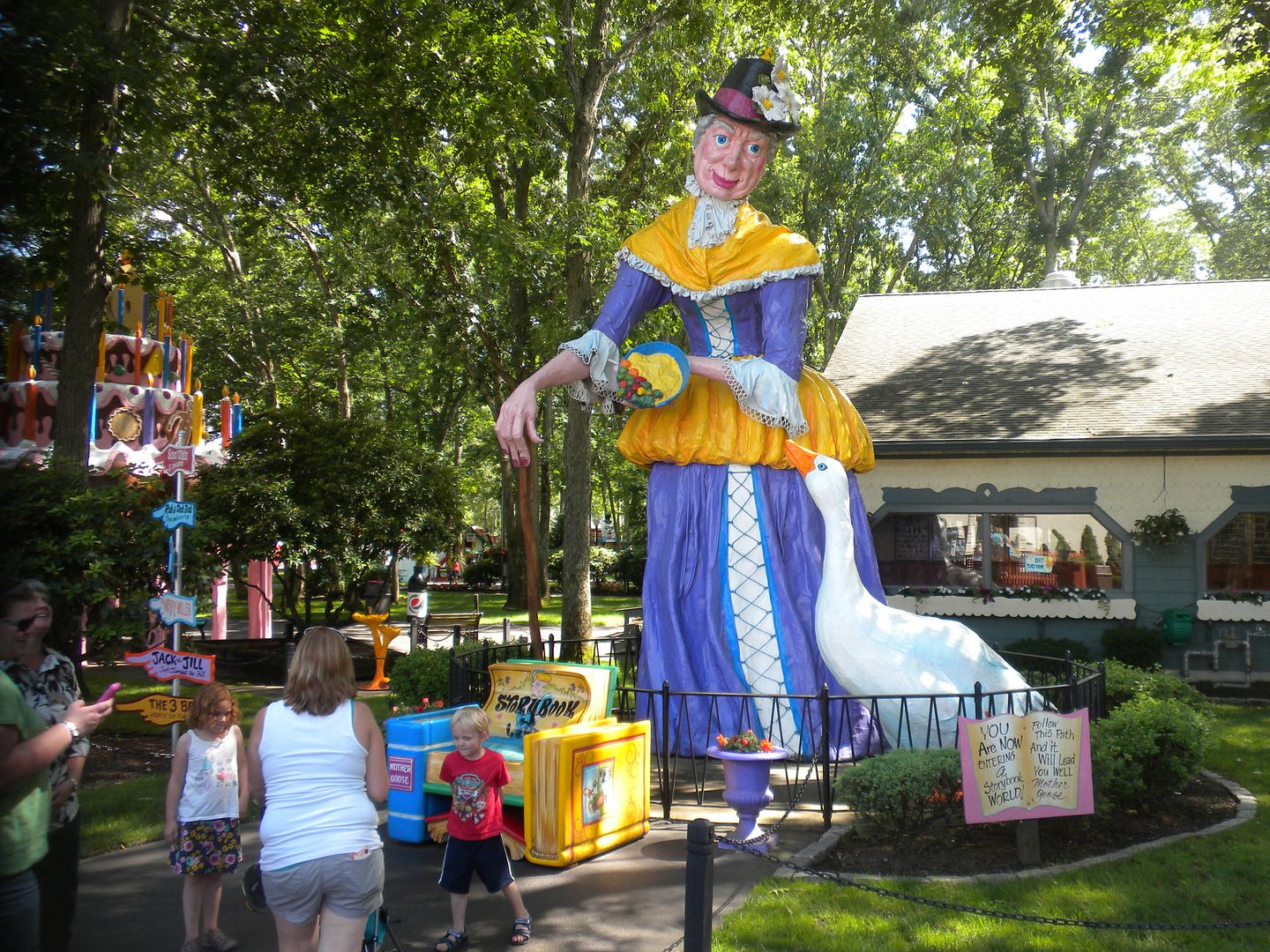 Among nursery rhymes and stories represented are Mother Goose; Little Red Schoolhouse; The Three Little Pigs; Hickory Dickory Dock; Easter Bunny's House; Little Red Riding Hood; Sleeping Beauty's Castle;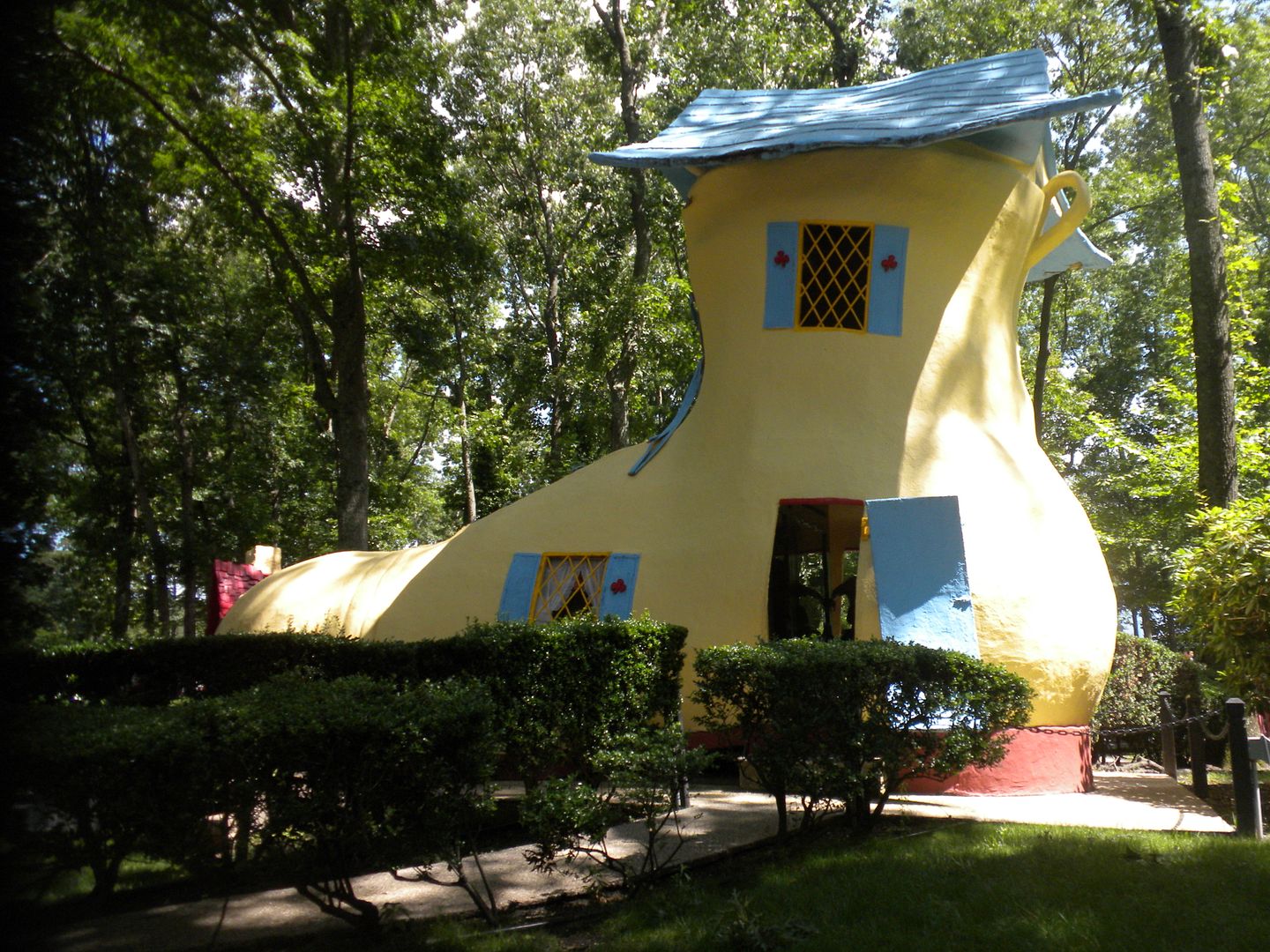 Old Woman in the Shoe; Crooked House; Peter, Peter, Pumpkin Eater; Moby Dick the Whale; The Merry Miller; Rub-a-Dub-Dub; Jack and Jill Hill Slide; Humpty Dumpty; Cinderella's Pumpkin Coach; Snow White's House; Billy Goat's Gruff; Storybook Seaport; Old Mother Hubbard; Santa's Workshop Displays; Goosey Gander's Castle; Little Miss Muffet; Santa's Reindeer; The North Pole; Nativity Scene; Santa's House; and Three Bear's House. After a couple of hours we left for Wildwood.

Morey's Piers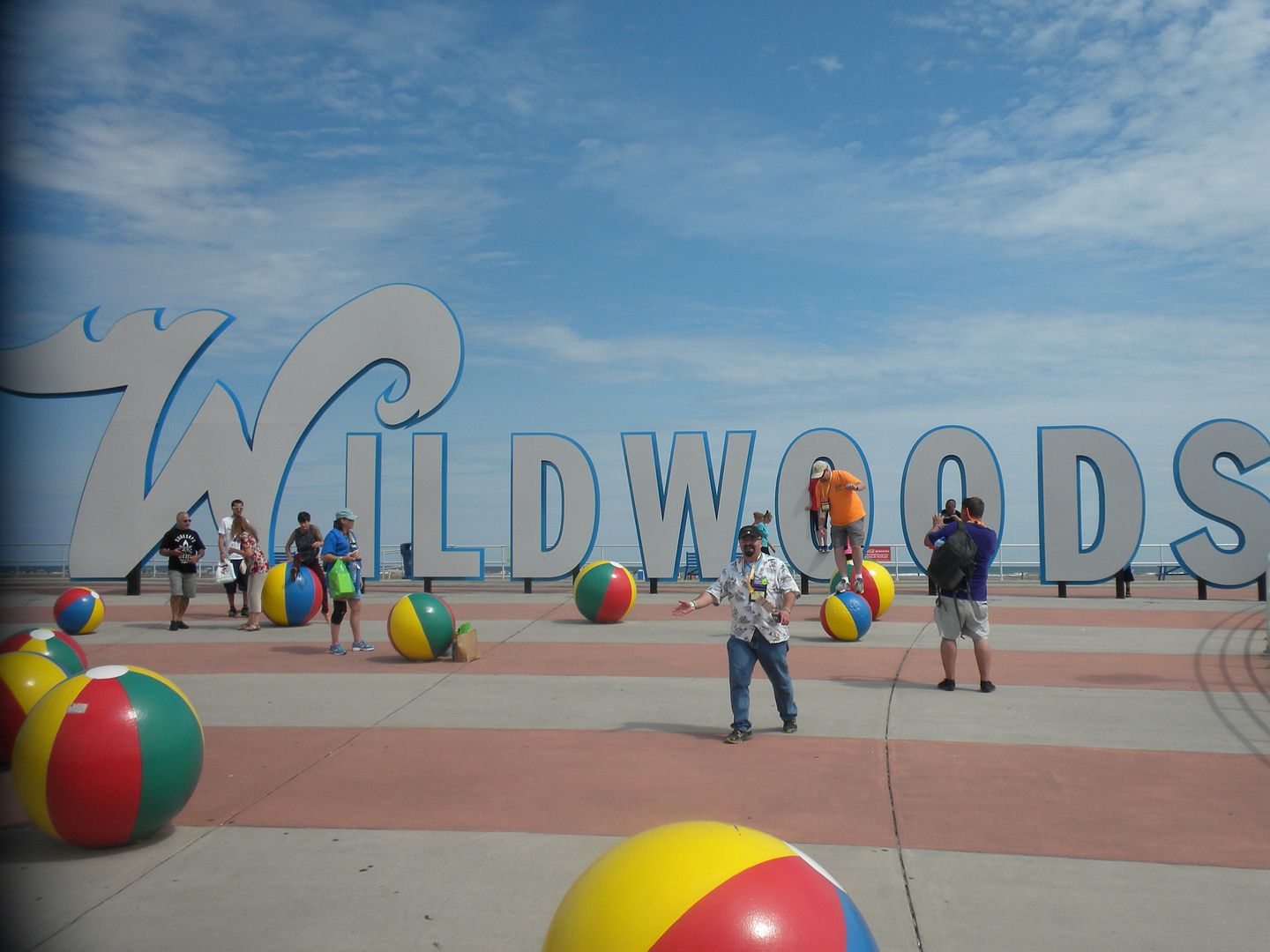 After checking into our hotel we headed to Morey's Piers in Wildwood, NJ.


The park greeted us with a 3 hour clam bake and beach party complete with a live band on Mariner's Pier.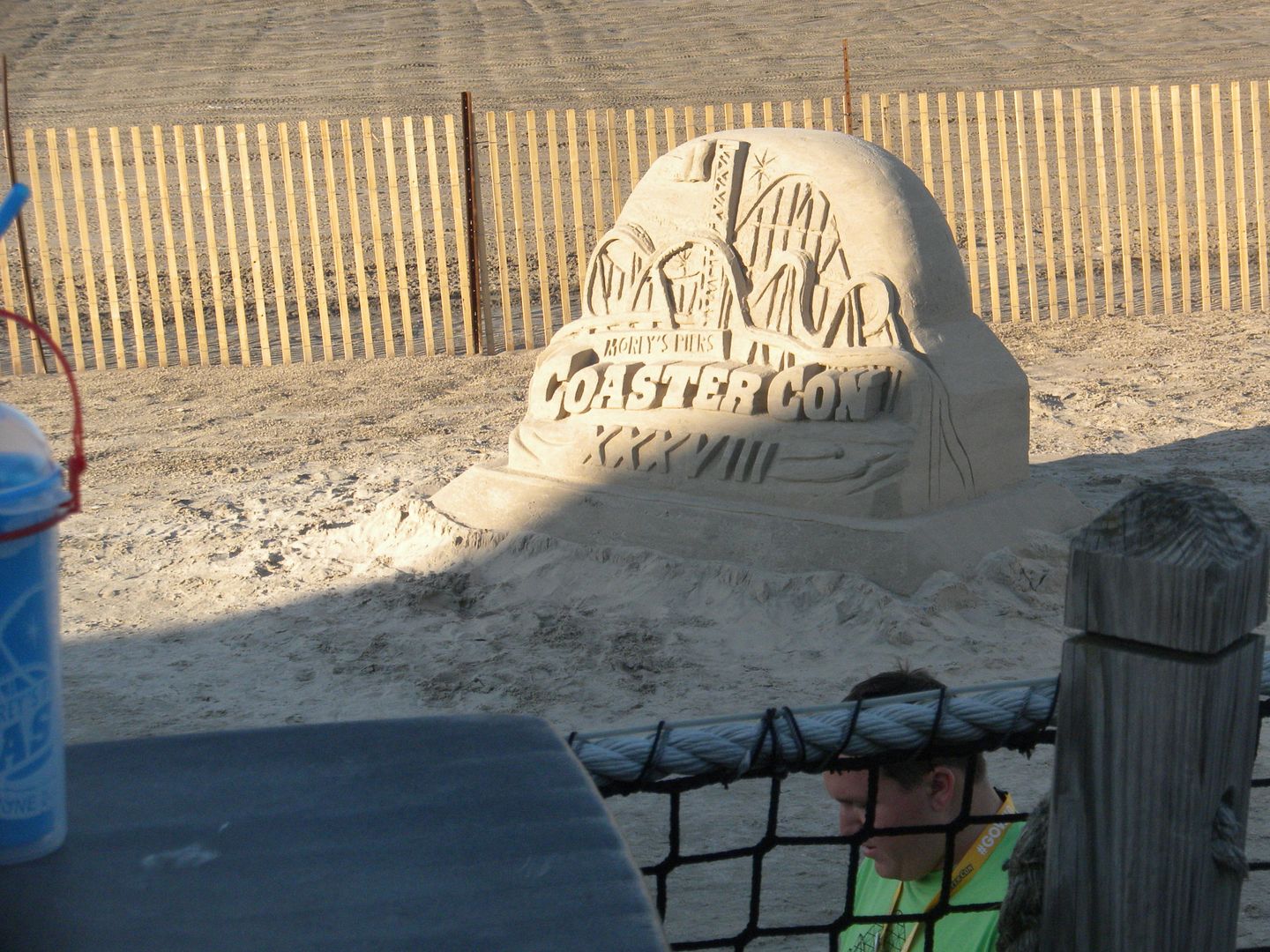 The food was delicious and plentiful, the music was good and the atmosphere was festive.


What a great way to start the second half of Con!

Morey's Piers is comprised of 3 piers connected by Wildwood's famous boardwalk. We had 2 ERT sessions on Mariner's Pier, 1 on Surfside Pier and 2 scheduled on Adventure Pier, but 1 was rained out.


The park is open to midnight, so our night ERT sessions were late. While we went to various piers each day, I will review by pier.
MARINER'S PIER


Sea Serpent: (Vekoma, Boomerang, 1984)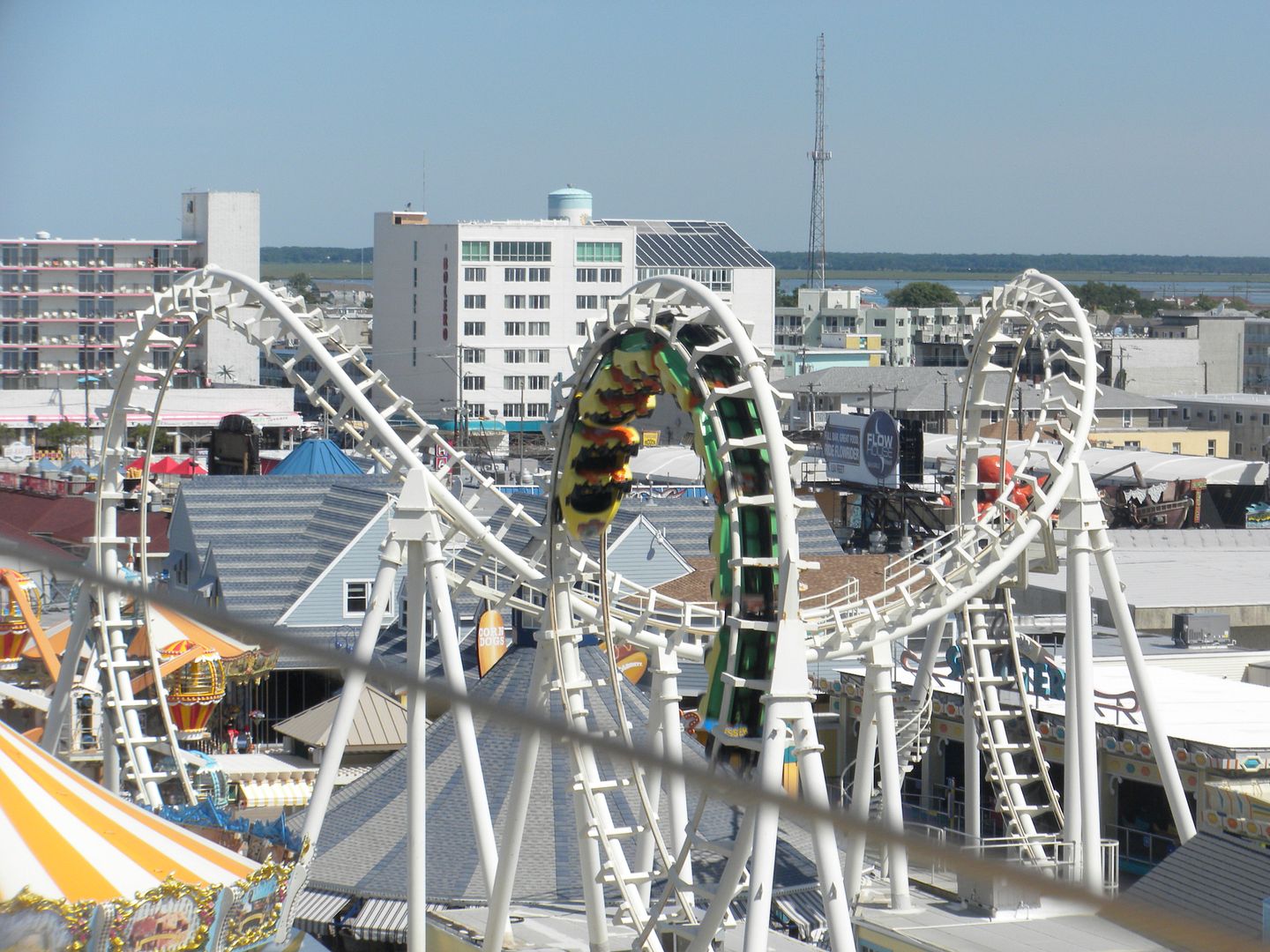 It gives the expected ride – 1 ride during ERT.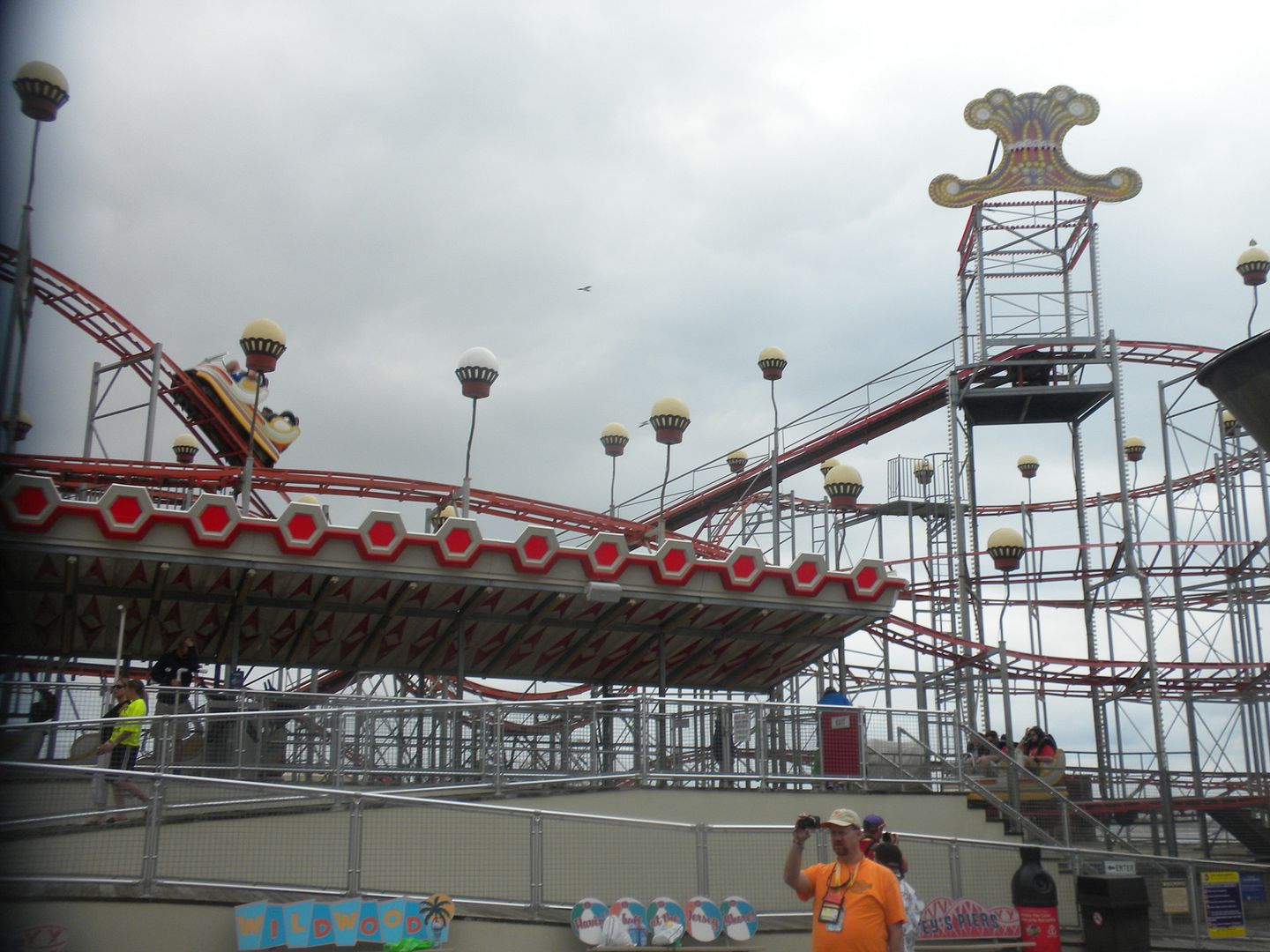 Rollie's Coaster: (Pinfari, Zyklon Z40/Galaxi, 1999) This is a good ride although the seemingly unnecessary OTSR make it somewhat uncomfortable – 2 rides during ERT.

Ghost Ship: This haunted walkthrough is about the best I have ever done.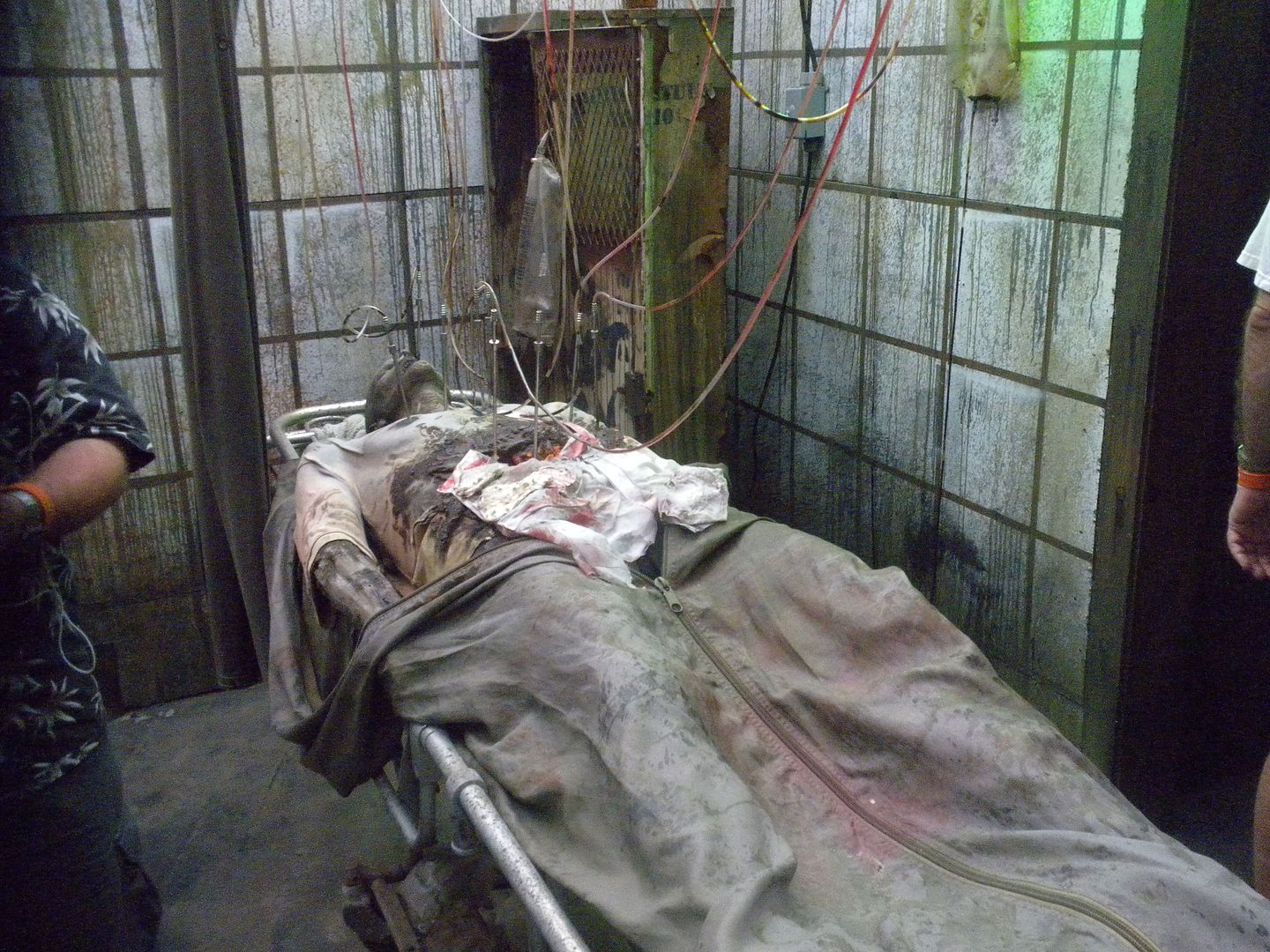 The attention to detail is amazing. It is based on a legendary cargo ship and is named Ignis Fatuus – the will of the wisp – 2 walkthroughs, 1 during ERT,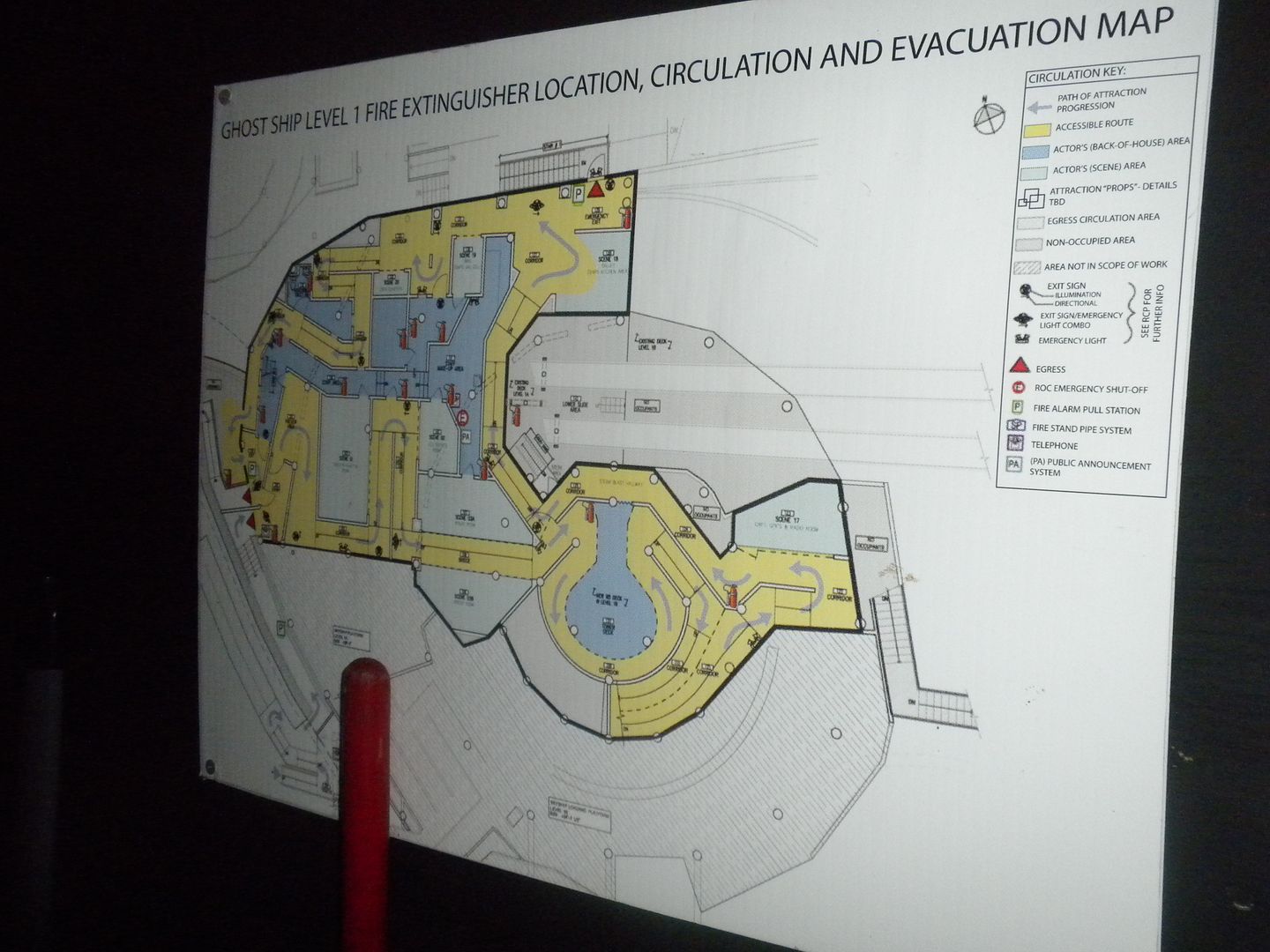 plus a lights on tour,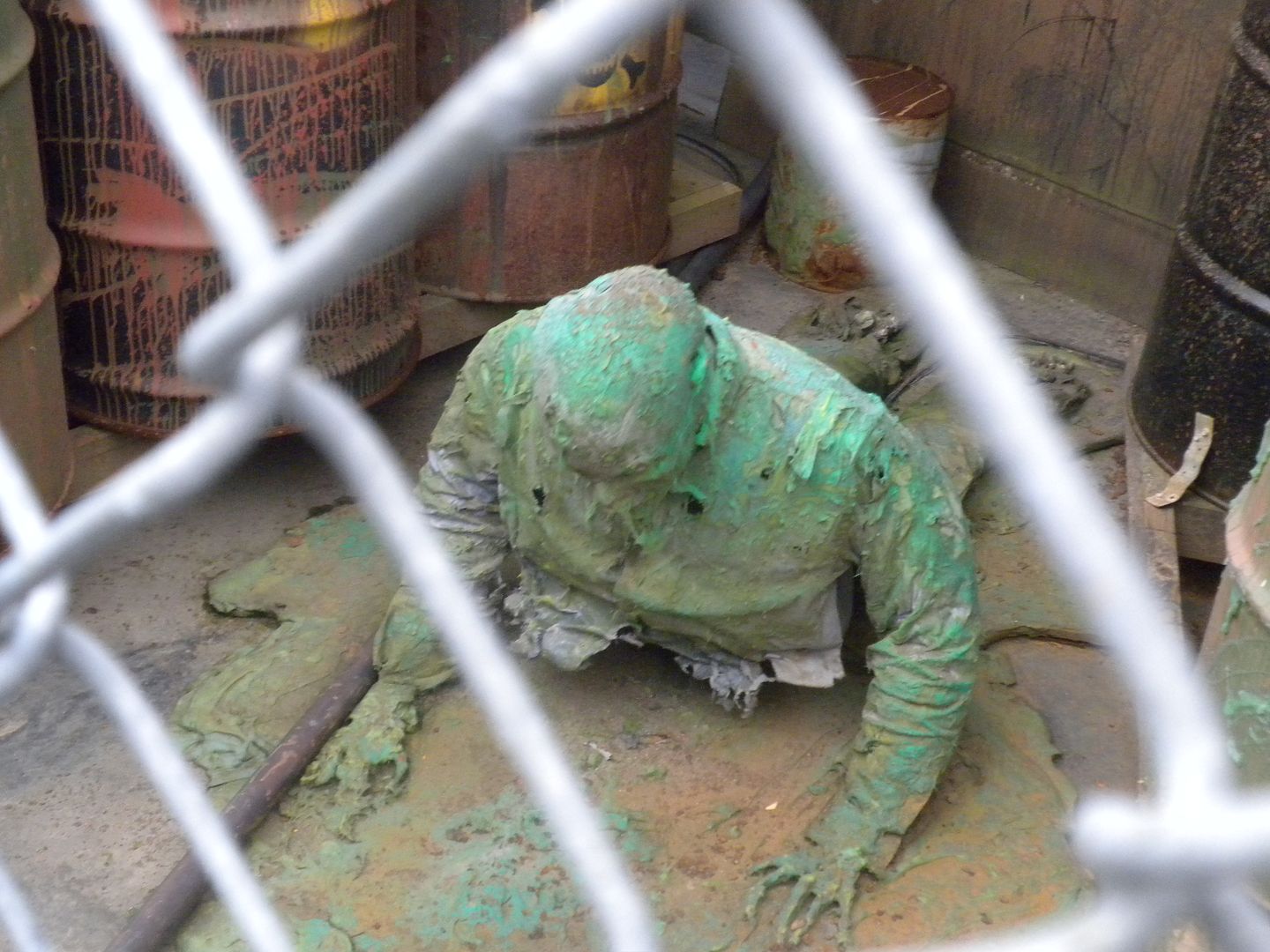 which really helped see


how this attraction is put together.


Pirates of the Wildwoods: A fun water darkride, I love "Watch the tram car, please!" at the end – 3 rides, 2 in ERT.
Super Scooters: Good bumper cars – 2 rides, 1 during ERT.
Seagull Cycles: Pedal Powered Monorail around Raging Waters Waterpark – 1 ride.


Flying Galleon: Powered Monorail in ships around Raging Water Waterpark – 1 ride.


Giant Wheel: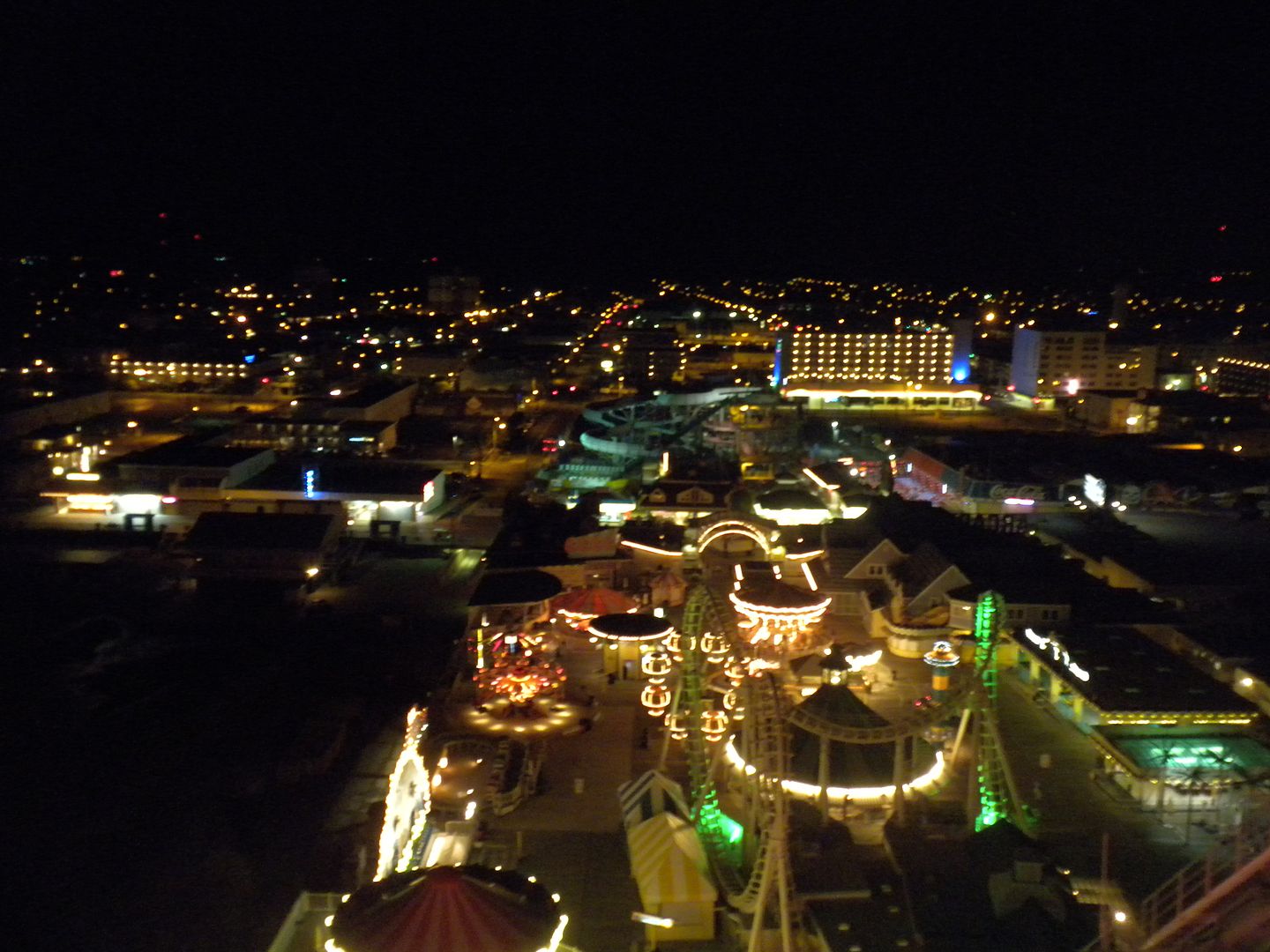 This 156 feet Ferris Wheel has great views of the Atlantic Ocean and the Wildwood coastline.


Several of us had the amazing experience of Breakfast in the Sky Thursday morning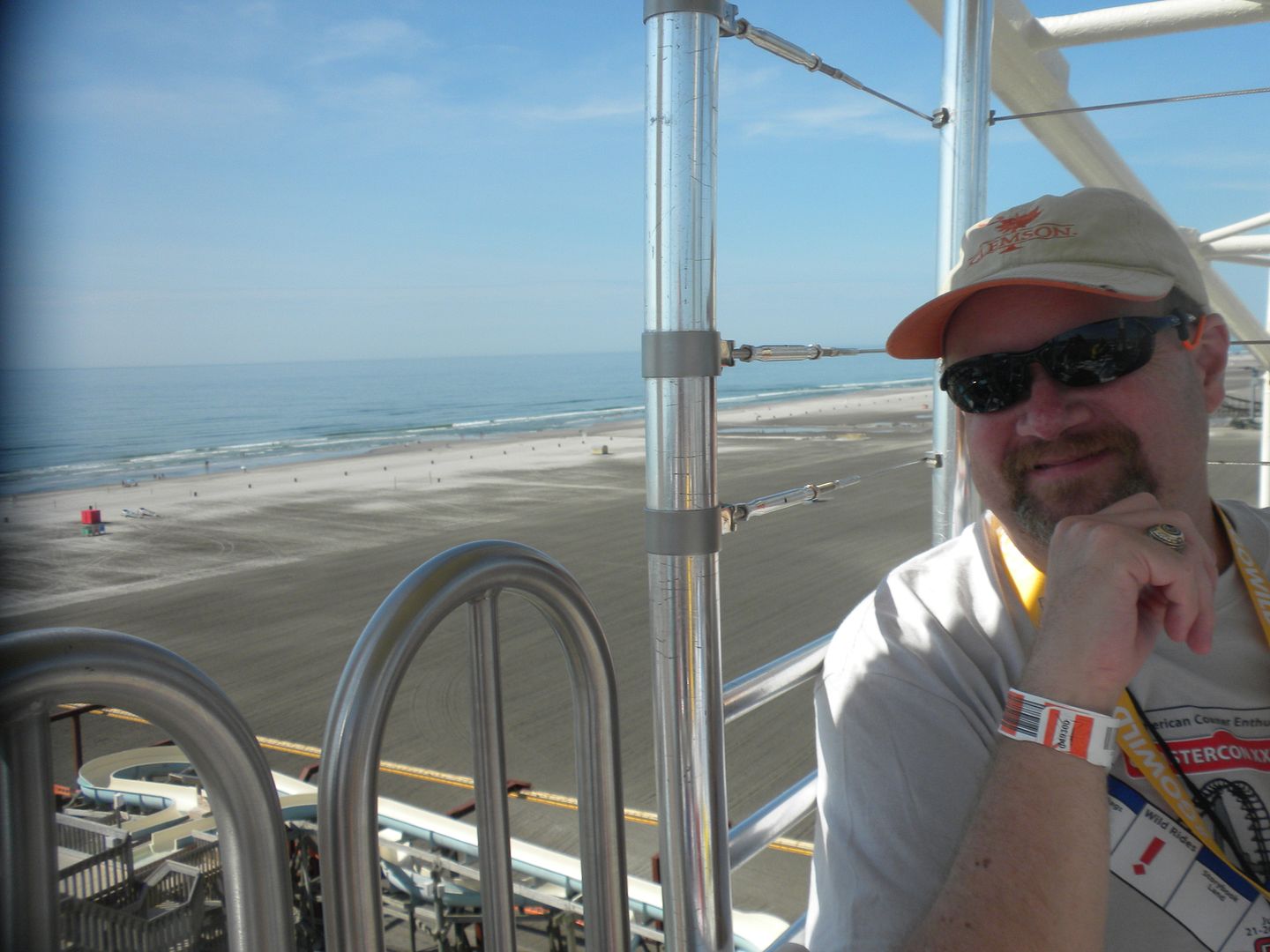 as a fund raiser for Give Kids the World.


The food was delicious, the morning was beautiful,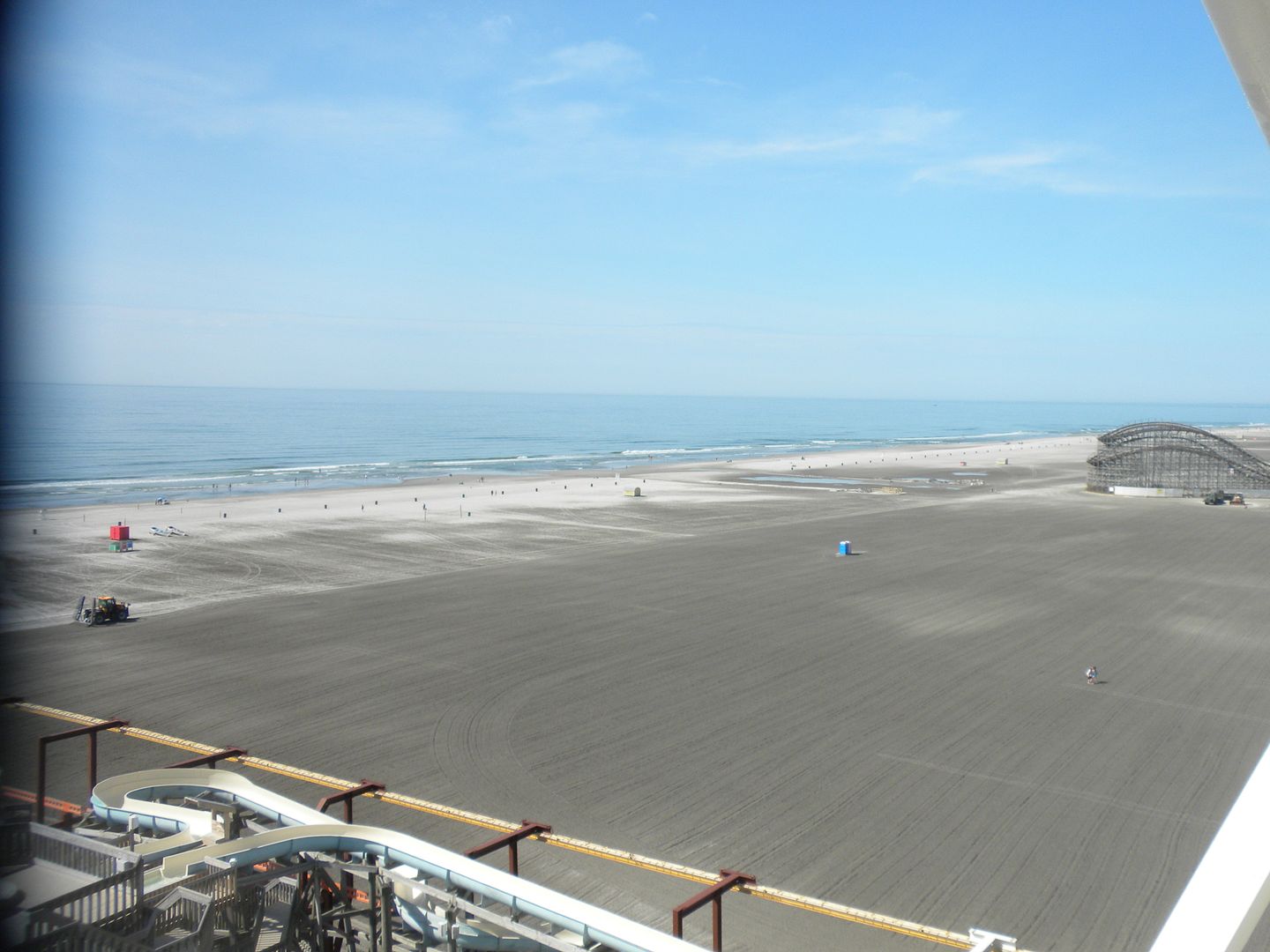 the view was breathtaking and the experience was unbelievable.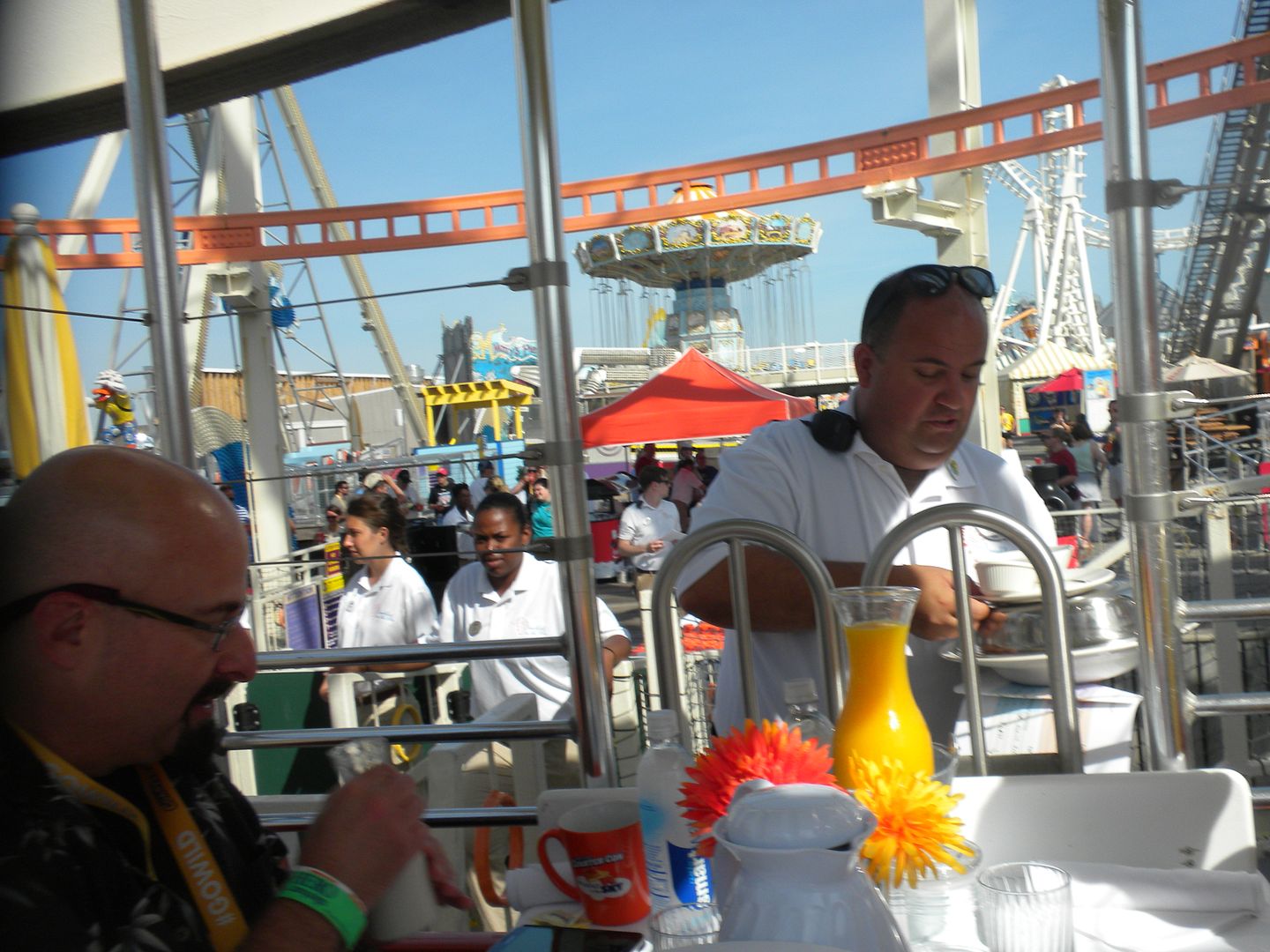 I would happily pay full price for this experience again! – 2 rides, 1 night ride during ERT and Breakfast in the Sky.


Carousel: This 44 foot Bertazzon Venetian double decker carousel has jumping and rocking horses, swings, rocking chariots, & spinning cups. – 3 rides including 1 each on jumping horse, rocking chariot, & spinning cup, 2 during ERT.
RipTide: Swinging ship – 1 ride during ERT.
Moby Dick: Rainbow type ride – 1 ride during ERT.
Maelstrom: Inverting pendulum ride – 1 ride during ERT.
Musik Express: – 1 ride during ERT.


Waltzer: This is the only North American installation of this European version of the Tilt-A-Whirl. It rotates on a vertical axel without rolling wheels. It seems more controlled and does not spin as much – 2 rides, 1 during ERT.
Tea Cups: – 1 ride during ERT.
Wave Swinger: – 2 rides during ERT.
There are 12 children's rides on this pier and one upcharge attraction, Can Am Raceway, go-carts. Raging Waters Water Park has 11 attractions.


We ate lunch at the Taco Joint on this pier, which I highly recommend.
SURFSIDE PIER


FLY! – The Great Nor'Easter: (Vekoma, SLC, 1995) While the restraints are not uncomfortable, the track shakes a lot.


They also have a Universal-like nothing in your pockets policy – 1 ride during ERT.


Doo Wopper: (Zamperla, Wild Mouse, 2005) This is a really good mouse and theming is great – 2 rides, 1 during ERT.


Flitzer: (Zierer, Flitzer, 1983) Flitzers are so much fun! I really enjoyed this – 2 rides, 1 during ERT.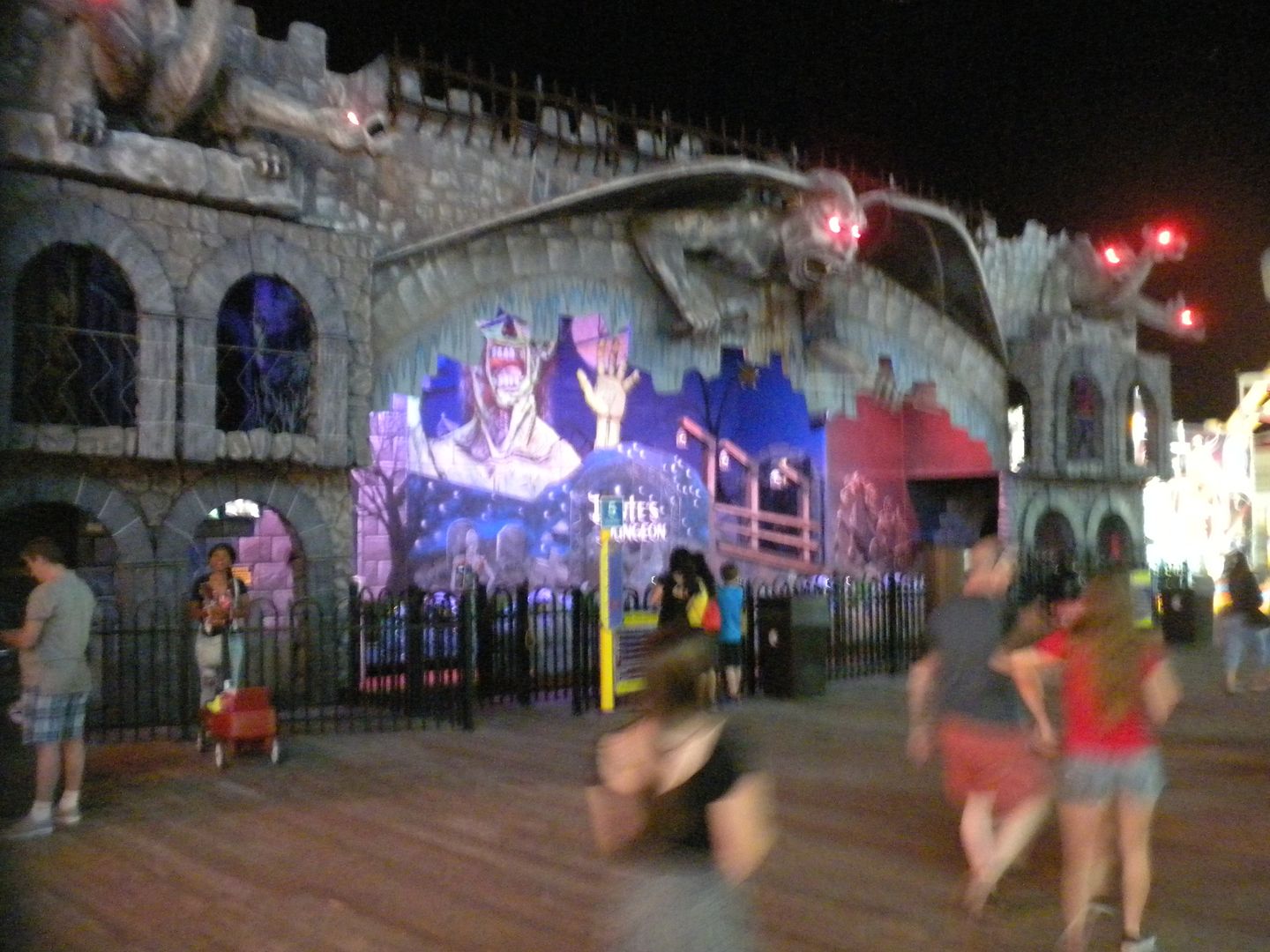 Dante's Dungeon: This is a great darkride with a second floor outdoor section. In addition to all the usual gags, they have employees who are dressed up jump out at you at different places along the track – 3 rides, 1 during ERT.
AtmosFEAR!: This 140 foot drop tower gives great views – 1 ride during ERT.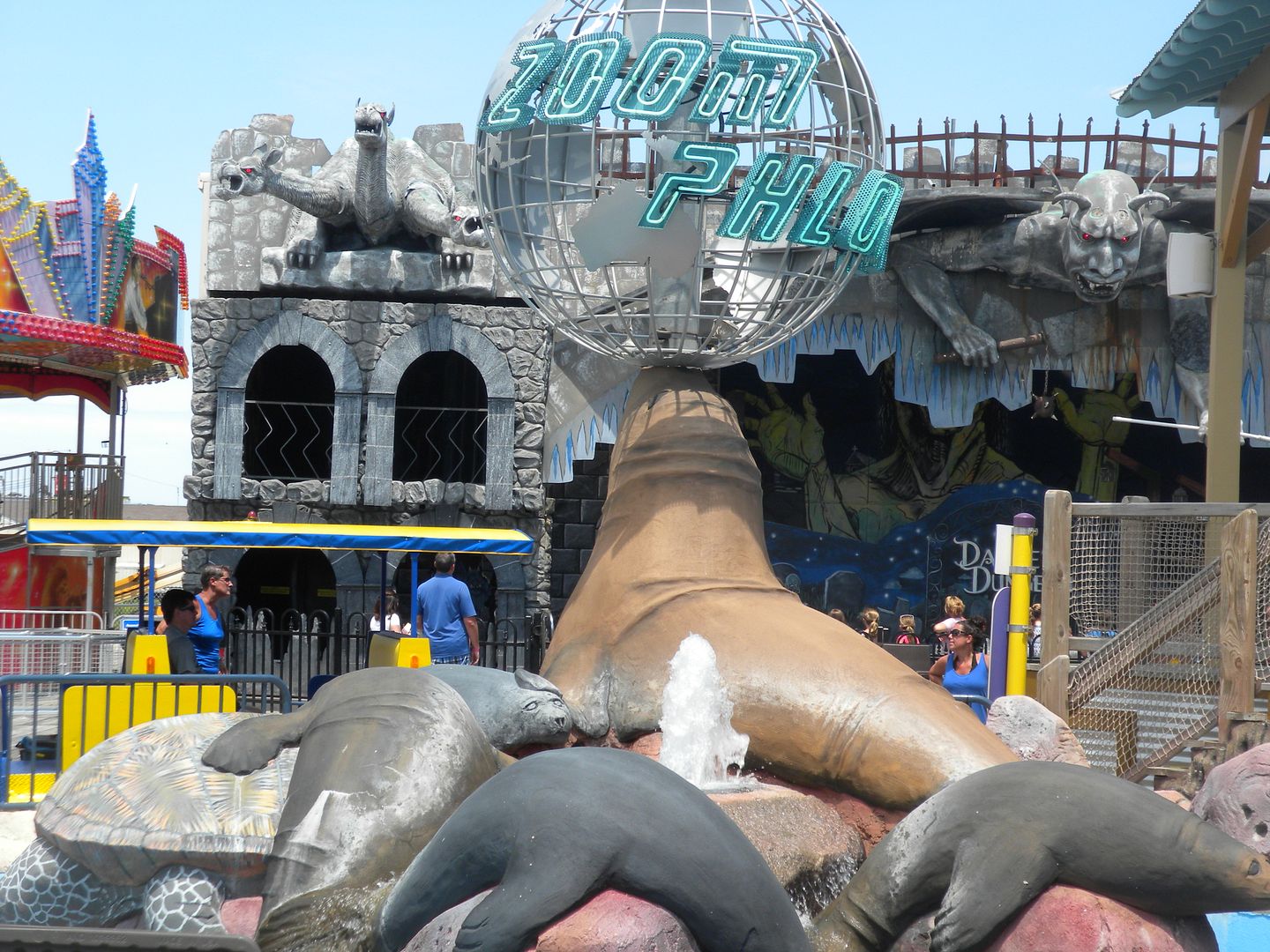 Zoom Phloom: This is one of the best log flumes I have ridden.


It even includes a darkride portion under the Boardwalk with "Under the Boardwalk" playing. Thursday – 1 ride during ERT.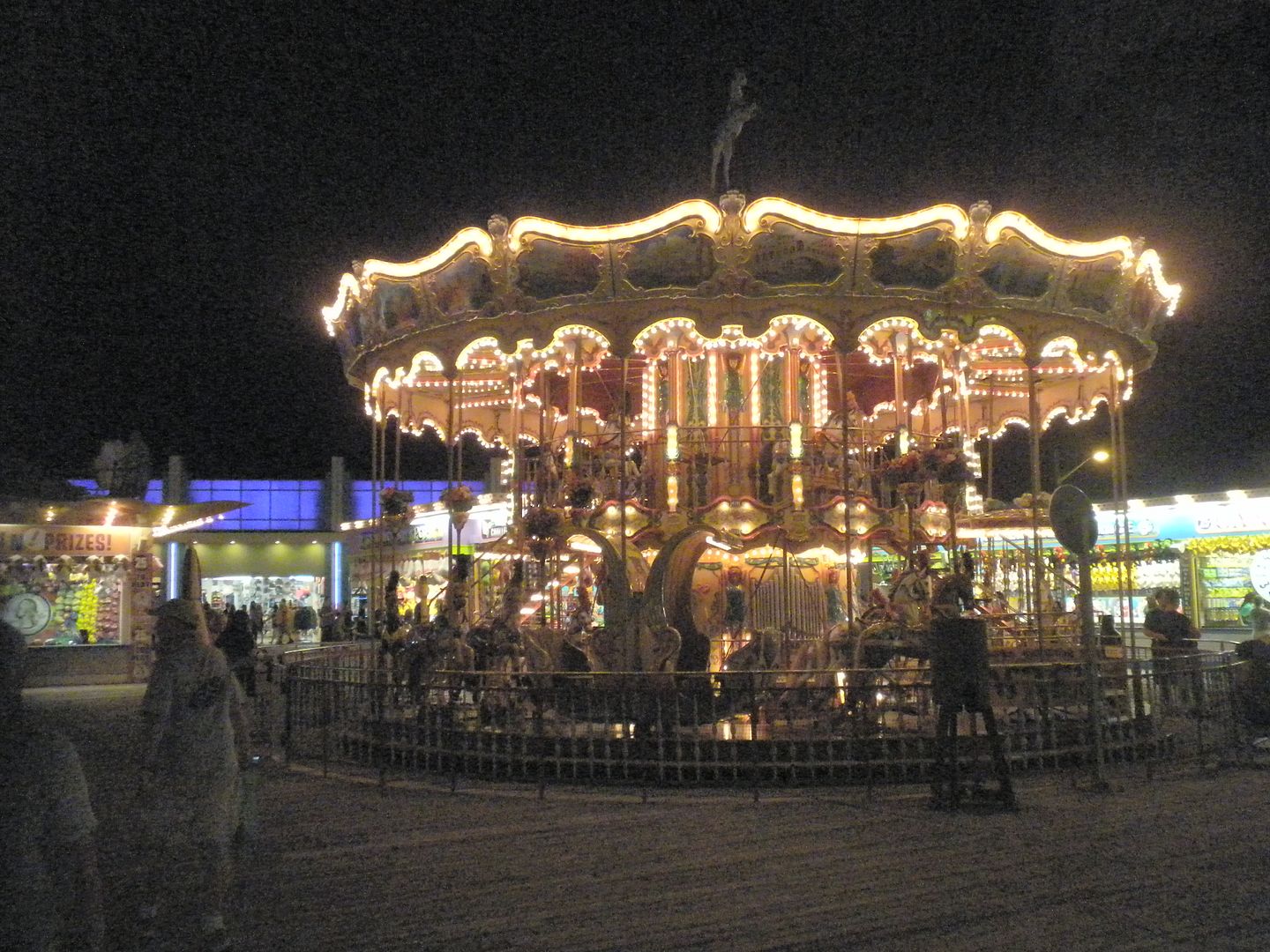 Carousel: Like the one at Mariner's Pier, this 44 foot Bertazzon Venetian carousel also has jumping and rocking horses, swings, rocking chariots and spinning cups – 1 ride on a rocking horse during ERT.


Kong: New for 2015, these highly themed flyers bring back King Kong to Wildwood, a nod to a once major ride at the Pier. Flyers are always fun and the addition of being a story higher than the Pier with King Kong reaching out for you makes it even more fun – 2 rides, 1 night ride, 1 during ERT.
"it": This was one of the best swinging pendulums I have ridden. It has no OTSR and gives great airtime – 1 ride.
Tilt-A-Whirl: Good spinning – 1 ride.
Rock and Roll: This swimming Himalya ride was good – 1 ride.
I did not ride Cygnus X-1, a Gravitron. There are 12 children's rides and 2 upcharge attractions, SkyCoaster and Formula One Raceway go-carts. Ocean Oasis Water Park has 11 attractions. We ate lunch across from this pier at Sam's Pizza, which was good, and the first of several pizza meals I had on the Jersey shore.
ADVENTURE PIER


The Great White: (CCI, Wood, 1996)


This out and back coaster begins with 25-foot drop into a dark tunnel underneath the pier.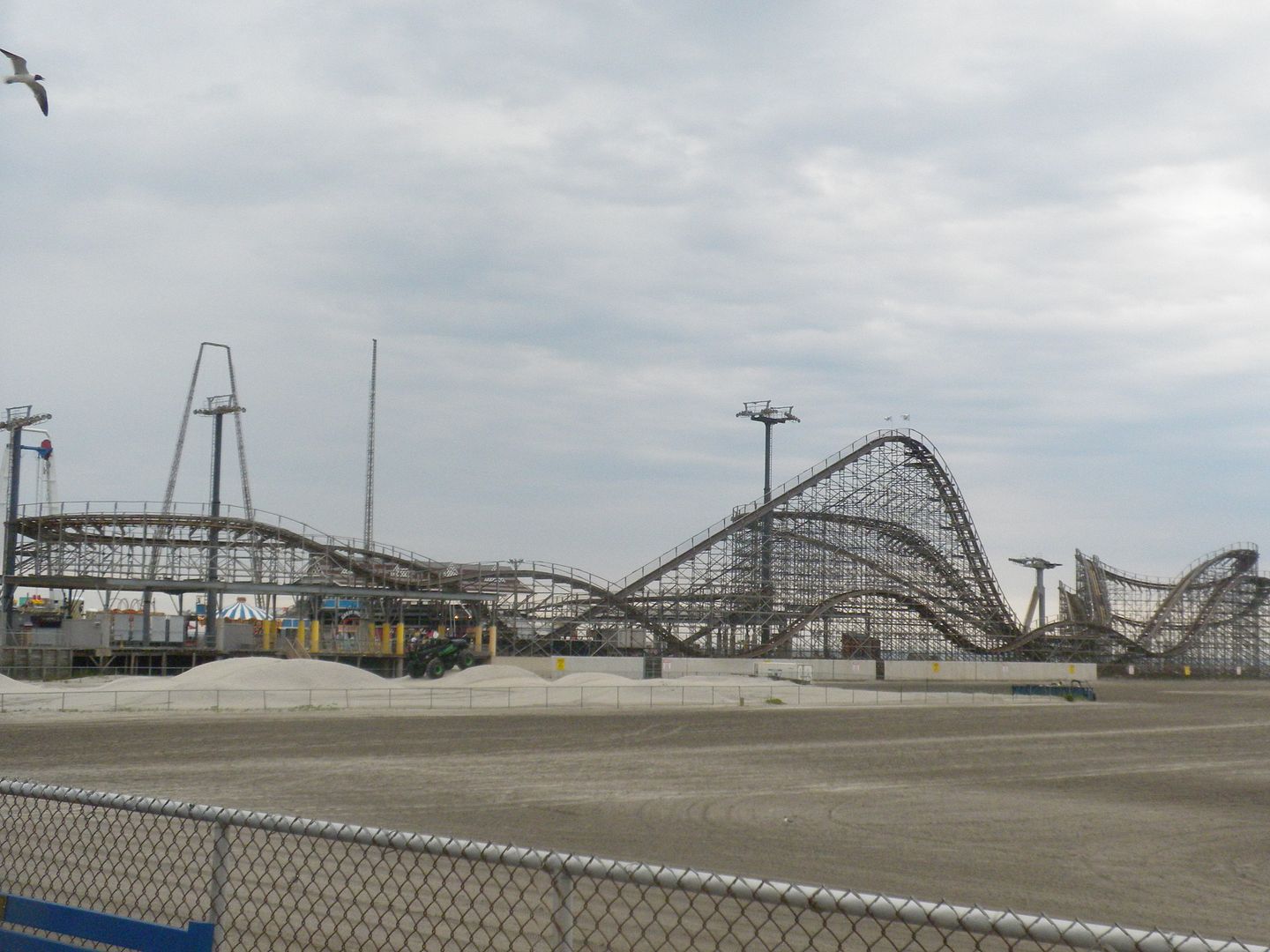 It was running great with good airtime and almost no roughness. Our Thursday evening ERT session got rained out, but I did get in some night rides that evening before the rain came in and we had an afternoon ERT session on Friday – 12 rides, 9 during ERT.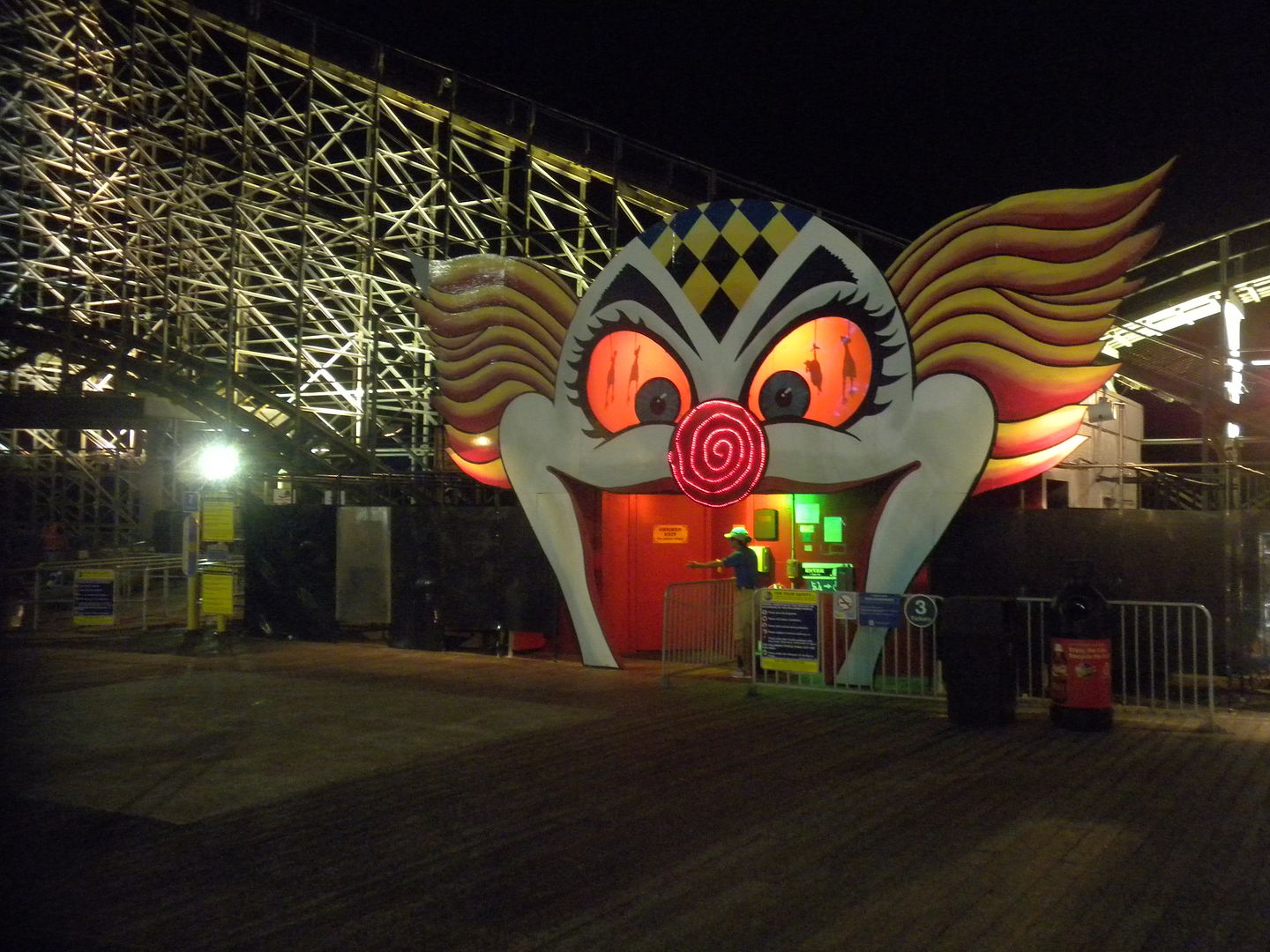 Chamber of Checkers: This mostly outdoor maze is fun and somewhat complicated – 1 walkthrough.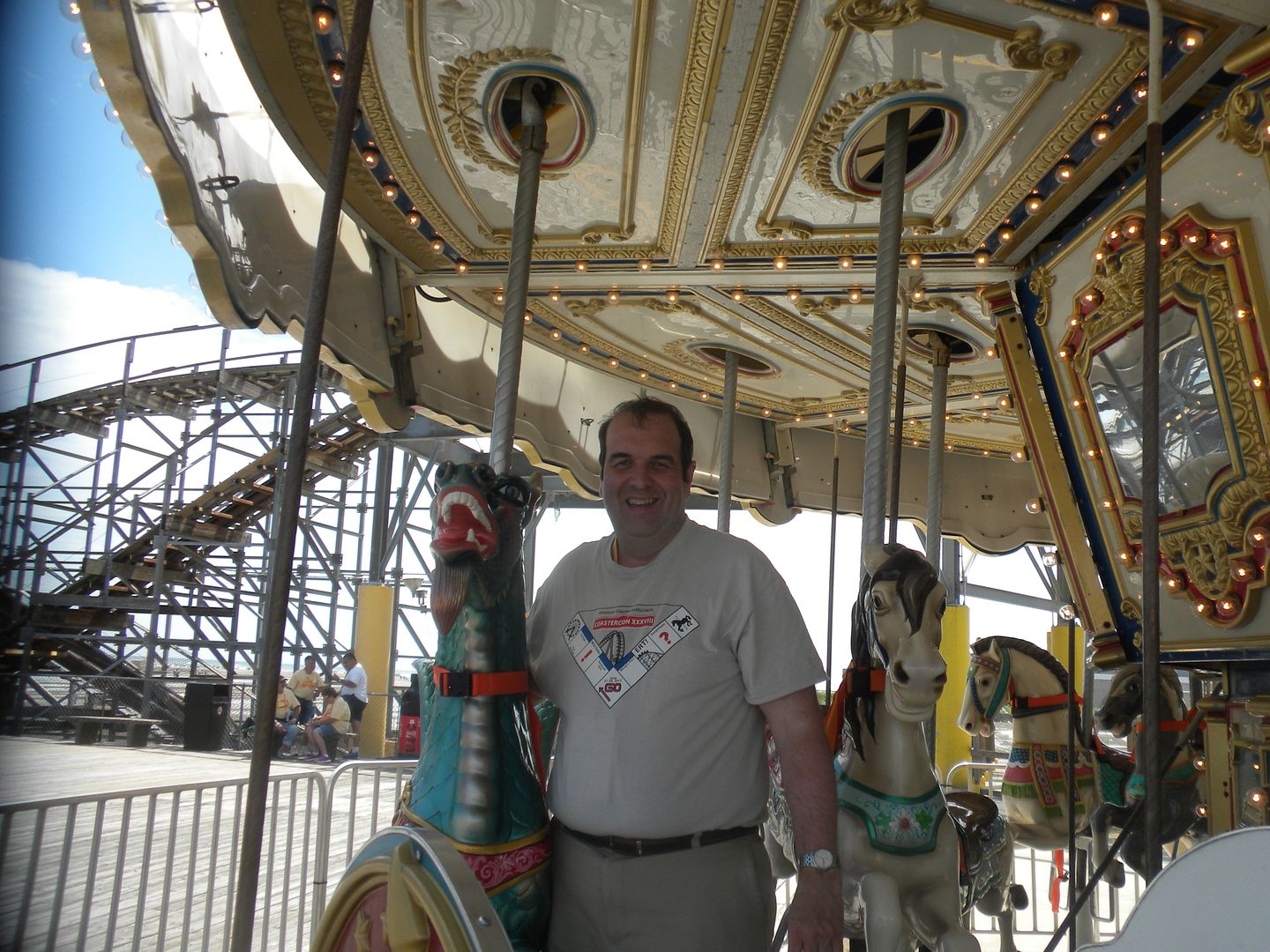 Chance Carousel: Much smaller than the others, this features menagerie animals and horses – 1 ride on a dragon.
Tornado: I did not spin too much as I was the only one ridding – 1 ride.
Screamin' Swing: This upcharge attraction gives good views, and swings out over the pier and beach – 1 ride.
This pier has only a few rides and concentrates more on upcharge attractions including: East Coast Helicopters, an 18 Mile round trip helicopter ride from Cape May to Angelsea; SpringShot; SkyScraper, a 160-foot rotating arm; SkyCoaster; Grand Prix Raceway go-karts; Boat Tag; and High Flyer, a bungee attraction.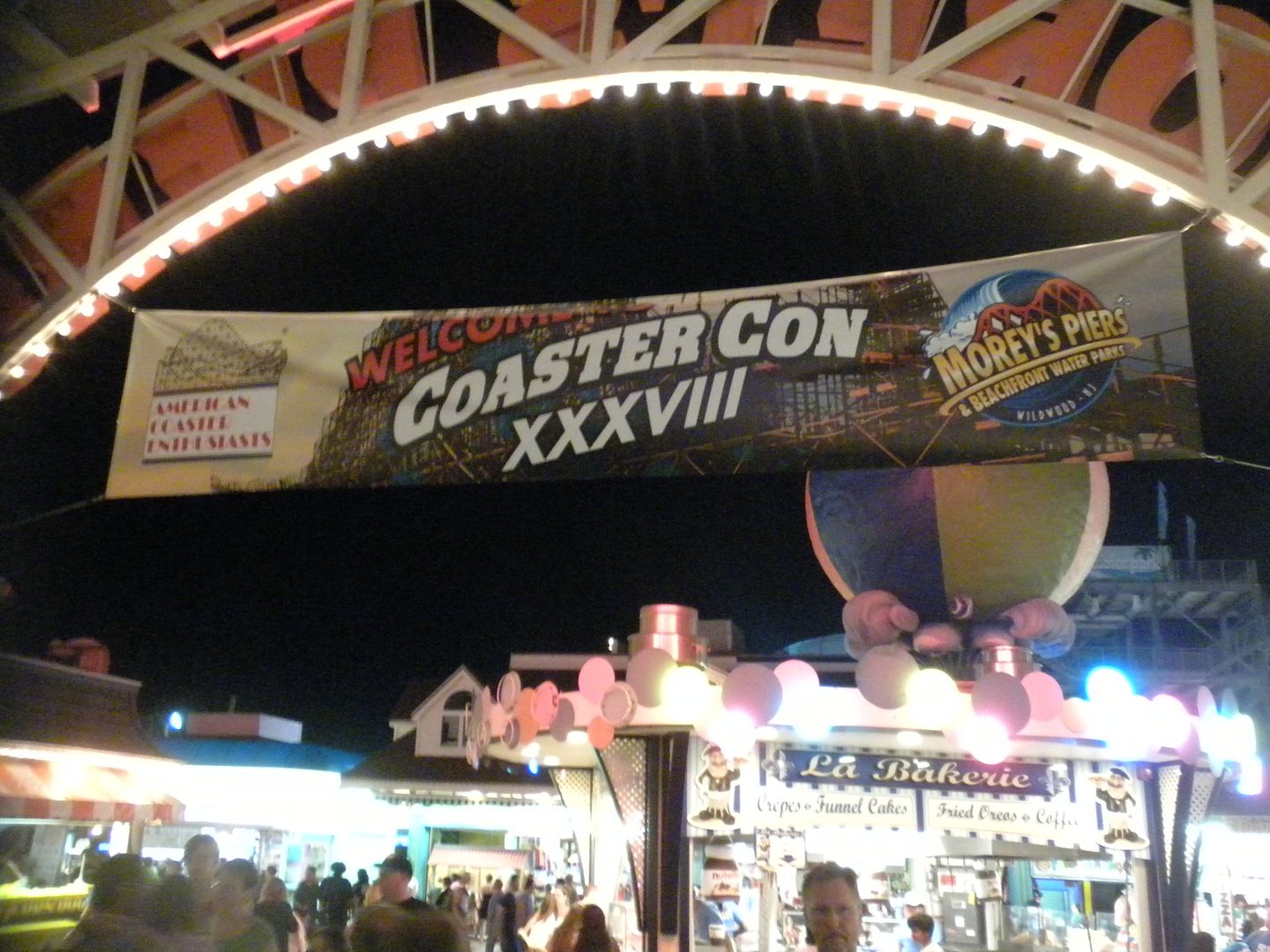 Morey's Piers really treated us well. They provided good breakfasts and snacks during ERT. We held our banquet at the Wildwood Convention Center. Our guest speakers were park owners Will and Jack Morey, who gave some insight into the challenges of running an amusement park divided over 3 wood piers built out toward an ocean that that is subject to hurricanes. They plan to eventually build a new wood coaster as previously announced, but may add a signature steel coaster first as they continue to work out parking issues. Tom Rebbie of Philadelphia Toboggan Coasters, Inc. presented the spirit of ACE award to NJ Assistant Regional Rep Mark Davidson, which is well deserved. On Friday afternoon with Coaster Con XXXVIII at a close we had one more leg of our adventure, which would begin with a "Shore Crawl" to Ocean City and Atlantic City before moving to events at Seaside Heights and Coney Island.
Next Up: Epilogue: A Shore Crawl, Seaside Heights and Coney Island