On Wednesday, June 18 Coaster Con XXXVII moved to Six Flags Discovery Kingdom in Vallejo, CA. When I first visited this park in 2006 it was Six Flags Marine World. That day was rainy and crowded and I arrived later than intended, so I was looking forward to having a full day in the park to get more of a feel for it.


This day was to start around 7:00 with breakfast and special tours offered before ERT. Because of the late night and the long drive from San Jose, we opted to get there in time for ERT. The tours, it turned out include select rides, so in hindsight it would have been good to have gotten there earlier.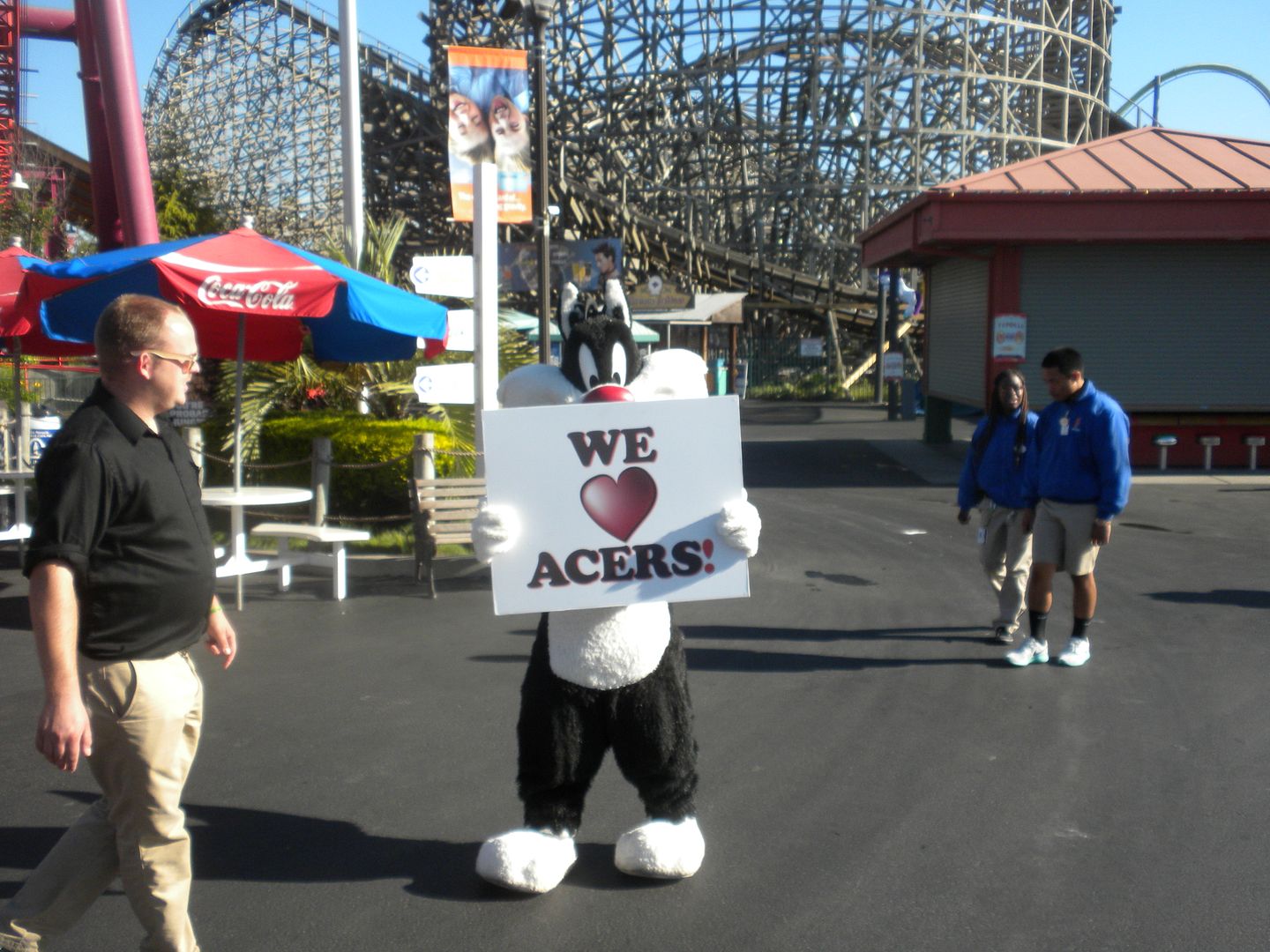 We arrived about a half hour before ERT began. The park is themed to 3 general sections, Sea, Land and Sky, although these are more functional rather than geographical.


Most of the rides fall under Sky, so I will start there.

Sky
Rides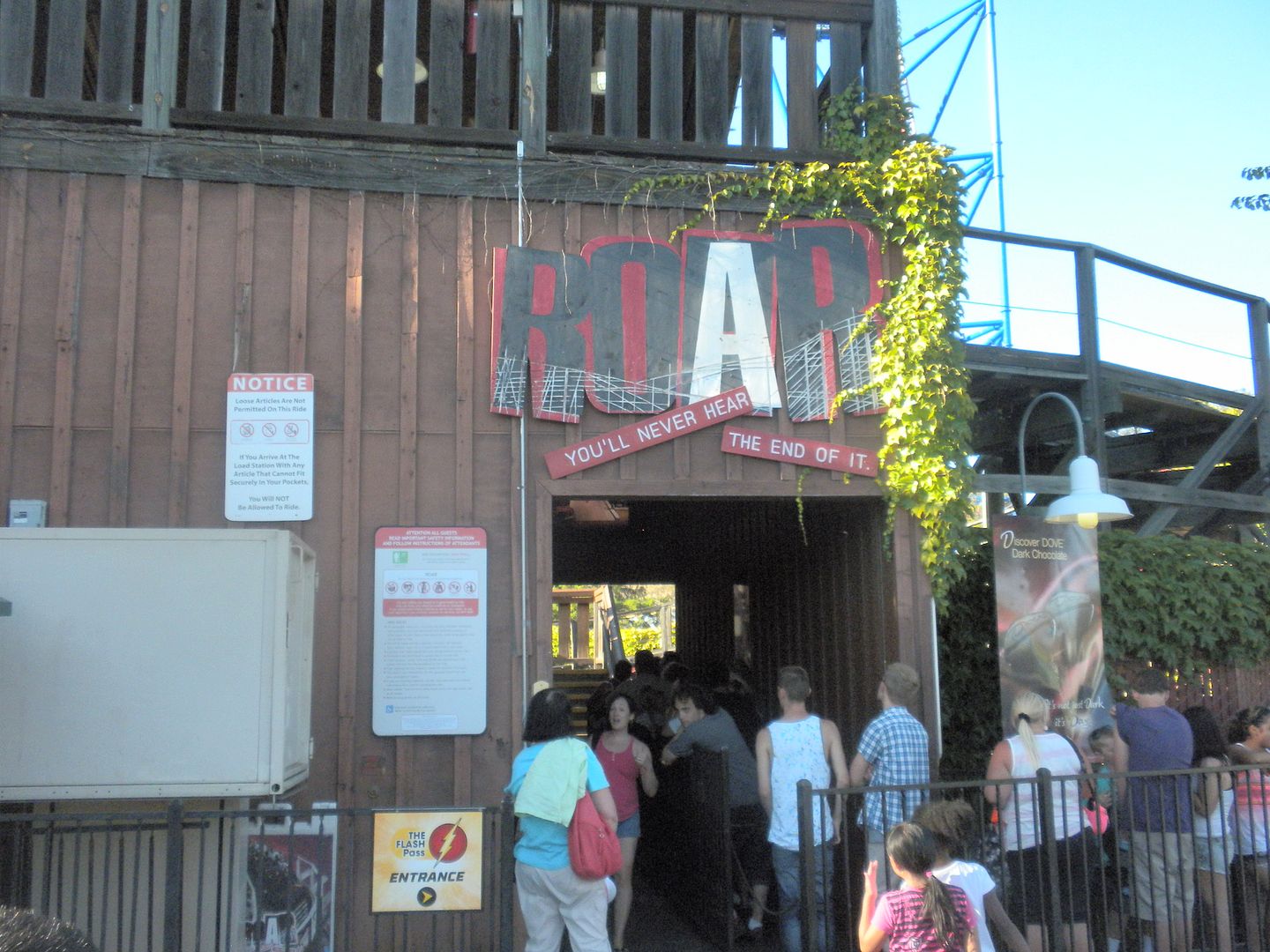 Roar: (GCI, Wood, 1999)


Although rougher than I would have liked, I enjoy the layout – 6 rides, 5 during ERT.


SUPERMAN Ultimate Flight: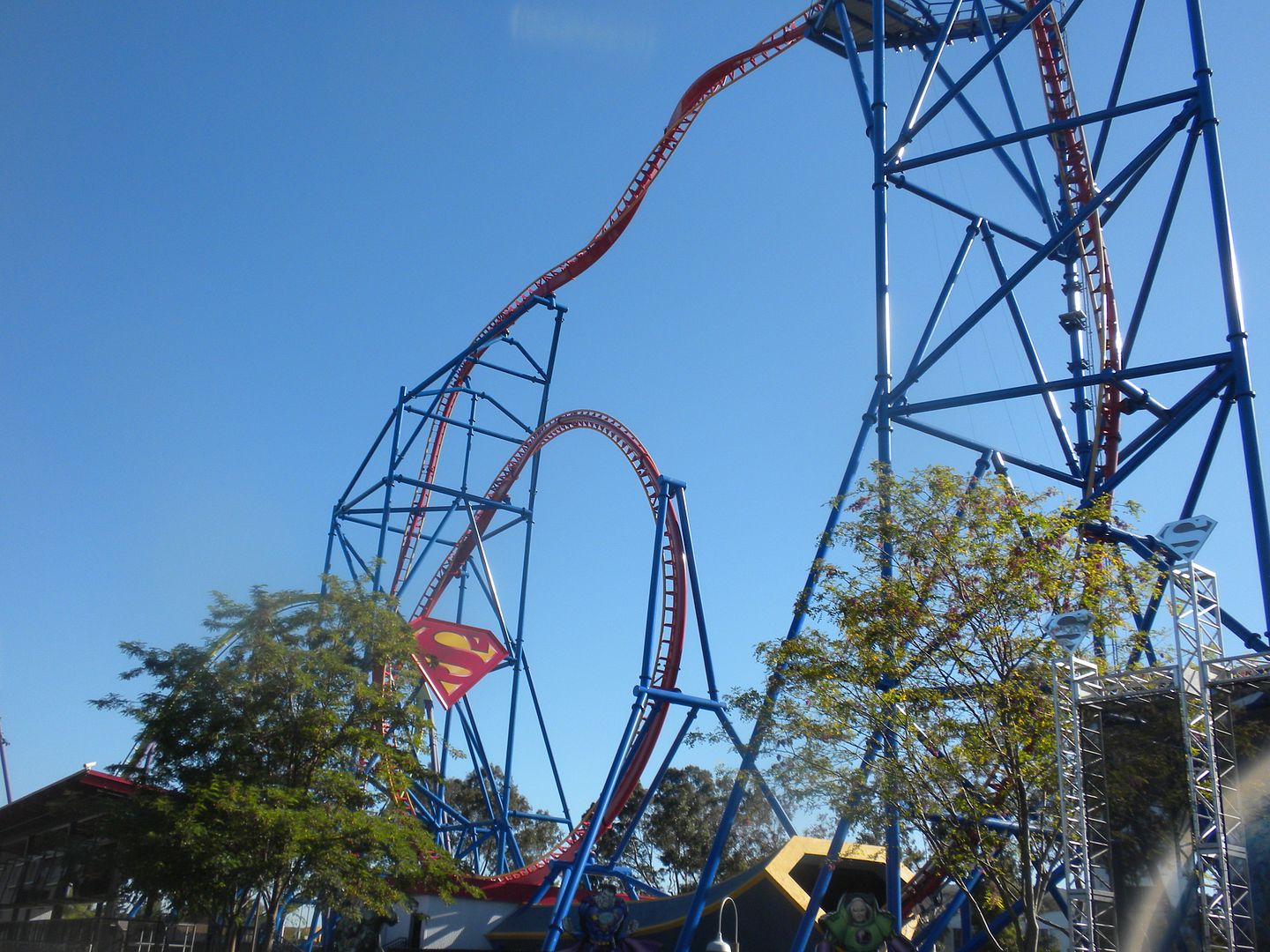 (Premier, Launched, 2012)


This is a pretty thrilling ride with a good launch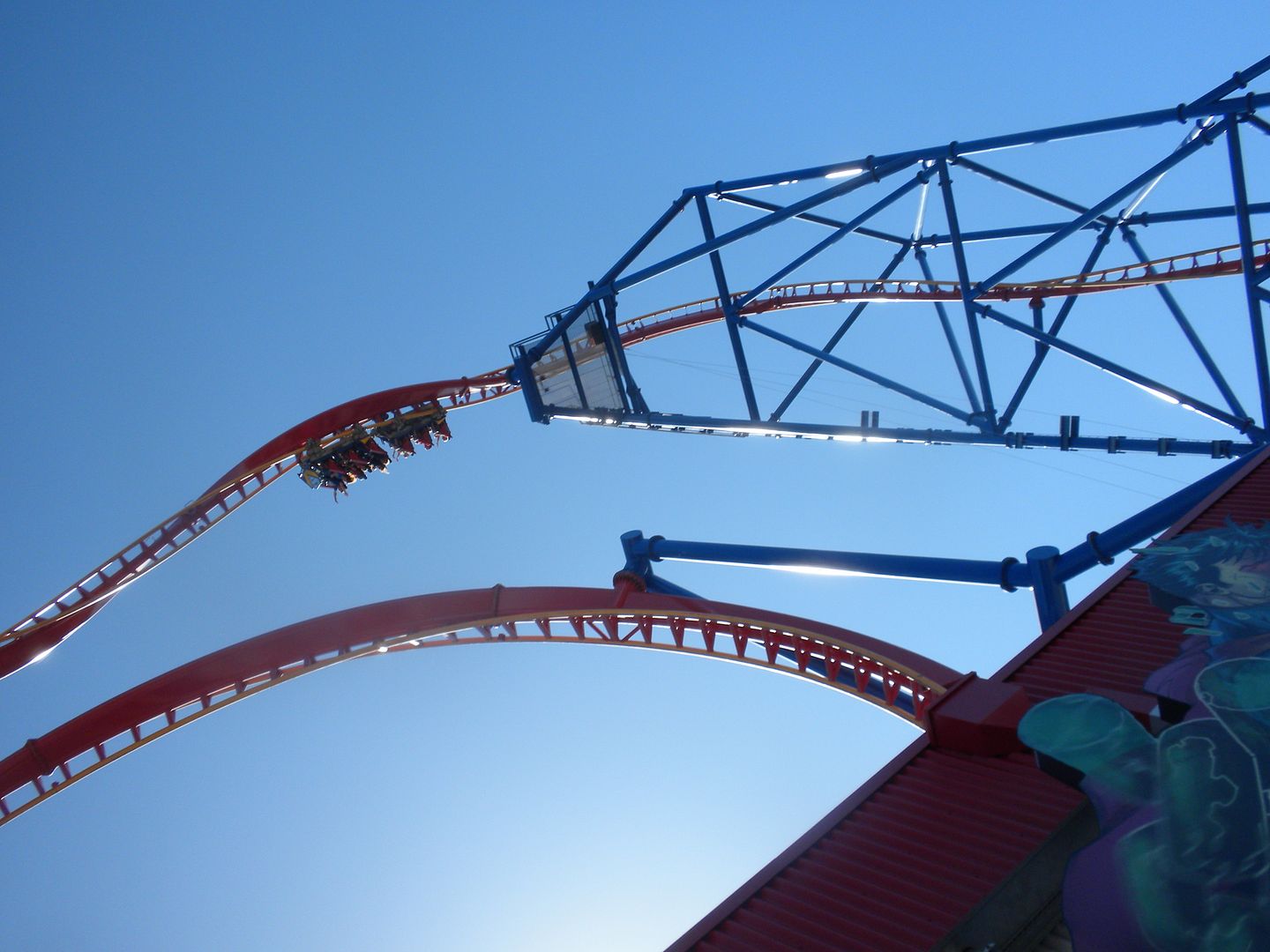 and great hang time in the inversions – 4 rides, 2 during ERT.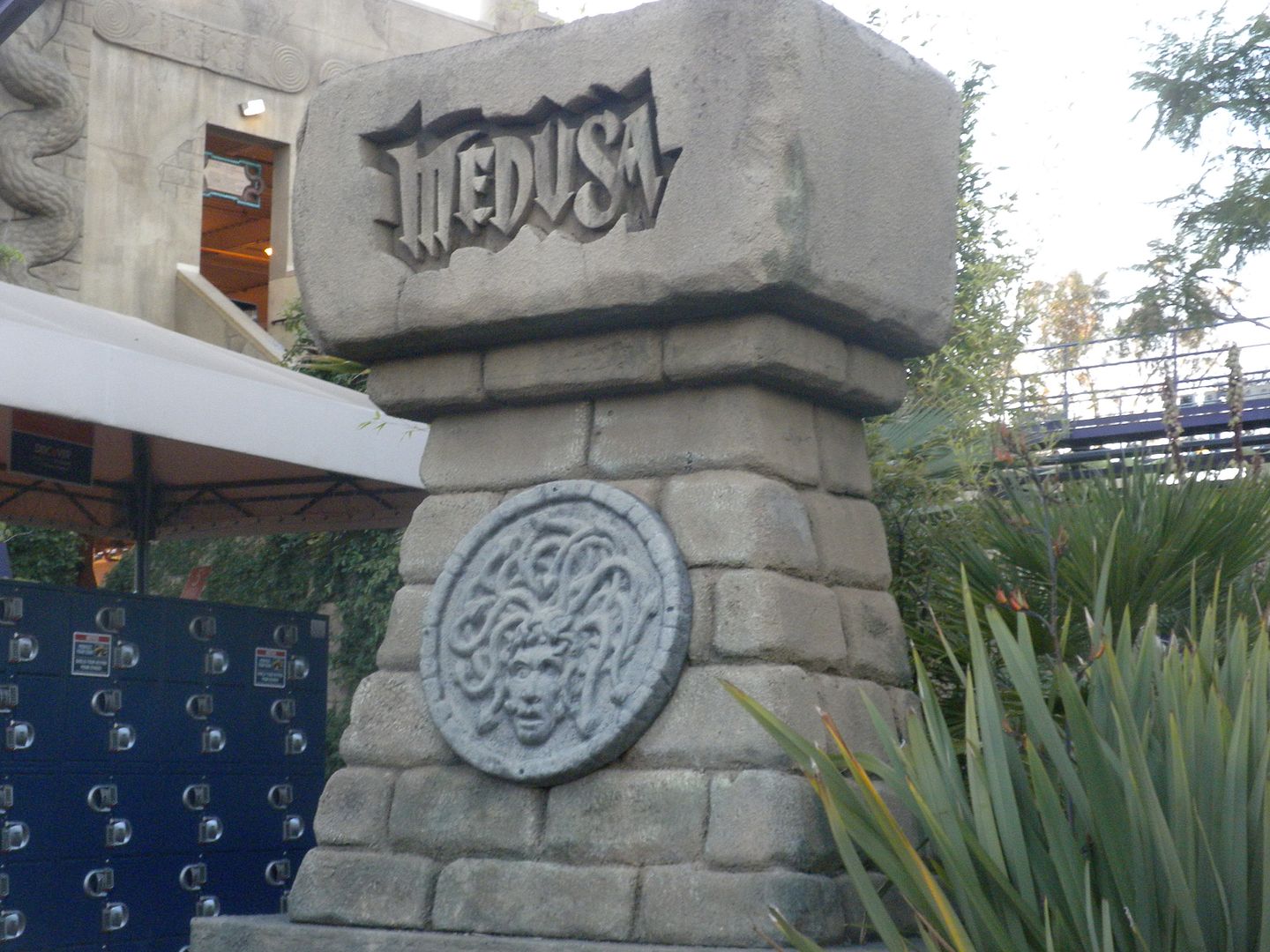 Medusa: (Bolliger & Mabillard, Floorless, 2000) This is the best ride in the park in my opinion and it was running very well. It has good inversions and is well paced.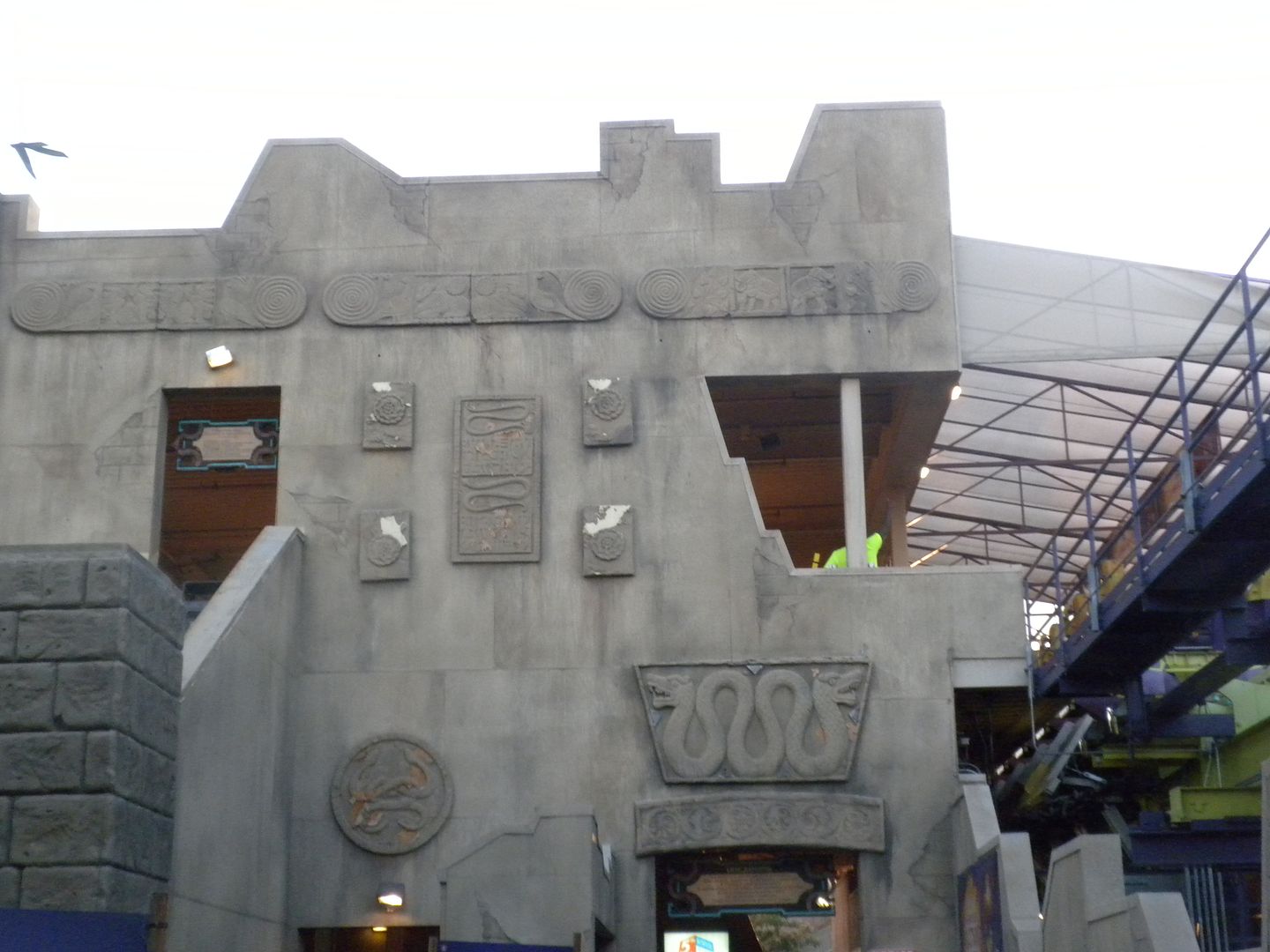 The back seat is amazing, and where I spent about half of my rides – 13 rides, 12 during ERT.


V2: Vertical Velocity: (Imtamin, Impulse, 2002) Due to height restrictions the configuration had to be modified after it was installed and the angle at which it goes up the forward spike adds to the uniqueness of the ride – 2 rides, 1 during ERT.


Kong: (Vekoma, SLC, 1995/1998) Relocated from Opryland USA as Hangman, it was running somewhat rough this day – 1 ride.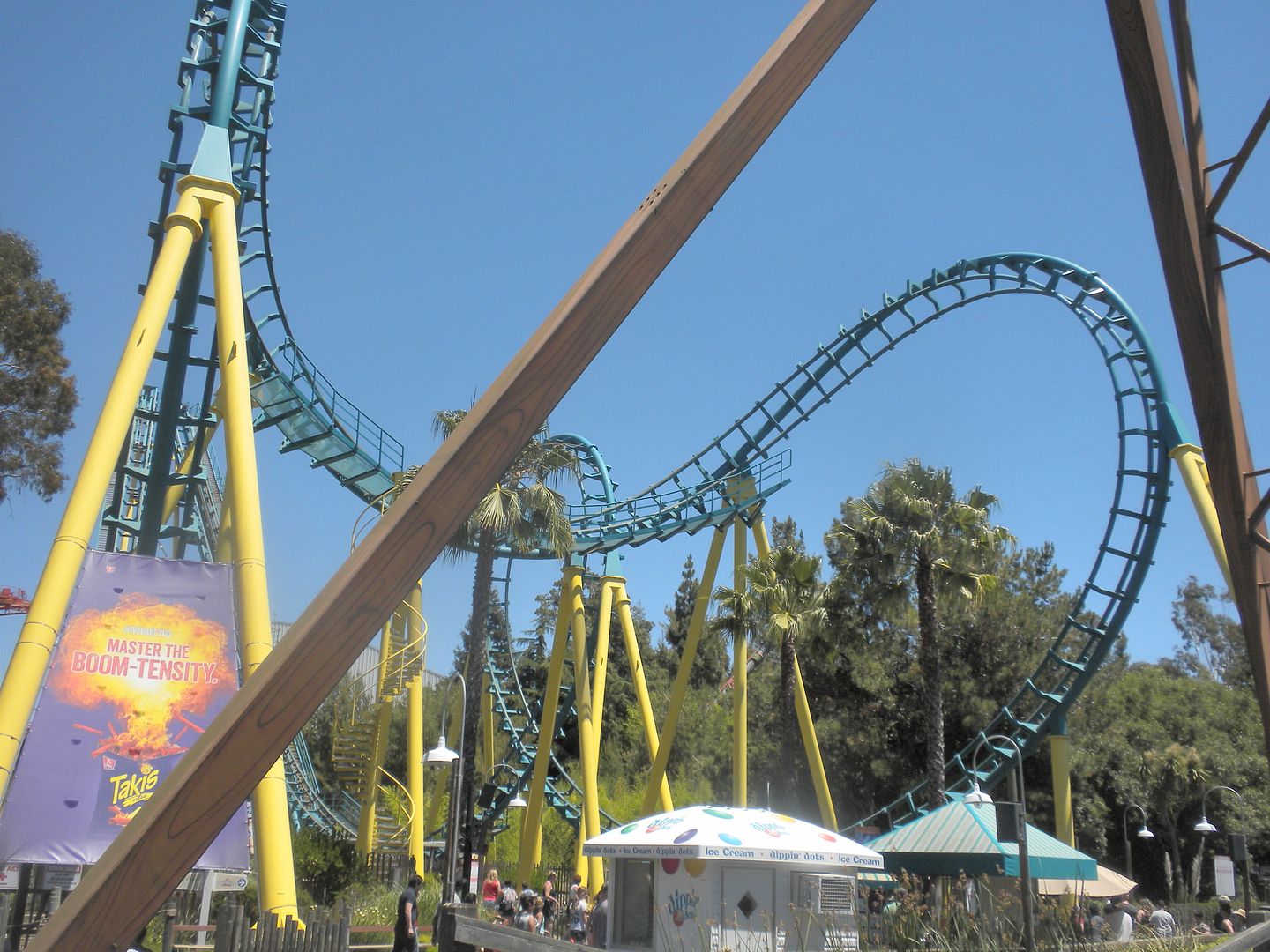 Boomerang Coast to Coaster: (Vekoma, Boomerang, 1998) This was closed on my last visit so it was a new credit for me. It was what I expected – 1 ride.


Cobra: (Zierer, Tivoli – Large, 2000) This is a fun coaster – 2 rides, 1 during ERT.


Ark: This swinging ship had decent airtime on the end – 1 ride.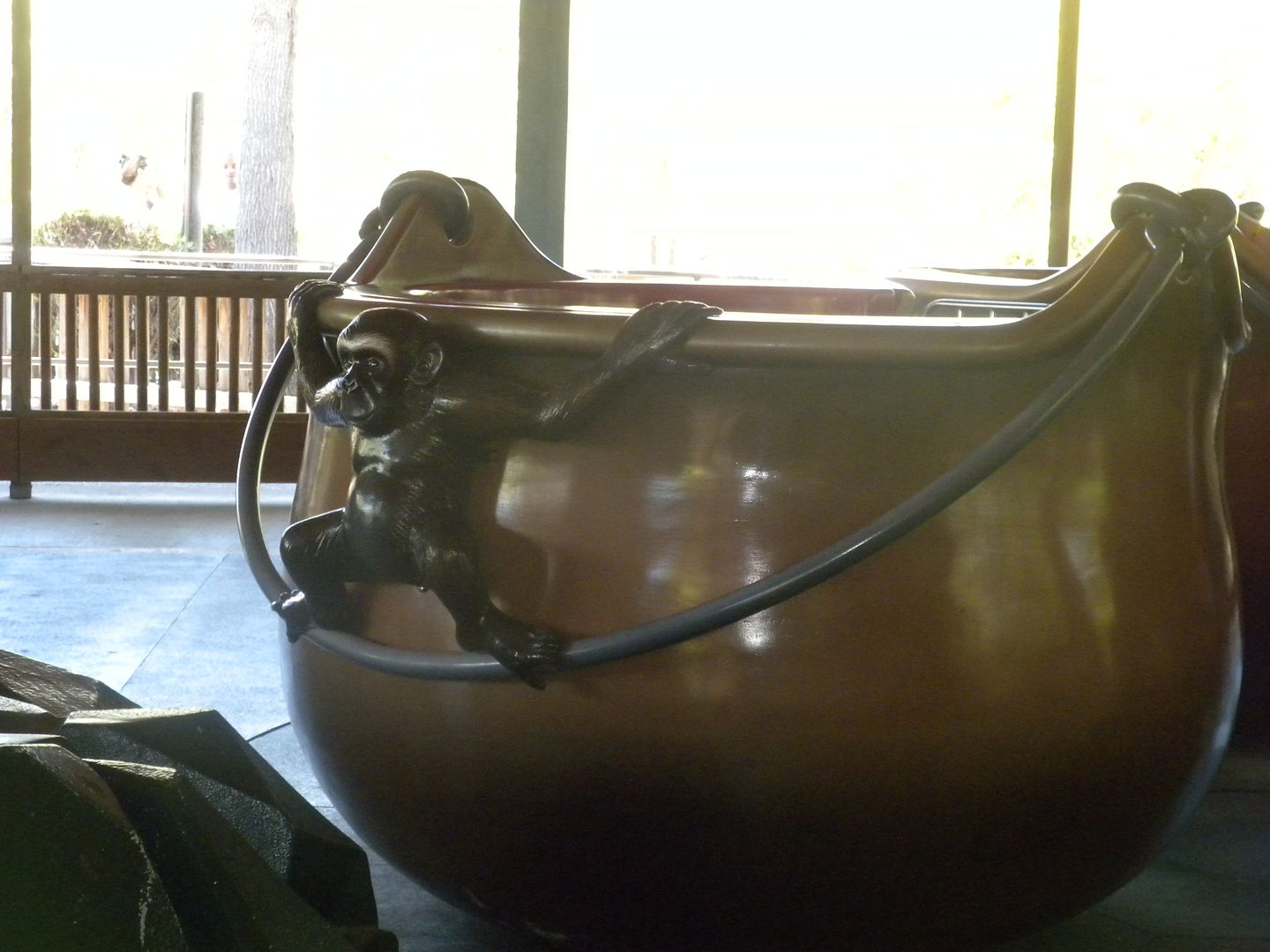 Monkey Business: This teacup-style ride is well themed although I opted not to spin much as I had just had lunch – 1 ride.
Monsoon Falls: This Shoot-the-Chutes gets you pretty wet – 1 ride.
Scat-A-Bout: This Scrambler was good – 1 ride.
SkyScreamer: Although it is 150 feet tall, it looks pretty short – good ride – 1 ride during ERT.
Tazmanian Devil: Although this pendulum was a little rough it had great airtime – 1 ride during ERT.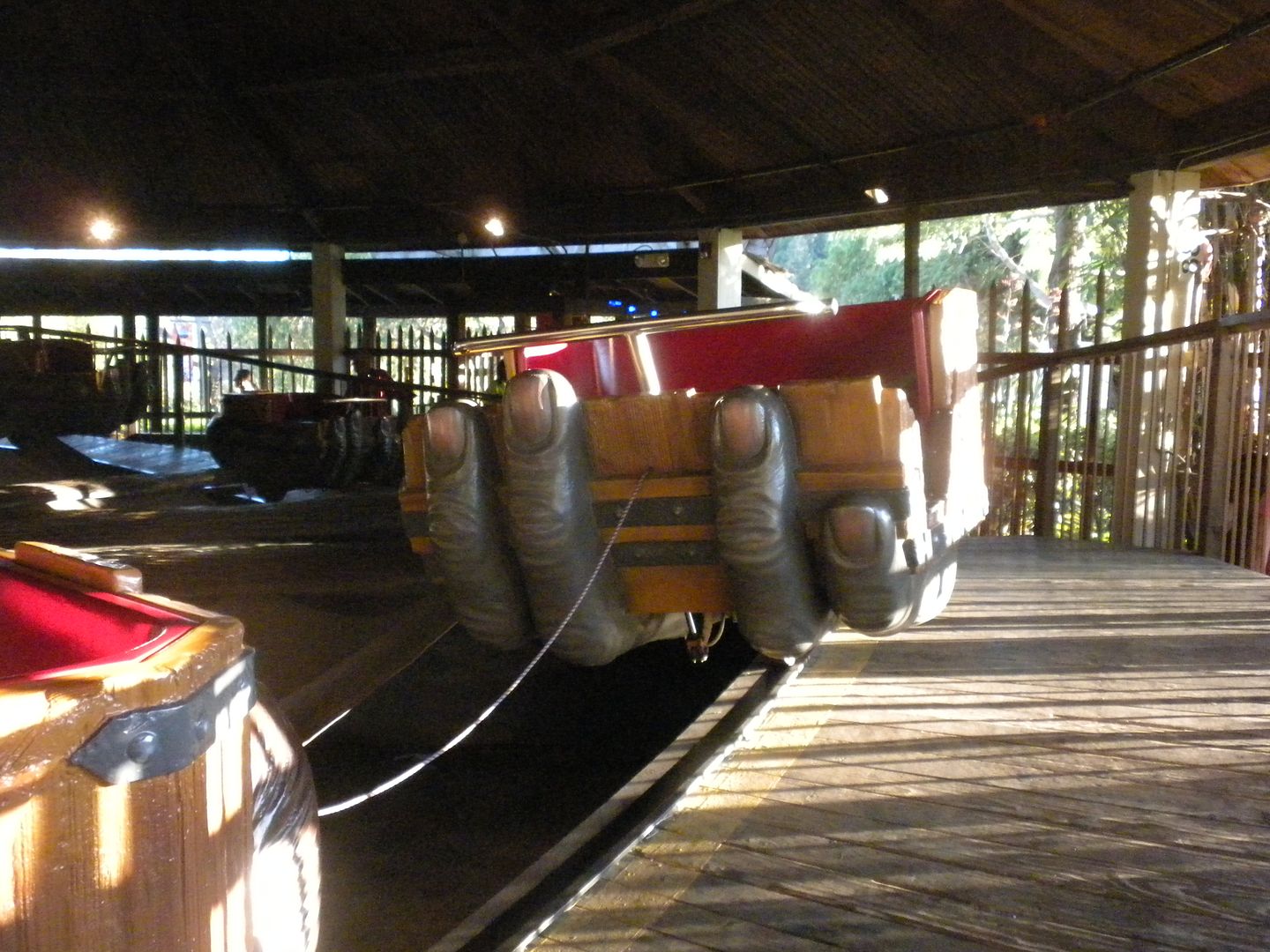 Thrilla Gorilla: This Himalaya type ride is well themed and fun – 1 ride.


Tsunami Soaker: Their new ride is fun although you get pretty wet and it doesn't spin fast like I thought it would – 1 ride.
Wave Swinger: Good ride – 1 ride.
White Water Safari: Good rapids ride course and I got fairly wet – 1 ride.
I ran out of time before I got to the Boardwalk Bumper Buggies bumper cars and the Hammerhead Shark inverter ride. The Voodoo Top Spin was not operating. I did not do the pay extra rides, the Rock Climbing Wall, the Sky Coaster (although it was provided to us free during ERT) or the Thunder Road Speedway Go-Karts (also provided free during ERT, but I did not ride due to time constraints).
The park has three children's areas, two of which are under the Sky theme:

Looney Toons Seaport


Road Runner Express: (Zamperla, Family, 1999) Some of our group got a ride in before a seat broke while others had to come back later in the day. It was a new credit for me – 1 ride.
Other rides in this nicely themed section include: Acme Fun Factory, a two-story indoor playhouse; Bugs' Buccaneer, a kiddie swinging ship; Daffy's Deep Sea Diver, a submarine; Elmer's Weather Balloon Service, a balloon ride; Foghorn's Seaport Railway; Pepe Le Pew's Rafts of Romance, a kiddie teacup-style spinner; Seaport Carousel; Sylvester's Pounce & Bounce; Taz's Typhoon, a swinging bench ride; and Yosemite Sam's Flight School, airplanes. There is also a show on the Looney Toons Stage.
Seaside Junction
Rides include: Air Penguins, twirling helicopters; Merlin's Seaside Tours, a tour bus; Seaside Railway; and Splish Splash Zone, pop-jet water fountains.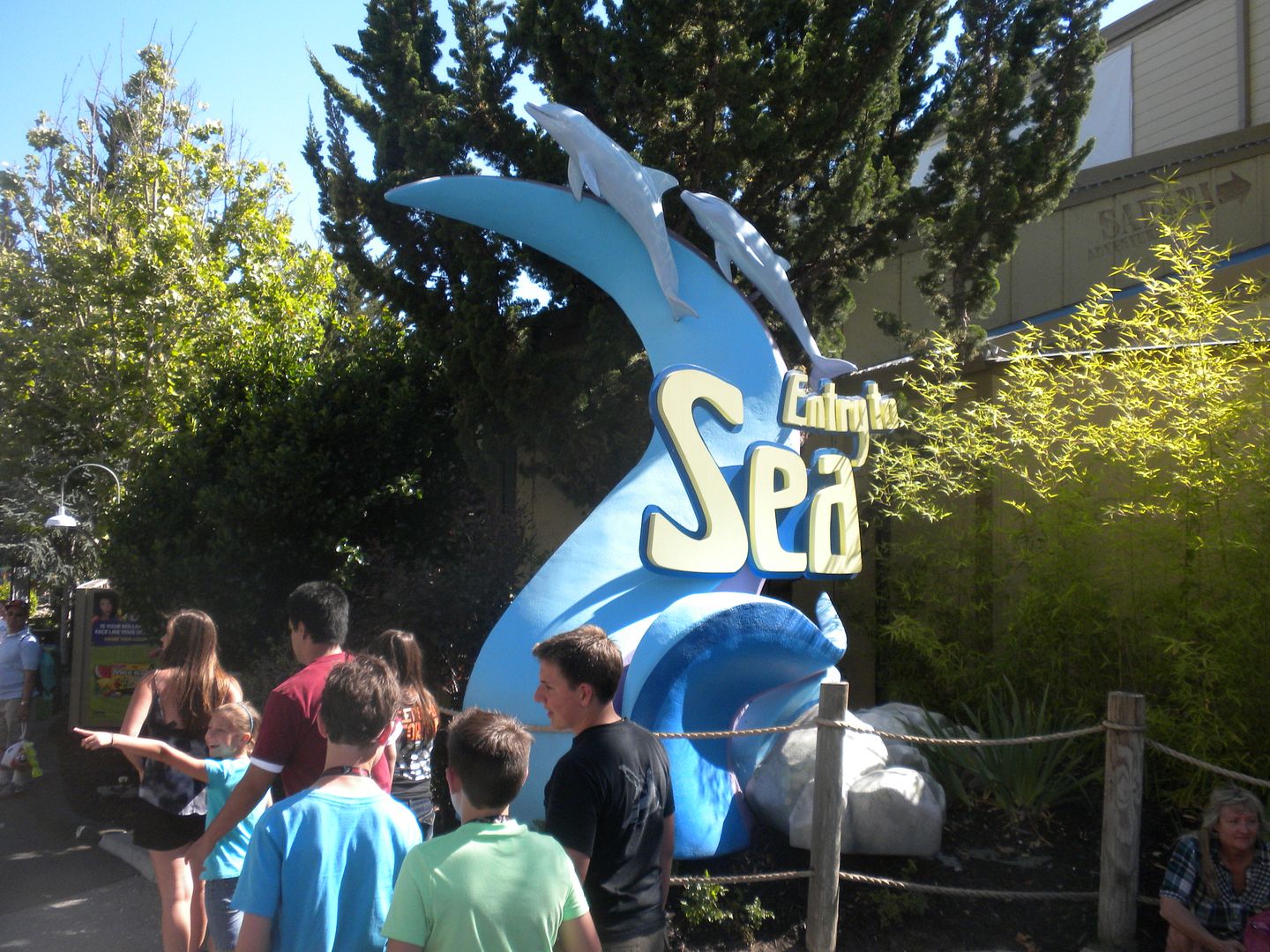 Sea
At the heart of this park is its focus on marine life.
Animals


Shark Experience: This glass walk-through tunnel allows you to see sharks up close – 1 walkthrough viewing provided for ACE.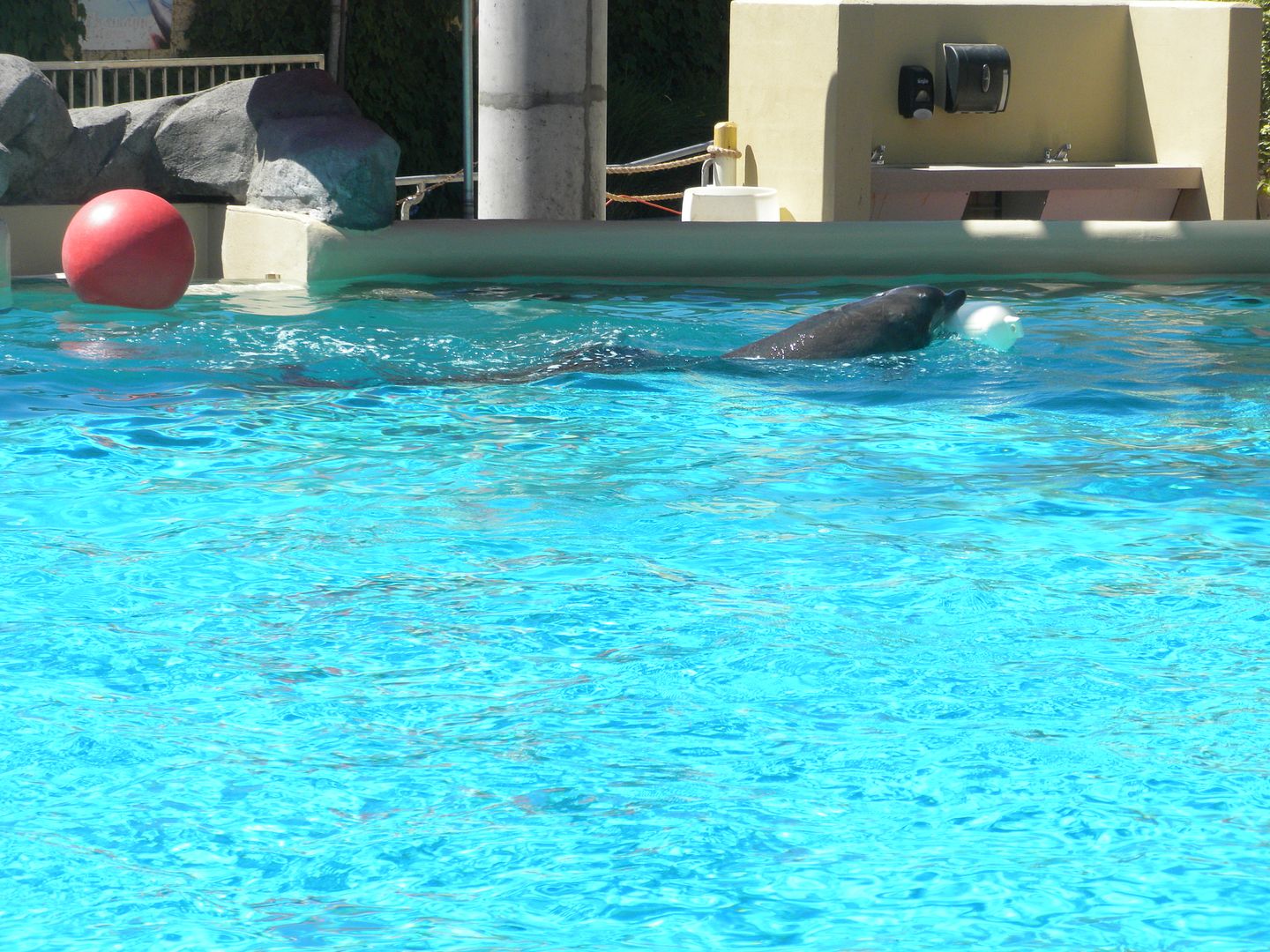 Ocean Discovery: This pool gives you an up-close look at dolphins, stingrays and penguins – 1 view.
Time ran out before I saw Penguin Passage, an African penguin colony seen through an underwater viewing window; Seal Cove, a seal and sea lion viewing area; Stingray Bay, an interactive area; and Walrus Experience.
Shows
Although I missed some exhibits, I did take in the marine life shows.


Toyota Stadium - DRENCH!:


This was an excellent show with bottlenose dolphins – 1 show.


Sea Lion Stadium – Pinnipeds of the Caribbean: This sea lion comedy show was good – 1 show.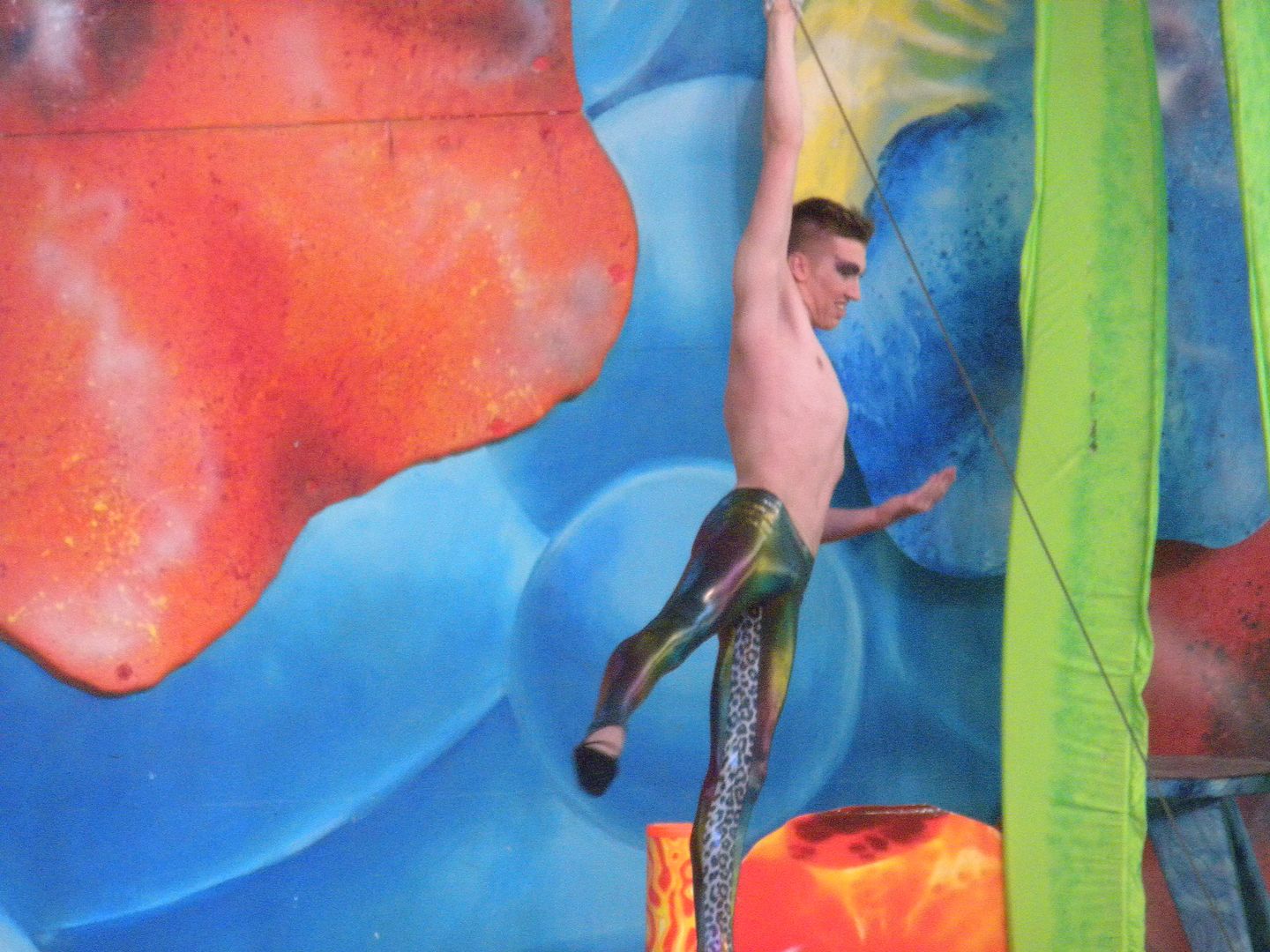 Dolphin Harbor – Cirque Show:


The acts in this show were impressive,


but somewhat hard to see in this stadium – 1 show.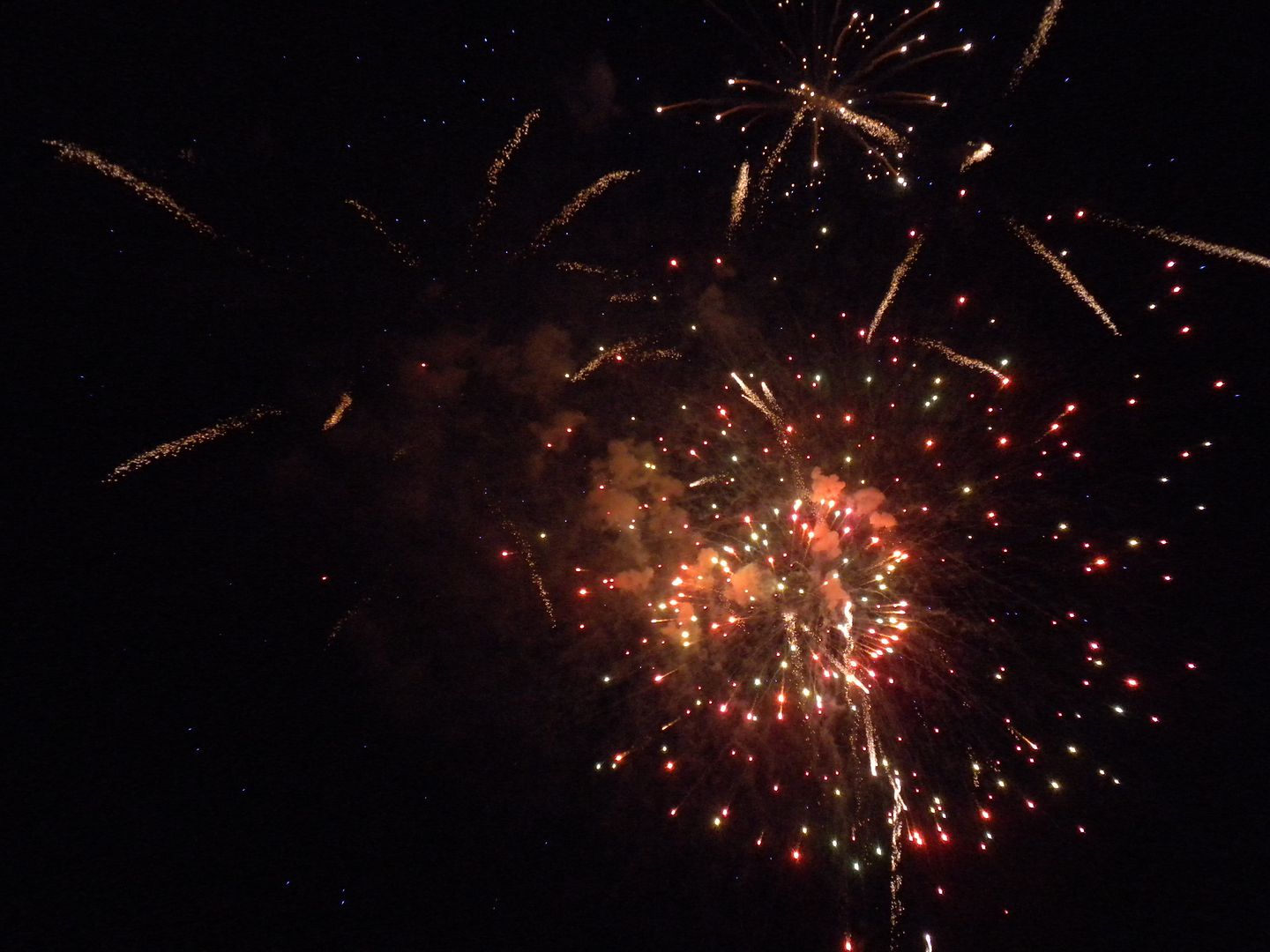 Chabot Stadium: – The park provided a private Fireworks Display following ERT just for ACE, the second of this Con– 1 show for ACE.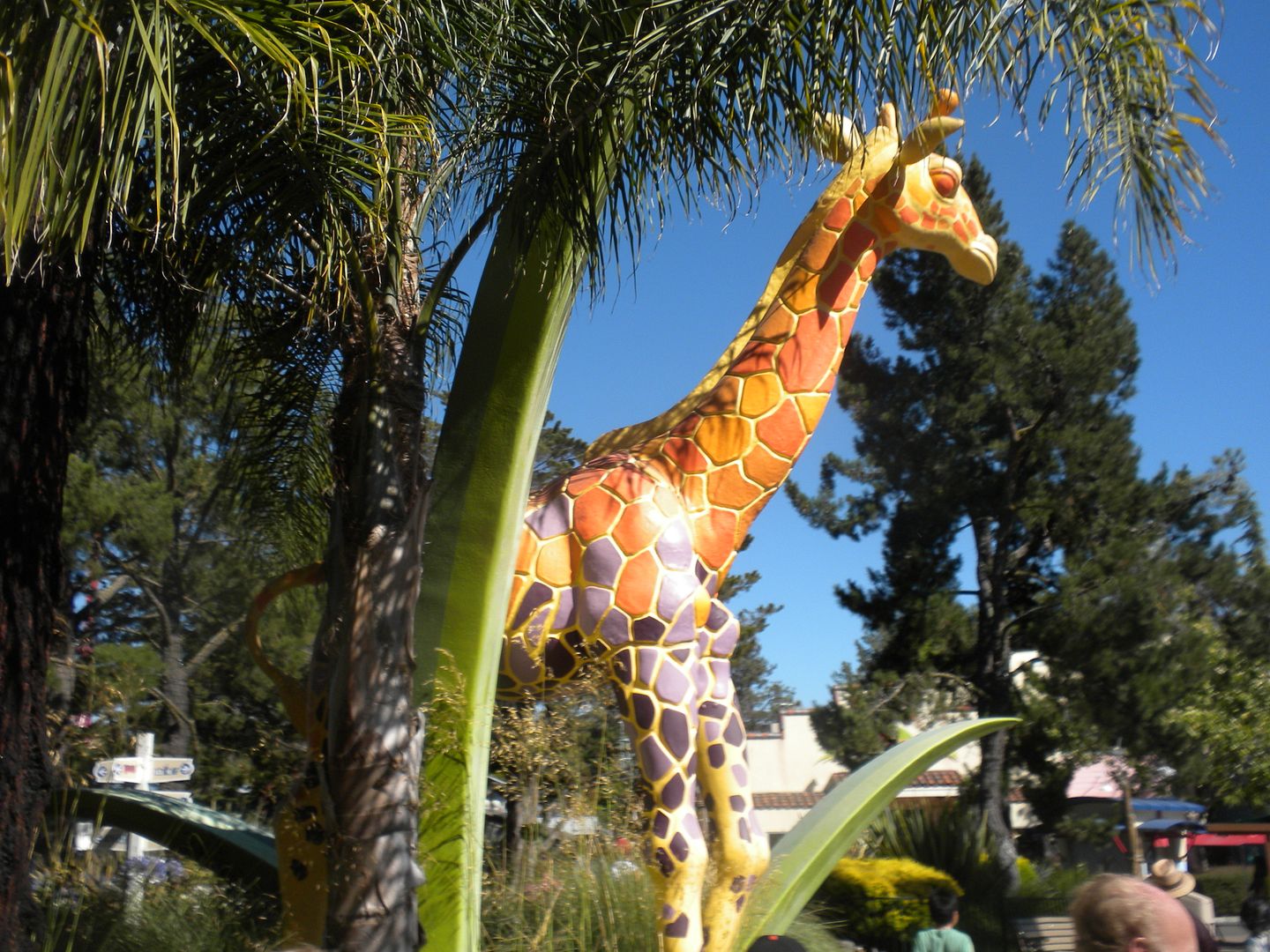 Land
What sets this park apart from other marine life parks is its collection of land animals.
Animals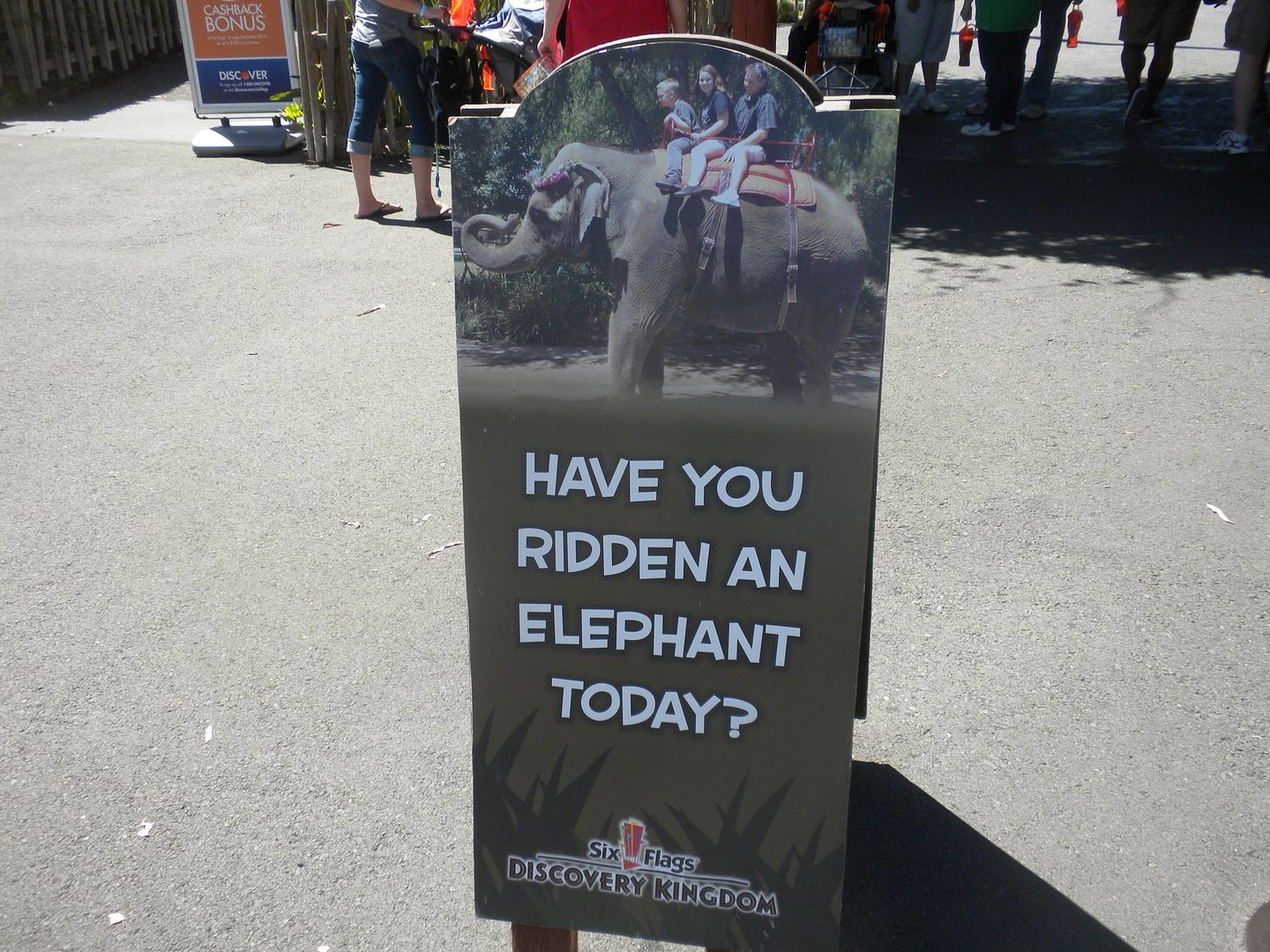 Elephant Ride:


I got to ride an elephant, something I haven't down since I was a child – 1 ride.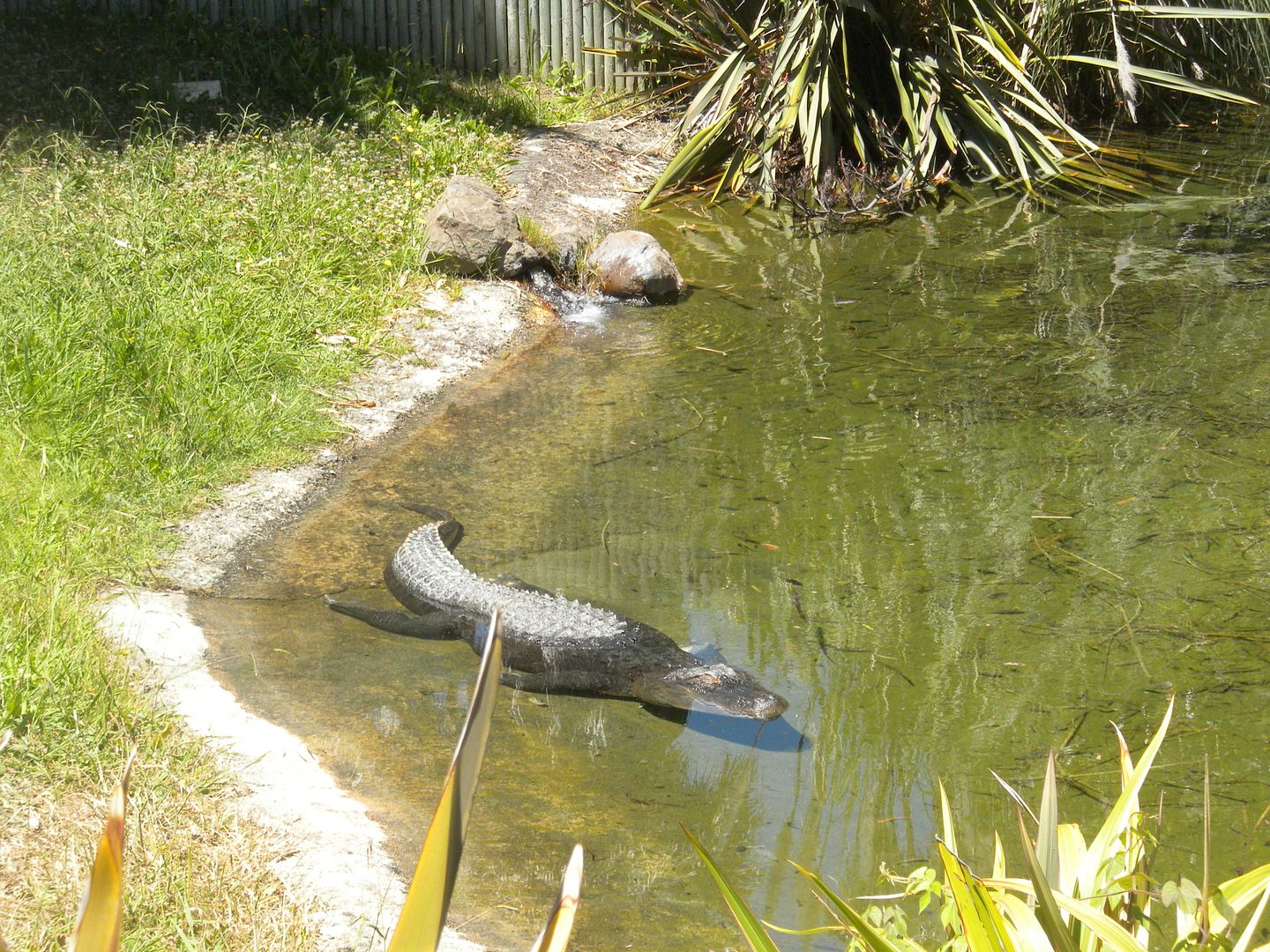 Alligator Isle: I saw the alligators swimming – 1 view.
I did not get to the other animal exhibits: Animal Nursery/ Vet Clinic; Butterfly Habitat, a lush indoor garden habitat; Cougar Rocks, a mountain clearing habitat; Giraffe Encounter, interaction with the tallest land mammals; Lion's Lair, a rocky African lion habitat; and Tiger Island, Bengal and Siberian tigers.
Shows


Kingdom Stage – Elephant Encounter:


We were given a private show which was good – 1 private show for ACE.
I did not get to Odin's Temple of Tiger, Bird Theater, or Wildlife Theater, which features small mammals, birds & reptiles.
The Land theme also features the park's third and newest children's area.
Tava's Jungleland
Rides
Rides include: Congo Queen, a Rockin' Tub; Frog Hopper; Monkey Around, kiddie swings; Nairobi's Look Out Balloons; Safari Jeep Tours; Splashwater Oasis; Tava's Elephant Parade, flying elephants; and Zoe's Tree House, a three-story play house.
Animals
Also in this section are two animal exhibits: Reptile Discovery, snakes, lizards and tortoises; and Wildlife Trail, where you can meet and ask questions about a variety of animals.
The park provided us with a delicious meal of steak and chicken and even provided wine. They gave us VIP passes which worked as Flash Passes, so we didn't have to stand in line.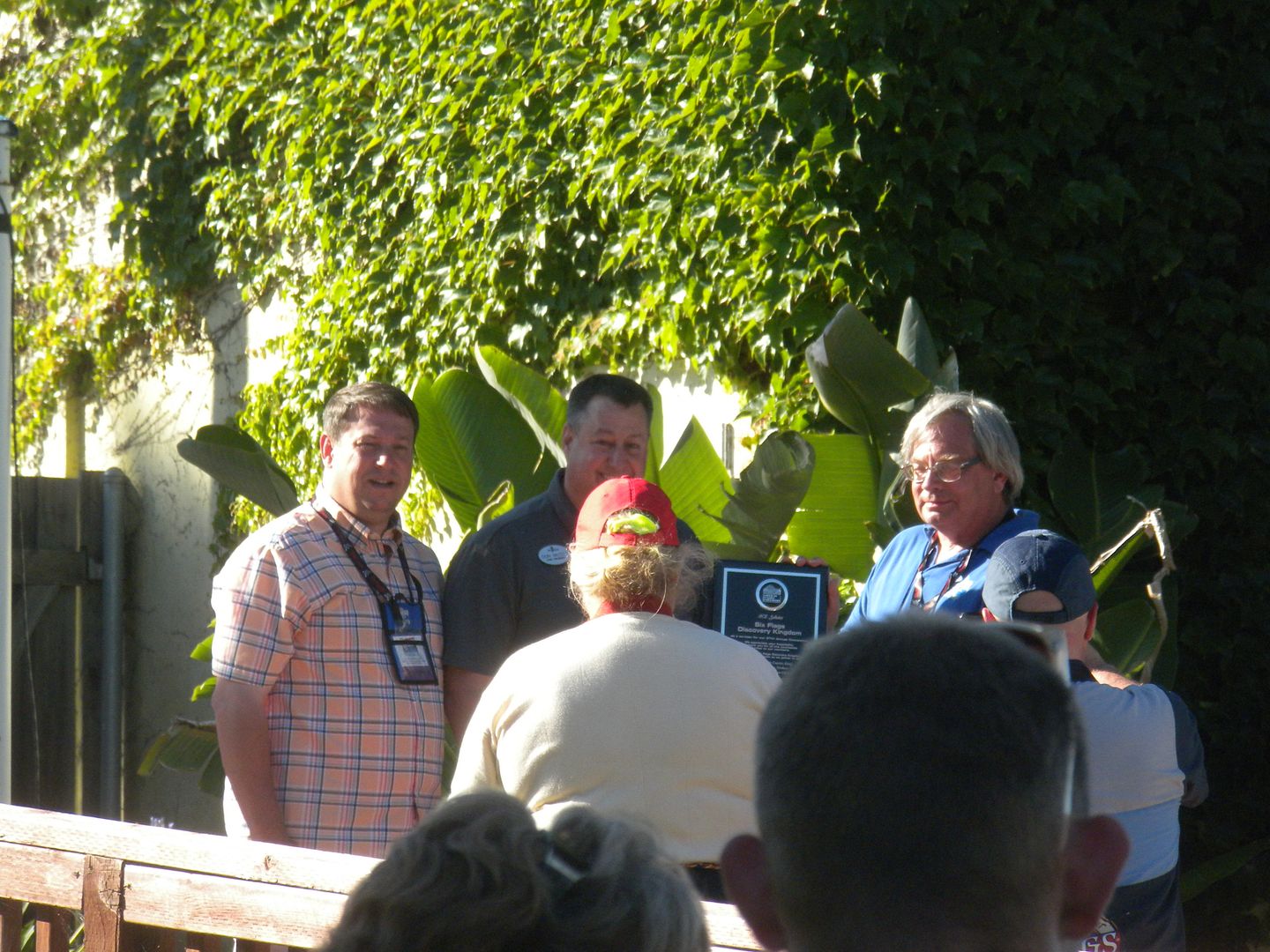 They provided us with several giveaway items and treated us great, even providing the aforementioned Fireworks Show.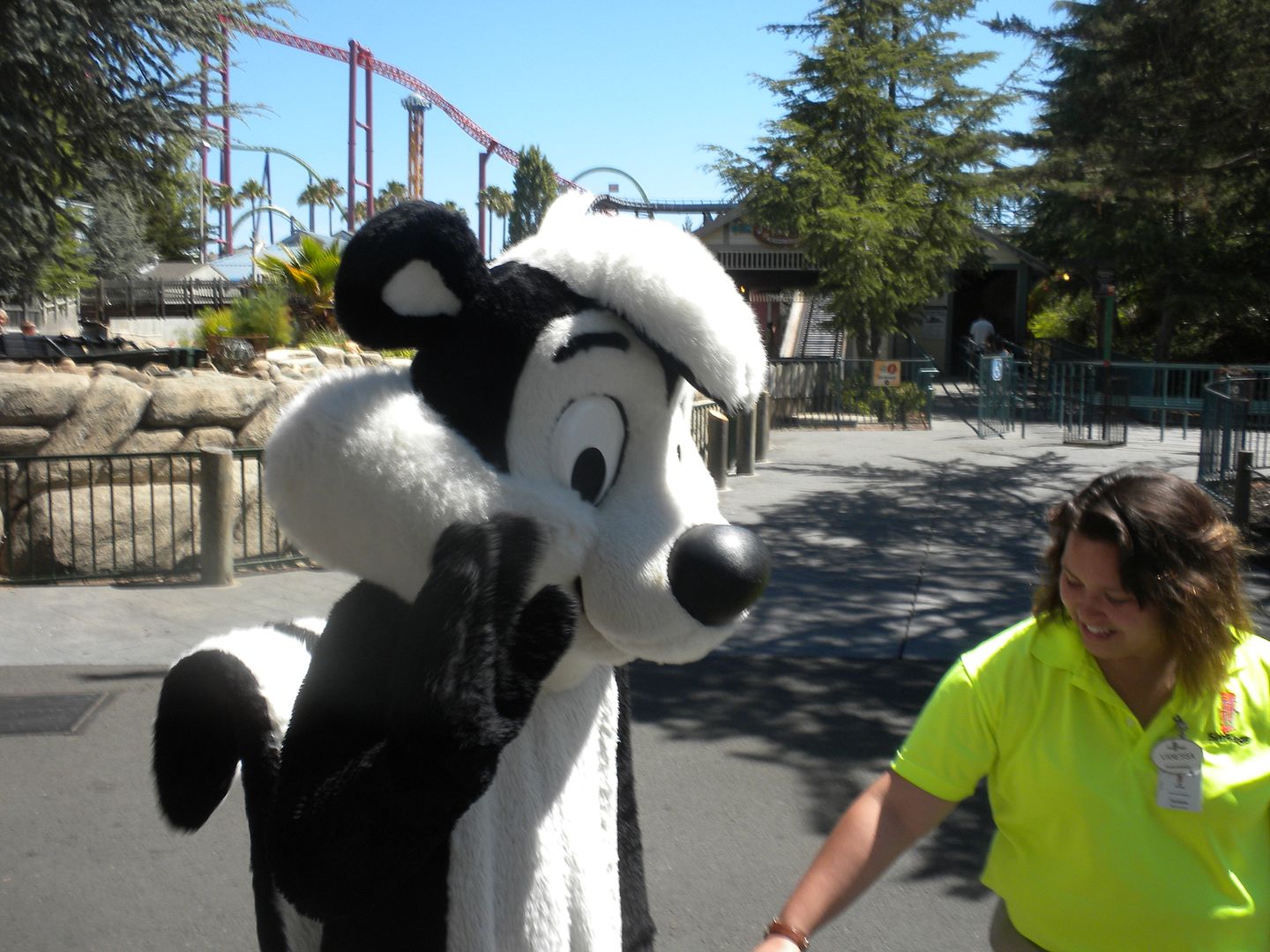 We just had one day there and I would have enjoyed about a half a day more to get to all the animal and marine exhibits and shows, but I thoroughly enjoyed my time there.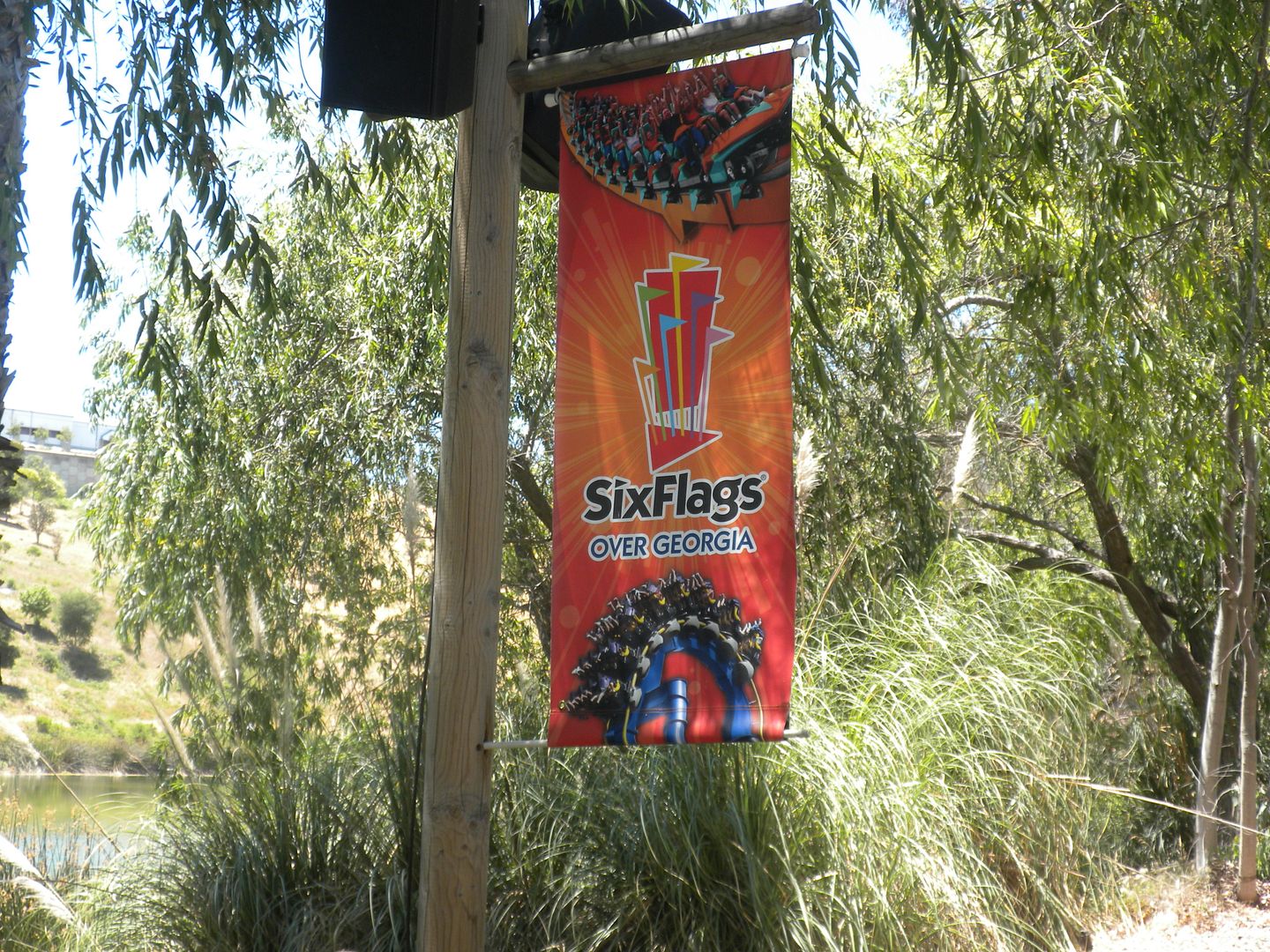 They had banners from other Six Flags parks around the park – here is SFOG.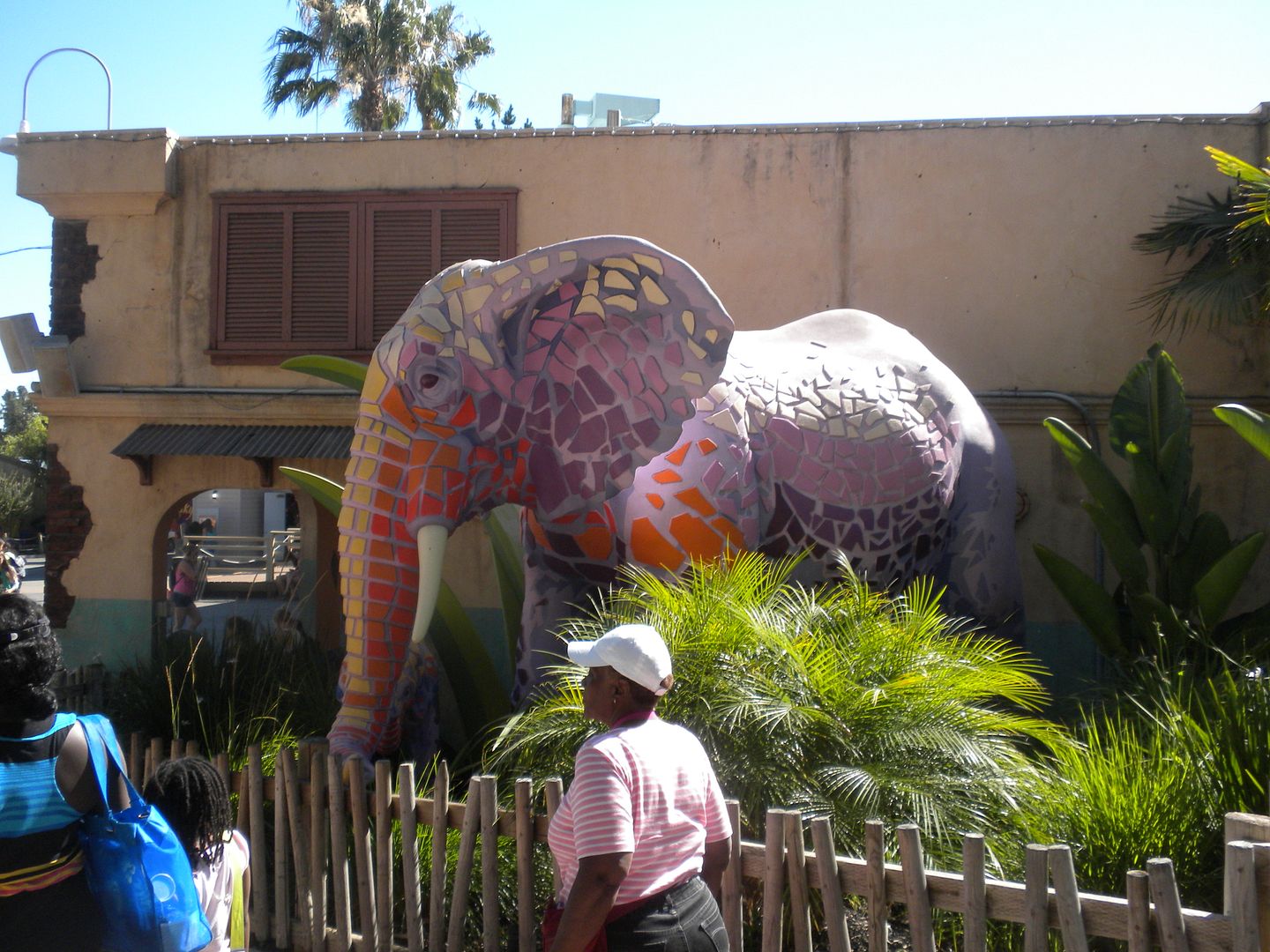 It is a nicely landscaped park with a good mix of rides marine life and land animals that is quite unique in the industry. I look forward to a return trip someday.
We drove back to San Jose to prepare for our next Con stop, Santa Cruz Beach Boardwalk.
Next up: Santa Cruz Beach Boardwalk and Gilroy Garden