On Sunday, June 15 Coaster Con XXXVII began at California's Great America in Santa Clara, CA. Opened in 1976 as Marriott's Great America, it was one of two almost identical parks built by Marriott that year. In 1984 it was sold to the city of Santa Clara who contracted with Kings Entertainment to run the park. It was known as Great America until Kings Entertainment was bought by Paramount and it became Paramount's Great America. Once Cedar Fair bought the Paramount parks in 2006, the name was changed to its current name. We arrived about 4:30 and made our way to their newest coaster. This was my second trip to this park, my first being in 2006. We had 4 ERT sessions over 3 days and our name badges served as Fast Lane passes, a first for me at an ACE event. Most of my time was spent with Richard Bostic, Vanessa Thomas, and Judy Thomas as well as some time with David Lipnicky, John Allen, Betty Thornson and others. I will review the park by its themed sections.
Celebration Plaza
Marriott's original sections of Carousel Plaza and Hometown Square have been combined to form this section. Paramount's unfortunate removal of the train for a coaster that was never built took a lot of character from the park, but the section still retains much of its character.


Gold Striker: (GCI, Wood, 2013):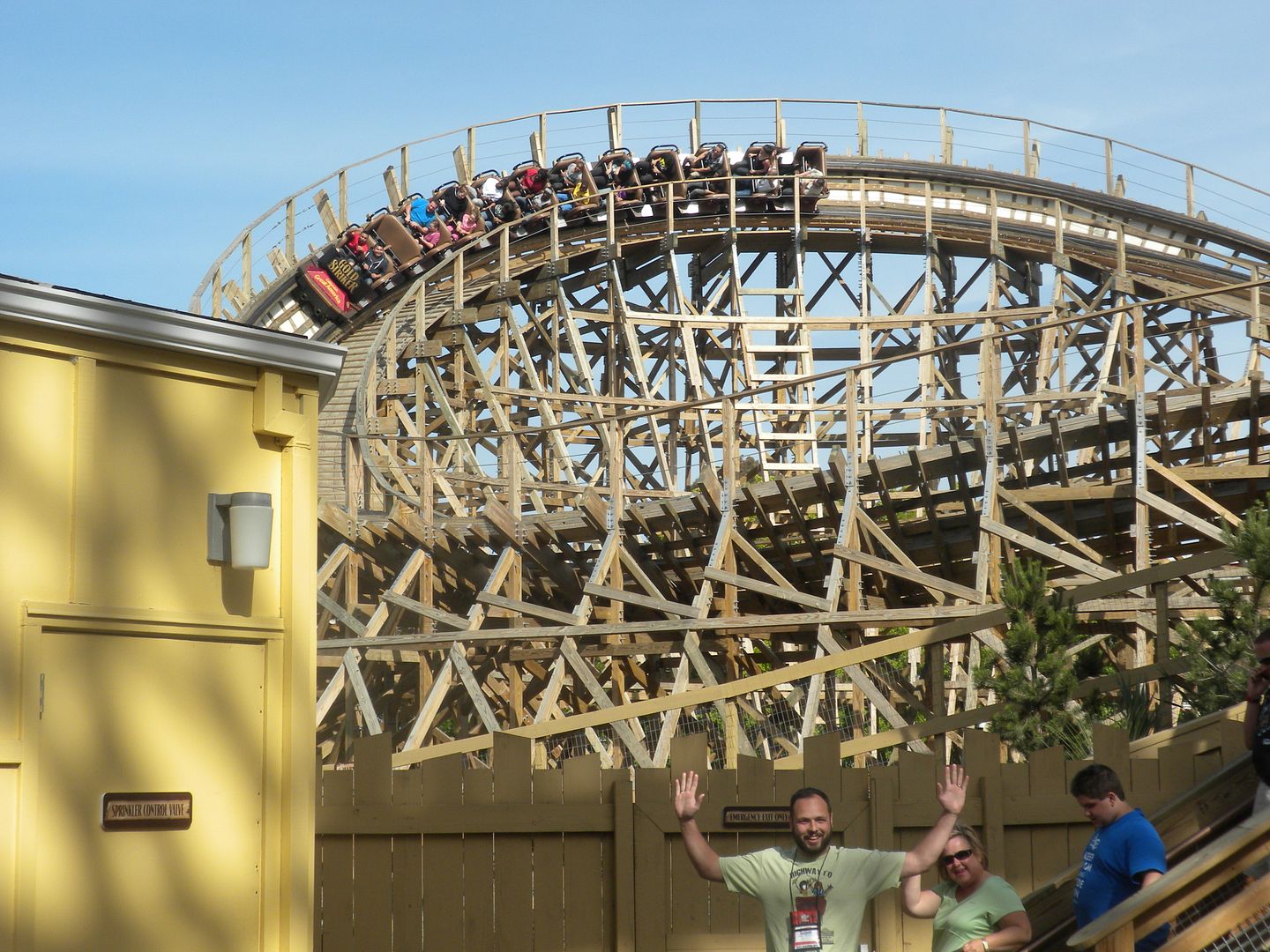 Billed as the tallest & fastest wooden coaster in Northern CA, it is a top quality ride.


Comparable in many ways to Thunderhead and Troy, it delivers an amazing ride filled with airtime throughout its course.


Its twists and turns along with its tunnels make for an exciting ride. It also interacts nicely with the Star Tower.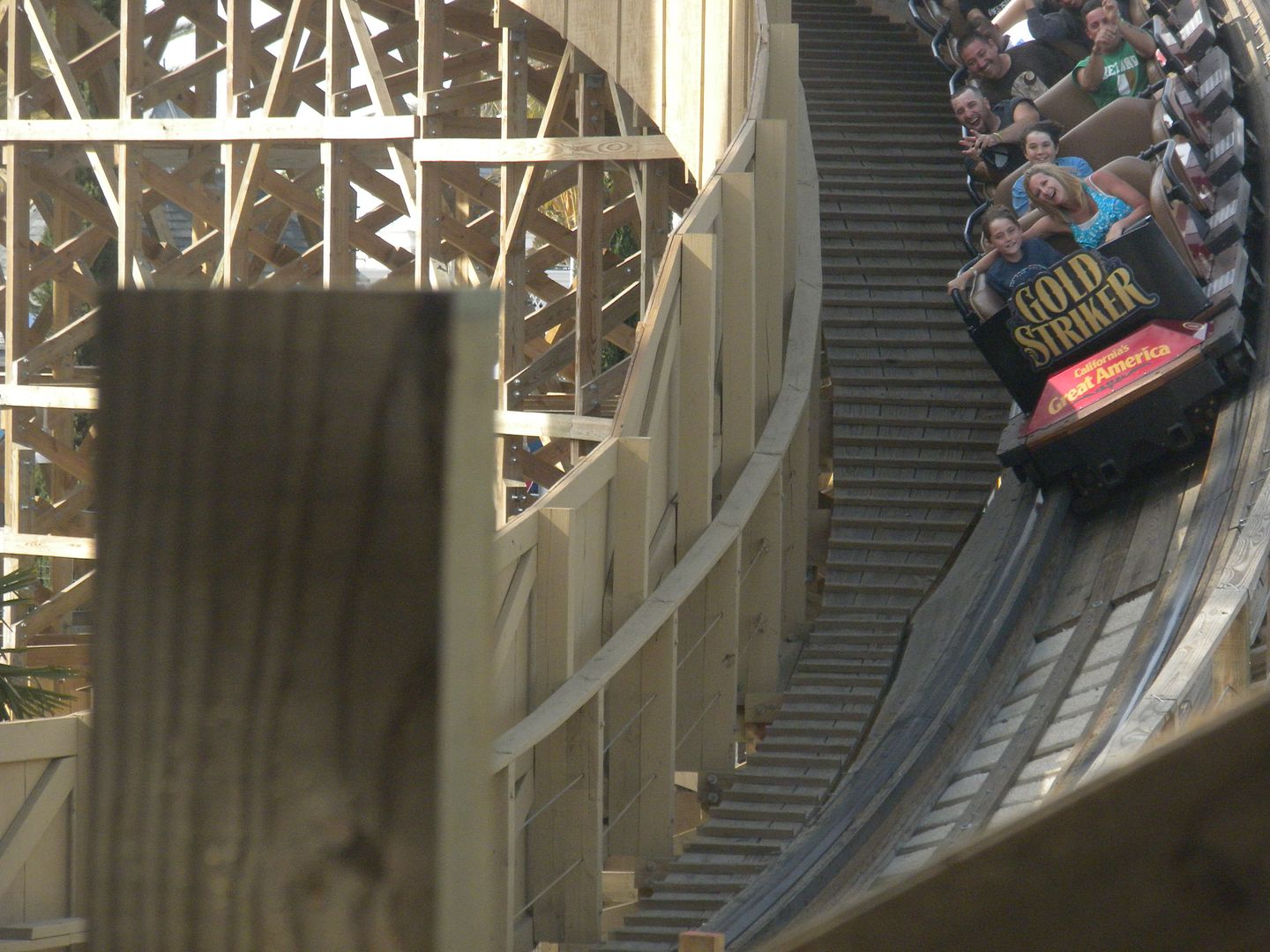 I will have to determine where this ranks, but it is top 10 material – 35 rides including 34 during ERT.


Vortex: (Bolliger & Mabillard, Stand-Up, 1991)


One of the first of the B&M stand-ups, it does have some moments of discomfort, but I held my head right and minimized problems for a relatively good ride – 2 rides including 1 during ERT.
Whitewater Falls: This Shoot-the-Chutes ride has a good drop from which I did not get too wet, that is until the kids with the water cannons got me – 1 ride.
Star Tower: Added in 1979 and now situated inside Gold Striker's course, this 200-foot iconic tower is the tallest observation tower in Northern California – 1 night ride during ERT.
Carousel Columbia: (Chance; New Wood Carousel – Double Decker 3 Row, Fiberglass
Figures: 82 Jumping Horses, 6 Standing Horses, 15 Menagerie Animals – 4 Cats, 1 Deer, 1 Giraffe, 1 Lion, 4 Ostriches, 4 Pigs, 4 Rabbits, 1 Tiger, 1 Zebra), 3 chariots; 1974) Opened with the park in 1976, this is the world's tallest double-decker carousel, exceeding the height of its sister in Gurnee by a few feet – 1 upper level ride in ERT.
Celebration Swings: This Zierer Wave Swinger was added in 2001 in the approximate place of the Hometown Square Train Station – 1 ride during ERT.
This section also includes the pay extra attraction, Xtreme Skyflyer, which we were graciously given free of charge during ERT. As I do not ride Sky Coasters, I did not ride.
Shows in this section include:
Great America Theatre: Aerial Ice Extreme - As seen on Season 8 of America's Got Talent, this high-energy show is a mix of aerial, stunt, & ice show acts. We were given preferred seating for the show on Sunday. The cast is excellent and the acts quite amazing – 1 show.
Celebration Plaza Stage: #Playlist – While this song and dance show of hits from past & present did not open until after our visit, the park treated us to an abbreviated preview show exclusively for ACE Sunday evening in the Showtime Theater in Orleans Place. The cast is very energetic and did a good job – 1 show.
I did not take time to see PEANUTS™ Party in the Plaza.
County Fair
One of only two sections bearing its original name, this section is smaller than it was originally, having Action Zone carved out of it.


Demon: (Arrow, Looper, 1976) Opened with the park in 1976 as Turn of the Century,


it was remodeled in 1980 to include 2 loops and Demon theming. This ride at the Gurnee park is one of my favorite Arrow loopers. This seems a little rougher than I remember from IL. The loops are somewhat rough while the corkscrews are the best part.


I love the theming, so I can put up with a little roughness – 4 rides including 3 during ERT.


Berserker: This Schwarzkopf Bayern Curve opened with the park in 1976 as Yukon Yahoo in Yukon Territory. While the Gurnee park no longer has theirs, thankfully this one has been preserved. It gave a good ride – 1 ride during ERT.


Barney Oldfield Speedway: This Antique car ride travels around and through The Grizzly. Opened with the park in 1976, it was remodeled when the coaster was built. It has 1 track with a nice course; its second track is still visible. Its sister in Gurnee was removed–1 ride during ERT.
Action Zone
Originally part of County Fair, I am particularly not fond of this nondescript name left over from the Paramount parks. Still this section has quite a few attractions.


The Grizzly: (Kings Entertainment, Wood, 1986) Built from the Coney Island (OH) Wildcat design, this was one of 4 such installations.


I would be interested to compare the specs of this ride to the one of the same name at Kings Dominion as that park's ride is excellent while this one is forceless. Recent retracking gives it a smooth ride and it is a good starter coaster for younger riders. The similar design in Canada falls somewhere between the two. I will never know how the defunct Australian installation compared, nor how any of them compared to the defunct original. I enjoyed the coaster for what it could offer – 5 rides including 1 during ERT.


Psycho Mouse: (Arrow, Wild Mouse, 2001) Arrow was one of the better manufacturers of mouse rides and there are not too many of their installations around. This gave a good ride.


The queue building is the former County Fair Train Station – 2 rides.


Drop Tower: This is an Intamin drop tower (as if you can't tell from the super creative name), and it gave a good ride – 2 rides including 1 during ERT.


Tiki Twirl: When I last rode this Disc-O it was themed to Survivor. As a big fan of that show, I had to ride it then. It still retains its tribal theme and gives a good ride – 1 ride.


Eagle's Flight:


Opened with park in 1976, these Von Roll Sky Buckets to Orleans Place give a great view of the park as well as providing much needed transportation. So many of these rides have been removed, including the sister ride in Gurnee, but these have thankfully been retained – 1 ride to Orleans Place during ERT.


Centrifuge: Opened with the park in 1976, this Schwarzkopf Calypso (formerly Fiddler's Fling) is one of a few rides still in both the Santa Clara & Gurnee parks– 2 rides including 1 during ERT.
Thunder Raceway: We were given free rides on these pay extra go-carts – 1 ride during ERT.

All American Corners
This section includes the former Yankee Harbor section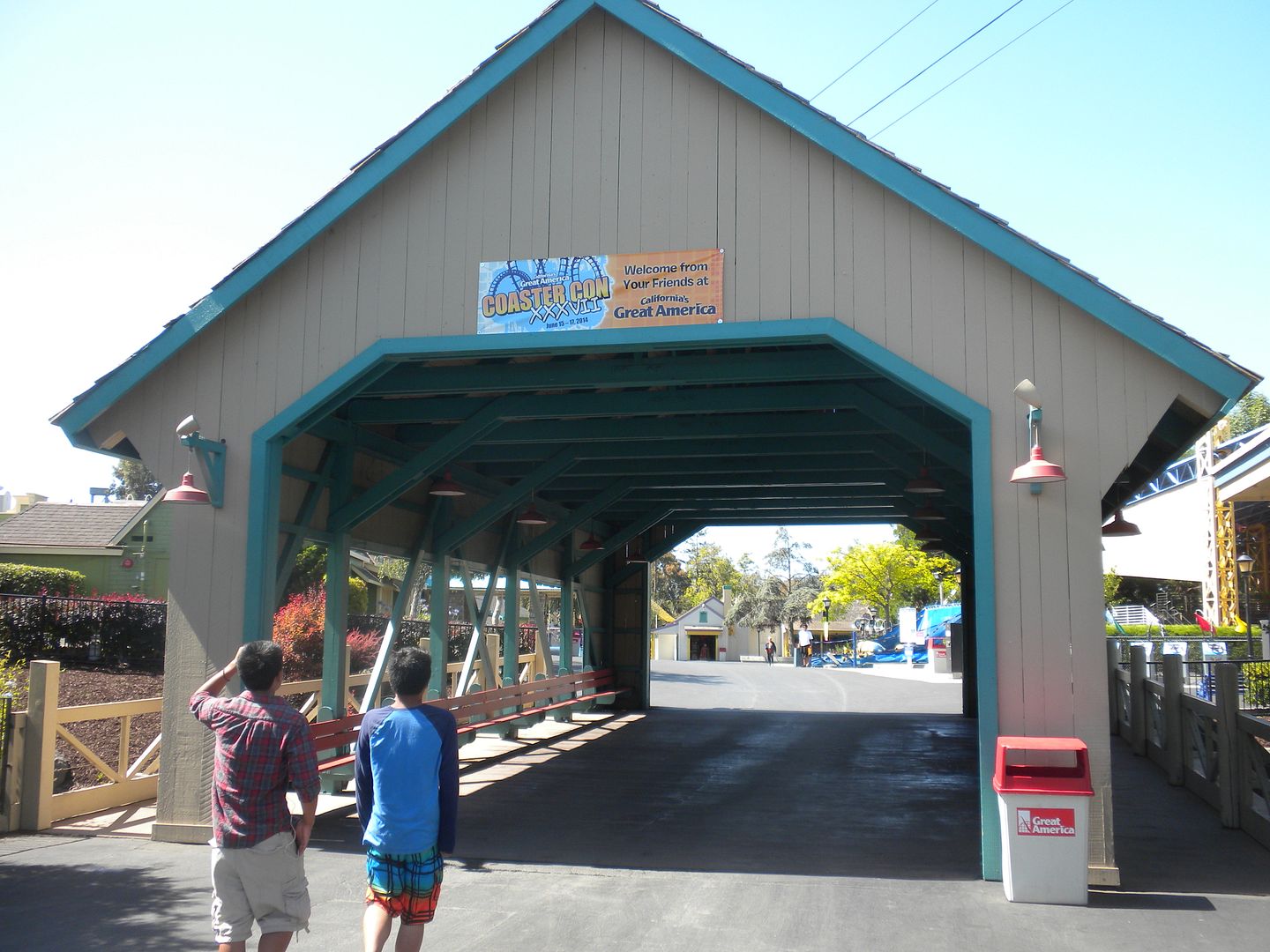 and portions of Yukon Territory and Orleans Place. The name reflects the inclusiveness of three very diverse corners of America.


Loggers Run: Opened with the park in 1976, this Arrow log flume with a 60 foot drop is one of the few rides still at both parks. It has a good layout and the double down adds to the fun. I got fairly wet for a log ride – 2 rides.
Rip Roaring Rapids: This Intamin raft ride has a good course and got me pretty wet – 1 ride.


FireFall: Highly themed with fire and water, this Top Spin gave a good ride– 1 ride during ERT.
H.M.B. Endeavor: This Intamin Looping Starship made a complete inversion twice – 2 rides.
Orbit: Opened with the park in 1976, this Schwarzkopf Enterprise is good – 1 ride during ERT.
Flying Eagles: These Larson Flying Scooters were good – 1 ride during ERT.
Action Theater - Mumble's Wild Ride: This simulator ride with Mumbles the penguin and his friends was enjoyable – 1 ride during ERT.
Delirium, a spinning pendulum ride did not operate during Con.
I did not see On the Mic! Karaoke at 50′s Gazebo (I have a low tolerance for bad singing).

Orleans Place
The other section with its original name, only the portion from the former railroad tracks to the Plaza still bears this name. The theming here is well done.


Flight Deck: (Bolliger & Mabillard, Inverted, 1993) Formerly known as Top Gun this coaster doesn't have as many inversions as similar rides, but it is a very good ride, particularly due to its interaction with the lake – 8 rides during ERT.


Rue le Dodge: Opened with the park in 1976, these classic bumper cars still bear the same name at both parks. My car was somewhat slow – 1 ride during ERT.


Delta Flyer: The other end of the Von Roll Sky Buckets, this goes to Action Zone. Opened with the park in 1976, I like how their names are different on each end and match the respective section theming. I am glad this is still here unlike the one in Gurnee – 1 ride to Action Zone.
Shows in this section include:
Showtime Theatre: On Broadway We were given a private showing, which was very well done with a large cast – 1 show for ACE.


Redwood Amphitheater: Fireworks Extravaganza – While no fireworks were scheduled during our visit, we were treated to a private showing from outside Showtime Theater about an hour after the park closed. This is the first time I have seen fireworks presented exclusively for ACE, but it wouldn't be the last on this trip – special presentation for ACE – 1 show.
Kidszville
Geared to small children, this section takes up much of the former Yukon Territory section.


Taxi Jam: (E&F Miler, Kiddie, 1999) A new credit, we could ride during ERT–1 ride during ERT.
Other children's rides include: Classic Cars; Fender Bender 500, mini bumper cars; Ghost Chase; Junior Jump Club; KidZville Pet Shop; KidZair, airship; KidZConstruction; Snail Races; and Swing Swing Swing.
There is a show in the KidZville Theater, The Magic Hat. Although geared to kids, I took a break and enjoyed the comical magic show – 1 show.
Planet Snoopy
Located in most of the rest of the former Yukon Territory section, this Peanuts themed section is generally geared to kids a little older than the Kidzville section is.


Woodstock Express: (Intamin, Family, 1987)


Although larger than Taxi Jam, this coaster's seat belts were a tight fit for many, although I made it, a new credit for me. It gave a good ride with nice drops – 1 ride during ERT.


PEANUTS Pirates: This circular mini-pirate ship ride was fun – 1 ride.
Other rides include: Sally's Love Buggies; Snoopy's Splash Dance; and Pumpkin Patch.
I did not see the show at Peanuts Playhouse, Team Charlie Brown.
We were randomly given the chance to go on several tours. I went on a very interesting History Tour and an informative Maintenance Tour.


On the History Tour conducted by ACE Northern California Regional Rep Steve Wilson, we toured the apartment in Orleans Place


where the Marriott brothers would stay in the park.


We saw the old dog kennel


and toured Redwood Amphitheater.


We saw the footers of


Tidal Wave (Schwarzkopf, Shuttle Looper, 1977-2002),


the station for Stealth (Vekoma, Flying Dutchman Prototype, 2000-2003),


saw where a support for Logger's Run was modified for Stealth,


and learned the history behind Barney Oldfield's configuration changes.


On the Maintenance Tour


we heard from the man who oversees coasters maintenance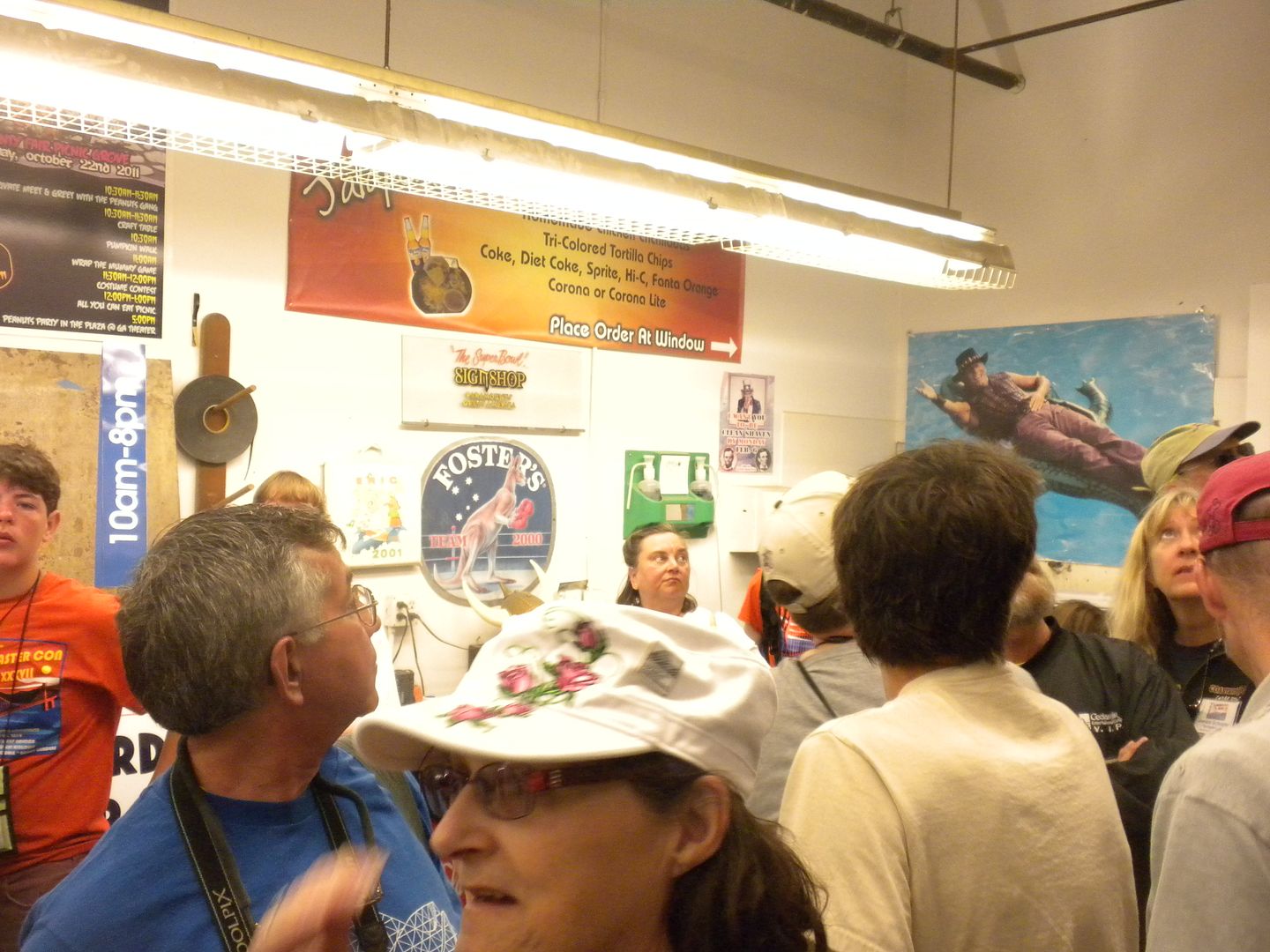 and saw where behind the scenes jobs are performed.


The park also set up a History Museum in Orleans Place


that had a working model of Top Gun.
Boomerang Bay
We were given ERT in Boomerang Bay and I planned to spend some time here, but unusually cool temperatures on that day changed my mind. The waterpark sits where the Yankee Clipper flume ride was previously that also served as the location for Stealth. Although not large, it does have several attractions including: Tasmanian Typhoon, an enclosed 2-person slide; Castaway Creek, a lazy river; Screamin' Wombat, a 3-story, fully enclosed body water slide; Great Barrier Reef, a wave pool; Ripsnort Ridge, a 30-foot body water slide with a 45-degree, enclosed chute; Boomerang Lagoon, a heated lagoon; Down Under Thunder, a 2-person tube down chute, and nearly vertical wall; Kookaburra Cay, a children's area; Jackaroo Landing, another children's area; and Didgeridoo Falls, a 4 person raft family waterslide.
We were given several delicious meals including a meal Sunday night at their newly built indoor Picnic Pavilion that in keeping with the parks Great America theme included selection from all over the country including prime rib, fried chicken, crab cakes, shrimp cocktail and jambalaya. On Monday evening we were treated to an Australian dinner in Boomerang Bay that featured steak, shrimp and chicken skewers and a mashed potato bar.


Our final meal Tuesday was a BBQ lunch in County Fair Picnic Grove. They also provided 2 delicious breakfasts.


We had a very nice closing ceremony in the Great America Theater


with the Peanut characters


escorting Park management. They gave us lots of things including a stuffed Snoopy in his WWI pilots outfit with "Ace" on it sitting on our hotel beds when we arrived back the first night. They even gave everyone (of age) a bottle of wine at the banquet Tuesday night. They treated us well and it was good to have more time in this classic 1970s era theme park. I hope to get to Six Flags Great America in Gurnee, IL later this year and can compare the two. California's Great America is a first class park and Gold Striker is an excellent addition. It is great to have the 49er's stadium and park ownership issues resolved so this park can continue as the premier amusement park for Northern California for many years to come.
On Tuesday afternoon we had presentations at Great America Theater which included Lost Parks of Northern California and the Video Contest. Our Banquet that night was at the Con hotel and included a keynote address from Great Coasters International. Afterwards a Social Mixer was held and sponsored by Six Flags Magic Mountain who handed out large pieces of wood from Colossus with coupons to come for a final ride before it closes on August 16 to be replaced by something soon after to be announced. After a late night it would be time all too early to head to Six Flags Discovery Kingdom for the next leg of Coaster Con XXXVII.
Next Up: Six Flags Discovery Kingdom