On Thursday June 12 I flew to San Francisco for ACE Coaster Con XXXVII which would begin Sunday at California's Great America and continue at Six Flags Discovery Kingdom, Santa Cruz Beach Boardwalk and Gilroy Gardens. But before that I would have 2 days of sightseeing in San Francisco and the area north with another sightseeing day on the Saturday following Coaster Con. I will break this report up into 5 parts as follows:
Prologue: Sightseeing in San Francisco and Northern California
Part 1: California's Great America
Part 2: Six Flags Discovery Kingdom
Part 3: Santa Cruz Beach Boardwalk and Gilroy Gardens
Epilogue: Baseball, Mystery and Exploration

Prologue: Sightseeing in San Francisco and Northern California
Upon arriving in San Francisco I met my friend Richard Bostic who had planned the sightseeing agenda. While I have done some sightseeing in Northern California on two occasions, Richard had not, so that was for him a major priority of this trip and for me a nice change of pace as this would be my first Coaster Con trip to include significant sightseeing.
Friday was to be a day solely for San Francisco, so to that end we did not rent a car until Saturday morning. On Friday morning from our hotel near the airport we took the shuttle to the airport to catch BART into the city. Arriving at Market and Powell we made our way down Market Street.


After seeing many of the stores and statues along Market Street, we made our way to Yerba Buena Gardens.


This tranquil park in the midst of the bustling city has some great views.


We found the Carousel at The Children's Creativity Museum. Although it was too early to get a ride we did get some pictures.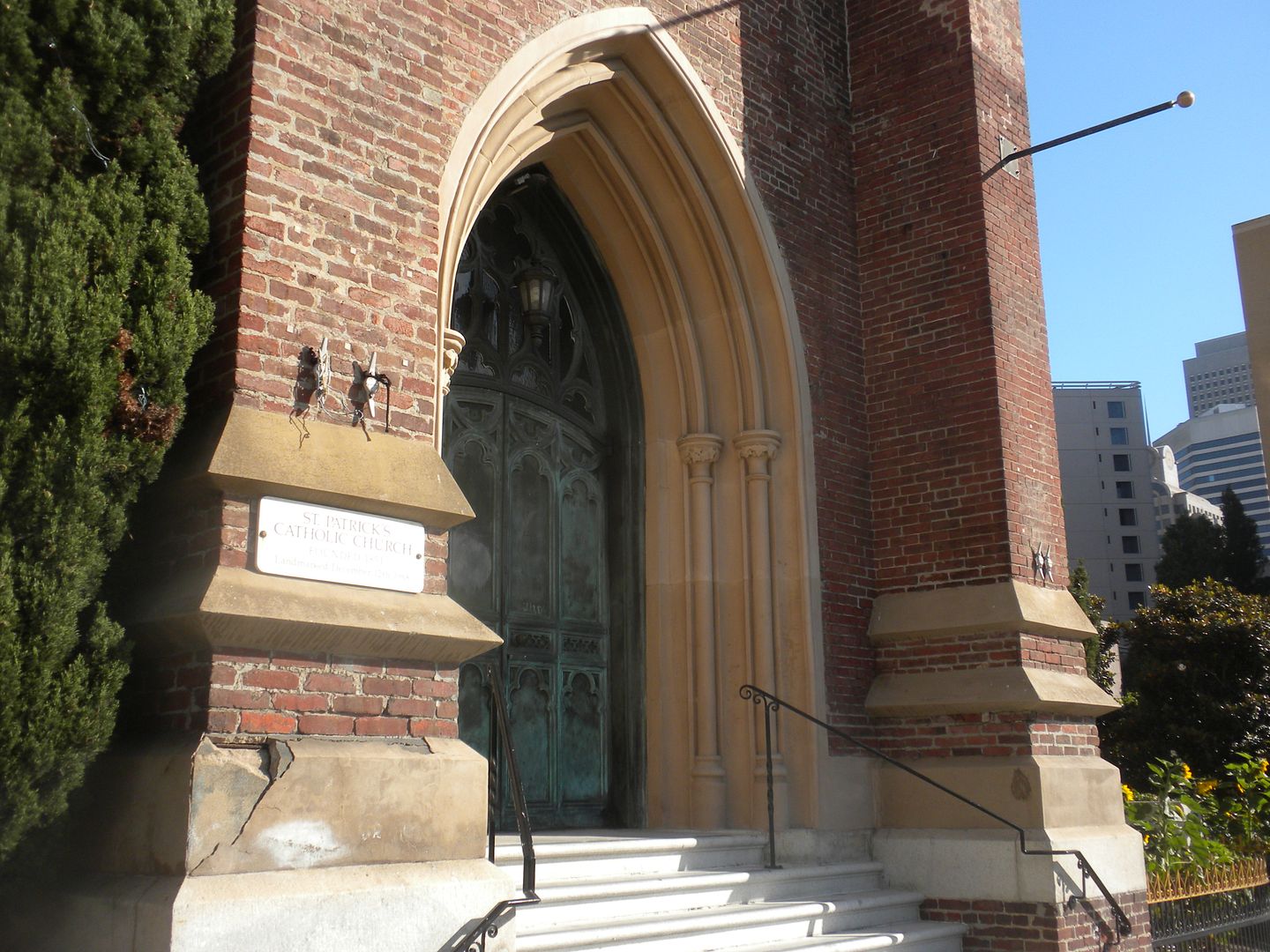 Across from the park is St. Patrick's Catholic Church, which we got to go inside to see.


From here we walked past Nordstrom and Neiman Marcus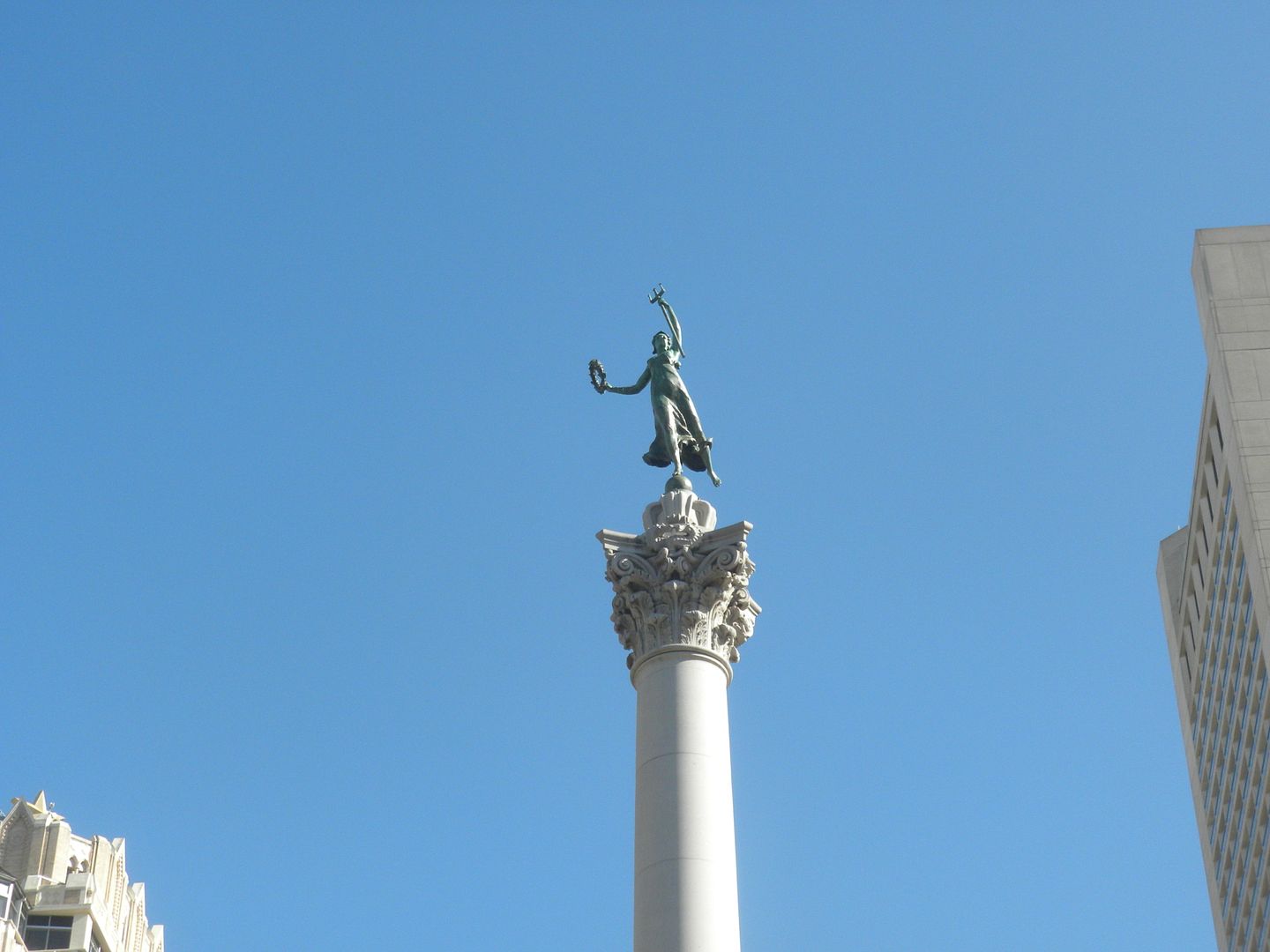 to make our way to Union Square,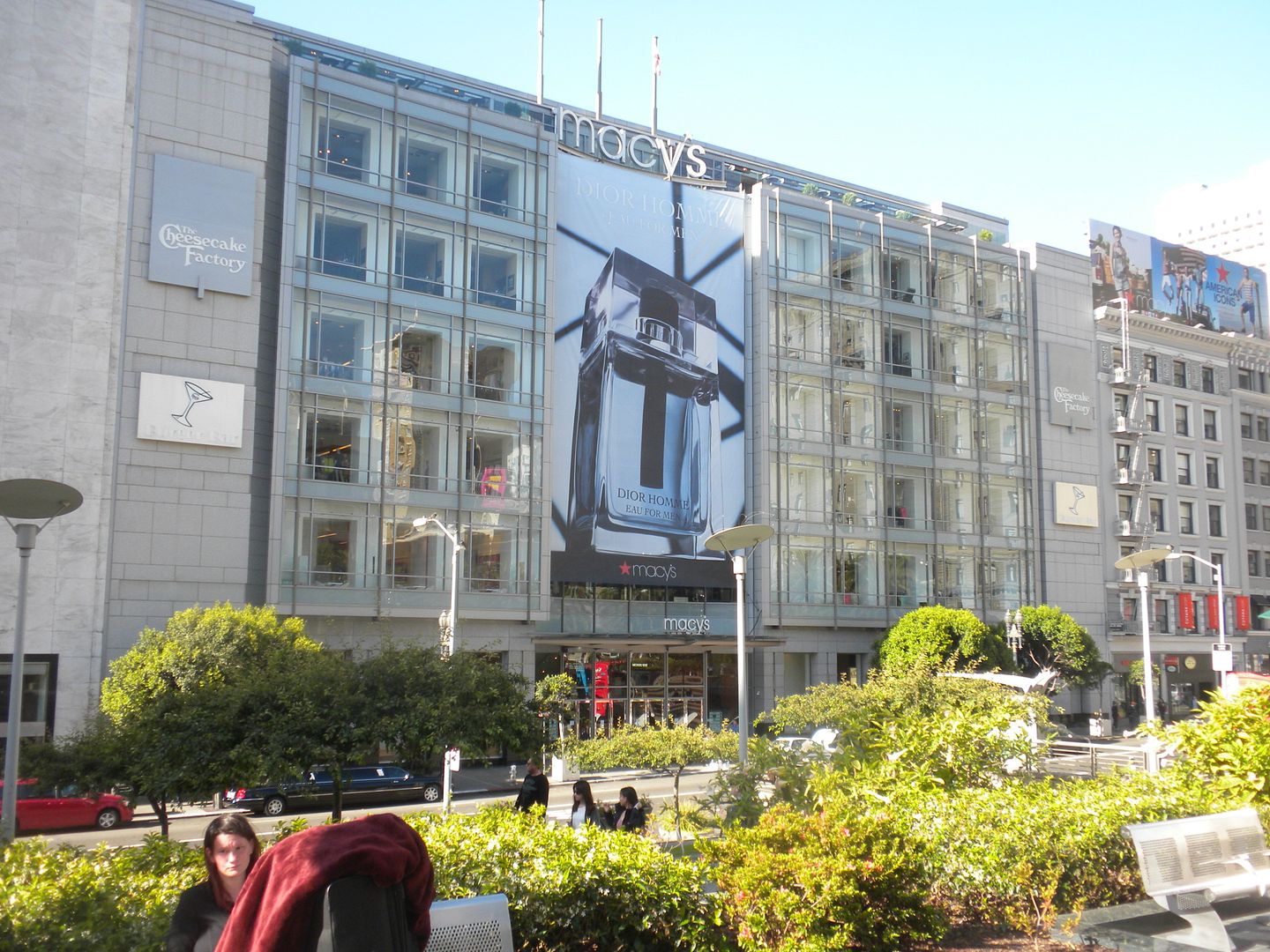 which is home to Macy's,


Saks Fifth Avenue and Tiffany's. We waked down Powell Street past Villa Florence Hotel, at which I had stayed on two previous visits.
At Powell and Market Streets we bought all day passes for public transportation and got in line for the iconic Cable Cars.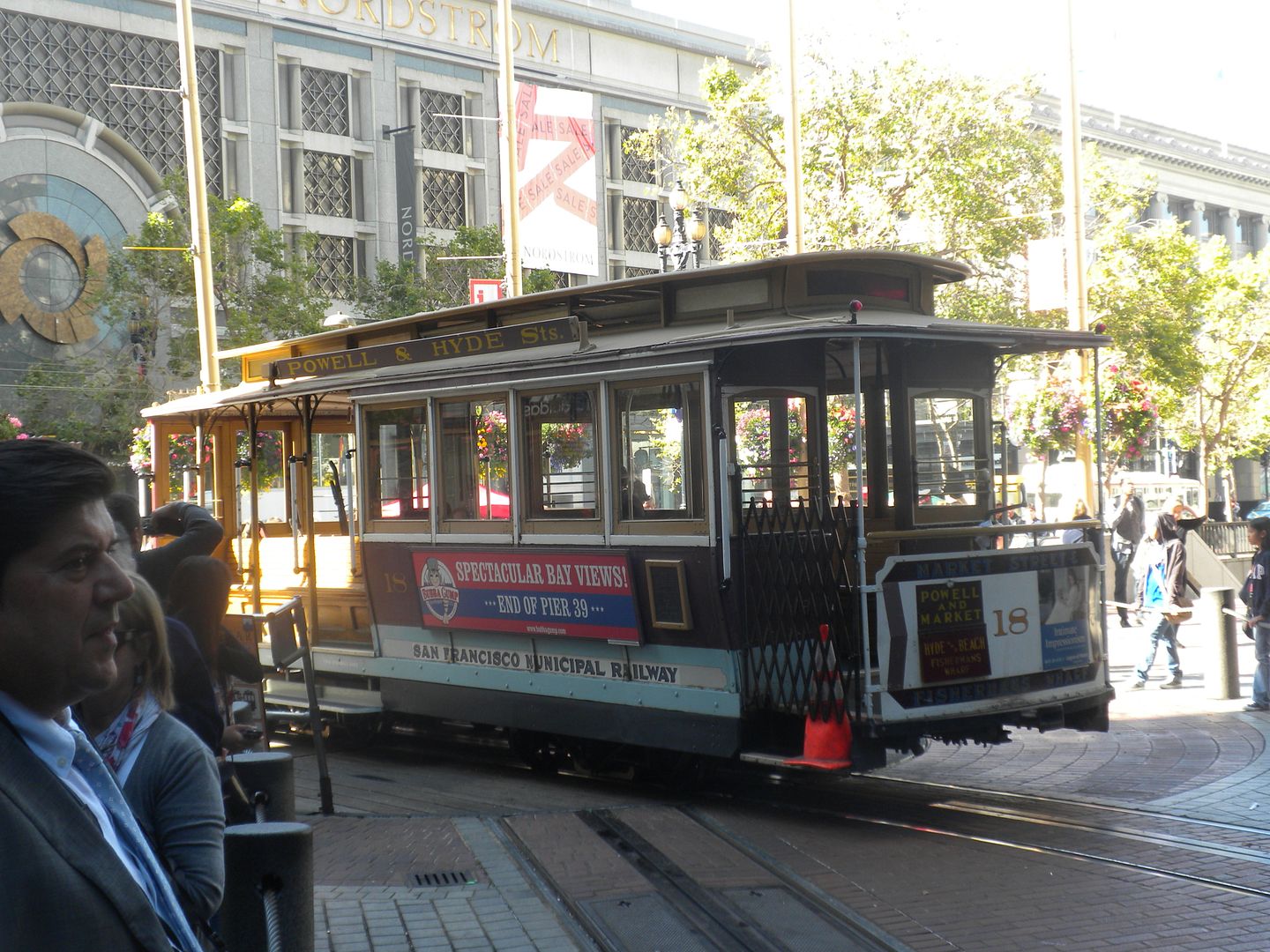 We took the Powell-Hyde line to Ghirardelli Square.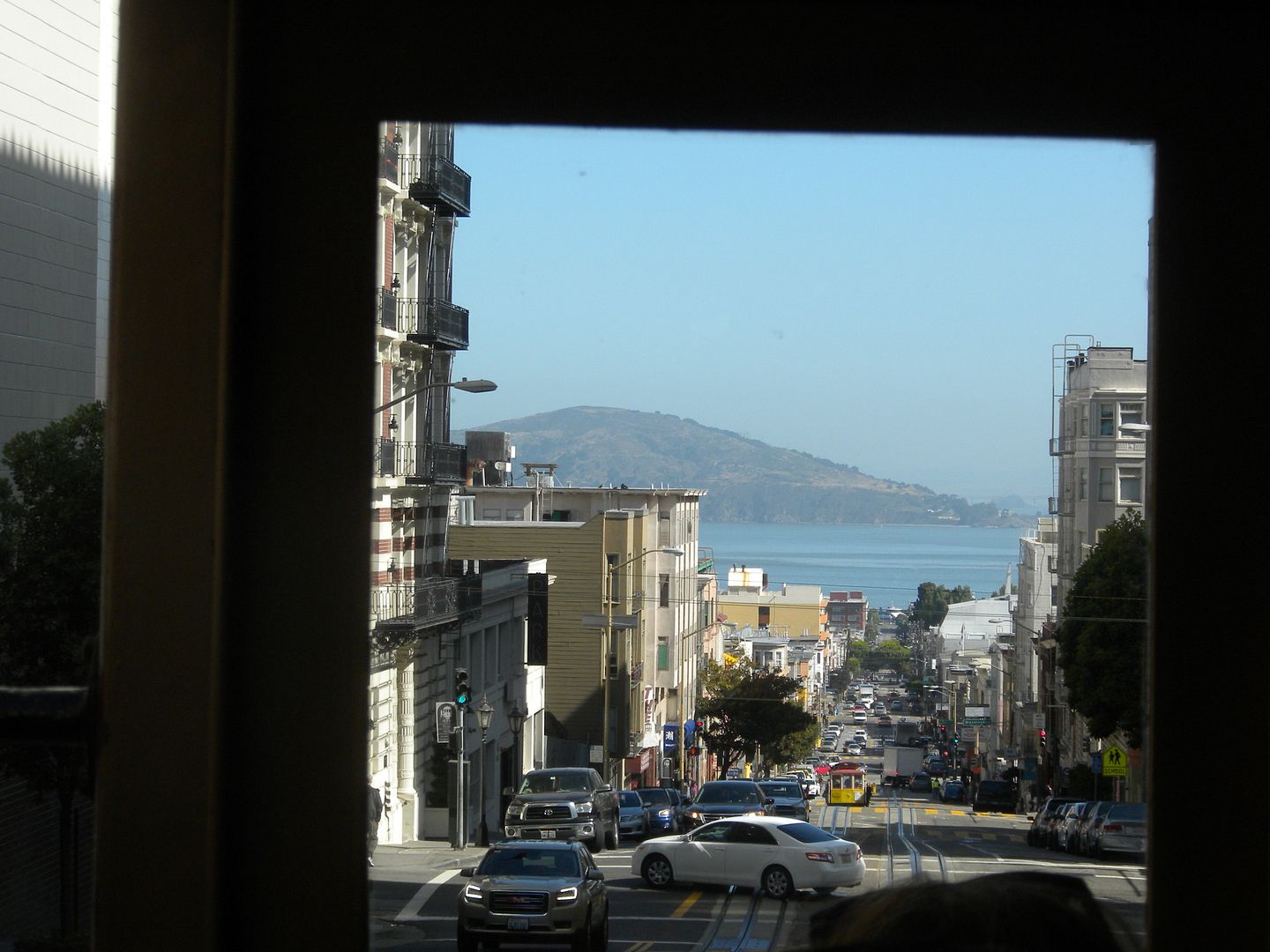 Nothing is more quintessential San Francisco than the Cable Cars, and they are a lot of fun.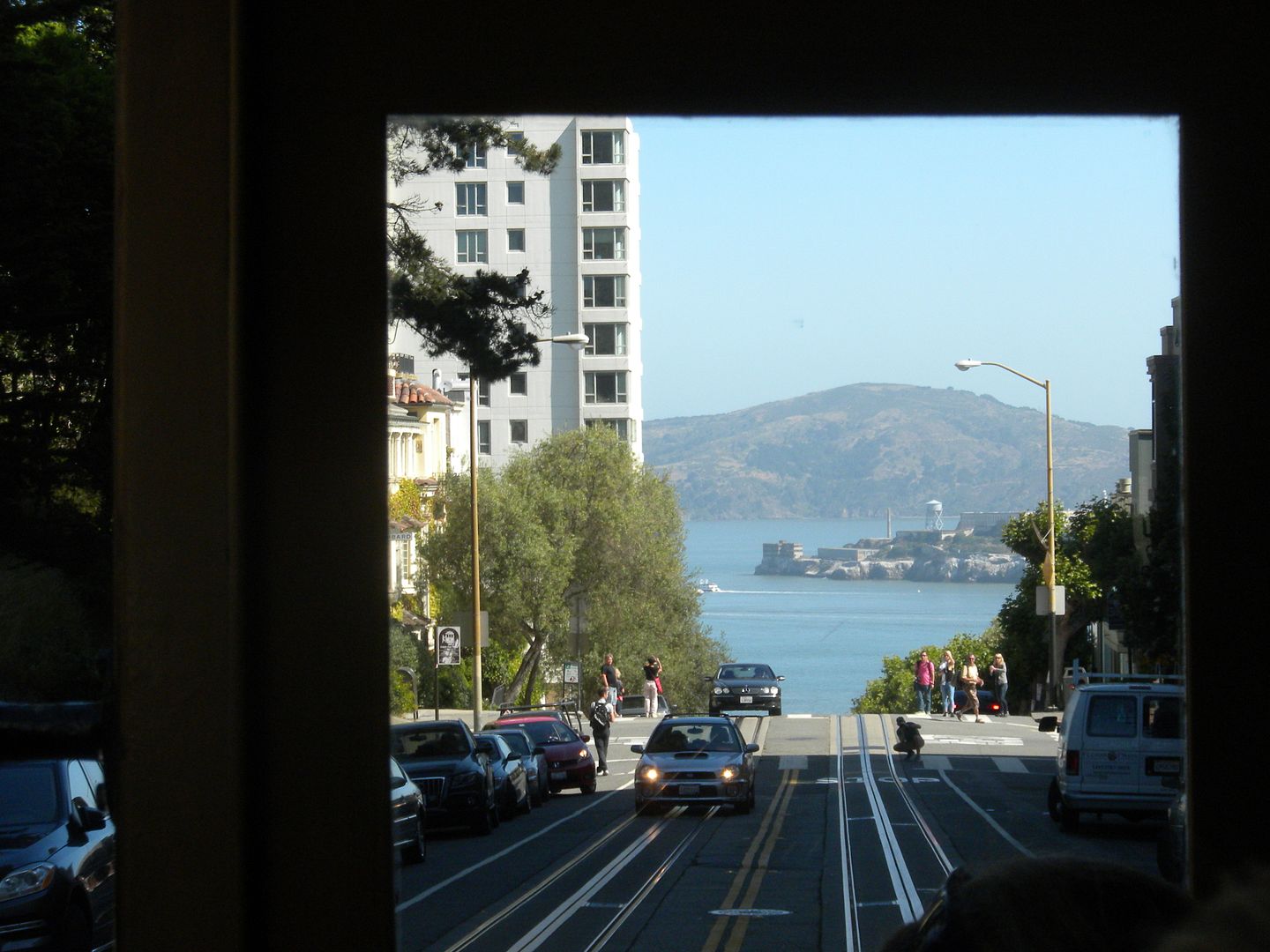 When you top a hill and see the steep route down to the water, one is tempted to count this as a credit. While I did refrain from doing that, I thoroughly enjoyed the journey.


At Ghirardelli Square, we got back in line for the return trip, hanging on the outside this time for the full experience.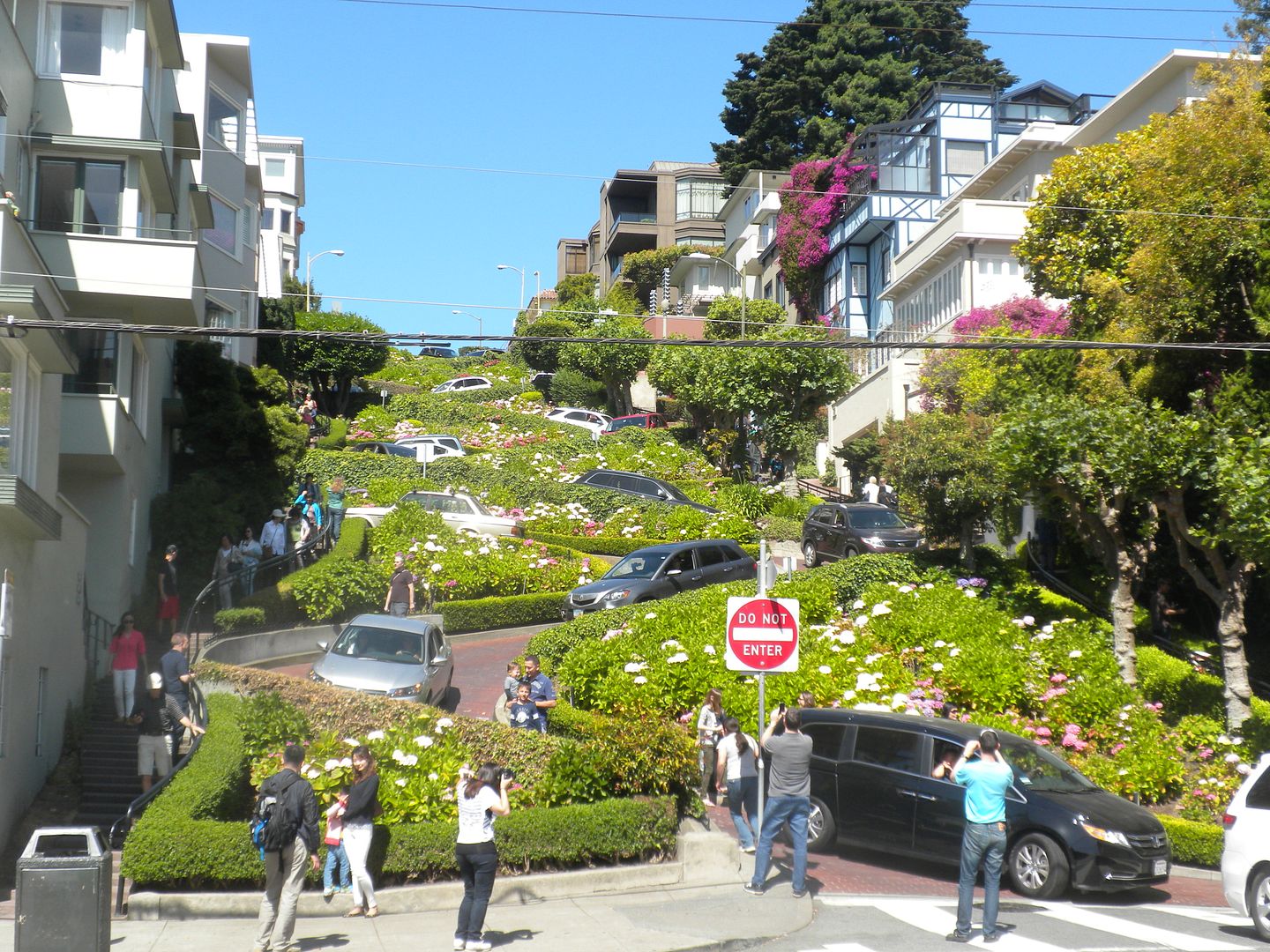 At Lombard Street we disembarked, walking down the crooked street admiring the beautiful flowers along the winding road of this block. Although not the most crooked or the steepest street, this is another quintessential part of San Francisco.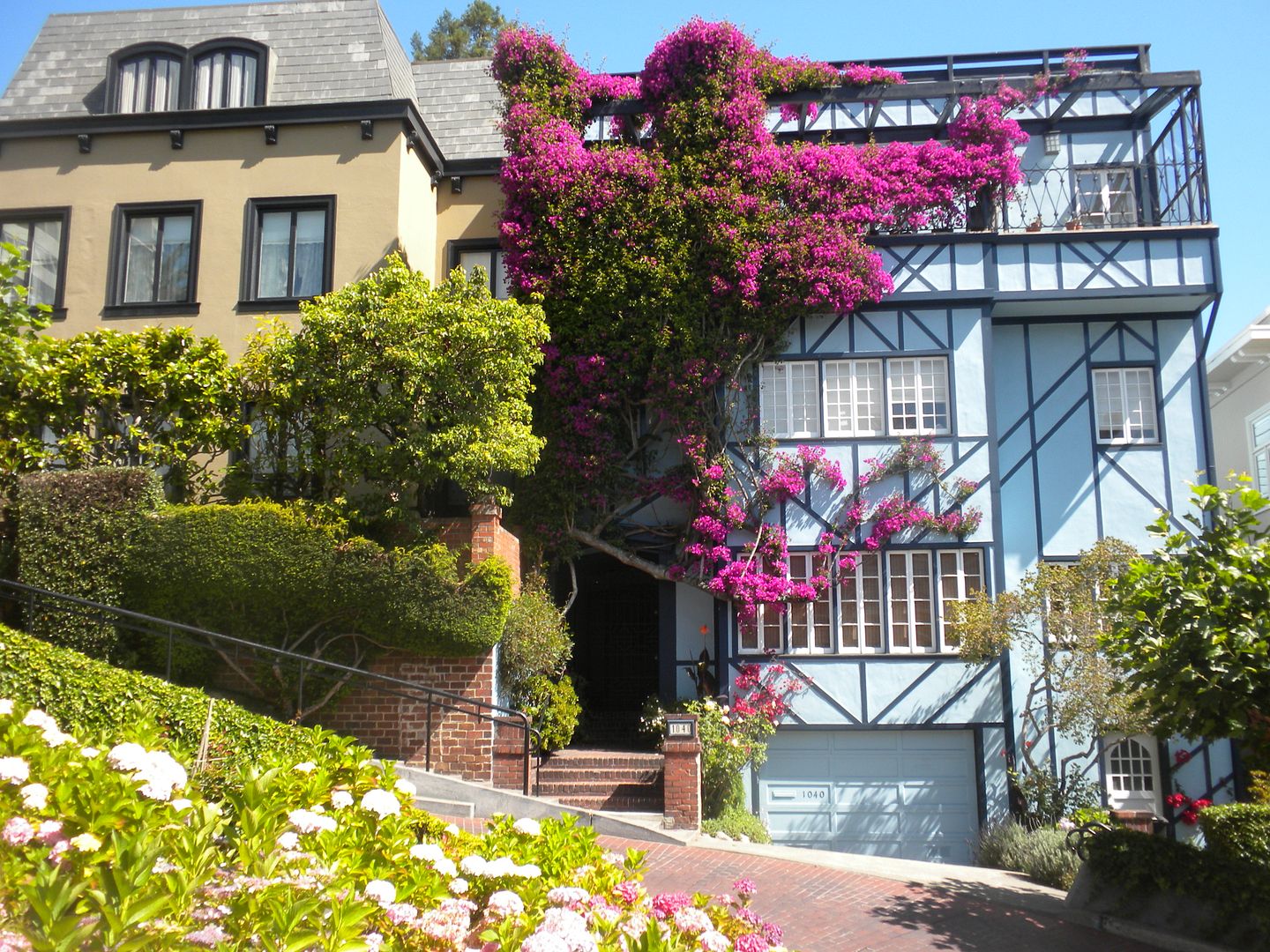 This was my first opportunity to walk it. We followed Lombard Street until we reached the Powell-Mason Cable Car Line, boarding the outside of a car.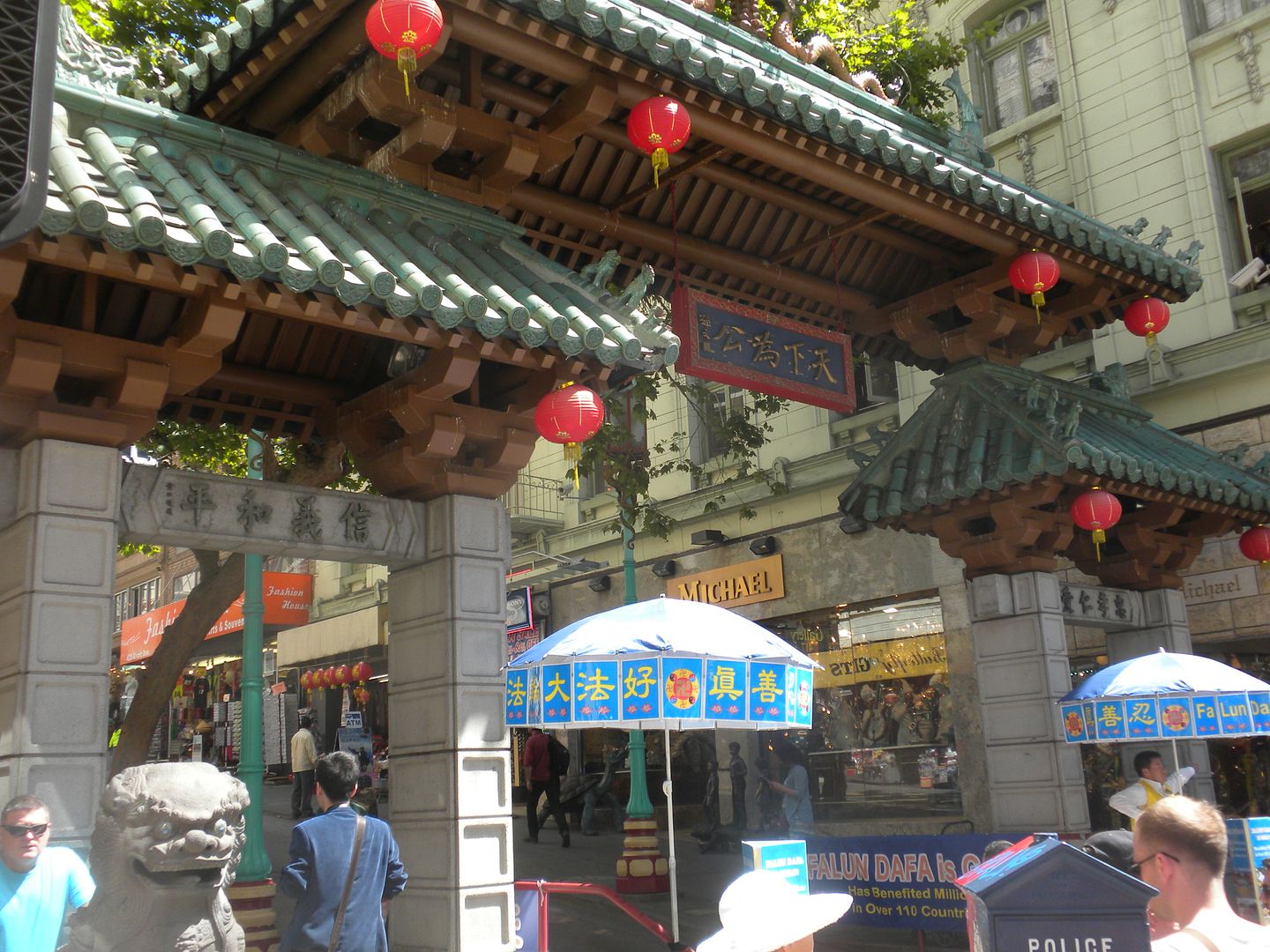 We got off at Bush Street and walked to the main entrance of Chinatown at Grant Avenue.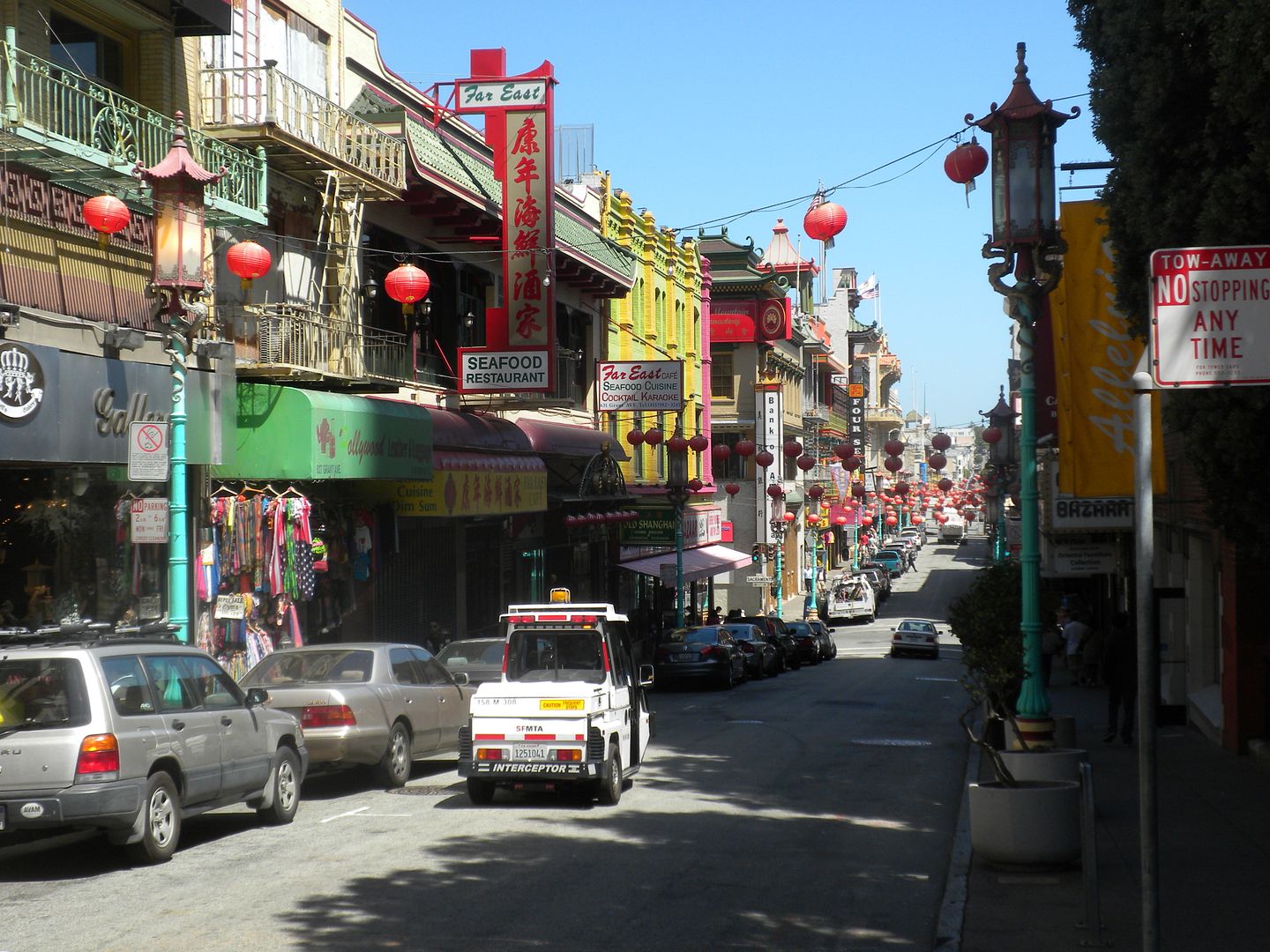 We stopped by shops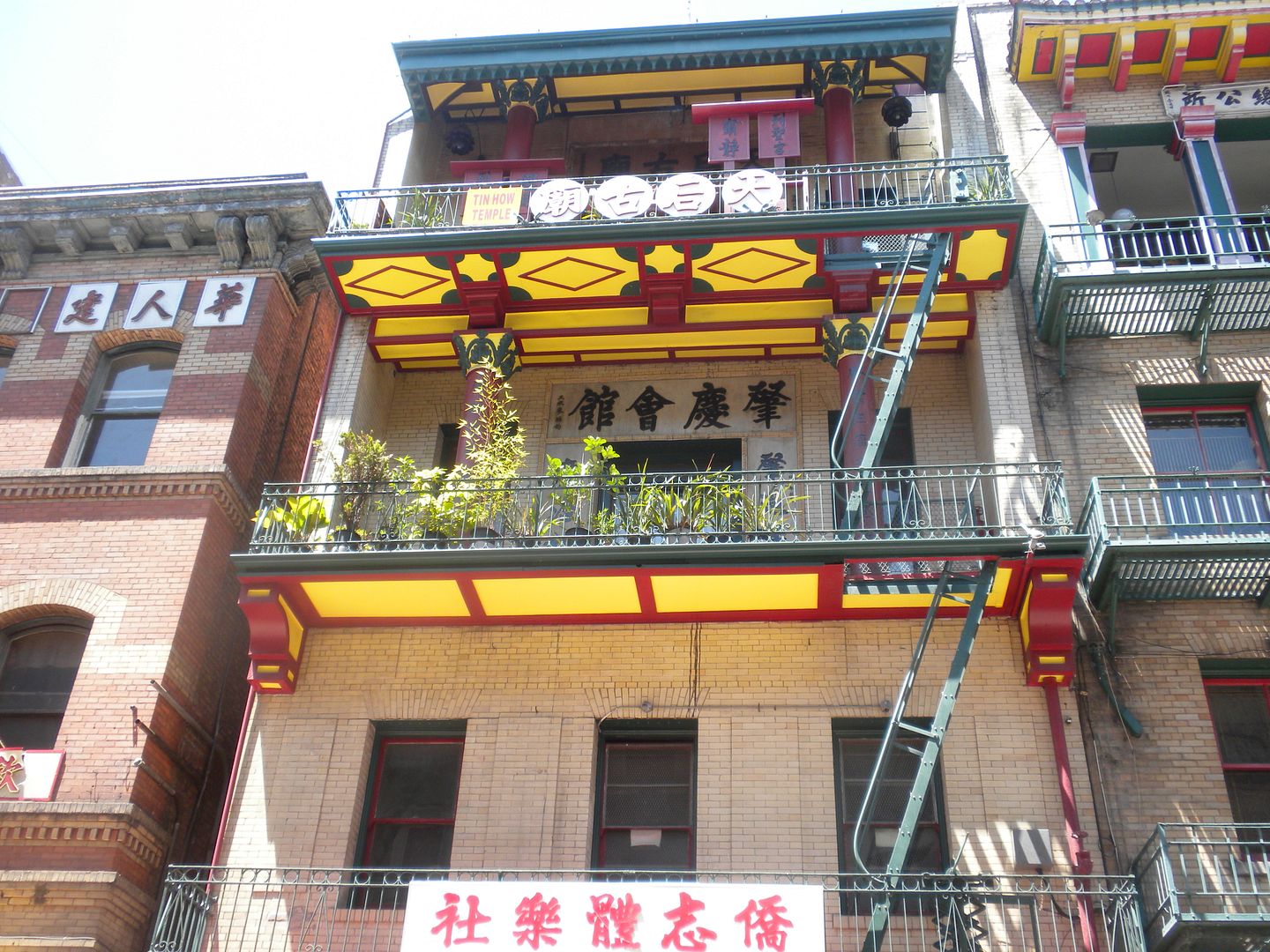 and followed a walking tour to significant buildings and sights.


We stopped by St. Mary's Church and enjoyed the beauty.


We walked through St. Mary's Park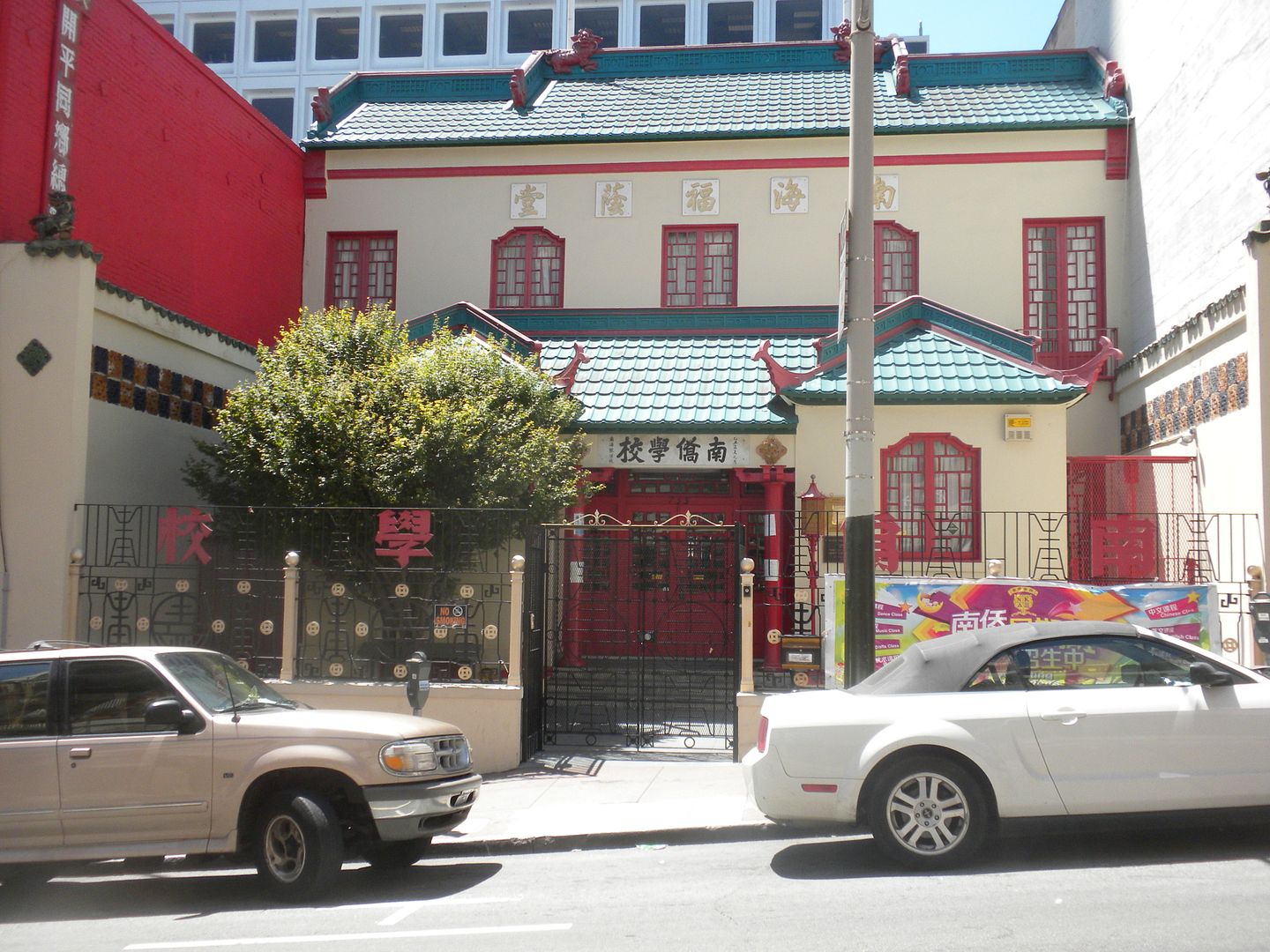 and continued our journey deeper into Chinatown.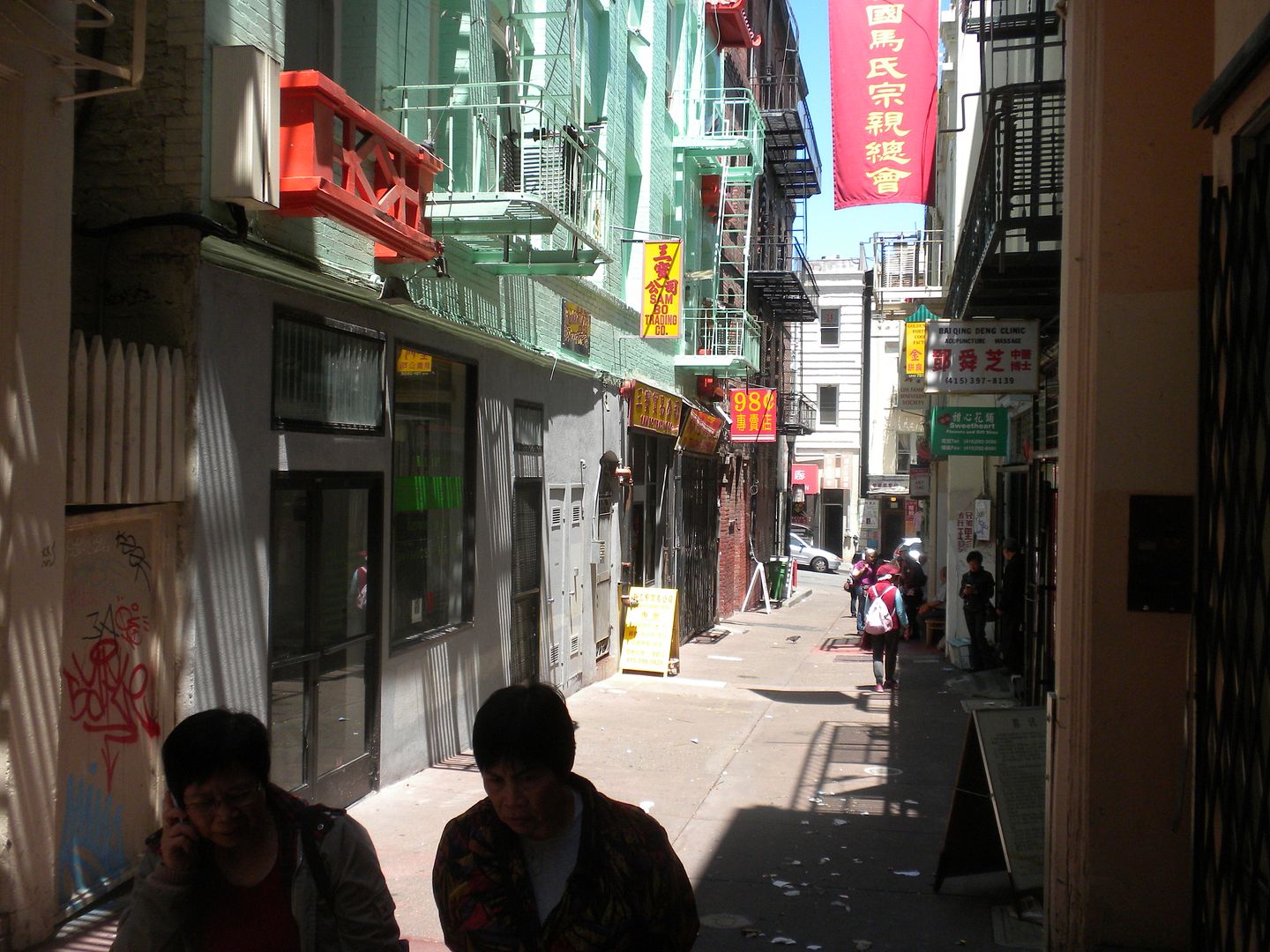 We stopped by a Fortune Cookie Factory for fresh, hot samples and a bag to take with us.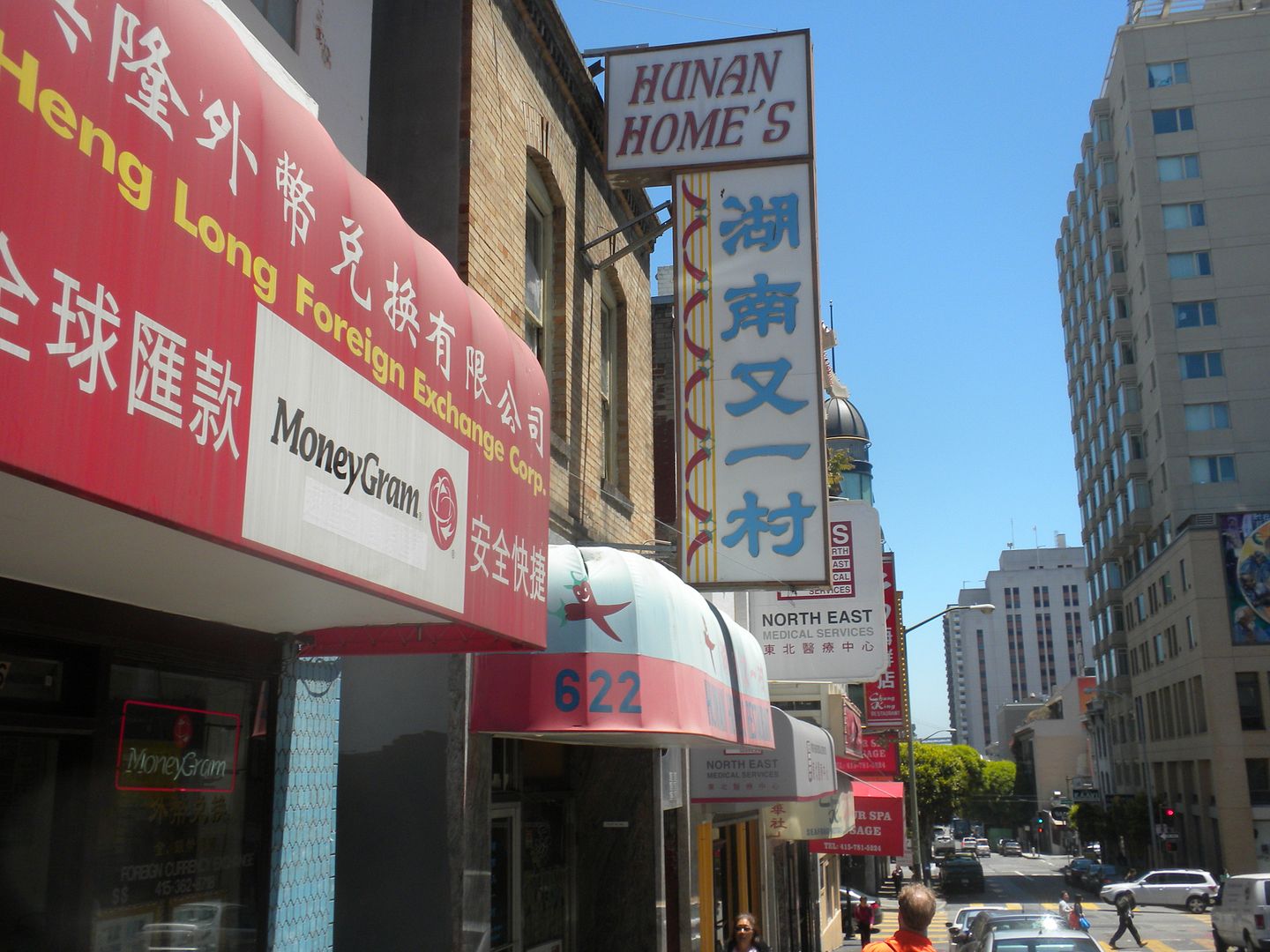 Our final stop in Chinatown was for lunch at Hunan Home Restaurant, which was very good.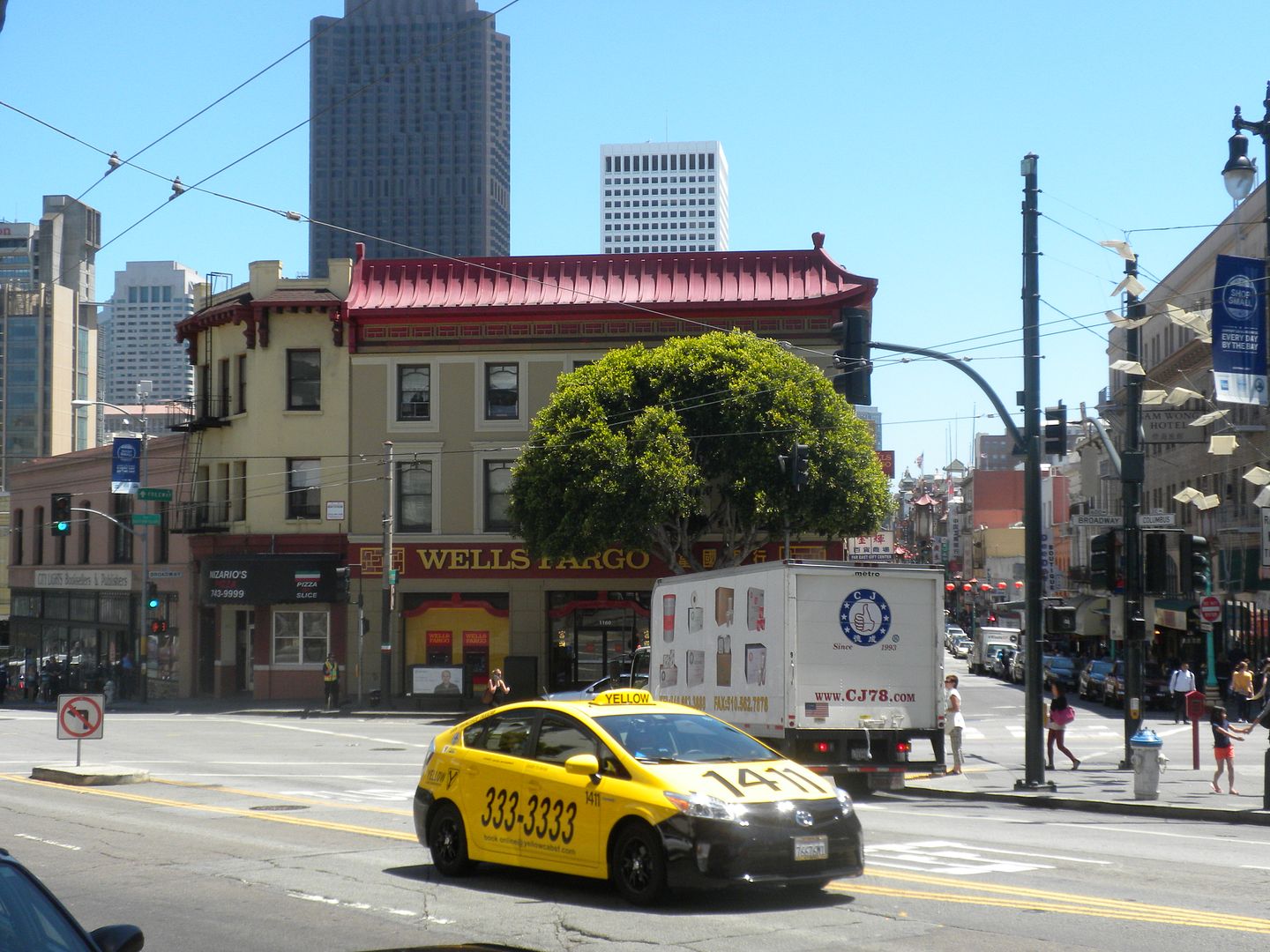 Next on the agenda was a walking tour of North Beach, the Italian part of the city that has nothing to do with a beach. We followed a walking tour to various sights, shops and buildings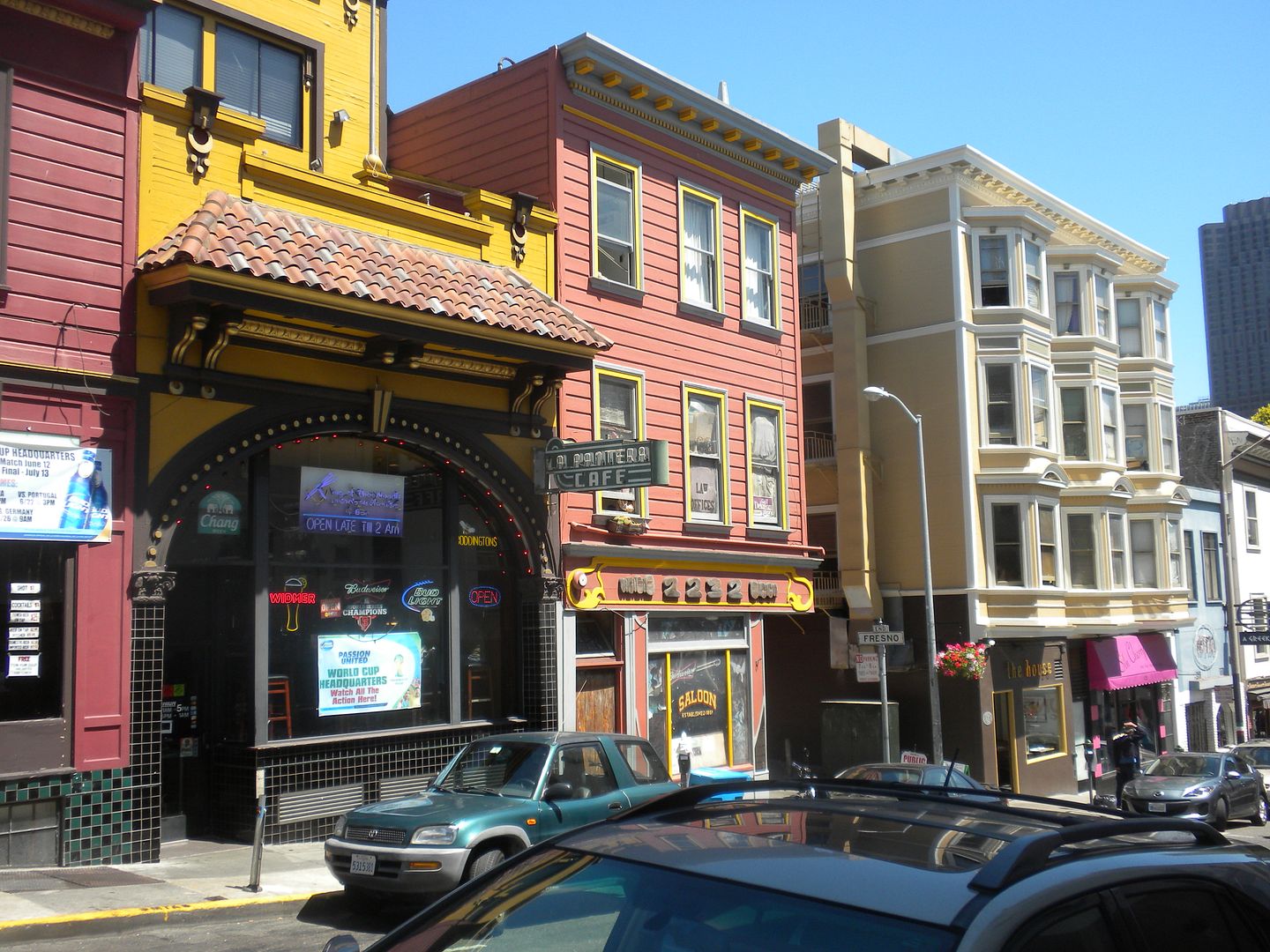 taking a break at the Saloon, a wooden structure established in 1854, quite different from its newer neighbors. Upon walking inside, I was transported to the old West, quite amazed that this has survived all these years.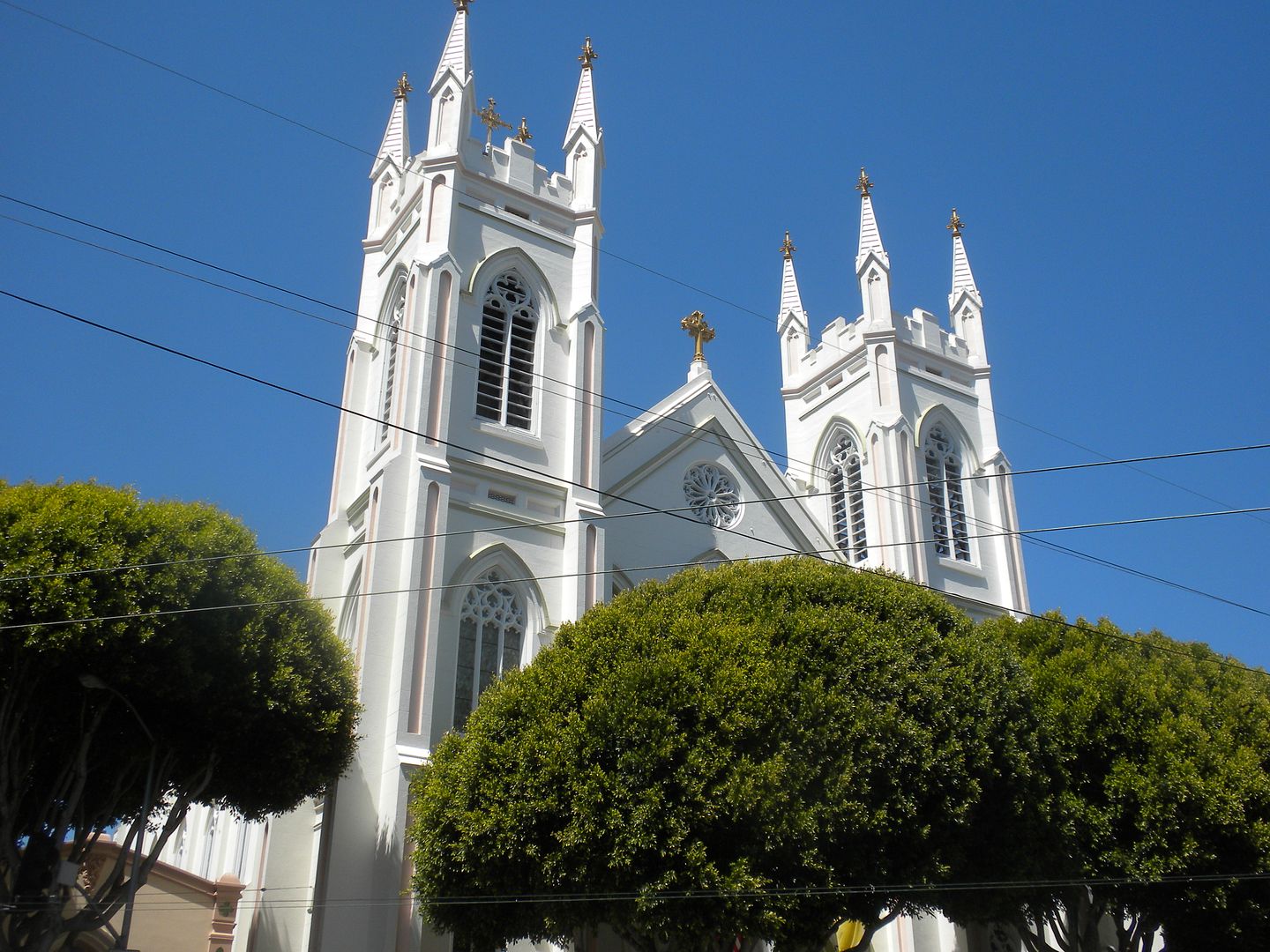 We stopped by St. Francis of Assisi Catholic Church and saw the chapel.


We continued on to Washington Square and Saints Peter and Paul Church, one of the most ornate churches I have seen outside of Europe.


From here we made the steep climb to the top of Telegraph Hill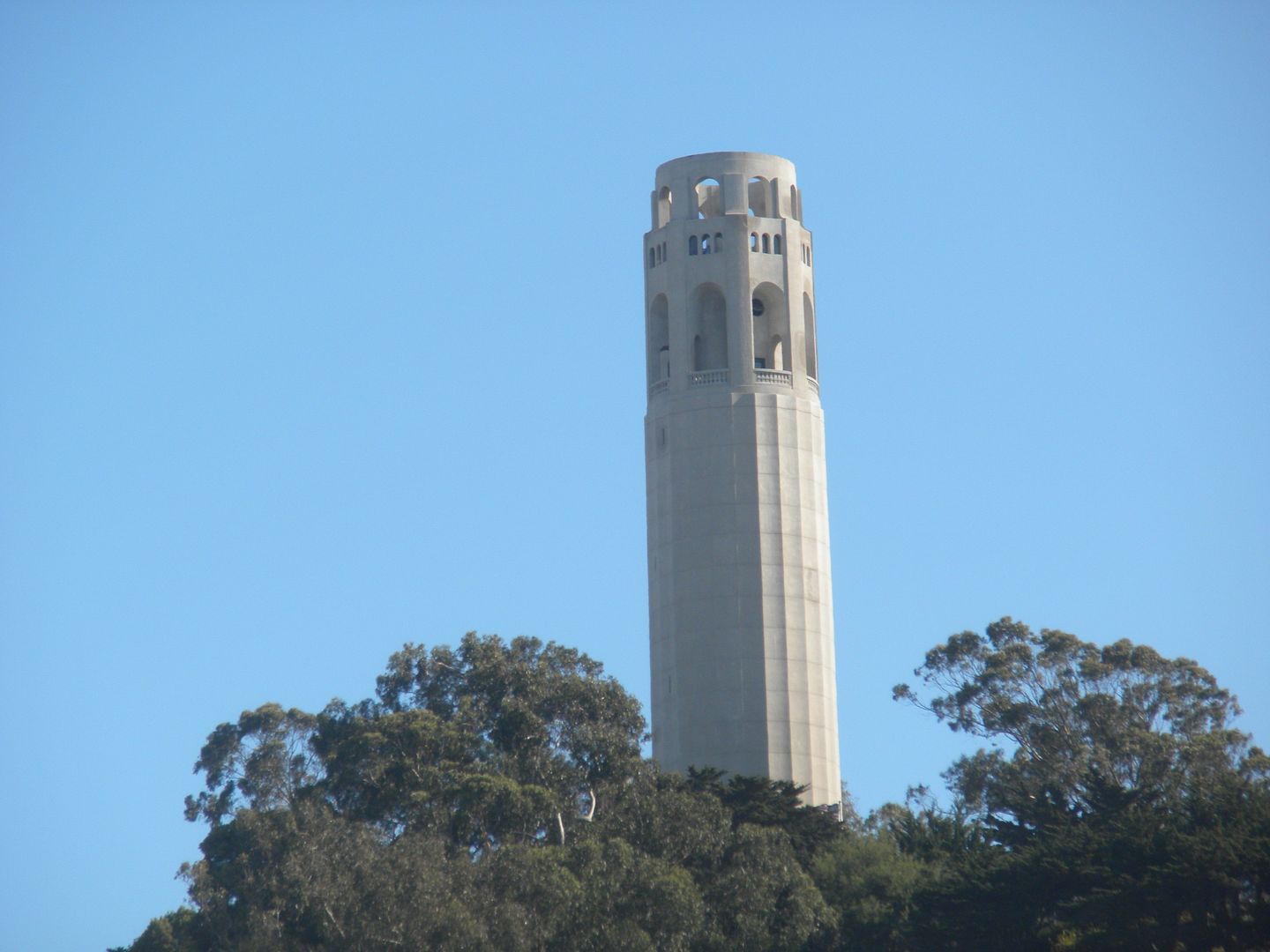 to Coit Tower, an observation tower


with great views of the city as well as historic murals that line the walls at the base of the tower.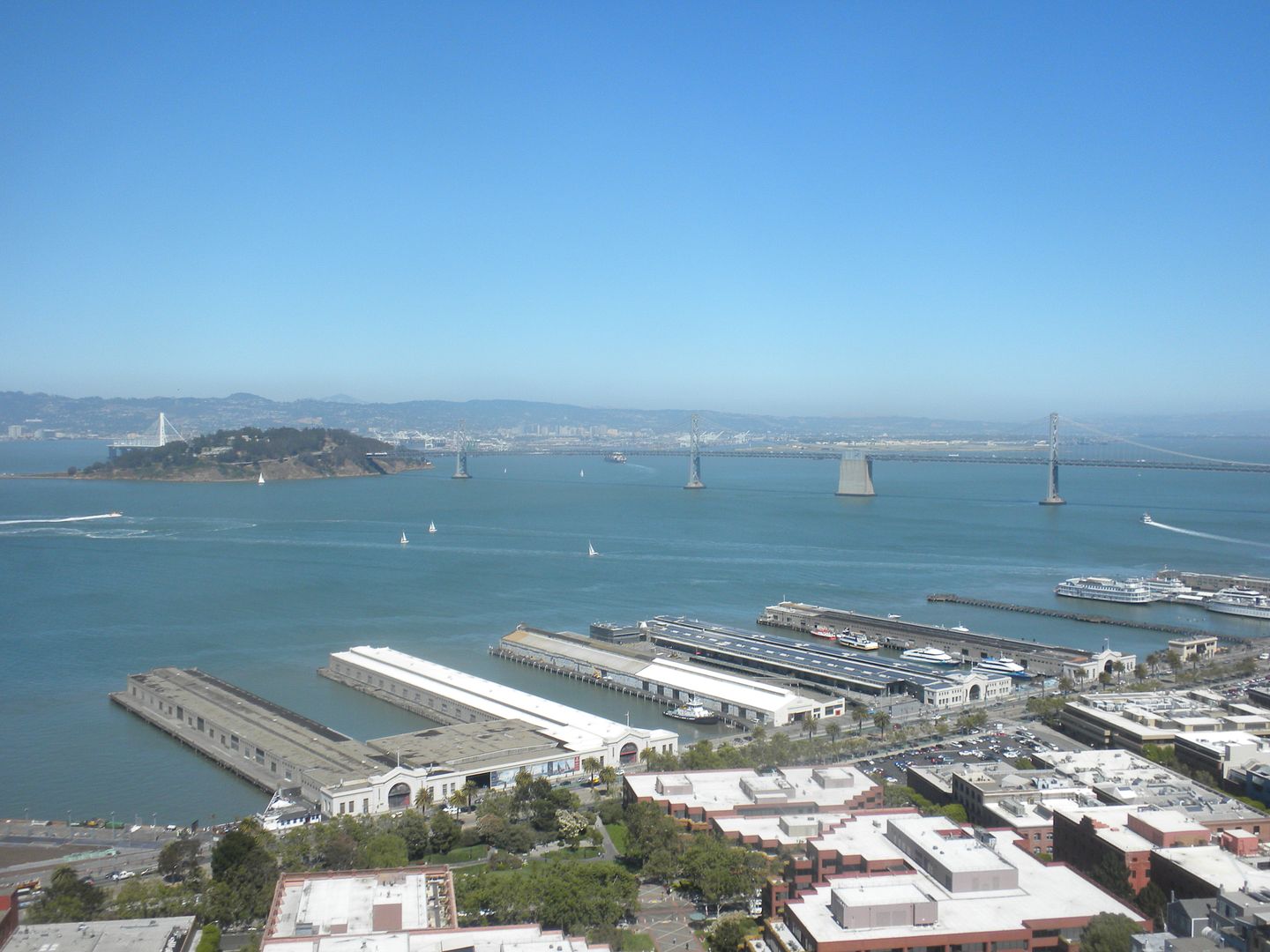 After taking in the great views,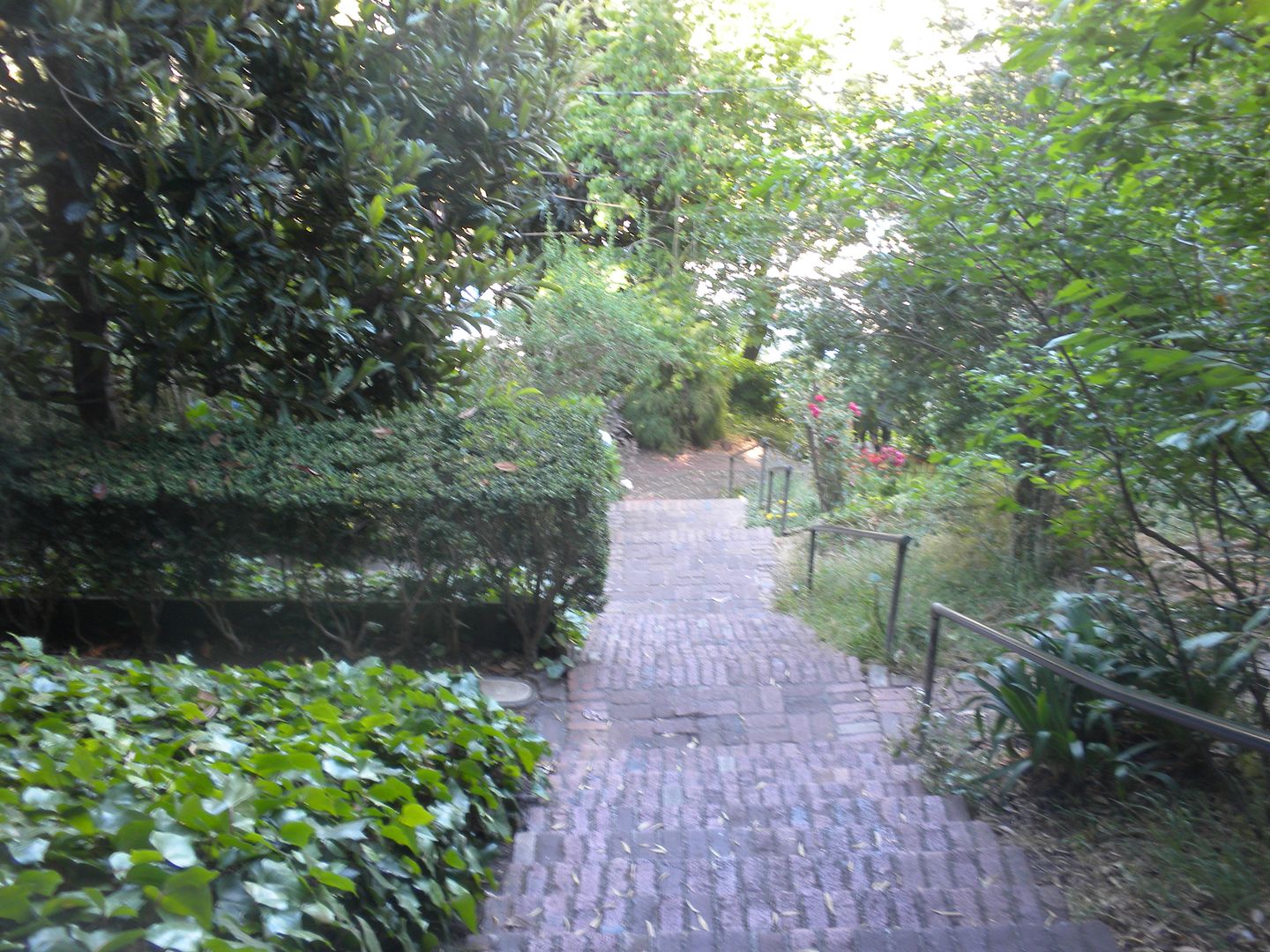 we took the 400 steps down Telegraph Hill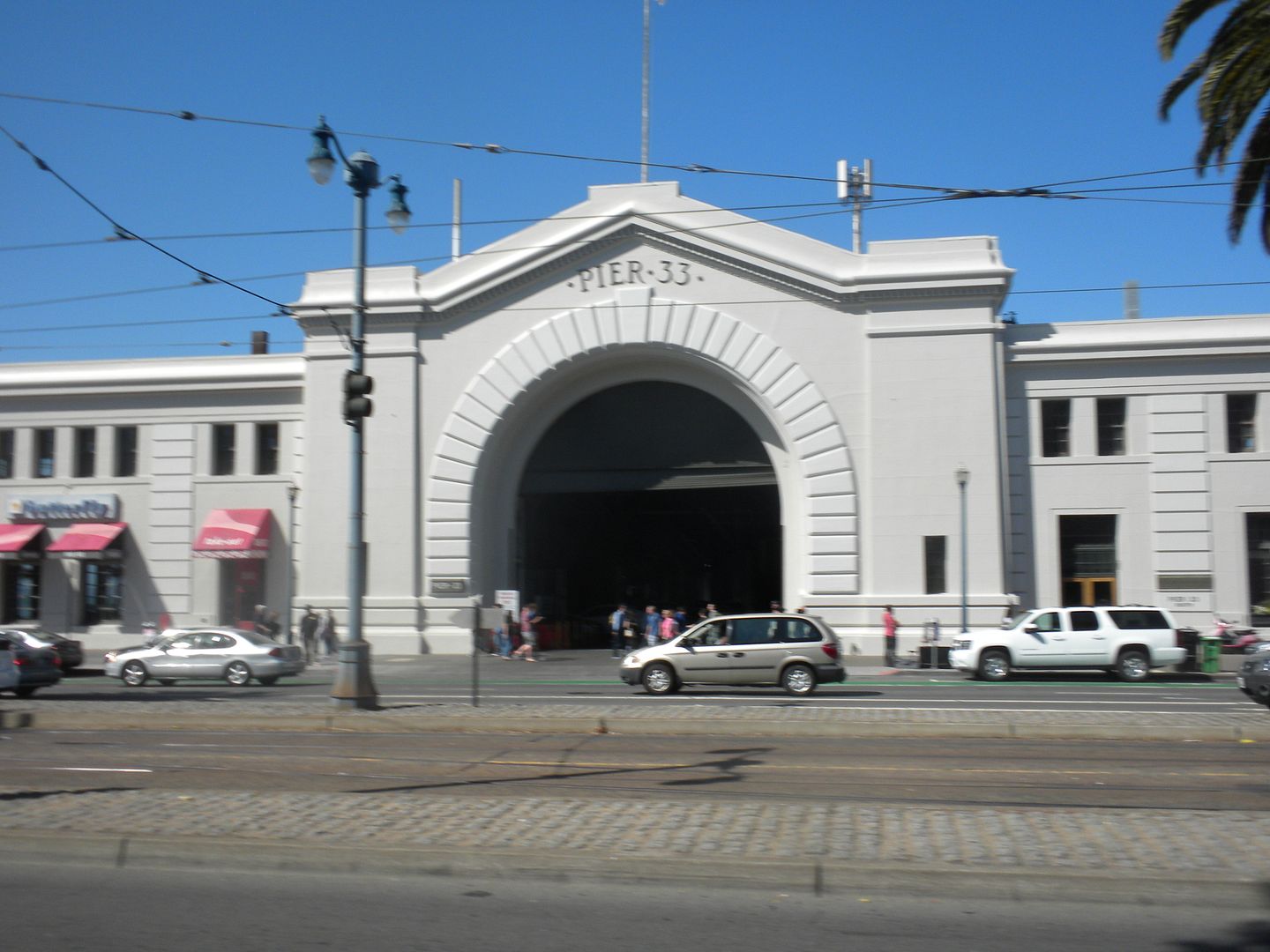 to the Embarcadero along the waterfront below.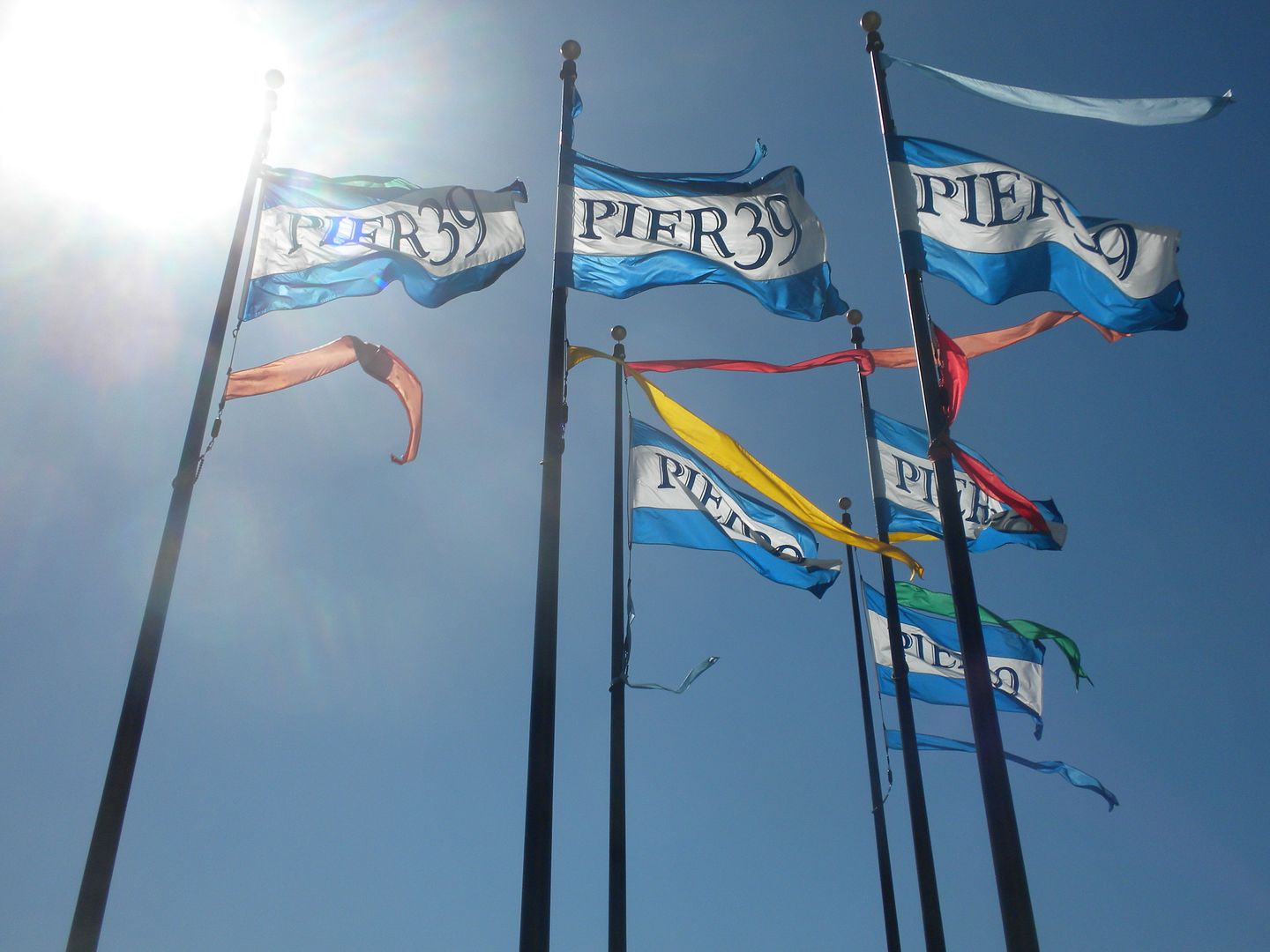 Now at Fisherman's Wharf, we walked to Pier 39.
We had made reservations for a night tour of Alcatraz.


We boarded the boat for the ride across the bay.


Arriving at Alcatraz, I was struck by the bleakness of the rocky island,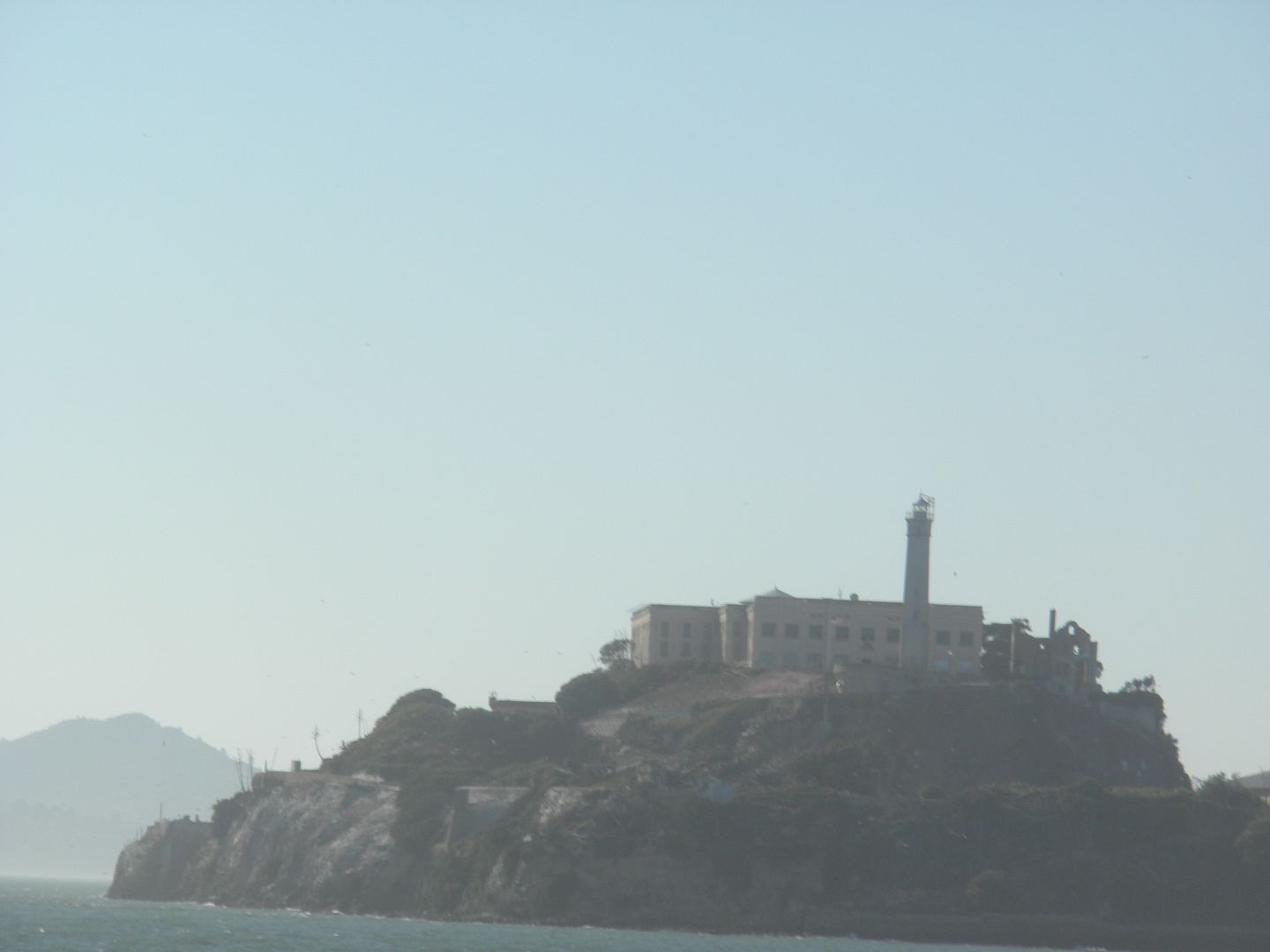 which as I found out had a somewhat difficult time sustaining life.


Built as a result of the proliferation of organized crime in the 1920s and 1930s requiring a need for a prison with higher security,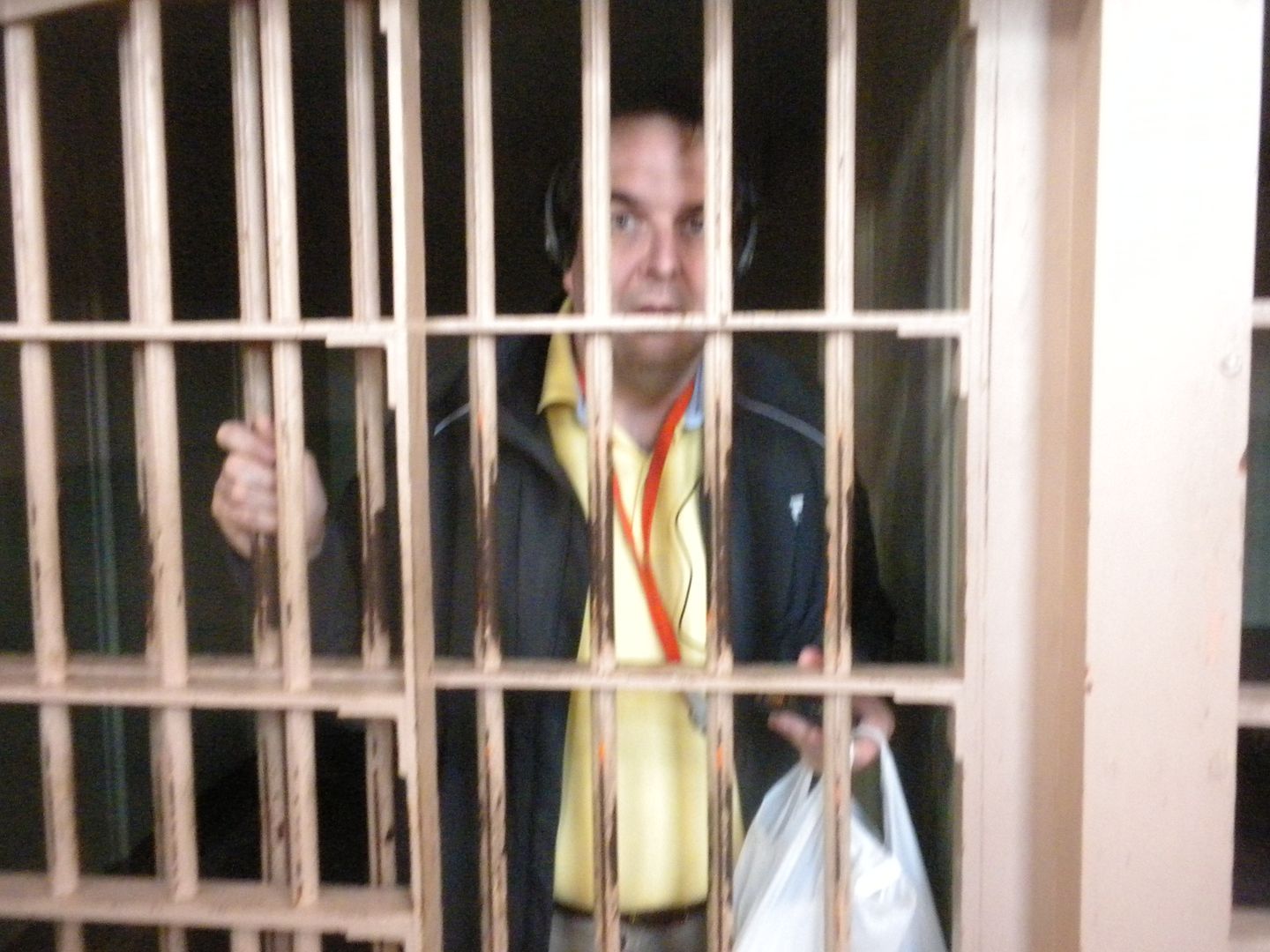 I was surprised to learn that Alcatraz was only used for 29 years before being decommissioned in 1963 by then Attorney General Robert Kennedy


due to excessive needed maintenance and changes in how prisons should be built.


They provided an audio guide


as we walked through the prison that was quite interesting.


We learned about their most famous prisoner, Al Capone,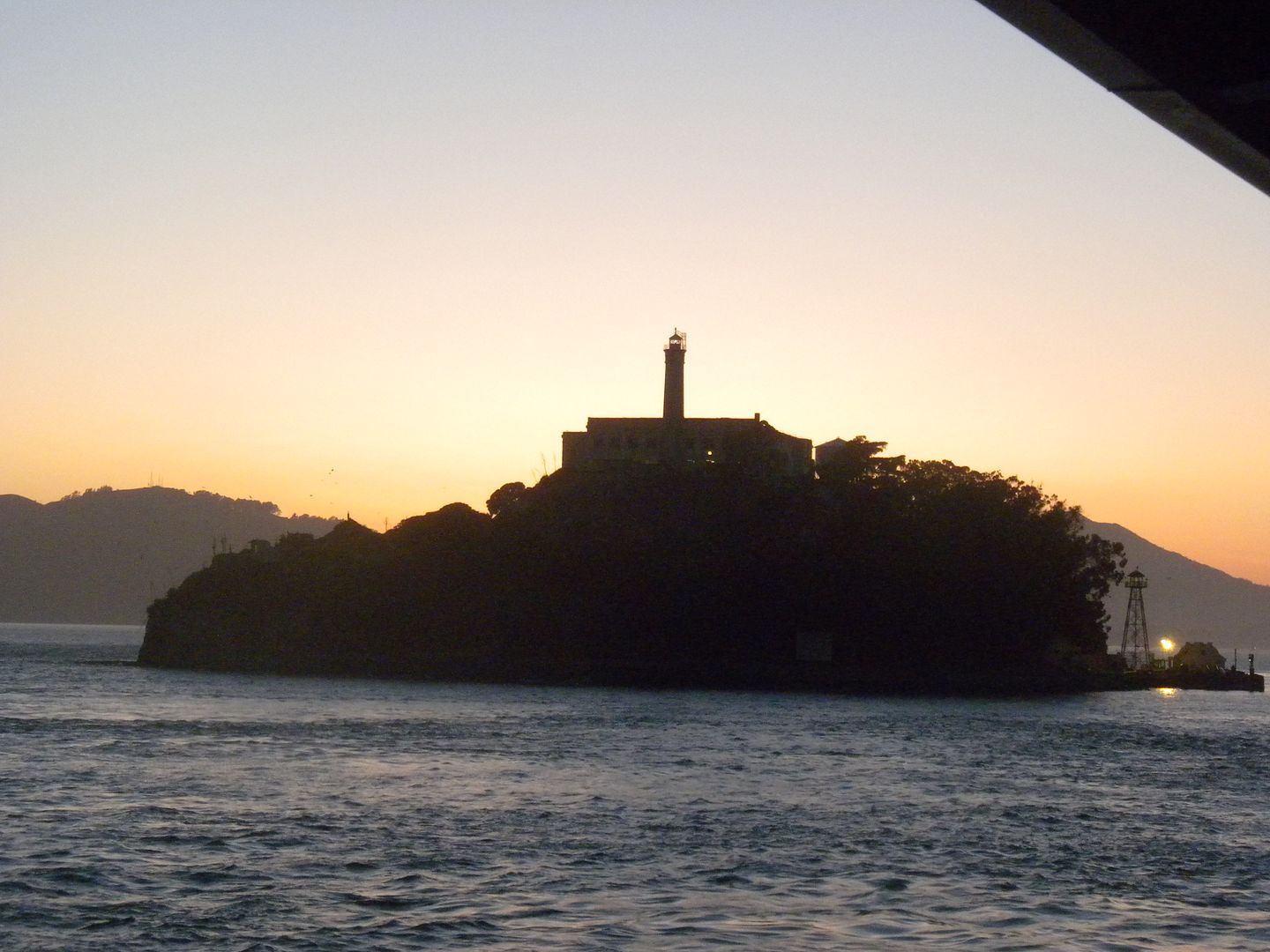 as well as seeing evidence


from several escape attempts.
After taking the boat back with sunset views of the city, we planned to take the Historic Street Car, but ended up on a replacement bus due to work on the line.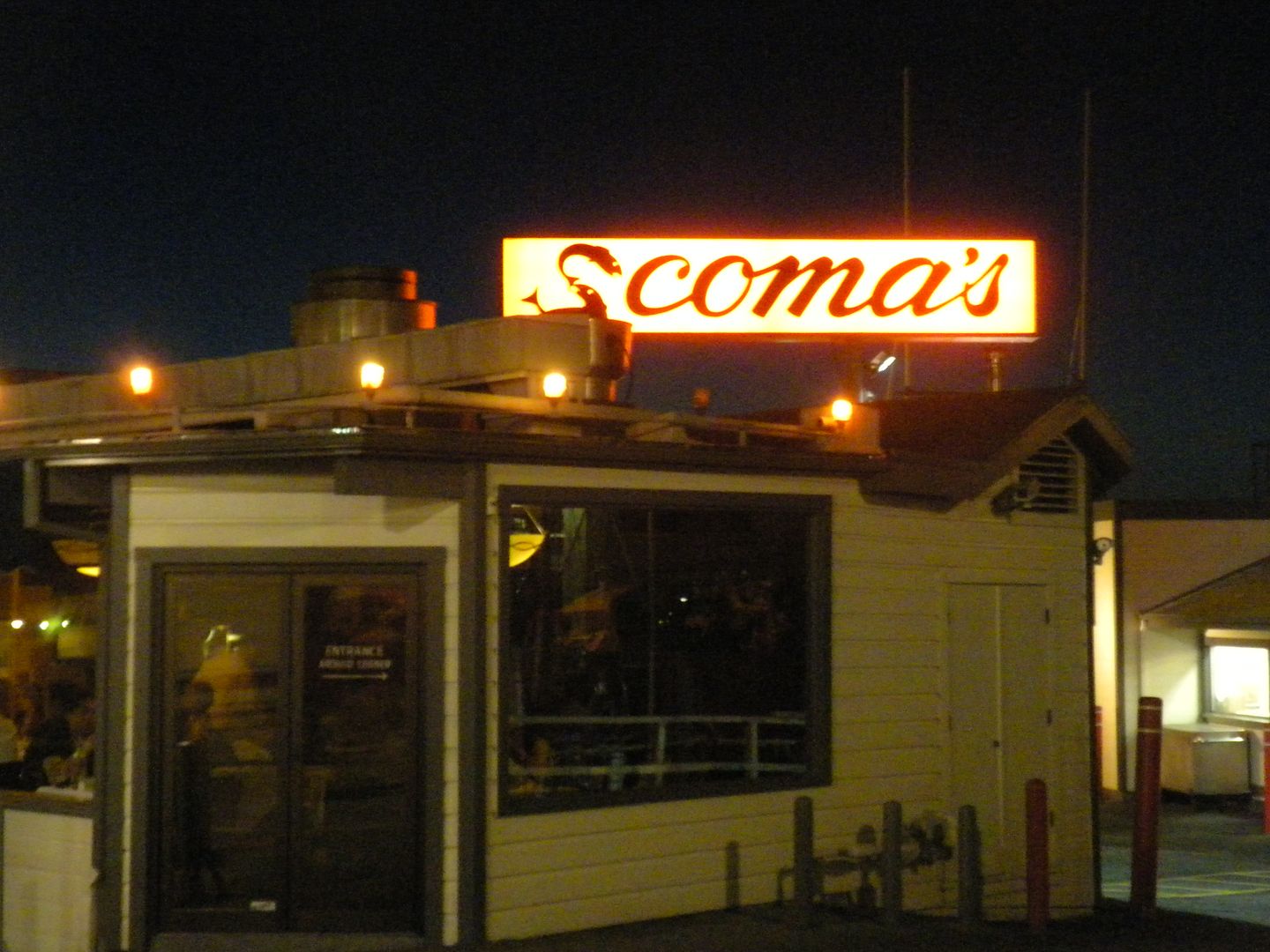 We got off in time for late reservations at Scoma's, a local restaurant known for its fresh seafood. It was excellent.


After dinner we walked to Ghirardelli Square for ice cream, which was excellent, and caught the Powell-Hyde Cable Car Line for a ride back to Powell Street. From here we used BART and the airport hotel shuttle back to our hotel after a very long but extremely rewarding day.
On Saturday morning after renting a car we headed north of the city,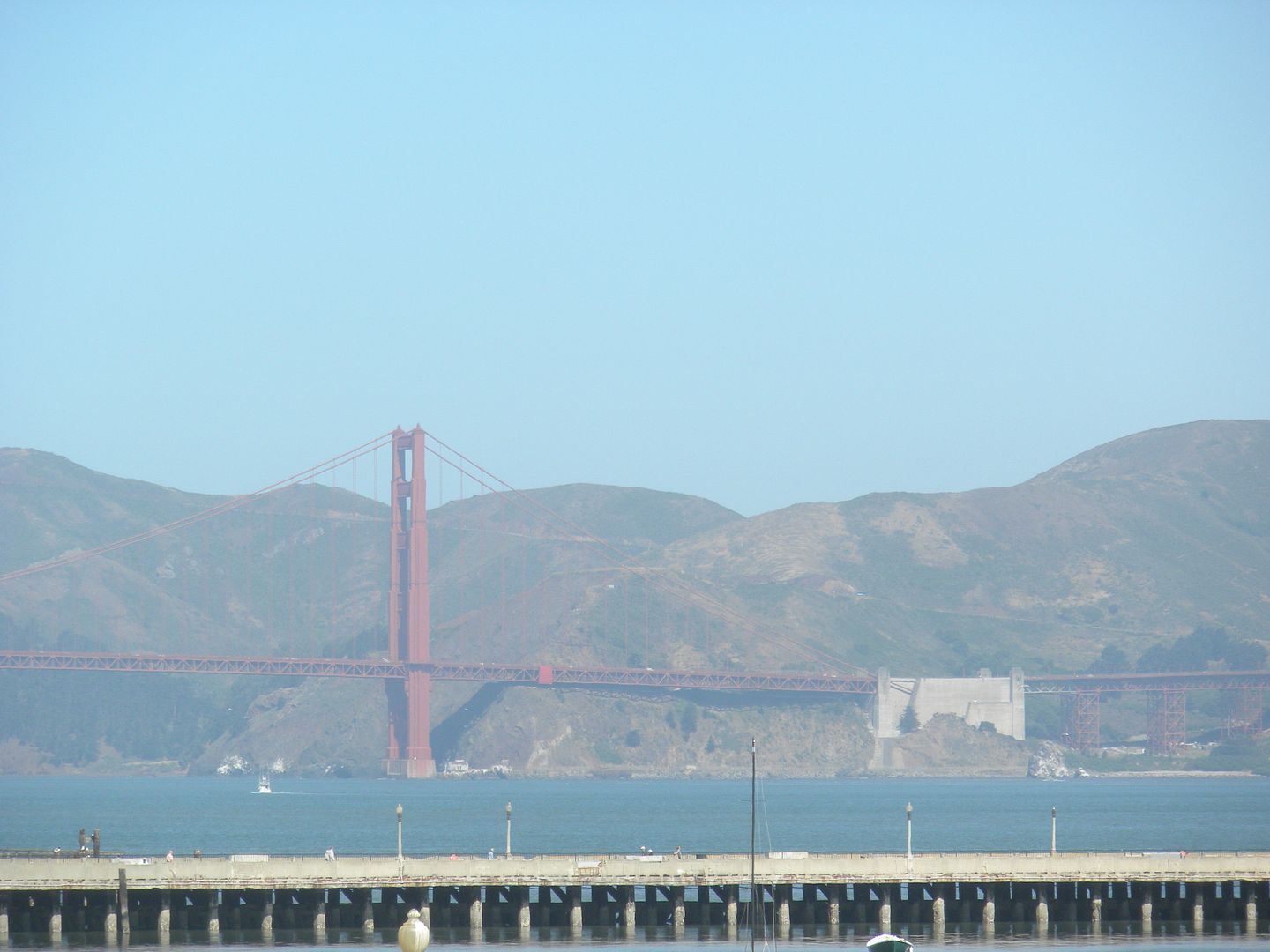 crossing the Golden Gate Bridge to Muir Woods National Monument, home to an impressive forest of redwood trees.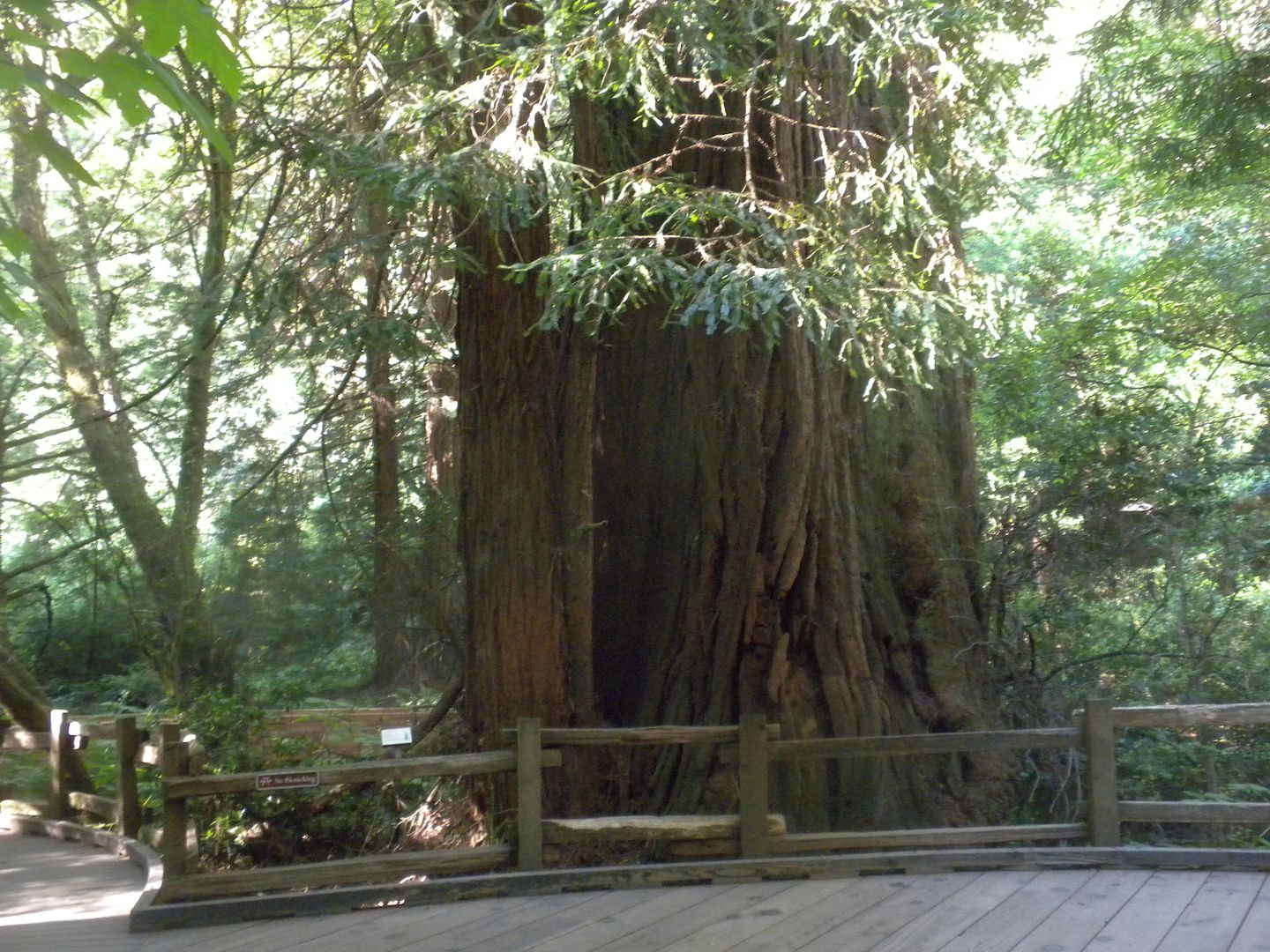 This is my third visit to this beautiful remainder of the forest primeval,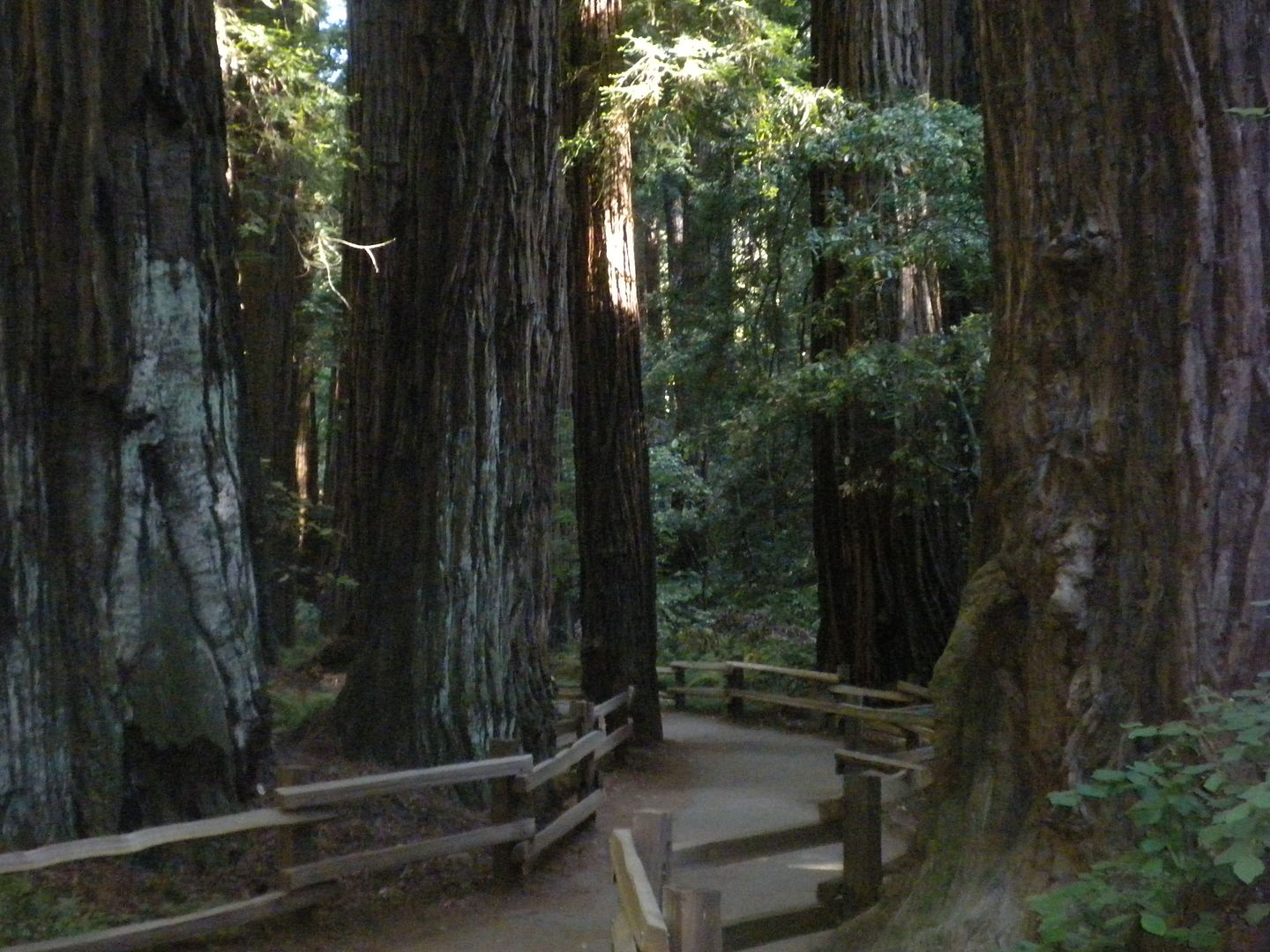 and it is still as amazing to see.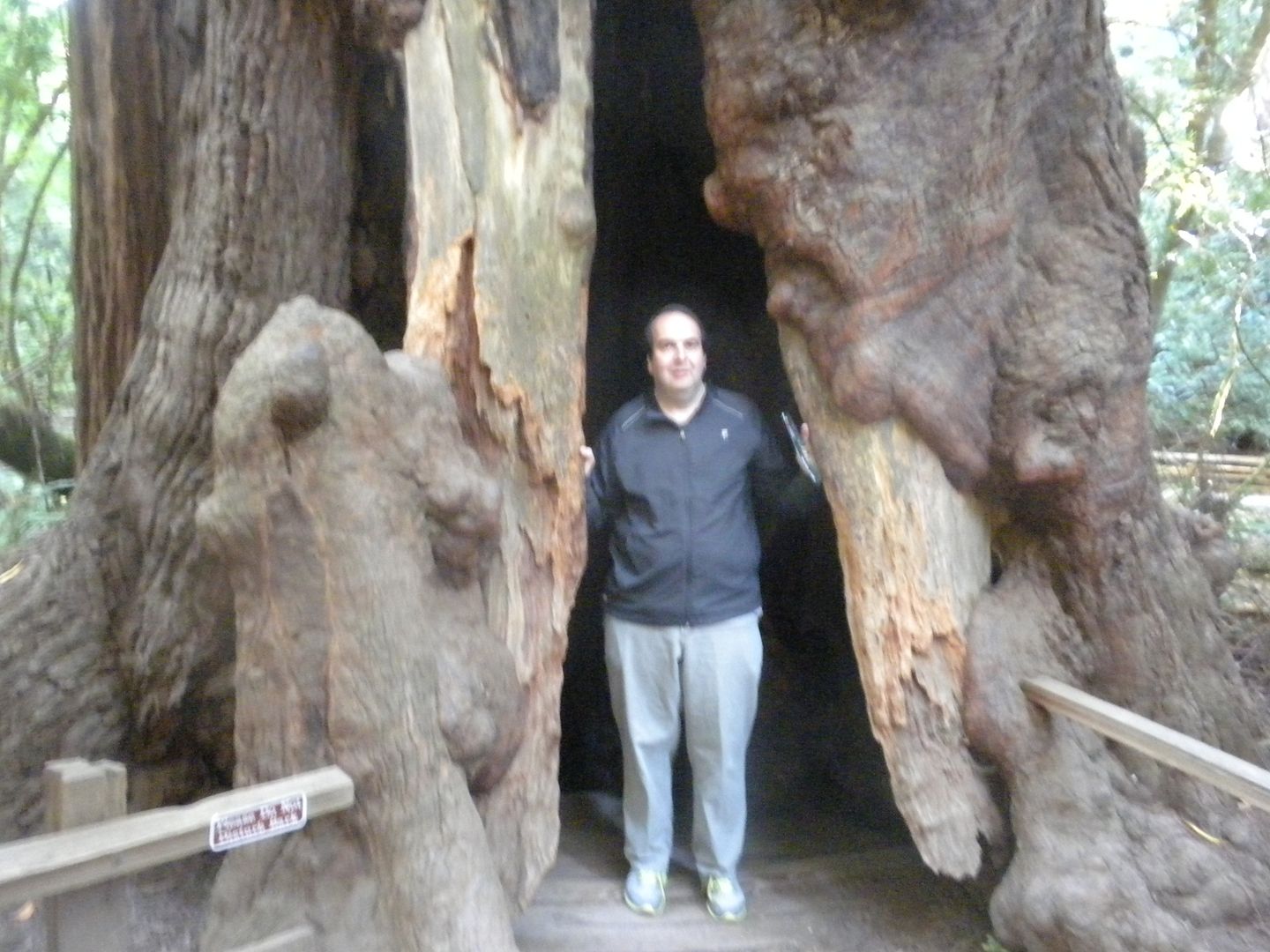 These are the tallest trees in the world and seeing how they have survived forest fires and have regenerated is amazing.

We then drove to Traintown in Sonoma, CA, a small children's park. While the main attraction here, as seen in the name, is the train, we visited to ride their small coaster. We ran into John Allen (the coaster enthusiast, not the late wood coaster designer).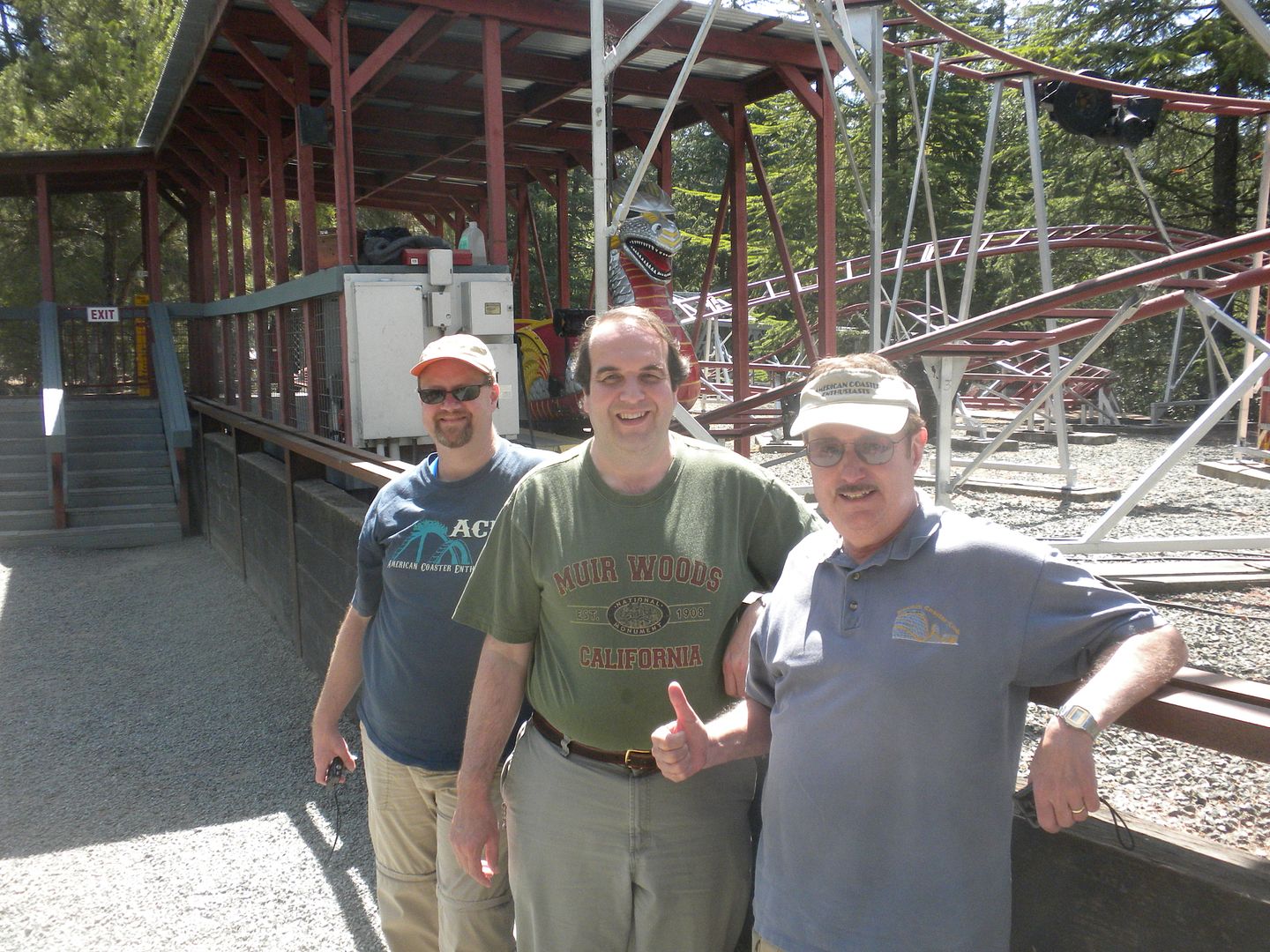 Dragon Train Coaster: (Wisdom, Family Orient Express, 2001)


This coaster has a nice setting near the back of the main park but in front of most of the area the train goes to – 1 ride.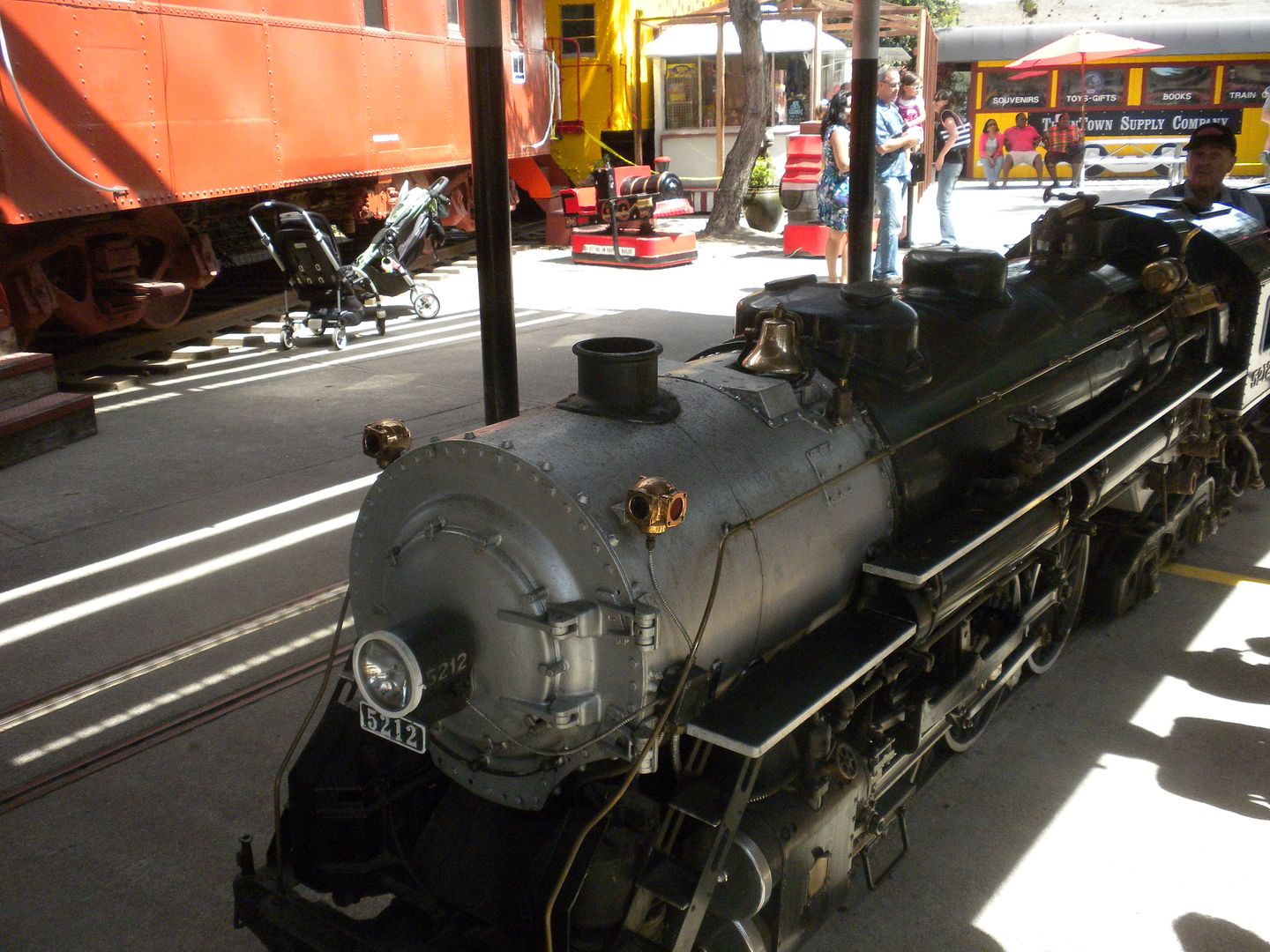 Train: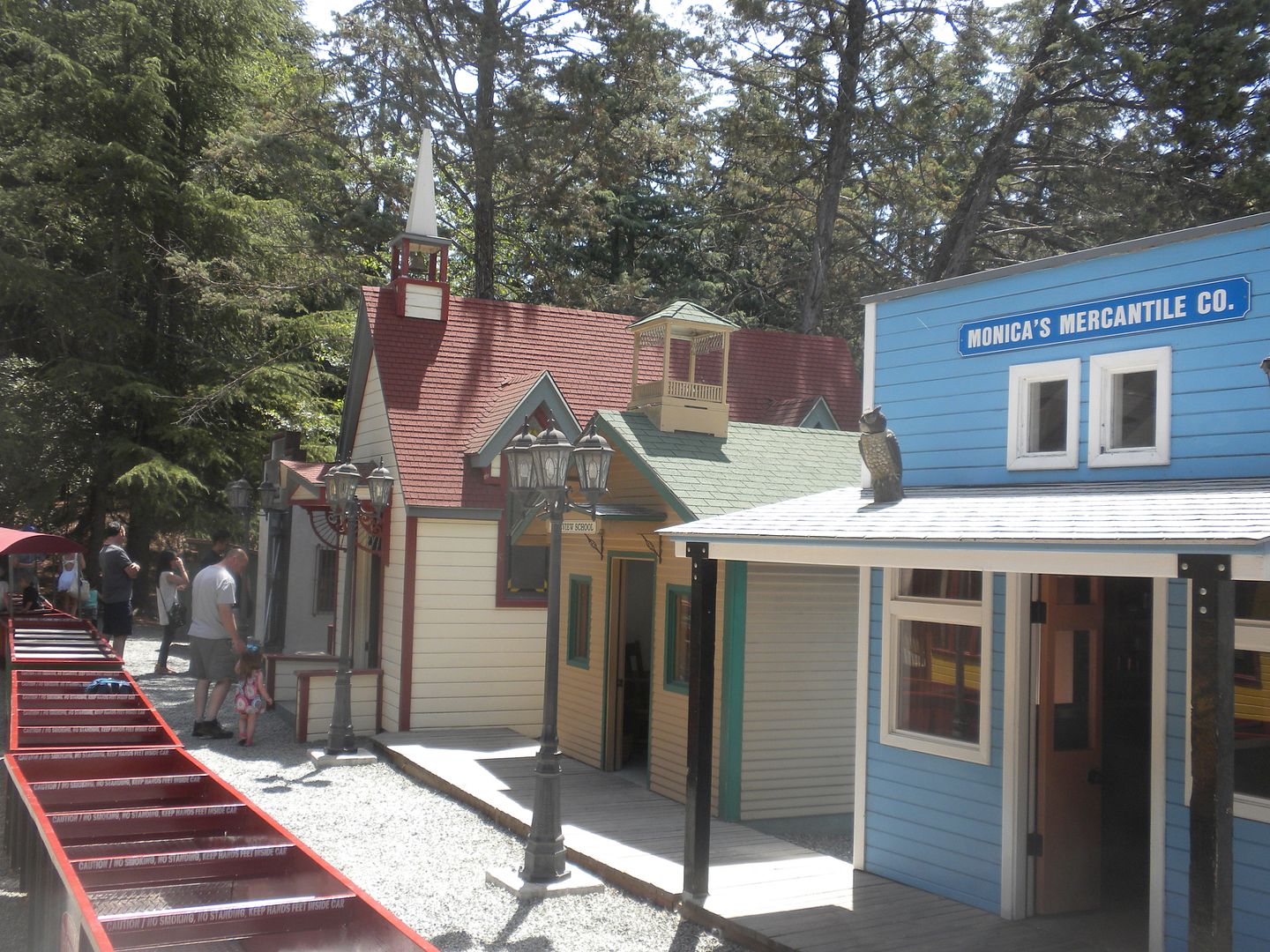 This 20 minute train ride past waterfalls, redwoods and interesting scenery, makes a 5 minute or so stop in Lakeview, a miniature town and petting zoo. The buildings are all set up with realistic interiors, just the right size for children, and the goats are a big hit as well – 1 ride.
Other appropriately named rides include: The Locomotion Scrambler, The High Iron Ferris Wheel, Chattanooga Choo-Choo Chairs (a swing ride), Iron Horse Carousel, and for children only, Sonoma TrainTown Airlines. This is a well landscaped, pretty park that is a nice place for children to visit. The park is small with the train route taking up at least half of the space.
We then headed to Napa Valley for lunch and a wine tasting at Kenzo Estates.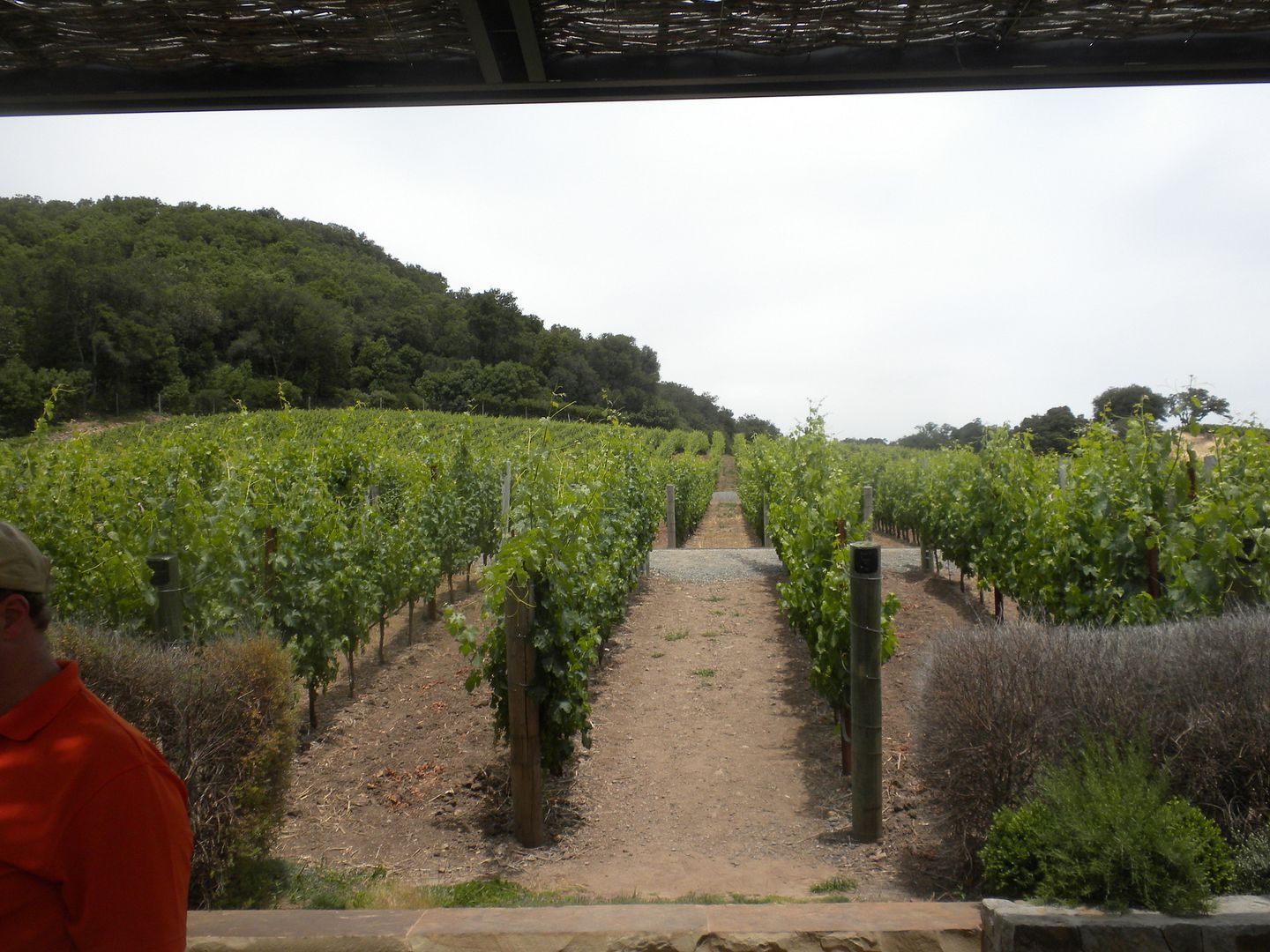 Set on a huge tract of land this relatively new winery continues to expand their offerings.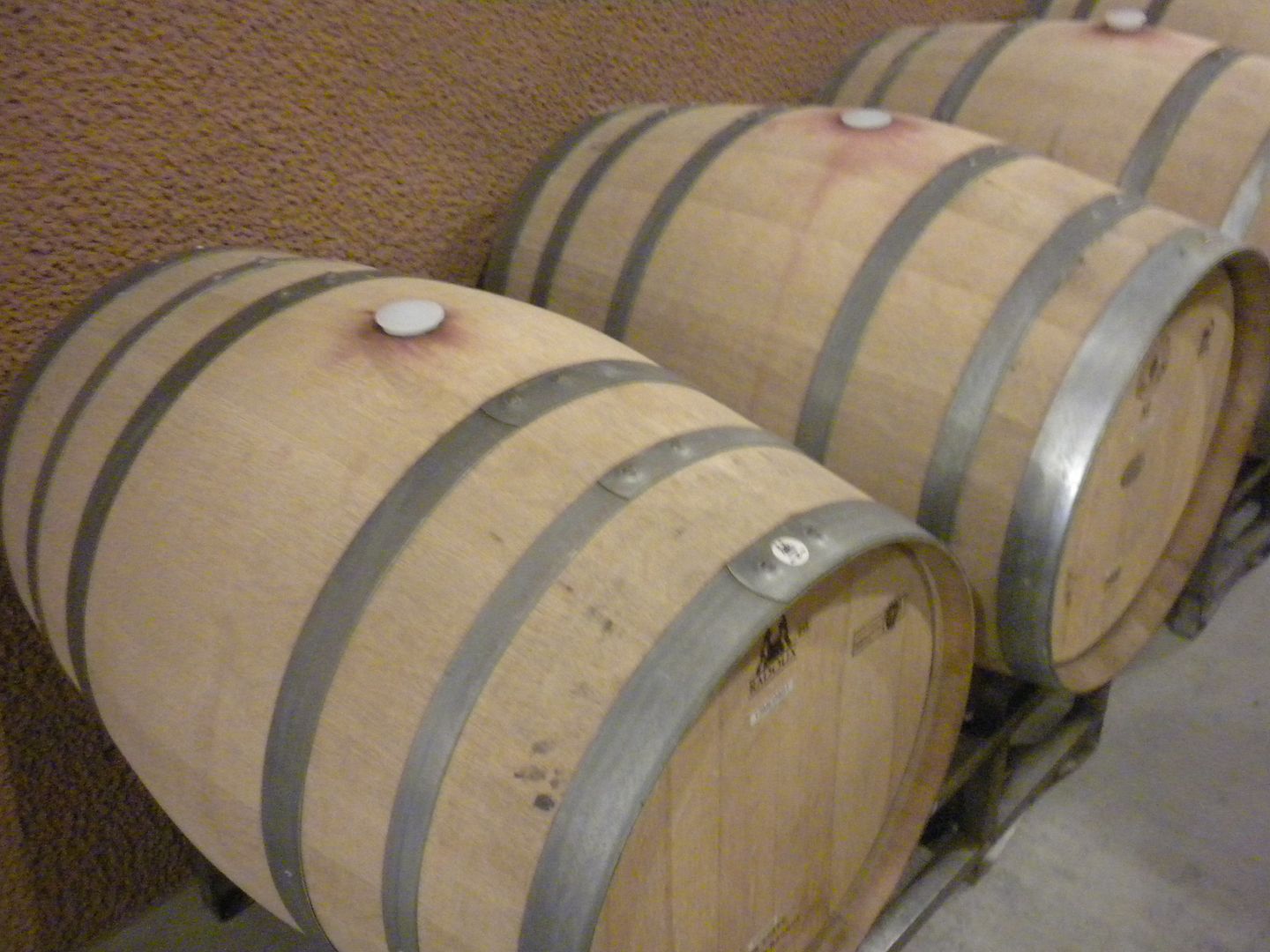 We were given a private tour of the winery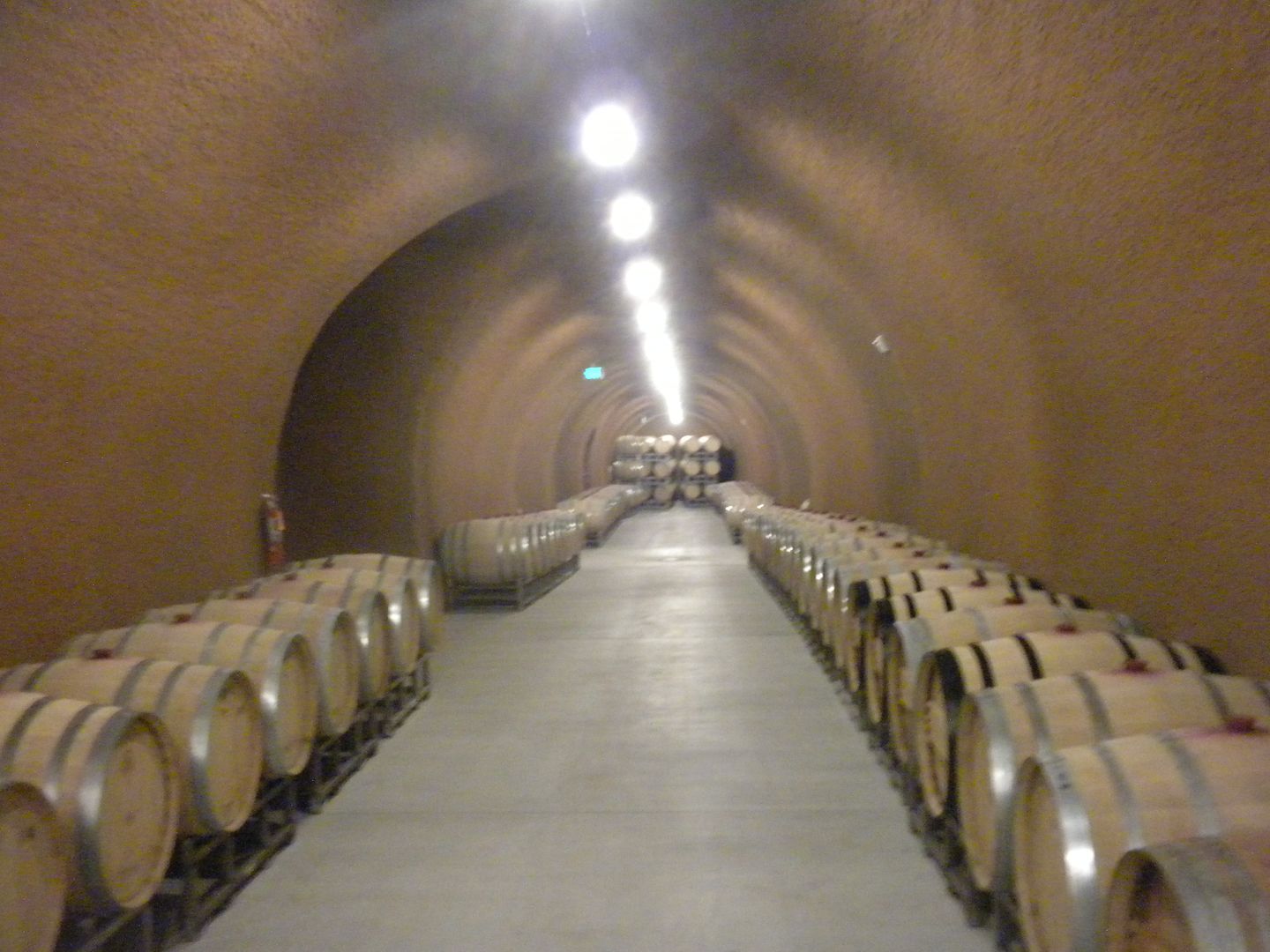 and caves where the wine is stored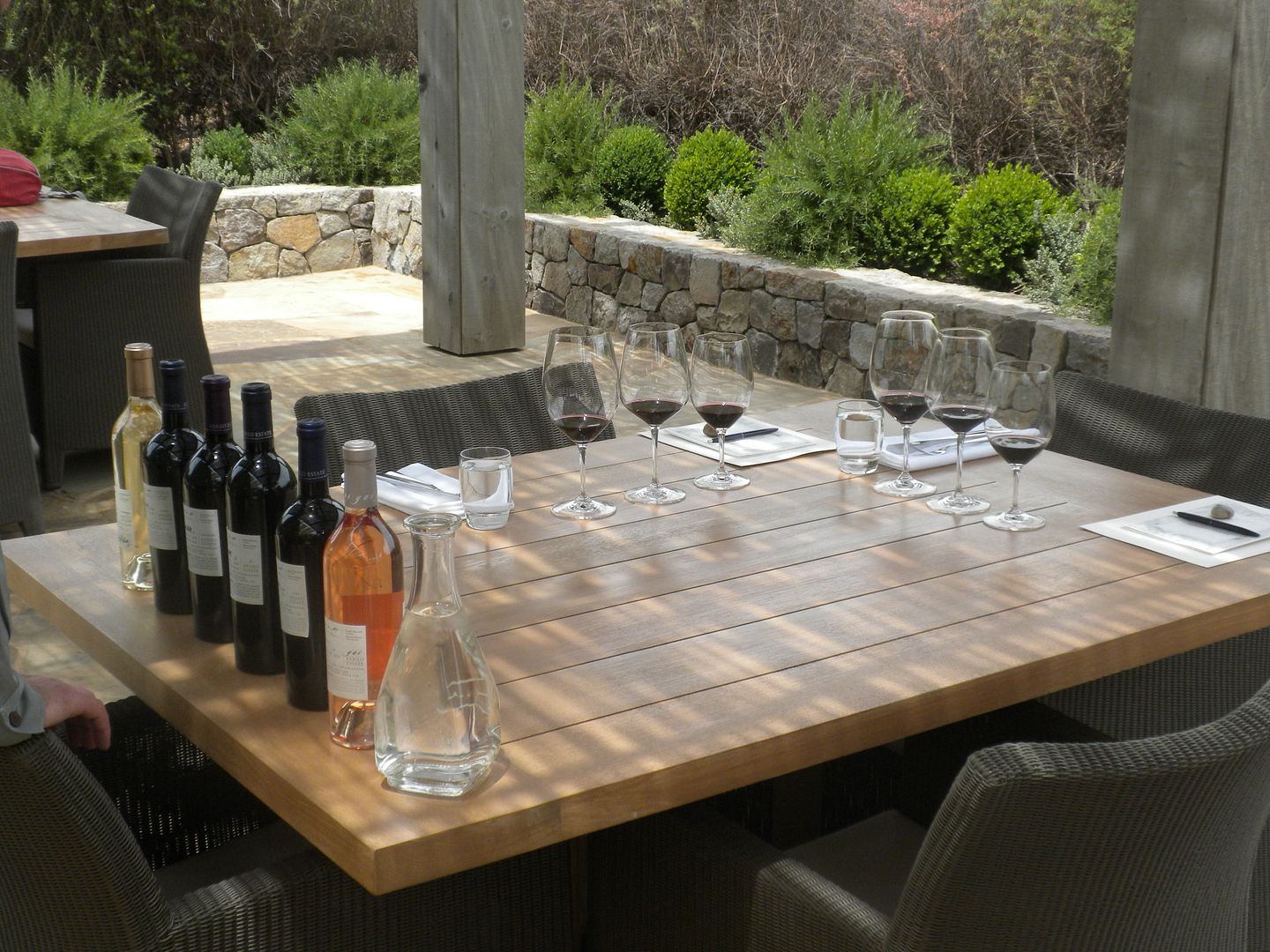 and then sat down for lunch and to sample several of their offerings. I am no expert on wine, but I enjoyed the experience.

Our next stop was Pixieland Amusement Park in Concord, CA. Another children's park, it covers a small amount of land but they have a good many children's rides squeezed in.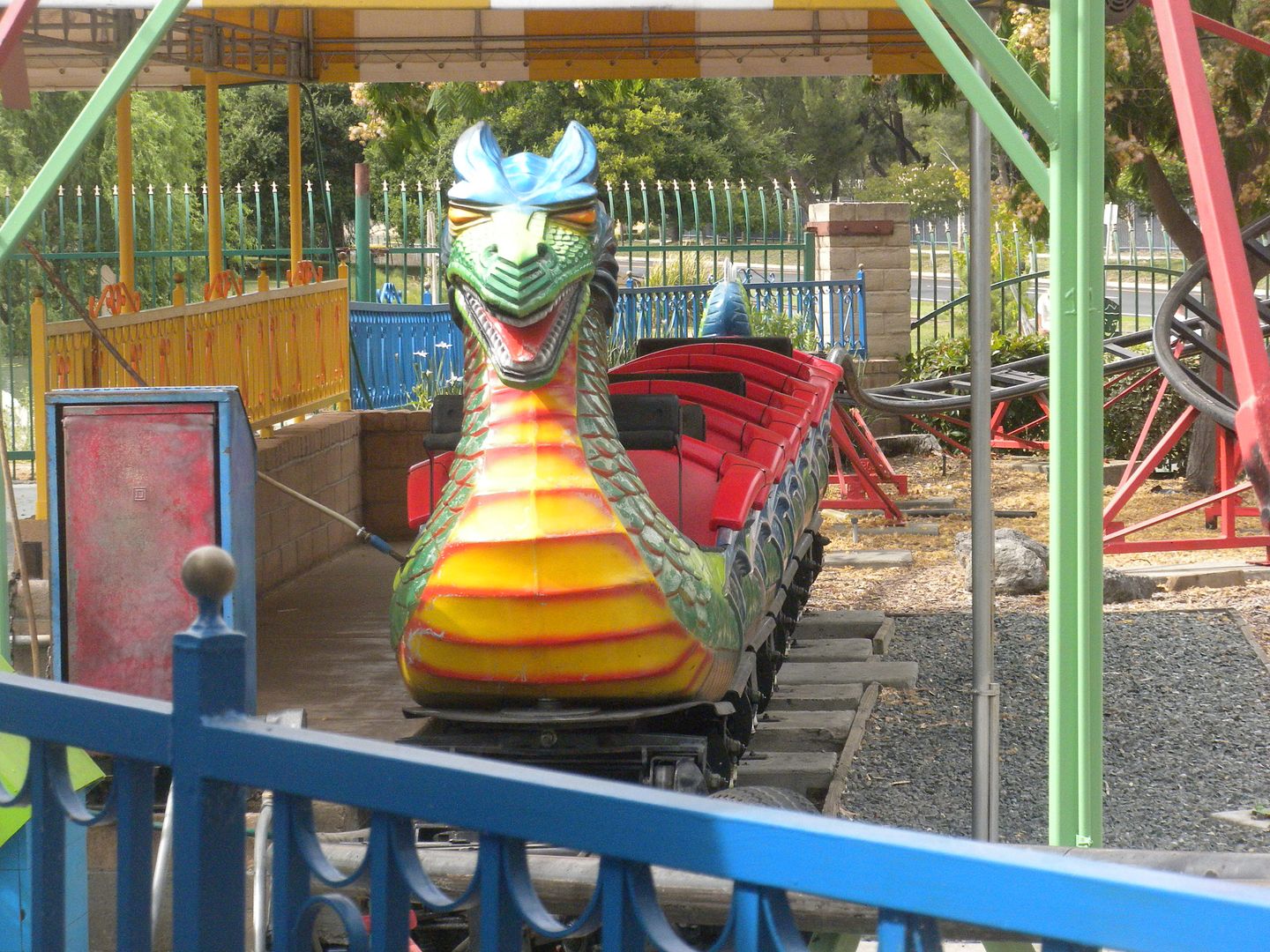 Dragon Roller Coaster: (Wisdom, Family, 1995)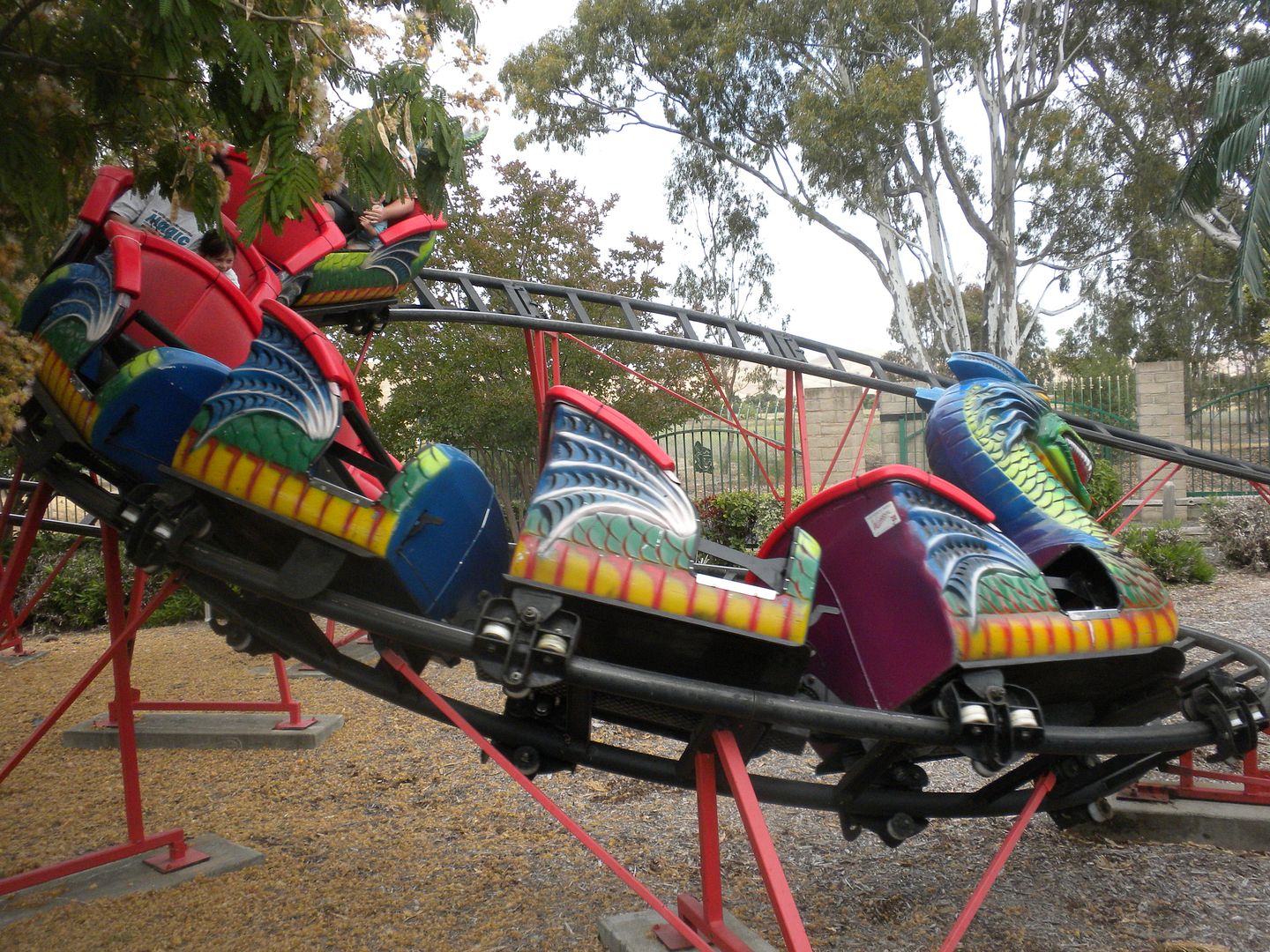 It gave the expected ride – 1 ride.


Pixieland Express: Although the park is small, the train leaves the main park and encircles a small lake for a nice, scenic ride – 1 ride.
Children's rides included Tea Cups, Windy Grove Cars, Antique Carousel (a kiddie carousel), Frog Hopper and Red Baron Airplanes. It is a nice family park.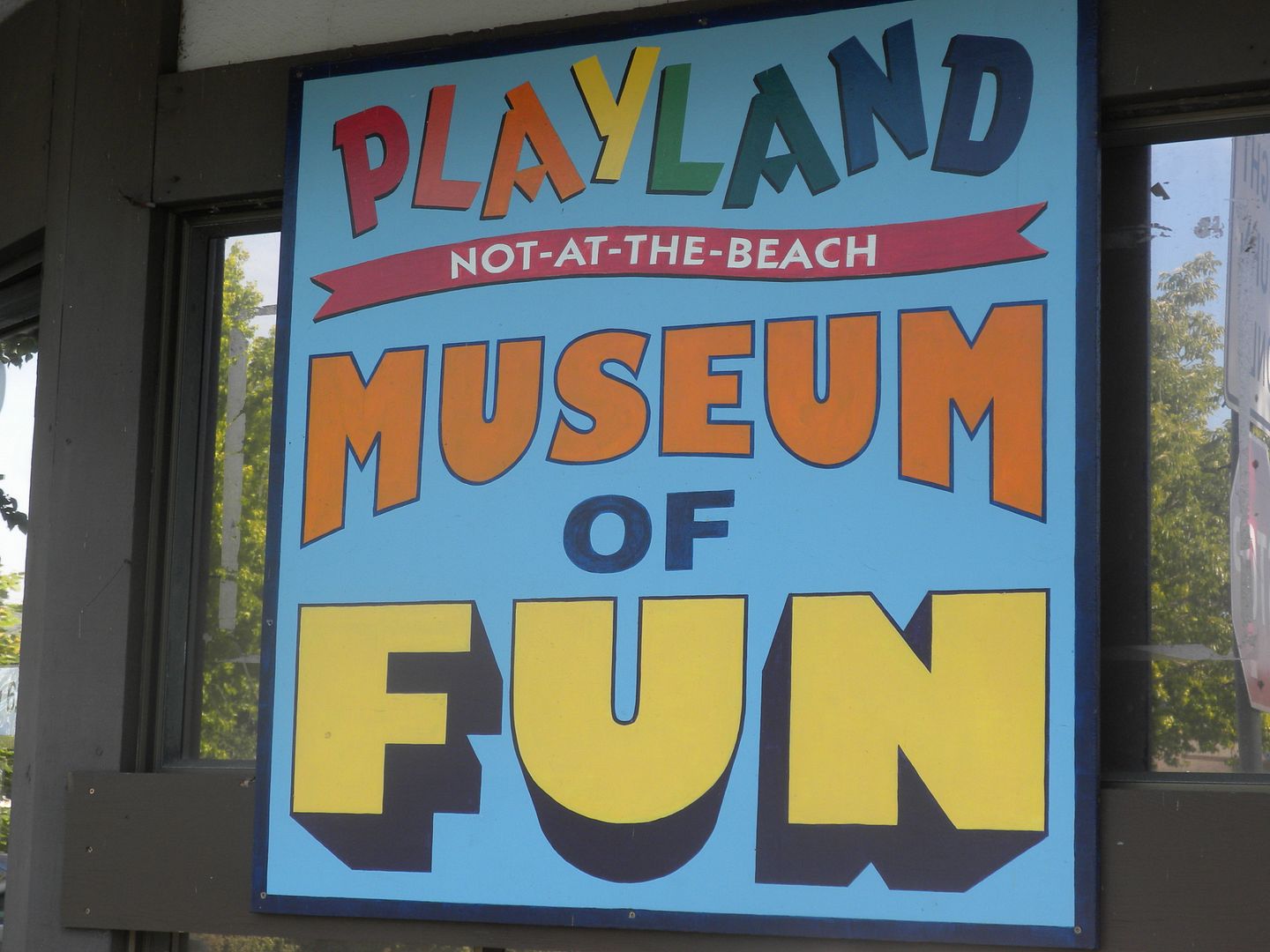 We then headed to an event at Playland-Not-At-the-Beach, a museum paying homage to amusement parks and attractions of Northern California, most significantly San Francisco's defunct Playland-At-The-Beach. Exhibits include amusement park memorabilia as well as collectable items of the people who put the museum together. Exhibits include Hall of Memories; The Happiest Place on Eartha!, a tribute to circus performer Eartha Kitt;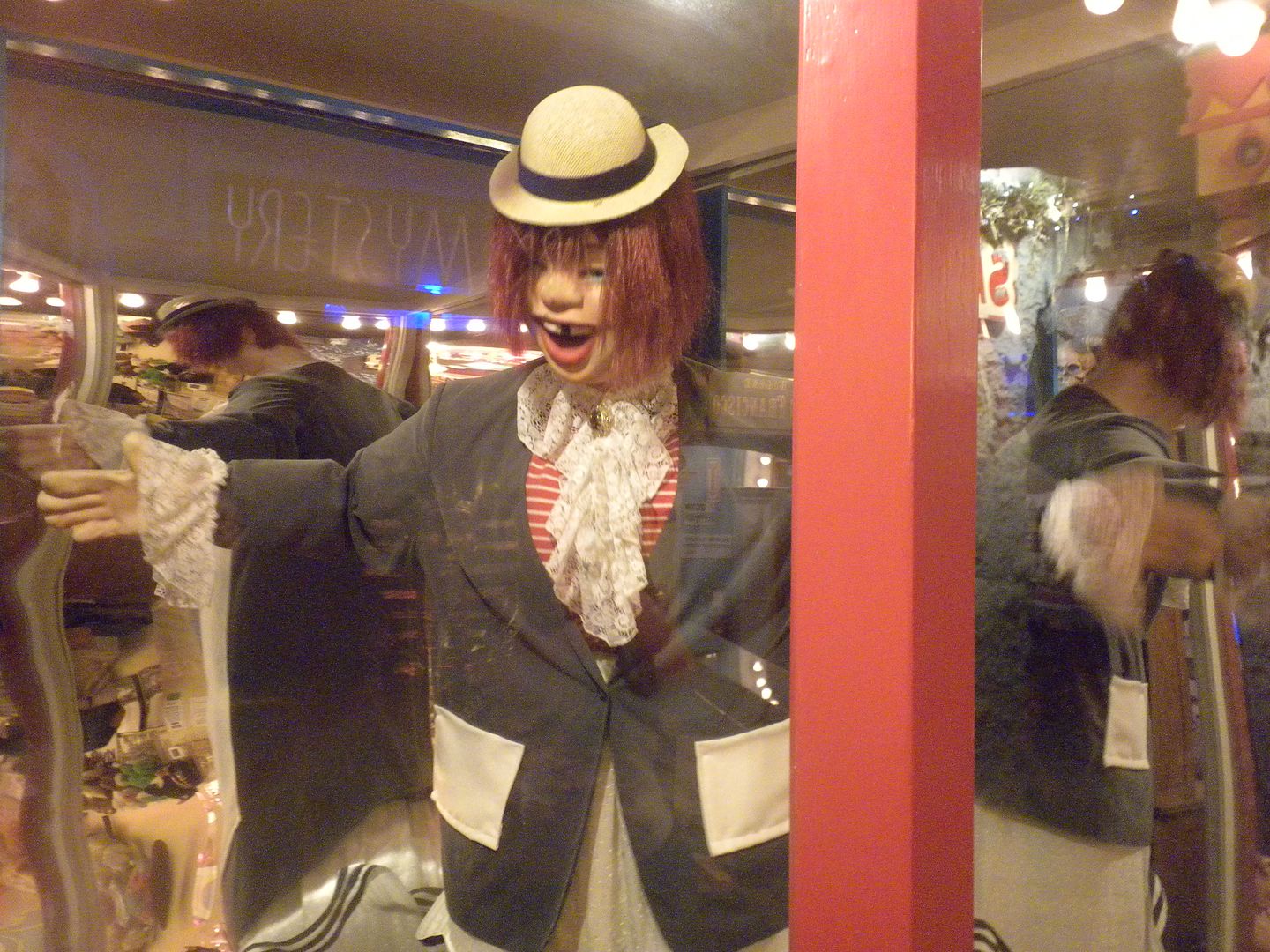 Laughing Sal's Theater, a tribute to the funhouse laughing character; Side Show and Circus World, circus exhibits;


The World of Charles Dickens and Santa's Village, an amazing collection of Department 56 houses;


Big Dipper, a tribute to the coaster; Dark Mystery, a tribute to dark rides done with Department 56 Halloween houses and similar items; Carousel Carnival, which includes working midway games that we could play; Bygone San Francisco, a model of the city; Boardwalk; Pinball Alley, Coney Island Pinball Museum, Great American Circus Parade, Fascination Parlor, and Laff in the Dark, all featuring around 40 pinball machines and other arcade games, all operational and included with admission; Penny Arcade; Sutro's Showcase; The Genius of Walt Disney, a tribute to all things Disney; and Cliff House Corner. We stayed for a couple of hours, and there is so much to see that I could have spent longer here had I not been so tired from two full days of sightseeing. Some exhibits are very neatly displayed while other parts seem like a rabbit warren of pathways and nooks.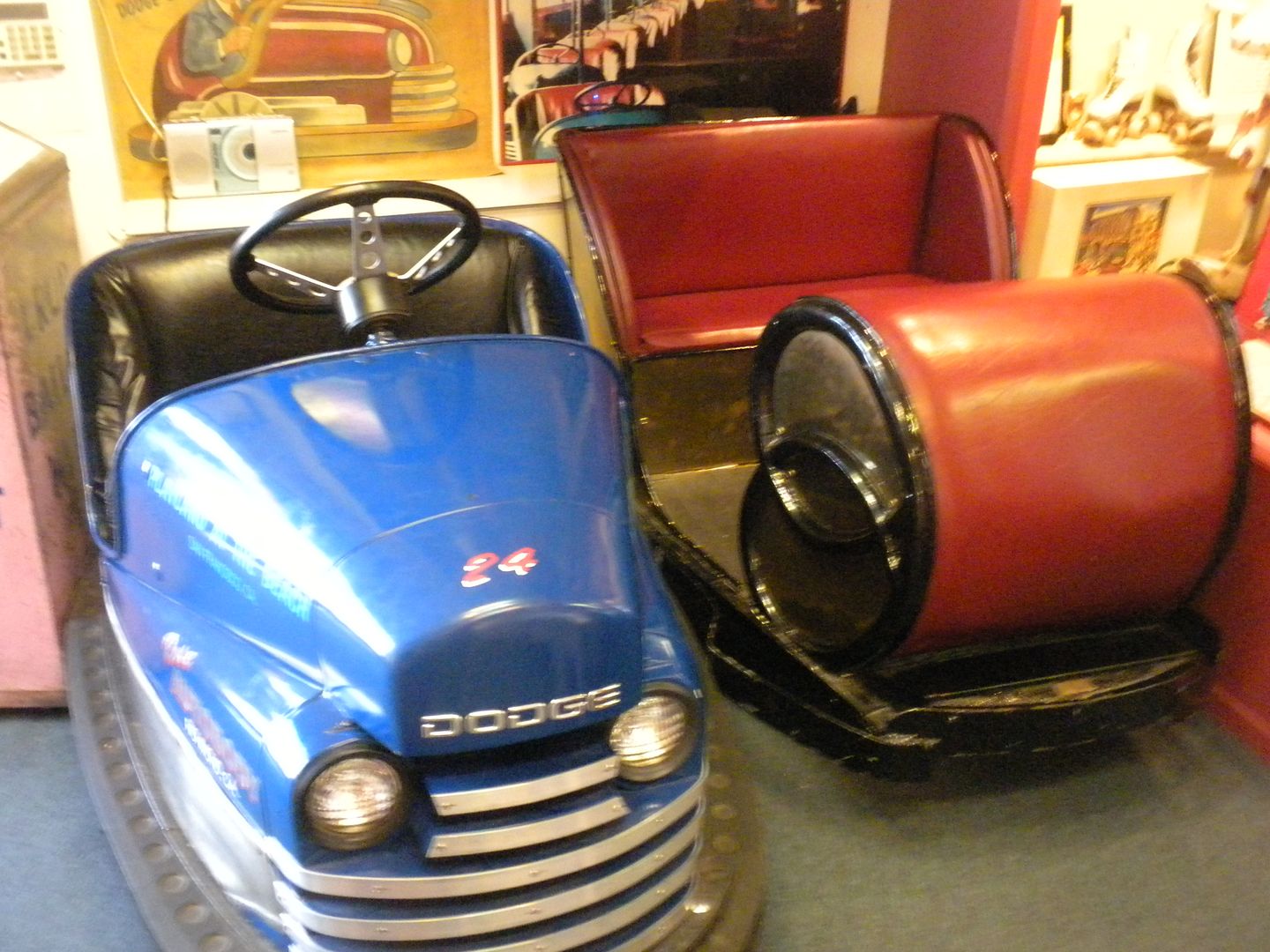 It is a fascinating display and those interested in amusement park and circus history will really enjoy it.
From here we made our way to the Coaster Con hotel in in San Jose, stopping for a burger at In & Out Burger (animal style, of course!). After registration on Sunday, we made a quick stop at Happy Hollow Park & Zoo in San Jose. This is a nice zoo that has several rides. While I would have liked to have spent time in the zoo, we only had time to visit the amusement park.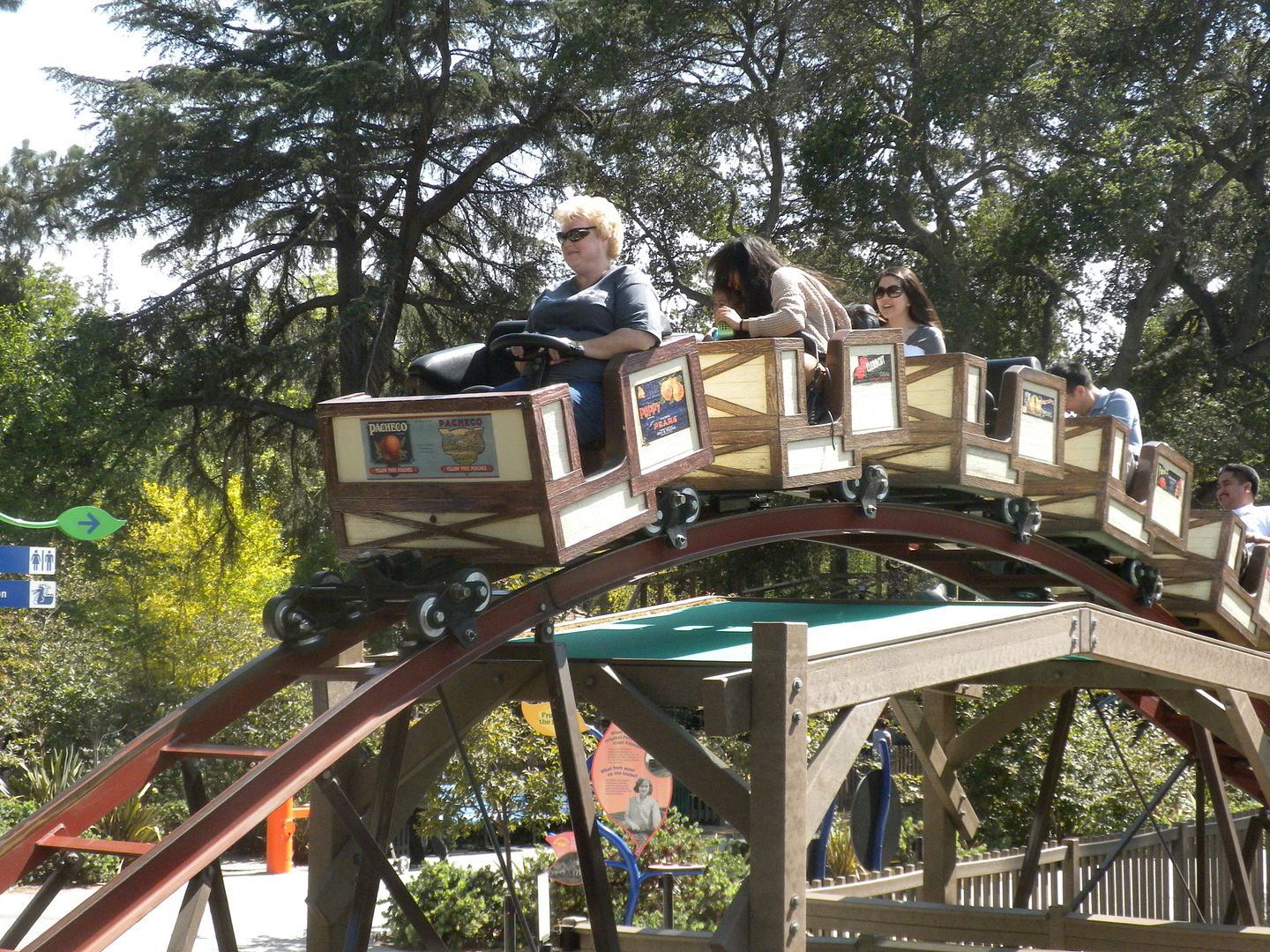 Pacific Fruit Express: (E&F Miler Industries, Family, 2010)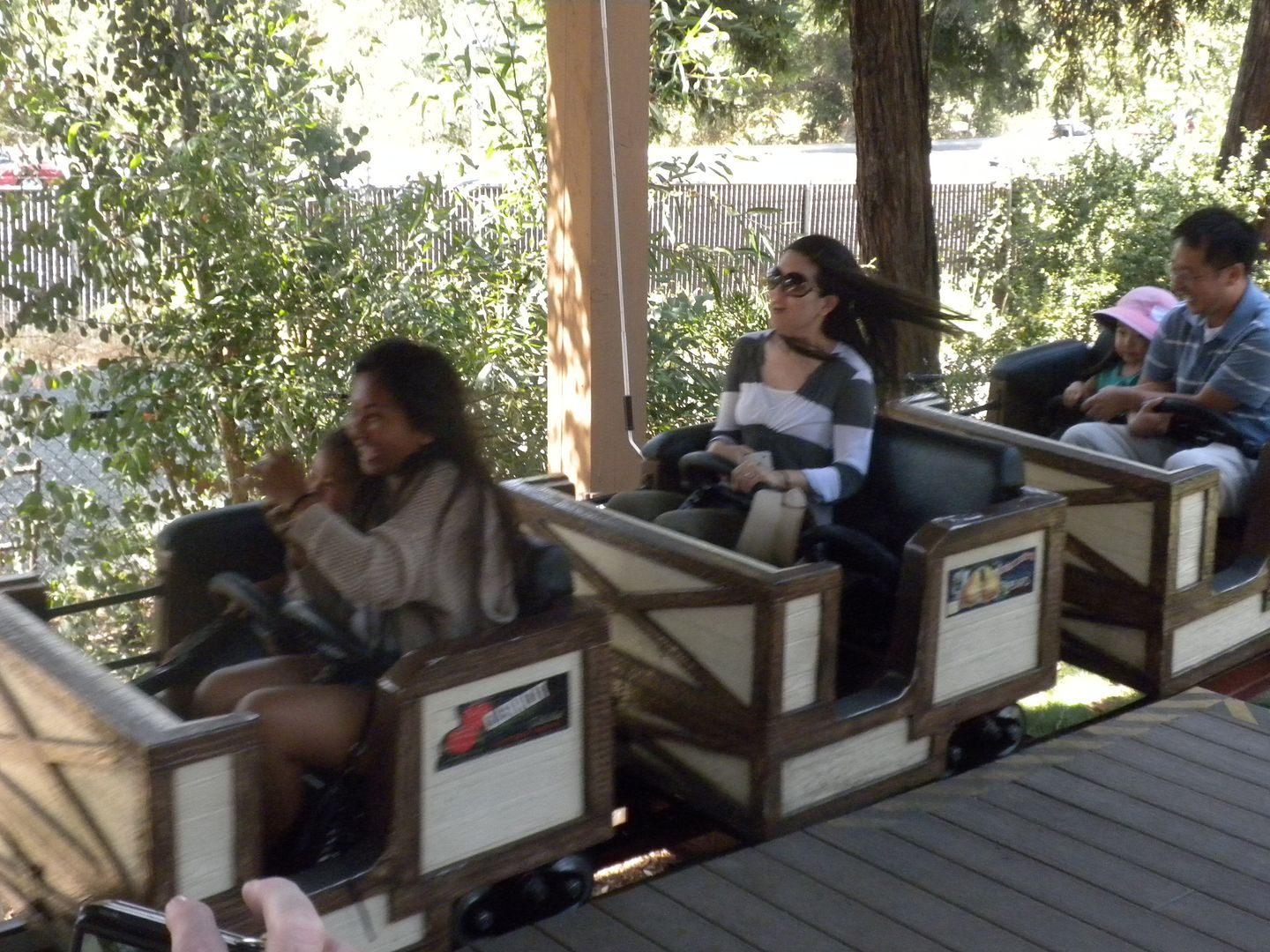 This gave a good ride and the fruit box theming of the cars is a nice touch – 1 ride.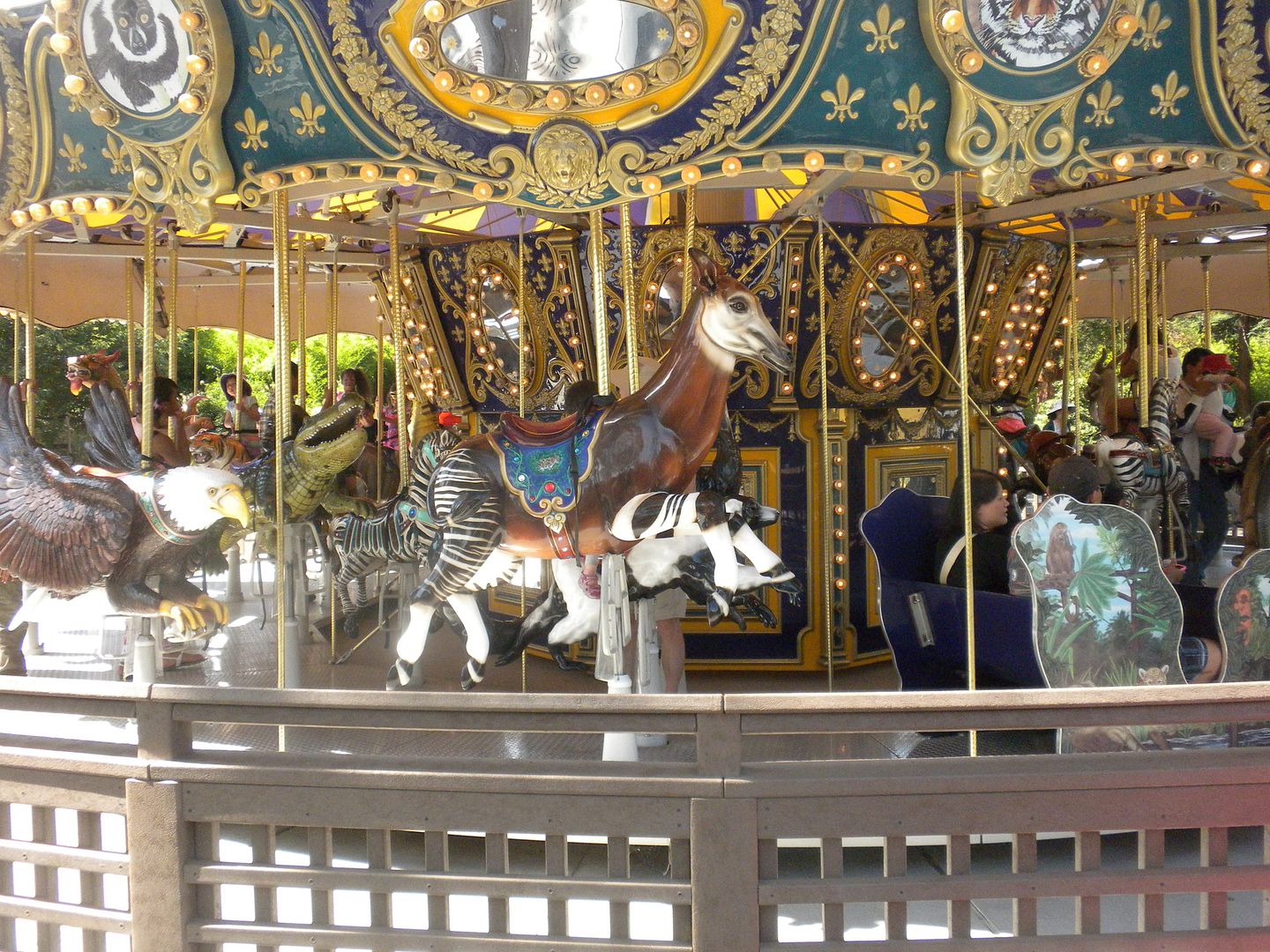 Keep-Around-Carousel: This modern carousel feature many animals not usually seen on carousels and gave a good ride – 1 ride.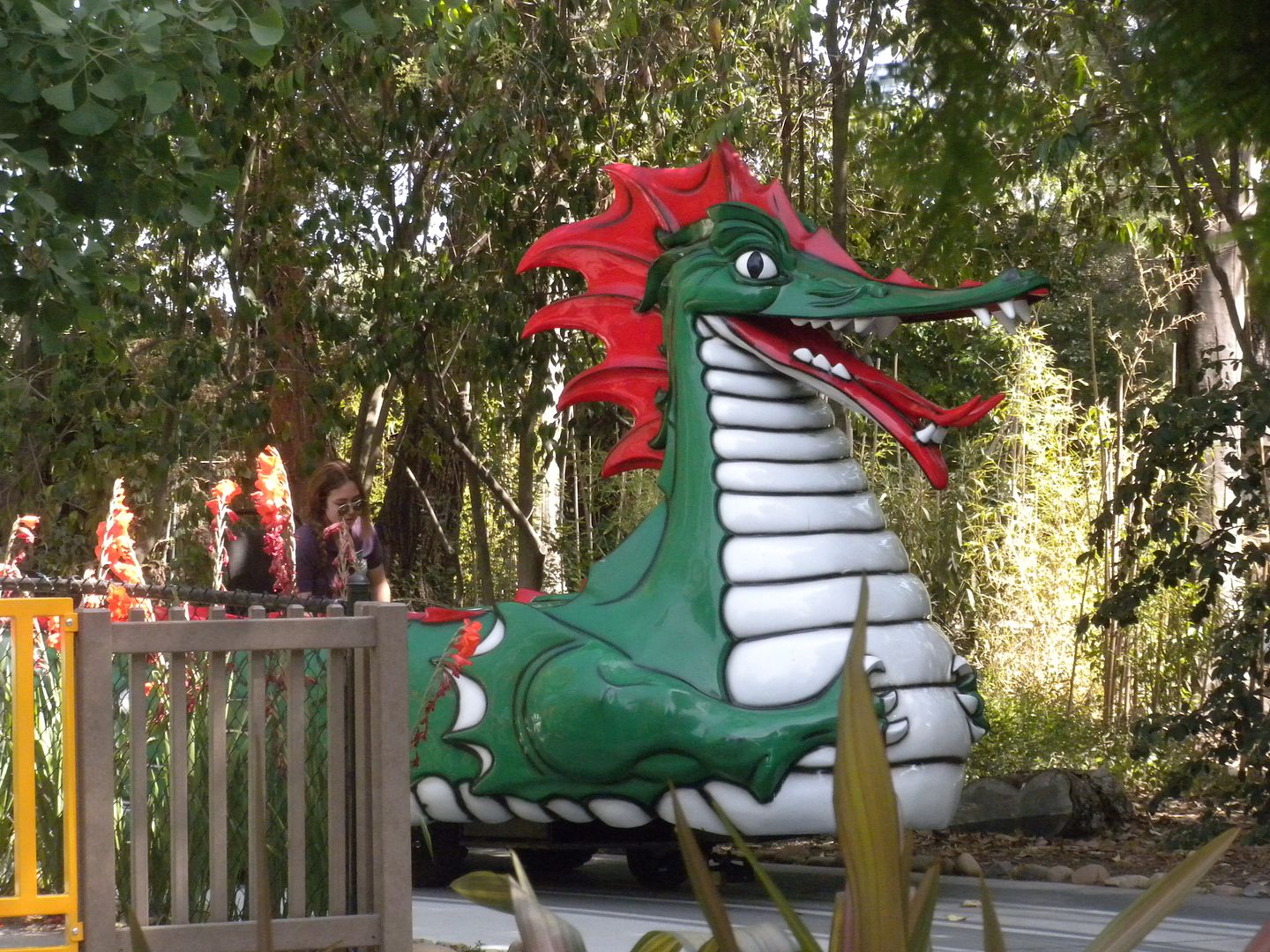 Danny The Dragon Ride: This Dragon themed tram ride has a nice wooded course with fairy tale scenes along the way – 1 ride.
Kiddie Rides include Kiddie Swing, Frog Hopper, Granny Bugs and Mini Putts. What I could see of the zoo looked nice and would be well worth a future stop.
It was time to begin Coaster Con XXXVII at California's Great America, the subject of my next report. Thanks for reading!
Up Next: California's Great America