Magic Springs & Crystal Springs


This year ACE Coaster Con XXXIX was held at Six Flags St. Louis in Eureka, MO and Holiday World in Santa Claus, IN. After looking at the plan it made the most sense to drive, so on Wednesday, June 15 Richard Bostic drove from South Carolina to my house and we left for our journey. There were 3 regional events we would attend prior to Con and one after Con. In 2009 when Coaster Con was held in MO, Richard and I along with David Lipnicky had visited several parks in this area including Magic Springs & Crystal Falls Water & Theme Park in Hot Springs, AR. Our visit that day was not good as 4 of the park's 6 coasters were closed along with quite a few other rides. The park's ownership had just transitioned the previous year and they were having significant issues getting the park ready for that season. I made a return visit in 2014 and got to ride the 3 remaining coasters I had not ridden (they removed a mouse coaster). I had a better day, but operations were challenging. Since Richard had not been back since 2009, he wanted to visit on this trip. We arrived just after 11:30 and met up with David Lipnicky and Kevin Knapp. Our first stop was the wood coaster, which opened at noon. The park's layout is somewhat confusing as the wood coaster is the only dry ride to the left when you enter so you have to walk through the water park to get to it.

Arkansas Twister: (Don Rosser, Wood, 1978/2000) Opened as Roaring Tiger at the defunct Circus World in Haines City, FL in 1978, it became Florida Hurricane when the park became Boardwalk and Baseball in 1987. The park closed in 1990, and the coaster was relocated to Magic Springs in 2000.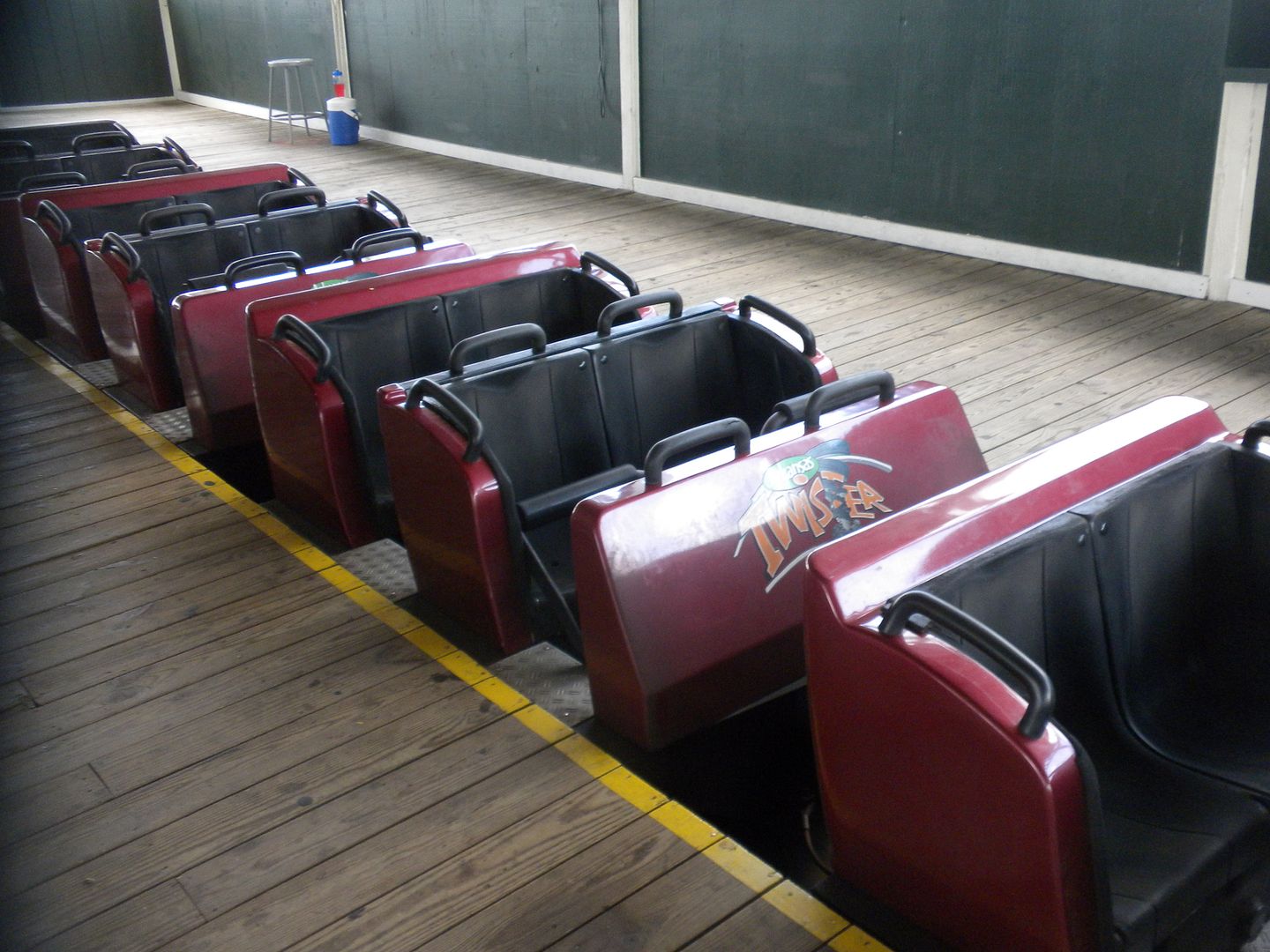 Similarly to when I rode it in 2014, the ride is running fairly well, but does have some significant roughness in an unlikely spot – at the tops of hills. Fortunately these gave some airtime, so the roughness from the upstop wheels was not felt as much.


I like the layout and although it has one hill on the return that slows it considerably, the resulting bunny hops are good – 3 rides.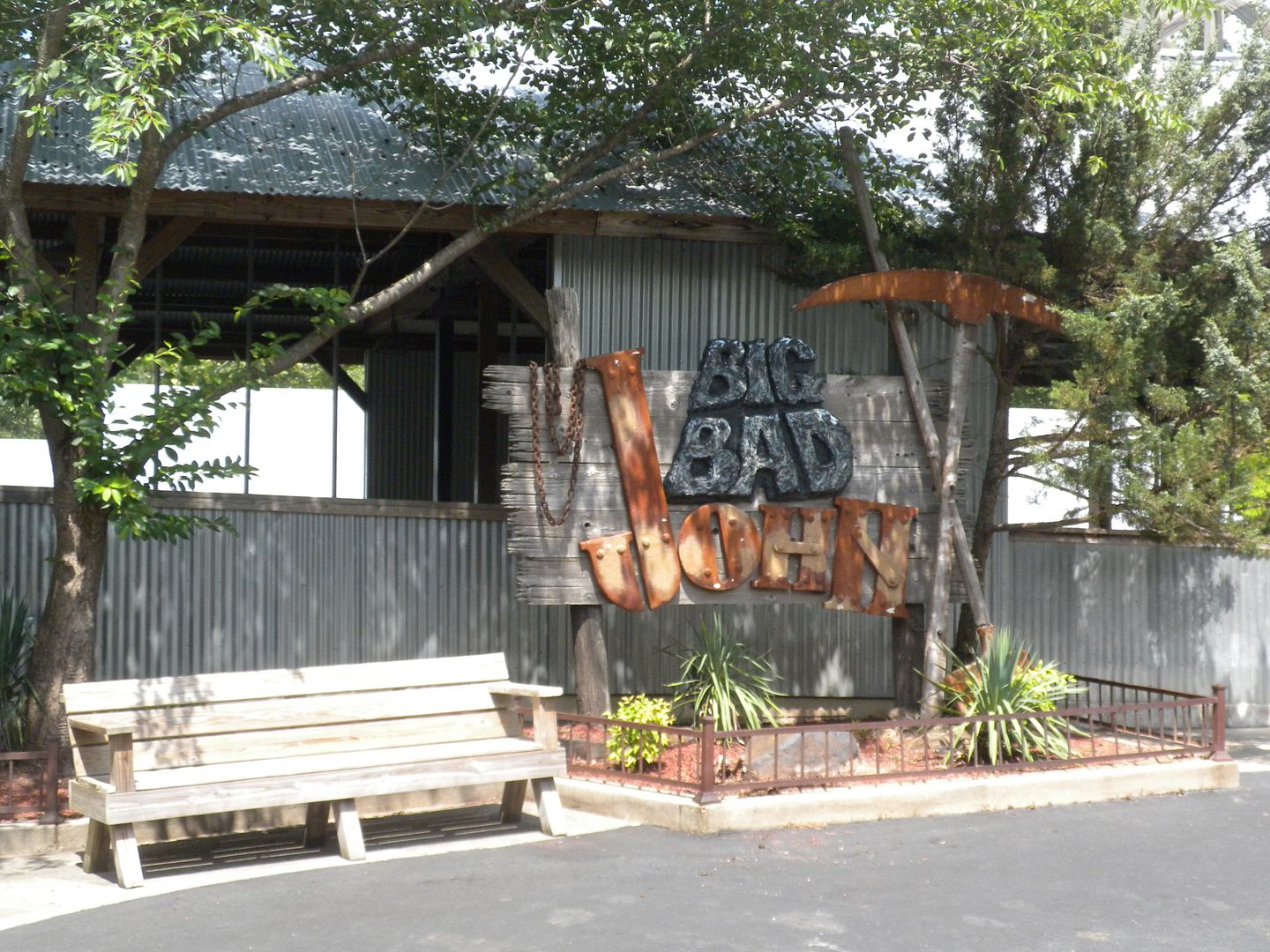 Big Bad John: (Arrow, Mine Train, 1971/1989/2002) Opened in 1971 as half of the twin coaster River King Mine Train at Six Flags Over Mid-America, which we would be riding at Con, it was relocated to Dollywood in 1989 as Thunder Express and then to Magic Springs in 2002. It would be interesting to compare the 2 sides on the same trip. It gives a good ride, and it was interesting riding it as the mirror image of the other half at Six Flags St. Louis. It has 3 lift hills, and I particularly like the helix in the middle and the tunnel at the end – 2 rides.
Gauntlet: (Vekoma, Suspended Looping Coaster, 2004) It gives the standard SLC ride with some roughness – 1 ride.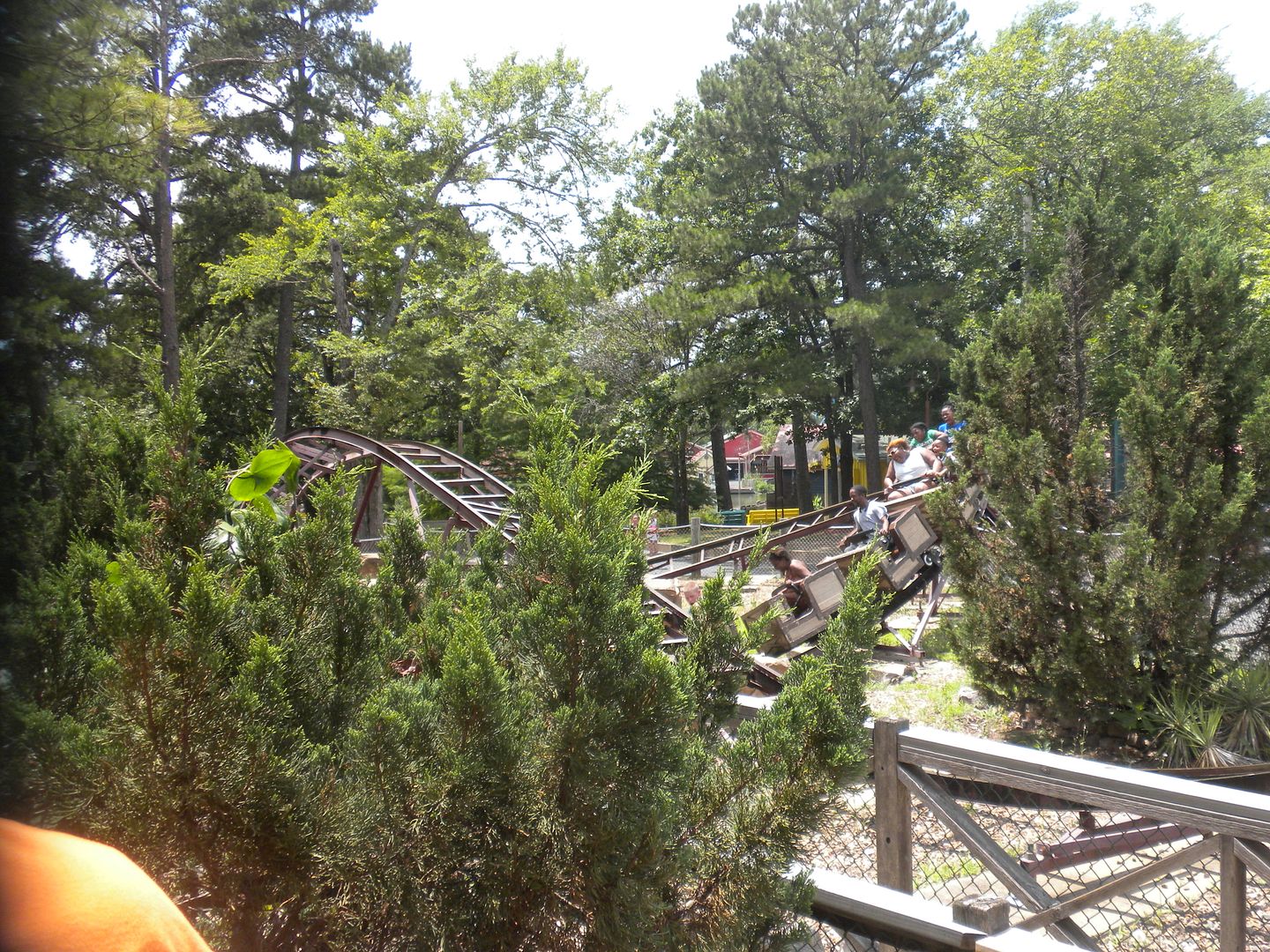 Diamond Mine Coaster: (E&F Miler, Family Coaster, 2000) This kiddie coaster is good and it makes 2 rounds – 1 ride.
X-Coaster (Maurer Söhne, SkyLoop XT 150, 2006) was not operating this day, so Richard and Kevin missed this credit. At one time the park decided to sell this ride to Elitch Gardens, but when they realized it was welded together rather than bolted, they have continued to keep it for the time being. I think it is a good high thrill coaster for their line-up.
Old No. 2 Logging Company Log Flume: This flume has a nice setting that is partially wooded, and it has 2 drops. Its best feature is a long, curved arbor tunnel, although the greenery was not as thick as on my last visit when I thought it was one of the neatest features I have seen on a flume ride – 1 ride.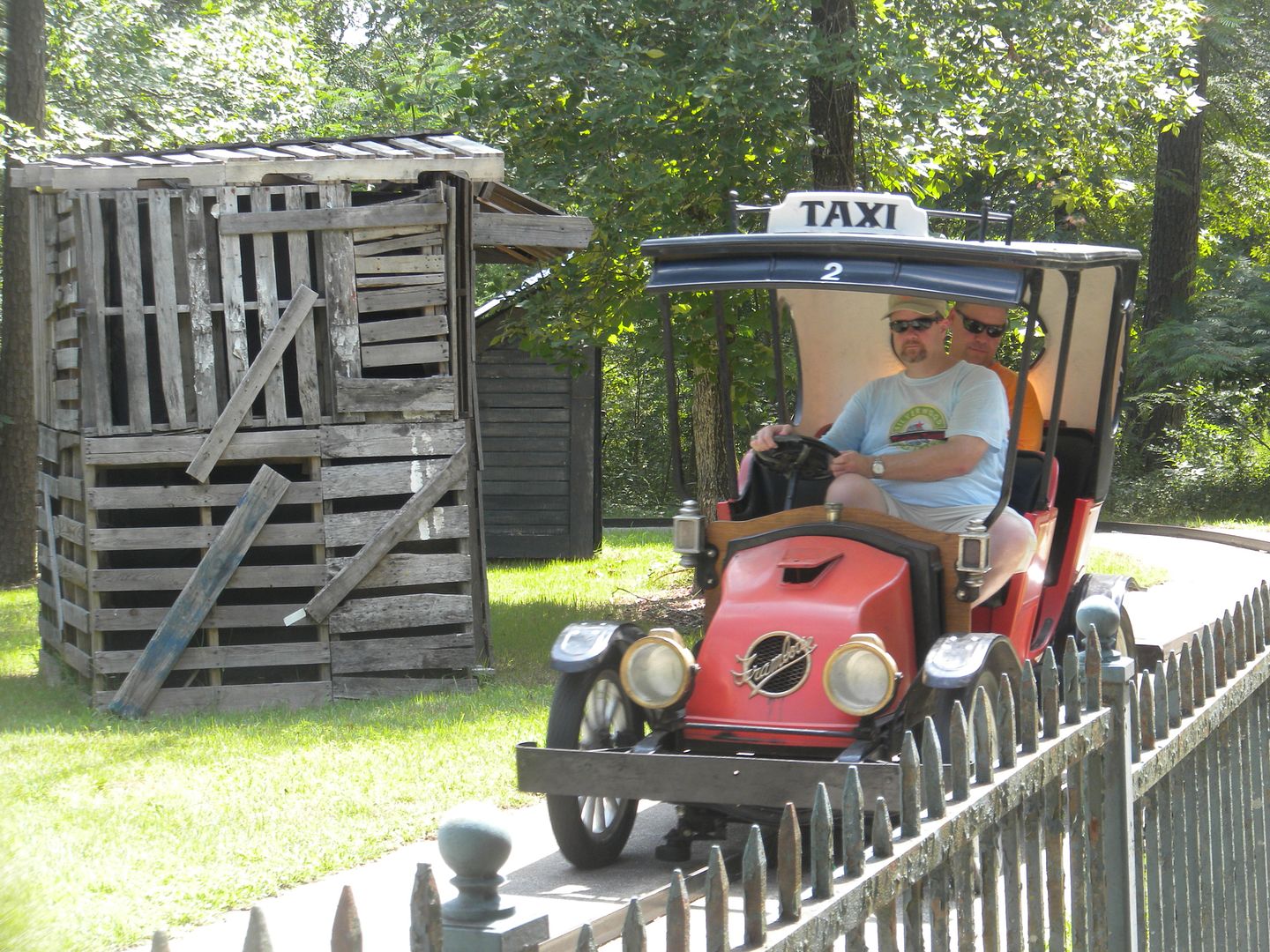 Ozark Mountain Taxi Company: These antique cars have a nice hilly course – 1 ride.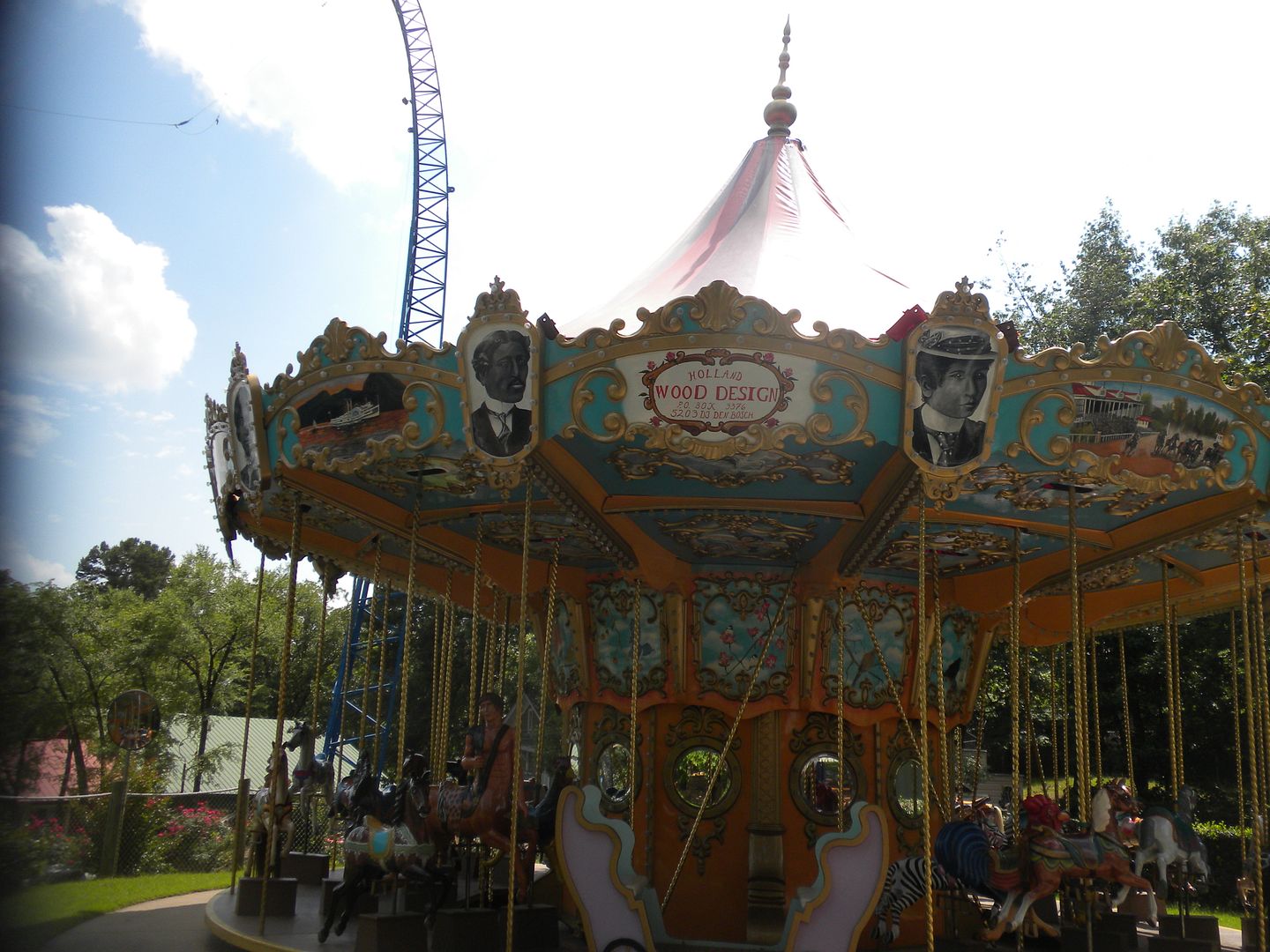 Carousel: I believe this is a European carousel, but I cannot find out any information on it. Although some of the figures are fiberglass, some are wood and very old. It gave a good ride – 1 ride.
We did not ride The Hawk, an inverter type flat ride; Rum Runner Pirate Ship; Razorback Roundup Bumper Cars; or Plummet Summit, a Shoot-the-Chutes ride. They also have a pay-extra sky coaster, SkyShark, which I did not ride.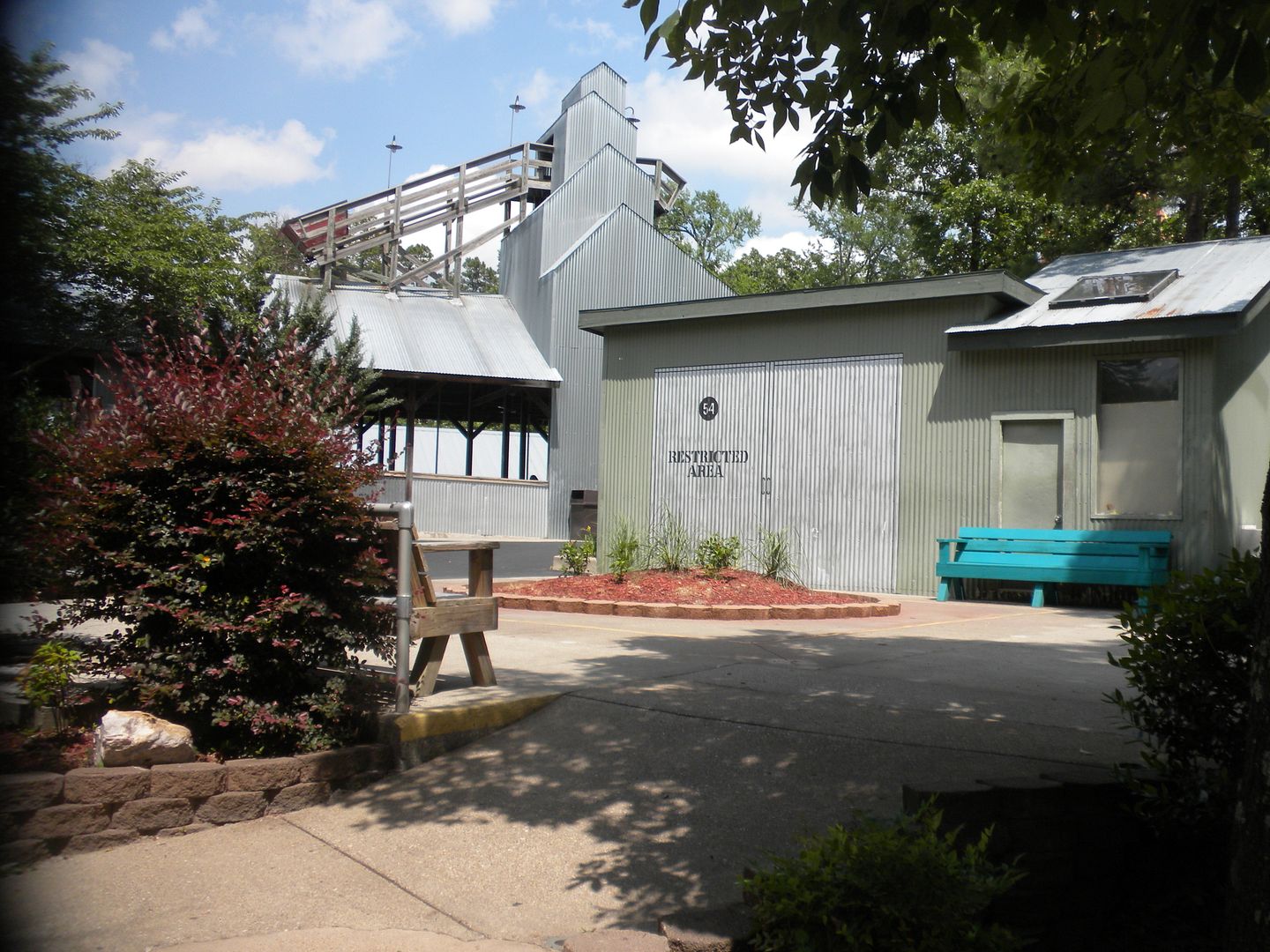 Since my last visit Dr. Deans Rocket Machine, a drop/ launch tower, and Wild Thang, an intense inverting flat ride, have been removed. They also have 7 children's rides.
I did not spend any time in Crystal Springs, but it looks like a nice water park and certainly attracts a crowd. Attractions include: Boogie Blast, a surf simulator; Rapid Falls Raceway, a racing speed slide; Seven Falls Slide Tower; High Sierra Slide Tower; Splash Island, a family slide and play complex; Crystal Lagoon Pool; Kodiak Canyon Adventure River, a lazy river; Crystal Cove Wave Pool; Bubble-Up Pool and 2 kiddie attractions, Bear Cub Bend Children's Activity Area and Grizzly Creek Family Splash Zone.

Of note is that the Sky Hook that I used to ride as a child at SFOG came here after it left my home park. While it has long since been removed, that is an interesting connection for me. This park has quite a history of bringing in relocated attractions, giving them new life.


We left Magic Springs around 3:30, had a great BBQ meal at McClard's in Hot Springs and drove to Branson for our next adventure.
Silver Dollar City – Outlaw Run Rendezvous


On Friday, June 17, we arrived at the ACE Heart of America regional event Outlaw Run Rendezvous at Silver Dollar City in Branson, MO. We had evening ERT along with the full day to enjoy the park. In addition to the group from the previous day, we met up with Vanessa Thomas who joined us for the remainder of the trip. The park is themed to an 1880s Ozark village. I will review the park by its nine themed sections.
Entrance/ Main Street
This entrance section includes the parks original attraction as well as lots of shops and restaurants. As we only had the one day and I had done it in 2009, we did not take the time to visit Marvel Cave. Silver Dollar City began as a tour of this huge cave located under the front entrance of the park, which includes a return on an incline railway. We had a delicious buffet lunch at the Mine Restaurant, which is made to look like a cave.
Hugo's Hill Street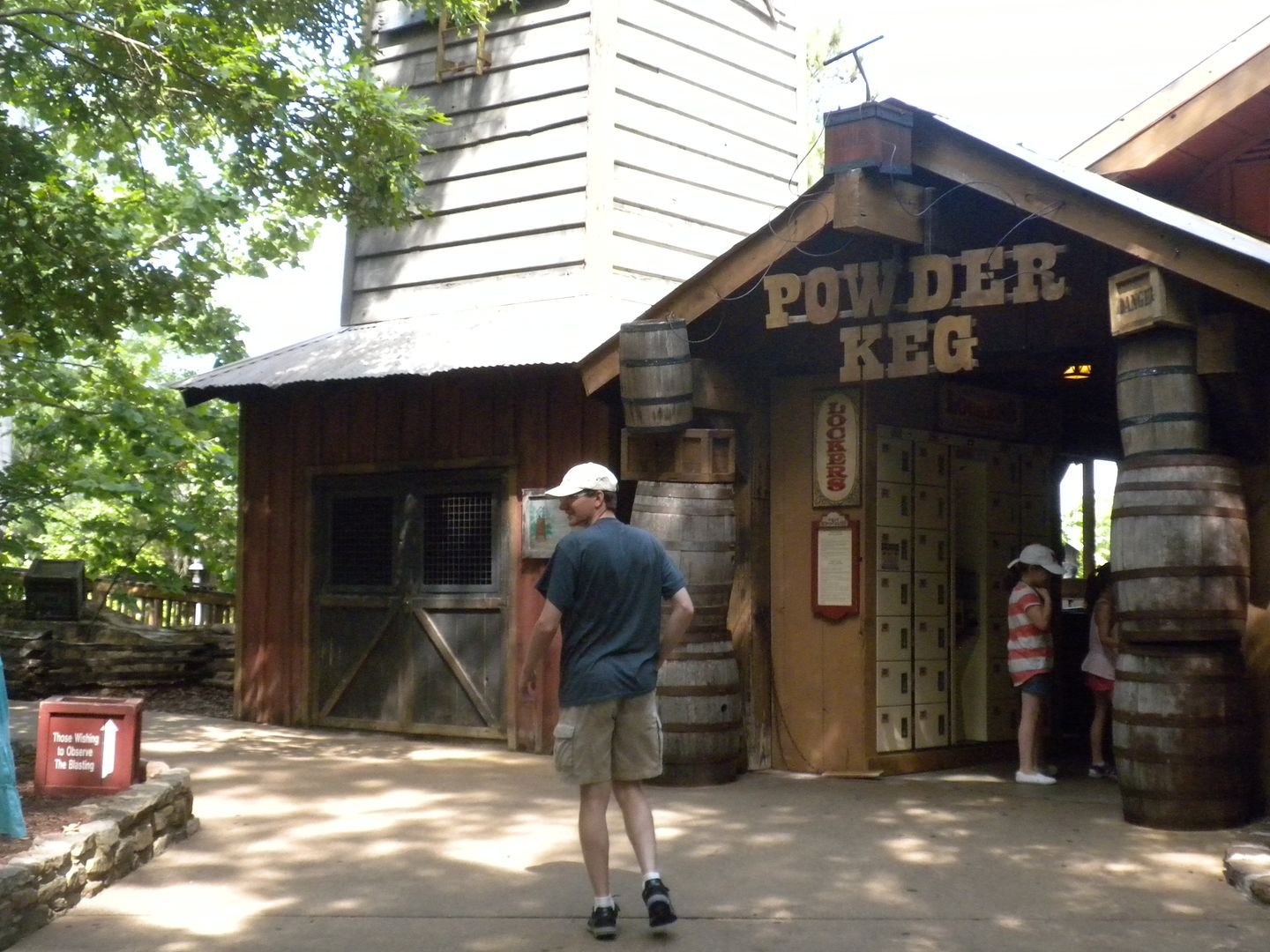 Powder Keg – A Blast in the Wilderness: (Premier/ S&S Power, Launched Coaster, 1999/2005) This coaster started life as a Premier built water coaster named BuzzSaw Falls, but was significantly altered in 2005 by S&S Power as a launched coaster. You can tell where it changes from Premier track to S&S track along the ride. This is an excellent coaster with a thrilling launch, extreme airtime and great speed – 7 rides, 4 during ERT.


Wildfire: (Bolliger & Mabillard, Looping Coaster, 2001) B&M has only built 5 sitting, non hyper coasters, which is a shame since they tend to be excellent. This is no exception.


Its 5 inversions were very well paced making for a very thrilling ride.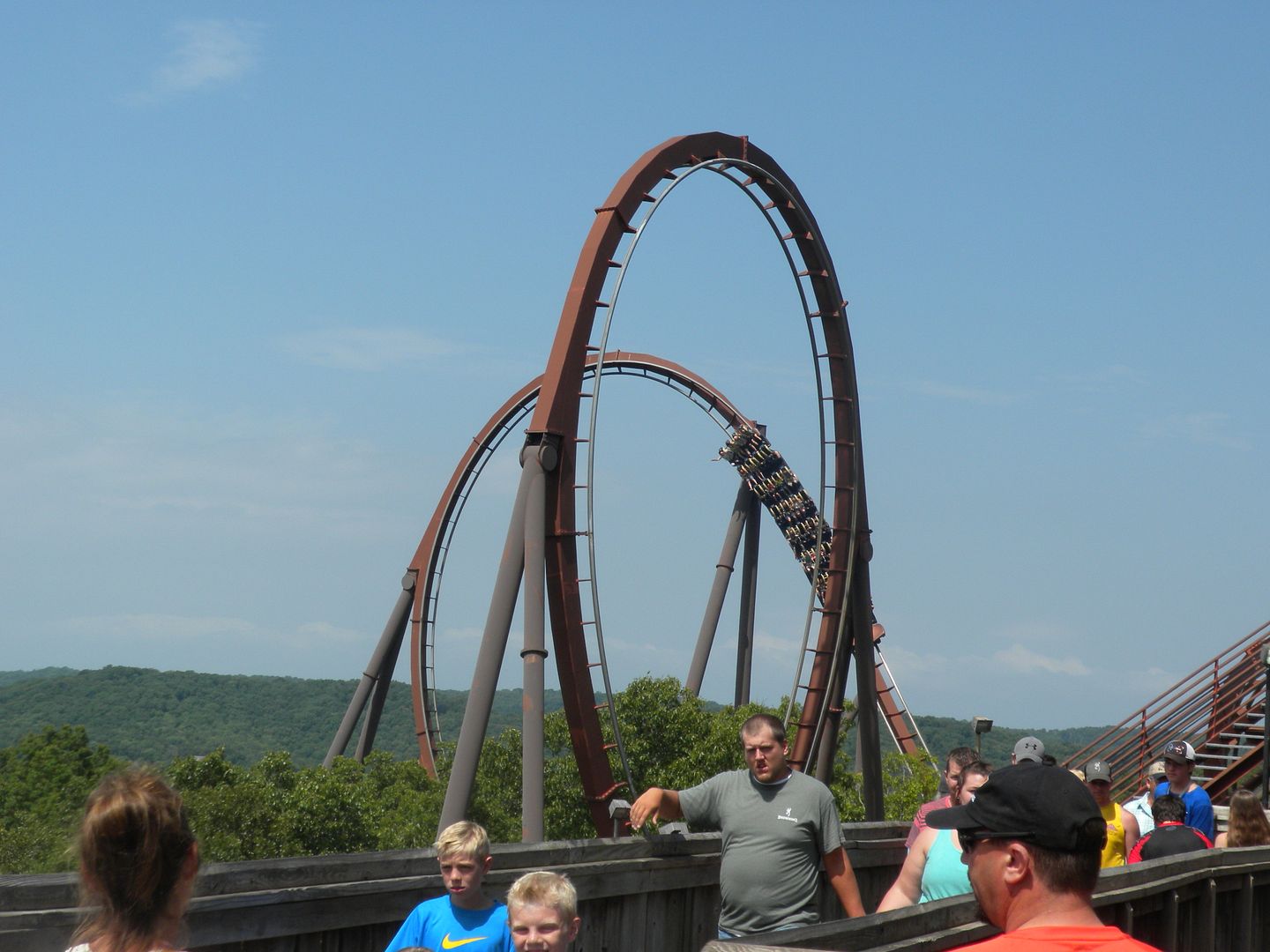 The views on the side of the mountain were great, too – 4 rides.
Fire In The Hole: (unknown manufacturer, Powered Dark Ride/ Coaster, 1972) I love the version at Dollywood so it is interesting to look for the differences and similarities between them. The rides themselves are almost identical. The train is shorter on this one by one car, but it is obvious from the station design it used to be longer. The main differences are in the dark ride, with the hooded vandals who burn the town prominently displayed. Many effects were different, but the three drops are almost the same as at Dollywood. They still have the splash ending – 2 rides.
We did not have time for any shows, but this section has two venues: The Opera House and the Silver Dollar Saloon.
Valley Road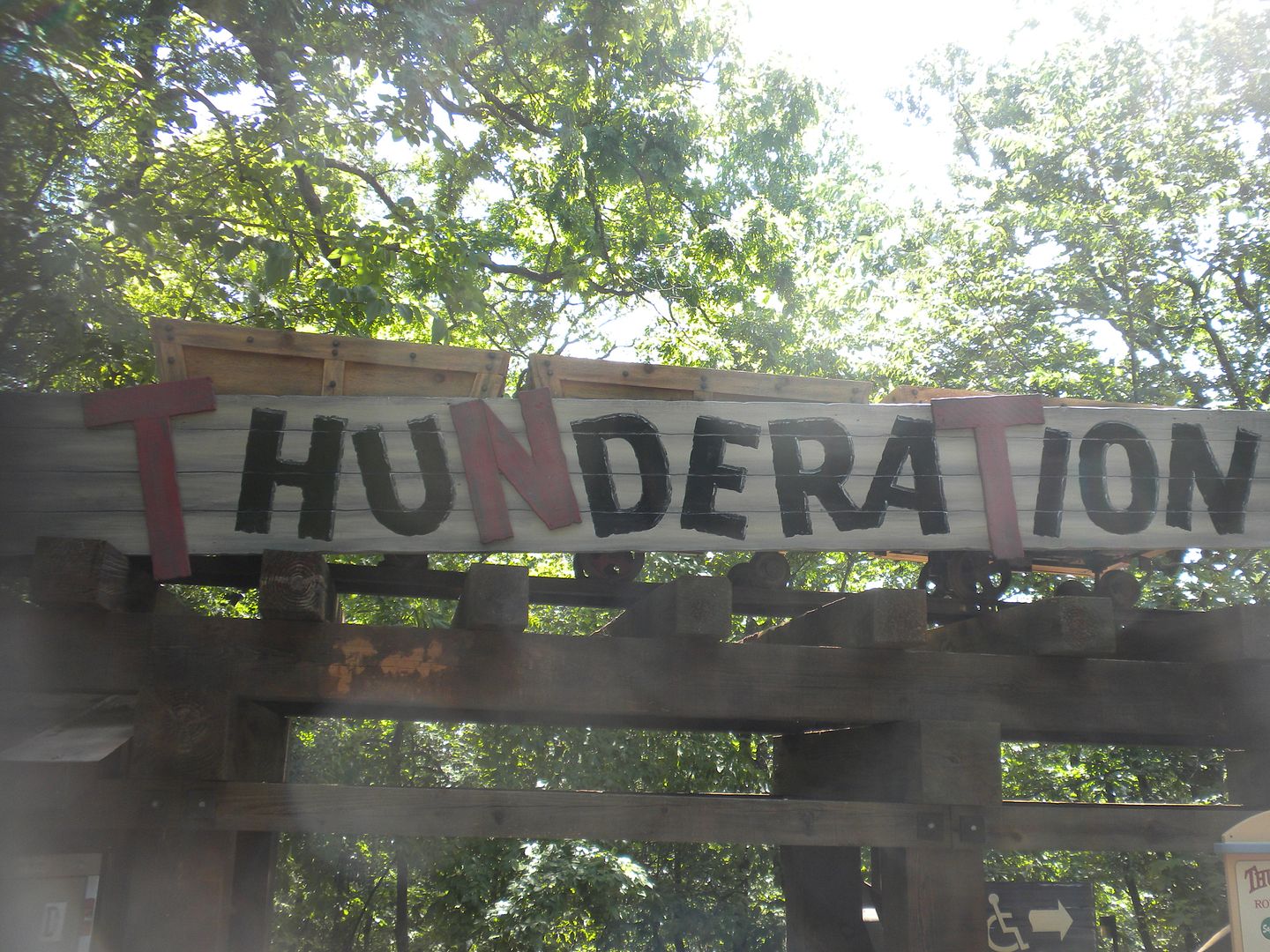 Thunderation: (Arrow, Mine Train, 1993) Adding to the list of great coasters, this mine train, one of only four Arrow built in the 1990s, was another surprise. It had tremendous speed for a mine train, some great helixes and a tunnel. The only disappointment is that not much happens after the last lift hill. Even so, it more than makes up for that with its speed before the first lift hill – 4 rides.


The Flooded Mine: This interactive water dark ride was a lot of fun and had very interesting old scenes of a flooded mine. The story was good, and like most of the Park's rides, it was based on an actual event – 1 ride.


American Plunge: This log flume ride has a good course with a long tunnel section and good splashes that got you pretty wet – 1 ride.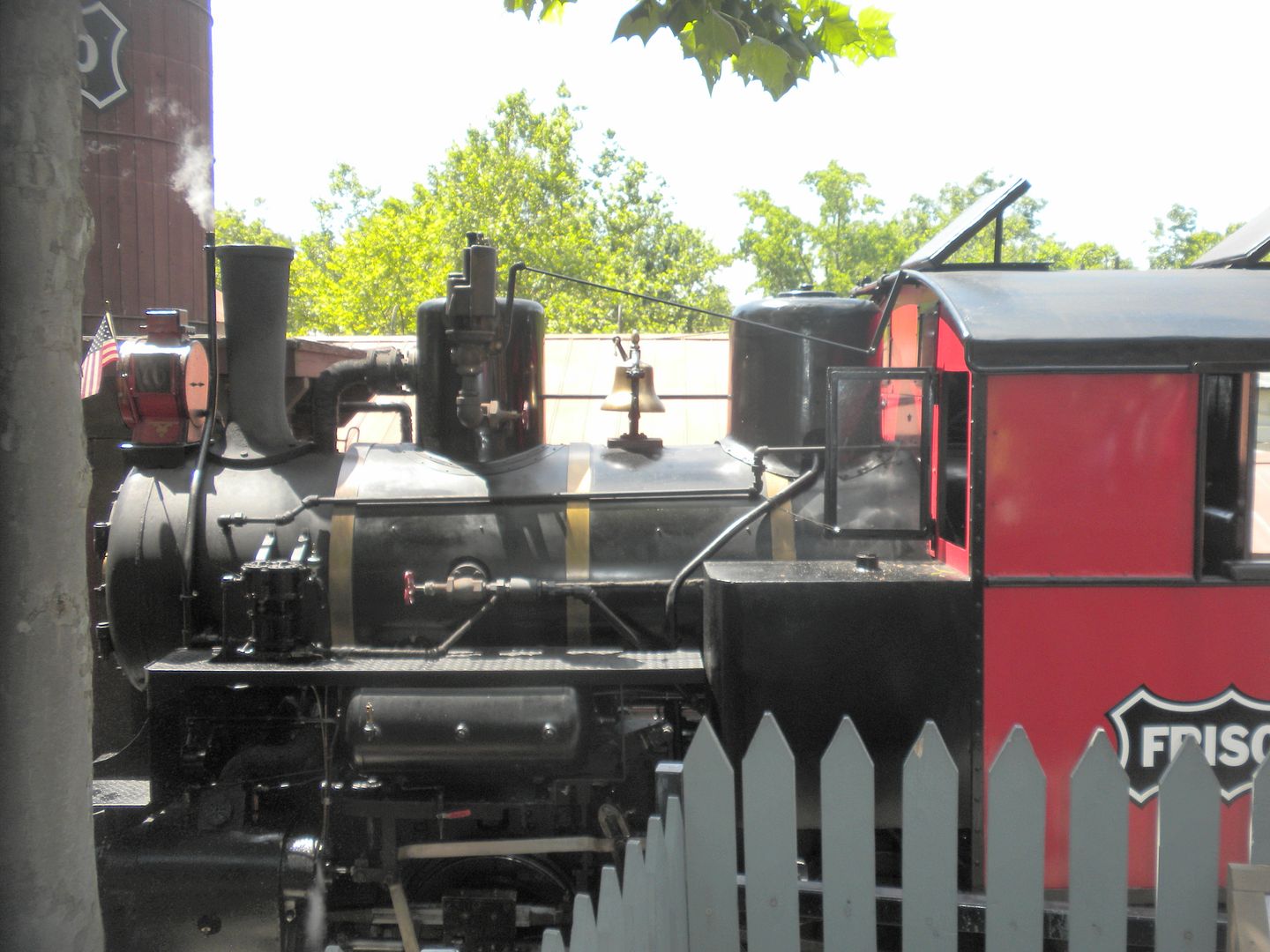 Frisco Silver Dollar Line Steam Train: This Steam Train, like the one at Dollywood, takes guests outside the main part of the Park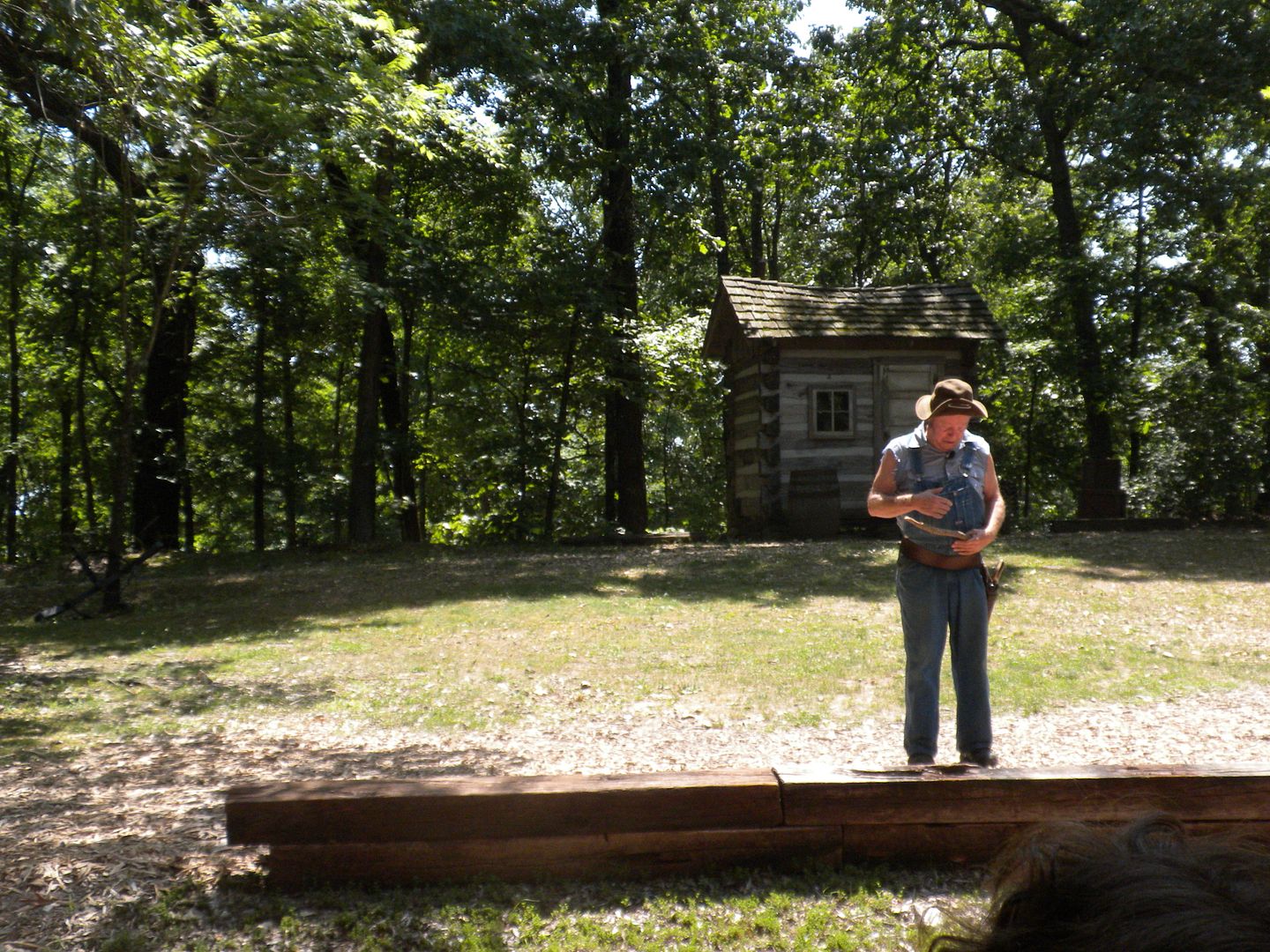 and it includes a 'robbery', that, although pretty corny, was fun – 1 ride.
This section also contains Hugo & Mary's Carousel, a small carousel and Half Dollar Hollar, a children's area with Treetop Trail, a climbing structure, and Sand Play. Also here is the Echo Hollow Amphitheater.
Midtown


Grandfather's Mansion: This tilt house was fun and had good effects – 1 walkthrough.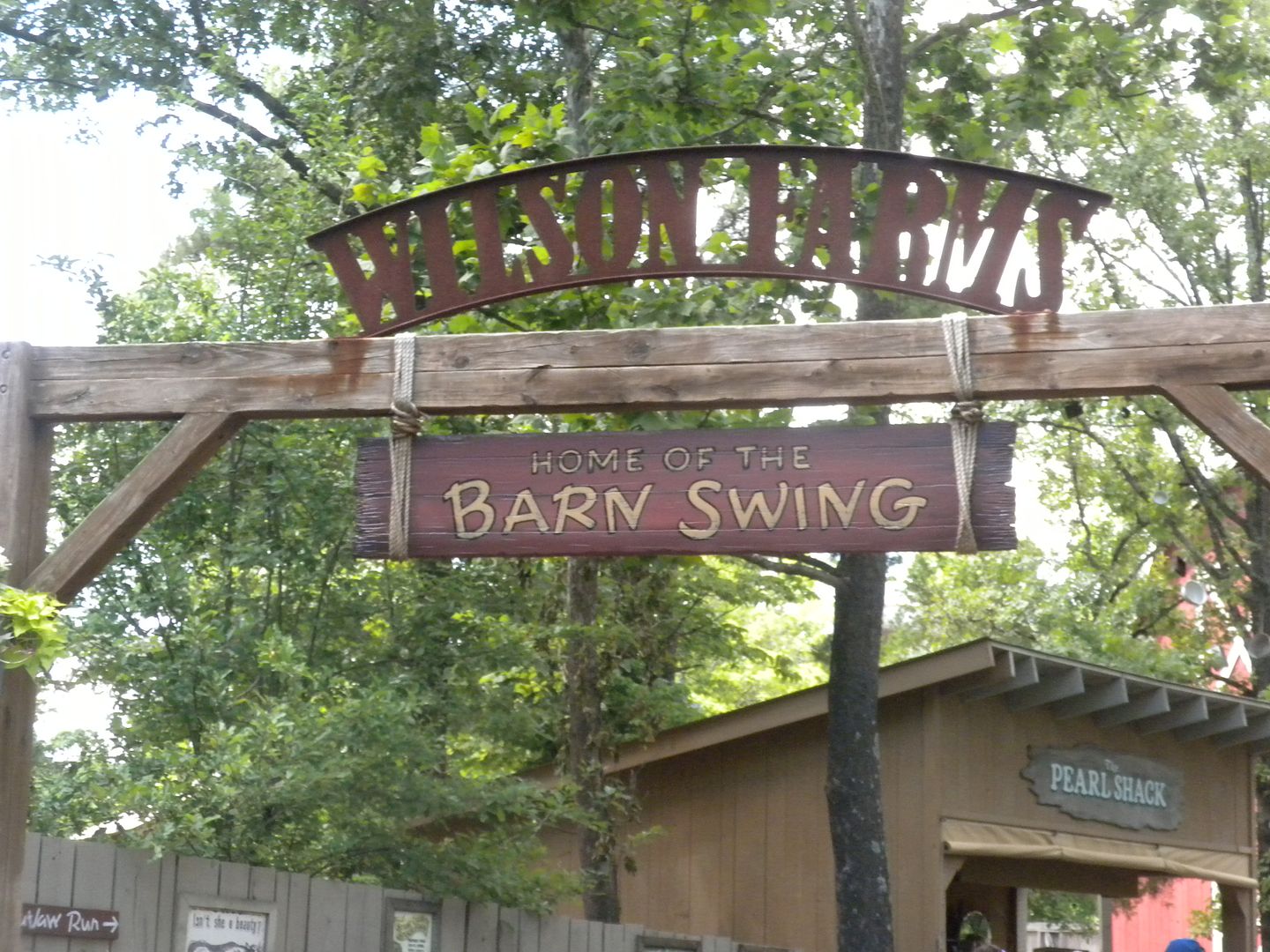 Wilson's Farm & Western Outskirts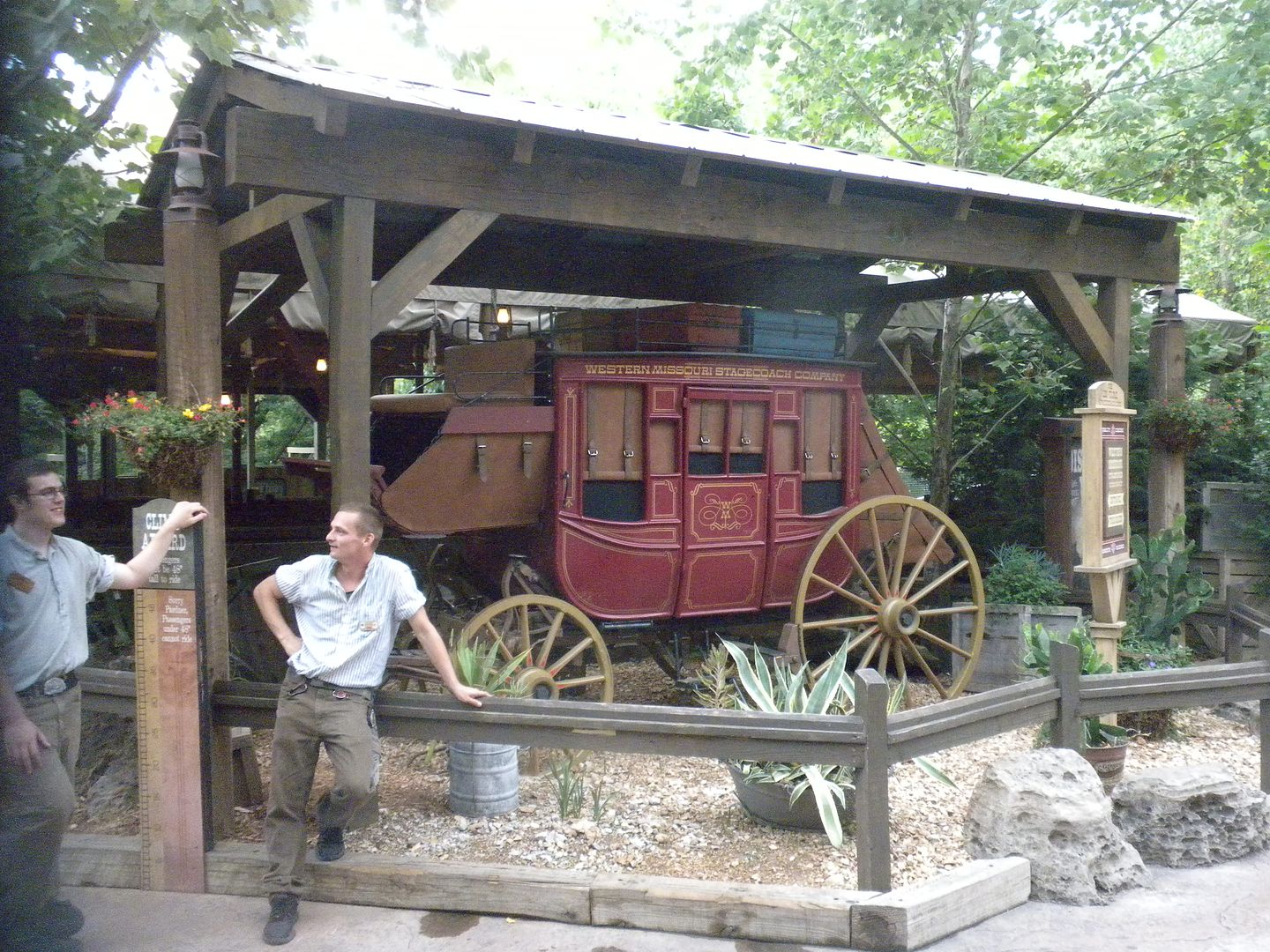 Outlaw Run: (Rocky Mountain Construction, Wood with Inversions, 2013)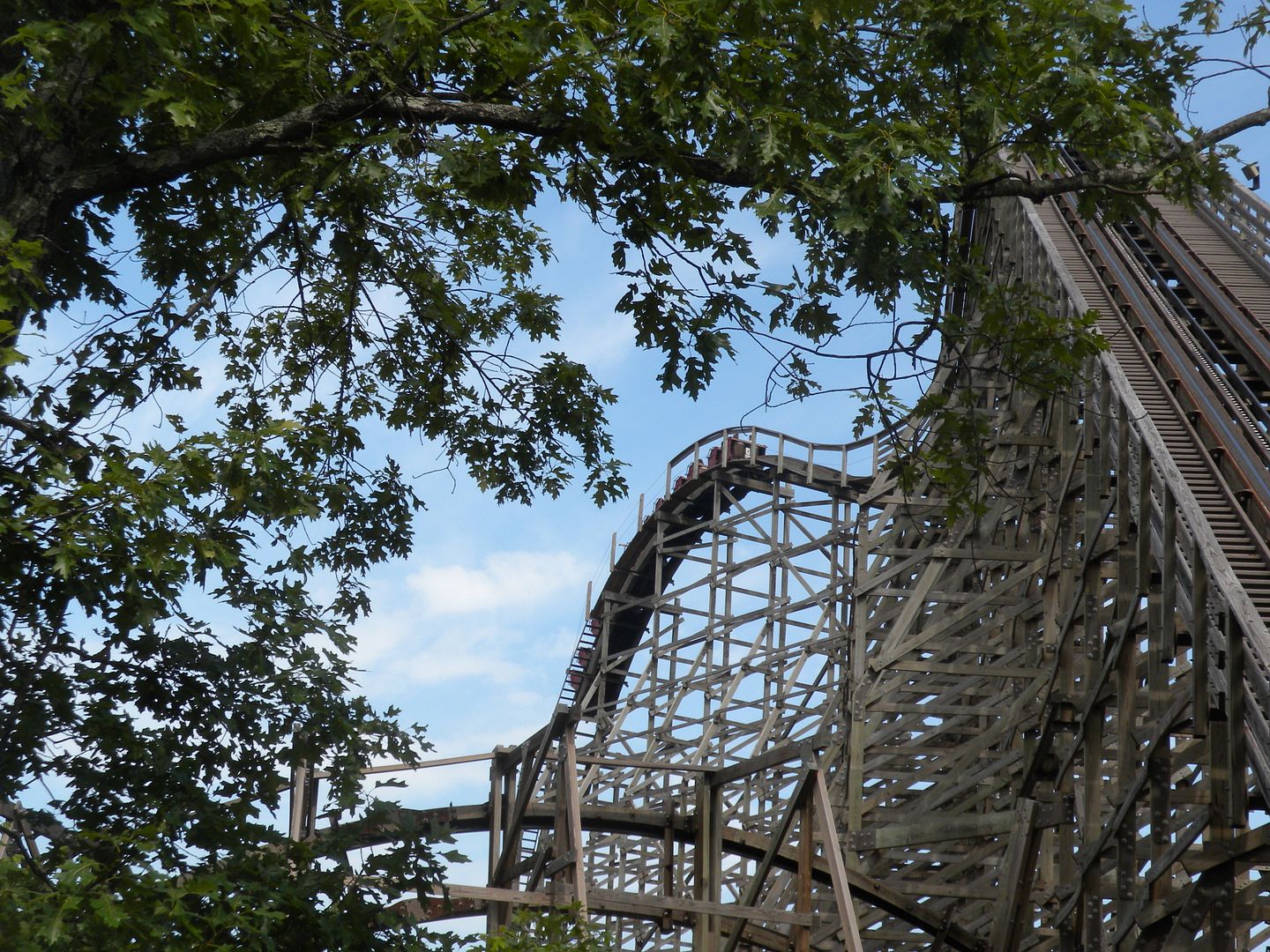 This is an amazing coaster with great speed and tremendous airtime.


Its inversions are fun and not painful. The only negative I can say is that I wish there was something more to hold on to, but I found that I liked riding in the back seat of a car best where I could hold on to the seat in front.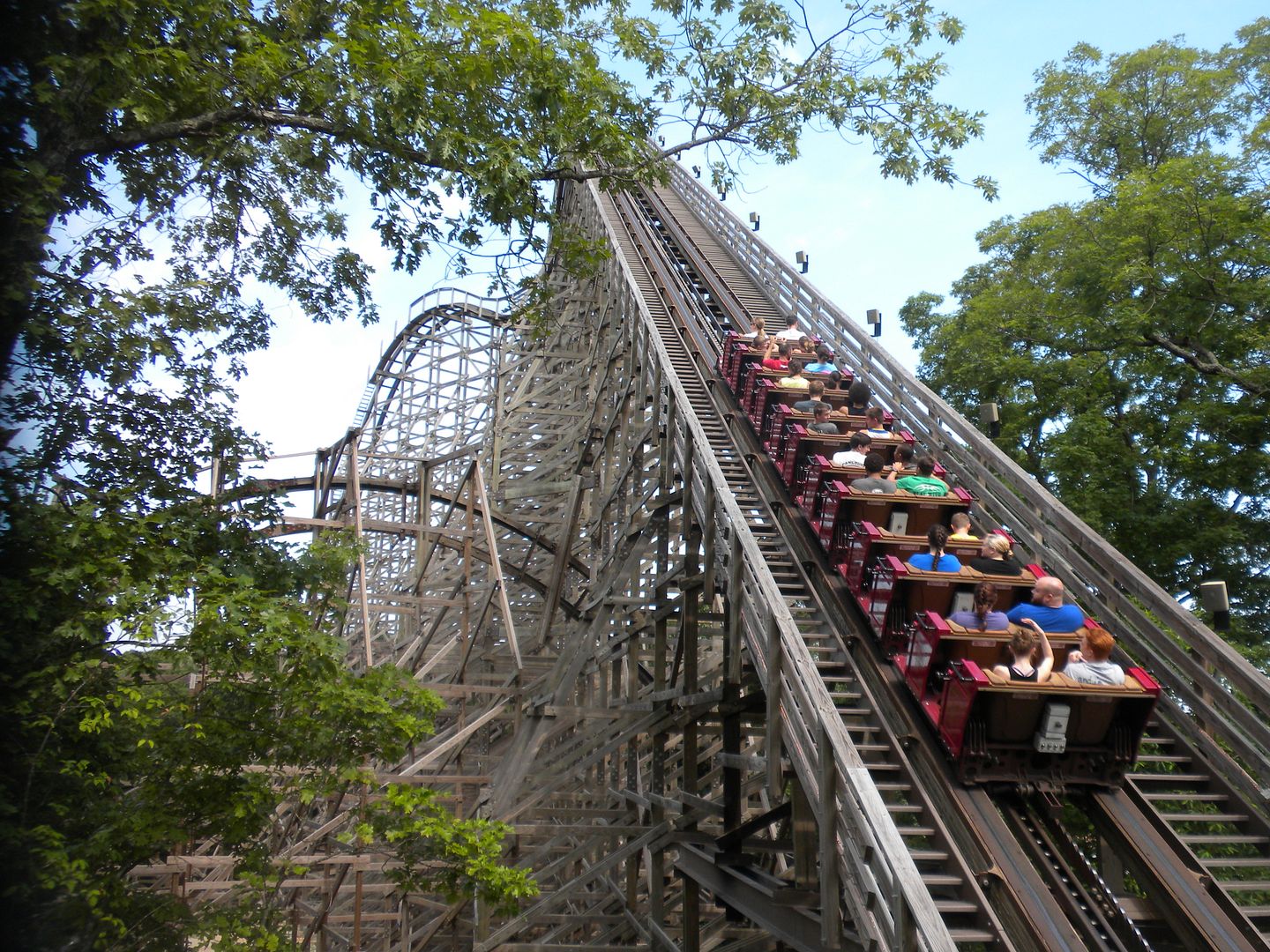 Even with this, it is a tremendous ride – 7 rides, 3 during ERT.
The Giant Barn Swing: This large capacity Screaming Swing was good and not an up charge as in some parks – 1 ride.
Riverfront
We did not ride River Blast, the Splash Battle, or Lost River of the Ozarks, a rapids ride. Their waterslide ride, Waterboggon, was removed since my last visit.
The Grand Exposition
Magnificent Wave Carousel: This Wave Swinger was fun – 1 ride.


As I already had the credit, I did not ride Grand Exposition Coaster (Zamperla, Family Gravity Coaster, 2006),


which was a tight fit for me on my last visit. Also here is Electro Spin, a Disk-O; Royal Tea Party, teacups; Racing Regatta, a spinning ship; Mighty Galleon, a swinging ship; and Elephant March, an elephant ride. There are 3 kiddie rides.
This section also has Red Gold Heritage Hall, which had a show with the Harlem Globetrotters. We had special seating available and while the rest of my group went, I opted to get more rides in. They said it was good.
Fireman's Landing


This new section since I was here before is themed to firefighters.
FireFall: This 8 stories bounce tower was good and well themed – 1 ride.
This section also has a 9 kiddie rides, all well themed.
Homestead Ridge
This section features historical recreations including McHaffie's Homestead, Birdle's Cabin, Oak Trail School and Wilderness Church.
Silver Dollar City is a beautiful park that uses its hilly terrain and lush landscape to immerse guests into a bygone era. The food is excellent and the theming of each section is superb. Most rides are tied to a story or legend from the Ozark Mountains. The park treated us well with an ice cream reception and several gifts. We left after ERT around 8:30 and drove to Kansas City for our next day.
Schlitterbahn Kansas City – BahnCon
On Saturday, June 18 the second leg of the Pre-Con regional events was a brief morning stop at Schlitterbahn Kansas City in Kansas City, KS for the ACE Heart of America regional event BahnCon. For an unbelievably low cost we were treated to breakfast with lots of bacon and two hours of ERT on Verrukt. As we were wanting to spend a full day at our next stop, our plan was to have breakfast, get a ride in and be on the road by 9:00.
Verrukt: This amazing water coaster is the world's tallest water slide. It is a long walk up the 264 steps to get to the top, but it is worth the climb for the intense ride down. It is not the scariest waterslide I have ridden, but it is a tremendous experience – 1 ride. We were all deeply saddened to learn in August of the tragic death of the young boy on this ride. I cannot imagine why it happened, but I am sure they will make sure nothing like that can ever happen again before the ride can reopen. My thoughts and prayers go out to the boy's family.
While we did not have time to stay, other rides and attractions include: Bahnzai Pipeline Tepsube Slide, Black Knight Tube Slide, Blitz Falls, Boogie Bahn, Boogie Bay, Cyclne, Henry's Hideout, Kinderhaven, King Kaw, Kristal Beach, Kristal River, Mighty Mo, Pirate Ship at Henry's Hideout, Raging Rivers Tube Slide, Soaring Eagle ZipLine, Storm Blaster, Torrent Beach, Torrent Cove, Torrent River, Twister, Whirlwind, and Wolfpack Tube Slide.
The breakfast was excellent and we enjoyed our brief visit. It is a nice park and certainly worthy of more time that we opted to give it. We were on the road just after 9:00 to our next stop.
Worlds of Fun – The Howling
On Saturday, June 18, the Pre-Con regional events concluded with the ACE Heart of America regional event The Howling at Worlds of Fun in Kansas City, MO. My only previous visit here was for Coaster Con in 2009. Worlds of Fun is themed to Jules Verne's book "Around the World in Eighty Days" with sections representing five parts of the world and a children's area. Its water park, Oceans of Fun, is accessible from the Park. I will review by section.
Americana


Patriot: (Bolliger & Mabillard, Inverted Coaster, 2006)


This is a fun coaster and although its elements may not be as well paced as the best inverteds, it still gives a great ride – 2 rides.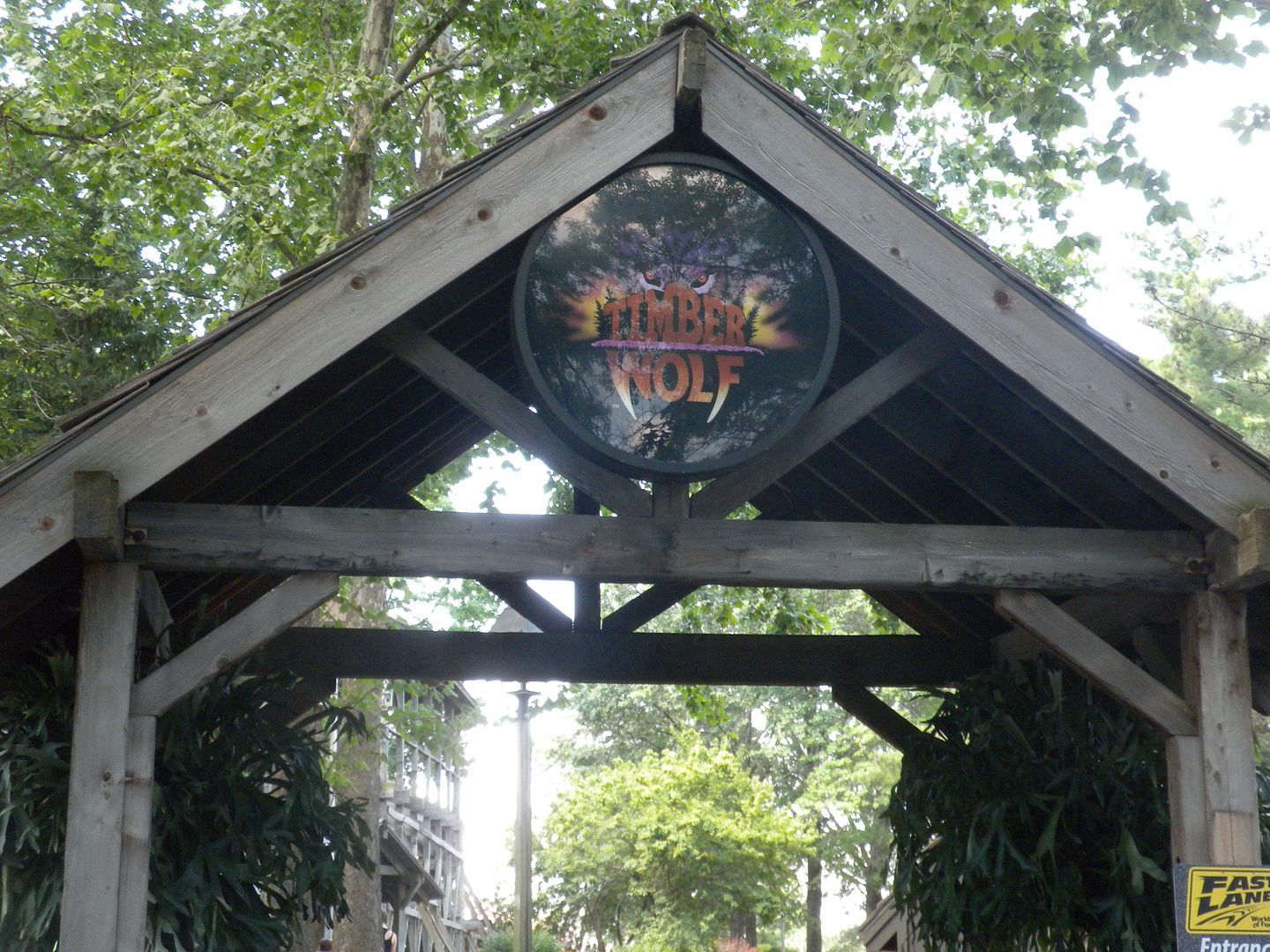 Timber Wolf: (Dinn/ Summers, Wood Twister, 1989)
While this coaster had some rough spots especially on the helix, and the occasional Dinn shuffle on the turns,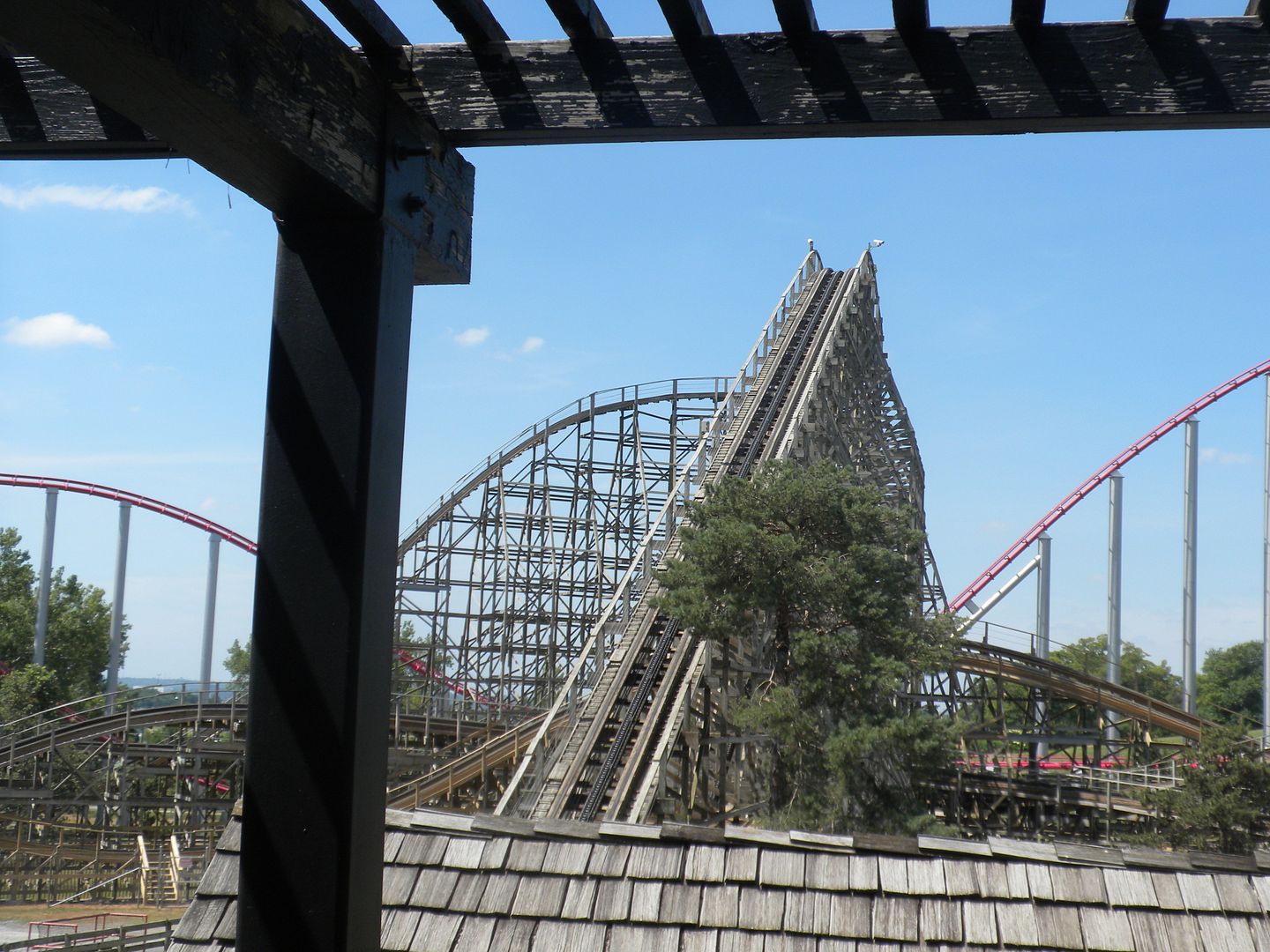 overall I was pleased


with the ride it gives – 3 rides.


Cyclone Sam's: This indoor Wipeout is well themed and gives a good ride in the dark. I like Trabants better as they are less intense than Wipeouts, but this is good and is a great place to cool off – 1 ride.
Steel Hawk: This Windseeker was relocated from Knott's Berry Farm and is new since my last visit. It gives a great view of the park – 1 ride.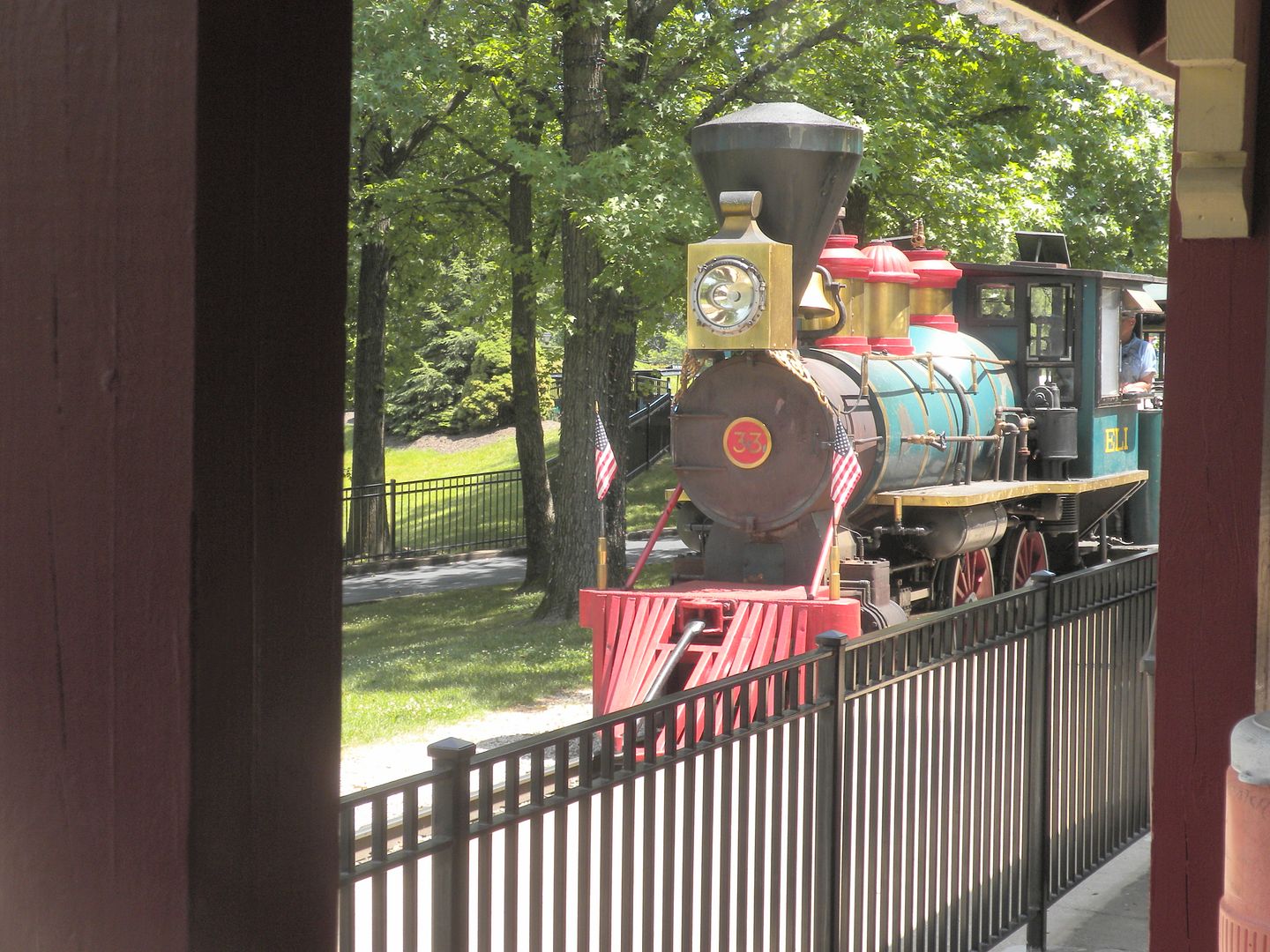 Worlds of Fun Railroad: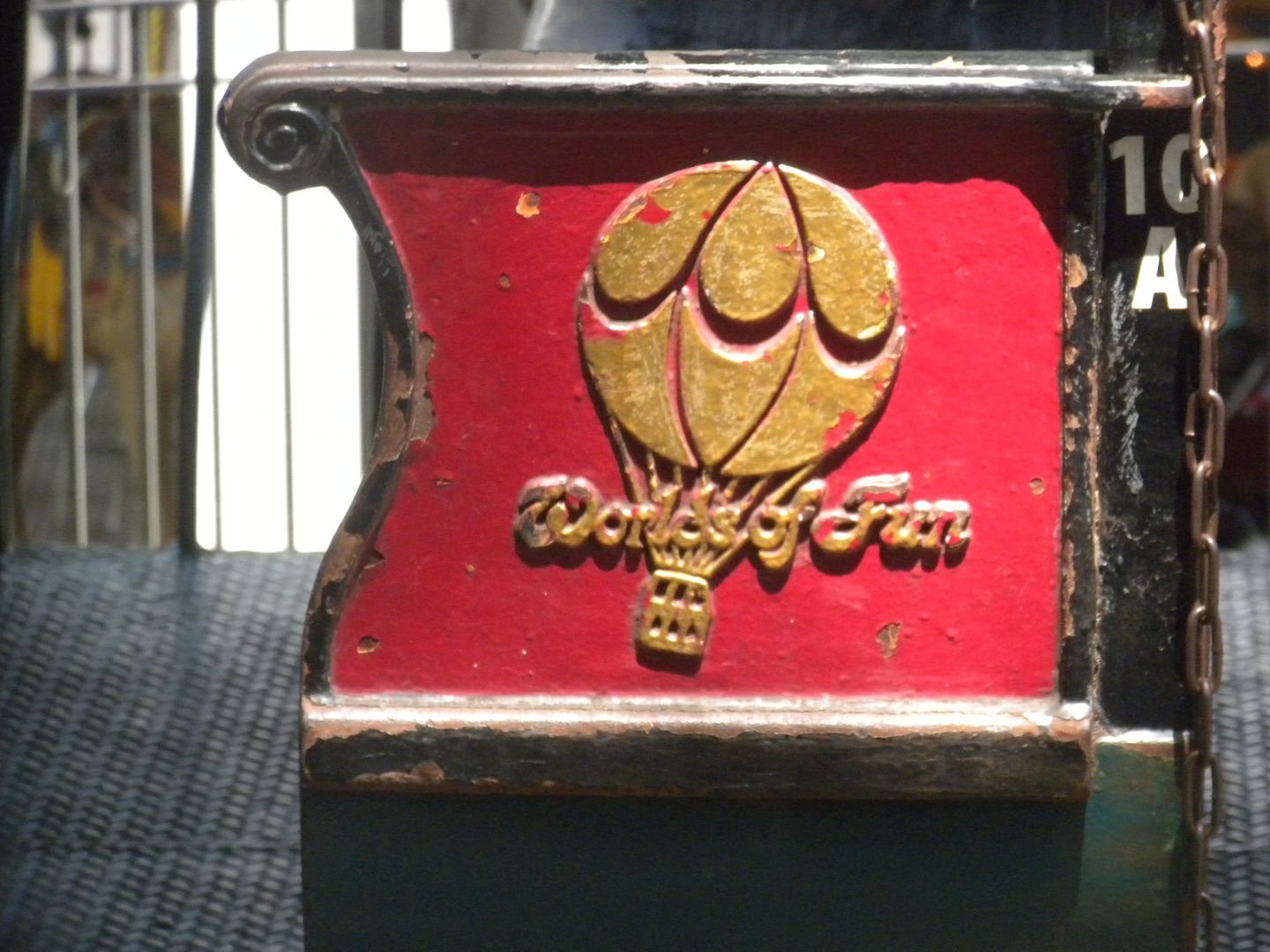 This one station ride takes you through the park and around Prowler in the Africa section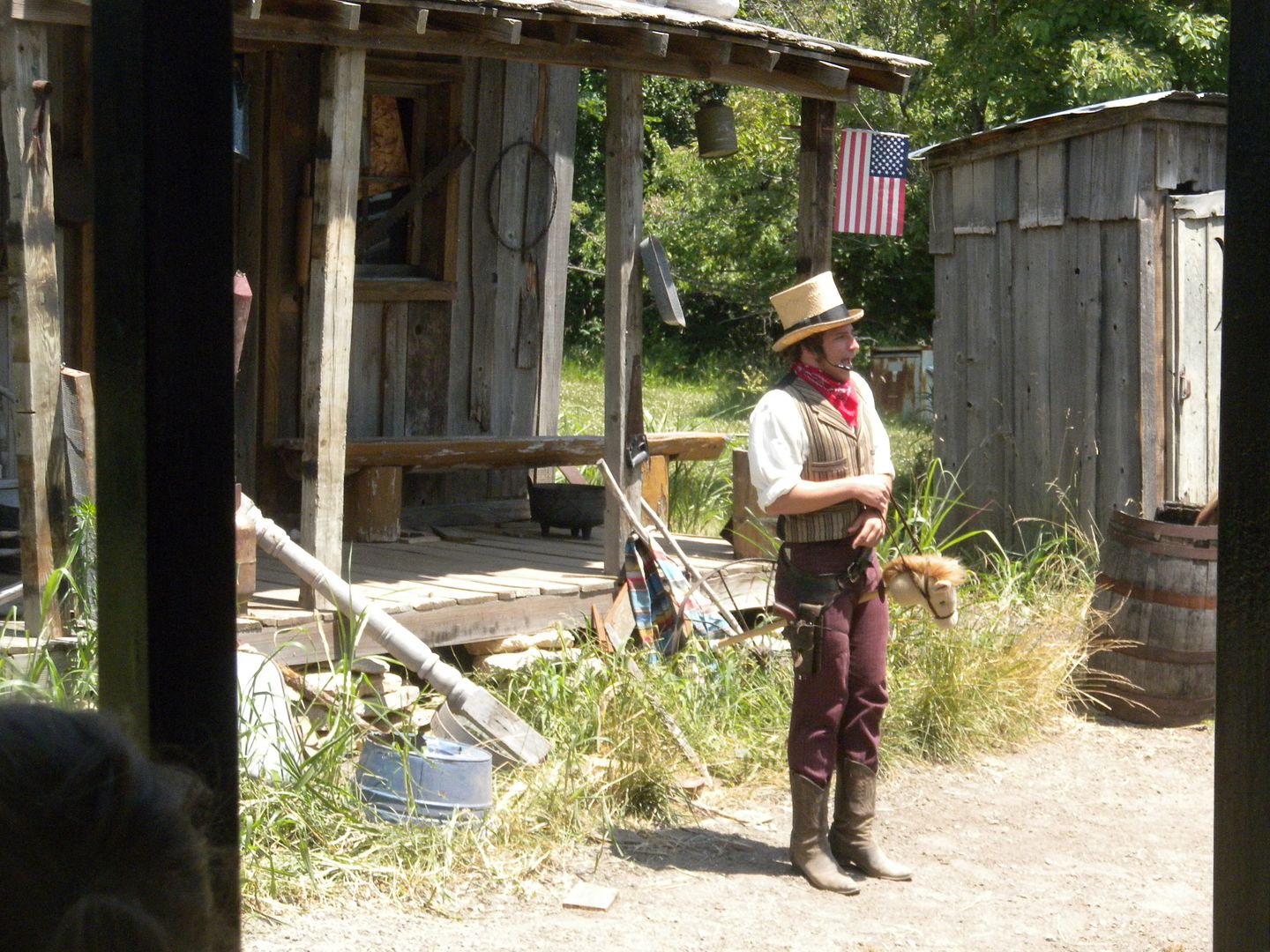 and includes a "robbery" show, which was very corny – 1 ride.
I did not have time to ride Skyliner, a Ferris Wheel; or Detonator, a launch/drop tower. On my previous visit Americana also had Thunderhawk, a Top Spin, that was not operational during that visit and has since been removed. This section also has the upcharge attraction, Ripcord, a sky coaster. Also here is the Canine Crossing Theater, which looked like it was being renovated.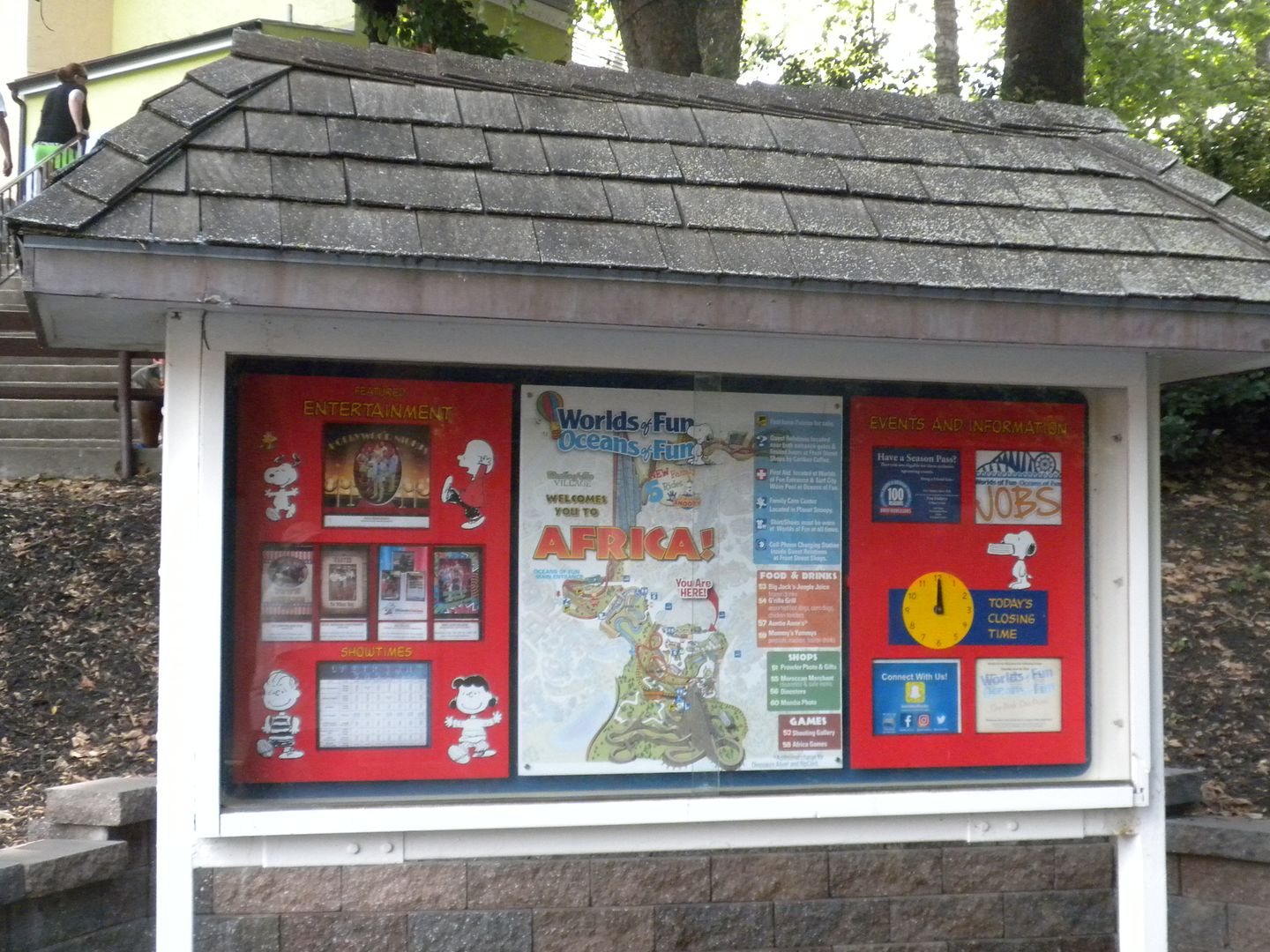 Africa


Prowler: (GCI, Wood Coaster, 2009)


This is an excellent GCI coaster ranking to me just below Thunderhead. It has tremendous airtime throughout and relentless speed. It has fewer crossovers than most other GCIs (about as close as they get to an out-and-back), but its journey through the trees adds to its intensity, especially at night. This is one great coaster – 9 rides, 6 during ERT.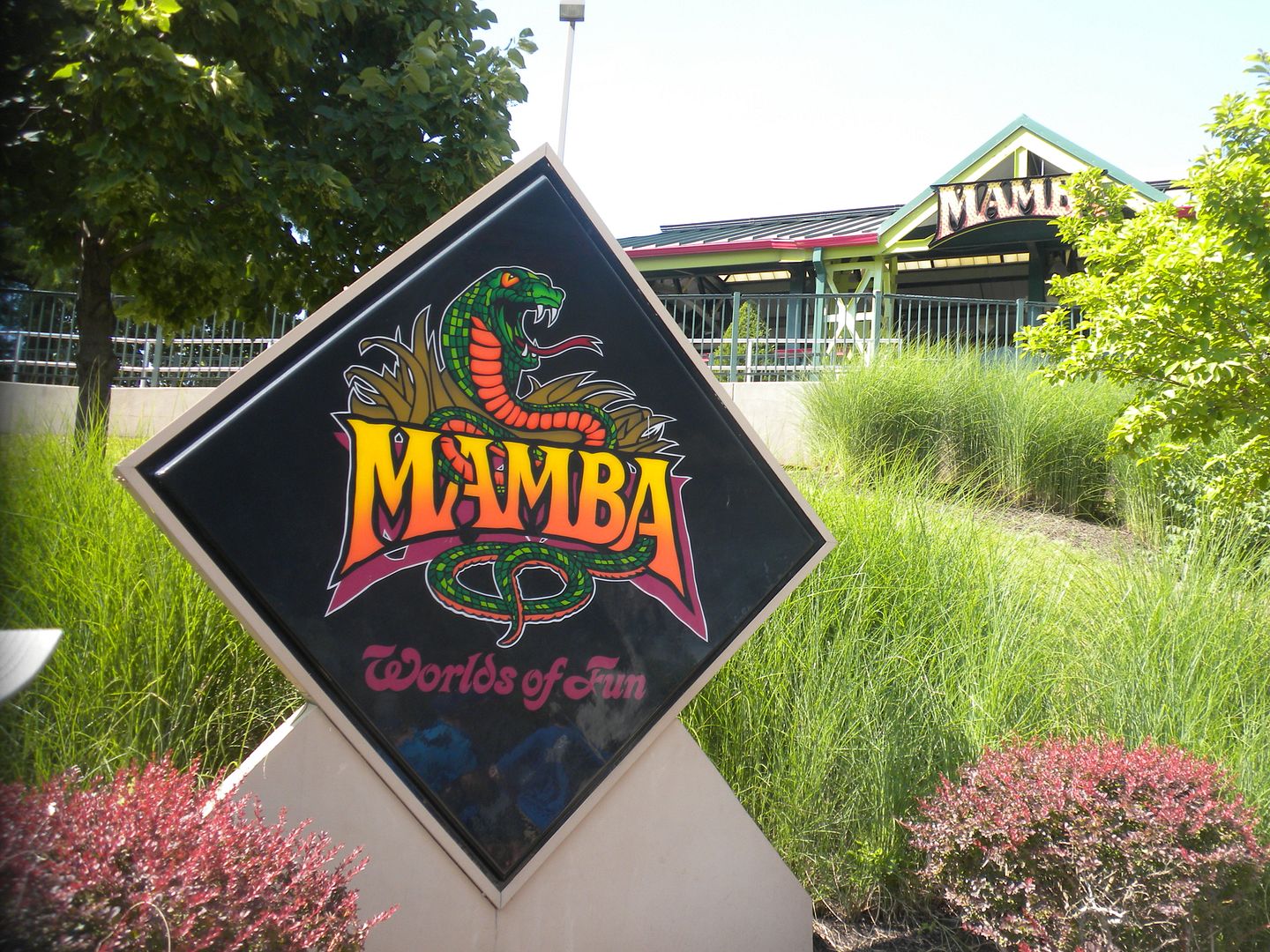 Mamba: (Morgan, Hyper Coaster, 1998)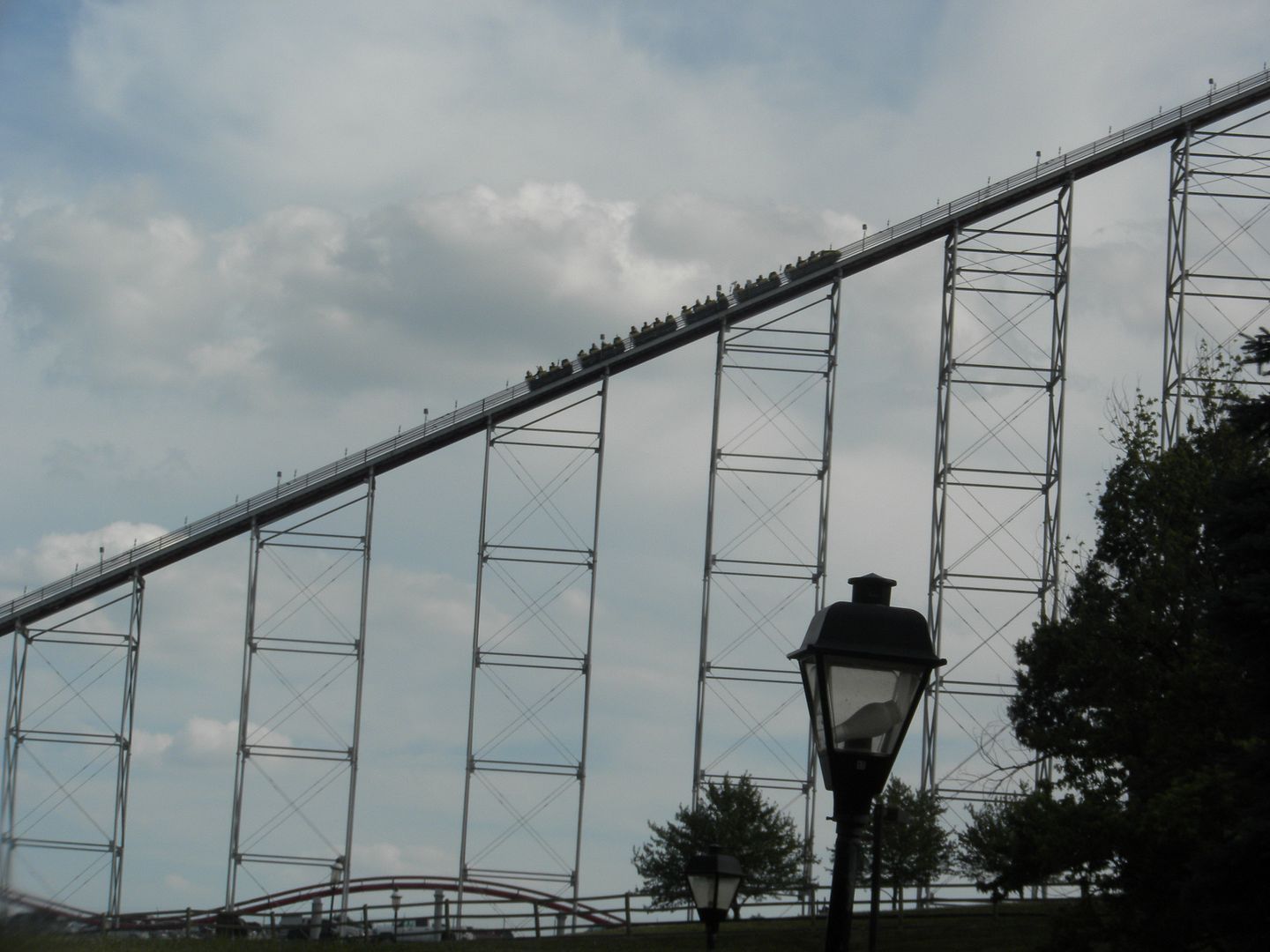 This is an excellent hyper coaster with great airtime and speed.


I would say it ranks behind Steel Force and very close to Wild Thing. It also includes a double up – 6 rides, 5 during ERT.


Boomerang: (Vekoma, Boomerang Shuttle Coaster, 2000)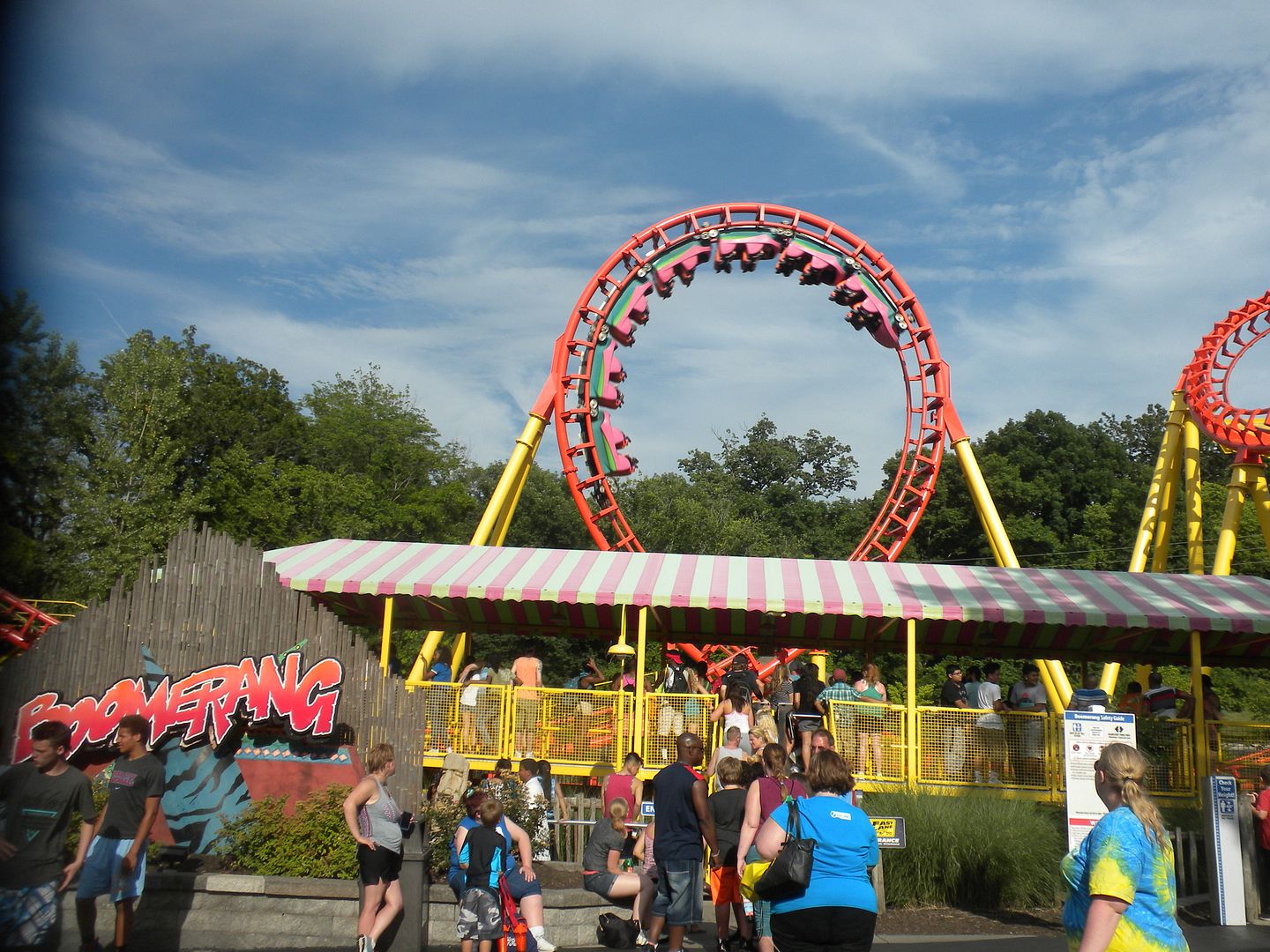 This gave the standard ride. Sadly, it was the replacement for Zambizi Zinger, a Schwarzkopf Speed Racer like Whizzer at SFGAm. Fortunately, it now operates in Montenegro, Columbia, but I do not know that I will ever get there – 1 ride.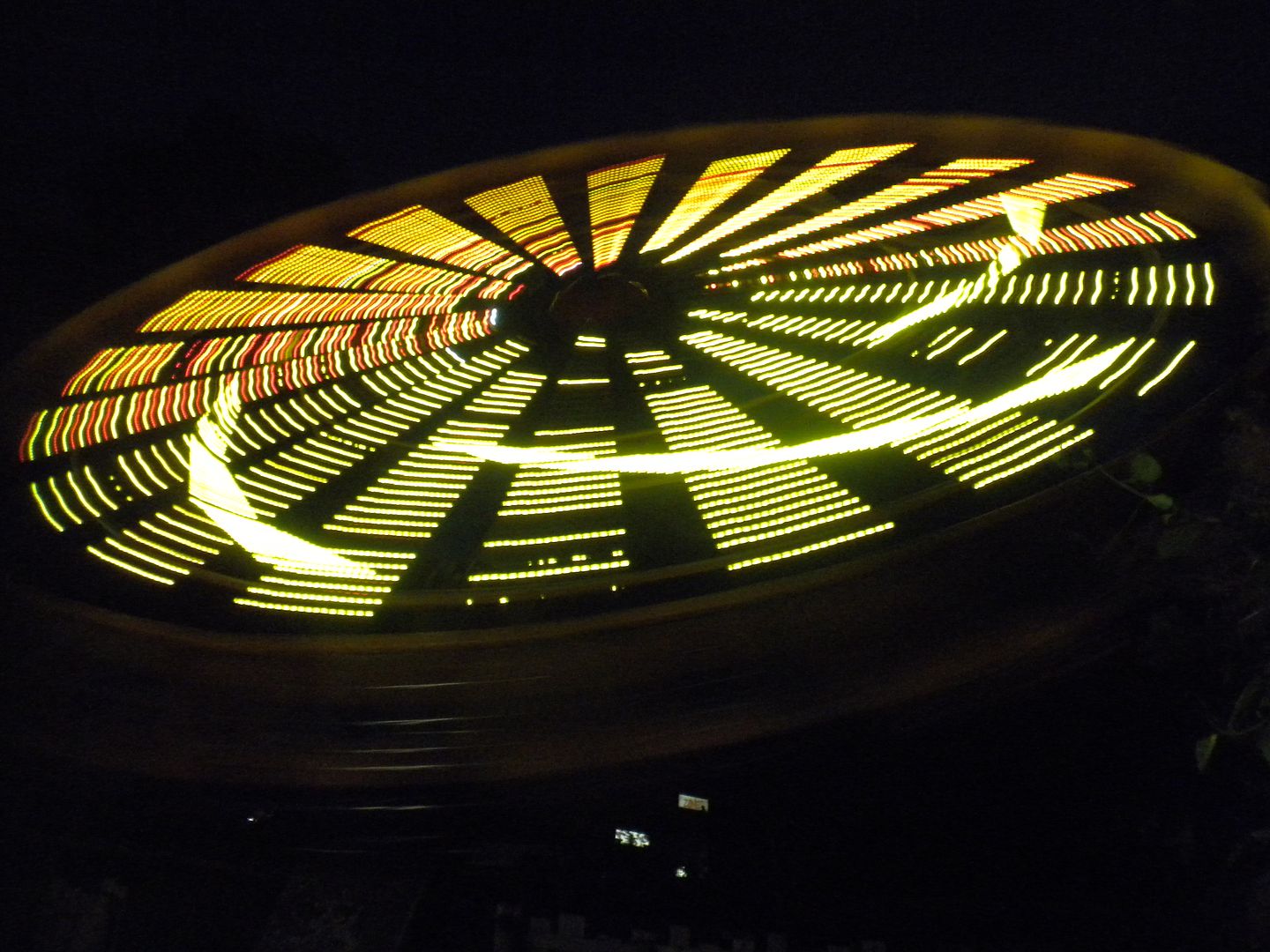 Zulu: This Enterprise gave an intense ride – 1 ride.
I did not have time to ride Fury of the Nile, a rapids ride or Monsoon, a shoot-the-chutes with a double down and with an entrance from both Worlds of Fun and Oceans of Fun.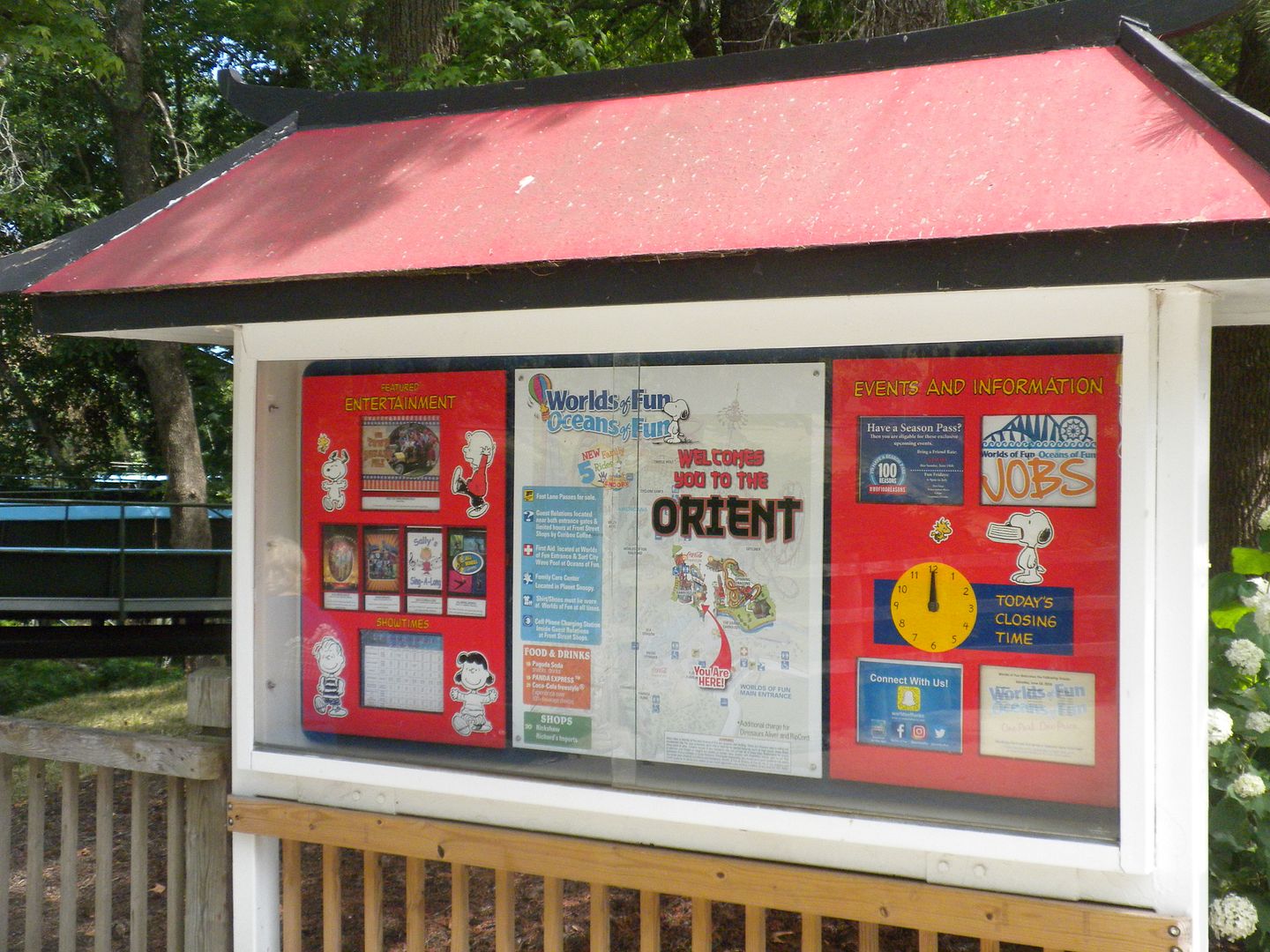 Orient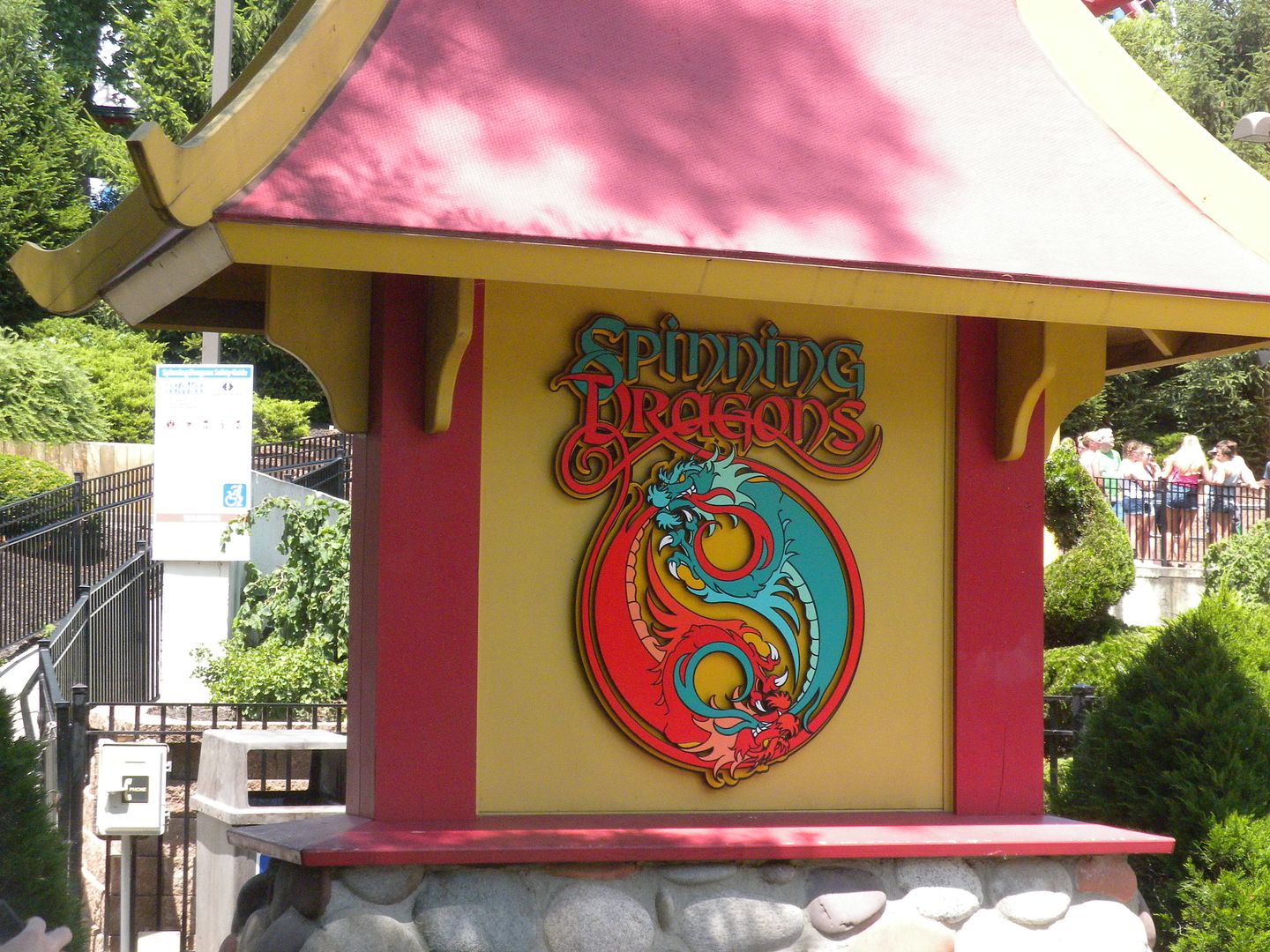 Spinning Dragons: (Gerstlauer, Spinning Coaster, 2004)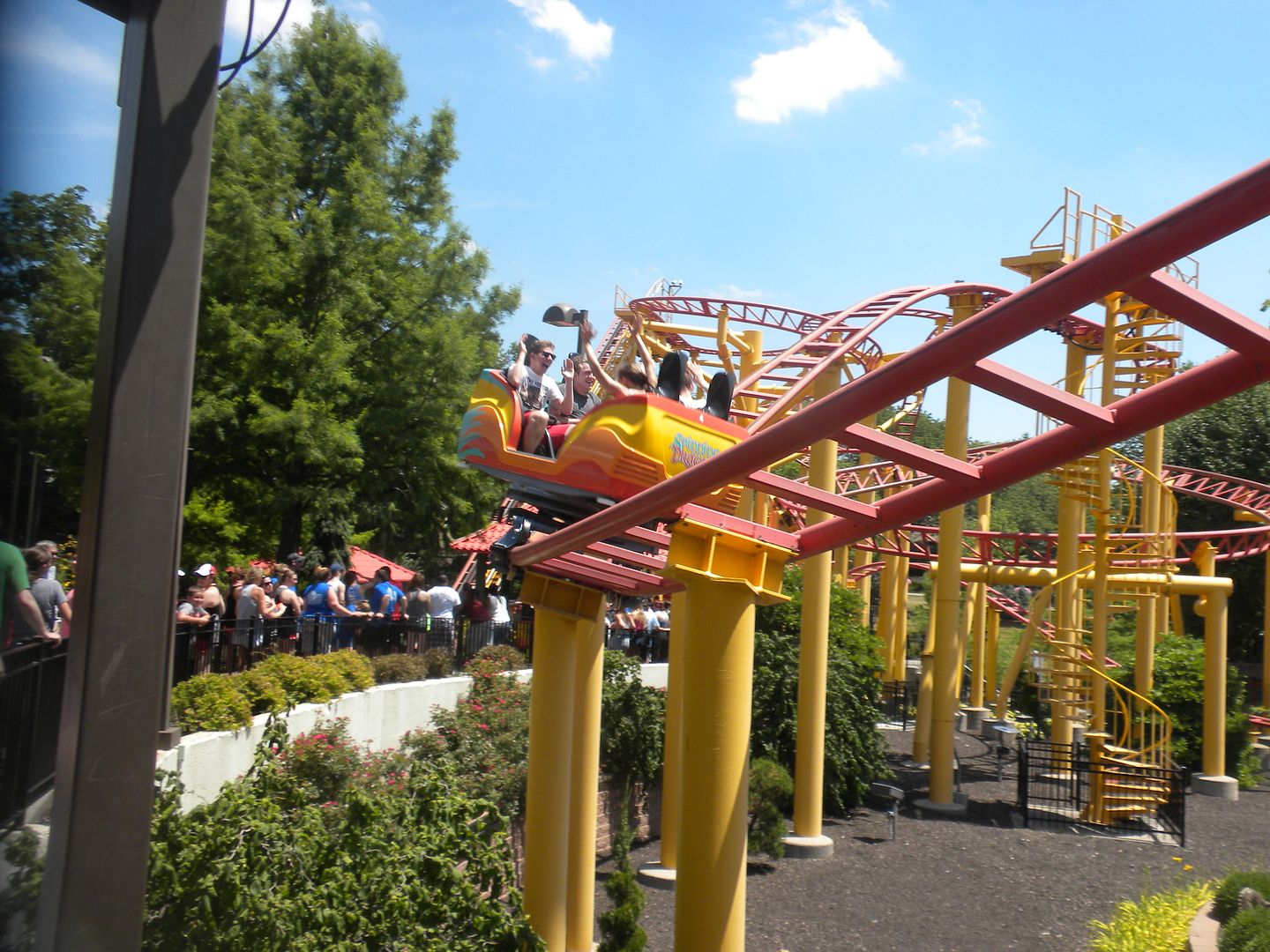 This is a fun spinning coaster with a good layout, and it spins well. It took well over an hour to wait for it this busy day – 1 ride.
I did not ride Bamboozler, a Roundup.

Scandinavia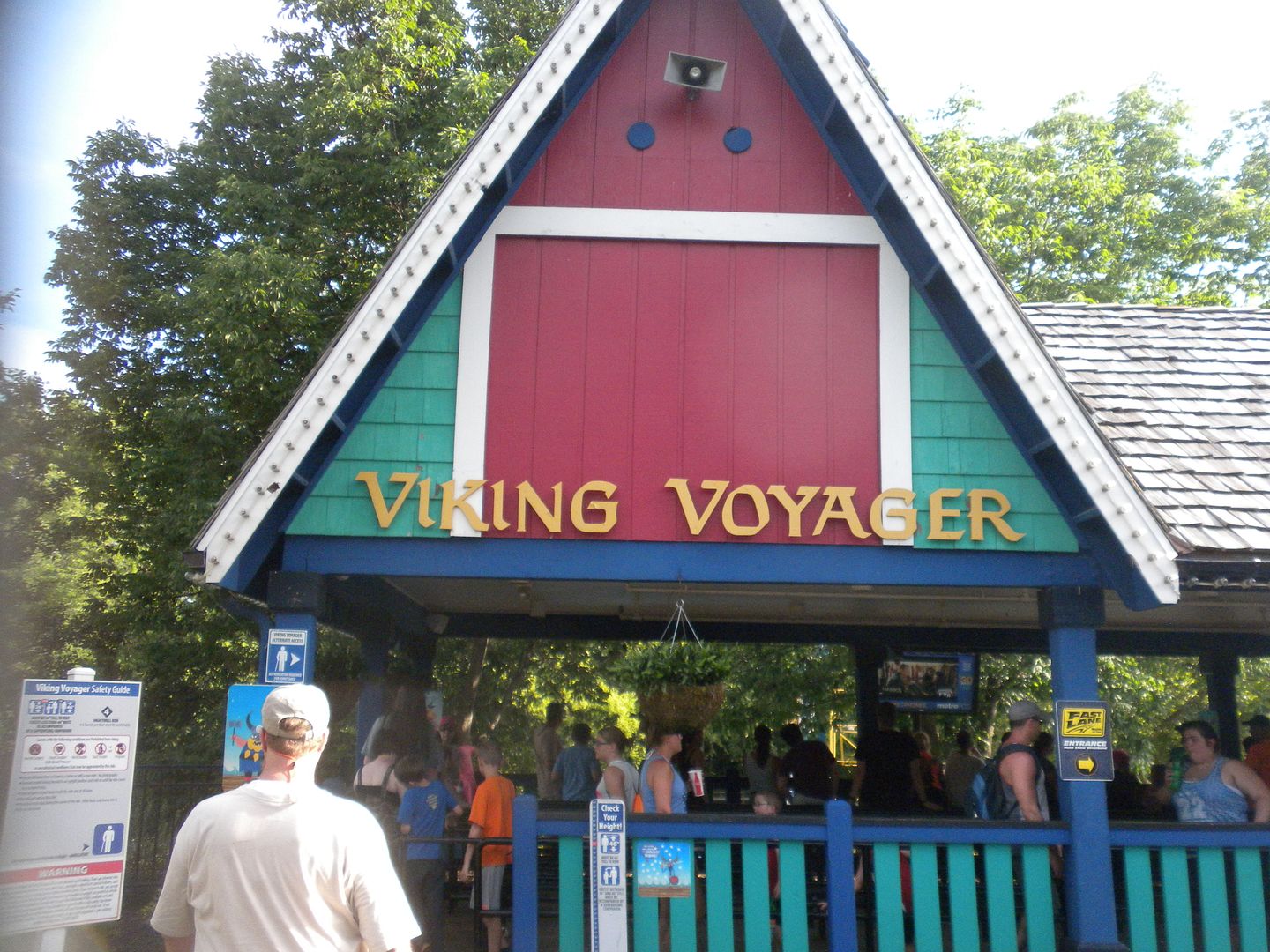 Viking Voyager: This was a fun log ride with good theming.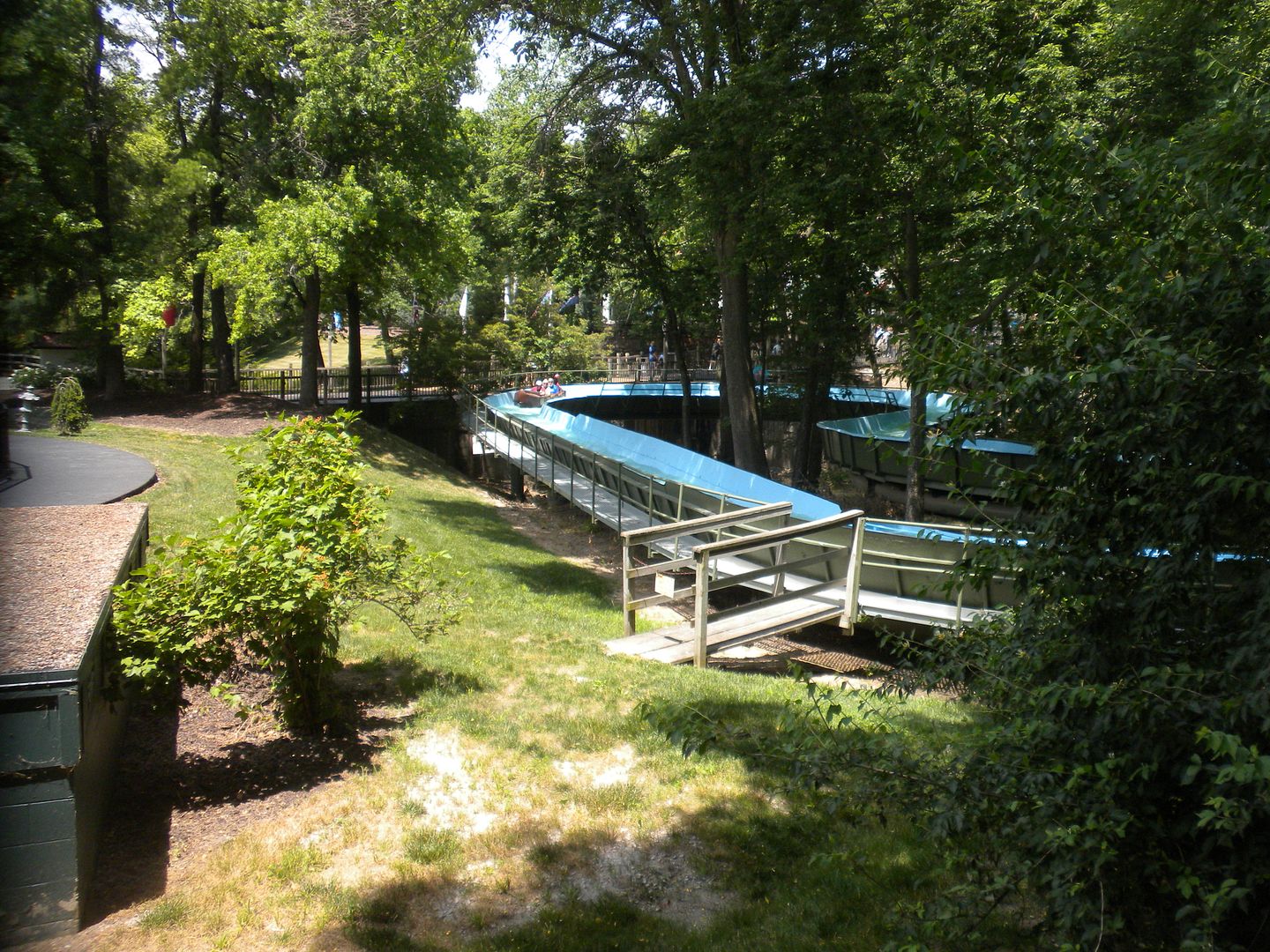 It gave good views of the Park as it extended to the Orient, and it had good drops – 1 ride.


Grand Carousel: This gave a good ride – 1 ride.
Fjord Fjarlane: I have only run across this spinning ride a few times, and it gives a 'fjarly' mild but 'fjun' ride – 1 ride.
I did not ride Scrambler, which was moved from Americana since my last visit; Finnish Fling, a Chance Roter; or Sea Dragon, a swinging ship. Octopus, an Eyerly Monster, was removed since my last visit. Also here is Tivoli Music Hall.
Europa


Le Taxi Tour: This covered taxi ride has a nice course on a hillside overlooking Africa and Mamba – 1 ride.
Flying Dutchman: This mild spinning ride was fun – 1 ride.
I did not ride Autobahn, bumper cars; or Le Carrousel (Allan Herschell; Classic Metal Carousel: 30 jumping horses, 2 chariots; 1960s). The Moulin Rouge Theater is also here, but limited time did not permit getting to any shows.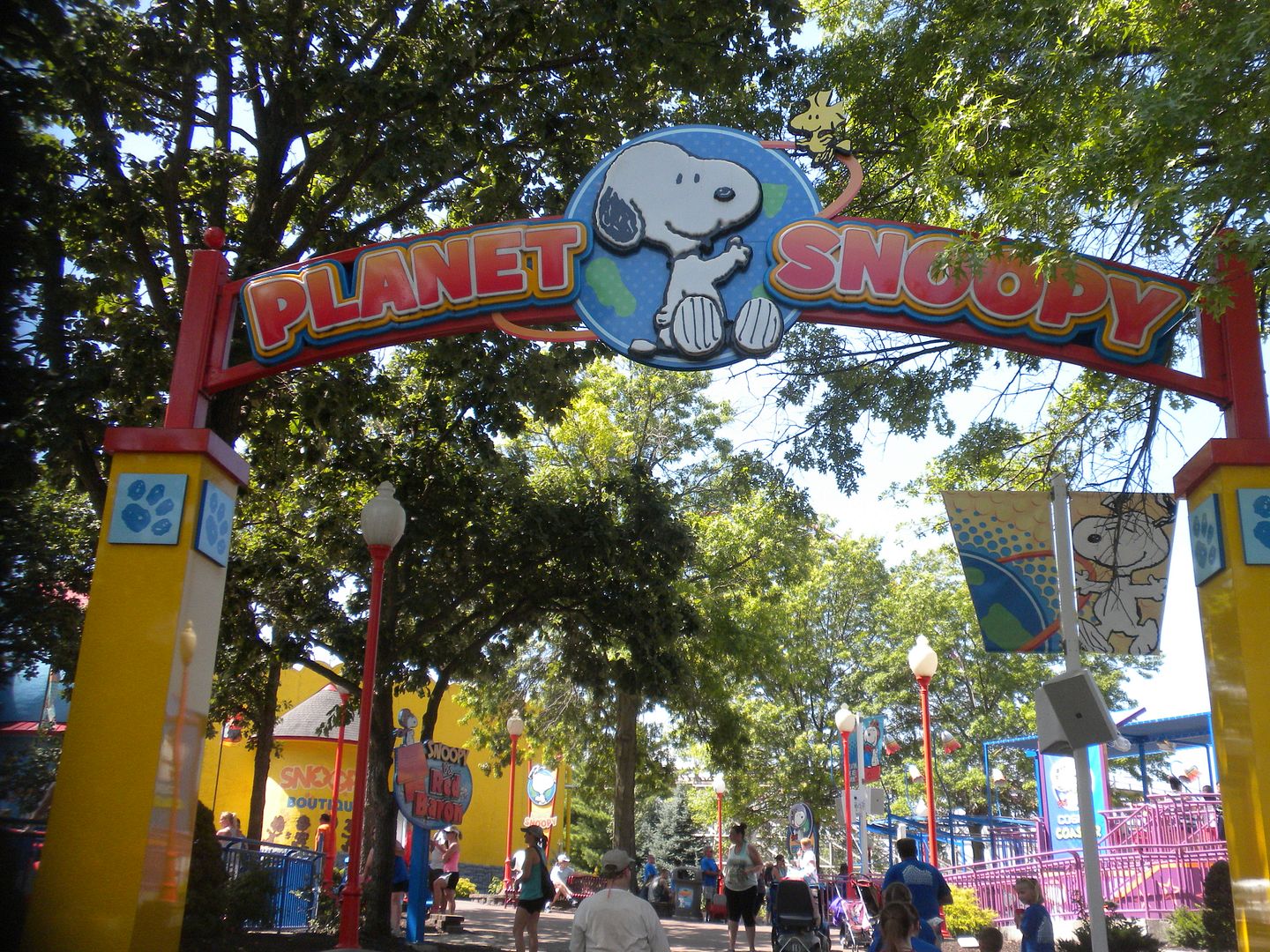 Camp Snoopy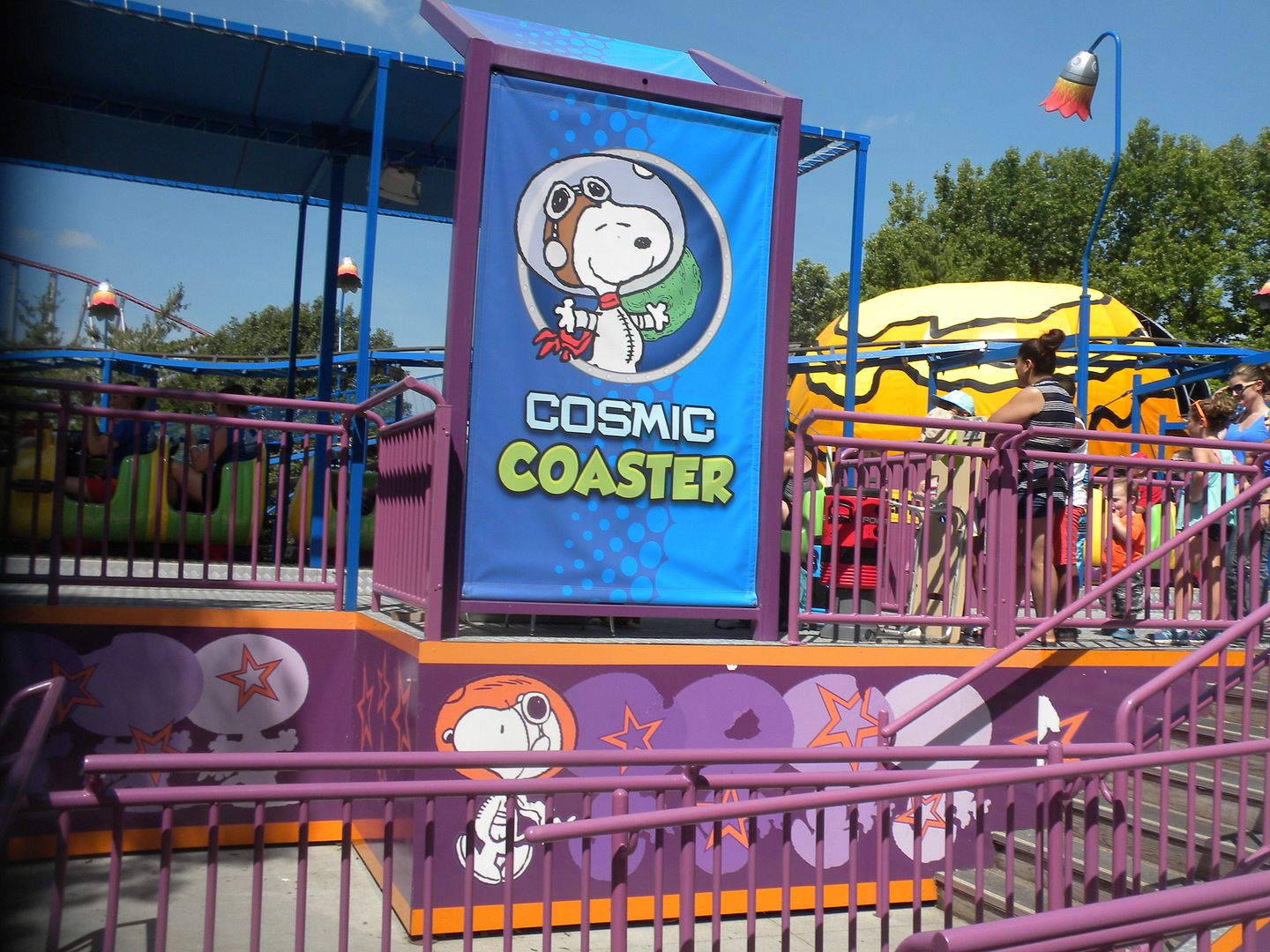 Cosmic Coaster: (Preston & Barbieri, Big Apple/ Wacky Worm, 1993) Known as Wacky Worm from 1993 to 2011. This gave the standard ride – 1 ride.
Woodstock Gliders: New for 2016, these flyers are fun – 1 ride.
This nicely laid out section has 19 more children's rides in the shadow of Mamba, Timber Wolf and Detonator.

Oceans of Fun
I did not visit the waterpark on this visit, but it has Hurricane Falls, 2 water slides; Diamond Head, 3 enclosed water slides; Aruba Tuba, 2 slides, one with a tube and one without; Coconut Cove; a play pool; Typhoon, a speed slide; Castaway Cove, an adult pool with a swim-up bar; Surf City Wave Pool; Paradise Falls, a children's play structure with several water slides; Caribbean Cooler, a lazy river; Captain Kidd's, a children's area; Crocodile Isle, another activity pool; Buccaneer Bay, a kayak lake; and new since my last visit, Constrictor, tube slides; Predators' Plunge, floor drop slide; Sharks' Revenge, enclosed tube slides; and Splash Island, interactive family splash area.
Worlds of Fun is a very nicely themed park. While I understand a tremendous amount of theming has disappeared through the years, I was impressed by the amount that remains. The Africa section, at least the old part around Prowler, really does evoke the feel of Africa. In addition most of the rides are themed to the section they are in. It is a beautifully landscaped park with a lot of older trees throughout. We left following ERT to get a little rest before an early morning drive to Coaster Con XXXIX.
Next up: ACE Coaster Con XXXIX 2016: Part 1 – Six Flags St. Louis, f/k/a Six Flags Over Mid America