Kings Dominion


On Tuesday, June 19 ACE Coaster Con 41 moved to Kings Dominion in Doswell, VA, beginning our trek to return to the roots of ACE.  It was here at an event to publicize the 1977 movie Roller Coaster that ACE founders Roy Brashears, Paul Greenwald and Richard Munch would meet and come up with the idea that would become ACE.  At that time the park had 4 coasters, 2 of which are gone including Galaxi (S.D.C.,  Zyklon / Galaxi, 1975-1983) moved to Myrtle Beach Pavilion as Galaxi and now defunct, and King Kobra (Schwarzkopf, Shuttle Loop, 1977-1986), after several relocations now operating at Hopi Hari as Katapul. Kings Dominion has grown and changed much in the ensuing years, but still retains much of its original charm.  The most picturesque section is the Old Virginia section which has lots of trees and quite a bit of character. International Street is well themed and very similar to Kings Island. Safari Village has some good theming as well. Candy Apple Grove looks like a traditional American theme park midway, no doubt patterned after Coney Island in Cincinnati.  We spent two days at the park including four ERT sessions.  I will present this by themed section.
International Street


With architecture representing different countries and an Eifel Tower at the end of the street,


this entrance section has a true international flair.


It looks much like its counterparts at the other two Taft built parks, Kings Island and Canada's Wonderland.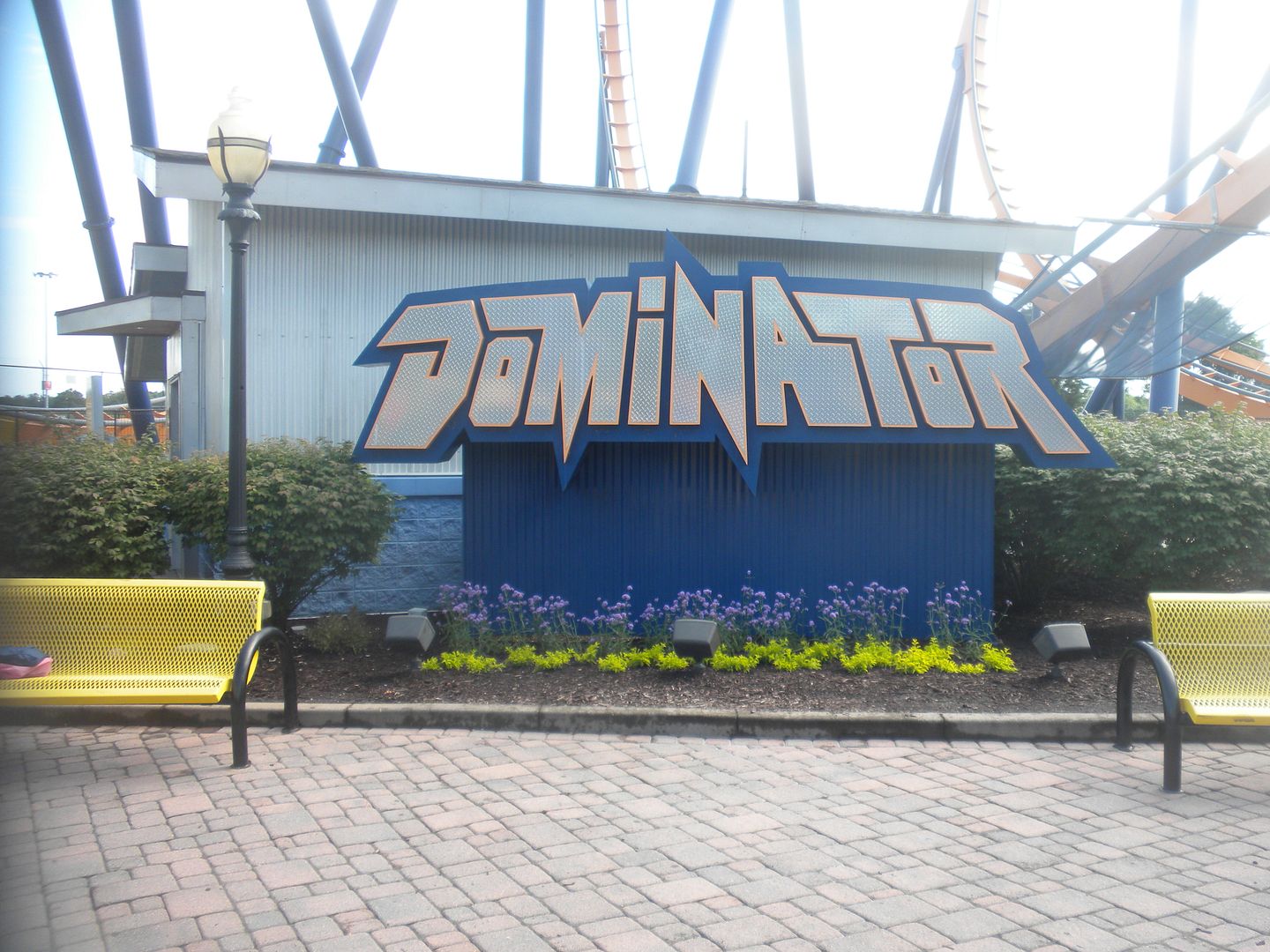 Dominator:(Bollinger & Mabillard, Floorless, 2000, 2008)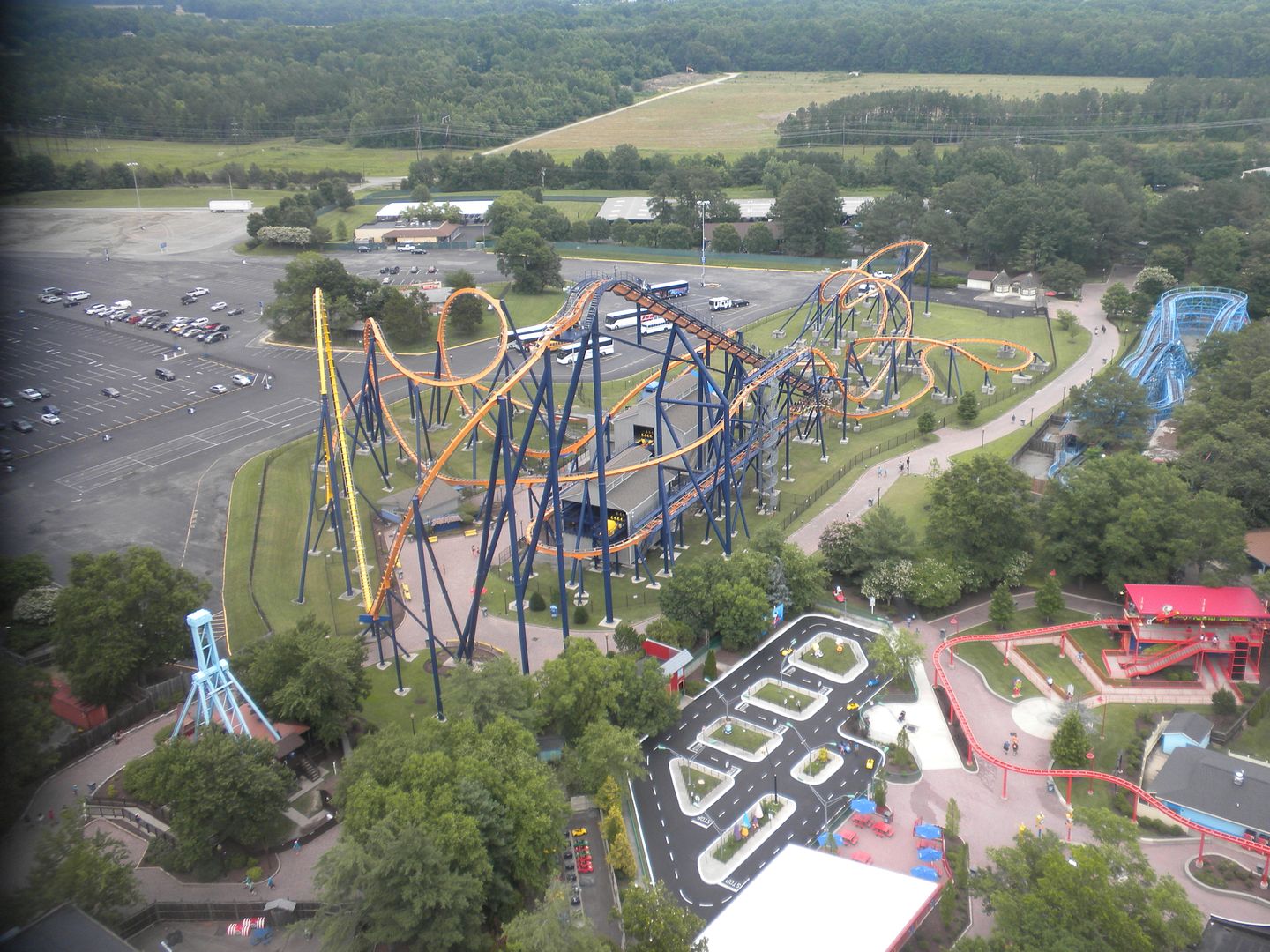 I first rode this coaster as Batman Knight Flight at Six Flags Worlds of Adventure (later Dominator at Geauga Lake). 


This is a good coaster – 3 rides during ERT.
Eiffel Tower:  I always enjoy observation towers at parks because it lets you get really great views of the park – 1 ride.
Berserker:  This looping ship is thrilling and brings back good memories of Looping Starship at SFOG – 1 ride.
Safari Village
This section, for a while known as Congo, has returned to its original theming as it was connected to the park's original attached, now long since defunct, Lion Country Safari.


Intimidator 305: (Intamin AG, Giga Coaster, 2010)


While this is a great coaster, it does not rank as high to me as many hypers or gigas as its extreme intensity is bit much. I still enjoyed my rides, but I have to limit them – 5 rides, 3 during ERT.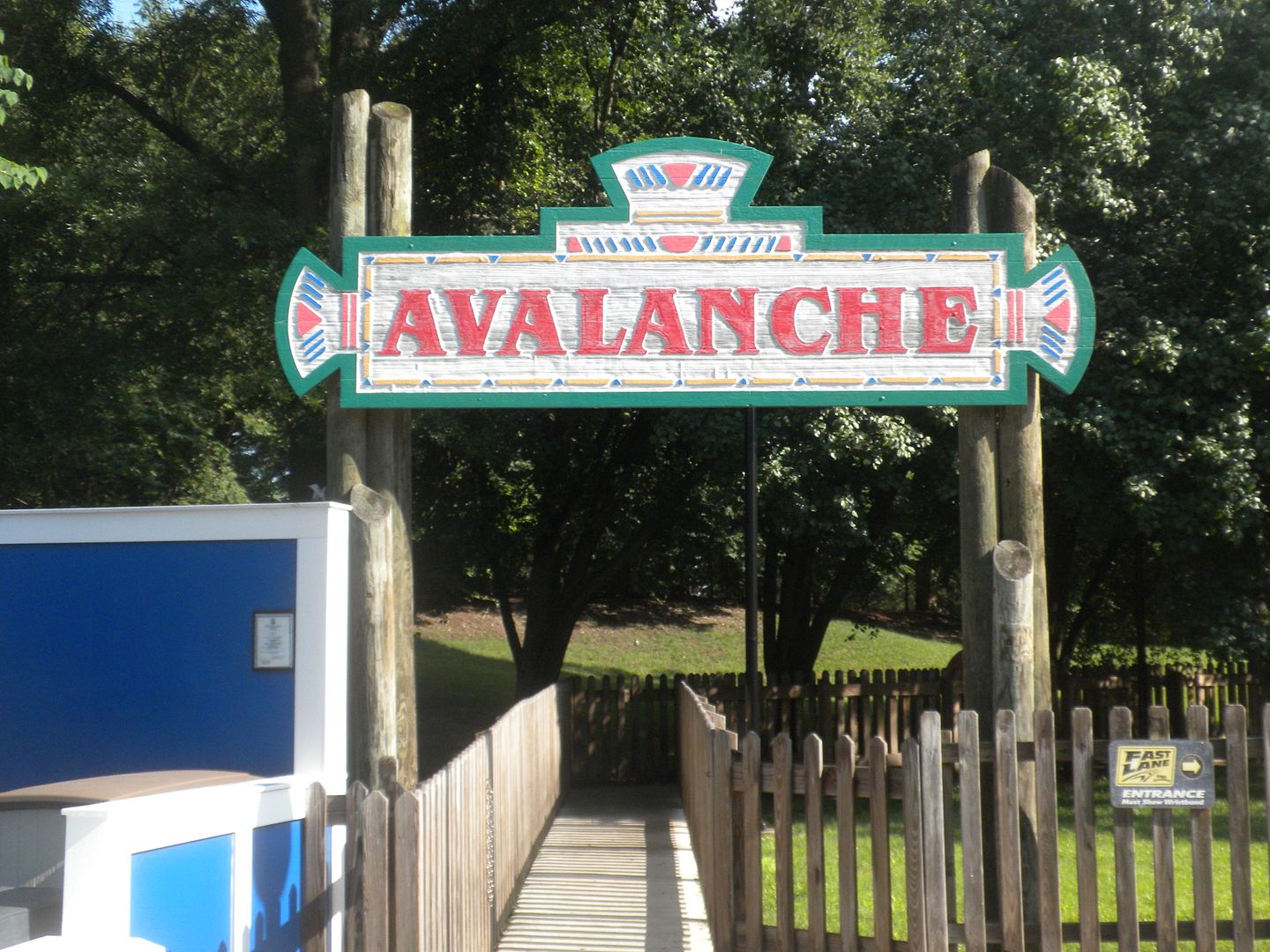 Avalanche: (Mack, Bobsled, 1988)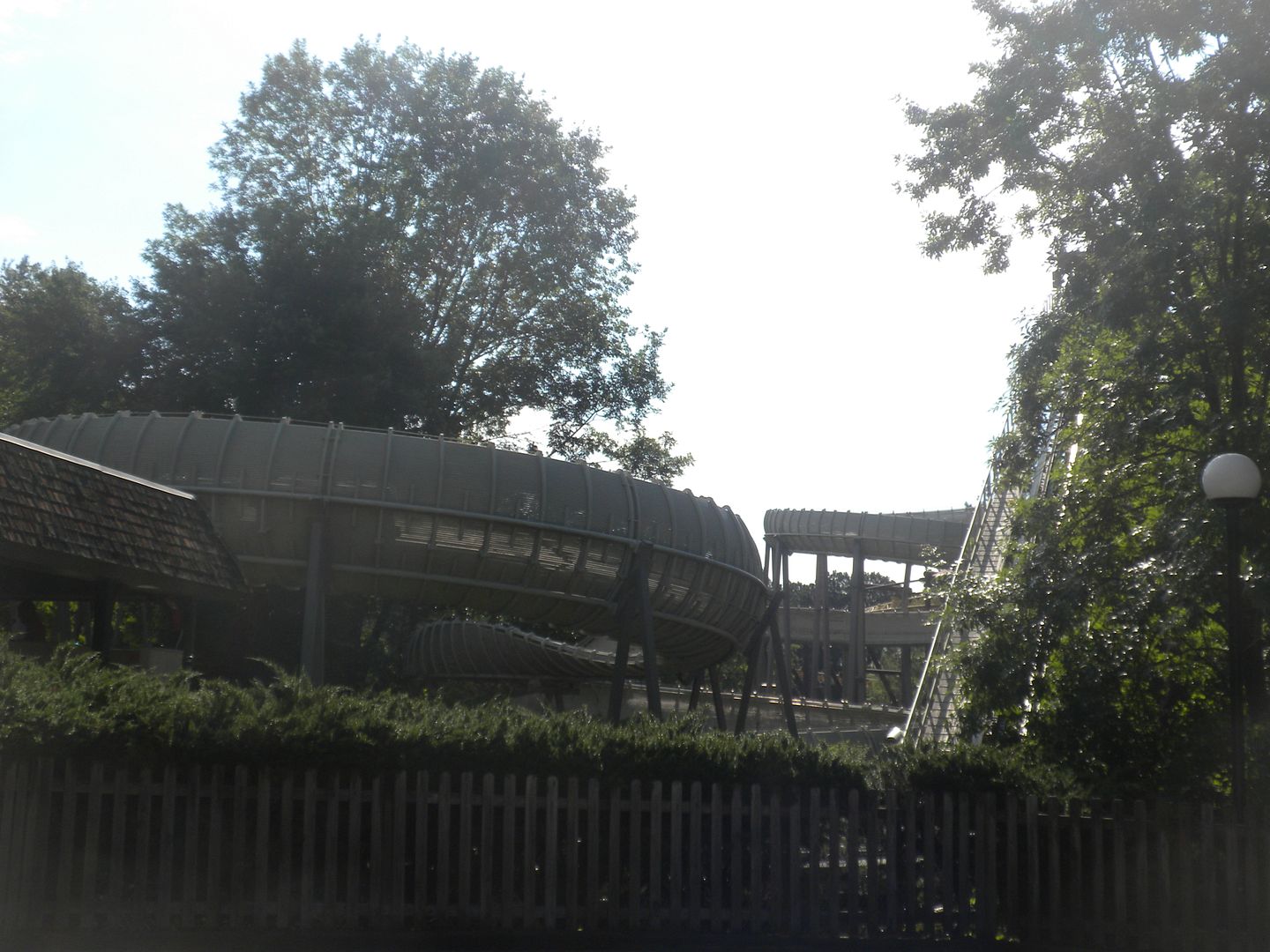 The only Mack Bobsled in North America, it gives a very good ride. Like Intamin bobsleds, this is a fun ride that I enjoy riding over and over – 8 rides during ERT.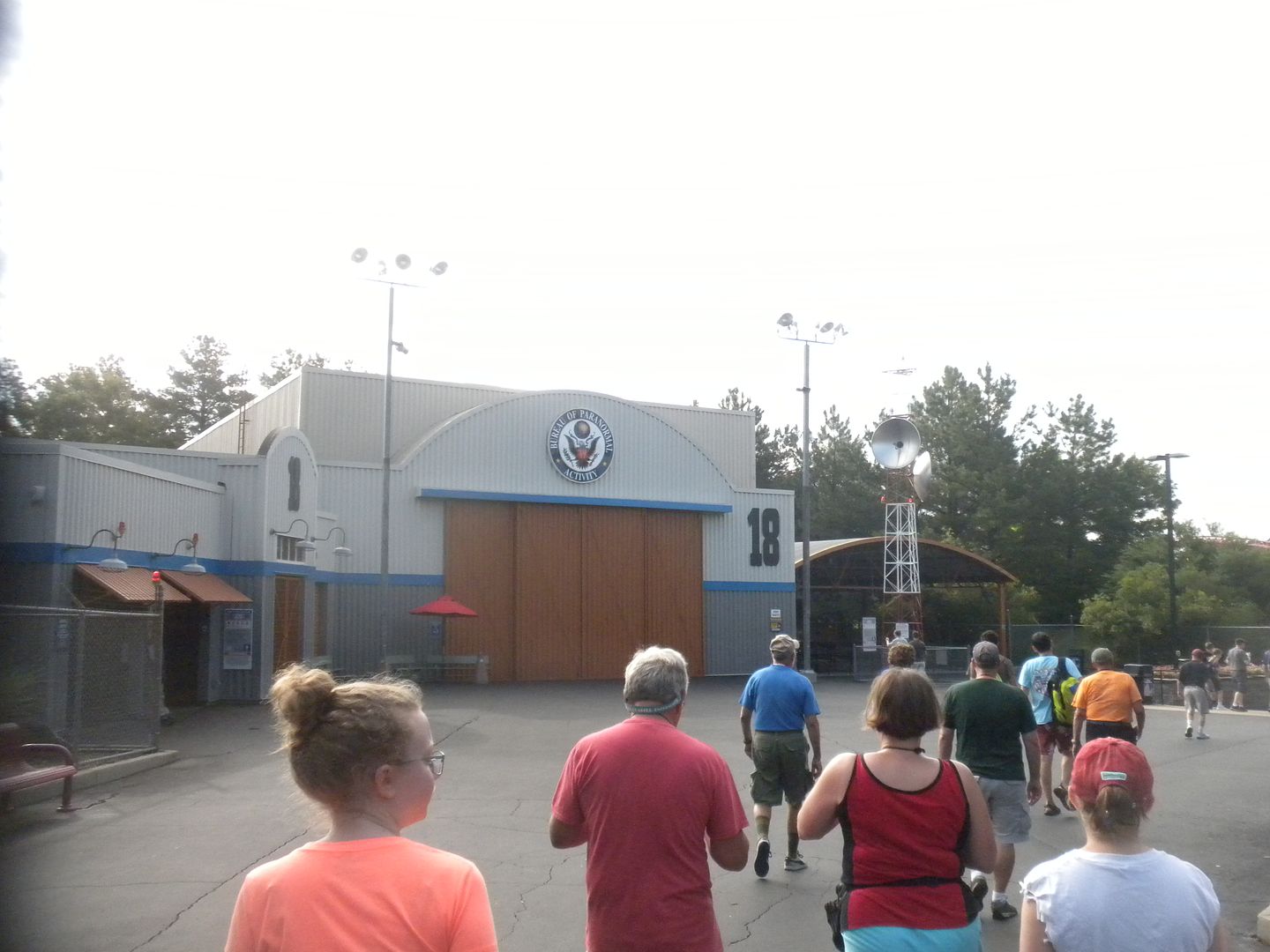 Flight of Fear:  (Premier, Enclosed LIM Looper, 1996) Like its sister at KI, and outdoor versions at SFA and SFFT, it gives a great ride – 2 rides, 1 during ERT.
Anaconda: (Arrow, Looper, 1991) This coaster has one place that is very rough, but otherwise it gives a good ride. I like the tunnel under the water – 1 ride.
Backlot Stunt Coaster:  (Premier, LIM Coaster, 2006) This gives a very good ride although some of the special effects no longer work – 1 ride.
Scrambler:  Good ride – 1 ride.
I did not ride The Crypt, an outdoor highly themed Top Spin over water, as I decided not to spin that much. 


Unfortunately Volcano, the Blast Coaster (Intamin AG, suspended catapult coaster, 1998)


was down during our visit as it has been most of this season, awaiting a part or perhaps more.  This was a shame as I had looked forward to a good many rides on it as it is my favorite ride in the park.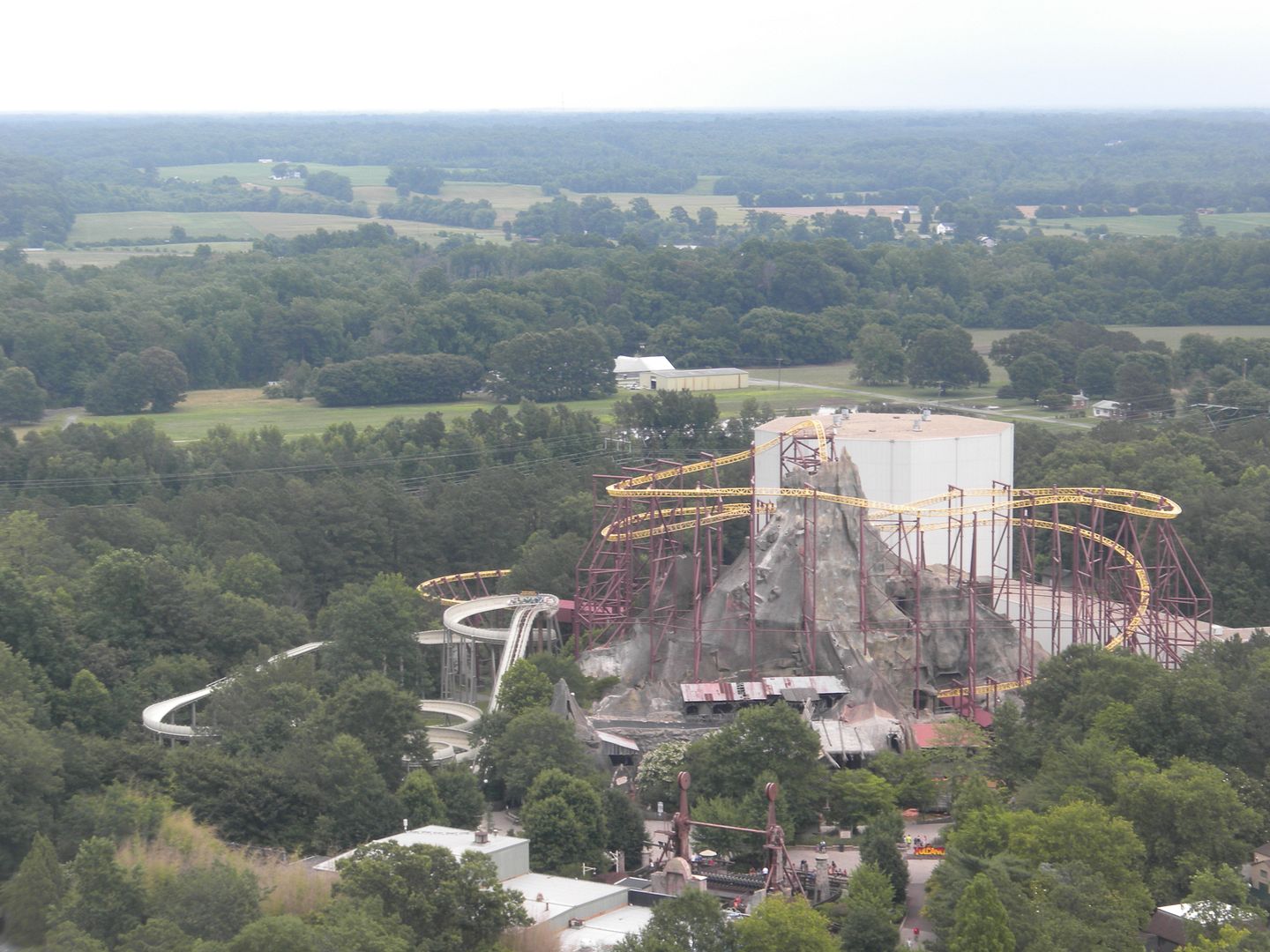 It is such a great ride:  the launch is immediate and flying out through the volcano is a great effect.  It doesn't let up after that, providing a well-paced ride that interacts with the volcano structure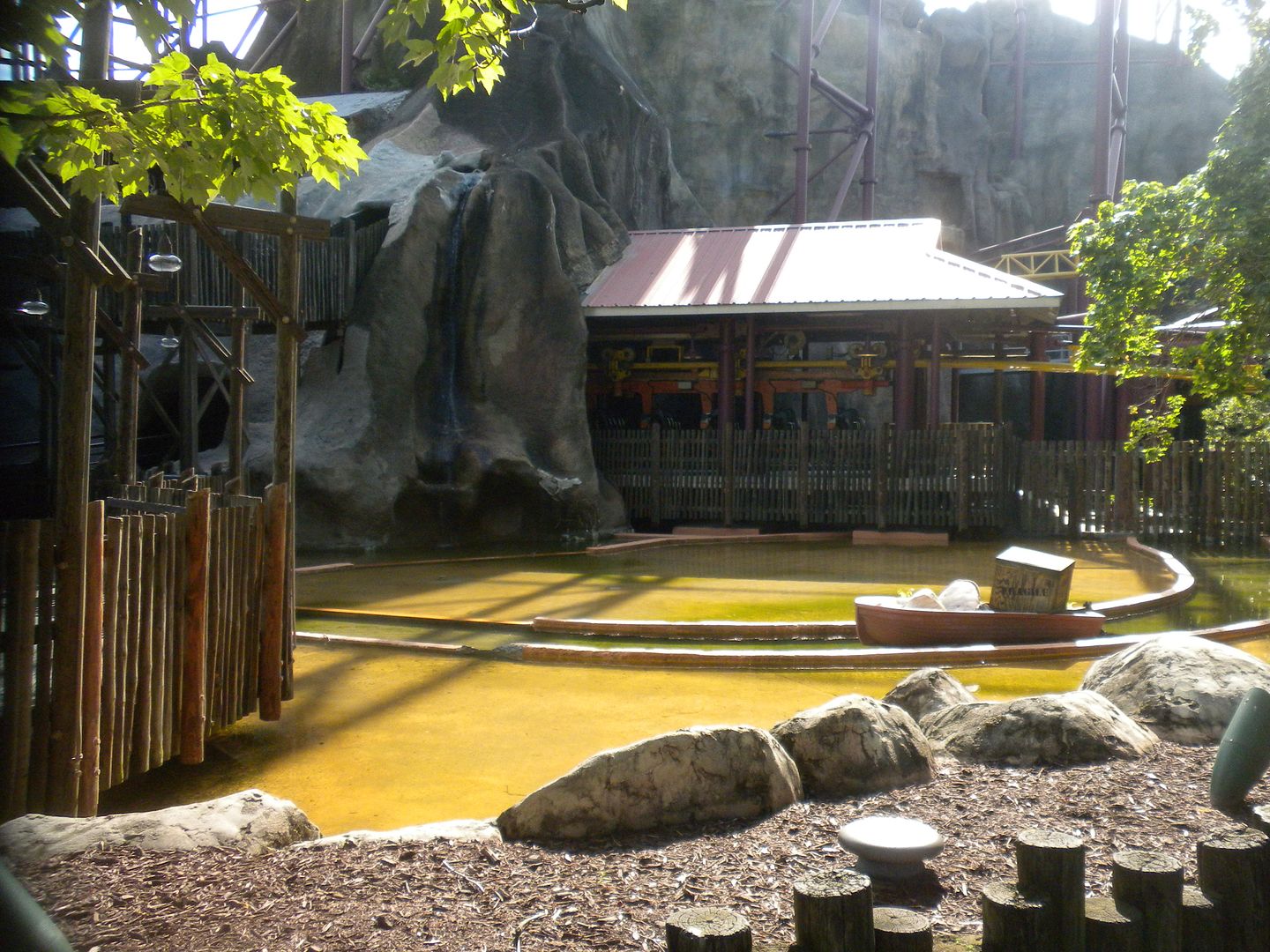 which was originally used for several other rides.  The theming is very well done.  I hope they get it operating again soon as I look forward to many future rides on it.
Richard and I had a good meal at Outer Hanks Wednesday while David and Vanessa were at a regional rep meeting.
Candy Apple Grove
This iconic American midway look has returned to its origins recently after being known as just The Grove for many years.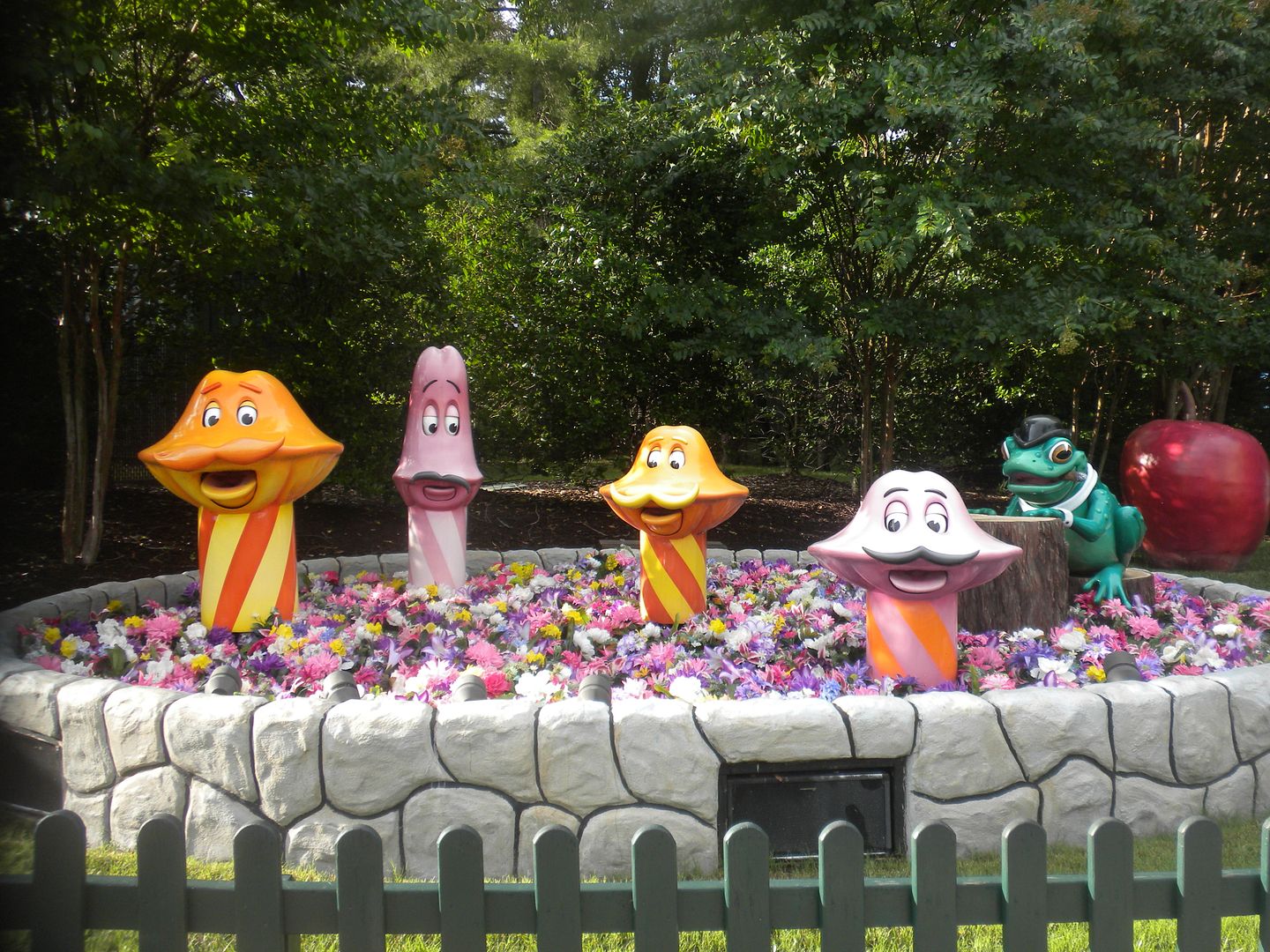 We enjoyed the Singing Mushrooms, and all of the apple theming is nice.


Twisted Timbers:  (Rocky Mountain Construction, Steel Hybrid, 2018)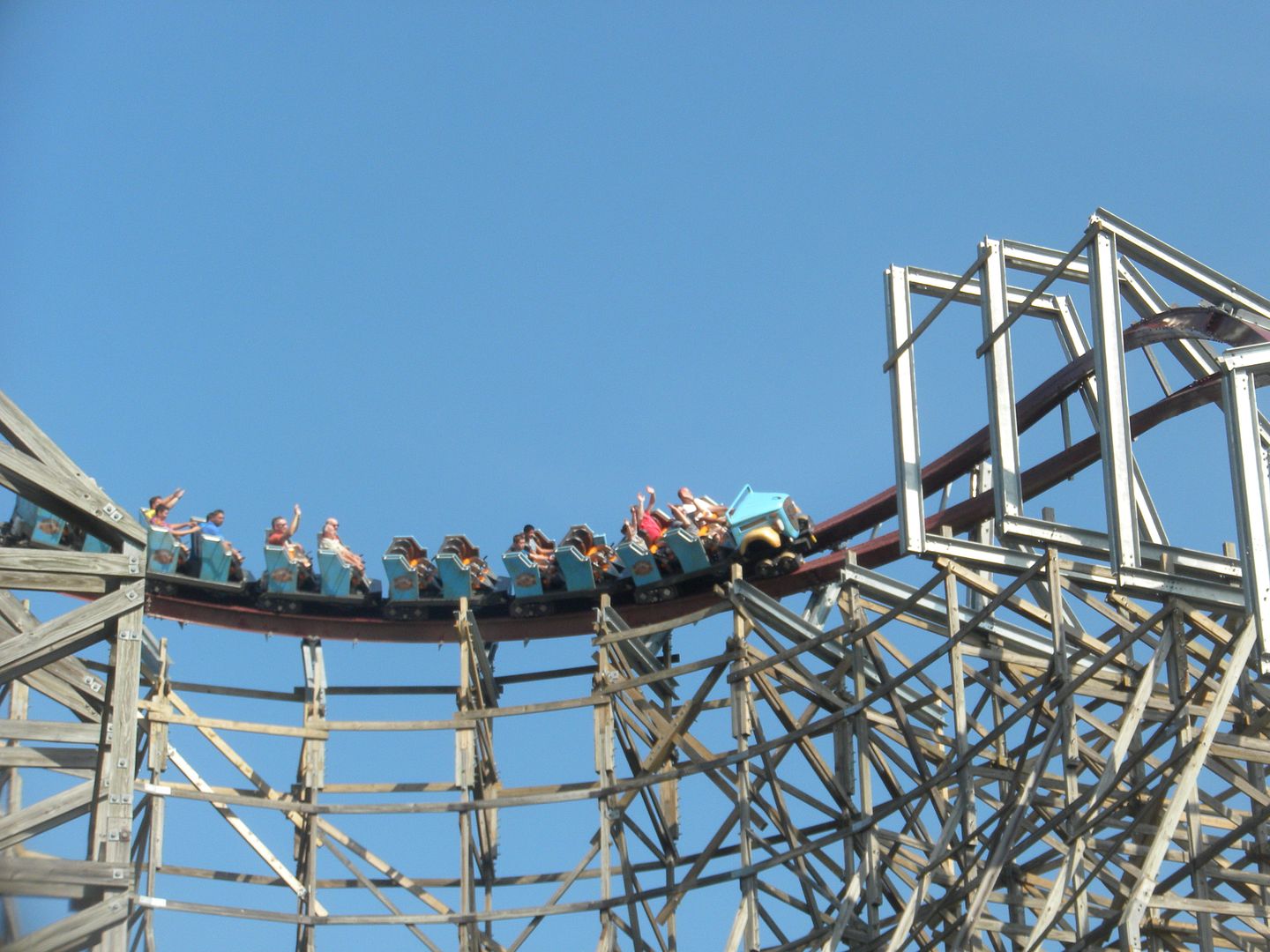 This is a renovation of Hurler (International Coasters, Inc., Wood Twister, 1994) that just opened this year.  Although I always hate to lose wood coasters, like most such conversions this was an improvement over what was at best a mediocre wood coaster.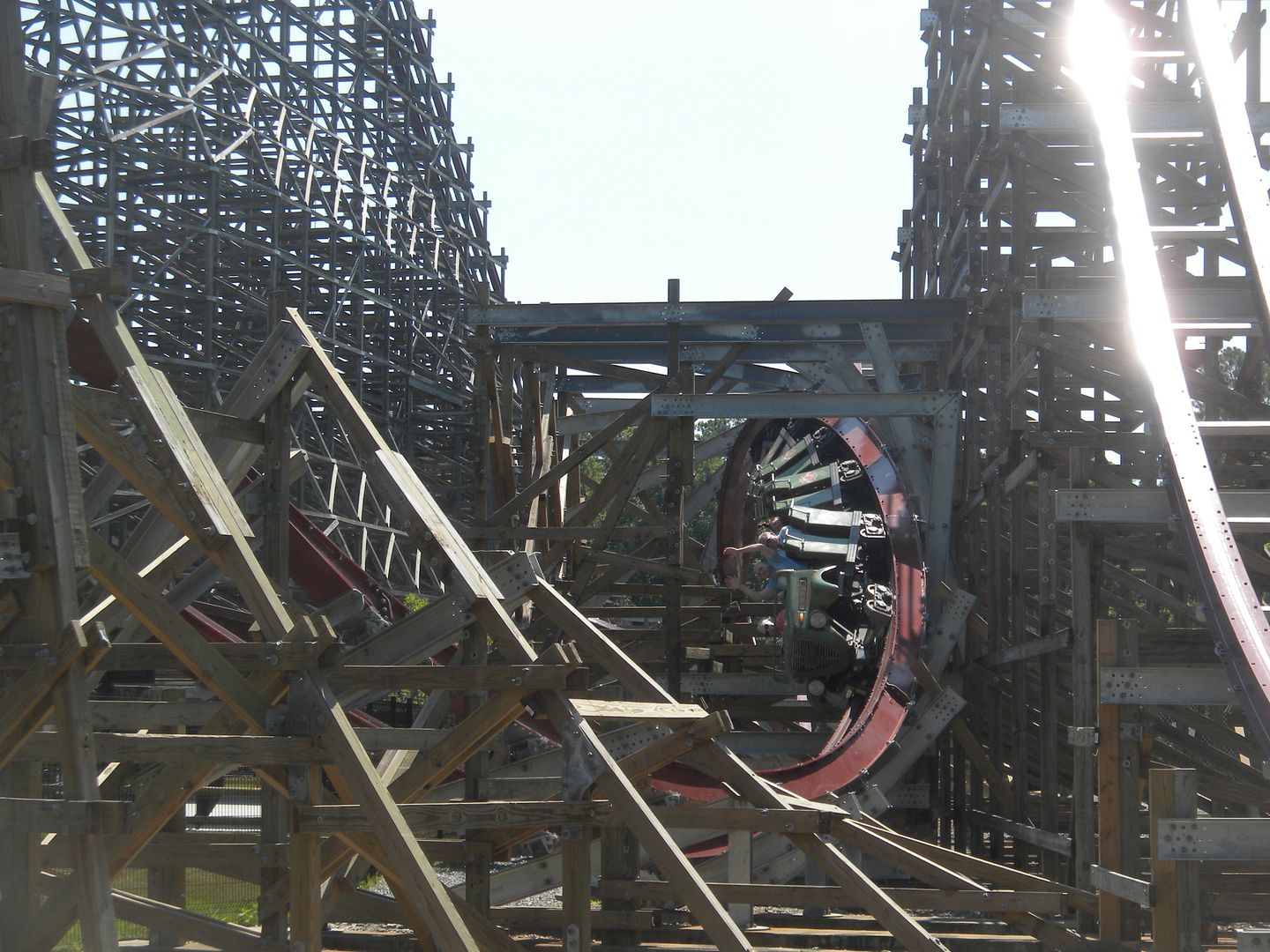 It is now quite thrilling with some great elements. 


My only complaint is that the airtime is so extreme that it can be really hard on the thighs against the restraints, particularly near the front, but it is still a very good ride.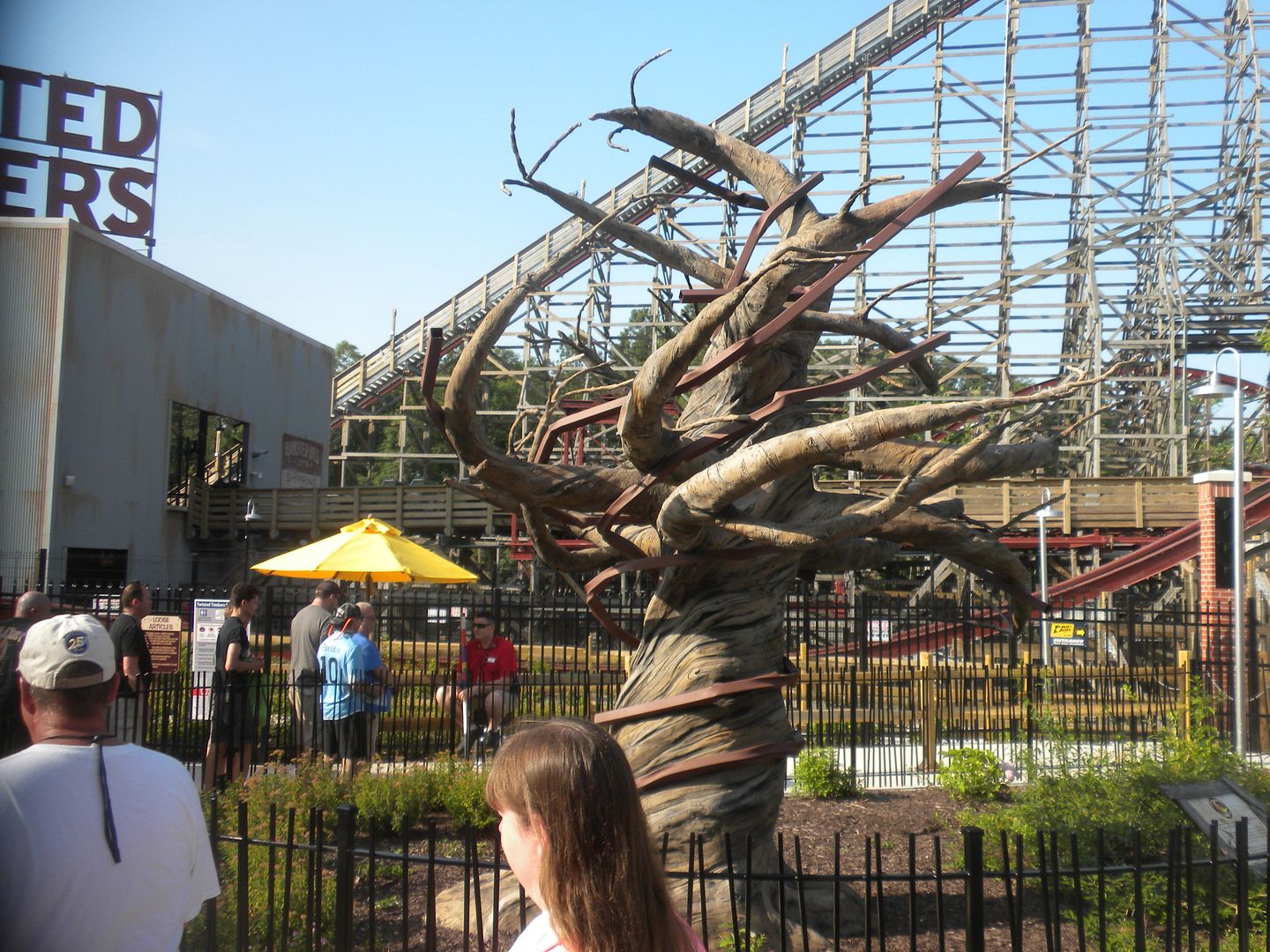 The apple orchard theming is great and fits in with this section nicely.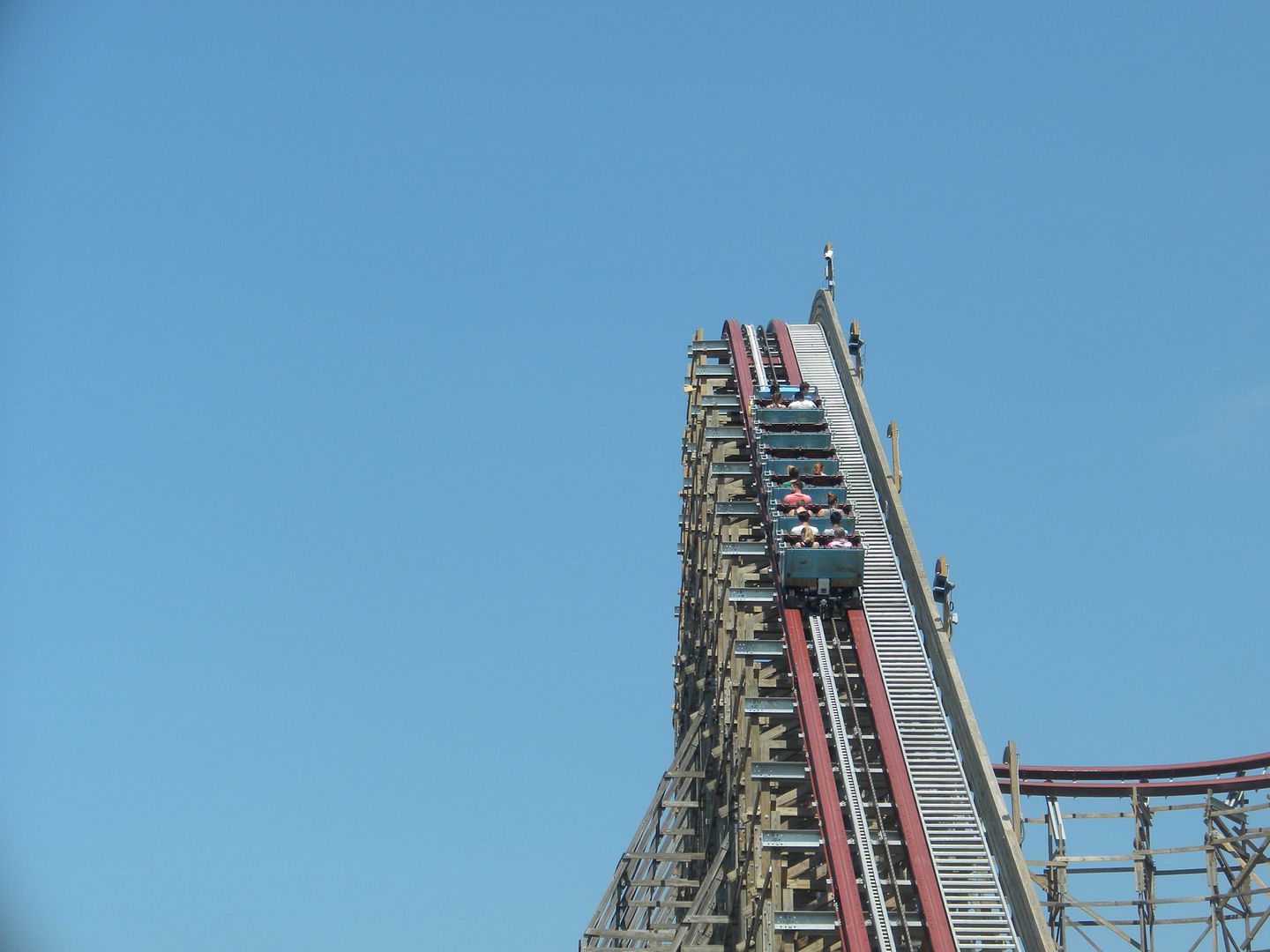 We were hoping for more rides in ERT Wednesday night, but the rain had other plans – 4 rides during ERT.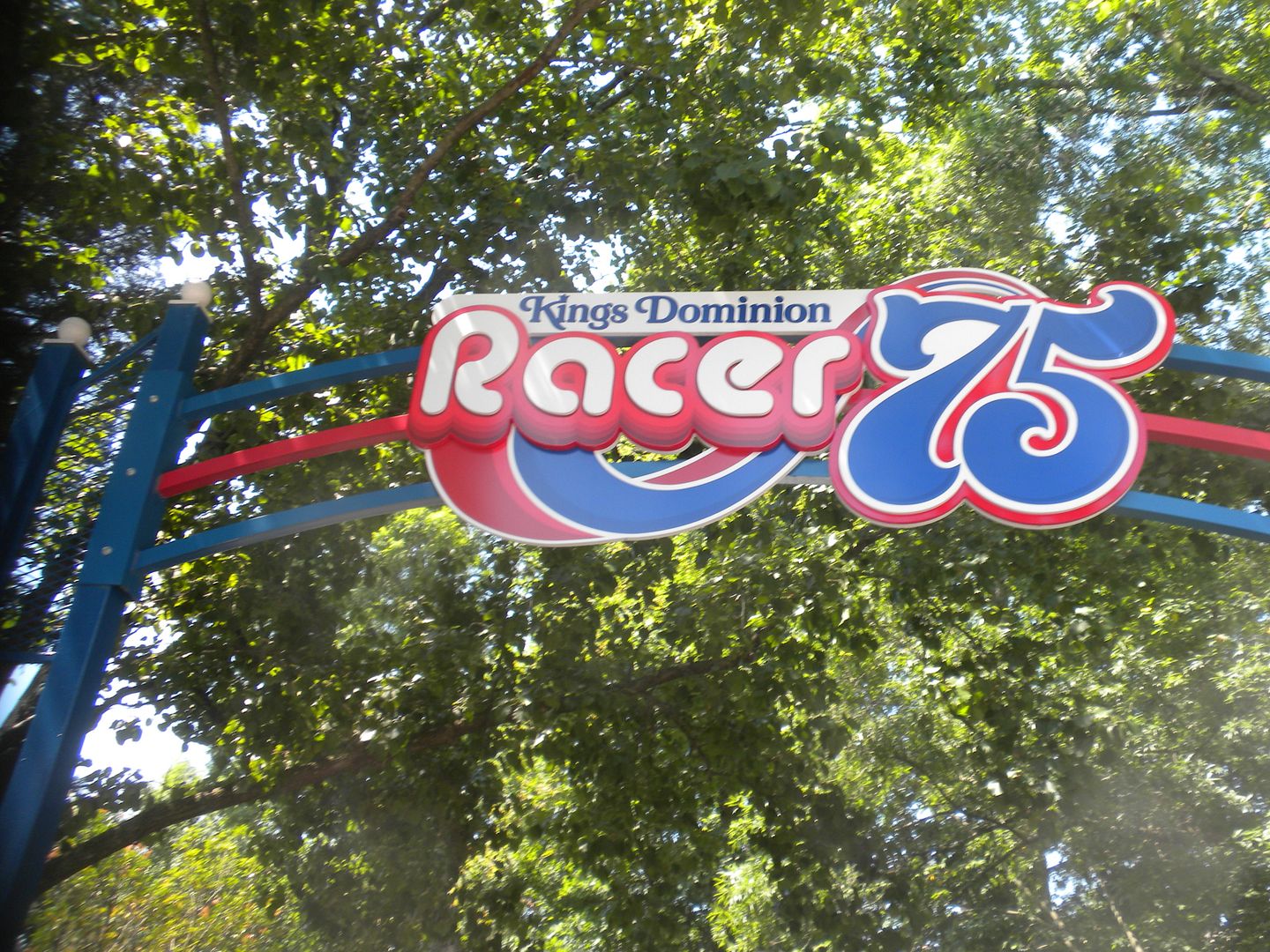 Racer 75: (PTC – John Allen, Wood Racing Coaster, 1975)


Formerly named Rebel Yell, this was the coaster used for the marathon from which the idea to form ACE would come.  They have done a good bit of work on this and it was running great.  Still, I couldn't imagine riding it for 50 hours straight as Richard Munch did in 1978, let alone for 101 hours as the three guys who won the marathon did.  Of course the coaster was much newer then and they were all much younger then than I am now! – 2 rides, 1 on each side.


Apple Zapple:  (Mack, Wild Mouse, 2002)


Formerly Ricochet, this model has the lift hill extended out from the ride and a large drop and return before the hairpin turns.  It gives a good ride – 1 ride.
Drop Tower:  This has a 300 foot drop and is very thrilling.  The rotation and tilting of Acrophobia are better to me than the added height, but I prefer these seats – 2 rides.
Dodgem Bumper Cars – These gave a pretty good ride – 2 rides.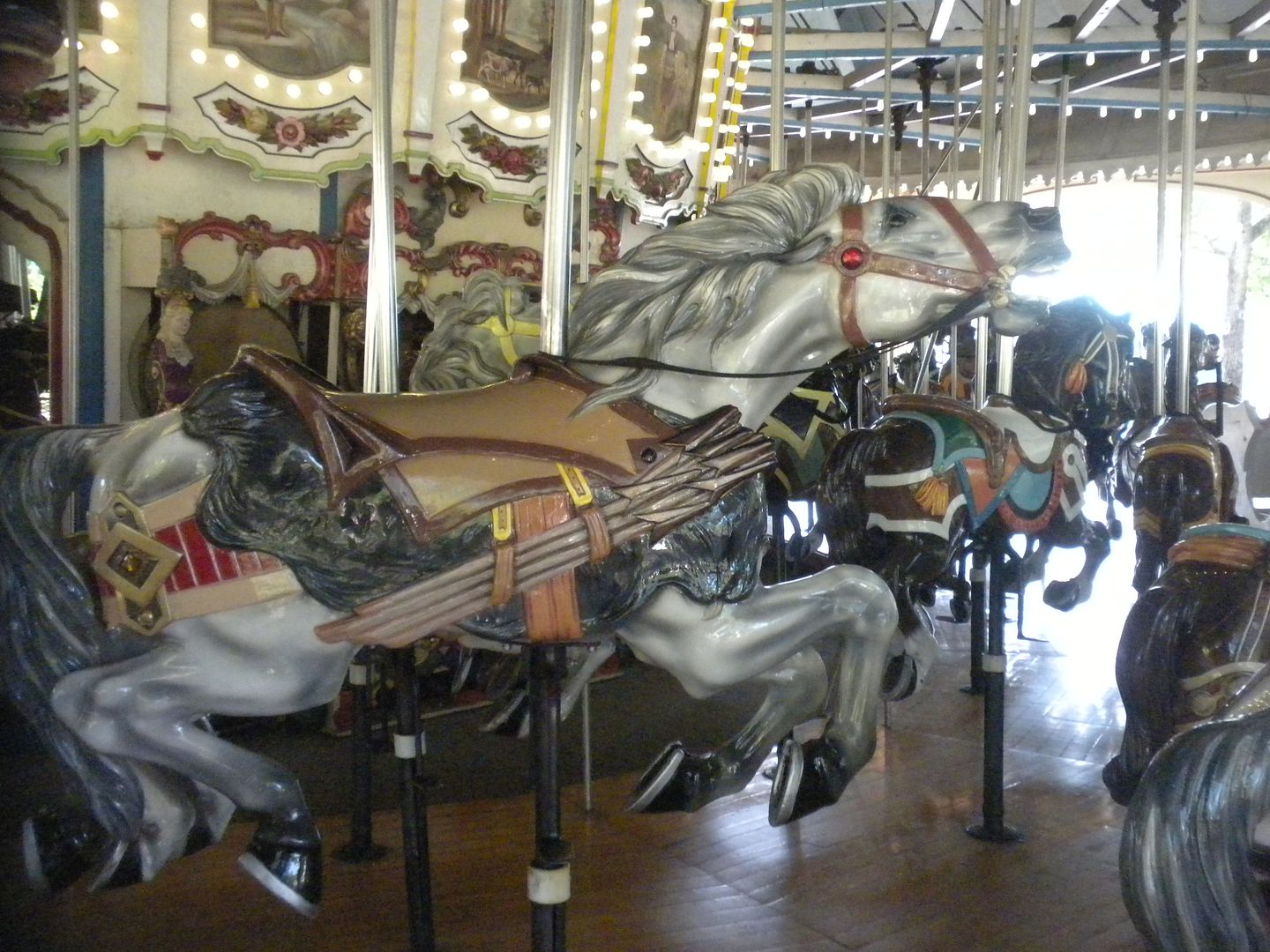 Carousel:  (PTC # 44, Classic Wood Carousel, 4 Row (50 Jumping Horses, 16 Standing Horses, 2 chariots), 1917) Riverside Park, Springfield, MA, (1917-1938); Roger Williams Park, Providence, RI, (1938-1973); Kings Dominion, Doswell, VA, (1973-present). This classic antique carousel is well restored and gives a good ride – 2 rides.
Delirium: This is a great addition to the park – 1 ride.
Windseeker: This gives good views – 1 ride.
Wave Swinger:  Good ride – 1 ride.
Bad Apple: Formerly Triple Spin, Troikas are always fun – 1 ride during ERT.
Americana:  This Ferris Wheel from Geauga Lake gives great views – 1 ride.
I did not ride Xtreme Sky Flyer, an additional charge Skycoaster.
We had dinner the first night at The Mac Bowl where you could add whatever toppings you wanted to a bowl of macaroni and cheese, a neat idea, which was very good.  Notable rides that have been removed from this section include Shockwave (Togo, Stand Up Coaster, 1986-2015), HyperSonic XLC (S&S, Thrust Air Coaster, 2001-2007), which I unfortunately never got to ride, and El Dorado, a nicely themed Rainbow style ride from Geauga Lake.
Continued in Next Thread