Part 22: Movie Park Germany, Bottrop, North Rhine-Westphalia, Germany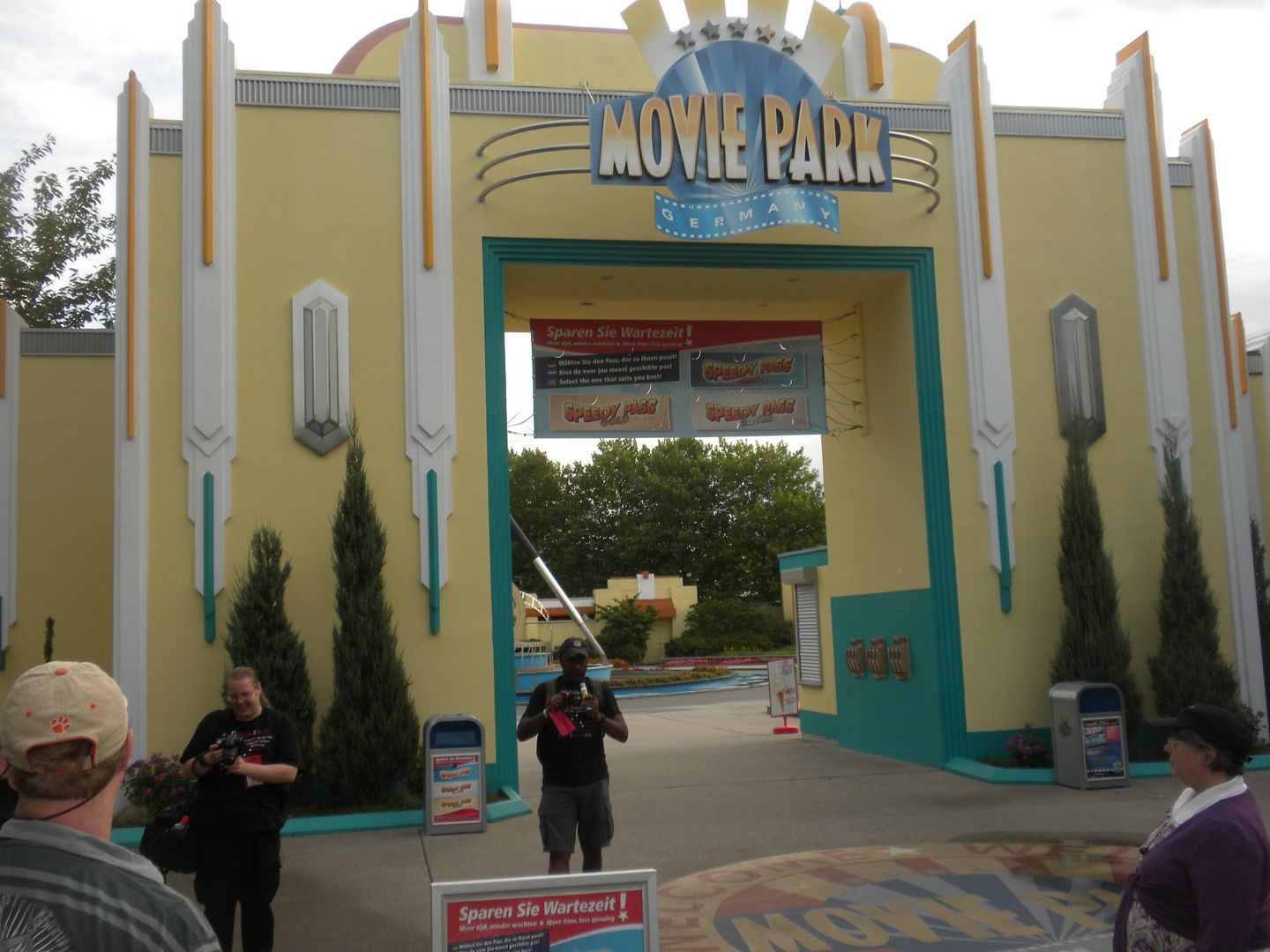 On Saturday, August 3 our adventure would come to an end, but not before we stopped at one more park, Movie Park Germany. Purchased by Parques Reunidos in 2005, it previously operated as Warner Bros. Movie World Germany (1996-2004), Bavaria Filmpark Bottrop (1992-1993), Neue Traumland (1986-1991), Traumlandpark (1977-1985) & Kirchhellener Märchenwald (1967-1976).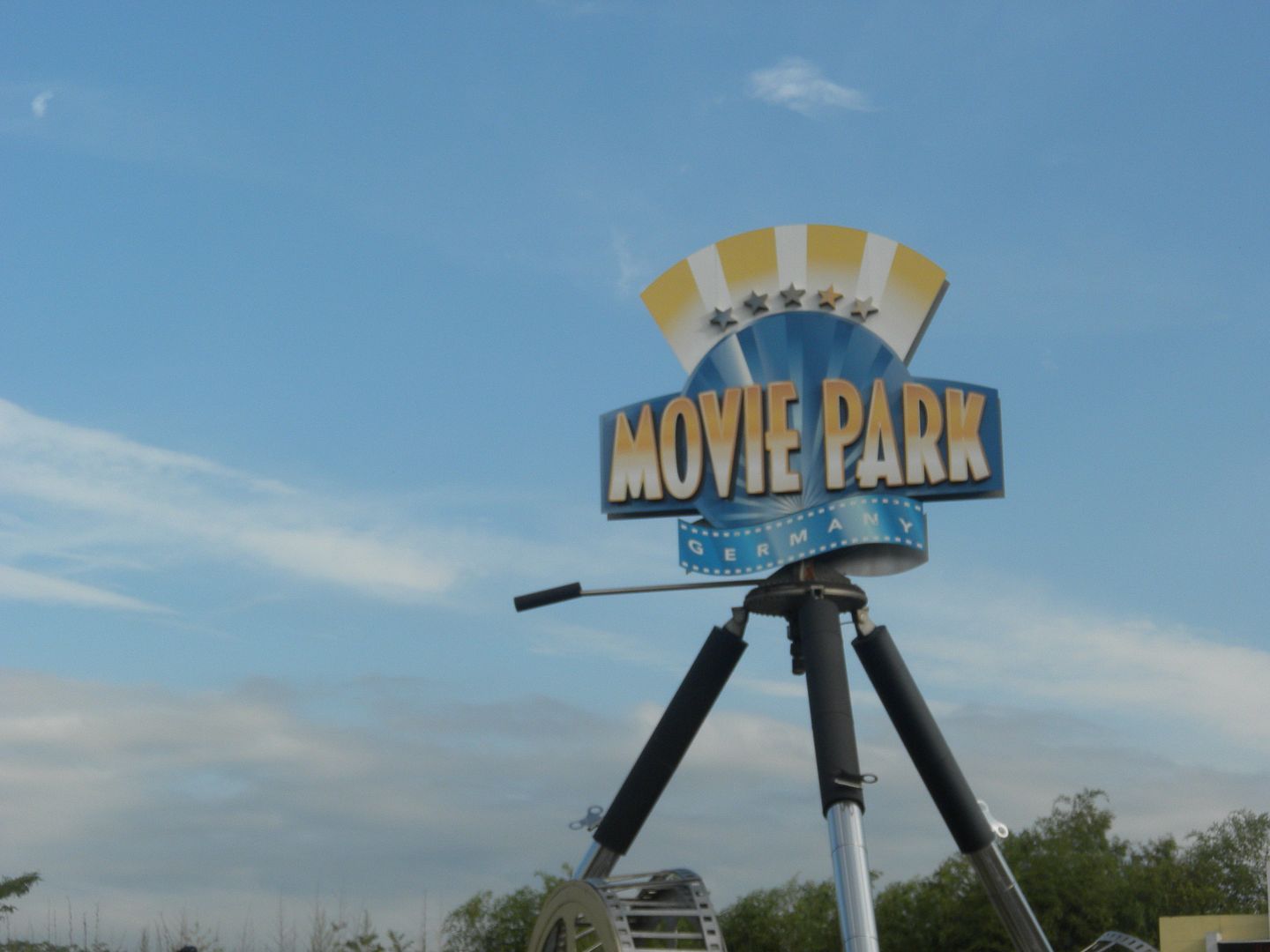 We only had six hours here, and I wanted to use the last hour to visit another park next door, so I only got to ride the coasters and a few unique attractions. I will review by themed section.
Hollywood Street Set
The main attraction in this well themed section is:
Bermuda Triangle-Alien Encounter: This highly themed shoot-the-chutes type ride is long as it goes inside a mysterious volcano that has been attacked by aliens. There are good dark ride portions and a good drop that gets you fairly wet – 1 ride.
This section also has ICE AGE – The 4-D Experience and a show, Crazy Action Stunt Show.
Nickland
Themed to Nickelodeon characters, this section has 3 coasters: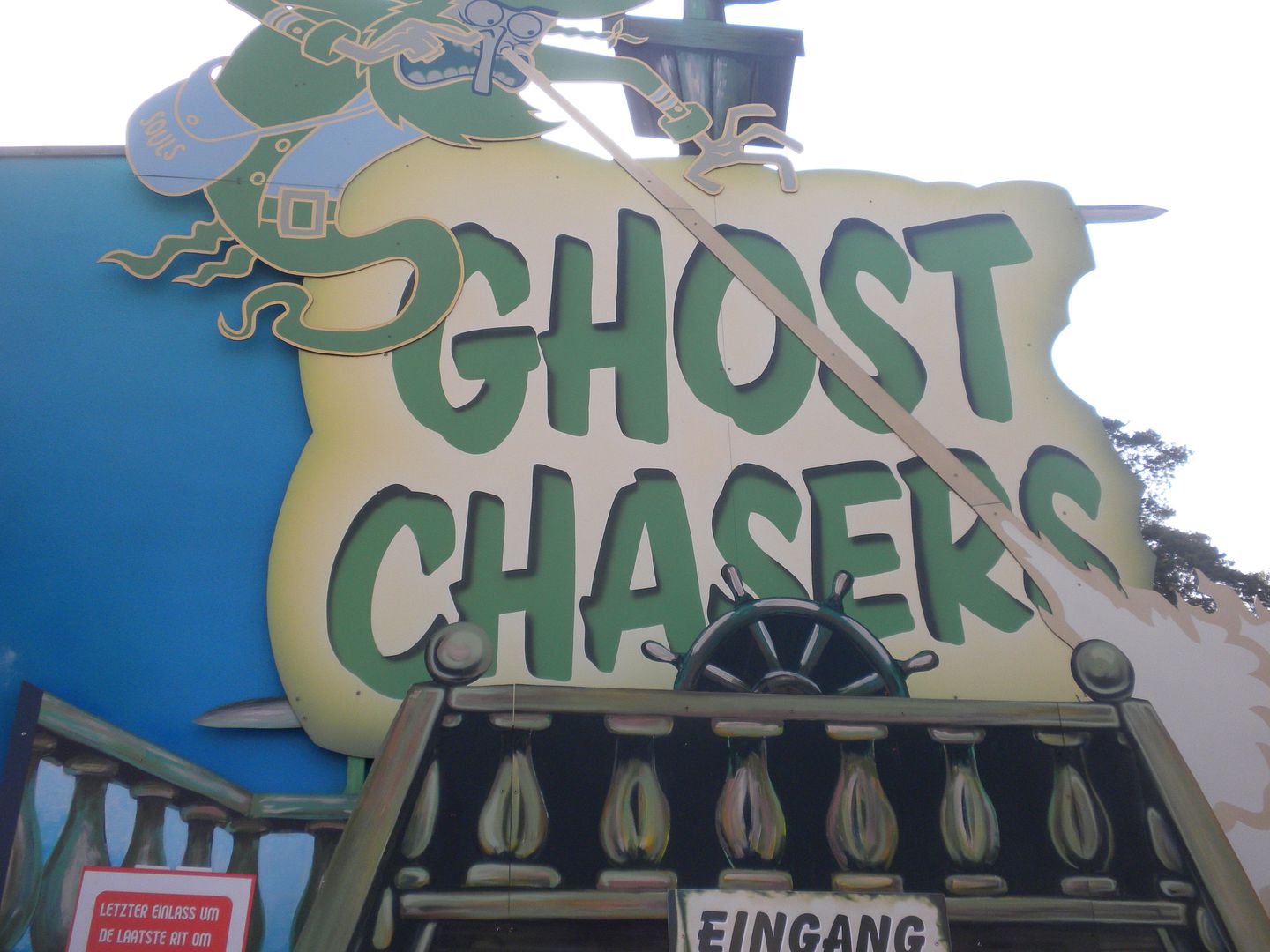 Ghost Chasers: (Mack, Wild Mouse, 2000)


Previously named Mad Manor (2005-2007) and Tom and Jerry's Mouse in the House (2000- 2004),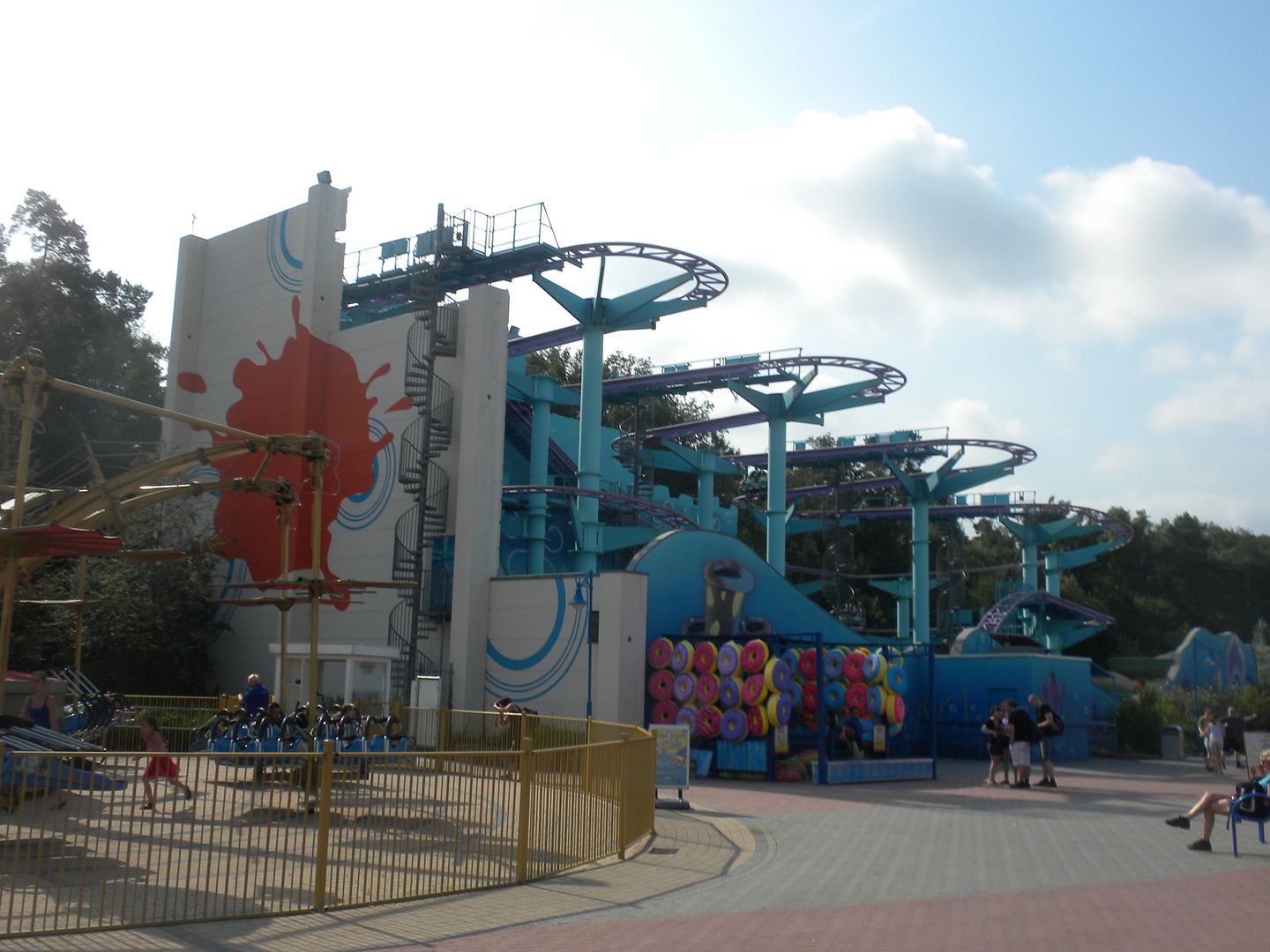 it gave a good ride – 1 ride.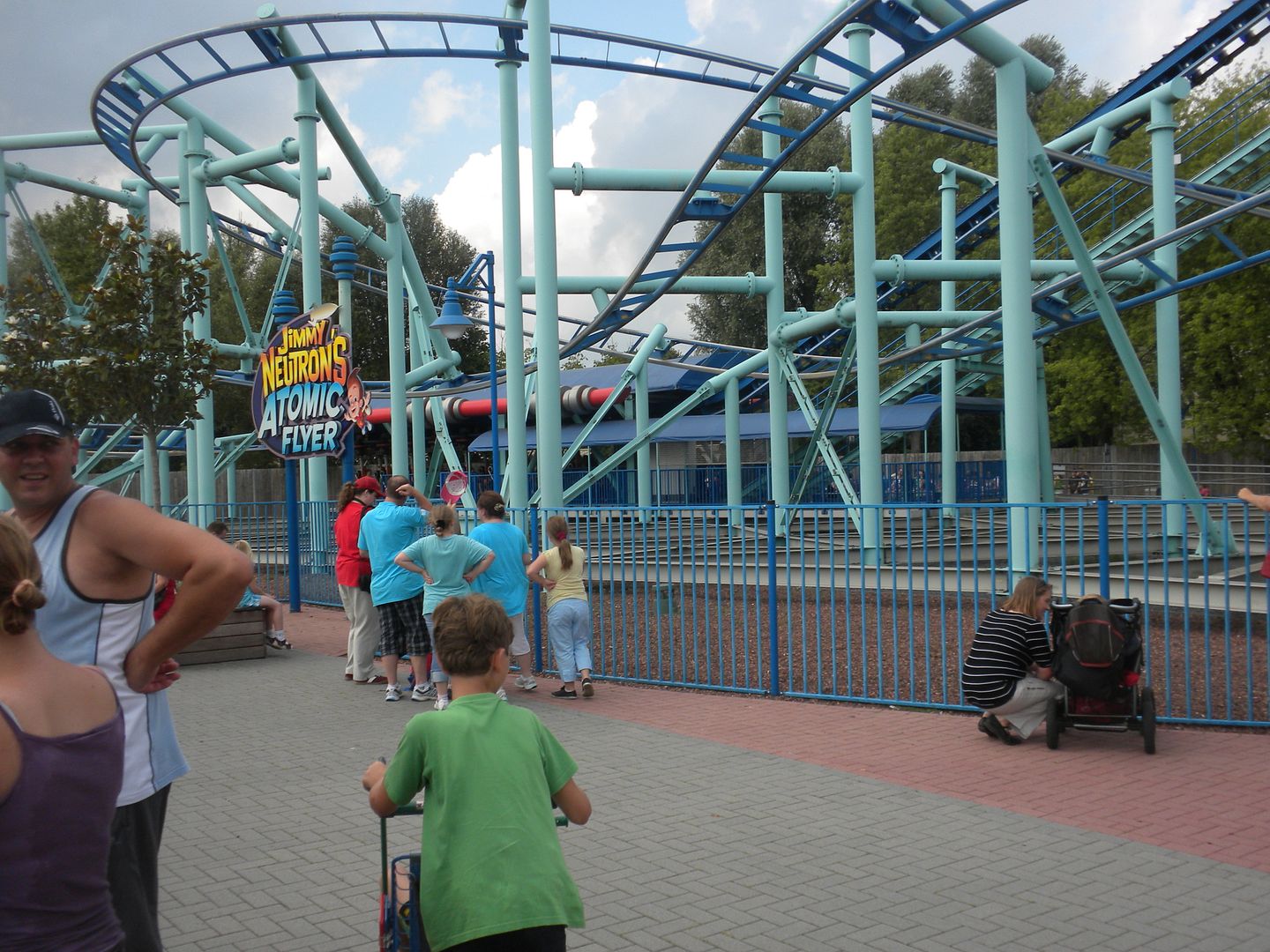 Jimmy Neutron´s Atomic Flyer: (Vekoma, Suspended Family Coaster, 2007)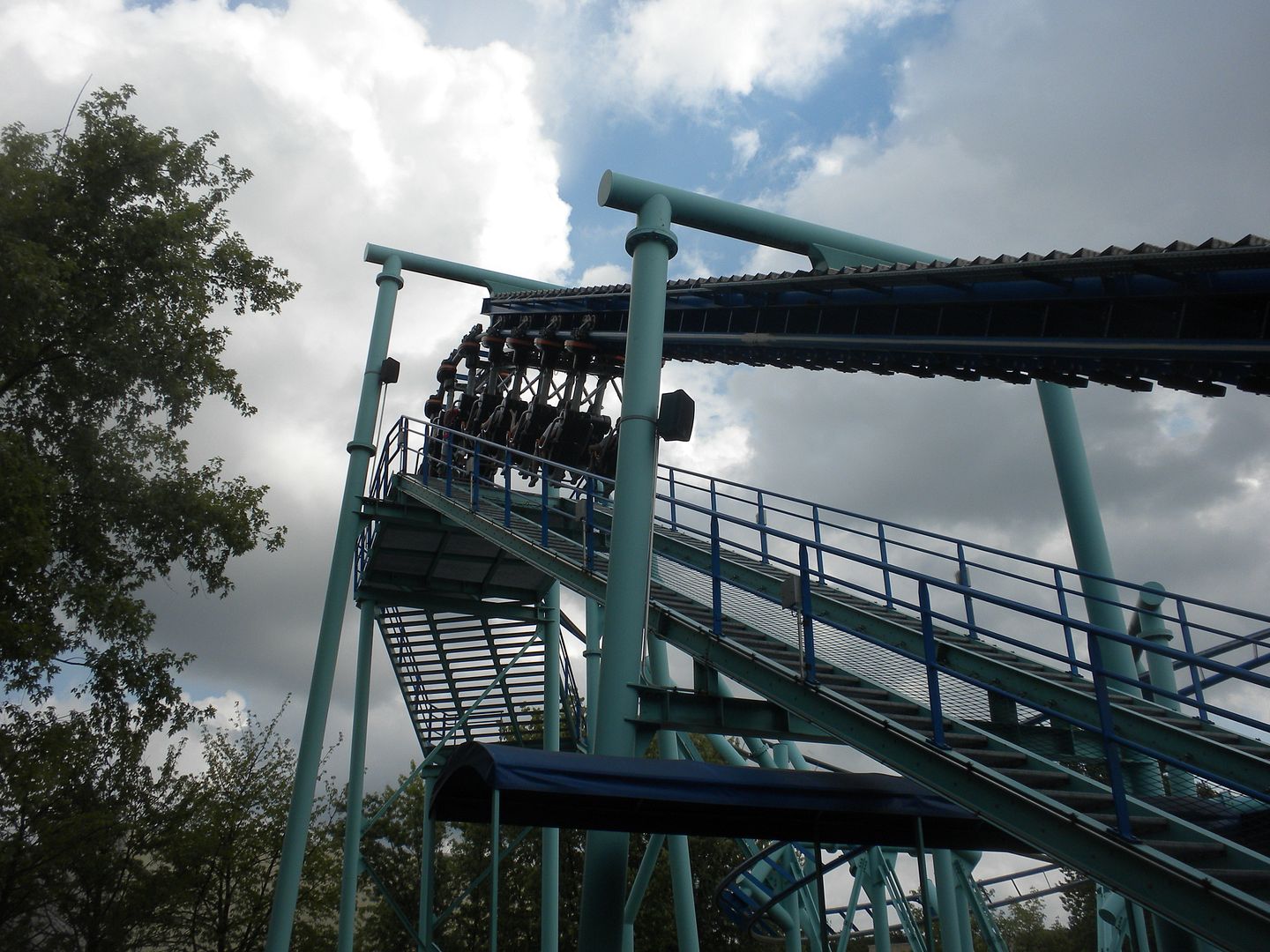 The first Vekoma SFC to feature redesigned restraints, it is the same model as Steel Lasso at Frontier City and gave the same good ride – 1 ride.


The Backyardigans Mission to Mars: (Vekoma, Junior Coaster, 1996)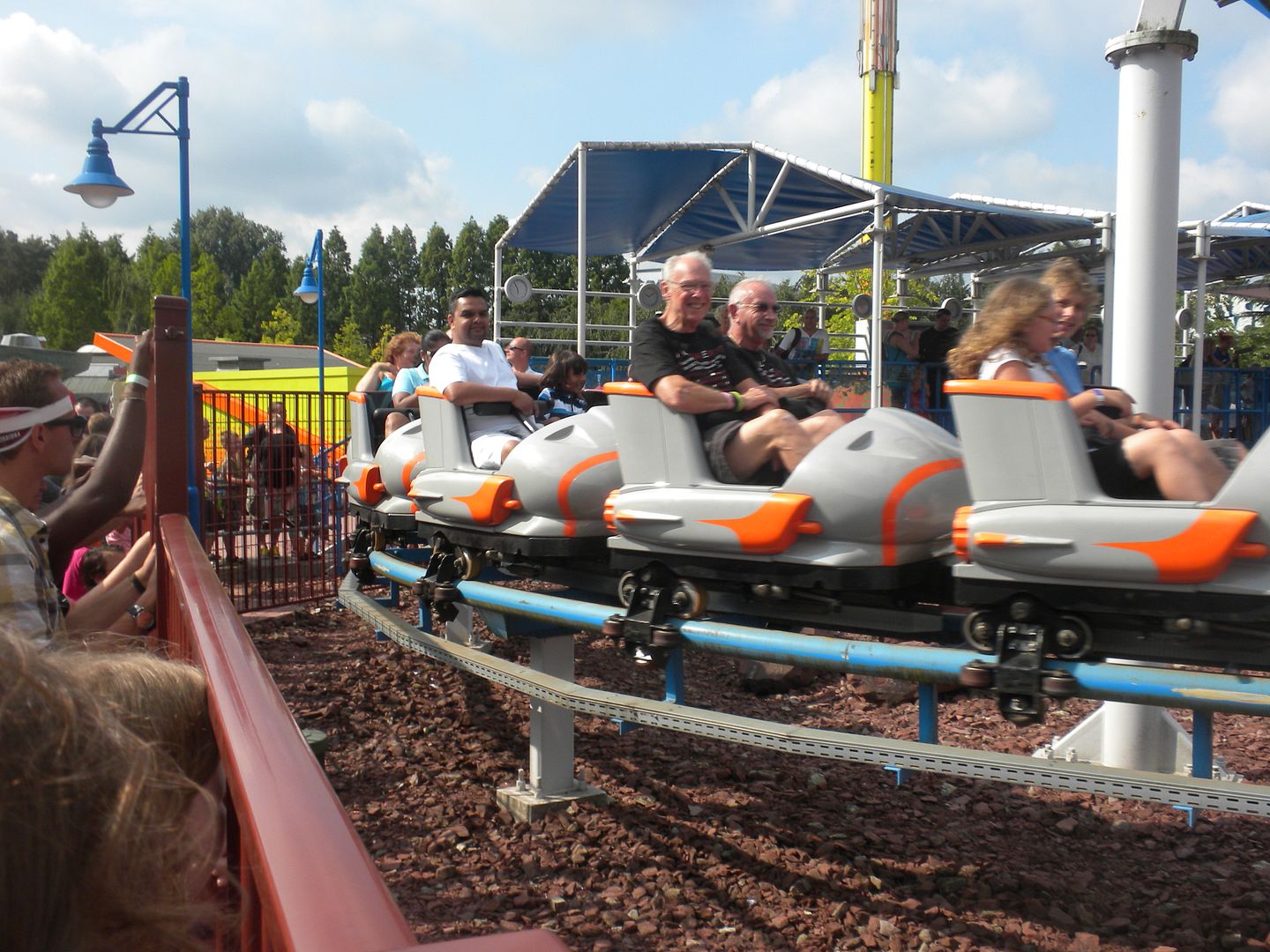 Operated under the names Rocket Rider Rollercoaster (2005- 2007) and Coyote's und Roadrunner's Achterbahn (1996-2004), it gave a good ride for a starter coaster – 1 ride.
I also rode 2 unique attractions: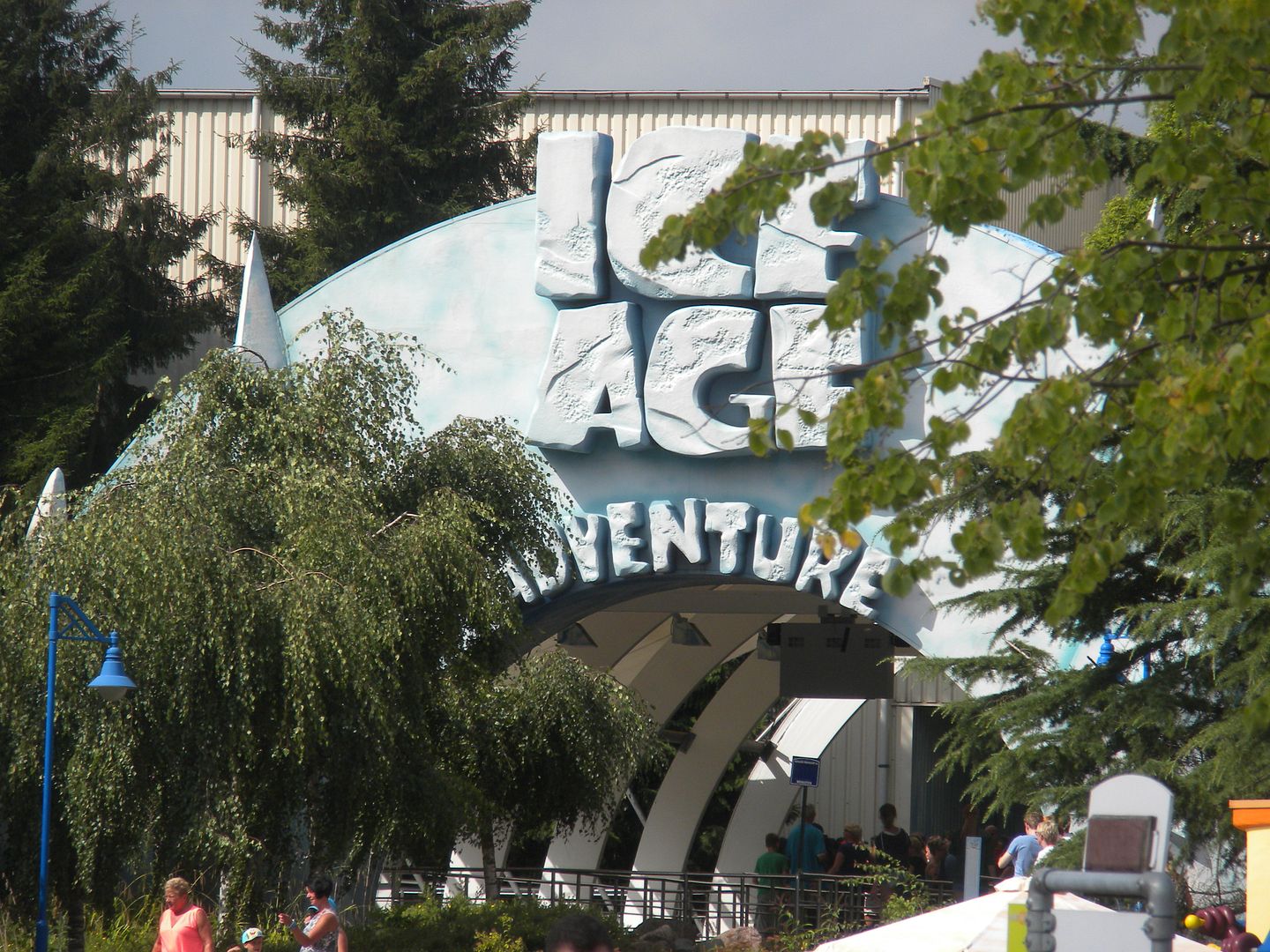 Ice Age Adventure: This dark boat ride was long and very nicely done – 1 ride.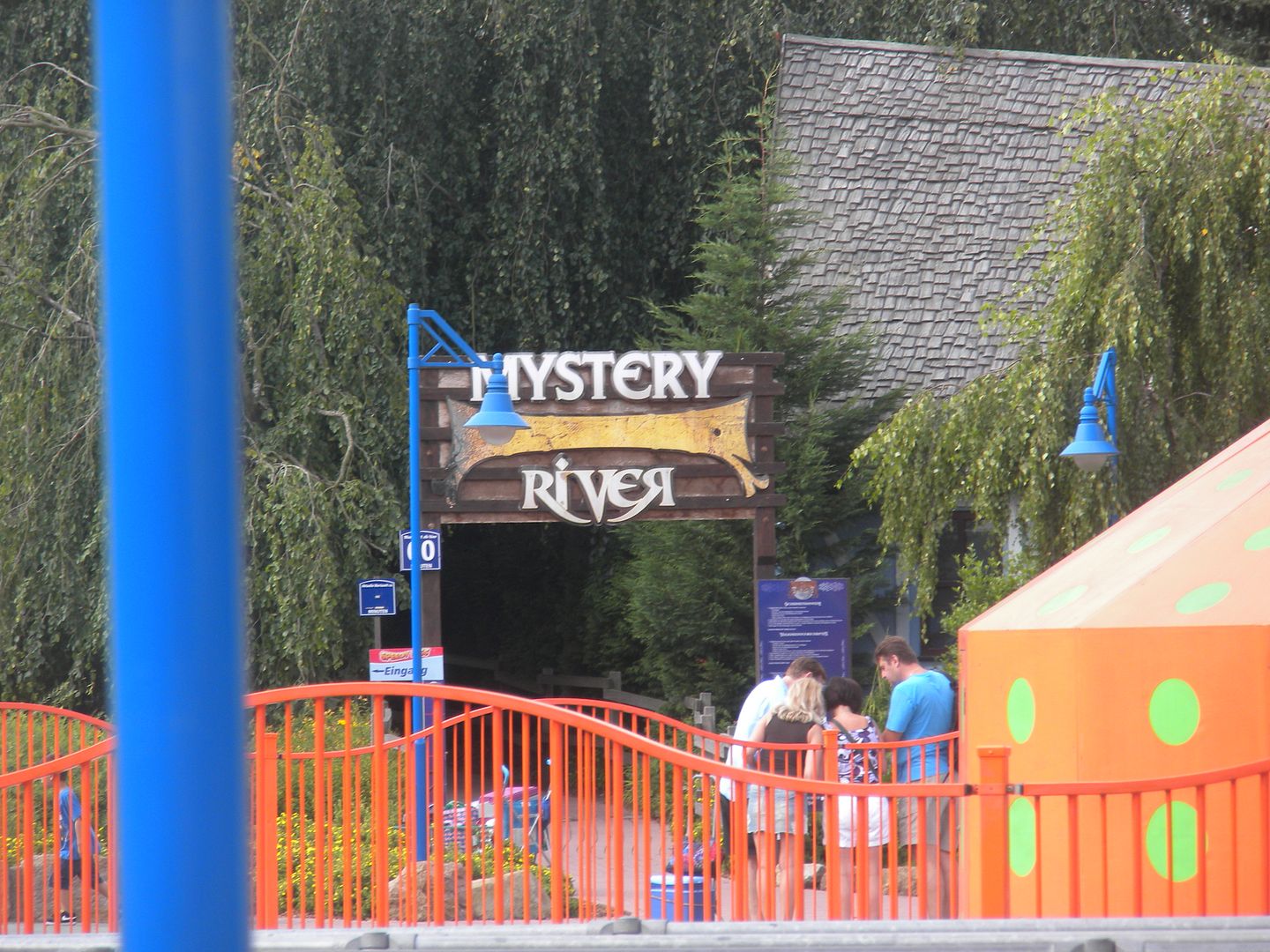 Mystery River: This rapids ride was highly themed and had long dark ride portions. It was very good – 1 ride.
Other rides in this section include: Dora´s Big River Adventure, a log flume; SpongeBob Splash Bash, a Splash Battle; Avatar Air Glider; and Splat-O-Sphere. There are 7 children's rides as well. There is also a Character Show.
Streets of New York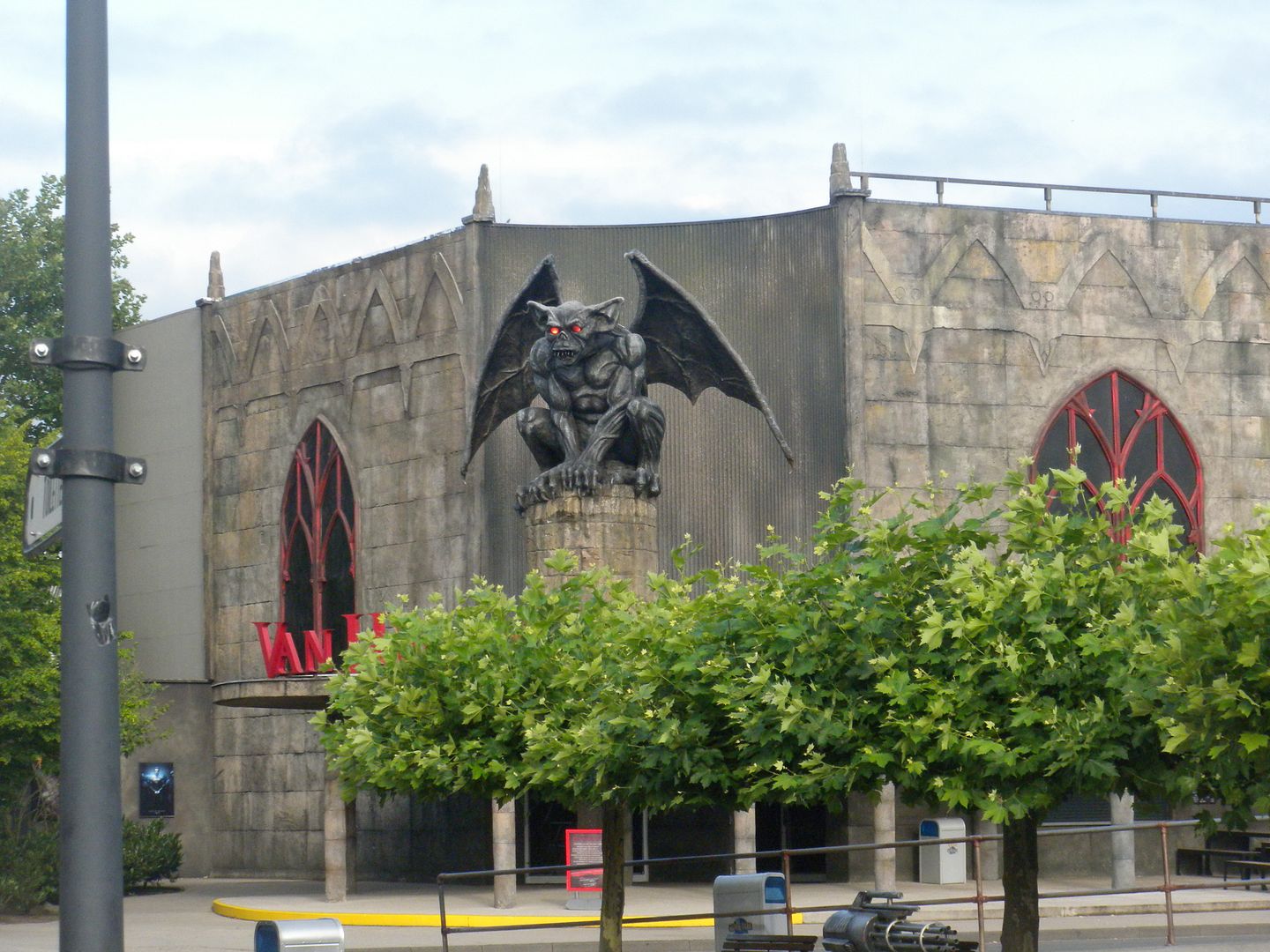 Made to resemble the grittiness of New York City, there is one coaster: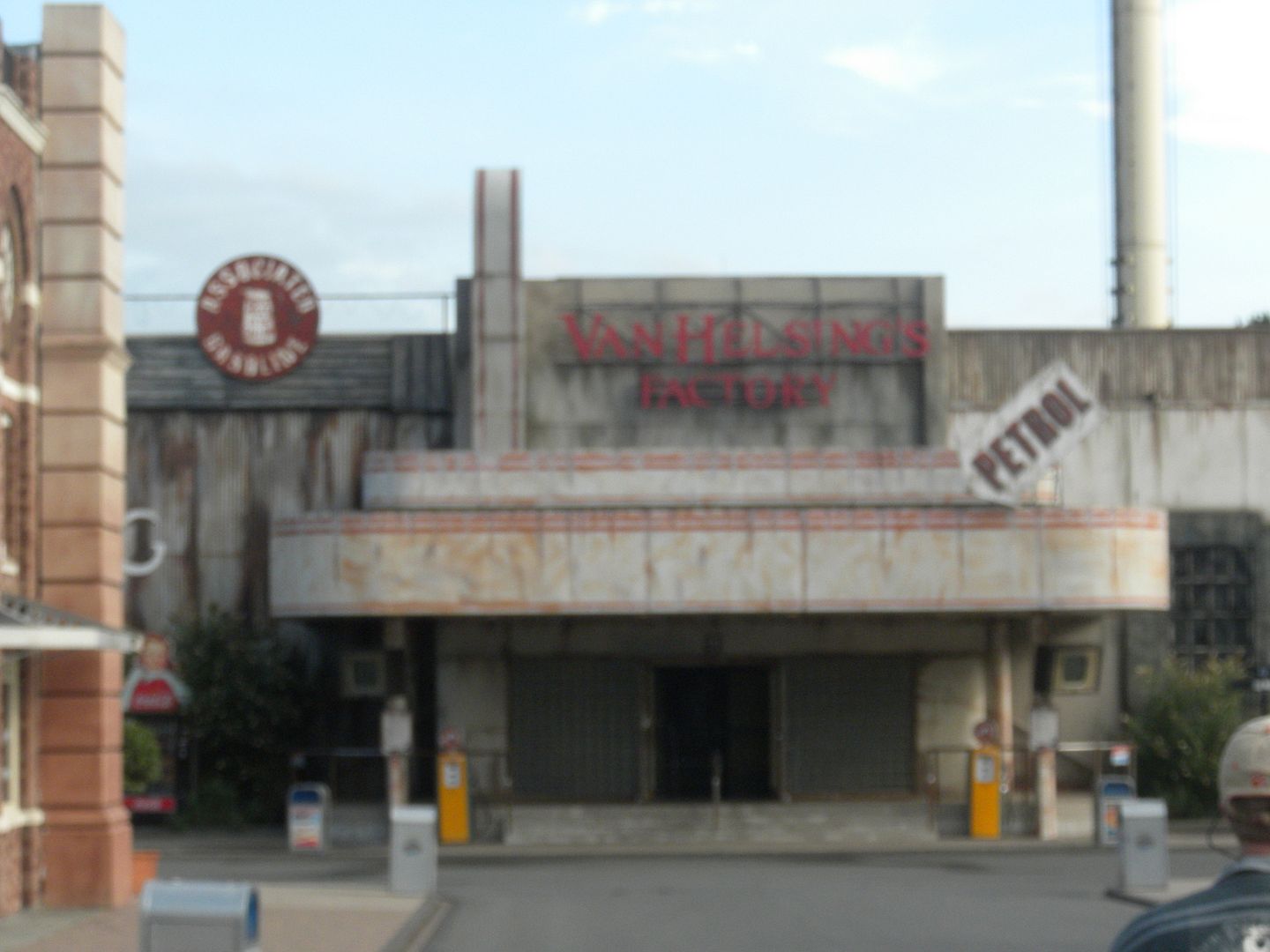 Van Helsing´s Factory: (Gerstlauer, Bobsled Coaster, 2011)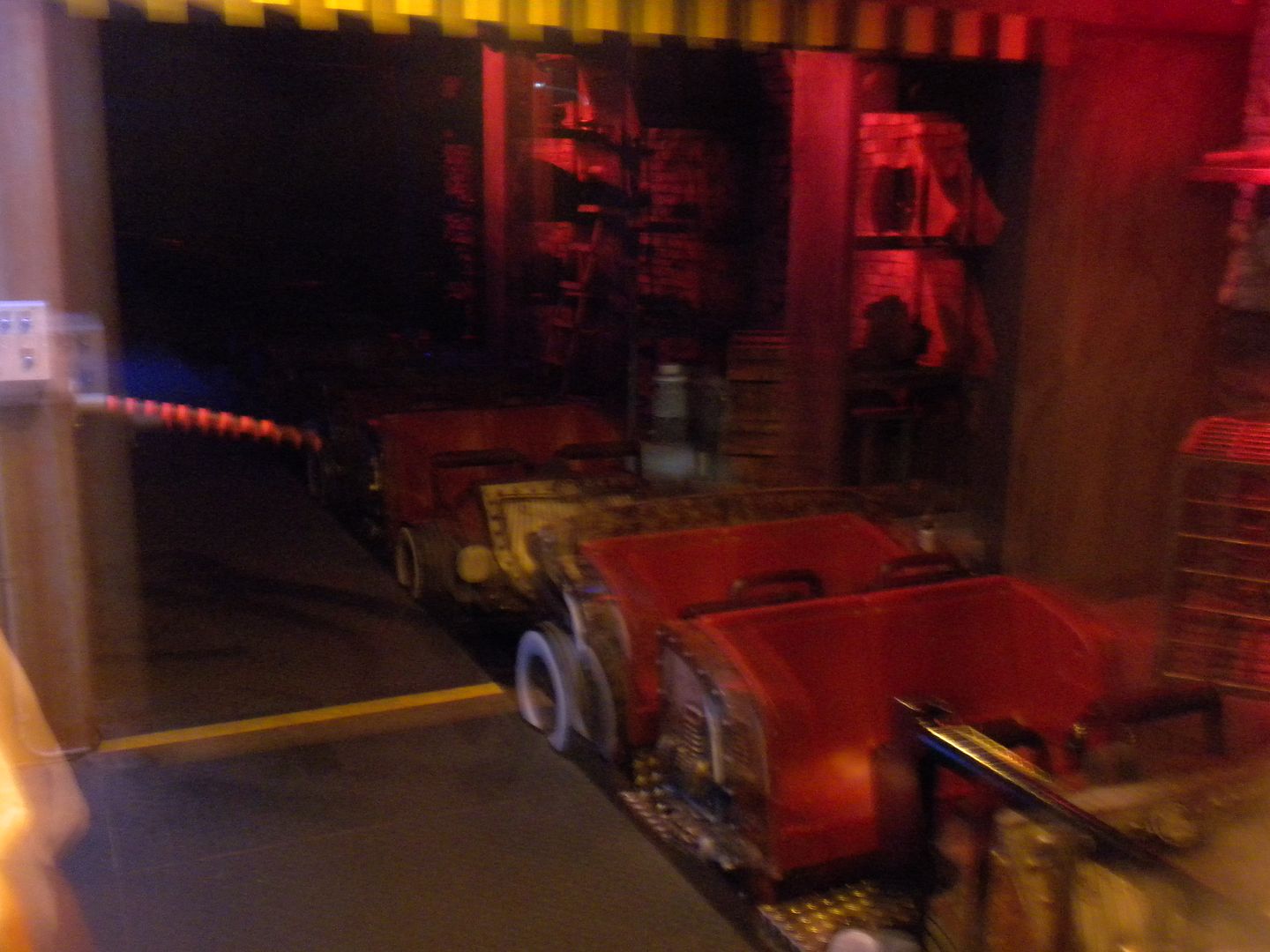 This enclosed coaster is in the building that once housed a Gremlins dark ride. Although somewhat constrained by space this is a fun coaster, and in the dark you have no idea what is coming up. It has very good effects. We had an hour of ERT here and I got to ride once with the lights on – 7 rides during ERT, 1 with lights on.
I did not ride: NYC Transformer, a Top Spin; or Time Riders, a simulator ride. There is a show here, Back to the Movies.
The Old West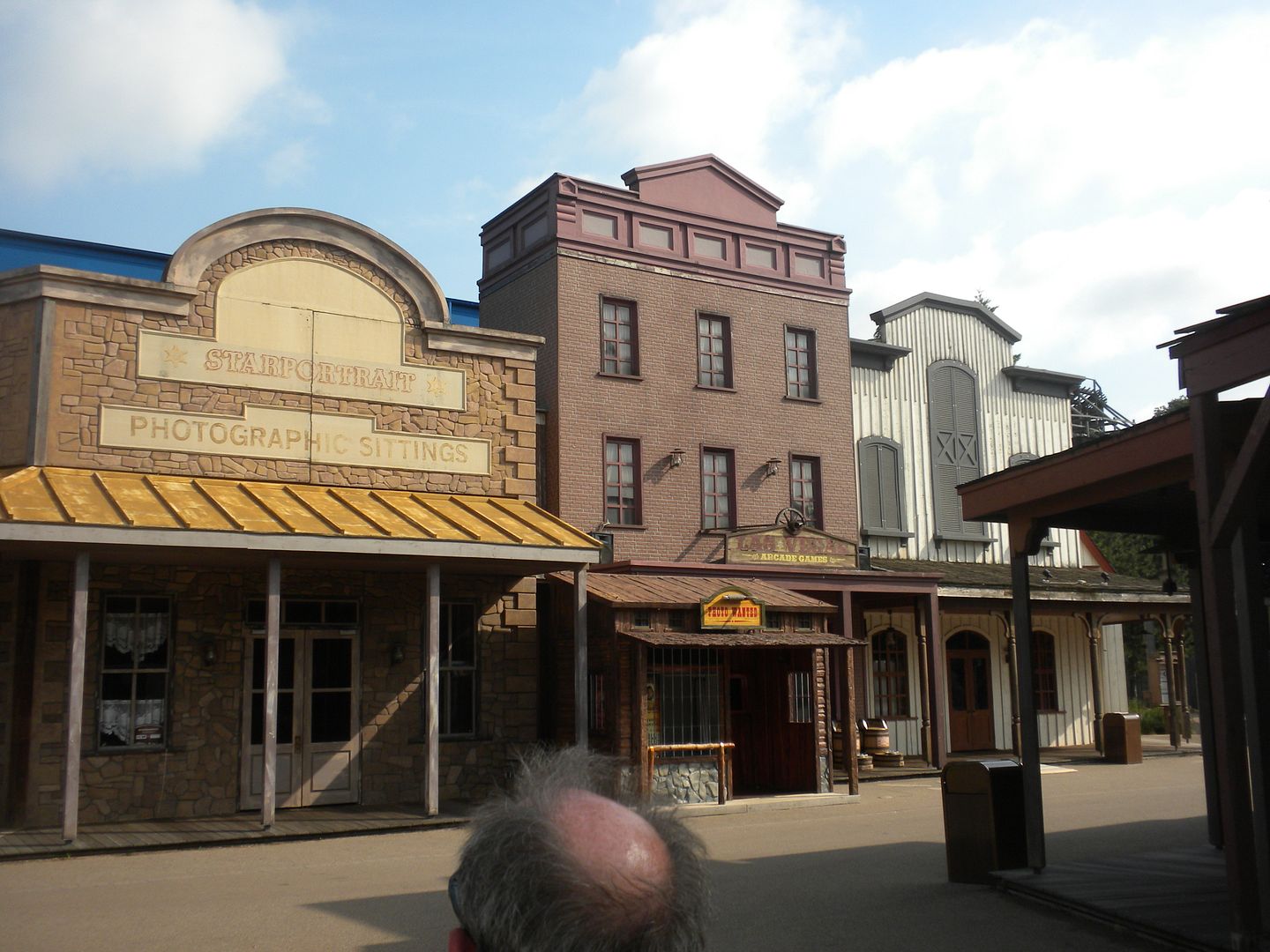 This section is well themed and has 2 coasters.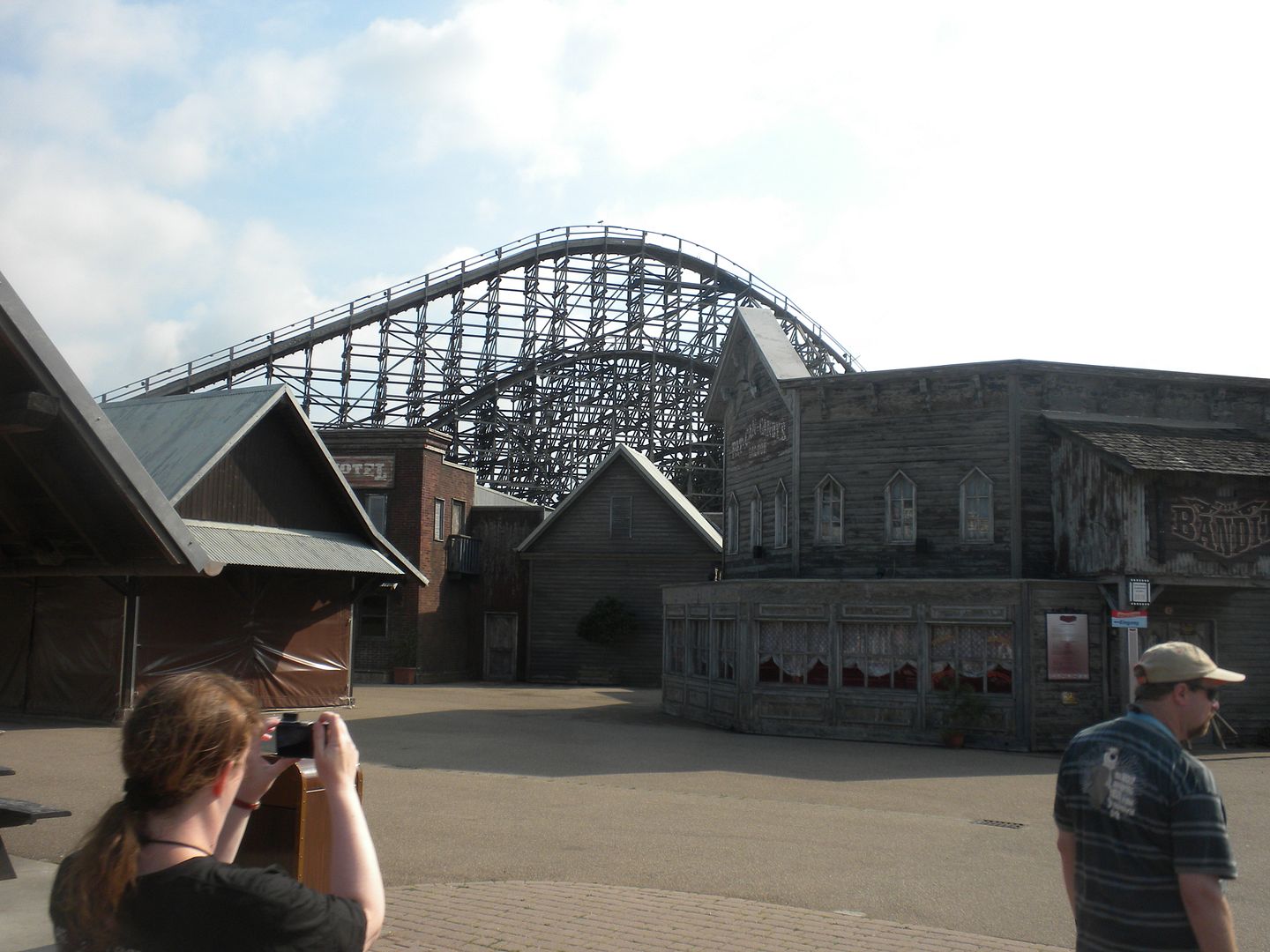 Unfortunately The Bandit (RCCA, Cyclone Twister Wood, 1999) was closed most of the summer for repairs, although it did reopen 2 weeks after we were there.


Ironically, this marks the second time that an ACE European trip has ended at a movie themed park with a RCCA wood coaster SBNO.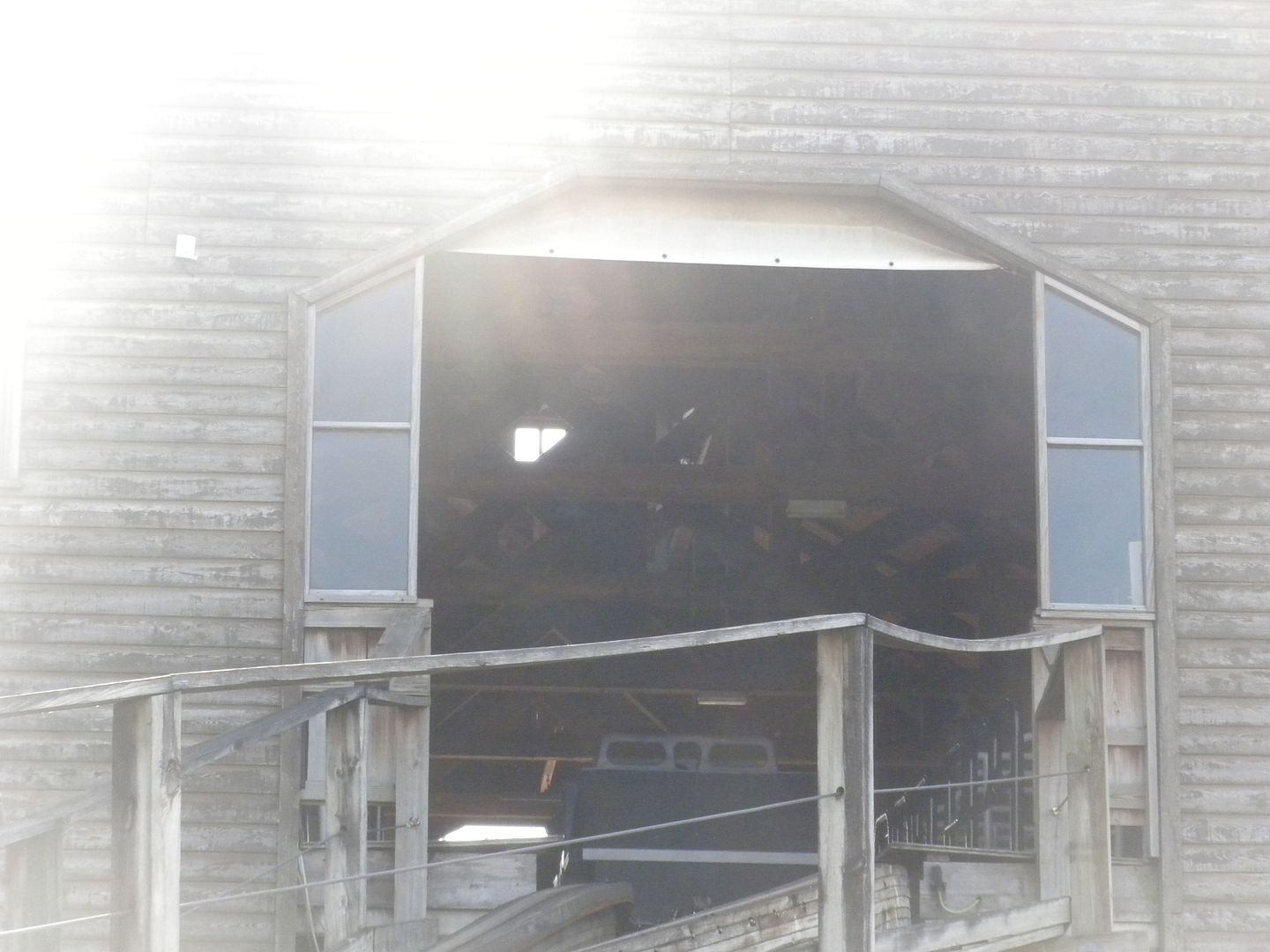 Just as I must return to Madrid to pick up that coaster, I will have to return here for this one. It previously was known as Wild Wild West (1999-2004). The other coaster is:


MP Xpress: (Vekoma, SLC, 2001)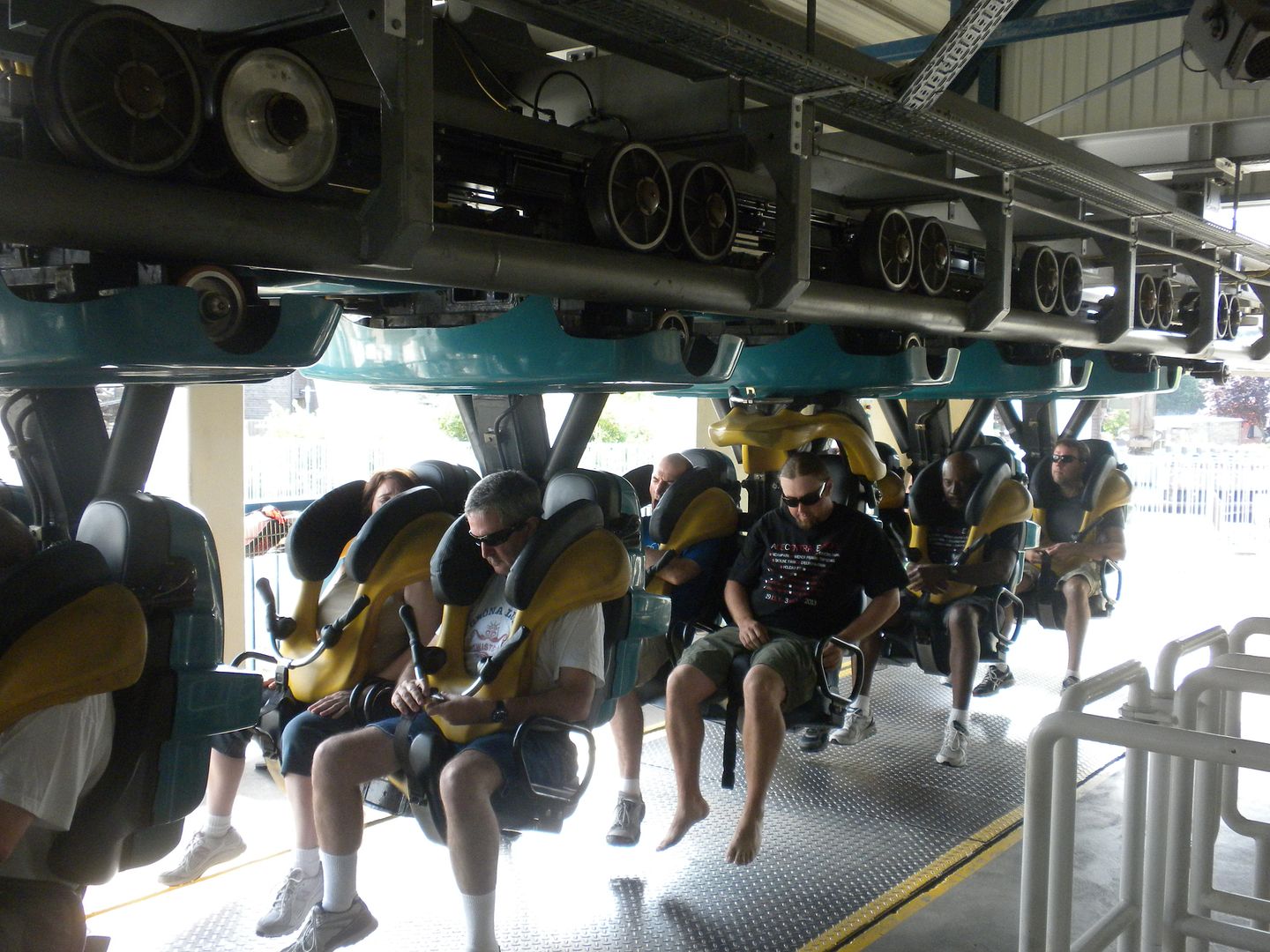 Previously known as FX (2005) and Eraser (2001- 2004), it gave the expected ride – 1 ride.

I did not ride: Side Kick, a Frisbee type ride,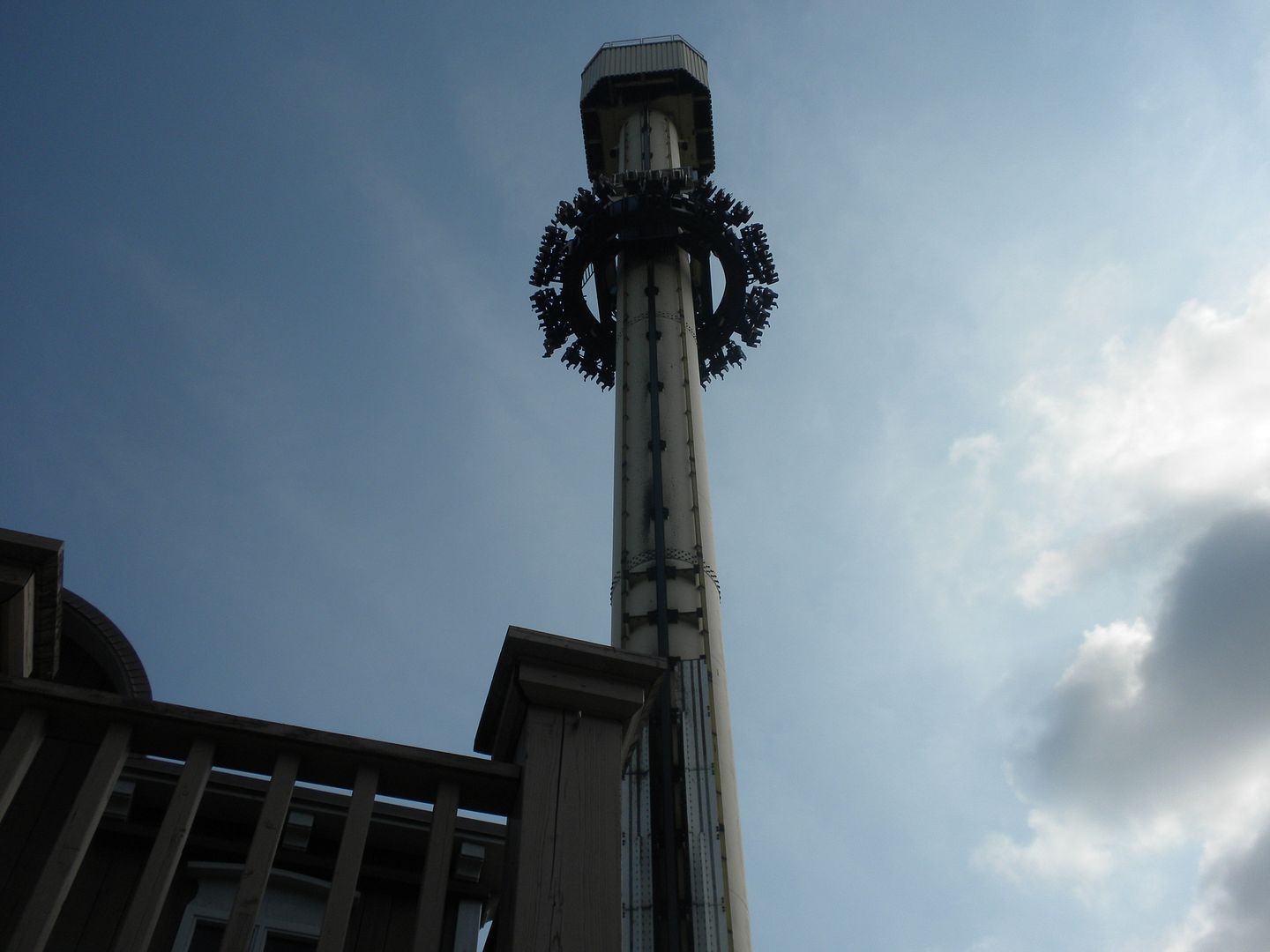 or The High Fall, an Intamin gyro drop tower with stand-up bicycle seats like SFOG's Acrophobia used to have. Shows include Shadows of Darkness – The Van Helsing Show and Western Lightning.
Santa Monica Pier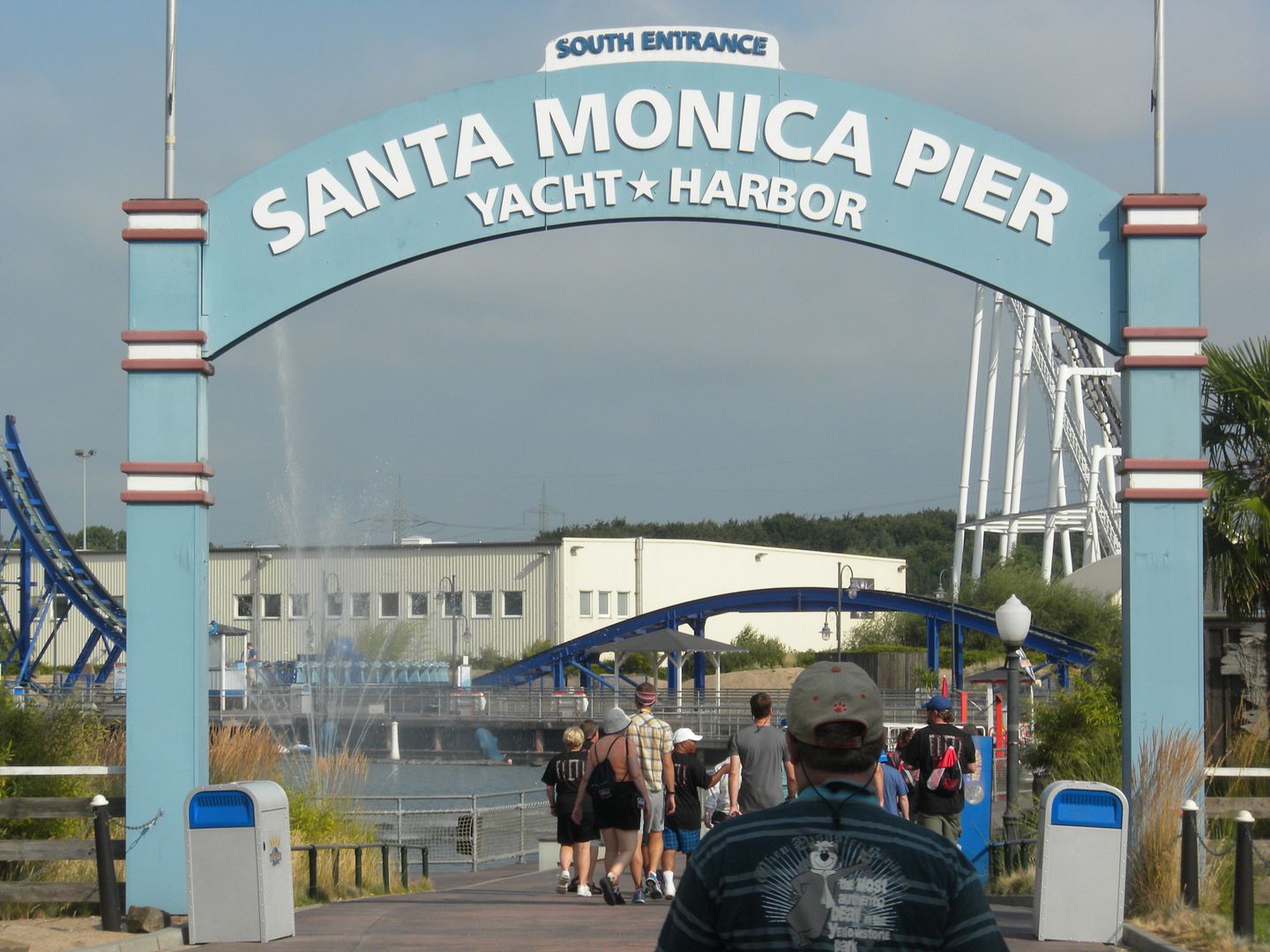 This nicely themed section has no coaster. I did not get to ride any of the rides which include: Crazy Surfer, a Disk-O; Pier Patrol – Jet Ski, a spinning crocodile type ride; Pier Side Carousel, a Wave Swinger; and Santa Monica Wheel, a Ferris Wheel. There are 2 children's rides and the Hollywood Filmmuseum.
We were given a delicious meal with much selection. While not as nice as some of the parks we visited, this park was nice in its own way and its 3 unique attractions beyond the coasters were well worth riding. I would love to have time for a few other attractions and the shows, so maybe I can do more someday when I return to ride the wood coaster. Although not a part of the trip, many of us could not pass up a small park within walking distance.

Freizeitpark Schloss Beck, Bottrop, North Rhine-Westphalia, Germany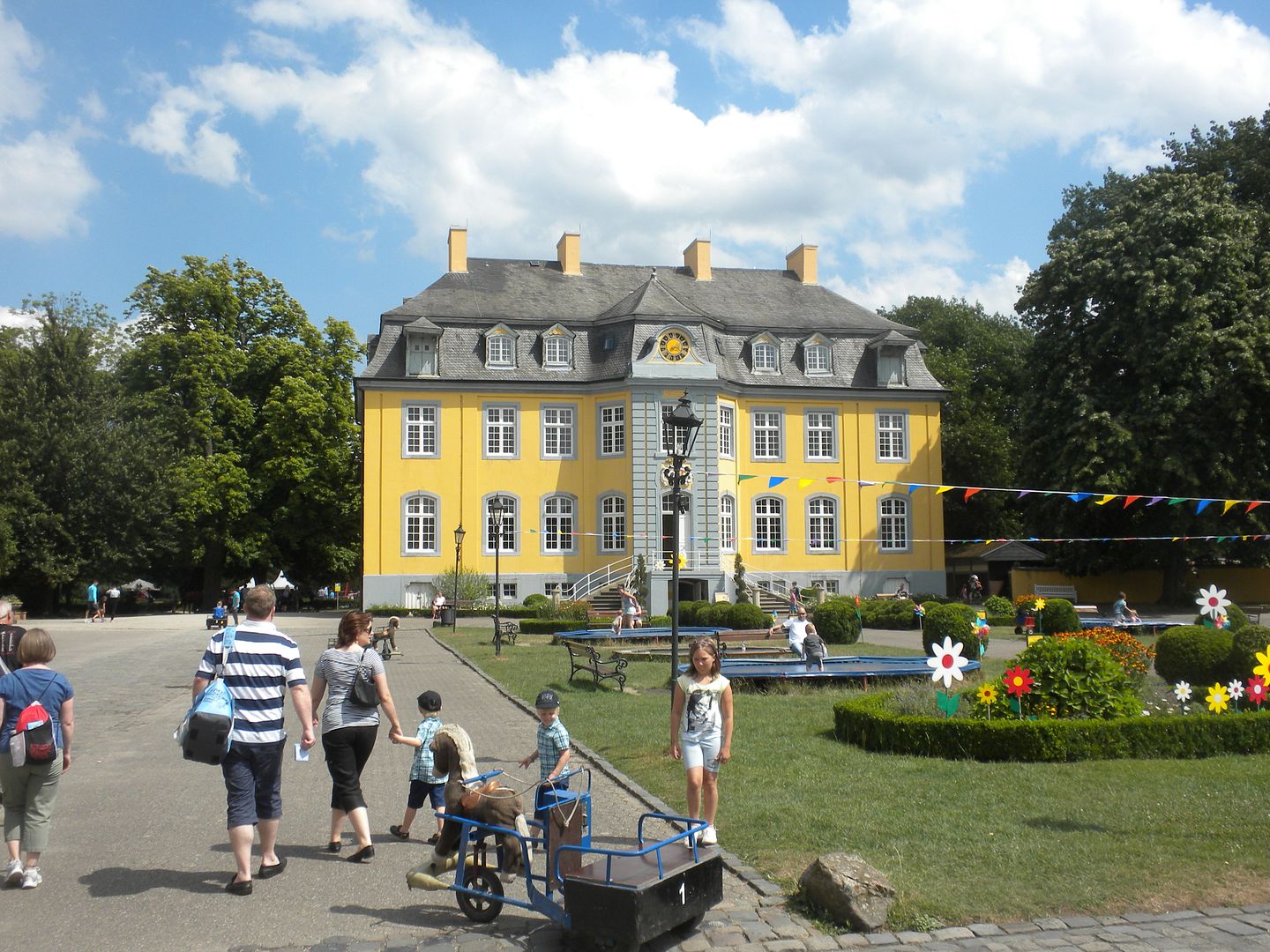 Built around a castle designed and built as Maison de Plaisance from 1766 to 1777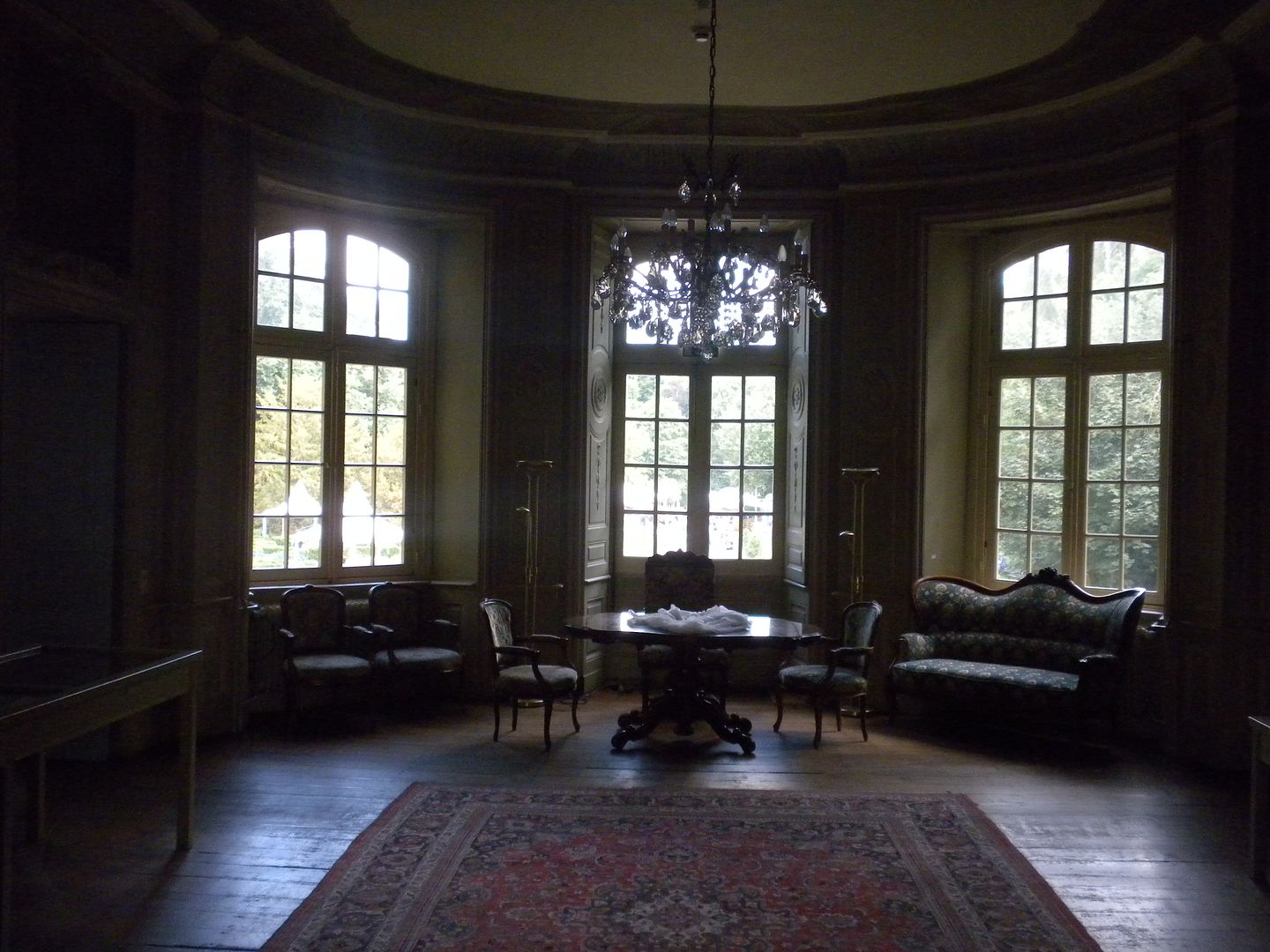 by the famous Westphalian Baroque architect Johann Konrad Schlaun,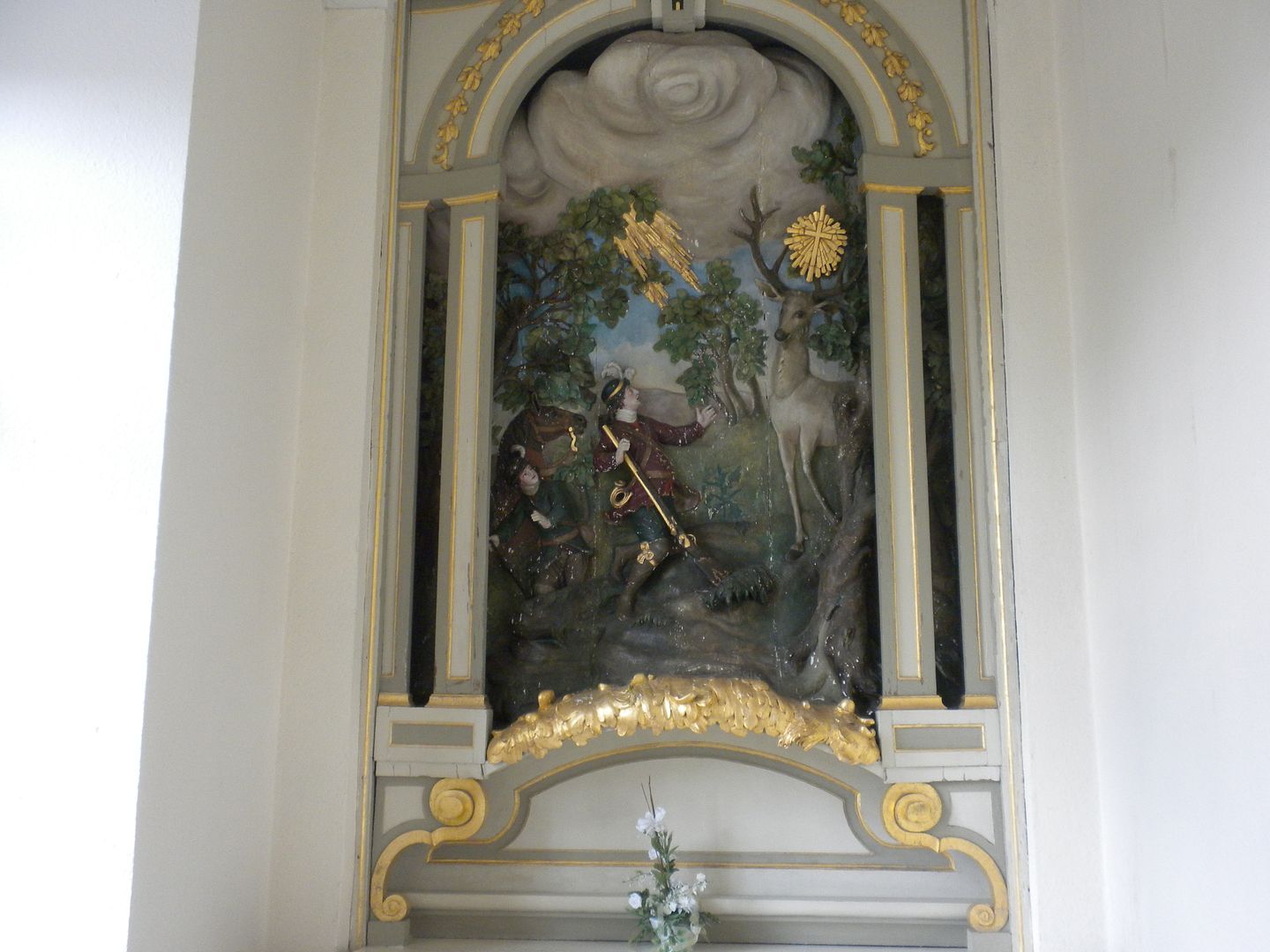 this small family park has many unique attractions. There is one coaster: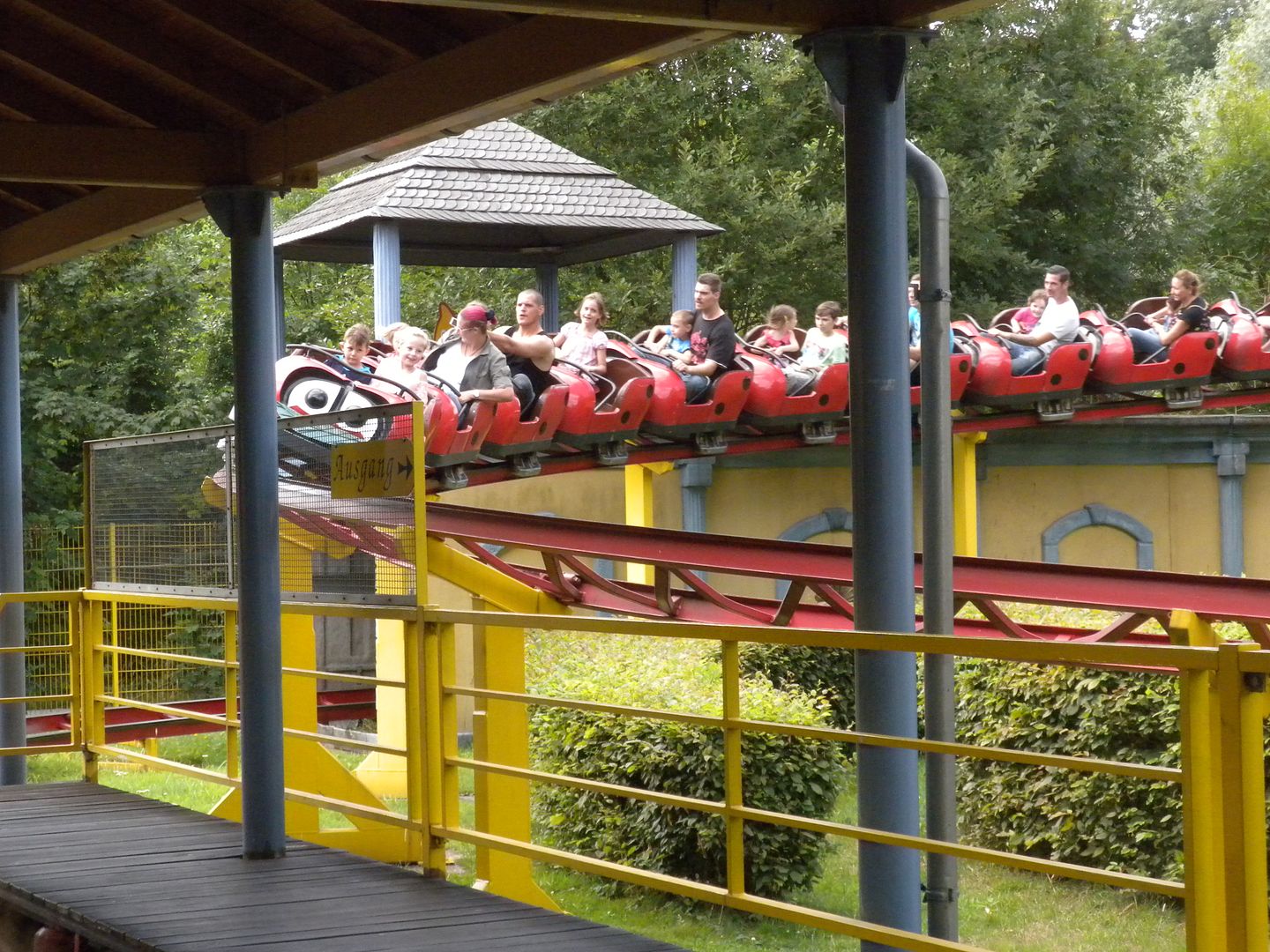 Familienachterbahn: (Zierer, Tivoli – Medium, 1987)


With an enclosed lift hill, this coaster gave a good ride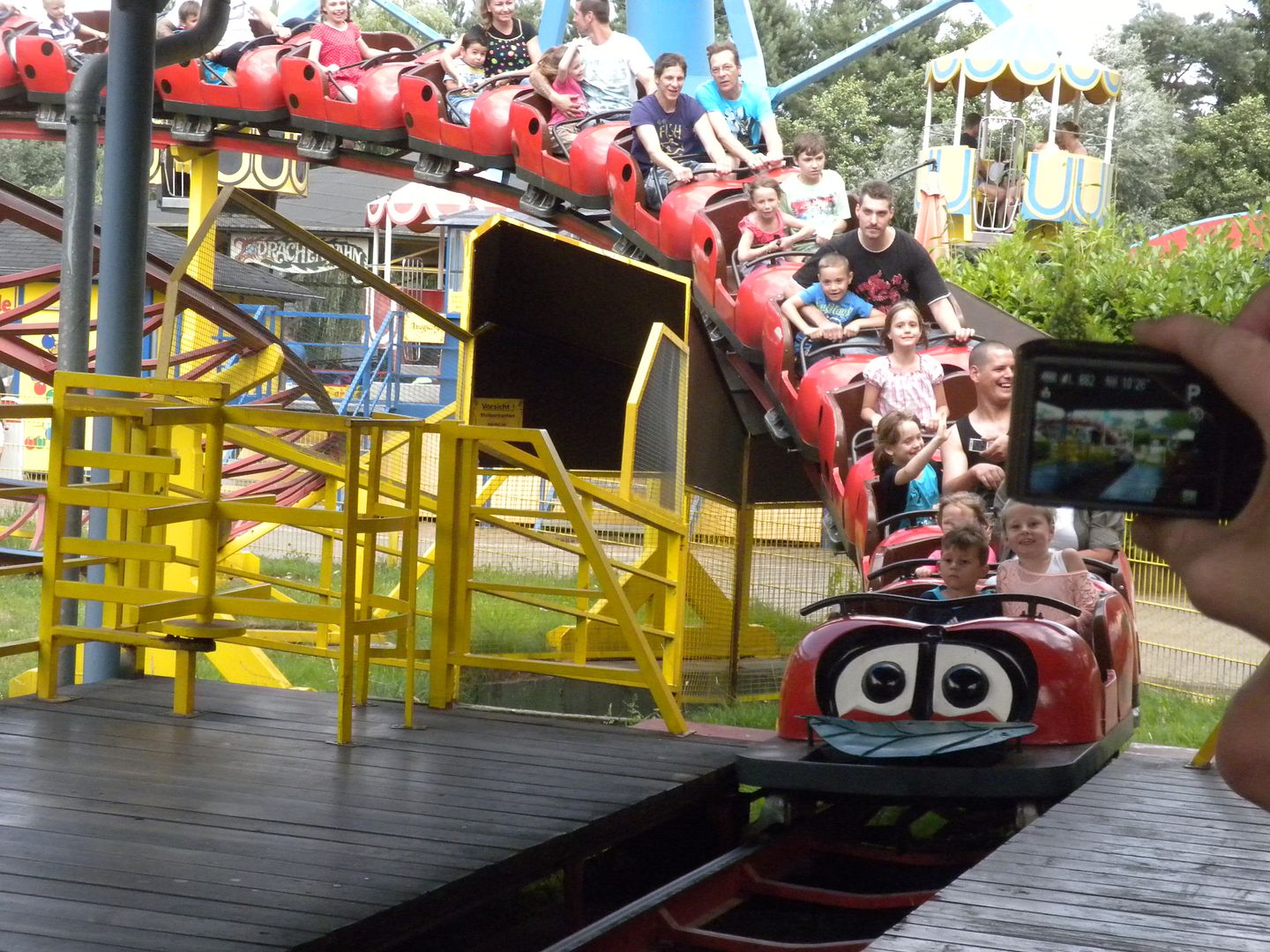 and was my last coaster ride in Germany for this trip – 1 ride.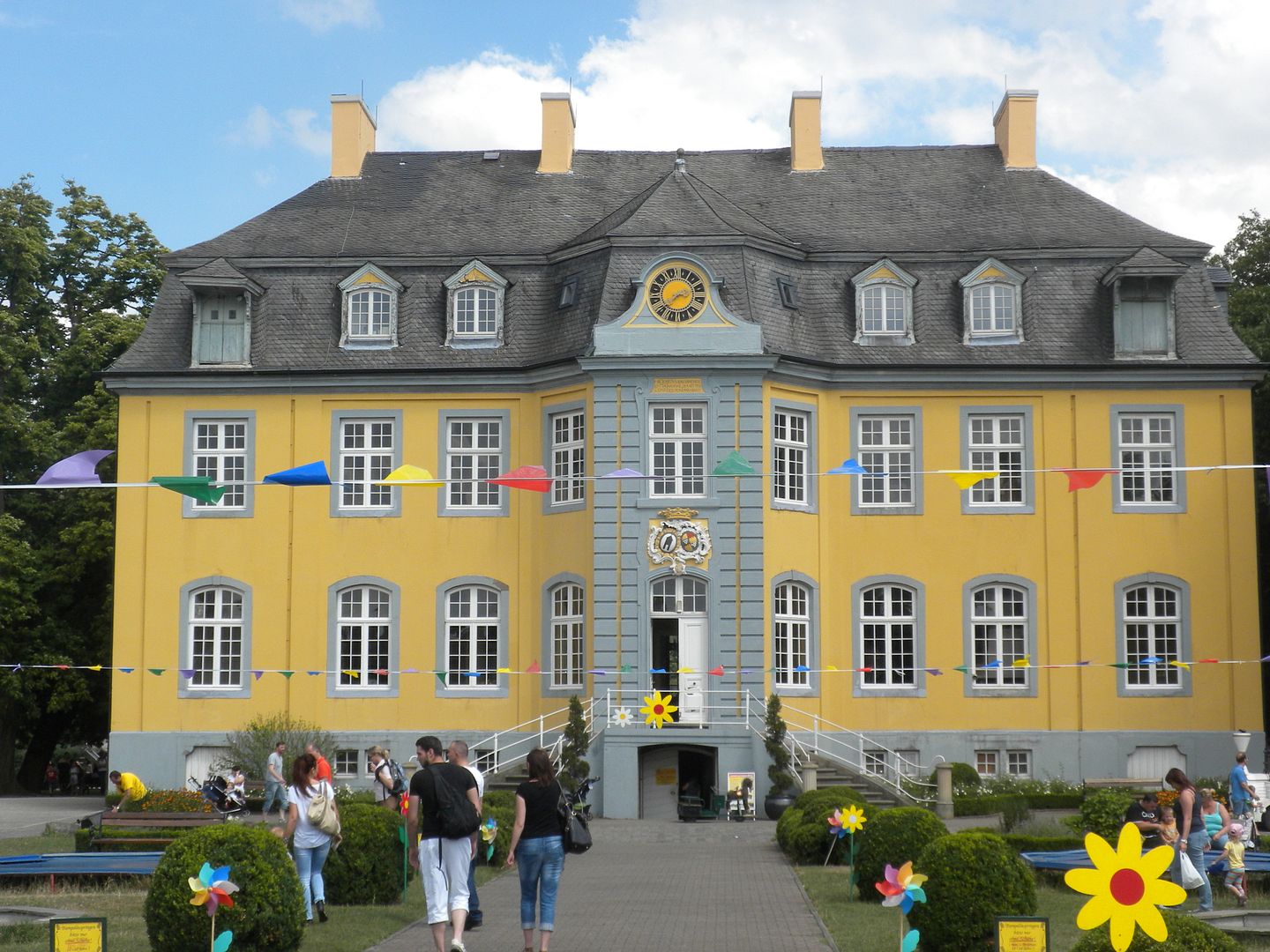 We also waked through a couple of attractions in the castle: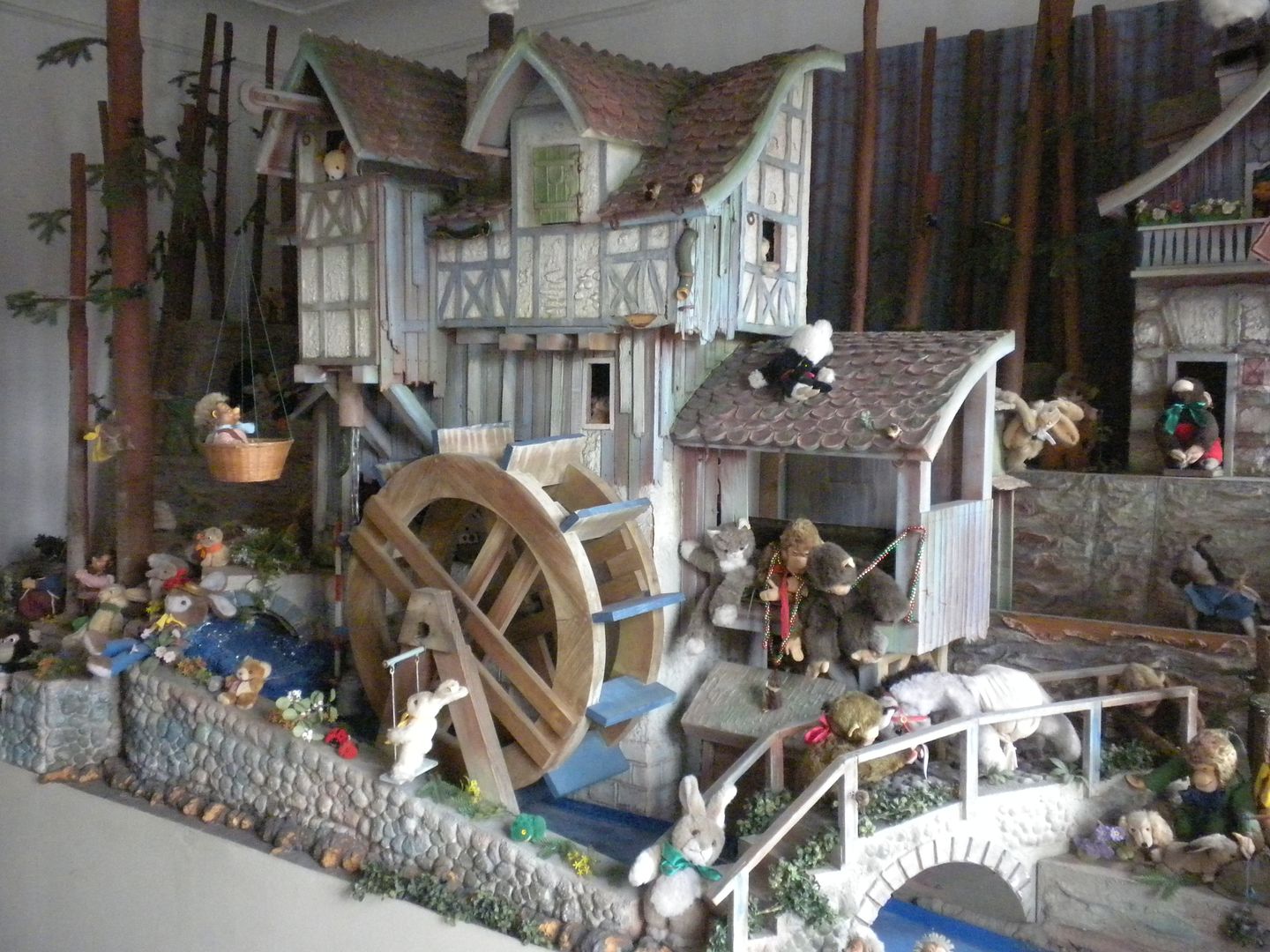 Barock Schloss mit 1000 Beweglichen Figuren (Baroque Castle with 1000 Moving Figures): This moving scene is good – 1 walkthrough.
Haunted Basement: Here you insert coins to make the figures move in the basement of the castle – 1 walkthrough.
Other rides include: Becki's Tierwelt (Becki's Wildlife); Wasserbobs, a Nautic Jet; Auto Scooter; Elektrische Pferdebahn (Electric Horse Railway); Go Kart Bahn; Oldtimer Bahn, antique cars; Tret und Ruderboote (Pedalos and Rowing Boats); Astronauten Tester (Astronauts' Tester), a Luna Loop self-operated rolling inverting circular ride; Himmelsschaukel (Sky Swing); and Abenteuer Simulator (Adventure Simulator). There are 10 children's rides. Other attractions include Naturlehrpfad (Nature Trail); Schwebeturm (Floating Tower); Spielplatz (Playground); Steil Rutsch (Steep Slide); and Trampolins (Trampolines).
This is a nice family park. I would have enjoyed a little more time here to explore. We headed back to Frankfurt, but along the way the trip organizers had one more surprise for us.
Up Next: A Surprise Stop