Part 15: Hansa Park, Sierksdorf, Schleswig-Holstein, Germany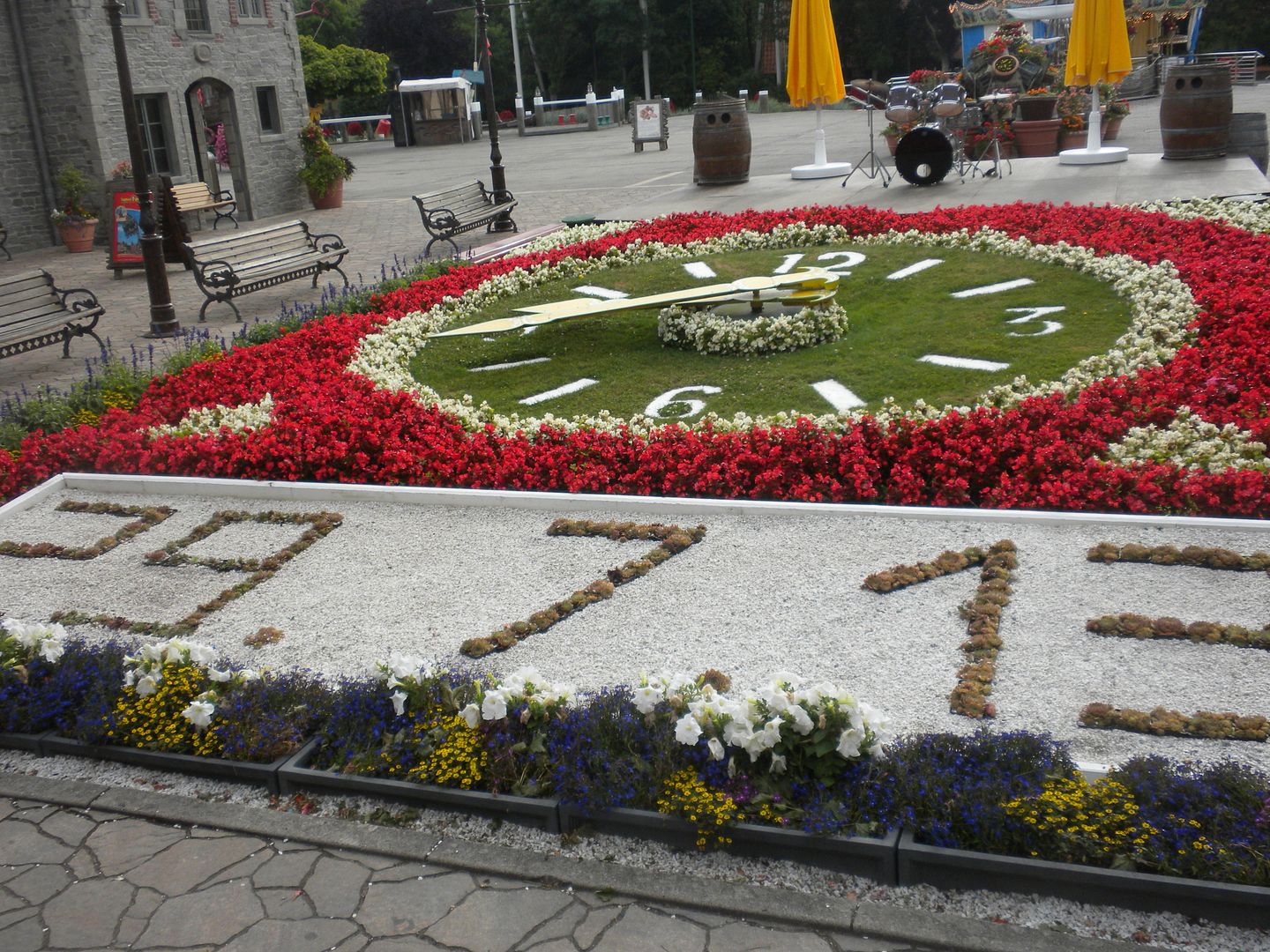 On Monday, July 29 we left the Hansiatic City of Lübeck and headed for Hansa Park, so named for the Hanseatic League. Opened in 1973 as Legoland Sierksdorf, the second Legoland after Legoland Billund, it was soon sold and became Hansaland, and eventually Hansa Park. In keeping with the theme they have spent the last several years building facades at the front of the park from various Hanseatic League cities. I originally wanted to come to this park because of one Schwarzkopf coaster, then became interested in its connection to the Hanseatic League, but upon visiting I realized the level of theming on its rides made this a real gem that was well worth a visit.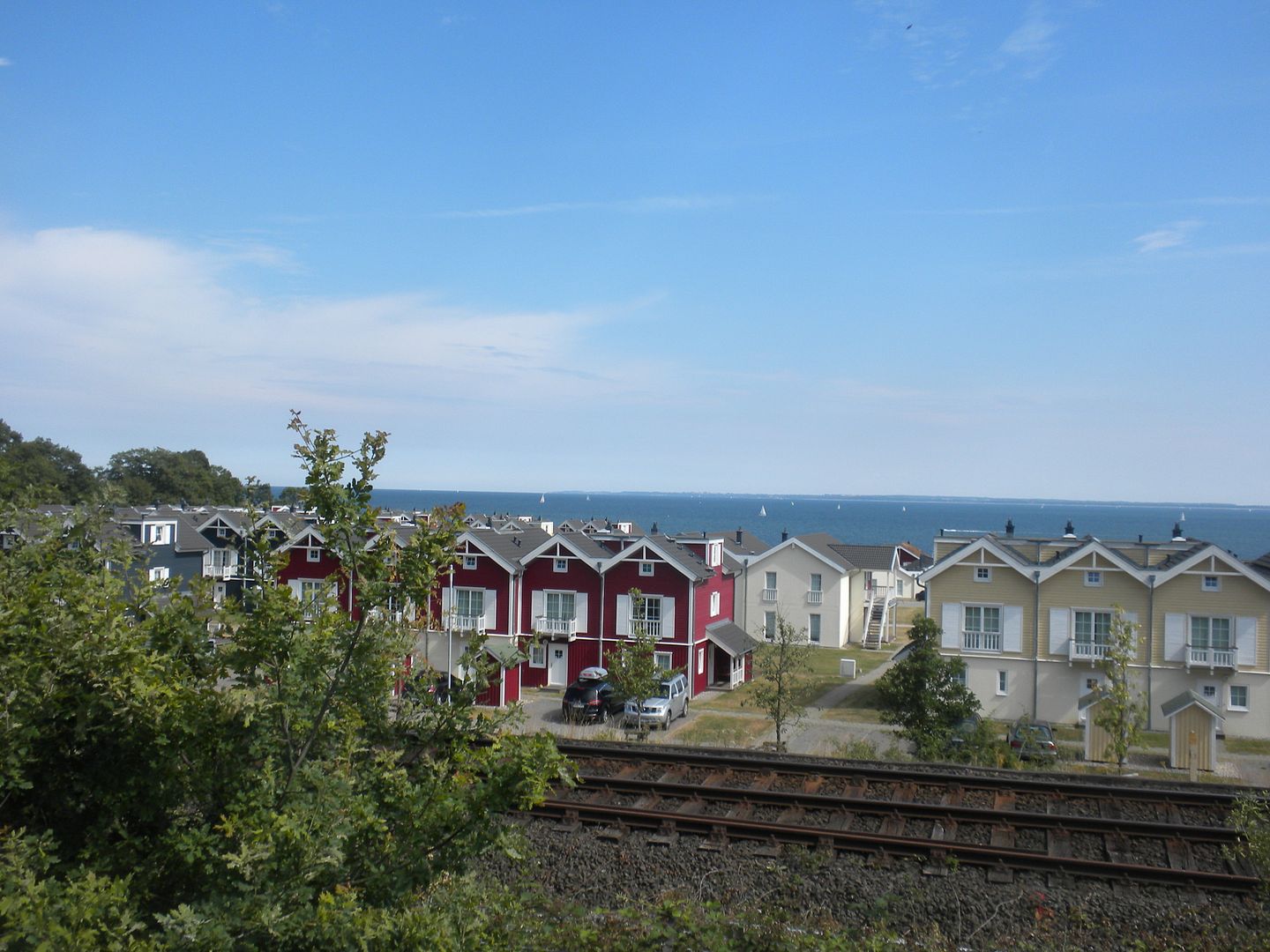 Added to that, its views of the Baltic Sea were amazing. This was truly a surprise park of the trip. The park is divided into 11 themed sections.
Die Hanse in Europa (The HANSEATIC LEAGUE in EUROPE)


The park chose for its new front gate a scale of 2 to 3 model of the Holstentor, the city gate of the queen of the Hanseatic League, the city of Lübeck. In subsequent years they have built facades of buildings from the Hanseatic cities of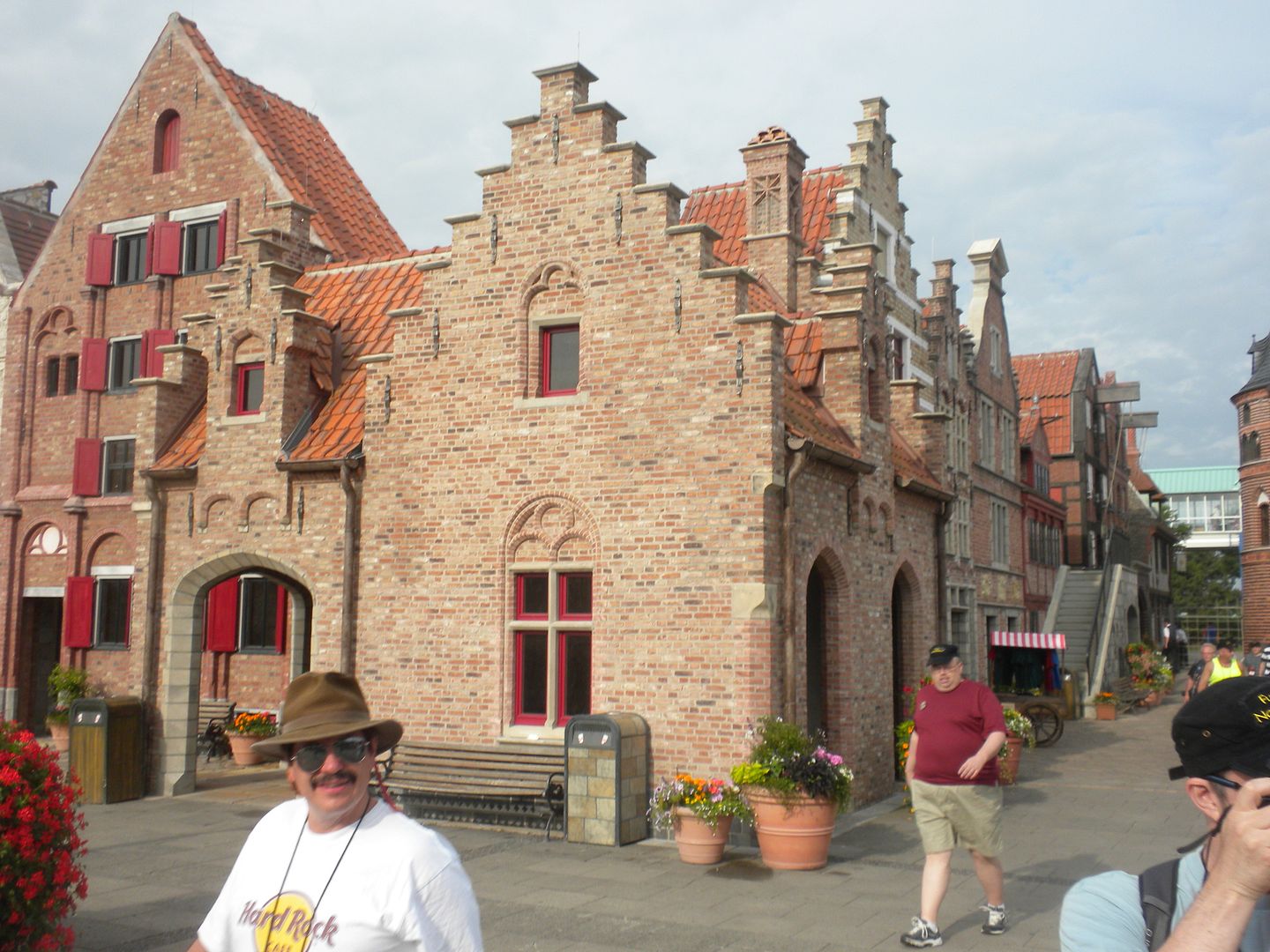 Rostock, Germany; Visby, Sweden, Hamburg, Germany; Bruges, Belgium; Groningen, Netherlands; Paris, France;


London, England; Ribe, Denmark; Bergen, Norway;


Copenhagen, Denmark; Bremen, Germany; and Goslar, Germany. In addition the trading cities of Frankfurt am Main, Germany and Nuremberg, Germany were included as they played an important role due to their location along the Hanseatic League's central trade routes to South Europe. The facades have been constructed of similar materials to the originals and are extremely authentic looking. It is fascinating to walk by and admire these grand reproductions.


The buildings at the front of the park cover a good bit of space, so there is much more room to add more such structures.
The main ride in this section is the HANSE-Karussell (The HANSA Carousel), a small carousel. There is also a children's play area and a couple of shows: Hansa Park Live Band, and Winnie & Co. Sagen "Hallo" und "Tschüss" (Winnie & Co. say "Hello" and "Bye-bye").
Nervenkitzel (Thrill Rides)
This section contains the parks star attraction among its 2 coasters:


Nessie Superrollercoaster:


(Schwarzkopf, Looping Coaster, 1980)


This is a great coaster with airtime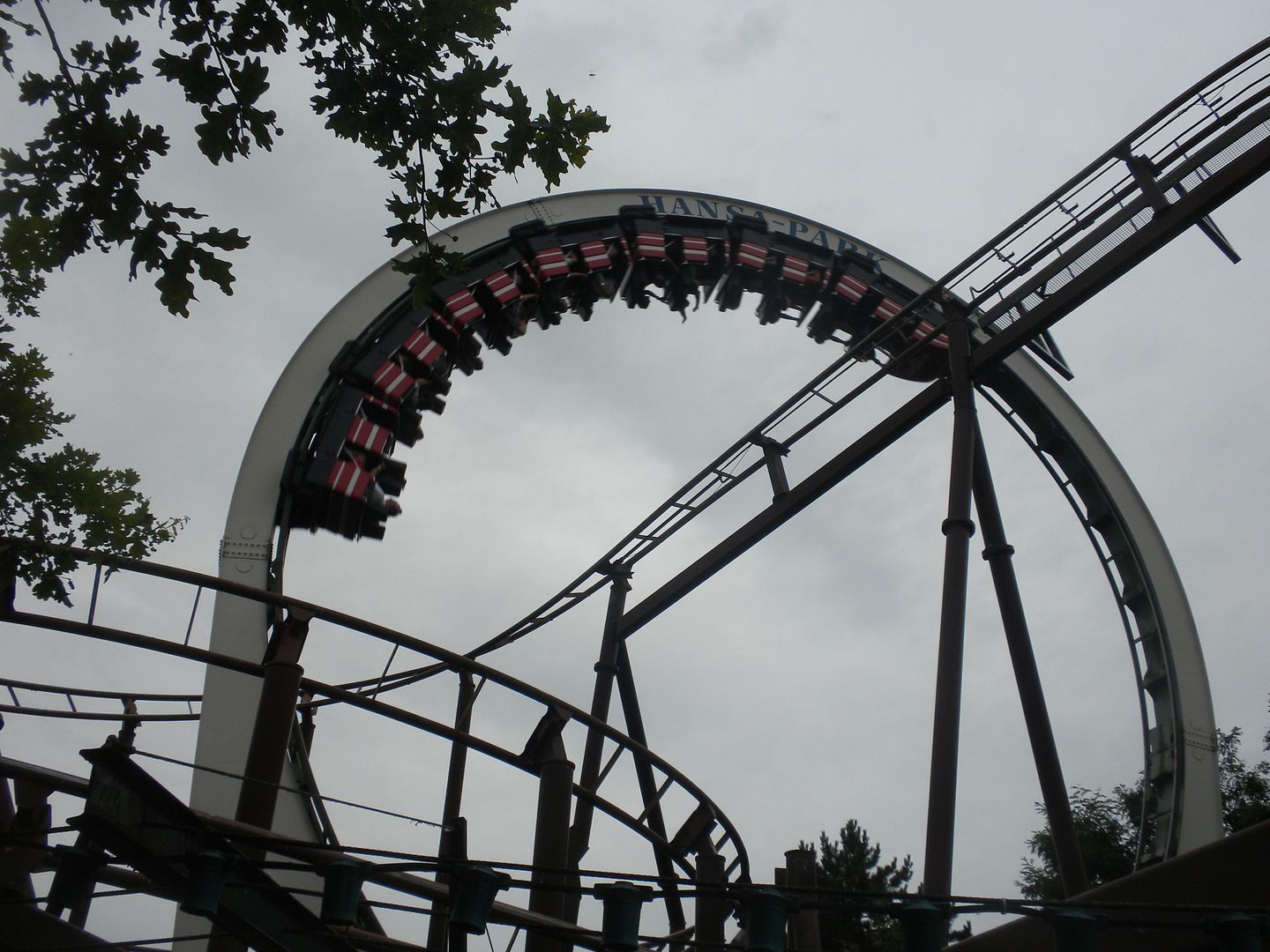 and a signature Schwarzkopf loop.


You even get swallowed by Nessie.


The lift hill of Rasender Roland goes through the loop – 3 rides.
Rasender Roland (Racing Roland): (Vekoma, Junior Coaster, 1993)


This fun coaster has great interaction with Nessie. – 1 ride.
Other rides include:
Space Scooter: This bumper car ride includes a game that I did not fully understand while riding, but it was fun – 1 ride.
I did not ride Wellenreiter (Wave Rider), a Troika.
HANSA Garten (HANSA-Garden)
This garden section is well landscaped and contains 2 rides:
Bahnhof Hansa Garten – Hansa Park Express: The train has stops in Holzfällerlager, Bonanza-City and Piratenland – 1 ride.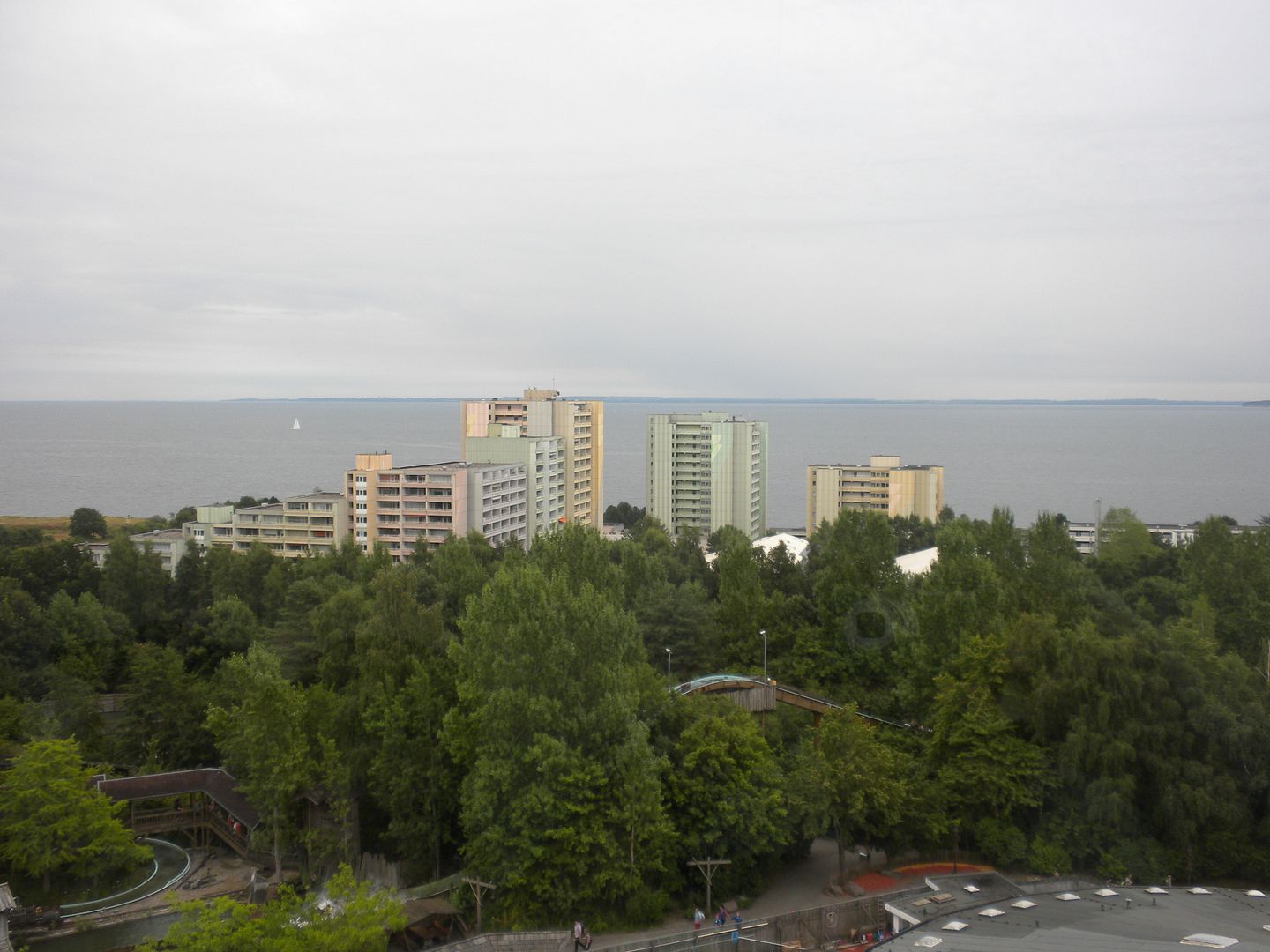 Holstein Turm (Holstein Tower): With great views of the Baltic Sea coast and the countryside of the Federal State of Schleswig-Holstein, this observation tower was well worth taking in – 1 ride.
Wasserspaß (Water Fun)
This water themed section contains a shoot-the-chutes ride: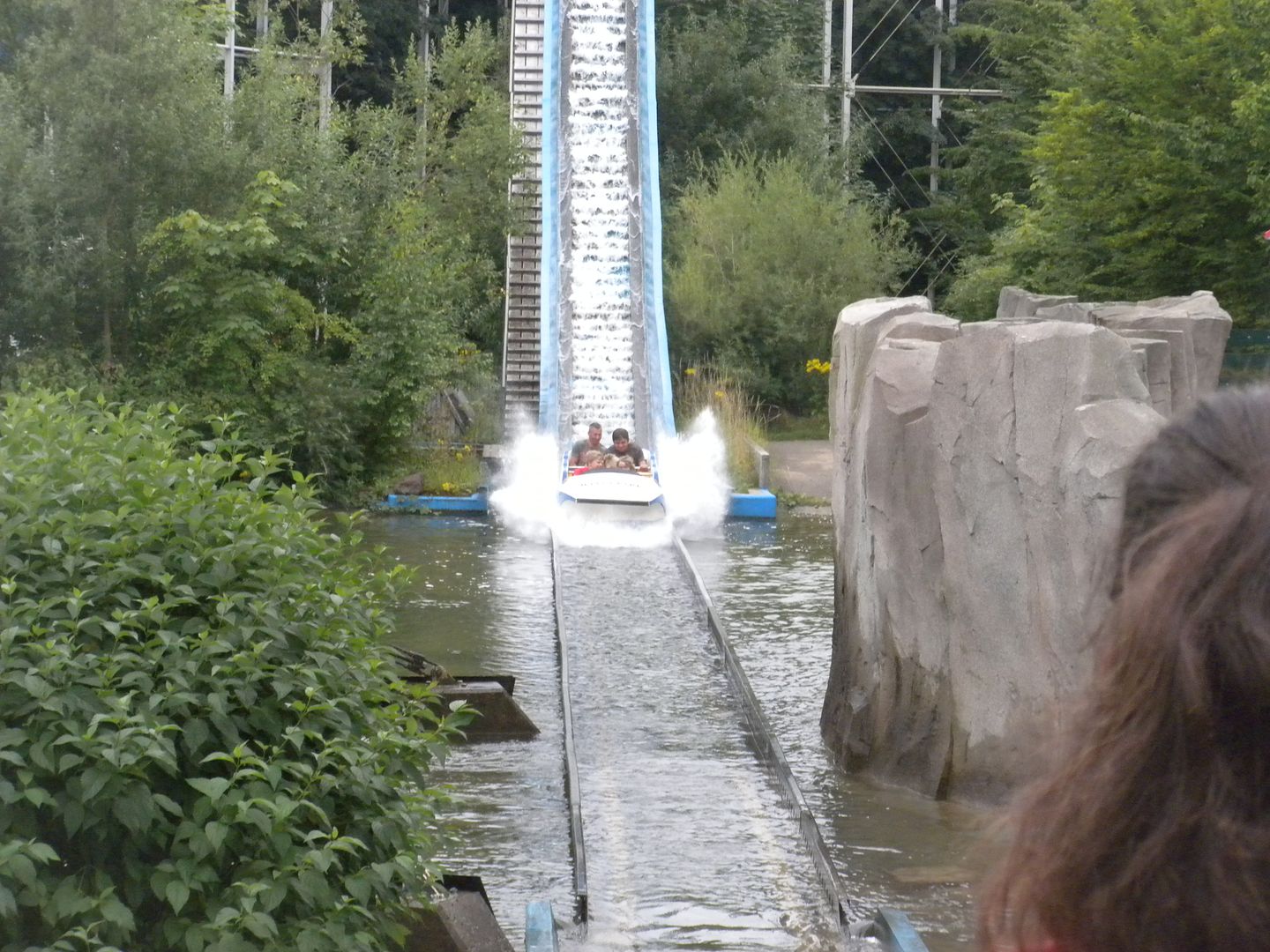 Super Splash: This has a good drop and gets you fairly wet – 1 ride.
This section also has a show: Wasserzirkus (Water Circus).
Holzfällerlager (Lumberjacks' Camp)
This highly themed section contains the park's newest signature coaster: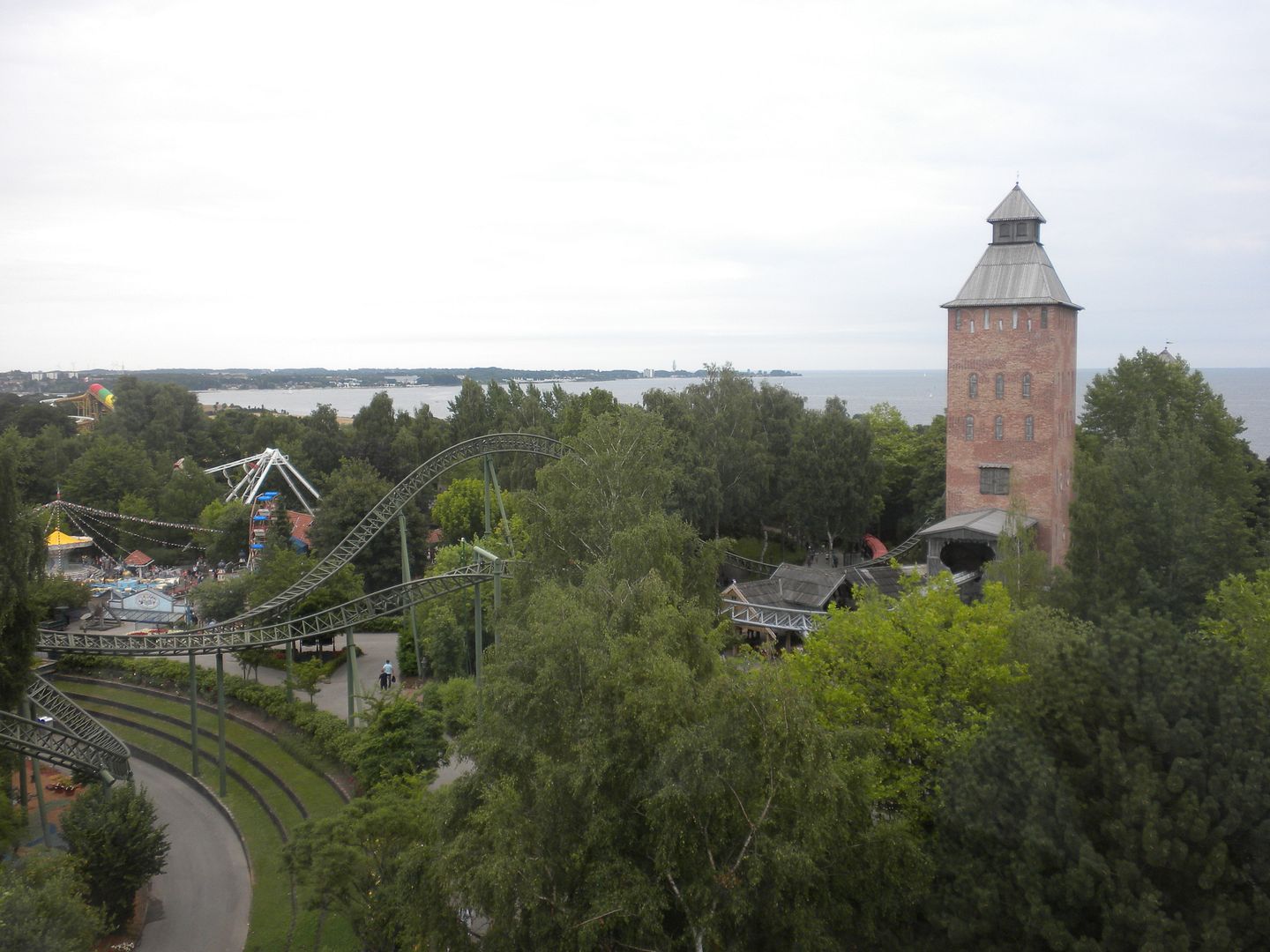 Fluch von Novgorod (Curse of Novgorod): (Gerstlauer, Eurofighter, 2009) This great theme revolves around a curse concerning the Russian city of Novgorod.


It is excellently laid out, does not use OTSR, and is a lot of fun. It involves dark ride elements, enclosed launches and a vertical lift. Even the exit is themed as you go down a slide and must find your way through a maze to get out – 2 rides during ERT.
Other rides include:


Wildwasserfahrt (Wild Water Ride): Nicely themed log flume– 1 ride.
Bahnhof Holzfällerlager – Hansa Park Express: The train has stops in Bonanza-City, Piratenland and Hansa Garden – 1 ride.
Alter Jahrmarkt (Old-Time Fun Fair)
This section is beautifully landscaped. Its main attraction is: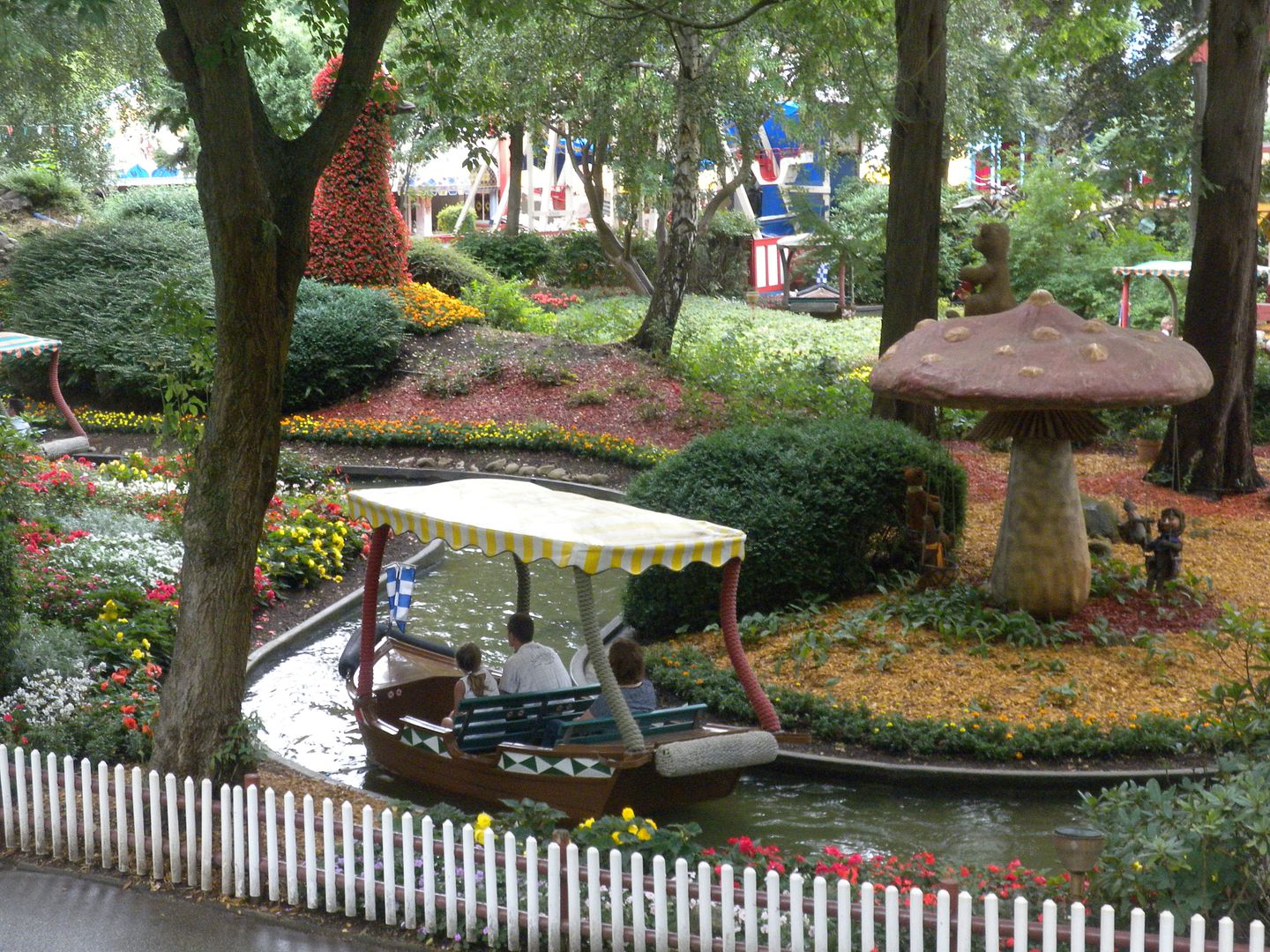 Blumenmeer-Bootsfahrt (Flower Magic Boat Tour): This relaxing boat ride goes through beautiful gardens – 1 ride.
I did not ride Fliegender Holländer (Flying Dutchman). There are 6 children's rides here. There is a show: Freilichtbühne "Alter Jahrmarkt" (Open-Air Stage at the Old-Time Fun Fair).
Bonanza-City
The Western section was highly themed with most rides geared to children. The one adult ride was:
Bahnhof Bonanza City – Hansa Park Express: The train has stops in Piratenland, Hansa Garden and Holzfällerlager – 1 ride.
They have 2 children's rides.
Mexiko (Mexico)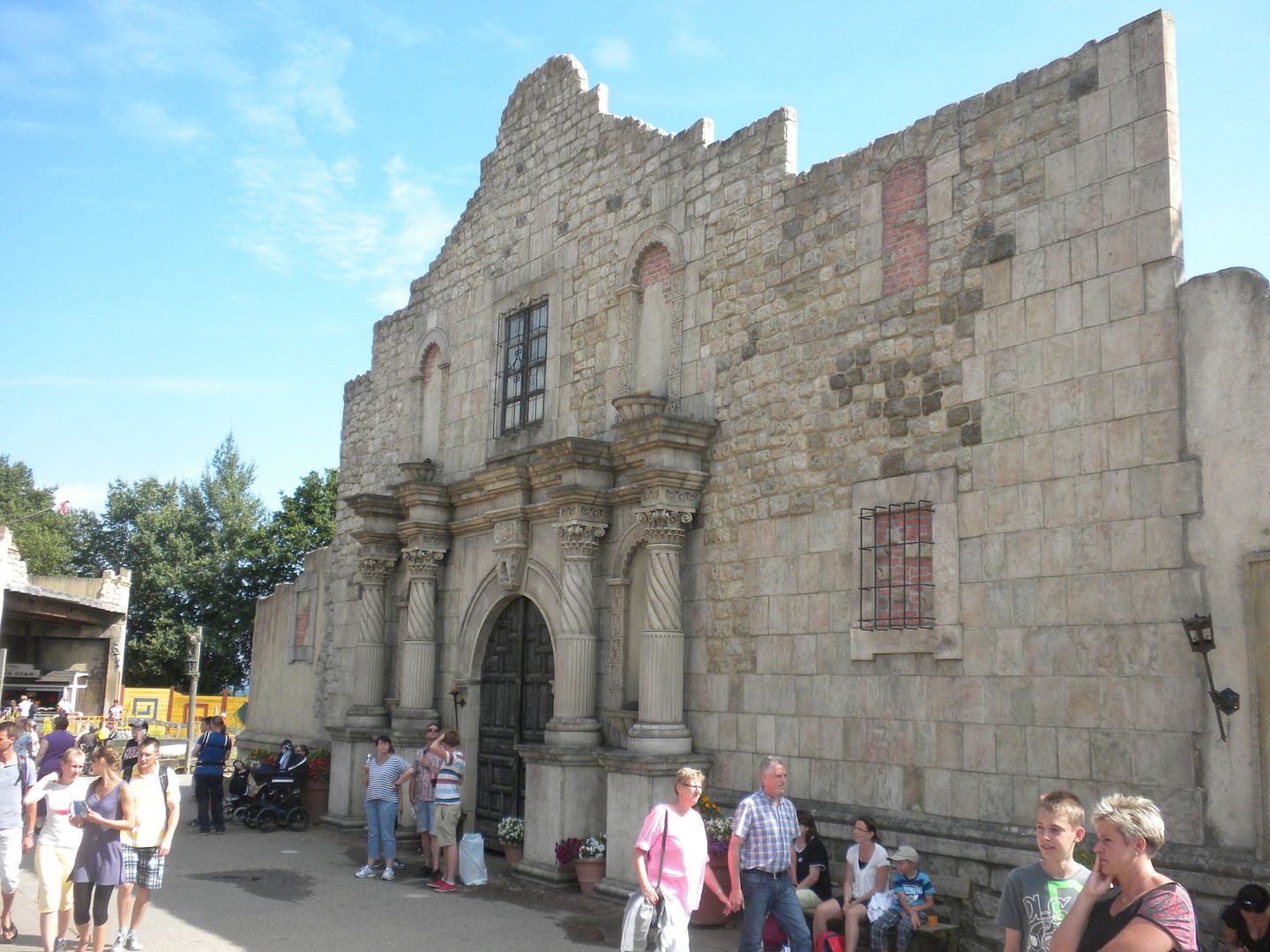 Perhaps the best themed section, this really transports you to Mexico. It has several rides: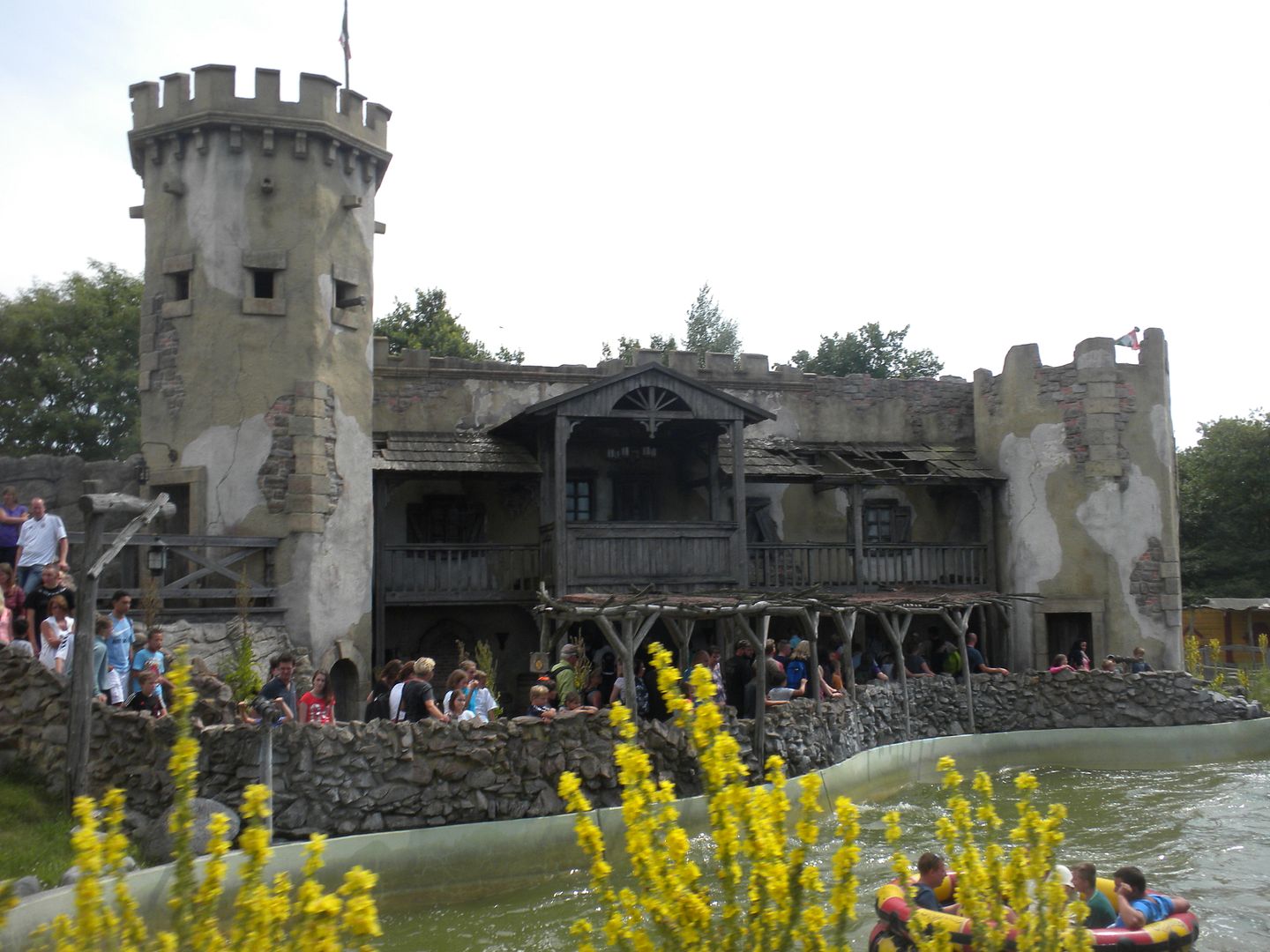 Rio Dorado: This spinning raft ride is fun and doesn't get you too wet unless the water guns at the end get you – 1 ride.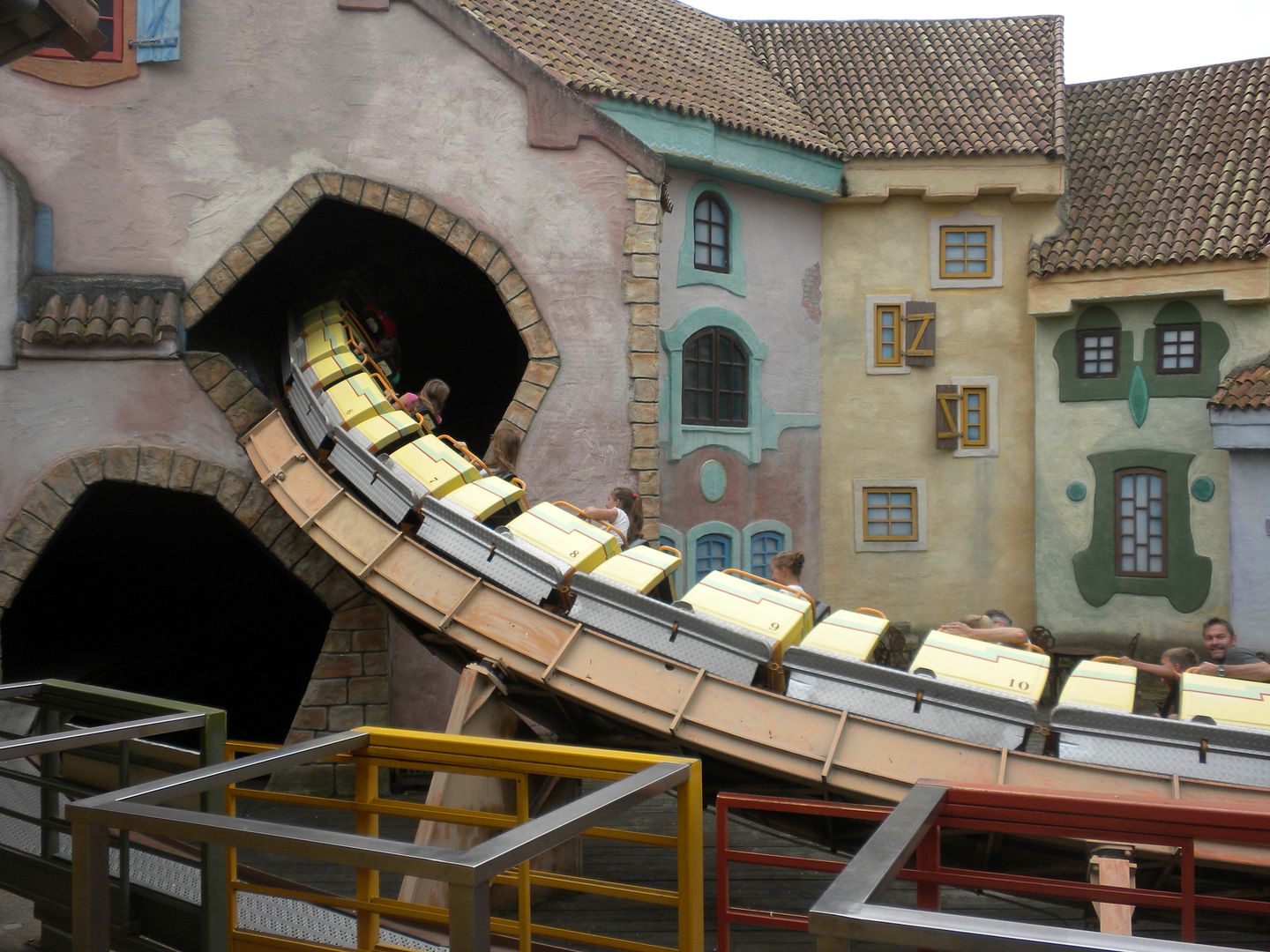 El Paso Express:


This highly themed double Bavarian Curve goes forward and backward through Mexican buildings – 1 ride.


Die Glocke (The Bell): This unusual swing ride is fun although throughput is really low – 1 ride.
I did not ride Torre del Mar, a tower swing ride, or Fantastic Cinema with "Sammy's Great Adventures", a 4-D show. Shows include Arena Plaza del Mar – Varieté-Show (Variety Show), Multi-Media & Special-Effect Show "Dream World", the Hansa Park Parade, and Sprechender Brunnen (The Talking Fountain).
Abenteuerland (Adventure Land)
Themed to adventure, this section contains one coaster: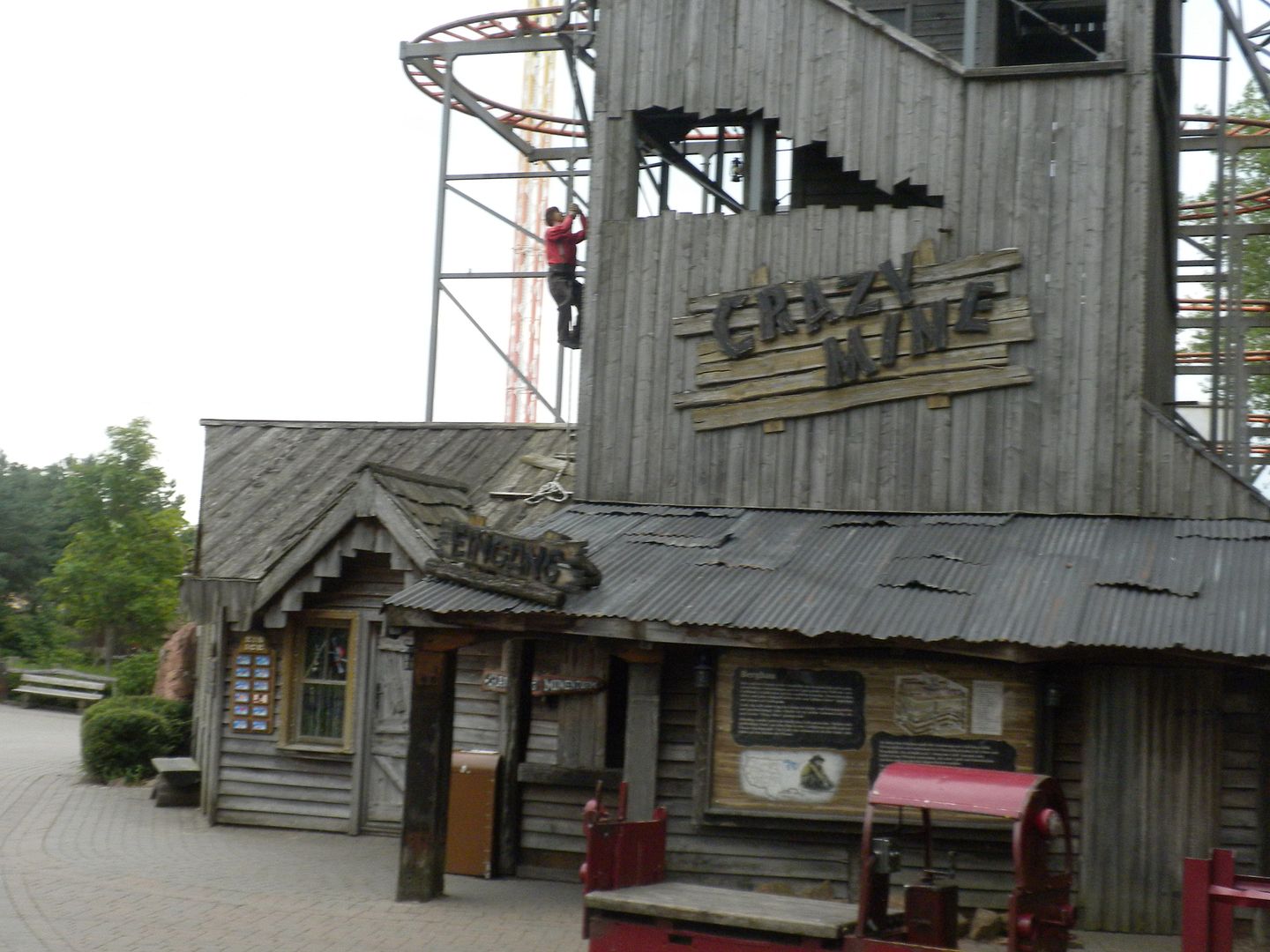 Crazy Mine: (Maurer Söhne, Wild Mouse, 1997)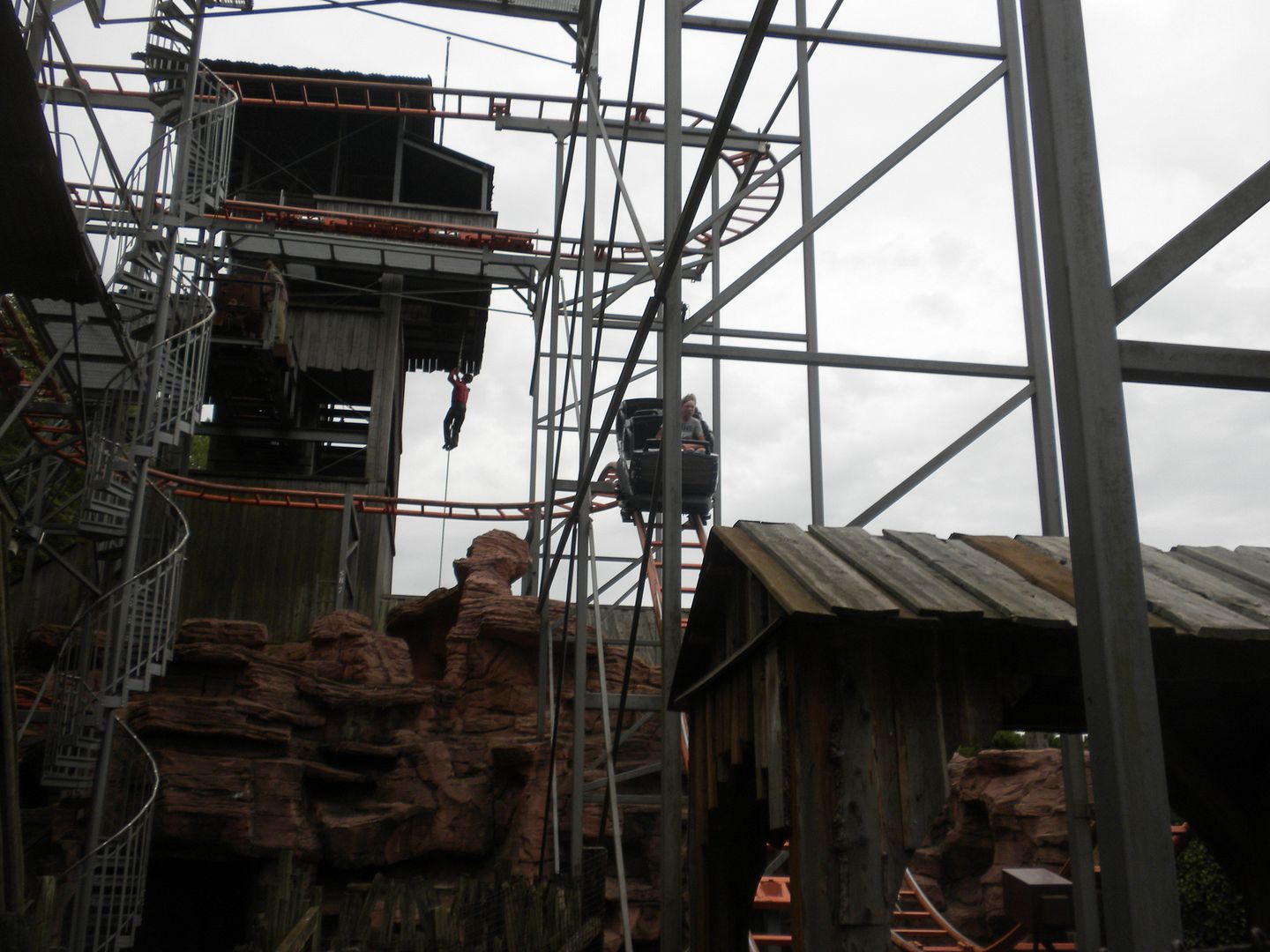 This mine themed wild mouse was good, made much better by theming – 1 ride.
I did not ride Fliegender Hai (Flying Shark) or Pow-Wow, a teacups ride.
Wikingerland (Land of the Vikings) or Piratenland (Pirate Land)
This Viking/ Pirate themed land is home to one coaster:


Die Schlange von Midgard (The Snake from Midgard): (Gerstlauer Family Coaster, 2011) One of the most highly themed family coasters I have seen, it is based on a Norwegian tribe that claimed to have killed the greatest sea snake ever – 1 ride.
Other rides include:
Barracuda Slide: This wet/dry raft slide was fun – 1 ride.
Bahnhof Piratenland – Hansa Park Express: The train has stops in Hansa Garden, Holzfällerlager and Bonanza-City – 1 ride.
I did not ride Flying Orcas. There are 3 children's rides.
Kinderland (Children's World)
This section is geared completely to children and has 4 children's attractions.
We had about 7 hours to enjoy the park.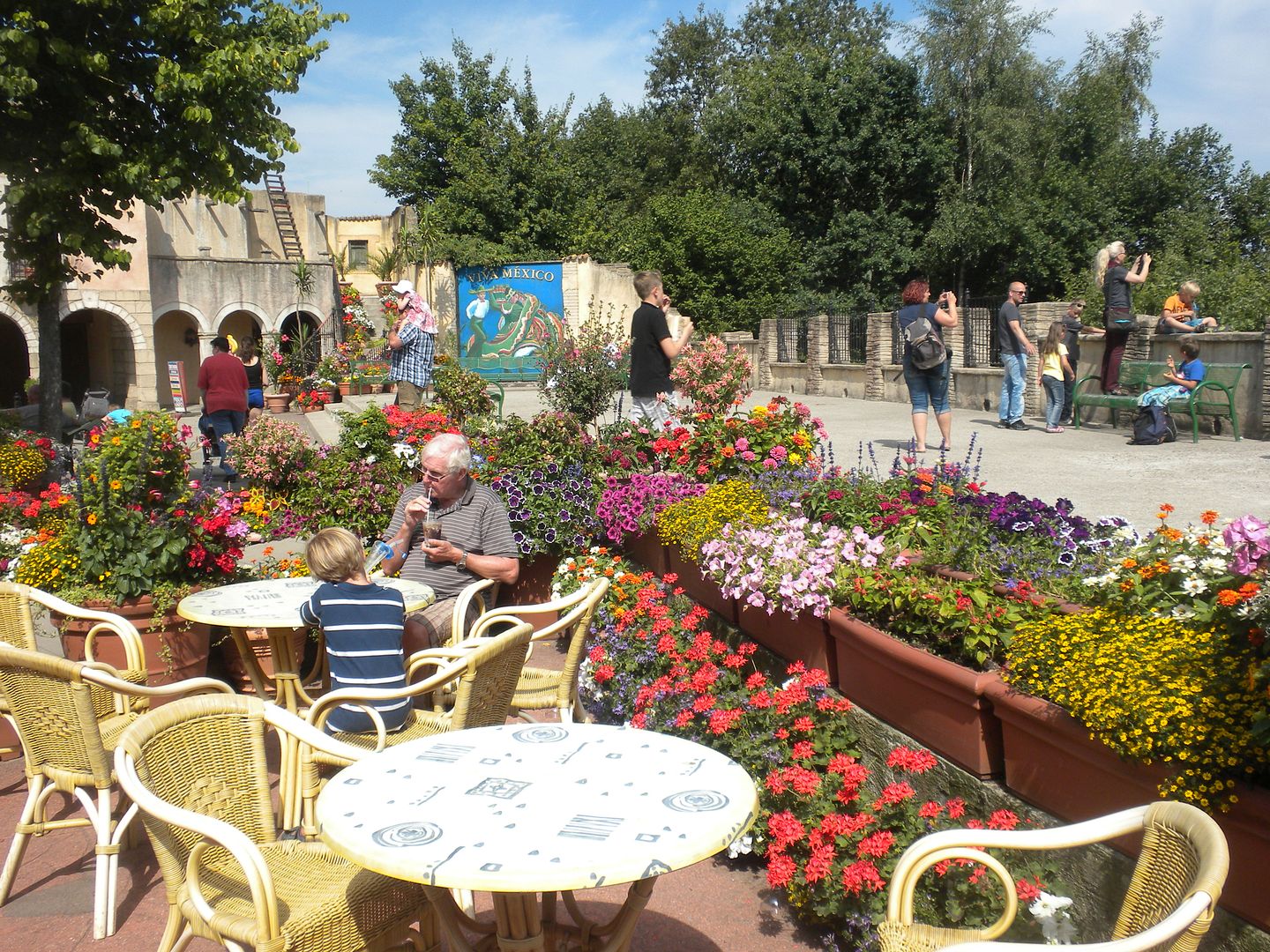 This park was beautifully landscaped and very well themed.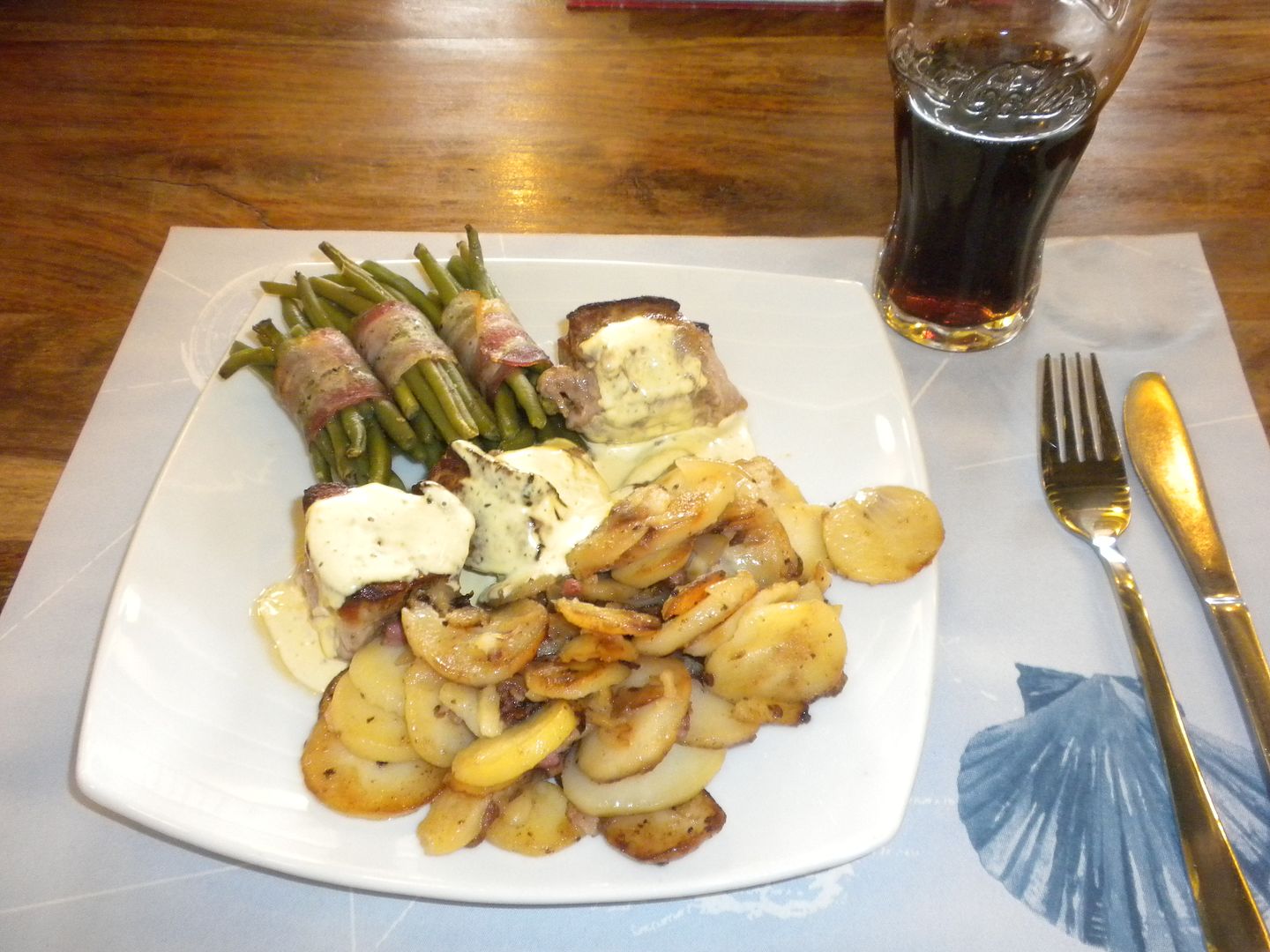 In addition they rolled out the red carpet for us, providing the best park meal we had of the trip.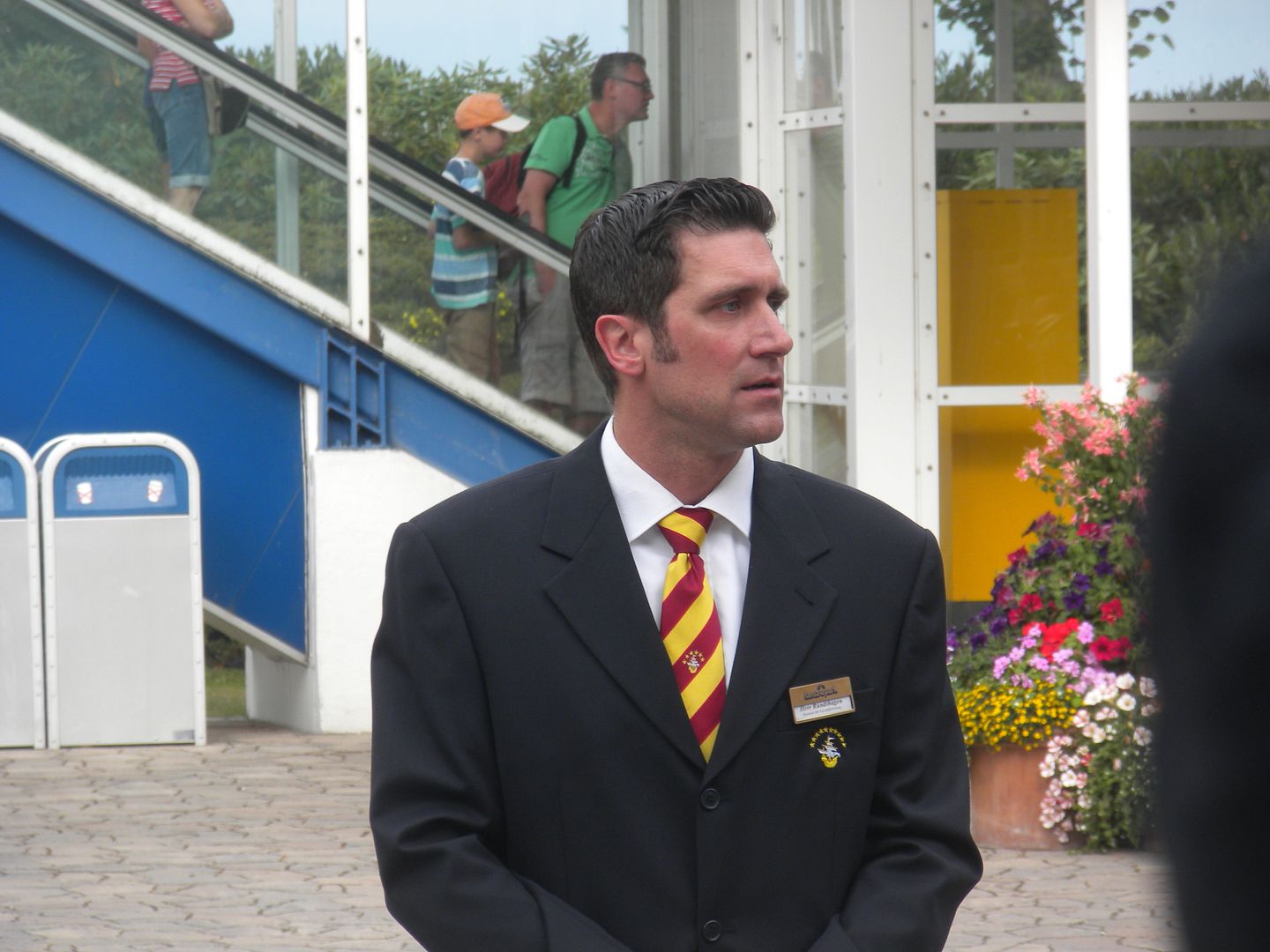 They greeted us warmly when we arrived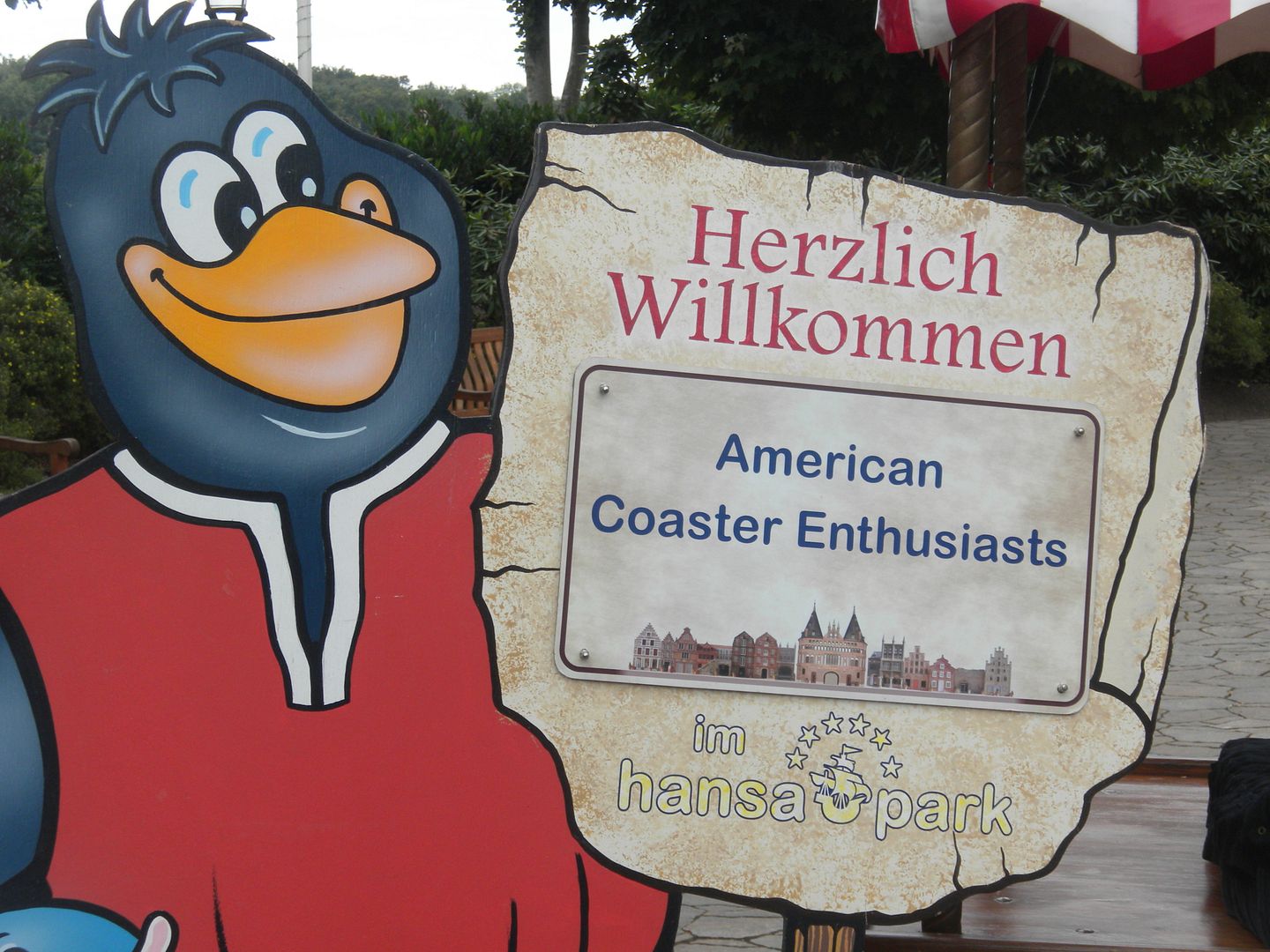 and had a sign to welcome us. I was very impressed with this park and definitely want to return someday.
Up Next: Hamburger Sommerdom 2013
Go to ACE Central Europe – Part 16: Hamburger Sommerdom 2013