Part 13: Belantis, Leipzig, Saxony, Germany
On Sunday July 28 we left our hotel in Zwickau and headed to Belantis.


The newest park on our journey, it opened in 2003 in a former industrial area. It has an interesting theme in that its eight theme areas are grouped around a small Mediterranean Sea and Atlantic Ocean and are set at various times in world history. I will review each section.
Schloss Belantis (Belantis Castle)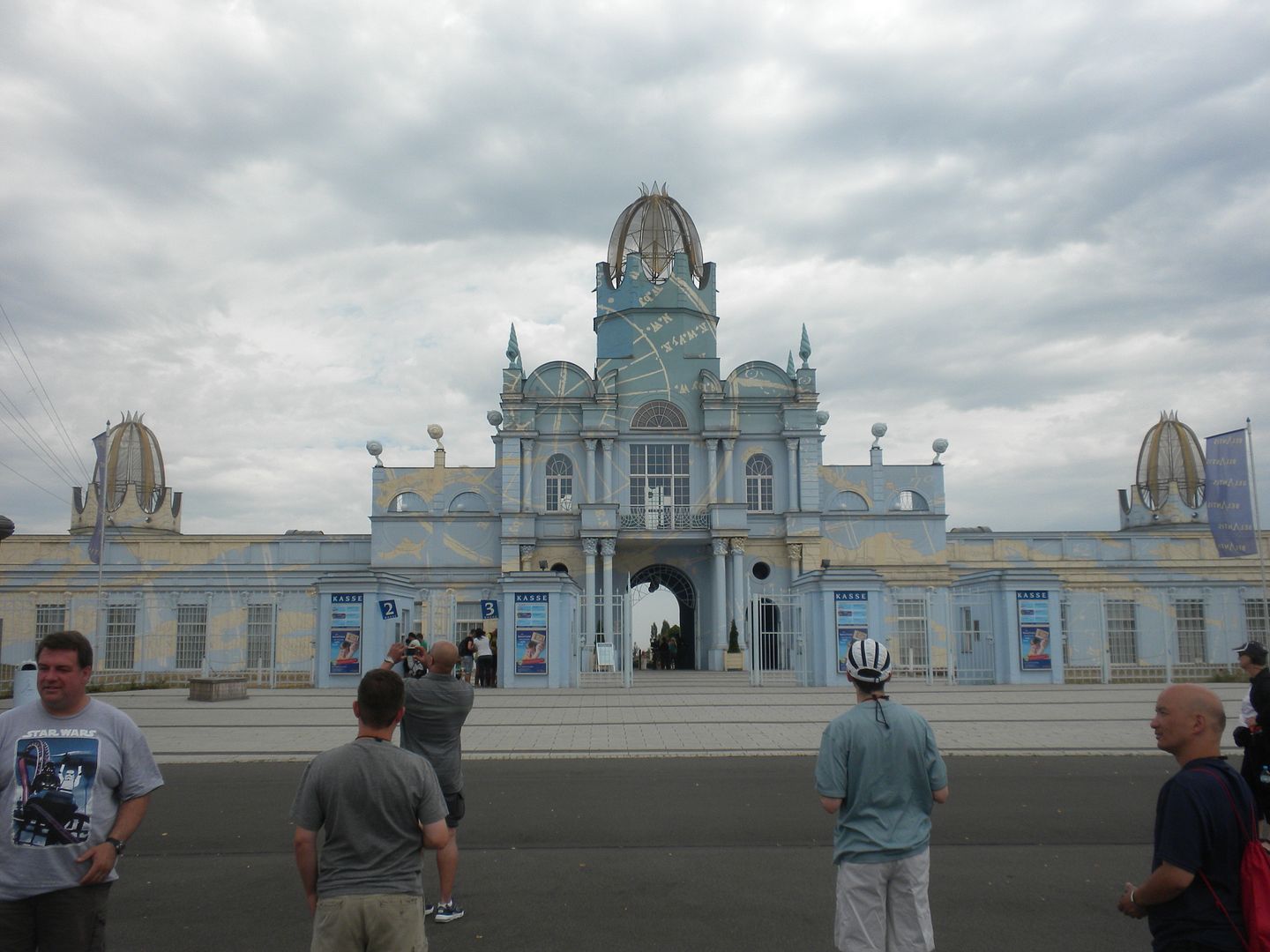 This extravagant castle is the entry to this unusual park. Limited time did not permit rides on either of the sections rides: Segway-Parcours (Segway Course), a Segway training course, or Buddel-Tanz (Krinoline). There is one show here, Artisten 1×1 für Groß und Klein (Artist 1×1 for Old and Young) and 3 children's rides.
Tal der Pharaonen (Pharaoh's Valley)
Since the park is entered in Africa, a turn to the right takes you to ancient Egypt. Centered around a giant pyramid the sandy landscape here evokes its desert setting. Located in the pyramid is this section's main attraction:


Fluch des Pharao (Pharaoh's Curse): Entering the queue through Grufteingang des Pharao (Tomb of Pharaoh Entrance) takes you past Grabkammer des Pharao (Grave Chamber of the Pharaoh). This ride is a cross between a log flume and a shoot- the-chutes and uses unusual rubber raft boats.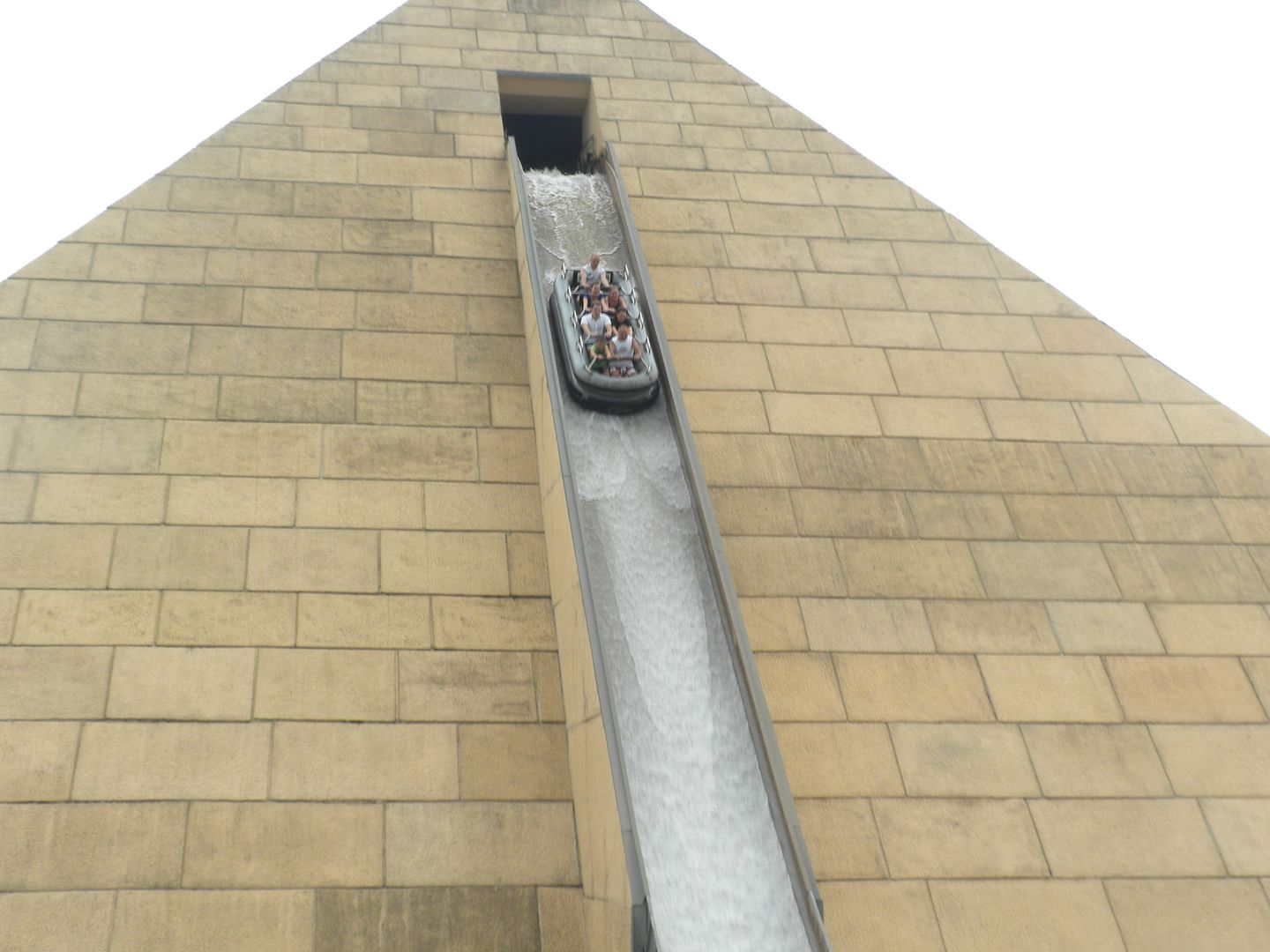 An elevator lift inside the pyramid takes you to the long drop down the side of the pyramid,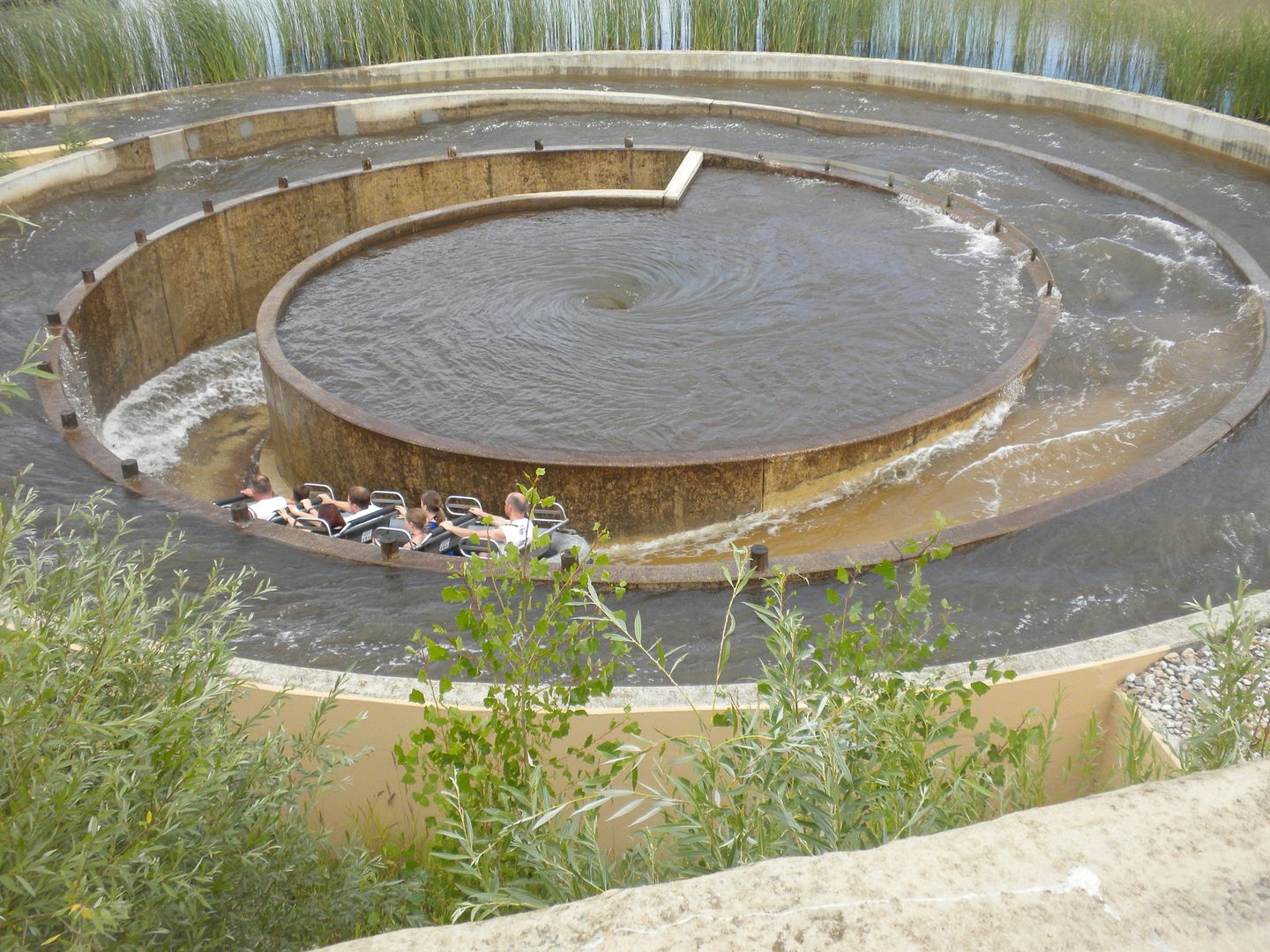 followed by a descent into a whirlpool. This is a great and fun ride and one of the highlights of this park – 1 ride.
This section also has 3 children's attractions.
Strand der Götter (Beach of the Gods)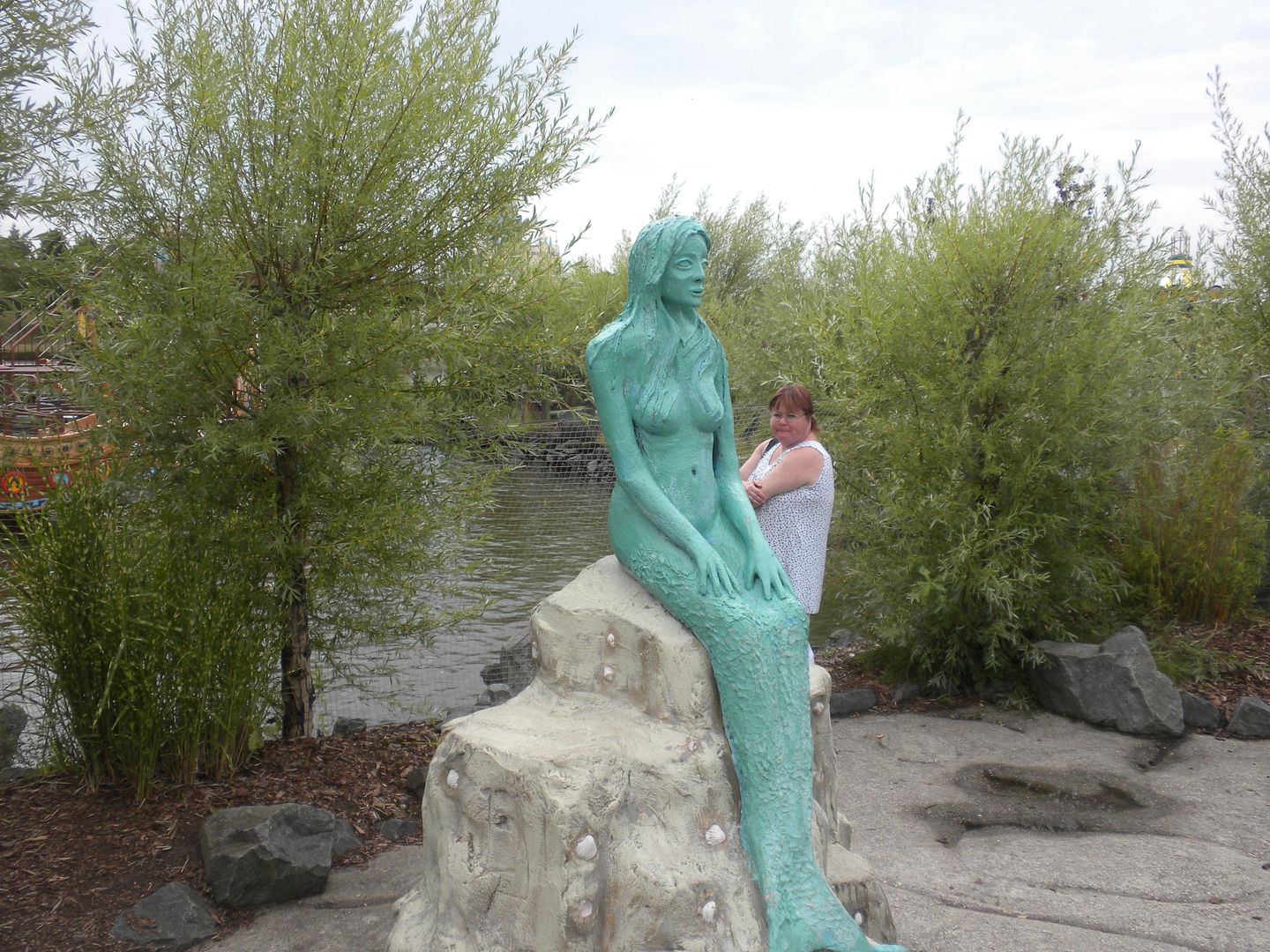 From ancient Egypt to ancient Greece, this well themed section is one of the best of the park. With quite a number of rides, this section transports you to the days of Greek mythology.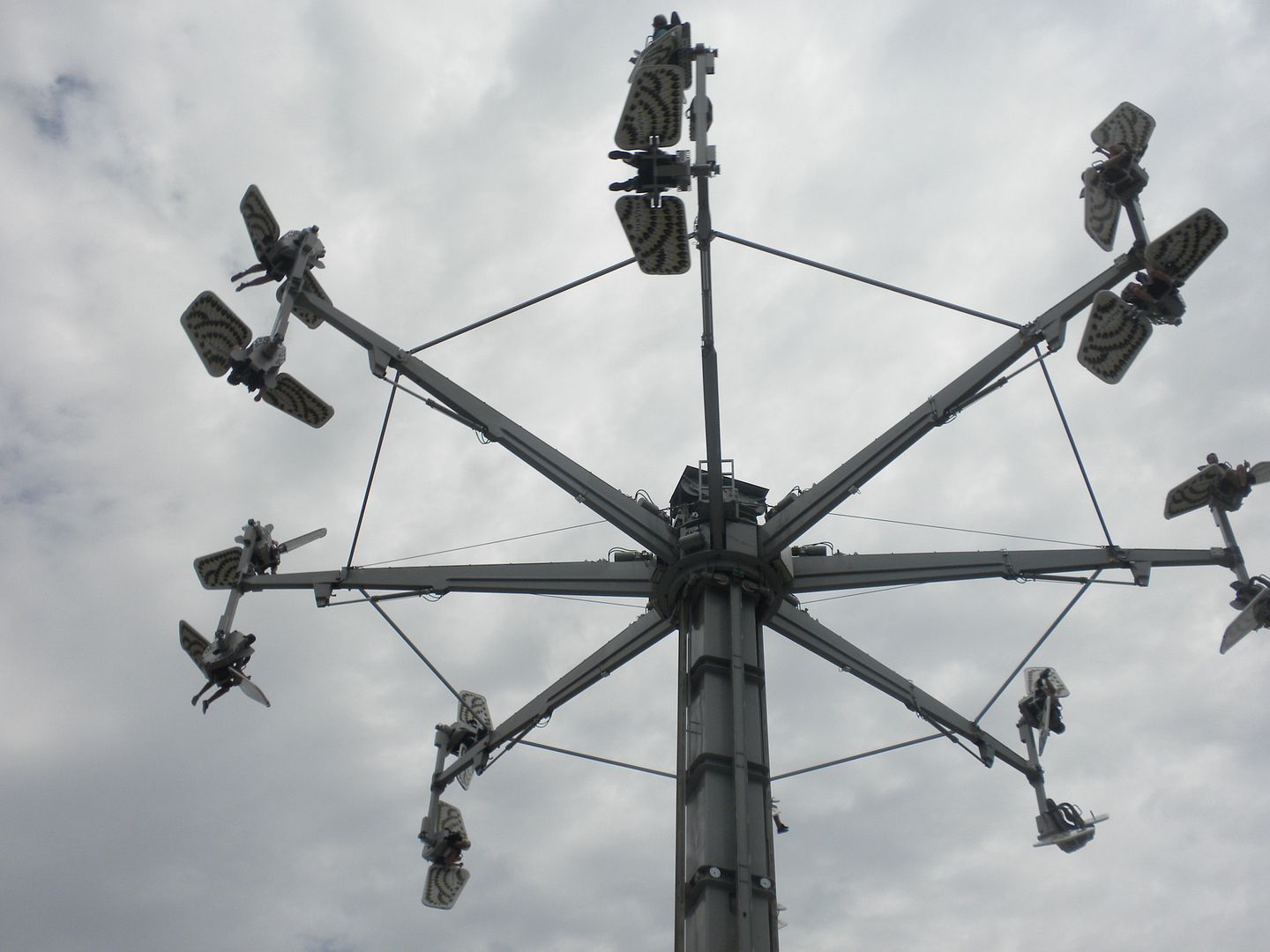 Götterflug (Flight of the Gods): This unusual flat ride allows riders to control how much they rock or spin. It is fun – 1 ride.
Poseidons Flotte (Poseidon's Fleet): Another of these water spinning rides, this was fun – 1 ride.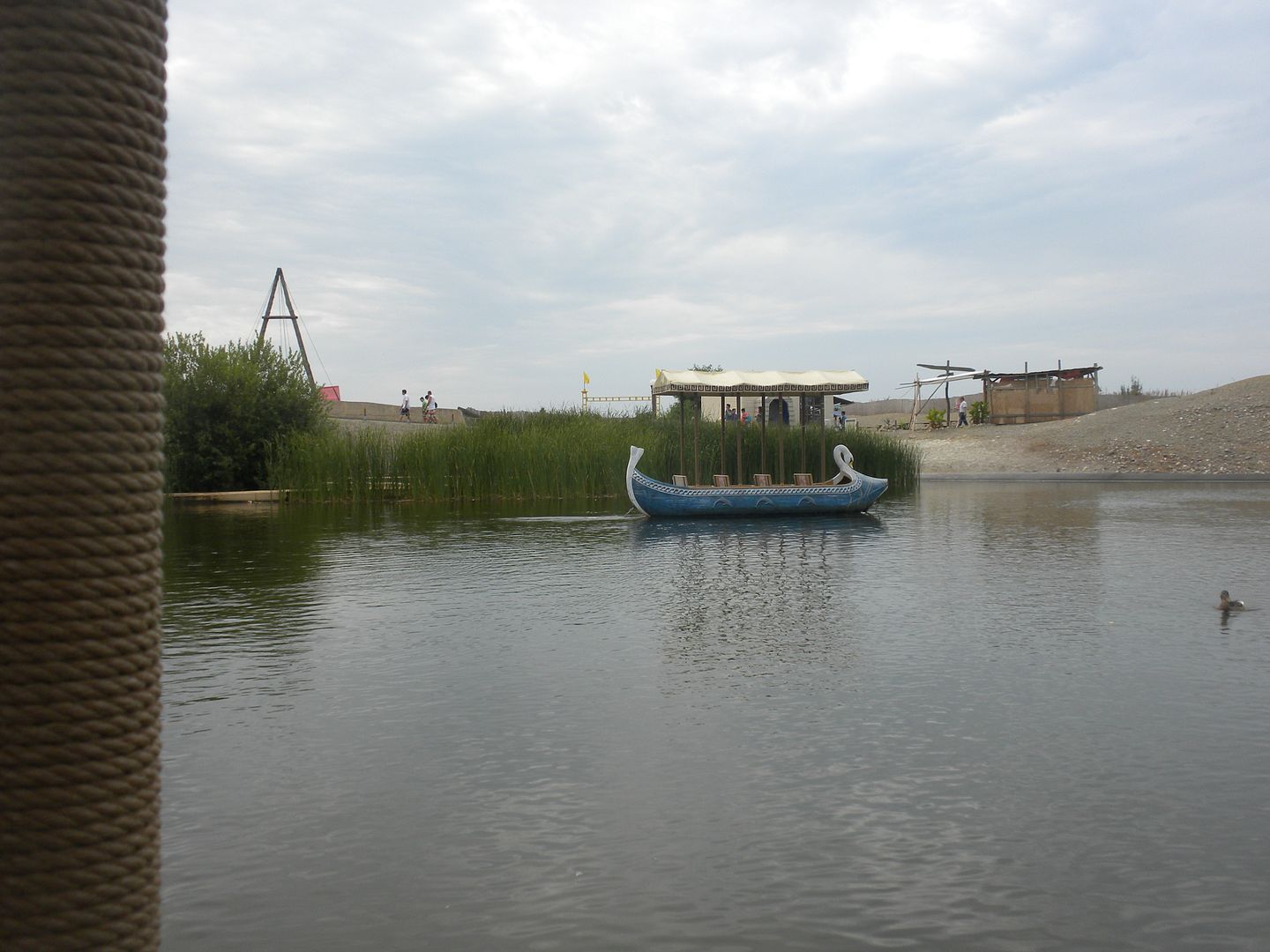 Fahrt des Odysseus (Odysseus' Journey): Boats take you across the Mediterranean, past a number of mythological scenes including Trojanisches Pferd (Trojan Horse), Strudel der Charybdis (Whirlpool of Charybdis),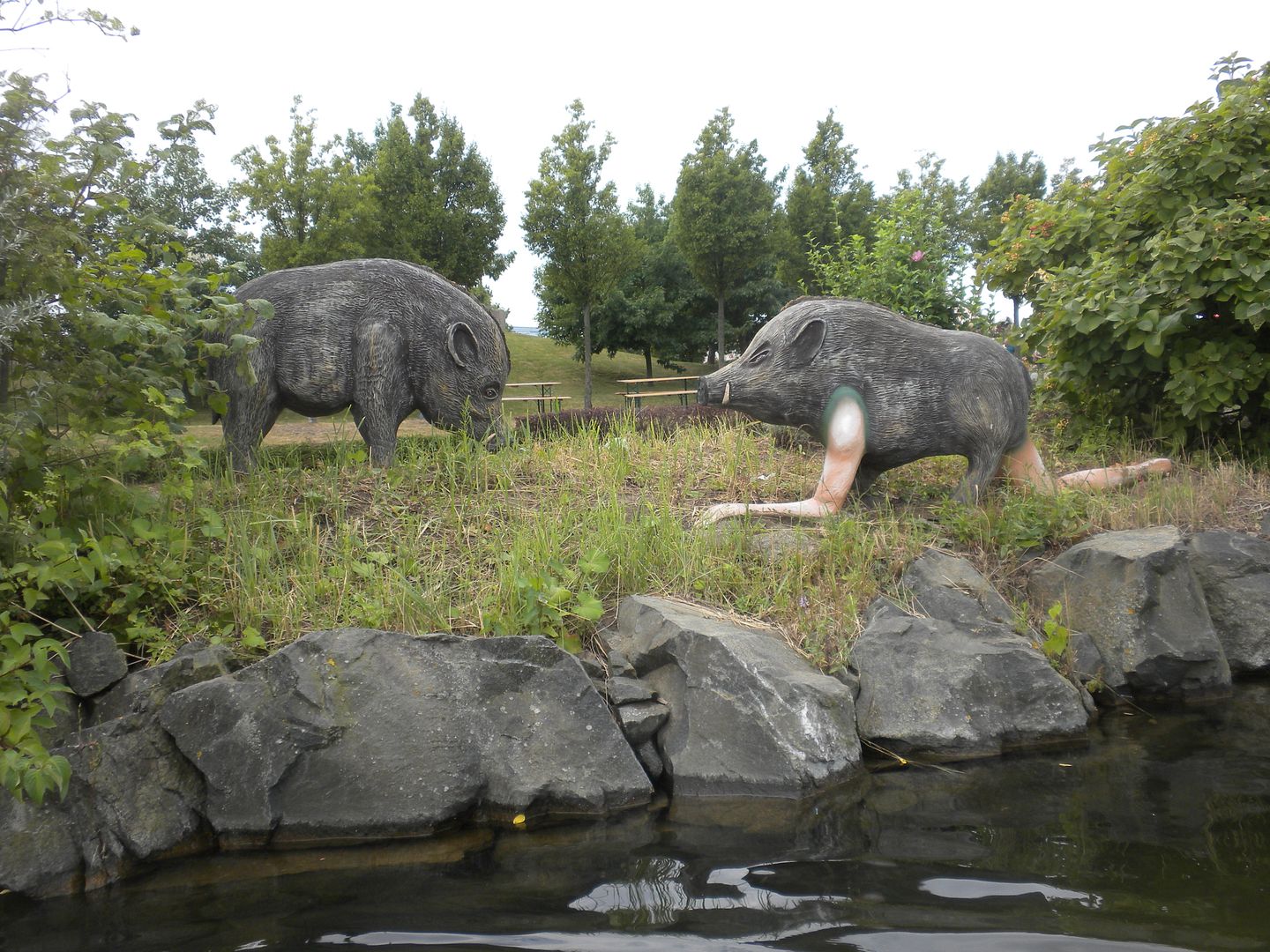 Insel der Circe (Island of Circe),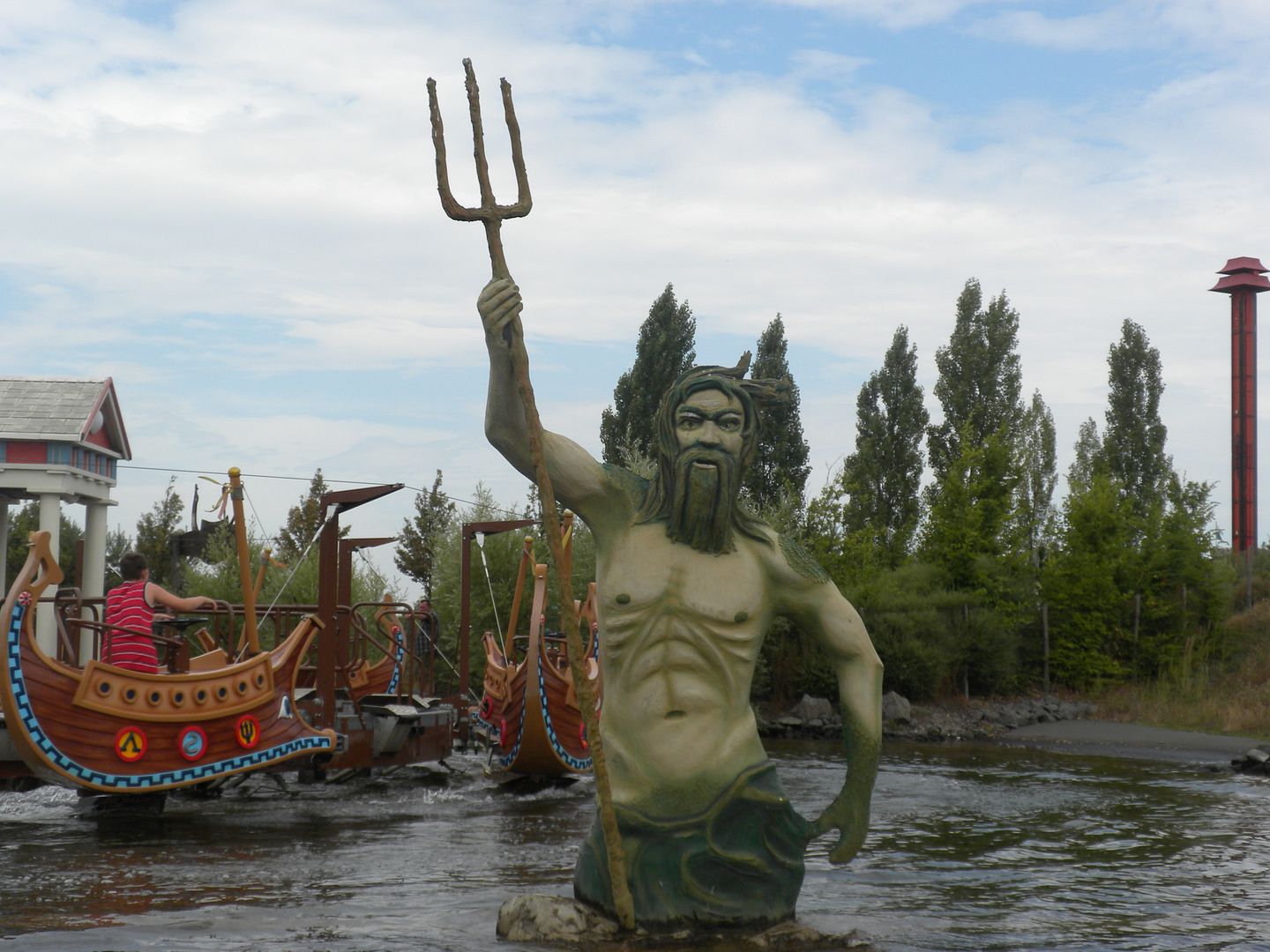 Poseidon, Insel der Sirenen (Island of the Sirens),


Auge des Zyklopen (Eye of the Cyclops) and Vulkan der Götter (Volcano of the Gods) – 1 ride.
I did not ride Säule der Athene (Athene's Column), a self-hoist tower, or Flug des Ikarus (Icarus' Flight), a seated zip line. There is one show here, Buddels Abenteuerreise (Buddels Adventure Travel).
Küste der Entdecker (Explorer's Coast)


Next we travel through time to the Iberian Peninsula.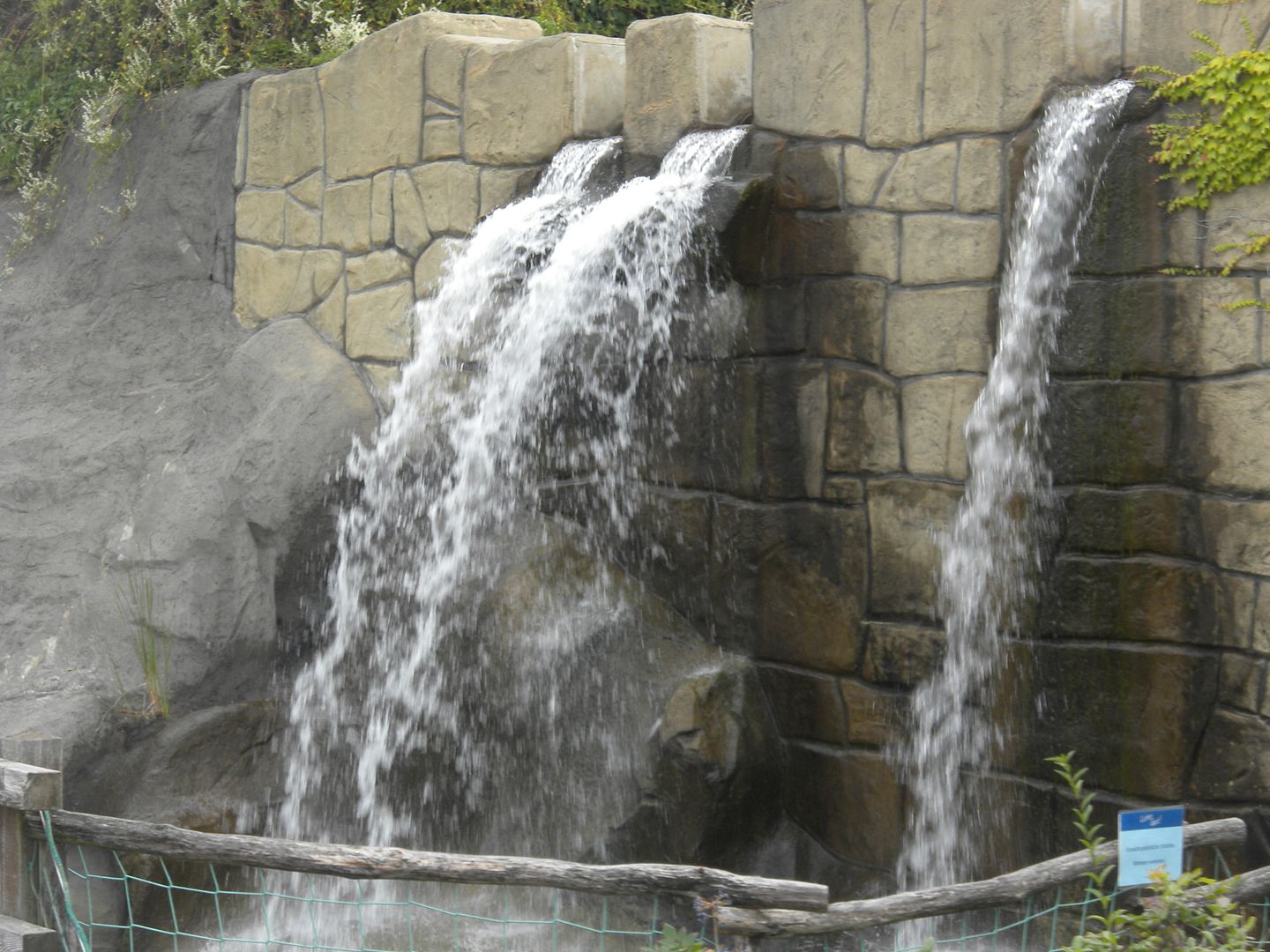 Here the Brücken der Entdecker (Bridge the Explorers) by the Wasserfall der Meere (Waterfall of the Seas) marks where the Mediterranean meets the Atlantic. There are several attractions:


Capt'n Black's Piratentaufe (Capt'n Black's Pirate's Baptism): This nicely themed topple bounce tower gives a good ride–1 ride.

I did not ride Santa Maria, a swinging ship. There is one show here, Schiff Ahoi – die Belantis Piratenprüfung (Belantis Pirate's Test). There are 3 children's attractions.
Land der Grafen (Land of the Counts)


Next we travel deeper into Europe.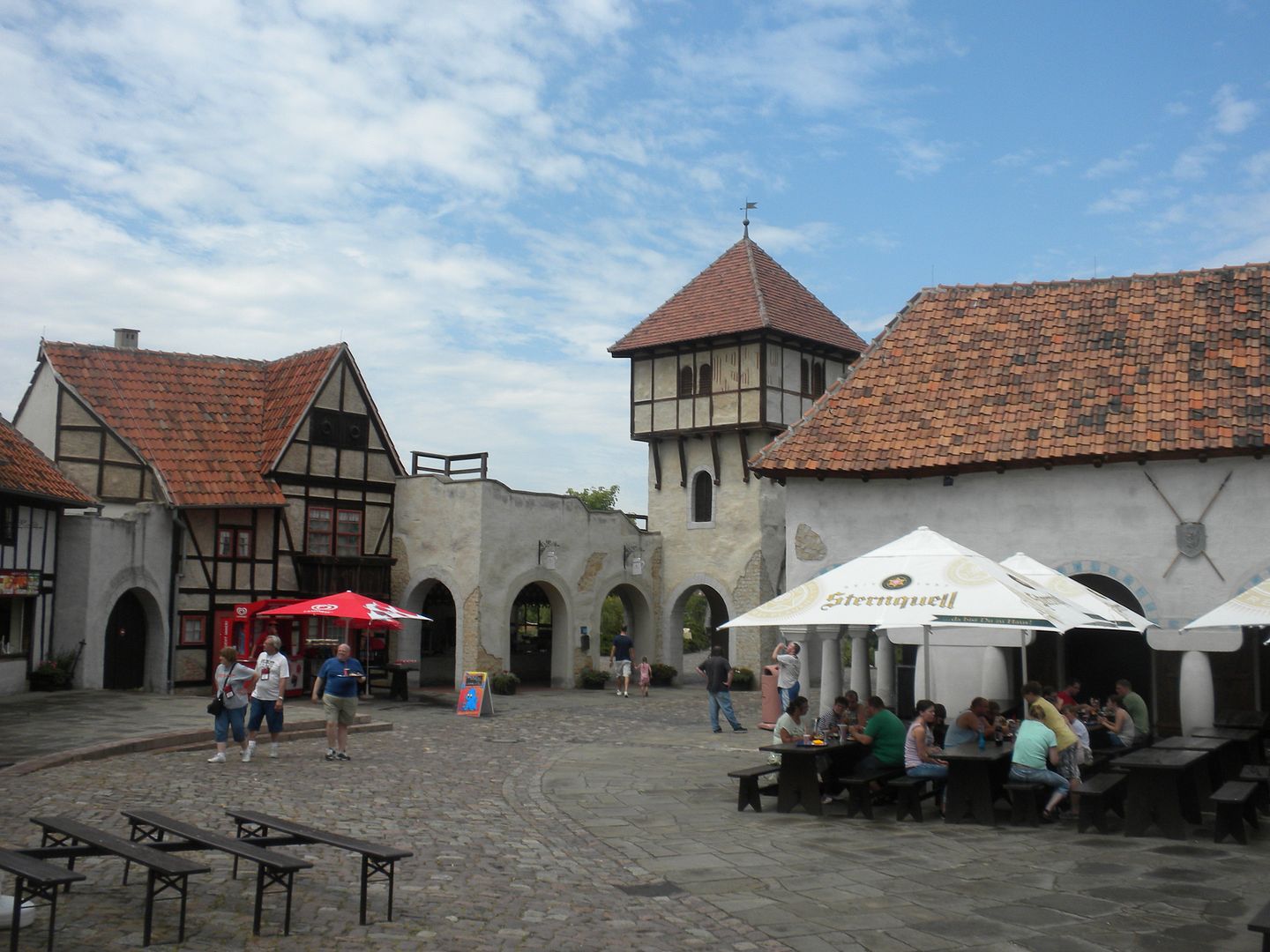 This small village nicely evokes German theming. There are several attractions.


Drachenflug (Dragon Flight):


This Condor ride has views of the Mediteranian and Atlantic from above – 1 ride.
I did not ride Gletscherrutscher (Glacier Slide), a wet/dry raft slide. There is a show, Der Dorfkrug-5-Kampf mit Hubsi & Hannelore (The Dorfkrug's Pentathlon with Hubsi & Hanelore). Other attractions include Tour de Franz, wobbly bikes; Silberwäsche (Panning for Silver), Belantis Waldlehrpfad (Belantis Forest Trail), a nature trail, and Küstenrallye (Coast Rally), go-carts.
Insel der Ritter (The Knight's Island)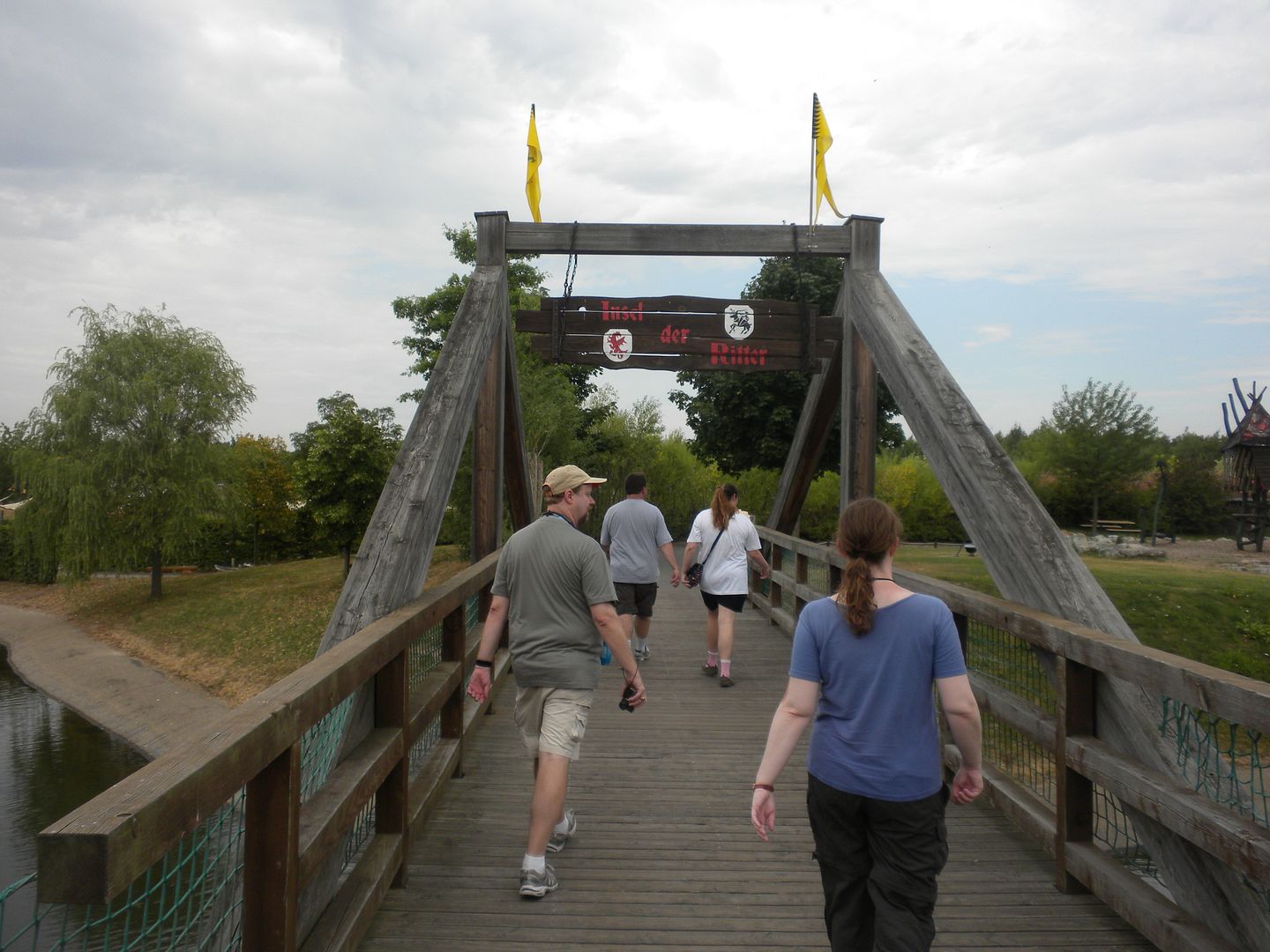 Across the Brücken der Finsternis (Bridge of Darkness) you come to the British Isles.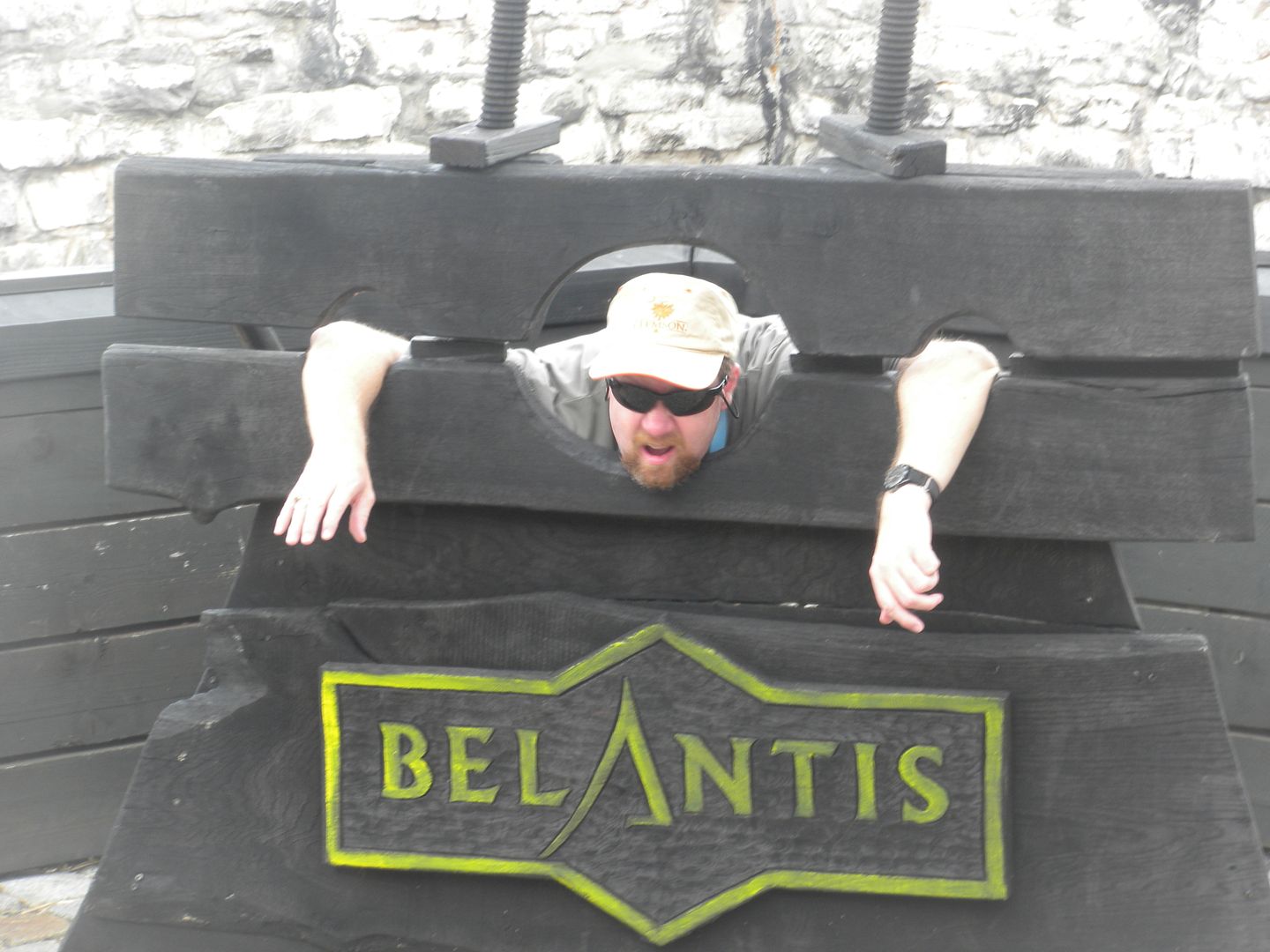 Here you are transported to the chivalrous days of the middle ages. The Brücken der Hoffnung (Bridge of Hope) leads to the Irish portion of this section. This section has 1 coaster:


Drachenritt (Dragon Ride): (Gerstlauer, Bobsled Coaster, 2003)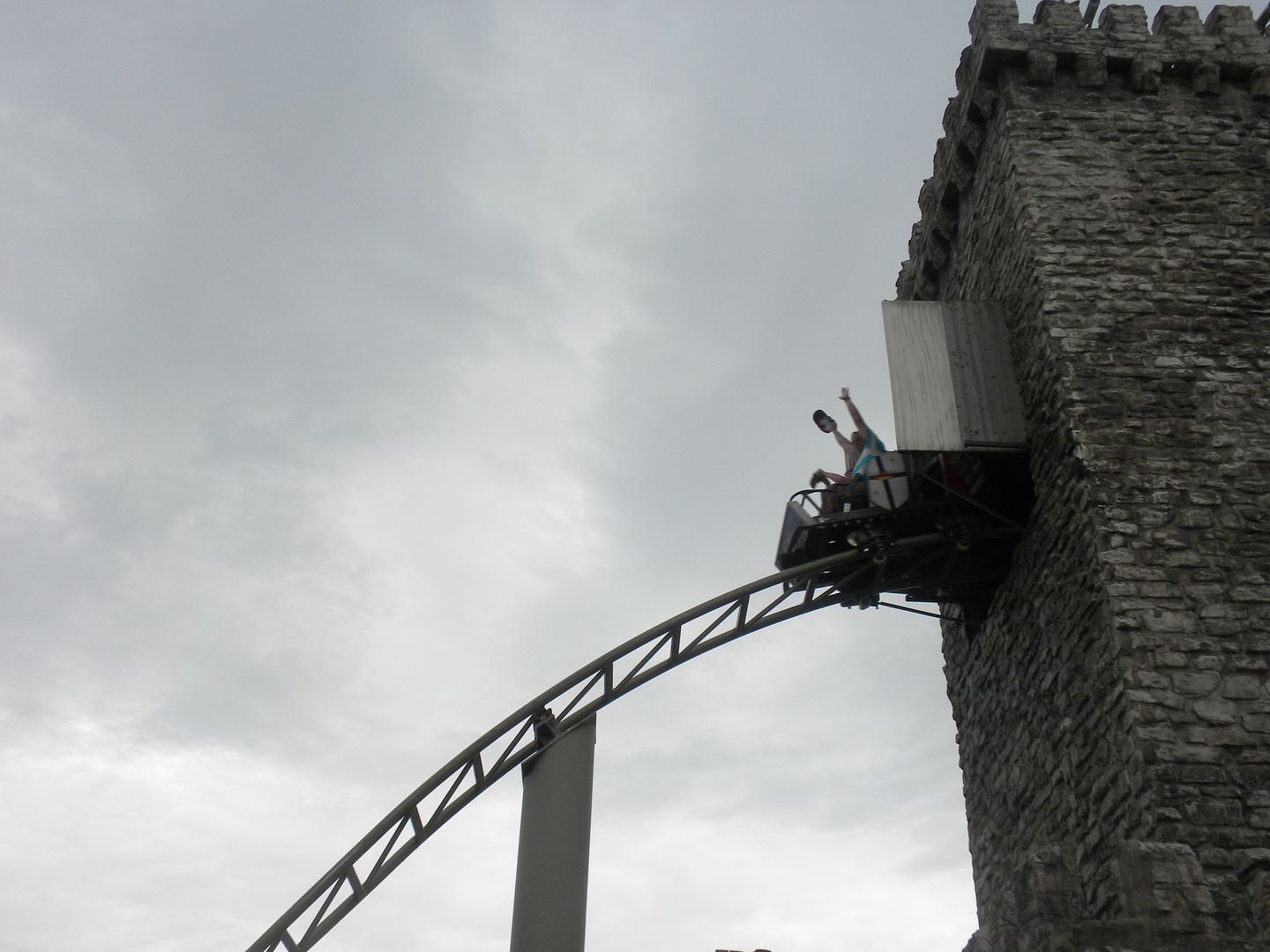 Once aboard, you travel through the Turm der Finsternis (Tower of Darkness), high above the Burg Hof (Castle Courtyard) and around the old castle battlements.


In thorough Gerstlauer Bobsled fashion there are several airtime filled bunny hops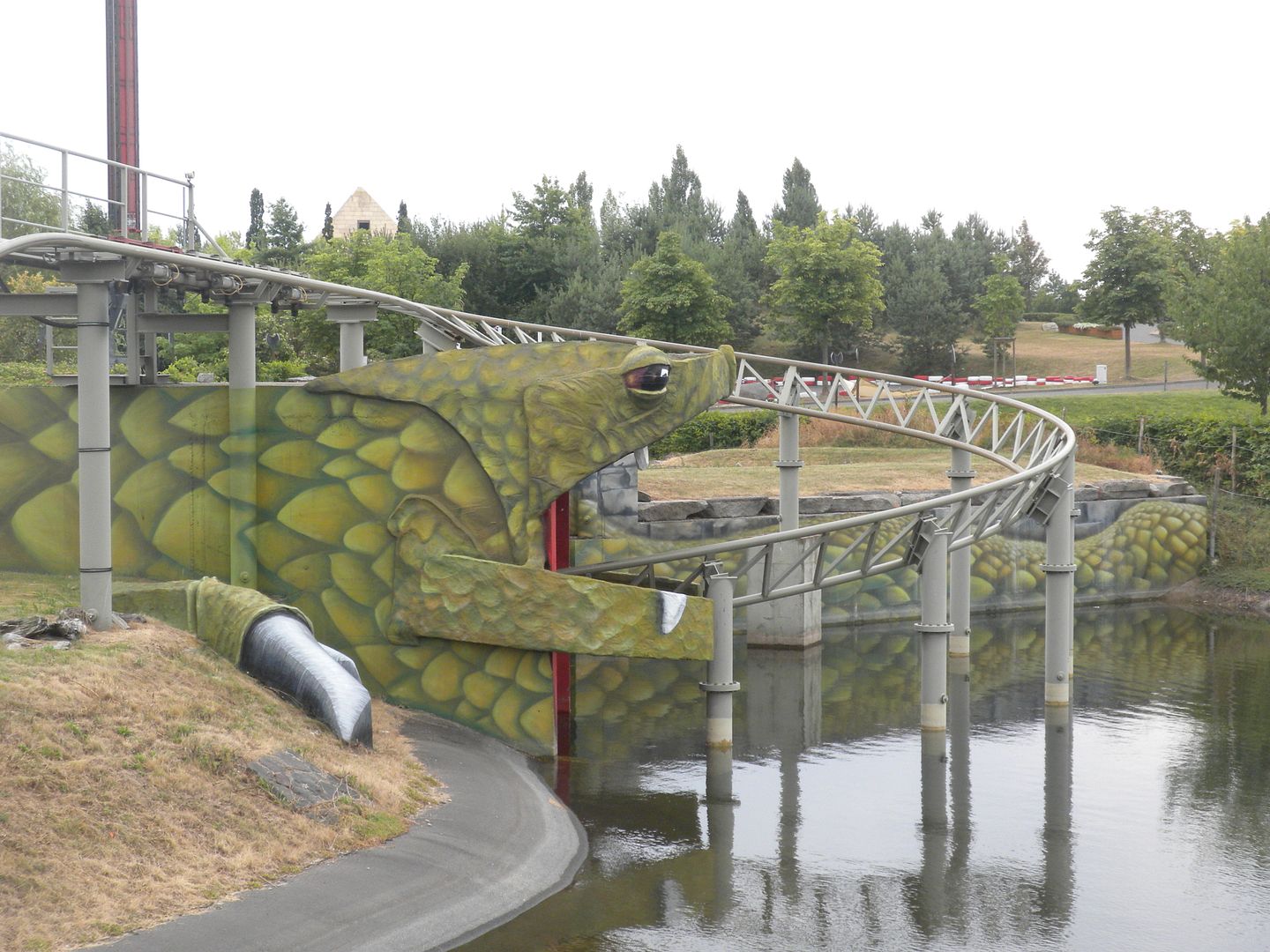 before circling into the huge dragon's mouth.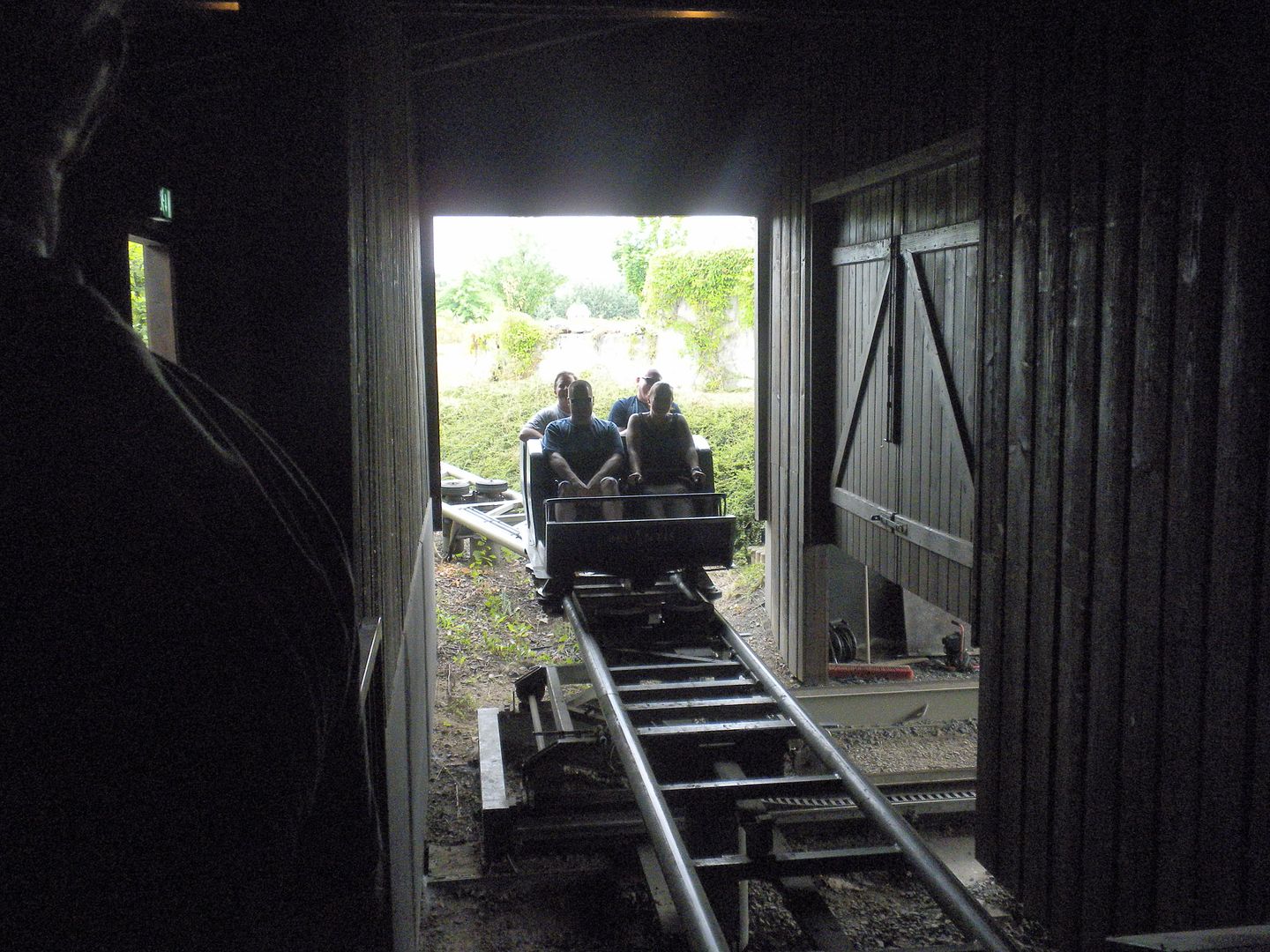 This was the second best of these I have ridden, behind the similarly themed one at Tripsdrill – 2 rides.
I also rode: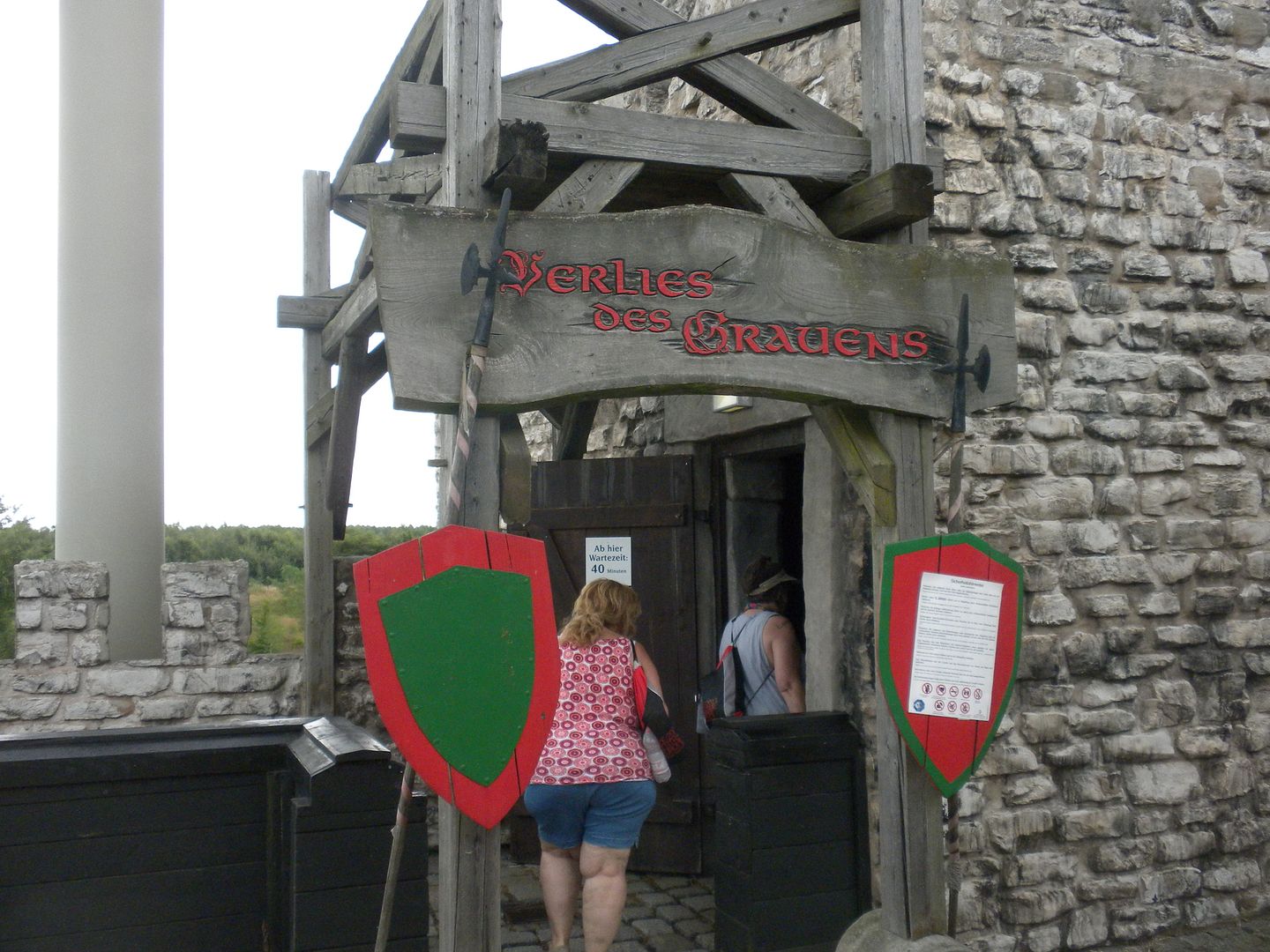 Verlies des Grauens (Dungeon of Horror): This well themed Vekoma Mad House (our 2nd if you are counting), had a really cool theme. Located deep within the dungeon of the castle, its dragon in the swinging room and disappearing stone in the middle of the room make this one my favorite of the trip – 1 ride.
I did not get to do Labyrinth von Avalon (Labyrinth of Avalon), a nice looking hedge maze. There is a children's playground.
Prärie der Indianer (Indian's Prairie)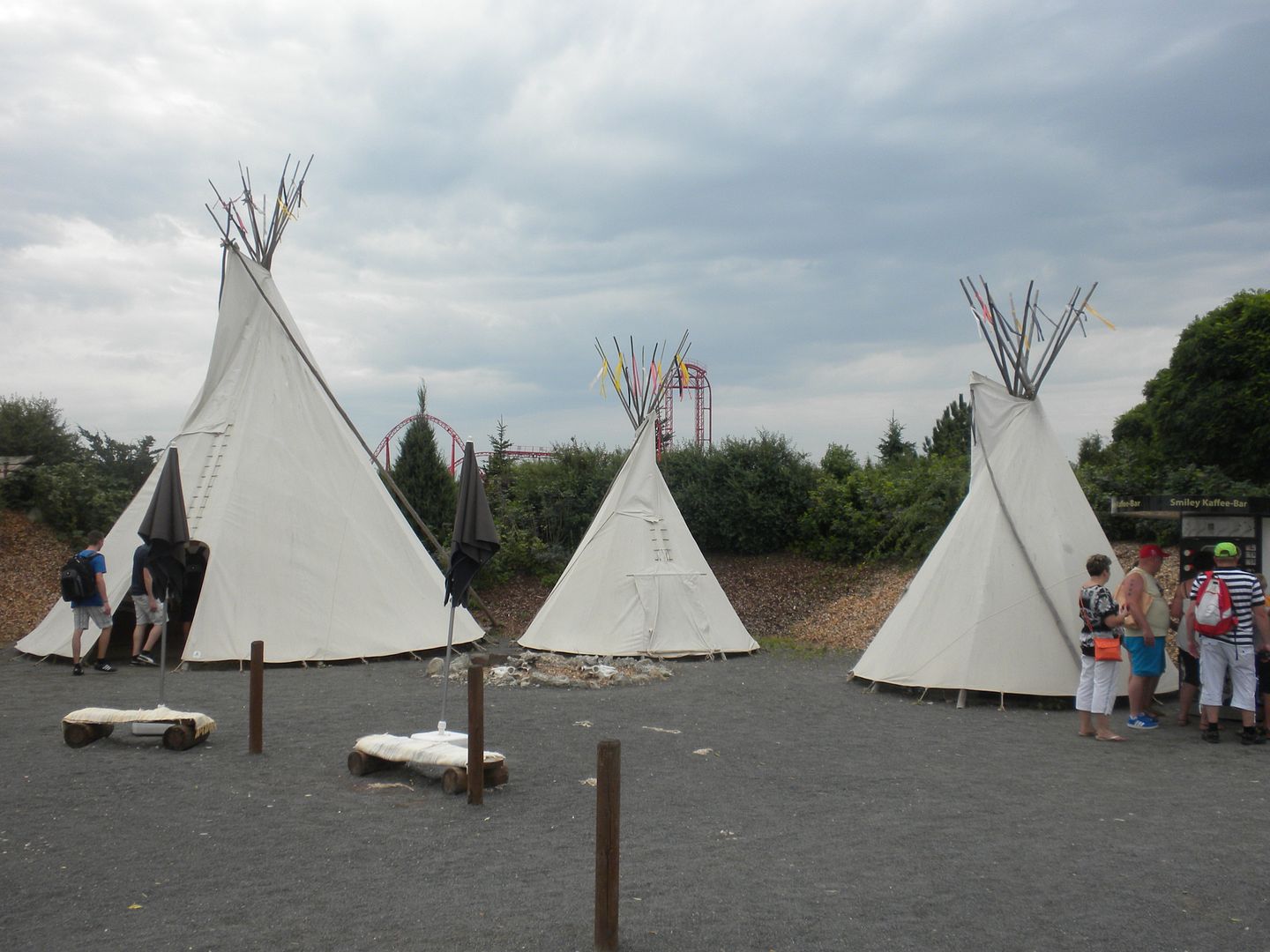 A short walk (and a fallacy of not crossing any water) takes you to the New World of
North America. Here are Weg der Weisheit (Way of Wisdom), the Felder der Apatschen (Fields of the Apaches), Dorf der Apatschen (Village of the Apaches) and the Pow Wow mit Totempfahl (Pow Wow with Totem Pole). The main ride here is:


Belantus' Rache (Belantus' Revenge): In Fort Feuerwasser (Fort Firewater) this Frisbee pendulum gave a good ride – 1 ride.
I did not ride Indianer Kanus (Indian Canoes), canoes that take you over the Atlantic (that would have been a lot cheaper than my flight!). There is a petting zoo, Tal der Tiere (Animal Valley) and 2 children's attractions.
Reich der Sonnentempel (Sun Temple Realm)
Although only accessible through Africa (hopefully someday they will complete the circuit, perhaps with a new land), their 8th and newest land is set in South America. It is home to their largest coaster: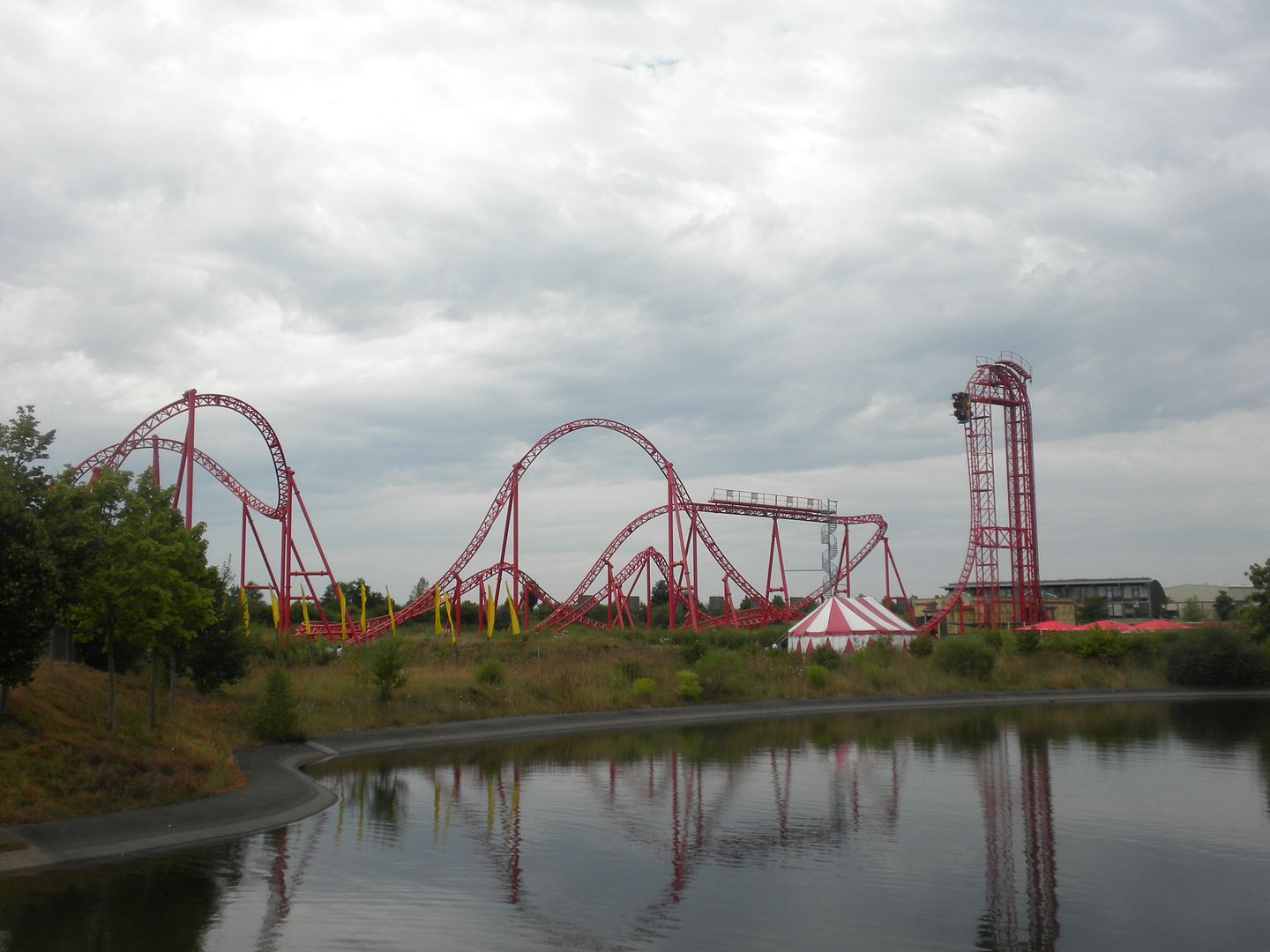 HURACAN: (Gerstlauer, Eurofighter, 2010) Honestly, I had only heard bad reviews on this coaster due to its OTSR.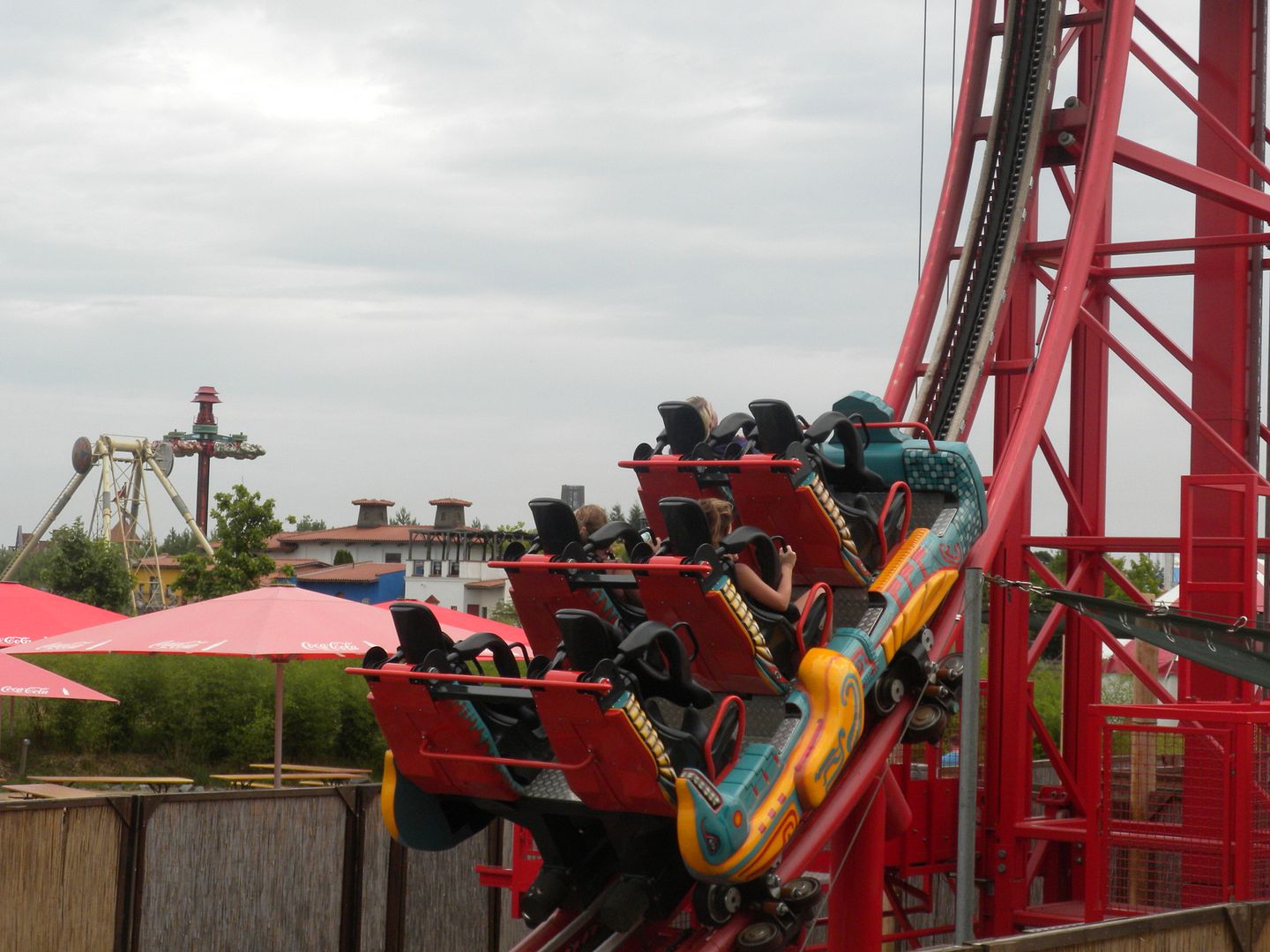 With low expectations, I thought the coaster was not bad. I held my head and had minimal head banging.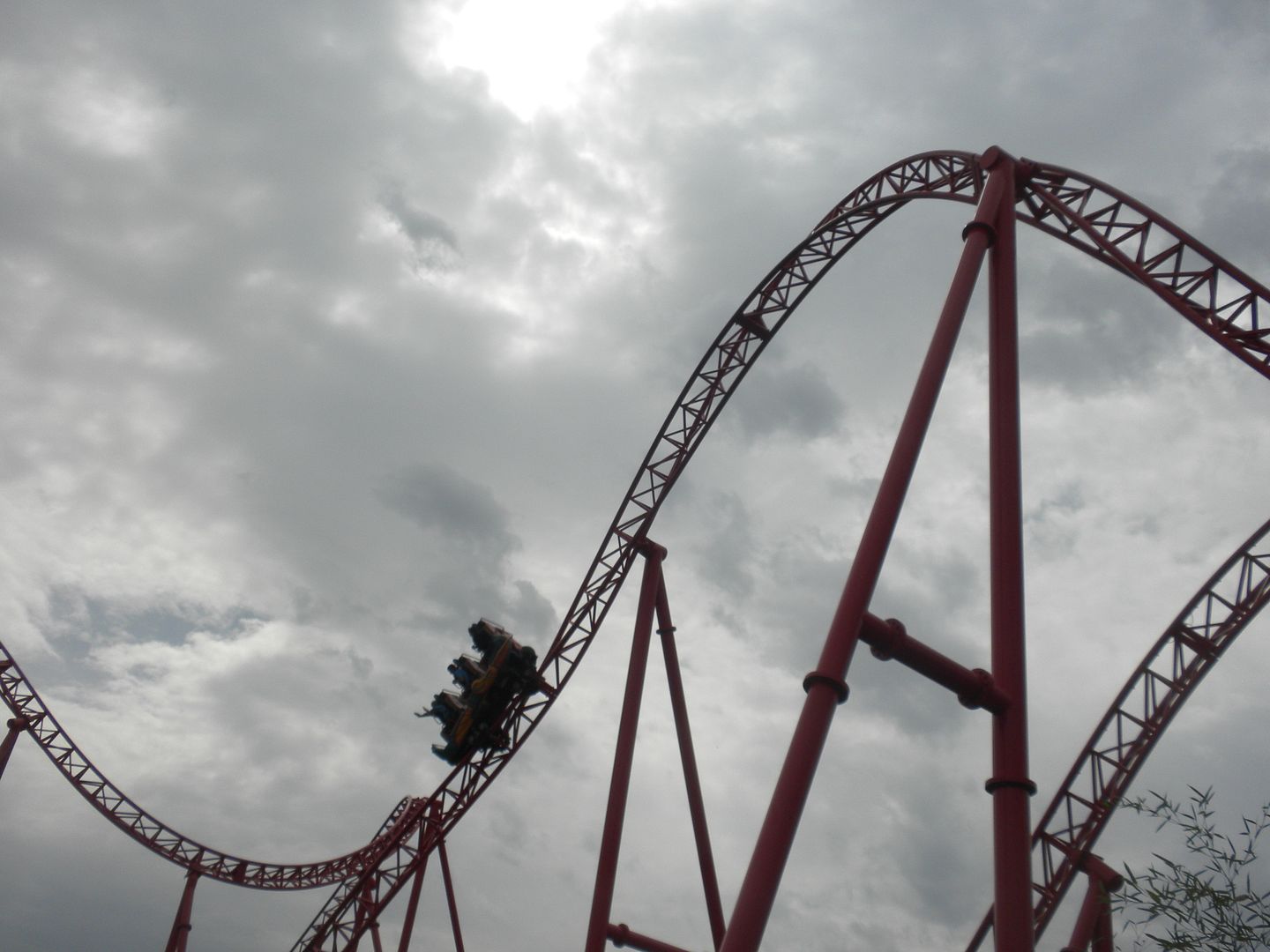 It has a nice course and some good elements. If the restraint issue could be improved, it would be a good ride – 1 ride.
We only had a little over 3 hours for this park and although it does not have a huge number of rides, I would have enjoyed a little more time. I am fascinated by its theme and hope they can continue to add to it as years go by so that the park is better filled out. It has a few standout attractions that make it well worth a visit. We boarded the buses for the long drive to Lübeck.
Up Next: Lübeck, Germany